Bluefin 10'8'' Aura Fit Yoga
Pros
Wide and stable SUP that is good for yoga and other water fitness activities.
Raised kick pad and rounded tail help you perform step-back turns for enhanced maneuverability.
Extended crocodile skin textured deck pad that is cushy while offering great traction support.
Great handle placement that allows you to easily carry the board but doesn't take up the middle of your deck.
Full SUP yoga kit out of the box that stores well in a travel friendly backpack. Affordable as well at less than $650 dollars.
Fun colors and design that we find to be gender neutral and fantastic looking.
Cons
A dual-chamber pump would inflate the SUP quicker, though the single chamber pump is nice and compact.
Smart-lock fins are easy to install, but a US fin setup would offer greater fin customization.
Larger paddlers with no experience may initially struggle with handling this SUP.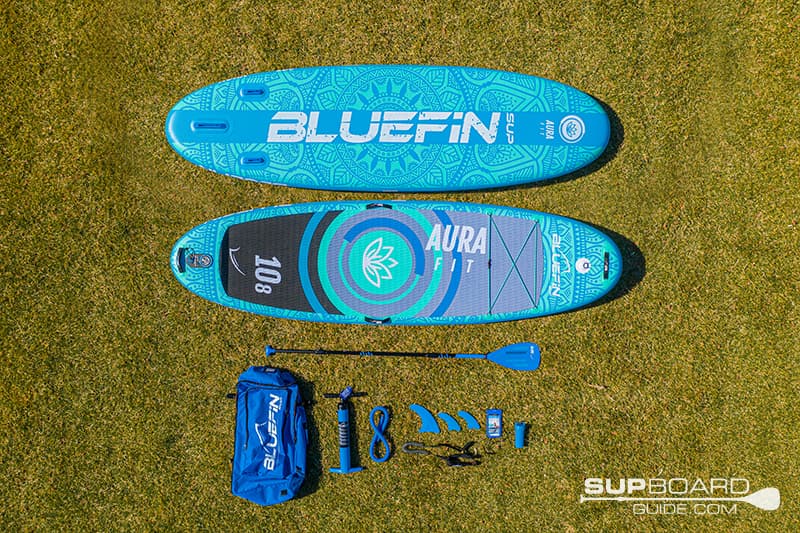 The Bluefin 10'8'' is a very sturdy, well-built yoga board that also doubles as a stable platform for beginners trying to learn how to SUP, making it an appealing option for all sorts of paddlers. The long and wide deck is almost completely covered by a gator skin deckpad, which is smooth to be on while offering solid grip support. The rounded tail and raised kick also provides you with the support you need to quickly perform step back turns, allowing you to easily maneuver with the 10'8'' Aura as well. The military grade PVC composite ESL build protects the board against most common accidents, and stores well in the travel friendly Bluefin backpack. Lastly, this board also comes with a pump and paddle, ensuring you are ready for the water out of the box. Available for less than $650 dollars, this is a good choice for those who are brand new to paddleboarding or are looking for a secondary, affordable yoga board.
SUP Board Specs
Length
10'8''
Width
35''
Thickness
6''
Weight
TBD
Rider Capacity (lbs)
200 lbs solo paddler recommended weight
350 lbs total weight
Recommended Inflation
15 to 18 psi
Fins
Center removable 8'' smart lock fin
Two removable 2.5'' smart lock side fins
Paddle Type
33 ounce fiberglass shaft + polyurethane blade
Construction
ESL Military Grade PVC construction
Who Should Buy This Stand Up Paddle Board:
As a yoga and fitness paddleboard, the 10'8'' Aura Fit SUP is a good option for those who want to stretch and workout on the water. Others who will benefit from this board include:
New paddlers who want something with alot of stability to help them learn how to SUP quickly.
Advanced paddlers looking for an affordable, dedicated secondary yoga board.
Those who are interested in bringing out their kids or a pet with them in the water.
Paddleboarders who want a SUP with a design that sticks out on the water.
While you can take the 10'8'' Aura Yoga SUP almost anywhere, its performance varies per water conditions. This includes:
Lakes, bays, and open water environments for the best, most stable performance.
Choppier, busier waters with some performance loss. More for cruising than yoga.
River paddling. The 10'8'' can be a bit slow to maneuver, so try to avoid rivers with sudden, sharp twists and turns.
Ocean paddling. You can have some fun floating out in the ocean with the 10'8'' Aura, and shouldn't have to work too hard to paddle over most waves.
Performance
Stability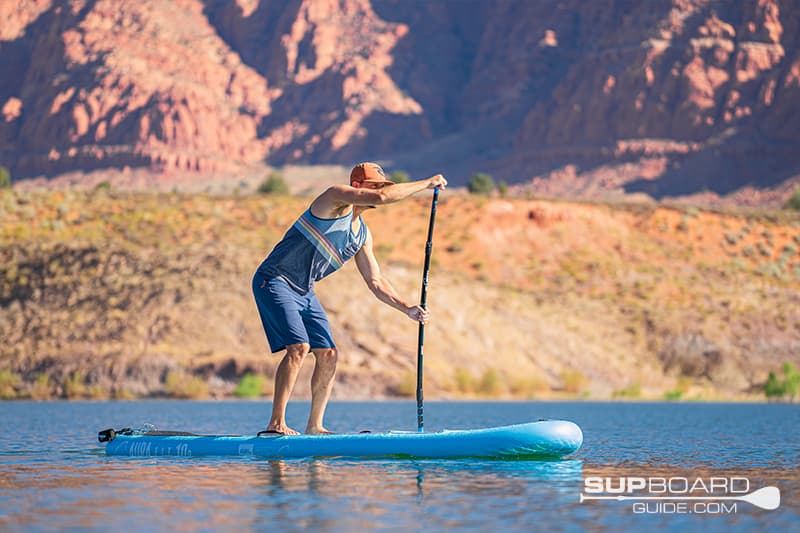 As a typical rule, the larger (and especially wider) a SUP is, the more stable it will be. The 10'8'' Aura fits the rule well, and with 35'' wide deck will be more than capable of supporting adult paddlers without too much issue. Due to the large size of this SUP, this is also a paddleboard that would be a fun option to bring out your kids or a pet on. Bluefin has given a recommended solo paddler weight of 200 lbs, but with a little practice and by standing in the proper place we think heavier adults should be able to exceed this with little performance loss. The excellent deck pad also makes it easy to maintain your balance, the grip support provided by the traction pad especially helpful as you hit some light chop or other waves in the water.
Maneuverability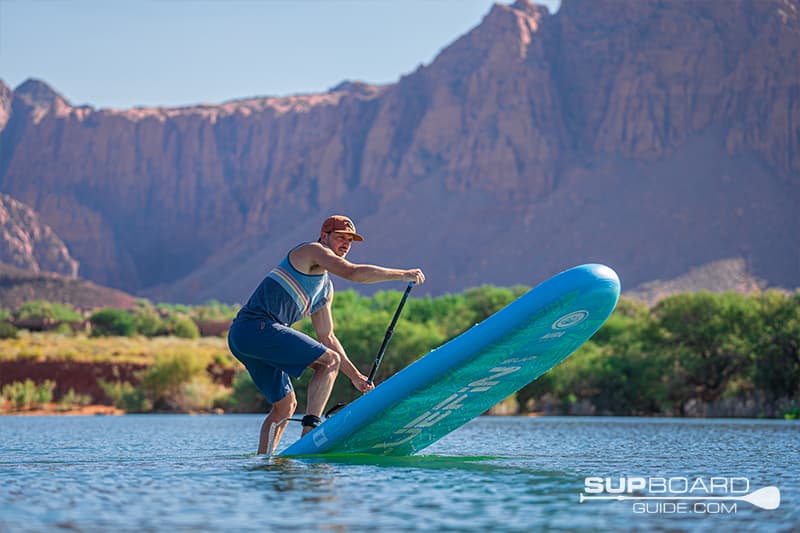 Due to the large size of the 10'8'', it will be a bit slower and harder to turn than shorter and thinner SUPs. However, to accommodate this, Bluefin made sure to round out the tail and raise the heel pad so that it will be easier to perform a step-back turn. Simply move one of your feet to the raised kick pad, press the tail into the water, and you'll raise the nose into the air so you can pivot the board on the spot. By mastering the step-back turn, you'll be able to maneuver well with the 10'8'' Aura, getting you where you want to go as you dodge any rocks, trees, and other paddlers you may encounter. It might not be the easiest thing to turn, but even beginners will be able to navigate the water with little to no trouble on the 2023 Aura Fit.
Tracking/Glide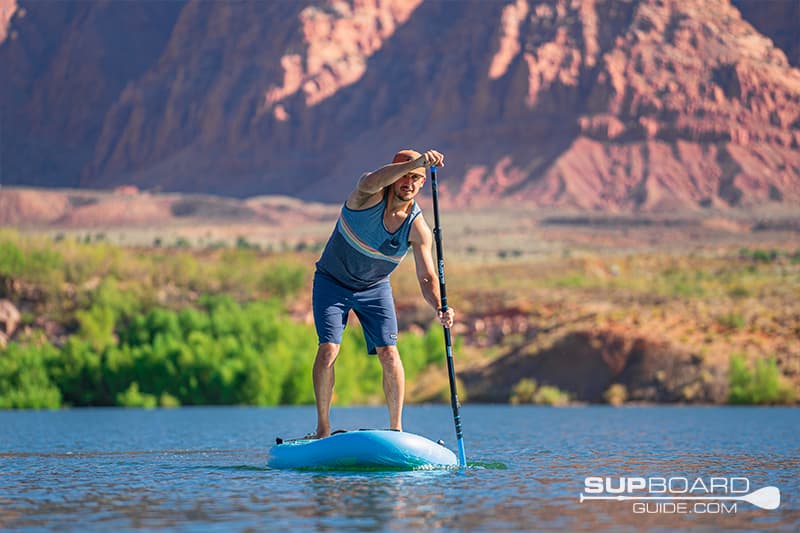 At 10'8'', the Aura Yoga SUP maintains a fairly steady and straight course in the water, tracking well enough that you won't have to struggle maintaining a direction. Yoga boards tend to offer a mostly smooth glide, with a wide planing hull shape that allows paddlers to tackle light to moderate chop without too much difficulty. Paddling on the 10'8'' Aura Fit paddleboard is a smooth and relaxing experience in still water, while still being a fun cruising trip in rougher conditions. Overall, this is a paddle board that is definitely enjoyable to go out on, as long as you keep your expectations in check and are aware it is a bit slow due to its overall size and width.
The 10'8'' Aura SUP has two smart-lock 2.5'' side fins that pair well with the included 8'' smart-lock center fin. When used together, the fin setup will further improve the tracking, the stability, and the overall performance of the 10'8'' Aura. Due to the performance improvements, we would recommend using the center fin in almost all water environments, except for those with shallow water such as rivers or ponds. Even without the fins though, the 10'8'' Aura yoga board tracking and glide should be very beginner friendly, letting you maintain a steady course even as you improve your paddling technique.
Materials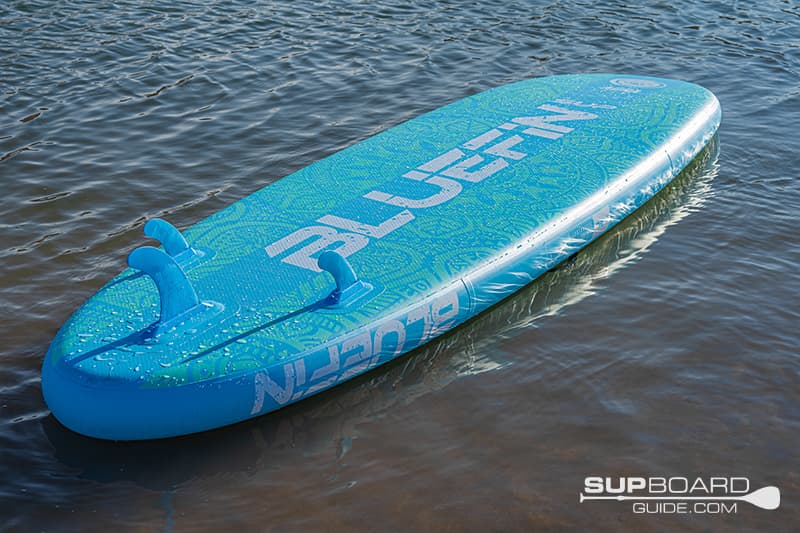 The Bluefin 10'8'' Aura Yoga SUP is constructed with ESL, or Exo Surface Laminate technology. To break it down component by component, we start with a tight drop-stitch core made up of sheets of fabric bound together by denier space yarn and 11,200 stitches. As air is pumped into this drop-stitch core, the inflatable blows up like a balloon but attains a board shape rather than something more round due to the stitching placement and yarn. This tight drop-stitch core provides the performance base, allowing you to stand and float in the water while keeping the board much lighter than a hardboard equivalent.
Drop-stitch cores are vulnerable to punctures and deflating like other inflatables, so to protect the core the board is covered with a military grade PVC composite coating. This PVC coating is resistant to most common drops, crashes, and other SUP accidents, with Bluefin promising you can use the board for a lifetime with just a little proper care. SUPs are also vulnerable to the sun, so Bluefin has applied a UV resistant HQ coating to the board to protect and prevent UV damage. Finally, a high pressure laminated print finish is applied, giving the 10'8'' Aura the awesome look that sets their board apart on the water!
Board Design/Shape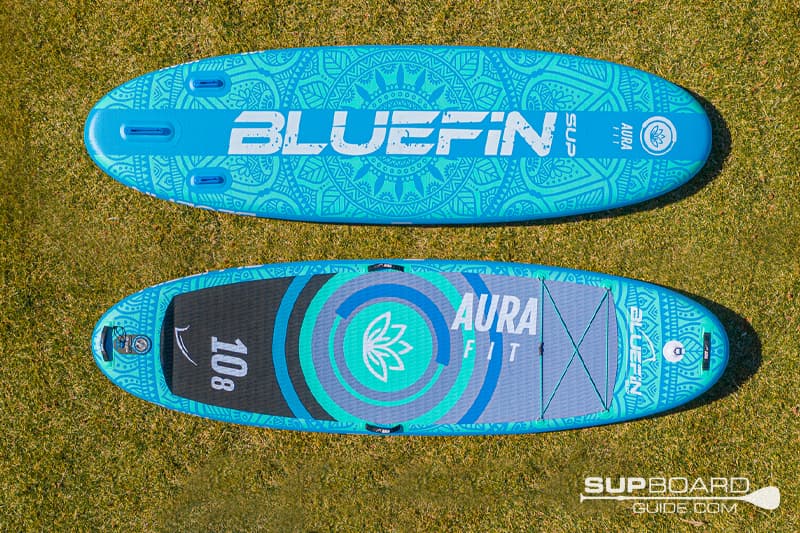 As a yoga/fitness board, the Bluefin 10'8'' Aura is built with stability in mind so that those who want to practice their asanas and find inner peace will be able to do so with ease. The 10'8'' length does provide the SUP with some tracking support, while the 35'' width and 6'' thickness work together to make the board stable in most water conditions. While built for yoga though, there are a number of other fun activities that you can do with this paddleboard. The good tracking and solid glide make it a good option to cruise in the water with, with the large size making it a fun option for going out on with your kids or pet. While not built for it and a tad slow, there's nothing stopping you from using this board for some light touring or casual racing with your friends. We recommend trying a bit of everything with the Bluefin 10'8'' Aura fitness SUP.
Board Features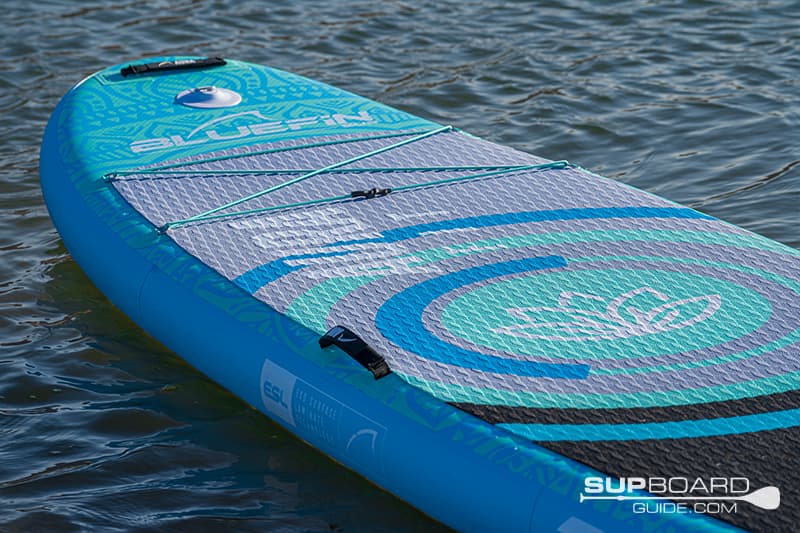 Outside of the performance, there are a number of cool features that further improve our opinion of the Bluefin 10'8'' Aura paddleboard, some that might not be obvious just by looking at it. These features include:
ESL Construction:The 10'8'' Aura will withstand almost anything you throw at it, be it from drops as you unload it from your car to the occasional crash on the water. The ESL tech (Exo Surface Laminate Technology) makes the board feel rigid and firm as well, providing a fun and stable paddling experience. The UV coating will also protect the board against sun damage, ensuring you can paddle from dusk to dawn for many years to come.
5 D-Rings + Action Mount + Removable Bungee Cargo System:The five D-rings are great for dry-bags and other clip on accessories, while the action mount will let you attach a speaker or other electronic devices for guided yoga sessions. If you have a small cooler or container, fit it under the bungee cargo area, or take the bungees out for even more deck space.
Quad carry handles:The four carry handles are all out of the way, giving you multiple options to lift your SUP without taking up space where you might stretch or lay down. These handles are also great places to attach a rope or cord to, if you want to tug your SUP while you're out on the water.
Raised kick pad:The raised kick pad makes it real easy to perform a step-back turn, as it guides your foot and gives you a firm place to push down without having to look back.
Thermosealed Croco-Diamond Deckpad:A fantastic deckpad, covering almost the whole upper side of the 10'8'' SUP. The crocodile texture and diamond grooved pattern provide fantastic traction support, allowing you to maintain your grip even when the board is wet. Furthermore, the EVA foam is soft and cushy, allowing you to stand, sit, and stretch on it all day long without irritating your hands or feet.
Fins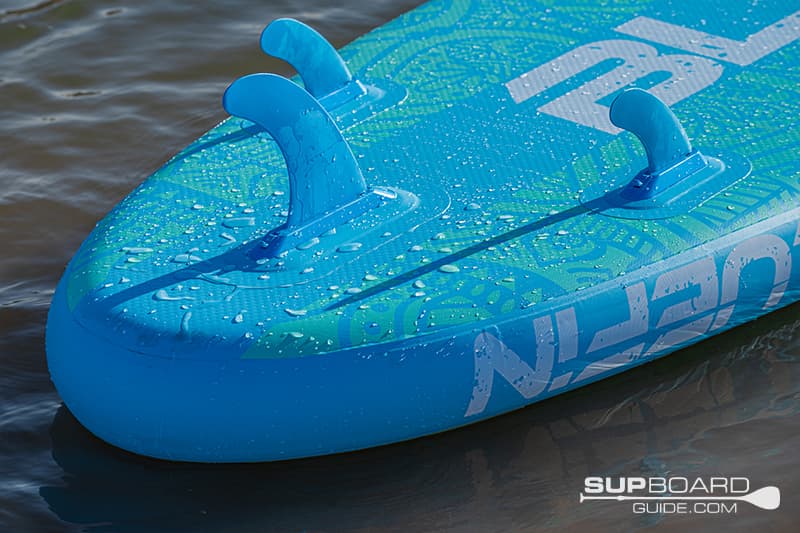 The tri-fin setup consists of a removable center smart-lock fin and two shorter removable side fins. The fins can be installed in seconds, and when the center fin is used it will improve the tracking of the board. The side fins, meanwhile, improve the stability and make the 10'8'' Aura fit have a bit of a tighter turn radius. Overall, the majority of paddlers will enjoy this simple and easy to install fin setup, though we do wish a US fin box system was available as a board option for even greater fin customization.
Traction Pad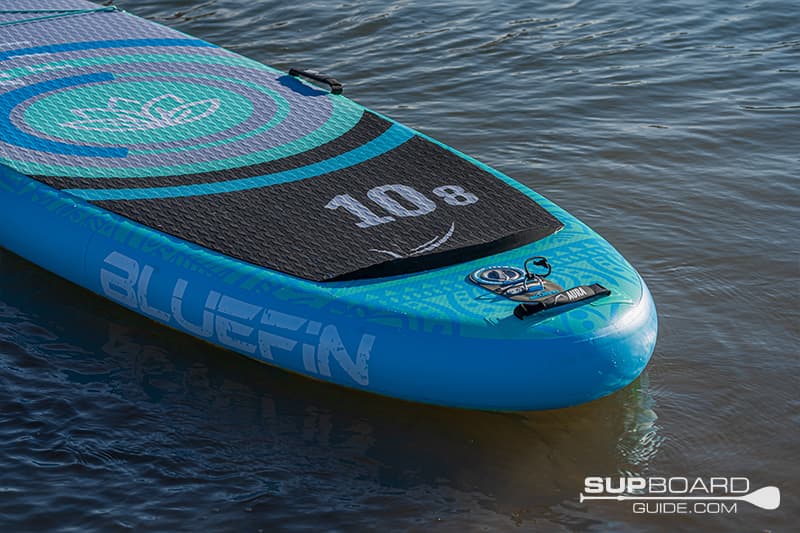 The Bluefin 10'8'' Aura has a stellar deck pad. The deck pad covers all but the nose of the paddleboard, made up of the same EVA foam used in many popular yoga mats for enjoyment on the water. The soft foam drains and dries quickly in wet, and is easy to wash and cool down on hot summer days. The crocodile texture and diamond grooved pattern both improve traction, which will make it so that even new paddlers will find it easy to maintain their foot grip to the board. Overall, this is a fantastic deck pad, and a great fit for those who want to practice yoga or engage in other fitness activities on the water.
Handles
There are four handles located on the 10'8'' Aura, with one on the nose, one on the tail, and two located in the center of the board. We like how the center handles are positioned on the side, allowing you to lay down in the center without having a handle dig in your back. A nose and tail handle are also helpful if you want to tug the SUP in the water, or have a friend who wants to help you carry the board.
D-Rings/Bungees/Cargo Areas
There are five D-rings on the Bluefin SUP 10'8'' Aura, four of which are used for the removable bungee cargo area and one on the tail handle for use with leashes. These D-rings are compatible with many popular SUP accessories, including dry-bags, the included waterproof smartphone case, and other common paddleboard accessories. Another cool feature is the nose action mount, which works great with GoPro camera mounts, speaker mounts, and other common device mounts. We would like a few more D-rings along the side for compatibility with kayak conversion kits and other SUP accessories, but this is a good basic setup on its own.
There is also a small removable bungee cargo area, which you can use to secure coolers and other small containers to your board. This bungee cargo system is also completely removable, allowing you to make use of the full length of the deck pad if you so desire.
Accessories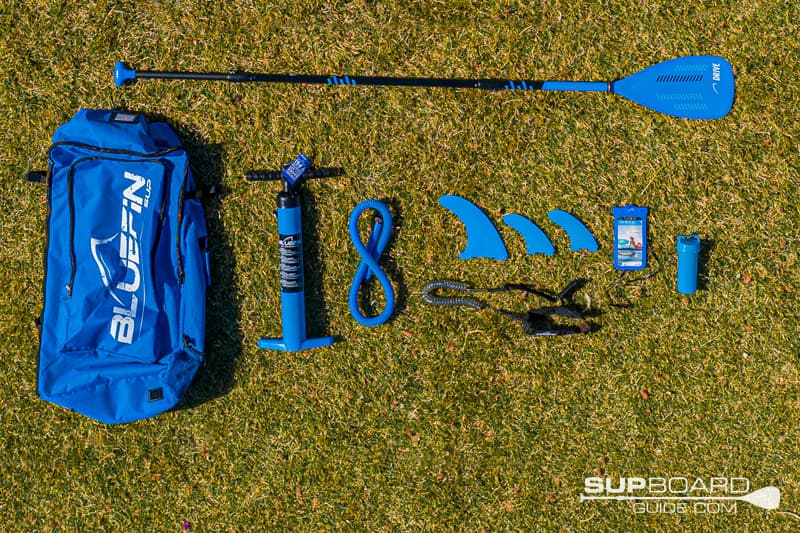 Paddle
Included with the Bluefin 10'8'' Aura is a fiberglass shaft and polyurethane blade, which can be assembled into three pieces and weighs about 33 ounces. The paddle feels good as you use it to propel yourself through the water, and is light enough that you can use it all day without tiring out your arms. However, Bluefin does offer an even lighter carbon fiber paddle, which we would recommend to those who want a superior paddle for the long term.
The included paddle is easy to put together or break apart, and fits well in the included Bluefin backpack when disassembled. The adjustable nature of the paddle makes it so that you can adjust its length to fit almost any adult sized paddler. Lastly, this paddle is pre-built to convert into a kayak paddle if you acquire another Bluefin paddle blade, a good option in case you ever want to paddle while sitting down on the 10'8'' Aura.
Pump
Bluefin has included a single-chamber, dual-action pump to inflate the 10'8'' Aura. The single-chamber pump is easy to use, with its instructions printed on the body of the pump, and will let even first time paddlers inflate their board in about fifteen minutes. We like how compact and light the single-chamber pump is, but due to the size of the board we think a dual-chamber pump would be better suited due to how much more efficient dual-chamber pumps are. At the very least, we would like to see a dual-chamber pump as an option for those who prefer speed and efficiency over having a small and compact pump.
You can also have the best of both worlds by adding an electric pump to your kit. Electric pumps are our favorite accessory due to the fact that they'll inflate a paddleboard for you, and do it nearly as fast as a dual-chamber pump. Electric pumps will also help you deflate your paddleboard when you're ready to leave, ensuring you only have to roll it up once and extending the overall life of the 10'8'' Aura. While electric pumps are about the same weight as a dual-chamber pump, they are even more compact than single-chamber pumps, giving you more room to pack your gear. If you want the best pumping and paddling experience, we suggest adding an electric pump to your paddleboard kit!
Backpack
Your kit will fit into the included Bluefin backpack, which is great for protecting your gear or for long distance travel with your paddleboard gear. The backpack has extra padding, which gives you additional protection against the elements while also making it super comfy to wear with the adjustable backpack straps. Additionally, the side pouches allow you to transport your paddle without having to repack your entire packback if you want to travel a short distance with it. It is a bit of a basic backpack, but it is well put together and ensures you can transport your gear while keeping it organized.
Leash
The coiled ankle leash is easy to put on, attaching to one of the D-rings on one end and over your ankle or calf with the other. Leashes are great as they keep your SUP from floating away if you fall in, with the coil protecting you against whiplash if you yank on the cord. Just be sure to wear a PFD to stay safe, as a leash will not help you float any better once you're in the water.
Repair Kit
The Bluefin 10'8'' Aura Yoga also has a small repair kit, with two items you can use to perform some minor repairs on your paddleboard. There are some small patches that will help you seal holes and tears that don't occur along the seams of the board. Additionally, the wrench will help you tighten up the Halkey-Roberts inflation valve, which can come loose with use over time.
If you have any other significant problems or performance affecting issues, be sure to contact Bluefin for assistance.
Company Review – Bluefin
Bluefin is based out of West Yorkshire, owned and operated by a family of water sports enthusiasts who grew up exploring the Southern Uplands off the coast of Scotland. Founded by William Vaughan and his partner Charlotte in 2013 as Bluefin Kayaks, this SUP manufacturer now focuses on producing high-quality and durable paddleboards that can be enjoyed by everyone. For 2023, there are more than ten different sized SUPs built with all sorts of paddlers in mind, allowing you to find a board with precise performance in mind.
Bluefin also offers great coverage for their paddleboards, with the Aura Fit covered by an outstanding 5-year warranty that covers damage outside of traditional wear and tear of the board. Bluefin also offers free shipping to the US and some parts of Europe, with paid shipping options for other countries throughout the world. Bluefin has a great support team as well, their staff quick to answer any questions that we've had as they look for ways to improve their boards year over year. Bluefin is a great SUP manufacturer, from the boards they make to the team that runs their company!
Conclusion/Bottom line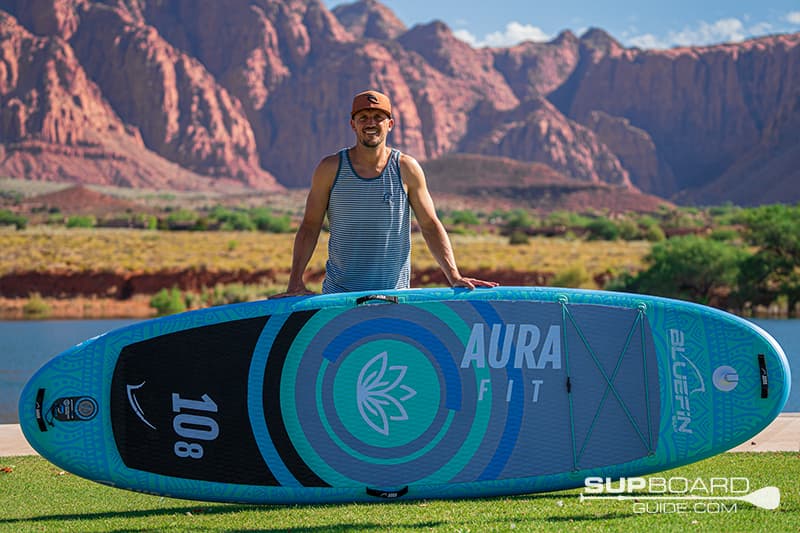 Whether you buy it as a dedicated yoga board or as a stable, family friend inflatable SUP for learning how to SUP on, we like the Bluefin 10'8'' a whole lot. The large size makes it a solid, stable platform for practicing yoga on, with a rigid feel thanks to the ESL construction. The deck space is very well built with the diamond grooved crocodile textured pattern, making it an excellent choice for aspiring yogis or those who just like maintaining a good grip. This is also a SUP that has everything you need for the water out of the box, consisting of a paddle, pump, and padded backpack that is easy to travel with. So, if you are new to the sport or just looking to invest in a very affordable yoga board, consider the 2023 Bluefin 10'8'' Aura Fit!
With that in mind, we do try to keep our reviews as informative as they can be, so be sure you leave a comment below or send us an email with any questions you may have about the 2023 Aura Fit. We also update our reviews based upon other paddlers feedback, so if you've tried out the 10'8'' Aura Yoga Fit let us know what you thought of it. If you're just trying to figure out what yoga board is best for you or looking for yoga tips, we're also happy to discuss that or any other paddleboarding topics with you as well!
Thank you so much for reading, and we hope you have a fun time SUPing!
The following two tabs change content below.
SupBoardGuide
Heyo! At SupBoardGuide.com we are a team who love the water, the outdoors, and are more than grateful that our full-time job allows us to review stand up paddle boards. We paddle year round (it helps that we are just about 2 hours outside of Las Vegas), and we bring in a wide range of paddlers with the goal of providing our readers with the best, most in-depth, and accurate stand up paddle board reviews.
Latest posts by SupBoardGuide (see all)