What is the best way to transport your SUP?
(Updated: 02/01/2018)
Owning a stand up paddleboard opens up a whole new world of fitness, fun, and exploration. A paddleboard lets you access and discover waterways in a whole new way.
It's getting the board to and from the launching point that can be a challenge at first.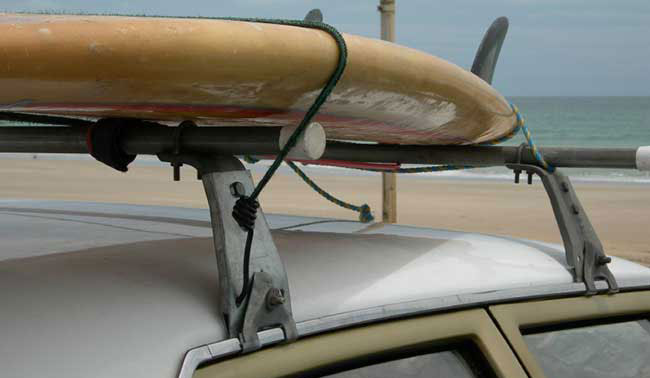 Since a SUP tends to be on the large and cumbersome side of recreational equipment, figuring out the best way to transport your board is an essential step in the learning process.
In this post, we review a few of the best options for traveling and carting a stand up paddleboard around.
1) When you already have a roof rack and crossbar

For those of us with factory installed racks and crossbars, there are some very simple options for attaching the SUP to the roof.
a) The budget-friendly option: Surf Pads + Straps
Get yourself some rack pads and tie down straps. This is the most basic set up for strapping your SUP to the roof of your car and will do the trick for most of us. As mentioned, you need to already have a rack with cross bars.  Then go find a couple of SUP specific foam surf pads that will fit your cross bars and are wide enough to support your board.
Rack Pads
Why do you need "SUP specific" surf pads? Yes, your basic foam surf rack pads will probably work fine. These are usually in 16 – 20″ width range.
However, SUP boards are generally much wider than surfboards and many windsurfers, so it will make your life a lot easier to find rack pads that support this extra width. It will also make the board sit evenly and stay secure on the roof. Luckily there are a few good options to choose from.
For example, the Dorsal Aero Rack Pads are designed specifically for carrying stand up paddleboards. These 28″ rack pads fit both square and round crossbars. They are made from very durable nylon and work well with heavy duty straps.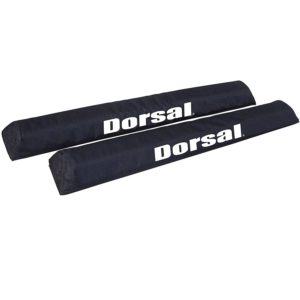 Another option we like are the NRS Barrito roof rack pads. These pads use durable neoprene to protect your board, with a heavy-duty hook-and-loop closure strip for secure attachment. They come in either 22″ or 32″ packages. If your car and crossbars are wide enough, we tend to prefer the wider option.


As a reminder, make sure you check the product descriptions to see whether the pads can fit round, square or factory crossbars. Rack pads come in several different lengths and packages.  Many can also come in sets that include the tie down straps (don't forget the straps!).
These systems do not include locks, though, so make sure not to leave your board unattended if you're worried about theft.
Straps
Now you need some straps. Since this set-up is relatively inexpensive, to begin with, there is no reason to skimp on this part. For a SUP board, you want to find thick, high-quality straps with sufficient padding under the cam buckles to protect your board from scratches.
I like the Deluxe SUP Carry Pack by Own the Wave. This strap is designed for strapping down a SUP, so it comes with nice thickness, padding, and durability. It also includes a padded shoulder area for carrying the board and a loop for hanging the board on your wall. Last but not least it's really cheap.
In general, a heavy duty roof rack strap will work just fine though. I have used the Dorsal SUP Tie Down Straps to tie down a bunch of gear.
These are burly straps with thick webbing, steel 1″ cam buckles with padded protection to protect your boards.
They work well with larger SUPs, kayaks and more. The photo below shows the 15 ft version, which is helpful when dealing with both a larger roof and the general volume of a SUP board.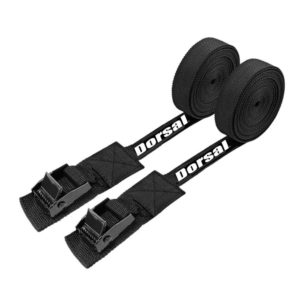 Tying Down Your Board
Now that you're equipped with some rack pads and straps, you need to secure the SUP to your roof rack. There are a lot of techniques for tying down the board with straps. It is hard to describe with words, but the process becomes quick and easy once you get used to it.
The best way to learn is to watch someone else do it, and then practice a few times until you're comfortable before leaving your driveway or fumbling through the process in the lot.
Check out this video for instructions on how to properly tie down your paddleboard. This person is using a truck rack, but the process applies to your car roof rack as well.
If you have a longer board, make sure you consider using nose and/or tail tie downs to add some extra security.
For example, the
Yakima SUP Brah Nose/Tail Tie Down Kit
will secure your board against fore/aft winds while you're driving.
b) SUP Transport Systems and Carriers
Next up are full "SUP specific" carrier systems designed to secure and transport one or more SUP boards. Expect to find padded racks, integrated straps, and locking mechanisms. These systems are a little more expensive, but the added convenience and SUP specific features may come in really handy when you do a lot of traveling with your board(s).
Thule SUP Taxi
The Thule SUP Taxi carrier system is a fully integrated carrier system designed specifically for stand up paddleboards. It can carry up to two SUP boards and features telescoping padded holders that expand to hold boards up to 34″ wide.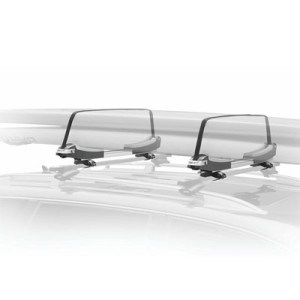 The SUP Taxi carrier system is easy to install and includes a locking mechanism to keep your boards secure. The Thule SUP Taxi can work on round, square, or factory bars.
Thule also makes the SUP Shuttle Carrier, which can also carry up to 2 boards and extends to 34″ wide.
Yakima SUPPup
Where there is a Thule SUP carrier system, it's not surprising to see a rival Yakima SUP specific option. The Yakima SUPPup is a full SUP transport system designed to protect and carry one or more boards.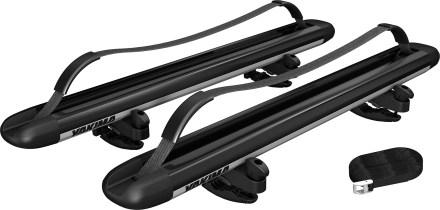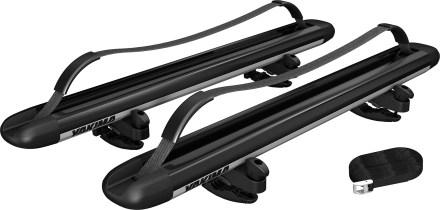 It will work with round, square, factory and aerodynamic crossbars and includes integrated top straps (plus tail a tie-down). It includes padded surfaces for protecting the board. This system is fairly quick to set up and extends to 34″ wide.
Inno SUP Locker
Another option is the INNO SUP Locker Rooftop Carrier. This system has a universal mount to fit most crossbars. You can ratchet down the strap to get a nice snug fit on your board too.
The INNO SUP Locker includes the rack pads and can carry up to two stand up paddle boards.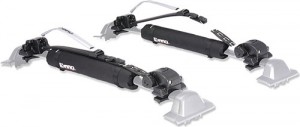 2) Don't have a roof rack?
For those of us without an existing rack framework, have no fear. There are still a few nice options for transporting boards of different shapes and sizes.
The first suggestion is usually to visit either the Thule or Yakima fit guide. Find some mounts and cross bars for your car or truck, and then pick up a suitable combination of rack pads and straps.
Or . . .
Find an all-in-one solution
The SeaSucker Paddle Board Rack is an option when you don't already have a roof rack or even factory installed rails. It uses  6" vacuum mounts, each with a 210 lb pull-strength rating, to quickly attach to your car's roof.
This rack comes with wrap around pads, extendable aluminum board bars (24″ – 44″) and two 10′ cam-buckle straps for lashing down your boards.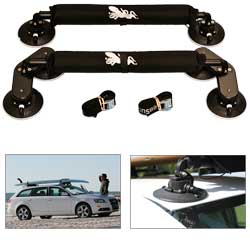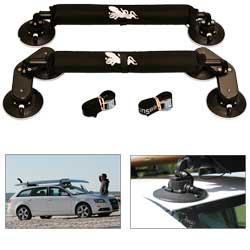 3) The SUP Pull-Cart Method
Finally, for shorter distances without a vehicle, but long enough to make carrying a hassle, check out some of the new SUP carts. These make it very easy to strap on your board and paddle, and then wheel your SUP across the road, beach or more rugged terrain.
Seattle Sports makes the SoulMite SUP Cart, with tough frames, WaveChaser™ wheels and a suction cup handle to pull the board.
There is also the Surfstow SUPXpress, which features polyurethane wheels, a heavy-duty suction handle, and an included bungee to strap your board down.
Update: I recently came across a product called SUPWheels. It's similar to the SUP Cart and SUPXpress but can also be attached to your bike making it easy to bike your SUP to the water. I recommend it instead. You can read my full SUP Wheels review here or check out the product here.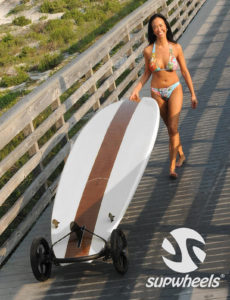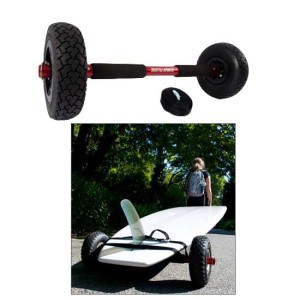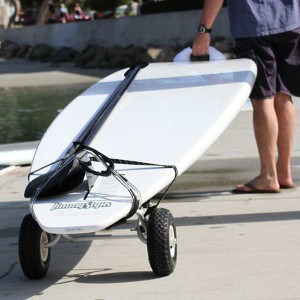 It's all about finding a simple and secure solution so you can spend less time strapping your board to the car (or cart) and more time on the water. Let us know what works best for you…
The following two tabs change content below.
SupBoardGuide Editorial Team
At SupBoardGuide.com we are a team who love the water, the outdoors, and are more than grateful that our full-time job allows us to review stand up paddle boards. We paddle year round (it helps that we are just about 2 hours outside of Las Vegas), and we bring in a wide range of paddlers with the goal of providing our readers with the best, most in-depth, and accurate stand up paddle board reviews.
Latest posts by SupBoardGuide Editorial Team (see all)