Construction processes were fairly rudimentary in the early days of inflatable stand-up paddleboards. Most SUPs were built with a single layer of PVC and would bend like crazy under larger or heavier paddlers. Unfortunately, this made the market pretty inaccessible and made these paddlers reliant on hard boards, which can be difficult to transport and store, and tend to be more expensive.
However, as construction has advanced over the years, inflatable boards have become more and more rigid, and better able to support higher weight capacities. Today, the market is pretty wide open in terms of paddler size ranges that can be accommodated, though it can be hard for a larger paddler to identify which SUP would be best for your skill set and individual preferences.
Have no fear! On this page, we'll walk you through our top recommendations for larger paddlers and help you understand why each SUP on this list is a stand-out. We didn't want this page to be just a list of large, heavy SUPs, but rather wanted to present an array of options, with some focused on stability, others showcasing lightweight construction, and some geared towards speed, while they all have one thing in common: exceptional weight support.
But before we get into our list, let's discuss some of the criteria that we used to determine which boards belong on this list.
What Makes a SUP Great for Larger Paddlers?
Essentially, choosing a SUP for a larger paddler comes down to 3 main things: volume, stability, and rigidity.
Volume
Volume is determined by the dimensions and shape of your SUP. There are various ways to determine your SUPs' volume and a lot of different advice on how to calculate your ideal board volume based on your weight, but essentially all you need to know is that every 1 L of volume can float 1 kg of weight (this is including the weight of the board), so the more you weigh, the more volume you need in your SUP to be more supported on the water. This brings us to the second thing you need to know: essentially every all-around SUP has at least 200 L of volume, with most having a considerable amount more. However, the larger the SUP is, the more volume you'll have, and the more supported/stable you'll feel on the water.
Stability
Of course, given our conversation in the previous section, stability goes hand in hand with volume. However, it's important to keep in mind that while a larger board is always going to be more stable than a smaller board, it's the width that is the greatest indicator of a SUP's stability. For example, a big 14' x 27" race SUP is going to be much less stable than a 10'6 x 35" all-around, despite the race SUP being 'larger'. We generally recommend SUPs that are at least 33" wide to larger paddlers who are new to the sport, but most SUPs within the 32" wide will be stable enough for most paddlers with a little bit of experience.
Rigidity
While volume and stability are the obvious factors here, rigidity is sometimes overlooked, but it may be the most important thing to consider. Some SUPs that are plenty wide and should have enough volume for larger paddlers, but their construction enables them to bend so much that they're fairly unstable at heavier weights. And, of course, this is extremely frustrating. Generally, we steer heavier paddlers towards SUPs that have dual-layer or cross-woven drop stitch construction and can handle higher PSI ratings (we like boards in the 15-20 PSI range).
Every SUP on this list has been thoroughly tested by our team, and we made sure that each of the boards listed below meets the criteria above. So, without further ado, here is our list of Best SUPs for Larger Paddlers:
---
Best SUPs for Larger Paddlers
1 – ISLE Switch
2 – Sea Gods Diatom
3 – Thurso Max Multi-purpose
4 – Gili Meno 10'6/11'6
5 – Nautical 11'6
6 – BOTE HD Aero
7 – Red paddle Co. 10'8 Ride MSL
8 – Sea Gods Skylla
9 – Red Paddle Co. Voyager 12'6
---

Pros
Performs well as a SUP or kayak, and comes with all included kayaking accessories
Plenty of volume/stability for larger paddlers, but is a light 19 lbs
Very stiff considering its lighter build
Full length deck pad provides tons of room to spread out on this board
ISLE Link system gives you tons of customization ability when it comes to placing your kayak seat, adjusting your cargo areas, etc.
Cons
We would like to see ISLE swap out the included aluminum paddle for lighter weight fiberglass,
Not only is the Switch extremely stable, with its impressive amount of volume it's also one of the best SUP/Kayak hybrid boards we've ever tested.
Being 11'6 x 35.5" wide, the Switch is the widest SUP on this list, and ISLE has done a great job on the shape of this board by evenly distributing the width down into the boxed-off tail. However, what surprised us about this SUP, especially given its width and impressive stability, is its speed. The Switch just has a really nice glide to it on the water, and while I think part of that can be credited to its tapered nose and dramatic rocker, another contributor is its lightweight build.
Constructed with cross-woven drop stitch the ISLE Switch is only 19 lbs, the lightest on this page, though it's not lacking anything in rigidity. It's easy to carry down the beach and even easier to get up to a decent pace, and though this board is as stable as they come, it's not going to leave you in the dust when paddling with a group of friends.
Obviously, when it comes to features and accessories, the most exciting part about the Switch is that it can double as a kayak. The new ISLE link system, which accounts for the series of nylon loops that run along the rails of this SUP from nose to tail, allowing you to attach your included kayak seat and footrest wherever is most comfortable, while the included kayak blade transforms your SUP paddle into a kayak paddle. We also love that the Switch has a full-length deck pad, making every spot on this SUP/kayak comfortable for pets or passengers.
---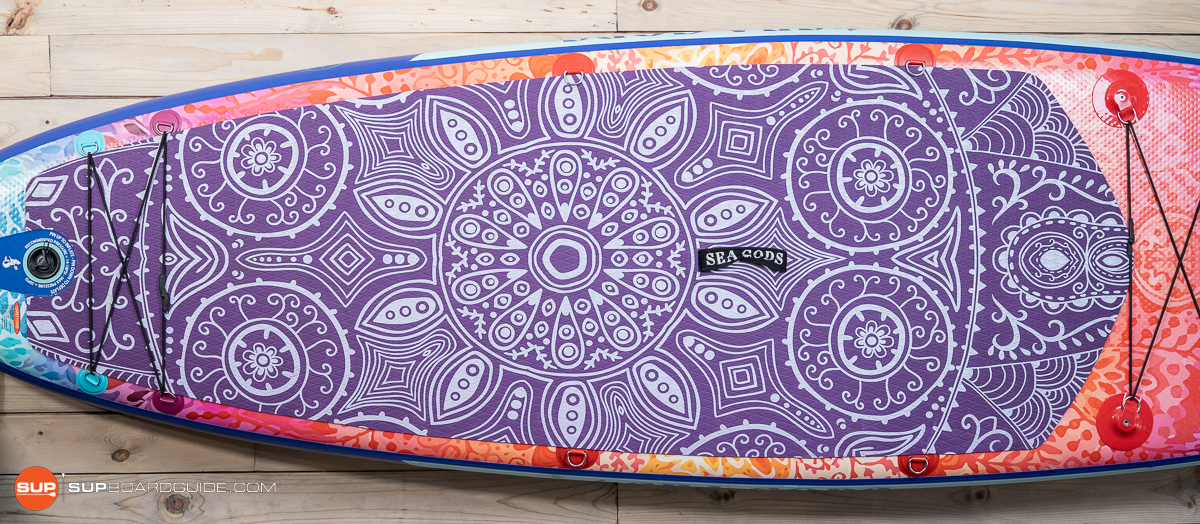 Pros
Rigid, high volume SUP = a lot of weight support for heavier paddlers without bending/flexing under foot
Lightweight construction = easy to carry to the water inflated or deflated on your back
Highly maneuverable; it has a more nimble, sporty feeling than other high-volume SUPs
Backed by Sea Gods' lifetime warranty, the longest in the industry
Cons
The velcro on the included leash frays pretty quickly, making undoing your leash challenging – this is being extremely nitpicky though
The Sea Gods Diatom suits a wide range of paddler sizes and skill sets. Its high volume dimensions and rigid construction make it a great choice for larger paddlers that want a performance-focused all-around.
The Diatom is 10'6 long by 34" wide, which is plenty of volume to support heavier paddlers on the water. The width is also carried through the SUP's entire length, into its rounded-off nose and tail, which helps Sea Gods maximize the 'wet area' of this board and subsequently maximize stability. This is coupled with Sea Gods' rigid construction, which helps this board resist bending or flexing under heavier paddlers' feet which improves performance in all aspects, stability included. The Diatom is also lightweight and extremely maneuverable, which makes it a ton of fun to paddle, especially if you're used to heavier-built, longer SUPs.
While the performance alone won us over on this board, we also really like the Diatom's features and accessories. The softly diamond grooved deck pad balances comfort and traction, while the kayak seat-compatible D-rings and integrated action mounts offer a bit more versatility. Though most noteworthy is the Diatom's artwork, which is designed by Russian artist, Markovka, who specializes in nature-inspired illustrations. This board doubles as an actual work of art.
Of course, the careful construction and artwork contribute to Sea Gods' higher price tag, but we feel it's warranted when you also consider their accessories such as a lightweight and rigid carbon fiber paddle and heavy-duty wheeled backpack. It's also nice to have some added peace of mind with Sea Gods' lifetime warranty coverage.
Overall, this SUP makes a great investment for a heavier paddler that wants a light and nimble all-around without sacrificing volume and stability.
---
3. Thurso Surf Max Multi-Purpose (See Full Review)

Pros
Extremely stable SUP w/ plenty of volume to provide support for heavier paddlers
Full-length deck pad offers lots of space to spread out and catch some rays on your board
Tons of features, from action mounts and extra grab handles, to a built-in fishing ruler on the deck pad
Rigid construction = larger paddlers won't experience any bending or flexing from the board that can sometimes cause instability
Cons
This SUP is on the heavier/slower side because of its robust construction
The Thurso Surf Max Multi-purpose is a tank in paddleboard form. Its robust construction does make it a little bit heavier than others, but this is a high-volume SUP with plenty of weight capacity for heavier paddlers.
The Max is 11'6 by 34", which gives it a bit more volume than the Diatom that we discussed above. Unsurprisingly, this SUP is solid as a rock on the water; there's virtually no wobble, or 'tippiness', to this SUP and it has very little flex or bounce. It'd make a great choice for heavier paddlers whose skills are more entry-level or heavier paddlers that still want the ability to bring along gear or passengers (pets included).
Consistent with the name 'multi-purpose', the Thurso Max is decked out with versatile features. There's a total of 5 action mounts to set up cup-holders, rod-holders, go-pros, speakers, or anything else you could think to attach. There are also 4 extra grab handles in addition to the standard front, rear, and center carry handles, as well as kayak seat compatible D-rings, and velcro paddle holders. What we love most about the Max Multi-purpose is the full-length deck pad, which creates plenty of space for passengers or pets, and has a built-in fishing ruler.
As usually with Thurso SUPs, the Max is shipped with a great accessory kit as well. We love Thurso's carbon fiber hybrid paddle and their recently upgraded backpacks. They've also gone the extra mile this season to swap out their single-use plastic packaging with less environmentally harmful paper packaging; We'd love to see this change implemented across the industry.
In short, the Thurso Max is a good choice for larger paddlers that want a little extra versatility, and the ability to bring along gear or passengers.
---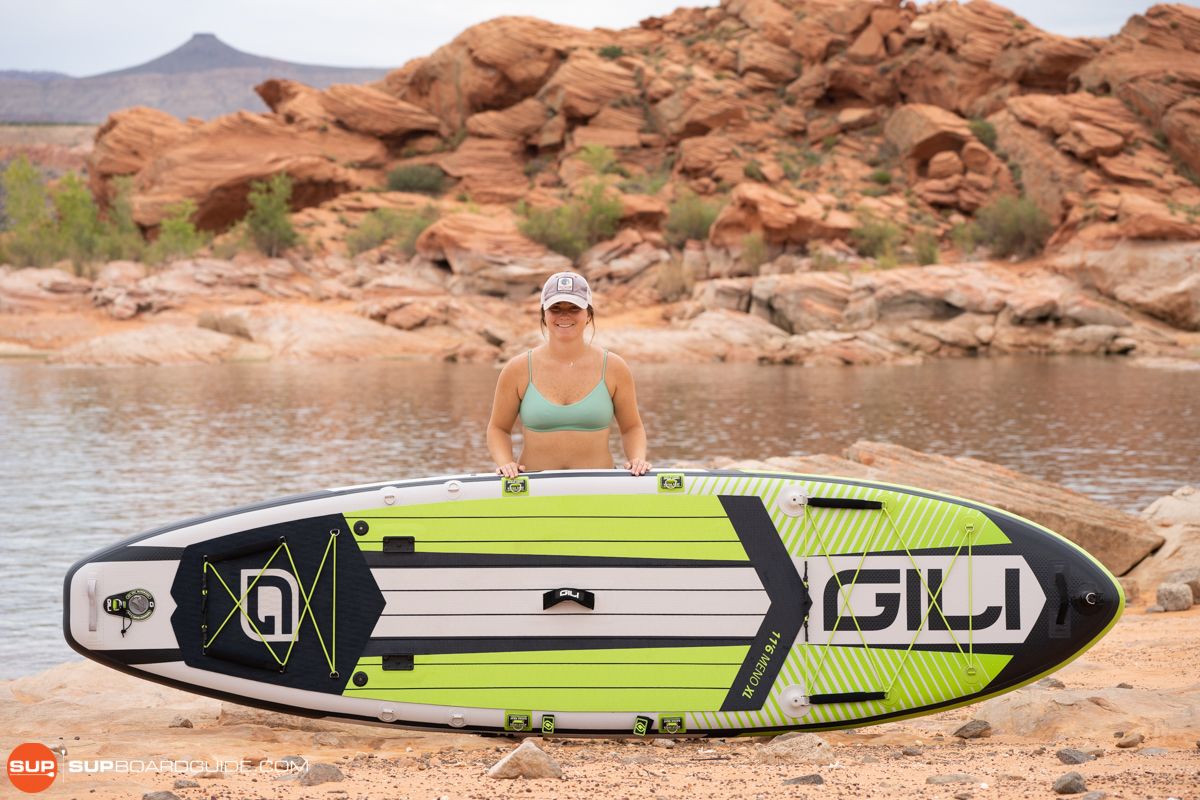 Pros
High volume SUP = provides plenty of support to heavier paddlers
Scotty mounts and a total of 4 action mounts add a lot of versatility; this SUP would be great for paddlers interested in SUP fishing
Carbon fiber rails slightly increase stiffness; this SUP won't flex too much on the water for heavier paddlers
Velcro paddle holder is a nice touch to free up your hands while walking to the water or secure your paddle if you go for a swim
Cons
The black portion on the rails tends to get hotter in the sun than lighter colored boards
The Gili Meno series has previously held our award for Best Family SUP for its high level of weight support making it also a good, affordable option for heavier paddlers that are new to the sport and want to prioritize stability.
The Meno comes in two size options, though both offer enough volume for larger paddlers, the 10'6 option is a bit more maneuverable and the 11'6 option is a bit more stable and a hair faster than the 10'6. Both sizes are 35" wide, however, which gives this board virtually no learning curve as it eliminates any side-to-side wobble.
Also playing into this board's stability and support is its construction. Gili constructs their Meno series using a linear drop stitch and dual layers of PVC along the deck and bottom. Its rail layer is reinforced with a strip of carbon fiber fabric, which slightly improves its rigidity and adds more protection against scrapes and punctures along the rail.
Gili has also incorporated a lot of versatile features into the Meno such as scotty mounts to accommodate fishing rod holders, and 4 universal action mounts along with the more standard front and rear cargo areas. We also like the newly upgraded brand-stamped deck pad as it adds a little bit more traction than just the deep grooves alone.
As a final note on Gili's Meno series, we love that these SUPs come stocked with a double chamber hand pump as it makes inflating this SUP by hand more efficient. We're also impressed that Gili provides 5 fins with this SUP, giving you the option to cater your fin set-up to your environment.
---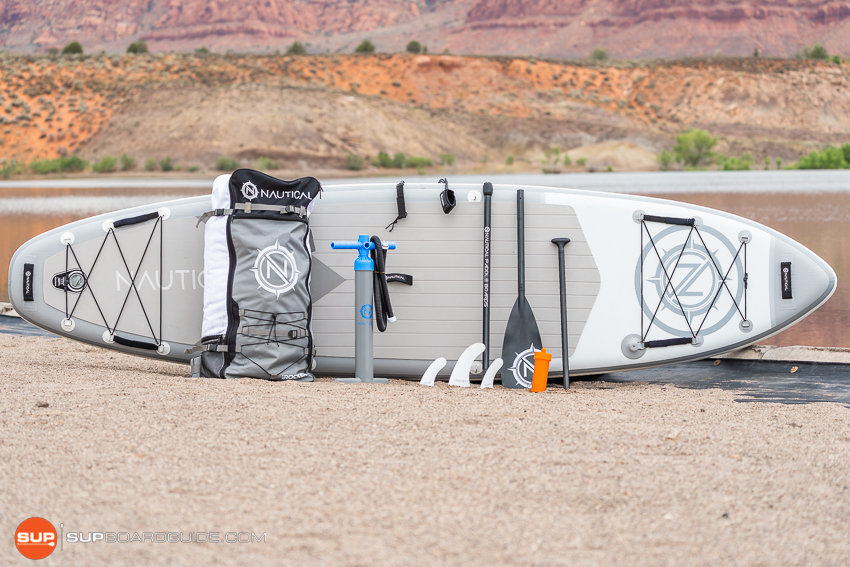 Pros
Priced very affordably for paddlers on a budget
Dual layer construction is rare in this price range and adds to the rigidity of this SUP; typically boards at this price are single layer, which can flex quite a bit on the water
Almost the same array of features as some higher-end SUPs
Cons
Not the most rigid board on this list, though it performs well for paddlers up to the 250lb range
The Nautical 11'6 is one of the more affordable SUPs on this list but is not at all lacking in quality or weight support for larger paddlers. We've tested the Nautical 11'6 up to 400+ lbs by loading up three of our reviewers on this board (one paddling + 2 sitting, for those who need a mental picture), and it still was able to be paddled reasonably well (though we wouldn't recommend doing this on the regular), which is why we're so confident to include this SUP on this list.
Though it is important to note that the Nautical 11'6 is 32" wide, which still provides enough stability for most paddlers, it will come with more of a learning curve than the wider SUPs on this list, especially if extra stability is your main concern. The upside is that this SUP will enable you to develop your skills and your technique a bit more though, which is great if you're planning on staying with this sport. We also like that this board is a bit more speed capable than heavier or wider SUPs, as it's only 22 lbs, and found it to be fairly maneuverable for a longer all-around.
Like most other boards on this list, the Nautical 11'6 is constructed with a linear drop stitch and dual layers of PVC, making it stiffer than most other SUPs in this price range. Though because it has less volume than some of the wider boards, we think it'd work best as a solo board for a larger paddler, rather than a SUP that can be loaded up with gear.
As far as features and accessories go, the Nautical series shares a lot of similarities with iROCKER's higher-end boards such as the integrated action mount, front and rear cargo areas, and included fins. In general, this board is a fantastic value, and we're impressed with iROCKER's ability to create such a good budget-friendly option that supports a wide range of paddler sizes.
---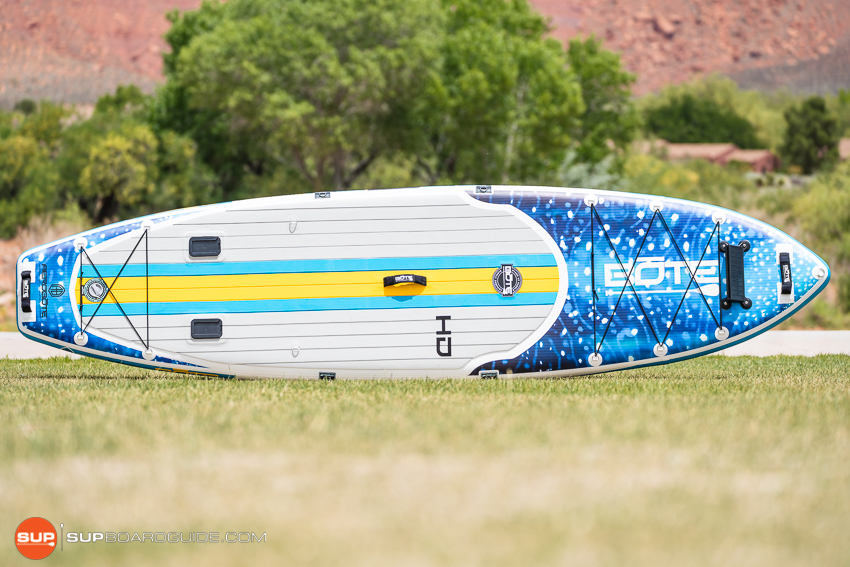 Pros
Robust construction is stiff enough to reduce flex = will feel more stable for heavier paddlers than less heavily built SUPs
Versatile accessories, this is another great fishing SUP
Comes stocked with a 'bote'load of accessories, including Bote's paddle sheath
Compatible with an array of Bote's optional accessories = this SUP is super customizable
Cons
Sits in the higher price range
The BOTE HD Aero finds itself on several of our 'Best SUPs for…" pages, and I think that really speaks to its versatility. There's just not much that this board can't do, whether that be serving as a solid solo board for an entry-level larger paddler, being a gear-hauler and family-friendly board as paddler skills develop, or being a capable fishing platform. This SUP is ready for it all.
At 11'6 x 34", this is yet another high-volume SUP to add to the list, it can provide a lot of support for heavier paddlers and a good amount of gear. And though, it's not the quickest or most maneuverable SUP, the HD Aero is exceptionally stable.
Like most BOTE SUPs, the HD Aero is heavily built with 2 layers of PVC and a dense linear drop stitch that helps this board stay rigid under weight, whether that be a single paddler or a paddler and some gear or passengers. And while these boards are definitely stiff, they're also a bit heavier than others, which doesn't seem to be an issue on the water, but could be something to keep in mind if you've got a long walk to the water.
As always with Bote SUPs, this board is loaded with features and accessories to make it super customizable. On the deck, there's a pair of scotty mounts, cooler tie-down points, a magnepod cup holder (compatible with Bote's magnepod accessories), kayak seat D-rings, and 4 action mounts on the nose to attach Bote paddle sheath. This kit also includes a few highlights as well, including Bote's removable paddle sheath, and 'rac' receivers to mount Bote's fishing rack.
---
7. Red Paddle Co. 10'8 Ride MSL (See Full Review)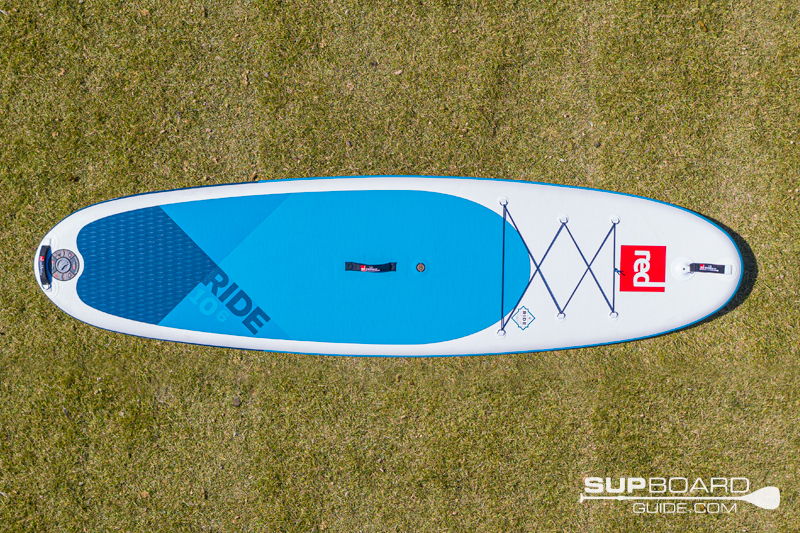 Pros
MSL construction is one of the best construction methods in the industry
4.7" thickness lowers your center of gravity and can help to feel more stable in chop/waves than 6" thick boards
34" width is carefully distributed throughout the length of this board, plenty of stability for more entry-level paddlers
Comes with Red's ATB transformer backpack, which is a great lightweight option for hiking with your SUP
Cons
4.7" thickness may not provide enough volume for some heavier paddlers
The Red Paddle Co. 10'8 Ride is one of the higher performing and more advanced constructed boards on this list, and that does come with a price tag. Though the 10'8 Ride would be a great investment for a larger paddler looking for a fun, sporty all-around to serve as a solo board as they progress into the sport, and will last for several seasons.
Being 10'8 x 34" wide, the Ride MSL has just a bit more volume and stability than more classic 10'6 x 32" all-around SUPs. And while this helps it to provide support to heavier paddlers, it doesn't diminish the nimble, maneuverable nature of this board. However, the most notable feature of this SUP is that it's only 4.7" thick, while others are typically about 6" thick. This lowers the paddlers' center of gravity and helps them to feel more stable in chop or waves. Red Paddle Co. Ride can closely mimic hardboard-like performance considering its thinner build and overall rigid construction.
The construction itself is what's most impressive about this board, as Red Paddle Co.'s MSL ( Monocoque Structural Laminate) fusion technology is one of the best in the industry. It involves a dense linear drop stitch anchored into a woven fabric, which is then coated in an adhesive before the PVC layer is machine laminated onto the surface. This eliminates cosmetic wrinkles that are caused by human error during the gluing process and eliminates the need for a liquified bottom layer of PVC, which helps Red Paddle Co. avoid excess weight without sacrificing stiffness.
And while the construction method behind the Ride is advanced, its features are more minimalistic. There is a front cargo area, 3 carry handles, and a brand embossed deck pad with a diamond grooved section at the tail. It definitely mimics the more classic all-around look. Though Red Paddle Co.'s emphasis on technology does still shine through in their included accessories, as this Ride comes with their all-terrain backpack, and Titan II hand pump (the most efficient manual pump available).
---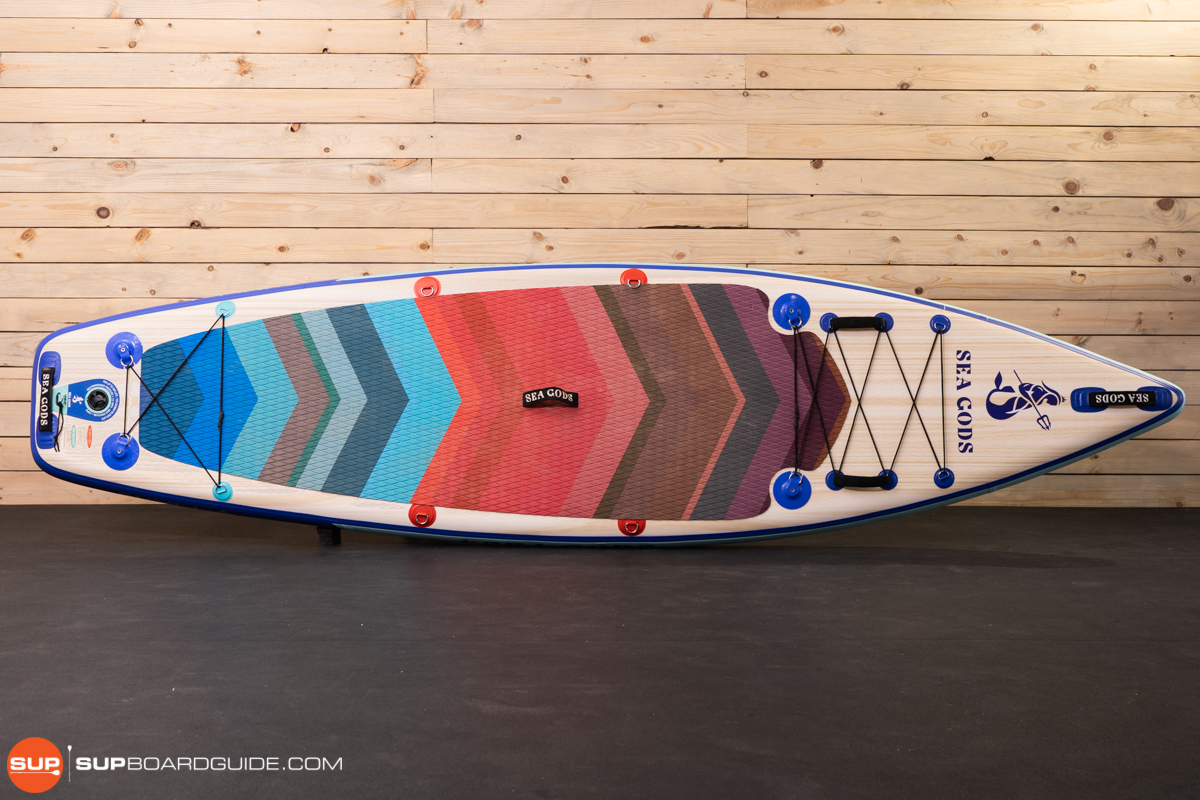 Pros
Super stiff construction is very resistant to flexing on the water; will feel more supportive for heavier paddlers
Very lightweight at 19.5 lbs = easy to carry and easy to pick up speed while paddling
Touring style nose shape cuts down on the surface area, reduces drag, and gives the board a bit more speed than rounded all-around SUPs
33" width + the wide, boxy tail makes for great stability and little to no side-to-side wobble
Covered by Sea gods Lifetime warranty
Gorgeous artwork on the bottom of the SUP by Pellvetica
Cons
A bit pricier than others on this list, but we think it's warranted given the advanced construction, locally sourced artwork, and extensive warranty
The Sea Gods Skylla is another SUP that's on the higher end of the price spectrum, but as we said with the Diatom towards the top of this list, Sea Gods exceptionally stiff construction and their commitment to showcasing goregous artwork make these boards well worth it (at least to us). The Skylla in particular rivals the stability and weight support of the Diatom, but its touring board style shape makes it a little quicker on the water.
Being 33" wide, the Skylla is extremely stable and it helps that Sea Gods carried that width into the wide, boxy tail of this board, helping to maintain its wet area and keep paddlers of all sizes well-supported. Though that's not to say that the Skylla is slow, as Sea Gods designed this SUP with a tapered nose, which cuts down some surface area and enables it to be faster than a rounded all-around. They've done a great job at balancing stability and speed, and this carries over into maneuverability and tracking, as the Skylla's 11' length makes it more maneuverable than a touring board while its hatchet style fin contributes to better tracking than more classic all-around SUPs.
It's worth noting here as well that the Skylla is constructed a bit differently than the Diatom and the rest of Sea Gods line-up. While other Sea Gods SUPs are centered around a linear drop stitch, the Skylla's drop stitch is cross-woven, which enables them to reach a higher level of stiffness while using fewer materials, lowering the end weight of the SUP. As a result, the Skylla is only 19.5 lbs, which is less than the Diatom despite the Skylla being dimensionally larger.
Of course, the Skylla and the previously listed Diatom are nearly identical in terms of features and accessories. Both come with the same high-quality kit, including the carbon fiber paddle, though the Skylla has a total of 4 integrated action mounts, compared to the Diatom's 2.
All-in-all, the Skylla is a good option for larger paddlers who are leaning toward faster SUPs but don't want to experience the big stability loss that comes with touring boards.
---
9. Red Paddle Co. Voyager 12'6 (See Full Review)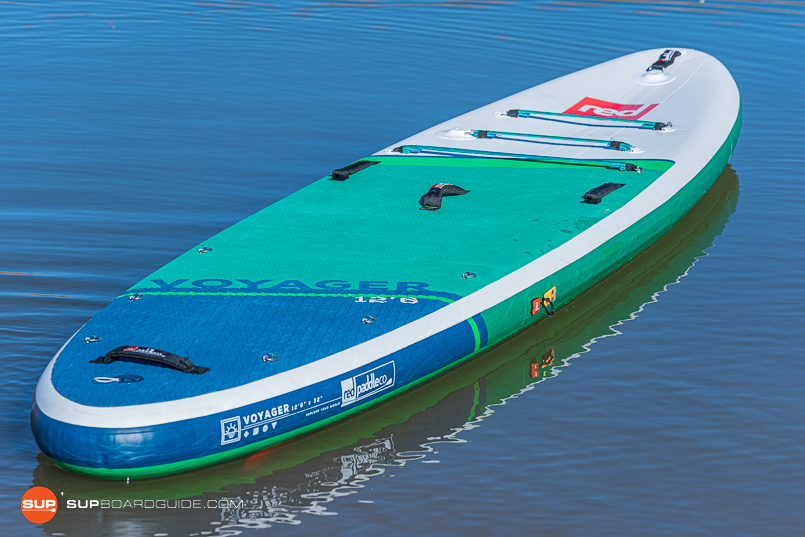 Pros
More speed oriented than others on this list; V-hull construction helps to cut through/displace water rather than gliding over top
32" width + 12'6 in length is plenty of volume to support heavier paddlers, and the width is well distributed up the length of the board to maximize stability
Comes with included RSS Battens to increase this SUP's stiffness
Some customization ability to attach rear bungees because Red has included extra D-rings along the tail; this is a good camping/adventure board
Cons
No included paddle, though this gives you the option to purchase a paddle separately that better suits your needs/paddling style
Like the Skylla, the Red Paddle Co. Voyager 12'6 is another great investment for larger paddlers that are wanting to venture into the touring/adventure board space without a huge learning curve.
Red Paddle Co. has made this board 12'6 x 32", which on some SUPs that have a more tapered shape, can be slightly unstable. Though Red has done a great job at maximizing the wet area, and of course the volume, of this SUP by distributing the width over nearly the entire length by gradually rounding off the nose and the tail. And while this does create a very supportive feeling for larger paddlers, it takes nothing away from speed, as the 12'6 Voyager is built with a slight V-hull, that extends from just beneath the standing area to the nose of the board. Where most inflatable SUPs are just gliding over the top of the water, the Voyager can cut through.
Another reason we love to recommend this SUP for larger paddlers (or any paddler, frankly) is that it's built with Red Paddle Co.'s MSL fusion, making it exceptionally stiff and impressively lightweight. In addition, though, the Voyager series comes with a pair of Red's RSS Battens, which slide into the side rails of this SUP and aid even more in making this SUP exceptionally rigid when supporting higher weights. On top of the RSS battens, the Voyager series is also shipped with Red Paddle Co.'s all-terrain backpack, titan II pump, and twin fin set-up.
---
Summary of Best SUPs for Larger Paddlers
We realize we've thrown a lot of options at you in this list, but keep in mind that the main thing to look for in a SUP specifically for a larger paddler is overall volume and stability.
The volume will depend on the board's shape and dimensions, but put simply, the larger the board, the higher the volume and the greater ability the board will have to float under more weight. Though the easiest indicator of a board's stability is the width (it's obviously directly correlated to the volume); if you're an entry-level paddler that's not looking to tackle a steeper learning curve, lean towards boars that are more than 32" wide, and of course, the volume will follow.
It's also important to consider a board's rigidity, as a high volume board that allows a ton of flex under the paddler is still going to feel just as, if not more, unstable as a smaller SUP. Generally, we recommend against single-layer boards for heavier paddlers for this reason and tend to prefer dual-layer SUPs or SUPs with cross-woven construction.
Of course, our number one recommendation for paddlers is to have fun and try not to take yourself too seriously. Get comfortable falling in and realize that the skills will come with time. Though if you're needing some extra pointers, check out our YouTube video on How to Stand-up Paddleboard, or our video on How to Improve Your Balance On a SUP.
As always, we hope you've found this page helpful as you look for SUPs for larger paddlers, and we encourage you to reach out in the comments below with any questions.
Happy paddling!
The following two tabs change content below.
SupBoardGuide
Heyo! At SupBoardGuide.com we are a team who love the water, the outdoors, and are more than grateful that our full-time job allows us to review stand up paddle boards. We paddle year round (it helps that we are just about 2 hours outside of Las Vegas), and we bring in a wide range of paddlers with the goal of providing our readers with the best, most in-depth, and accurate stand up paddle board reviews.
Latest posts by SupBoardGuide (see all)