BOTE Rackham Aero 12'4 Bug Slinger- Apex Pedal Drive Package
Pros
This iSUP is perfect for fishing, multiple people, or multi day excursions.
There is not one thing in the BOTE catalog, save the outboard motor, that does not have a place on this board.
One of the most versatile SUPs on the market today.
Cons
This crossover iSUP is packed with so many bells and whistles that it is understandably, quite pricey.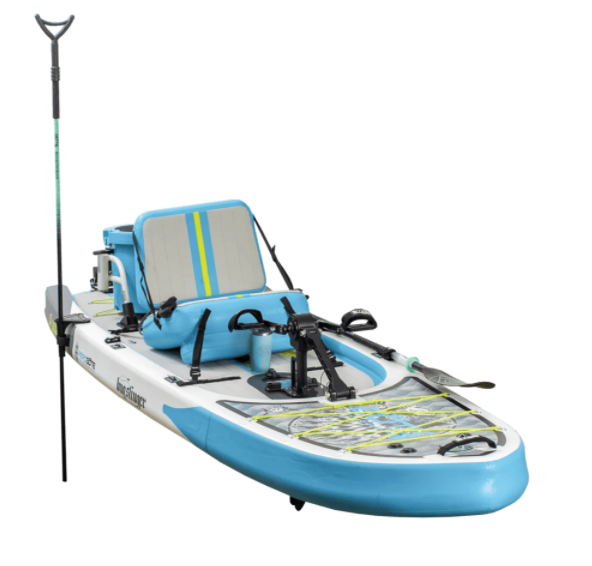 The BOTE Rackham Aero 12'4" is once again available in 2023, however this latest model supports the addition of their APEX Pedal Drive and Rudder System as well as a new color option. We are excited to review it in person but for now lets go over the general specs.
For the most part the hybrid iSUP remains unchanged. It still has a long 12' water line and a stability focused 38" wide stance.There is also an amazing new color option referred to as "Silver King" but most importantly, there is a sizable hole in the center of the board.
Now don't worry, this in no way will cause you to sink, but it does give you a cool "glass look" viewing window through the included plastic surround piece. If you have never had the opportunity to paddle, peddle, or kayak, a glass bottomed craft , then you're in for a treat, especially in clear blue waters. It's a window into another world just below the surface of the water.
For those of you quick to recognize the word "peddle" in the above paragraph you will be especially happy to know that this year's Rackham is now compatible with BOTE's standard Apex Pedal Drive System. This has transitioned from an iSUP/Kayak to a truly versatile craft with the ability to use a pedal drive, kayak paddle, or stand up paddle for locomotion. Seeing how large and sturdy this board is, it makes sense to include a pedal drive for additional thrust.
We think the BOTE Rackham Aero with the Apex Pedal Drive would be great for paddlers who:
Want a well-built, solid inflatable SUP that's great for beginners and intermediate paddlers alike in a variety of water conditions
Need a board with high weight capacity (400 lbs)
Want the option of stand up paddling, kayaking, or peddling to their destination
Would like to paddle with kids and/or additional gear
Want to load their SUP with all kinds of accessories for a fun day out on the water
Paddlers who want to go out in a variety of environments from flat water, to chop, and ocean paddling
BOTE Rackham Aero with Apex Pedal Drive Review: Overview

Note: We paddle A LOT, and our reviews are based on our real life feedback with the boards we test. Currently we are awaiting our 2023 Rackham Aero with the Apex Peddle Drive, so this review is based on our previous experience with the BOTE products and the previous Rackham Aero. If you have any questions don't hesitate to drop us a line below.
BOTE Rackham Aero with Apex Pedal Drive: Spec Sheet
Main Category: SUP/Yak hybrid, Inflatable
Board Dimensions: 12'4" x 38" x 7"
Listed Board Weight: 45 lbs
Listed Max Capacity: 400 lbs
Recommended PSI: 10-15 psi
Fins: 1 removable 10" Aero center fin and 2 built in "side bite" fins
Paddle: 3 piece adjustable SUP paddle
Materials: Inflatable Aero ULTRA technology
Price Range: High end
Warranty: 30 Day guarantee & 2 year warranty
In-Depth Review of the BOTE Rackham Aero with Apex Peddle Drive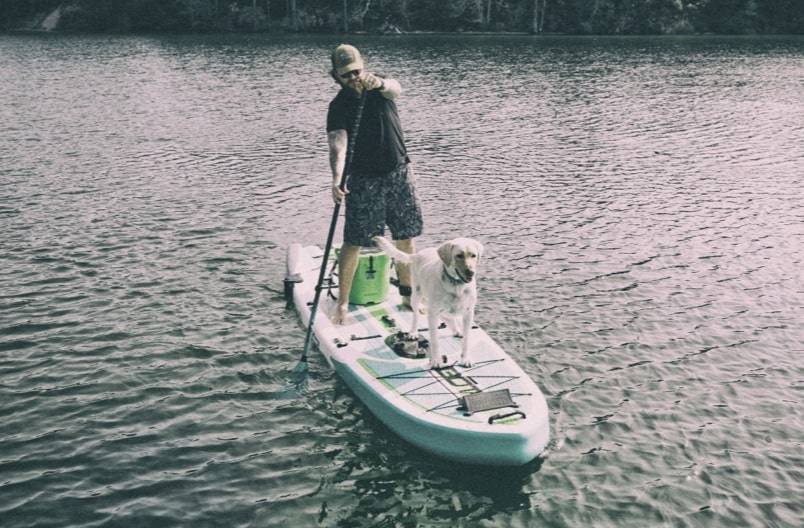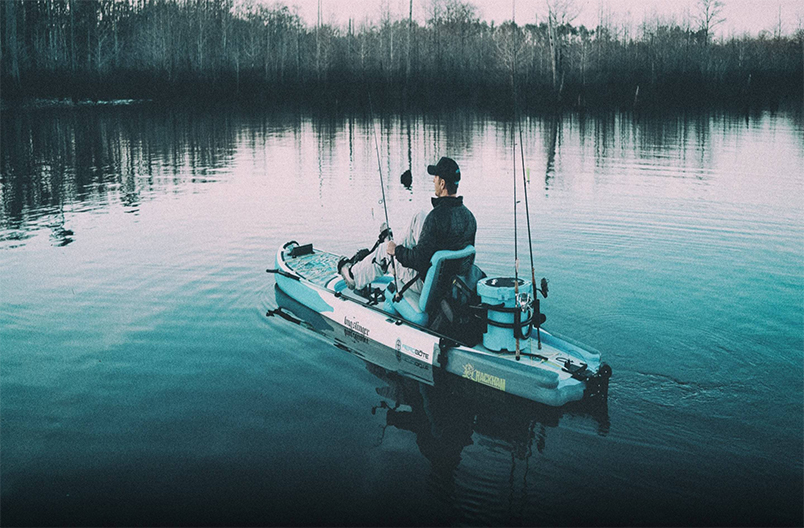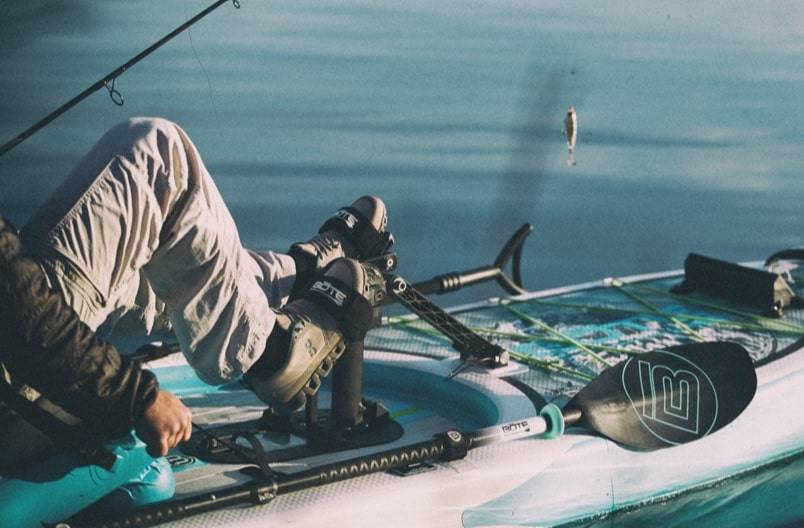 Much of the design of the Rackham Aero remains the same with the single greatest change being mounting spots for BOTE's new Apex Pedal Drive and Rudder System. This is BOTE's first venture into pedal powered watercraft. The system features a 10:1 gear ratio that should provide smooth and efficient pedaling through just about any kind of conditions.
Additionally, they made use of the space in the board's center by incorporating a viewing window, not just for when the Apex Drive is out but even a smaller window when it's in. This is great and allows you to pay close attention to the Drive system and ensure it is not getting snagged, dragged, or damaged in any way.
The Rudder System is also included with the Apex Pedal Drive and mounts to the rear of the BOTE. It looks to be an easy to use lever system with a kick up rudder and the ability to mount to either side of the board. No left or right hand discrimination here. It has a "no touch" forward and reverse feature with the goal of allowing you to quickly and easily change the direction of the drive blades.
All things considered, this seems to be a very advanced system for a stand up paddle board, or what we like to now refer to as SUP/YAK hybrids. Admittedly this advanced equipment does come at a price, but during the initial release BOTE is offering a discount on a larger full package purchase (BOTE, DRIVE, Kula, Rack, Sand Spear, Kayak paddle). This should be a great system for those coming from a kayaking background looking for an easy entry into the world of stand up paddleboards and BOTE products as a whole.
Stability Rating:
At over 3 feet at its widest point, 38 inches to be exact, this board will be incredibly stable. Considering that it was first designed as a fisherman's stand up paddle board, it's no surprise. Combine that with the ability to sit down and either pedal or paddle, purchased separately, you have an incredibly capable and stable water going craft.
In the stand up mode it will be pretty challenging to upset this board, especially when you add in the tackle rack, purchased separately of course. Using the included detachable inflatable seat lowers your center of gravity to the point where this SUP hybrid would be almost impossible to flip.
Weight Capacity:
As mentioned above this board is extremely stable. With that stability usually comes the added benefit of being able to handle large loads well. Rated at 400 lbs, we think the Rackham's weight capacity might be an underestimate when it comes to the total amount of gear and equipment or people you can get onto this board. We see no problems taking on a passenger, pet, or cooler whenever you hit the water.
Speed:
When it comes to outright speed, we wouldn't expect the BOTE Rackham Aero to be in its element. It's designed to be this great big platform for fishing, fun, and friends, not to be the fastest craft on the water. That being said, the new Apex Pedal Drive system offers a 10:1 gear ratio that should easily propel this BOTE with little effort from your leg muscles. In short we think the Apex Pedal Drive will be a game changer in overall performance of these SUP/YAK hybrids and is something to consider when overall craft speed is a concern such as when crossing busy waterways.
Tracking: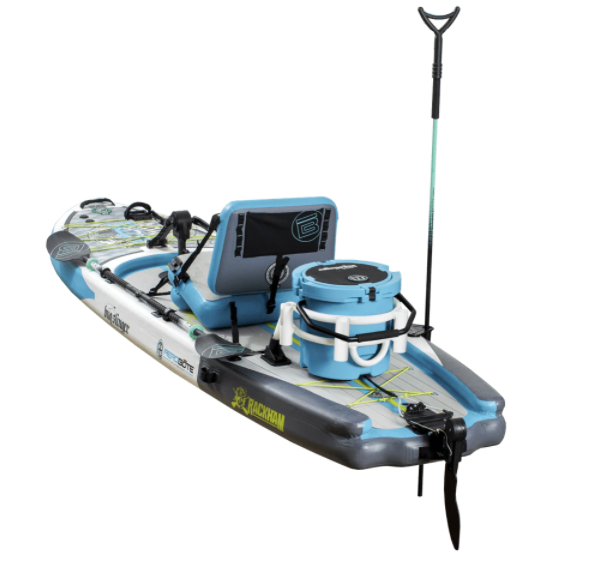 The BOTE Rackham Aero comes standard with 2 permanently attached "side bite" fins and a single 10" removable center fin. The combination of fins allows this board to track reasonably well in most scenarios. Further, A vessel of this size is difficult to change directions once underway without some more advanced paddling techniques.
Maneuverability:
Enter the BOTE Apex Pedal Drive and Rudder System. For starters, with all the pieces attached and the system engaged it has a hands free forward to reverse mechanism. Simply pedal backwards to start moving backwards. Adding in the adjustable "natural" Rudder System gives you even more control on your course. The controls can be mounted for both left and right handed individuals and they are intuitive meaning left means left and right means right. Simple, easy, maneuverable.
Construction Quality: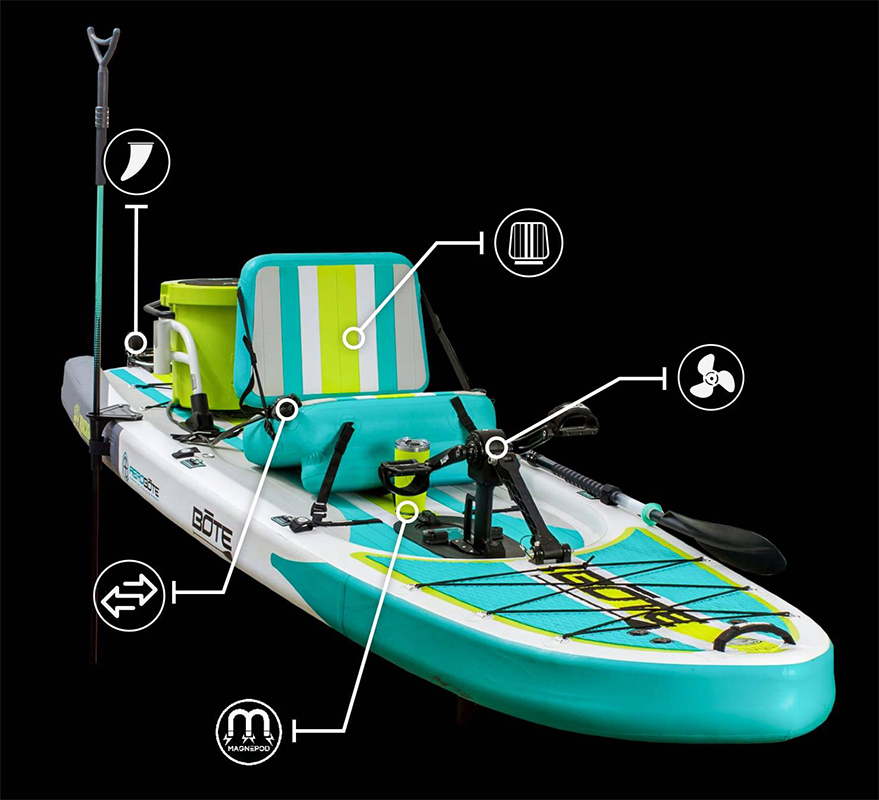 BOTE makes quality products. If you don't believe me, take a look at either of their flagship Florida retail stores aimed at getting boards in the hands of the local public. You could arguably say these boards are made to be displayed as much as they are to be paddled. BOTE runs a tight ship when it comes to quality control. You won't be seeing many, if any, defects on these boards.
The Rackham Aero is made using BOTE's signature AeroULTRA Technology. Using the latest in composite drop stitch production gives these boards incredible durability.
Features/Accessory Review: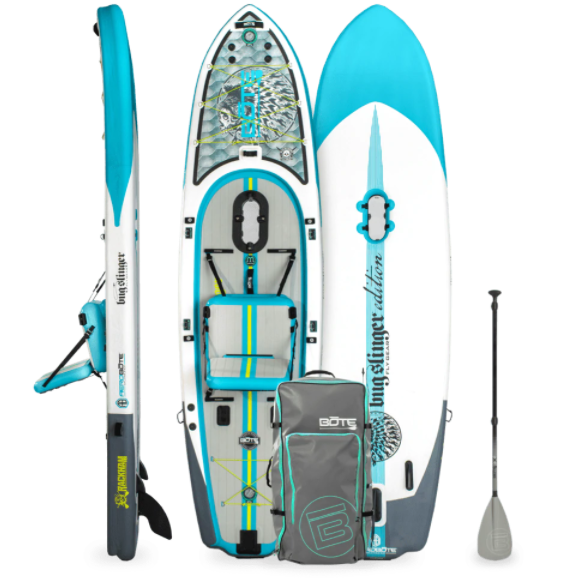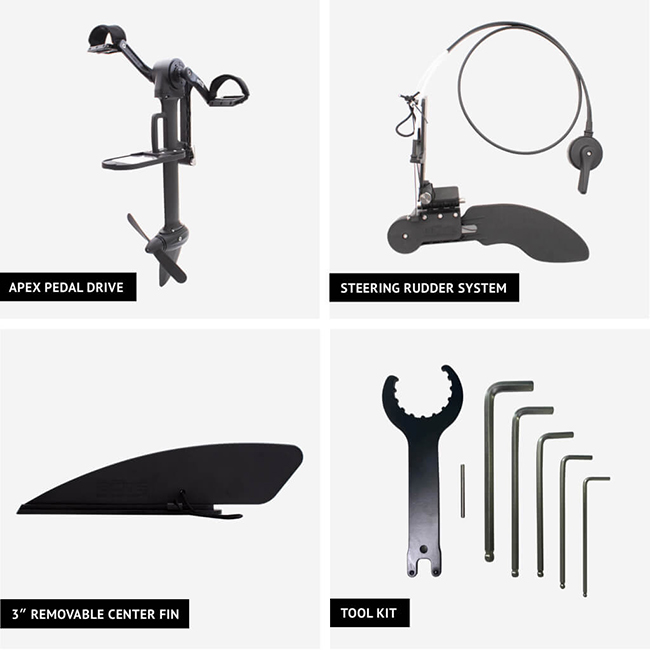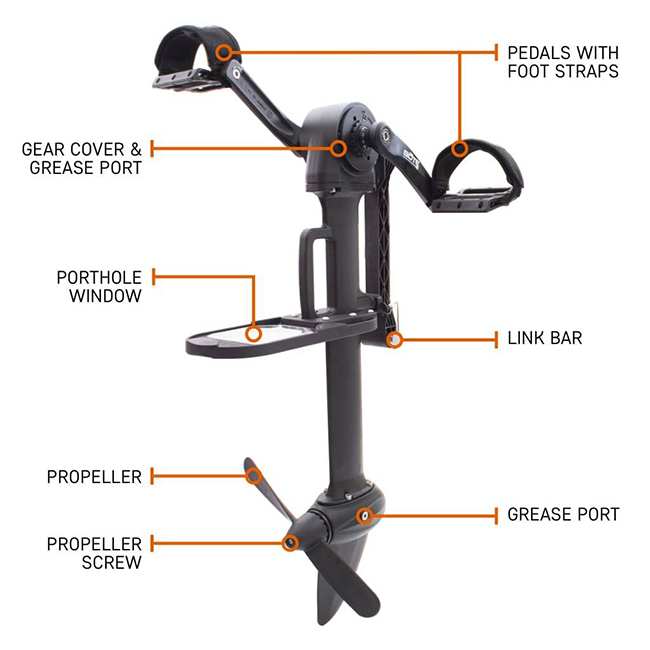 Features:
In a nutshell, what makes the new BOTE Rackham Aero stand out from a feature perspective is its ability to integrate with the BOTE Apex Pedal Drive and Rudder System. This simple inclusion adds a great deal more functionality and useability to this board. Additionally we really like the idea of a clear viewing "porthole" both when the drive is attached and not attached.
Beyond the game changing drive feature it still retains almost all of the functionality of the top of the line BOTE paddle board. Paddle sheath, sandspear, rack and cooler compatible, it's all here. This board can do just about anything you need it to do and has spots and space for just about any attachment. We especially like the MagnaPod accessory retention system.
Included Accessories:
Ok, So what do you get with the BOTE Rackham Aero? I'm glad you asked, because we want to be clear about something. Even though this review focuses heavily on the new Apex Pedal Drive and Rudder System, that item is currently NOT INCLUDED in the standard package. That setup is currently $899 and is available as an add-on item, or as part of a "Package" that includes several other BOTE accessories. For this section we are going to assume you went whole hog and got yourself the Apex Drive system as well.
3 piece adjustable SUP paddle
Removable pedal port
Rackham Aero paddle seat
10" removable Aero center fin
Removable Aero paddle sheath
Removable Aero sand spear sheath
Hand pump
Rolling travel bag
Aero repair kit
Apex Pedal Drive and Rudder System ($899)
Again, we would like to be clear, as of this writing the Apex Pedal Drive and Rudder System is an $899 option for the Rackham Aero. We included here as we feel it is an important feature of this new model year paddle board.
Optional Accessories:
The list of included items with the BOTE Rackham Aero is vast. However there are still plenty of items in their accessories bin to add to cart should you want a more customized paddling experience. These are some of our favorites:
Anything with the MagnaPod compatibility is great
The 4 piece kayak paddle
The sand spear, especially if you like to fish or "camp out" in the shallows
The Kula brand coolers are great for most excursions
Either of the rack systems provide a nice comfortable grab and storage point
We can think of very few scenarios that aren't covered by BOTE's vast library of accessories. They really do a great job of allowing you to customize the board to your desires.
Summary Review of the BOTE Rackham Aero with Apex Pedal Drive and Rudder System
We love that BOTE continues to strive for innovation in all the products they put out. The introduction of the Apex Pedal Drive and Rudder System as a universal piece allows them to start incorporating that into more water craft across their lineup. Pedal drives have been around for quite a while however the integration of pedal drives and stand up paddle boards / kayak hybrids is something entirely new.
We love the quality construction and commitment to accessories made by BOTE. We do admit that many of the accessories push this paddleboard into a fairly expensive price point but we also are comfortable saying that it is most certainly worth it if that is what you are looking for. Our staff members have been paddling BOTE brand boards for years and still appreciate their constant eye towards the future.
We hope you enjoyed this review of the BOTE Rackham Aero with Apex Pedal Drive and Rudder System. As always if you have any opinions or questions about this review please let us know either by posting below or dropping us a line. We look forward to meeting you out on the water, so until we do Happy Paddling!
The following two tabs change content below.
SupBoardGuide
Heyo! At SupBoardGuide.com we are a team who love the water, the outdoors, and are more than grateful that our full-time job allows us to review stand up paddle boards. We paddle year round (it helps that we are just about 2 hours outside of Las Vegas), and we bring in a wide range of paddlers with the goal of providing our readers with the best, most in-depth, and accurate stand up paddle board reviews.
Latest posts by SupBoardGuide (see all)