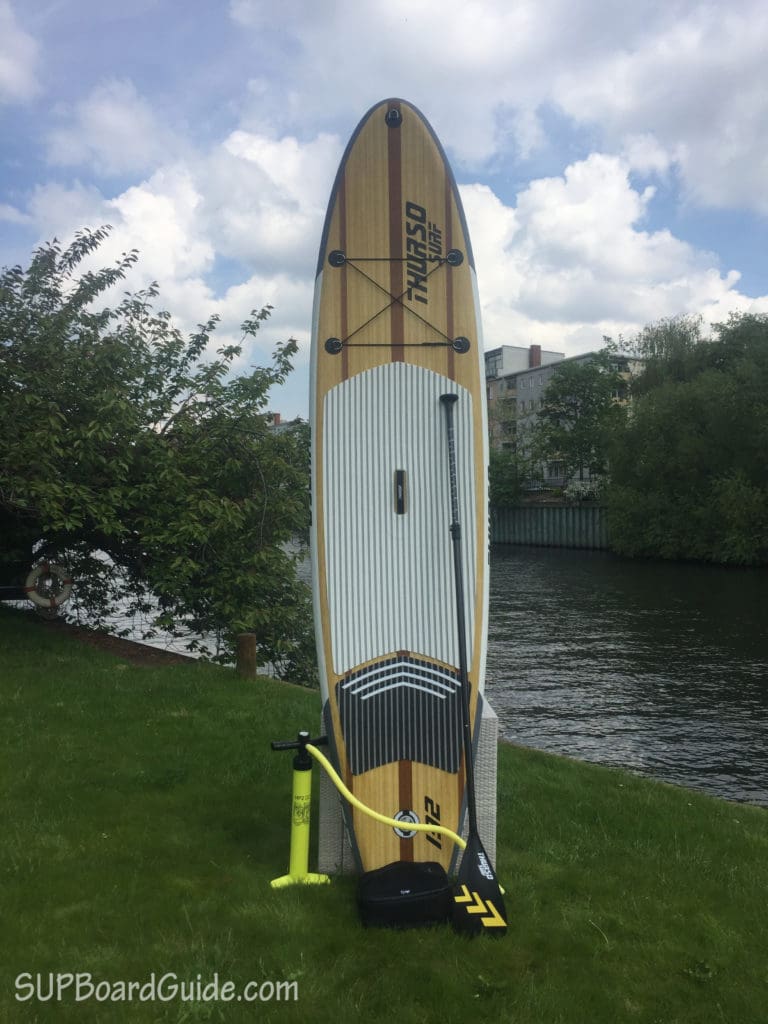 Updated (1/28/18)
Note: Thurso Surf updated their design. They now have a 2+1 fin setup with two removable side fins. Please note that the pictures show the previous version of the board that featured a single fin. Besides the fin setup, everything else is the same.
The paddle board market has been on fire over the last few years with lots of new names emerging. Thurso Surf is one of the surfacing companies in the game, they only have one board available at the moment, but this is soon to change. Thurso Surf sent me over their 11′ Allrounder for a test run. Muchos gracias.
Introduction
The Thurso Surf 11' falls under the title of an all-rounder in SUP terms. It's an inflatable (iSUP) and comes with a high-pressure pump. Like the indestructible iRockers, Thurso Surf built their board with the same tough military grade PVC layers on top of a drop stitch internal fabric. Tough, rough and ready to rumble. A comfortable backpack with plenty of support compliments its portability. Roll it up and ready to go.  Included are all necessary extras to get you going, as well as a couple of bonus goodies!
Sometimes when I'm looking at purchasing boards I find it hard to choose as lots of the specs are so similar, so the high-quality extras that Thurso Surf has included like the paddle, storage bag and leash are something of value. Here is everything you get on top of the board:
SUP board bag with carry handle
Carbon shaft paddle
Traction pads
1 Fin
1 Leash
Deck bungees
1 Deck bag
1 Pump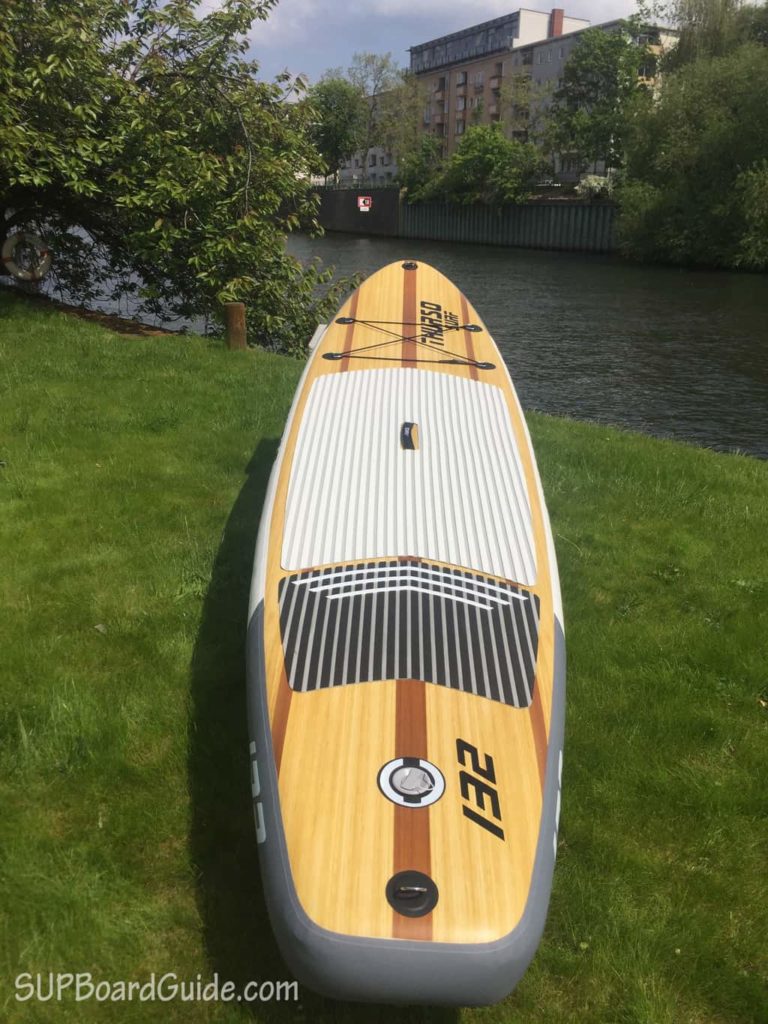 Thurso Surf 11′ Paddle Board Review
Specs
| | |
| --- | --- |
| Length | 11' |
| Thickness | 6" |
| Width | 32" |
| Weight | 25lbs |
| Capacity | 280-350 lbs |
| Fins | 2+1 with removable fins |
Board Quality and Materials
As previously mentioned Thurso Surf uses military grade PVC layers with a double-layer construction combined with a drop stitch internal fabric. All of this means that the board is extremely rigid and durable. In some cases, more so than a hardboard.
The deck pad provides an ample amount of grip and covers a chunk of the surface, which is ideal for any companions like your dog. The 11′ board can take a fair bit of weight (recommended is 280lb but if you're experienced the guys at Thurso say it can hold up to 350lb)
Aesthetically, this board is very pleasing. The beautiful wooden stripe appearance would fool you into thinking it was a real timber board if you didn't know already. It makes this board a stand out from other ranges like the Fanatics, which have all similar designs.
Performance
Be like a swan. Glide effortlessly and with elegance. The slightly pulled in tail shows off the Thurso Surf's performance in flat-water with not much drag, and momentum stays consistent once built.
The single-fin that comes with the board provides minimum drag and helps the board track straight. The fin makes the board perfect for flat water cruising or slightly choppy water touring. I've not tried it yet, but I'm quite sure you'd even be able to ride some small waves. However, if you really want to get in the surf, you may find the single-fin a hindrance in anything above 1-2ft and would be better off looking at something like the Naish Nalu.
Update: Thurso has already updated their design, and the board now has a 2+1 fin setup. The updated board now has two small side fins in addition to the large center fin. Want to hear the best part? The side fins are removable using the same quick lock system you know from the center fin. That is really rare and a fantastic feature. It means you can get in the waves with a three fin setup or remove the fins for flat water touring. Below is a picture of the new fin setup as well as the single fin setup from before.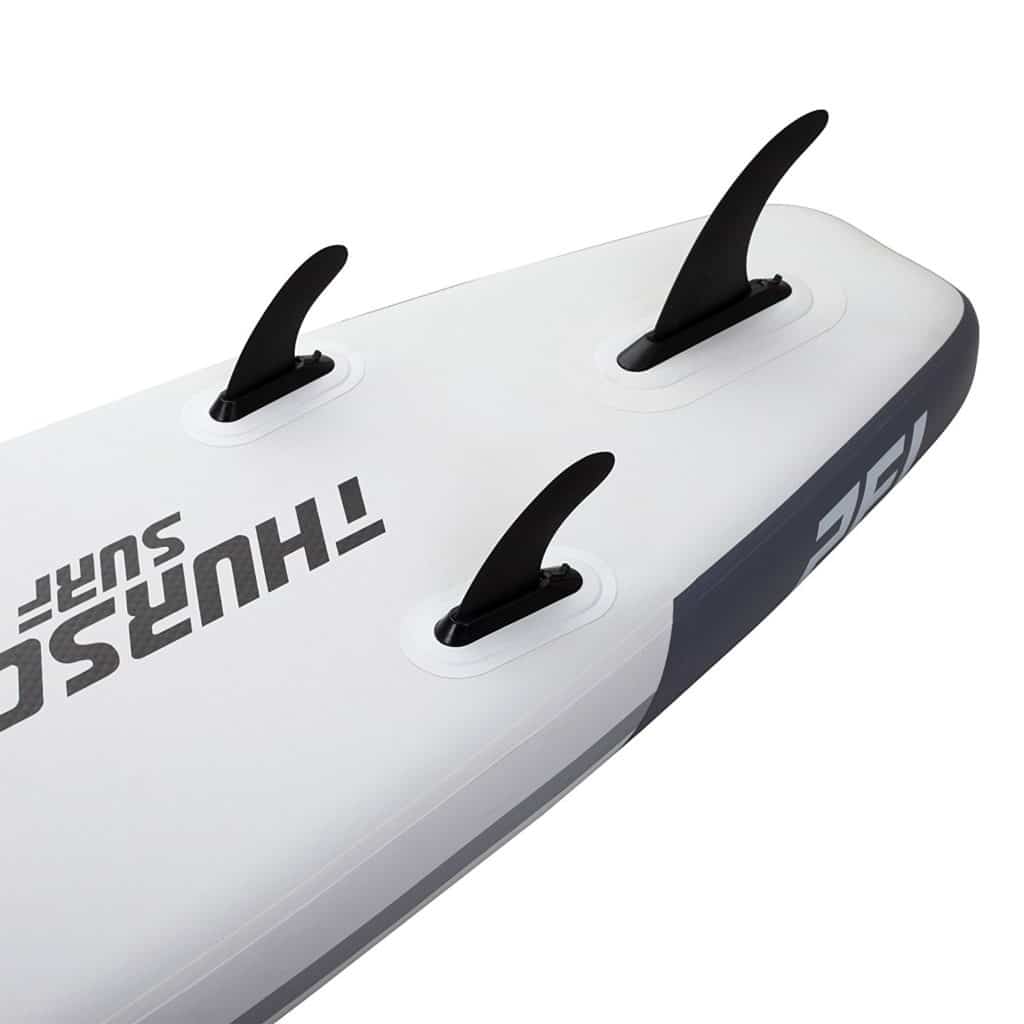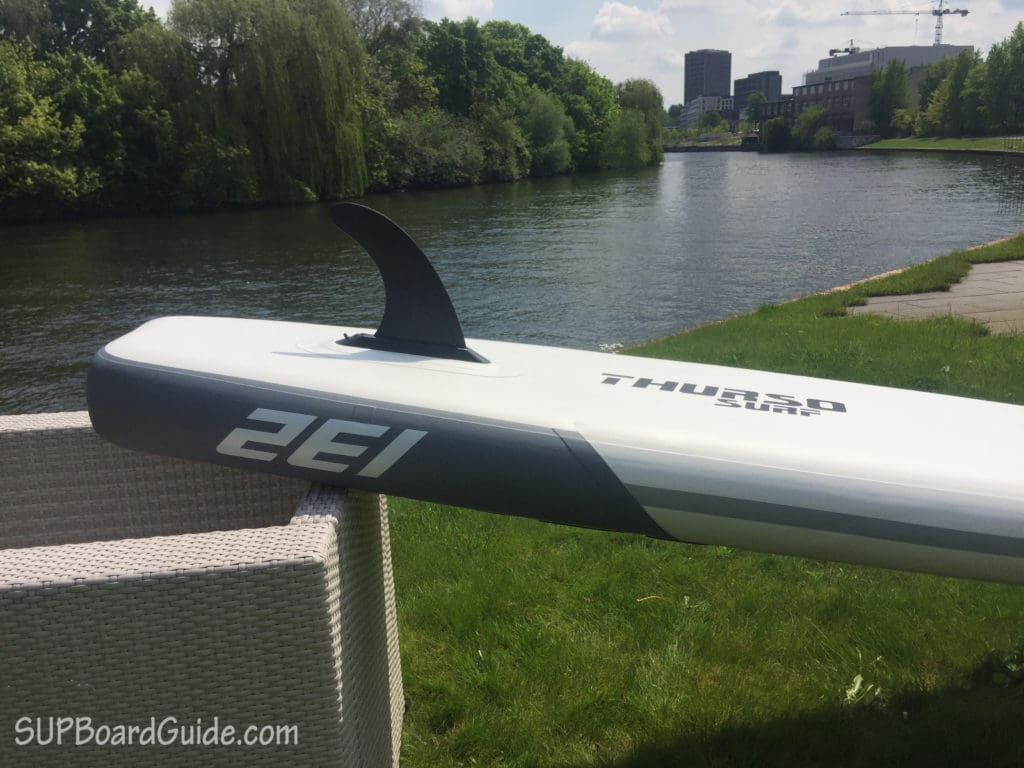 Inflate/Deflate and Portability
The inflate and deflate, is a simple process and nothing I need to cover in much detail. You get a high-pressure pump included with easy instructions on the outside.  Inflating the board to 15 PSI is pretty quick and takes 5-8 minutes depending on how much of a warm-up you want.
The bag features an easy to carry handle for the short trip and loads of support on the backpack around the shoulders and waist for the longer distances. Again, the materials used are great and certainly above average. Most bags you see in this price range are either a too small, don't have proper padding or not have cheap zippers. This one doesn't!
The Paddle/Leash
The carbon shaft paddle is something worth mentioning on its own as it's one of the best paddles I've come across in the market, particularly in this boards price range. Not only does the paddle float, but it's also adjustable and noticeably lighter than the competitors. It's significantly lighter than the standard aluminum paddles and noticeably lighter than the fiberglass ones as well!
This lightness is such a key factor for enjoying either a first time experience or long distance paddling.
The leash is also included which I really like. 90% of the time you have to buy it separately and being that a leash is essential for safety I really like it when companies include one.
The Extras
I like to take some snacks/gear if I'm going on long distances so having tie-downs is always a bonus I look at favorably. Included with the board is some deck bungees with a 5 D-ring setup right up to the nose for maximum storage space.
But the real "goodie" is the included insulated storage bag. It's spacious and will keep any drinks or food chilled. I don't know any other brand that includes a quality bag like this. You can usually expect to pay at least an extra $50 for it.
Conclusion
Thurso Surf has manufactured a board that will be making some of its competitors squirm in their seats, especially if they continue to produce SUPs at the same quality and price.
A mid-range SUP that includes well made necessary extras to get started plus also throwing in some other goodies like it's storage bag, that also sells at a competitive price is going places. It's also worth mentioning again the accentuating detail of the wood stripe graphic, definitely a crowd pleaser.
I believe anyone looking to start out or even if you perhaps just want to add another board to the quiver, the Thurso Surf 11' is an excellent choice at a very reasonable price for what you get.
The following two tabs change content below.
SupBoardGuide Editorial Team
At SupBoardGuide.com we are a team who love the water, the outdoors, and are more than grateful that our full-time job allows us to review stand up paddle boards. We paddle year round (it helps that we are just about 2 hours outside of Las Vegas), and we bring in a wide range of paddlers with the goal of providing our readers with the best, most in-depth, and accurate stand up paddle board reviews.
Latest posts by SupBoardGuide Editorial Team (see all)