Bote Traveller Inflatable Paddleboard
Pros
Stable touring style SUP, great for SUP fishing or loading with gear
Faster than wider stability-focused fishing SUPs
Compatible with a wide range of BOTE accessories = you can customize this SUP to fit your needs
Comes with included fishing rac receivers and paddle sheath, gives you a head start on setting this SUP up for fishing
Cons
Not very fast for a touring SUP, though it is very stable so it's a fair trade off there
Fixed side fins need to be reshaped before each session, otherwise they hurt the SUP's tracking capabiliites.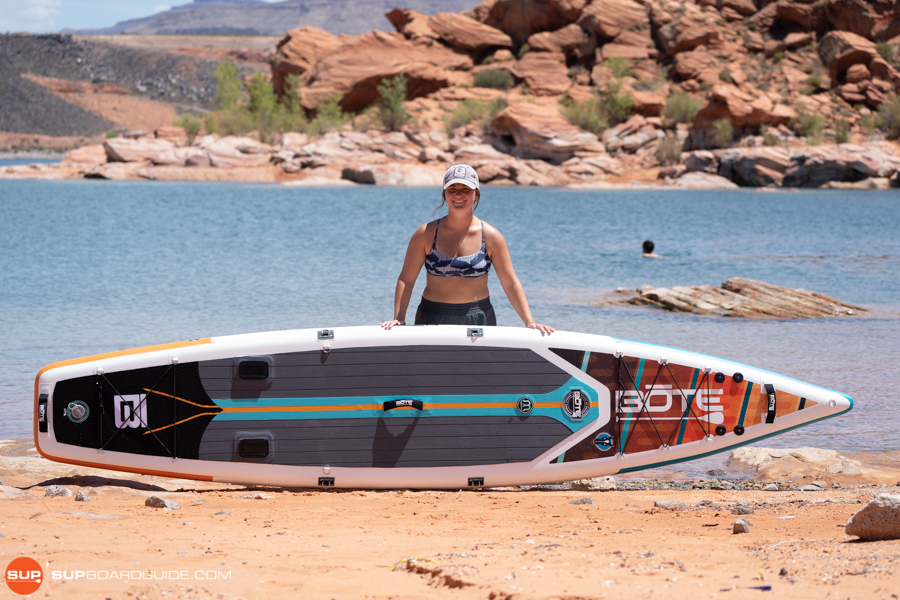 The Bote Traveller is one of the most versatile touring style SUPs we've ever reviewed – and for good reason. The Traveller is intended to be a faster and more efficient fishing SUP, as most fishing intended boards tend to be fairly wide and consequently slow, albeit extremely stable though.
The Traveller harnesses some of that necessary fishing SUP stability with its 30" width that is distributed down through the tail, while also roping in some touring board speed with its tapered nose. Though not the fastest touring style board on the market, the Traveller is compatible with a slew of Bote's accessories, enabling you to customize this SUP to any angler's dream set-up.
At the nose, the Traveller is compatible with Bote's included paddle sheath to free up your hands while casting a line or reeling one in. It's equipped with a front cargo area to stow away some extra gear and drybag, as well as Bote's magnetic cup holder. Towards the tail end of the SUP, the Traveller is set up with cooler tie down points that double as kayak seat compatible D-rings. There;s also a pair of scotty mounts available for rigging rod holder accessories, or Bote's fishing 'rac' receivers, which come included in this SUP's package. As a final touch, there's extra cargo space on the tail with the Traveller's 4-point rear cargo area. As we said, this SUP can be fine tuned to become your ideal fishing vessel.
The Traveller would make a great choice for a SUP fisherperson who needs something a bit faster and a bit more efficient to get into some further off and more remote fishing holes. Stitch with us through this review as we dive into the details of this SUP.
We think the BOTE Traveller Aero would be great for paddlers who
Want a stable fishing platform, but also want to be able to move more quickly than most wide fishing SUPs
Need the ability to customize their SUP with gear
Want a SUP that can handle a load of gear or a cooler
Primarily fish in flatwater, but occasionally venture into choppier water
BOTE Traveller Aero 12'6 : Spec Sheet
Main Category: Touring, Fishing, Inflatable
Board Dimensions: 12'6 x 30" x 6"
Listed Board Weight: 30 lbs
Listed Max Capacity: 275 lbs
Recommended PSI: 12-15 PSI
Fins: 2+1 set up; 2 fixed side fins + 1 removable center fin w/ slide lock fin box
Paddle: 3-piece; fiberglass
Materials: Dual layer PVC
Price Range: High
Warranty: 2 years *if bought directly from BOTE
Performance Review of the BOTE Traveller Aero 12'6 Stand Up Paddle Board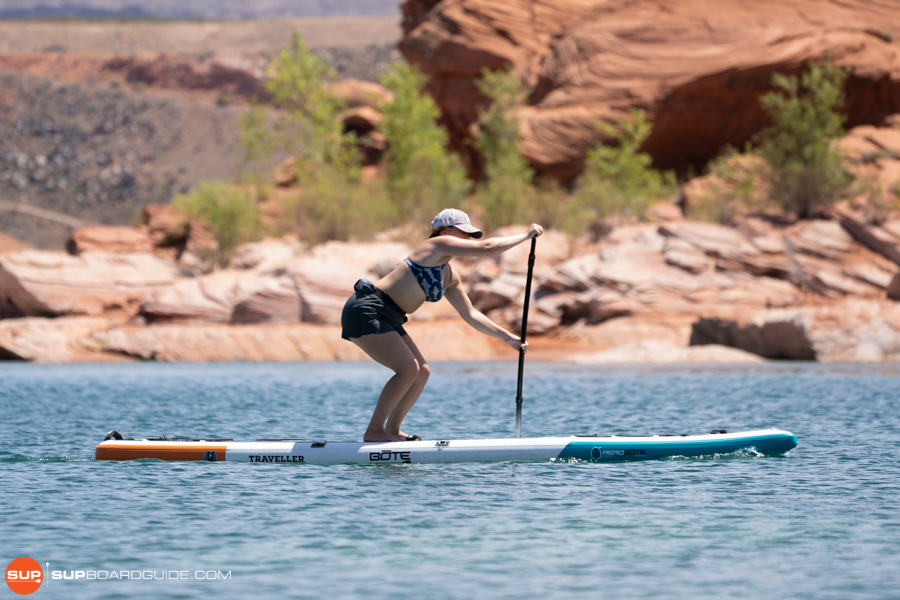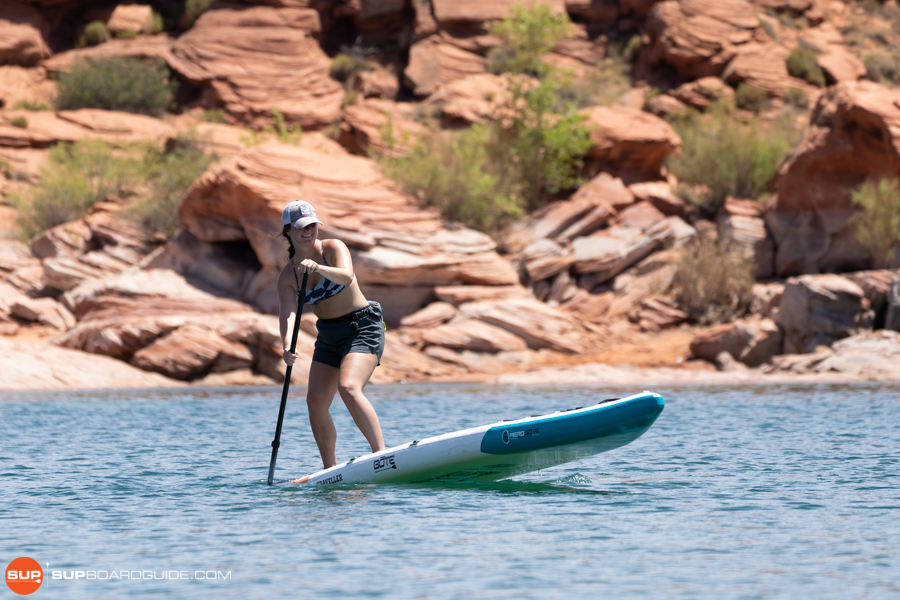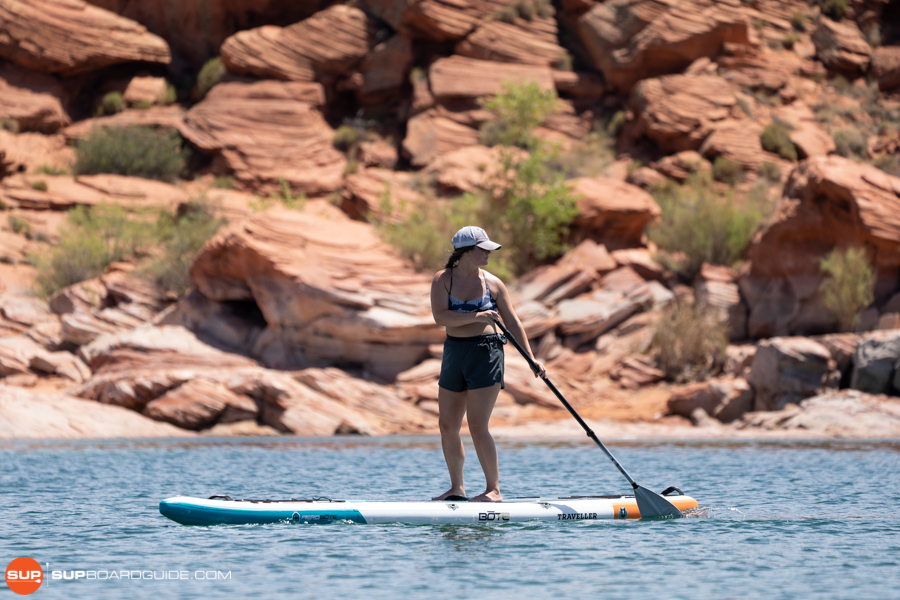 Overall Score: 8.9/10
Stability: 9.1/10
Speed: 9.0/10
Tracking: 8.9/10
Maneuverability: 8.5/10
Construction Quality: 8.8/10
Features/Accessories: 9.3/10
Stability Rating: 9.1/10
Despite being a relatively narrower SUP, at 30" wide, the Bote Traveller is accommodatingly stable. This is likely due to the shape of the Traveller in that Bote has distributed the width all down to the tail, which increases your wet area – the portion of the board in contact with, and supported by, the water.
And while I initially had my doubts that a 30" SUP would be stable enough for the average adult to comfortably fish off of, Traveller is tangible proof that it can be done. As a smaller paddler, I had no problem moving around on this board as would be needed if you suddenly snagged a fish or needed to adjust your leverage to reel 'em in.
The best thing about this SUP is that it harnesses a little bit of touring board speed without losing that classic 'fish-able' level of stability that we've come to expect from Bote.
Speed Test: 9.0/10
| | | |
| --- | --- | --- |
| Board Name | Top Sprint Speed Avg. (mph) | Top Cruising Speed (mph) |
| Bote Traveller Aero 12'6 | 4.45 | 3.6 |
Before dissecting our speed test results, it's important to understand that the Traveller is designed to be a stable fishing and adventure board that moves a bit faster and more efficiently over longer distances than Bote's larger, all-around fishing boards. It's expectedly not the fastest off the block, but it fits the prior bill pretty well.
In our Sprint test, the Traveller hit an average top speed of 4.45 mph (tested by Alli at 5'2 x 135ish lbs). This is marginally faster than the similarly sized Thurso Expedition 150, which reached an average top speed of 4.4 mph, and predictably slower than the 12'6 x 30" Nixy Manhattan with its average top speed reaching 4.53 mph. Considering the comfortable level of stability provided by the Traveller, its nearly mid-level performance in the touring SUP category is actually pretty impressive.
So, enough with the numbers, let's talk about how it actually feels to paddle the Traveller up to speed. As a smaller paddler, the main thing I noticed here was the Traveller's weight. Being a 30 lb board, it definitely requires a bit more effort to reach its top speed in a short distance sprint. I found the Traveller to be more comfortably paddled at a cruising pace over longer distances, as it will happily hold on at about 3.6 mph.
Again, the Traveller's performance in our speed testing can be easily traced back to its initial design. It's not intended to be a fitness level touring board, but rather a solid fishing and adventure platform that will more easily reach distant, more remote locations.
Tracking: 8.9/10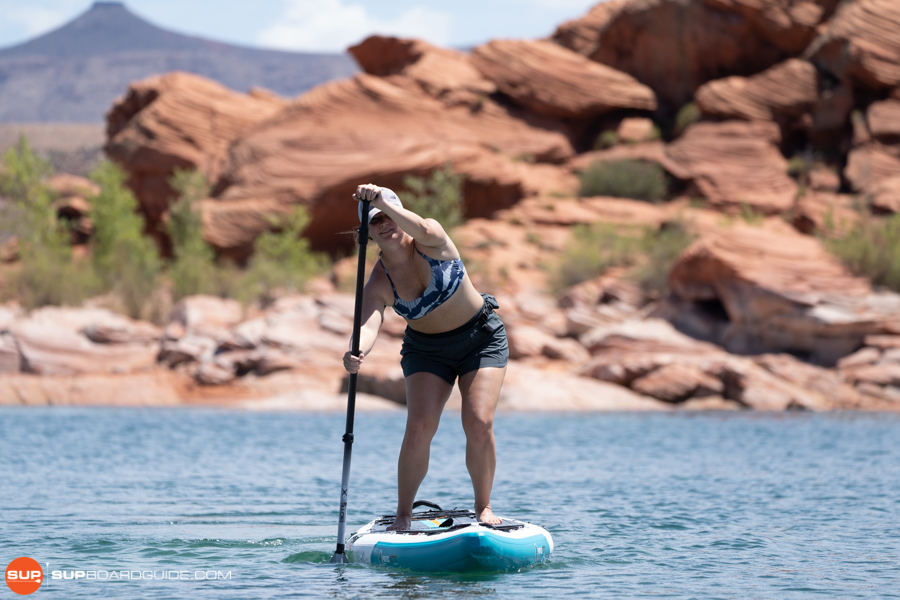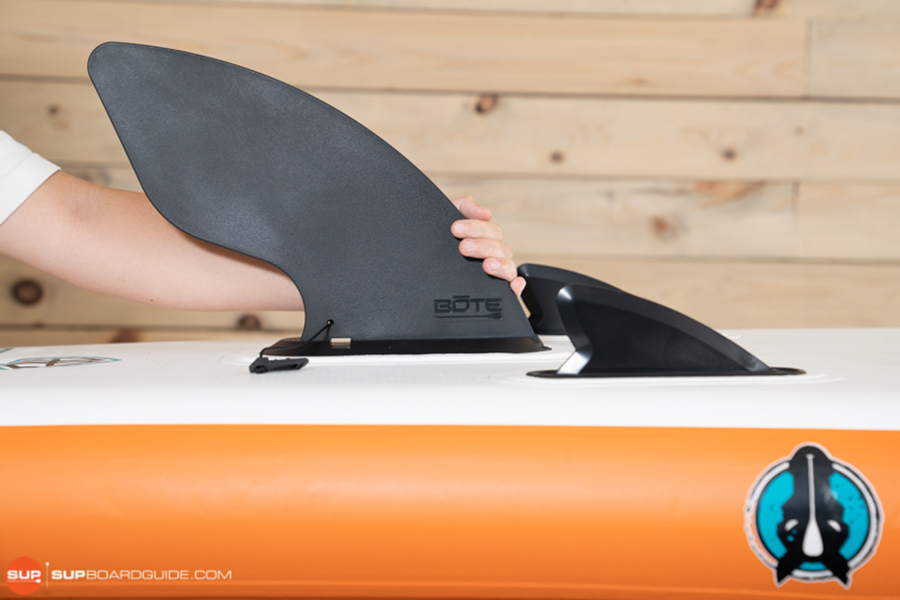 The tracking of the Bote Traveller left a bit to be desired in the touring board category.
While we initially thought that the massive included center fin on the Traveller would keep this board locked on its path, we think its benefits are being hindered by the short flexible side fins. Because they're angled so that the top portion of the fin is pointed towards the center of the board, these side fins contribute nothing in terms of improved tracking, and that's even if they're not bent out of shape. In reality, they bend to one side each time you pack up the board, so unless you take care to straighten them out before every session, you may feel the board start to pull awkwardly in one direction due to the side fins being tilted to the right or the left.
We'd honestly like to see Bote move fixed flexible side fins throughout their whole lineup, but it's especially critical on the Traveller. Its tracking capabilities are the main aspect of its performance that hold the Traveller back from being a contender in the dedicated touring SUP category.
Maneuverability: 8.5/10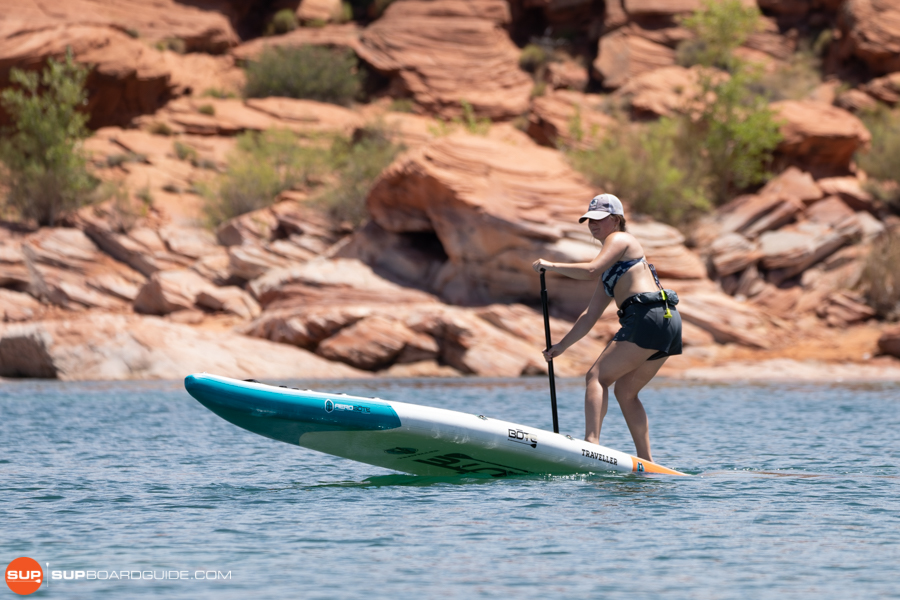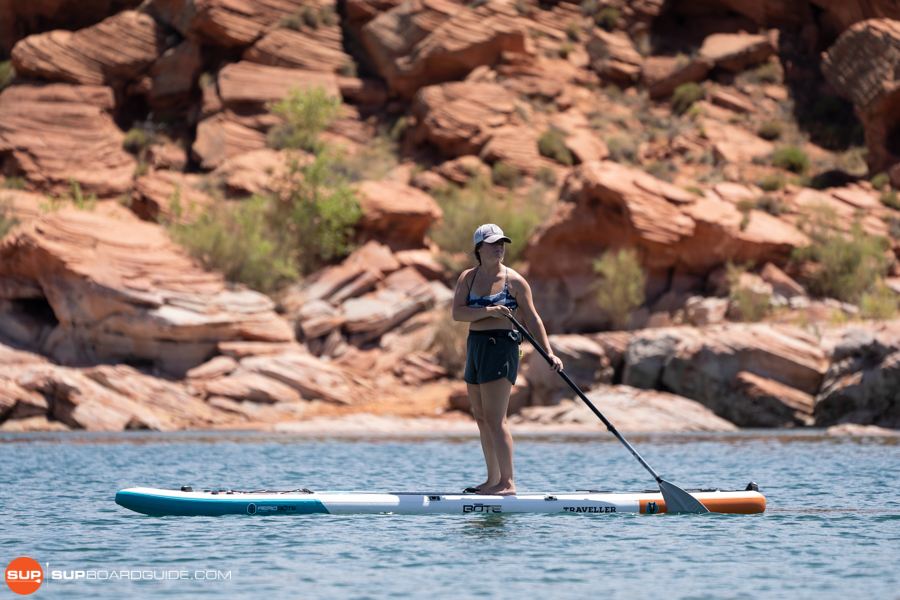 While stability and efficiency are built into this board's design, maneuverability is not – and that's to be expected for all touring style SUPs.
You'll need to execute some more advanced maneuvers to quickly turn the Traveller around, but its stability makes these more manageable for less experienced paddlers. That's not to say it's impossible to use reverse sweeping strokes to turn this SUP; it will just take more strokes and more effort – it took us about 5.5 strokes to turn the Traveller 360 degrees.
Construction Quality: 8.8/10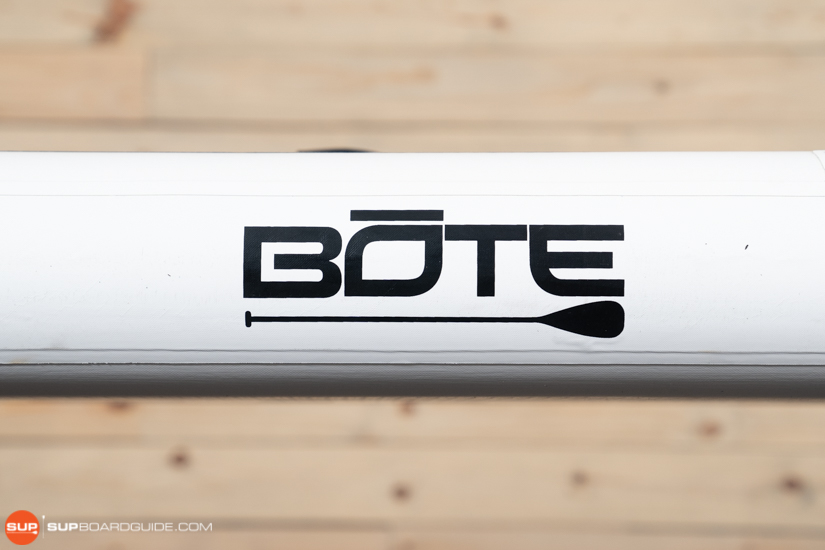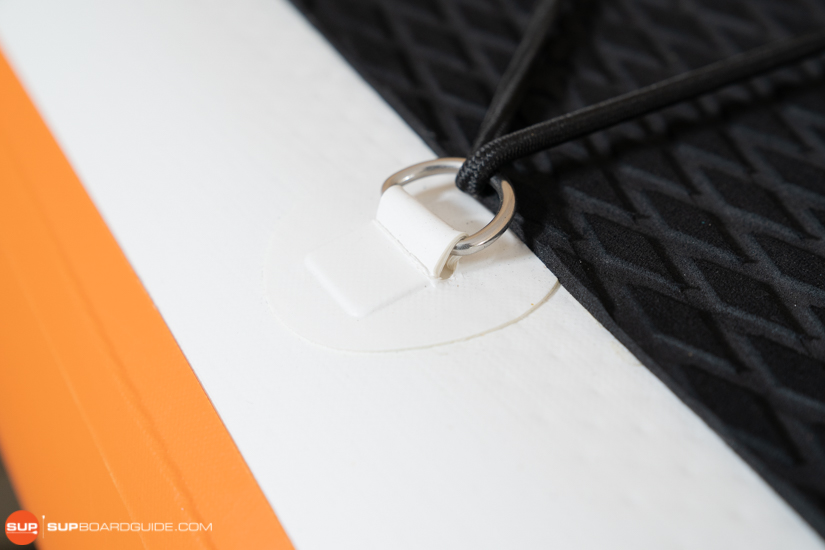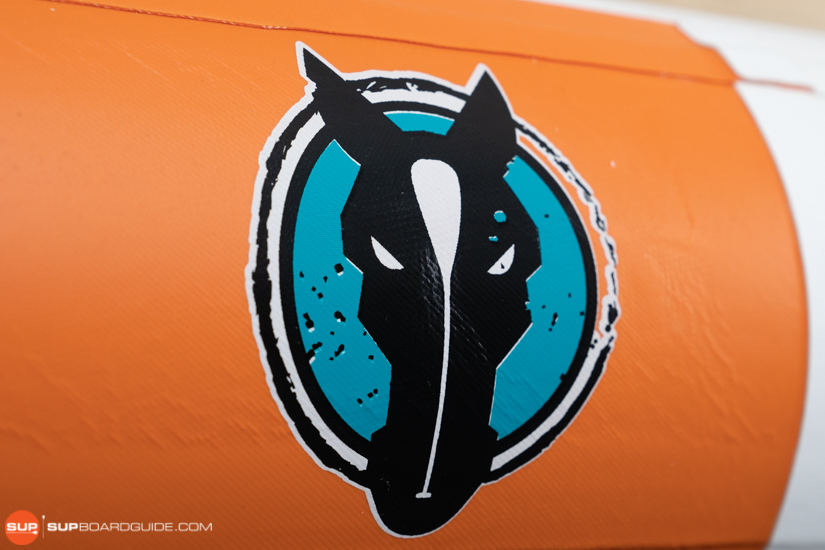 The Travelled Aero is constructed with Bote's 'AeroBote technology'. Of course, this is just Bote's coined terminology to label the build of each SUP in their lineup; it doesn't actually tell you anything about how the Traveller is built.
All Bote boards that utilize their 'AeroBote technology' (not to be confused with their 'AeroUltra technology') are constructed with a linear dropstitch core, which is then encased in the first layer of PVC and bonded to it via heat, often referred to as fusion. This first layer is then encased in a second layer, bonded with glue. The rails are applied using a combination of heat and glue, and are reinforced with a strip of rail tape.
This construction is fairly standard in the industry, but it is slowly being phased out by most other brands that are switching to lighter weight cross-woven drop stitching. I'd personally prefer it if the Traveller was made a bit lighter, as 30 lbs is comparatively heavy, and it's not the easiest to carry on long walks to the water, nor is it the quickest to get up to speed while paddling.
Board Stiffness: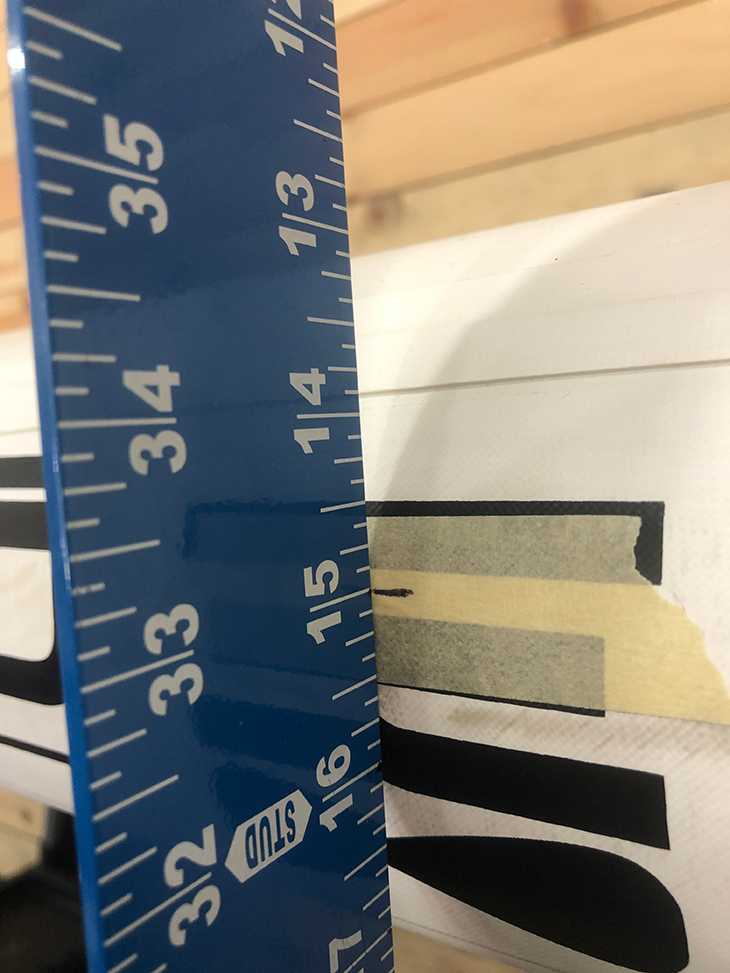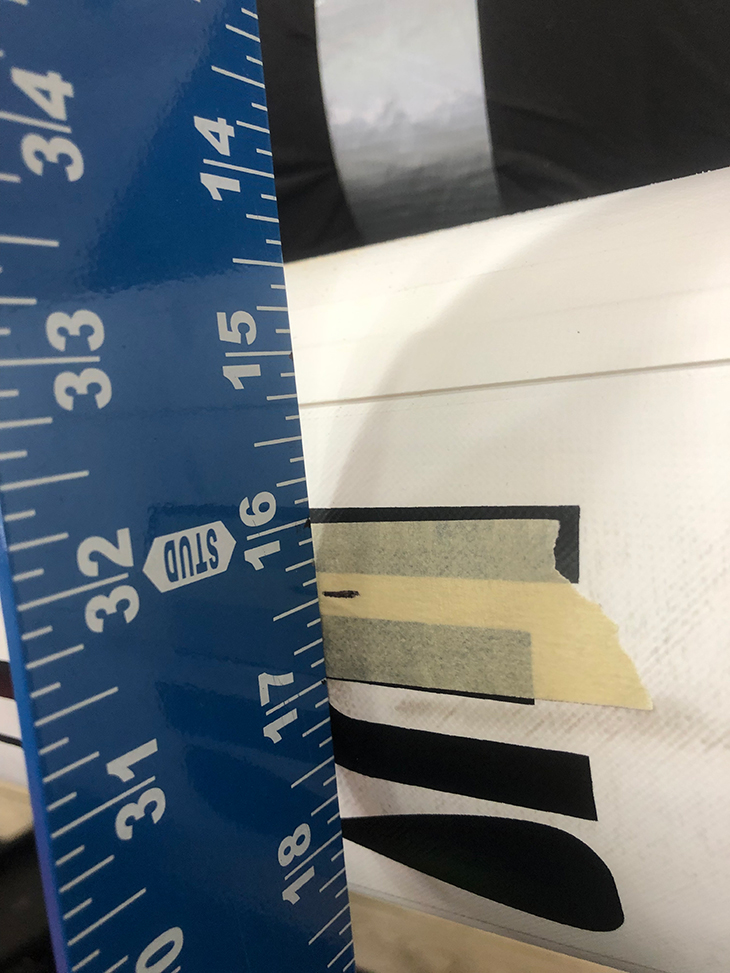 Stiffness Test: 1.5" Bend
Our stiffness test, or bend test, is carried out by placing the SUP on top of two sawhorses spaced 7' apart. We set 150 lbs on the board's midpoint and measure how much it bends under the weight. Obviously this is not the same conditions the boards would be subjected to in the water. It's rather just a stress test that helps us quantify the stiffness differences between certain construction methods.
The Traveller performed about averagely in our bend test, giving way to 1.5" of flex. It's not the stiffest SUP we've ever tested, but by no means is it the flimsiest either. It performed similarly to other linear drop stitch and dual layer PVC SUPs, so all in all, about as expected.
Features/Accessory Review: 9.3/10
The Traveller has an extremely versatile set of features for a touring SUP. It's another reason why we'd like to place this SUP into a category of its own, as less of a performance touring SUP and more of a quick and efficient fishing SUP.

From tail to nose, the Traveller is equipped with a rear carry handle, a rear cargo area, 2 scotty mounts for fishing gear, a set of 4 D-rings along the rails to attach a kayak seat, a center carry handle, Magnepod cup holder, front cargo area, 4 multi-use action mounts compatible with Bote paddle sheath (which is included in this SUP package).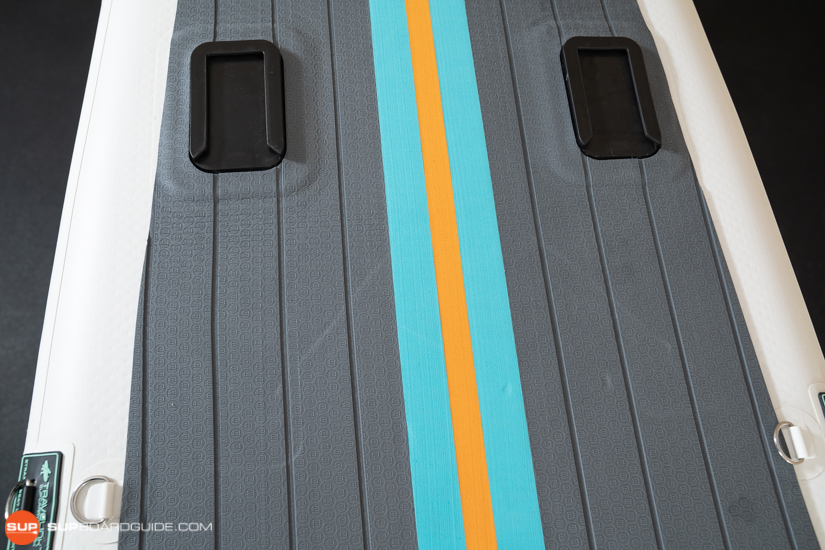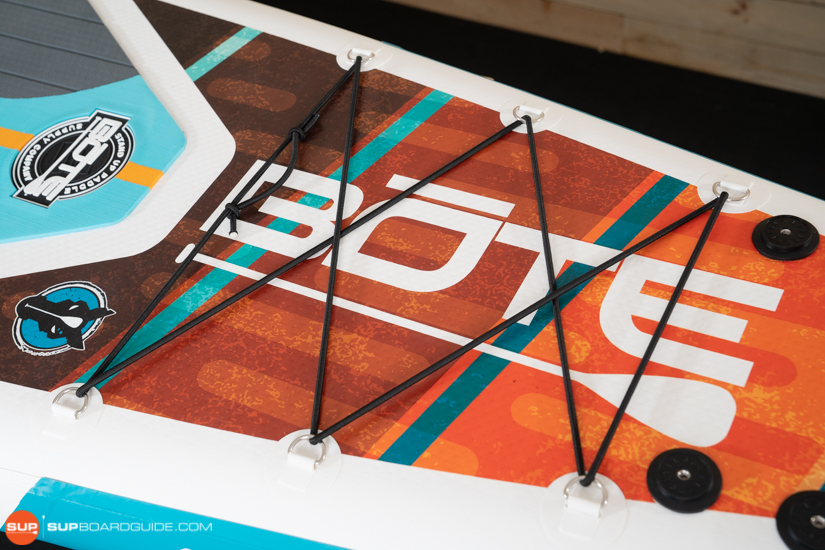 As with most Bote SUPs, the Traveller is equipped with a set of scotty mounts. These are compatible with Bote's rack receivers that come included with this board and can be used to set up a fishing rack, available on Bote's site for an additional purchase. There's also a front cargo area for storage.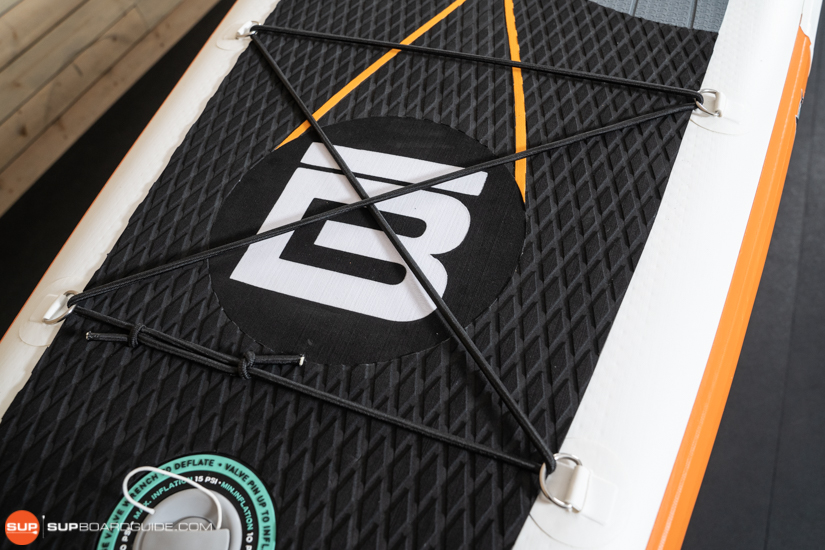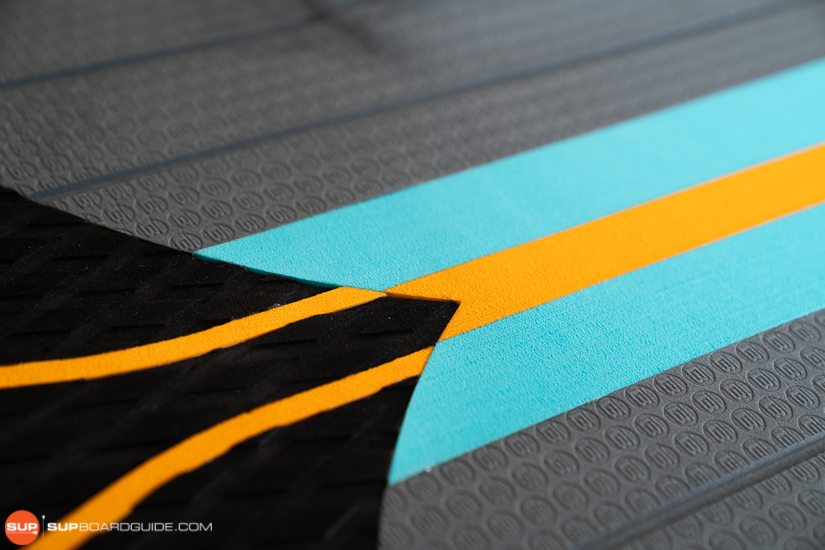 At the tail of the Traveller, Bote incorporated a bungee cargo area, which can always be cut off if you prefer more open space to move around the board. With this in mind, we like that Bote added a diamond stamped portion of deck pad to the tail to provide some extra grip during buoy turns (aka pivot turns, or stepback turns). The remainder of the Traveller's deckpad is brand stamped and grooved to prioritize comfort while still maintaining a bit of grip.

The Traveller's fin set-up is, admittedly, not our favorite. While we like the removable center fin (though we'd still prefer a snap-lock or US fin box), the fixed 2" side bites are unnecessary for this board, and end up being a bit of a hassle. Because they're placed at an angle, and extremely short, they positively impact the Traveller's tracking capability at all. Instead, they tend to get bent out of shape when the board is rolled up, and can negatively impact the Traveller's tracking if they're not reshpaed before your session. The Traveller would likely be better off without these fixed side bites at all.
Included Accessories: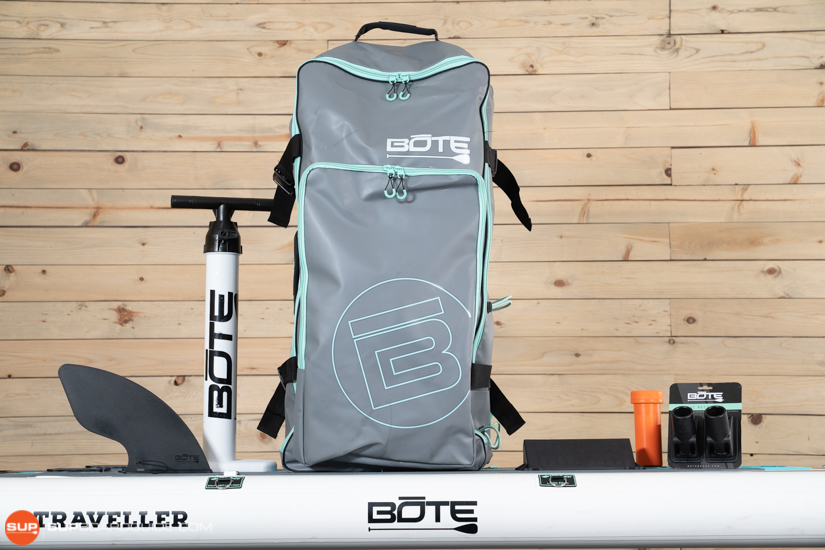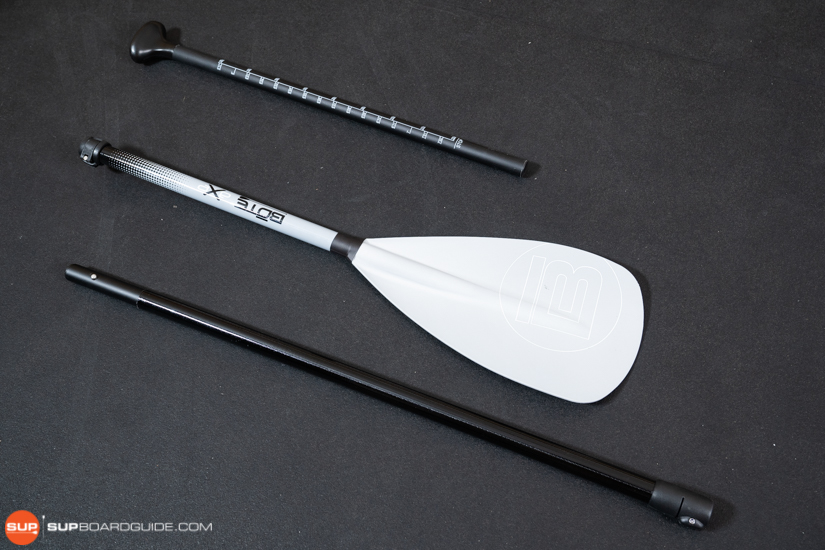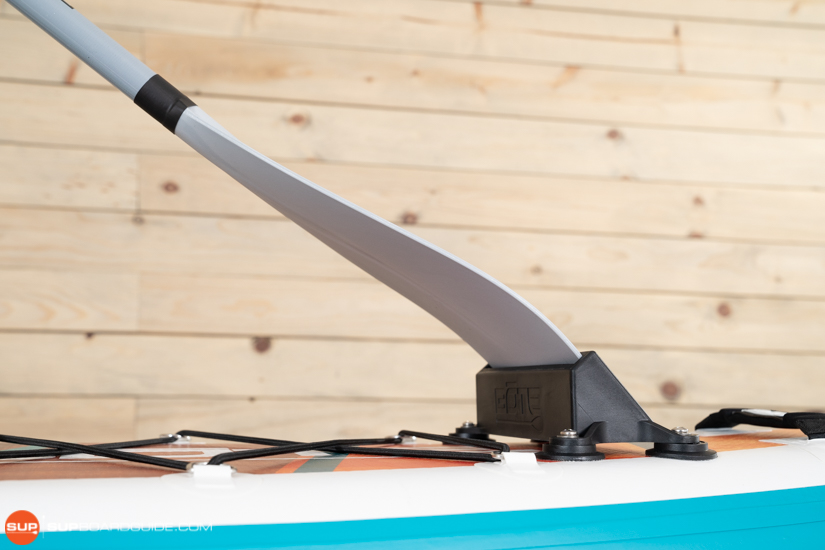 The Traveller is shipped with a long list of accessories. The included items are as follows:
3-piece fiberglass paddle
10" removable center fin
Paddle sheath
Rac receivers
Single chamber hand pump
SUP backpack
Repair kit
Although we love the Bote throws in a couple of extras like their paddle sheath and 'rac' receivers, we're disappointed to see that the Traveller is missing a crucial piece of safety equipment: the leash. Your leash is your lifeline, keeping you within reach of your SUP in the event that you fall off; it is just as important as wearing a PFD. And while it's easy enough to buy a leash separately, we can't understand why Bote wouldn't simply include their leash with each of their boards. It's unacceptable and can give entry level paddlers the impression that a leash isn't necessary.
We'd also like to see Bote add wheels to the Traveller's included SUP bag, and move to a carbon blend paddle. At its current price, these accessories are just a step below what we'd expect, though they are still fully functional.
Summary Review of the Bote Traveller Aero 12'6
With the Traveller, Bote set out to marry the idea of a stable fishing SUP with a quicker paced touring SUP. And they've successfully done that, but it does come with some expected trade offs.
The Traveller is undeniably stable, making it great for fishing and frequently moving around the board. It's also able to be paddled faster and is more efficient than Bote's other wider fishing SUP options – though it's not the fastest touring style SUP we've ever tested. It's more in the realm of adventure style touring SUPs, those capable of hauling a bit more gear.
What sets the Traveller apart though, even in the category of adventure style touring SUPs, is the level of versatility that we've come to expect from Bote. The Traveller is compatible with just about every accessory Bote has to offer, and can be decked out in any variation to become your own customized fishing platform. For an angler that wants to customize their rig and reach further off fishing holes, the Traveller is the ideal board.
As always, we hope you've found this review helpful, but if you have any remaining questions, don't hesitate to reach out to us in the comments below.
Until next time, enjoy the water and try to soak in the last weeks of Summer!
The following two tabs change content below.
SupBoardGuide
Heyo! At SupBoardGuide.com we are a team who love the water, the outdoors, and are more than grateful that our full-time job allows us to review stand up paddle boards. We paddle year round (it helps that we are just about 2 hours outside of Las Vegas), and we bring in a wide range of paddlers with the goal of providing our readers with the best, most in-depth, and accurate stand up paddle board reviews.
Latest posts by SupBoardGuide (see all)