Nautical 11'6'' Inflatable SUP Board
Pros
Good weight capacity for a budget board - works for larger paddlers, and can even paddle with kids and/or gear
Solid performance/speed
Plenty of features for a budget board
Seemingly endless supply of accessories
Comes with everything you need to get started paddle boarding
Cons
We have a really hard time giving this board con's at this price point. There are things that can be improved (paddle, pump), but we're not sure it's possible without raising the price.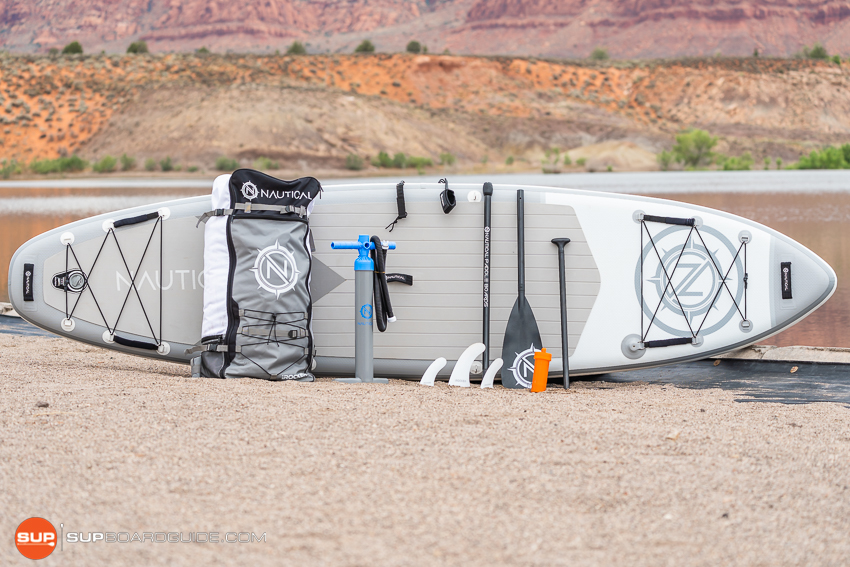 The Nautical 11'6 review was a great chance to get to know the latest offering from the budget arm of the iRocker brand. For very few dollars, this board did nothing but impress us throughout our entire batted of tests and review. Being a part of the iRocker group, the Nautica lineup has many of the standard features we have come to expect on a board costing a few hundred dollars more.
From a purely visual point of view the Nautical 11'6 impresses with 4 available color choices. Of the two available Nautical iSUPs this is the larger version and therefore able to handle more people gear and equipment.
We think the Nautical 11'6 iSUP would be a solid choice for:
Anyone looking for a budget iSUP that shares most of its DNA with the more expensive brand iRocker
A paddler who wants a budget iSUP that is capable of handling larger paddlers in the 200+ lb range, or who wants to paddle with kids and gear
Someone who wants a budget all around SUP that is still a capable, decently fast touring board
We think the Nautical 11'6 iSUP is great for the following water conditions/situations:
Flat water paddling
Recreational paddling
Very light ocean paddling
Nautical 11'6 iSUP Review: Overview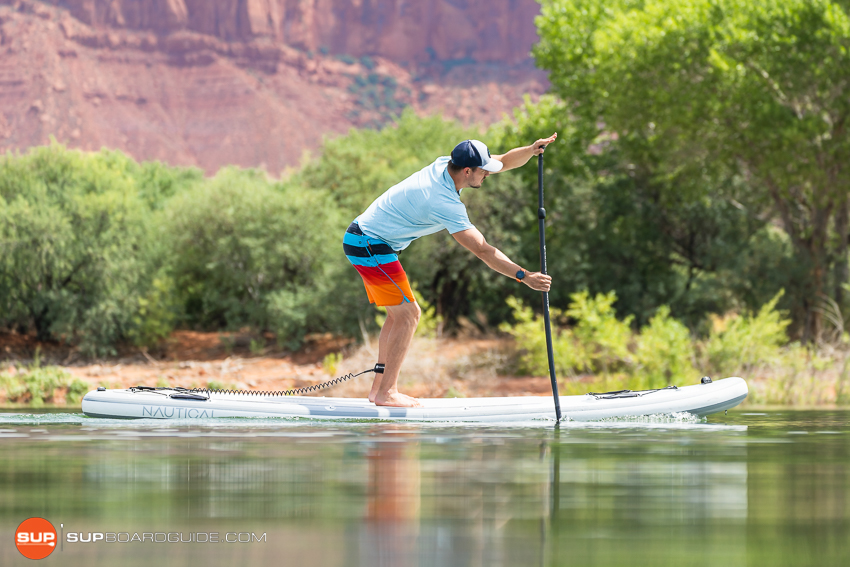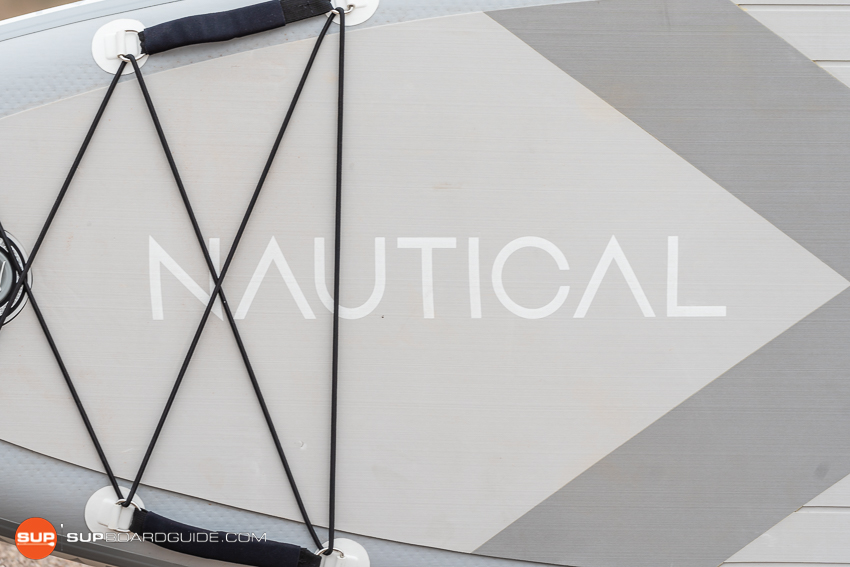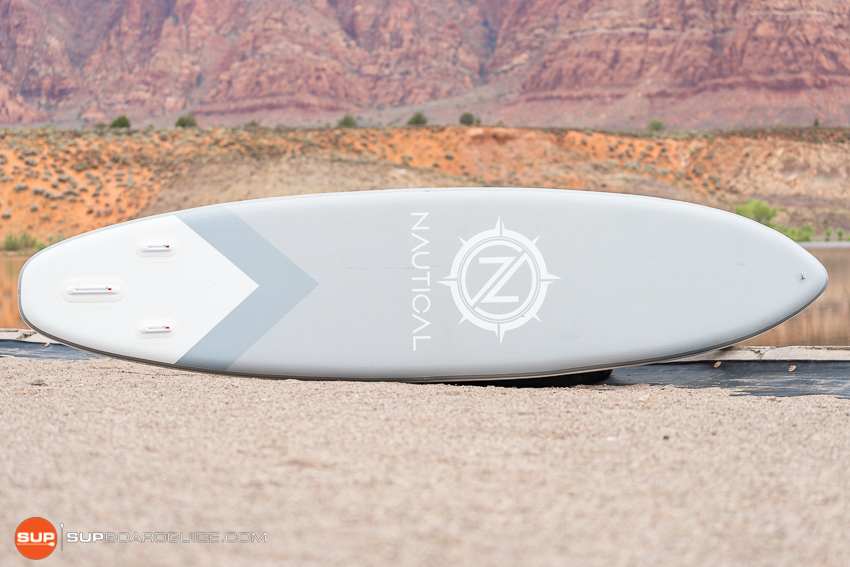 The Nautical 11 '6 iSUP does a lot to impress you right out of the bag. As mentioned above, it's really easy to see where they got all their cues from the more expensive iROCKER line. We think this polish really shines through considering this is a budget level board. We love the collection of color choices and the fact that most of the same accessories are interchangeable between the brands. That makes this board a great stepping stone into the iRocker community and you can keep on using your accessories far into the future.
Note: We try to paddle these boards all the time. We do this to ensure that we write, and update, our reviews as often as possible and as needed. You will not find spec reviews here! We are committed to bringing you the best reviews possible and if you have any questions about this or any other review, please let us know in the comments below! We are more than happy to help you make a decision.
Nautical 11'6 iSUP: Spec Sheet
| | |
| --- | --- |
| Main Category | All-Around, Inflatable |
| Board Dimensions | 11'6 x 32" x 6" |
| Listed Board Weight | 22 lbs |
| Listed Max Capacity | 265 lbs |
| Recommended PSI | 12-15 PSI |
| Fins | 3 flip lock nylon (2 sides 1 center) |
| Paddle | 3 piece fiberglass shaft and nylon blade |
| Materials | Dual-layer military grade pvc |
| Price Range | Budget |
| Warranty | 1 year with 60 day money back guarantee |
Official SupBoardGuide.com Test Results: Nautical 11'6 iSUP (2023)
Overall Score: 8.8/10
We were very impressed with the Nautical 11 '6 iSUP. It has a lot of the qualities that make it's more expensive stablemates some of our best iSUPs. While it is clear to see where material costs were minimized to make this very low price point, we are not upset at all with the quality of the finished product. We have to assume that a lot of the same pieces are already available to iRocker and moving them down to this budget board was a simple and cost saving decision.
Stability: 9.0/10

Speed:8.5/10

Tracking: 9.0/10

Maneuverability: 8.8/10

Construction Quality: 8.3/10

Accessory Review: 9.0/10
Our overall rating of 8.8/10 for the Nautical 11'6 iSUP really goes to show how happy we are with this board considering it's meager price point. It certainly deserves it's high spot on our best budget sup board list for sure, and we found this board to be a great value all around.
In-Depth Review of the Nautical 11'6 Stand Up Paddle Board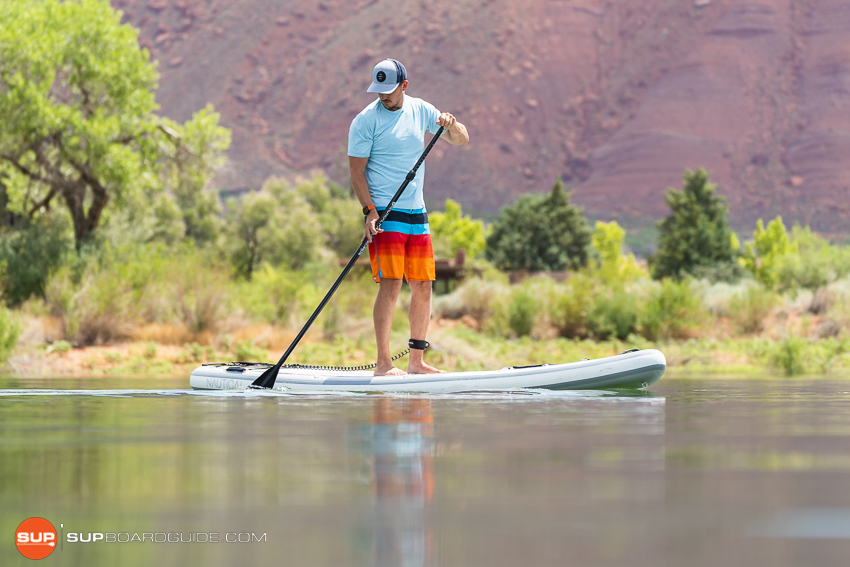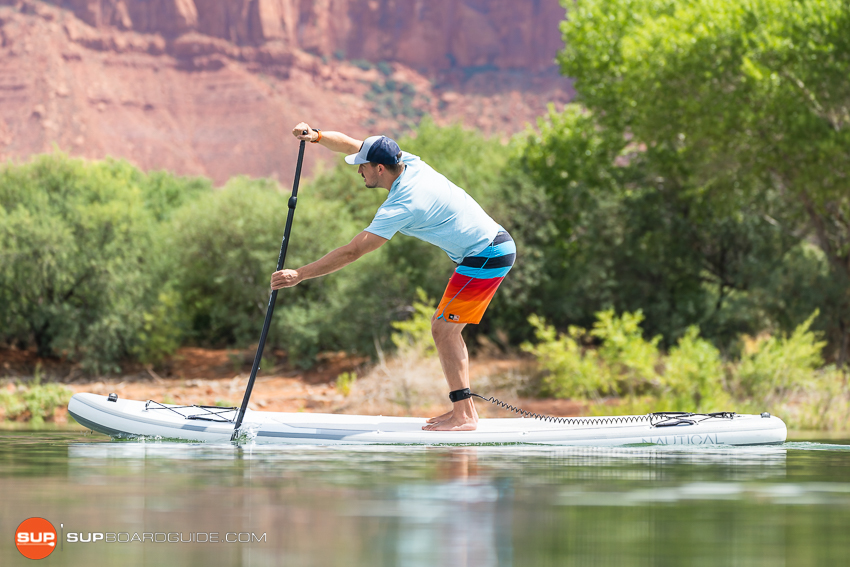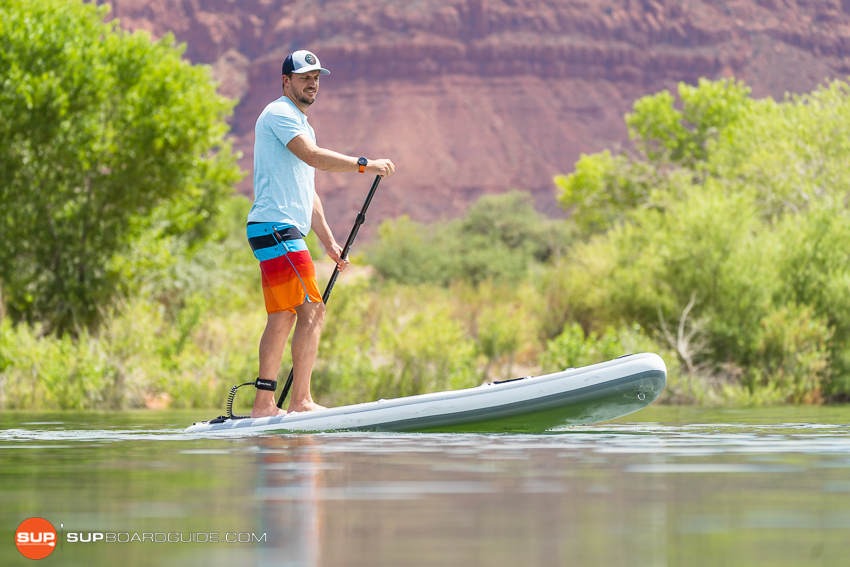 The Nautical 11'6 by iRocker did very well in our tests with riders of all size ranges. Even those riders at the 200+ mark were able to comfortably paddle this board through wind and boat wake conditions – very impressive for a budget inflatable paddle board. With a higher weight capacity, faster test times, and slightly better overall feel we also recommend the 11'6 over the 10'6 Nautical for those paddlers deciding between the two.
Stability Review: 9.0/10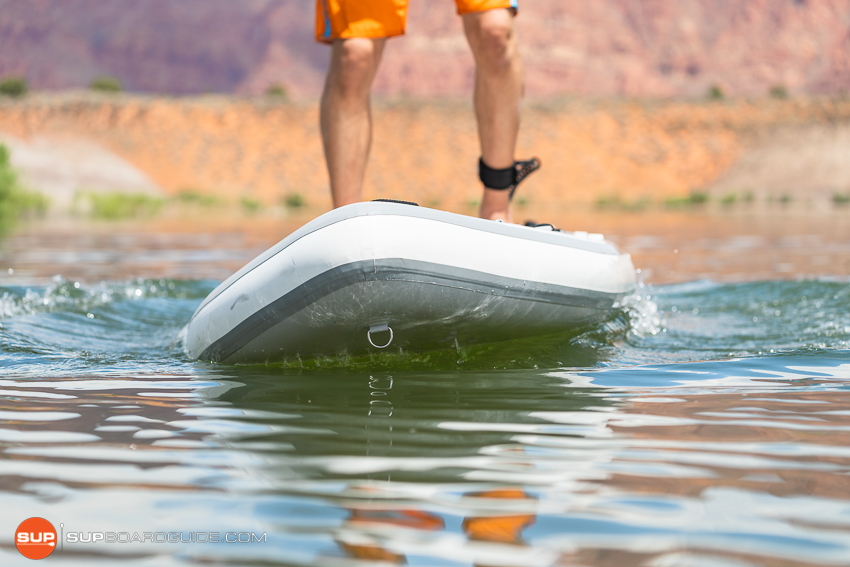 Ahh stability, or the propensity of the board to want to see you swim every time you stand up. We keep saying it, but this is probably one of the most important factors to consider when buying your first board (or any board, the super narrowest fastest board won't do you any good if you're in the water 75% of the time).
This board is very stable. In fact, all our riders reported having a comfortable and stable ride both in and out of heavy chop. We even tested this board with two reviewers (400+ lbs total weight) and it was the most stable of the "budget SUP" bunch.
While we don't recommend doing that regularly, it's nice to know that in really calm conditions you can take what you need to gear or child wise and still be stable. It will be comfortable for riders up to 225+ lbs. We found no problems with various reviewers weighing less than that either. For a budget board this is a great choice for almost all sized paddlers.
Board Stiffness:

Stiffness Test: 2 1/8" Bend (board on top of saw horses placed 7' apart, with 150 lbs of weight added right by handle in middle of the board)
As expected with it's 2 layer construction, this board did not perform as well as the iRockerr or Blackfin lineups. Again, don't take that as an overly bad sign though. The board does flex a bit in our test, but still feels really good on the water. While we don't expect to see better results here for a budget board, this is a good test that shows the biggest difference as paddlers move from the Nautical to the iRocker to the Blackfin line – with the more expensive boards, you do get stronger materials (in this case more PVC and we suspect higher density drop stitch) which do have a more solid feel and better durability. Again, not saying the Nautical is 'bad' by any means – just not as good as the higher priced iRockers and Blackfins.
Weight Capacity:
Listed Weight Capacity: 265 lbs
Tested Capacity: 400+ lbs
This is one of those rare instances where we feel the manufacturer hit the nail on the head with their estimated weight capacity. We feel the 265 lb range to be very usable with this board. So think of a larger person with some minimal gear (cooler, speaker, small dog or child). We see so many "estimated weight capacities" based on some other worldly science and it's nice to be able to take a manufacturer at their word.
400+ lbs tested you ask? Yes, thank you for asking. We scientifically loaded up all the budget boards with 2 reviewers in the name of science (and some funny pictures!). Could this board "hold" 400 lbs with one person still standing up paddling? Surprisingly, yes. Of all the budget boards this was the most stable, and while I wouldn't recommend doing this on the regular or in adverse conditions, it's nice to know that it's a possibility.
Speed Test: 8.5/10
The Nautical 11 '6 has got a fairly long water line and at only 32" wide it's got a slightly streamlined shape. This board was able to get up to a reasonable speed in our testing and comfortably cruised at a steady pace. These are great numbers for all around boards, not to mention budget all arounds. The board is lightweight, uses the same shape we love from the iRockers and feels surprisingly good as you paddle. The increased flex in the board might slow you down just a little bit if you had a comparable shaped iRocker or Blackfin, but not by much (and really not noticeable at all unless you are timing it).
I generally have a hard time recommending less expensive boards over the boards you find on our best inflatable paddle board list – but if money is a concern, this is possibly the best alternative and is a great value performance wise and dollar wise.
Tracking: 9.0/10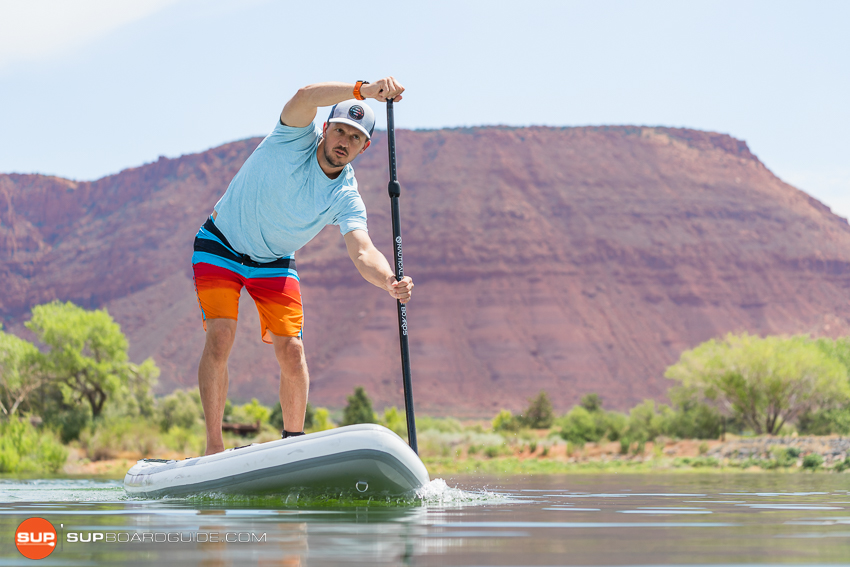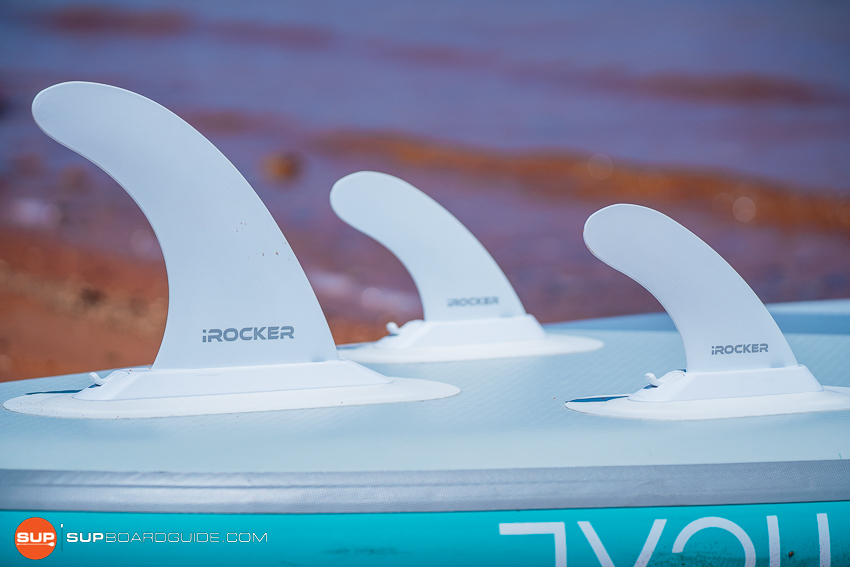 We really like the general iRocker family 3 fin setup. First off, it makes upgrading boards simple as all the fins work with each other. But more in terms of this topic, we really are impressed with how well the 3 fin system tracks. This is another area we feel the Nautical has benefited from having similar DNA as the iRocker and Blackfin lines. The company dialed in the fins and shapes for the iRocker/Blackin lineups – and incorporating those elements into the Nautical doesn't cost any addition money in research and development, thus allowing them to keep the cost on the Nautical down while improving performance.
Maneuverability: 8.8/10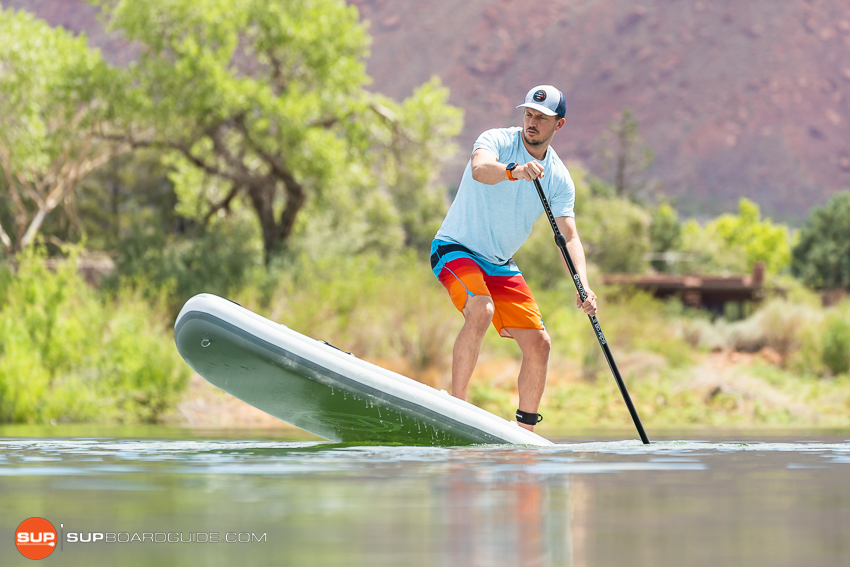 This board can tackle a slalom like a board a foot shorter, in our opinion. The main reason being that this board is just very light. As such it's easy to pull the board around with various beginner and intermediate paddle strokes. This is especially useful when navigating docks, piers, or various boats and people at your local sandbar (A Nautical, iRocker, and Blackfin walk into a bar… sorry got side tracked).
The board felt very stable when doing step back turns and would make a great learning board for someone looking to improve their skills. All in all we were impressed with how much it performed like a non budget board.
Construction Quality: 9.0/10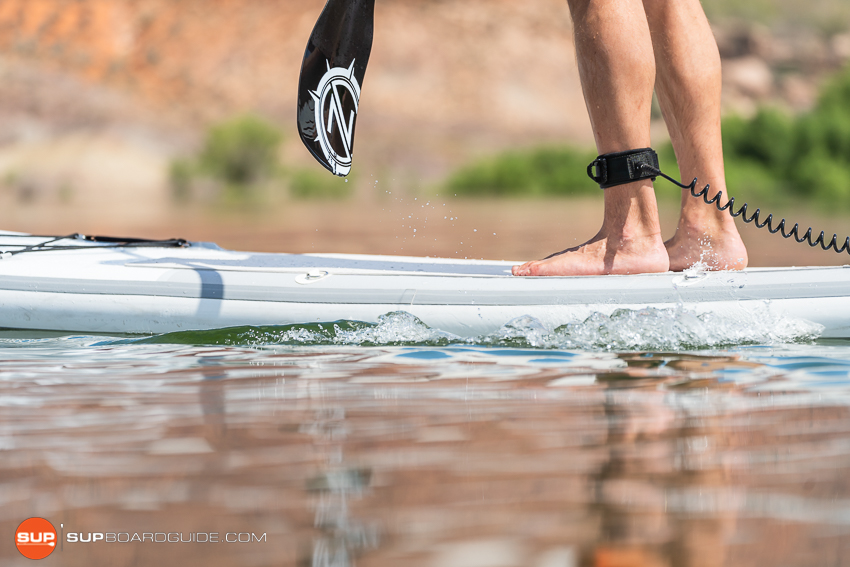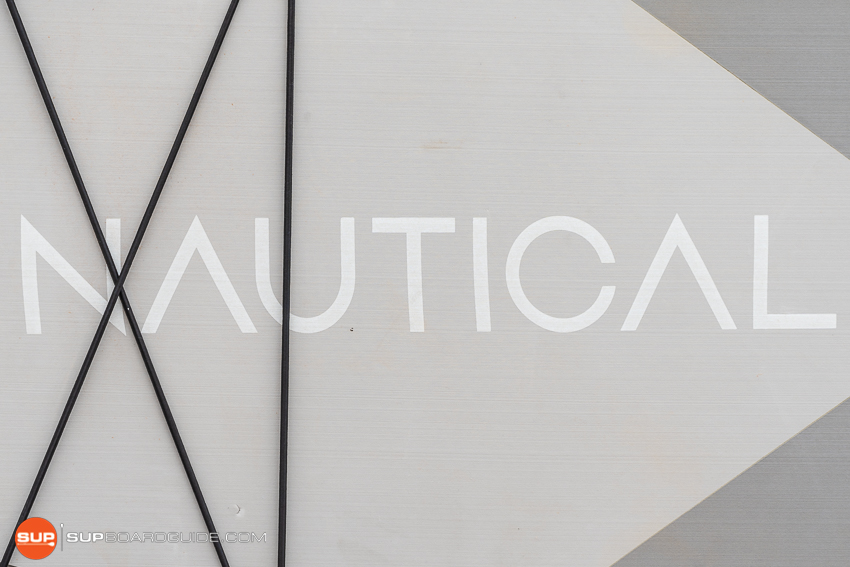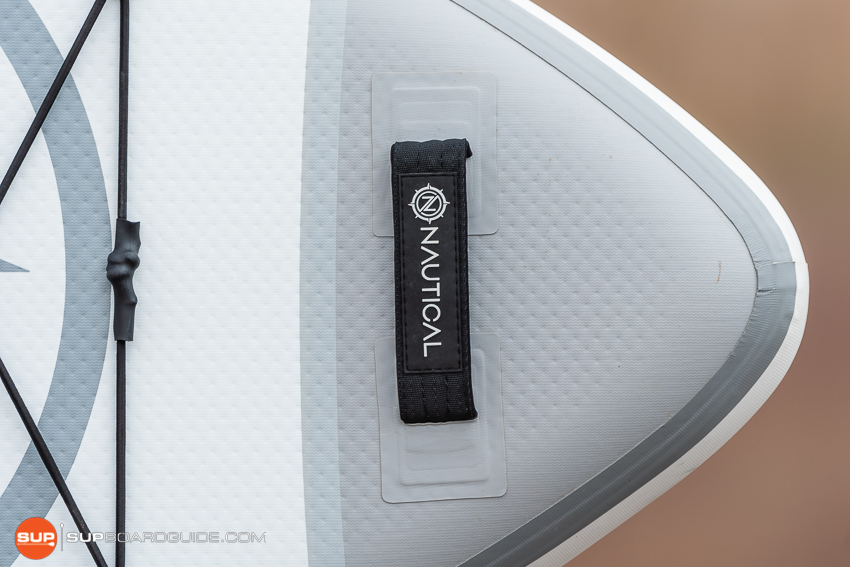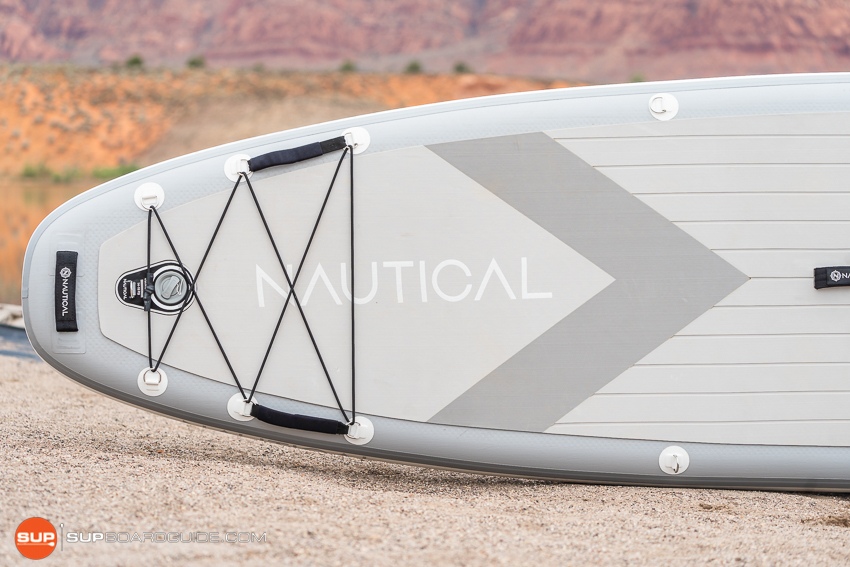 Nautical tells us these are made from "military grade" 2 layer PVC and this is something we have to take them at their word for since we are unwilling to cut up this poor board at this stage of the game – and almost impossible to actually verify even if we did.
What we can tell you is that this board is both lighter and more flexible than it's iRocker all around brothers. We feel this is in line with their assessment as this board only incorporates 2 layers as opposed to the 3 found on the iRocker. We can also tell you that last year's Nautical SUPs are still in great shape and have held up really well to our testing and yearly abuse. In other words – we feel pretty good about the quality you get with the Nautical at the price point. Again, if you are most concerned about durability and rigidity, then we would recommend our iRocker All Around 11 review and consider that board.
With the Nautical, we love the "trickle down" technology such as the dual bungee's with integrated grab handles, the sturdy feeling front, rear, and center handles, and all the extra D-rings for accessories. We would have probably liked to see a few more action mounts though. It only comes with a single one incorporated into the front bungee D-rings. This could be easily remedied by including one on the rear bungee D-rings or perhaps on the least strap D-ring.
It has the same quality feel and fit and finish we have come to expect from the more expensive iRocker and Blackfin brands. Again this is another area we feel that Nautical benefited from the parent companies knowledge and existing equipment portfolio.
Accessory Review: 9.0/10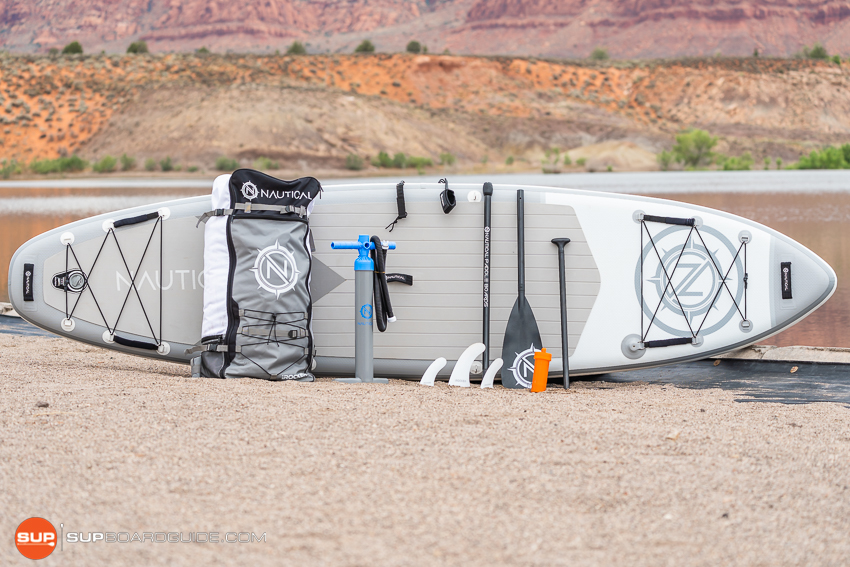 Included Accessories:

Budget iSUPs don't necessarily need to come with "budget kits". We have been extremely impressed with the Nautical 11'6 iSUP thus far and we are equally happy with the kit components considering it's low cost. The Nautical 11'6 iSUP kit comes with:
Fiberglass paddle with nylon blade
Single chamber dual action hand pump
10' coiled leash
Travel backpack
3 removable fins
1 repair kit
We will get into the specifics on the paddle, bag, and pump below, but for the most part they are all pieces commensurate or better than their cost suggests. Again we are impressed, not only with the quality of the board, but the extensiveness of this kit.
Paddle: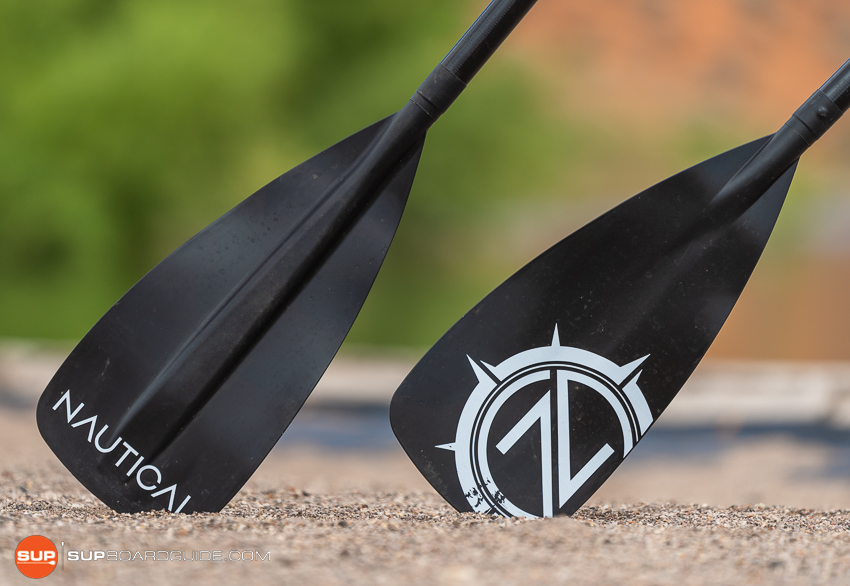 Being in the budget range we weren't going into this expecting anything show quality for the paddle. While not the lightest available it is, thankfully, devoid of any of the heavier materials sometimes used (aluminum is so 2019). It is a sturdy feeling fiberglass with strong locking mechanisms at both the bottom and near the handle. We really like this as most low budget paddles have quite a great deal of "twist" in the paddle shaft. The paddle blade itself is made from nylon and feels quite sturdy, just what a beginner paddle should be. We also like the shape of the paddle and think they did a great job with that aspect of the design.
Pump: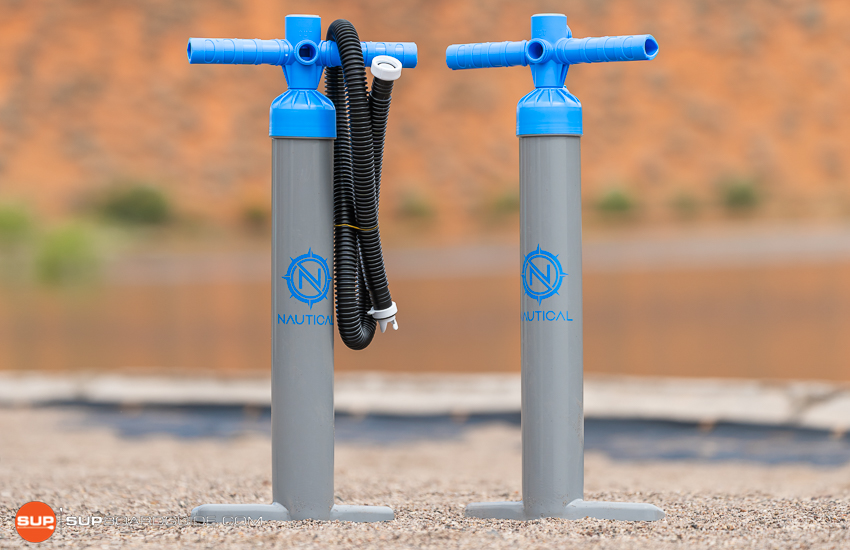 The hand pump does the job and the dual action feature does make getting the higher PSI a bit easier. We feel that smaller or lighter paddlers would have difficulty reaching the last few PSI though. This is to be expected from a budget pump and honestly we would (as always) recommend the iRocker electric pump (ranked at the top of our best electric pump for inflatable paddle boards). I know, this is a budget kit, why spend the extra money on the pump instead of the paddle board itself? Simply put, this pump will work for any Nautical, iRocker, Blackfin iSUP as well as most other brands with the standard Halkey Roberts valve system. Not only can you save your arms and shoulders but you can be the hero of your group offering to inflate other boards with your pump!
Bag: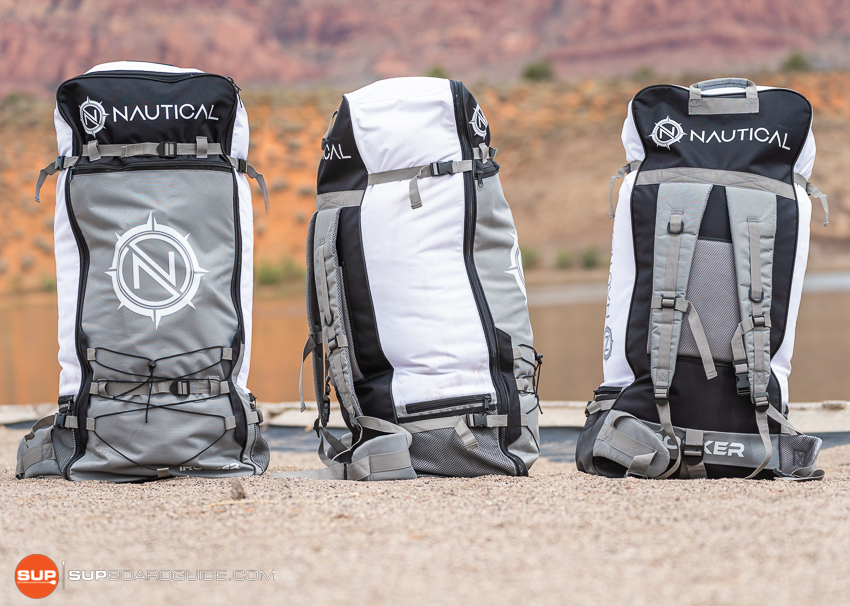 This bag is labeled by Nautical as a "premium bag" and while it does in fact feel fairly nice, we think that "premium" is not quite the word I would use to describe it. Don't get me wrong, it's a good bag, but it's not on par with the Blackfin bag (or Red Paddle Co or other premium bags out there)
However, we did find that the Nautical bag has a nice, solid feel to it, and is built with quality materials – and has more than enough room for all your gear.
As we've mentioned above we really see where Nautical gets its inspiration from the more expensive iRocker brand. Plenty of accessory pockets for your fins and other equipment, a large bungee strap on the face of the bag (seemingly for the pump) and comfortable straps for the backpack setup. It's a great value for a budget kit and we are happy with it.
Optional Accessories
Yet again, being under the iRocker family you get access to almost all of the vast iRocker accessories. The benefit of this being that you get a budget board that is nearly infinitely customizable. Some of our favorites are:
The iRocker Electric Pump (no we are not going to let it go)
The SUP to Kayak conversion kit
The Carry Strap
Any of their cooler options
Either of their waterproof speaker options
Summary Review of the Nautical 11'6 iSUP (2023)
We are really satisfied with the whole package you get when purchasing the Nautical 11'6 iSUP. The board itself is solid with plenty of included features and accessories. The included kit was also more than adequate for a package in this price range. This really is a great choice for a beginner looking to get into the world of stand up paddleboarding, a family looking for an affordable kids board, or paddlers looking to bring friends along with them without breaking the bank.
As always, please feel free to let us know what you think about this review in the comments below. We would love to hear your thoughts and suggestions as well as help you with any questions you may have. Happy paddling and we look forward to meeting you on the water!
The following two tabs change content below.
SupBoardGuide
Heyo! At SupBoardGuide.com we are a team who love the water, the outdoors, and are more than grateful that our full-time job allows us to review stand up paddle boards. We paddle year round (it helps that we are just about 2 hours outside of Las Vegas), and we bring in a wide range of paddlers with the goal of providing our readers with the best, most in-depth, and accurate stand up paddle board reviews.
Latest posts by SupBoardGuide (see all)