Welcome to our Red Paddle Company Review Page!
Founders: John Hibbard
Date Founded: 2008
Location: Halwell, United Kingdom
Welcome to our Red Paddle Co overview page! In the sections below, you'll find our review of Red Paddle Company, one of the premier SUP manufacturers on the market, along with links to our individual RPC paddleboard reviews. If you want to learn more about Red Paddle Co, from the history of the company to learning more about each of their 20 SUPs and high quality boards, you're in the right place!
Why do we love Red Paddle Co SUPs and recommend them?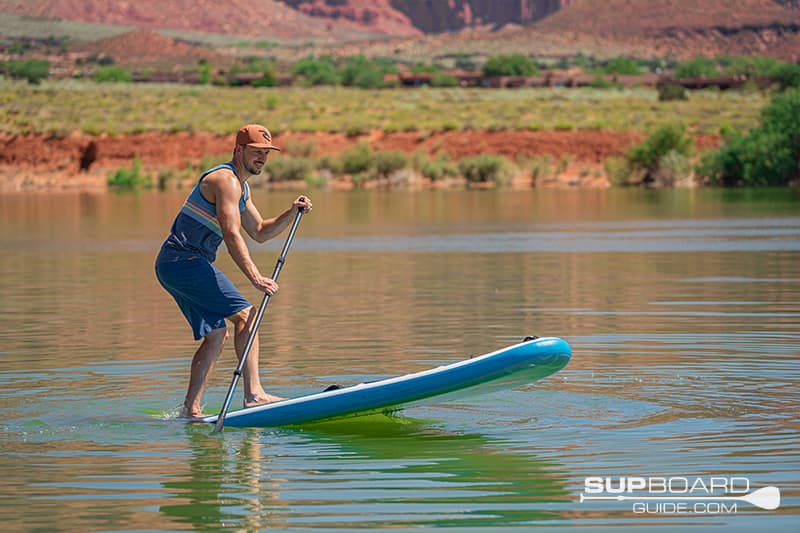 John Hibbard was paddling heavy, difficult to handle epoxy SUPs when he had the idea to start his own paddleboard company that would produce lightweight, inflatable SUPs. Founded in 2008, Red Paddle Company has since grown to be one of the top, most well-respected paddleboard companies within the inflatable SUP sector. With fantastic durability, lightweight designs, and impressive accessories, Red Paddle Co also sets the trend for the rest of the industry with impressive new innovations year over year.
In 2021, Red Paddle Co is releasing twenty-two unique inflatable SUP models, built with different paddler levels and SUP activities in mind. Along with typical all-around SUPs, you will also find dedicated yoga, touring, racing, tandem, family, and even kids paddleboards. Each paddleboard made by Red Paddle Co is produced in zero waste factories, and with their new 2021 shipments all SUPs are delivered in 100% recyclable packing as well. With stellar paddleboards and environmentally friendly practices, Red Paddle Co had a long list of reasons why they deserve their reputation as one of the best SUP manufacturers in the industry.
Another reason why Red Paddle Co has such a great reputation is due to their extended, painstaking construction process that produces paddleboards with a less than .5% return rate. The first half of the construction process is Tec-Air, which uses machine assisted stitching over and thousands of high quality threading to form a very tight drop-stitch core. The second half of construction is the application of MSL (Monocoque Structural Laminate) tech, with a lightweight but very resilient coating of military grade PVC machine laminated to the paddleboard. The end result is one of the most durable and resilient paddleboards on the market, able to withstand being run over by a 22 ton road digger! You can see how a Red Paddle Co SUP can withstand all sorts of durability tests for yourself below!
https://www.youtube.com/watch?v=jJiCVw6UCF4
Red Paddle Co SUP Boards are built exceptionally well, but RPC paddleboards do come with a one year warranty protection in case something does go wrong. However, if you register your board online within three months of purchase, you can extend that one year warranty protection to five years for free! This ties as one of the best and most comprehensive paddleboard warranties out there, and is another reason why we love Red Paddle Co SUPs.
You will learn more about their individual paddleboard performance from our reviews, but we also want to highlight how impressive their accessory lineup is. The new Titan II manual pump is the best manual pump on the market, as along with being compact it can inflate a inflatable SUP in less than five minutes without breaking a sweat. The roller backpack is durable and roomy, while also being built with foil lining that will regulate the internal temperatures and help your paddleboard equipment last longer and avoid cooking on hot summer days. While you do have to purchase their paddles separately, each of them are built well and are low weight, with comfortable ergonomic grips that ensures you can hold them for hours without tiring out. Red Paddle Co is also one of the few companies to use a RSS Baton system. The Rocker Stiffening System allows you to insert flexible rods that significantly increase SUP rigidity without weighing the paddleboard down with unnecessary and expensive PVC reinforcement.
As you can tell, there is a lot to love about Red Paddle Company, and we've barely touched on their stellar SUP performance and innovative upgrades setting the trend for the rest of the industry. So, if you are shopping around for a new, premium paddleboard that will last you for years and make your paddleboarding buddies jealous with envy, check out a few of our RPC reviews below!
Red Paddle Co SUP Reviews – The Boards
All-Around:
Ride 9'6'' / 10'6'' / 10'8''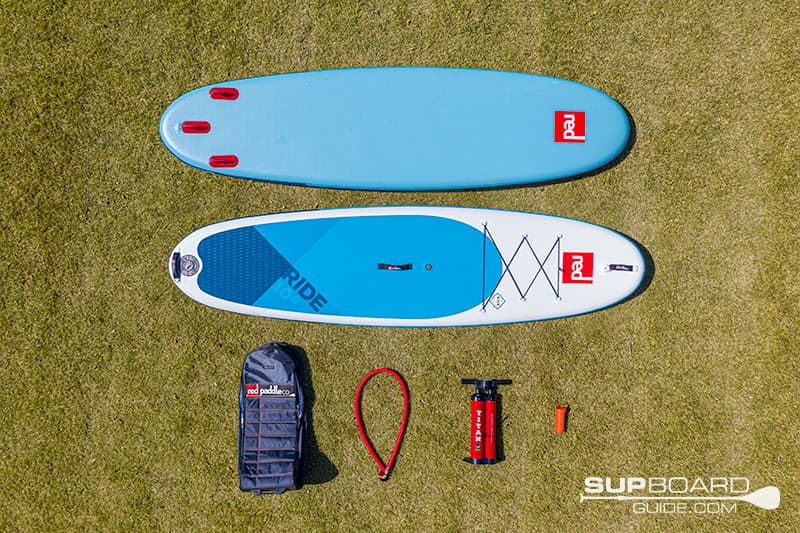 The Red Paddle Co Ride lineup makes up the most recognizable and popular RPC SUPs, each of which are lightweight all-around paddle boards well suited for every occasion and skill level. The hybrid Red deck pad is comfortable and grippy, the stable paddleboard helping brand new paddlers adjust to the water and ensuring that advanced paddlers can take on tougher challenges. The Ride series of paddleboards are quite nimble as well, with a 4.7'' thickness that provides speed, agility, and great paddleboard control since you're riding closer to the water. Yoga, racing, touring, surfing, river running, or just plain cruising are all fun with the Ride series, the all-around paddleboard built to provide a good, solid sample of what water sports have to offer. If you're not sure where to start, then the Red Paddle Co Ride series is the best place to begin.
You can click on our links below for our full reviews of the Red Paddle Co 9'6'', 10'6'', and 10'8'' SUPs.
Our full review of the Red Paddle Co 9'6'' Ride is coming soon.
Click here to read our full review of the Red Paddle Co 10'6'' Ride.
Our full review of the Red Paddle Co 10'8'' Ride is coming soon.
Compact 9'6'' / 11'

Are you looking for an ultra lightweight paddleboard, something that weighs less than 20 lbs, that you can hike long distance with? How about something you can fold up into a small backpack, without having to sacrifice any board durability or quality? If you're one of the above, you will definitely want to consider the Red Paddle Co Compact series! These two paddleboards come with everything you need for the water while fitting in a ultra comfortable backpack designed to reduce lower back strain by 53% compared to traditional SUP backpacks! All of the great features included in other Red Paddle Co boards are built into the Compact, but with a split deck pad so you can fold it up even smaller. If you can't get to the water directly and have a long journey by foot ahead of you, you can still bring a paddleboard along for the adventure with the Compact series!
Our full review of the Red Paddle Co 9'6'' Compact is coming soon.
Our full review of the Red Paddle Co 11' Compact is coming soon.
Racing:
Elite 12'6'' / 14'

Most paddlers prefer epoxy SUPs if they intend to race, but with the right talent you'll be able to keep up and even beat the competition with the Red Paddle Co elite series. Red Paddle Co claims that the 12'6'' and 14' Elite are the fastest inflatable SUPs on the market, and we can't think of any boards that can best that claim due to their narrow designs that are also stable and highly maneuverable. These are also a couple of the most rigid inflatable SUPs out there, utilizing both the RSS Baton system found on other RPC paddleboards, along with a Forward Flex Control (FFC) system. If you want an inflatable that you can actually use competitively in a race, you will definitely want to consider the Red Paddle Co Elite series SUPs.
Our full review of the Red Paddle Co 12'6'' Elite is coming soon.
Our full review of the Red Paddle Co 14' Elite is coming soon.
Dragon 22'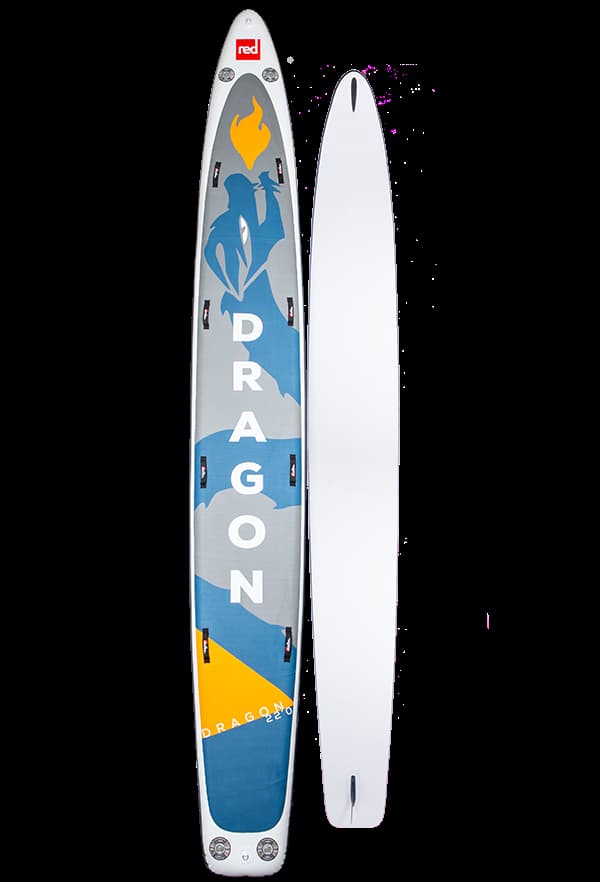 Want to take part in a team paddleboard competition, but aren't finding an inflatable that can keep up with the competition? The 22' Dragon is the paddleboard for you, and a true best of class that will outspeed any other four person team inflatable SUP. There are eight handles for easy carrying, and four inflation valves that will help you get the massive paddleboard inflated fast. The thin deck, sleek drawn out nose, and dual system underside nose runner all reduce surface tension and increase water flow for a faster, more maneuverable SUP. With great rigidity due to its reinforced taped rails, this is one of the best four person team SUPs on the market!
Our full review of the Red Paddle Co Dragon 22' is coming soon.
Touring:
Sport 11' / 11'3'' / 12'6''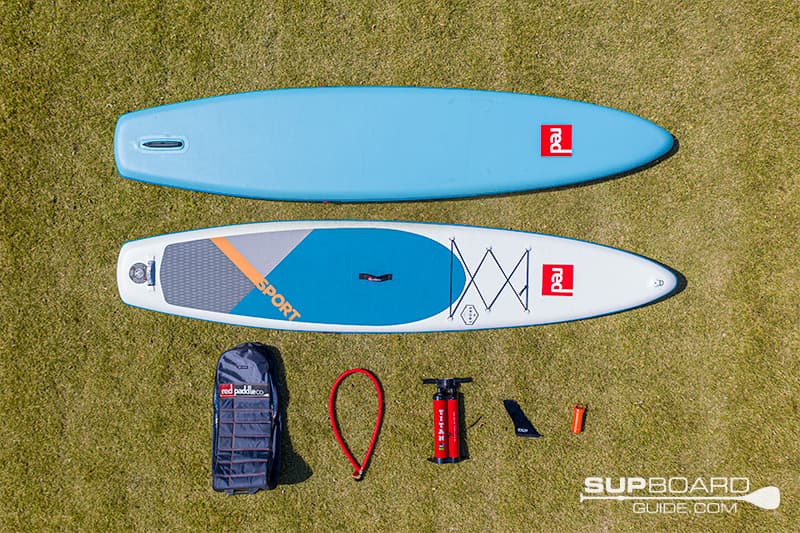 The Sport series are a combination of touring/all-around/racing paddleboards, each of which featuring a fantastic new speed tail for 2021. The new tight rubberized edge aids in water release, which provides an impressive increase in overall speed that will help you keep up with even true, dedicated racing SUPs. The great RSS baton system is also included, along with an extended hybrid Red deck pad and the new flat bungee cargo cords for bringing along coolers and other gear. The Red Paddle Co Sport series are some of our favorite touring SUPs on the market, balancing great tracking with nimble maneuverability and solid board stability.
Click here to read our full review of the Red Paddle Co Sport 11'.
Our full review of the Red Paddle Co Sport 11'3'' is coming soon.
Click here to read our full review of the Red Paddle Co Sport 12'6''.
Voyager 12'6'' / 13'2'' / 15'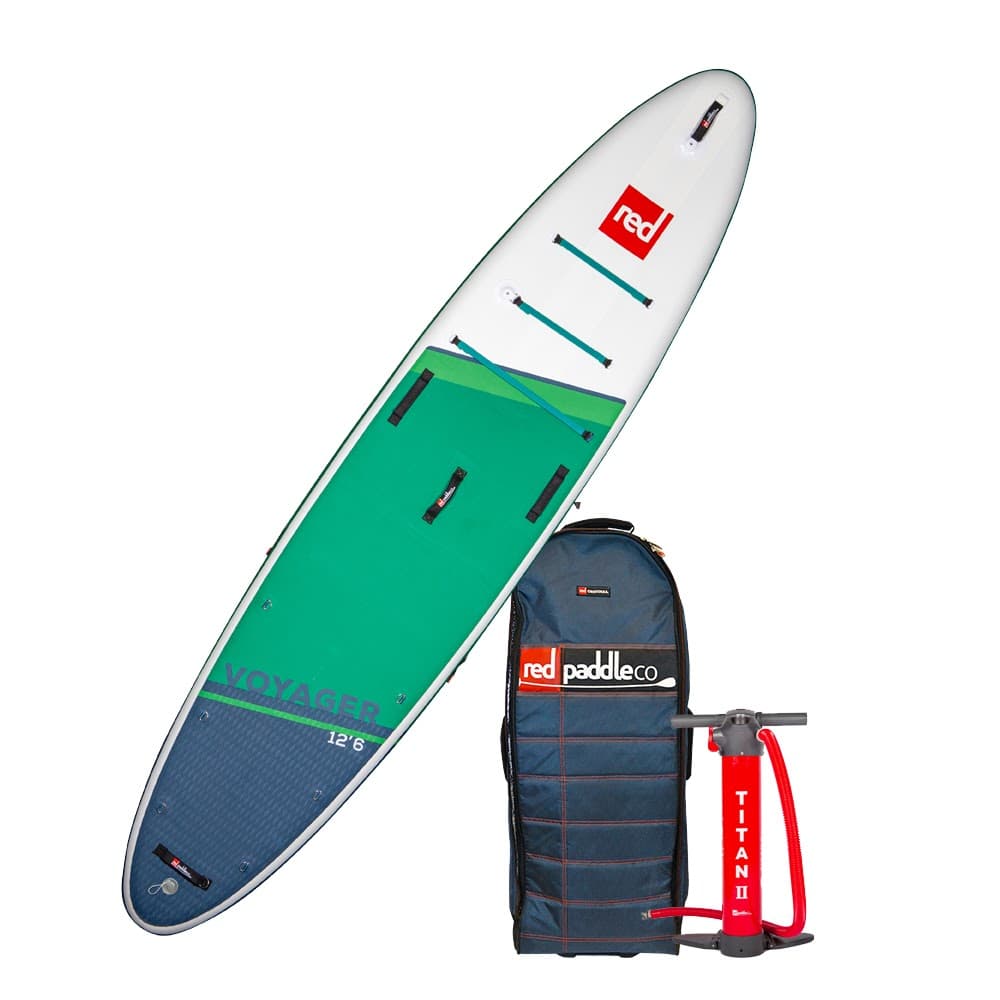 While they won't be quite as fast overall as the Sport series, the Voyager series is designed to maximize acceleration and momentum, with an extended deck pad for a true premium touring experience. New to 2021 Voyager models is the V-hull, which breaks the surface tension of the water and helps the pointed nose cut through waves. The Voyager series is one of the few inflatable paddleboard models out there that has a true displacement style hull, making it one of the best inflatable paddleboard options for flat water. While most Red Paddle Co SUPs maintain a clean deck, there is also additional accessory support as well on the Voyager models, making them a great option for accessory junkies or those going on multi-day paddling adventures. If you want a true, dedicated touring paddleboard, you won't do much better than the Red Paddle Co Voyager series.
Click here for our full review of the Red Paddle Co Voyager 12'6''.
Our full review of the Red Paddle Co 13'2'' Voyager is coming soon.
Our full review of the Red Paddle Co 15' Voyager is coming soon.
Junior:
Snapper 9'4''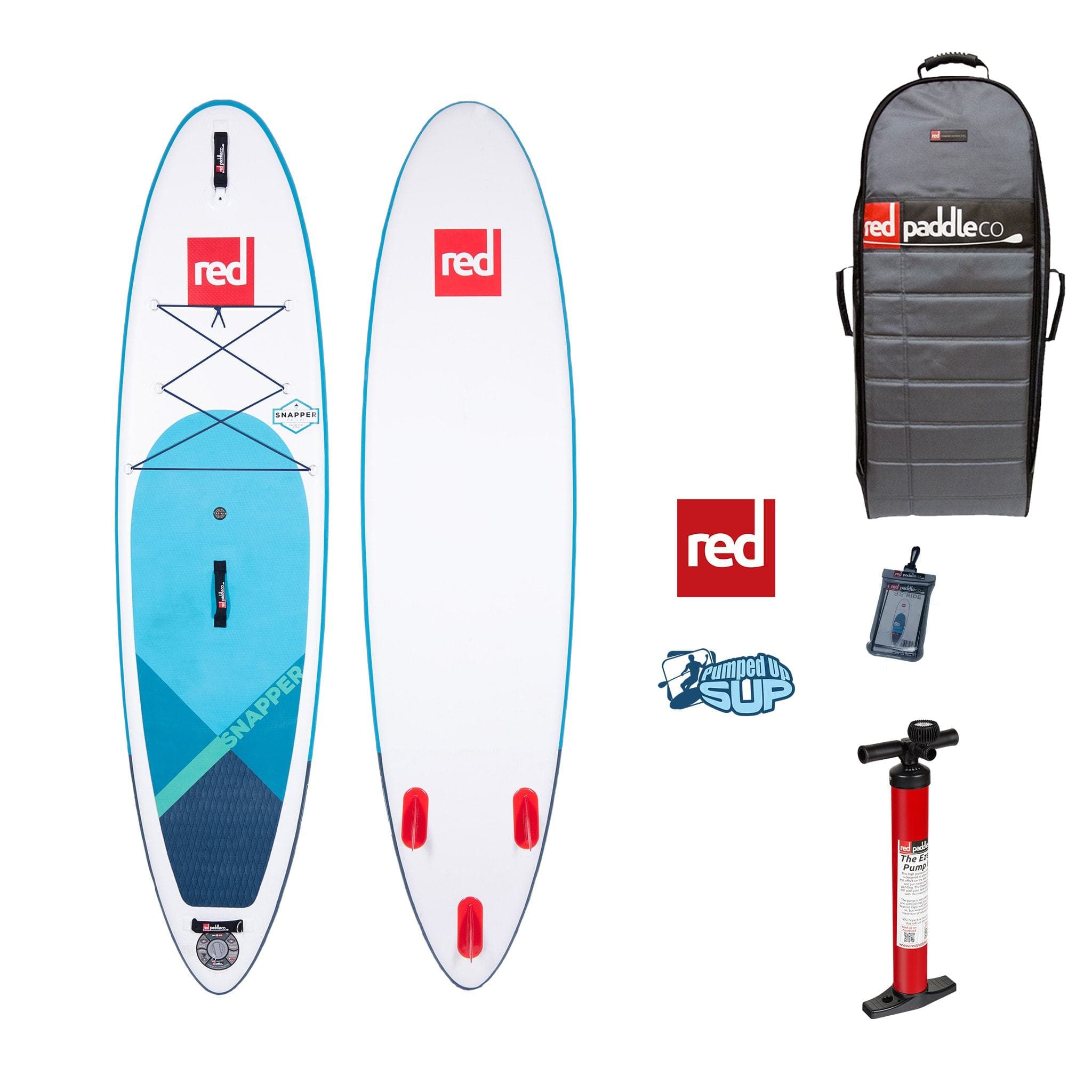 It's tricky to find a good junior paddleboard option, as you need something small and lightweight, but also durable and built so that kids don't outgrow it after a year. The Red Paddle Co Snapper is one of our favorite junior SUPs as it has all of these qualities, and more. The paddleboard uses the same great Tec-Air/MSL construction as adult paddleboards, but also weighs just 16.95 lbs. The 9'4'' length SUP is short enough that kids can easily maneuver with it, but not so short that they have to stop using it once they're a teenager. So, if you want a paddleboard option that will help your junior paddlers get into stand up paddleboarding, you will definitely want to look at the 9'4'' Snapper!
Our full review of the Red Paddle Co 9'4'' Snapper is coming soon.
Specialty:
Whip 8'10''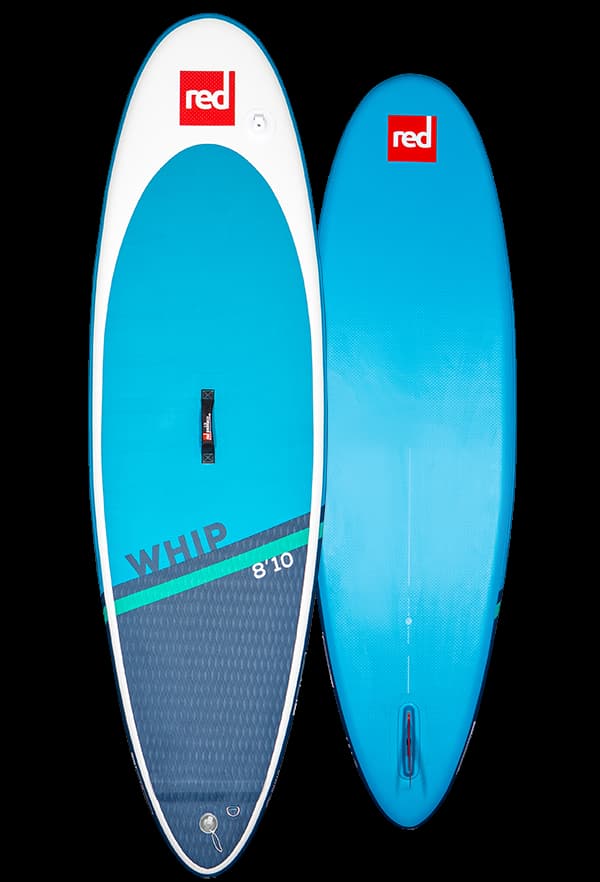 How about an inflatable paddleboard that will help you ride hard surf waves, while also staying compact and lightweight so you can travel by plane with it? Then we think you should consider the 8'10'', a paddleboard built for the ground up for surfers. The 16.3 lbs paddleboard is one of the most maneuverable SUPs made by Red Paddle Co, and a SUP that will help you tackle waves with its great stability and the raised heel pad that will help you brace when you hit a wave. With both reinforced taped rails and the RSS rail system, this paddleboard is significantly more rigid than your typical inflatable paddle board not built by Red Paddle Co. If you want to get your surf on, you'll want to do it with the 8'10'' Whip!
Our full review of the Red Paddle Co 8'10'' Whip is coming soon.
Windsurf 10'7''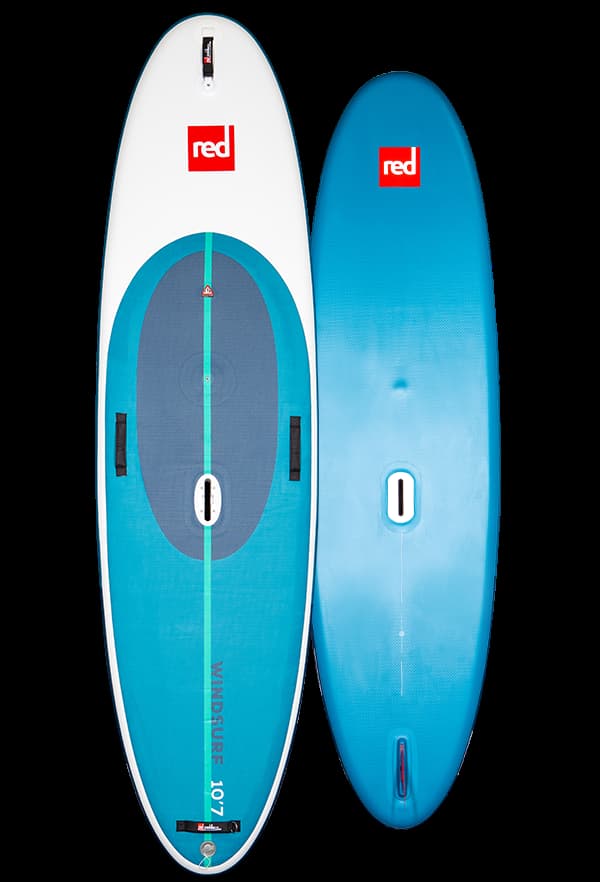 Windsurfing is a popular activity for paddleboards, but there aren't many SUPs that are truly designed for the sport. That's why Red Paddle Co developed the 10'7'' Windsurf, with a center cutout designed to be compatible with Sure-Fin daggerboard systems and popular Ride Rigs. The deck pad itself has also seen an overhaul, with a diamond cut to improve grip and marked positions to help beginners learn where to properly place their feet while they're surfing. All of Red Paddle Co's other great accessories, from their stellar all-terrain roller backpack to the new Titan II pump, are also included with the Windsurf 10'7''. If you need a paddleboard built with windsurfing in mind, or something stable for some casual cruising, consider the Red Paddle Co Windsurf 10'7''!
Our full review of the Red Paddle Co Windsurf 10'7'' is coming soon.
Activ Yoga 10'8''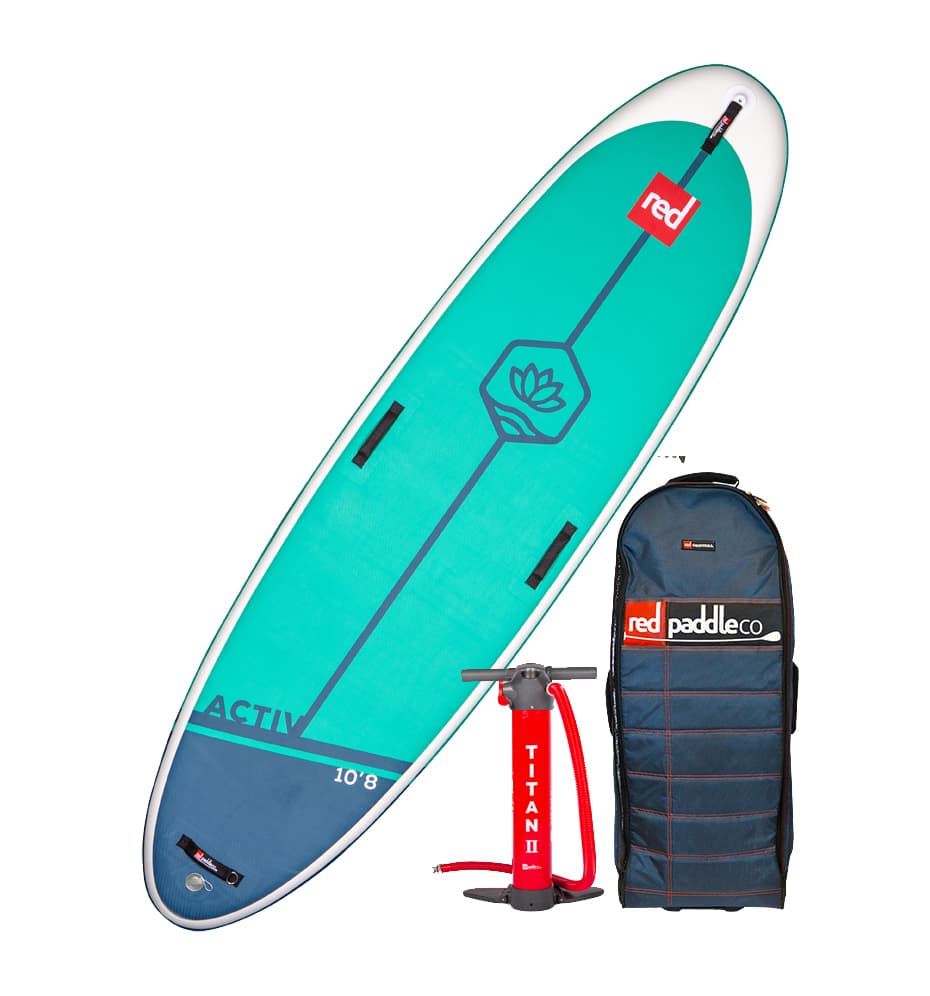 There's nothing quite like practicing yoga on the water, and the 10'8'' Activ Yoga is one of the best paddleboards for helping you perform asanas as you meditate and search for inner peace. The larger center mandala flower is beautiful to look at, while also guiding your position while you practice on the grippy yet cushy Red deck pad. Tubular carry handles are built to be extra soft and comfy, making it easier to carry the paddleboard to the water. At 24.2 lbs, this is a much lighter yoga SUP alternative to many excessively heavy boards on the market, while still providing fantastic weight support so even larger yogis can practice with it. For the dedicated yoga enthusiast, consider going with the Red Paddle Co 10'8'' Activ Yoga inflatable SUP!
Our full review of the Red Paddle Co 10'8'' Activ Yoga is coming soon!
Wild 11'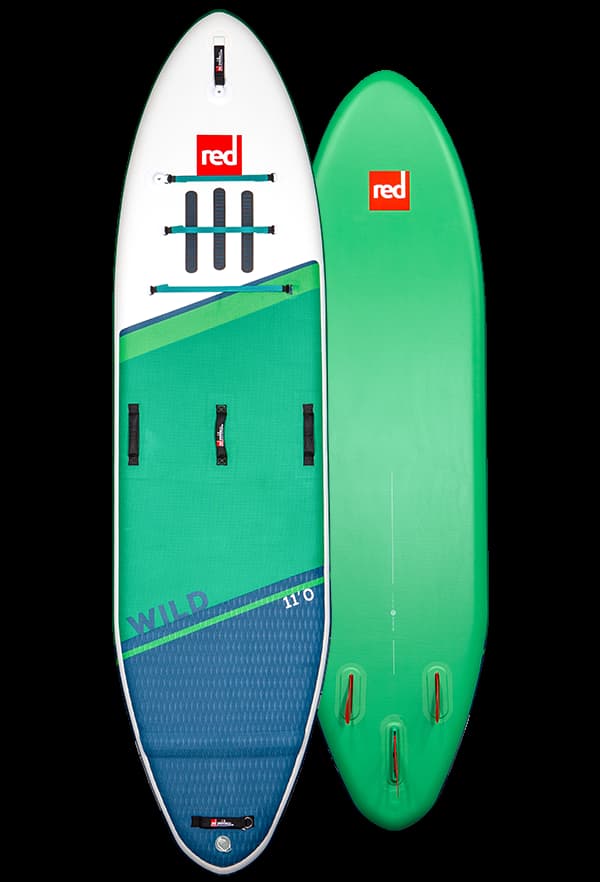 Some paddlers consider white water the ultimate stand up paddleboarding challenge, but you need the right gear if you are going to tackle something harder than a Class II rapid. That's why adrenaline junkies should take a gander at the 11' Wild, a paddleboard uniquely optimized to handle even the most intense rapids. The more ovular shape makes it extremely maneuverable, with high sides that will help it dip in and out of the river flow in order to balance great stability and solid overall paddler control. There is an additional traction pad underneath the cargo cords that will help your gear stay attached to the board, and the hybrid Red deck pad will ensure that you don't slip either, the deck pad draining quickly after it gets wet. With the Red Paddle Co 11' Wild, you can challenge rivers normally reserved for kayaks only!
Our full review of the Red Paddle Co 11' Wild is coming soon!
Multi-Person:
Ride XL 17'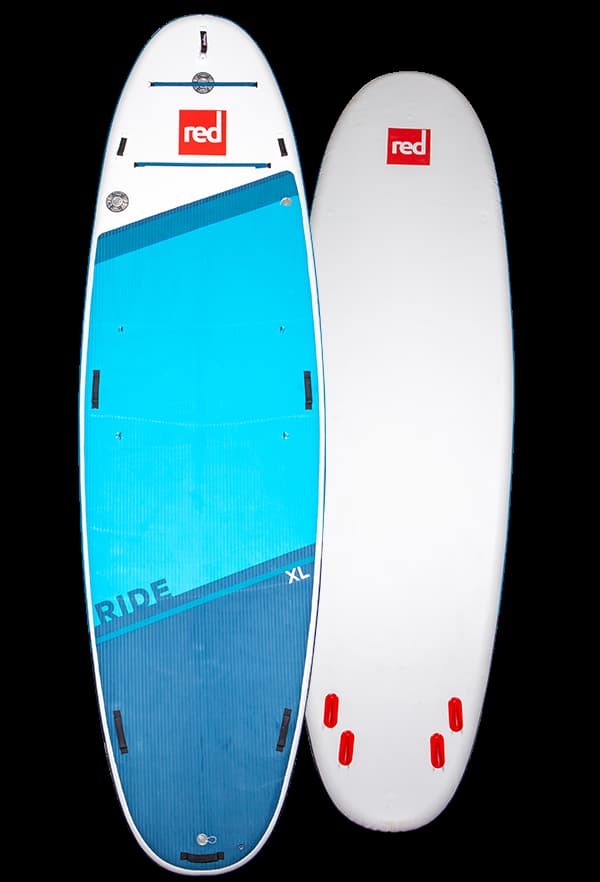 Want a paddleboard that can support a group of people, but actually offer more performance than the typical floating inflatable square platform? Then you should look at the Red Paddle Co 17' Ride XL, with enough space and stability to support up to eight paddlers at the same time. This is a fantastic option for cruising with friends or exploring lakes alike, while also being much easier to carry and inflate than most typical multi-person paddleboards. Unlike other 5+ person SUPs, the Ride XL 17' is built with the same tech as their traditional paddleboards, so there isn't any compromise when it comes to durability either. If you and your friends want to share a paddleboard, your group will want to consider going out with the Red Paddle Co 17' Ride XL!
Our full review of the Red Paddle Co 17' Ride XL is coming soon!
Red Paddle Company Review: Accessories:
Red Paddle Co inflatable paddleboards are some of the best on the market, but did you know they produce some of the best, most innovative accessories for paddleboards as well? Here are just a few reasons why their accessory lineup is one of the best on the SUP market:
Paddle: Most of their paddleboards do not come with a paddle, but you'll want to consider purchasing one given their high quality construction. Each of their paddles are very lightweight, with ergonomic adjustable handles that you can paddle with for hours without irritating your hands. These paddles are built tough, ensuring they won't break if you drop them, while also providing enough flex so each stroke will propel you quickly once you're paddling with it on the water.
Pump: We mean it when we say that the Titan II pump is the best manual pump on the market. The pump has a multi-part design that can be assembled in seconds, while also minimizing the space it needs when packing it away in your bag. Furthermore, this is one of the fastest manual pumps out there, able to inflate a SUP from 0 to 15 PSI in less than five minutes. Once you use a Titan II pump, you won't want to use anything else.
Leash: An easy to wear coiled leash. Attach one end to your rear D-ring and the other end to your ankle or calf, and your SUP will stay close even if you take a hard fall in the water. With the coil, you can also yank on the leash to bring it close without worrying about whiplash.
Repair Kit: It's a typical repair kit, with adhesive patches and a Halkey-Roberts inflation wrench you can use to triage minor paddleboard issues. However, Red Paddle Co made sure to color code the patches for a better overall look after you finish making repairs, an extra step other SUP companies don't always follow.
Fins: The fins vary with each paddleboard setup, but whatever you get will be a high quality fin. The permanent molded plastic iFin setup is nearly just as tough as the paddleboard itself, great for all water environments. Removable snap-lock fins are very easy to install, while US fin boxes offer the most versatility in performance fine tuning and customization. The fins also stand out, featuring unique colors you won't often find on other paddleboards.
Cell Phone Case: The included waterproof phone case is a small but important touch, allowing you to clip your phone to your paddleboard without worrying about it falling into the water.
Backpack: The Red Paddle Co backpack also deserves to be recognized as one of the best backpacks on the market. The thick, heavy duty all-terrain backpack will protect your gear against the elements, with a lot of backpack storage space for fitting all of your equipment. The backpack interior is also built with foiling, which keeps your equipment cool even when you go out on a hot, blazing summer day. With adjustable backpack straps and roller wheels, you can comfortably carry the backpack short and long distances alike.
Red Paddle Co also has a large assortment of high quality towels, coolers, dry bags, thermos cups, and apparel that are all worth checking out as well. While they won't improve your paddling performance, they will make the overall paddling experience more enjoyable.
Where To Buy a Red Paddle Company Stand Up Paddle Board, Warranties, and Return Policy:
Red Paddle Co SUPs are available directly from their website, and come with a one year warranty. If you remember to register your Red Paddle Co SUP within three months of delivery, you can extend that one year warranty to five years for free! This is fantastic warranty coverage, but thanks to their high quality, ultra-durable construction it's unlikely you'll need to take advantage of the warranty anyway. Red Paddle Co prides itself on their less than .5% annual return rate for their SUPS, and they work hard to help every customer have a satisfying paddleboarding experience.
Red Paddle Co paddleboards have a 14 day return policy for any paddleboard still in its original, unopened packaging. Red Paddle Co offers free shipping to the following countries and territories:
United States (Including Alaska and Hawaii)
Canada (Paid shipping for Northwest Territories, Nunavut, and Yukon Territory)
United Kingdom
Australia
New Zealand
France
Germany
Spain
Paid international shipping options are available for customers who do not live in one of the above territories. Please contact Bluefin directly for help with international shipping.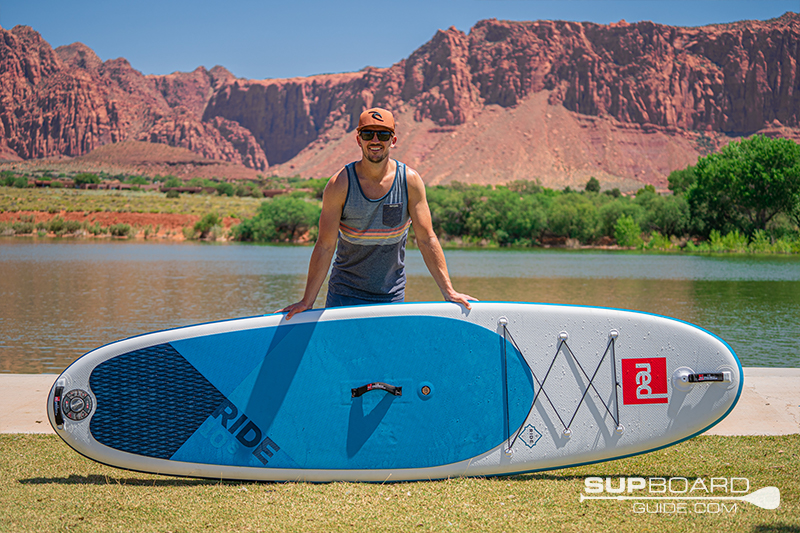 The following two tabs change content below.
SupBoardGuide
Heyo! At SupBoardGuide.com we are a team who love the water, the outdoors, and are more than grateful that our full-time job allows us to review stand up paddle boards. We paddle year round (it helps that we are just about 2 hours outside of Las Vegas), and we bring in a wide range of paddlers with the goal of providing our readers with the best, most in-depth, and accurate stand up paddle board reviews.
Latest posts by SupBoardGuide (see all)