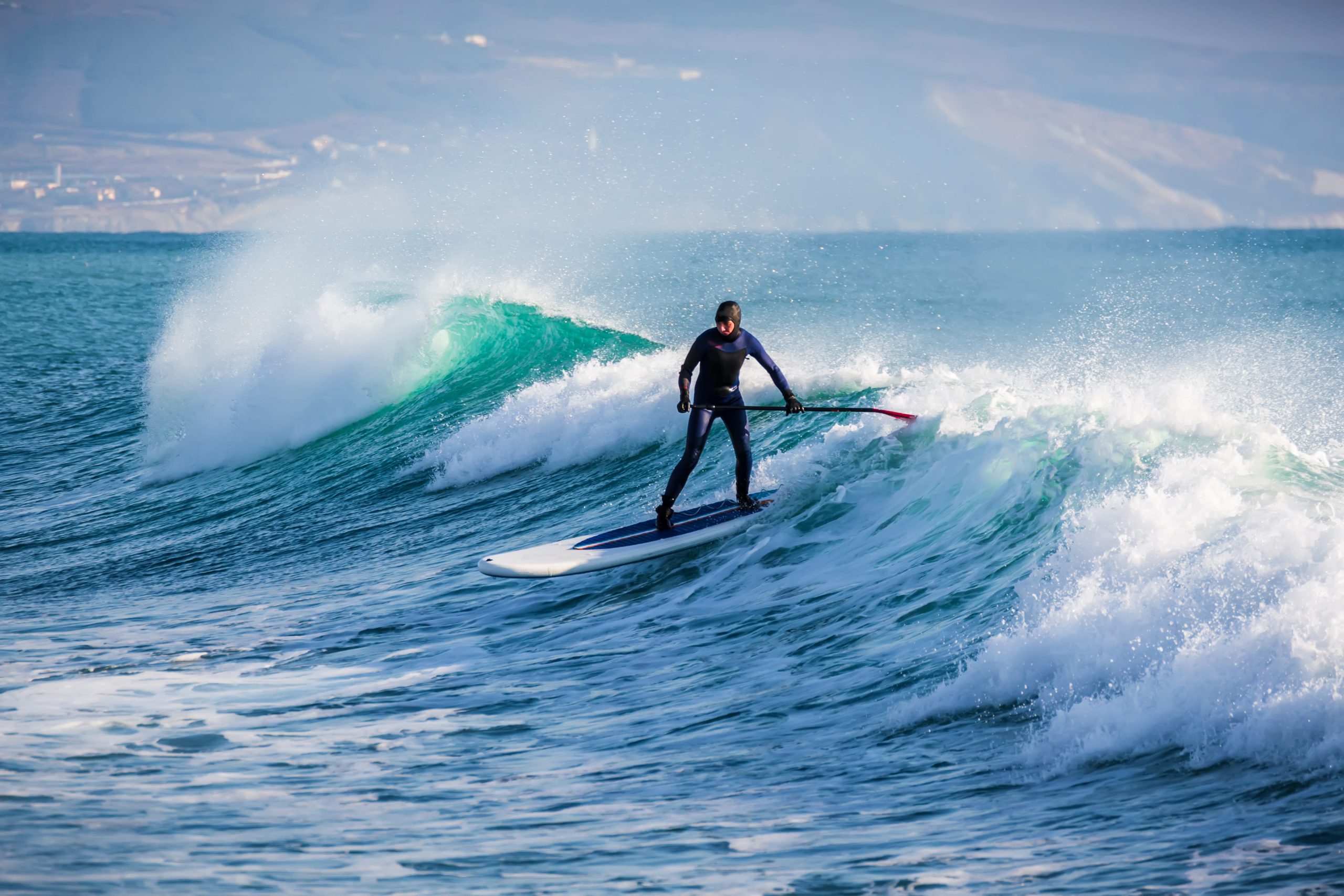 Staying warm is a very important aspect when it comes to planning your paddleboarding adventure. Paddling in the ocean, paddling at a high elevation, paddling during winter; there are plenty of reasons the water might be cold even when the sun is shining. While you might be an expert paddler and hope to avoid falling into the water, even the best paddlers in the world are eventually going to fall into the water when they don't want to or least expect it.
As such, if you are paddling in areas where the water is 65 degrees Fahrenheit or less, it's very important to go out paddling with a wetsuit or drysuit. While there are some major differences between the two (which we will discuss below), they are both very helpful in helping paddlers stay warm when they're out in colder environments. Furthermore, as paddleboarding and other water sport activities become even more popular, wetsuits and drysuits are being developed to help paddlers stay warmer without having to restrict their movements as much.
That is why we've developed this guide at SUPBoardGuide.com, to give our personal recommendations and help you learn everything you need to know about wetsuits and drysuits for paddleboards! There is a lot of disinformation online, with many water sport enthusiasts making the mistake of thinking that what works for a kayak or surf board will be just as great for a paddleboard. There is also a ton of information to learn, and outside of trying to find it all in one place it isn't always presented in the most beginner friendly format. As such, we've developed our page so that you will not only have our top recommendations but will also learn the tips and tricks you need to make your own best, most informed buying decisions. As we have separated this document into individual sections, you can also skip around and go directly to the section that matters the most to you.
With that in mind, welcome to our top wetsuits and drysuits for 2021!
What are the differences between a Wetsuit and Drysuit?
Before we can discuss our favorite wetsuits and drysuits, it's very important to know what each of them are. If you already know the most basic aspects, you can skip on directly to our top wetsuits and drysuits list below. Otherwise, here are the most important things to know about them both.
Wetsuits are a foam based (typically rubber and neoprene) suit that water sport enthusiasts typically wear when they want some thermal protection without restricting mobility. Wetsuits function by allowing a thin layer of water to enter into the suit, trapping it between your body and the outer suit layer. Your natural body heat will warm up the trapped layer of water, helping you stay warm yourself, while the trapped layer also helps keep more cold water from rushing in and further cooling you down. Wetsuits tend to be less expensive than dry suits, and are much easier to maintain as well, besides coming in multiple styles such as sleeveless or even pantsless. Most paddlers who use a wetsuit typically do so in waters that are warmer than 60 degrees Fahrenheit.
Drysuits are made out of thicker, bulkier foam based materials (neoprene or nylon) that are meant to be worn in colder waters at the expense of some mobility. A drysuit functions by completely sealing off contact with the water, ensuring that everything within the drysuit stays dry when worn properly. While more expensive and more restrictive due to their larger size, they help keep paddlers much warmer than wetsuits, and are also more comfortable to wear overall as the suit itself isn't tight to wear outside of the seals.
In summary, you'll want to consider going with one or the other based on the following:
Top Reasons to Wear a Wetsuit:
Less expensive than drysuits.
Easier to maintain than drysuits.
Less restrictive than drysuits.
Comes in multiple styles.
Well suited for paddling in 60+ degree fahrenheit waters.
Top Reasons to Wear a Drysuit:
Retain heat better than wetsuits.
Easier to move in the water with than wetsuits.
More loose to wear than wetsuits (beyond the sealed cutoffs).
Last longer than wetsuits.
Well suited for paddling in less than 60 degree fahrenheit waters.
We'll take more about what makes a good, individual wetsuit and drysuit in the buyer's guide below. For now, here are some of our favorite wetsuits and drysuits for paddling:
Best Wetsuits for Paddleboarders
1. NRS Radiant 4/3mm Wetsuit
2. Hyperflex 3mm Full Body Wetsuit
3. Kokatat NeoZip Long John Neoprene Wetsuit
4. O'Neill Reactor 2mm Back Zip Spring Wetsuit
5. Henderson Aqua Lock 7mm Back Zip Full Jumpsuit 800 Series
---
1. NRS Radiant 4/3mm Wetsuit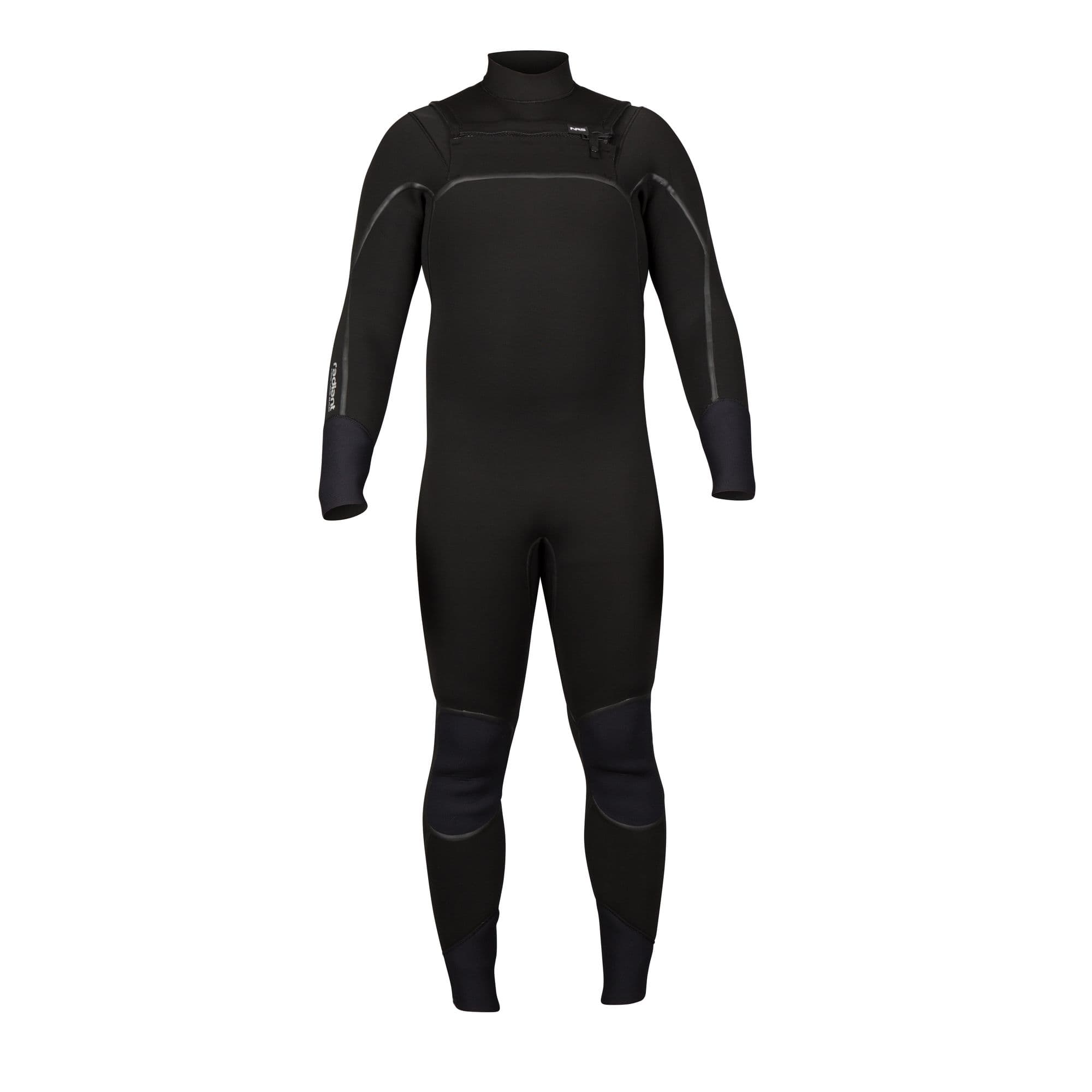 The NRS Radiant 4/3mm Wetsuit is one of the best all-around wetsuits, and is a great option for those who are looking for something they can use anywhere without having to spend too much money. The 4mm neoprene torso and thighs are extra thick to help you stay extra warm, with it decreasing to a 3mm thickness in the arms and legs for greater mobility while maintaining solid protection. Vaporloft helps the wetsuit dry quickly, while the ThermalPlush lining gives the wetsuit a soft, comfortable feel that reduces friction and prevents skin irritation. The chest zipper and butterfly opening makes it easy to wear, as you just have to put your feet through it, pull it over your body, and tighten up the zipper. Available for less than $290 dollars, the NRS Radiant 4/3mm is a simple, easy to wear wetsuit for those who want to stay warm with a full body wetsuit.
Pros
4mm torso, 3mm appendages. Fantastic balance of extra thickness in key body areas, and less thickness for greater mobility in other portions of the body.
Butterfly, hooded-style opening and chest zipper. Very easy to slide on, with just one zipper to tighten the wetsuit.
Checked VaporLoft design helps wetsuit dry quickly out of the water, further helping paddlers stay warm.
ThermPlush neoprene is soft and cushy, reducing overall friction and helping protect against skin irritation.
FuseCut sealed cuffs allow neoprene limbs to stretch while protecting against tears and loss of elasticity.
Titanium laminate adhesive reflects heat back to the wearer.
ToughTex wrist, ankle, and knee pads help paddlers stay protected when they fall.
Solid value at less than $290 dollars.
Cons
Very precise sizing. Make sure you measure yourself before ordering.
4mm torso thickness may be a bit excessive for some paddlers, especially those who find 3mm wetsuits too uncomfortable to wear.
---
2. Hyperflex 3mm Full Body Wetsuit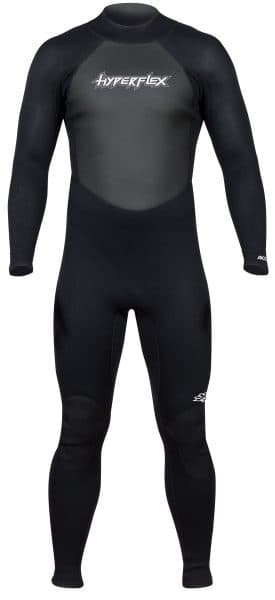 You might be looking for a simple wetsuit, or are trying to get something that provides some protection for less than $100 dollars. If you don't have that much to spend, we definitely suggest checking out the Hyperflex Full Body Wetsuit. This wetsuit is 3mm throughout, with a lightweight, form fitting neoprene cut that will help you stay warm while also stretching out so you can still move and paddle on your SUP. The flat lock seams are placed to help the wetsuit stay tight without irrigating the skin, while the stretch knee pads protect your legs without locking up your legs. It might not be as feature heavy as some other wetsuits, but the Hyperflex 3mm full body wetsuit will work just fine for those who need something to stay warm on a budget, available for $75 dollars!
Pros
3mm throughout, provides plenty of warmth and doesn't skimp out on thickness or protection like many other entry-level wetsuits.
Ergonomic, stretchy neoprene design that is form fitting but also stretchy in order to ensure full maneuverability.
Flatlock seams and seamless underarm gusset help this wetsuit feel great to wear, while helping protect against skin irritation.
Storm force stretch knee pads will protect your legs when you tumble without locking up your lower body.
Robust stretchiness allows you to buy a close size and still have a solid, great fit.
Fantastic value at less than $75 dollars.
Cons
Back zipper. Can be a bit tricky to tighten up by yourself.
4mm torso thickness may be a bit excessive for some paddlers, especially those who find 3mm wetsuits too uncomfortable to wear.
---
3. Kokatat NeoZip Long John Neoprene Wetsuit

A very popular option, designed specifically with paddlers in mind is the Kokatat Neozip Long John Wetsuit. Unlike full body wetsuits, there are no sleeves on the Kokatat Long John, ensuring that you have full maneuverability and access to your arms as you paddle along the water while keeping the rest of your body snug and warm. The torso and legs are protected by 3mm thick two-sided neoprene and is easily worn thanks to the front two way zipper. The flat-lock seams and no-seam armholes wetsuit is designed to reduce and prevent itchiness and skin irritation. The ankles are super stretchy, making it easy to put your feet through, while the non-skid reinforced knees not only protect the paddler when they hit their board of the water, but help the wetsuit retain its elasticity better as well. If you don't mind getting your arms wet and want to have a full range of movement with your arms, consider the Kokatat Long John wetsuit for $130 dollars!
Pros
3 mm torso and legs, keeps the paddler warm while allowing full range of arm movement with sleeveless design.
Front zipper is very durable, and makes it very easy to adjust and put on the wetsuit.
Flatlock seams and no-seam armholes reduce irritation and help paddlers feel more comfortable wearing the drysuit.
Customized non-skid reinforced knees protect paddlers when they fall, and also helps extend the life usage of the wetsuit.
Stretchy, especially in the ankles, ensures that you can grow or change a few lbs while still feeling great to wear.
Great price at $129 dollars.
Cons
The sleeveless design is the major feature of the wetsuit, but some paddlers overestimate their tolerance for the cold. Make sure you're sticking to waters that are 65 degrees Fahrenheit and above, or get a full wetsuit.
Knee protection offers great maneuverability but doesn't protect your legs as much as many other wetsuits. No torso protection either.
---
4. O'Neill Reactor 2mm Back Zip Spring Wetsuit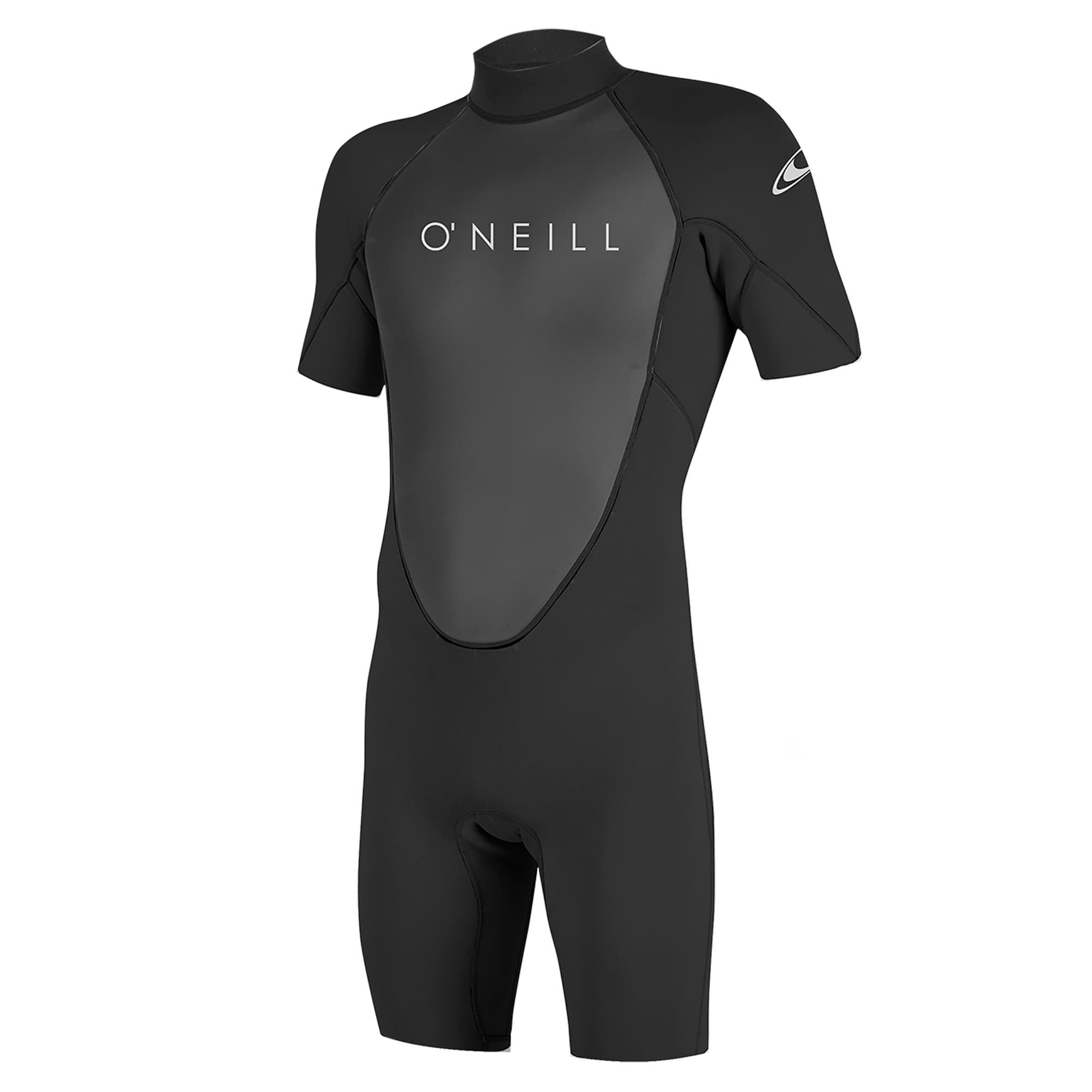 For some paddlers, they might be interested in a wetsuit that will help them stay warmer in cooler waters, but don't mind a short swim if they fall in. If you want a bit of protection but want to avoid limiting your mobility and save some money, consider going with the O'Neill Reactor 2mm Wetsuit. The 2mm thickness provides some protection that will help you stay warm if you fall in the water, besides also helping you feel more comfortable out of it thanks to the wind-proof, smoothskin design. The strategic seam placement and flatlock stitched breathable design further helps this wetsuit feel comfortable, with some reviewers loving how it fits despite finding other wetsuits uncomfortable. The adjustable single seal collar matches up with the limb seals, and are built to stretch so that you can use the O'Neill Reactor wetsuit for a long, long time. If you just want a moderate amount of heat protection, and don't mind leaving your limbs exposed, consider checking out the O'Neill Reactor 2mm Back Zip Spring Wetsuit!
Pros
2 mm torso and wind-proof smoothskin helps paddlers stay warmer in and out of the water.
Ultraflex composite is designed to balance out durability with stretchiness. This is a wetsuit that can last for years with just a little proper care
Strategic seam placement, along with flatlock stitched breathable seams. Helps wetsuit feel much more comfortable than many other wetsuits.
Adjustable single seal collar and limbs. The wetsuit is snug, but you don't need to have a precise size in order for it to be a great fit.
Very affordable $90 dollar price.
Cons
This wetsuit is for moderate water conditions only. Be aware that your arms and legs will feel cold if you fall in, and that at 2mm there isn't a ton of torso protection. Recommended for 70 degree water temperatures and above.
No extra wetsuit padding reinforcement. The wetsuit is built well, but with no shock absorption or extra padding you don't have much in terms of extra protection when you fall in.
Back zipper, but due to the lack of sleeves, it isn't difficult to reach and zip up the wetsuit.
---
5. Henderson Aqua Lock 7mm Back Zip Full Jumpsuit 800 Series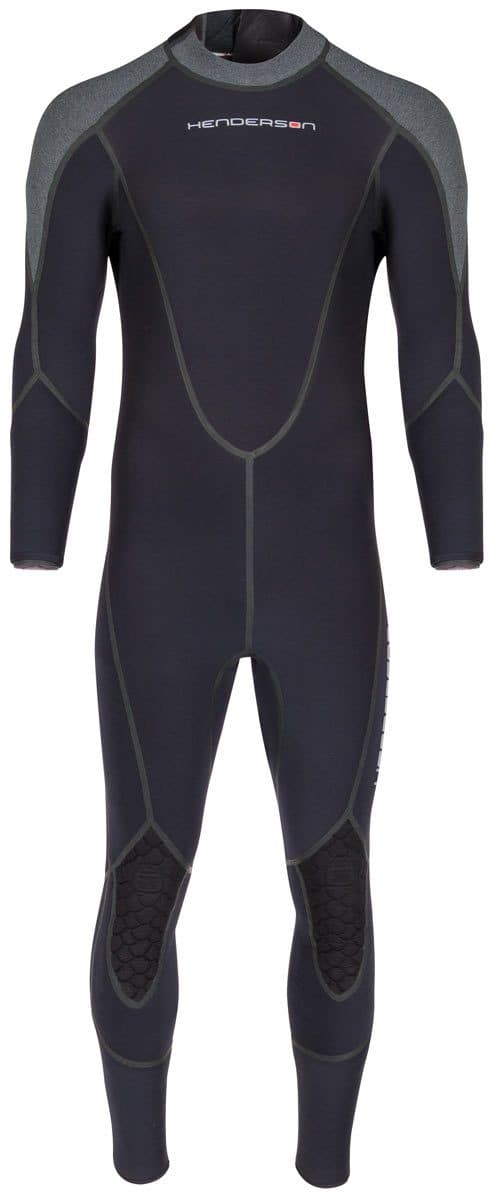 Some paddlers want the simplicity of a wetsuit, but one that will have the protection and build quality that approaches a drysuit. If you need something that is thick and don't mind spending extra money for it, consider going with the Henderson Aqua Lock 800 series wetsuit. 7mm thick in the torso and 5mm thick in the appendages, this is one of the thickest wetsuits on the market and is rated for safe use at 52 degrees Fahrenheit and above. The 100% stretch neoprene with Aquasilk Laminate exterior lining and Golden Poly Fleece Quick Dry interior lining make this a wetsuit that is easy to put on while ensuring that cold water stays out. This wetsuit is also one of the quickest drying wetsuits on the market, and will largely dry out in just minutes, ensuring that you can get out onto the water or back to swimming in it quicker. Lastly, the cuffs and neoprene inner linings are specifically designed with silicone seals that are meant to line up with boots and gloves, allowing further sealing for those who are heading out into extra cold waters. Available for $550 dollars, this is the most expensive wetsuit option on our recommended list but is also the option that will keep you warmest. If you are heading out into the cold, and prefer wetsuits over drysuits, consider the Henderson Aqua Lock 7mm 800 Series wetsuit!
Pros
7 mm torso and 5 mm limbs make this one of the thickest, most shielded wetsuits on the market.
Aqualock seams feature double glued and blind seals that not only limit water entry, but also help extend the overall usability of the wetsuit as well.
Golden Poly Fleece Quick Dry interior lining keeps the interior very comfortable to wear. The wetsuit dries in minutes as well, getting you back out on the water even quicker.
Zipperless cuffs and ankles with adjustable linings that match up and seal well with boots and gloves.
Duratex knee pads, provides great protection when falling forward on your SUP or into the water.
Cons
$550 dollar price tag for a wetsuit is very steep. If you don't mind the feeling, you'll find dry suits with similar protection, if not better, for a less expensive price.
Back zipper, which can be somewhat tricky to reach due to the thick padding. Ask a friend for help if you are unable to entirely close the zipper yourself.
Great for retaining heat, but thick padding does impact and limit overall limb movement. Does take some getting used to in order to paddle with the wetsuit on.
---
Best Drysuits for Paddleboarders
1. Stohlquist Amp Drysuit
2. Ocean Rodeo Soul Breathable Drysuit
3. O'Neill Boost 300g Drysuit
4. Level 6 Emperor Drysuit
5. Crewsaver Atacama Sport Drysuit
1. Stohlquist Amp Drysuit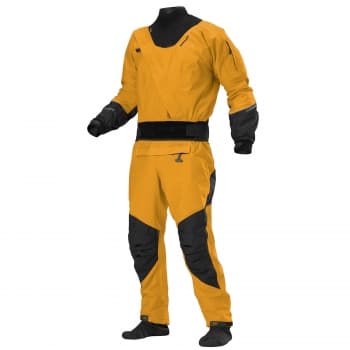 Finding a good combination of thick drysuit protection with easy to seal up zippers and good overall mobility is the goal of a solid SUP drysuit, and the Stohlquist Amp Drysuit delivers. The 4-Layer Twin Sensor waterproof fabric will not only help water stay out but ensure that sweat vapors escape through the Amp drysuit layering to make wearing it more comfortable. The MasterSeal waterproof cross-chest entry and relief zippers make it so you can seal up your suit in less than a minute, while still being able to relieve yourself without having to take everything off. The slightly relaxed fit is designed with paddlers in mind, granting full mobility and maneuverability while still keeping you and everything else on the inside dry. The Duraseal latex neck and wrist gaskets are extremely soft, with adjustable cuff covers allowing you to customize your overall drysuit protection. Lastly, this drysuit also features reflective accents for increased visibility, which can make finding you in the water easier if you're paddling in a dangerous or high-rapid area. With its many features, and mid-level $629 dollar price tag, the Stohlquist Amp Drysuit is one of our top recommended drysuits for paddlers going into very cold environments.
Pros
4-Layer Twin Sensor keeps you totally dry, even pushing your sweat and water vapors out of your drysuit.
Mastseal cross-chest and relief zippers are easy to zip up, allowing you to put on your drysuit in less than a minute.
Slightly looser drysuit that is designed for paddlers. Great mobility, ensures you won't have any trouble operating a paddleboard despite wearing a bulky drysuit.
Duraseal latex neck and wrist gaskets are very adjustable while being built tough. Tear resistance makes it difficult to damage this drysuit.
Adjustable cuff covers pair well with gloves, while helping hands warm up faster when you need to dry them off.
Reflective accents increase paddler visibility, making them easier to spot in troubled waters.
$630 mid-level price tag is consumer friendly. Premium drysuit available for a sub-premium price.
Comes with fabric dry socks that are sized to fit the wearer.
Cons
Articulated armored knees provide great shock absorption if you fall on your SUP, but will make walking around or surfing more difficult as well.
---
2. Ocean Rodeo Soul Breathable Drysuit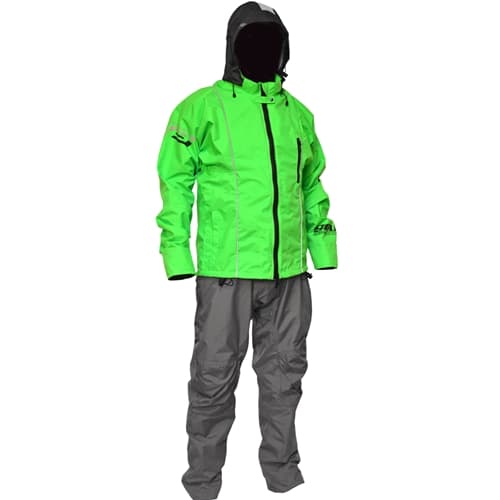 The Soul drysuit is the most popular drysuit from Ocean Rodeo, and for good reason. The standout feature of this drysuit is that you can wear it loosely in standby mode or convert it into the fully sealed dry mode in seconds. This is accomplished with the great two way jacket zip, which you can unzip to free up your neck seal while keeping you protected against rain and the wind, or zip up if you anticipate needing full protection against the water. Polytex trim is used to help keep the wrist, ankle, and neck seals in place while remaining stretchy and comfortable to wear, though you'll want to check the size chart before purchasing. Outside of multiple, easy to reach zippers, there are also multiple pockets to safely store your wallet and keys in, keeping them safe and dry while you're out on the water. So, if you want a full on body drysuit that you can also loosely undo when you're taking a break from the water, consider going with the Ocean Rodeo Soul drysuit!
Pros
Jacket, hybrid drysuit that you can wear in full sealed 'dry mode' or a looser 'standby mode' for a more relaxing, comfortable wear.
Two way zippers, including the jacket and relief zippers, help make this an easy to put on drysuit. Can convert from stand-by mode to full drysuit mode in seconds.
Hood provides additional protection for paddlers as they're on their SUP, while also being fully removable once you're in nicer, slightly warmer waters.
Polytex trim keeps the wrist, ankle, and neck seals elastic and adjustable, ensuring that you won't mind wearing them.
Multiple pockets for storing small, important items safely. Pack your phone, wallet, or keys into one of these pockets. Keep them shut, and you won't have to worry about them getting wet.
Cons
No extra padding. While you will stay warmer with the Ocean Rodeo Soul, it doesn't help protect paddlers from shock or injuries if they ever stumble off their paddleboard.
Great drysuit, but on the premium end with a $900 dollar price tag. For dedicated paddleboarders only!
---
3. O'Neill Boost 300g Drysuit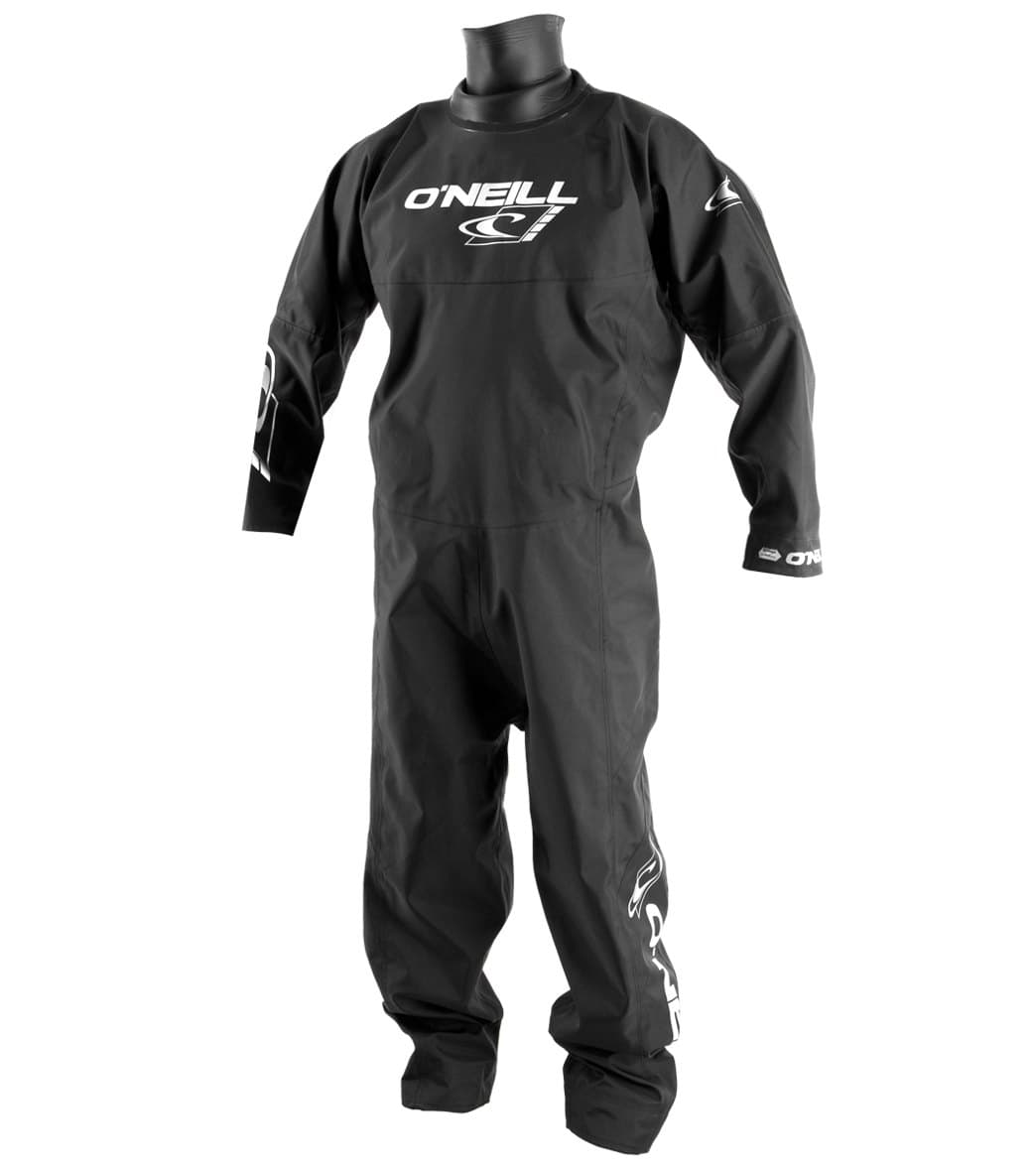 The O'Neill Boost is a simple but protective entry-level drysuit, and while it doesn't have too many features it's more than enough to keep paddlers warm as they're navigating colder waters. The 300g Trilaminate Nylon is 100% waterproof, and with taped seams and smooth skin dry neck seals, it will make sure that your body stays dry once you pull the horizontal back dry zipper tight. Integrated suspenders help you adjust the Boost drysuit to fit your body, though it is built to be a loose fit so you can have space for layering beneath, along with greater maneuverability for a drysuit. It's not often you can find a quality three layer drysuit for less than $500 dollars, but if that's your budget then we definitely recommend considering the O'Neill Boost 300g Drysuit.
Pros
3-layer, 300g Trilaminate Nylon is 100% waterproof. This drysuit will help you stay warm as you're paddling, and will last you many years with just a little proper maintenance.
Horizontal back dry zipper keeps the zipper out of the way, but by going horizontal makes it easy to reach around your back to grab.
Taped seams with smooth skin dry neck seal. Make sure they're tight, and you won't have any water getting past your seals and into your drysuit.
Fully integrated suspenders help you adjust your drysuit to better fit beyond just the general sizing chart.
Loose fit helps this drysuit feel more comfortable to wear. Especially important for paddlers, as it will give extra maneuverability too.
Available for $475 dollars. A mid-level quality drysuit that you can purchase for an entry-level price. Great value overall considering the drysuit you're getting!
Cons
No relief zippers.
No extra padding. Don't expect much protection or support if you fall over while wearing the O'Neill Boost.
Inexpensive price, but a little light on features. If you are looking to save money, ask yourself if you really need a drysuit and if you might just be better off with a wetsuit.
---
4. Level 6 Emperor Drysuit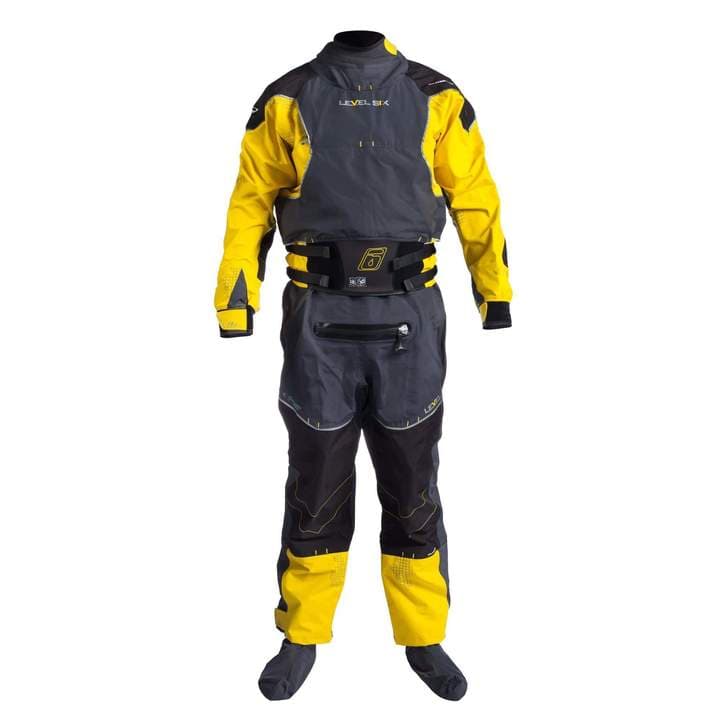 The Level 6 Emperor drysuit lives up to its name, as it is one of the most durable and protective drysuits while still providing plenty of maneuverability for paddlers to feel comfortable in and out of the water. Level 6 has built this drysuit with its eXhaust 3.0 fabric, with Cordura reinforced panels in the knees and elbows that protect the body and also extend the usable wear life of the drysuit. Despite its great protection, British latex wrist and neck gaskets make it highly adjustable along with the adjustable waistband system, ensuring that you can have a snug but adjustable fit if you have the right general size. The rear entry zipper is easy to reach out and close while staying out of the paddler's way, with a relief zipper as well up front. You can warm up your hands quicker with the fleeced lined hand warming chest pocket while keeping your feet toasty with the 3.0 ply built-in waterproof socks. Like the Ocean Rodeo Soul, this drysuit from Level 6 is on the more expensive, premium range of things at $900 dollars. However, if you want one of the most durable drysuits on the market without significantly restricting your movements you'll want to look at the Level 6 Emperor Drysuit!
Pros
Extremely durable drysuit, built with eXhaust 3.0 fabric that will keep paddlers dry and well protected from the elements.
Cordura reinforced panels that provide additional protection for the knees and elbows while also extending the usage life of the Emperor drysuit.
British latex wrist and neck gaskets, with adjustable waistband system, for a configurable wear that will make it snug but maneuverable.
Easy to tighten rear entry zipper in order to suit up in the Emperor drysuit. Relief zipper up front as well.
Front fleece lined chest pockets will help you dry off and warm up your hands after you pull yourself out of the water.
Built in 3.0 ply built-in waterproof socks. Great inclusion for those who don't want to wear shoes or boots while stand-up paddleboarding.
Cons
Premium wetsuit is $900 dollars. Worth the money, but maybe a bit overkill for those who aren't paddling in cold or fast moving waters.
Surprisingly maneuverable for a bulky, premium drysuit, but still a bit restrictive due to the Cordura panels.
---
5. Crewsaver Atacama Sport Drysuit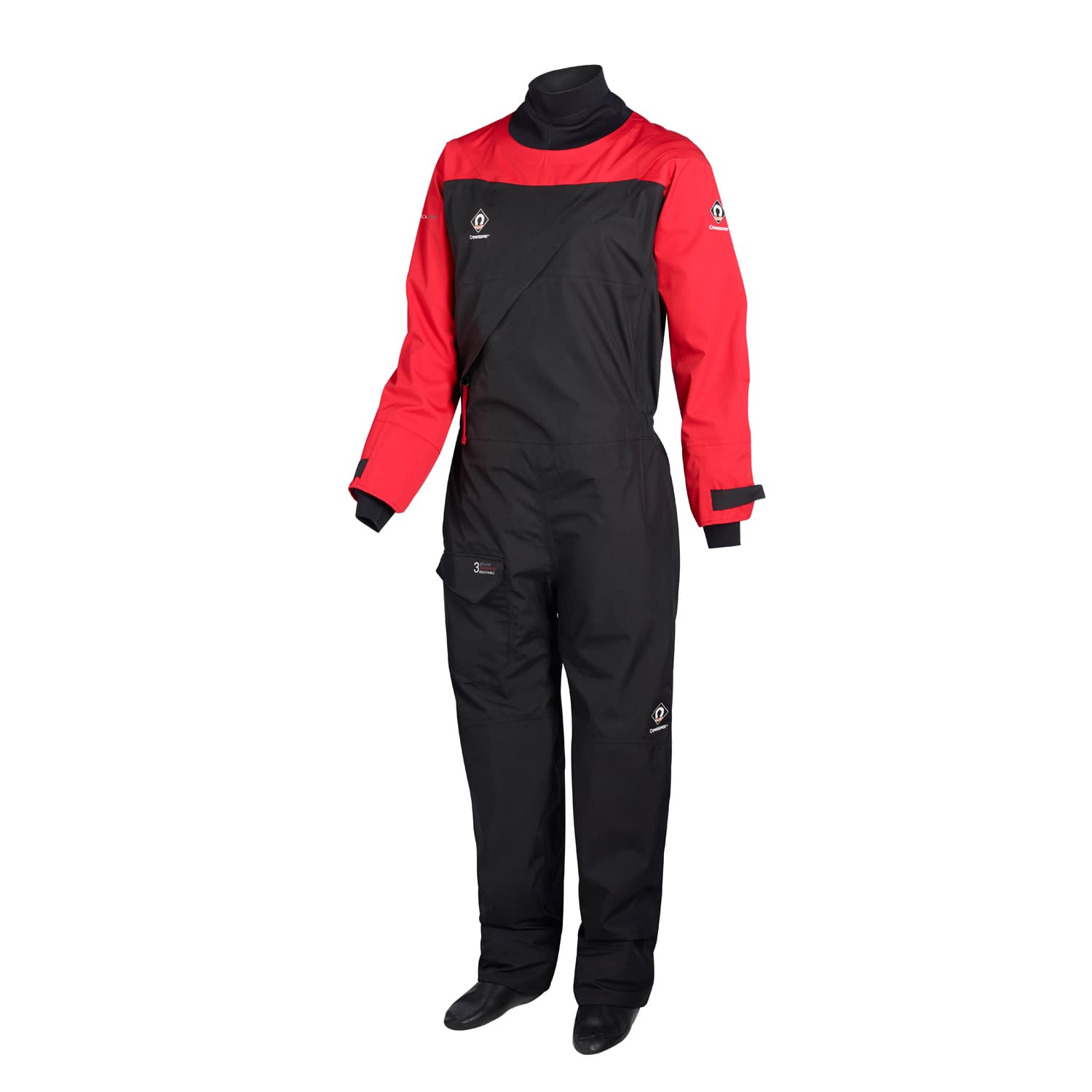 Not all lakes require a heavy duty drysuit, so if you are heading for waterfronts warmer than 55 degrees Fahrenheit you can get away with the Crewsaver Atacama Sport Drysuit. This fully breathable 3-year fabric is a bit flimsier and thinner than most drysuits, but as a trade off is much more maneuverable and paddler friendly for it. The articulated arms and legs, along with adjustable, elasticated internal braces and waistband will make the drysuit feel almost as non-restrictive as a wetsuit. Despite the thinner build, the knees do feature reinforced knee padding, and the legs also have pockets that you can put your small valuables in (and clip onto an internal D-ring). Lastly, this is another drysuit that has latex socks, keeping your feet warmer when you eventually fall in. If you're on a very light budget, and the water you're visiting isn't too cold, we would definitely suggest checking out the Crewsaver Atacama Sport drysuit.
Pros
3-layer drysuit that is lighter, but with breathable fabric and flexible construction is a very paddler friendly drysuit.
Articulated arms and legs, with adjustable internal braces and waistband, further improve maneuverability while providing individual sizing adjustability options.
Reinforced knee padding improves leg protection, takes away some of the shock if you fall over while you're on the paddleboard.
Front zipper makes this one of the easiest and quickest drysuits to put on. Pull on the undersuit, zip it up, and you'll be ready for the water in less than a minute.
Leg pockets for storing wallets, keys, phone, etc. Internal D-ring also allows you to clip on accessories like whistles and flashlights.
Latex socks ensure you can keep your feet warmer and protected even without wearing boots or other footwear while you're paddling on a SUP.
Available for less than $400 dollars. Amazing value given the protection and quality of the drysuit!
Cons
This is a drysuit, but it won't protect you from the cold as much as many other drysuits. Look for something else if you are paddling in sub-55 degree fahrenheit waters.
Very easy to put on, but you do have to take most of the drysuit off in order to relieve yourself.
---
Beginner Wetsuit and Drysuit Buying Guide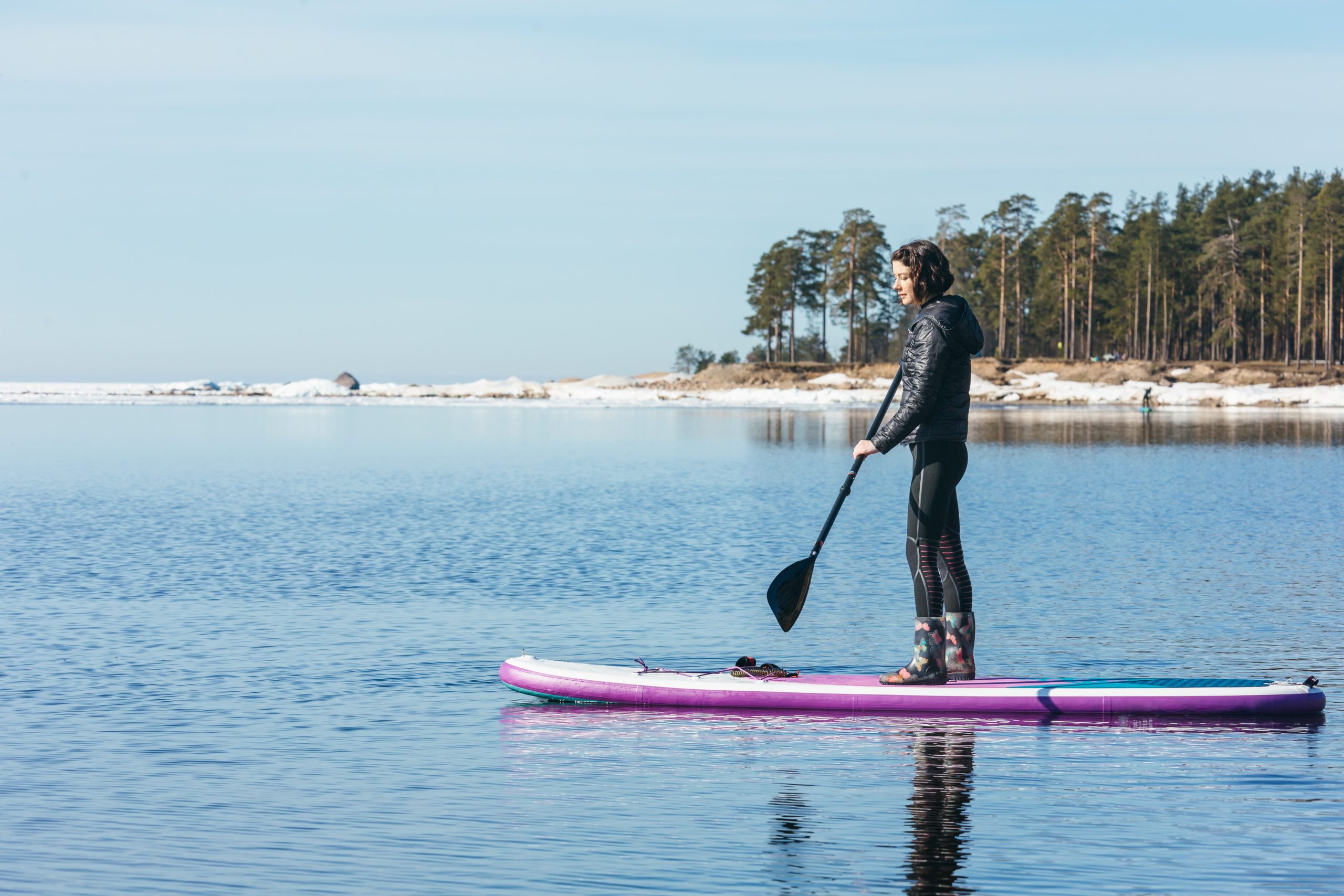 The above listed wetsuits and drysuits are some of our favorites, but there are dozens of other options that we like and would recommend as well to a lesser extent. It's very likely you'll come across other brands, and it may be very tempting to buy them because of a special sale going on, or perhaps because a friend is making you an offer on their own. As such, we have developed a buying guide to help you determine some of the most important factors when it comes to evaluating a wetsuit and drysuit. If you're on the market and are unsure what to think about a specific option, consider the following:
Fitting. The first, most important aspect you need to determine is how well your item fits you. Wetsuits and drysuits aren't like traditional clothing, in that you really need an almost exact size in order to get the most performance out of them, as water will leak in if you're wearing too big a size. At the same time, if your size is too small, you can experience chafing, rashes, and even breathing issues along with the general discomfort of wearing a tight suit. Even with proper sizing though, you'll want to be aware of the overall fitting of the wetsuit or drysuit, as some are meant to be worn a bit more loosely while some are meant to be very snug. As such, make sure to measure yourself before purchasing, and try to go for as exact a size as possible, though most wearers are typically fine if they're just one size off.
Thickness and Maneuverability. As a general rule, the thicker a wetsuit or drysuit is, the better protection it will provide against the cold. On the other hand, the thicker your gear is, not only will it typically be more expensive, but it will be harder to maneuver in as well. Even 2mm thick wetsuits, some of the most maneuverable wetsuits on the market, will have a noticeable impact on how easily you can move around. Ergo, finding a good balance of having a wetsuit or drysuit that is thick enough to protect you while not restricting your paddling too much is an important balance to find. You will especially want to keep an eye out for any wetsuit or drysuit that is thick enough to keep you warm but has upgrades that will make it easier to move around in as well.
Material. This is closely related to the last category, but confirming what kind of material base is used to construct your wetsuit or drysuit is important as well. Drysuits are typically made with nylon, Gore-Tex, or other common neoprene and rubber bases. Alternatively, you can expect most wetsuits to be made out of neoprene, nylon, lycra, and a few other materials. Thickness matters more than the base material, but knowing what the exact materials are, and whether the company is using their own custom material, is important in case of allergies or itchiness that may come with wearing certain materials.
Entry Type. One of the few downsides of wearing a wetsuit or drysuit is how long it takes to put them on or take them off. While many brands have been working year after year to make it easier, most wetsuits and drysuits still consist of a front or rear entry. Front entry options are easier to put on and are effectively prebuilt with relief areas, but the front zipper can be a bit cumbersome, scratch or get caught on clothing, besides also being noisy. Alternatively, back zippers are out of the way and tend not to be as distracting as front zippers, but they require a separate zipper for a relief area and if placed improperly, may require another person to zip you up. Finding a preferred entry type, along with verifying if any enhancements are thrown in, is important when considering a wetsuit or drysuit.
Breathability. Breathability is a major issue for drysuits, and can actually be an issue for wetsuits as well. As you paddle, swim, and try to stay warm, you will begin to sweat, with breathability referring to how well your wetsuit or drysuit can deal with sweat. Some options are designed to help you sweat less, while others are made so that as you perspeerate, your clothing will help push and filter out the sweat, ensuring it doesn't get trapped on your body. When sweat does get trapped, it can negate the purpose of wetsuits and drysuits, leaving you wet, cold, and even leading to hypothermia in extreme cases. Focus on wetsuits and drysuits that are designed with breathability in mind.
Overall Design. When we focus on the overall design, we don't mean just the looks. For wetsuits, is it cut off at the elbows, knees, or is something even shorter? For drysuits, does it have a hood, or are there multiple layers you have to put on separately? For both of them, do they have built in socks or footies, and do the cuffs come out and make it easy to link up and seal off your hands and feet with gloves and boots respectively? There are many great and effective designs, but it's important to know which design is for what type of water environment. Research it out, and make sure you are going with a proper design for where you want to paddle.
Special Features. Special features typically refers to all of the other important aspects, features, or unique traits which you might not find in many other wetsuits or drysuits. Quick-drying fabric and special draining areas, emergency whistles or reflective taping for increased visibility, pockets, D-rings, and other attachment points are just a few special features we've seen on wetsuits and drysuits. If you're looking at two options back to back and all else are equal, the special features are definitely worth considering in order to determine which is the better option for your needs.
Price. While it may be listed as the final item on our list, price is probably going to be the first and often most important factor you want to consider. Finding a good value, a balance between what you're able to spend and what you're getting back for it, is very important. Outside of just price though, many retailers offer finance options, with some offering up to 0% financing for up to 18 months if you go with certain brands. You'll also want to take a look at the return and warranty policies, as they can further help justify a higher price if they're easier to return or have great overall coverage. While buying used can save you money, the inability to return the item or lack of warranty coverage sometimes aren't worth saving a few bucks if the item has fantastic coverage.
Wetsuits and drysuits will have their own, specific instructions on how to properly wear them, including how to seal off cuffs so excess water doesn't get into your gear. Outside of just putting them on though, it's also very important to know how to properly clean a wetsuit and a drysuit. Due to the amount of water, sweat, and other substances that they come into contact with, they can smell very bad even after a couple outings, besides stiffening up and becoming uncomfortable to wear. Doing a deep cleaning more often than not will also ensure that you're spending less time cleaning them in the long run, while also extending the life of your wetsuit or drysuit.
Cleaning a Wetsuit or Drysuit:
Fill a tub, basin, or sink with cool water. For a very deep cleaning, stir fabric cleaner into the water that is compatible with your wetsuit or drysuit. Do not use bleach, or other washing detergents you might use in a washing machine.
Open all of the zippers, pockets, and any other compartments. Turn the suit inside out, and completely submerge it in the water. Begin kneading the wetsuit or drysuit while submerged, and let it sit for a few minutes.
Take out the wetsuit or drysuit, turn it back into its inside, and begin to knead it again. If you've only gone out a few times, or your suit is still in good condition, you can skip this step and go to the next one directly.
Drain the water completely, and begin to rinse it beneath the faucet. Avoid extremely hot or cold water. If you feel comfortable washing your gear while running your hands through the water, it is a proper temperature.
Hang your wetsuit or drysuit up to dry. In order to avoid creases or stretching out the shoulders, hang your gear on a thick hanger, such as one you may have for a suit coat. It is a good idea to have a permanent hanger for your wetsuit or drysuit due to the next step.
Once your wetsuit or drysuit finishes drying (the amount of time will vary by material), you can store your suit by laying it down flat or by hanging it on a rack. Do not fold your gear, as it can permanently damage the neoprene, stretch out the cuffs, or introduce annoying, permanent creases.
Important Tips for Paddling with Wetsuits and Drysuits: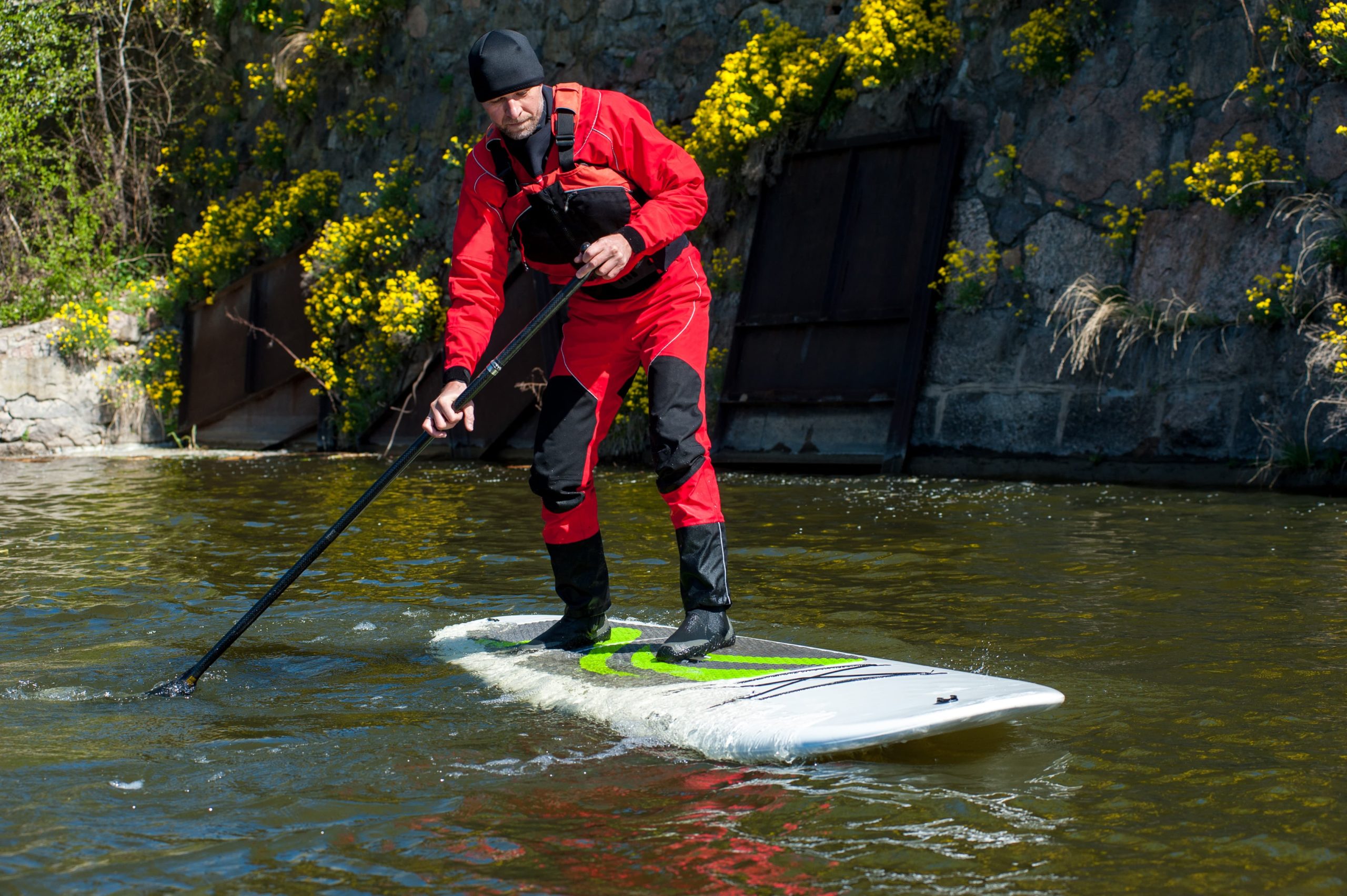 Once you have a wetsuit or drysuit, you might be unsure of where to start or if you're ready to go out to the water with one yet. Many paddlers make the opposite mistake of thinking they're good to go right the second they get their gear, and are surprised or even shocked by what it feels like to wear one, especially as they dive into colder waters. In order to set expectations, and to prepare you properly for the water, be sure to follow these key steps to make the most out of your brand new wetsuit or drysuit:
Practice putting it on at home before doing it at the water. This step is especially important if you bought your gear without trying it out at a local retailer. Put on and wear your wetsuit or drysuit at home for a while, and make sure that it fits properly and doesn't have any tears. To test your new equipment, fill up your bathtub or turn on your shower with very cool water to see if you've put it on properly. While it won't be a perfect imitation, it will help you confirm if you have the right size and that there aren't any holes or leaks. Nothing is worse than getting excited to try out your new gear, only to make the mistake of waiting until you get to the lake and finding out it isn't what you expected.
Swim with your gear at least once before you start to paddle. The real test for your wetsuit or drysuit is swimming with it on, which is very important as it will help you know what to expect when you fall in. Many swimmers make the mistake of thinking that a wetsuit or drysuit will somehow turn frigid waters into something warm and friendly: it will not. If you are swimming in cold waters, you are still going to feel the cold once you're in it with a drysuit or wetsuit. The difference is that by wearing a protective suit, you will retain your body heat better and be protected against hypothermia and other chill-induced conditions. Even so, the surprise of diving into cold water with a wetsuit or drysuit can cause even experienced swimmers to lock up due to a mixture of surprise, shock, and unfamiliar with what it feels like. While you don't have to take a swim everytime you go out before you start to paddle, doing so at least once will prepare you and ensure you won't be shocked when you eventually fall in.
Know your water tolerance, and make sure you have the right gear. Wetsuits and drysuits have recommended temperature ratings, which you can more or less follow to get a good idea of how well they'll work in any given environment. Some paddlers can wear something that isn't rated for waters that are colder than suggested, and do great. Some paddlers will have a wetsuit that's rated for 10 degrees below the lake they're visiting, and still feel too cold or uncomfortable. Knowing your gear rating, but also knowing your own personal preferences and tolerance for colder waters are both very important to get a good idea of whether your gear are actually well suited for you.
Bring a leash and a PFD. A drysuit or wetsuit can keep you from locking up if you fall in cold waters, but if your paddleboard floats away you might not have the chance to swim back and get onboard. The leash is very important to counter this issue, so we always recommend putting the leash on, especially if you are in fast moving or very cold waters. Furthermore, you will want to wear a PFD as well when you go out. Most wetsuits are thin enough that your standard PFD should fit over them well, while many drysuits are compatible with PFDs. If your PFD isn't fitting over your drysuit, consider checking out a hybrid PFD or one of the belt PFDs that are becoming more popular with paddleboarders. These PFDs are some of the least restrictive when it comes to paddler movement, and some will even inflate automatically for you when you fall into the water.
You're going to get wet, so have fun with it! Even the best paddlers in the world are going to make a mistake, or won't see the sneaky wave that comes up and knocks them off their paddleboard. Wetsuits and drysuits are great in that they give paddlers the opportunity to explore lakes, bays, and ocean waves that might be otherwise inaccessible due to the temperatures. While being cold might not feel great, the opportunity to visit new visits and frontiers with a paddleboard is the promise that comes with buying a great wetsuit or drysuit!
Conclusion: Bring a friend in order to stay very safe and have fun!
Drysuits and wetsuits are important gear for paddlers who are exploring cooler waters, and will help them stay warmer and protect them against hypothermia when they take a swim. However, cold water is dangerous, and not only can hyperthermia lead to serious medical problems, but many swimmers can be caught off guard, lock up, and fail to get back on their paddleboard. Due to the danger of paddling in colder water, we always suggest going out with a friend who is wearing the right gear as well. With a partner, you'll have quick and immediate help to get out of the water and dry off if something does go wrong, while you'll both have a better time paddling with company for the trips that go great. So, put on your wetsuit or drysuit, bring a friend along with you, and have fun SUPing!
Thank you so much for visiting our ultimate resource on wetsuits and drysuits for paddleboards! If you would have any lingering questions, or feel that there is something we should add to our guide, be sure to let us know your thoughts by sending us an email or leaving a comment below. We update our guides and top recommended lists as new products and gear options come out, so be sure to visit us again in the future for our up to date thoughts. You can also find our reviews of the latest, most popular paddleboards as they hit the market, along with other top recommended gear lists guides. Lastly, we invite you to visit and subscribe to our SUPBoardGuide.com Youtube channel to stay up to date on in-depth video reviews of the latest stand-up paddleboard releases.
Stay safe, stay warm, and have a great time paddleboarding!
The following two tabs change content below.
SupBoardGuide
Heyo! At SupBoardGuide.com we are a team who love the water, the outdoors, and are more than grateful that our full-time job allows us to review stand up paddle boards. We paddle year round (it helps that we are just about 2 hours outside of Las Vegas), and we bring in a wide range of paddlers with the goal of providing our readers with the best, most in-depth, and accurate stand up paddle board reviews.
Latest posts by SupBoardGuide (see all)