Nautical Kids Inflatable Paddleboard
Pros
Very competitively priced
All-inclusive, child friendly kit
Lightweight 17.2 lbs = Most children ages 9-12 should be able to carry this SUP on their own
32" width provides plenty of stability for young learners
2+1 snap-lock fins make for easy set-up and great performance
Cons
Paddle will not be suitable if your child is above 5' tall; limits the lifetime of the SUP kit
We'd like to see iROCKER swap out the metal D-rings for nylon loops, as kids are prone to fall in an horse around on the boards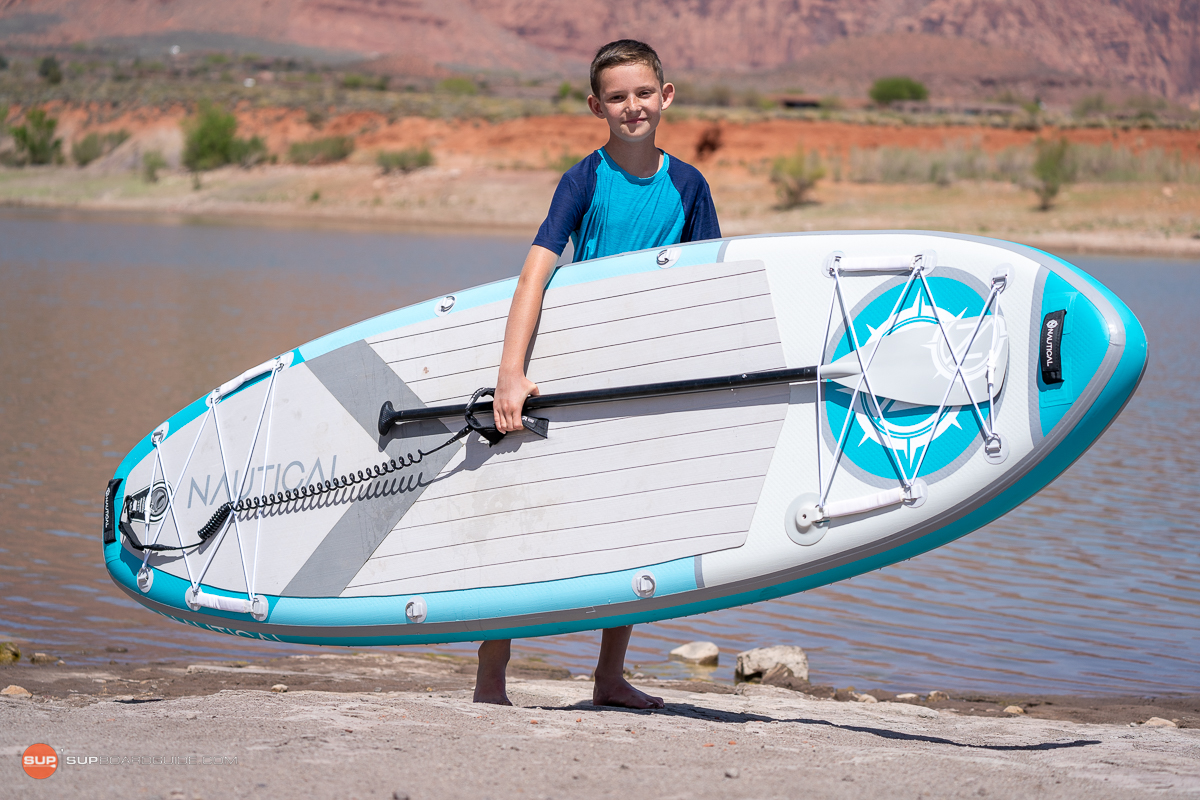 Up until recently, there weren't many options when it came to finding a SUP suitable for younger kids and teens. Parents either had to plop their kid on the front of their board and hope they'd stay still or shell out cash for a flimsy foam SUP that would barely last a season. Never one to turn a deaf ear to consumer wants, iROCKER entered the race to build the perfect junior paddleboard with the launch of the Nautical Kids SUP, which we'll review below.
Keeping parental priorities in mind, iROCKER wanted to design a kids SUP that was not only budget friendly, but also well constructed, stable, and versatile for young learners to build their love for SUP'ing and gain some well-earned independence from the nose of their parent's board.
On that front, they've hit the mark. In our experience with the Nautical Kids SUP, we've found it to be well sized for kids 5' or below (likely in a 9-12 age range). The 32" width provides enough stability for young paddlers to stay confidently on their feet, while the 9' length will allow for way more maneuverability than your child would have on a 'too-big' 10'6. At just 17.2 lbs, this SUP is light enough for most kids to carry and set up on their own, and its features encourage tons of versatility.
In short, the Nautical Kids SUP personifies nearly everything you could want out of a child-focused board.
We think the Nautical Kids SUP would be great for paddlers who
Want a well-constructed, but budget friendly SUP for their junior paddler to develop their skills
Need a SUP with enough stability for young learners without being cumbersome
Want their child to have options when it comes to bringing along a couple of drybags or setting up a kayak seat
Need a SUP that is light enough for a junior paddler to easily manage
Want a kids SUP capable of tackling a variety of environments (flat water, chop, and ocean paddling)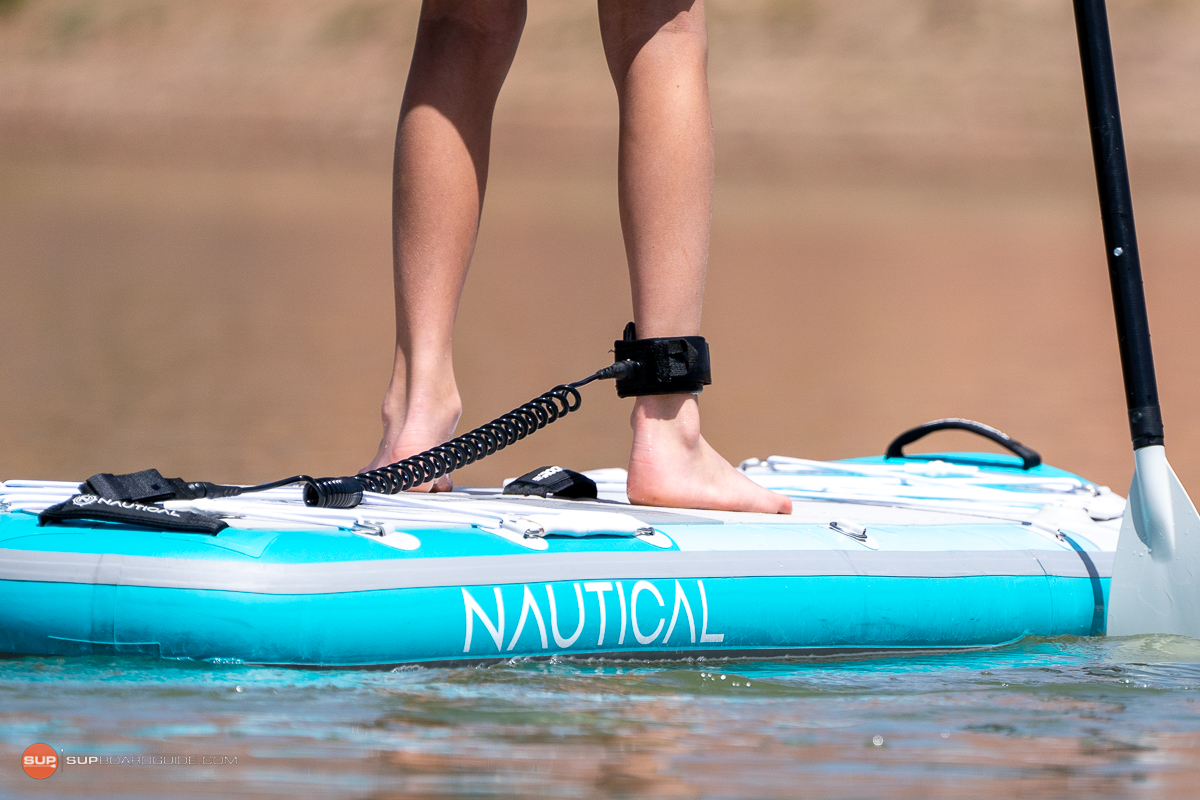 Nautical 9' Kids SUP: Spec Sheet
Main Category: Kids SUP, All-around, Inflatable
Board Dimensions: 9' x 32" 6"
Listed Board Weight: 17.2 lbs
Listed Max Capacity: 220 lbs
Recommended PSI: 14-18 PSI
Fins: 2+1 Snap-lock
Paddle: 3-piece carbon/fiberglass blend
Materials: Dual layer PVC with linear drop stitch and reinforced seams
Price Range: Low
Performance Review of the Nautical 9' Kids Stand Up Paddle Board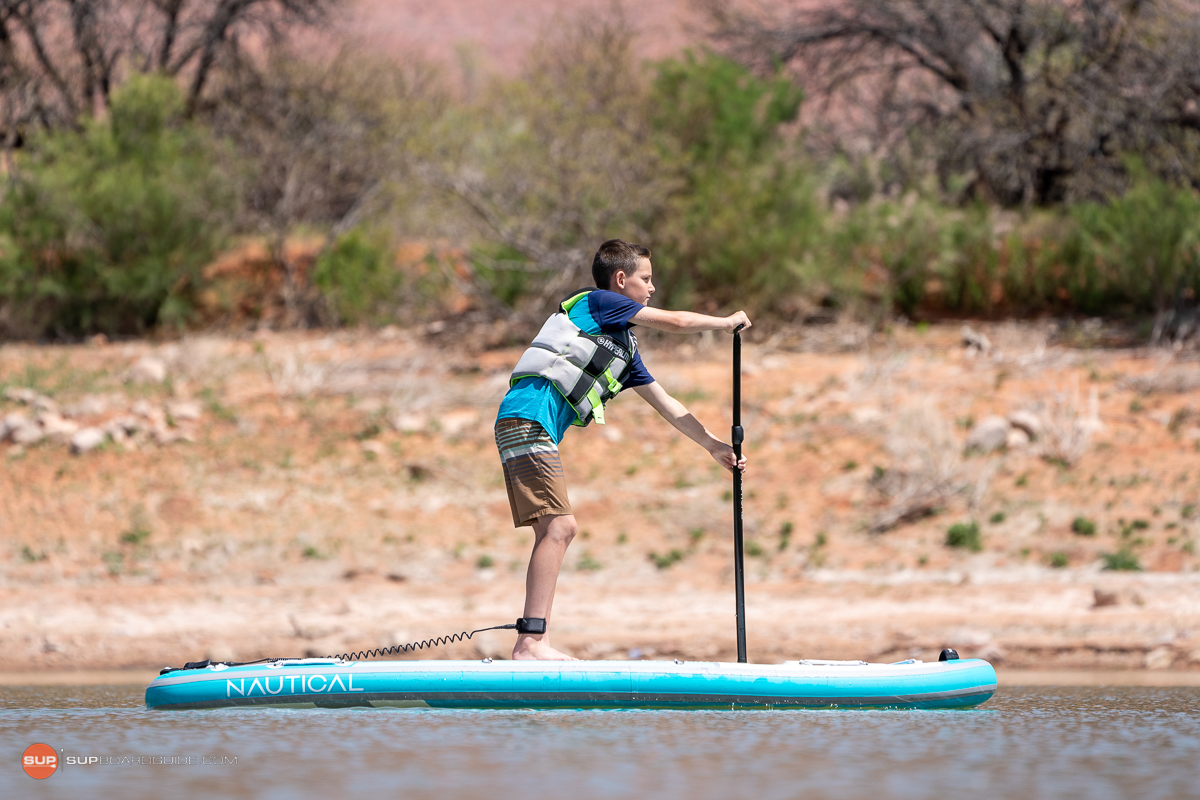 Overall Score: 9.0/10
Stability: 9.1/10
Speed: 8.7/10
Tracking: 8.9/10
Maneuverability: 9.4/10
Construction Quality: 9.1/10
Features/Accessories: 9.3/10
Stability Rating: 9.1/10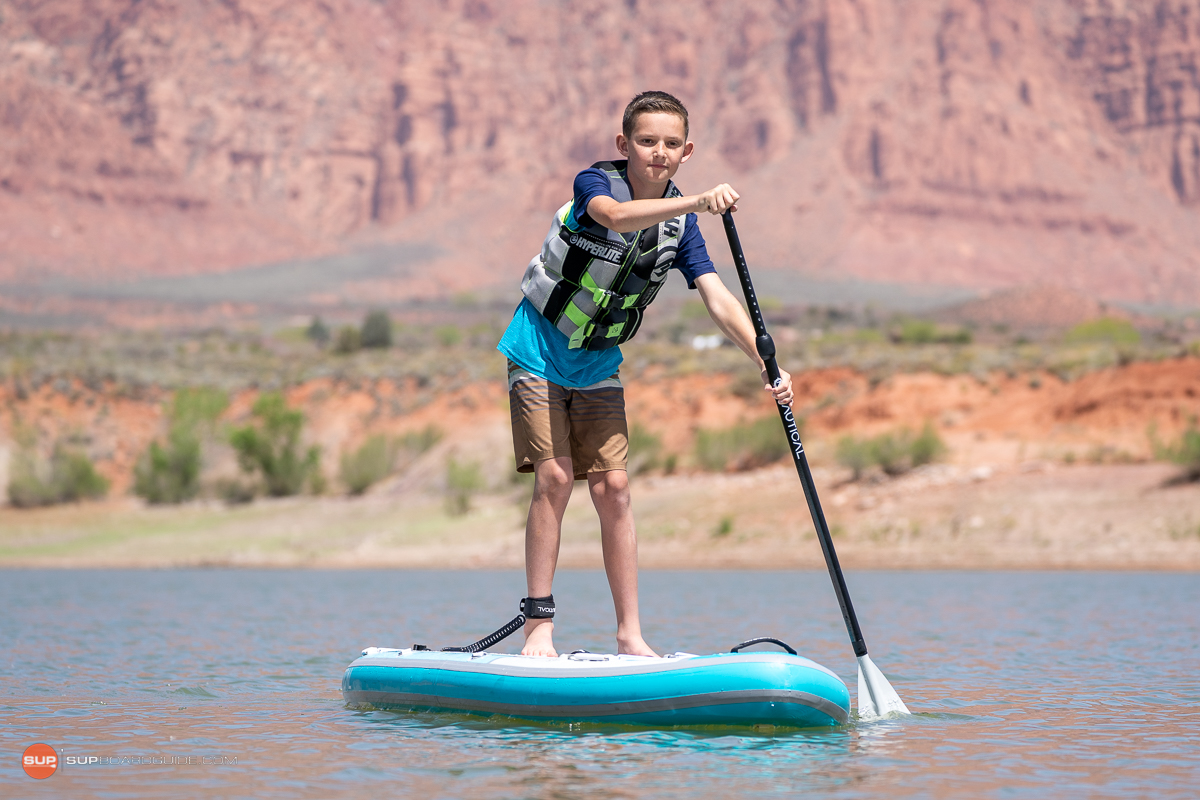 Listed Capacity: 220 lbs
Tested Capacity: 140 lbs
Before getting into the stability section, let's state the obvious: I am obviously not the intended paddler size for this kids iSUP. Though I am a smaller adult (5'2 x 140lbs), I am a bit taller/heavier than most kids or young teens that would be using the Nautical 9' kids board.
That being said, the 9' x 32" Nautical Kids SUP still had no issue supporting my weight and was relatively stable, despite the fact that I am too big for it. I think for an actual child, ideally 5' tall or less, this 32" wide SUP would feel super solid and supportive on the water. There is almost no side-to-side tippiness due to the board's wider, more rounded shape, making it an excellent option to build confidence on the water and provide an overall more enjoyable learning experience for your junior paddler.
I also want to clarify that the instability that I felt on the Nautical 9' Kids SUP wasn't particularly a wobbly or tippy feeling, but more of a difficulty staying balanced in the forwards and backwards directions. Essentially, I would have to focus on not falling on my face when I reached forward to paddle, and I had to be careful not to fall backwards if I turned my head to look behind me or to the side. This is a very typical feeling when a board is just too short for the paddlers' height, which is why I'd estimate that the Nautical Kids SUP would be more ideal for paddlers 5' tall or less, probably within the 9-12 year old age range. Paddlers in the 5'-5'8" height range would likely enjoy the iROCKER 10' all-around.
Speed Test: 8.7/10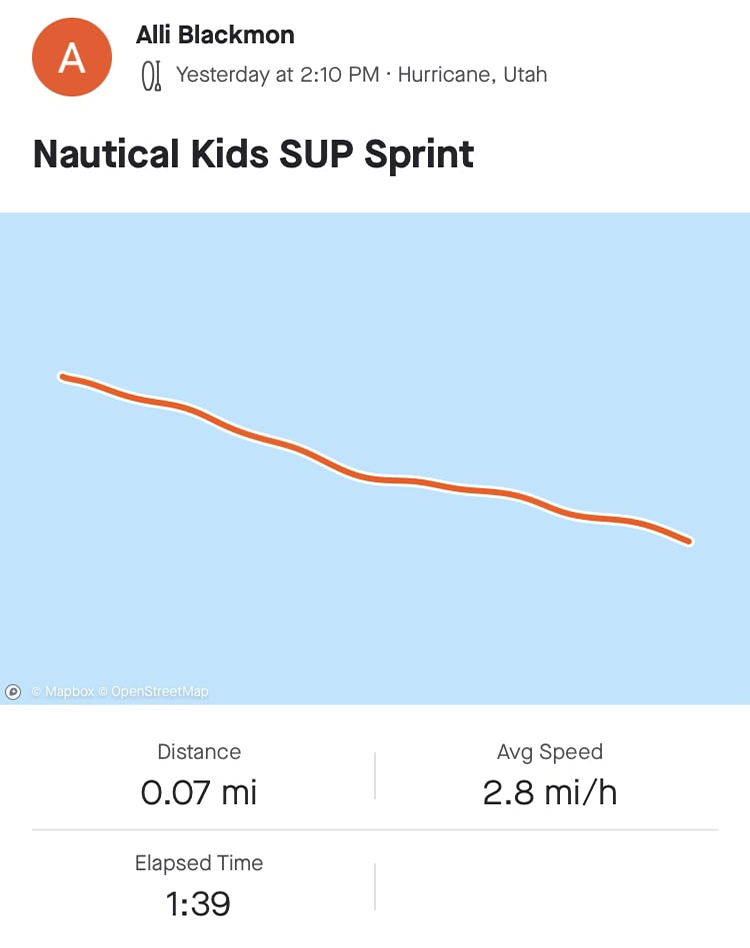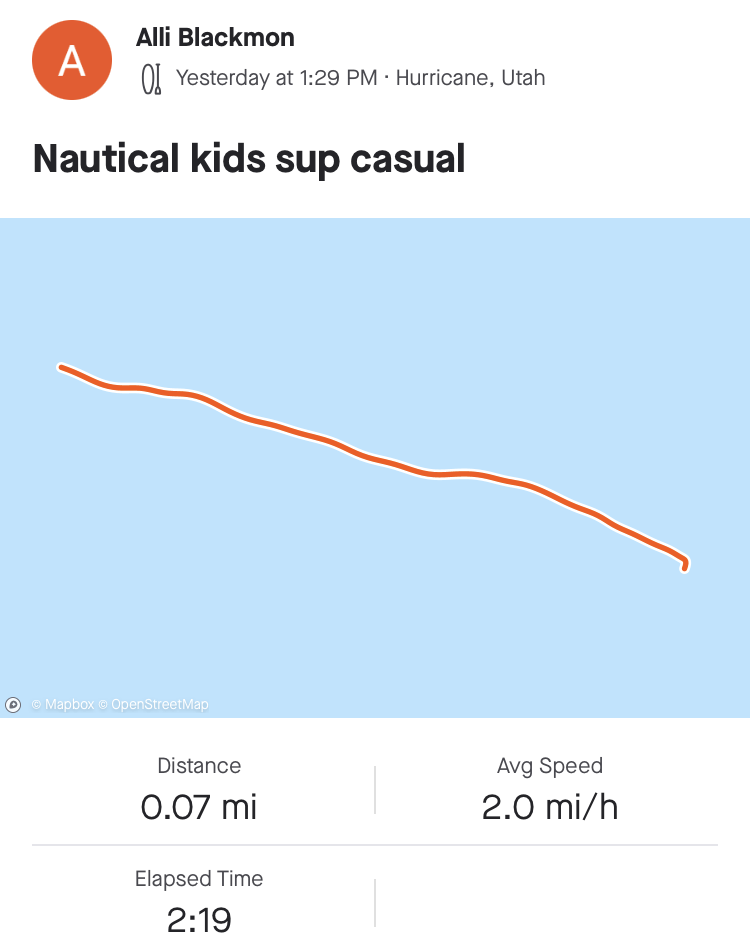 Now, given the fact that I am too tall for the 9' Nautical Kids SUP, my sprint test was expectedly slow. However, I don't think this is indicative of how this SUP would perform for your child.
Because my height/weight led to some instability on this SUP, I wasn't able to fully focus on my paddling during this test. Your child on the other hand, at 5' tall or less, would not have the same size-related issues and could likely get the 9' Nautical Kids board up to speed much easier than I could. At 32" wide, it will feel stable enough for your kiddo to focus on paddling instead of staying balanced, and it's light enough that your child will have no problem pulling it through the water.
I also want to point out here that speed isn't exactly a priority for a kids board. The emphasis of this review is on whether or not your child will be able to enjoy paddling this SUP. Speed obviously does play into the enjoyment factor, but it's more important that the board feels manageable and comfortable for smaller/growing muscles. In that regard, I think the Nautical 9' Kids SUP hits the mark.
Tracking: 8.9/10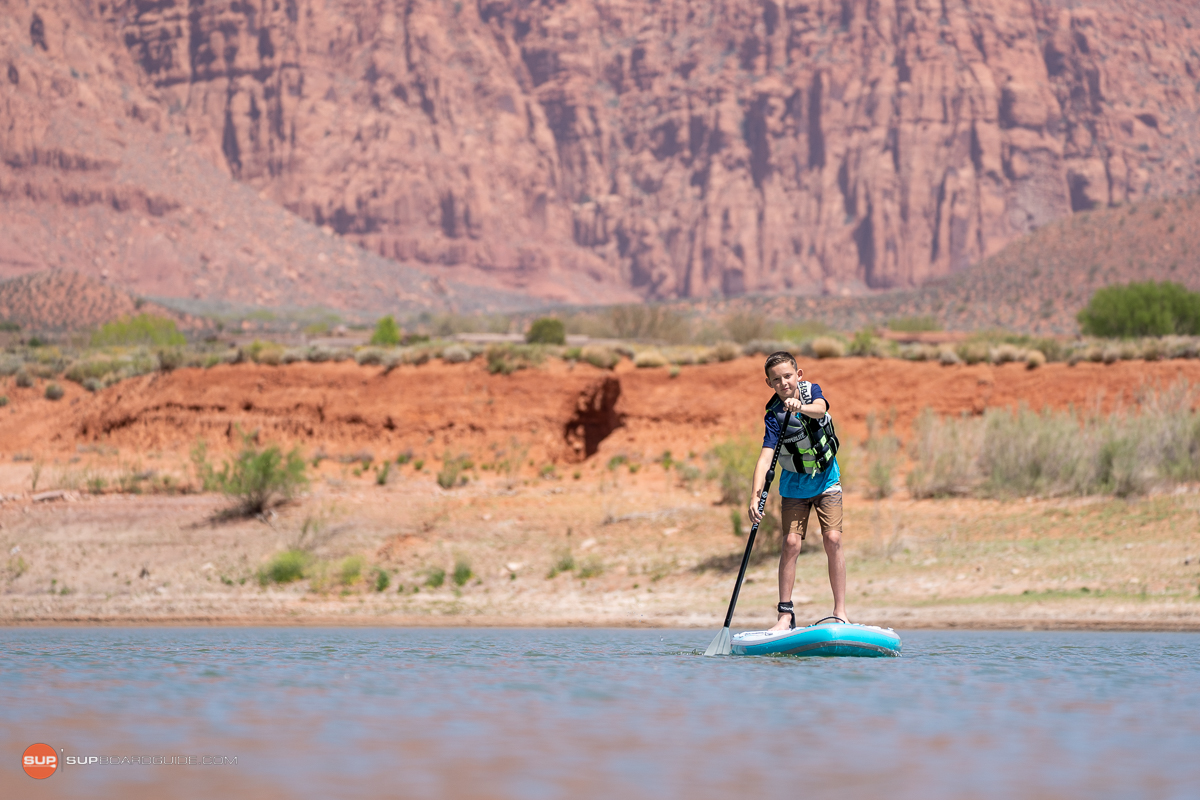 The Nautical 9' Kids SUP comes with a full sized 2+1 snaplock fin set-up (the same set that comes with any iROCKER SUP). Because of this, it has great tracking capabilities within the Kids/Small all-around SUP category.
At just 9' long, it is a bit sporty and maneuverable by nature, but it will keep a straight path with a few side to side adjustments every couple of strokes. For a child that is smaller than me, and thus fits the board better, it will likely have an even better capacity for tracking.
Maneuverability: 9.4/10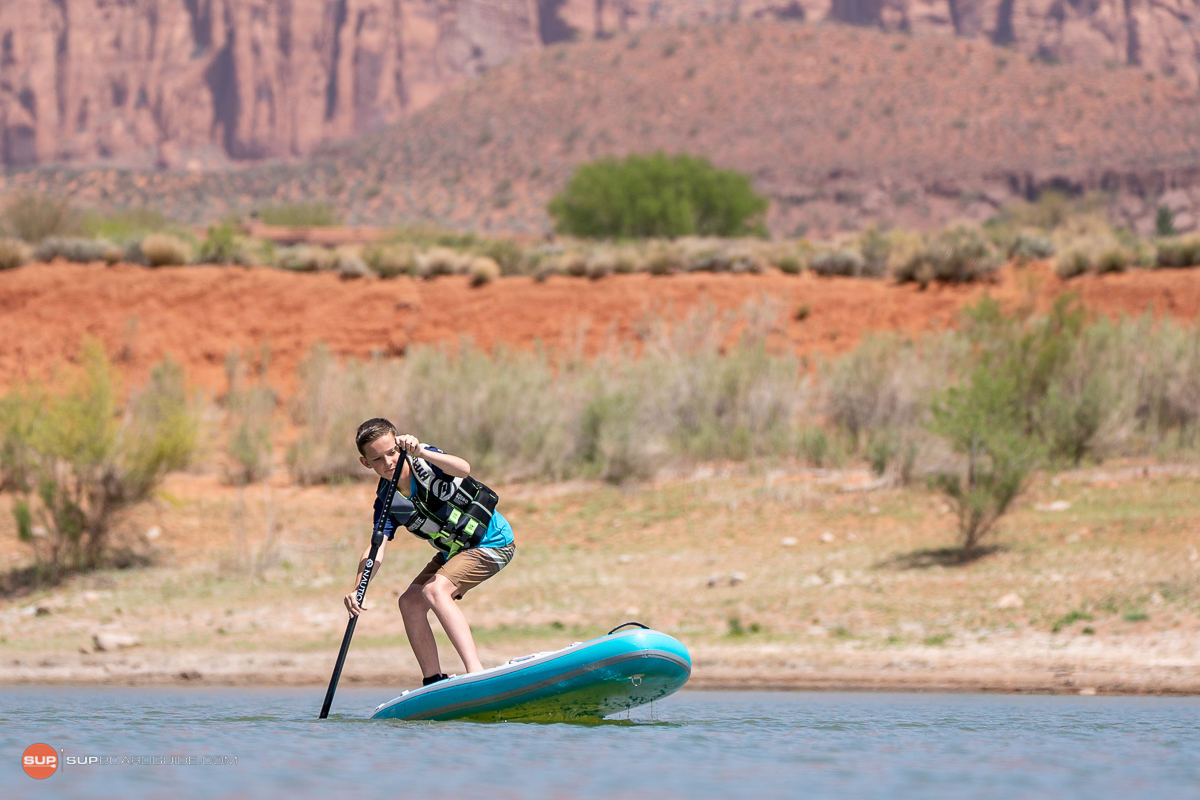 At just 9' long, 17.2 lbs, and sporting a 2+1 dolphin fin set-up, the Nautical Kids SUP kills it in the maneuverability category.
This SUP feels effortless to change direction with either a forward sweeping stroke or a traditional backstroke. More than that, at 32" wide, the Nautical 9' SUP is stable enough for kids or young teens to attempt and hone in their step-back turns.
The Nautical 9' Kids SUP is so maneuverable that I think it could be taken to the next level with just the simple addition of a raised kick-pad. Not only would it help kids and teens with foot placement on step-back turns, but it might also thrust this board into the adult SUP/Surf Hybrid category by giving you a little more leverage to dig your fins into a wave.
Construction Quality: 9.1/10
The 9' Nautical Kids SUP construction focuses on hitting a budget friendly price-point without sacrificing lightweight build quality, rigid performance, and overall durability. Surprisingly, iROCKER was able to nail this balancing act.
This Kids SUP is built with a linear drop stitch core encased in two layers of PVC, keeping it a child-friendly 17.2 lbs without compromising stiffness. iROCKER also doubled down on the durability and overall lifetime of this board by incorporating a strip of seam tape on the top and bottom of the rail to keep the Nautical 9' Kids SUP air and water tight. On top of that, all D-rings and action mounts seem to be well attached.
Board Stiffness: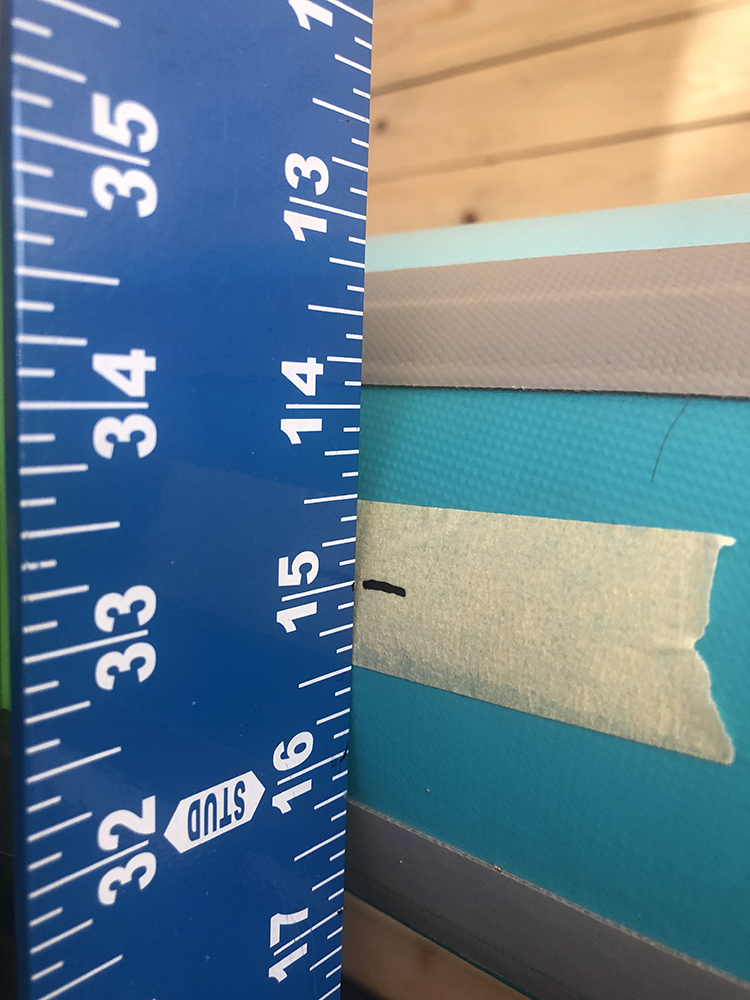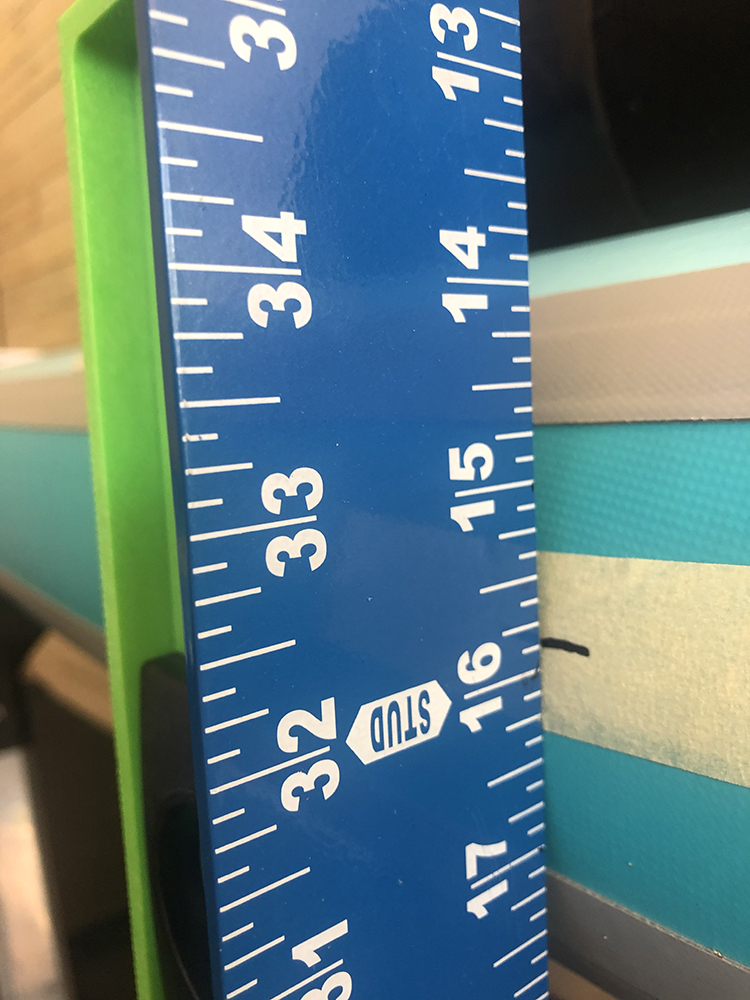 Stiffness Test: 0.9375" Bend
Our Kids SUP stiffness test is completed by placing the SUP on two sawhorses placed 5 feet apart and then loading 150 lbs on the board's midpoint. We realize that this test does not imitate how the board performs on the water, but it is instead a way to compare and understand construction material and processes, as well as its effect on overall SUP performance.
Given how budget friendly the Nautical Kids SUP is, I was extremely impressed that it gave way to less than 1" of bend. 150 lbs is well above most junior paddler's size and the results of this test are consistent with how this SUP performed on the water. It had no issue supporting my weight, even as an adult weighing 140 lbs. Your junior paddler will feel very little, if any, board flex and should feel well supported to confidently learn SUP skills.
Features/Accessory Review: 9.3/10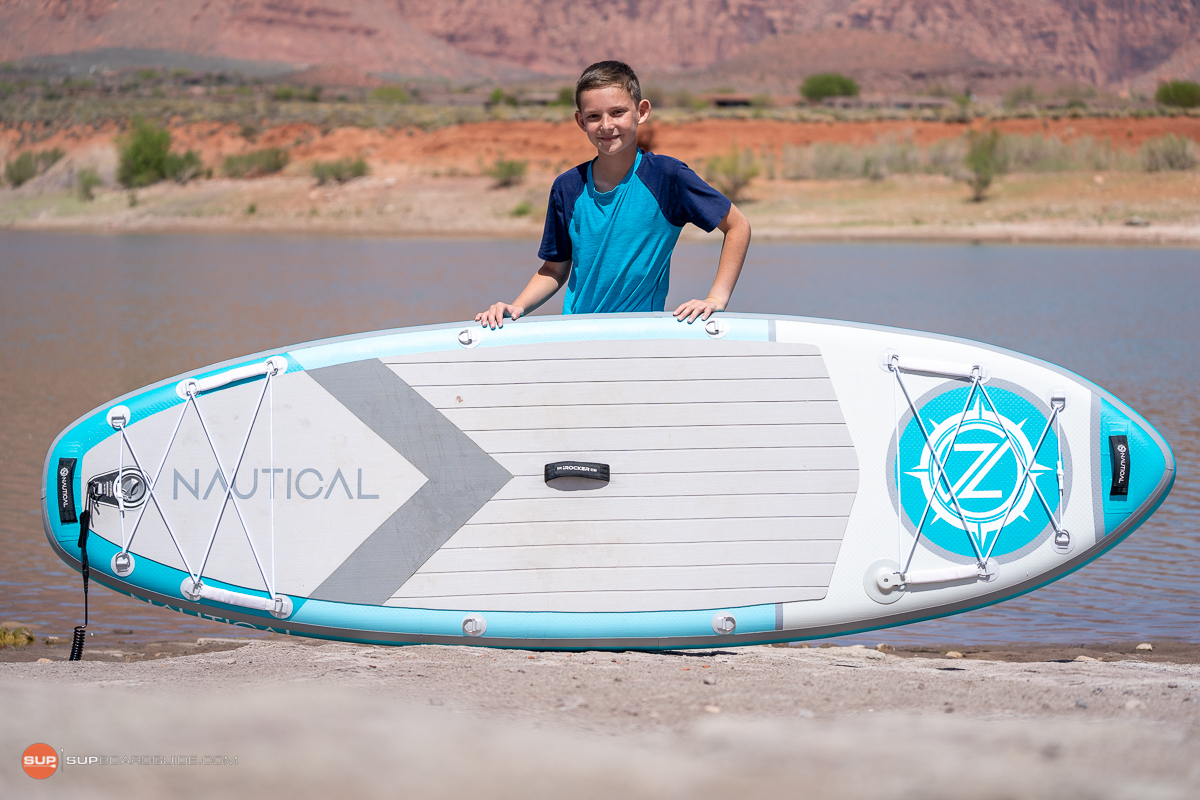 iROCKER sort of broke the norm here by loading the Nautical Kids SUP with almost as many features as their adult line.
With this 9' SUP, your kiddo will have a front and rear 6-point cargo areas with incorporated grab handles. They'll also have an action mount, kayak seat compatibility, 3 carry handles, and a nose D-ring (so you can tow their board in strong currents or in case they get tired). Lastly, iROCKER outfitted this SUP with a cushy grooved deck pad to keep your junior paddler comfortable. This is the most versatile kids SUP we've tested so far.
Included Accessories:
The Nautical 9' Kids SUP comes stock with all of the necessities to get your child happily out on the water. Included with this SUP are the following accessories:
3 snap lock fins
3-piece carbon fiberglass blend paddle (kids sized; won't work for someone over 5')
Single chamber hand pump
8' coiled leash
Repair kit
SUP backpack (no wheels)
Overall, we are pretty impressed with this kit, especially given the budget-friendly price. However, I was a bit disappointed to find that the paddle does not adjust enough to accommodate someone slightly over 5' tall. At 5'2" the paddle was significantly too short for me, even fully extended. Obviously, children using this board will likely be below that height, but it does strictly limit this SUP kit's paddler size range and decreases its usable lifetime for your junior paddler.
Summary Review of the Nautical 9' Kids iSUP
In short, iROCKER has left us very impressed with their first try at a kids SUP. It's well sized for children below 5' tall, well constructed, loaded with features, and won't break the bank despite coming standard with an array of necessary accessories.
The Nautical 9' Kids SUP is a great option if you're looking to share the love of paddling with the whole family as well as create memories and skills on the water that your child can take with them as they grow in the sport.
We hope you've enjoyed reading our review of the Nautical Kids SUP. If you have any additional questions or feel that there's something we've missed, don't hesitate to comment below.
As usual, wear your sunscreen and have a great time on the water!
The following two tabs change content below.
SupBoardGuide
Heyo! At SupBoardGuide.com we are a team who love the water, the outdoors, and are more than grateful that our full-time job allows us to review stand up paddle boards. We paddle year round (it helps that we are just about 2 hours outside of Las Vegas), and we bring in a wide range of paddlers with the goal of providing our readers with the best, most in-depth, and accurate stand up paddle board reviews.
Latest posts by SupBoardGuide (see all)