Tower iRace 12'6 iSUP Review
Pros
The fastest Tower iSUP in comparison to all the Tower SUPs we have tested - it takes the win in both our sprint and cruising speed tests.
Good tracking: 12'6x30 is a standard board size that tracks well.
Cuts nicely through the water instead of pushing against it, thanks to the pointed nose shape and rocker.
Comfortable diamond-grooved deck pad! The deck pad supplies traction and cushion for your feet.
Comes in a package deal with a 3-piece adjustable paddle and a hand pump.
Cons
Extremely minimalist: there are no bungee cargo areas and we would prefer for there to be at least one to improve its potential for touring/long distance paddling
We'd prefer a more modern fin box so there's an option to interchange fins
The fastest board in Tower's lineup!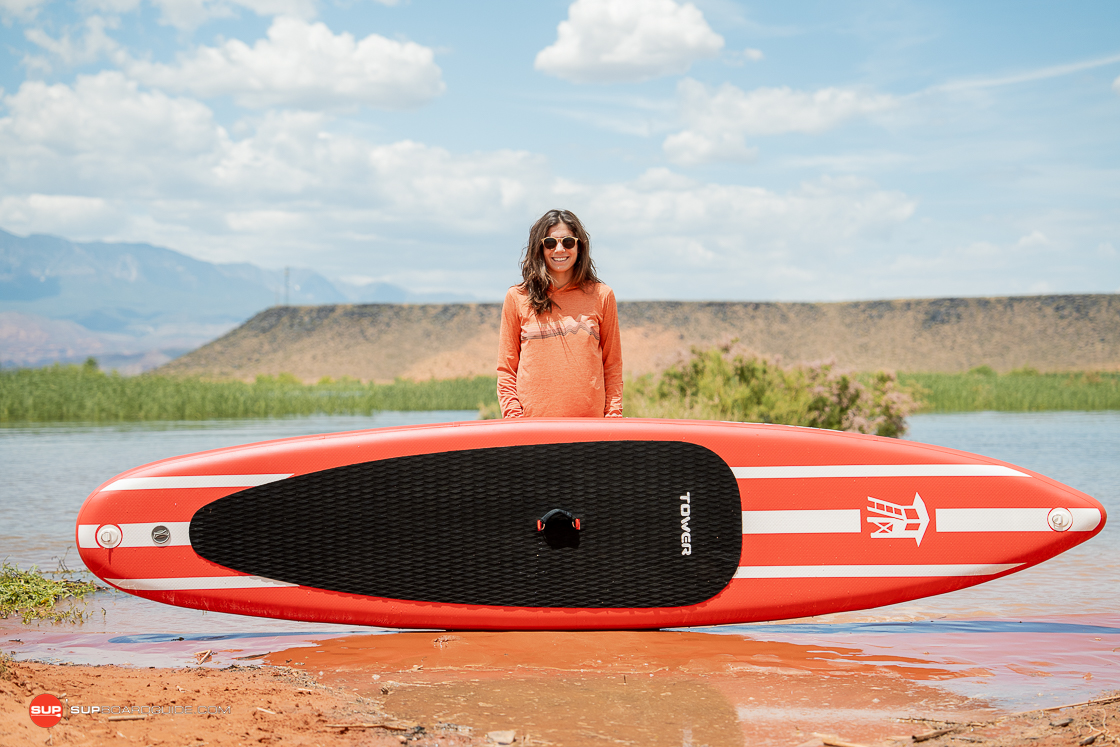 Not to state the obvious, but the 12'6 x 30'' x 6'' Tower iRace is constructed for speed. Tower is a founder owned and operated business, known for bringing 6" inflatable paddle boards into the limelight back in 2010. They make an array of paddle board (and other board) types, but the iRace is the board that prioritizes speed over anything else.
While we found this board to perform well, and we love the color, we do think the name can be misleading as this is more of a classic touring board shape, not a race shap. If you're planning to take it out to race against your friends on similar sized boards, then fine. But it is not as narrow as a true racing SUP, and therefore won't measure up speed-wise.
So without further ado, let's dive into our Tower iRace review.
We think the Tower 12'6 iRace would be a great SUP for paddlers who:
Want a red "race" board. Let's not kid ourselves, the color red is "un-scientifically" proven to go faster.
Enjoy a minimalist setup meant for only paddling and no dillydallying: this SUP has zero fuss – it doesn't even have a cargo bungee area.
Tower 12'6 iRace: Spec Sheet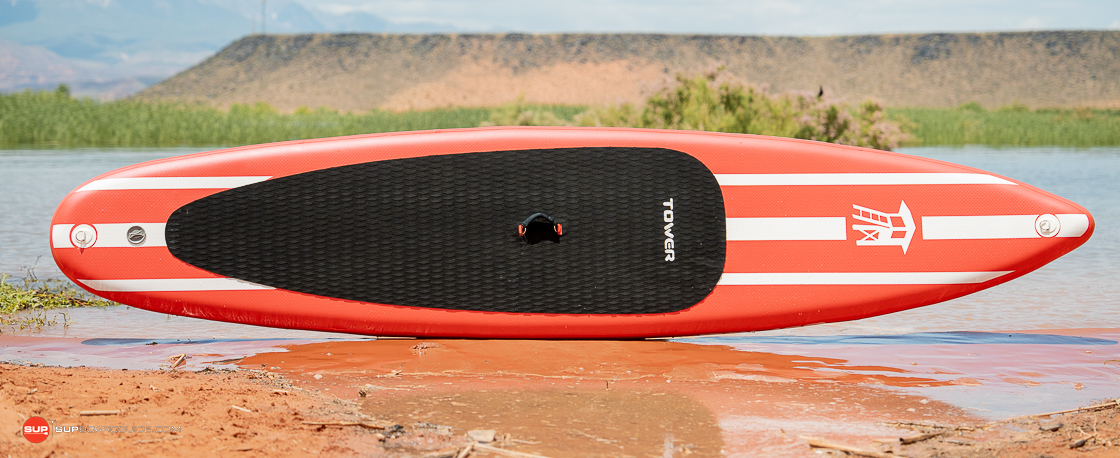 Main Category: Race/touring
Board Dimensions: 12'6'' x 30'' x 6''
Listed Board Weight: 27 lbs
Listed Max Capacity: up to 400 lbs
Recommended PSI: 10 – 12
Fins: Large detachable center fin
Paddle: 3-piece fiberglass adjustable
Materials: Double layer, hand-glued 6'' thick PVC
Warranty: 2 years
Performance Review of the Tower 12'6 iRace Stand Up Paddle Board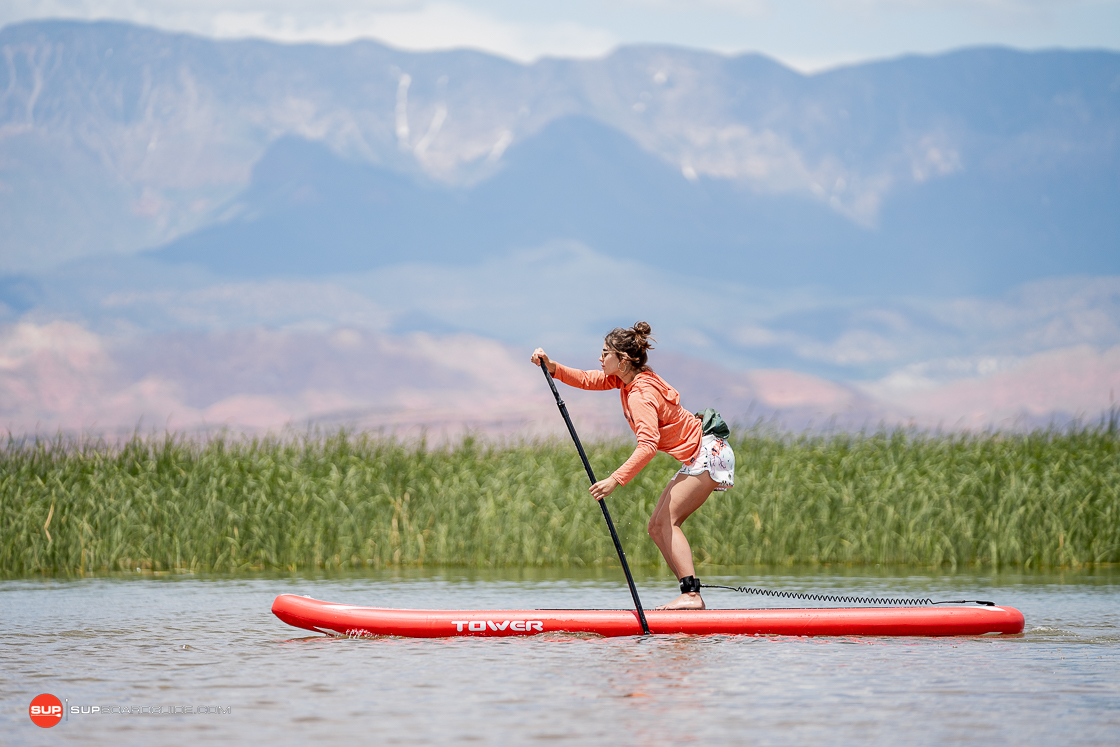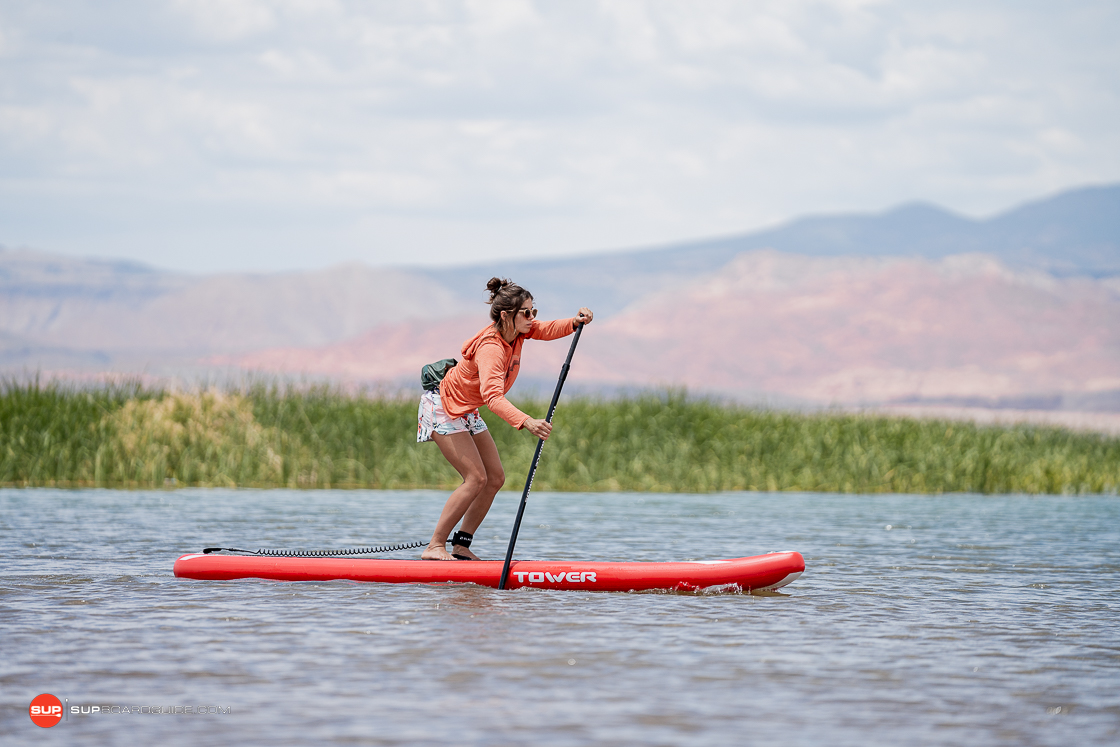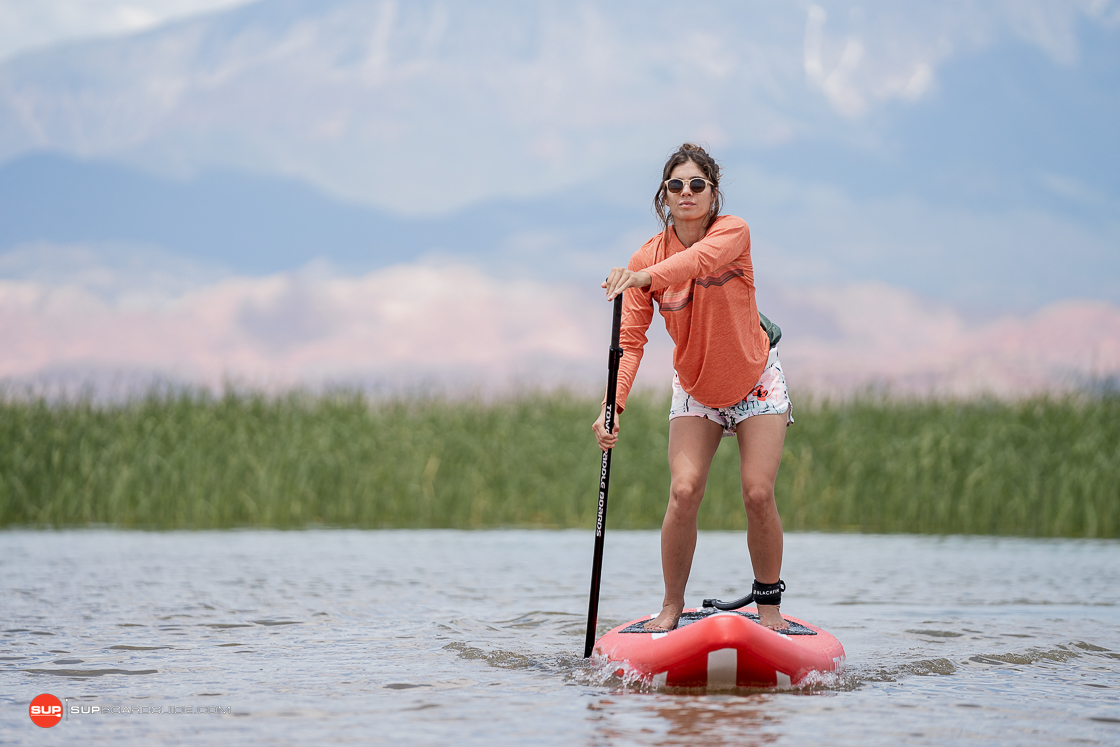 Overall Score: [8.4/10]
Stability: 8.1/10
Speed: 9.1/10
Tracking: 8.8/10
Maneuverability: 8.6/10
Construction Quality: 8.2/10
Features/Accessories: 8/10
Stability Rating: [8.1/10]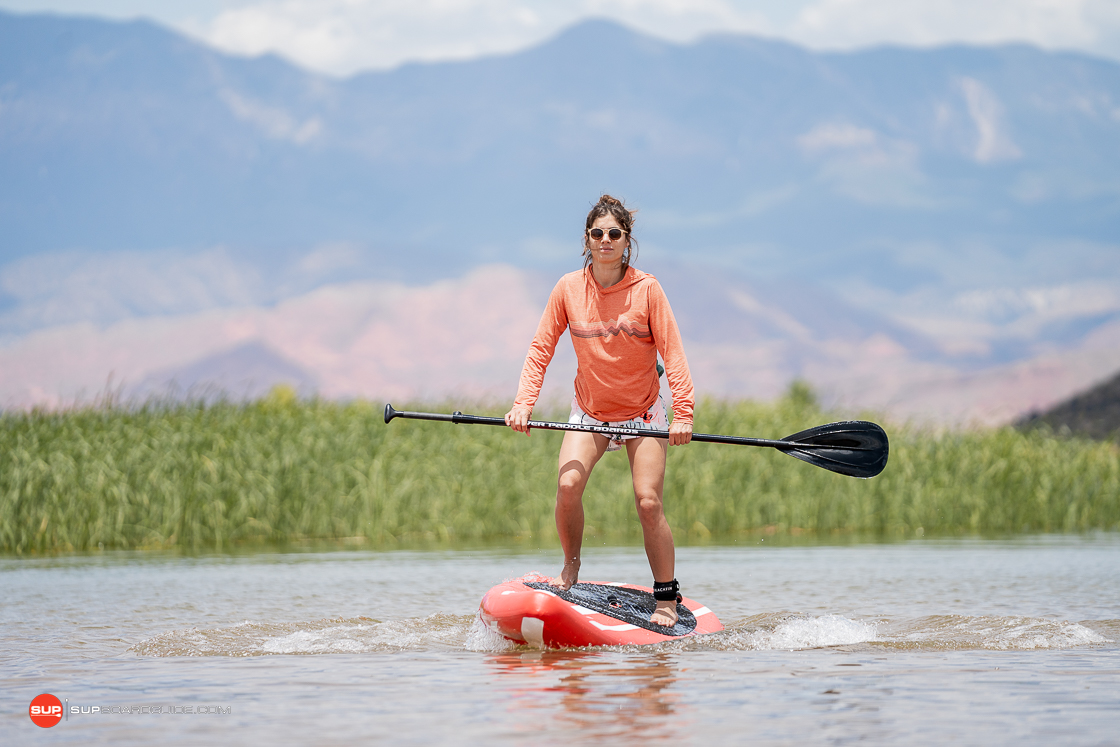 At 12'6 long and 30'' wide ( pretty standard for a touring board) we found the stability to be fairly good and as expected for the iRace. Neither Justin or I had any problems with balancing, and did find this board to be more stable than the S-class or Mermaid.
We attribute the extra stability to the additional length and volume of the board. However, we also think that Tower could improve the stability slightly by spec'ing the board with a more touring shaped fin (more on that below).
Speed Test: 9.1/10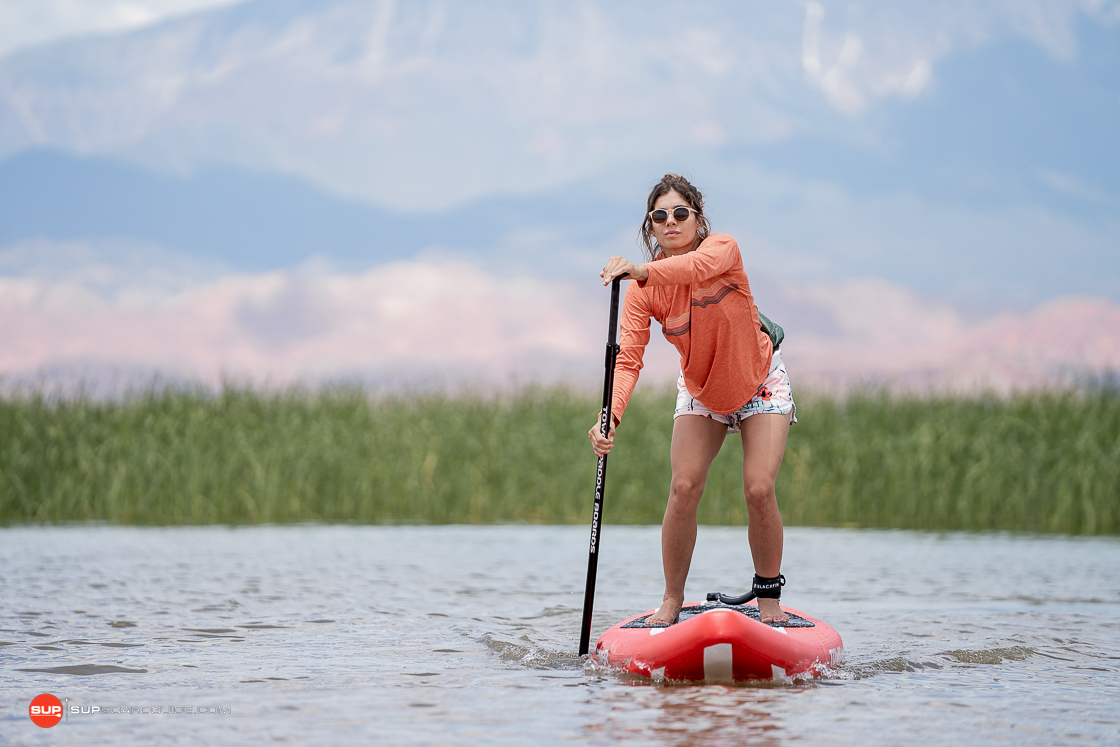 | | |
| --- | --- |
| Top Sprint Speed: | 5.55 MPH |
| Average Cruising Speed: | 4.5 MPH |
SUP Board Guide's Speed Testing:
To obtain our speed test results, we use a Speed Coach Sup 2. This gives us accurate readings on how fast we are paddling and our current stroke rates. For the top sprint speed, we paddle as hard as we can for approximately 10-15 seconds and then record our average speed. For the casual test, we paddle at 40-35 strokes per minute for approximately 30-60 seconds and record the average speed.
The Tower iRace clocked in with the same sprint speed as the few all-arounds we have from high-performance brands. This shows us that the Tower iRace is relatively quick (high-performance boards are usually on the faster side), but not as fast as where we want to see a race board but in line for a touring iSUP.
When compared against other touring boards we have tested, a 5.55 MPH sprint speed sits right in the average range. One of the problems we found is that the paddle is not strong enough to withstand a ton of force, which limits how fast we could paddle in our tests (and tired us out a bit). We think that with a better-quality paddle, the sprint score would increase.
Also, the 4'' nose rocker makes this board more like 12', and not 12'6''. If there was less nose rocker, then the board might be faster, but then it wouldn't handle chop or ocean paddling quite as well. And since Tower is a San Diego based brand, the nose rocker makes sense and we aren't overly concerned with this caveat.
As for the cruising speed, 4.5 MPH is a good score for comfortable paddling for a few miles or even more, but we do think that you'll want to upgrade your paddle if you are going on longer SUP journeys.
Tracking: 8.8/10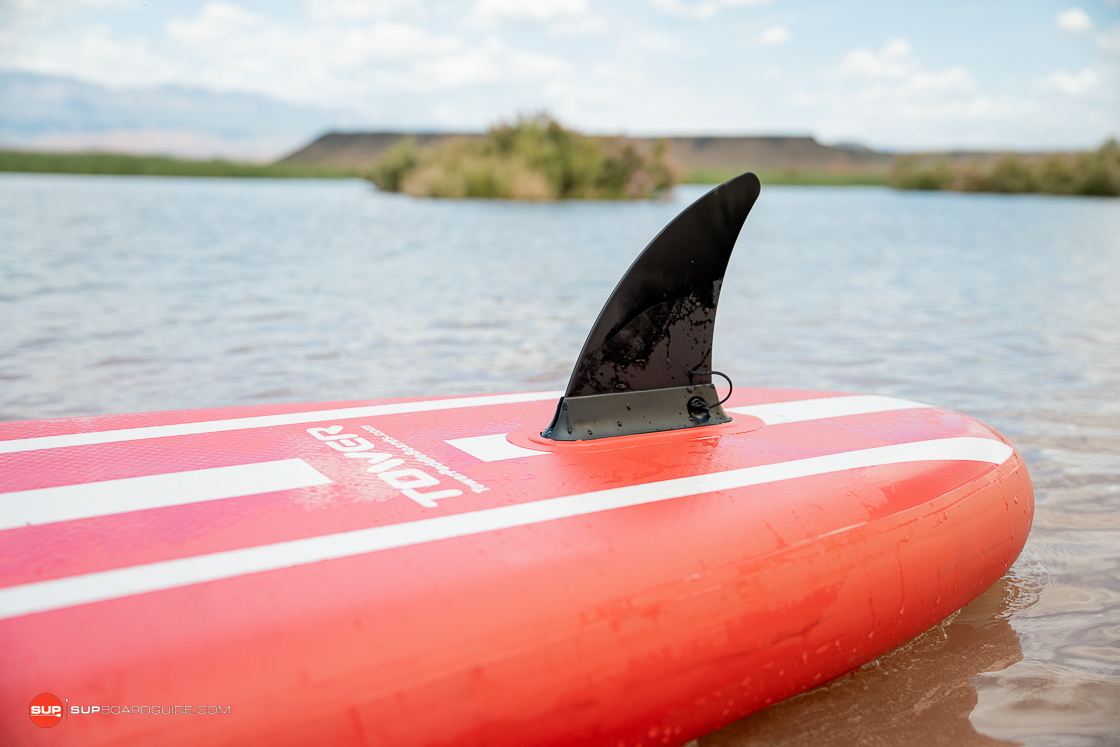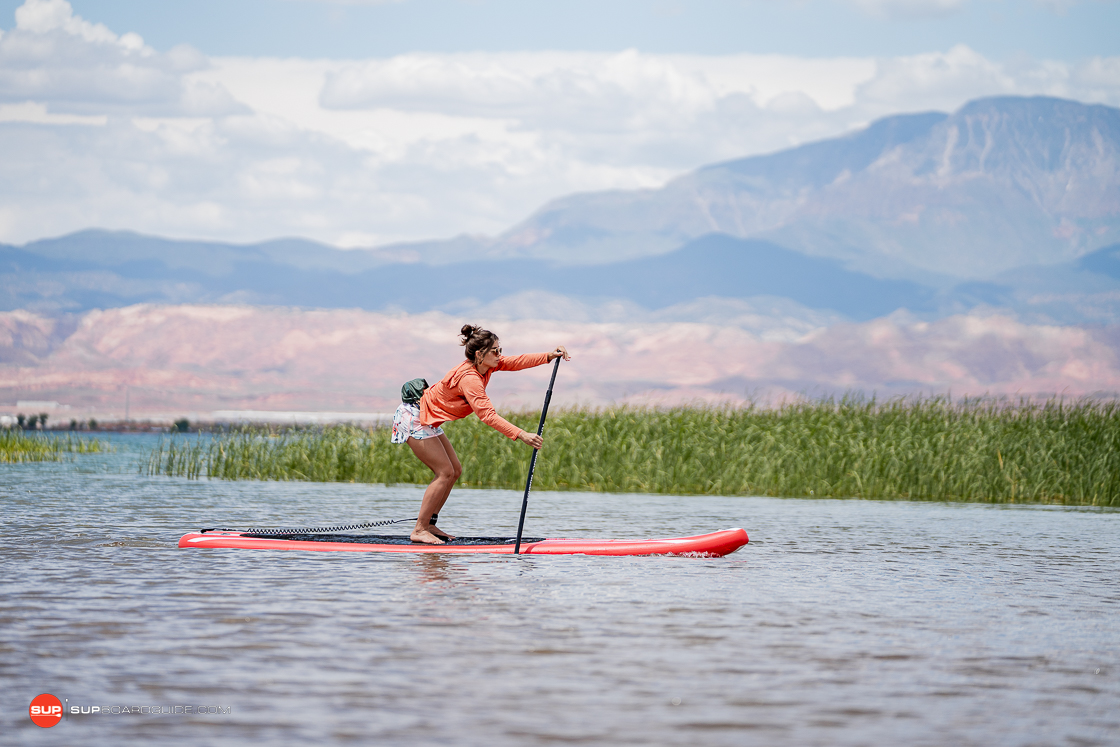 This SUP tracks well, but could be improved.
The 12'6 waterline enhances directionality and allows the board to track well. Also, its nose comes to a nice torpedo-like point, which is good for tracking.
However, we think the tracking would improve further if Tower decided to switch the fin setup, and instead of using its shorter, wide fin, went with a longer, straight touring-style fin that digs deep into the water. When a fin digs deeper into the water it is better able to keep the board moving in one direction, improving both tracking and speed. We see it as a simple upgrade that can only help.
Maneuverability: 8.6/10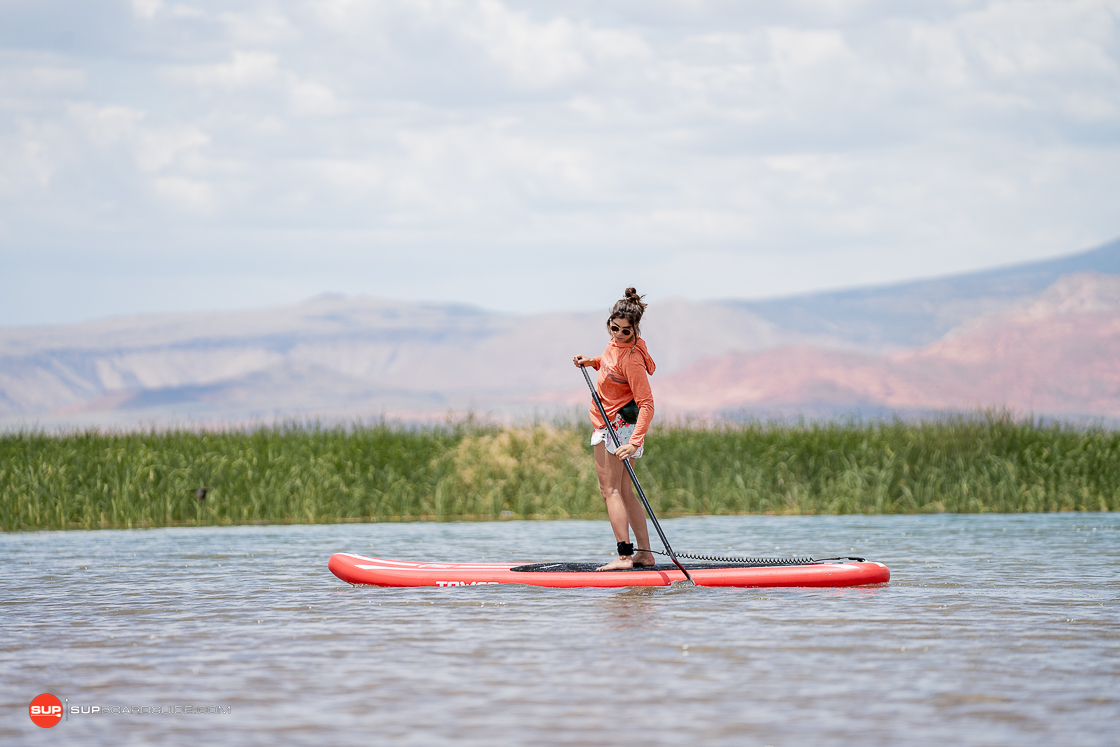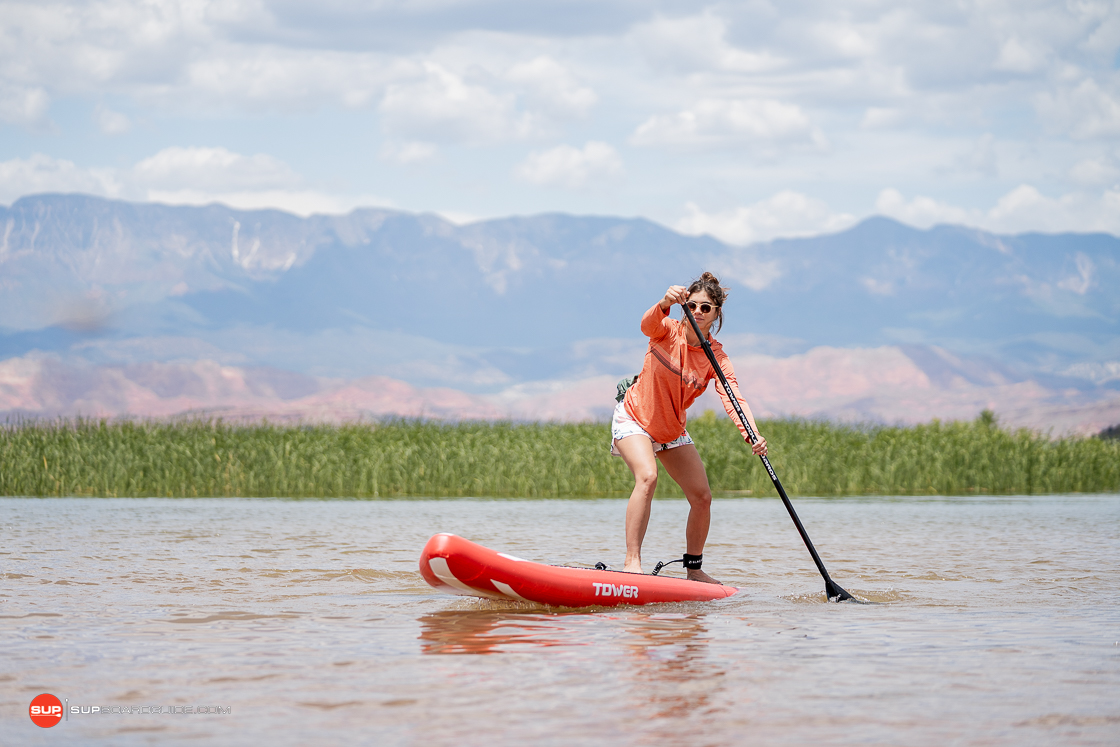 The Tower iRace is more maneuverable than we were expecting considering its excellent tracking. This balance is great because typically, maneuverability and trackability sit on opposite sides of a balance scale. If one goes up, the other goes down. So while this isn't the fastest board, it does have an impressive balance between the two capabilities.
It took us about 4 back sweeps to turn the board in a full circle, which is right in line with a handful of all-around style SUPs we test. Being 12'6'' long, this is very surprising and we appreciate its ability to turn this swiftly. A lot of time, maneuverability is the biggest trade-off when it comes to speed. So if you have been looking for a longer touring board that doesn't lose out on maneuverability, you've found it!
Construction Quality: 8.2/10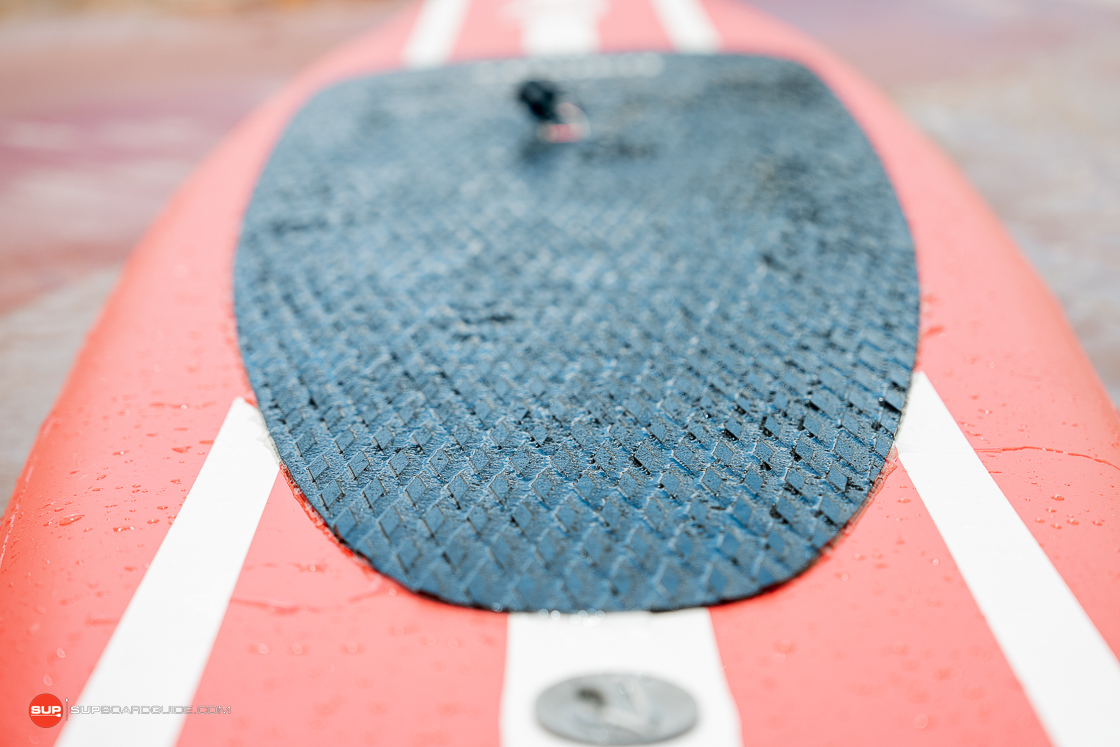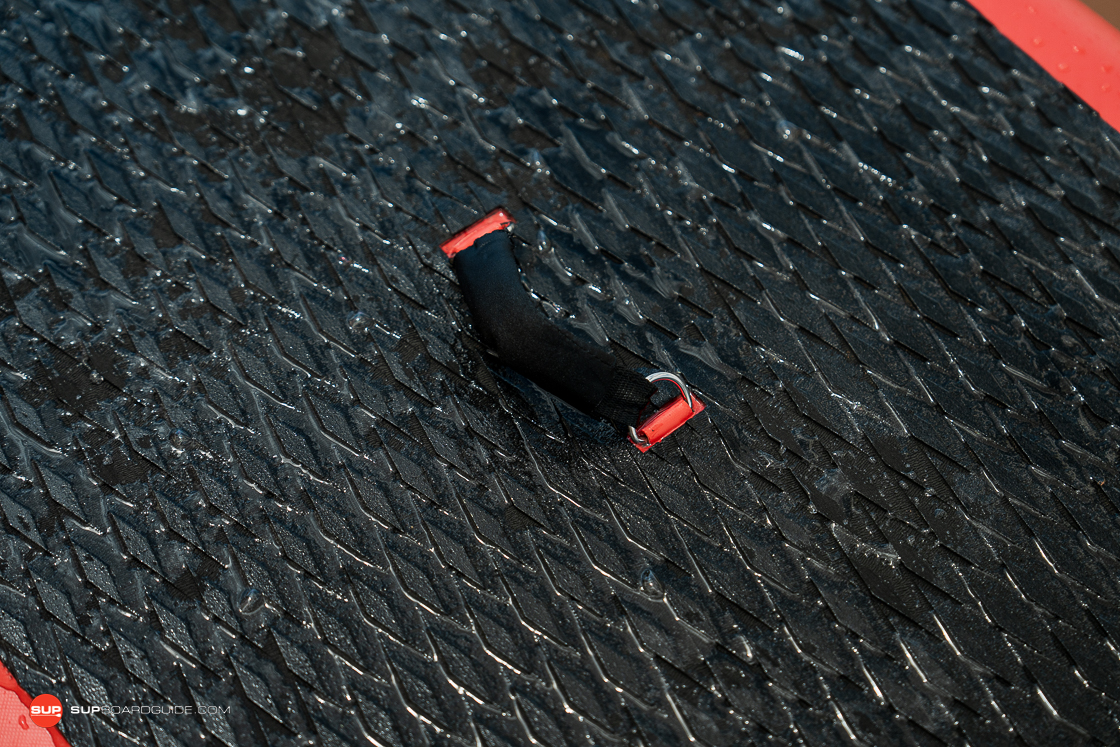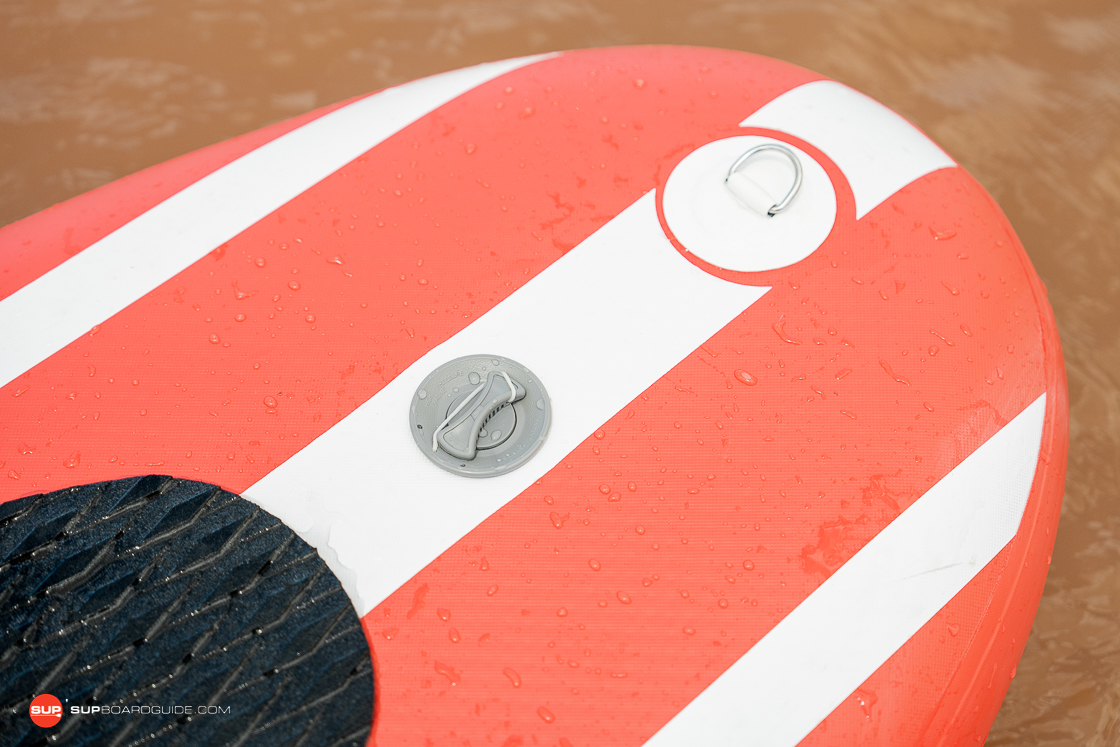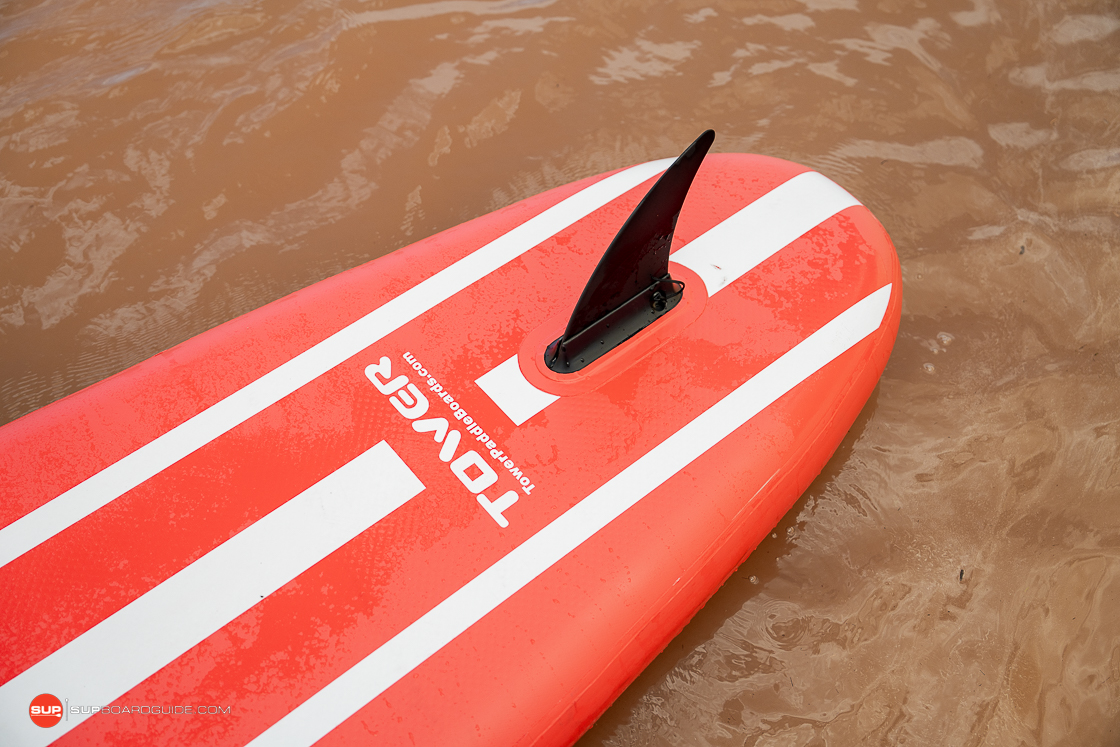 Board Stiffness: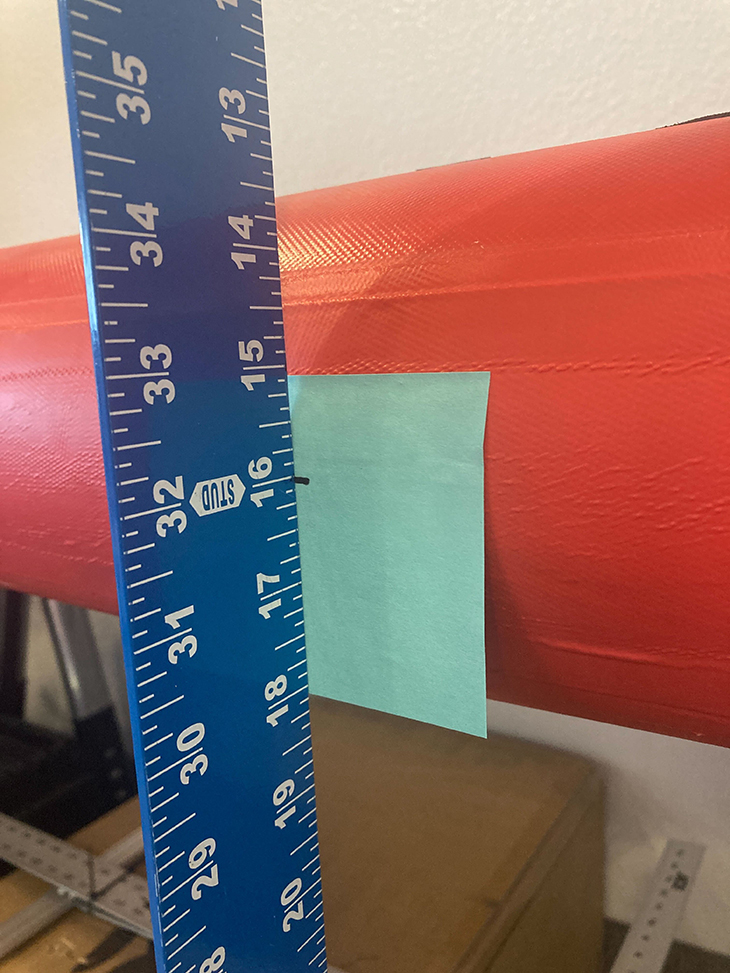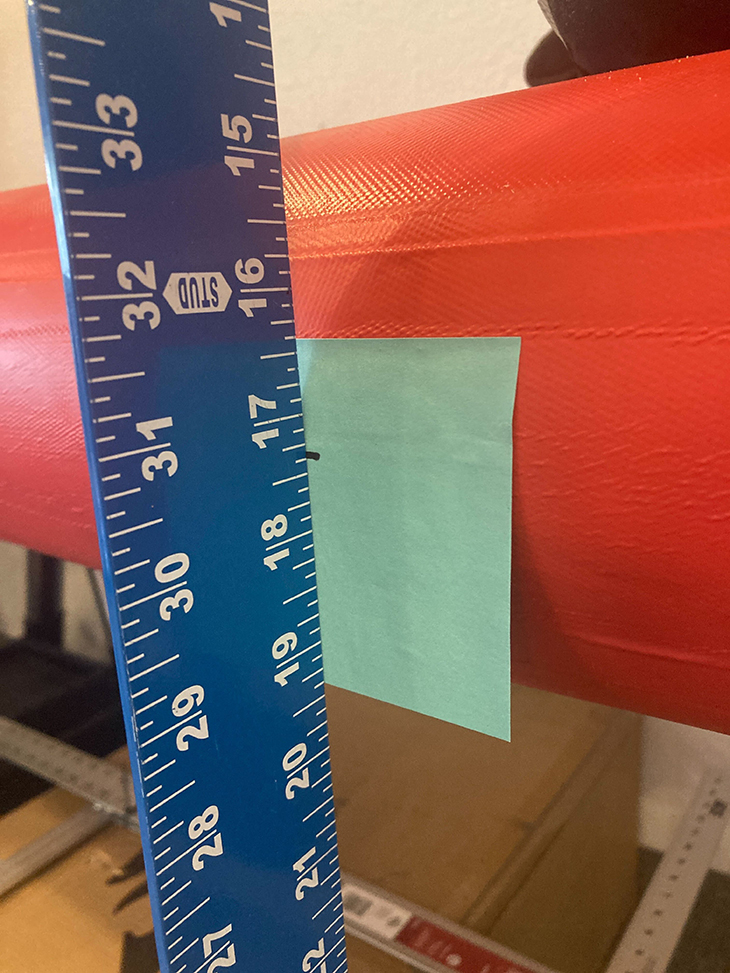 Stiffness Test: 1.5" Bend
SUP Board Guide's Bend Testing:
In order to attest to the rigidity of each board, we use a bend test curated by Supboardguide. In order to obtain the results, we inflate the board to its maximum recommended PSI and then place it across two sawhorses that are 7 feet apart. We then take a measurement in the middle of the board. Then, we place 150 lbs worth of sandbags on the middle top of the SUP. Last, we record its displacement (the movement from its original position). We use this method for every board we test as a way to mathematically compare boards across a common denominator.
Out of all the Tower boards we bend tested this year, this board bent the most. On average, it bent about 0.4 inches more than the other boards. Considering all of the other Tower boards we tested are 10'4 all-arounds, and this is a 12'6'' long touring SUP, this is not a significant amount. It wouldn't be a significant amount regardless, so all in all, we are pleased with the result. It is a rigid-enough board to avoid flexing under feet for most people.
One important note: Tower is stating to only pump the board up to 10-12 PSI for optimal performance, so that is what we tested this at (we always test at max recommended PSI). However, they also state that the board has been tested at 20 PSI. If Tower verifies and changes the language on their website that the board can be pumped up to 15-20 PSI we will retest.
Overall, we do think the rigidity and performance of the SUP would improve quite a bit more for large paddlers by increasing the PSI from 12 to 15-20. For smaller paddlers, the increased pressure will not be as beneficial.
Features/Accessory Review: [8/10]
Features: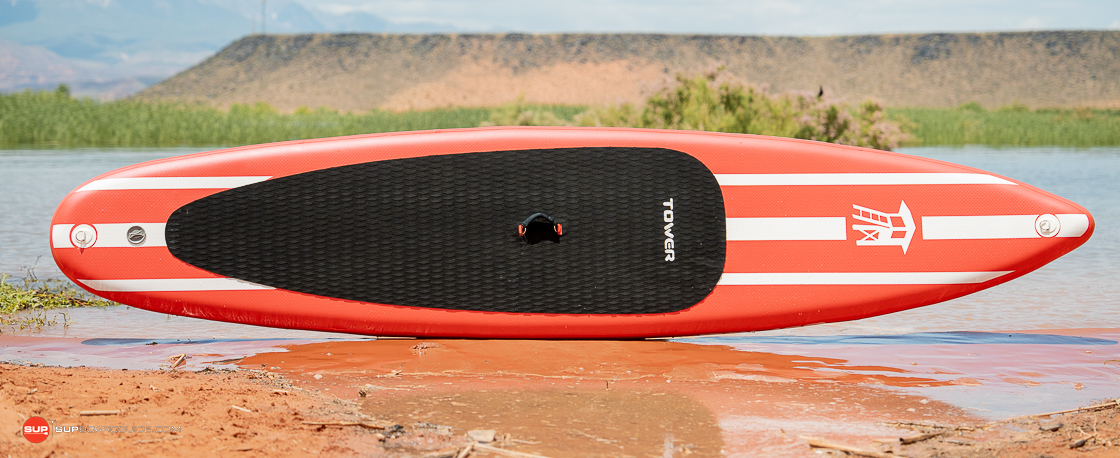 Included Accessories: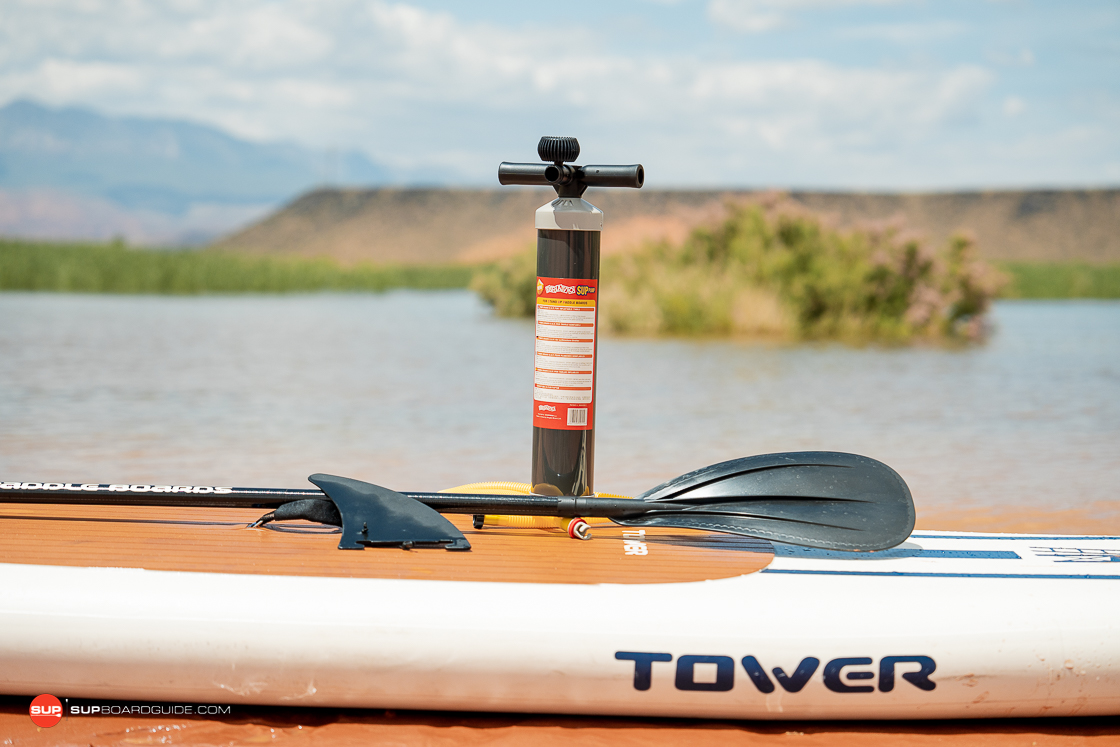 When you purchase this board as a full package, it comes with
(1) 9'' Hook & Pin Center Fin
(1) iSUP repair kit
(1) Hand Pump
(1) 3-piece Adjustable Fiberglass SUP Paddle
As with any SUP, we wish that Tower would include a leash, which is a vital component of SUP safety! The paddle is fine for those who are looking for some recreational fun, but since this is deemed a race/touring board, we do think Tower should go with a more high-performance option that can better handle a lot of pressure applied to it and that is also significantly lighter weight.
Summary Review of the Tower 12'6'' iRace – 2023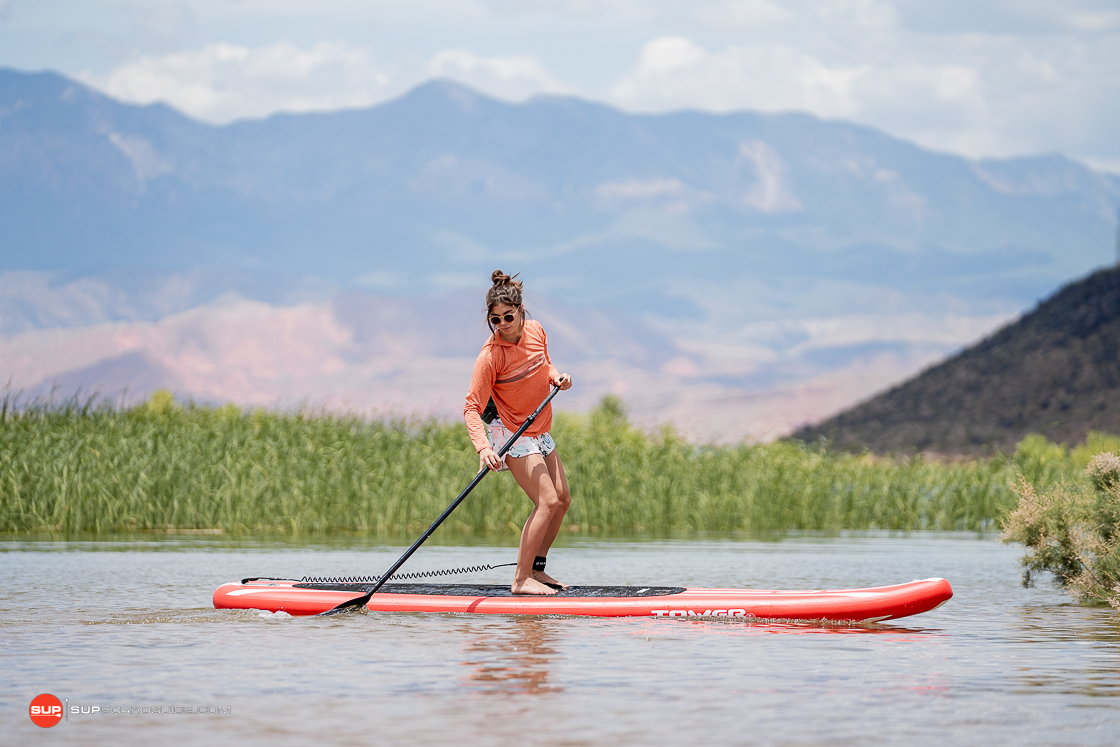 The Tower 12'6'' iRace is a speedy-looking board, but not the speediest when put up against actual race SUPs. Yet, it does perform well as a touring board, albeit a touring board that you cannot attach anything to. So while we love the name and love the color, we suggest Tower change the name, add a bungee cargo holder, and also upgrade the fin box.
But with that being said, it is fairly stable and has a good balance between its tracking and maneuverability capabilities. When it comes to its primary purpose, speed, a 5.55 MPH sprint score sits right in the average range when compared against our other touring boards.
Overall, for some recreational racing against your buddies, this is a fun SUP!
Happy paddling! We hope you enjoyed this review of the Tower 12'6'' iRace. If you have any questions or comments please leave us a comment below!
The following two tabs change content below.
Latest posts by Laura Coor (see all)