Red Paddle Co Compact
Pros
High quality materials and manufacturing
Super compact and neat
Good quality paddle
Most portable SUP on market
Tracks/manoeuvres well
Cons
Weight capacity could be too low for some paddlers
You'll make everyone jealous!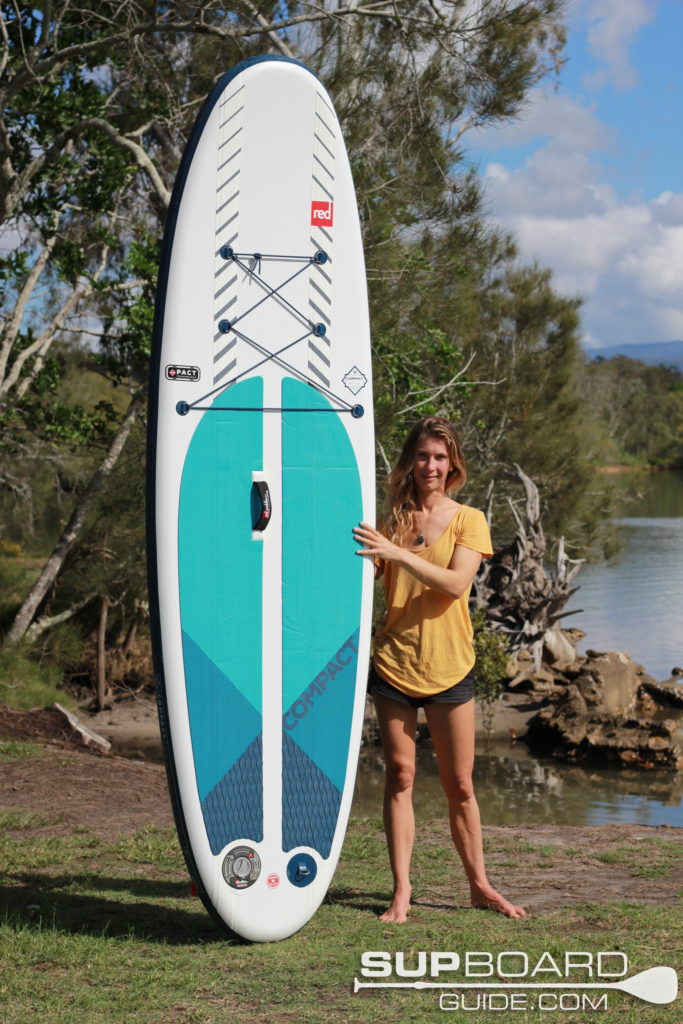 Have you ever seen a SUP that can pack down so tightly and neatly?!
The Red Paddle Co Compact is ridiculous. It's the size of the backpack I take to the office every day but has way more fun things inside. Inside your backpack, there is a 9'6″ All-Around board that is a bundle of fun to paddle. Plus of course, all the necessary accessories. There is only one other compact board on the market atm (June '19), the NIXY Huntington, though it doesn't pack down quite like the Red!
So, it's obviously great for portability but how does that the actual board go? Is the package worth its price? Find out below!
Specs
| | |
| --- | --- |
| Length | 9'6″ |
| Width | 32" |
| Thickness | 4.7" |
| Weight Capacity | 209 lbs |
| Weight | 27.9 lbs |
Performance
It's time for an adventure! Think a morning hike into the wilderness, finding a river with some fun rapids on it and still being able to finish walking out again. Imagine all the fun you can have without having to worry about how to get your SUP in there! Something this compact and portable you may just end up on some waters not many other SUP paddlers have been on.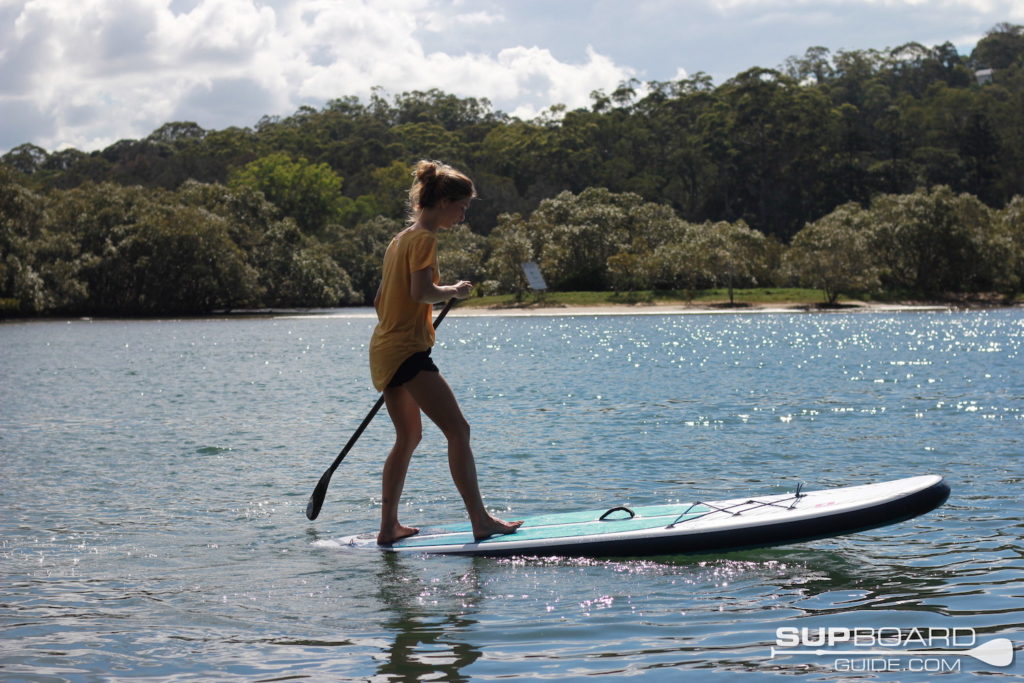 It's advertised as an all-around board but it's definitely a performance board too. I was skeptical about the twin fin, as my experience on the NIXY version of a compact SUP was that a twin fin setup is squirrelly. However, I believe with the better fin placement as well as larger fins that RPC has managed to make a twin fin that still tracks well and relatively stable. It does take a little getting use to doing pivot turns on a twin fin. Where you plant a foot at the tail there is normally a fin to help with stability, so just a matter of a little bit of weight shifting. Once you have got it, it turns on a dime!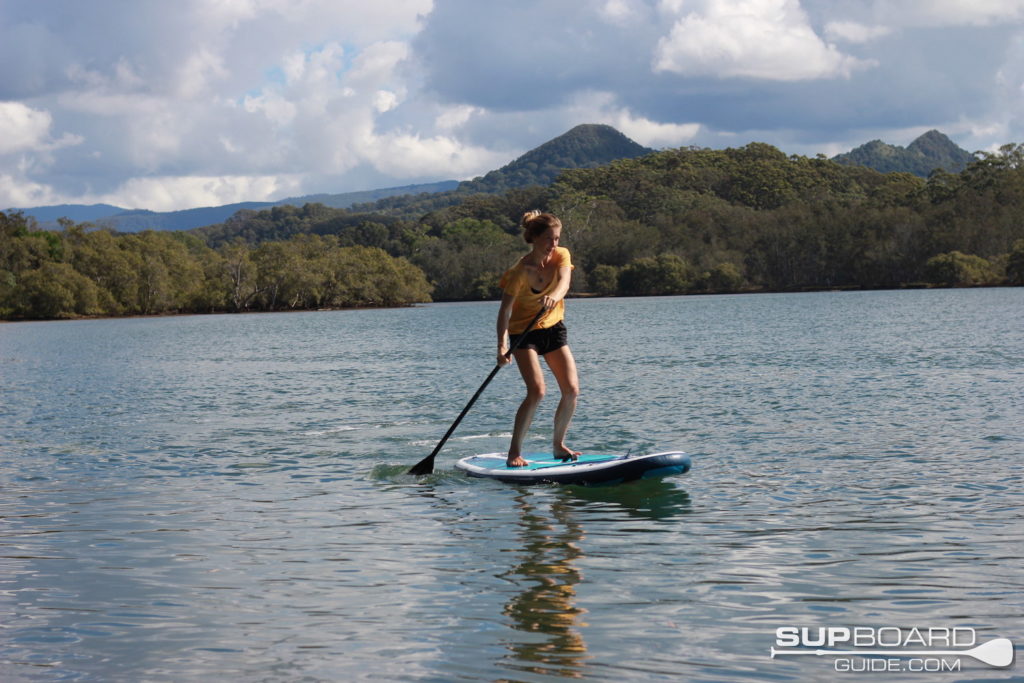 There is heaps of stability on board too. Though it's a relatively short SUP at 9'6″ and thin at 4.7″, it's got a very even "eggy" shape and 32″ width should be stable enough for most paddlers. The materials are really what make this board different, which I go into below. Where you may fall short is in your weight, the maximum weight capacity is 209 lbs so if you come close to that, you may start to find the board wobbly. Most SUP's have higher weight capacities than that, though it's a small pay off for the convenience of the Compact.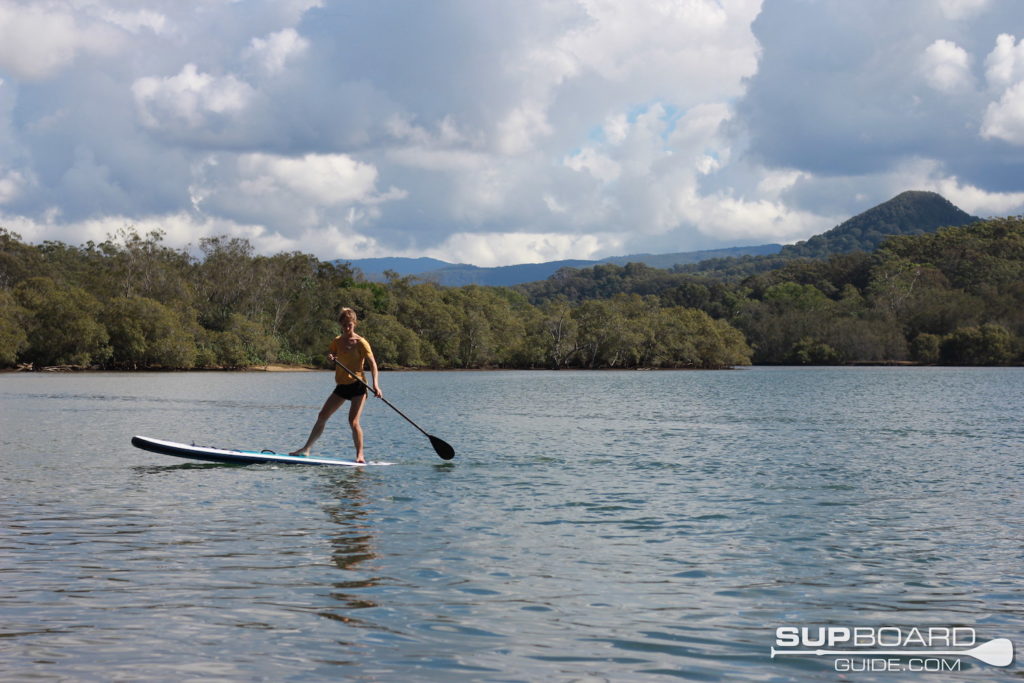 This board really can handle a variety of conditions too. It will go well in rapids, surf and enjoyable for a general paddle. Though if you are looking for something to cover long distances quickly then you're better off looking towards Touring boards. Saying that you won't be getting into tricky access spots as easily with anything else. Speed, another compromise that may be worthwhile.
Materials
This is where it gets interesting! I will do my best to explain what I know in a factual but easy to understand way.
So first of all, drop stitching! Drop stitching is the process in which the initial layers are weaved together. These threads create a bond that when stretched to a max length then reinforce with strength and rigidness. There are different ways to complete this process from what I understand but I am no engineer! I go by what I feel. Red also uses its patented MSL Fusion to apply their layers of PVC, which results in strong boards with fewer materials = lightweight but durable.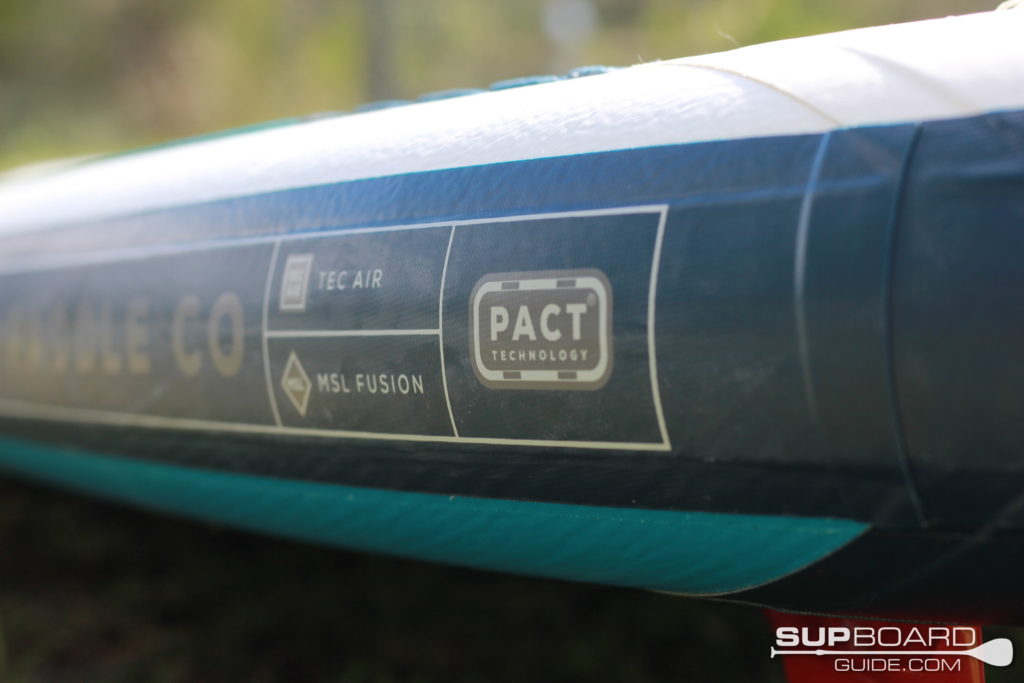 The difference with the Compact compared to other Red boards is there is an overall higher density of threads, there are the quad stringers than the run parallel, as well as the outer layers of PVC, are slightly different. The stringers act as an extra exoskeleton for the board to prevent any flex from a rider. I'm guessing the different PVC has something to do with how well it folds up (PACT technology), which may mean the density of the drop stitching needed to increase to keep the board remaining stiff. I'm totally having a stab in the dark though! The one thing I do know is that it feels great! The board is a wonder under your feet and there is something different about it.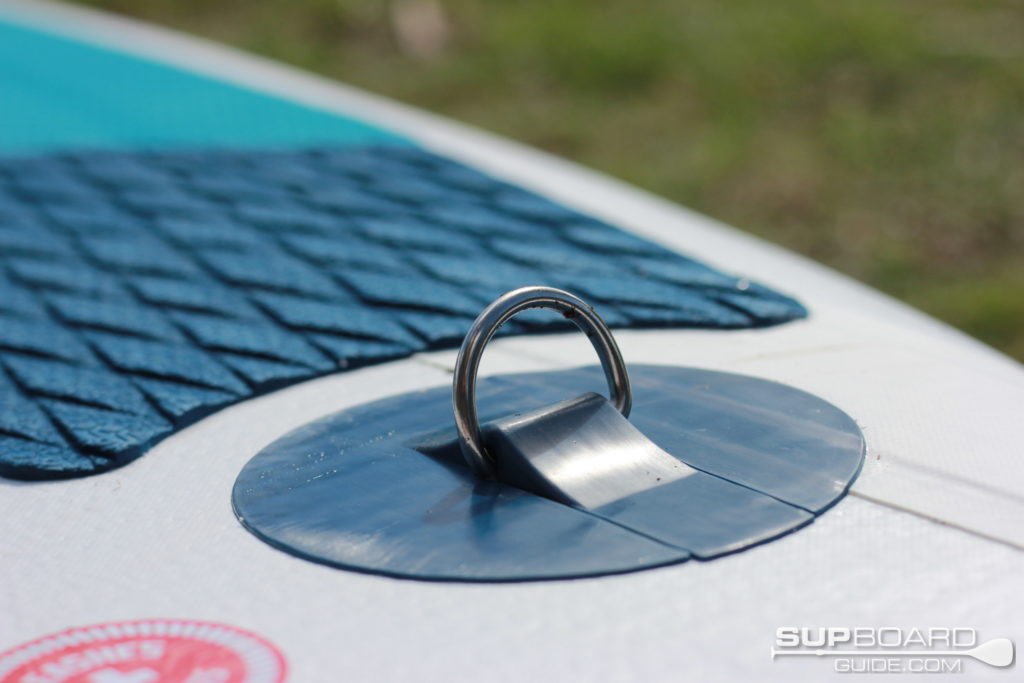 The stylish RPC deck pad is imprinted with thousands of tiny red logos for traction. It should be noted that RPC is the only inflatable paddle board company that manufacturers all their boards/gear in their own private facility. It means you get a consistent product as well as unique.
Board Design
Well to start there's the obvious design of it being able to fold up into the worlds compact SUP! Some of the board features that make this possible are the deck pad with the split down the middle, the offset D-ring and inflation valve and twin fin setup. The difference in the pack down is that you fold the board in half first, not just roll it up. So everything on board needed to be able to allow that fold.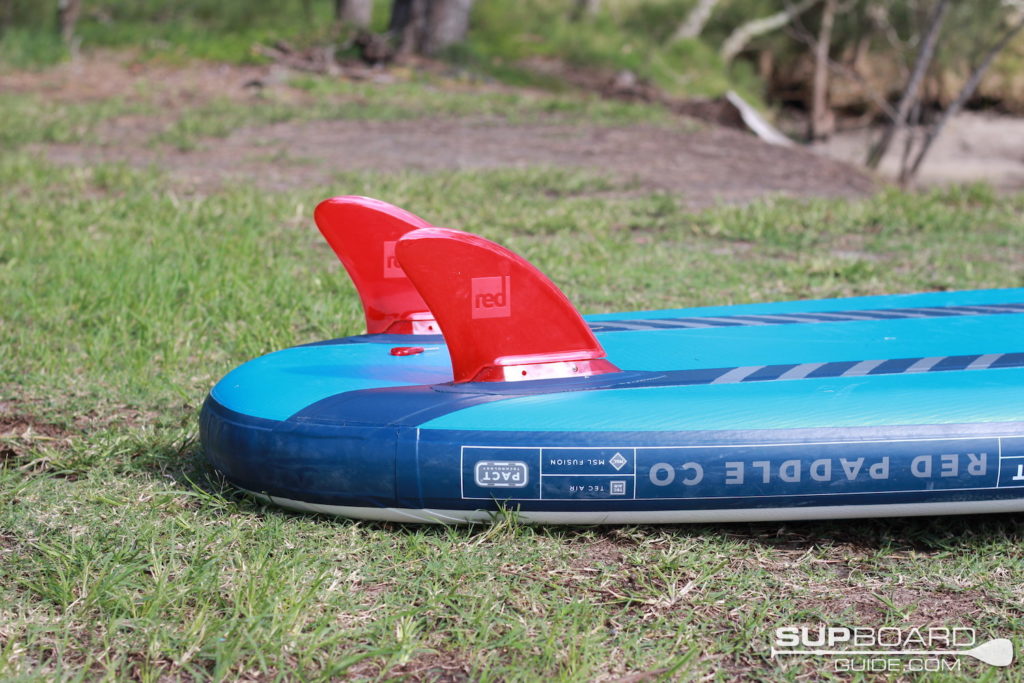 There are 6 D-rings on the nose with bungee cord between, which is a great amount of storage for a board this size. All features and materials RPC use are high quality, you see and feel it, even with the D-rings and how they are attached. Though I'm yet to have any issues with other cheaper SUPs and things like D-rings or bungee cord, so it more comes down to buyers preference. On the board, there's a center handle and given the size of the Compact, I think the one handle is enough and D-ring at the tail for your leash. Currently, the Compact is only available in one color scheme, it's the same scheme as the rest of RPC branding. Blues, whites and red logo, I do like the look of RPC boards a lot!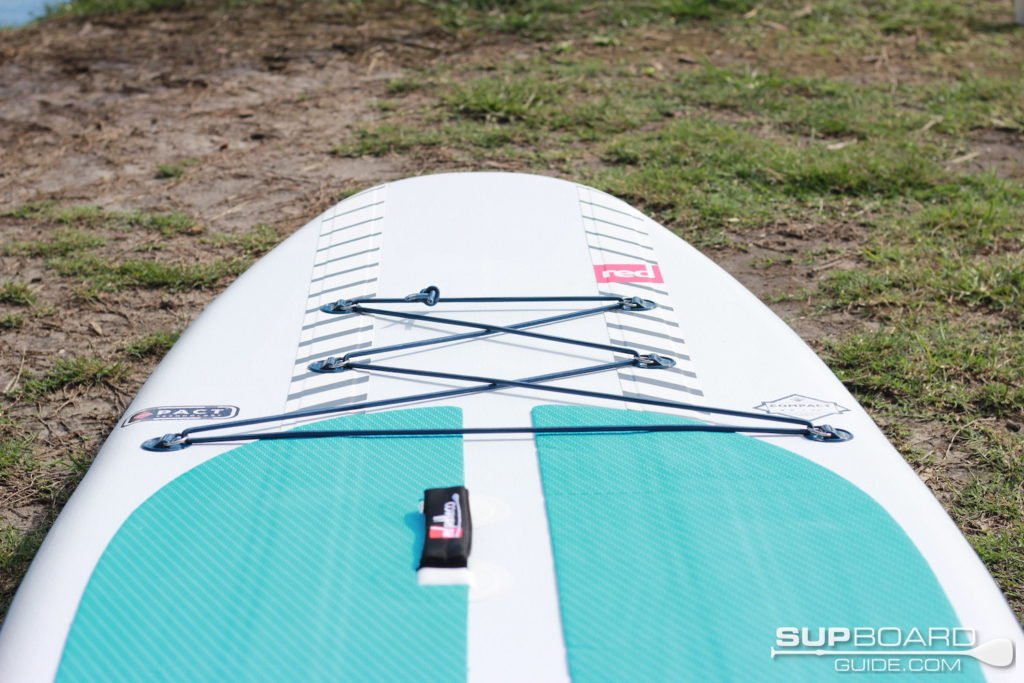 Features
Inflate/Deflate
With the titan pump, inflating anything is done in merely a blink of the eye. Okay slightly exaggerated but the Titan pump is pretty amazing at getting things inflated. Because of the unique stringers running down the body, it's imperative to inflate to the correct PSI (15 PSI at minimum, 18-22 is premium).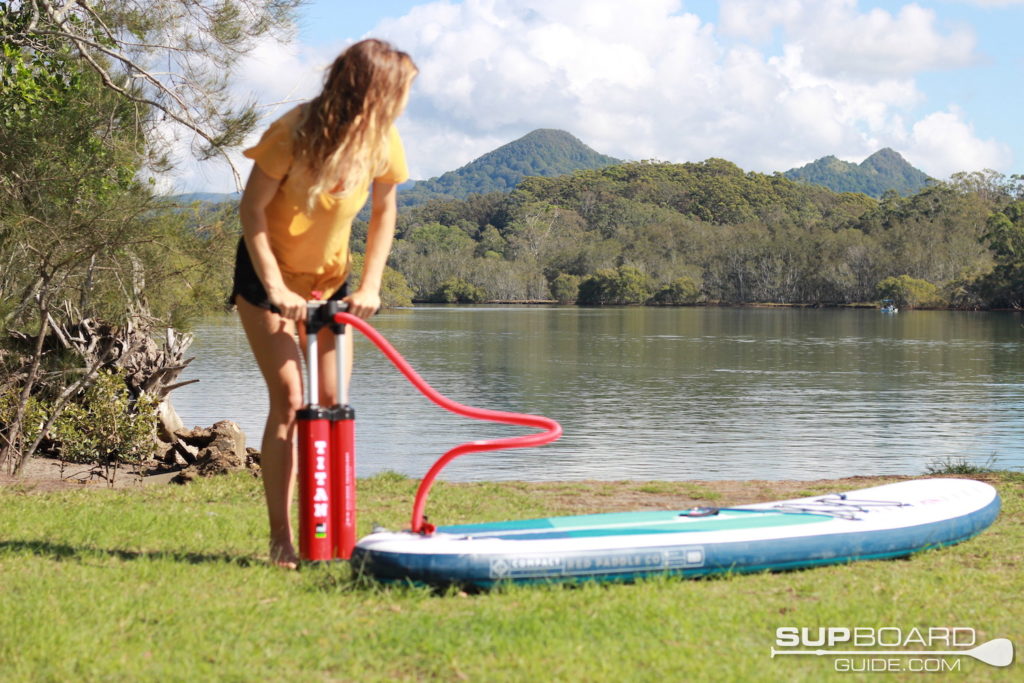 Deflating the board by pushing the pin in to release air and twisting it to lock it open. However, the roll-up is slightly different! First, expel as much as air as you can then fold your Compact in half, with fins on the outside. Then place the Titan pump inside and from the nose start to roll the board up around the pump. Be sure to leave the feet out! It's a brilliant system and extremely space efficient.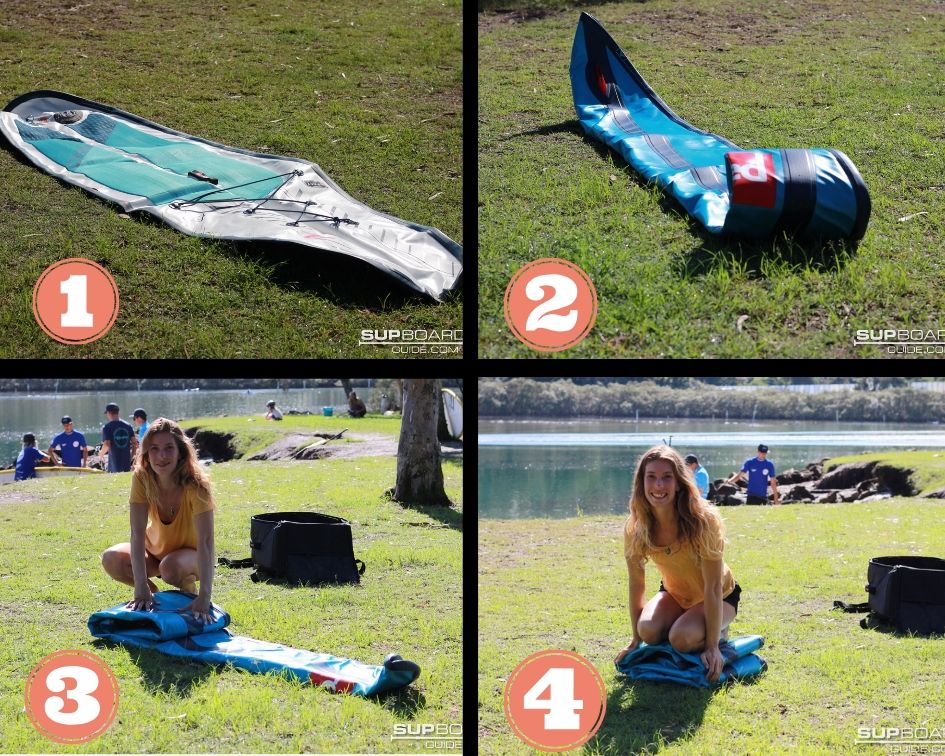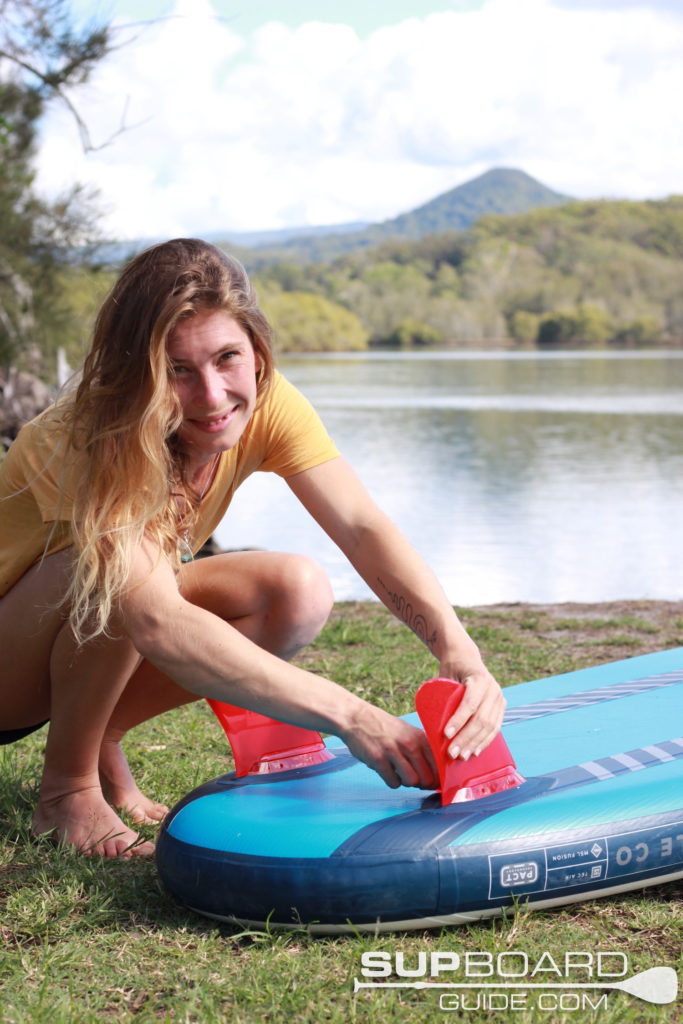 Fin Setup
As I have touched on briefly, your Compact has a twin fin setup. The fins are placed quite wide which helps with stability and tracking. The specially branded Red fins are also quite large (also good for tracking) and slightly flexy, which helps protect them from submerged objects you may run into. These click in fins come with additional screws, which in your kit you should also find a fin key to secure the fins. While the fin box is compatible with other fins such as the popular FCS fins so you can dress your board up as you like. To keep your fin and fin key safe you can store them in the little mesh pocket inside the bag.
Accessories
Paddle
Here we see something new! A 5 piece paddle! Breaking down neatly to fit easily into the bag alongside the board and pump. The joins are particularly smooth, with overlapped joins that slide into each other at a 45-degree angle and a pin to securing it. While at the top there's a little lift lever to adjust height size.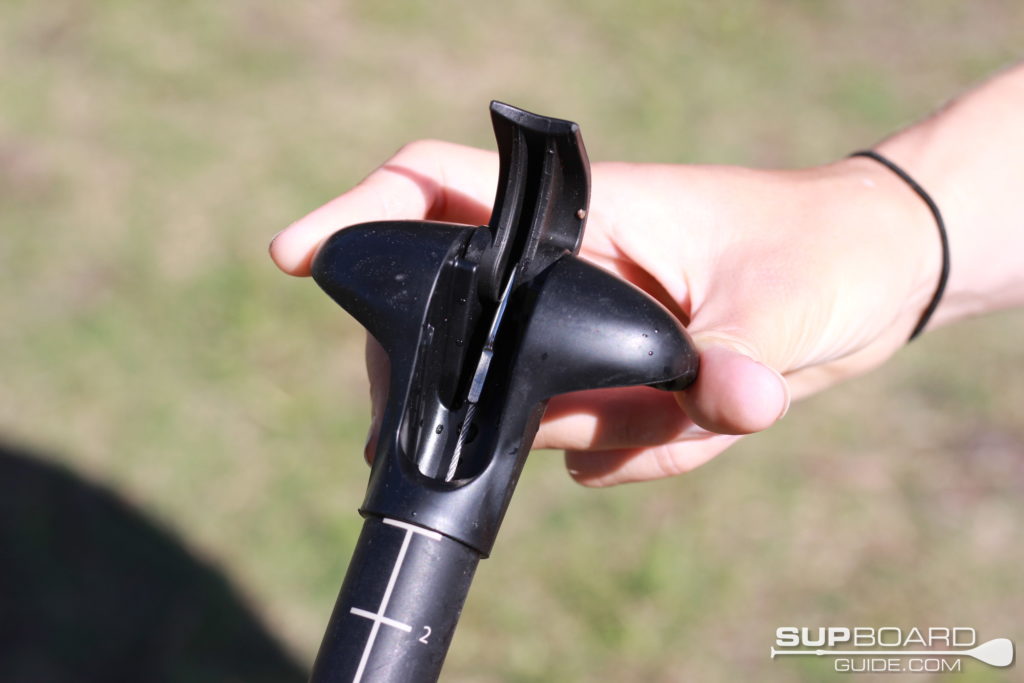 The shaft of the paddle is made with carbon and the blade, tough nylon. A cool feature about the blade that doesn't exactly change its performance, is the logo. It's not printed or transferred on, it's lasered on. This just means it'll stay on for much longer and also is more eco-friendly.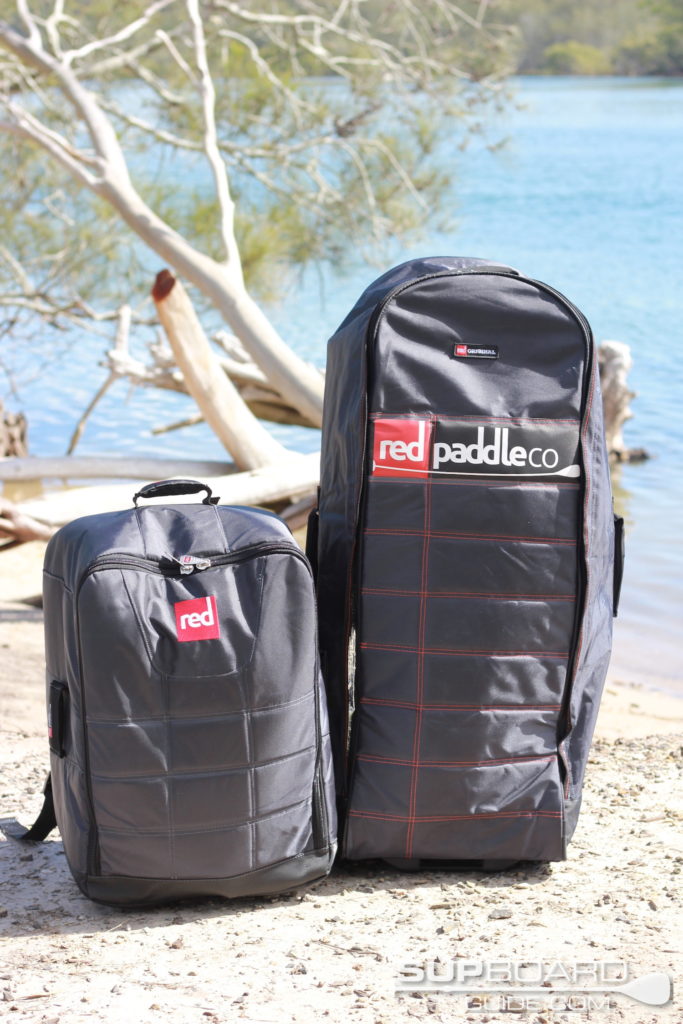 Backpack
The smallest and neatest SUP bag I did ever see. It's padded throughout which helps the bag keep its shape and everything storing neatly. While looks are nice, it's the functionality that matters. The Compact SUP bag is unique in a few ways. On the back, there's an adjustable lumbar back support (height and length) as well as the shoulder straps being supportive already. The other unique and well-engineered parts of the bag resulting in 53% less pressure on the lower back than the usual SUP backpack.  While this is great for your body it also means the Compact is more comfortable to carry long distances (more adventure!).
Other features include handles on the outside and pockets on the inside! It's actually rather easy fitting everything in, even though it looks like it shouldn't be! Because it packs down so neatly, you should even be able to fly with something like this as carry on!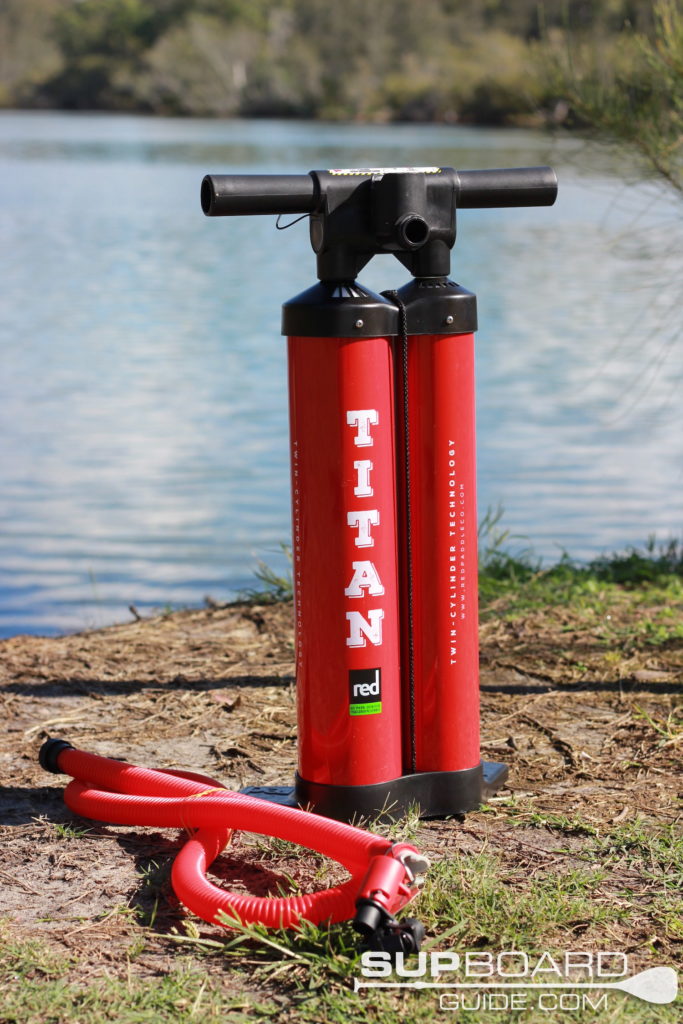 Pump
The baby Titan is here! Though it's slightly smaller in heigh than the original Titan pump, it delivers the same results. It shrunk slightly to be able to fit into the bag but the air chambers look to be a little wider.
This double chamber, dual action powerhouse delivers air to your board at up to 60 mph. I inflated my Compact in about 5 mins I think. The little red plug is how you control the actions. If you are unfamiliar with these actions, there are detailed instructions in the owners manual. The plug even has it's own sitting spot for when it's not plugged in just above the action hole. It's kind of like the feeling when you get a car with multiple cup holders vs not. It's not exactly the most important thing to consider but you feel warm and fuzzy when you get it, like someones looking out for you.
There are instructions on the pump as to how to best pump and recommended PSI levels to switch actions over on, as well as the PSI reader on top, between all of that you can't get lost!

Leash
A leash is a big safety feature, I admittedly don't always use one but I never go into places remote, with wild waters or strong currents without one on. The coiled leash stays out of the water to prevent drag/snagging. While it's also made for comfort, to either go around your ankle or calf and a key stash spot in the cuff.
EXTRAS
Phone Case
With every Red board purchase, you receive a water-resistant phone case. Note – water resistant not waterproof! If you think there's a high chance of it being submerged, you are best to double that with a dry bag.
Bottom Line Review
The Red Paddle Co Compact is an absolute game changer. It makes you rethink portability and the level of quality achievable with iSUPs. Doesn't how old you are, if you are beginner or expert, whether you have a big or small car, whether you want to go remote or local, the Compact really covers it all. It comes with a price tag but it's going to be worth it.
To be realistic this price isn't going to be something everyone can afford if that's you but you're looking for similar qualities, check out NIXY Huntington. It doesn't pack down quite as nicely and the quality of materials is also less and the paddling is a little more squirrely than the RPC buuuuuut it's still an awesome value board. It's compact too, it's light, the accessories are decent and it's durable.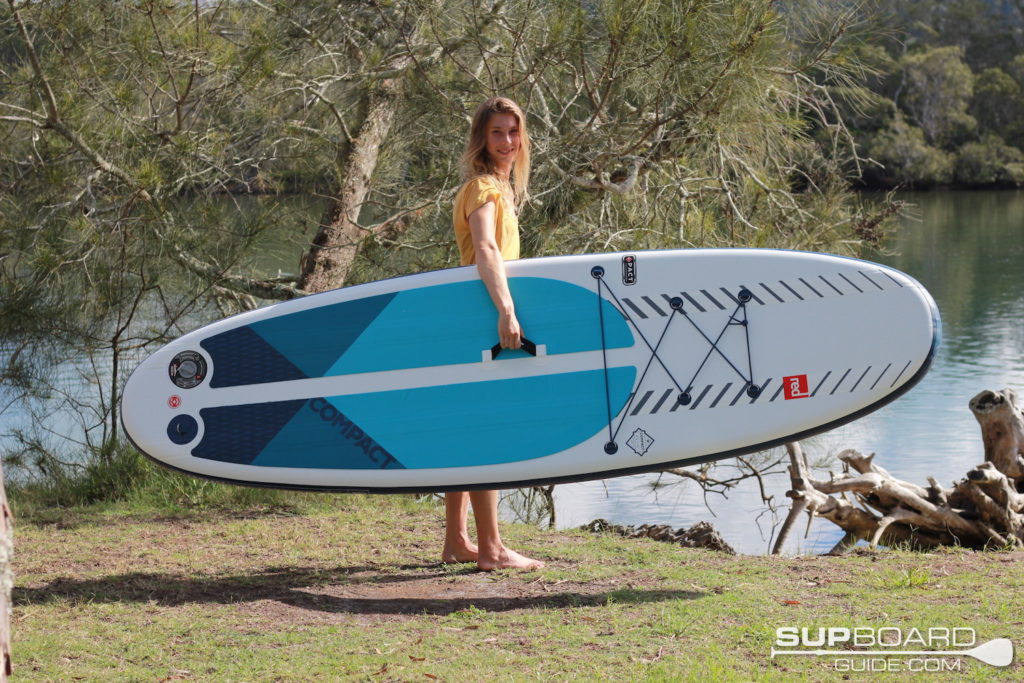 However, if you are able to fork it out for a RPC Compact, well you are in for a real treat! Red Paddle Co has a 2 year warranty on their boards and the customer service is great – quick to respond and helpful. They do have separate representatives across the world, so look up Red Paddle Co in your country.
The following two tabs change content below.
SupBoardGuide
Heyo! At SupBoardGuide.com we are a team who love the water, the outdoors, and are more than grateful that our full-time job allows us to review stand up paddle boards. We paddle year round (it helps that we are just about 2 hours outside of Las Vegas), and we bring in a wide range of paddlers with the goal of providing our readers with the best, most in-depth, and accurate stand up paddle board reviews.
Latest posts by SupBoardGuide (see all)