BOTE Rack Aero 12'4 Inflatable FIshing SUP
Pros
Absolutely massive iSUP, easily holding 400lbs or more.
All the features and extras BOTE has to offer are available for this iSUP.
Truly a SUP fisherman's perfect iSUP.
Great for families and pets.
Cons
This is a massive iSUP (45lbs), make sure you have a way to transport it effectively.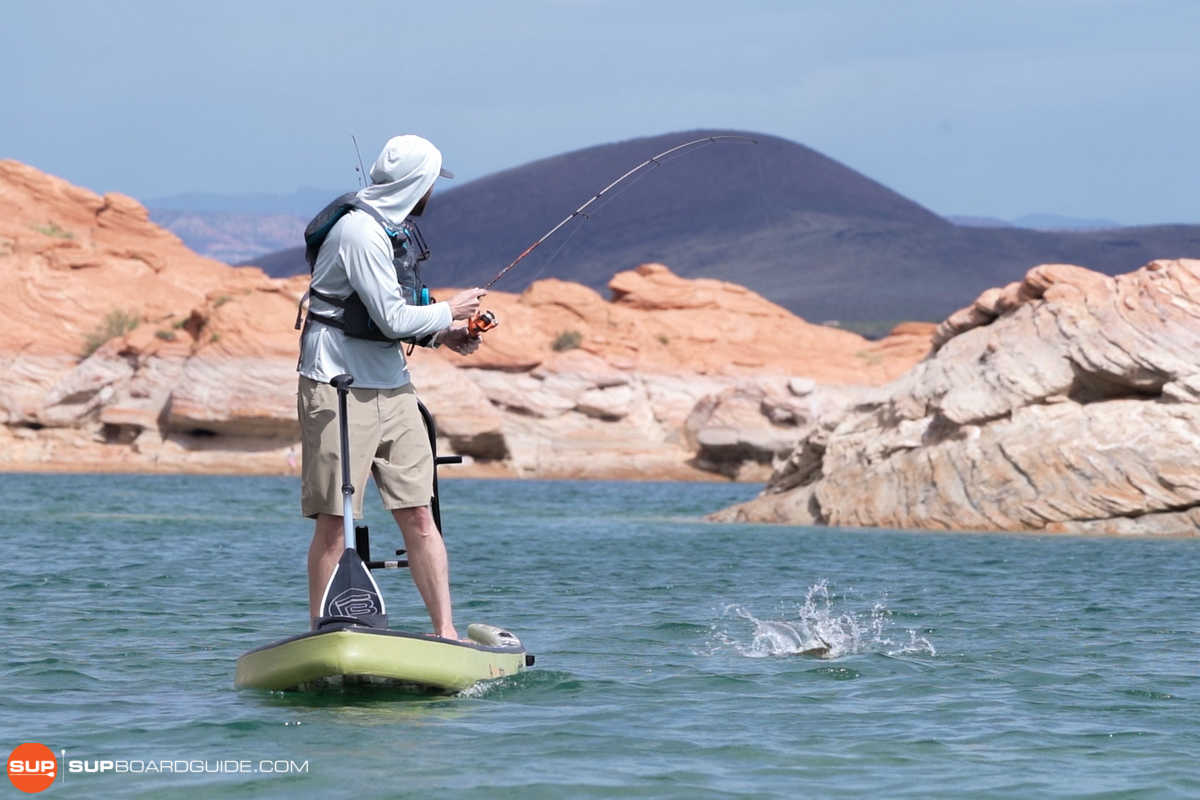 The BOTE Rackham Aero 12'4" iSUP is every paddle board fisher's dream. In this review we are going to show you just how jam packed with features and accessories this craft really is. It's not only great for SUP fishing but it can be the most fun party barge you've ever set foot on too! With an unbelievable 400 lb capacity you should have no problem bringing everything you need for a great day on the water. Besides that its overall shape and slightly recessed deck make for an extremely stable paddling experience. This is one board, we dare to say, anybody could learn to SUP on.
We think the BOTE Rackham Aero 12'4" would be great for paddlers who
Want a top of the line fishing iSUP
Want all the bells and whistles a stand up paddle board can have.
Want a quality made, extremely stable iSUP great for all paddler levels
Need a board with high weight capacity (435 lbs)
Would like to paddle with kids and/or additional gear
Want to load their SUP with all kinds of accessories for a fun day out on the water
We think the BOTE Rackham Aero 12'4" is great for the following water conditions/situations:
Flat water paddling (lakes, bays, marinas, etc.)
Recreational paddling (beginners, just paddling around flat water w/ friends and kids)
Calm ocean paddling
BOTE Rackham Aero 12'4" Review: Overview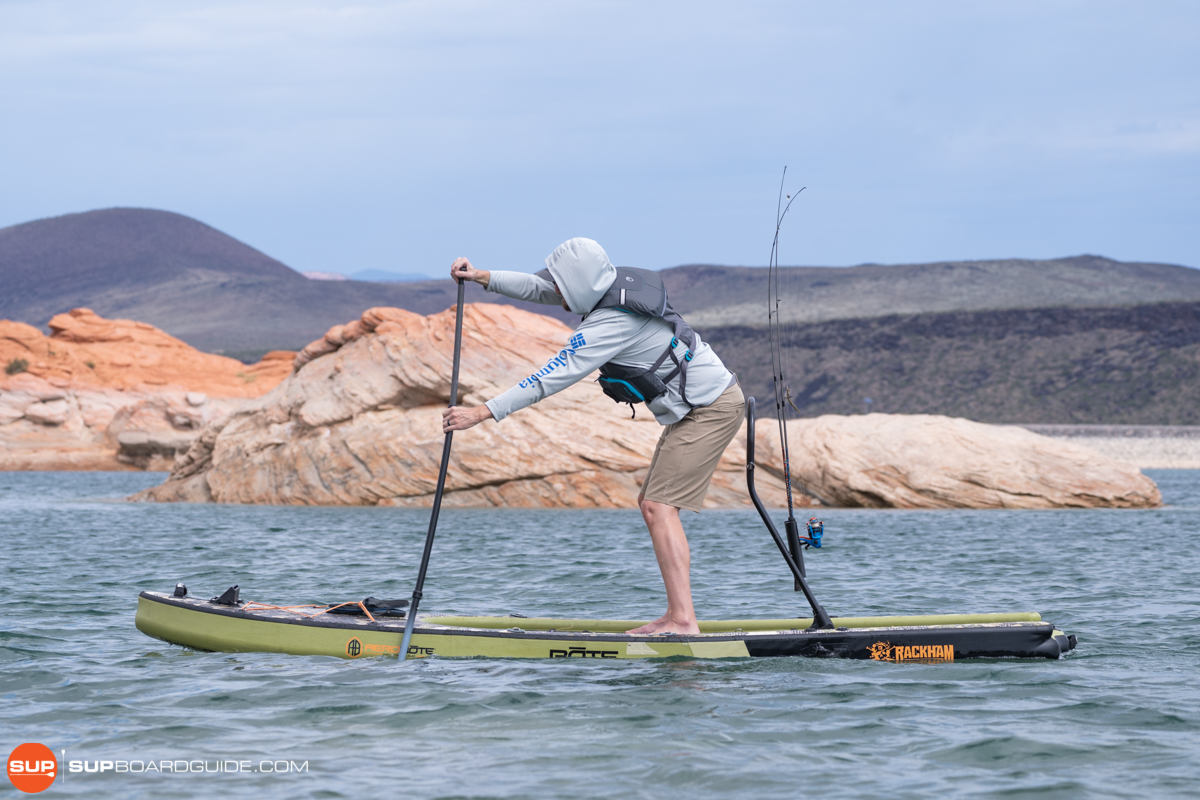 Note: We paddle a lot. In fact, you may say we paddle a bit too much! But it's ok, we do it in the name of properly reviewing each and every stand up paddle board we get our hands on. We do our best to take them out in every condition conceivable and then update our reviews with any new information or thoughts. If you have questions, we probably have the answers. Don't hesitate to ask us, it's what we love afterall.
BOTE Rackham Aero 12'4": Spec Sheet
Main Category: All-Around, Inflatable
Board Dimensions: 12'4" x 34" x 7"
Listed Board Weight: 45 lbs
Listed Max Capacity: 400 lbs
Recommended PSI: 10-15 PSI
Fins: 1 removable center fin, 2 integrated "side bite" fins
Paddle: 3 piece adjustable
Materials: AEROTECH AeroBOTE inflatable technology
Price Range: High End
Warranty: 2 year, 30 day money back guarantee
Official SupBoardGuide.com Test Results: BOTE Rackham Aero 12'4" (2023 model)
Overall Score: 9.5/10
The BOTE Rackham Aero 12'4" is truly an impressive board to behold. You can tell the designers at BOTE really focused on it to be the best fishing platform possible. With its plethora of attachments and included features, as well as its wide and recessed deck this is truly the Cadillac of fishing SUPs. Don't worry though, its functional prowess extends far beyond fishing. With nearly every single accessory option BOTE offers this board can be outfitted for just about any paddling trip. Overnight trips, multi passenger rides, even a flotilla extravaganza. In a word, this iSUP can just about do it all.
Stability: 9.8/10
Speed: 8.2/10
Tracking: 8.7/10
Maneuverability: 8.0/10
Construction Quality: 9.4/10
Features/Accessories: 9.9/10
Our overall rating of 9.5/10 for the BOTE Rackham Aero 12'4" may seem excessive at first but let's break down some of the key reasons. First, it is hands down the best fishing iSUP we have ever reviewed. Second, with a slightly recessed deck and 38" of width this iSUP is stable enough for even the most novice of paddlers. We have no doubt that anyone who wants to try stand up paddle boarding for the first time will have a good experience with this board in most appropriate water conditions. Finally, and here is where it's important to realize the scope of BOTE's accessory lineup, it can be outfitted to do anything. Coolers, racks, bungees, sand spears, electric power sources, you name it this board has a spot especially reserved for it. We think this board is an amazing piece of stand up paddling equipment most anyone would be lucky to own.
In-Depth Review of the BOTE Rackham Aero 12'4" Stand Up Paddle Board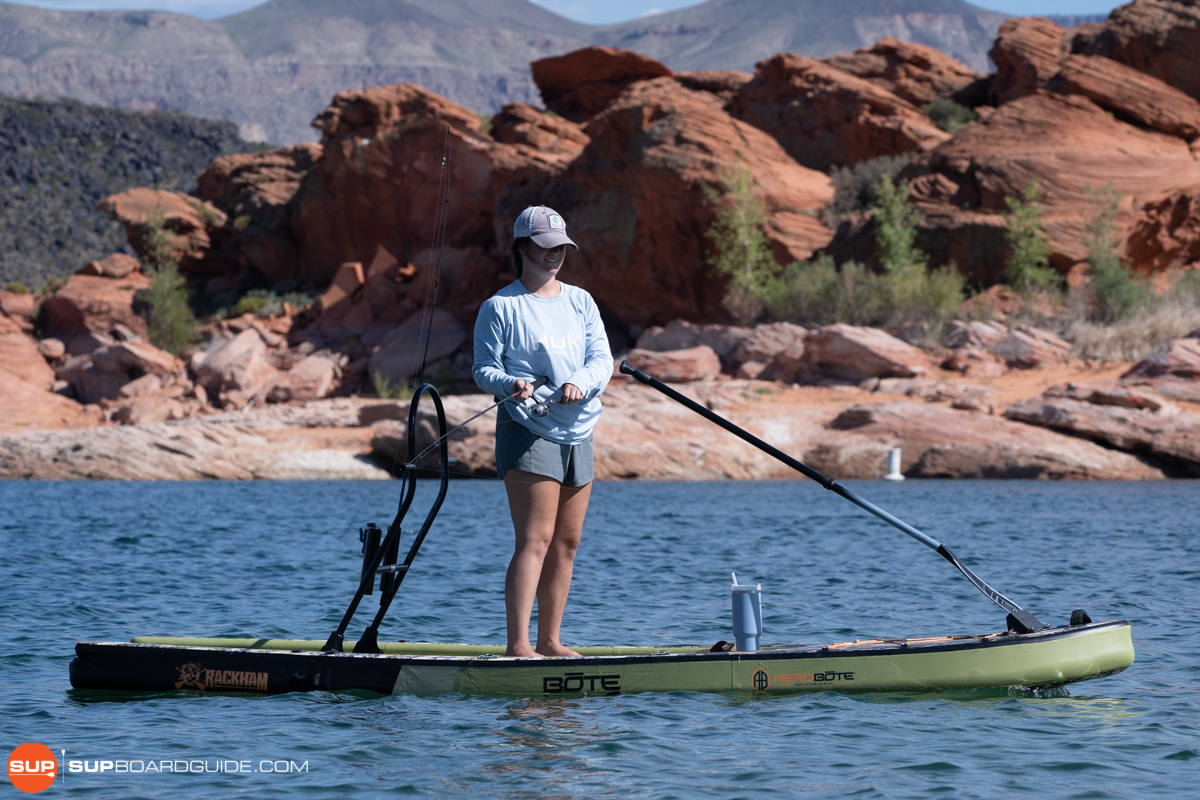 The BOTE Rackham Aero is one heck of a sturdy board. It's easy to see that it's main purpose was as a fishing SUP, but that is not where it's great qualities stop. Being so massive, this board has incredible stability and a staggering 400lb weight capacity. But even all of that is not the end of this board's amazing qualities. We can honestly say the BOTE Rackham Aero is one of the most fully loaded iSUP we have ever tested. This SUP has accessories for its accessories.
Regardless of why you buy the BOTE Rackham Aero, know this. It will be able to accommodate just about any adventure you can dream up. So go ahead, go fishing, go overnight camping, bring a child, or two. If you can dream it, this board can probably do it and do it well with the right accessories.
Stability Rating: 9.8/10
Stability is one of the first things we look for in a stand up paddle board. With the BOTE Rackham Aero, there is an abundance of stability. Like we have mentioned this board is just massive for an inflatable. It's actually 7 inches thick as compared to the industry standard 6. There is a recessed deck lowering your overall center of gravity in addition to it's 38 inch width. If it wasn't for all the mounting points and accessories all over this board we think you could dance on it.
If you've ever wondered why we put this rating first it's simple. Stability is one of the single most crucial aspects for picking a stand up paddle board. We are not saying stability is necessary for a paddle board but as a paddle boarder it is important to have an idea how stable the board you are looking to purchase really is.
Weight Capacity:
Tested Capacity: (coming soon)
Weight capacity and stability often go hand in hand. With a high level of stability a paddle board usually has a fairly high weight capacity. The BOTE Rackham Aero is no exception, with its massive volume it has a listed weight capacity of 400lbs and once we get multiple staff writers together we will put that to the test. Though, to be completely honest, based on its dimensions and size we don't think it will have any problems holding that and maybe even more.
Speed Test: 8.2/10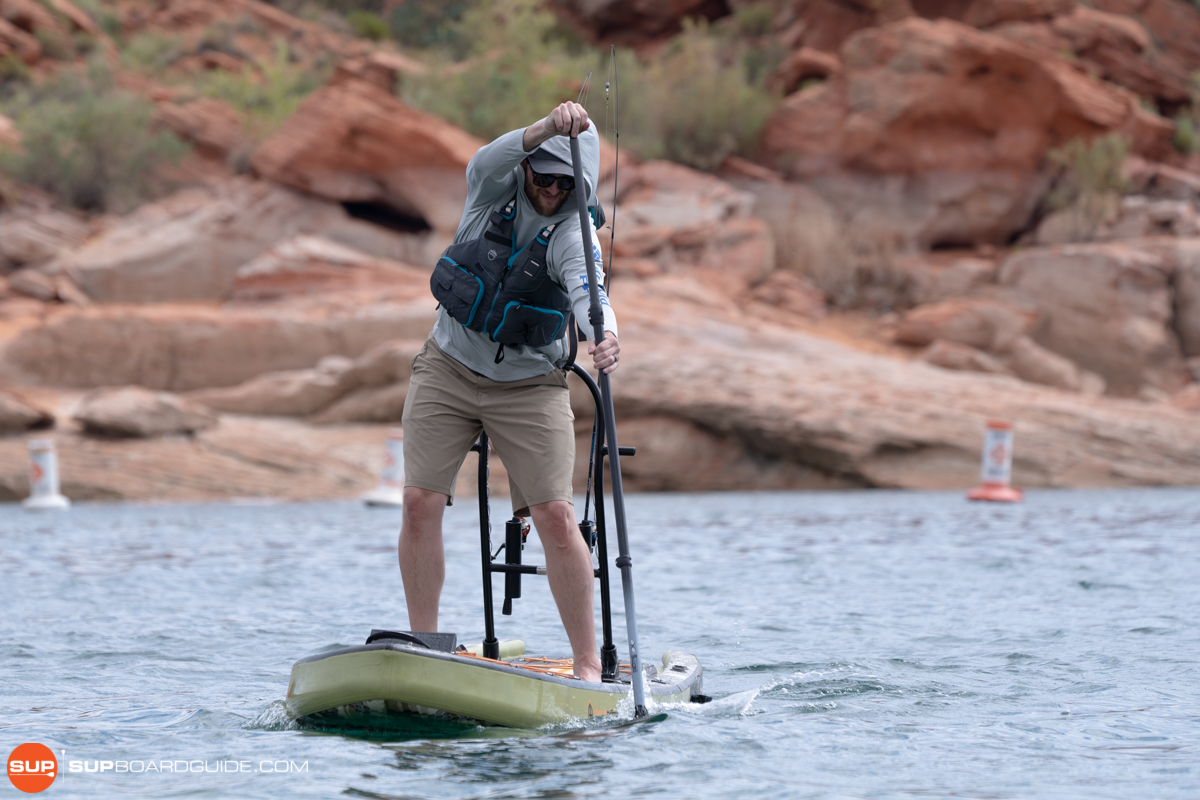 The BOTE Rackham Aero 12'4" is really not meant to move super fast through the water. It is a stable and sturdy fishing platform. While BOTE boards are well designed, there is only so much you can do with a board of this size. Don't think you will be left behind by your friends while on the water. Just understand that this board will take significantly more energy to get up to speed and to keep it at that pace.
Tracking: 7.7/10
The BOTE Rackham Aero 12'4" comes with a removable center fin in addition to the permanently mounted "side bite" fins BOTE includes on most of their iSUPs. We are especially fond of the 3 fin setup when it comes to tracking capabilities. Most of the boards with this 3 fin design do a great job of tracking straight. This often has other secondary effects such as a higher acceleration as you spend less time switching between sides. Though with a board this big that may not be the case it certainly responds well to where you direct it. If we could give BOTE any suggestions it would be to go with slightly larger and removable side bites. We often find difficulty with permanently attached fins in the other aspects of iSUP ownership such as transportation and storage.
Maneuverability: 8/10
Ok, so we have already talked about how big this board is. At 38 inches wide it's quite massive. The physics behind that translate into a SUP that takes a good deal of thought and energy to direct. Don't mistake that statement because once in the correct direction it just goes – but, it's a lot of board to move around on the water. Especially when loaded down like it's really intended to be, you will find yourself using some unconventional turning techniques such as braced back paddling and cross body strokes to direct yourself. This is probably a lot of board to handle if you're a smaller paddler or if you weigh under 150lbs.
Construction Quality: 9.4/10
BOTE is well known for bringing great quality and designs to all of their inflatables and the Rackham Aero is no exception.
This fishing geared SUP is constructed with a dense linear drop stitch core and encased in a PVC exterior. While that construction is fairly standard for inflatable SUPs, the Rackham is set apart by it's dual chamber design. The two separate air chambers are what enables this SUP to have a recessed deck, which is one of the main contributors to the Rackham's insane level of stability.
On top of this SUPs solid foundation, BOTE even worked in loads of accessory mounting points and even upgraded the Rackham to have a viewing hole on the deck that can double as a spot for their APEX Pedal Drive system.
Board Stiffness: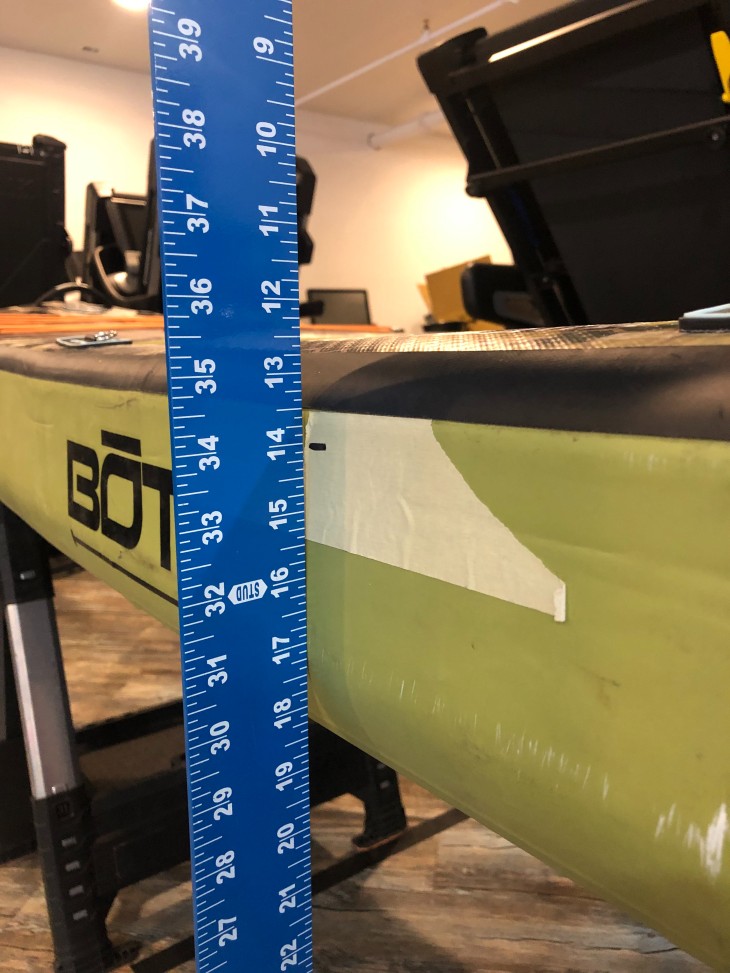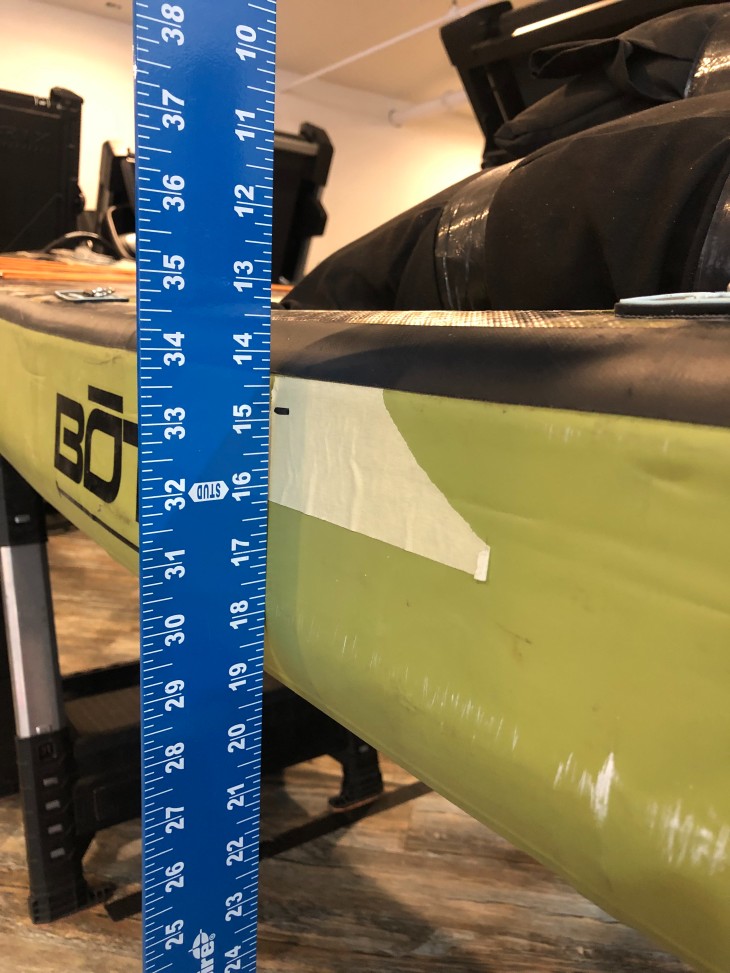 Stiffness Test: 1.0" Bend
Our bend test is carried out by first placing the SUP on top of 2 sawhorses spaced 7 feet apart. We then place 150 lbs at the SUPs midpoint and mesure how much the board bends under the weight. While this is not replicative of how the board would perform in the water, it does give us an unbiased and quantitative way to compare construction methods and understand how they contribute to stiffness.
The BOTE Rackham Aero only flexed ~1" in our bend test, which is on par with other 'large SUPs' we've tested. Initially, I would've expected the Rackham Aero to flex even less than 1", given how heavy it is, but I'd attribute a good portion of it's weight to it's vast array of features and add-ons, rather than to heavy construction materials.
Features/Accessory Review: 9.9/10
Features: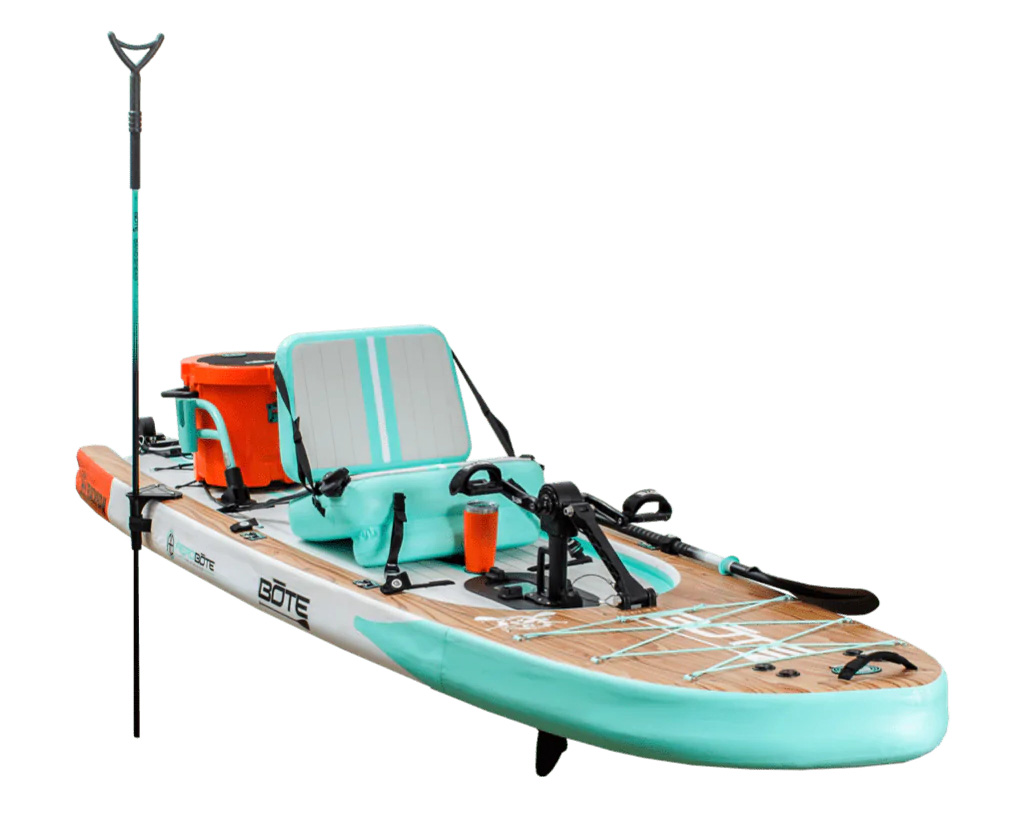 There are few boards that bring us concern over the simple fact that they have so many features we may forget something by accident. The BOTE Rackham Aero is one of those boards.
So, to avoid missing anything, we'll start at the nose and work our way to the tail. The Rackham Aero is equipped from a front carry handle, paddle sheath mounting points, a large front cargo area, a viewing window/pedal drive slot, magnepod cup holder, kayak seat attachment points, KULA (cooler) anchor points, 2 scotty mounts, a rear cargo area, and a mount for an outboard trolling motor. Along the rails of the Rackham, BOTE also included velcro paddle holders, as well as a sand spear mounting point.
Included Accessories:
Admittedly, I was saving this section for last. It's a long list and I want to ensure nothing gets left out. I would also like to point out that several of the included accessories are merely jumping points for their purchase-optional features and equipment that we will discuss in a later section. The BOTE Rackham Aero 12'4" comes with:
3 Piece adjustable paddle
10" removable Aero center fin
Pair of slide in Aero rack receivers
Removable Aero paddle sheath
Removable Aero sand spear sheath
Aero repair kit
Hand pump
Rolling travel bag
This board really does come with quite a lot of equipment. It's no wonder that they choose to go the rolling bag route and not try to make a backpack out of the nearly 75 lbs of gear. We will look closer at a few of the main pieces below but this is a fairly large kit.
We also want to note that we'd like to see BOTE include a leash in the future; it's more of a safety matter when it comes to SUP'ing.
Paddle:
The BOTE Rackham Aero comes with a 3 piece adjustable SUP paddle. It is a standard kit piece and is well made though some of the reviewers remarked it felt heavier than most kit paddles. It is constructed from a fiberglass shaft and the blade is made out of high quality ABS plastic. We liked how solid the blade was as we found ourselves using it more often than not to push off the shore or some other obstacle in the water. Could it be better, yes just look at the Nixy Sports kit piece. But we think it's well suited for the kit that it comes with. The whole Rackham series is really focused on SUP fishing and lots of equipment. A more delicate paddle would feel out of place here anyway.
Pump:
The BOTE Rackham Aero comes with an acceptable manual pump. It's a dual stage single chamber unit that is fairly large. It does the job as needed but the last few PSI is always going to be a struggle for lighter and smaller paddlers. We much prefer the new crop of dual chamber 3 stage pumps found on many new iSUP kits. Yes this pump will get the job done but we feel some may have to really sweat out the last few PSI.
We will ALWAYS recommend an electric SUP pump whether it be BOTE's model or any from our favorite list HERE. Especially with an iSUP this size you will thank us for all the sweat and tears you save while preparing the rest of the gear for your water journey.
Bag: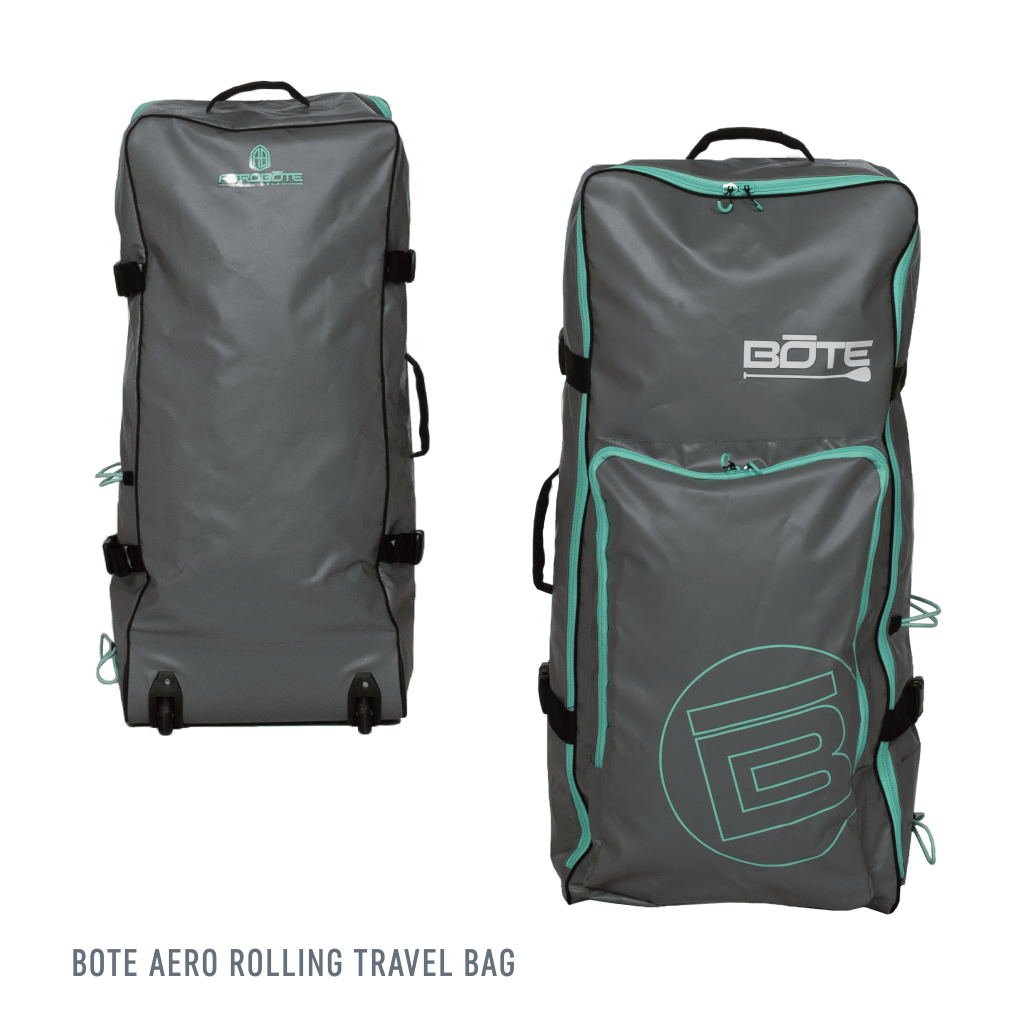 BOTE includes a very nice rolling travel bag. They use a unique material that feels waterproof and is also extremely sturdy and durable. The bag itself is fairly simple with one main pocket and a large single exterior pocket. This is a great place for storing fins or any other small accessories that may make their way into your permanent paddling gear. The exterior of the bag also has some specialty straps that look like they are designed to effectively hold your manual pump. It has a handle on the top and one on the side for moving it around when you're loading up. We think the idea to forgo the backpack setup was a good one considering this board's overall weight and the weight of all the kit items. BOTE themselves say the loaded bag with all equipment weighs nearly 70 lbs. We will roll this one thank you very much.
Optional Accessories:
This is the part of the review where things are going to get a bit messy. You see the BOTE Rackham Aero comes standard with a lot of features and accessories. However the mad scientists at BOTE keep cooking up newer and more exciting accessories every day. This iSUP comes with the starting blocks to really customize itself to fit most any situation. Here are some of our absolute favorite pieces:
Any of the MagnaPOD drinkware (there is a lot to choose from)
Travel Link carry sling (a must if your going to lug this thing around solo)
Wheel Rac (another self carry option)
Power Rac (the coolest of the RAC attachments by far)
Bucket RAC (for their proprietary KULA buckets)
Any of the KULA coolers
Sandspear (powered or manual)
Any of their Highwater bags (water proof)
You can easily get lost in BOTE's extensive list of accessory equipment. They really work hard to make the paddling experience truly customizable to your specific needs and wants.
Summary Review of the BOTE Rackham Aero 12'4" (2023 model)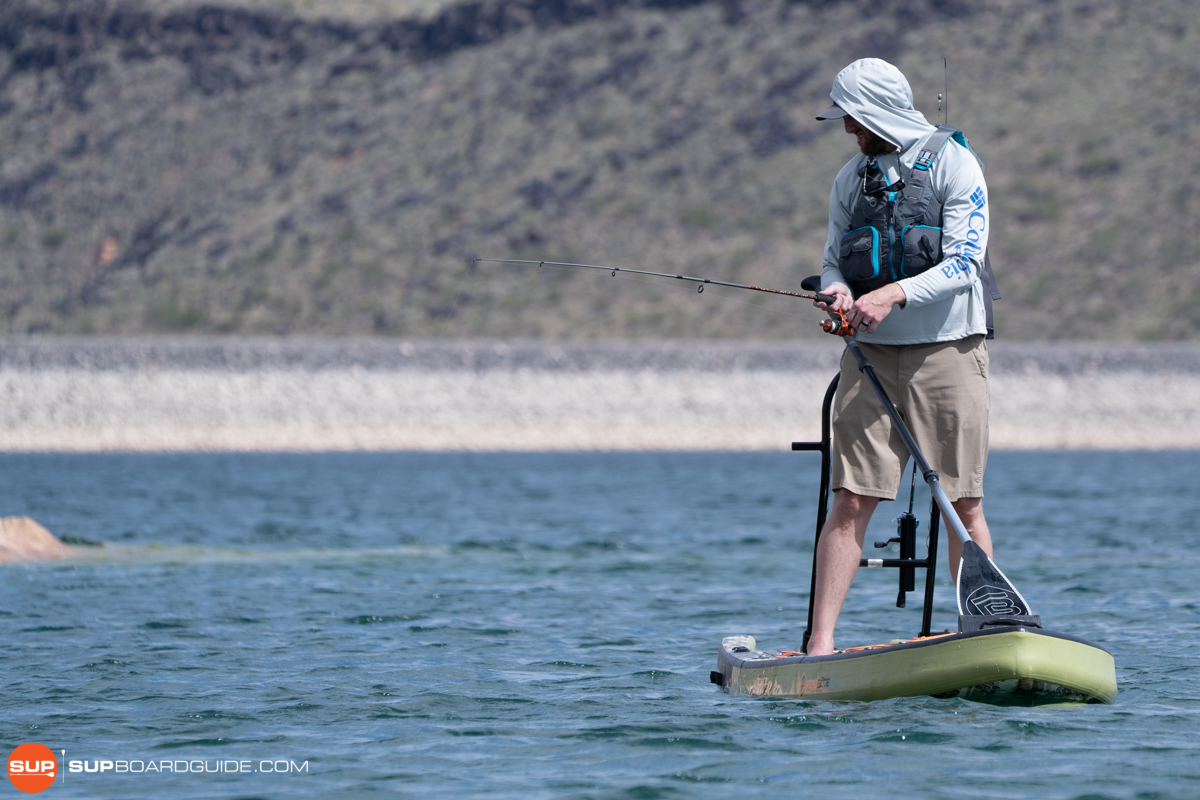 Taken for what it is designed to do, the BOTE Rackham Aero 12'4" is an amazing SUP fishing platform. It has the capability to take just about anything you would need on your fishing trip. Moving beyond its main focus this iSUP is also a great choice as a party barge type craft as it can hold lots of equipment and accessories to make your paddling time exactly what you want it to be.
Yes it's heavy and yes it's somewhat difficult to move around, but this board is less concerned with that and more concerned that you won't forget that vital piece of equipment for your day on the water. Combined with BOTE's commitment to quality construction this is a fantastic all around board for families and those looking to take loads of gear and equipment with them.
We hope you enjoyed this review of the BOTE Rackham Aero 12'4" and if you have any comments or questions please let us know below. As always we are happy to answer any questions you may have about this SUP and any of the boards we have reviewed. Until we meet you out on the water, Happy Paddling!
The following two tabs change content below.
SupBoardGuide
Heyo! At SupBoardGuide.com we are a team who love the water, the outdoors, and are more than grateful that our full-time job allows us to review stand up paddle boards. We paddle year round (it helps that we are just about 2 hours outside of Las Vegas), and we bring in a wide range of paddlers with the goal of providing our readers with the best, most in-depth, and accurate stand up paddle board reviews.
Latest posts by SupBoardGuide (see all)