Tower 10'4" S-Class iSUP Review
Pros
It cuts through the water nicely and can handle mild chop thanks to the touring-style nose (pointed) and the 4-inch nose rocker.
Lighter than most Tower boards to the use of fusion construction. It's about 5-6 lbs lighter than the non-fusion Tower boards.
Easy to maneuver due to being 10'4x32.
A comfortable and thick deck pad provides comfort for your feet and has nice ridges for grip.
Utilitarian design - it's practical and functional without having extra frills.
Most Affordable SUP from Tower
Cons
We'd prefer a more modern center fin system, and the board could probably do without the side fins.
We don't believe this board is operating to its full tracking, speed, and stability potential at just 10'4" - we would prefer to see it increased to an 11' SUP.
The first lightweight, fusion SUP from Tower, one of the original brands to push inflatable SUPs to the mass market.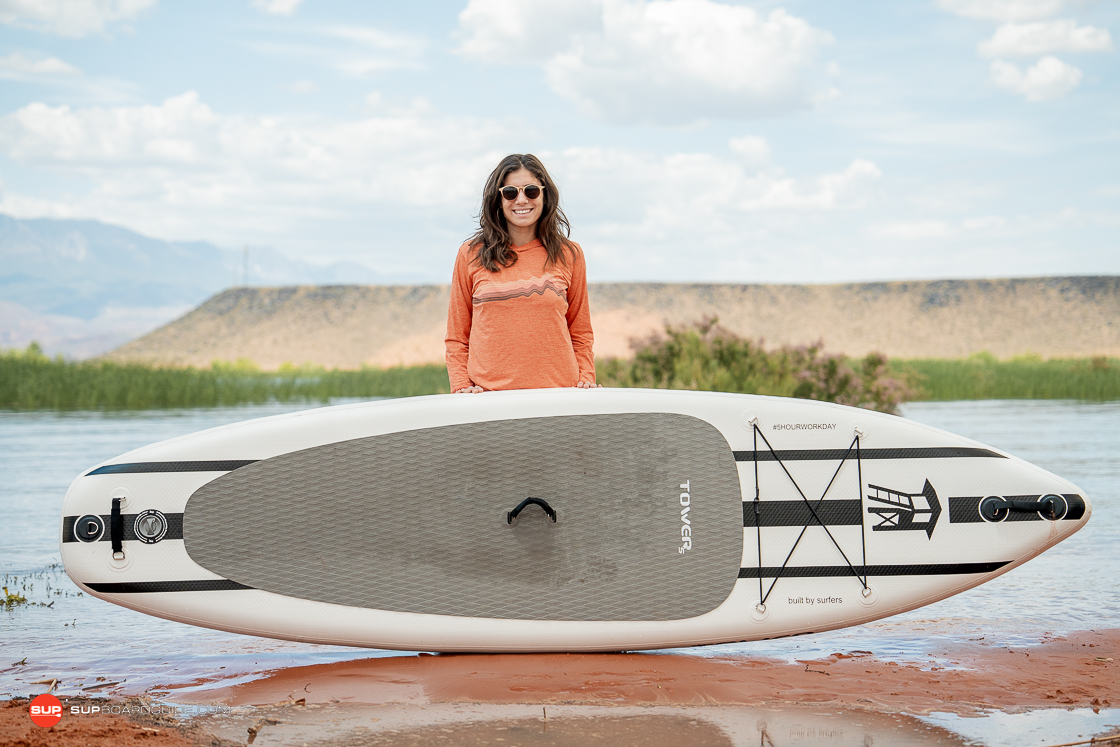 The Tower S-class 10'4 all around is Tower's first lightweight fusion iSUP, but still keeps the same shape and design as previous Tower boards. What stood out from the beginning of my review of the Tower S-Class iSUP is how it is considerably lighter (20 lbs as opposed to 26 lbs) than the other non-Fusion Tower boards, and the performance benefits accordingly.
At 10'4'' x 32'' x 6'', it is a good size for smaller to average-sized paddlers. The 32'' wide zone extends towards the tip and tail for good stability, and it has a touring-shaped nose that navigates well in choppy conditions. Overall, on the water, it has a lively, responsive feel and is quite maneuverable.
We think the Tower 10'4 S-Class would be a great SUP for paddlers who:
Are smaller – average-sized paddlers looking for a more sporty and maneuverable SUP
Want a lightweight board by Tower (20 lbs)
Appreciate a touring-shaped nose on an all-around board
Prefer a simple and clean deck pad with a classic look
Tower 10'4 S-Class All Around Spec Sheet

Main Category: All-around
Board Dimensions: 10'4 x 32 x 6
Listed Board Weight: 20 lbs
Listed Max Capacity: 275 lbs
Recommended PSI: 15
Fins: 2+1 plastic fins with a removable center fin
Paddle: 3-piece fiberglass adjustable
Materials: PVC fusion
Warranty: 1-year
Performance Review of the Tower 10'4 S-Class Stand Up Paddle Board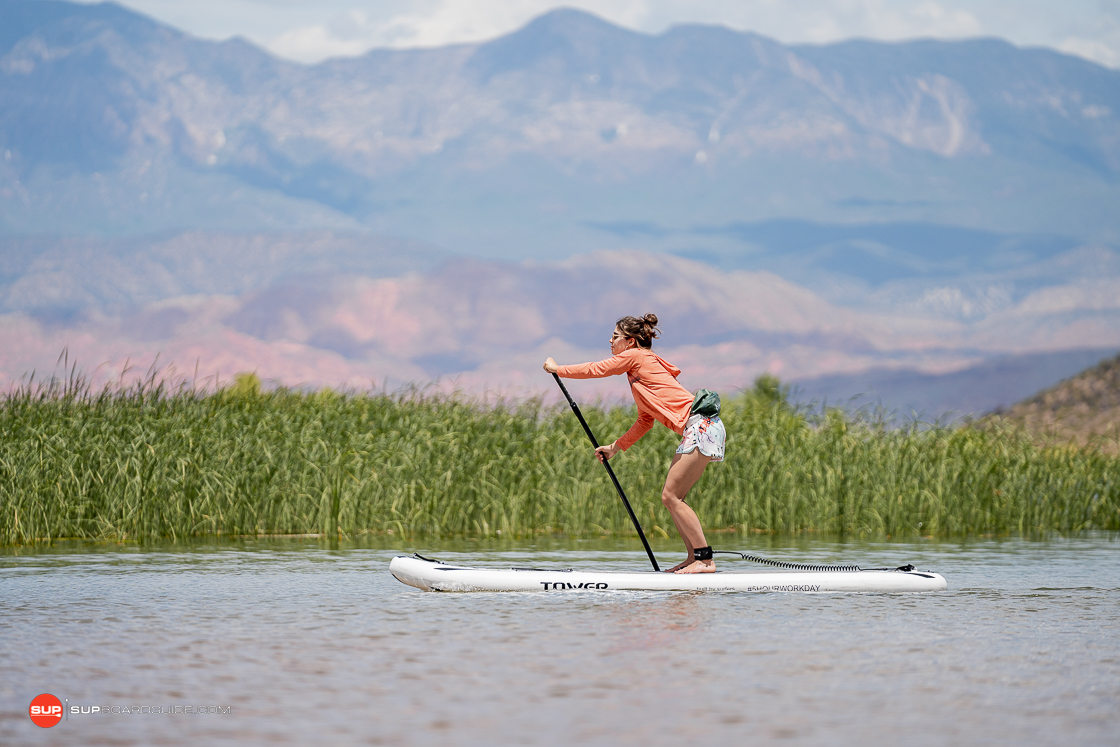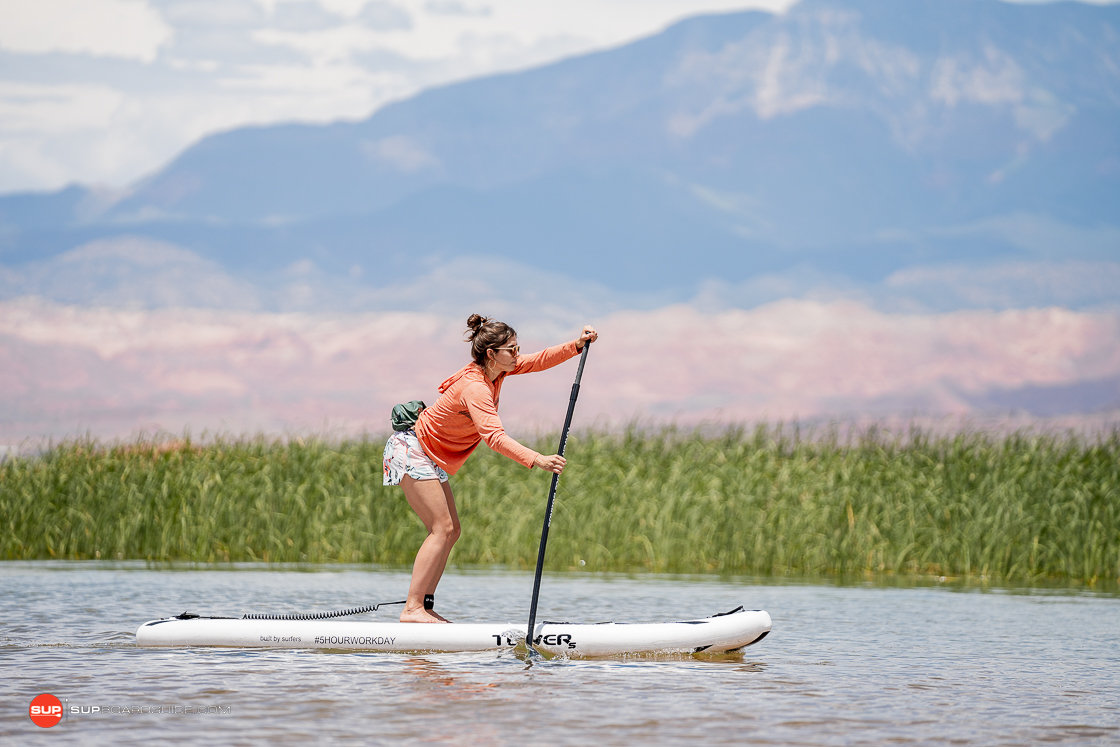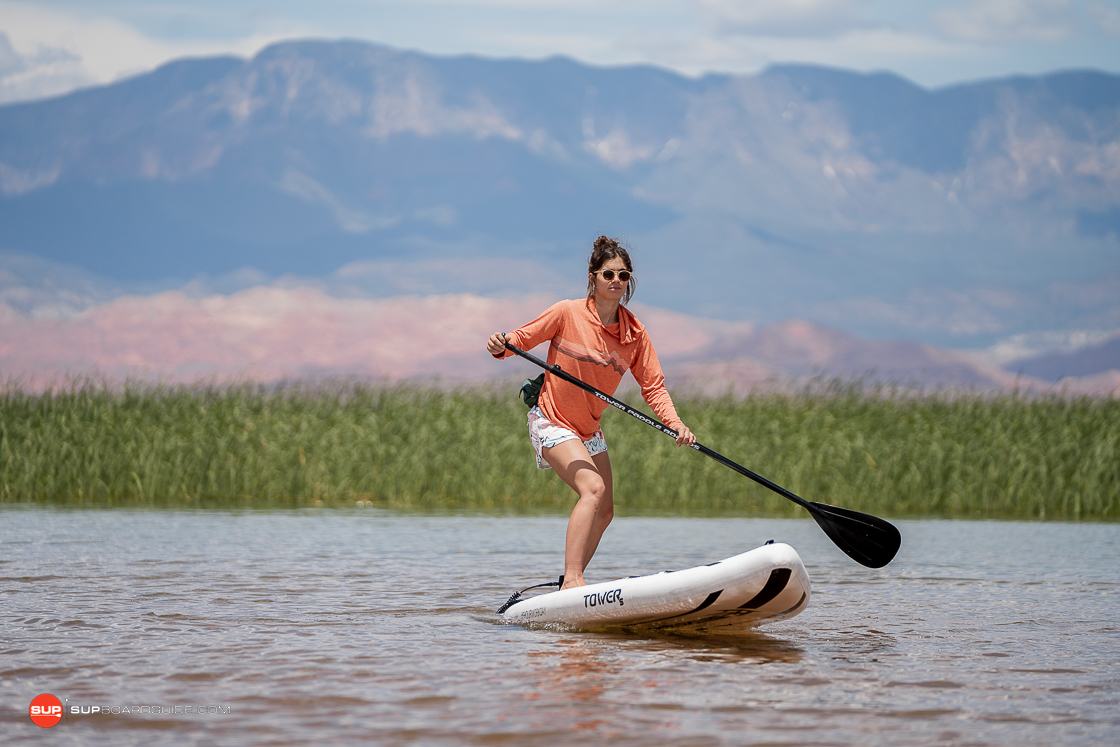 Overall Score: [8/10]
Stability: 8/10
Speed: 7.8/10
Tracking: 7.8/10
Maneuverability: 8.5/10
Construction Quality: 8.2/10
Features/Accessories: 8.2/10
Stability Rating: [8/10]
Thanks to its 32'' wide zone that extends towards the tail and nose of the SUP, the Tower 10'4 is a fairly stable SUP for smaller or averaged-sized folks. Yet, because it has quite a lot of nose rocker the board actually only has about 10' in direct contact with the water. We found this to mean it is less stable for people who reach beyond 190 lbs or 6 ft tall. And it can be especially unstable for those who are over that height and weight and are new to paddleboarding.
Since we really like its plain shape and how it feels on the water, we want to be able to recommend this SUP to everybody. But because it only has a 10' water line and we found our taller/larger testers to feel slightly wobbly on it, we can't confidently do that.
So, we'd recommend that Tower lengthens this board by approximately 8 inches, making it an 11' all-around. By doing this, it will improve the board in three ways: first and foremost stability (for larger paddlers), but also speed and tracking. You can't beat that!
Speed Test: 7.8/10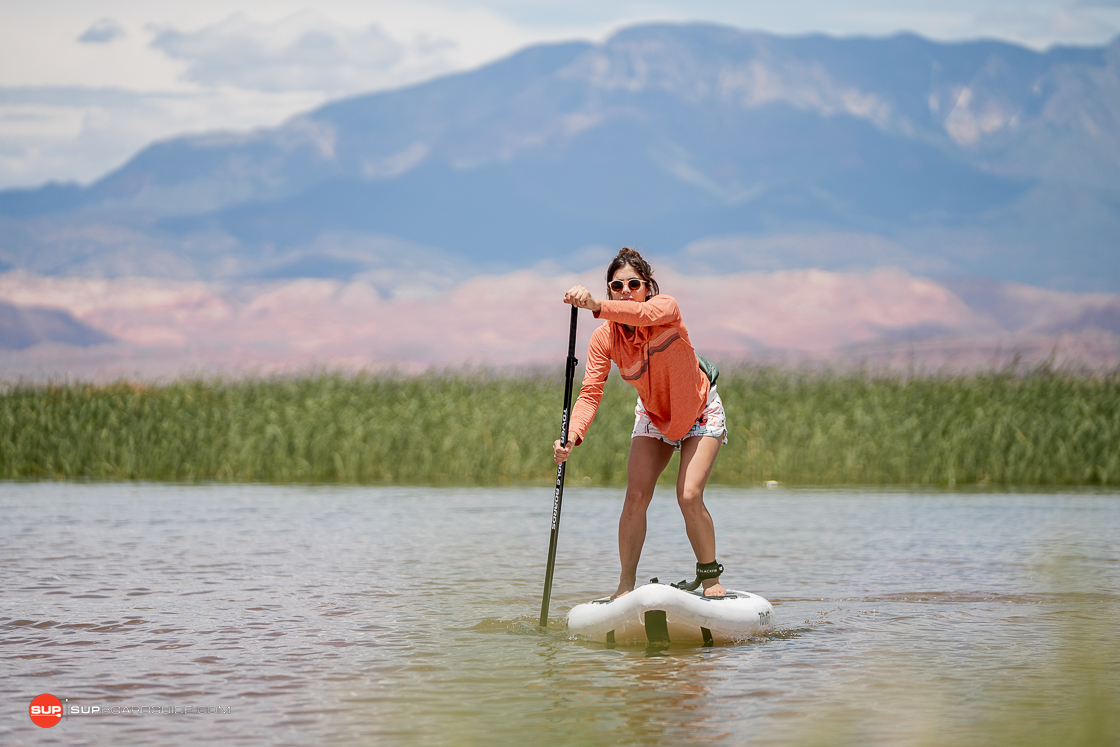 | | |
| --- | --- |
| Top Sprint Speed: | 5.00 MPH |
| Average Cruising Speed: | 3.7 MPH |
SUP Board Guide's Speed Testing:
To obtain our speed test results, we use a Speed Coach Sup 2. This gives us accurate readings on how fast we are paddling and our current stroke rates. For the top sprint speed, we paddle as hard as we can for approximately 10-15 seconds and then record our average speed. For the casual test, we paddle at 40-35 strokes per minute for approximately 30-60 seconds and record the average speed.
We found the Tower 10'4 to perform just about as we expected it to in terms of speed: it isn't slow, but it doesn't blow us away. It can maintain a sufficient cruising speed and the sprint speed is just fine. Something we appreciate and find appealing is that this board is able to get up to speed more quickly than some of the other Tower boards we have tested (like the Tower Adventurer we reviewed), thanks to how lightweight it is (20 lbs).
Tracking: 7.8/10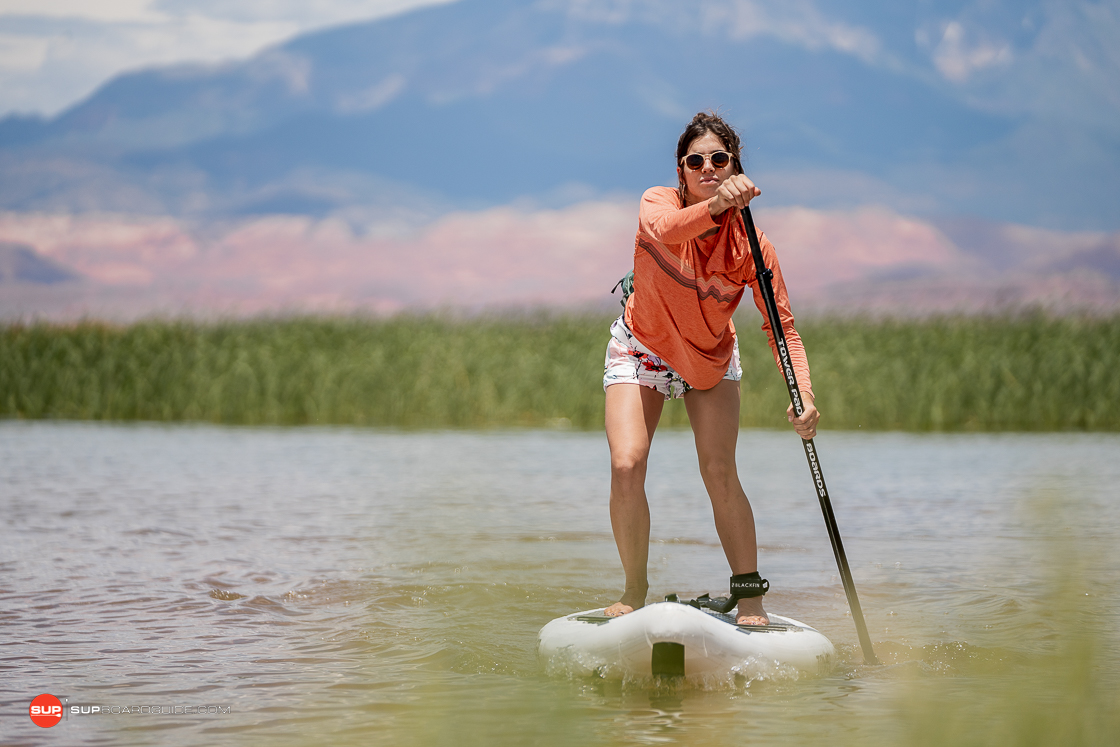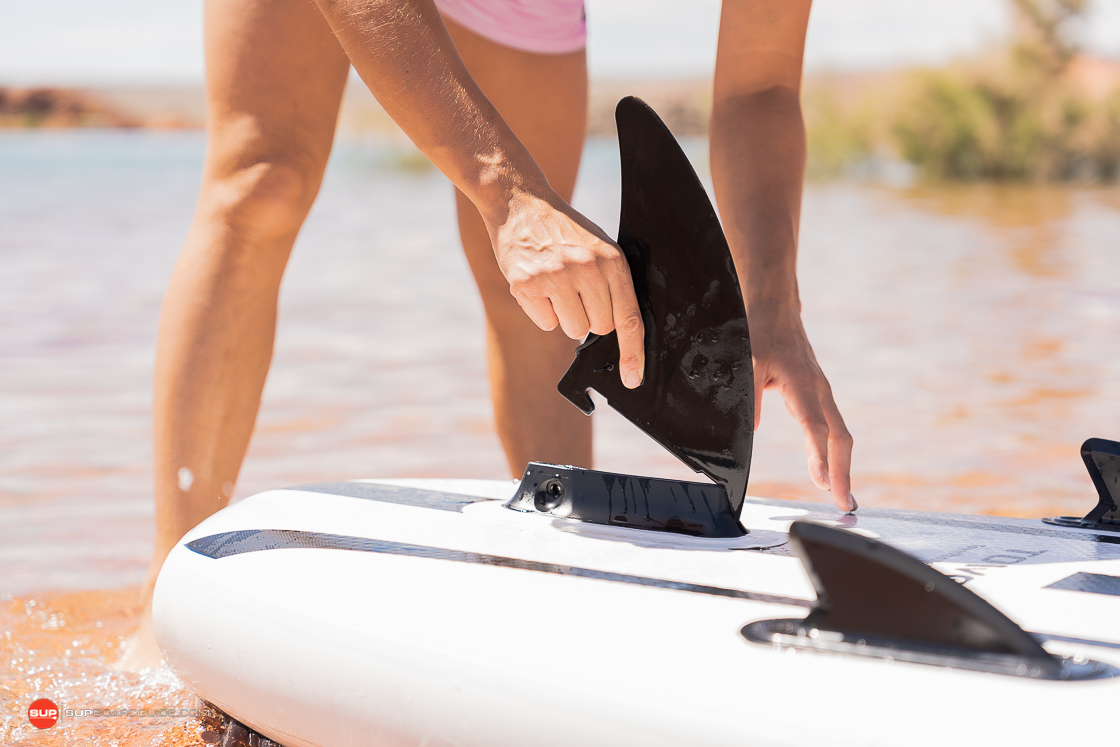 A 10'4 x 32'' SUP with a pronounced nose rocker is always going to be more about maneuverability than tracking, but it still fares reasonably well in this department. Using a bigger fin would improve the tracking further, but Tower's fin box system is not compatible with other fins, so this isn't an option. We would like to see Tower use a more generic fin box design, allowing the use of other fin shapes and sizes.
Maneuverability: 8.5/10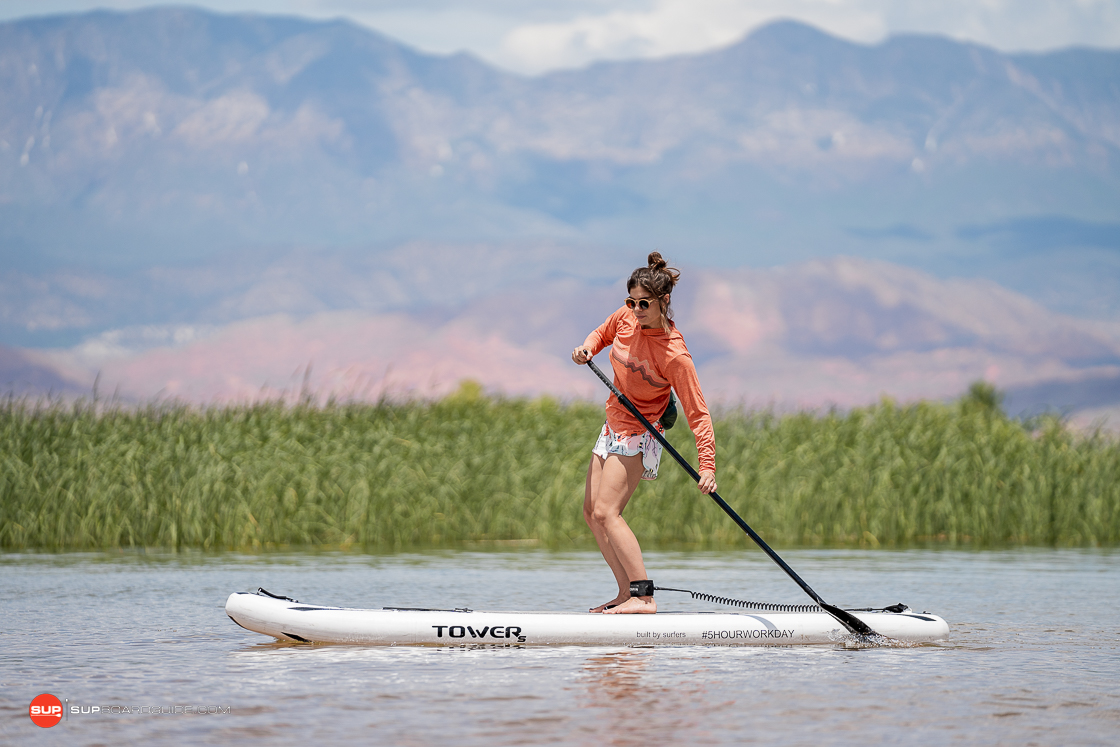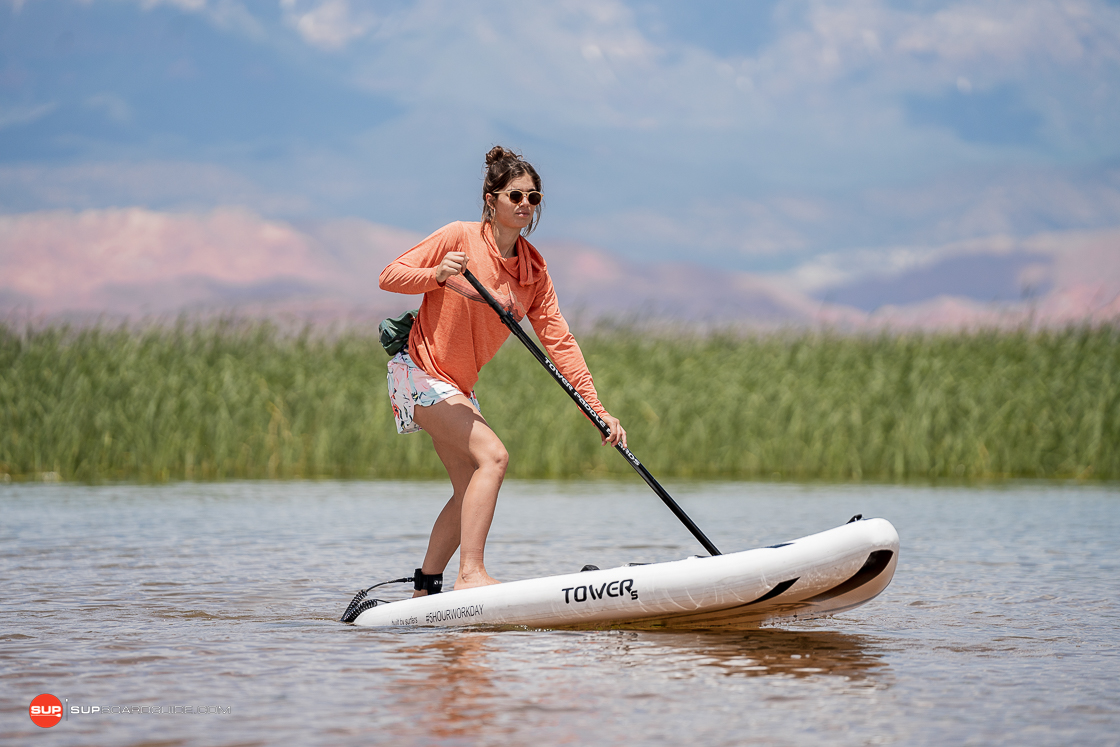 Being shorter than the average all-around board at just 10'4, the Tower is very maneuverable. It only took us on average 4 reverse sweep strokes to turn a full 360 degrees, which is minimal.
As for stepback turns, it's easy to get the board spinning, but if you are a beginner or a taller paddler, then you might feel wobbly when trying to turn the board. This is because it is only 20 lbs, which makes it almost too easy to sink the tail and start turning! But with some practice, you will get the hang of it.
It's important to point out that maneuverability is the one element that would slightly decrease if Tower were to take our recommendation of lengthening the board to 11 feet. However, while we can't say exactly by how much since we haven't tested it at that length, we can predict that it wouldn't be very significant considering just how maneuverable it already is. Plus we have tested plenty of 11' boards that are still very maneuverable.
Construction Quality: 8.2/10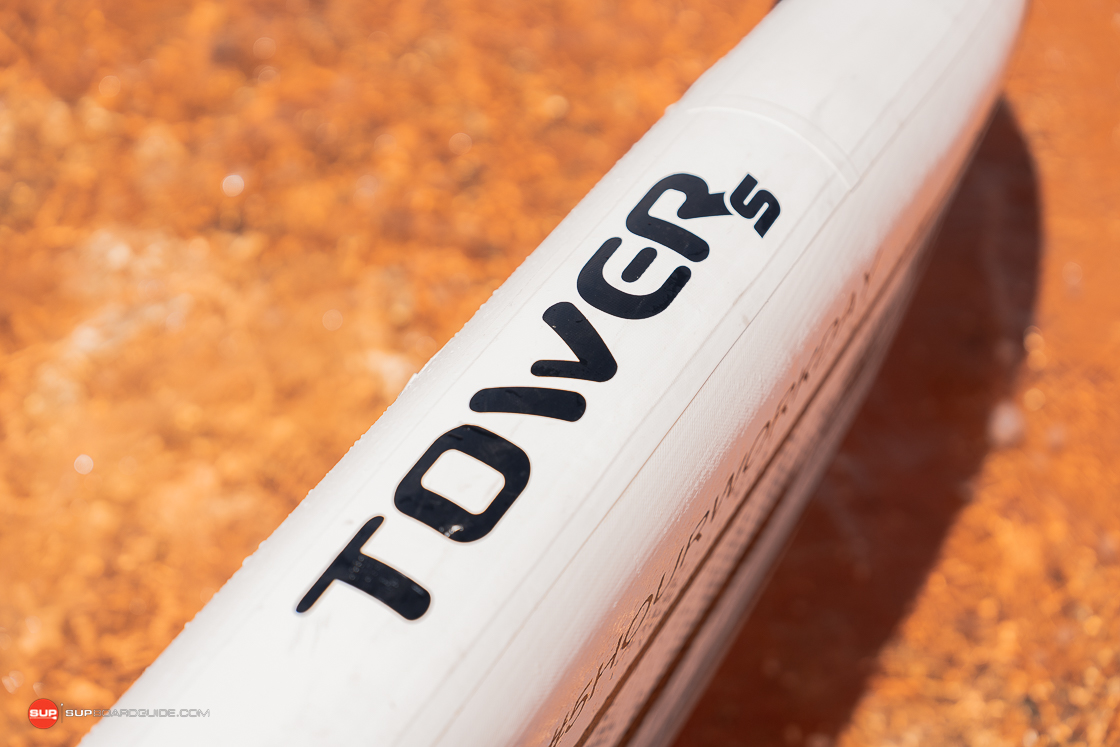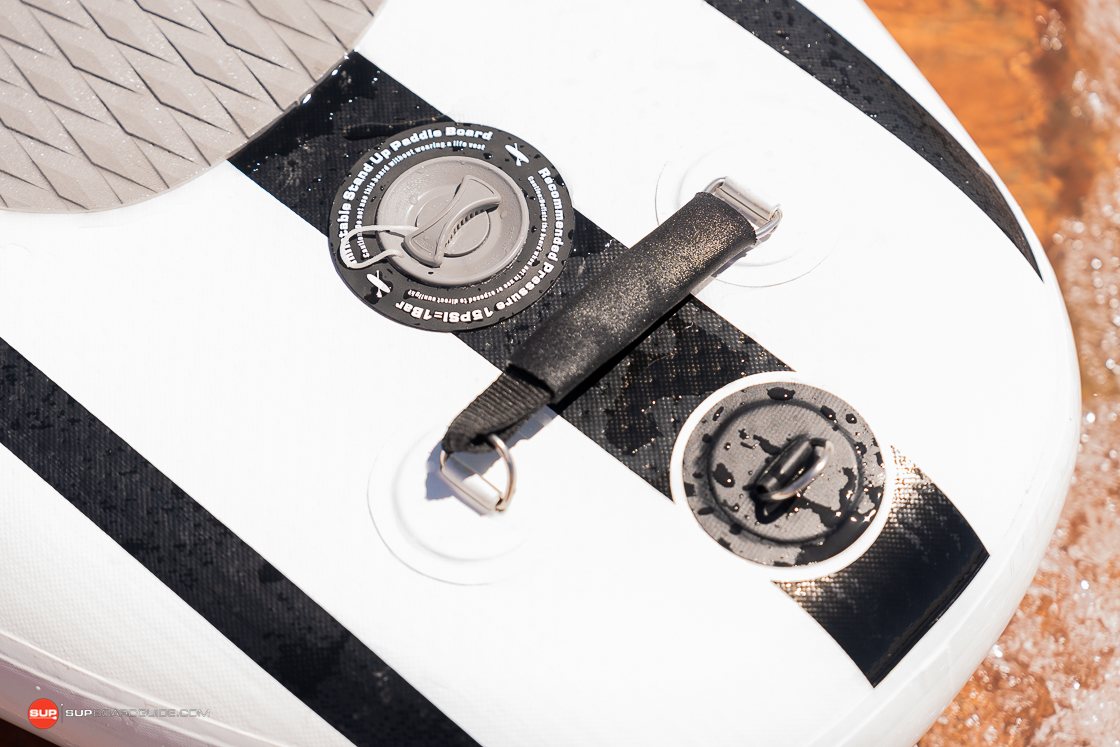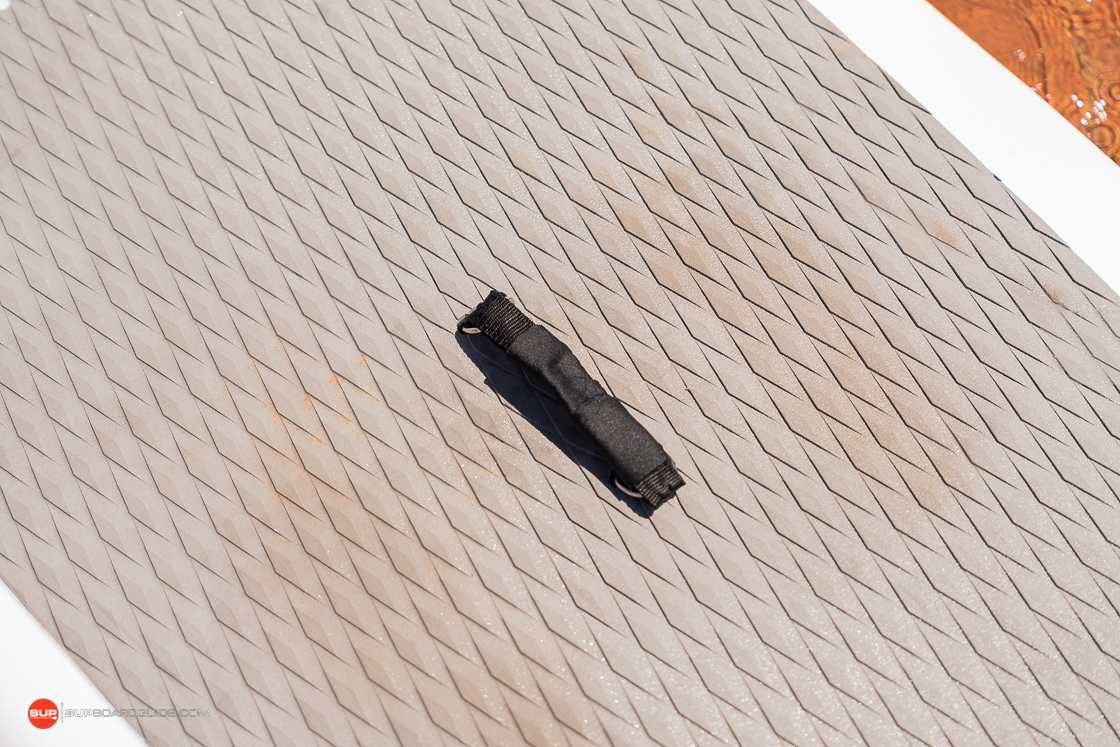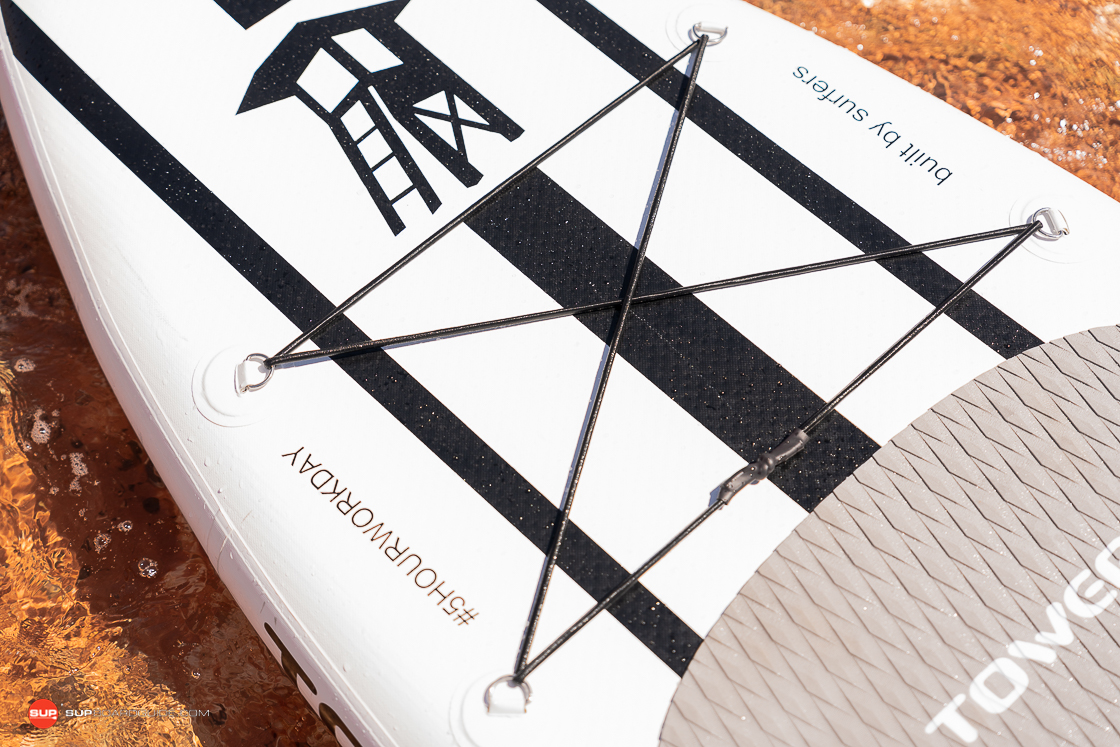 The Tower 10'4 S-Class is the first iSUP Tower constructed using a fusion method. Fusion means using heat and pressure to bond materials together rather than glue. Tower was hesitant about moving to the fusion construction technique because they are wary about the longevity of fusion-based construction, but our team has had a lot of success with fusion iSUPs and we are happy to see Tower moving in this direction. We didn't find any penalties in terms of durability, and we will be very interested to see how long it lasts.
As for how the skin is shaped, it uses two 0.8mm thick PVC layers that sandwich the inner knit-polyester drop-stitch.
Board Stiffness: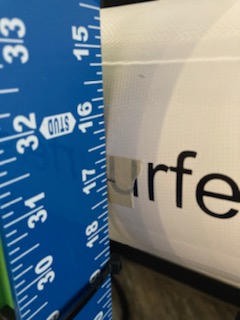 Stiffness Test:1.125" Bend
SUP Board Guide's Bend Testing:
In order to attest to the rigidity of each board, we use a bend test curated by Supboardguide. In order to obtain the results, we inflate the board to its maximum recommended PSI and then place it across two sawhorses that are 7 feet apart. We then take a measurement in the middle of the board. Then, we place 150 lbs worth of sandbags on the middle top of the SUP. Last, we record its displacement (the movement from its original position). We use this method for every board we test as a way to mathematically compare boards across a common denominator.
We think the Tower 10'4 S-class has a solid bend test score for a board at this price. When you paddle this board, it will feel firm under your feet and you will not experience any 'taco' effect, which is when the board flexes beneath you. This firmness aligns with a 1.125'' bend test score and we are happy with the board's rigidity.
Features/Accessory Review: [8.2/10]
Features: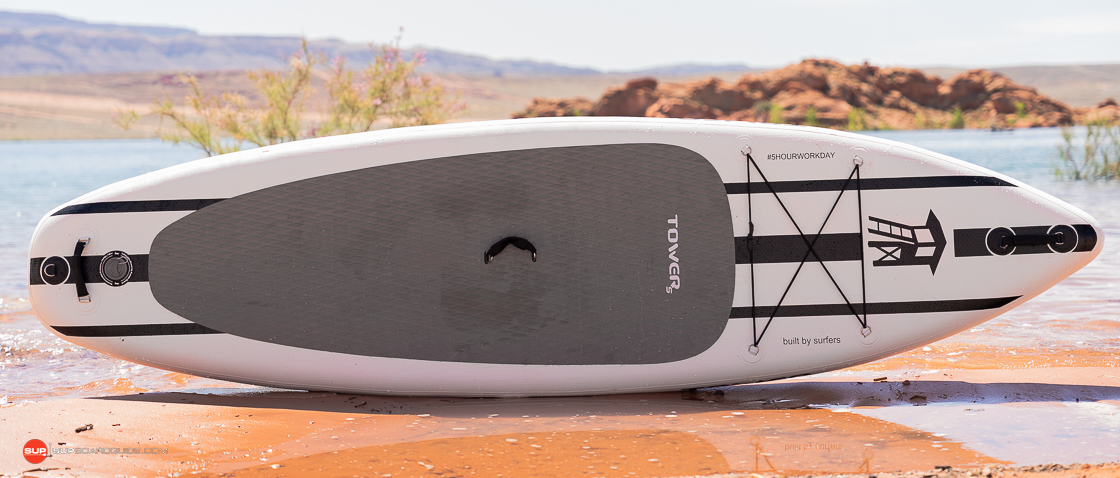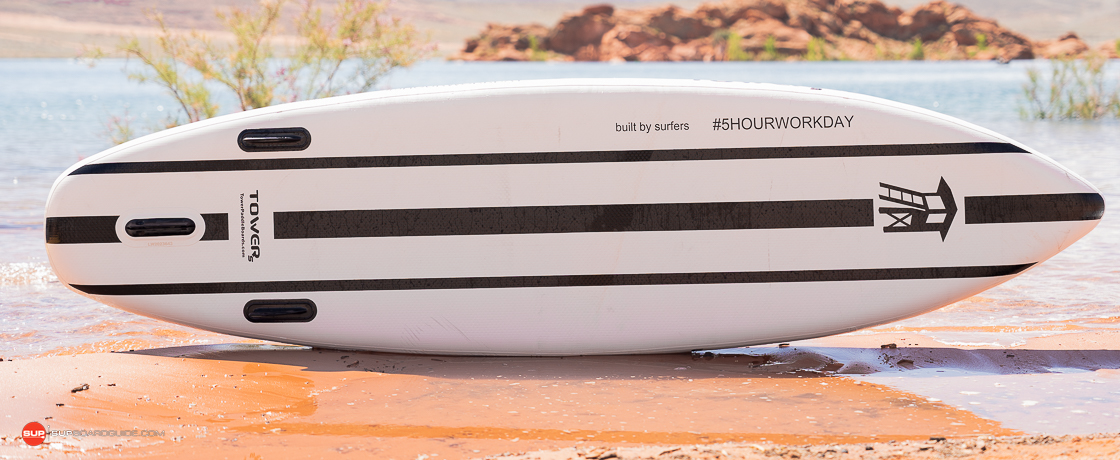 The board has one bungee cargo area on the nose of the board that can hold up to one large dry bag. It's a good place for shoes, water bottles, sunscreen, or other small items. This one cargo bungee area is the extent of the board's features. We find this to be a more minimalistic approach to a board's configuration, which is nice if that's what you want. We like the deck pad both for its look and its comfort. It's thick, grippy, and the ridges help keep the water from pooling. There's nothing too extravagant about it; it's a simple gray color that goes along with the rest of the board.
The paddle that comes with the package is a three-piece fiberglass with a wide, scoop-shaped blade. This definitely gets the board moving, but we found it to be too flexible and we want to see Tower add a higher-quality paddle that can utilize more power behind each stroke. However, it does come included with the SUP package at a very affordable price. So, do we want to see a price increase that would come along with including a higher-quality paddle? Personally, our team does. But we understand that some people prefer a slightly lower quality paddle as a trade-off for a great price point.
Included Accessories: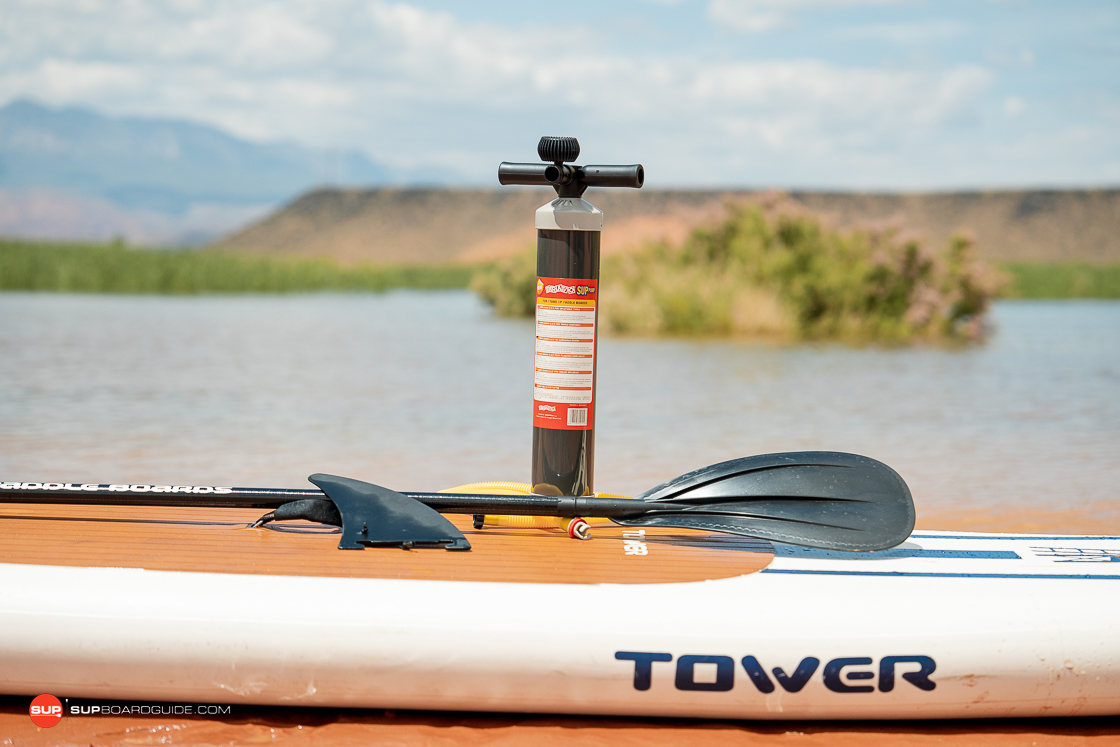 There are two ways you can purchase the Tower 10'4 S-Class: In a package, or the board only. If you decide to purchase just the board, you miss out on the great package deal that comes with the 3-piece adjustable fiberglass paddle blade and a hand pump. The package deal is only 48 dollars more than purchasing the board by itself, which we see as a valuable deal if you don't already own a paddle or hand pump. If you want to purchase a SUP backpack, Tower makes a nice one that is only 59 dollars.
Summary Review of the Tower 10'4 S-Class All Around – 2023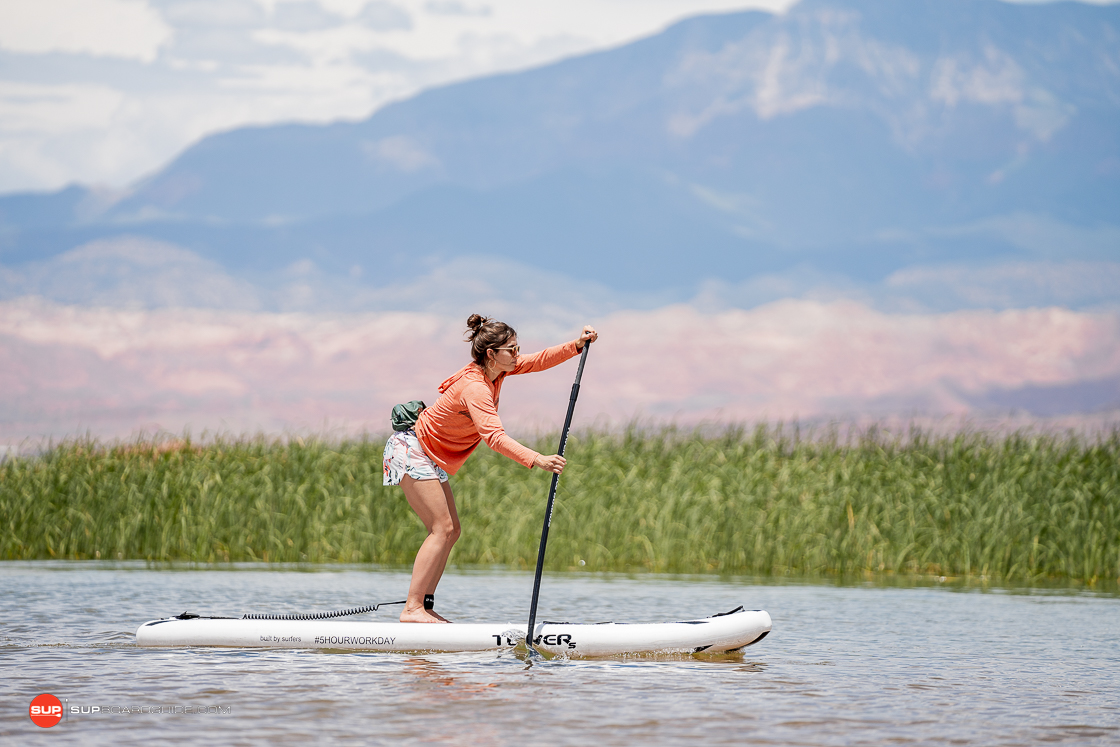 The Tower S-class 10'4 is the first fusion SUP produced by Tower, which makes it more lightweight than the other Tower boards that have the same shape and design. Being 10'4×32, this board is most suitable for shorter/smaller paddlers.
The touring-shaped nose and pronounced rocker make this board more active/responsive and maneuverable than most other all-arounds of this size. This is great for smaller paddlers who enjoy this design and on-the-water feeling, but not for those who are looking primarily for stability.
As a team, we like the appeal of this board. It is made with functionality in mind rather than having a lot of action mounts or bungee cargo space. So, if you're the type of person who appreciates a more classic, minimalistic board, then the Tower 10'4 S-class will appeal to you.
We hope you enjoyed this Tower 10'4 S-Class review and happy paddling!
The following two tabs change content below.
Latest posts by Laura Coor (see all)