Isle Explorer
Pros
Great looking design
Very stable
Lightweight (22 - 24 lbs, depending on the model)
Quality, removable center fin with universal fin box
Nice paddle
Cons
Pump could be upgraded to double chamber
No wheels on backpack
Can't remove/change out the sidefins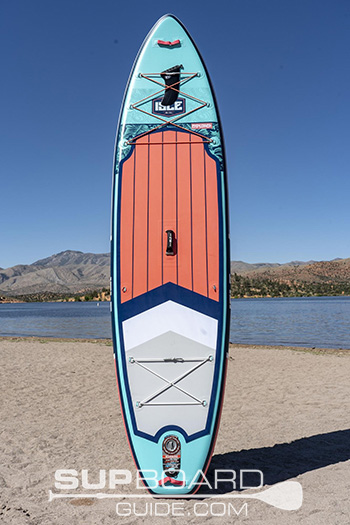 The Isle Explorer is a great inflatable SUP that is perfect for anyone looking to paddle on lakes, rivers, or in the ocean out past the break – or even try to catch a few small waves!
Made by Isle Surf and SUP, the Explorer model comes in 2 different lengths: 11 or 12 feet. Other than the length both models are the exact same, so if you are trying to decide between the two we would recommend going with the 11' SUP unless you are a larger person or a less experienced paddler.
In addition to paddling very well, one of the biggest selling points of the Explorer is the looks – the design team at Isle did a fantastic job with this board, and even offer it in 3 different color schemes.
Specs
| | |
| --- | --- |
| Length | 11' | 12' |
| Width | 32" |
| Thickness | 6" |
| Weight | 22lbs | 24lbs |
| Max Capacity | 275 lbs | 300 lbs |
Performance
We rated the Isle Explorer according to 3 categories:
Stability
Tracking / Glide
Maneuverability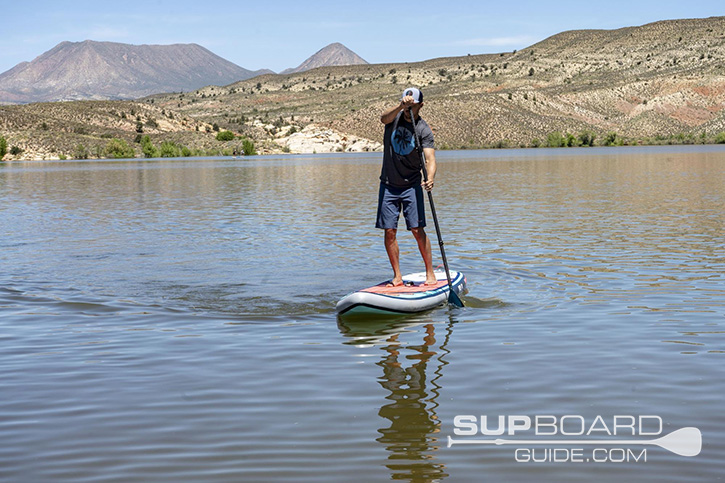 Stability
The Explorer is a very stable SUP, which we would expect given the 32" width and 275/300 lb weight capacities. In fact, we found it to be slightly more stable than the Isle Pioneer, so if stability is one of your concerns than the Explorer would be a great choice (and you would gain more stability by going with the 12' option).
Tracking/Glide
Much like the other Isle SUP boards we have tested, the Explorer tracks nicely, partly due to the shape of the board, and partly due to the large center fin that comes with it. Being more of a touring shape helps the board glide a little better on the water and be a little quicker than their all-around board, the Pioneer. The large center fin also does a nice job of making it so you track straight while paddling.
Maneuverability
Given the Explorer is either 11' or 12' long and 32" wide we would have expected it to not be extremely maneuverable. However, I was nicely surprised and found it very easy to turn and maneuver through the water.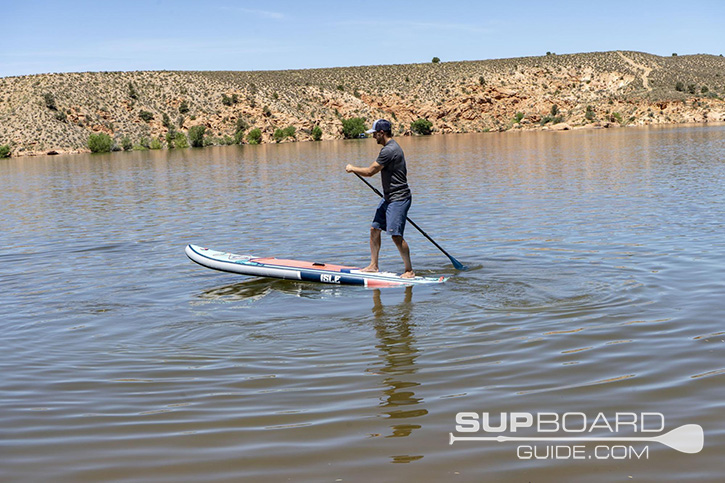 Materials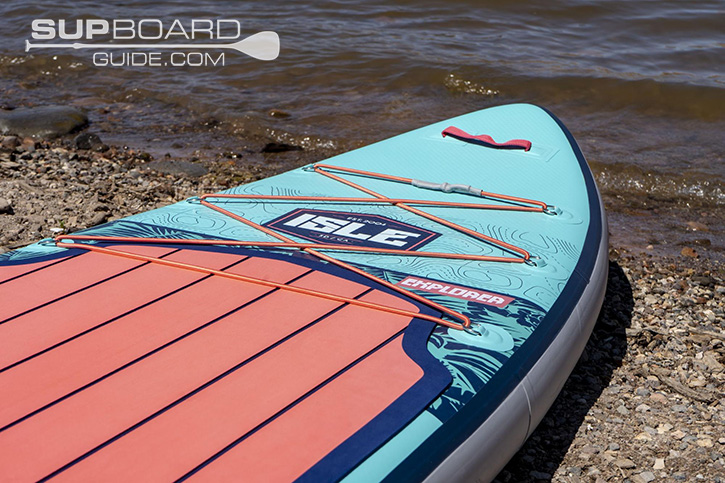 Isle made the Explorer SUP using their AirTech Fusion Lite process. This process creates a very lightweight yet durable inflatable SUP by fusing an outer layer of high-density PVC to a dropped-stitch inner core. Basically, what that SUP-mumbo-jumbo means is that the Explorer is a lightweight inflatable SUP, with the 11' coming in at just 22 lbs and the 12' coming in just slightly higher at 24 lbs. However, lightweight doesn't mean that the quality and durability isn't there – you can literally run these over with a truck and they survive (not going to recommend doing that to your new board, though)!
Because Isle uses their fusion process you are able to inflate the Explorer up to 17 PSI, which is what gives the board the feeling of a hard board as your paddling. The high pressure valve that comes on the Explorer is great and will last a very long time. This isn't some cheap $400 board you buy at Costco and then return a season later because the valve breaks or the seams spring a leak.
Board Design/Shape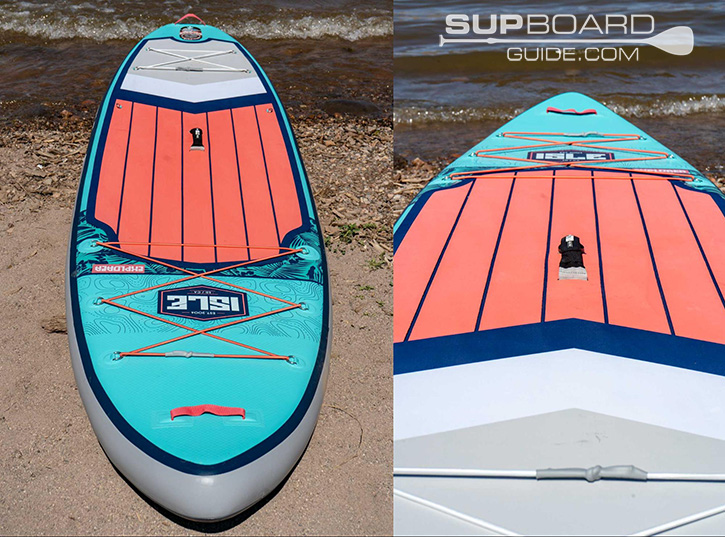 Like I mentioned, the shape of the Explorer is more of a "touring" shape with its pointed noise. However, we still would probably also classify the Explorer in the All-Around category for a few reasons. First, at 32" your getting a pretty stable board. However, with that stability you are also going to be increasing drag just a little bit while paddling. Many dedicated touring-only boards are going to be long and skinny to help propel you through and glide upon the water.
We would also consider it an advantage that this board leans towards an all-around + touring board, as we find most people are looking for a board that they can take anywhere, and do a lot of different things. The design and shape of the Explorer is great for paddling on any smooth body of water, and can even handle small chop and waves in the ocean. However, we would not recommend it for whitewater paddling, unless the river is pretty calm.
Features
Fins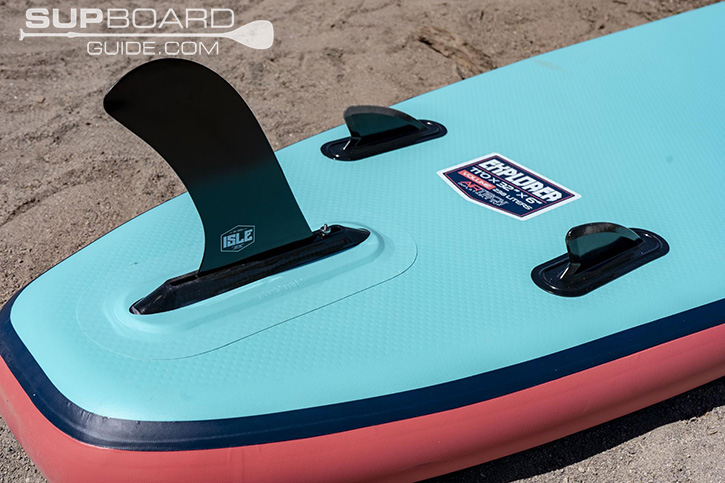 The Isle Explorer comes with a tri-fin set up. The large center fin fits into a standard US fin box, which I love since you have the ability to swap out their fin for something different. If you want to go paddle down the river you can swap out the large fin for a smaller one. If you happen to lose the fin, you can go to any surf shop (or direct to Isle) and get a replacement. The side fins are flexi plastic fins that cannot be replaced.
I really like the fin set up, even though I don't love not being able to take out and replace the side fins. I think Isle did a fantastic job with the center fin – it's a quality fin that's easy to put in and take out and tracks well. Because the side fins are fixed I don't have to worry about keeping track of and putting other fins in, and I really don't see much performance loss from not having more solid side fins. However, if you do try to surf on this board it will feel more like a single fin longboard vs a tri fin board – not a huge deal, but it is a little bit different feel that gives you a little less performance in some activities.
Traction Pad
I really like the feel of the EVA foam traction pad that comes with the Isle Explorer. It covers a good amount of the board, so I can even do Yoga if I want (but I might need Sacky to show you how that's done, since I'm not the best when it comes to Yoga, even on land).
The traction pad is also comfortable and isn't slippery when wet. It also looks fantastic with the overall design of the board.
Handles
The explorer comes with all the handles you would ever need on an iSUP. You have the middle handle and also nose and tail grab handles to make this super easy to transport even for little kids. I also personally like having a tail grab handle so I can pull the board out into the water by the tail and keep the fin out of the rocks and sand until the water is deep enough.
The only thing I could say to improve here would be to make the center handle so that it could velcro the paddle so you could store the paddle there if you wanted to sit and take a break.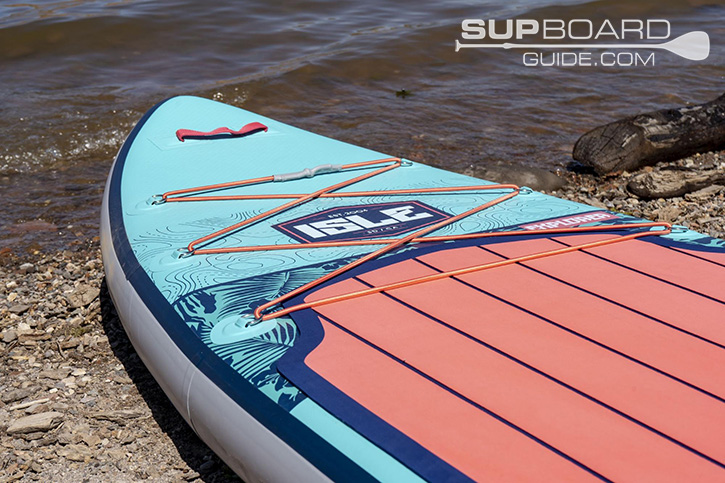 D-Rings
There are 13 D-rings on the Explorer – 6 in the front, 2 in the middle, 4 in the back, and 1 on the back tail for attaching your leash. In other words – there's enough D-rings to attach anything and more that you would ever need to the board. Isle doesn't sell them, but you could even purchase another brands kayak seat and turn this SUP into a kayak with the 2 middle D-rings.
Bungees/Cargo Areas
With bungees at both the front and the back end of the Explorer you have tons of space for storing anything such as water bottles, life jackets, bags, coolers, etc. You also can secure a tackle box or cooler to the center of the board with the D-rings there, making this even more of an all-around performer.
Accessories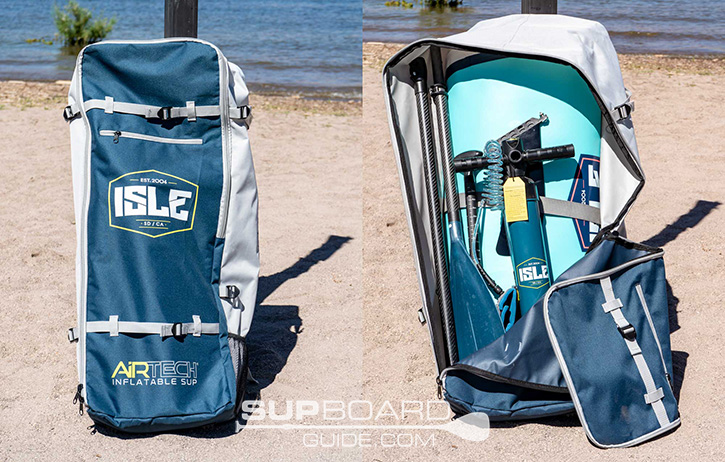 Paddle
The Explorer comes with a great paddle – Isle's Hybrid Travel Paddle. It's got a carbon fiber shaft and nylon blade, is pretty lightweight, and also comes with 2 different anti twist and rattle clamps to keep the paddle nice and firm.
You will have to pay attention to the clamps and make sure to bring a phillips head screwdriver to tighten them as needed. However, the slightly extra 'maintenance' is worth it, as having a solid paddle that doesn't twist or move while paddling really makes a big difference on the water.
The Isle paddle also breaks down into 3 sections to make it easy to store in your SUP backpack (see below).
Pump
This is an area where I would like to see a little improvement made by Isle. I would personally prefer to have a larger, dual chamber pump like you see from iRocker and Nixy. HOWEVER, I fully understand the arguments that many companies make in doing only single chamber pumps:
They are lighter and smaller – easier to pack around
They are still efficient, and might only take an extra 1-2 minutes to pump up the inflatable SUP
We recommend that you purchase an electric pump either way
Isle also sells a fantastic electric pump, and if you can afford it we would recommend that as the first upgrade to anyone. An electric pump just makes inflatables super easy, and they work awesome.
Backpack
I like the backpack that comes with the Explorer a lot. The same as other Isle backpacks, you get a good size pack that easily fits the board, pump, and other accessories. In addition, you have a nice zipper pouch on the front for storing the center fin, leash, and other small accessories or snacks. The front zipper pouch might seem like something small, but it really is nice to have over time.
Note – Isle's backpacks do not come with roller wheels, which is both good and bad. Good because it makes the pack a little lighter and more comfortable to carry. Bad only for those who are trying to carry a ton of things out to your car and would like to wheel the bag (yes, I fit into the latter category and am usually trying to haul 3 or 4 bags out at once, so I like wheels).
Leash
The Explorer 11' and 12' both comes with an 8' coiled leash that is a really comfortable, functional leash. The swivel works great, the coil is nice in that it keeps the leash from dragging behind you, and there is a small velcro pocket for our car/truck key if you need it.
Repair Kit
The repair kit is your stand kit that comes with a few patches along with a wrench to tighten the inflation valve.
Conclusion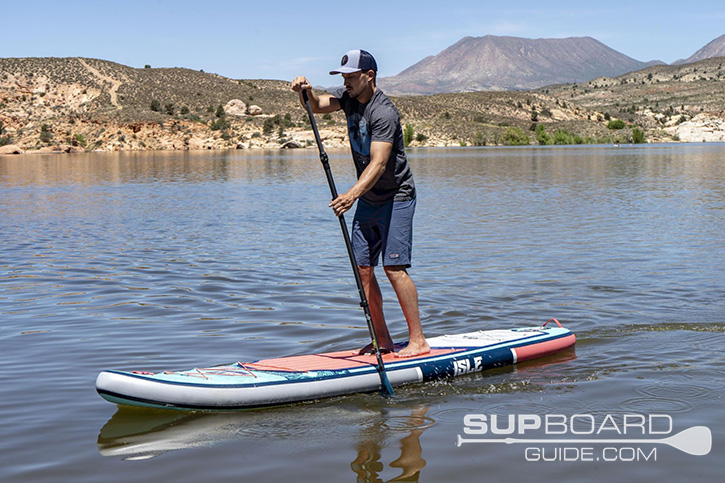 Our Bottom line review – we think the Isle Explorer 11' or 12' is a ton of fun and is a great all-around board for anyone who needs a stable, high weight capacity board and who prefers a slight touring shape/style.
Also (and I know I've said this a few times already), but we really do like the colors and design of the board – it's definitely a board that will garner more than a few comments while out paddling around!
As always, if you have any questions about the board that we didn't cover in our review, please leave us a comment below and we'll get back to you ASAP!
The following two tabs change content below.
SupBoardGuide
Heyo! At SupBoardGuide.com we are a team who love the water, the outdoors, and are more than grateful that our full-time job allows us to review stand up paddle boards. We paddle year round (it helps that we are just about 2 hours outside of Las Vegas), and we bring in a wide range of paddlers with the goal of providing our readers with the best, most in-depth, and accurate stand up paddle board reviews.
Latest posts by SupBoardGuide (see all)