Isle Pioneer Pro 11'6 iSUP Kayak Combo
Pros
One of the most stable all around SUPs we've tested. Perfect for heavier and taller paddlers, and beginners who are worried about being able to stand up while you paddle.
450 lb weight capacity! This is the largest weight capacity in the series, making it a board that can handle a large paddler AND lots of cargo or an additional paddler
Very versatile thanks to the Isle link system. Can be used as an iSUP, a solo or tandem kayak, or even a fishing SUP
Extreme rigidity and durability thanks to the fantastic technology (Isle exclusive Infinity Fiber rails) and high quality construction.
Faster than we would expect out of an 11'6x 36" wide iSUP, in part due to increased rigidity and lighter weight (26 lbs) construction
Buyers can customize their kit and don't have to purchase a pump or paddle if you don't need to and want to keep costs down.
Cons
Not really a con, but this SUP is better for taller/larger paddlers given it's 36" width and 11'6 length
We found the deck pad to be super comfortable, but you will need to be sure to wash it more than some other deckpads
A highly stable, extra wide inflatable SUP/Kayak combo meant for not only large paddlers worried about stability but big cargo loads and tandem kayaking.
The 11'6''x34''x6'' Isle Pioneer Pro is the most stable model in the Isle Pro series as well as one of the most stable all-around boards we have ever tested. In this 11'6'' Pioneer Pro Review, we will tell you all of the reasons why it is an awesome iSUP not only for larger/taller paddlers but also for those who:
Are larger paddlers who also want to bring out gear or a child
Are large/tall paddlers and are worried about stability
Want to kayak in tandem without feeling cramped or sacrificing stability
Want a very high-quality rigid board with a high weight capacity (450 lb)
This is a huge board with a 450 lb weight capacity, so it can withstand a big load regardless of what the specifics of the load are (we won't judge if you bring out 5 lbs worth of snacks).
Our tallest paddler (6 '5'') Mathew, feels the most stable on this model and noted that this would be his choice if he was to pick a SUP from the Isle Pro series to take out on a long-adventure. We asked him many times just to be sure, especially because the width of this board (36'') inevitably lowers the maneuverability. But for a tall person like Mathew, he appreciates the extra width.
With Airtech ProLite™™ technology, Powerfusion™, and exclusive and patent-pending InfinityFiber™ stringers, this board is revolutionary in its build and we are excited to reveal how the incredible construction processes creates such a rigid SUP/Kayak combo! It also has some pretty neat features, like the Isle-Link system and paddle holders, that enable you to organize your belongings on the board in the way you prefer.
Without further ado, let's dive into our Isle 12'6'' Pioneer Pro Review!
Isle 11'6'' Pioneer Pro: Spec Sheet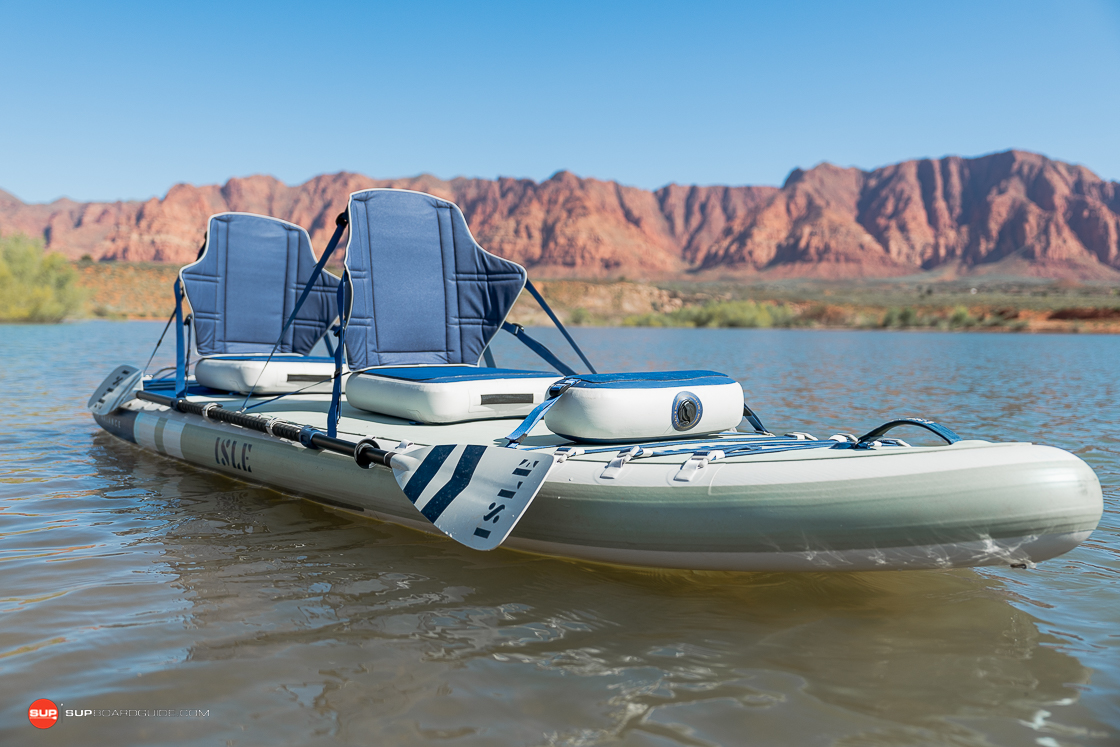 Main Category: All-around
Board Dimensions: 11'6″ x 34" x 6"
Listed Board Weight: 26
Listed Max Capacity: 450 lbs
Recommended PSI: 17
Fins: Split US fin box, 9" touring fin
Paddle: Not included in kit
Materials: Isle's Airtech™ Prolite (thick single layer PVC, welded Powerfuse™ inner rail, and 6 InfinityFiber™ stringers
Warranty: 4 years
Performance Review of the Isle 11'6'' Pioneer Pro Stand Up Paddle Board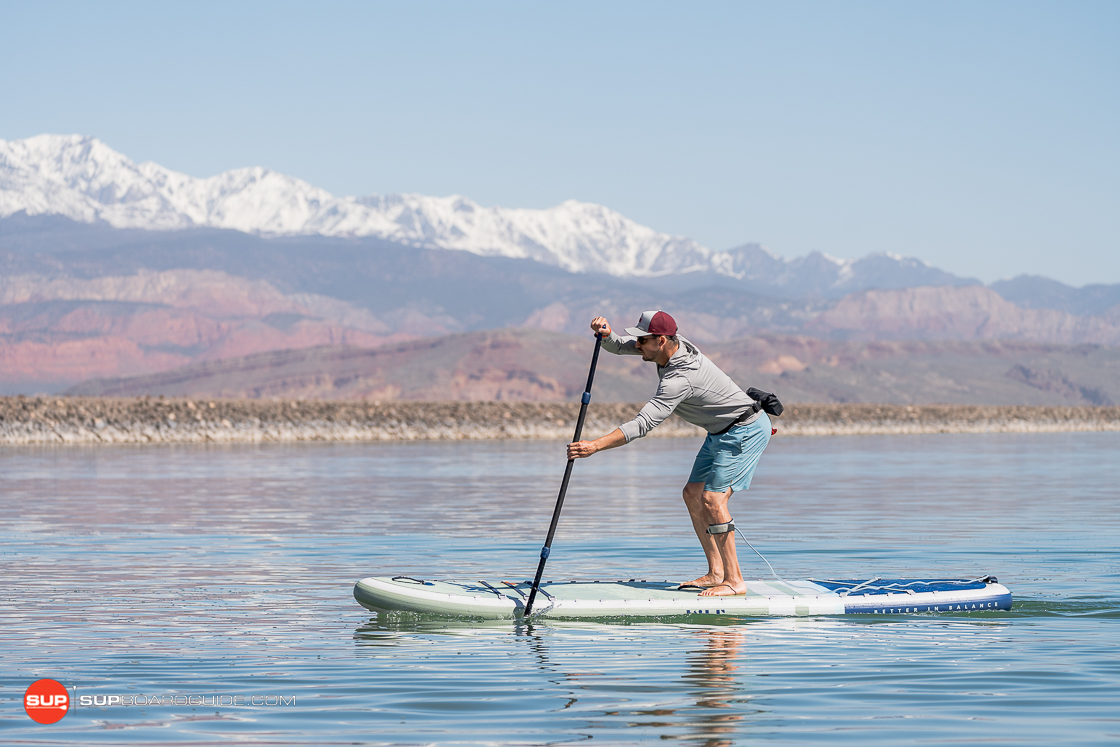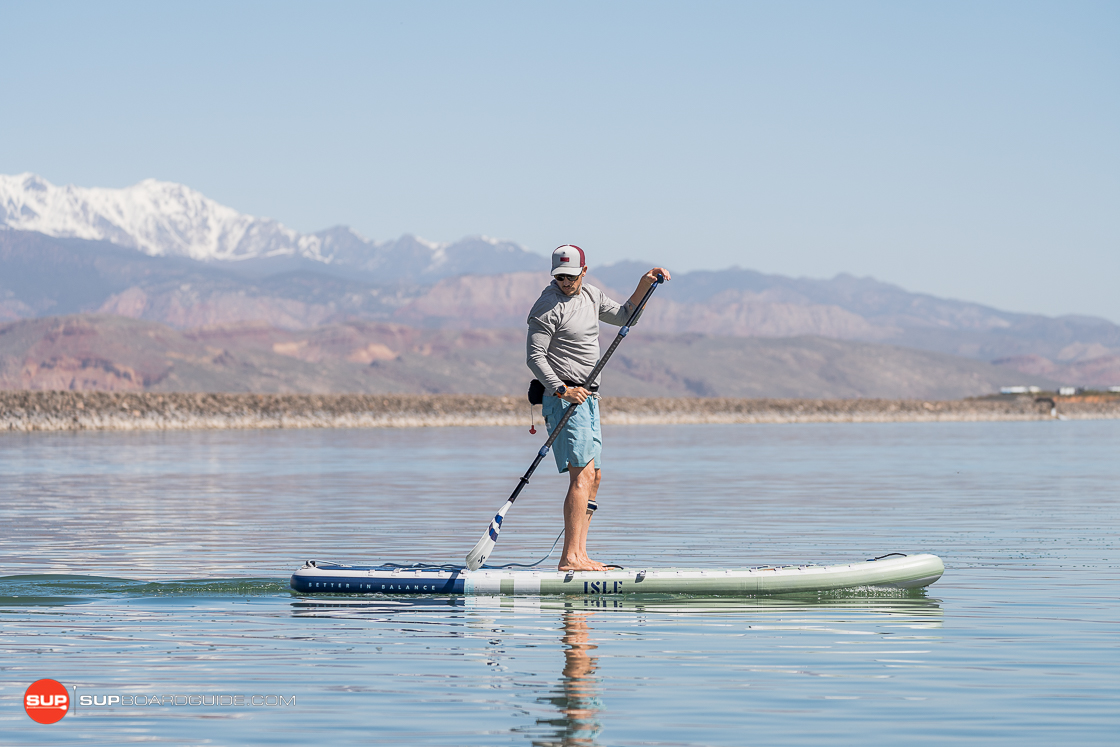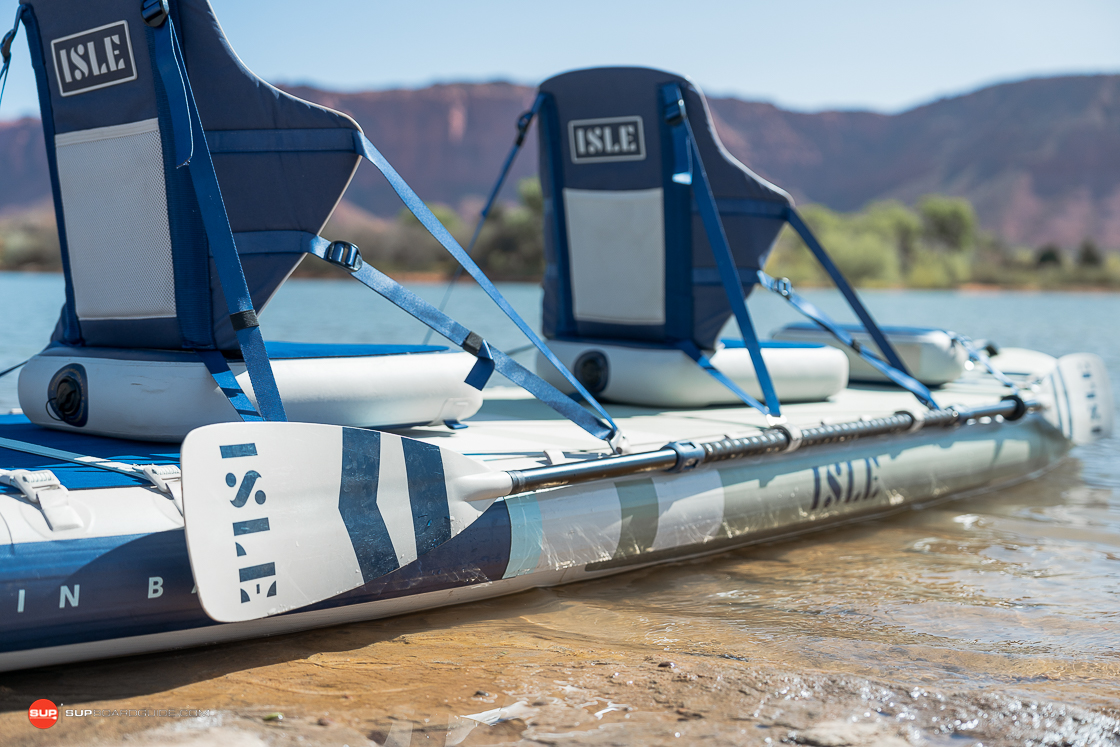 Overall Score: 9.6/10
Stability: 9.9/10
Speed: 8.7/10
Tracking: 8.8/10
Maneuverability: 8.4/10
Construction Quality: 9.8/10
Features/Accessories: 9.8/10
Stability Rating: 9.9/10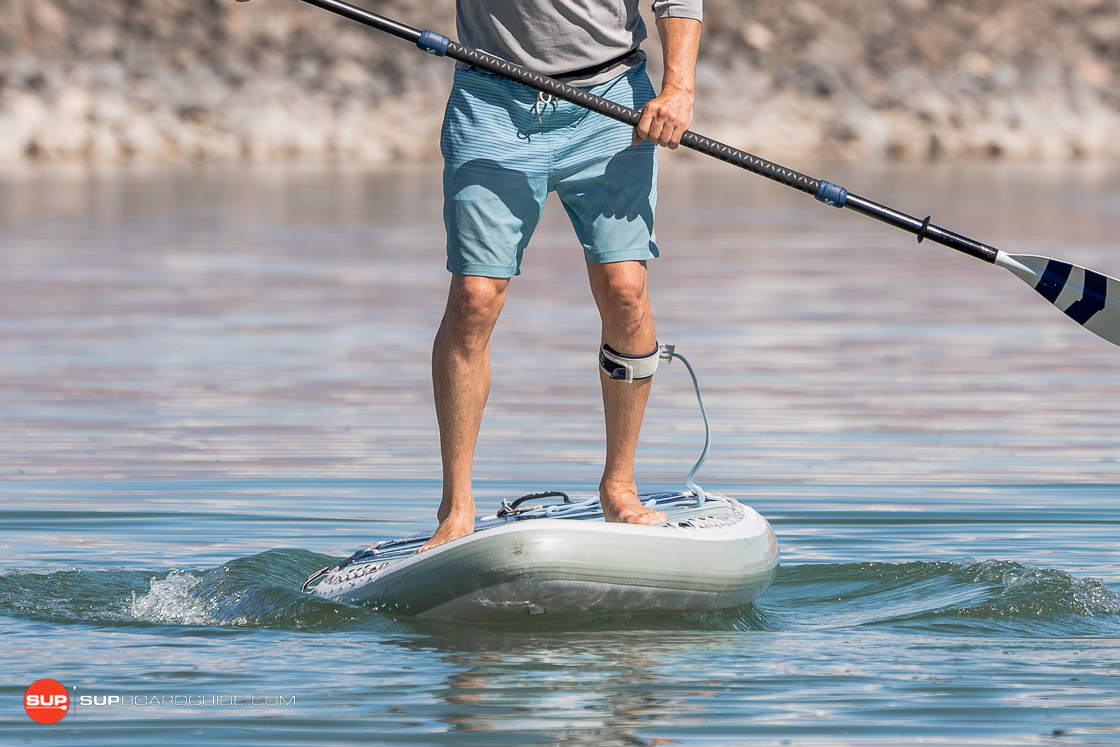 As you can tell from its high score, the Isle 11'6'' Pioneer Pro is one of the most, if not the most, stable iSUPs we have tested the past several years.
In terms of board shape, the 11'6' x 36" Isle Pioneer Pro is long but also wide through the nose, shoulders, hips, and tail. The tail barely tapers and is very square. Because of the consistent wide shape, there is a lot of surface area in direct contact with the water – which helps you stay balanced.
Additionally, Isles patent-pending InfinityFiber™stringers (more details in the construction section) makes this board incredibly stiff. By eliminating the possibility of bounce/give, you increase stability. In our side-to-side testing and our up and down testing (essentially lightly jumping on the board) we barely felt any rebound from the SUP.
It's worth a mention that our team thoroughly enjoyed this board as a kayak. In part because we had a lot of fun going out in tandem given how stable the board is. The 11'6'' x 34'' dimensions offer plenty of room for two people to be seated comfortably and feel secure. Pair this with the 450 lb weight capacity and you have yourself an outstanding tandem kayak with left over space for a large load of snacks! Or a fishing pole and bait if that's how you roll.
Speed Rating: 8.7/10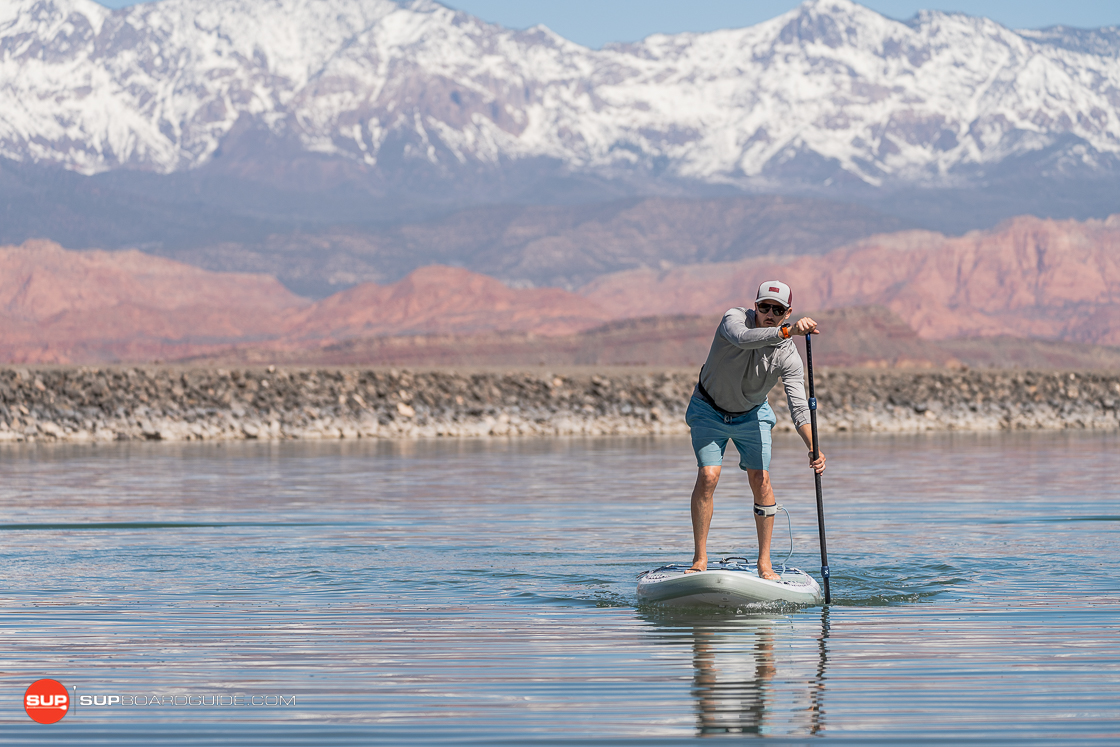 | | |
| --- | --- |
| Top Sprint Speed: | 5.3 MPH |
| Average Cruising Speed: | 3.8 MPH |
*Notes on our speed test: To obtain our speed results, we use a SpeedCoach SUP 2. Our sprint speed comes from first cruising and then paddling as hard as we can for 10-15 seconds. Our cruising speed comes from paddling at 40-45 strokes per minute for around 30-60 seconds and then taking the average score. We do these tests in calm conditions so the results are as even as possible across a large quantity of boards.
We are very satisfied with the speed results of this SUP. Because it is a large all-around board with a lot of stability, we had no expectations of it moving super fast. However, we are happy to report that the 11'6 model performed better than those expectations in both the sprint and cruiser speed tests.
For Justin, he was slightly faster on this board than the 10'6'' Pioneer Pro, which makes sense given that this board is a bit longer. However, it would be even faster if it was less wide. That 36'' width definitely brings the speed down, but we aren't knocking Isle for that because its purpose is to have that big platform for extra stability and room for cargo. It's inevitable that the speed will come down if you go that wide on this SUP.
Also, we think it's important to note: we saw bigger increases in speed with the 11'6 Pioneer Pro when being paddle by larger paddlers. My and Justin's challenge is that the board is just a little big for us (Justin less so than me). However, Matthew (again, 6'5) had no problem getting this board up to speed and really enjoyed it.
Tracking: 8.8/10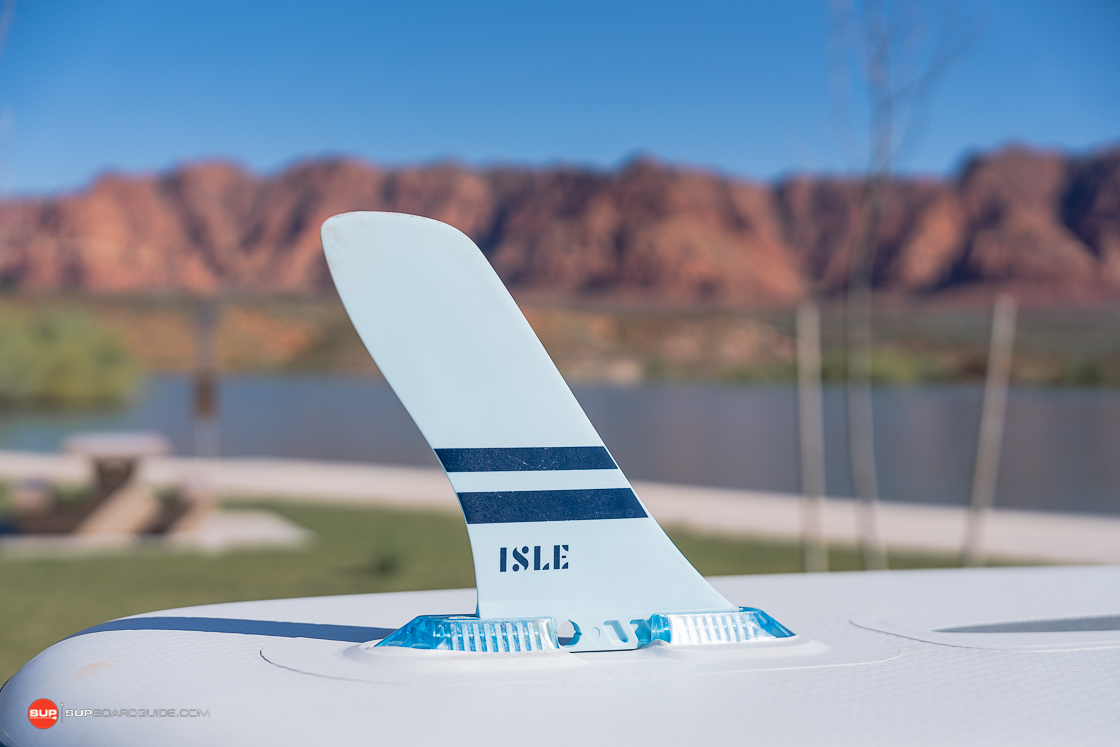 For an 11'6''x34''x6' board, the tracking is about where we expected it to be. It's very similar to the tracking on the 10'6'' Pioneer Pro, but slightly more difficult to paddle because of its width. However, a taller person with wider shoulders will not have any issues reaching over the edge and paddling straight.
As a kayak, we also didn't have any problems with the tracking. Just like we expected, shorter paddlers preferred the 10'6 and 9'6 versions, while taller paddlers really appreciated the extra space and found themselves tracking best on the larger 11'6 board.
Maneuverability: 8.4/10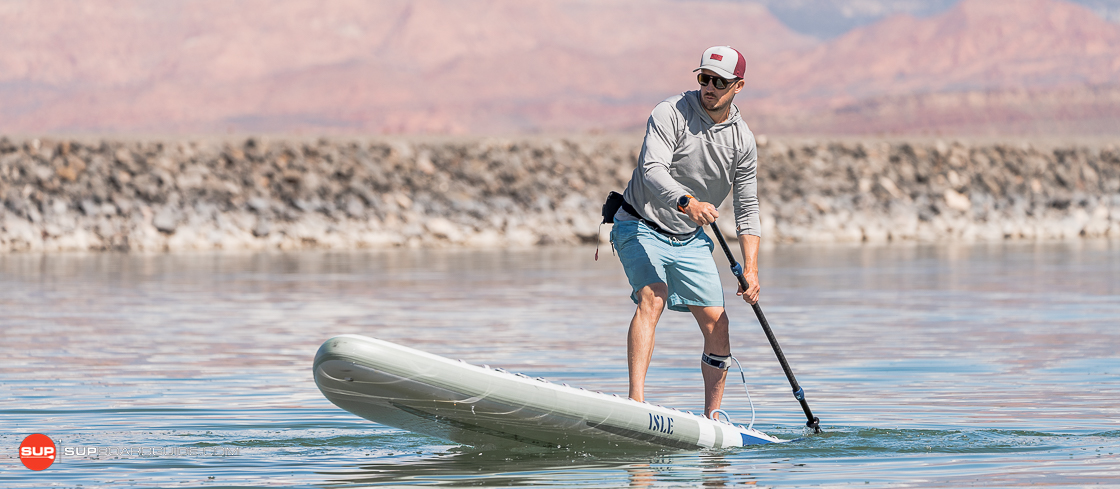 In the case of maneuverability, it took Justin about 6 strokes to go a full 360 degrees. That's not a bad outcome for such a big SUP! It aligns with what we expected – big boards tend to sacrifice maneuverability considering their dimensions. But we did (surprisingly) find that it is only about one notch down from the maneuverability on the 10'6', so while it doesn't have amazing maneuverability, it's not far off the mark.
If the big platform, length, and extra wide size appeals to you, you will be happy with this SUP regardless of its slight decrease in maneuverability. Especially if you are looking for a tandem kayak. If you are worried about stability more than maneuverability, then go with this board. It's also the best board for beginners to work on their step back turn, as the super wide tail provides extra stability even when lifting the nose.
Construction Quality: 9.8/10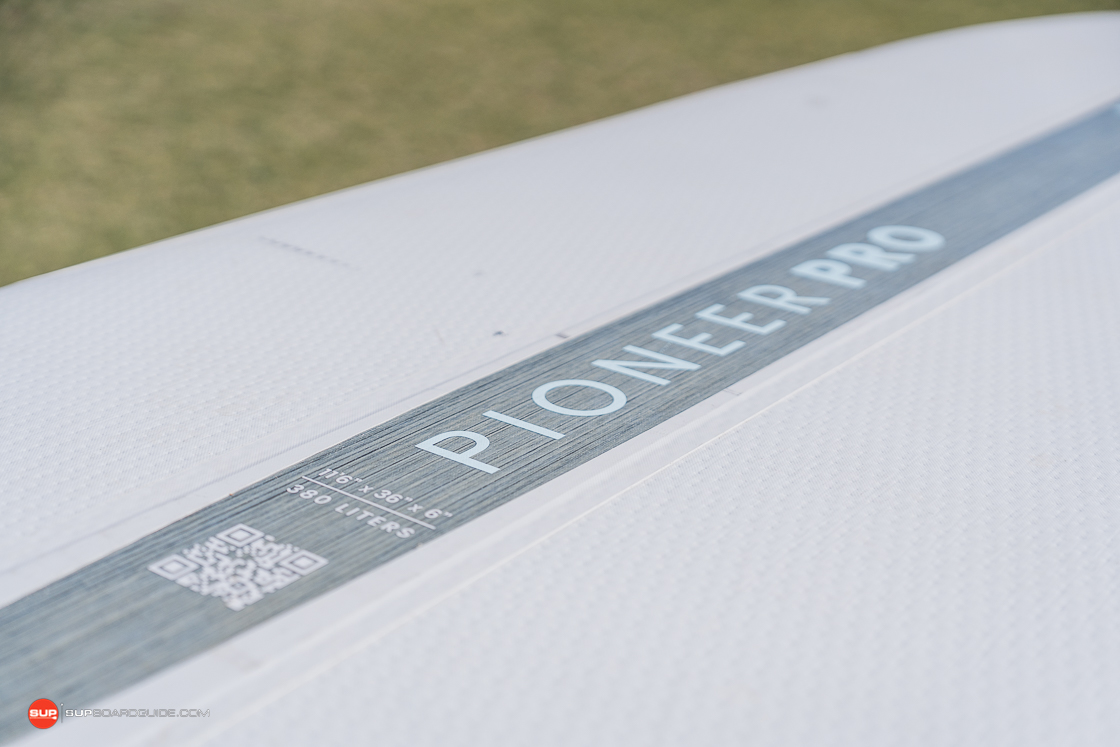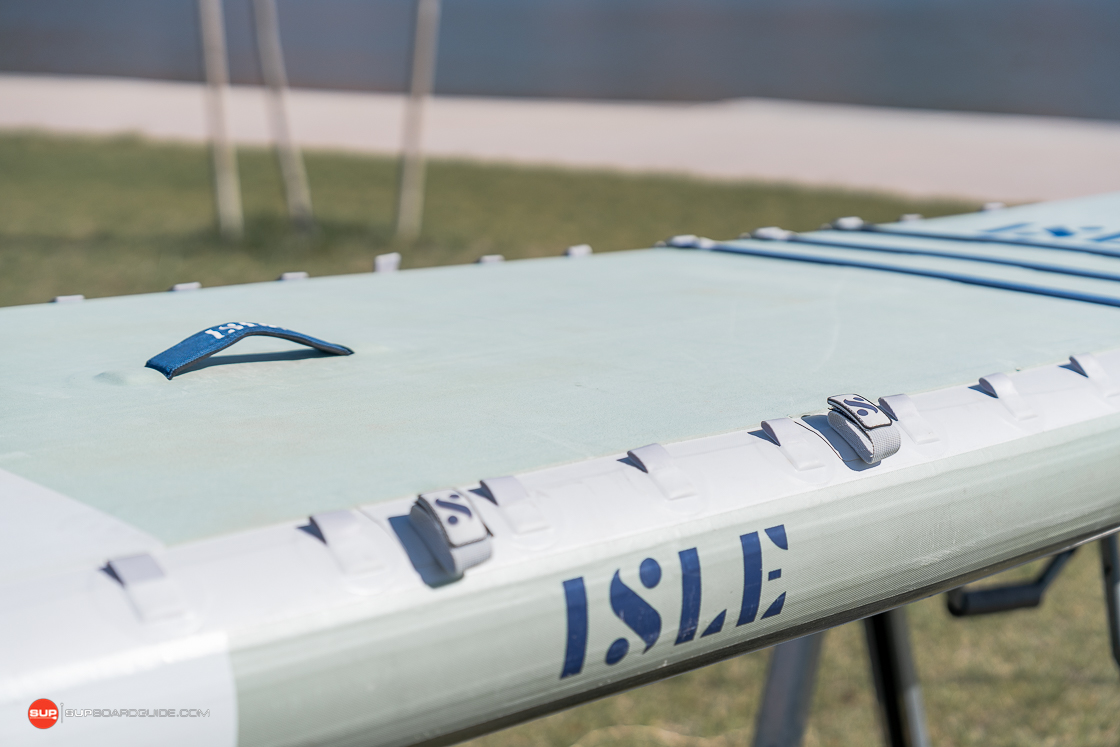 Throughout this 11'6'' Pioneer Pro review I have reiterated the fact that Isle has created ultra stiff and rigid boards in their Pro series.
As a way to create these (what we see as) industry-changing results, Isle applies their AirTech Prolite construction process paired with their InfinityFiber™ stringer system. They also use what they call Powerfusion to heat-weld the layers (the rails, the hull, and the deck) into one single layer. Heat-welding is a mechanical bond rather than a glue bond which is why they are able to take separate layers and bond them into one.
The AirTech Prolite is used to assemble a cross-woven inner drop stitch core (space yarns crossing in an X pattern instead of aligning linearly) and a thick single-layer PVC that is powerfused to the base layers.
Yet the InfinityFiber™ stringer system is where we see the above-and-beyond-rigidity coming from.
Remember the snap bracelets we had as kids? Think of them like that, ultra-rigid when flat but easily able to be rolled up.
InfinityFiber Stringers are:
Thermoplastic strips reinforced with fiber and glued onto the top, bottom, and sides of the board
The one on top is hidden underneath the foam deck pad but the one on the bottom is identifiable as a gray strip
One on the side of the board is identifiable while the other is hidden under the PVC layer
After bend testing these boards, we now believe Isle when they say these are the most rigid boards in the industry.
Board Stiffness Test: 0.4375 Bend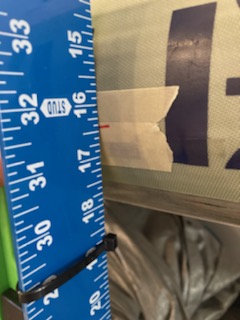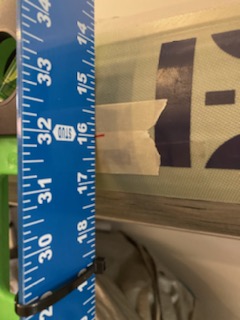 Bending LESS THAN HALF AN INCH, the Isle 11'x34''x6' Isle Pioneer Pro is a beast. The InfinityFiber™stringers are absolutely mind-blowing, and we had to test this SUP over three times to make sure we were seeing the results right.
Because this is the widest board of the series, it bends the least. But only by a barely noticeable fraction. Meaning, the construction process of the entire Pro series is incredible and it shows us that the InfinityFiber™Stringers do make a huge difference in rigidity.
Features/Accessory Review: 9.8/10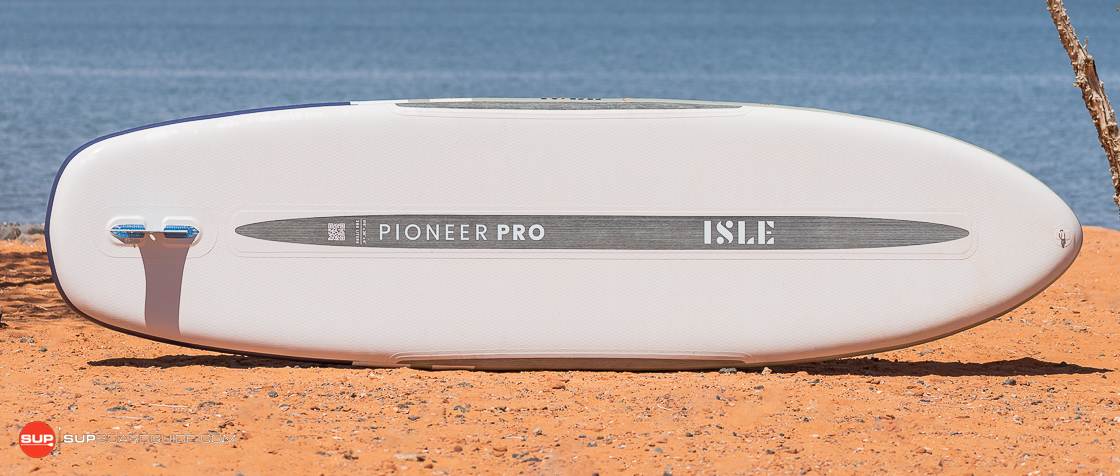 For a deck pad that is overall very clean, it has some neat features. The coolest is the Isle-Link system. This is a series of molly loops that run the length of the SUP on each side and uses flat, thick, bungees with small plastic hooks that easily slide into place. You can take them all off or use them all to strap up a ton of gear. We really like this system because it lets you choose if you want a clean deck for say, yoga, or to strap your items in in the order/place you prefer. It also makes it super easy to convert the SUP into a kayak or tandem kayak. It only takes about 5 minutes to set up both seats and footrests.
The deck pad itself is also smooth and comfortable. However, it does get dirty slightly quicker than other deck pads we have seen, so make sure to take good care of your board. Rinse it off after each use. Also, don't leave this SUP out in the sun. The deck pad is made from foam that can get damaged from too much sun exposure.
The nose has an integrated accessory mount that you can connect your GoPro or other accessories. There are carrying handles on the nose and tail with a D ring on the tail carrying handle that you can attach Isles lightweight leash to. This is great because it eliminates the rub on the actual handle.
And another simple yet sweet feature is the paddle holders. These are two small and barely noticeable velcro loops situated on the sides of the board where you can slide your paddle into and they will hold it in place. This makes it almost too easy to lie down on the board and take a quick nap… Just make sure you don't float away.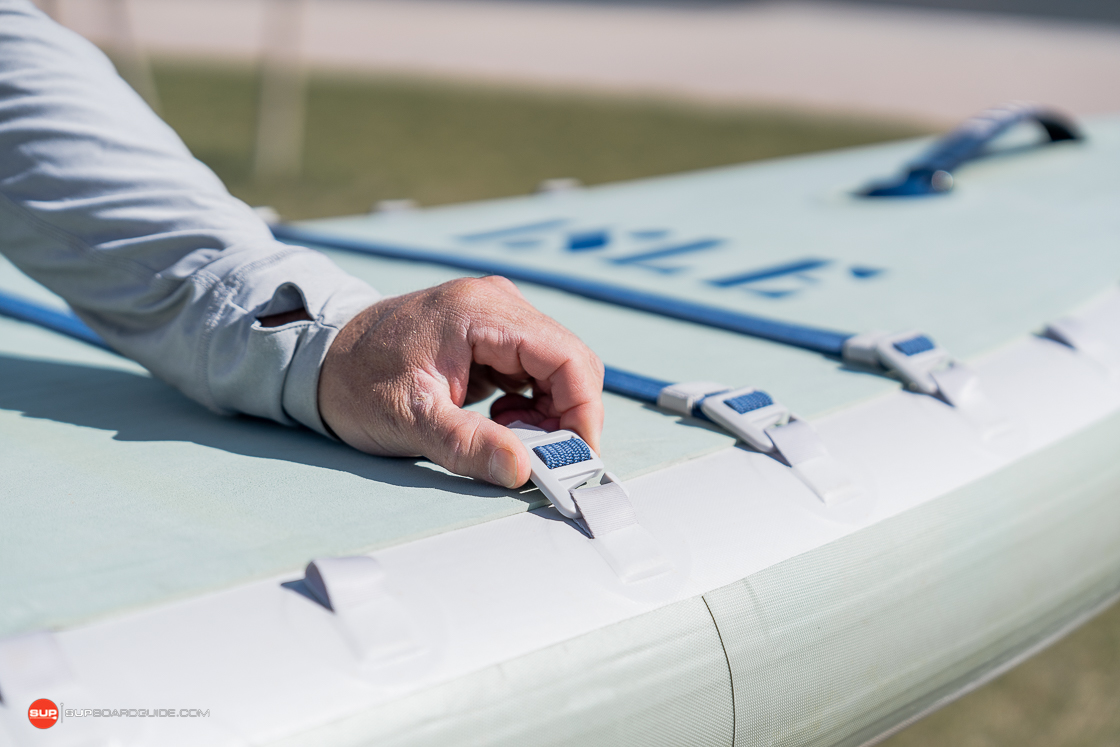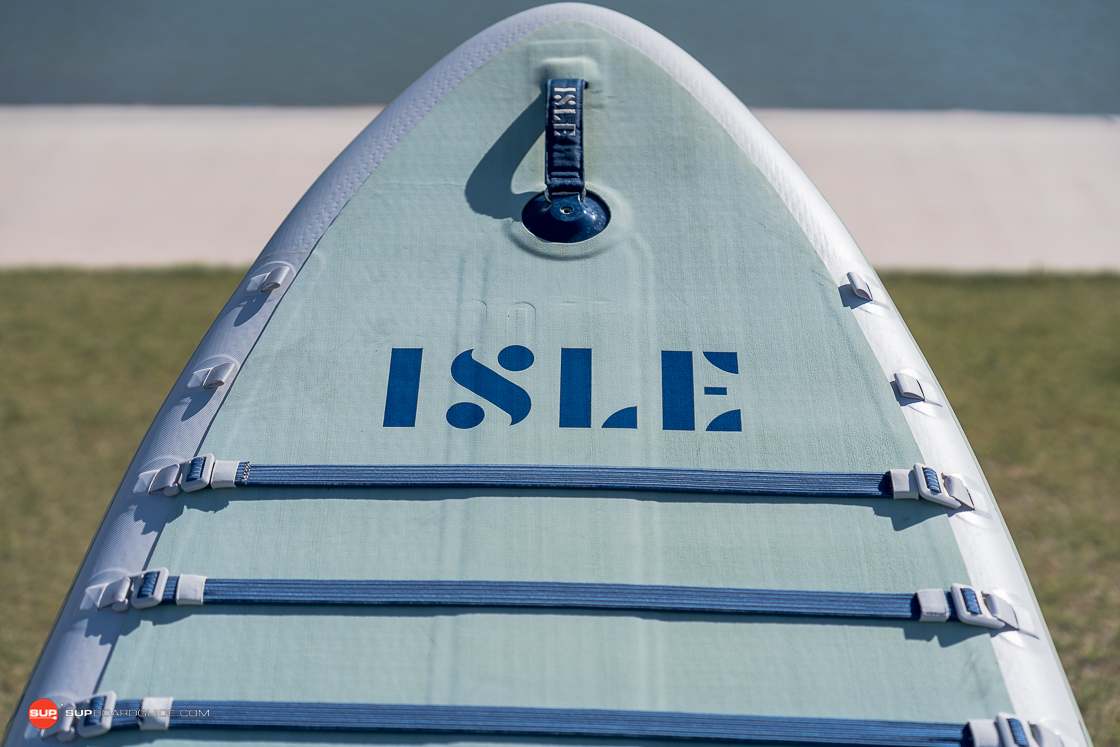 The other main feature we want to point out is the split fin box. Not only is the fin box a universal fin box, but being split makes it very easy to roll up the board.
Included Accessories: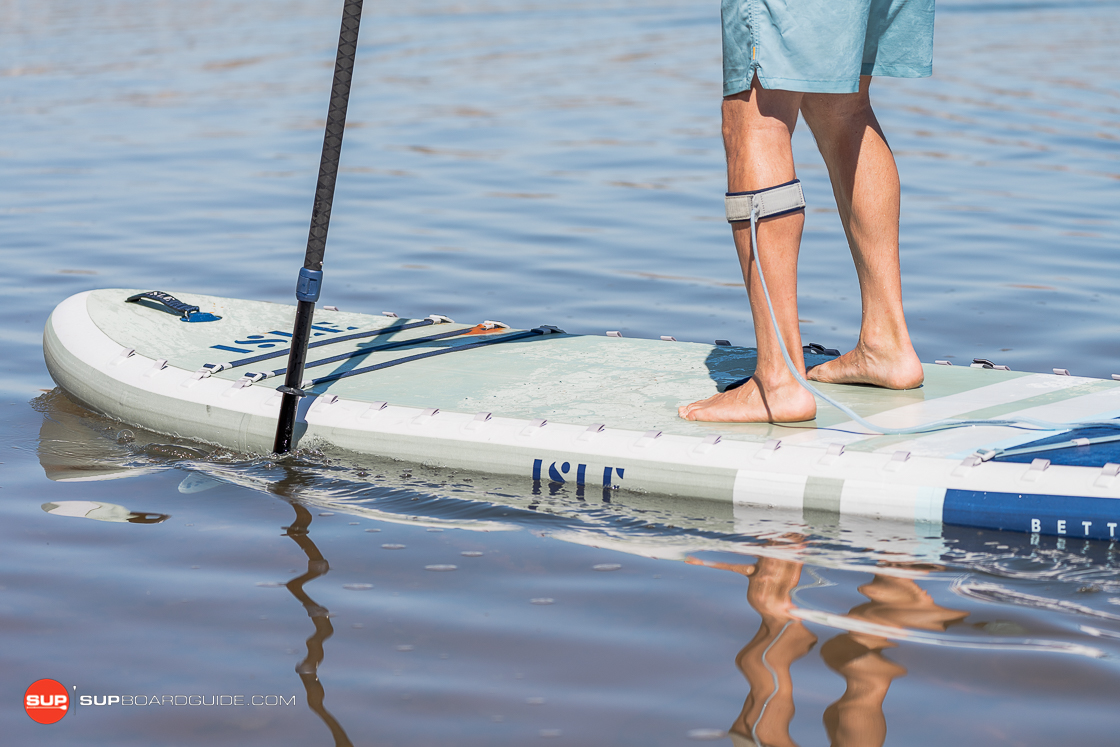 When you purchase the Isle 11'6'' Pioneer Pro, you also get:
A high-quality wheelie backpack that is super roomy so you easily take your rolled up SUP in and out of – and also fit the kayak conversion kit, a hand-pump, and a paddle
A lightweight straight leash that is a pretty blue color and has a comfortable velcro leg strap
A 9'' touring fin that easily clicks into place using the Kumano fin system and a US split fin box
Dry bag
Repair kit
Isle does not include a paddle or the kayak conversion seat(s) with your board purchase, however they make it very easy to bundle your board at checkout with the items you want at a discounted price. This helps keep the cost of the SUPs down and eliminates waste for those of you who already have a favorite paddle.
You will also need to add the kayak accessories to your cart if you want the SUP/Kayak functionality.
Summary Review of the Isle 11'6'' Pioneer Pro – 2023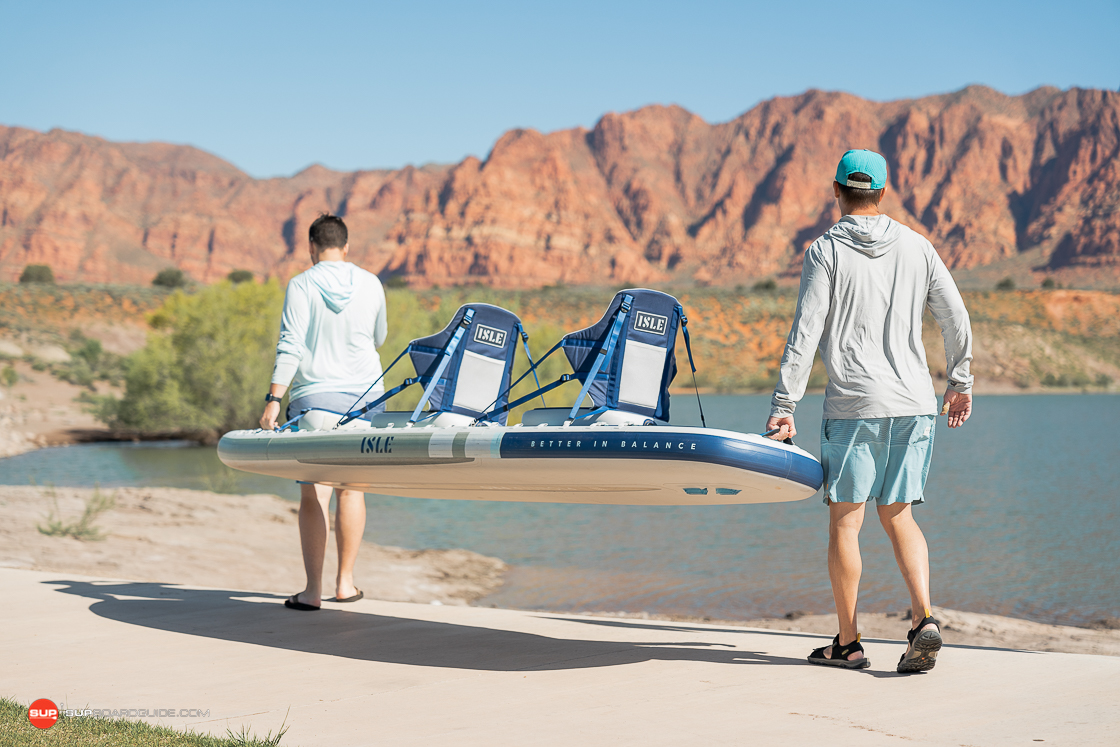 Once again, Isle performs a slam dunk with their new and improved Pro series iSUPs/Kayak combos. The 11'6'' Pioneer Pro is a particularly sweet board because it is the most stable choice out of the series. Its rigidity is (almost) unreal. Except for the fact that we tested it and it bent the least out of the entire series. So, it's real, it happened, and this SUP is insanely rigid. It also has the highest carrying capacity at 450 lbs!
If you're a larger paddler and want to bring out a lot of cargo or kids, this is the board for you. If you're someone who is mostly worried about being able to stand up and stay balanced on your SUP – this is a great pick. And of course, if you want to go on a double-date kayaking adventure, this is your board! It can convert into a tandem kayak in less than five minutes using the Isle-Link system, and even with two seats and footrests, it has enough room for both people to feel comfy!
Thanks for reading and we are looking forward to hearing from you! Leave us a comment below.
The following two tabs change content below.
SupBoardGuide Editorial Team
At SupBoardGuide.com we are a team who love the water, the outdoors, and are more than grateful that our full-time job allows us to review stand up paddle boards. We paddle year round (it helps that we are just about 2 hours outside of Las Vegas), and we bring in a wide range of paddlers with the goal of providing our readers with the best, most in-depth, and accurate stand up paddle board reviews.
Latest posts by SupBoardGuide Editorial Team (see all)