iROCKER Cruiser Ultra Inflatable Paddleboard
Pros
The most compact and portable Cruiser SUP on the market
Highest level of stability out of the Ultra series
Overall improved performance from iROCKER's original Cruiser 10'6
Included 12V Electric Pump adds a lot of value to this kit
Added stiffness due to upgraded construction
Versatile features without crowding the SUP deck
Cons
We'd appreciate if iROCKER extended the deckpad to the tail for more grip during stepback turns
In the future, we'd like to see the 5-piece paddle adjustable to shorter heights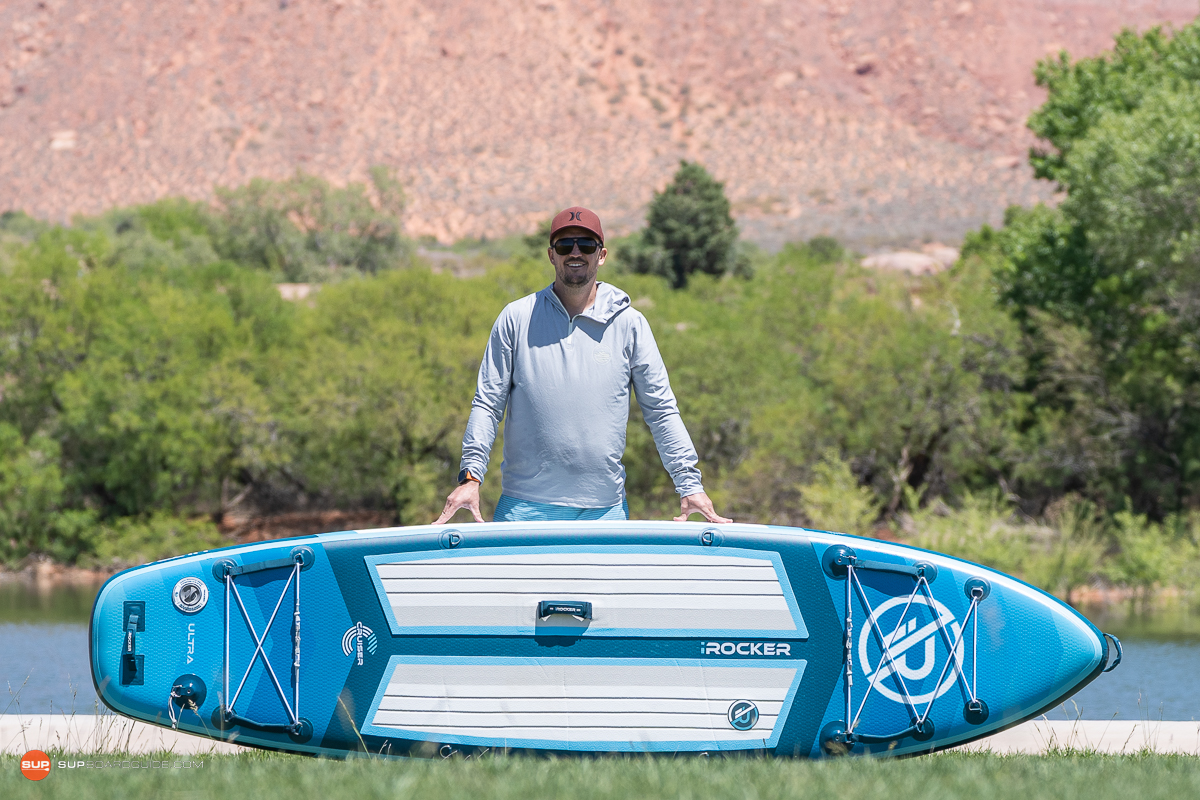 The iROCKER Cruiser Ultra was the last SUP of iROCKER's new Ultra line to be paddled through our testing, and we thought we knew what to expect. However, it actually took us quite a bit of thought to determine how best to describe this SUP.
What we eventually settled on was this: the Cruiser Ultra may be the truest all-around out of the entire Ultra series. It combines stability with maneuverability, while still being capable of decent tracking to allow for a bit of speed. The Cruiser Ultra takes the benefits of the high-volume standard Cruiser 10'6, and eliminates some of the drawbacks that came with a heavier construction. For these reasons, the Cruiser Ultra has become one of the easiest boards we have that we can recommend to just about anyone.
Being 10'6 long and 33" wide, the Cruiser Ultra is clearly geared toward stability, though its lightweight build and rigid construction add a bit more to this SUP. Despite its high volume, we found the Cruiser Ultra to be much more maneuverable and require less overall effort to get going up to speed and moving down the line. It'd be a great fit for paddlers who are looking for the compact, portability that iROCKER's Ultra series has come to offer, without forgoing the ability to load this SUP with gear, bring aboard an extra (smaller) passenger, or otherwise just have a really easy-going and relaxing experience on the water.
We think the iROCKER Cruiser 10'6 Ultra would be great for paddlers who
Want a stable, high-volume SUP while still enjoying the benefits of a compact board
Prefer a more laid back paddling experience, rather than an intensive workout
Need a true all-around that's capable in every facet of performance
Need a SUP that will perform in flat water, chop, ocean waves, and slow moving rivers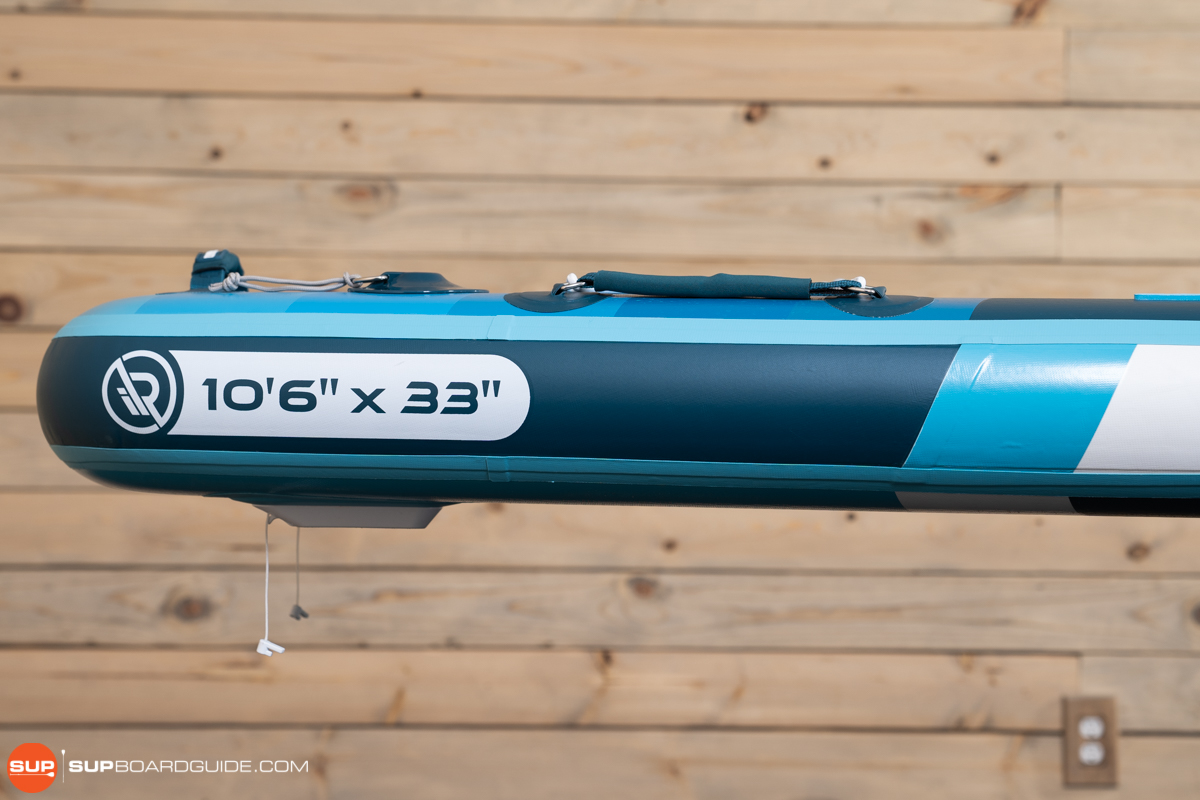 iROCKER Cruiser 10'6 Ultra: Spec Sheet
Main Category: All-Around, Inflatable
Board Dimensions: 10'6 x 33" x 6"
Listed Board Weight: 21 lbs
Listed Max Capacity: 300 lbs
Recommended PSI: 12-16 PSI
Fins: 9" Twin-fins w/ snap-lock fin box and locking tether
Paddle: 5-piece w/ carbon shaft and nylon blade
Materials: Triple layer composite PVC w/ woven dropstitch core
Price Range: High
Warranty: 3 years
Performance Review of the iROCKER Cruiser 10'6 Ultra Stand Up Paddle Board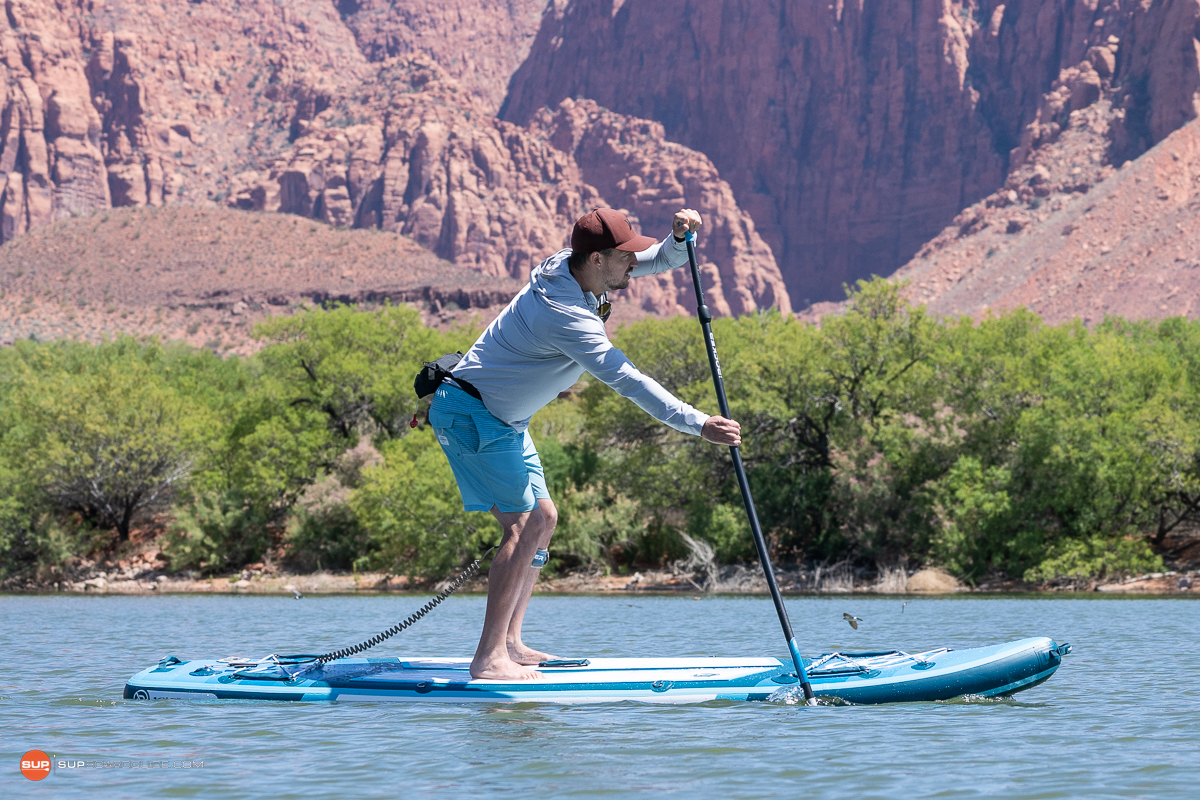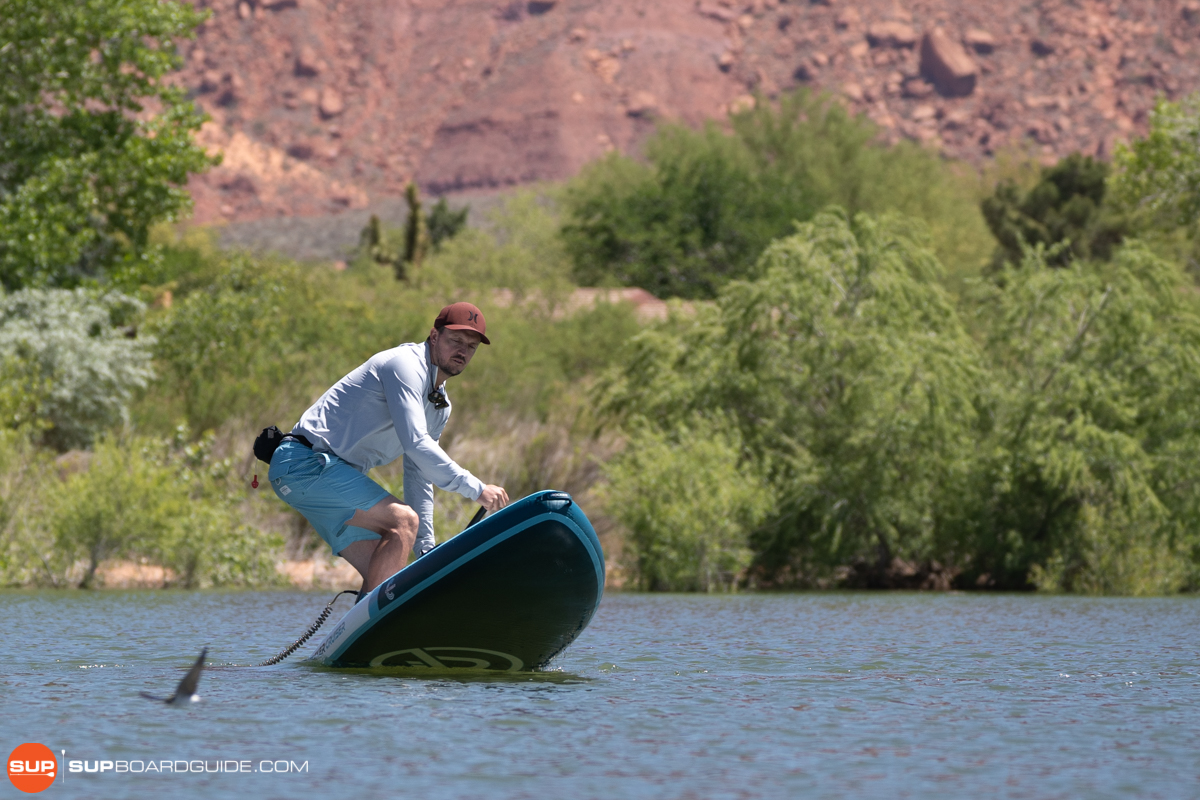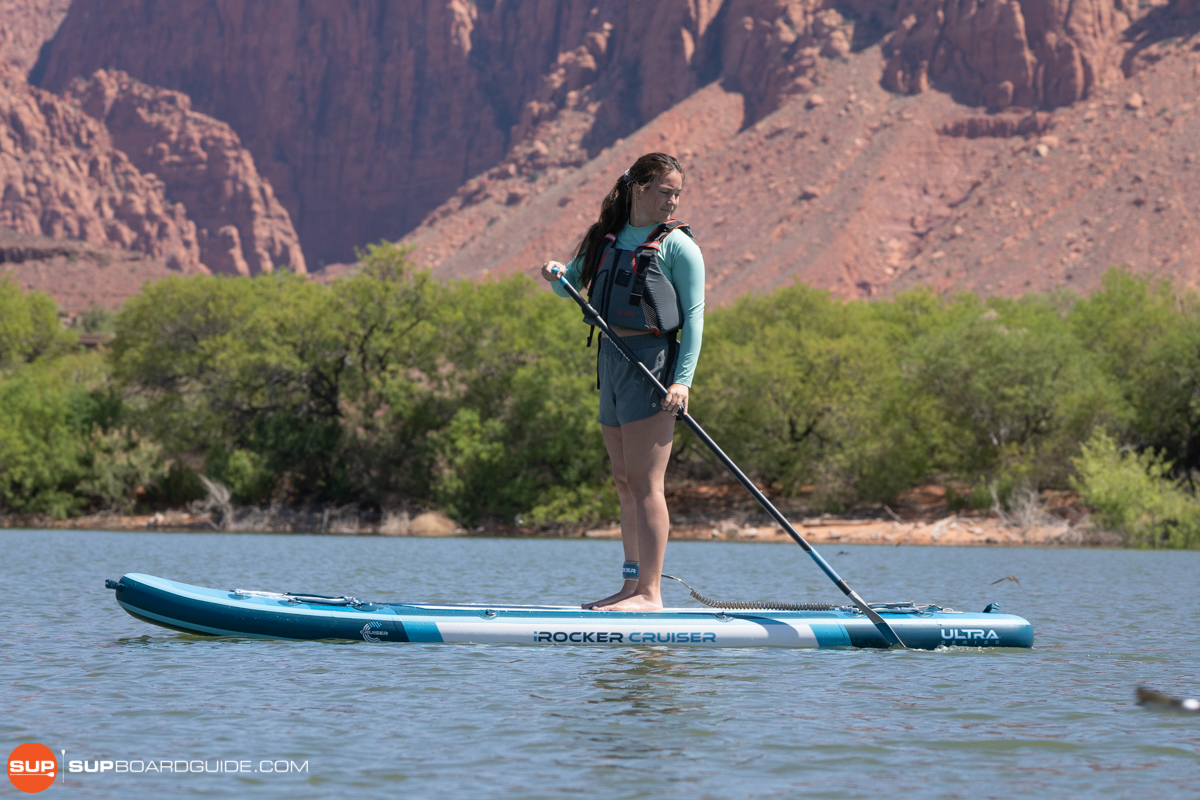 Overall Score: [9.6/10]
Stability: 9.2/10
Speed: 9.0/10
Tracking: 8.9/10
Maneuverability: 9.1/10
Construction Quality: 9.8/10
Features/Accessories: 8.6/10
Stability Rating: [9.2/10]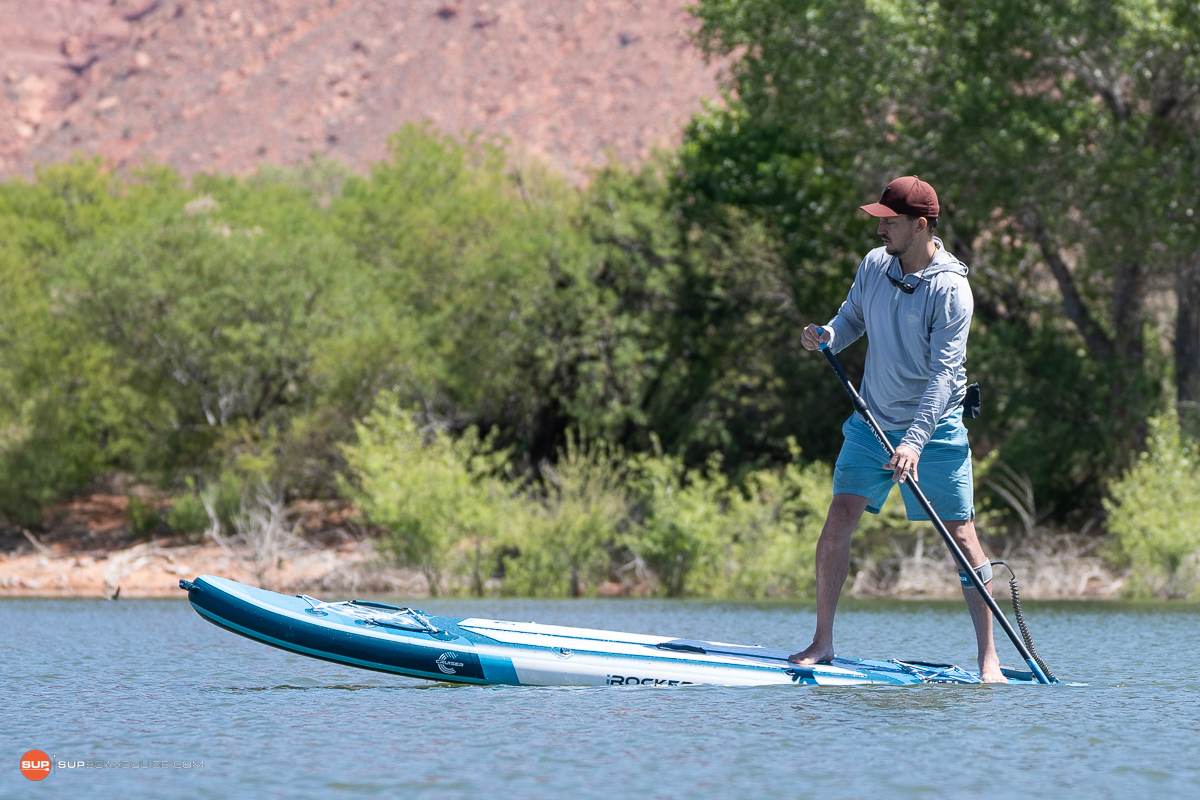 With the original Cruiser Ultra, we noticed a small stability decrease when compared to iRocker's previous 'original' Cruiser series. However, with the Cruiser 2.0, iRocker increased the width to a full 33", which makes the 2.0 version more stable than the 1.0 – and even a little more stable than the original series.
We'd recommend the Cruiser 2.0 for any beginner paddler under 220-230 lbs and 6'4'ish or less, or for paddlers who are mostly concerned with being able to stand up and paddle vs sit down and paddle (trust us, SUP as a sport is much more fun when standing!).
Speed Test: 9.0/10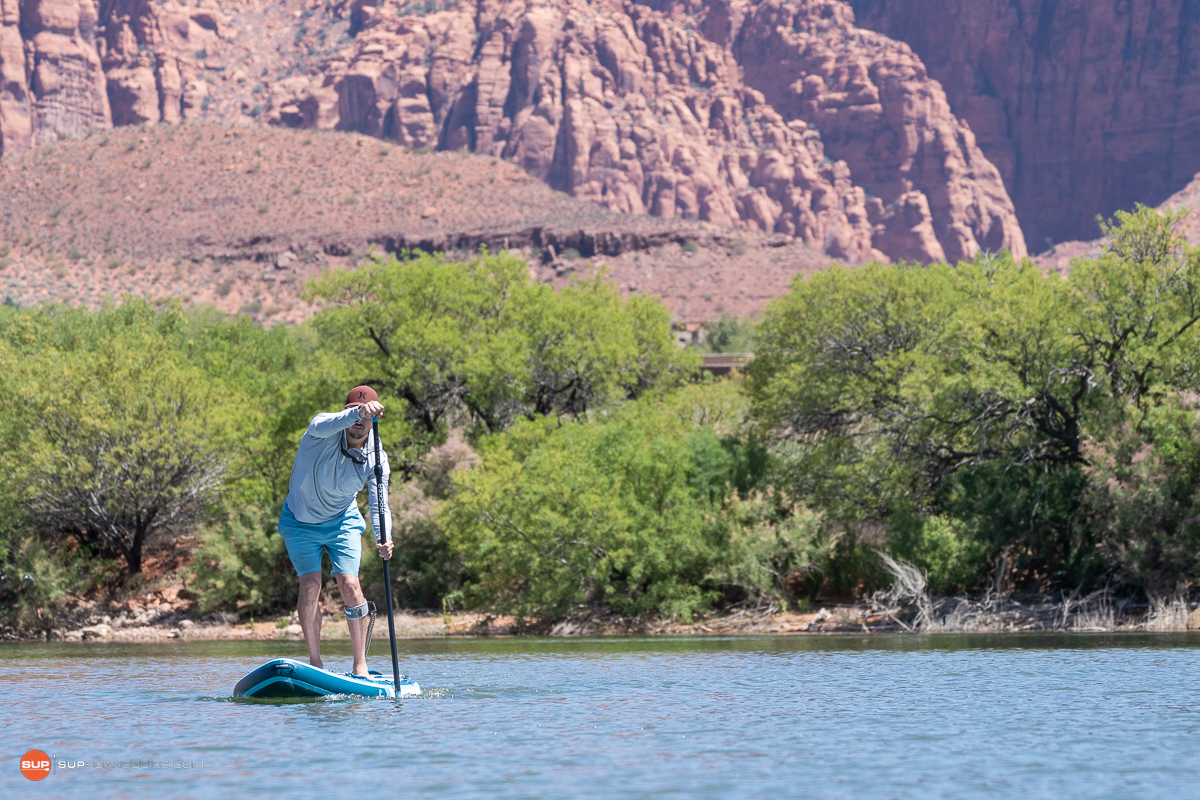 | | |
| --- | --- |
| Top Sprint Speed: | 5.25 MPH |
| Average Cruising Speed: | 4.2 MPH |
SUP Board Guide's Speed Testing:
To obtain our speed test results, we use a Speed Coach Sup 2. This gives us accurate readings on how fast we are paddling and our current stroke rates. For the top sprint speed, we paddle as hard as we can for approximately 10-15 seconds and then record our average speed. For the casual test, we paddle at 40-35 strokes per minute for approximately 30-60 seconds and record the average speed.
Being the widest, most stable of the bunch, we did not expect the Cruiser Ultra to be a rocket on the water.
That being said, we definitely did notice a speed increase when compared to the iROCKER's original Cruiser 10'6. We credit the Cruiser Ultra's lighter build (21 lbs vs the original's 25 lbs) in making the Cruiser Ultra a bit quicker off the jump. Another contributor is likely a new twin fin set-up, as it does improve the Cruiser Ultra's tracking compared to the non-compact version and in theory could reduce some drag going from 3 fins to 2.
In our sprint test, Justin was able to cruise at a solid 4.2 mph, and sprint at a top speed of 5.25 mph, which is really good for a slightly wider all-around SUP, and even better for a cruiser style board.
How do those numbers compare to the 10' Ultra and 11' Ultra? The Cruiser Ultra was just a little slower than the 11' All Around, but a little faster than the 10' All Around (note: smaller paddlers will likely be faster on the 10' AA than the Cruiser).
Tracking: 8.9/10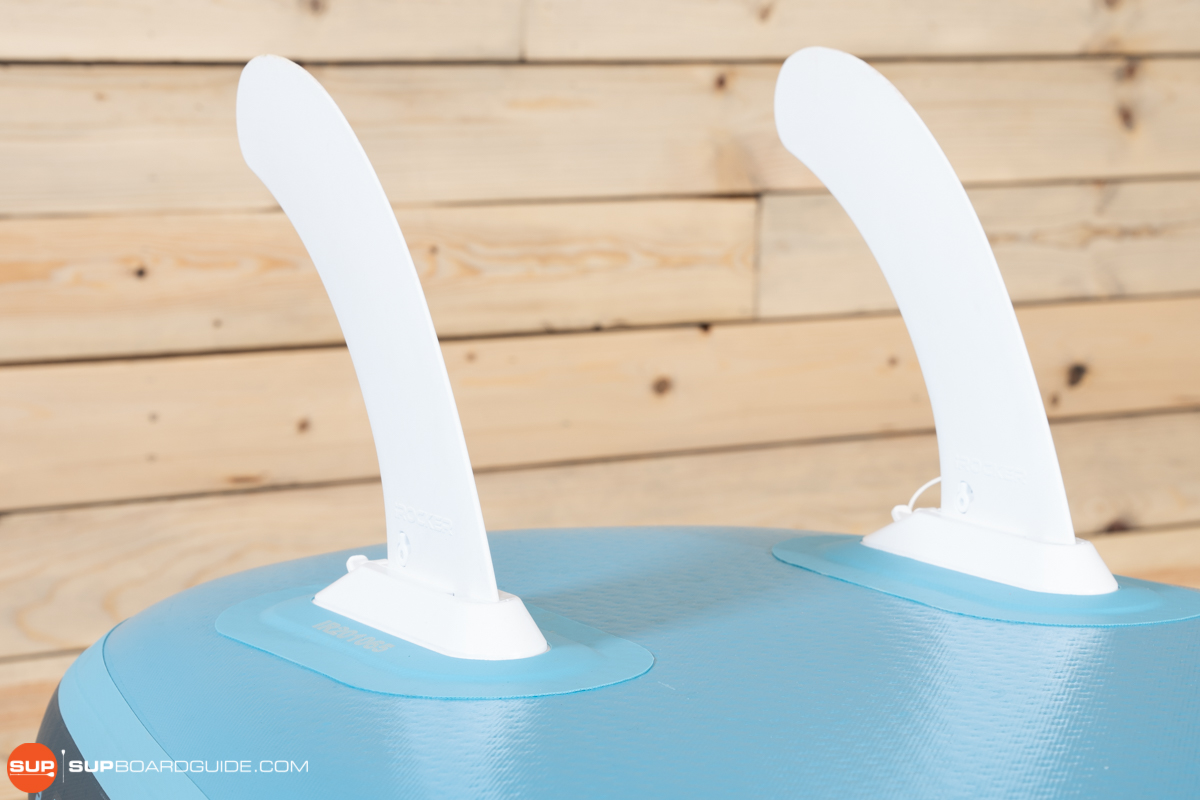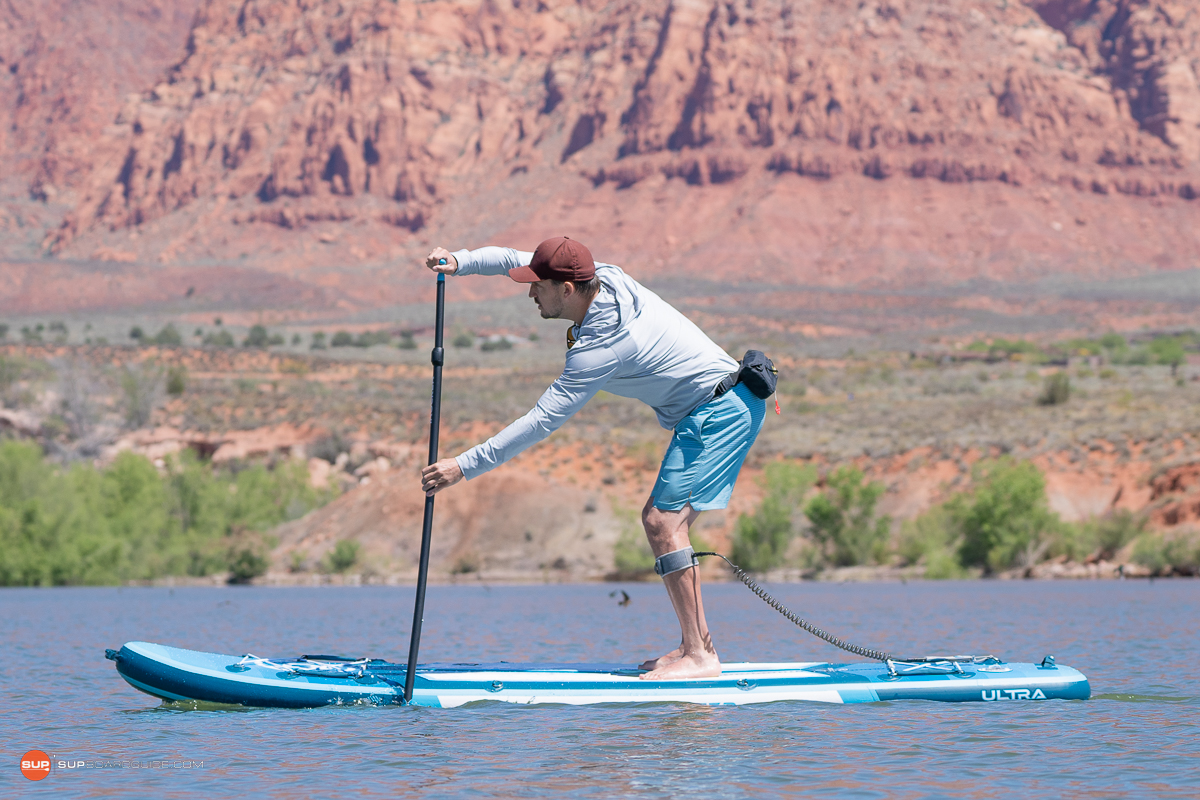 As with every SUP in the Ultra series the Cruiser Ultra's tracking has been notably improved from the original, non-compact Cruiser 10'6.
Tracking is the main area where the newly added 9" twin fin set-up plays a fairly large role. They seem to grip a lot more water than the 2+1 fin set-up, and make the SUP hold a straight line more naturally, even if your form is not 100% honed in. Though it is important to note here that tracking and maneuverability (which we'll discuss below) typically end up being trade-offs, so a SUP with really great tracking won't often be exceptionally maneuverable and vice versa. However, we haven't noticed that trade-off to be super dramatic on the Ultra Cruiser 2.0.
I also want to note that because the Cruiser Ultra is the widest of the series, it doesn't display quite the same level of tracking as the narrower Ultra SUPs, but it's a pretty marginal difference. Realistically, we were only able to notice it because we count how often we need to switch sides during testing, and the Cruiser Ultra required just 1-2 more switches than the other Ultra boards.
Maneuverability: 9.1/10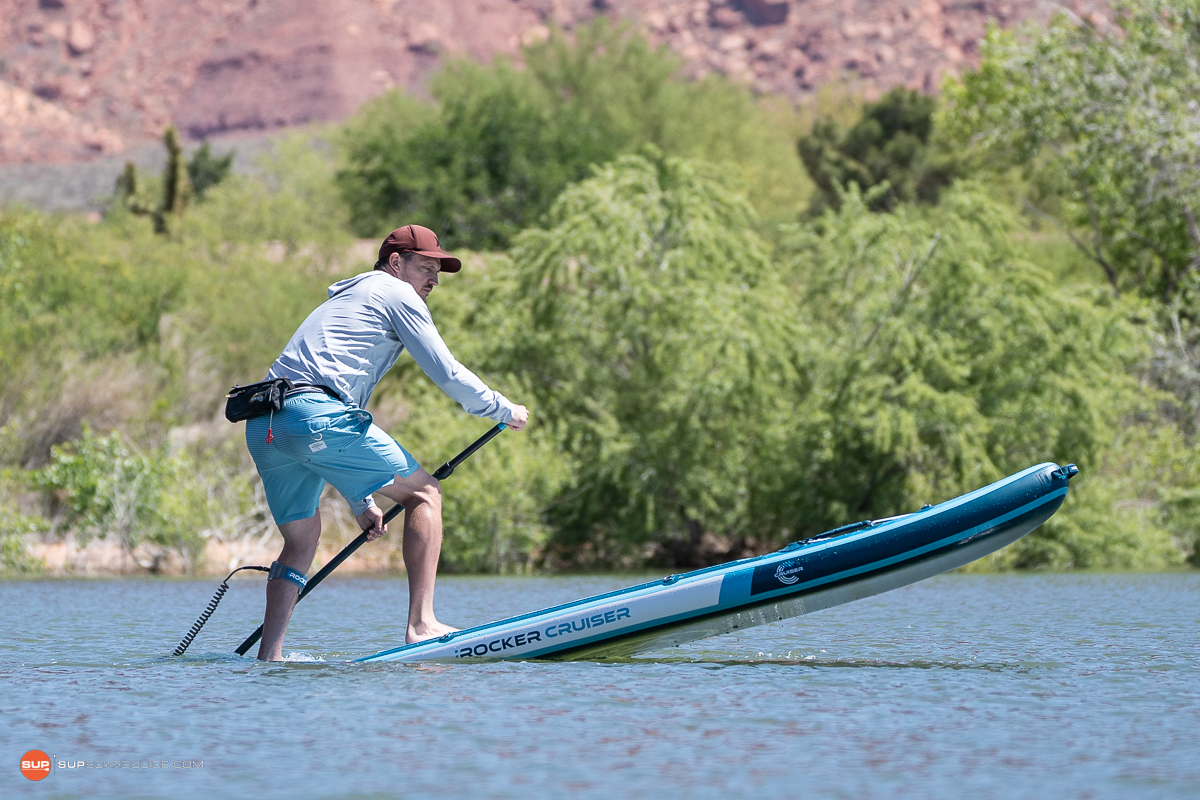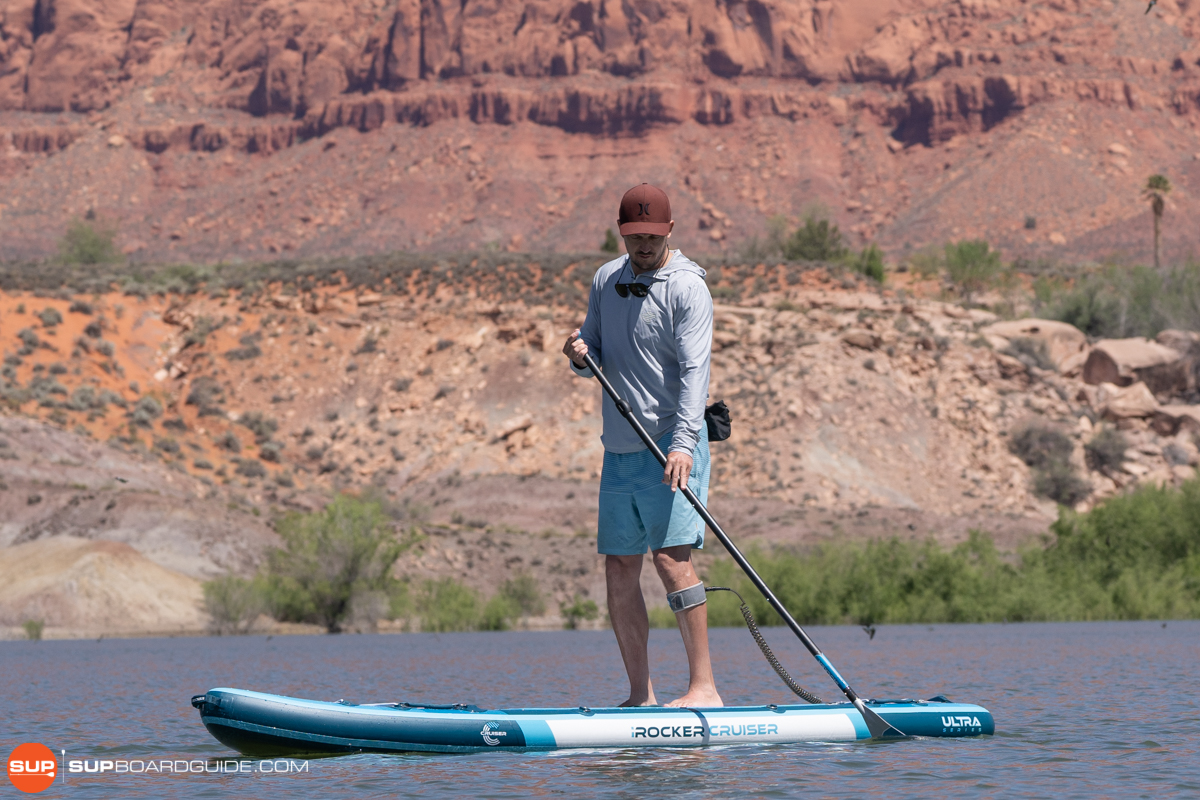 Like most aspects of its performance, the Cruiser Ultra's maneuverability is improved from the original iROCKER Cruiser 10'6.
We'd credit the Cruiser Ultra's lighter build for its added maneuverability. Being 21 lbs compared to the original Cruiser's 25 lbs, it requires much less effort from the paddler in both forward sweeping and backstroke turns, and the wide tail provides a lot of stability during a stepback turn. Our one suggestion to iROCKER would be to somehow incorporate a raised kick pad on the tail of the Cruiser Ultra, or even just extend the deck pad all the way back to the tail as it is on the original version.
Compared to the other Ultra SUPs, the Cruiser Ultra is expectedly a bit less maneuverable than the 10' Ultra, but more maneuverable than 11' Ultra. It comes very close in maneuverability to the Blackfin CX Ultra, despite being a wider, higher volume all-around; the Blackfin CX Ultra still beats it by a hair due to its slightly narrower shape and tapered tail.
Construction Quality: 9.8/10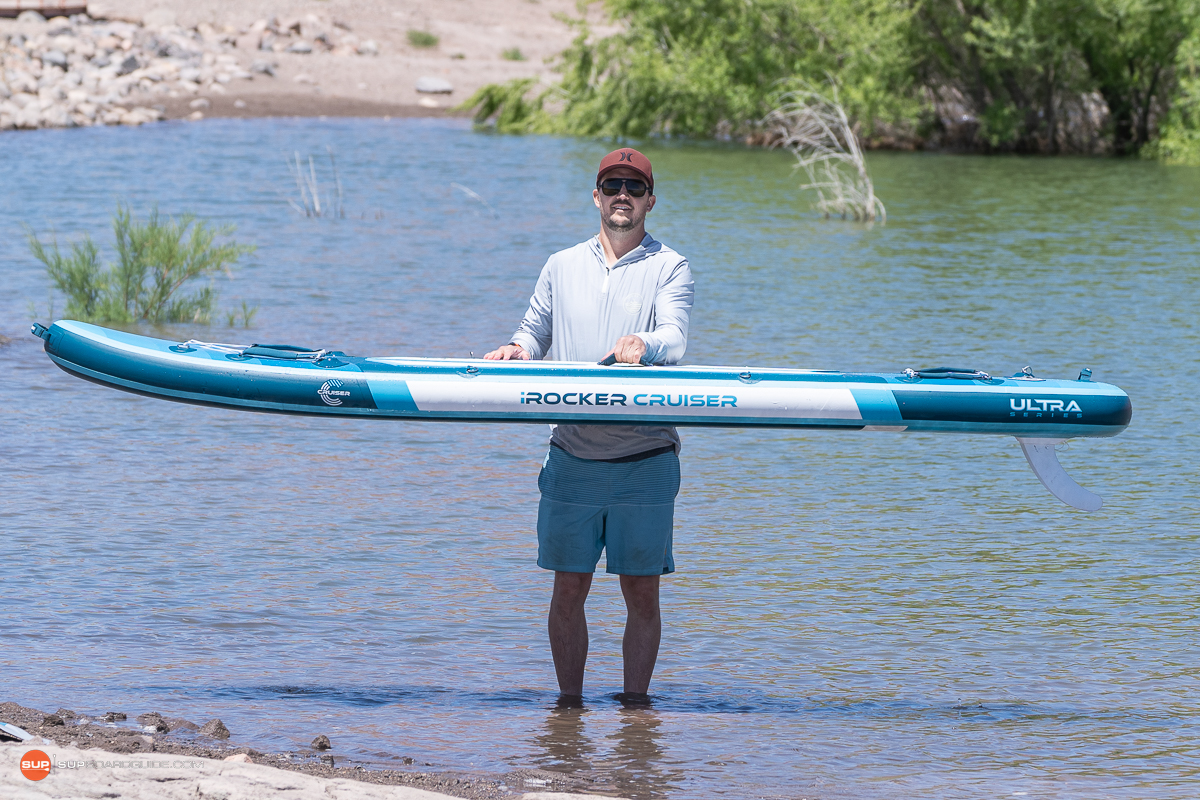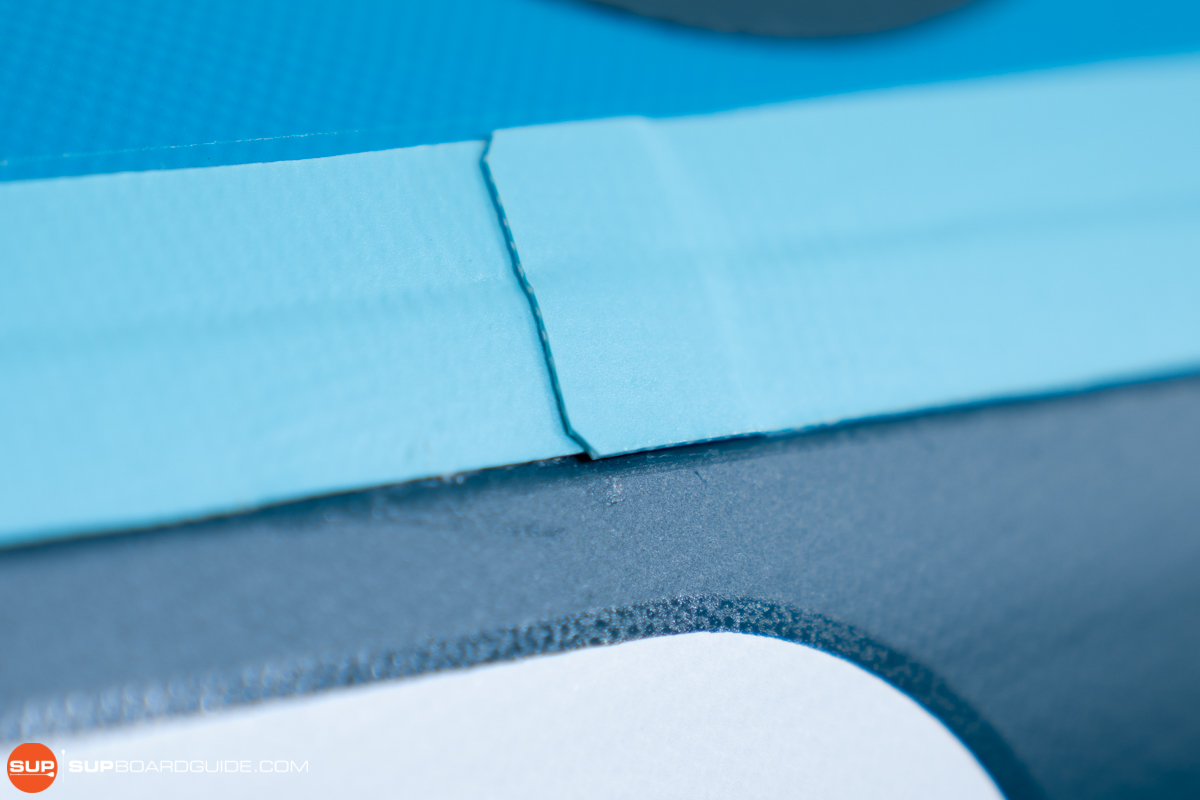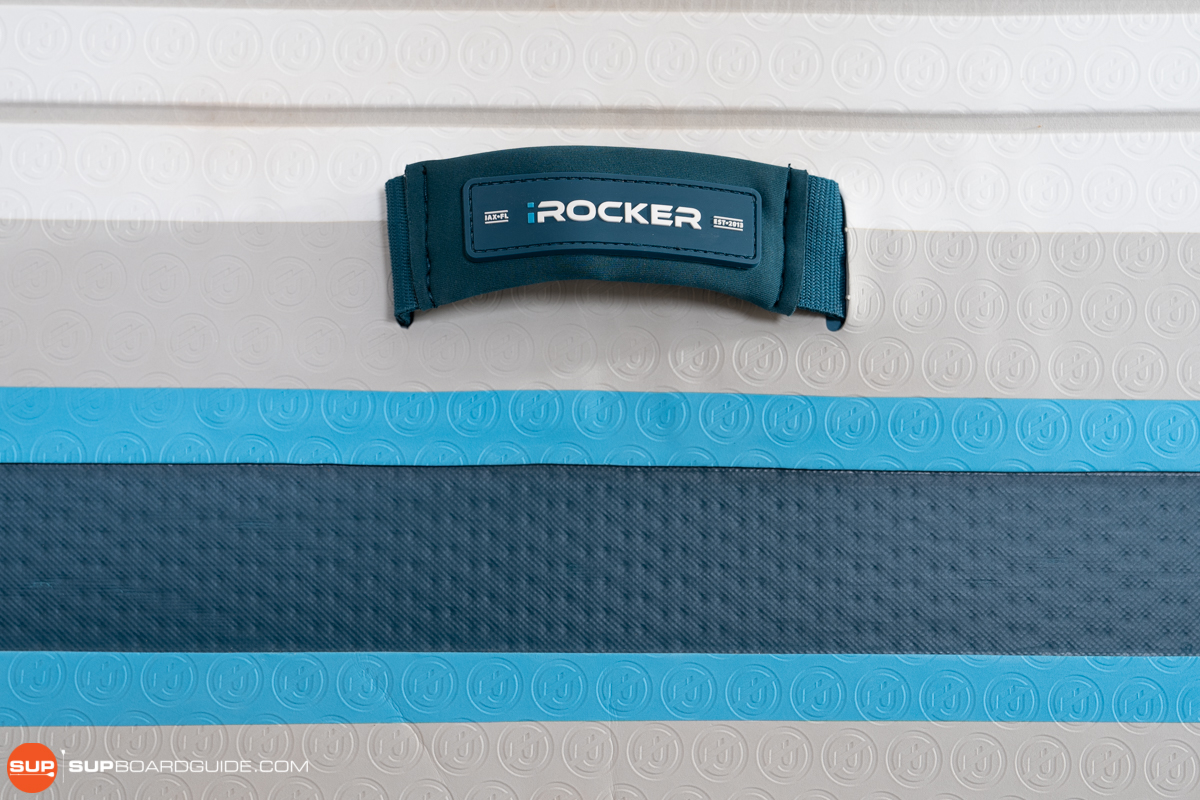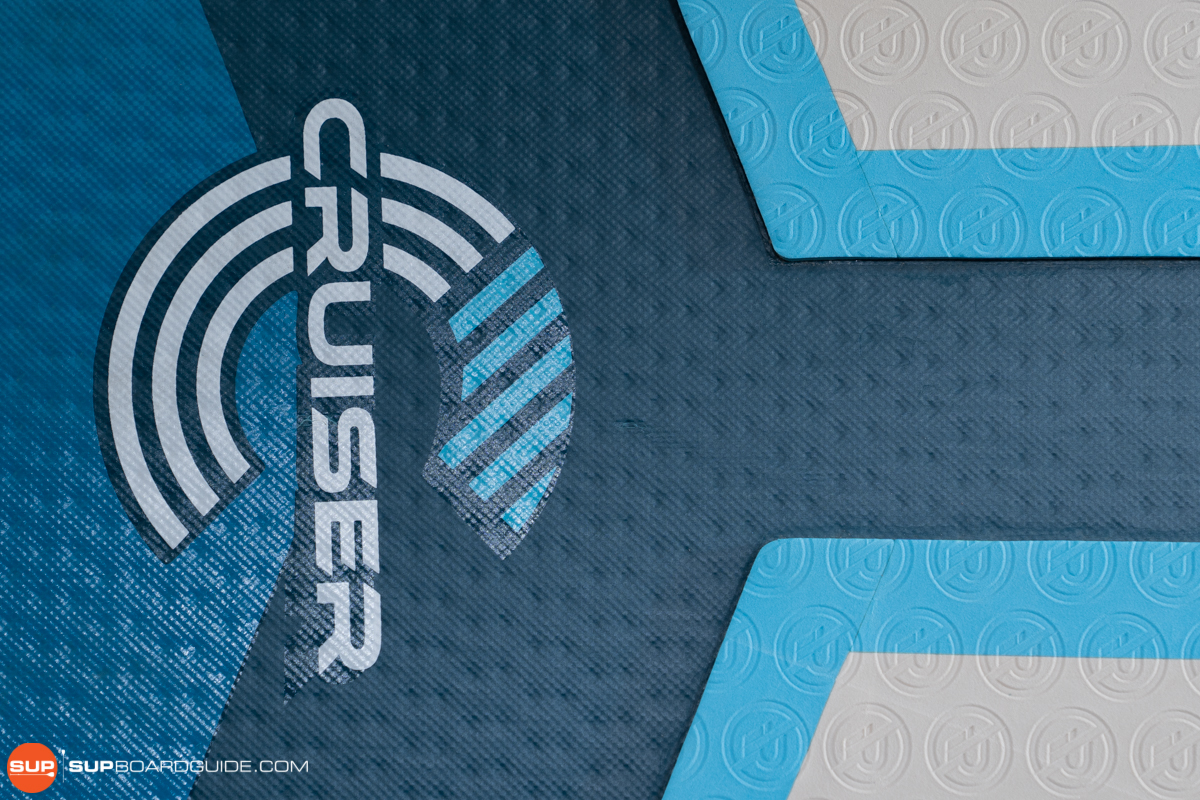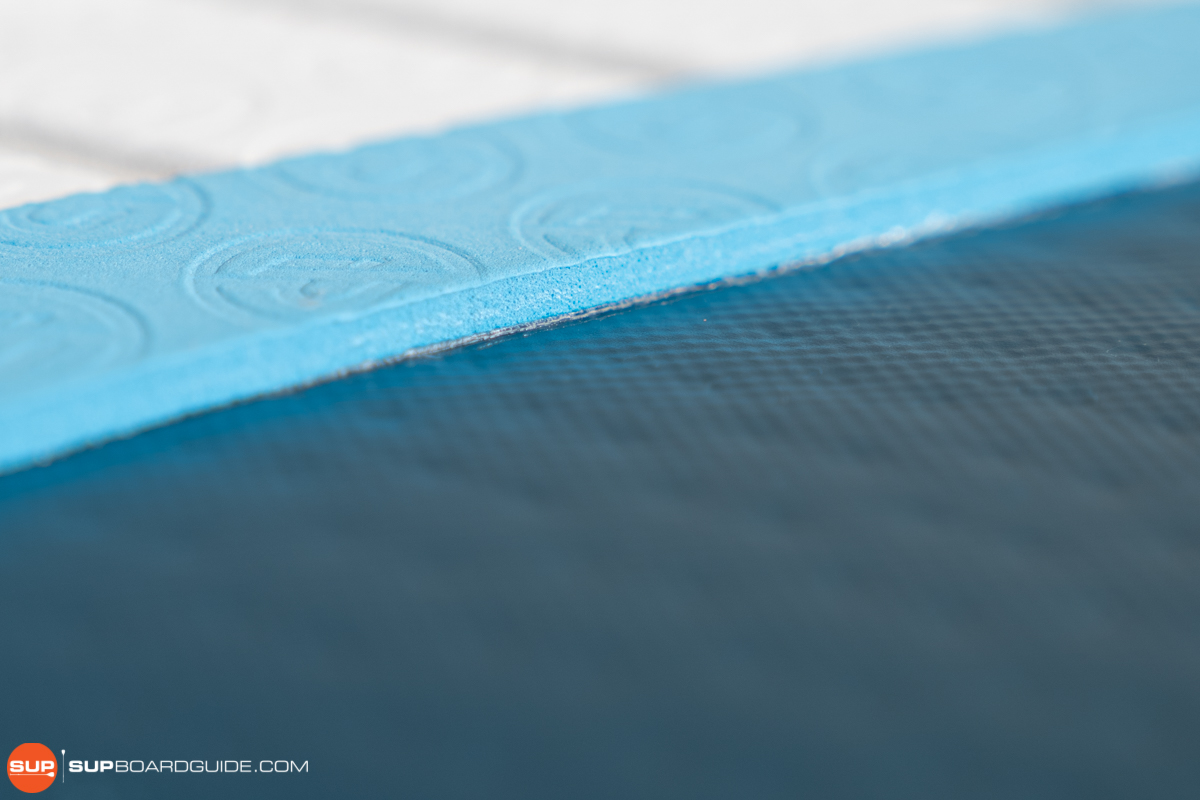 One of the main differences between the Ultra series and iROCKER's original line is a lighter overall build. Of course, the first question we asked iROCKER upon receiving these boards is how exactly the construction changed in order to cut about 4 lbs per board.
The answer was actually less drastic than we had thought; each Ultra SUP still has the same triple layer composite PVC outer shell that the original line is produced with, but it's the inner drop stitch core that is different. Instead of using linearly oriented drop stitch threads, iROCKER opted for 'X' oriented, or 'woven' drop stitch, in the Ultra series. This switch allows them to achieve a slightly higher level of rigidity, while still using less material.
We'd also estimate that some of the weight loss can be accounted for in small tweaks to the actual PVC material, despite the number of layers being the same, but iROCKER is a bit more tight-lipped about this. Other than that, there's bound to be weight reductions in the smaller touches such as the Ultra's split deck pad versus the original line's full length deckpad, the smaller fin boxes, and minor changes in added features.
The bottom line though, is that the Cruiser Ultra and the entire Ultra series is a bit more rigid, and a bit higher performing than their original counterparts, and we're super impressed with the compact design.
Board Stiffness: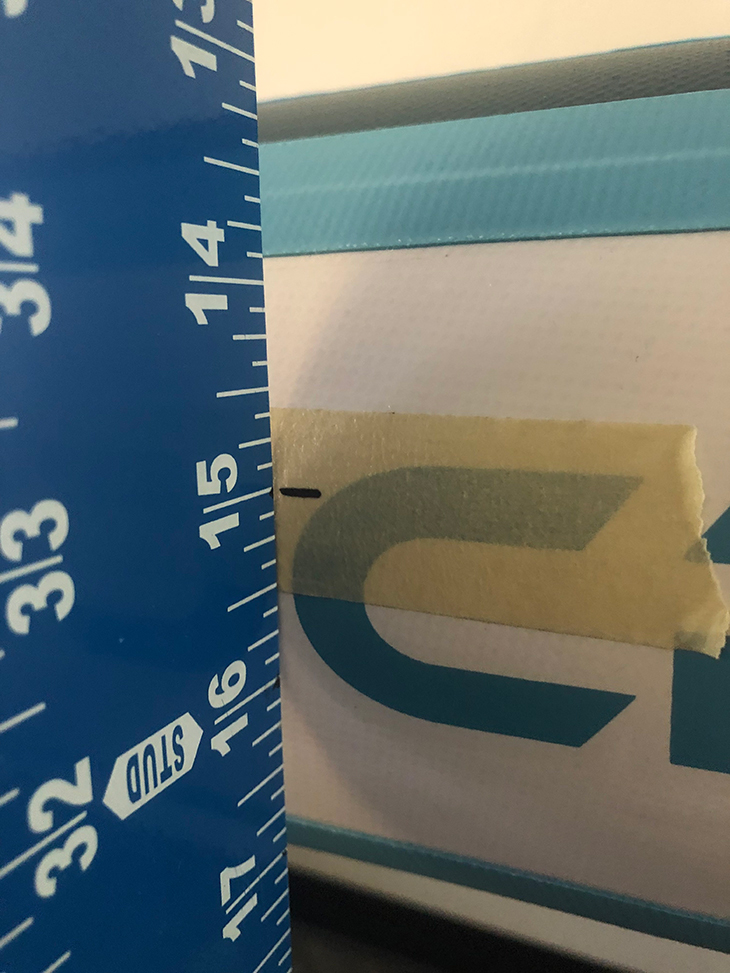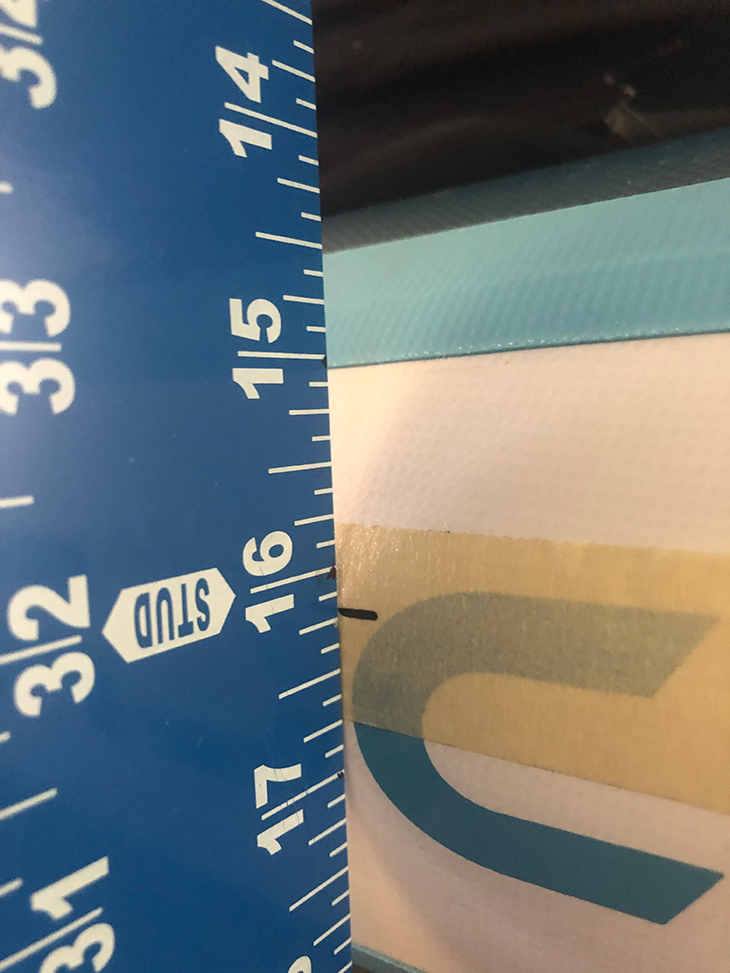 Stiffness Test: 1.0625 " Bend
SUP Board Guide's Bend Testing:
In order to attest to the rigidity of each board, we use a bend test curated by Supboardguide.com. In order to obtain the results, we inflate the board to its maximum recommended PSI and then place it across two sawhorses that are 7 feet apart. We then take a measurement in the middle of the board. Then, we place 150 lbs worth of sandbags on the middle top of the SUP. Last, we record its displacement (the movement from its original position). We use this method for every board we test as a way to mathematically compare boards across a common denominator.
Our stiffness test is performed by placing the SUP on top of two sawhorses that are set 7' apart. We then take one measurement before and after loading 150 lbs onto the board's midpoint (usually across the center handle). Of course, this test does not mimic the SUP's behavior on the water, but it's an unbiased way for us to understand how certain construction methods effect stiffness and overall performance of each paddleboard.
The Cruiser Ultra bent just a bit over 1" during our, which is about on par with the rest of the Ultra series, and fairly similar to the performance of the original line. On the water, the Cruiser Ultra feels a bit more rigid and responsive than iROCKER's original Cruiser.
Features/Accessory Review: [9.8/10]
Though not quite as feature heavy as the original iROCKER Cruiser, the Cruiser Ultra still has a healthy balance of versatile features.


The twin fin system on the iROCKER Ultra series has accounted for improved tracking across the board, notably so for the Cruiser Ultra.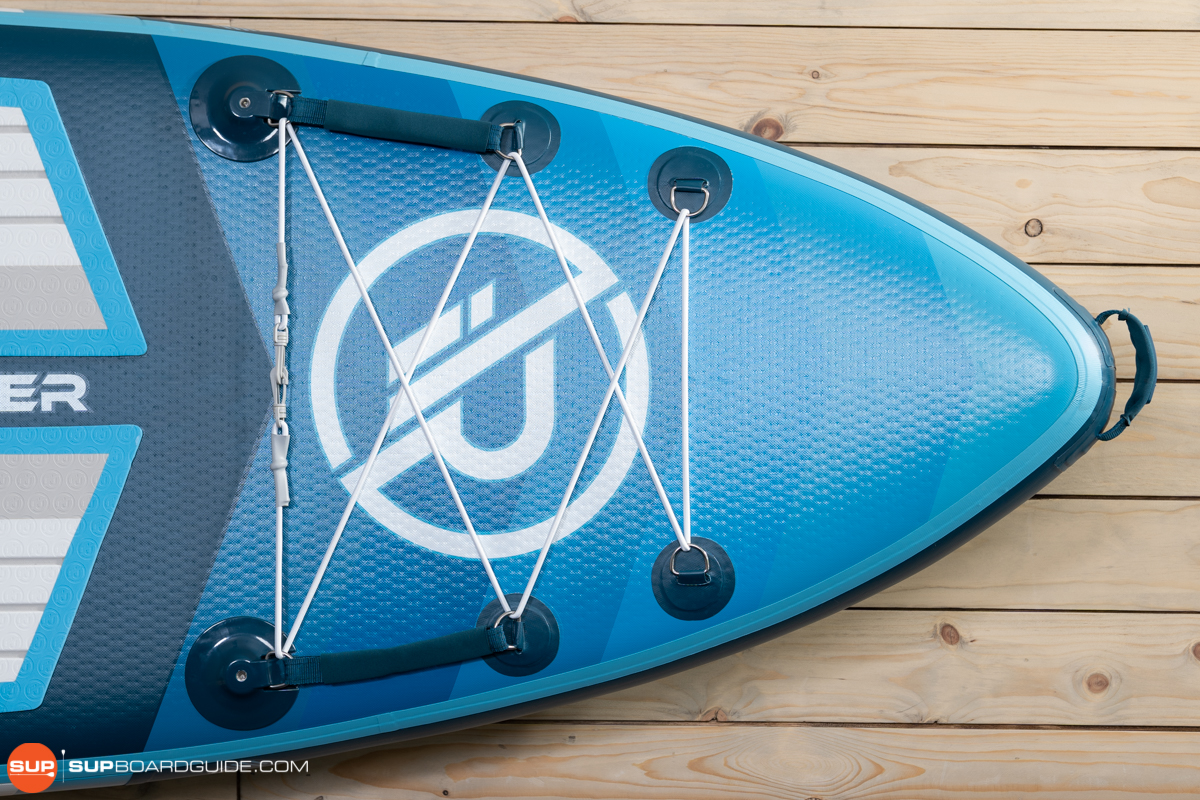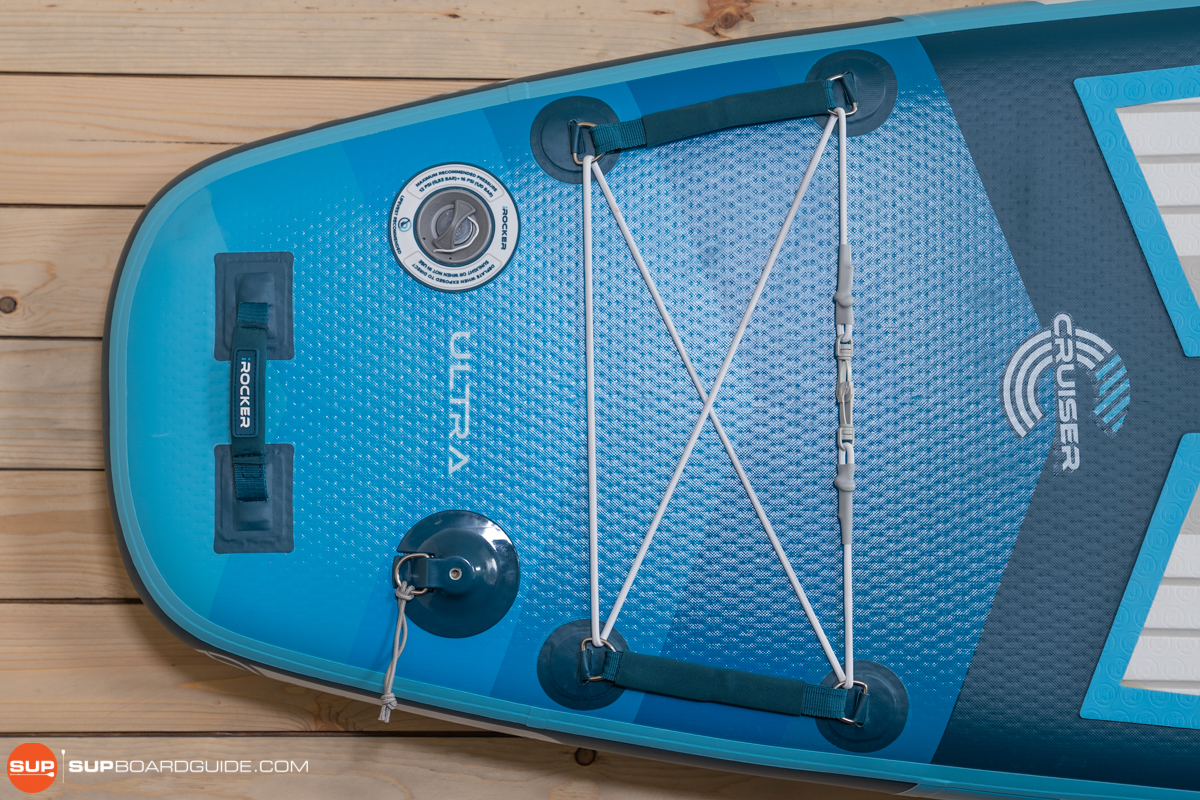 The Cruiser Ultra is equipped with fully removable front and rear cargo areas, kayak seat compatible D-rings, and 3 multi-use action mounts, 2 of which are integrated into the front D-rings and the third located on the right side of the tail.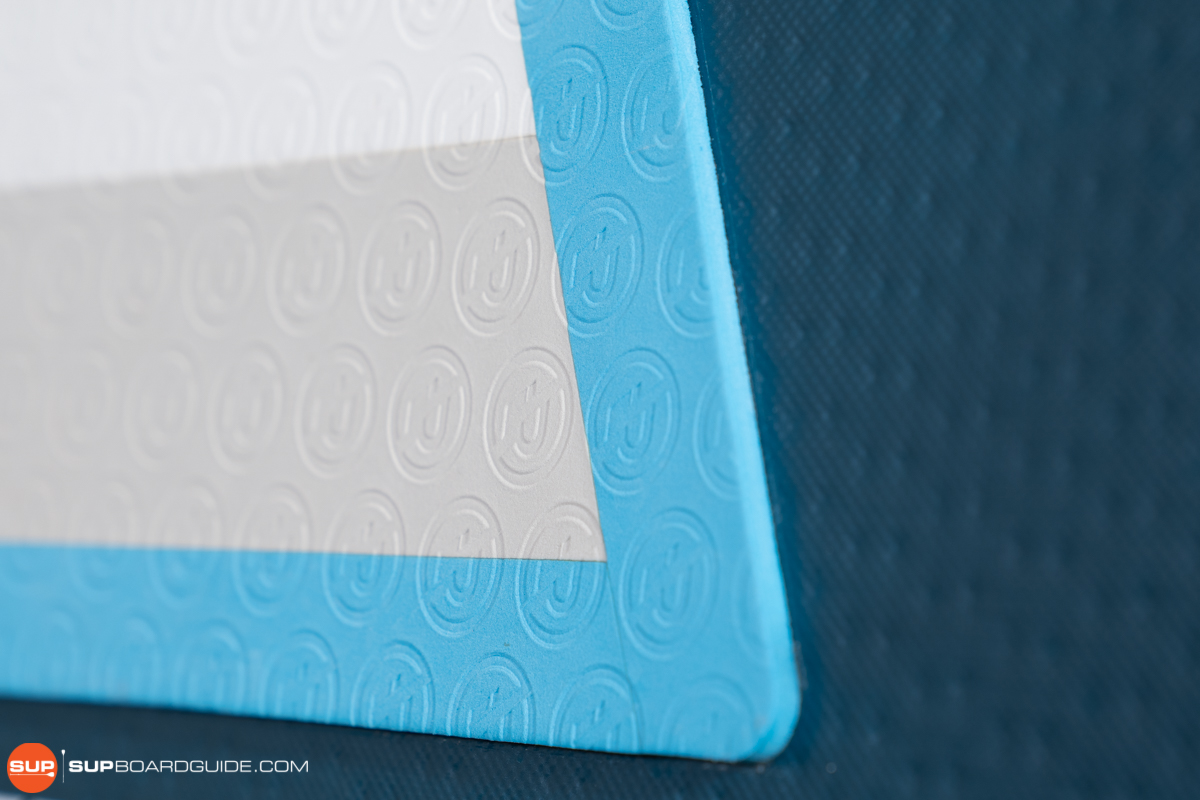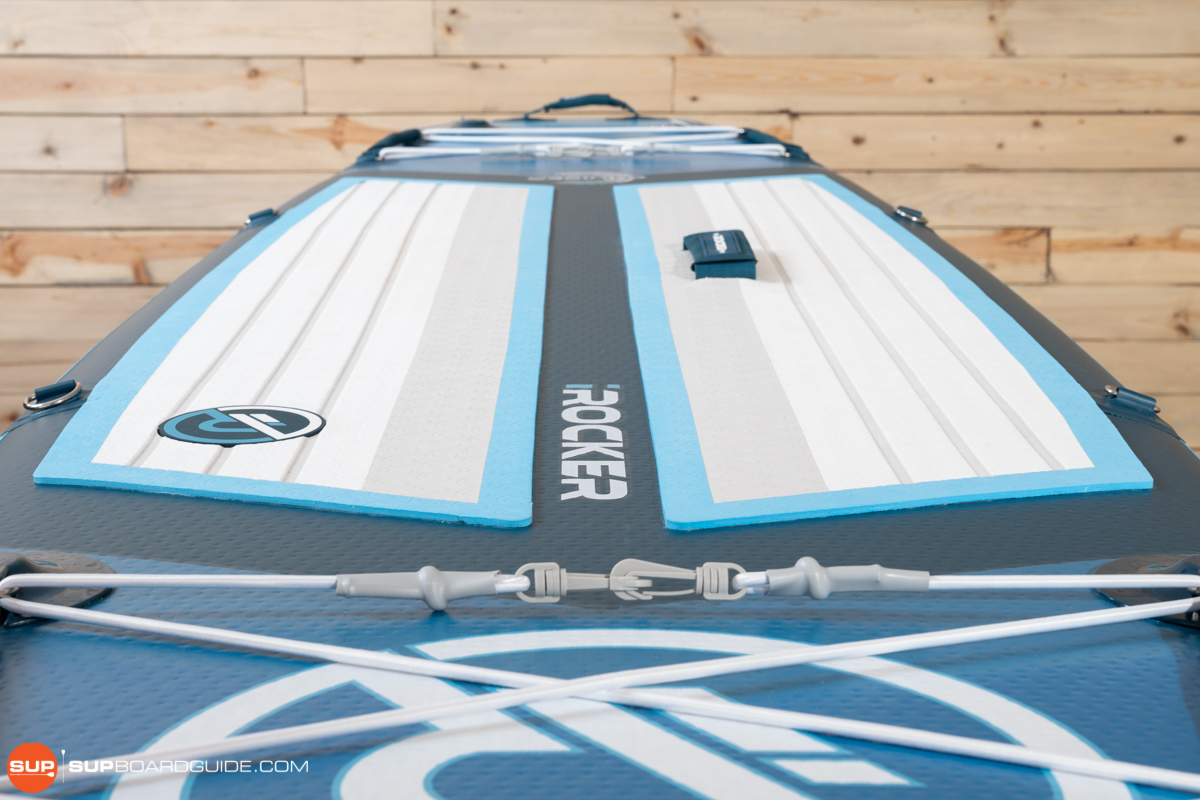 We also really love the comfort and grip of the Cruiser Ultra's grooved and brand stamped EVA deck pad, though you'll notice it is split down the middle to allow the board to fold 'hotdog style' before being rolled up and packed away.
Our one suggestion to iROCKER would be to extend the deck pad further back to the tail to provide even more grip during step back turns or just otherwise give paddlers a bit more room to move about the board. We'd also really appreciate it if iROCKER could somehow incorporate a raised kick pad, but realize that can be a challenge on a compact board.
Included Accessories: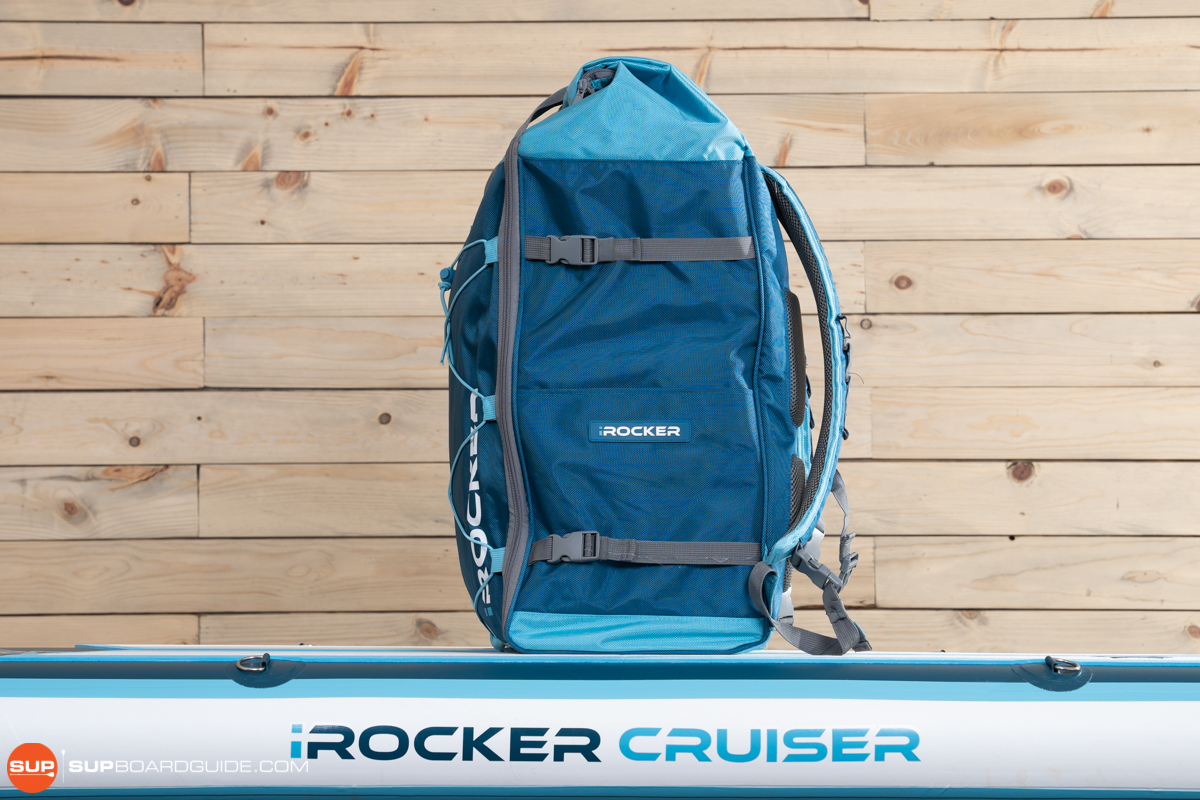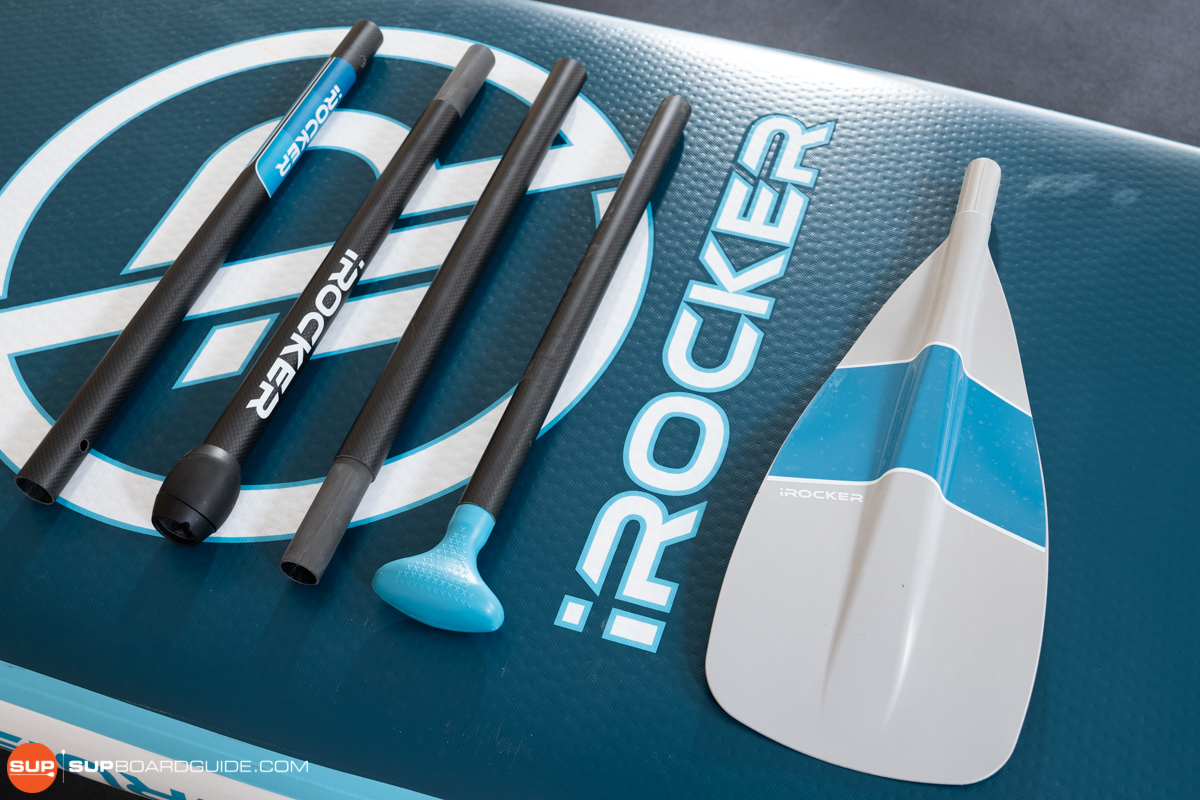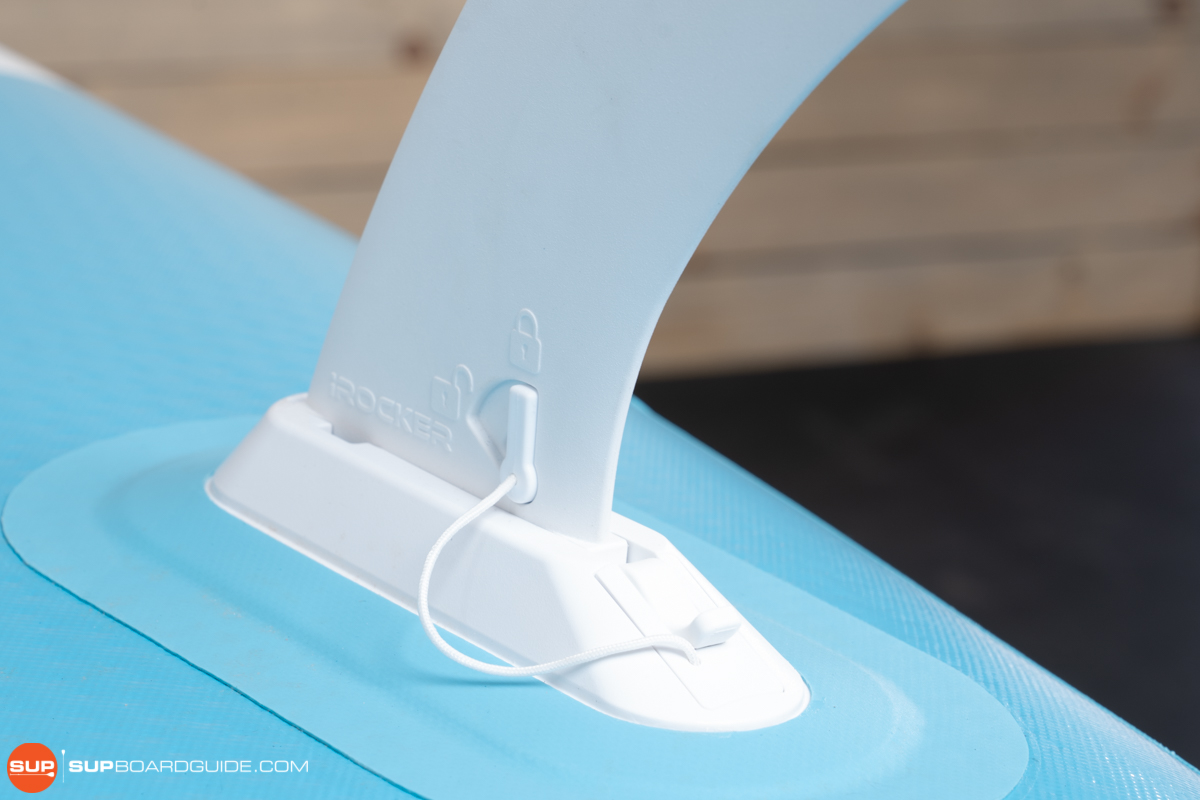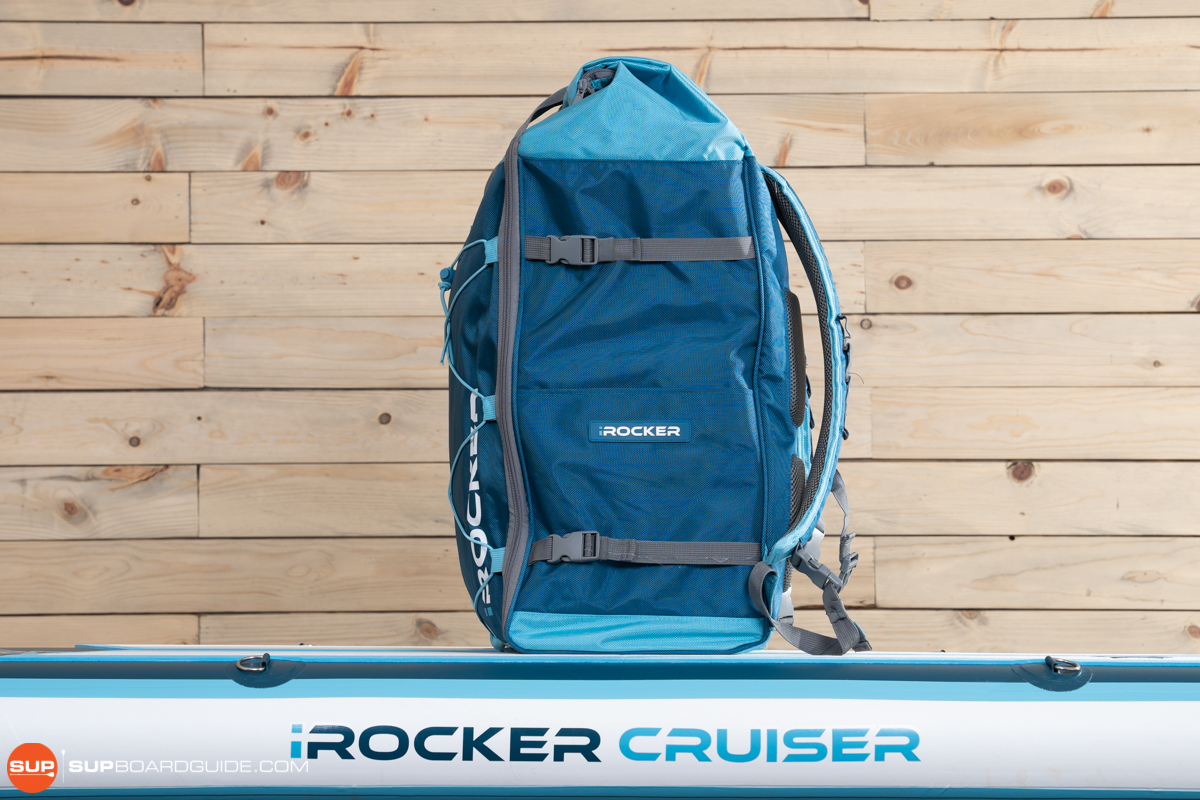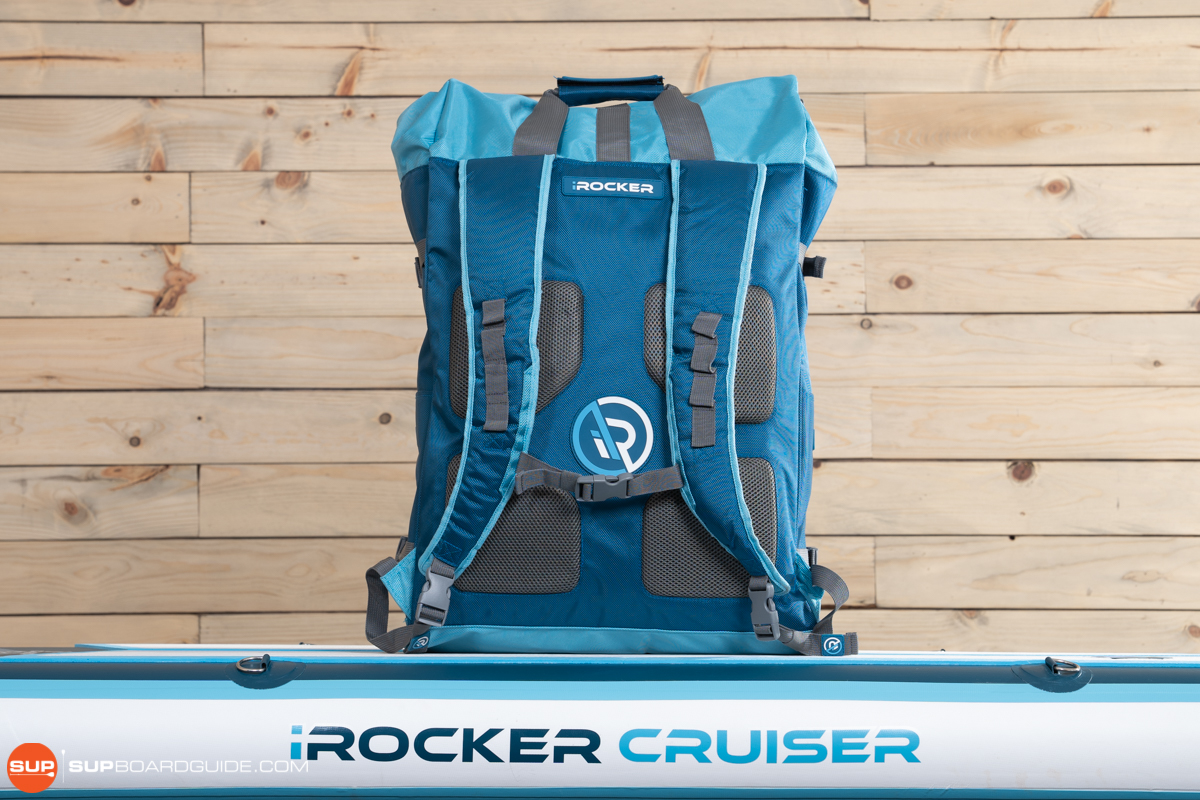 As we've stated in each of the Ultra SUPs' reviews, we're extremely impressed with the kit's functionality and overall value. Included with the iROCKER Cruiser Ultra are the following accessories:
5-piece carbon shaft paddle w/ a nylon blade
iROCKER 12V Electric Pump
9" snap-lock fins w/ locking tether (x2)
10' coiled leash w/ key pocket
Accessory Pouch
Compact roll-top/front zip backpack
At this point, we feel like we've harped on this a lot, but we love iROCKER's decision to include their 12V Electric Pump with the Ultra series boards. This pump has been one of our favorites over the years and has somehow withstood the less-than-careful treatment we inflict upon it. Its inclusion in this kit singlehandedly adds a ton of value overall, and will account for a much more enjoyable paddling experience than any manual hand-pump could provide. We also really love the small accessory pouch; it's perfect for storing your fins, leash, pump, hose, and any other tiny accessories that are a pain to dig around for in a larger SUP bag.
Though the real star of the show is iROCKER's new compact SUP backpack. The entire front panel of this 2' x 1' bag unzips, making it super easy to just place the rolled up SUP inside. There are also pockets to store your 5-piece paddle on either side of the interior of the SUP bag. Once re-zipped, the top opening of the bag can be then used as a roll-top. This is when we load in our accessory pouch (right on top of the SUP in an easy-to-reach spot), towels, a change of clothes, etc. When closed, the exterior of the bag also provides some storage options with a total of 3 external pouches, adjustable bungees on the front panel, and molly loops on the shoulder straps that are perfect for clipping on a water bottle or keys.
The only improvements we'd like to see iROCKER make to the Ultra line's kit would be to re-work the 5-piece paddle to make it able to adjust to a shorter height. I'm 5'2" and the paddle is just a bit too tall for me, even at its shortest height. Of course, it's still functional if I'm going for a more casual paddle, but I would like to shorten it a few inches if I were aiming for speed or wanted to keep a more aggressive form. We would also appreciate iROCKER providing more fin options for the Ultra line, as the shorter, snap-lock fin-box doesn't allow for a ton of customization.
Summary Review of the iROCKER Cruiser Ultra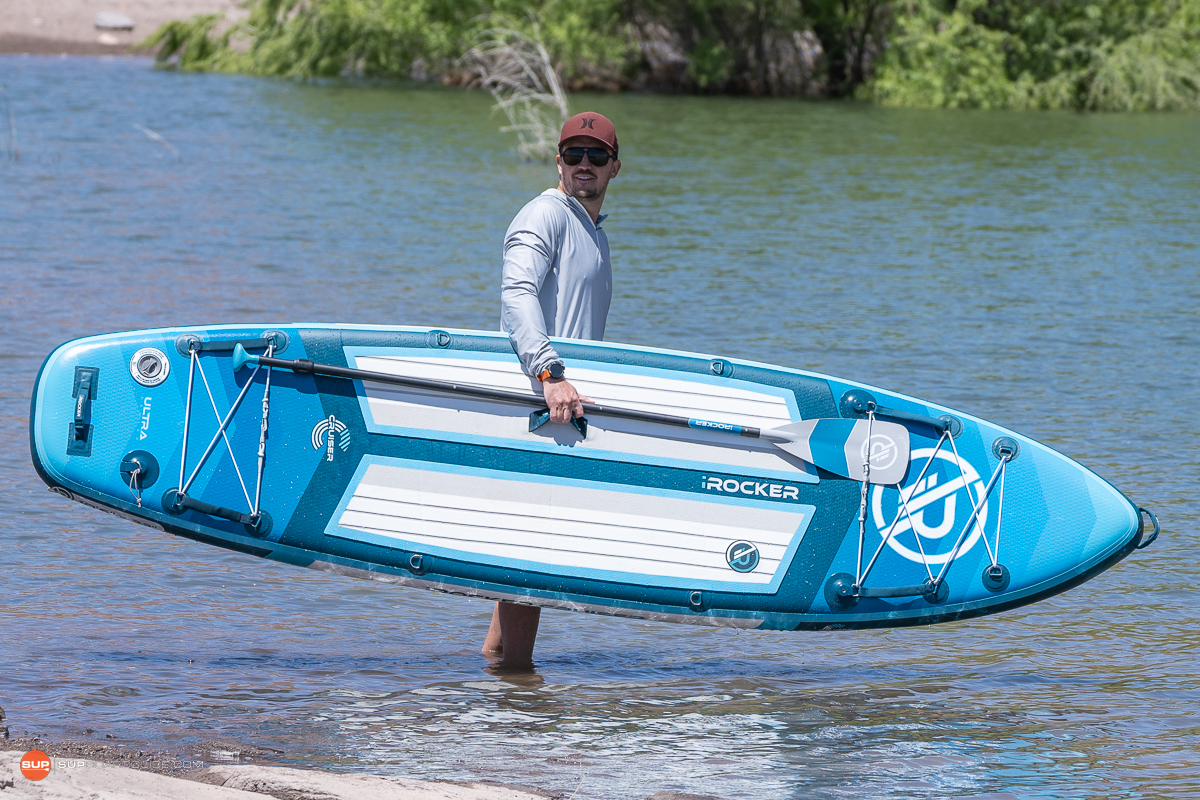 In short, there's a lot to love about the iROCKER's Cruiser Ultra. It takes the relaxing experience that the original Cruiser provides and offers overall better performance in every aspect of our testing.
The Cruiser Ultra is a true all-around SUP; meaning it's stable, decently fast, easy to track, and displays a great level of maneuverability without forcing you to make trade-offs in any of the prior. At the same time, its high volume build and rigid construction offer the highest weight support of the Ultra series and make the Cruiser Ultra the most capable to support taller/heavier paddlers, or paddlers loading up with gear and passengers.
Above all else, it offers the most in portability and compatibility and represents a new original for travel and adventure in the inflatable SUP industry.
We hope you've enjoyed reading through our review of the iROCKER Cruiser Ultra, and encourage you to hit us with any questions or suggestions in the comments below.
Until next time, stay safe and happy paddling!
The following two tabs change content below.
SupBoardGuide
Heyo! At SupBoardGuide.com we are a team who love the water, the outdoors, and are more than grateful that our full-time job allows us to review stand up paddle boards. We paddle year round (it helps that we are just about 2 hours outside of Las Vegas), and we bring in a wide range of paddlers with the goal of providing our readers with the best, most in-depth, and accurate stand up paddle board reviews.
Latest posts by SupBoardGuide (see all)