Nautical 10'6 Inflatable SUP
Pros
Paddles well and is a great introductory, recreational iSUP
Incorporates a lot of the features found on the iRocker lineup - more features than we would expect for a budget board
Comes with a lot of great accessories, and iRocker has a lot more available you can purchase.
Good weight capacity - works great for you + lightweight kids or gear
Clean, nice-looking board
Great value
Cons
We really can't take issue with any part of this kit considering it's overall price
The Nautical 10'6 review was a fun experience for all involved. We are continually impressed with manufactures as they push the envelope of the cheap (or as we like to call it, "budget") category. Every year we keep seeing more features, more accessories, and even better quality materials. This is especially true with the Nautical iSUPs from iRocker.
To be fair the Nautical 10'6 is not ever going to stand its ground next to the iRocker or BlackFin lineups. However, we found the board has a lot of the same well thought out features as these more expensive lineups.
Overall, we think the Nautical 10'6 iSUP would be a solid choice for:
Someone looking for a good quality, yet less expensive recreational/beginner inflatable paddle board.
Anyone looking for a budget iSUP that has some of the features found on the more expensive iRocker lineup
Paddlers under 6' and 200 lbs (for those larger paddlers we would recommend the 11'6 Nautical)
Recreational paddling on the lake or slow river
We think the Nautical 10'6 iSUP is great for the following water conditions/situations:
Flat water paddling (lakes, slow moving rivers, bays, etc.)
Light ocean paddling
Nautical 10'6 iSUP Review: Overview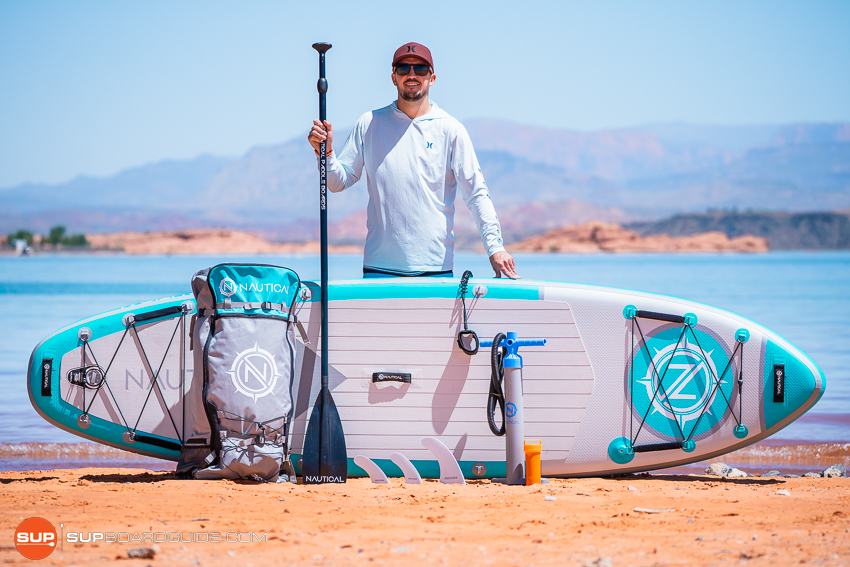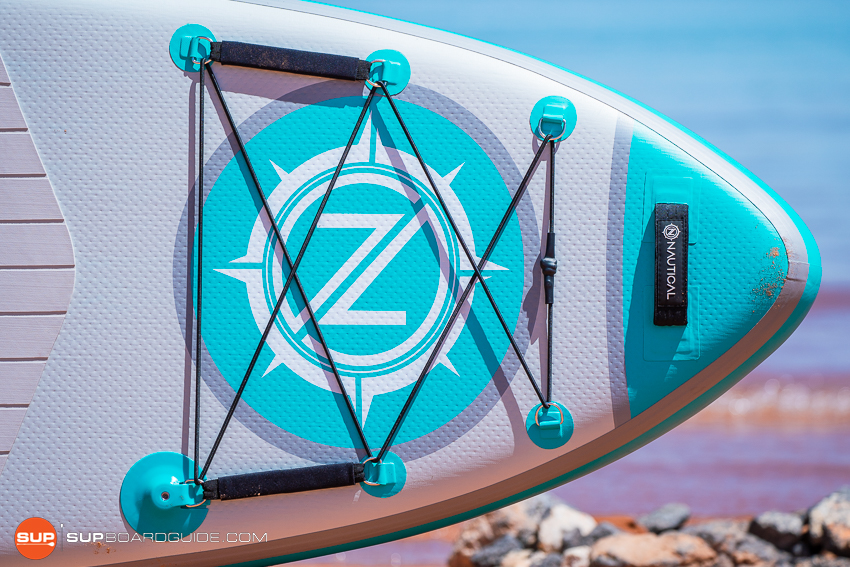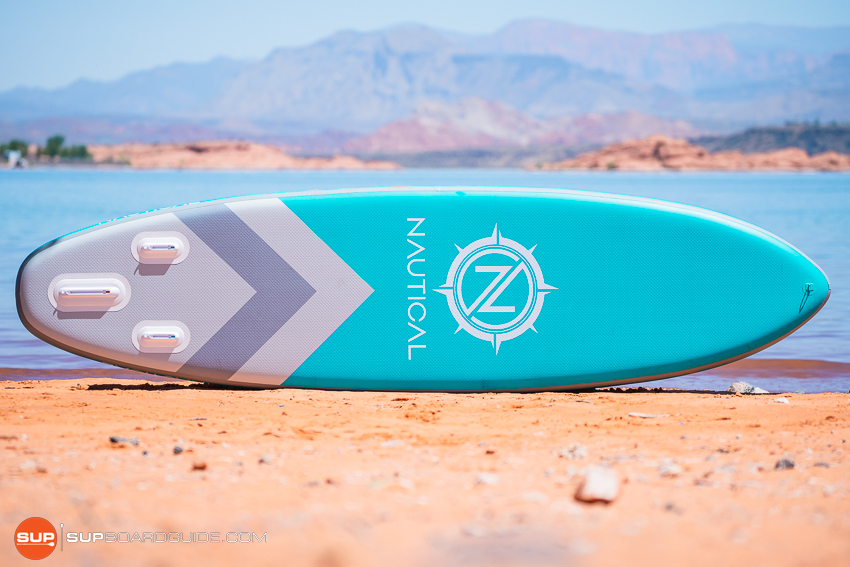 The smaller Nautical 10'6 really shines when you consider it's in the budget category. It shares so many of the features and visual cues from the more expensive iRocker lineup. And we are so happy about that. Very few budget boards have this kind of fit, finish, and polish. Another really important thing to point out is that the Nautical brand shares the same accessories category as the iRocker lineup, meaning you can not only choose from an entire world of add ons, they can stay with you after you upgrade to an iRocker or Blackfin.
Note: We do our best to take these boards out all the time and in varying conditions. This allows us to write the best reviews possible, and ensures you non spec review. We take our job seriously and we to give you a good idea of how these boards will perform in real world situations. If you have any questions about this review or board at all, drop us a line int he comments below. We are always happy to help.
Nautical 10'6 iSUP: Spec Sheet
| | |
| --- | --- |
| Main Category: | All-Around, Inflatable |
| Board Dimensions: | 10'6 x 32" x 6" |
| Listed Board Weight | 20 lbs |
| Listed Max Capacity | 240 lbs |
| Recommended PSI | |
| Fins | 3 flip lock nylon (2 sides 1 center) |
| Paddle Type | 3 piece fiberglass shaft and nylon blade |
| Materials | Dual-layer military grade pvc |
| Price Range | Budget |
| Warranty | 1 year with 60 day money back guarantee |
Official SupBoardGuide.com Test Results: Nautical 10'6 iSUP (2023)
Overall Score: 8.5/10
The Nautical 10'6 shares a lot of DNA with the more expensive iRocker line. You can see the common features and accessories used and we feel this has a direct impact on the overall feel of this board. While not as high performance as the iRocker and Blackfin lineups, we were very pleased with how well the 10'6 Nautical performed – especially given that it's one of the cheapest quality iSUPs on the market currently.
Stability: 8.5/10

Speed: 8.0/10

Tracking: 8.4/10

Maneuverability: 9.0/10

Construction Quality: 8.3/10

Accessory Review: 9.0/10
Our overall rating of 8.5/10 for the Nautical 10'6 iSUP places it as one of our top rated 'best cheap iSUPs for 2023'. If you ask us, we will typically recommend the larger 11'6 version based solely on performance. However, when we take price into consideration, we are not sure there is a better cheap SUP available currently.
In-Depth Review of the Nautical 10'6 Stand Up Paddle Board
Performance Review: Stability, Speed, Glide, Tracking, and Maneuverability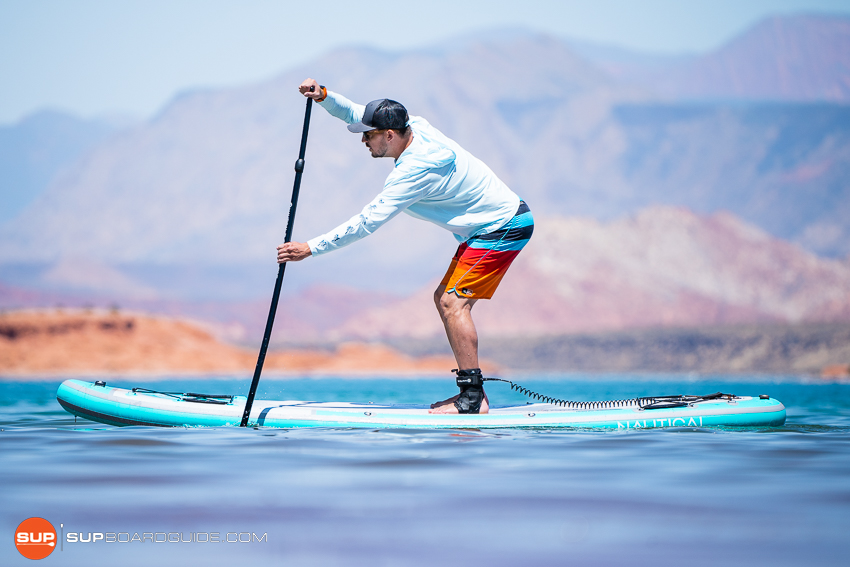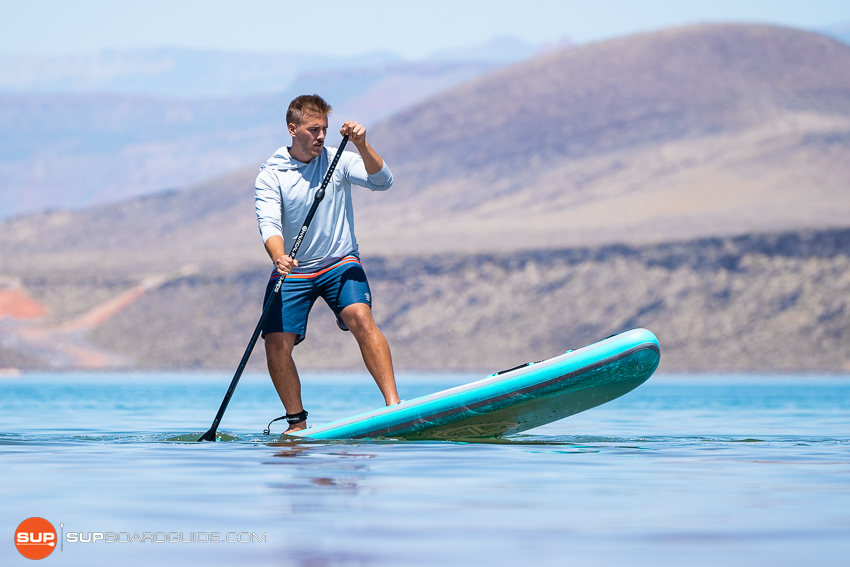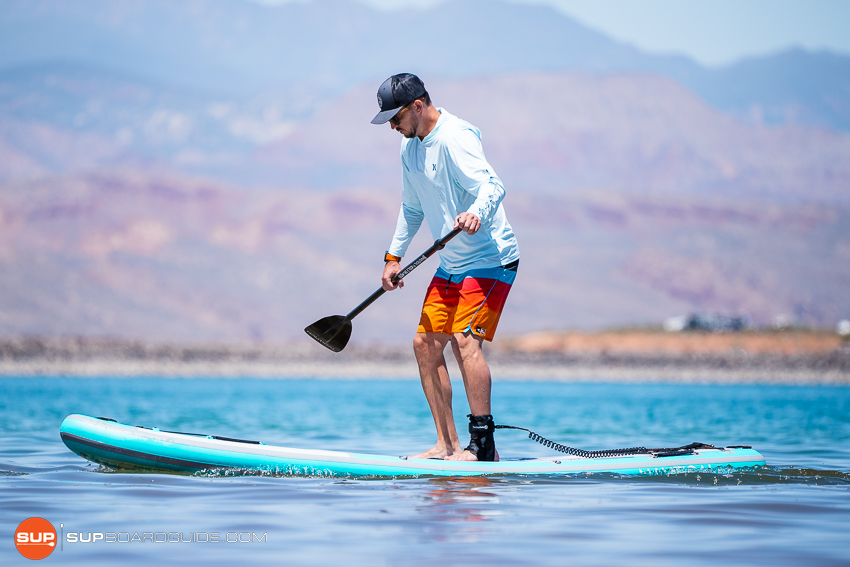 As we've stated above, we typically recommend the 11'6 Nautical over the 10'6 model if you are solely looking at performance. The longer board is a little faster, more stable, and can handle more gear. However, the 10'6 model is also around $100-$150 less – and that's a pretty big deal. When we are asked for the best budget board for your money, we typically recommend the 10'6 model.
Stability Review: 8.5/10
In terms of stability the Nautical 10'6 iSUP landed approximately where we expected a smaller budget board to be. While this isn't necessarily a bad performance, we would like to reiterate that this board is better suited for paddlers under 6'0 and 200 lbs if they are not experienced. The board felt a little squirrely to Chris, our reviewer who is a 200+lb paddler. He's a very experienced paddler, and was able to control the board despite significant chop. In other words, if you are a beginner paddler over 6 ft or over 200 lbs then you might have a learning curve, which will pretty much hold true for every budget, sub $500 iSUP out there. If you are a larger paddler, check out the 11'6 Nautical, or the Bluefin Cruise.
Board Stiffness:

Stiffness Test: 1 7/8" Bend (board on top of saw horses placed 7' apart, with 150 lbs of weight added right by handle in middle of the board)
Like it's slightly larger sibling, it didn't do very well in the bend test. Being only a two layer board this is to be expected. As a budget level board, we really weren't expecting it to keep up with the more expensive models. From a personal standpoint, the board felt a little "squishy" but for sure better than most cheap iSUPs you find on Amazon. Also, keep in mind, the bend test we do isn't a real life situational test. One the water, we actually found the Nautical to feel really well.
Weight Capacity:
Listed Weight Capacity: 240 lbs
Tested Capacity: 400+ lbs
Unlike the 11'6 Nautical, we feel this weight capacity is a little bit of an overstatement if you are looking at the weight capacity as 'paddler can be up to 240 lbs'. This is not a board I would recommend for a 240lb new paddler.
However, at 180 lbs, I was able to paddle around the board with gear and one of my kids. If you are a beginner and below 150 lbs then you are going to be fantastic on this SUP. If you are under 200 lbs you'll be good without gear, but stability does start to decrease once you start going above that weight.
Side note: we did try the board with two adult reviewers (around 400 lbs total)at once and we would not recommend this. Not at all. Unless you don't mind getting wet.
Speed Test: 8.0/10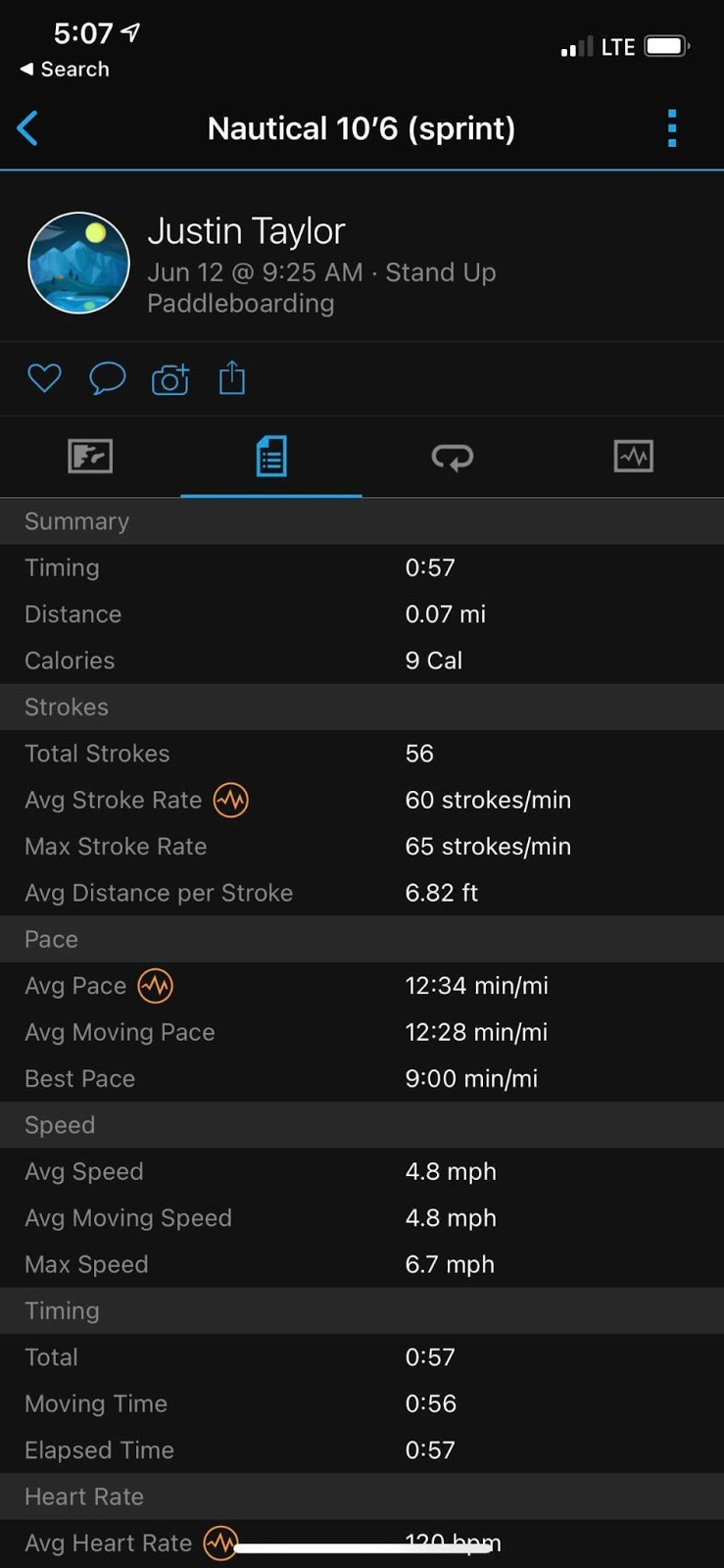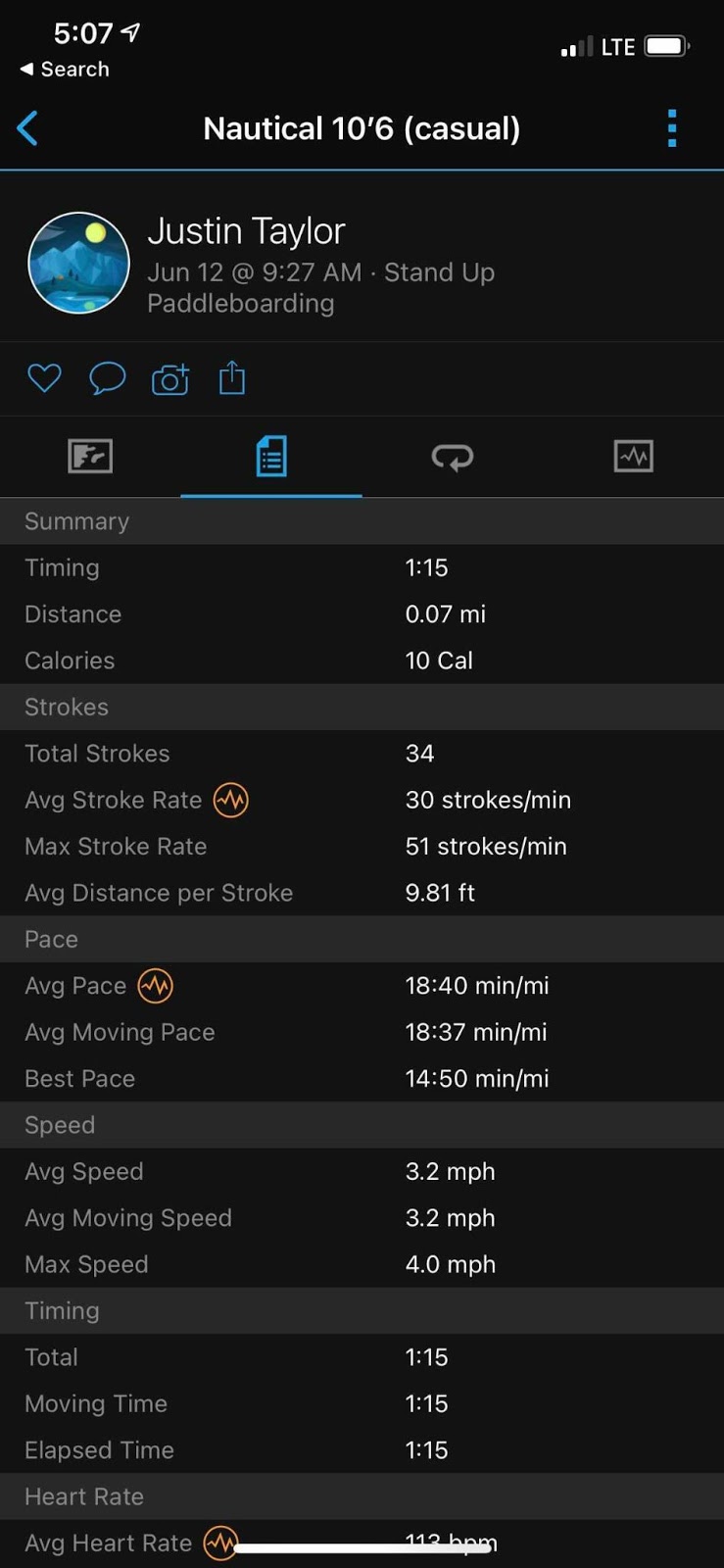 We found the 10'6 Nautical to perform quite well in our speed test – again surprised at the performance given the boards low cost. In terms of how it compared to the 11'6 model, it was just 2 seconds slower on the sprint test, and 3 seconds slower on the casual paddling test.
Of course, most people looking for a budget board aren't looking for a speed demon – but it's nice to know that this iSUP still paddles well and doesn't feel super slow or like a low performance board.
Tracking: 8.4/10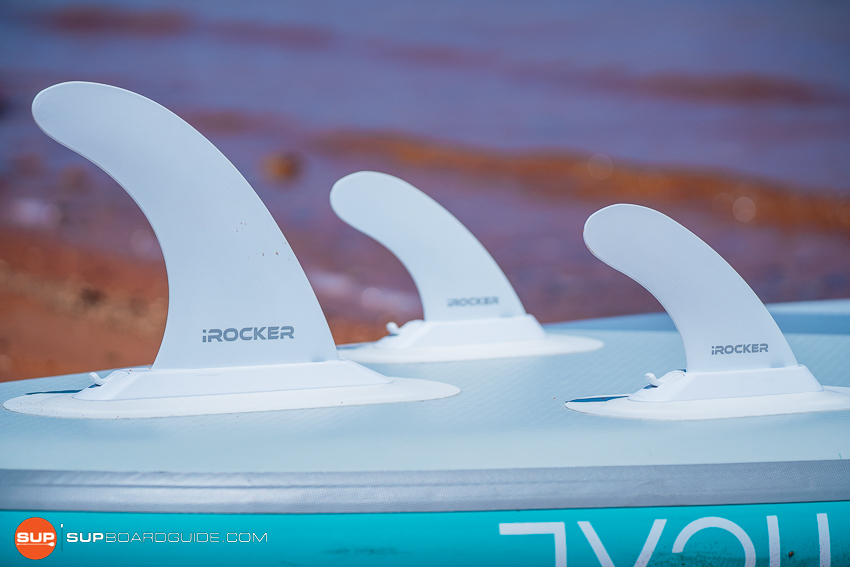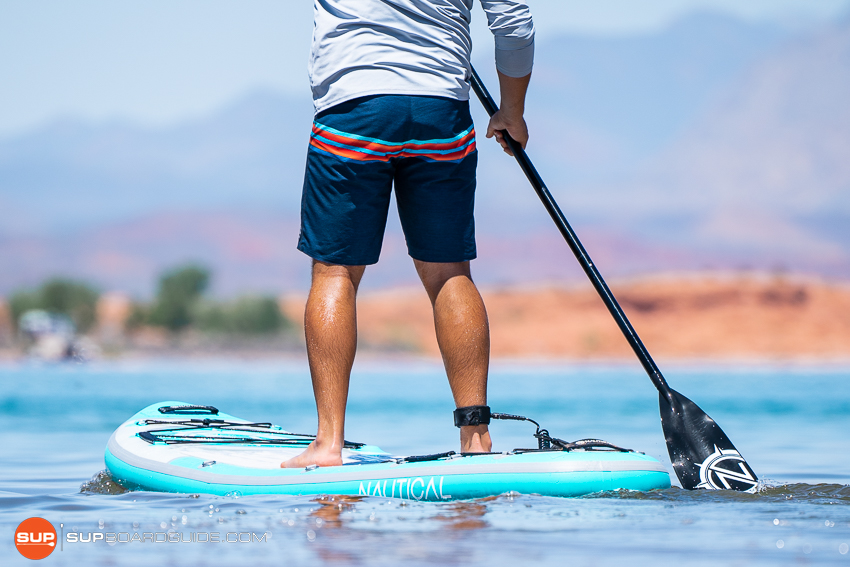 As we have said before we've become fan's of the iROCKER 3 fin setup. This is a perfect example where the same technology that is used in the much more expensive Blackfin and iROCKER lines is also used here. Much like the more expensive boards, this board tracks fairly
well at both slower and faster speeds.
Maneuverability: 9.0/10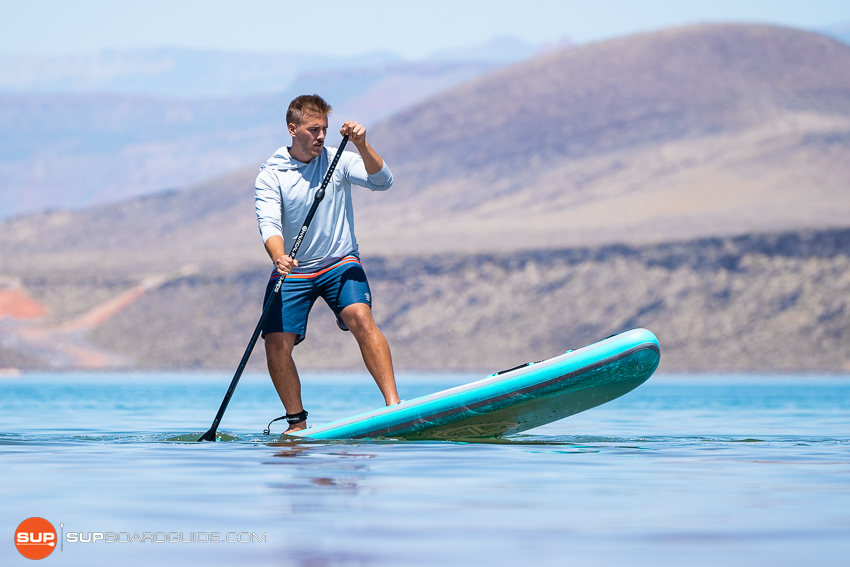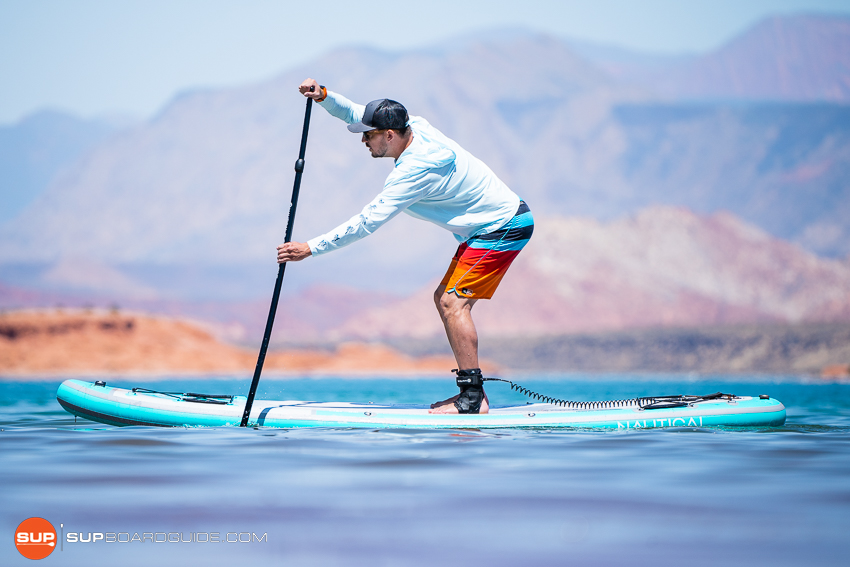 This board is super light and quick. It's an additional foot shorter than it's sibling, making maneuverability the category where the 10'6 Nautical beats out it's larger sibling. This board did great through a slalom easily turning through various fast turns. It was actually quite fun. The step back turns were also fairly easy and well balanced. It's a shorter board meaning you didn't have to step back too far to adjust the weight.
Again, we really feel this would be a great board for a smaller, lighter individual and it performs in a class above it's budget category might suggest.
Construction Quality: 8.3/10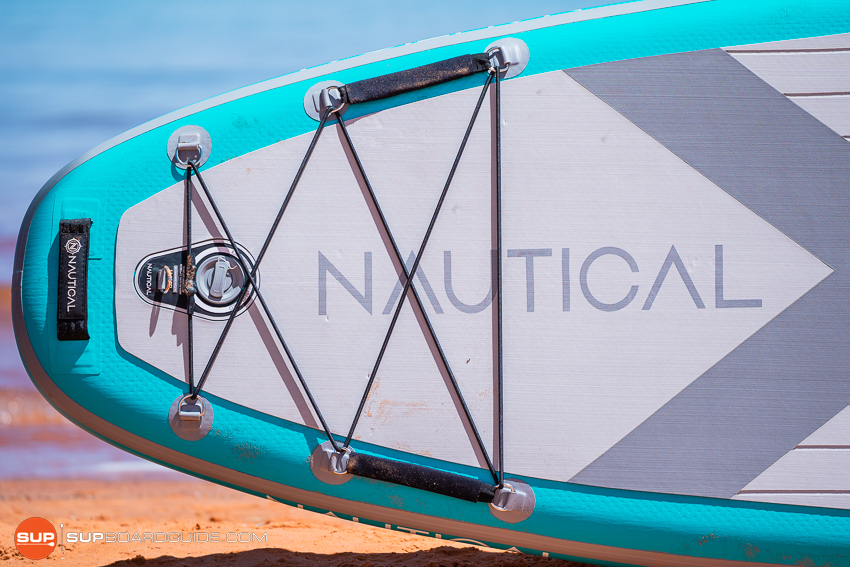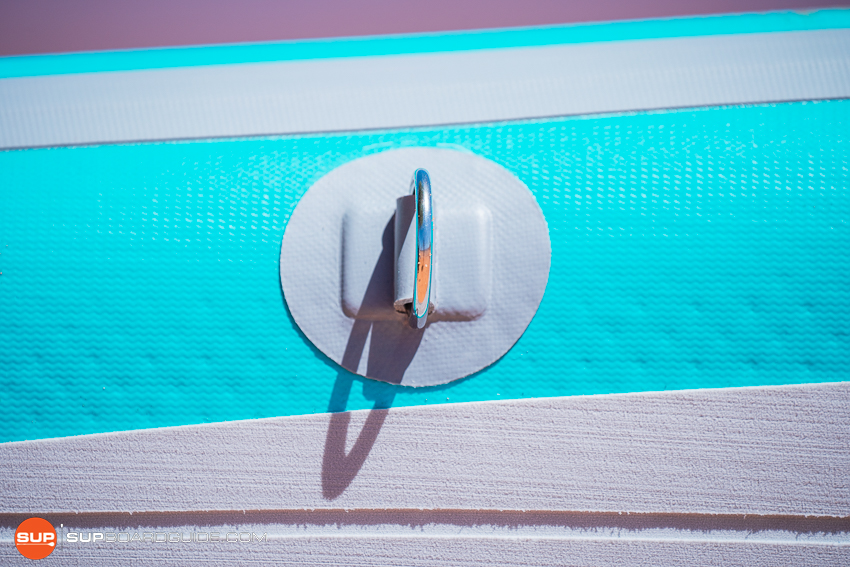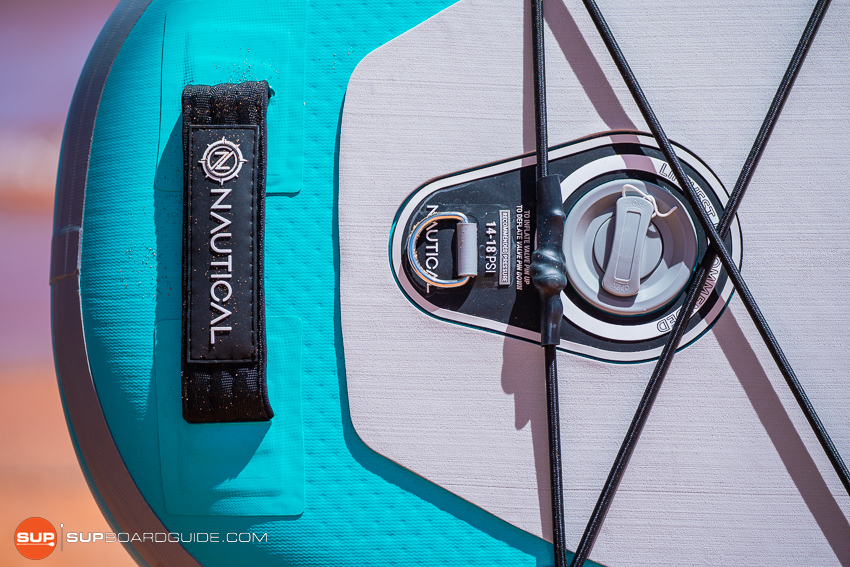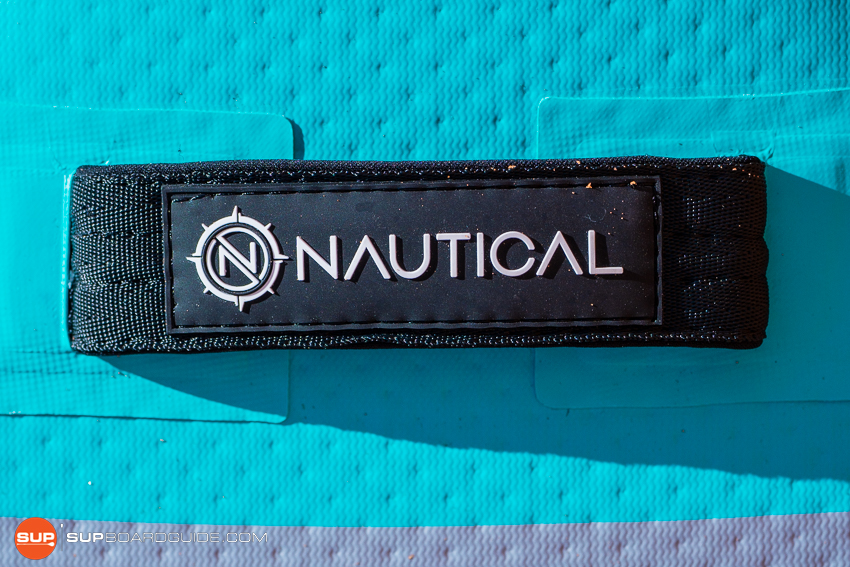 This board is made from the same "military grade" 2 layer PVC that the 11'6 is made of. Again without taking a sturdy knife to these boards we can only take them at their word. In terms of overall fit and finish we do have to say it looks well made. The attachments feel solid as well.
From the bend test you can see that the Nautical lineup doesn't have as many materials as the iRocker or Blackfins do. However, we don't feel that iRocker went 'cheap' with the materials on the Nauticals. You just don't get an extra layer of PVC, and we also wonder if the drop stitch density isn't quite as dense as the other two lineups.
Features/Accessory Review: 9.0/10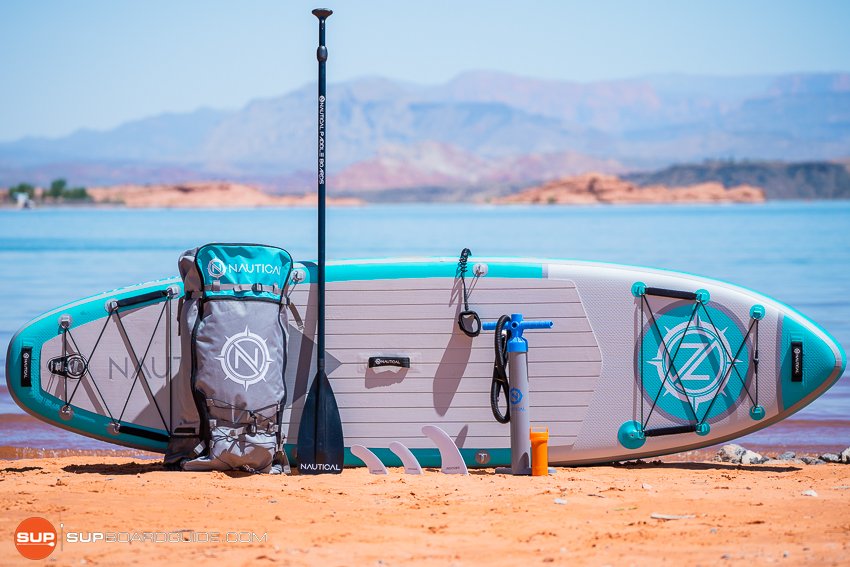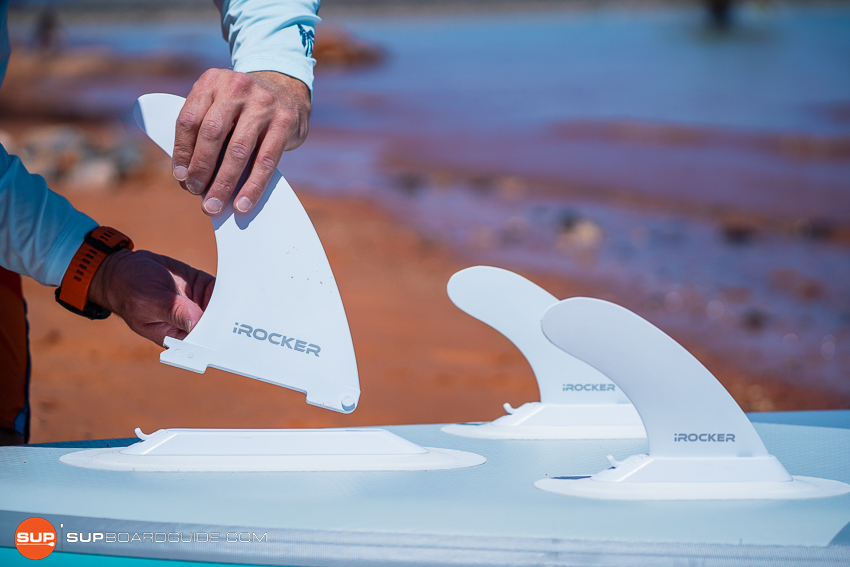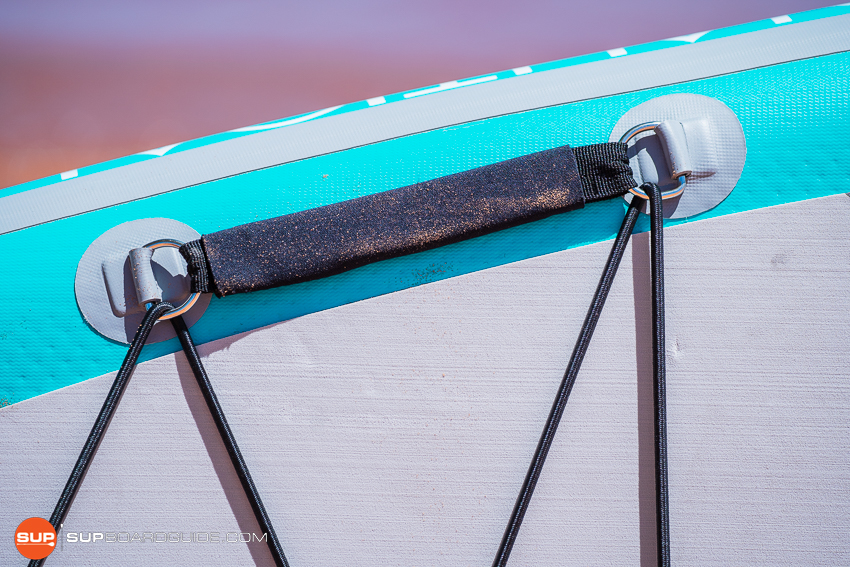 Included Accessories:

Being a Budget sup doesn't mean that we are let down with a lower level kit. In fact the Nautical series has seriously impressed most of the reviewers, especially given the price point this board sits in.
Again, we would love to point out all the cool features not normally found on a budget board that are clearly designed for the iROCKER and Blackfin series. The action mounts, bungee cord handles, even the fin setup is taken directly from those more expensive board lines. We really think that the Nautical lineup benefits from it's shared lineage.
The Nautical 10'6 iSUP kit comes with:
Fiberglass paddle with nylon blade
Single chamber dual action hand pump
10' coiled leash
Travel backpack
3 removable fins
1 repair kit
Feature wise, the 10'6 Nautical comes packed with the following:
2 bungee areas (front and rear)
17 d-rings
4 safety handles (super helpful when paddling with kids)
Front, middle, and rear grab handles (very helpful when carrying and launching the SUP)
1 action mount
Nice deckpad
You will see more in depth reviews below of the paddle, pump, and bag, but in summary we think this kit comes with everything you need to get on the water (except a life jacket). They aren't the best pieces but are certainly on par with the rest of the budget kits.
Paddle: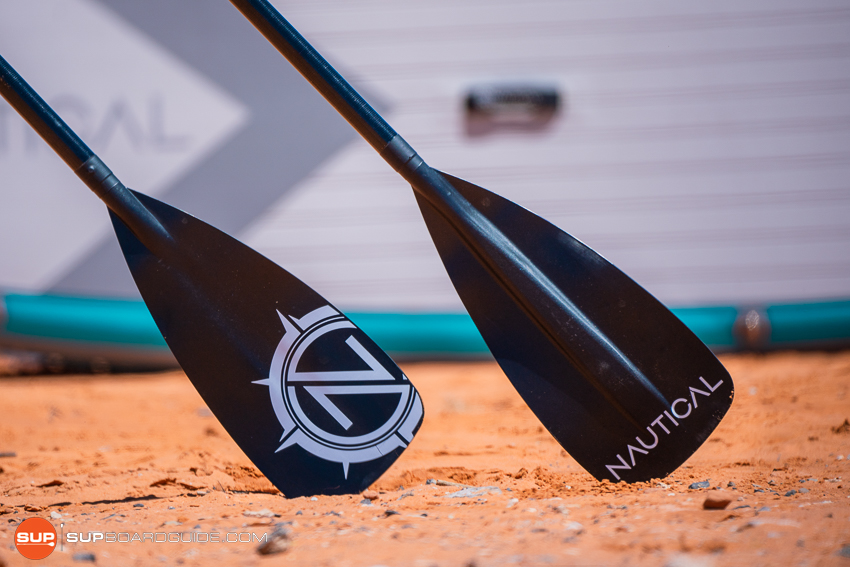 As we said we know this is a budget level kit so we didn't go in expecting the moon. Thankfully they used a fiberglass shaft and plastic blade and handle and not aluminium. It's a sturdy feeling piece but we would like them to reinforce the handle area, as that feels a little less sturdy.
For a beginner / budget kit piece it does the job perfectly fine.
Pump: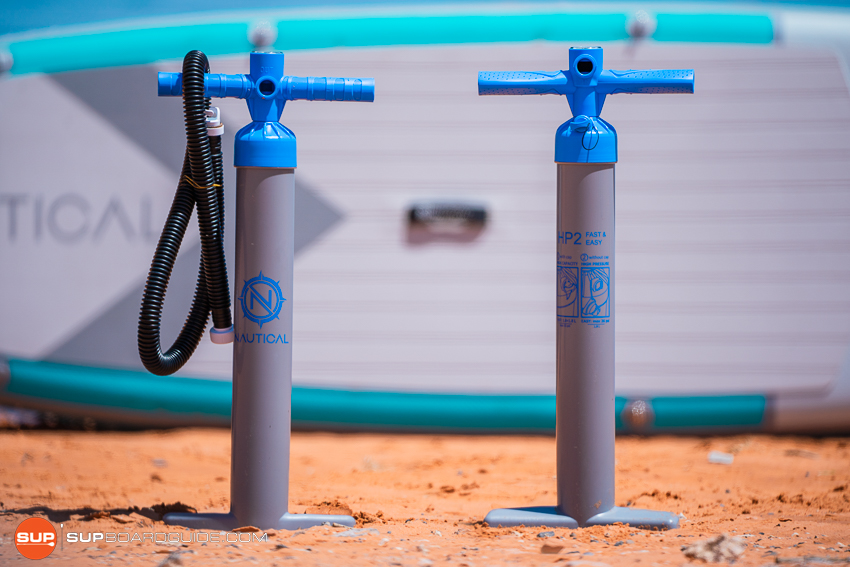 The hand pump is a standard single chamber dual stage unit. It's about as basic as you can get for an iSUP kit, but that's to be expected with a budget kit. If you're a smaller paddler, the dual stage pump makes it somewhat difficult to attain the last few PSI. This is a good time to segway into our normal electric pump speech. Yes it's worth the extra money. Yes you deserve a break. Yes it can be used for just about any iSUP you may have now or at a later date. And yes, currently we rank the iROCKER electric pump at the top of our list of electric paddle board pumps.
Bag: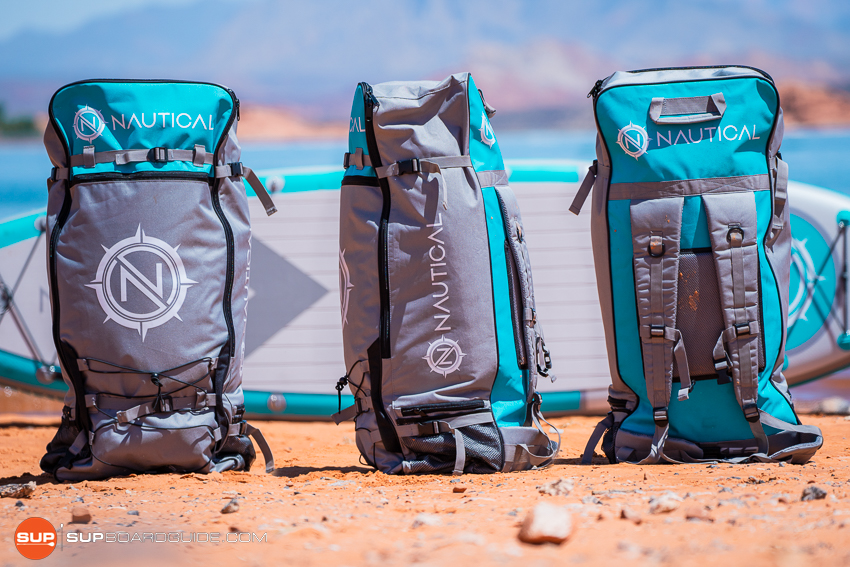 For a budget bag we were very impressed with the Nautical piece. Again it uses much of the same features as the higher end bags (minus the roller wheels). Fairly thick padded straps make it comfortable to carry, especially considering the board itself only weighs a mere 20lbs. While we may not agree with Nautical when they label it a "premium bag" we can certainly see where the DNA from the higher level bags are used here. Plenty of accessory pockets and a large set of bungie's on the face of the bag presumably for the pump.
Optional Accessories:
Being a subset of the iROCKER/BLACKFIN brand you can see almost all of the accessories used there accessible here. This is just another reason to like this board, plenty of customization options. Some of the most favored are:
The iRocker Electric Pump (still not going to let it go)
The SUP to Kayak conversion kit (good option for kids or those who may be weary of SUP)
The Carry Strap (always convenient)
Any of their cooler options
Either of their waterproof speaker options
Summary Review of the Nautical 10'6 iSUP (2023 model)
Once again, we are very satisfied with the Nautical kit overall. The price paid more than justifies the materials and equipment received in our minds. Again, we generally recommend buyers to seek out the slightly larger, more stable, 11'6. BUT, we feel this board is a perfectly viable choice for first time paddlers under 200 lbs, and feel it's ideal paddlers is around 120lbs – 160 lbs (children, teens, or smaller adults).
In closing this is a great way to get additional family and friends on the water for very little money.
We always look forward to hearing your feedback on this review and the board itself. Please drop us a comment below and we will do our best to respond to any questions you may have. Happy paddling, and we look forward to seeing you on the water!
The following two tabs change content below.
SupBoardGuide Editorial Team
At SupBoardGuide.com we are a team who love the water, the outdoors, and are more than grateful that our full-time job allows us to review stand up paddle boards. We paddle year round (it helps that we are just about 2 hours outside of Las Vegas), and we bring in a wide range of paddlers with the goal of providing our readers with the best, most in-depth, and accurate stand up paddle board reviews.
Latest posts by SupBoardGuide Editorial Team (see all)