Isle 10'6 Pioneer Pro SUP Kayak Review
Pros
Very fun, high-quality SUP/Kayak combo that outperformed our expectations in almost every category
Industry-leading rigidity thanks to proprietary Infinity Fiber stringer system
Great all around the board for anyone worried about stability
High weight capacity. Listed at 325 lbs, you can load this board up for adventures.
The Isle link system makes it easy to attach a variety of accessories, from coolers to fishing gear, to SUP camping gear.
Ability to paddle with a child, especially if your child wants to sit in the kayak seat while you stand up paddle.
Ability to customize your kit at checkout. Board comes with a bag, leash, and fin. Those who don't need a pump or paddle don't have to pay for those.
Cons
We did have to clean the deck pad a little bit more than average
Not much more - the 10'6 Pioneer Pro is a great board that we can recommend to almost any paddler looking for a larger all-around iSUP/kayak combo board
Our favorite of the Isle Pioneer Pro series, we found the 10'6 to be just the right size for the majority of paddlers
Thanks for checking out our Isle 10'6'' Pioneer Pro review! When we started this review, we were a little skeptical about some of the claims Isle was making with their new Pro series SUP/Kayak combo boards.
Words like 'inflatable hardboard' were being thrown at us. Isle was claiming to make a super lightweight yet incredibly rigid standup paddle board that could also perform just as good as a recreational kayak. Basically, it sounded a little like too-good-to-be-true marketing lingo.
After paddling and testing these boards for the past month, however, we have to admit that our skepticism was not warranted – the 10'6 Pioneer Pro is everything that Isle has hyped it up to be: a super stable all around that can be both paddled as a SUP or a kayak. It performed better than expected in our speed tests, and completely knocked it out of the park in our bend test (which is the test we use to verify construction process and quality).
In other words, the 10'6 Pioneer Pro is a fantastic inflatable hardboard that is a great option for someone:
Looking for an all around / cruiser SUP that is super stable
Wanting top notch quality and tech in their board
Needing/wanting both a kayak and a SUP in one board
Looking to go on adventure paddles and need to have high weight capacity to bring a lot of gear
Who wants to paddle with kids and/or pets
Isle 10'6'' Pioneer Pro: Spec Sheet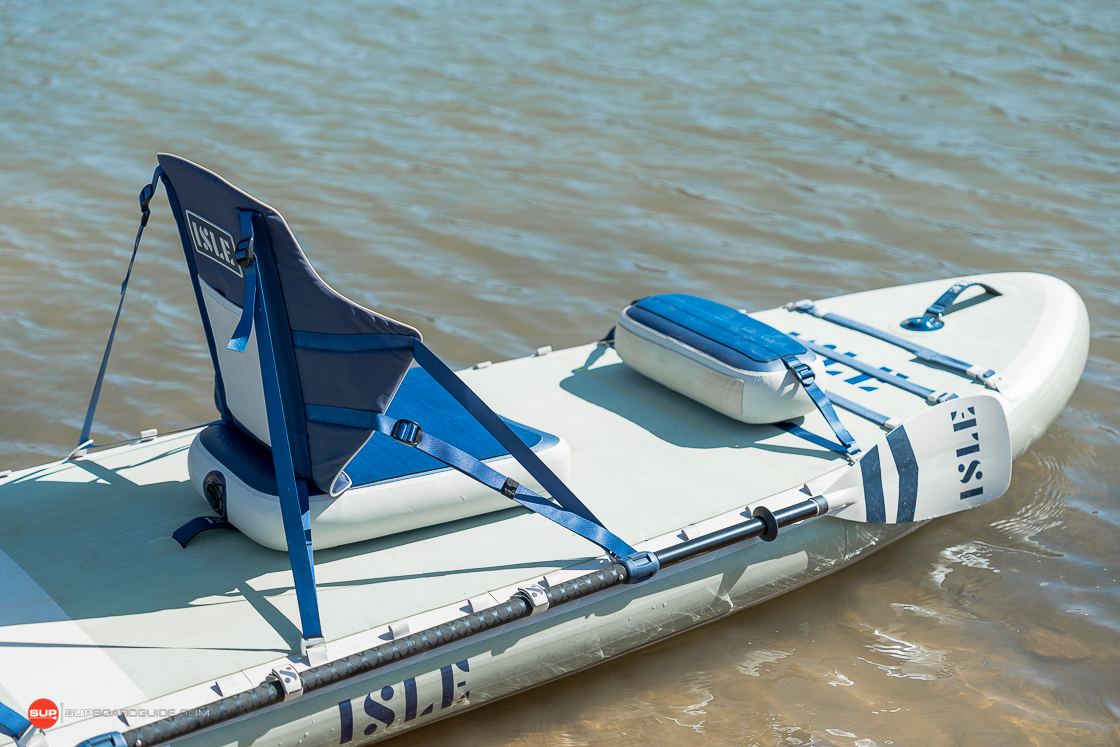 Main Category: Large all-around / cruiser
Board Dimensions: 10'6'' x 34'' x 6''
Listed Board Weight: 23
Listed Max Capacity: 300 lbs
Recommended PSI: 17
Fins: Split US fin box, 9'' touring fin
Paddle: Not included in kit
Materials: Isle's Airtech ProLite™ (thick single-layer PVC, welded Powerfuse™ inner rail, and 6 InfinityFiber™ stringers
Warranty: 4 years
Performance Review of the Isle 10'6'' Pioneer Pro Stand Up Paddle Board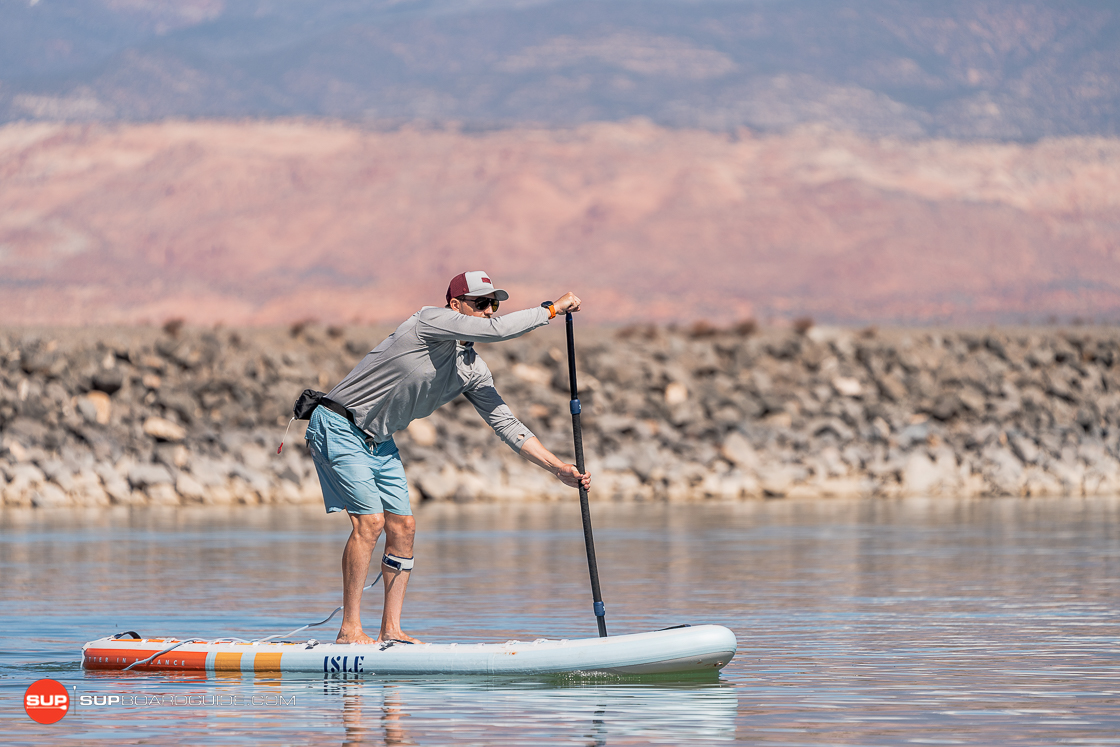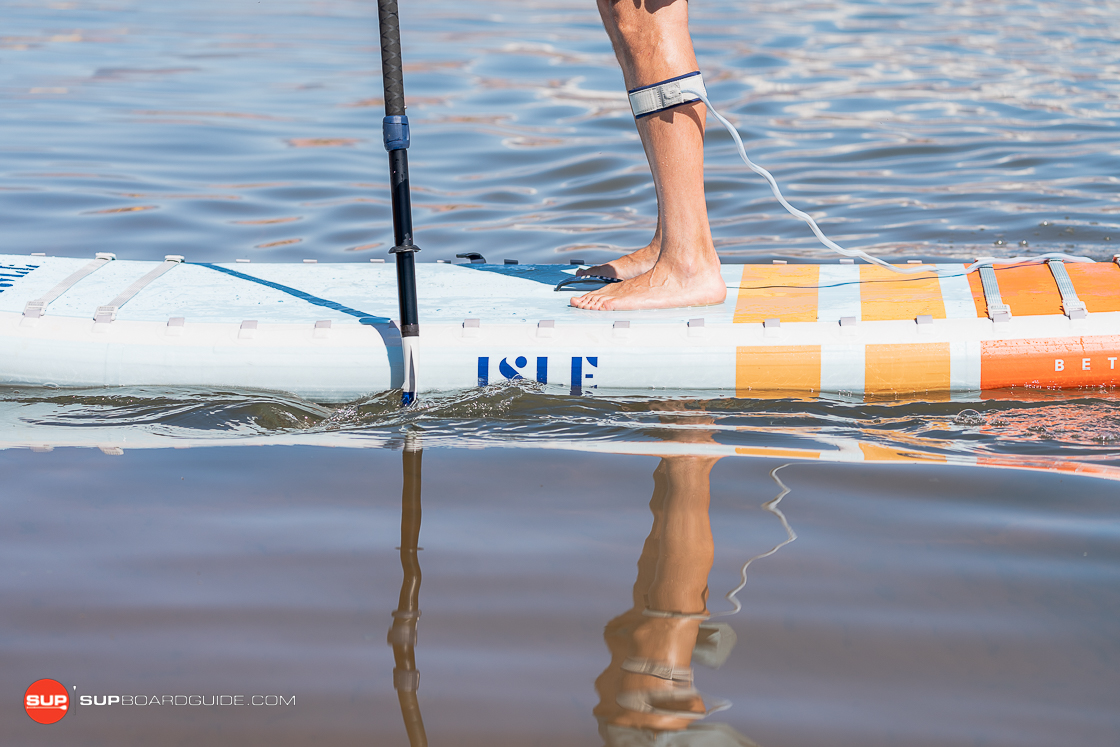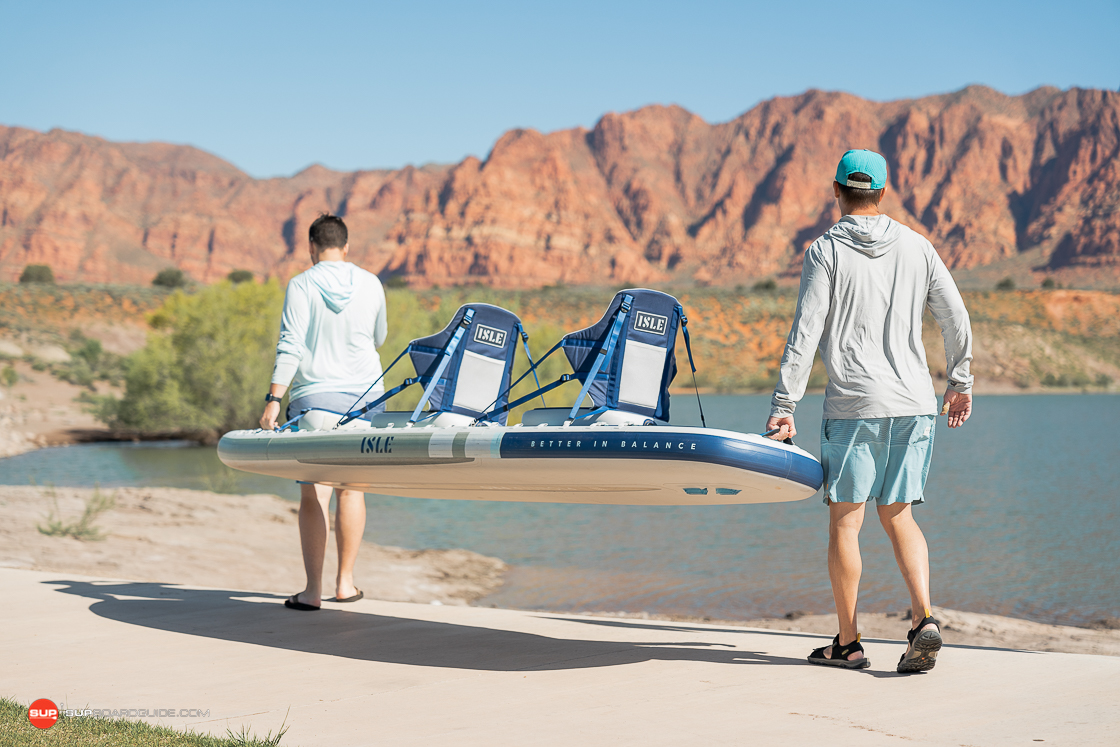 Overall Score: 9.7/10
Stability: 9.8/10
Speed: 8.6/10
Tracking: 8.8/10
Maneuverability: 8.8/10
Construction Quality: 9.8/10
Features/Accessories: 9.8/10
Stability Rating: 9.8/10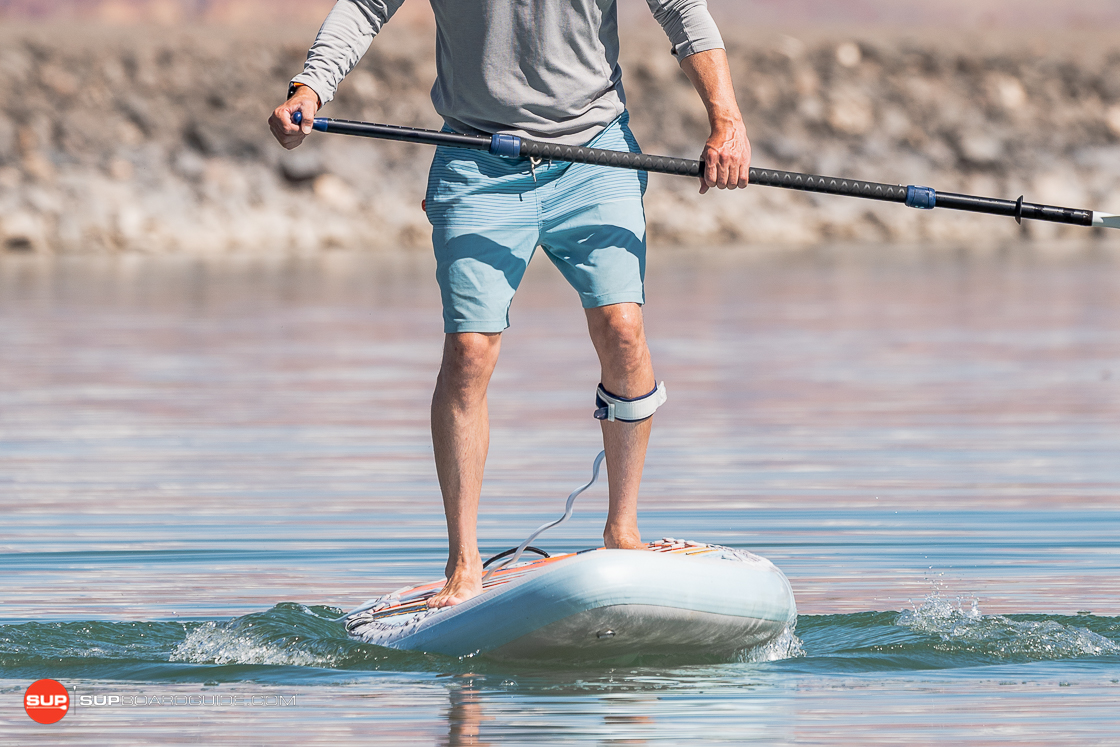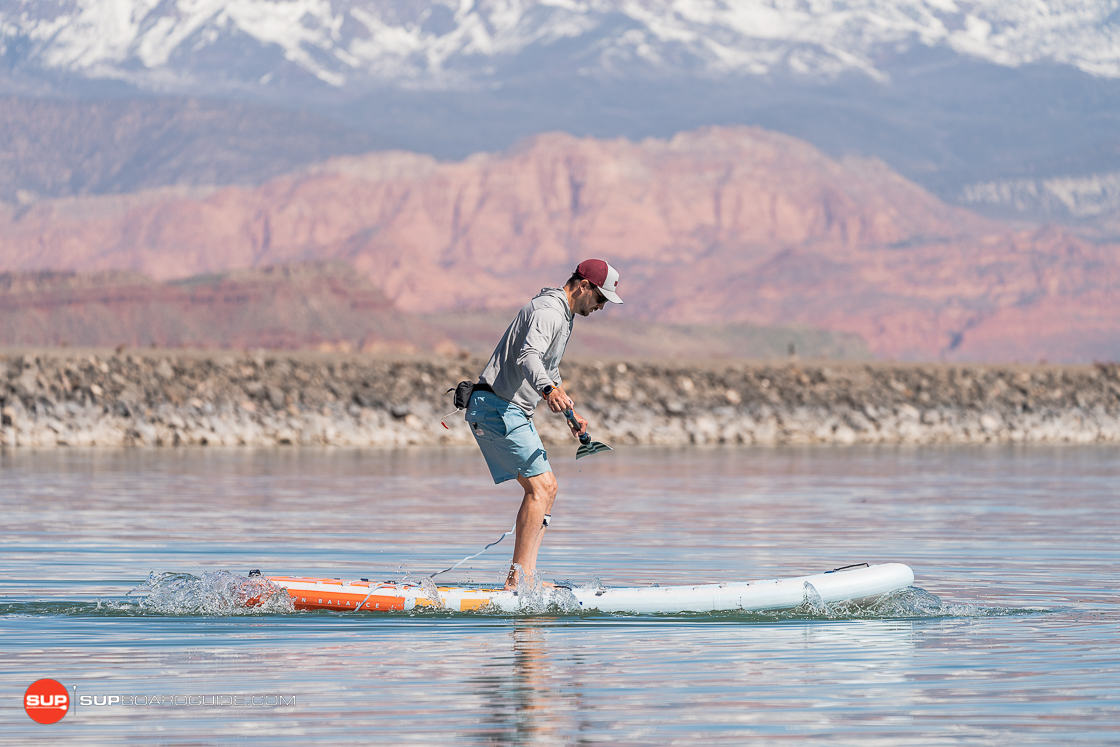 Through our testing, the Isle Pro series boards have proven highly stable. And the 10'6'' Pioneer Pro is no exception.
It has the shape and dimensions of a board that will generally be a more stable SUP: a consistent width with a minimal taper at the two ends and a very squared-off tail. Referencing the pictures, you will notice that the tail is only slightly less wide than the body of the board, which creates a large surface area in direct contact with the water.
Additionally, Isle incorporated what they call InfinityFiber stringers onto the top, bottom, and sides of the board. The stringers run about ⅔ of the board, so the nose and tail still have some flex so they can absorb movement (like a wake or chop) while keeping the core rigid. Looking at the top right picture, you can see the nose and tail flexing slightly upward as Justin applies downward pressure. However, even with that pressure, the middle of the board does not dip below the surface. This is all due to those stringers that we will cover in the construction section down below.
Overall, the 10'6'' Pioneer Pro is exceptionally stable and makes a great cruiser/large all-around board for the average to advanced paddler.
Speed Rating: 8.6/10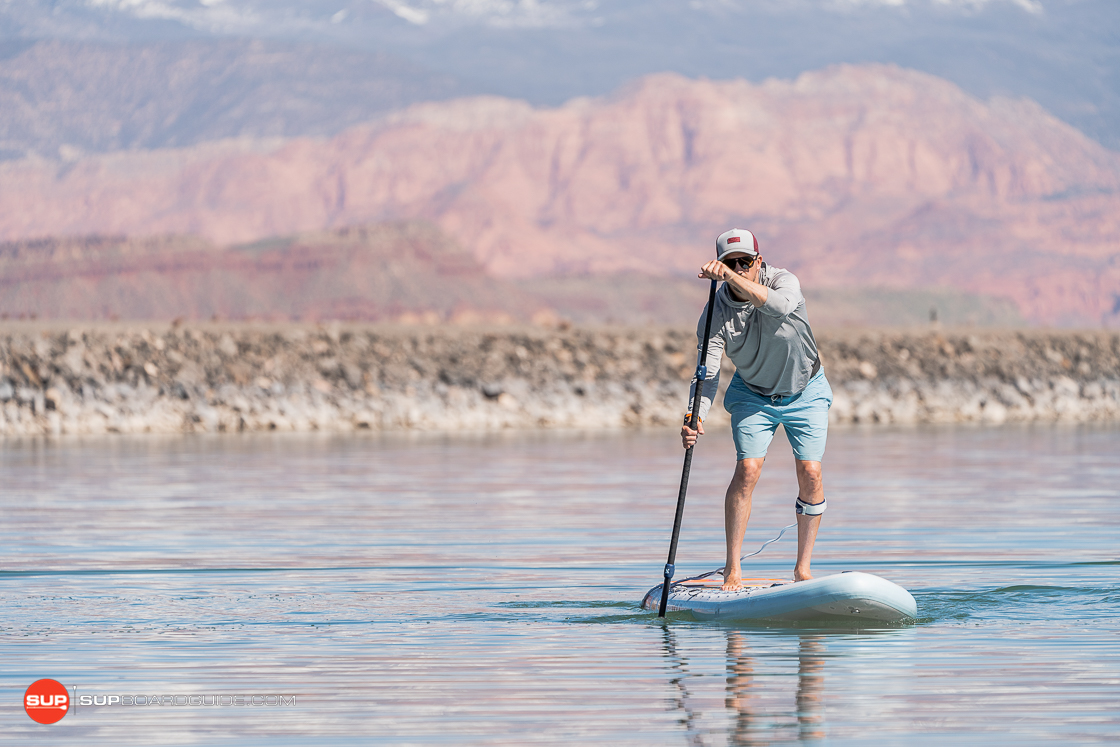 | | |
| --- | --- |
| Top Sprint Speed: | 5.25 MPH |
| Average Cruising Speed: | 3.7 MPH |
*Notes on our speed test: Our speed test numbers come from using a SpeedCoach Sup 2. This device accurately records how fast we paddle and our current strokes per minute. The sprint test result comes from maintaining a cruising speed and then paddling at full speed for 10-15 seconds. Our cruising speed comes from paddling at 40-45 strokes per minute for about 30 seconds to one minute. We aim to conduct these tests in calm, flat conditions to maintain consistency across each SUP.
Although this SUP is quite broad and has a squared-off tail that can create drag on the water, we went into the speed tests with high expectations because of our knowledge of its high rigidity and smooth feel on the water.
We expected it to perform faster than what a large all-around/cruiser iSUP with excellent stability normally would, and we were not disappointed! The 10'6'' Pioneer Pro impressed us with its top sprint of 5.25 MPH and a cruising speed of 3.7 MPH.
This SUP is a great choice if you want a stable, wide, all-around/cruiser board but also want an element of speed. If you're looking for faster results, I suggest checking out the Explorer Pro boards in this series!
Tracking: 8.8/10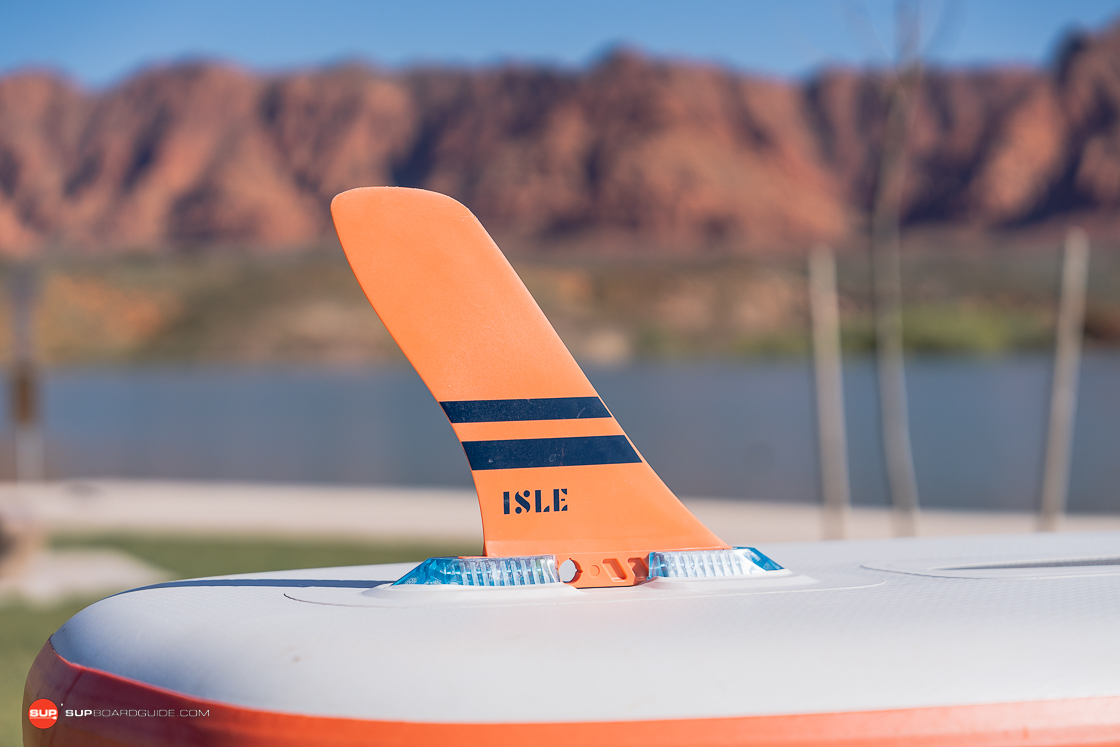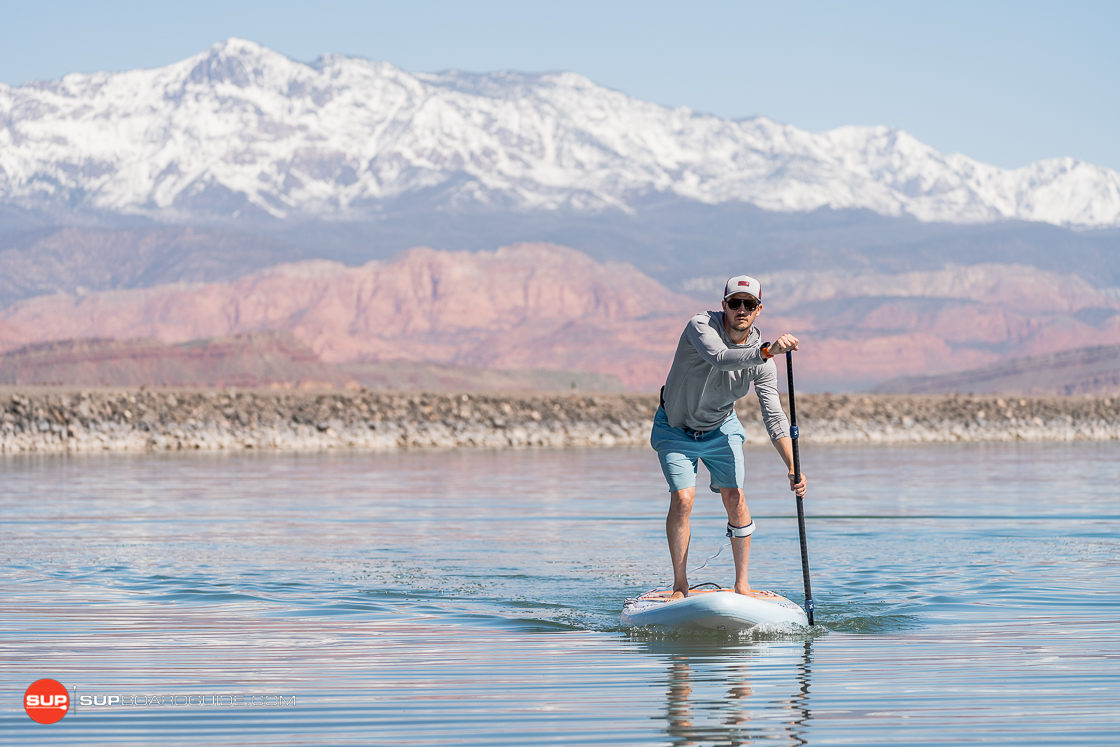 Tracking on the 10'6'' Pioneer Pro beat our expectations. We've tested enough wider all-around boards to know that the increased stability has a slight tracking tradeoff.
But in the case of the 10'6'' Pioneer Pro armed with its single 9'' touring fin, we were able to paddle this SUP straight for farther distances than we thought. As a bonus, it also tracks well as a kayak and will be a fantastic option for those longer paddle adventures where tracking over time matters a lot more than when you are just cruising around the lake.
Maneuverability: 8.8/10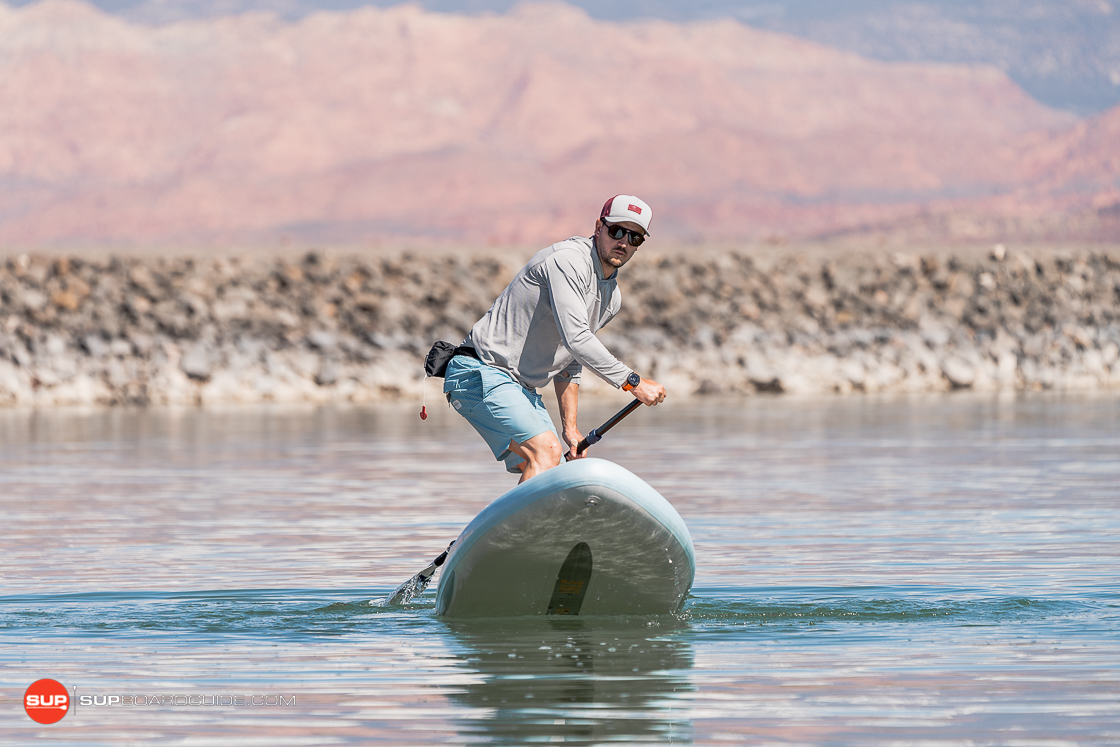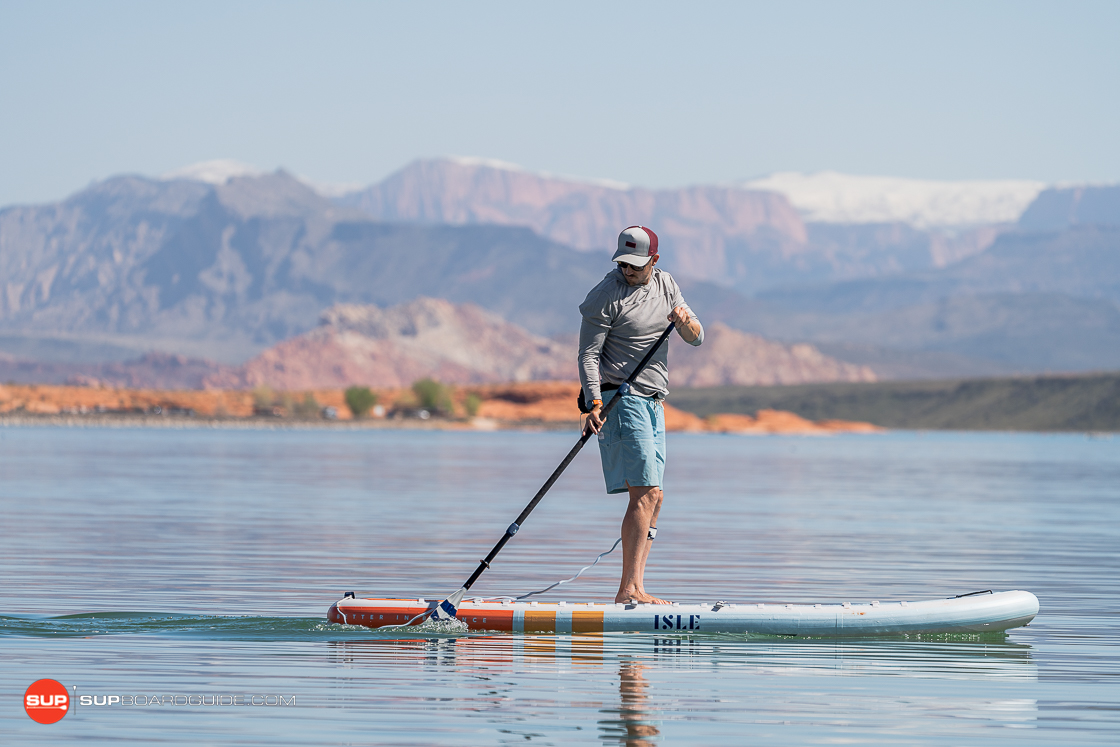 The maneuverability is right around where we expected it to be for this board. It took Justin approximately five back sweeps to turn a full 360 degrees, which came as no surprise.
As a bonus, the super stability of this board makes it easy to walk backward toward the tail without feeling off-balance. And popping the nose out of the water is actually easier than we thought it would be! Check out the picture above: Justin got the nose to pop up pretty high, even though the water was cold and he was doing everything possible to not fall in. Because the Pro series boards are lightweight (23 lbs) for their shape, size, and level of rigidity, they seem to maneuver especially well when it comes to the step-back turns.
If you aren't familiar with step-back turns, this is a great board to practice on because of that extra stability and rigidity. We often see lightweight boards proving more difficult for our taller / beginner paddlers to practice step-back turns on because they can be easier to fall off of due to the ease of getting the nose out of the water. But with the 10'6 Pioneer Pro, the extra width through the tail of the board makes it a lot easier for taller / beginners.
Construction Quality: 9.8/10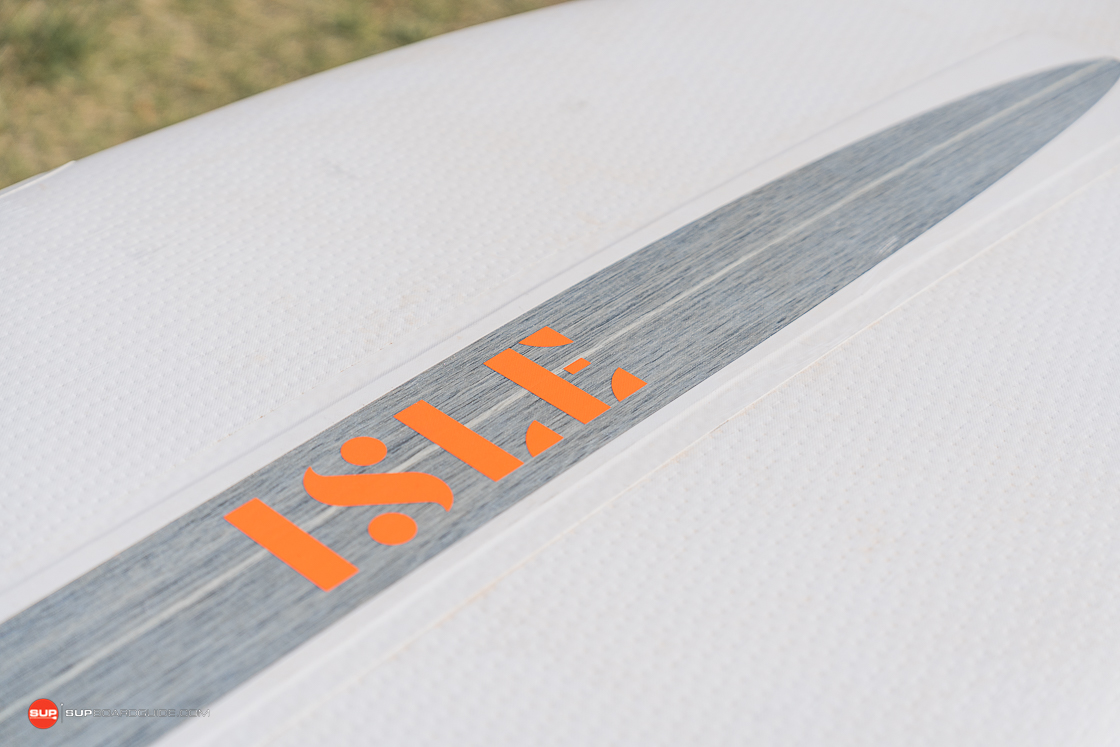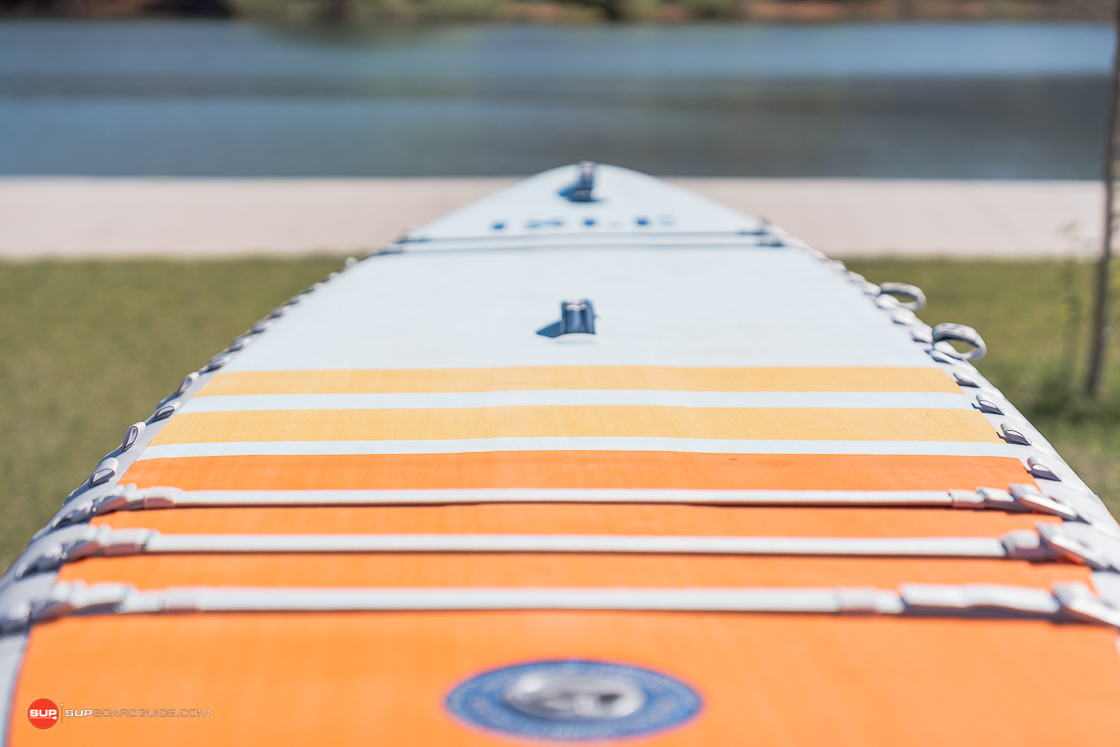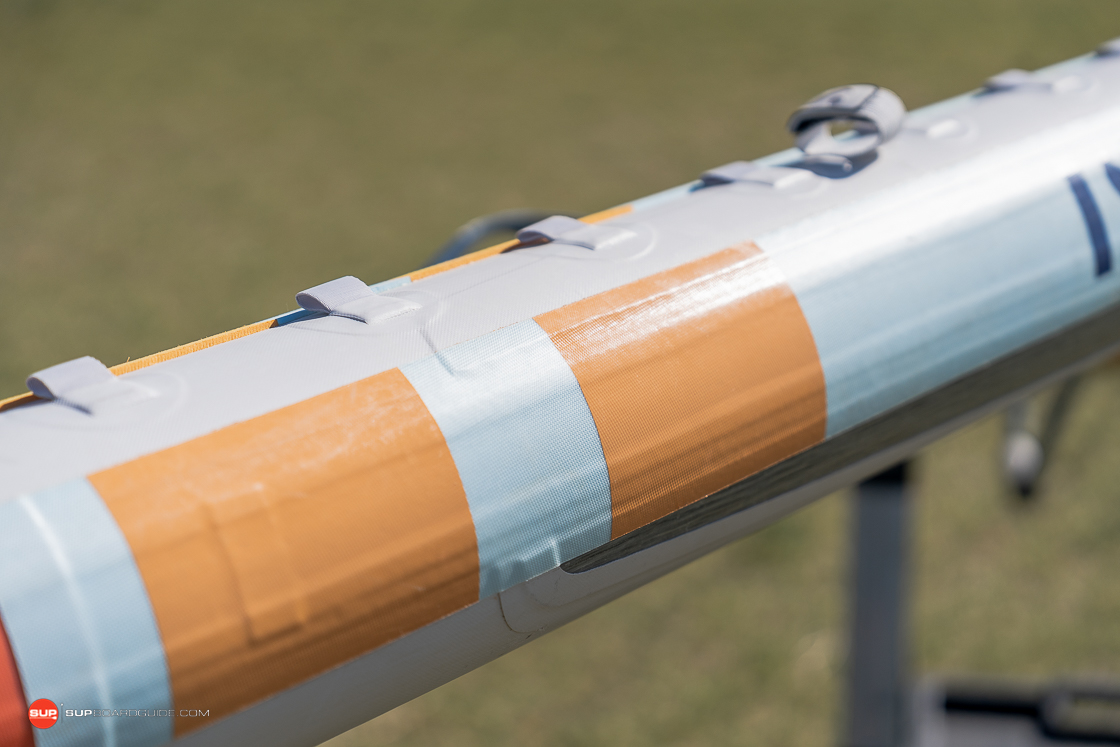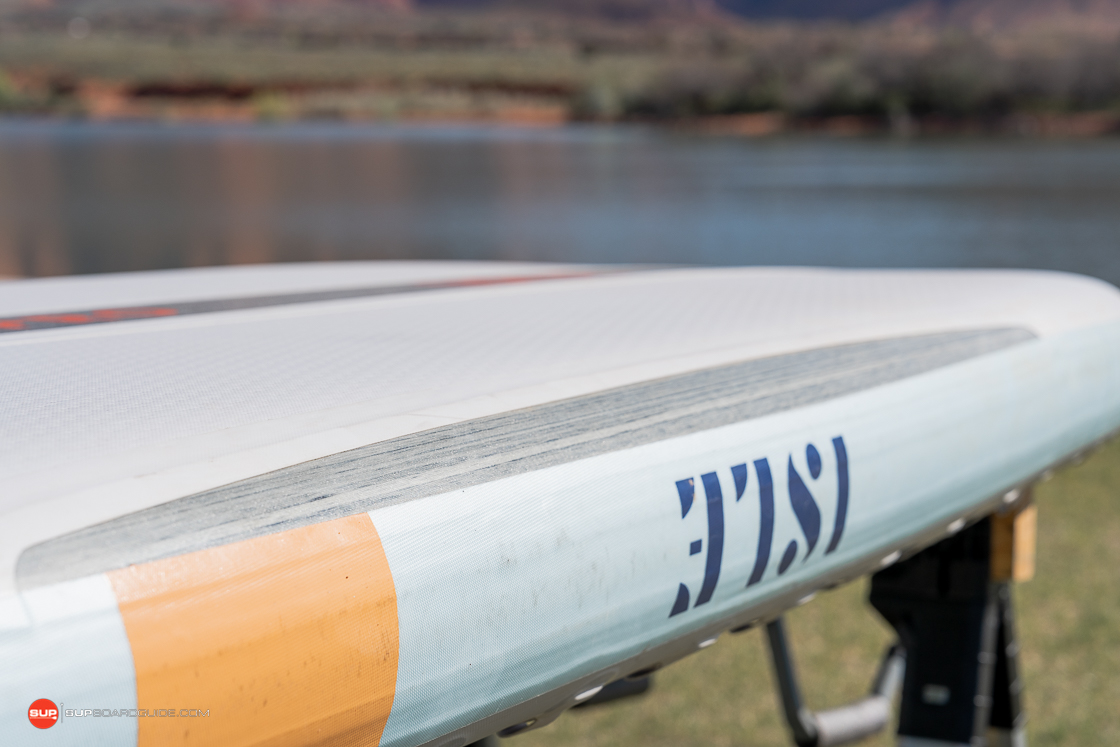 Throughout this 10'6'' Pioneer Pro review I have mentioned multiple times that this SUP has exceeded our expectations and I accredited these results to Isle's excellent construction process and the board's extreme rigidity.
To create these – what we think to be – industry-changing results, Isle uses their coined AirTech ProLite™ construction process in combination with their InfinityFiber™ stringer system. In order to adhere the different layers of the board together, Isle uses a technique they came up with called Powerfusion – which is a method of heat-welding that is so strong it fuses the materials on the rails, the deck, and the hull into one single layer.
The AirTech ProLite™ constructs a cross-woven inner drop-stitch core (space yarns crossing in an X pattern rather than aligning linearly) and an extra thick outer PVC layer that is fused to the base layers.
Yet the InfinityFiber™ stringers are the component of this construction process that creates the extreme rigidity we see across all five of the boards in the Isle Pro Series.
InfinityFiber Stringers are:
Similar to the snap bracelets we used to wear as kids, they are rigid when straight but can also be rolled up and stored.
A more technical description: fiber-reinforced thermoplastic strips
You can identify them as the gray material on the board (except the top one which is hidden underneath the deck pack and one on the side which is underneath the PVC layer)
There is one on top, one on bottom, and two on each side
The results we see in our bend test has our whole team blown away. Isle's InfinityFiber™ stringers are no joke when it comes to the board's stiffness and rigidity.
Board Stiffness: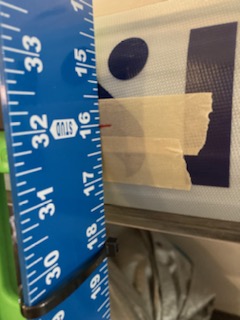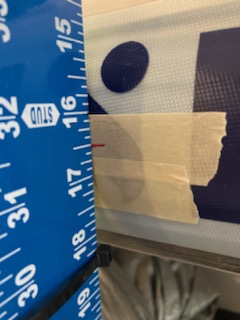 Stiffness Test: 0.4375 inches Bend
This bend test result of ONLY 0.437 inches is commendable and, frankly, mind-blowing to our team. We had to test this board (and the others) 3 times because we couldn't believe what we saw.
We heard Isle talk about how these were the most rigid boards to date, but seeing it for ourselves through our own personal bend test is what made that statement truly believable.
Their exclusive technology, especially those InfinityFiber stringers, is due a lot of credit for this incredible result.
Features/Accessory Review: 9.8/10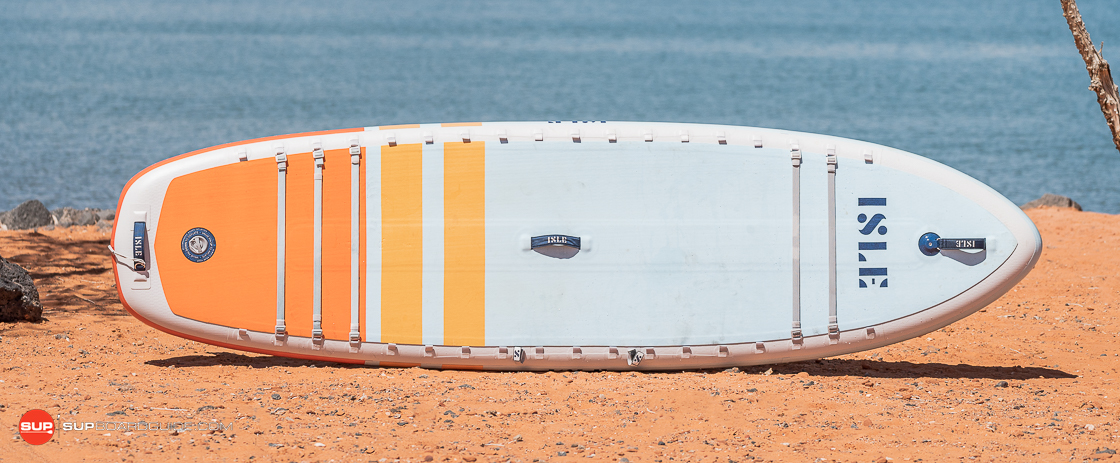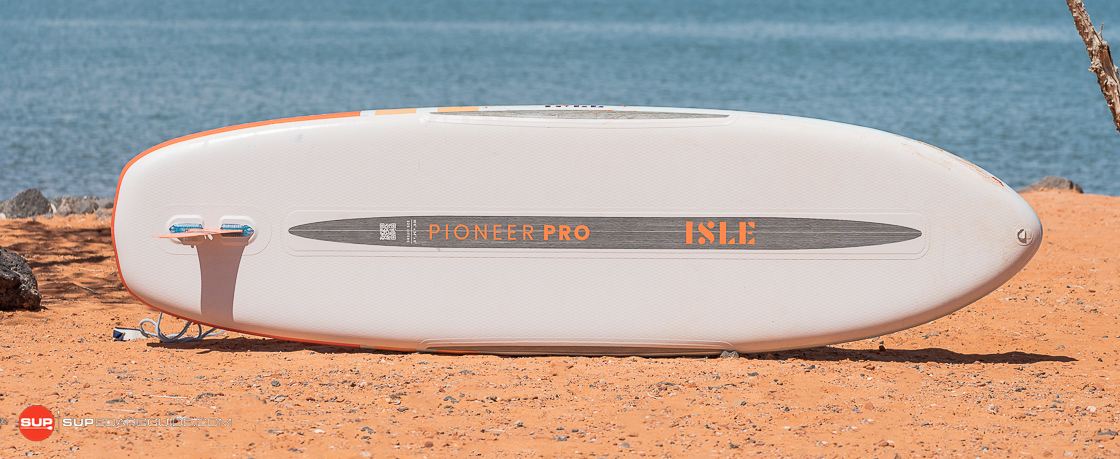 Features:
While it may not look like the Isle 10'6'' Pioneer Pro can hold a ton of gear because of its toned-down deck pad, it most certainly can.
With the Isle-Link system, you can choose whether you want to strap your SUP up with lots of cargo, or leave it completely free! Pictured above, you use thick and wide bungee straps that easily link into molly loops that run the length of each side of the board. These straps are adjustable so they can strap down and keep tight a variety of cargo, regardless of its shape or size.
If you decide you want the kayak conversion kit, the seat and the footrest are easily attached by the Isle-Link system. It literally takes 5 minutes or less, which is super convenient! It's easy to attach one or even two onto the deck so you can kayak solo or in tandem if you prefer.
On the nose of the board, there is an integrated accessory mount that makes it easy to hook up a GoPro or a water-bottle holder, or other accessories you may have.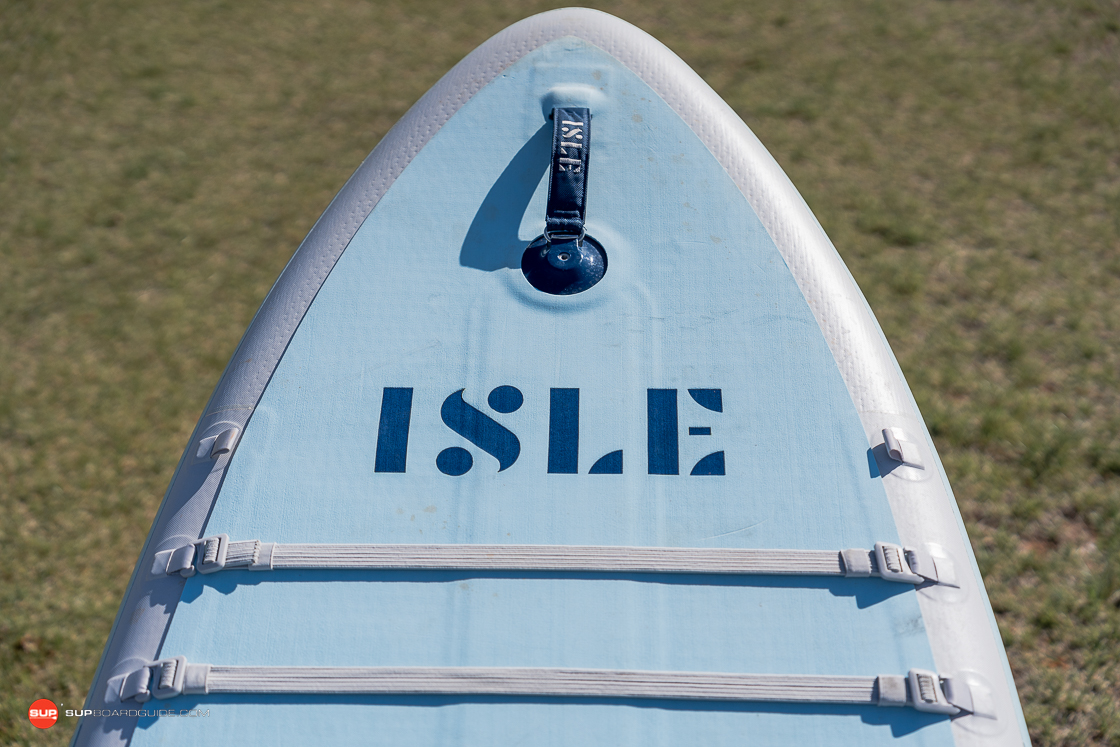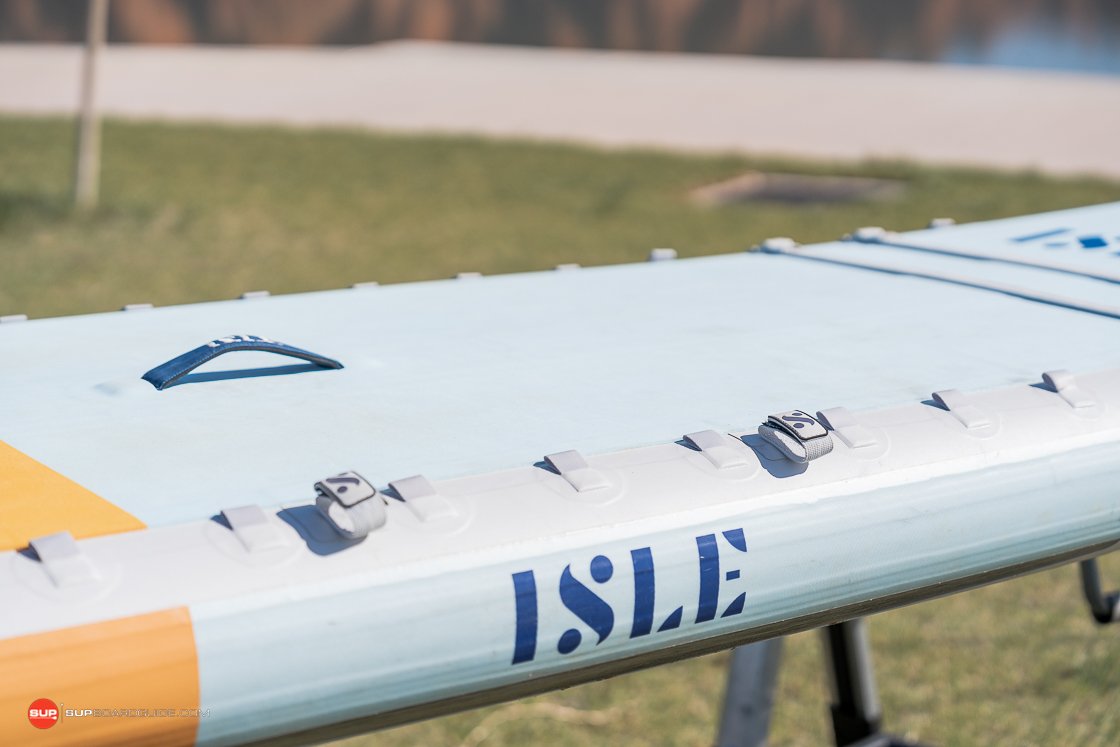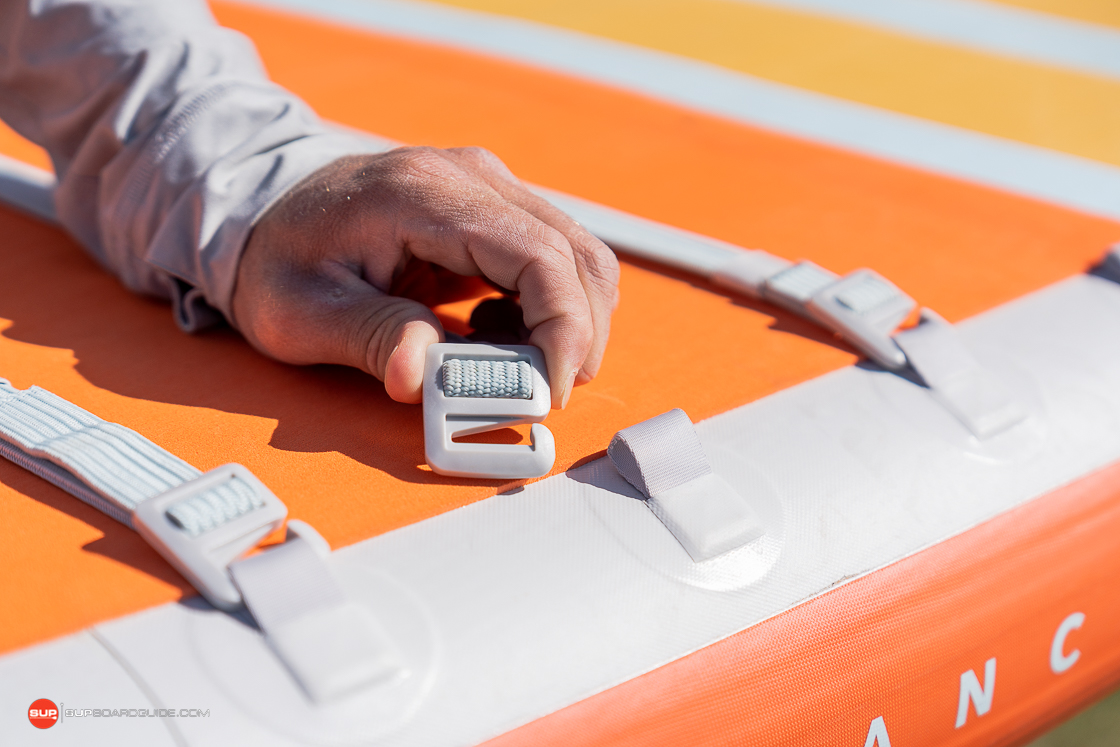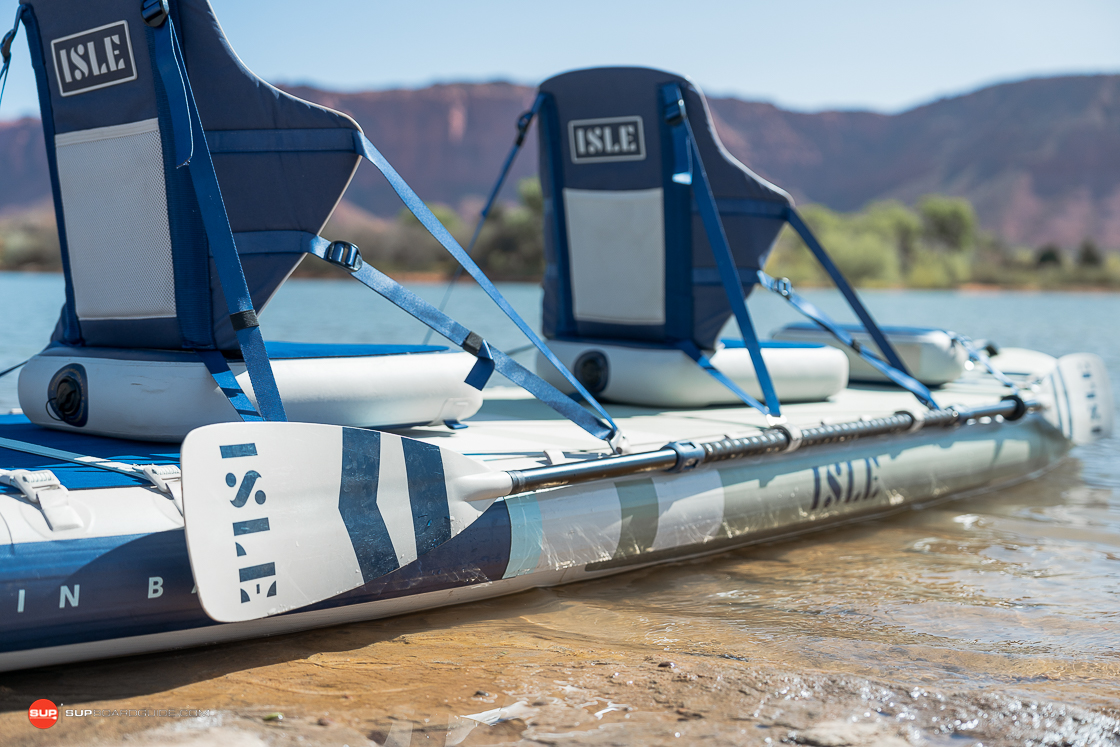 There are two carrying handles on the nose and tail of the board along with the middle carrying handle. There is also a D-ring attached to the carrying handle on the nose of the tail that you can use to attach your leash.
And while very discreet, there are velcro paddle holders that are attached to the sides of the SUP. These make it extremely easy to move the paddle off to the side and not have to remember to hold onto it while you are resting or sunbathing! It's also very convenient for carrying your board and the paddle down to the water at the same time.
While we absolutely love the Isle-Link system and the features on this board, we do have to admit that the deck pad, while comfortable, has the potential to get dirty. So make sure that you rinse your board after each use and don't leave it sitting outside in the sun with the bungee straps on because after a while they will discolor the foam.
Included Accessories: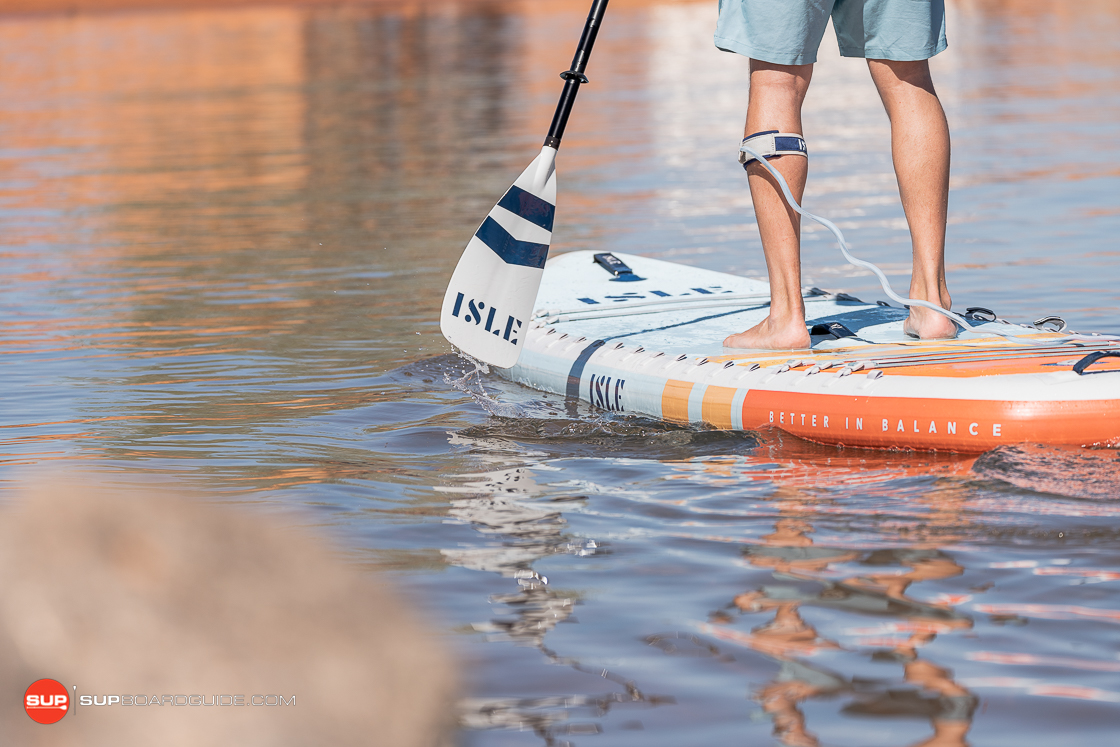 When you purchase the Isle 10'6'' Pioneer Pro, or any other board in the series, you will also get:
A lightweight straight leash
A heavy-duty wheeled carrying backpack
A 9'' click-in touring fin
The lightweight leash is an upgrade from Isles's previous boards and is barely noticeable when on! You don't have to worry about a coil leash getting tangled up in your toes.
The backpack is extra large so it makes it super easy to fit in your rolled-up SUP along with other accessories. There are organizational pockets inside and a dedicated fin pocket on the outside. We have moved around a lot with these boards and we find these bags make it easy to keep everything organized and in its place.
The Isle Pioneer Pro series does not automatically come with a paddle or the kayak conversion seats but the checkout process makes it simple to bundle these items at a discounted price. This method helps keep the cost of the boards down as well as reduce waste for those of you who already have a paddle and/or do not want the kayak conversion kit (although we highly recommend it).
Summary Review of the Isle 10'6'' Pioneer Pro – 2023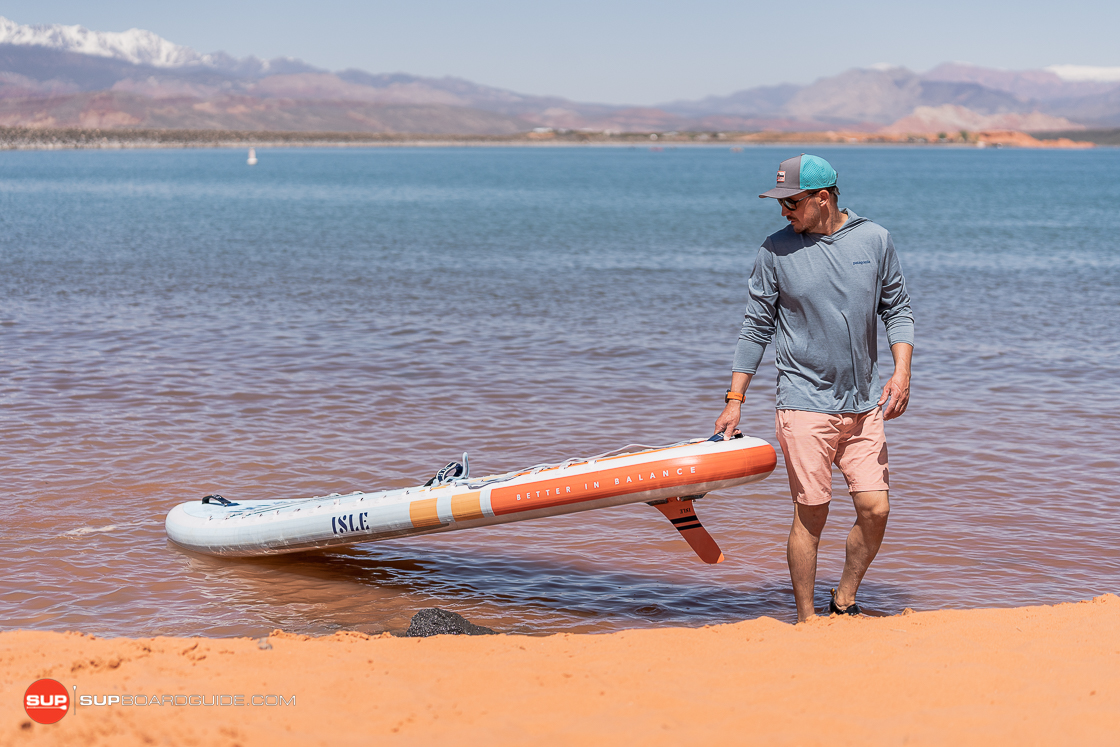 To bring the Isle 10'6'' Pioneer Pro review full circle, I want to reiterate that this is my favorite board in the Pro series not only because it is a great size for me (I'm 5'5'' and 135 lbs), but because it has a high-performing feel, astounding rigidity, and a high weight capacity/shape that make it great for loading it up.
If you're shorter or taller than I am, you're in luck because we found this board to be a great fit for most of our team who are all varying heights and weights. Its dimensions and all-around/cruiser designation make it a board that the majority of paddlers will find enjoyable.
And of course, it's quick and easy to turn into a high-performing recreational kayak!
Thanks for reading and we are excited to hear your comments and/or questions!
The following two tabs change content below.
Latest posts by Laura Coor (see all)