Thurso Surf Expedition 150 Inflatable Paddleboard
Pros
Stable as a touring SUP without making a significant sacrifice in speed
Capable of hauling adventure gear for overnight trips
Uncluttered deck space while still providing some versatile features
Upgraded kit/bag with an accessory pouch
Newly added Kumano hatchet fin provides the convenience of the previous snap-lock fin w/ customizability of a US fin-box
Cons
This SUP is slightly heavy at 26lbs (though Thurso has made strides in cutting weight from their boards; we'd like to see them continue down that route)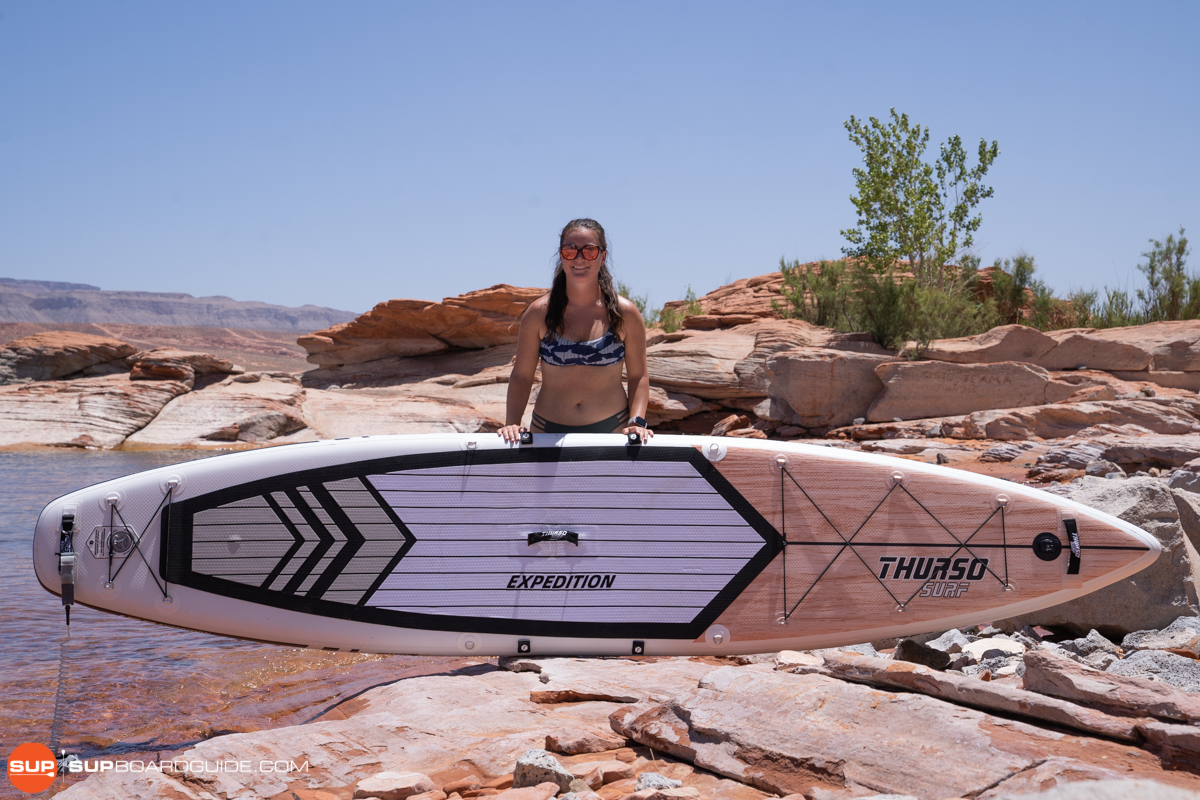 In the past we've reviewed the Thurso Surf Expedition 138 and loved it. However, it wasn't exactly the adventure-oriented, expedition touring SUP for taller/heavier paddlers that it was for smaller/shorter paddlers. The Thurso Surf Expedition 150 aims to bridge that gap.
While the Expedition 138 serves well as a touring board/adventure board for paddlers who don't need extra volume, it has more of an all-around/touring hybrid feel for paddlers close to, or above, the 6'0 range. And for these paddlers, it's not quite as gear capable as you'd expect from a name like 'Expedition'. This is where the 12'6 x 31" Expedition 150 picks up the slack. With its extra foot in length and extra inch of width, it provides needed volume for taller or heavier paddlers to pick up some speed and/or bring along adventure gear.
More than that though, the Expedition series as a whole got some significant upgrades. Thurso equipped the Expeditions with a roomy new bag, a new fin and fin box, an accessory pouch, and a slightly lighter build. In short, we're impressed with the Thurso Expedition series and are super excited to share our take of the Expedition 150 below.
We think the Thurso Surf Expedition 150 would be great for paddlers who
Need some more volume than the Expedition 138 offers, for more stability when loaded down with adventure gear
Want to start getting into touring, but don't want to sacrifice stability
Need a SUP that's capable of a bit more speed than a classic all-around
Most frequently paddle in flatwater, but need a board that can handle some waves and chop
Thurso Surf Expedition 150: Spec Sheet
Main Category: Touring, Inflatable
Board Dimensions: 12'6 x 31" x 6"
Listed Board Weight: 26 lbs
Listed Max Capacity: 400lbs – Recommended is 160-210 lbs
Recommended PSI: 12-15 PSI; Max of 20 PSI
Fins: Hatchet Style Kumano Click fin
Paddle: 3-piece carbon hybrid
Materials: Dual layer w/ woven drop stitch and carbon fiber rails
Price Range: mid
Warranty: 2 years
Performance Review of the Thurso Surf Expedition 150 Stand Up Paddle Board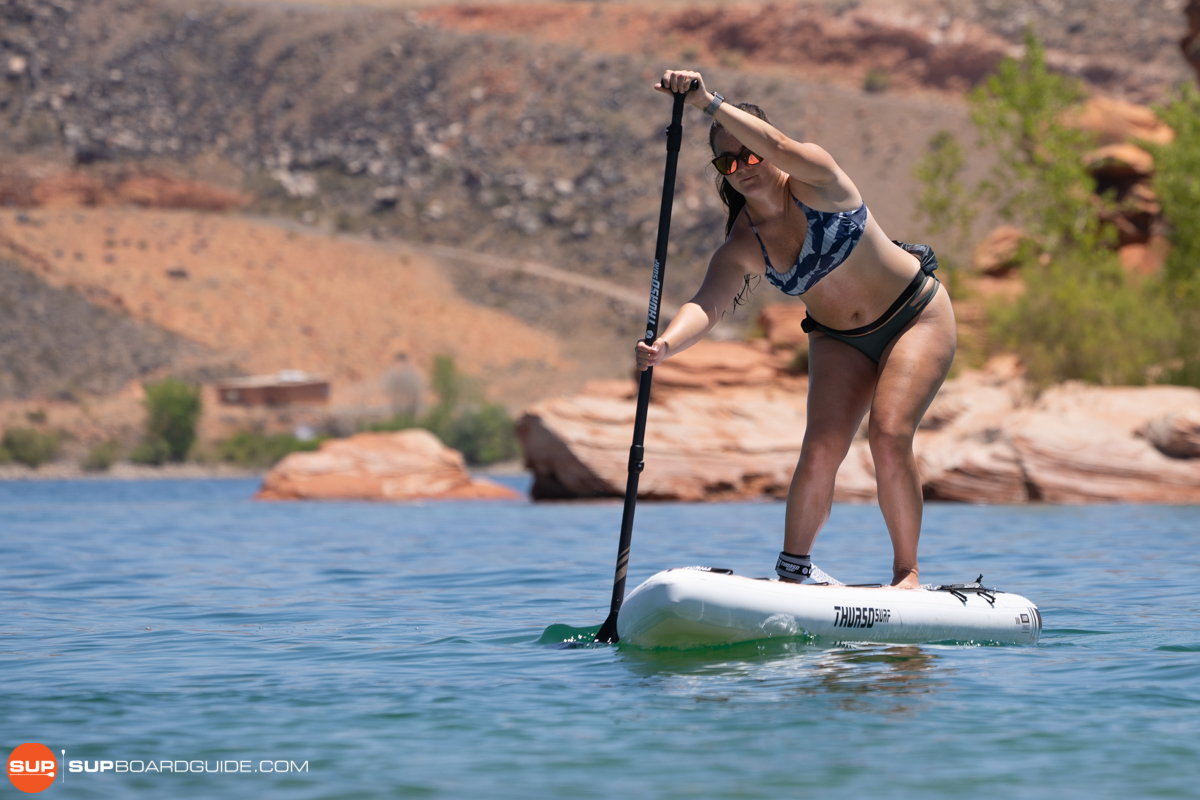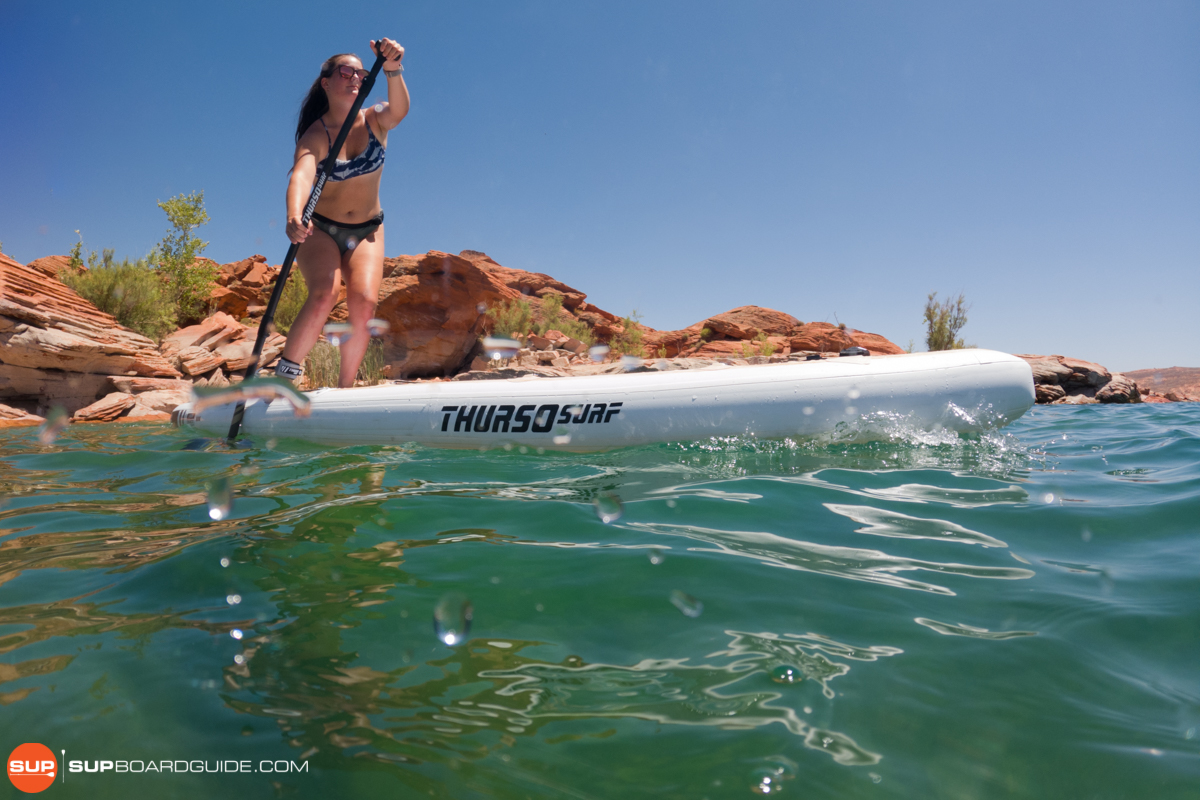 Overall Score: 9.3/10
Stability: 9.2/10
Speed: 9.3/10
Tracking: 9.4/10
Maneuverability: 8.5/10
Construction Quality: 8.9/10
Features/Accessories: 9.2/10
Stability Rating: 9.2/10
The Thurso Surf Expedition 150 is definitely stable by touring board standards. It is also more stable than Thurso's other Expedition size option, the 138 (11'6 x 30"). That being said though, it is still 31" wide and will have a very slight learning curve for beginners or those used to wider, more rounded SUPs.
One of the reasons that we think the Expedition 150 is on the stable side of the touring board spectrum is because it's not quite as drastically tapered as some other touring boards we've seen. While it's still tapered on the nose and tail to reduce surface area, thereby reducing drag, the rails along the standing area stay parallel to each other for a larger portion of the board than we've seen on less stable (but exceptionally fast) touring boards. What this essentially means is that there is a larger area of the board that is 31" wide, rather than only a small area with the rest being more narrow.
In more simpler terms though, I'd place the Expedition 150 directly in between the Blackfin Model V and the Honu Sorrento in terms of stability (with the Model V being more stable, and the Sorrento being less stable). It's stable enough to bring along some adventure gear, but not so wide that it's slowed down.
Speed Test: 9.3/10
Thurso Surf Expedition 150 Sprint test [0.05 mi.] – 0:00:55
Thurso Surf Expedition 150 Casual Paddle test [0.05 mi.] – 0:01:27
Speed on the Thurso Surf Expeditions will mostly be dependent on the paddler. For me, (5'2 x 135ish lbs), the Expedition 138 is a couple of seconds faster than the Expedition 150, but the opposite is true for Justin (6'0 x 180ish lbs).
What this comes down to is SUP volume vs. paddler size. At my size (again, 5'2 x 135ish lbs), I don't need the extra volume that comes with the Expedition 150, but my speed benefits from the narrower width and slightly lighter weight on the Expedition 138. Whereas Justin at 6'0 tall prefers the extra volume in the length of the Expedition 150 without being hindered by the increased width or weight.
That being said, the difference in speed between either of Thurso's Expeditions is fairly minor. I think ultimately, if you need more stability and volume the Expedition 150 is the better choice, but if you'd prefer a slightly lighter/narrower board and don't need the added volume, you'll enjoy the Expedition 138.
Tracking: 9.4/10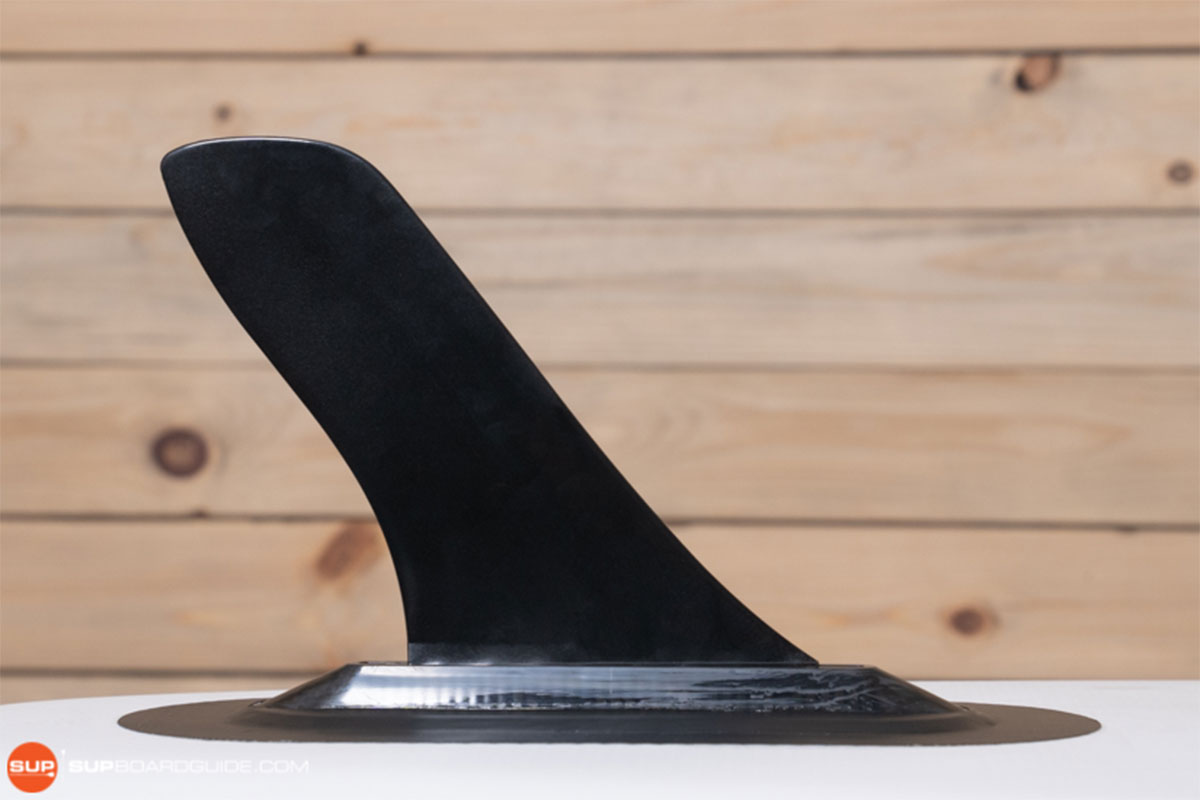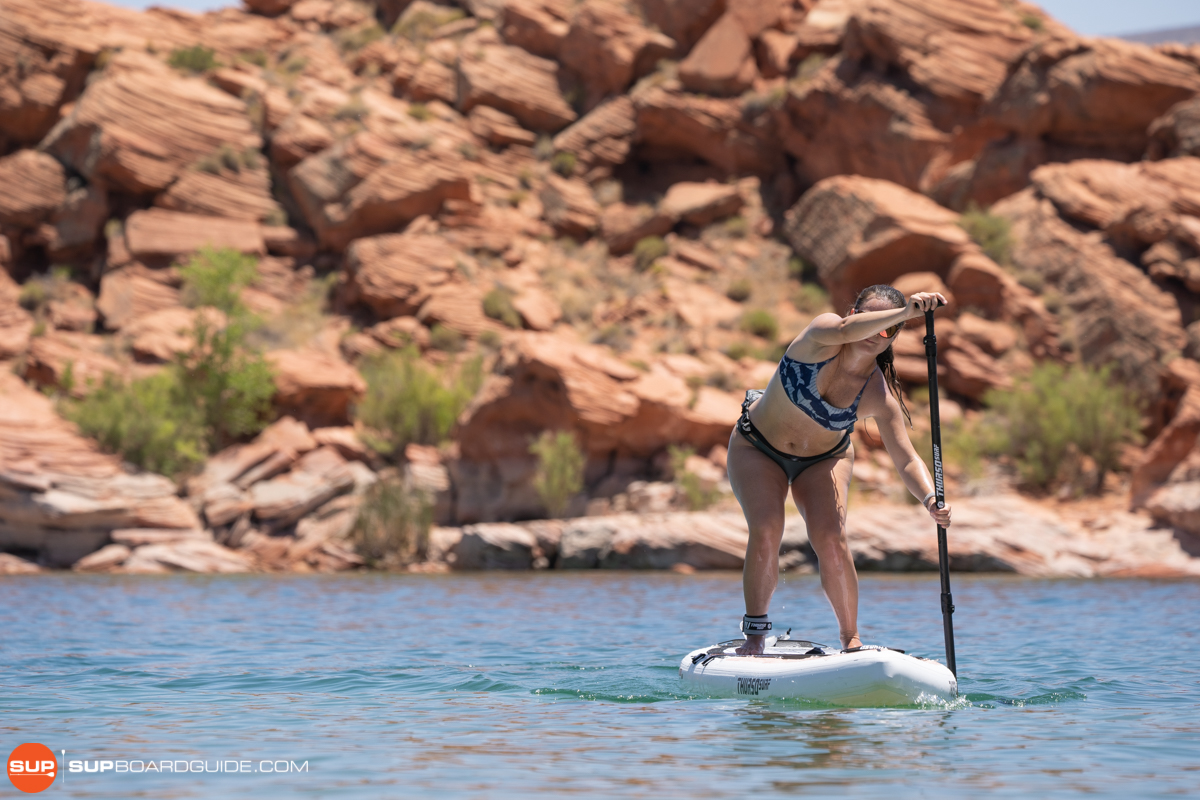 As with most touring boards, the tracking on the Expedition 150 is exceptional, especially considering that it's wider and more stable than aggressive touring SUPs.
We'd attribute the Expeditions' tracking capabilities to the included hatchet style center fin. Thurso always had the hatchet fin set-up on the Expeditions, but they recently decided to forgo the side fins and instead utilize a single fin set-up. While this does slightly detract from stability, it does add some speed capabilities and could improve tracking (though we need to do more testing to know that for sure when discussing the Expeditions specifically).
Maneuverability: 8.5/10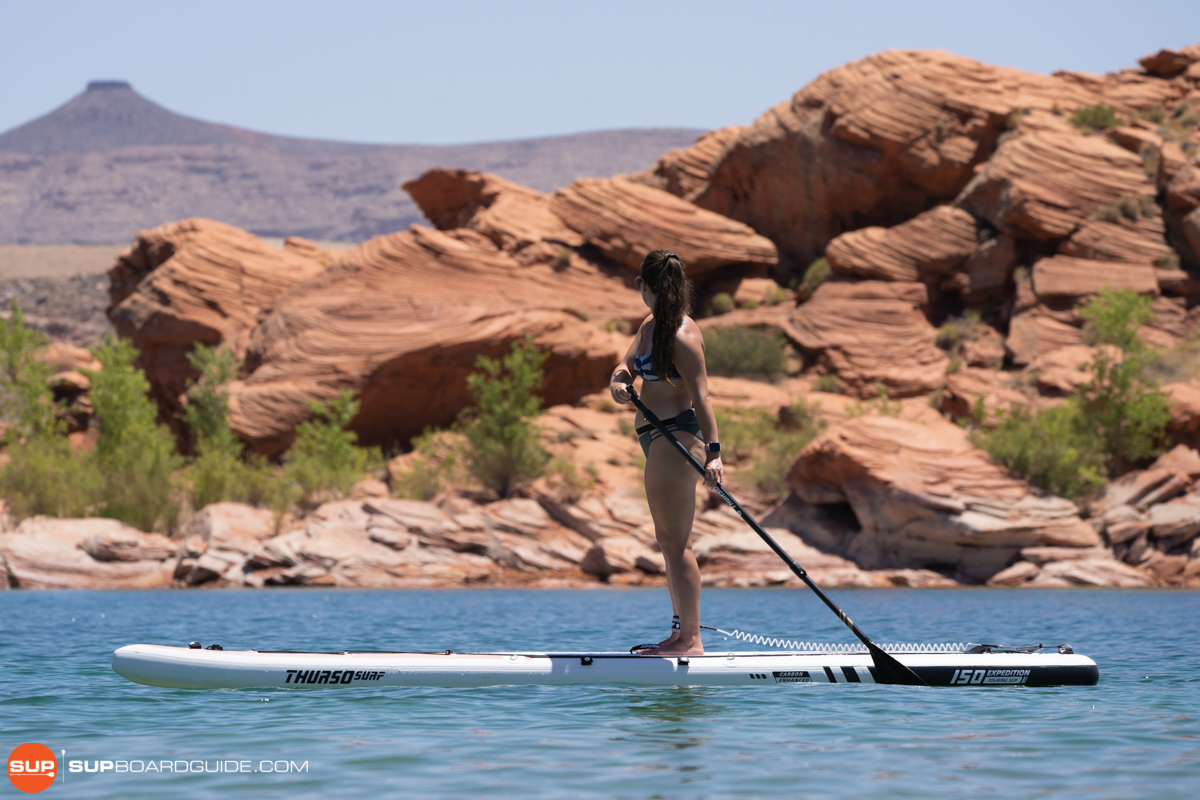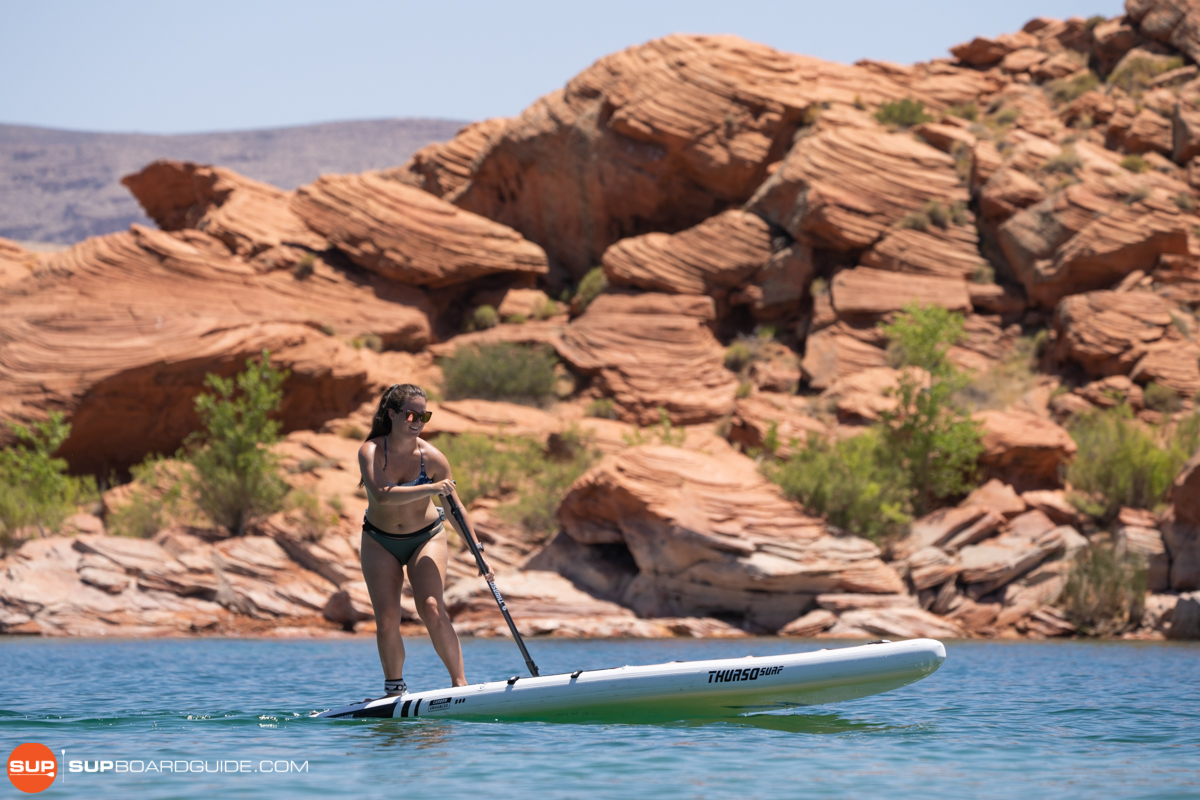 Generally, exceptional tracking on any SUP indicates a trade-off with maneuverability, and that is mostly the case here.
The Expedition 150 is undeniably slower in changing direction via casual sweeping turns. This is expected and understandable for a touring SUP, but is a little more exaggerated on the Thurso Expedition 150 because it is a bit on the heavier side.
That being said, we love the raised kick pad on the Expedition 150 as it does make stepback turns much easier and effective.
Construction Quality: 8.9/10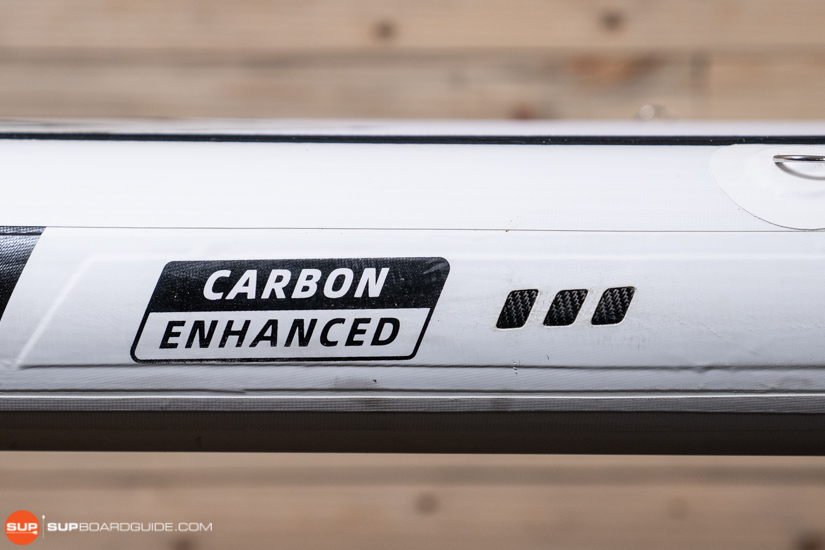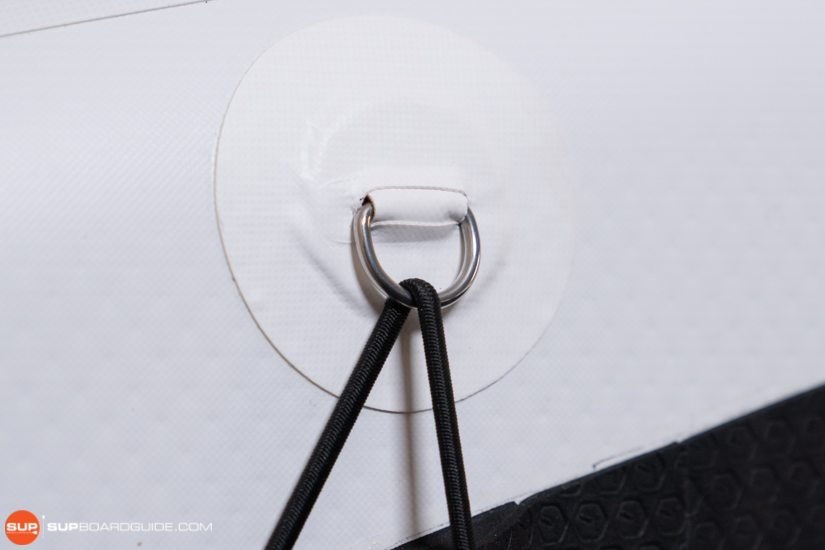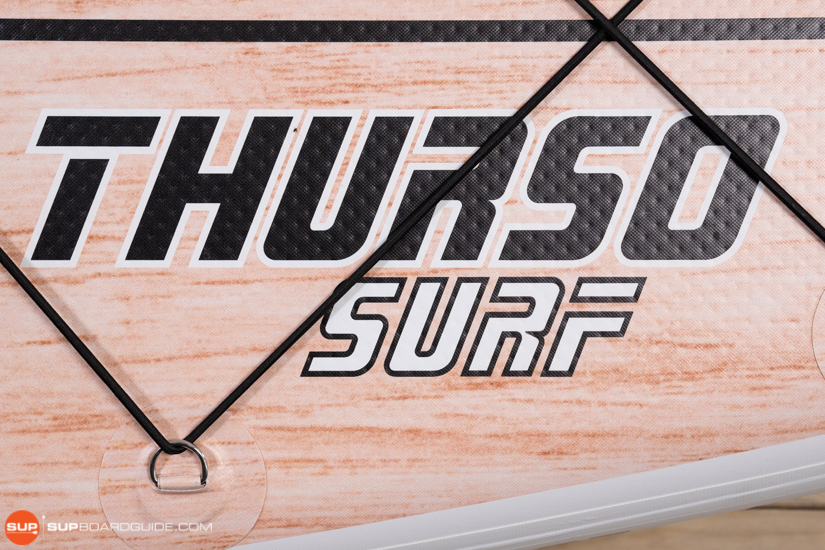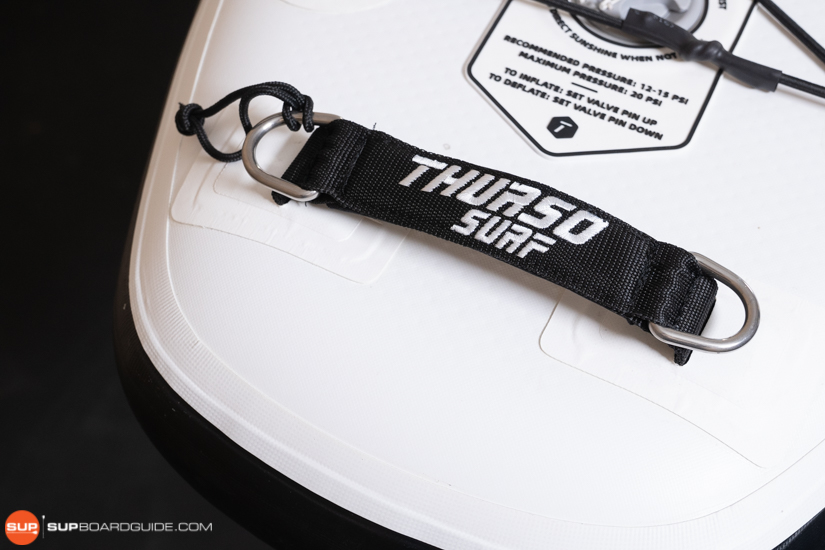 The Thurso Surf Expeditions are constructed using a woven linear drop stitch and dual layer fusion PVC.
To begin breaking down some of that jargon, we'll start with the phrase 'woven linear dropstitch'. What we mean here is that the thousands of threads that hold the Expedition's shape intact run parallel to each other from deck to bottom, or in a 'linear' orientation. These threads are then anchored into a woven fabric layer. This combination enables Thurso to reach a higher level of rigidity with the Expeditions than they would be able to if they had opted for a knitted fabric layer, as the knitted fabric has more air gaps and allows for more flex in the SUP.
The next step to this process is the application of the dual layers of fused PVC. When we refer to PVC layers as 'fused' we mean that the layers have been applied in a liquid or laminate state to form a more uniform bond with the fabric layer, and each other,during the drying/solidifying stage. Once the PVC solidifies, Thurso applies their rails, which contain a carbon fiber fabric strip, contributing a stiffer feel on the Thurso Surf Expeditions.
While we love the rigidity of Thurso's Expeditions, we are still wanting them to be a little bit lighter. In the future, I'd like to see Thurso try switching to a woven-cross drop stitch, as orienting the drop stitch threads in an 'X' pattern has been known to maintain, and even increase, rigidity while using less material and cutting weight.
Board Stiffness: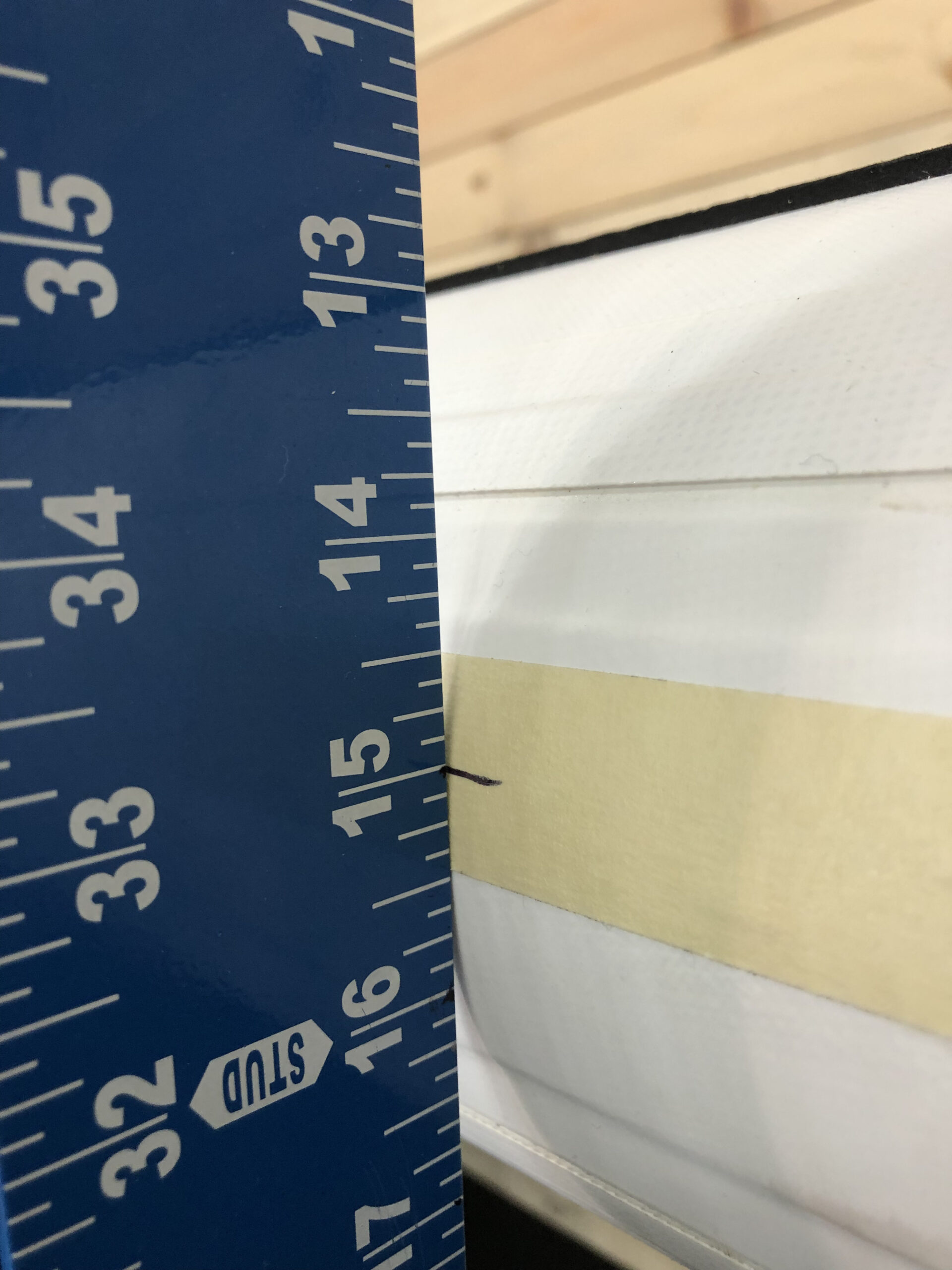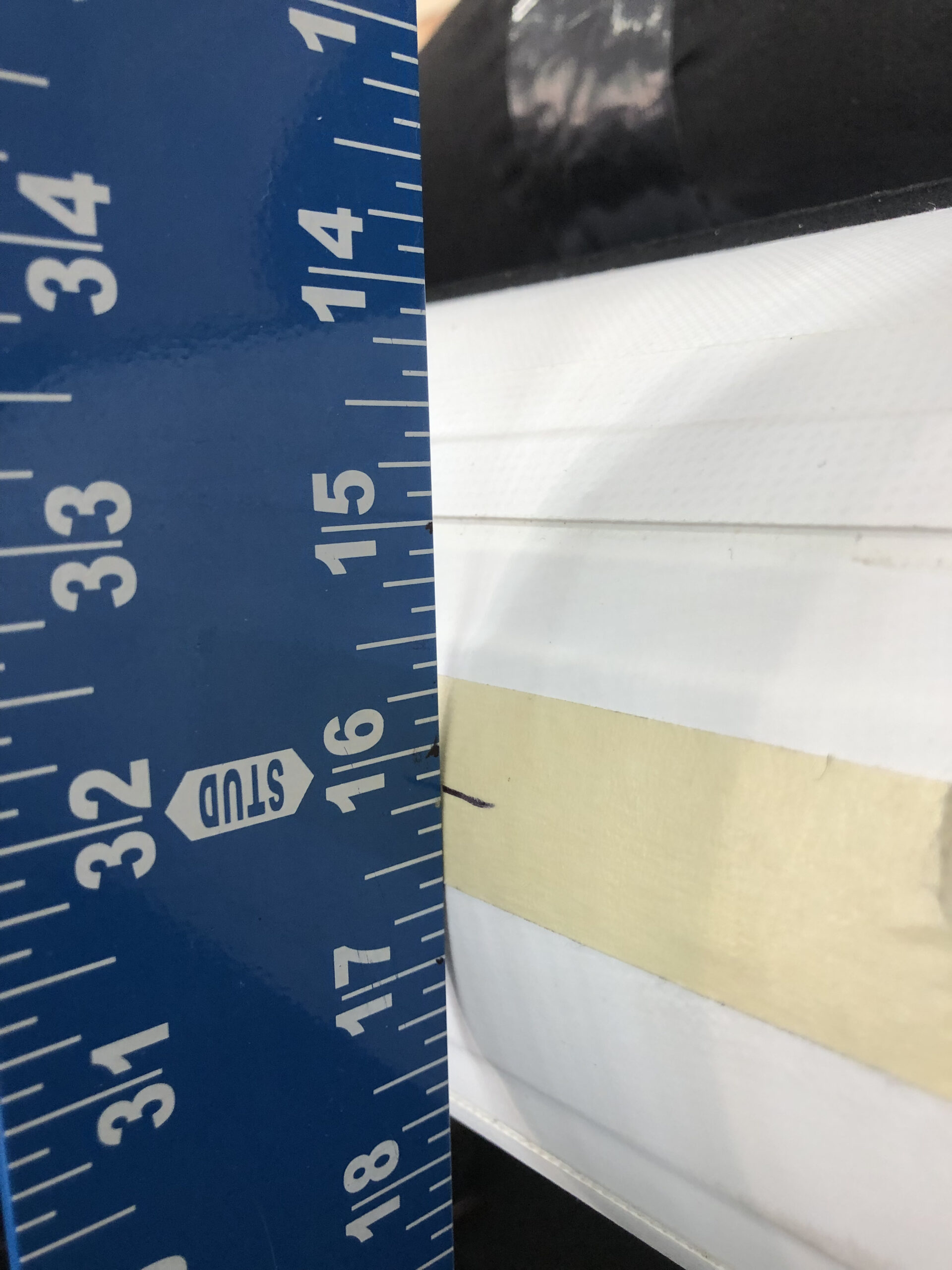 Stiffness Test: 1.0625 " Bend
Our stiffness test is carried out by setting the SUP on top of two sawhorses that are placed 7' apart. We then place 150 lbs on the SUP's midpoint and measure how much it bends under the weight. This is not meant to replicate the board's performance on the water, but is instead aimed at helping us distinguish between construction methods and materials.
The Thurso Surf Expeditions performed fairly well in our bend tests and about on par with the similarly constructed Blackfin line. In the future, we'd like to see Thurso achieve the same level of stiffness with lighter materials, but they have still made strides in cutting board weight since the previous models.
Features/Accessory Review: 9.2/10
The Thurso Expedition 150 has just the right amount of features to bring along gear and aid in performance, but not so much that it minimizes your deck space. They've also swapped out the Expedition series' 2+1 fin set-up for a single hatchet fin which, like the raised kick pad, also contributes to better performance.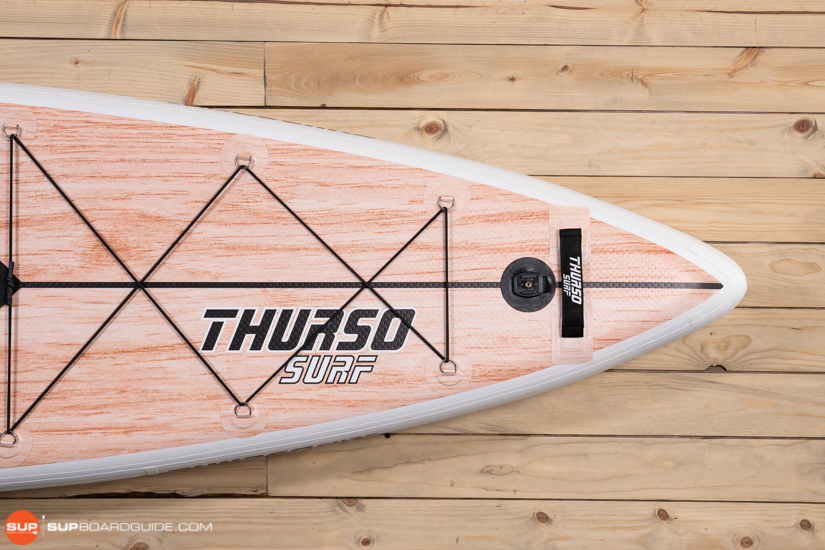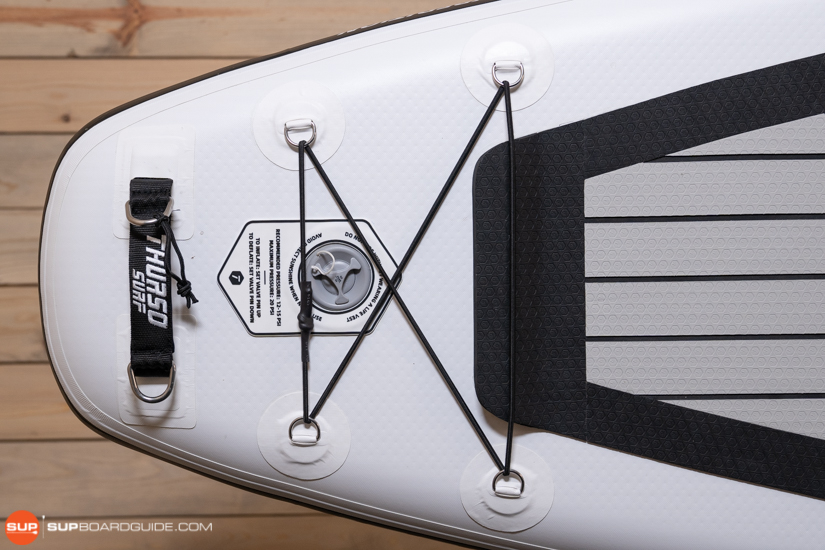 We like that the front cargo area is large enough to fit more than one drybag. You'll have enough room to bring along day gear or some minimalistic overnight gear. As for the rear cargo area, it's significantly smaller than the front, but I often find myself either using it only for shoes or cutting the bungee and taking it off entirely so I can have easier access to the raised kick pad.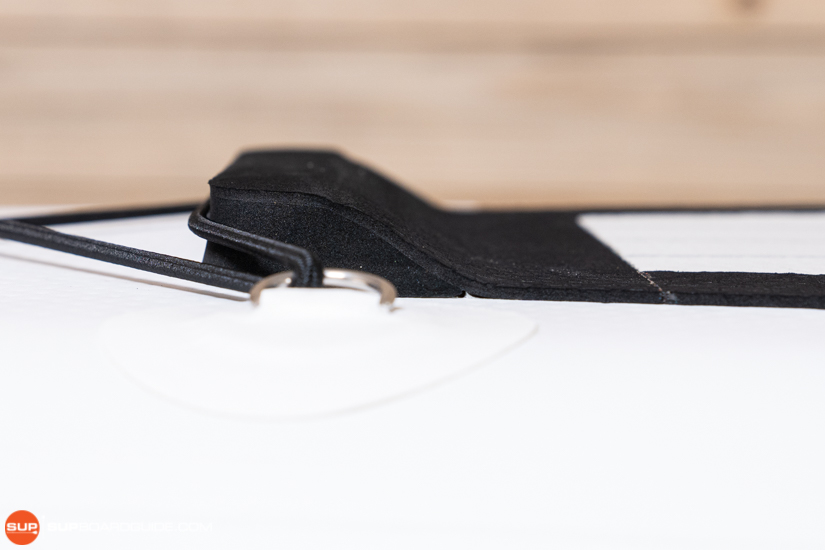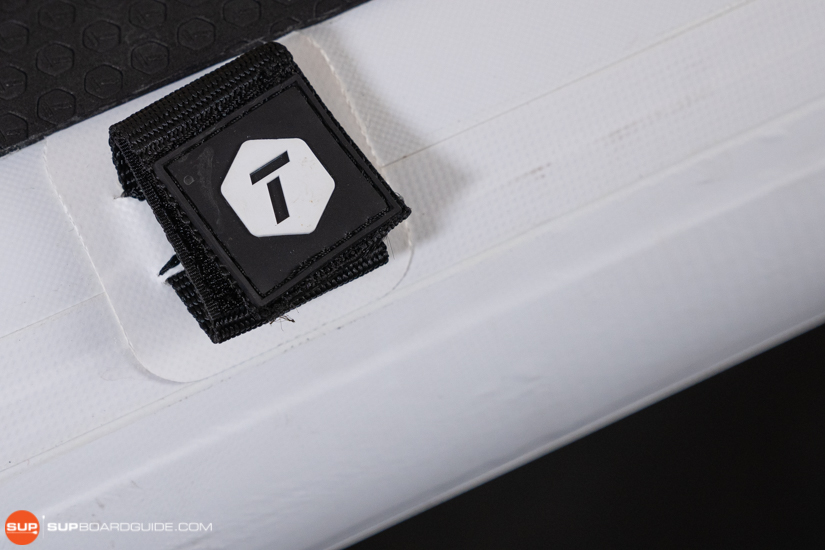 The raised kick pad is actually my favorite feature on the Thurso Expedition 150; it makes this 12'6 board much more maneuverable. I'm also a big fan of the velcro paddle holders on the Expedition, as it frees up my hands when I'm carrying the SUP to the water, and gives me peace of mind that my paddle is secure when I go for a swim.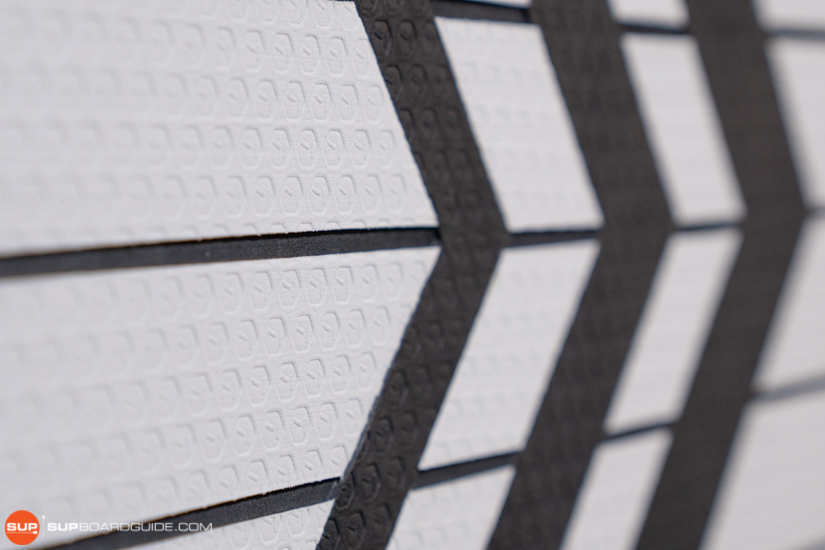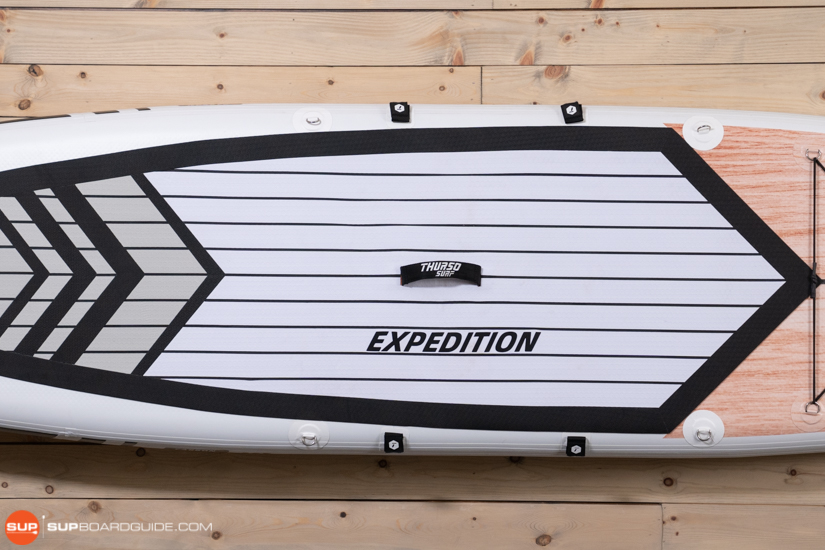 Focusing on the deck pad, Thurso balances comfort and grip with a grooved and brand stamped pattern. The grooves keep water running off of your board and away from your feet, while the brand stamping adds some traction as you move around the board, or walk back to the tail for a stepback turn. On either side of the deck pad, you'll also notice 4 d-rings for a kayak seat attachment.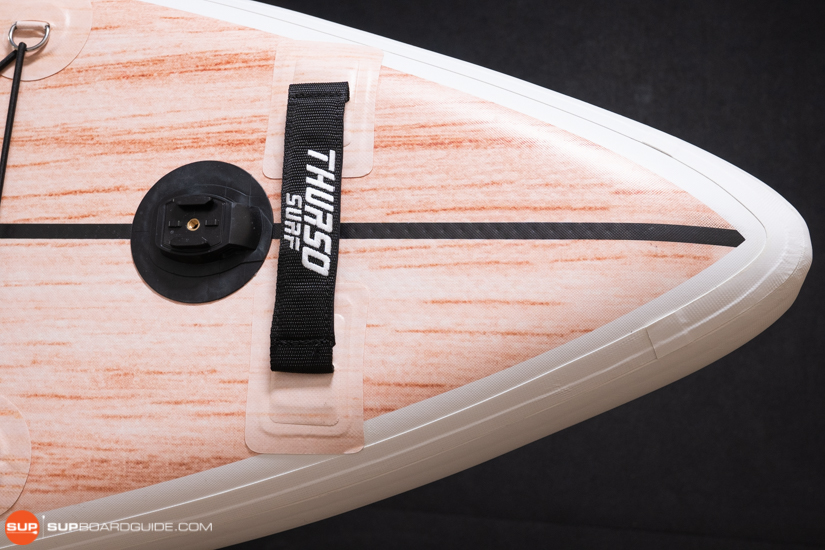 As a final note I love that Thurso decided to put an action mount on the nose of the Expedition series; it's in a great spot to attach a camera.
Included Accessories: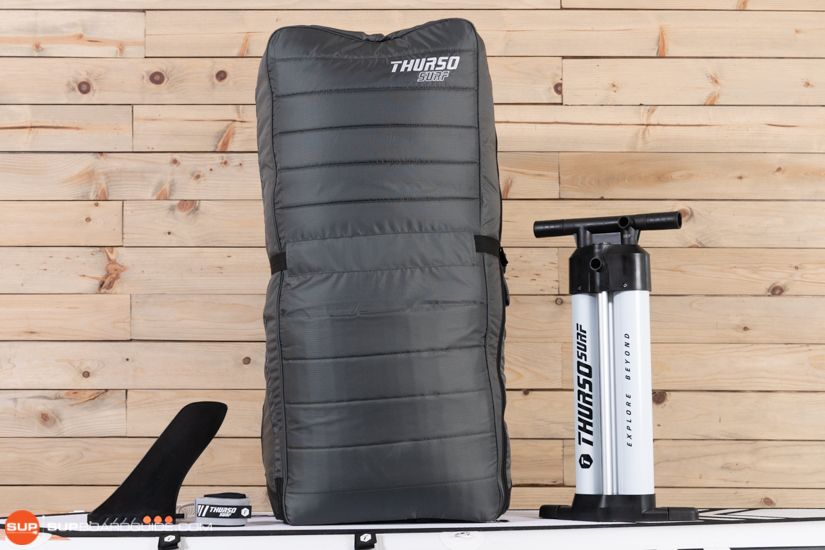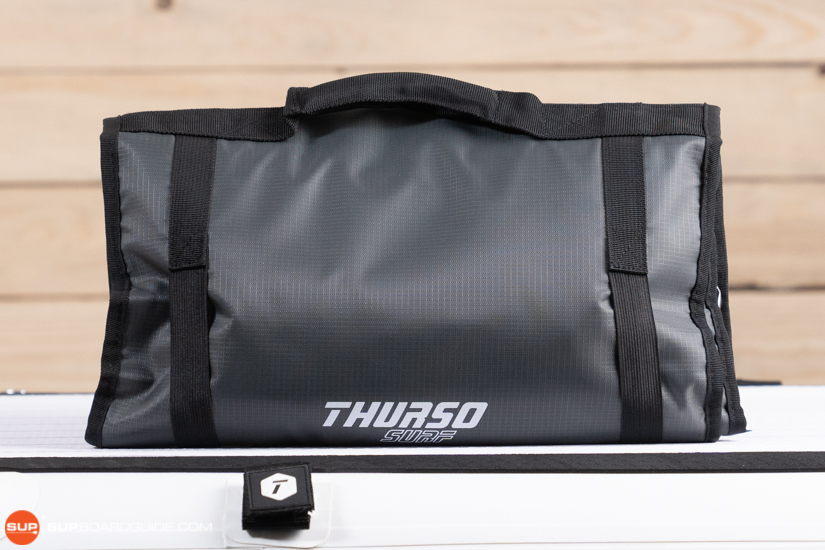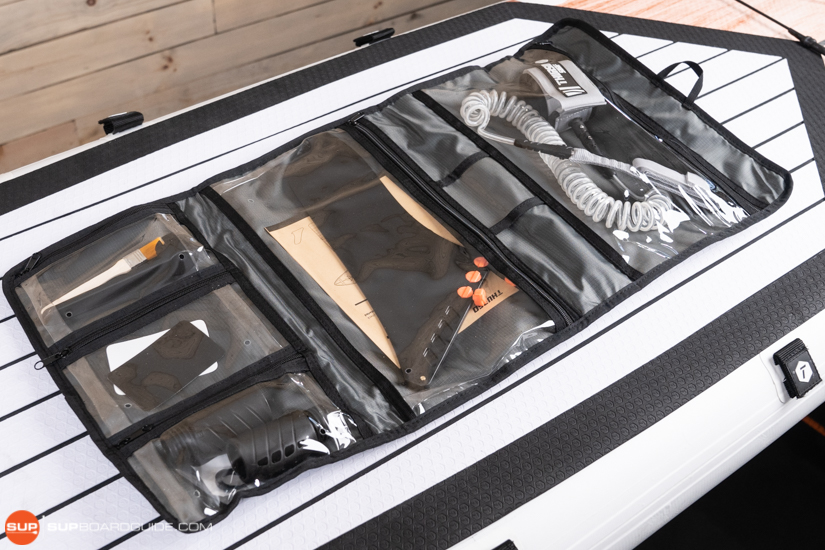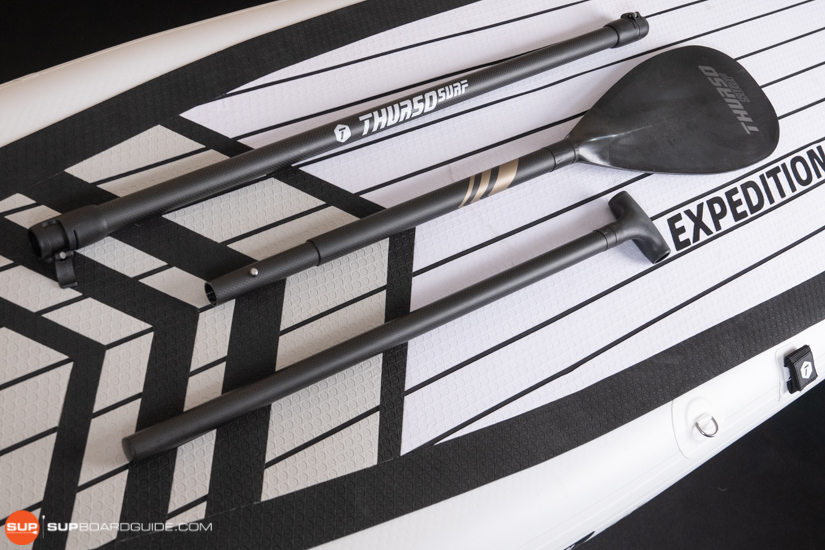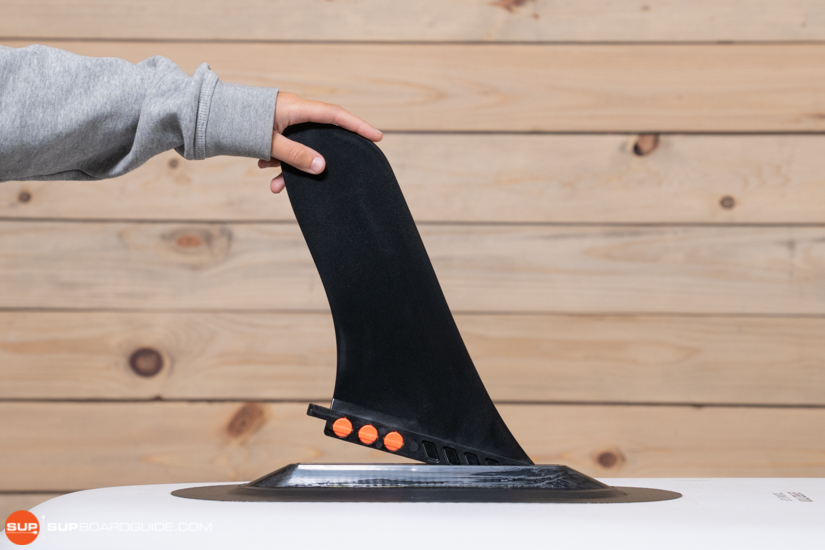 Thurso has always done a great job of setting their paddlers up with high quality accessories to compliment their boards. With a Thurso Surf Expedition 150, you'll receive:
3-piece carbon hybrid paddle
Hatchet style fin w/ Kumano click system
10' leash
Accessory pouch
Dual chamber hand pump
Roomy SUP Roller bag
We've reviewed (and loved) the Thurso Surf SUP kit on past models, but we really love the upgrades that have been incorporated into the most recent models.
Focusing on the bag, Thurso opted for a larger SUP bag in their recent models, which not only makes packing up your SUP a lot easier, but also provides the room to bring along a change of clothes, throw your PFD in there, stuff in a towel, or any other gear that you'd like to bring along. This does come with a caveat though, in that the bag is almost 'too big' and feels semi-awkward to carry on my own back (if I'm not using the roller wheels).
We also really like that this year's Expedition's come with a Kumano Hatchet fin, and a US fin box. It keeps the convenience of the previous snaplock fin box while adding in the customization that the US fin box provides.
Lastly, I am personally obsessed with the accessory pouch that Thurso has added into their SUP kit. It almost reminds me of a travel toiletry bag, but it has individual pockets for your fins, leash, repair items, and spare kumano plugs, and it fits really nicely in the front exterior pocket on the SUP bag. Organization is something that I struggle with when it comes to inflatable SUPs because there's a lot more pieces than are needed with a hardboard; the accessory pouch is a more than welcomed addition.
Summary Review of the Thurso Surf Expedition 150 Touring iSUP
The Thurso Surf Expedition 150 strikes a balance between speed and a comfortable level of stability.
It beats out most all-arounds in our speed tests, though it's still capable of hauling overnight and adventure gear. On top of that, the raised kick pad makes it surprisingly maneuverable for a 12'6 touring SUP, and Thurso's switch to a single hatchet fin has opened up this SUP's tracking capabilities.
In short, the Thurso Surf Expedition 150 performed well in all aspects of our testing, and we were stoked to see Thurso Surf make improvements to their overall kit and packaging as well.
We hope this review has been helpful, but feel free to reach out to us with any questions in the comments below.
Have fun and we'll see you on the water!
The following two tabs change content below.
SupBoardGuide
Heyo! At SupBoardGuide.com we are a team who love the water, the outdoors, and are more than grateful that our full-time job allows us to review stand up paddle boards. We paddle year round (it helps that we are just about 2 hours outside of Las Vegas), and we bring in a wide range of paddlers with the goal of providing our readers with the best, most in-depth, and accurate stand up paddle board reviews.
Latest posts by SupBoardGuide (see all)