ISLE Switch iSUP/Kayak Hybrid
Pros
Extremely versatile with endless options for kayak seat positioning, gear attachments, etc.
Insanely stable at 35.5" wide
VERY lightweight at just 19 lbs
Comes with all necessary accessories included to use as a SUP or a kayak
Full length deckpad for ample standing space, the ability to do yoga, or bringing along passengers
Shipped with limited plastic packaging, ISLE uses paper instead
Cons
We'd like to see a fiberglass or carbon fiber blend paddle in the future, rather than the included aluminum
Months before the ISLE Switch arrived to us for our testing and review process, Justin told me in passing that we'd be getting in a 2-in-1 SUP/Kayak, and I honestly had my doubts. Maybe it's me being cynical, maybe I can be too much of a SUP purist, but either way, my experience has been that anything that's 2 in 1 tends to do 2 things poorly rather than doing 1 thing really well. Take the 'spork' as an example: not a great fork, not a great spoon, but technically able to do both. I was expecting the Switch to be just another 'spork' on the market.
That was, until we spoke with its designer, Jimmy Blakeney. Jimmy has a wealth of knowledge and experience in SUP design and construction and was working with top brands like BIC Sport before joining ISLE's team as their VP of Product. More than that though, and something that makes his creation of the Switch all the more noteworthy, is that he is a true waterman. He's an avid paddler and surfer and held the title of US National Whitewater Kayaking Champion in 2003. This isn't someone simply sitting behind a desk and sending board specs over to a factory; he's paddling these boards right along with all of us in the SUP community and wants to create something that will push all of us forward.
With this background, it's no surprise that the Switch blew past my spork-like expectations for it. At 11'6 x 35.5" the Switch is supremely stable, but by keeping it a light 19 lbs, and carefully shaping the rails, Jimmy has enabled the Switch to hang onto its speed. He's also made this board even more of a stand out with the new 'ISLE-LINK connection system' which allows you to customize your deck and fine-tune your kayaking position to maximize comfort and efficiency.
ISLE could've easily just slapped a couple of kayak seat attachment points on this SUP and called it a 2-in-1 board. Instead, they've brought in a seasoned expert and watersport veteran to raise the bar for inflatable SUP Kayak design by ensuring that it's not just capable of serving a dual purpose, but that it also excels as either a SUP or kayak – and that's what sets this board apart from the market.
We think the ISLE Switch 2 in 1 Inflatable Kayak/Paddleboard would be great for paddlers who:
Want a SUP that is also a fully functional kayak
Need a high volume board to carry a higher weight capacity and/or load up with gear
Love customization ability, from cargo areas to seat positions
Prefer lighter weight boards
Want to take on a variety of environments by paddling or kayaking from flatwater to chop, slow-moving rivers, or ocean paddling
ISLE Switch 2 in 1 Inflatable Kayak/Paddleboard: Spec Sheet
Main Category: All-Around, SUP/Kayak Hybrid, Inflatable
Board Dimensions: 11'6 x 35.5" x 6"
Listed Board Weight: 19 lbs
Listed Max Capacity: 425 lbs
Recommended PSI: 13-17 PSI
Fins: Single fin, hatchet style, US finbox
Paddle: 3-piece aluminum SUP paddle w/ an included kayak blade
Materials: cross woven dropstitch w/ fusion single layer
Price Range: High
Warranty: Two years
Performance Review of the ISLE Switch 2 in 1 Inflatable Kayak/Paddleboard Stand Up Paddleboard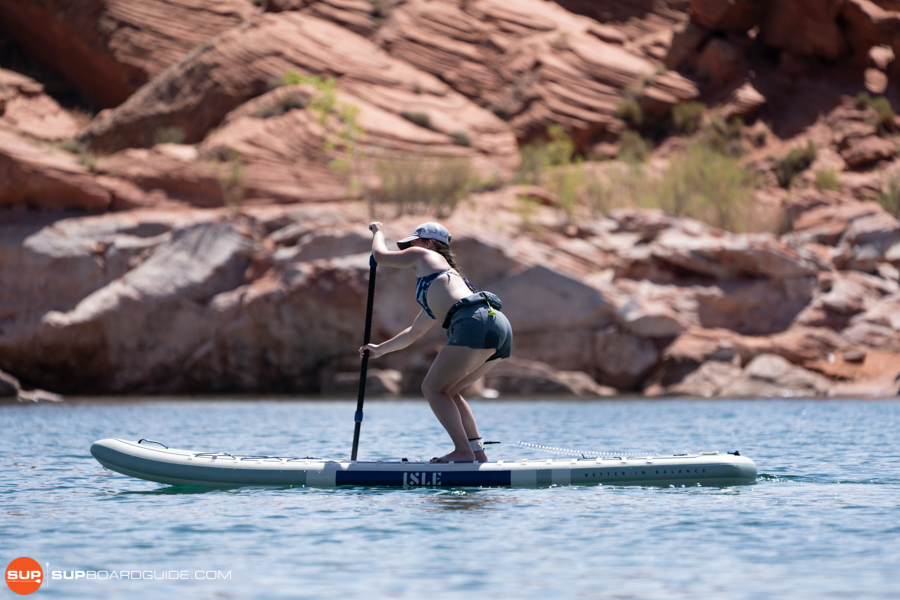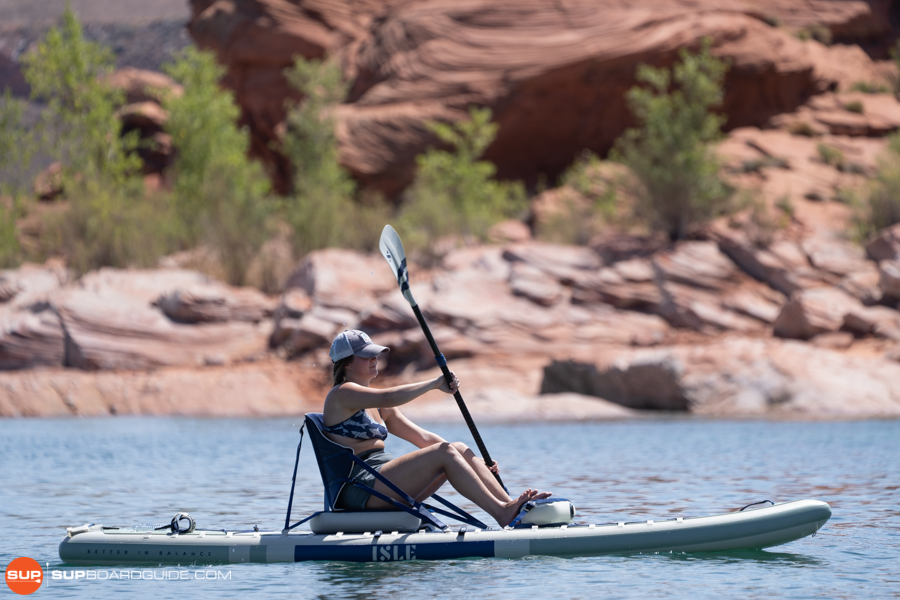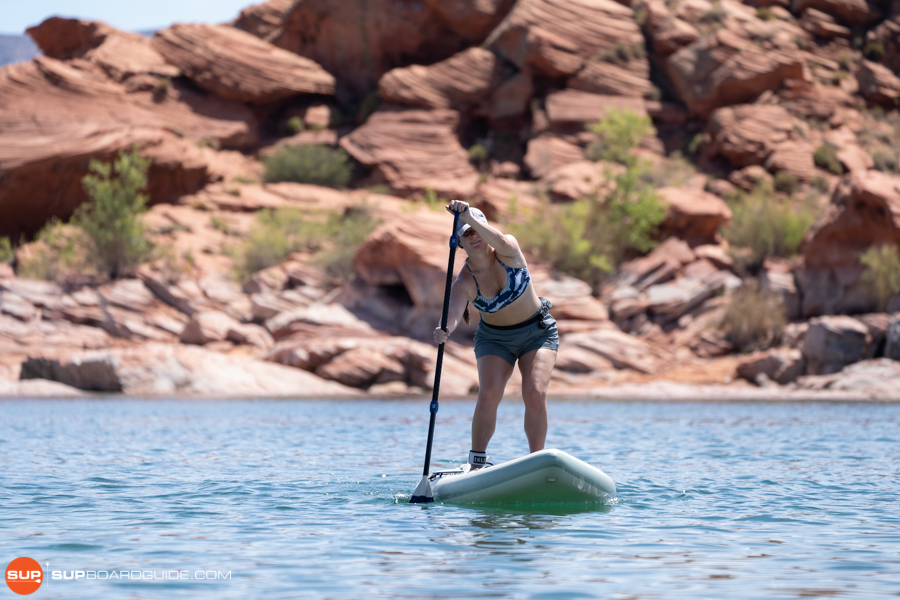 Overall Score: 9.8/10
Stability: 9.8/10
Speed: 9.2/10
Tracking: 9.1/10
Maneuverability: 8.9/10
Construction Quality: 9.3/10
Features/Accessories: 9.7/10
Stability Rating: 9.8/10
The ISLE Switch is 11'6 x 35.5" wide – it is exceptionally stable as both a SUP and a kayak. Though there's more than just its spec'd dimensions that make the Switch one of the most staple SUPs we've tested.
Much of its stability comes down to the Switch's shape. As usual, the specified 35.5" width can be found right around the standing area, but the width is carefully distributed throughout the length of the board as well, nearly all the way down to the tail. This helps to maximize the total 'wet area' (essentially surface area) on the board, and consequently gives the paddler a more supported, stable feeling.
Obviously this translates into more than enough stability while using this board as a standard solo SUP, but it also opens up the versatility of this board even more, as it can still be comfortably paddled or kayaked with an adult passenger, pets, or a ton of gear.
Speed Test: 9.1/10
| | |
| --- | --- |
| Board | Top Sprint Speed (mph) |
| ISLE Switch | 4.63 |
| BLACKFIN Model XL | 4.52 |
*All data is based on readings from the NK Sports Speedcoach 2: On this particular day of testing, the winds were about 8 knots, which is much more than we'd prefer in order to get accurate speed test results. Because of this, the Switch was tested against a control board of similar dimensions, the Blackfin Model XL, to determine how it compares in terms of speed difference. Both boards were paddled with the wind at my back to limit fatigue being a variable in test results.
Before we fully dive into this speed data, I want to make clear that I am a female paddler, about 5'2 and 135 lbs. It'd be impossible for a different paddler to completely replicate these results, especially on a different day, in different water, etc. The main point of this test is to show the top speed difference between the two boards, rather than just the top speed as a raw number.
So, what is the speed difference between these two boards and where does it come from? As outlined in the data above, the ISLE Switch beat out the BLACKFIN by 0.11 mph. I'd credit this mostly to the Switch's lighter build; it's only 19 lbs, whereas the XL is 29 lbs. This 10 lb difference is huge gives the Switch a major advantage in quickly getting off the line in a shorter sprint. The shape of the Switch comes into play here as well, as we'd expect the more tapered nose to help reduce drag, though this is much harder to quantify than the sheer weight difference. And, technical jargon aside, the fact that the ISLE Switch is able to beat the Model XL, despite being 1.5" wider, is in itself testament to this board's design – the paddler can now maximize stability while actually making gains in speed, something that is nearly unheard of in the SUP industry.
Now the question comes to what does this mean for you as the paddler. The ISLE Switch just has an easy feel to it while you're paddling. It doesn't require a ton of effort to get moving, and will hold its pace reasonably well. Keeping up with friends won't be a challenge at all, even if there's some smaller boards in the mix. It would also make a great SUP camping board, as it can get you to further, more remote locations faster than other stability-focused boards.
Tracking: 9.1/10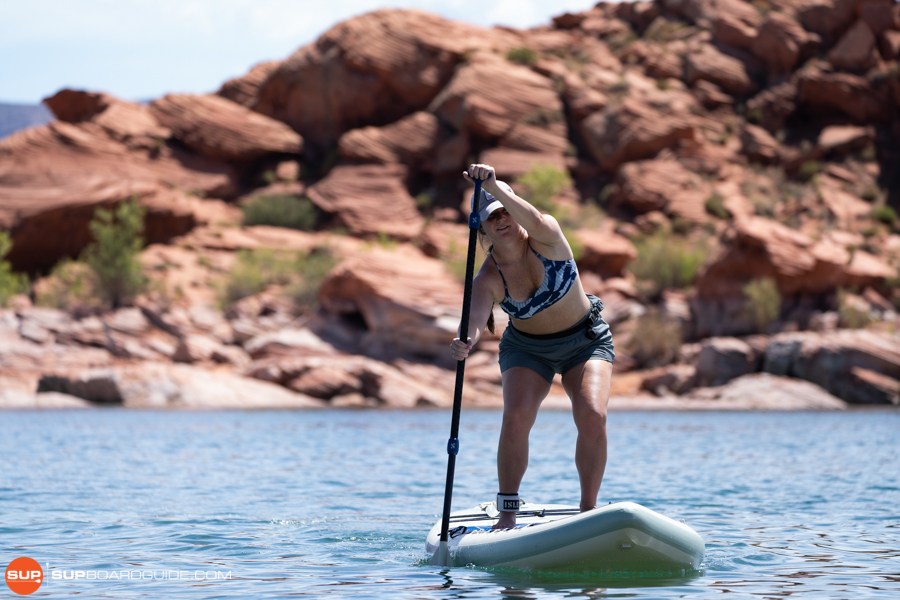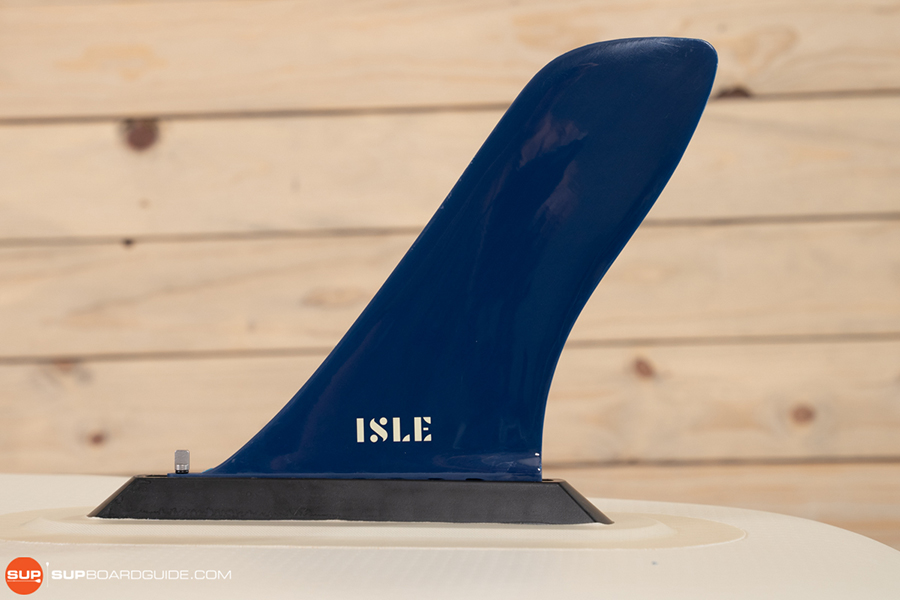 The tracking capability of the ISLE Switch is fantastic for its size.
Again, I think this is the result of the Switch's thoughtful shape. Because the width is distributed over the length of the board, its rails are much straighter than boards that taper dramatically into the nose of the tail. This, combined with the included hatchet fin, help to make the Switch much more directional than other high volume all-arounds.
Maneuverability: 8.9/10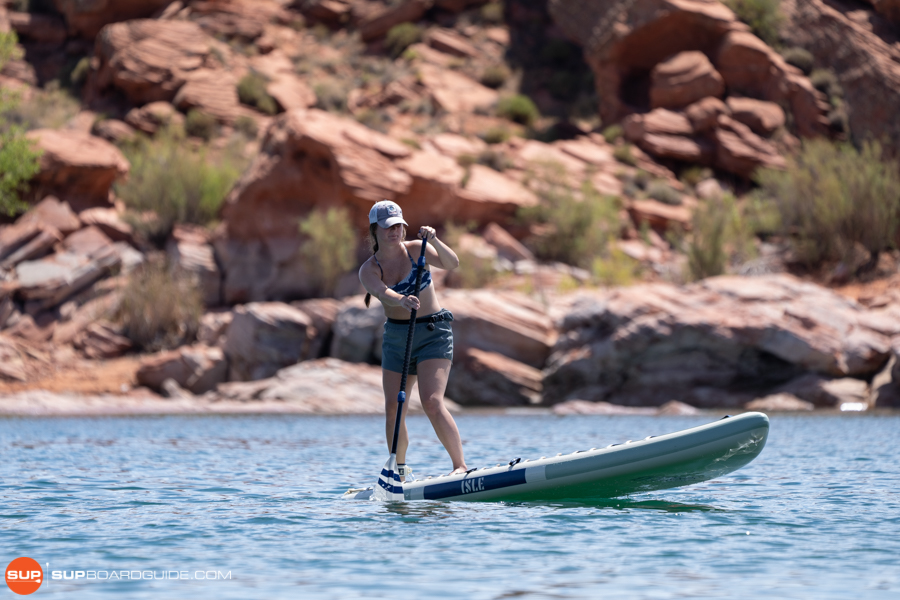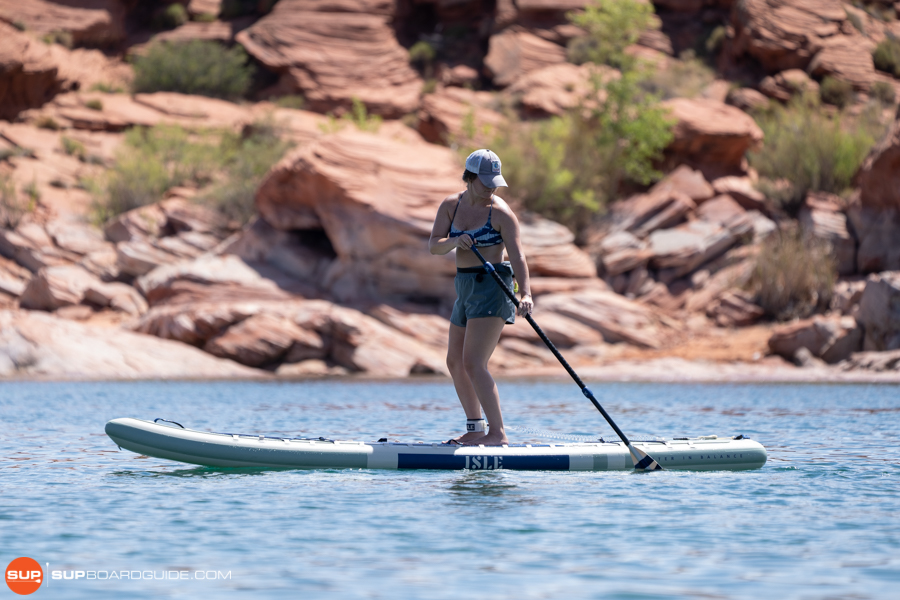 The Switch is not inherently maneuverable, and this is to be expected of a board this size. It's not going to whip around like the smaller all-around.
That being said though, it's much more maneuverable than I would have expected it to be, again taking its size into account, as well as its included hatchet fin. It does take more sweep strokes to completely turn the Switch around than smaller boards or boards with dolphin style fins, but the strokes feel easy due to it being only 19 lbs. It's also super fun to take into a pivot turn because it's so stable and light; walking back towards the tail is a breeze and once you're there it whips around pretty quick.
Construction Quality: 9.3/10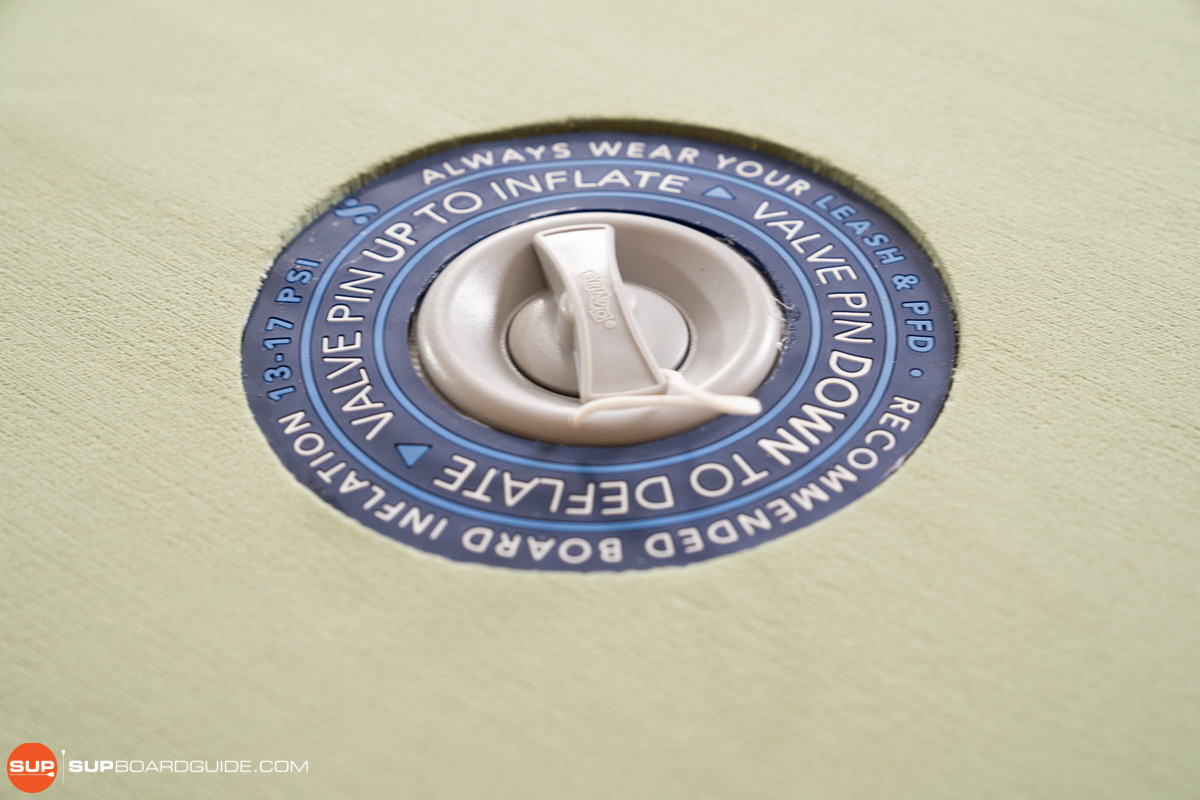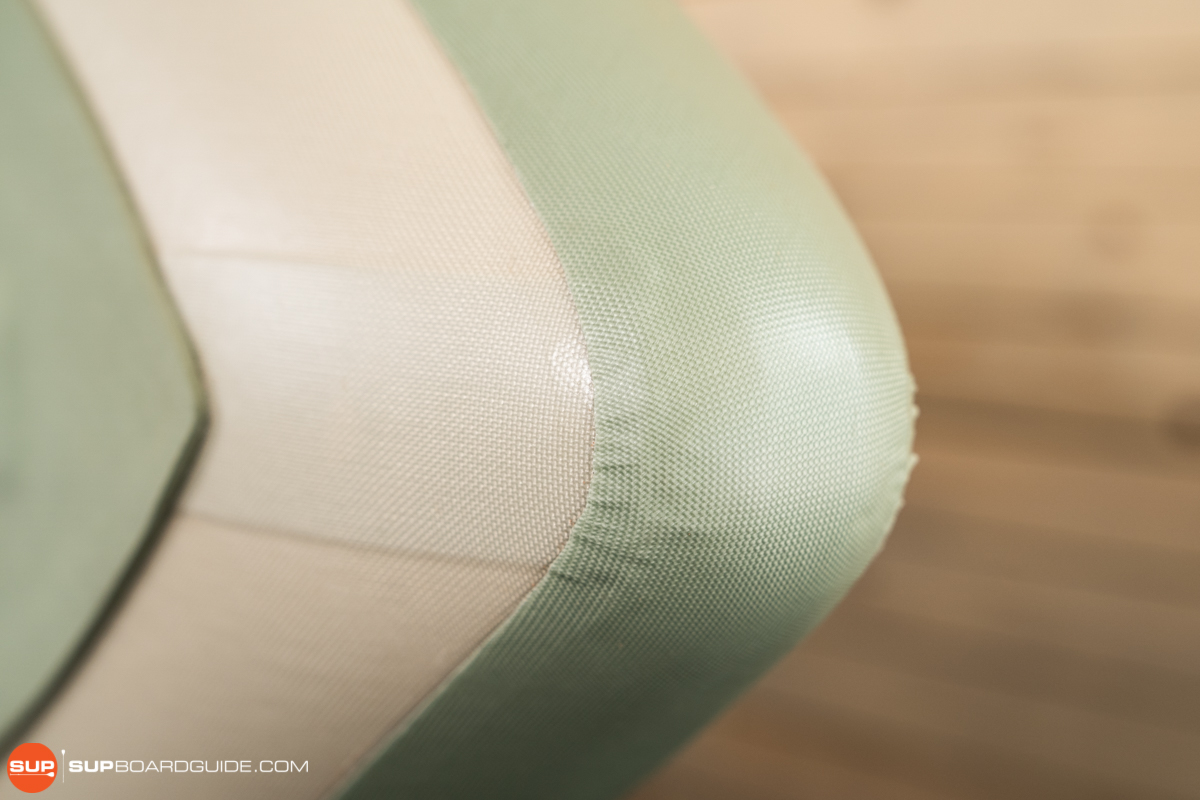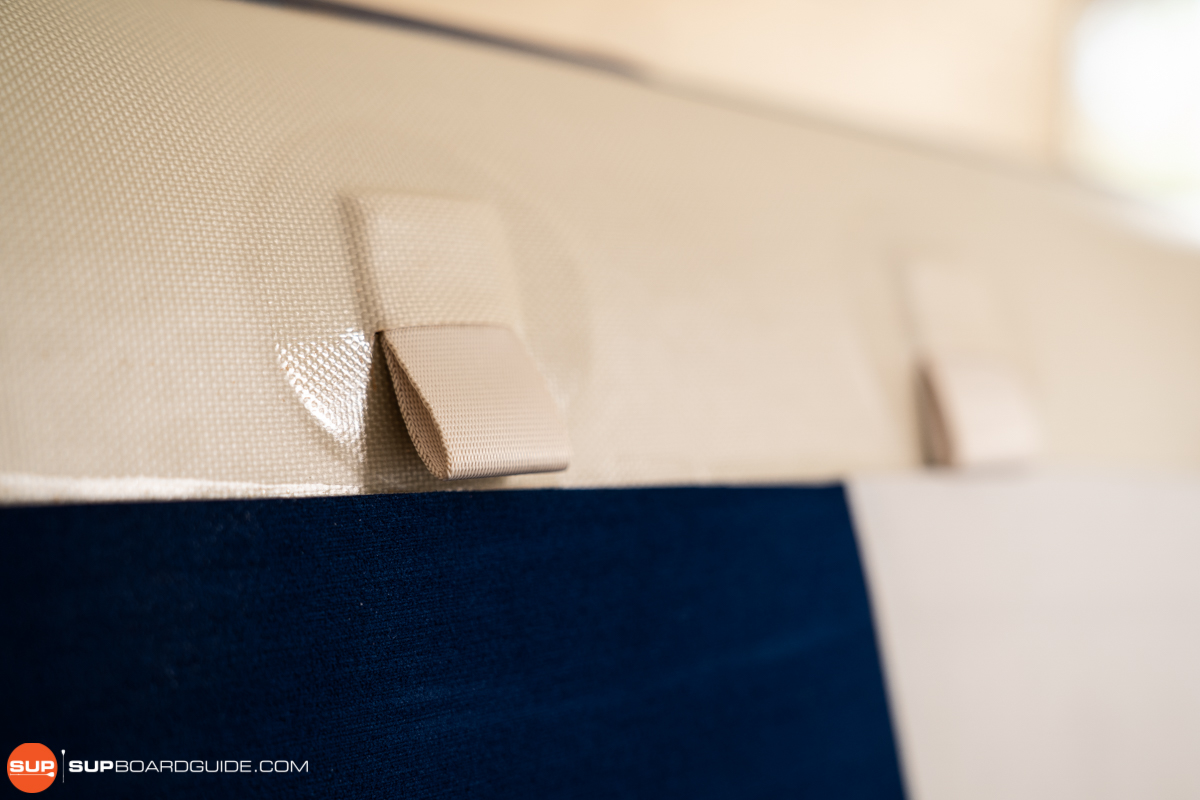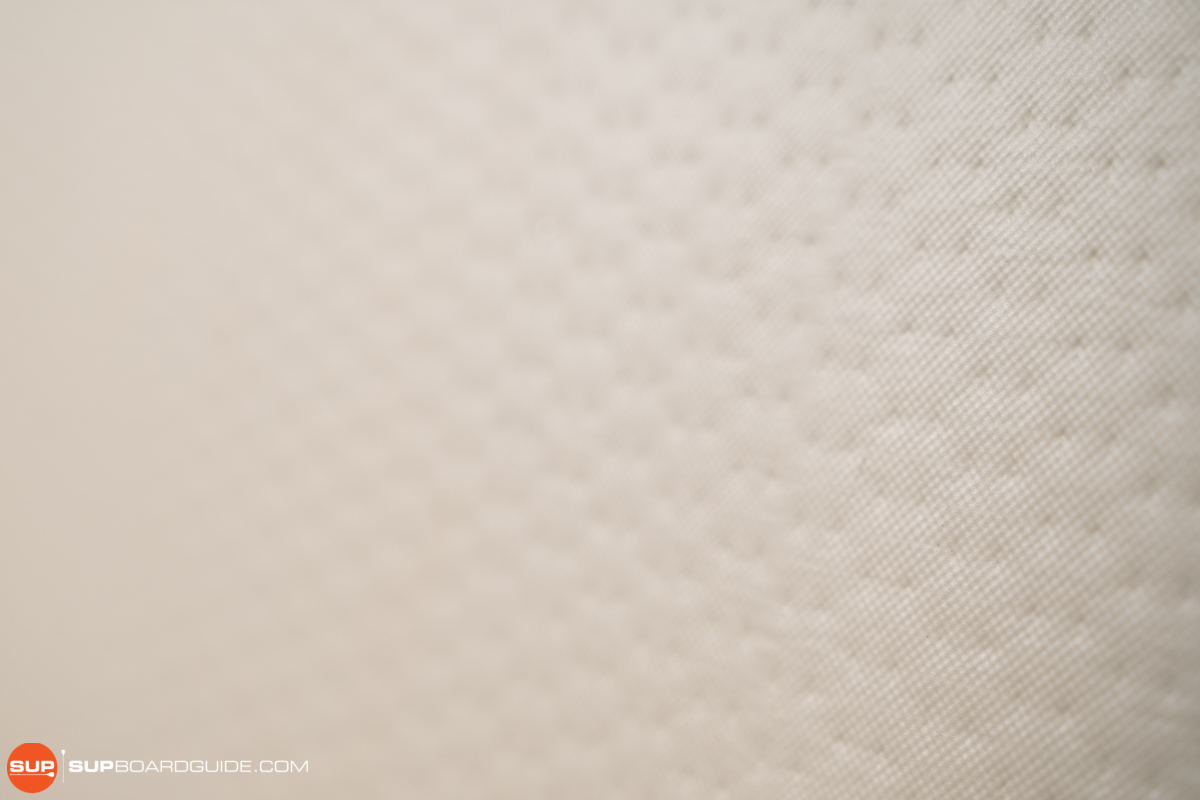 The Switch is constructed a bit differently than the rest of ISLE's SUP line up. Their goal for this board, other than sheer versatility, was to create a high-volume SUP that is lighter than any others in their lineup, and any others on the market.
They've achieved this firstly by building the Switch around a cross-woven drop stitch core. In plain terms, this means that the thousands of drop stitch threads that run from the deck to the bottom of the SUP create 'X' patterns on the interior of the board. This allows ISLE to use less threads (less material = less weight) to achieve the same level of stiffness as boards with linear drop stitch. These 'X' oriented threads are anchored into a woven fabric, which also contributes to more stiffness than the knitted fabric that is used in other ISLE SUPs, like their Pioneer 2.0.
Next, ISLE seals the inner drop stitch core with a custom-thickness layer of PVC that is fused to the woven fabric. Not wanting to sacrifice anything in stiffness, while still being lightweight, ISLE finishes off the Switch with the addition of 3 PVC stringers: one from nose to tail, and one along each rail.
Board Stiffness: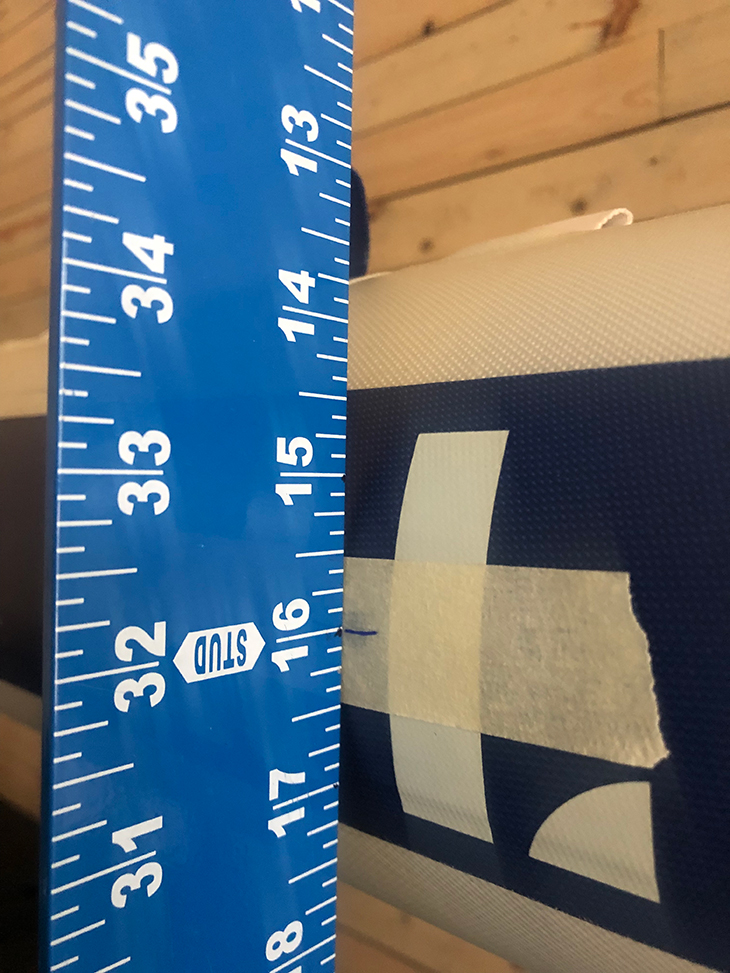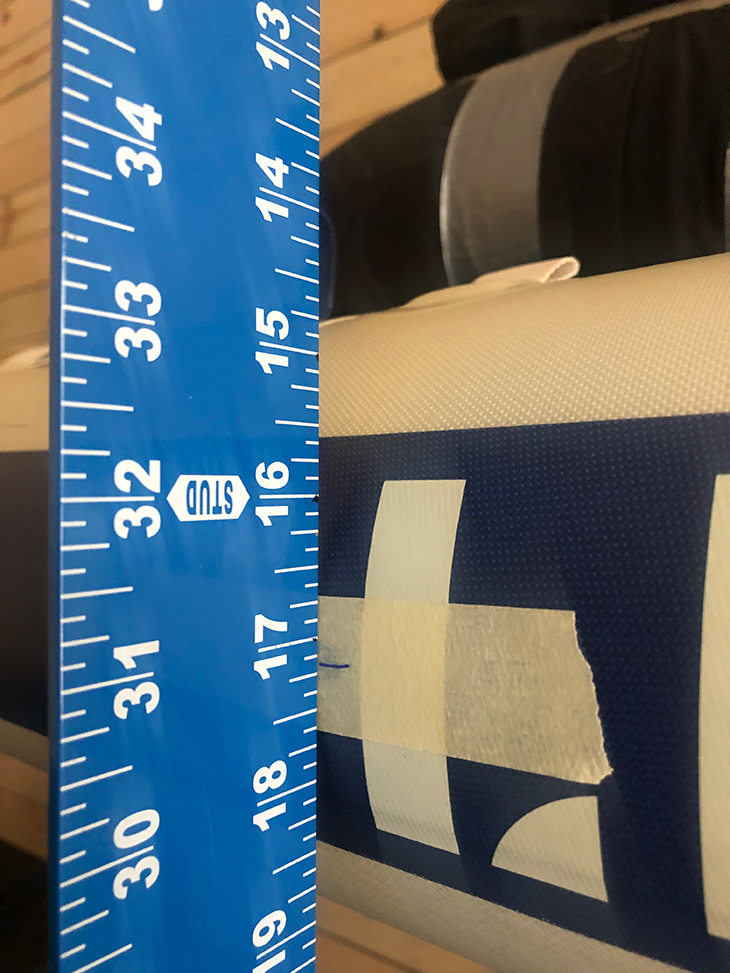 Stiffness Test: 1 1/16" Bend
Our bend test is completed by placing the SUP on top of two sawhorses that are spaced 7' apart. We then place 150 lbs on the board's midpoint and measure how much it bends under the weight. We recognize that this is not a replication of how the board would perform on the water, but it's an unbiased, quantitative way for us to compare construction methods and understand how they contribute to stiffness.
In this test, the ISLE Switch gave way to the same amount of bend as the ISLE Pioneer 2.0, another high volume SUP in their line up. This initially surprised us because the Pioneer and the ISLE Switch have differing construction processes, with the Pioneer being the simpler of the two. In theory, because the ISLE Switch has a cross-woven drop stitch core and three strings, it should have more stiffness than the Pioneer 2.0. However, after further thought, we still think this is a good testament to the Switch's construction. The fact that it's only 19 lbs compared to the Pioneer's 24 lb build, while still being dimensionally larger than the Pioneer, and still holds the same amount of rigidity is extremely impressive.
Features/Accessory Review: 9.7/10
The Switch strikes a really cool balance between classic minimalism and insane versatility. At face value it looks fairly plain. It's devoid of the action mounts, scotty mounts, cupholders, and excess D-rings that we see on other 'do-it-all' SUPs. However, a closer look will reveal that the Switch just may be the most capable of them all.

Of course, the Switch has a standard set of front and rear cargo areas large enough to take on a load of overnight gear and more than a few dry bags.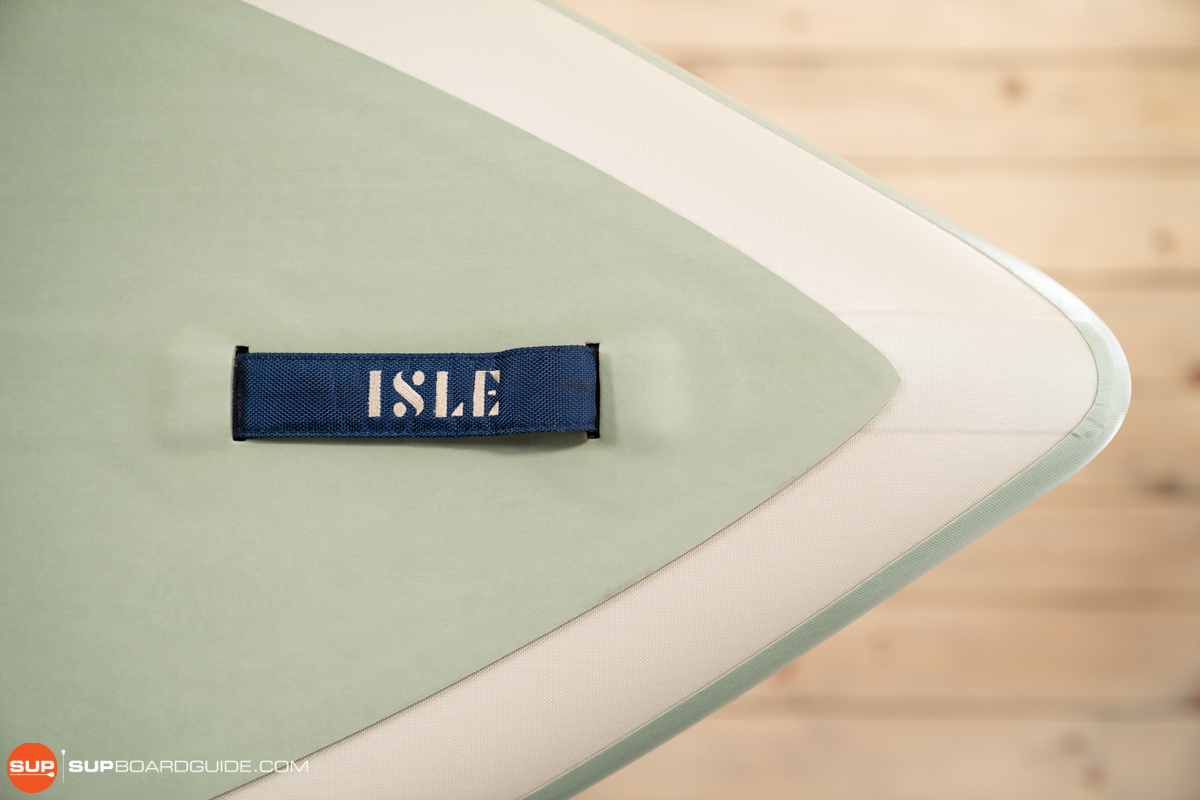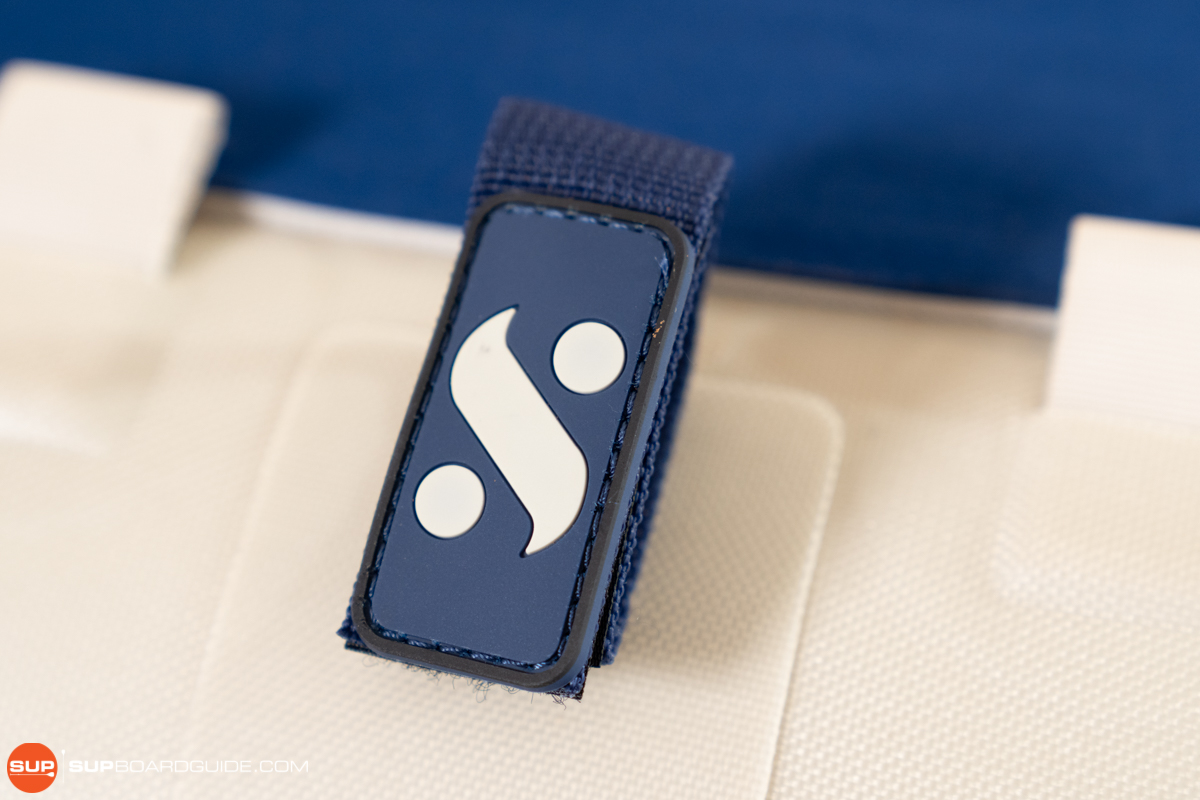 It has nicely padded carry handles on the nose, center, and tail, as well as a set of velcro paddle holders, again, something that is pretty standard at this point in the industry.

The Switch is also equipped with a US fin box to allow for more customization ability if you're looking to switch out your included hatchet fin for a river fin or a more maneuverable dolphin style fin.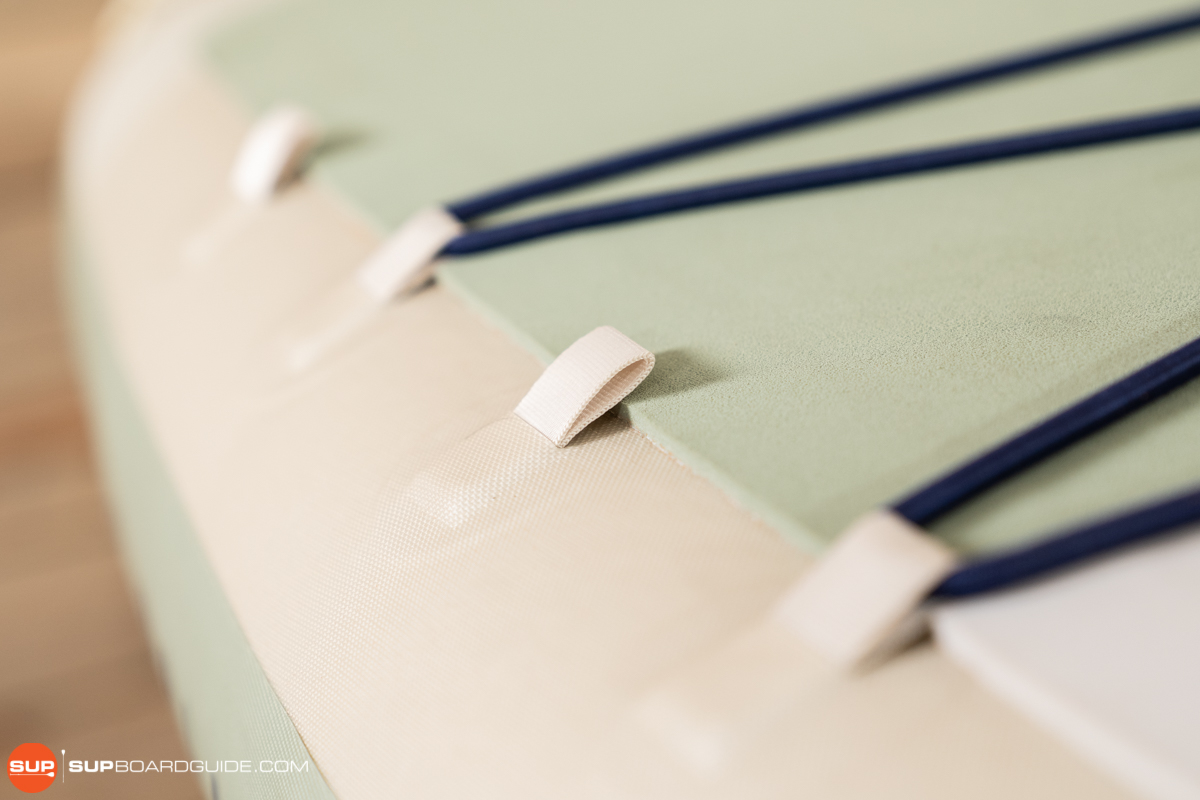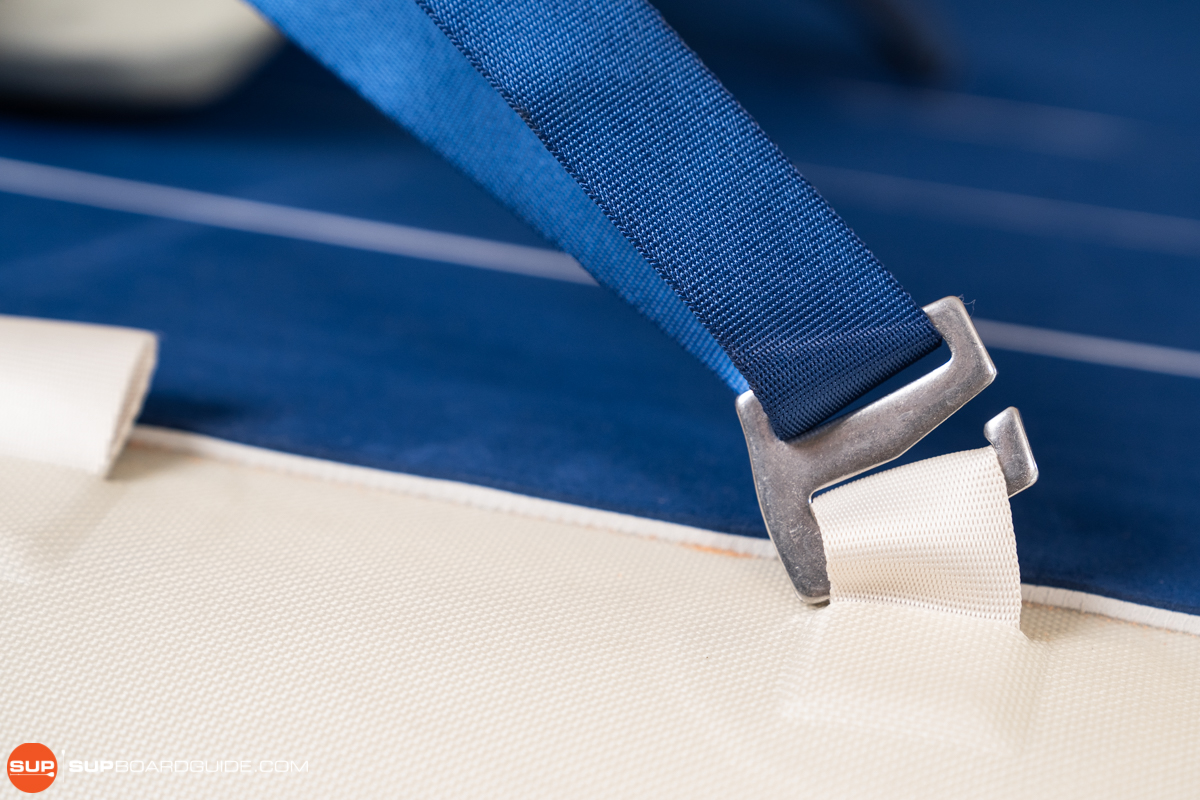 Where the Switch really starts to standout is with these soft, fabric loops that run from nose to tail along the SUP's rails. I know they might seem underwhelming at first, but these little loops have busted the door wide open for tons of versatility. Now, not only can you customize the size and placement of your cargo areas, you can also fine tune the position of the kayak seat and footrest to make it as comfortable and functional as possible when converted into kayak form. It's one of the main reasons the Switch is able to excel as both a SUP and a kayak, rather than just being a SUP that can take on a kayak seat.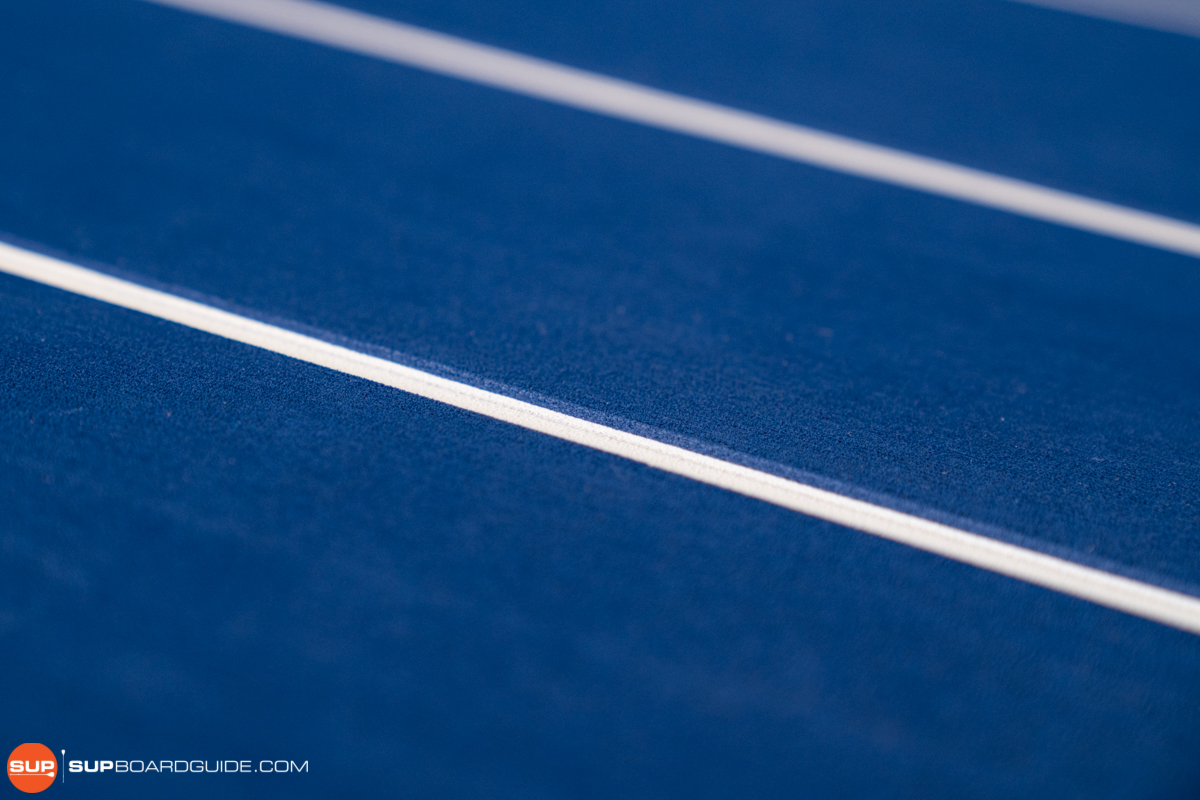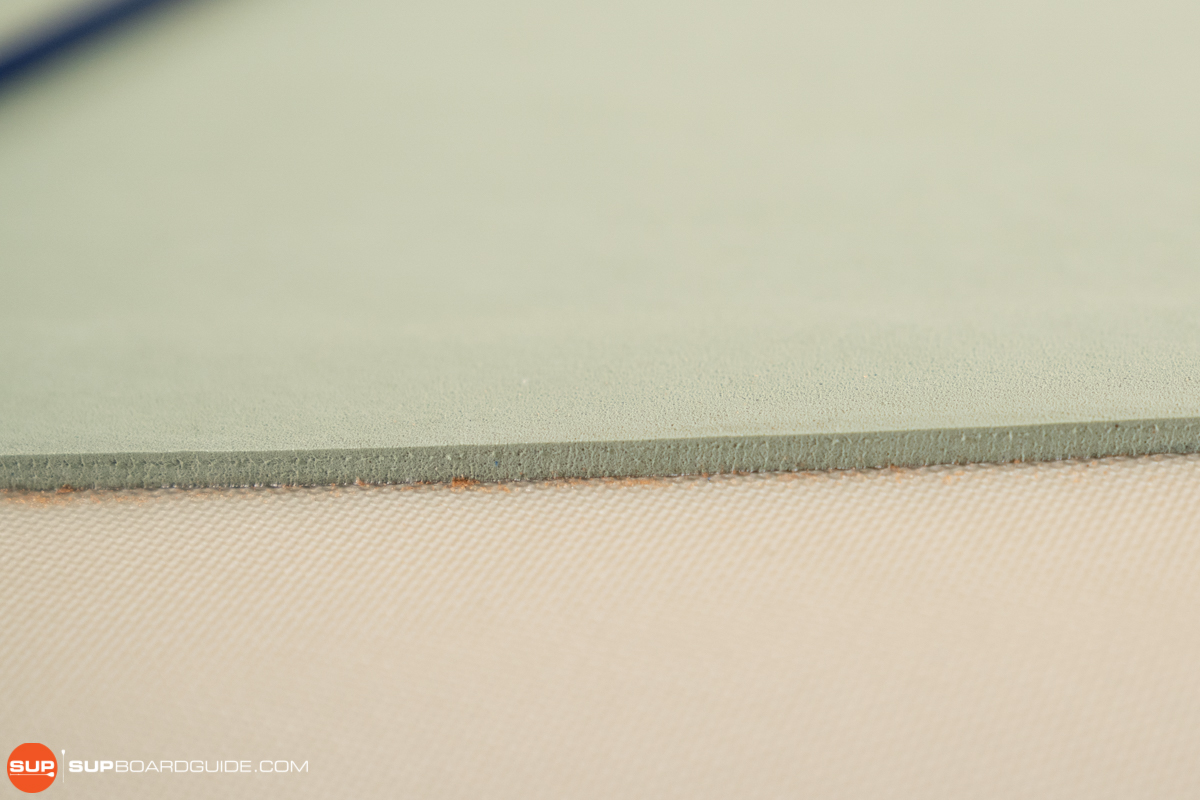 We also really like the Switch's full length grooved and brushed EVA deck pad. It's just as comfortable as their SUPs that feature a non-grooved deck pad, while providing a bit more grip if you move around the board.
Included Accessories: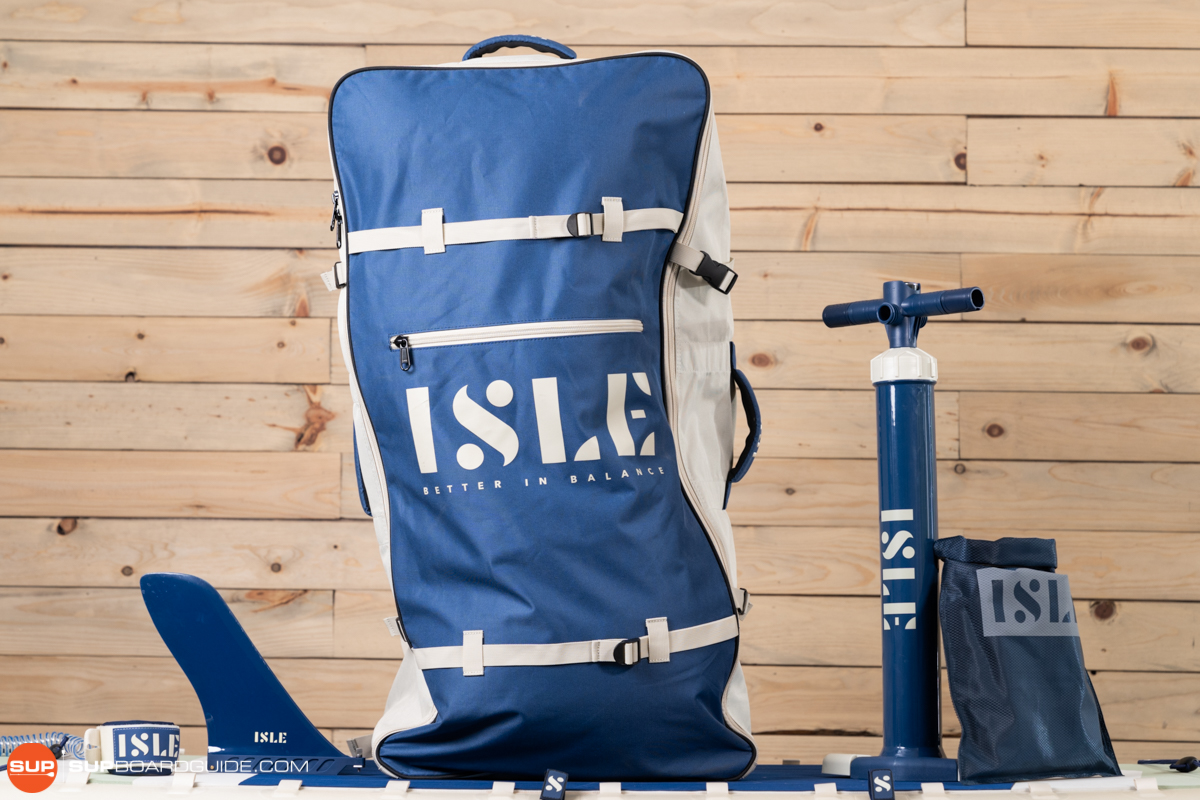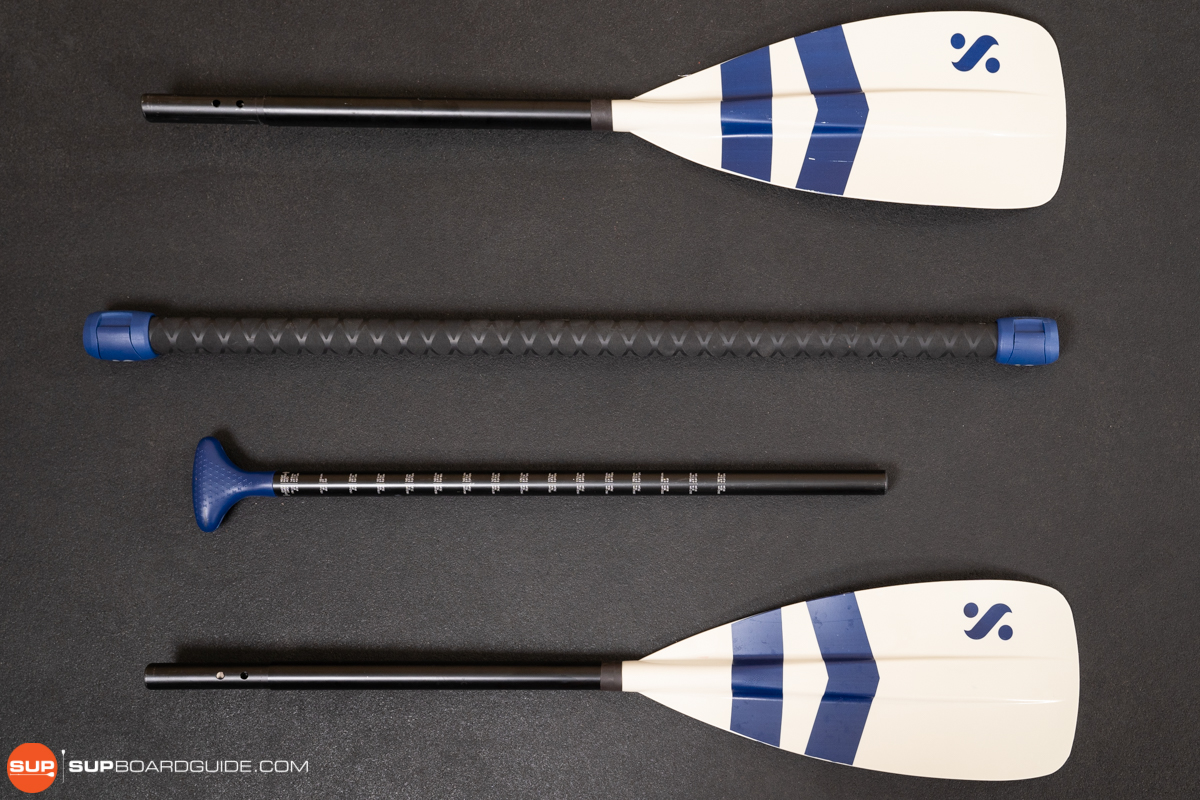 This is one of those 'everything but the kitchen sink' SUP kits. ISLE has set you up with everything you need to start using this SUP as a true kayak hybrid board; the accessory list is as follows:
Inflatable kayak seat
Inflatable footrest
4-piece aluminum adjustable SUP/Kayak paddle
Hatchet style center fin
8' coiled leash
Single Chamber hand pump
5L drybag
Repair kit
SUP Backpack
ISLE is currently including their 12V Electric Pump with the Switch
There's a lot that we love about this kit, but there's also some areas we'd like to see improved in the future. To start with the positives, we really like the inflatable kayak seat and footrest. Being in a raised position while using the SUP in kayak mode has been a game changer for us. It puts you in a more natural kayaking position than seats that just put you in a sitting position on your board, and the addition of the footrest helps to make it even more comfortable and feel more similar to an actual kayak. I'm personally a big fan of their flexible hatchet style center fin as well, and I was extremely happy to see that it's equipped with a standard tool-less screw for their US fin box, rather than ISLE's 'superbolt'.
Moving onto some of the negatives, we were disappointed to see that the Switch comes with an aluminum paddle. We've never liked aluminum paddles, mainly because they're heavy, get super hot in the sun, and tend to be pretty slippery when they get wet. Recently, we've also been having issues with aluminum paddles permanently bending during our sprint tests where we're putting a little more power into our stroke. For a SUP at this price, we'd love to see ISLE opt for a fiberglass or carbon hybrid blend in the future. As a final note, we would have appreciated a leash longer than 8' to accompany this 11'6 SUP, and we'd love to see them add wheels to this SUP bag.
Summary Review of the ISLE Switch 2 in 1 Inflatable SUP/Kayak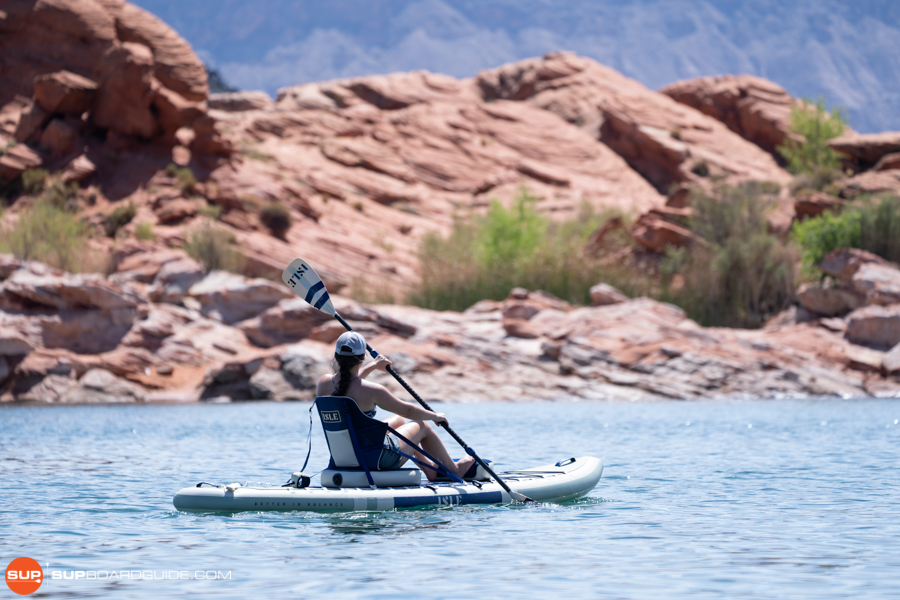 As we've said in the beginning, the ISLE Switch exceeded our expectations of a 2 in 1 SUP/kayak.
It's ultra stable due to it's high-volume dimensions and carefully designed shape, and it's also a breeze to paddle at a pace, maneuver through the water, or even just carry down the beach at a remarkable 19 lbs. Equally remarkable is the Switch's customization ability with the ISLE-LINK Connection system, and its loaded accessory kit.
We'll end our review with this: The Switch is not the first 'SUPYak' hybrid on the market, and it definitely won't be the last, but it is the only hybrid option that offers great performance as either a SUP or a Kayak.
We've had a ton of fun reviewing it, and we're excited to see where ISLE takes this design into the future; we'll have a great excuse to hone in our kayaking skills in the meantime.
As always, we hope this review has been helpful, but if there are any questions or feel that we've missed something, don't hesitate to reach out in the comments below.
Stay safe and we'll see you on the water!
The following two tabs change content below.
SupBoardGuide
Heyo! At SupBoardGuide.com we are a team who love the water, the outdoors, and are more than grateful that our full-time job allows us to review stand up paddle boards. We paddle year round (it helps that we are just about 2 hours outside of Las Vegas), and we bring in a wide range of paddlers with the goal of providing our readers with the best, most in-depth, and accurate stand up paddle board reviews.
Latest posts by SupBoardGuide (see all)