GILI Komodo Inflatable SUP Board
Pros
Full length deckpad great for SUP yoga
Also a great choice for paddling with pets or children
Fairly high weight capacity
Plethora of included features and accessories
Very light weight, making it great for smaller paddlers or hiking
Cons
The design of the removable bungees is a great idea, but they need larger D-rings to make it easier to accomplish
The action mounts sit on valuable deck pad real estate, we feel they could be better integrated into the D-rings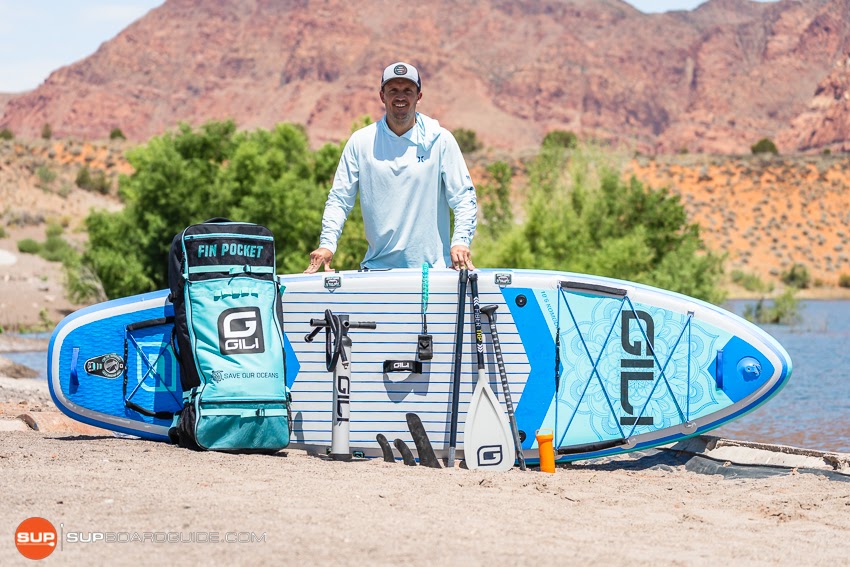 Welcome back! Today we are going to be reviewing the 2022 Gili Sports 10'6 Komodo inflatable paddle board. Marketed as Gili's cruiser/yoga SUP, from our testing we found this as a board designed for cruising, onboard activities, and kids or pets. The full length deckpad and removable bungee straps make it perfect for sup yoga enthusiasts as well as those who would like a good iSUP for taking their pets with them. The board is rated at 340 lbs so there is plenty of capacity there for any of those options. It is made with Gili Sports triple layer fusion technology making it one of the lighter boards in this size.
Now, before we move on with our full review of the Gili Komodo, let's talk about Gili Sports as a company. We always like to take a moment to point out that your purchase will financially support several ocean charities. Probably most well known for their "save the turtles" graphic, Gili Sports is serious about giving back to causes that help sustain the world's oceans. Part of each board purchase goes directly to this conservation effort. Just an added benefit with these boards
We think the Gili Sports 10'6 Komodo would be great for paddlers who:
Need a light, well-built iSUP, good for beginners cruising across the water
Want a stable board with full length deck pad for SUP yoga
Want the ability to take a reasonable amount of gear and equipment (340 lbs)
Want a board great for taking kids and pets
We think the Gili Sports 10'6 Komodo is great for the following water conditions/situations:
SUP yoga or any other on board exercise
Flat water paddling
Recreational paddling
Ocean paddling
Small surf
Gili Sports 10'6 Komodo Review: Overview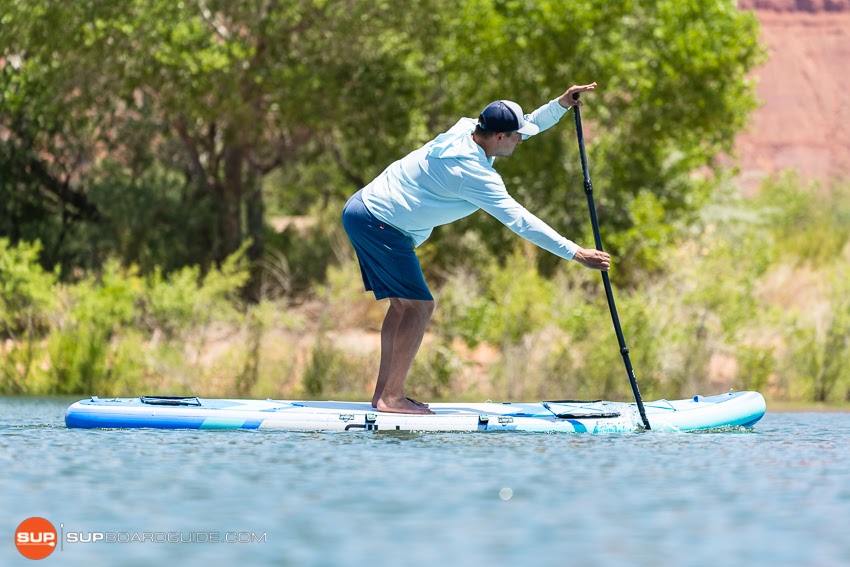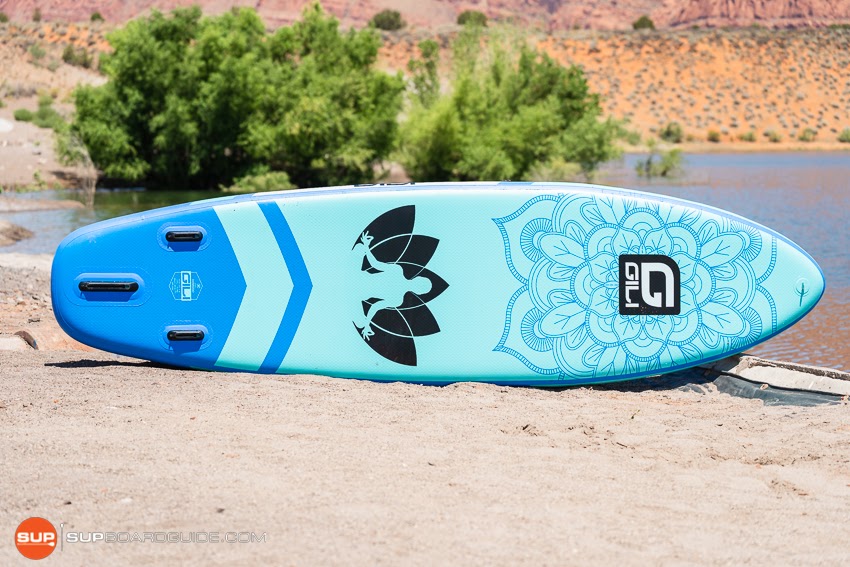 Note: We paddle a lot! We take all of our boards out as much as possible and do our best to put them in as many real world situations as we possibly can. Bottom line, we do not write spec reviews. We want our reviews to be based on real world situations. We include facts and observations that you can use to make a decision whether or not you're buying your first SUP or adding to your fleet. If you have any questions or comments please leave them below. We love hearing from our readers and answering any questions.
Gili Sports 10'6 Komodo: Spec Sheet
| | |
| --- | --- |
| Main Category | cruiser/river, Inflatable |
| Board Dimensions | 10'6 x 33" x 6" |
| Listed Board Weight | 21 lbs |
| Listed Max Capacity | 340 lbs |
| Recommended PSI | 12-15 PSI |
| Fins | 3 removable |
| Paddle | 3 piece travel paddle |
| Materials | Triple layer fusion construction |
| Price Range | Medium |
| Warranty | 2 years, 60 days |
Official SupBoardGuide.com Test Results: Gili Sports 10'6 Komodo (2022 model)
Overall Score: 9.2/10
This board did well in most of our tests. With it's full length deck pad it really makes a great choice for SUP yoga and other SUP based exercises. It also is a great choice for those looking to take their kids along for the ride as well as pets. At 33" wide it's very stable and has a manufacturer listed capacity of nearly 350 lbs, so packing this board with lots of gear shouldn't be a problem either.
Stability: 9.1/10

Speed:8.3/10

Tracking: 8.3/10

Maneuverability: 8.9/10

Construction Quality: 8.8/10

Features/Accessories: 9.5/10
Our overall rating of 9.2/10 for the Gili Sports 10'6 Komodo really goes to show how much our testers liked this board. Gili Sports is known for making light and maneuverable feature rich boards and this is no exception. It was stable in just about all aspects of our testing and easily adapted to the day's activities with a plethora of features and available accessories. Based on our testing, we have awarded the Komodo as one of our best SUPs for yoga, and it's also one of our favorite cruiser-style SUPs.
In-Depth Review of the Gili Sports 10'6 Komodo Stand Up Paddle Board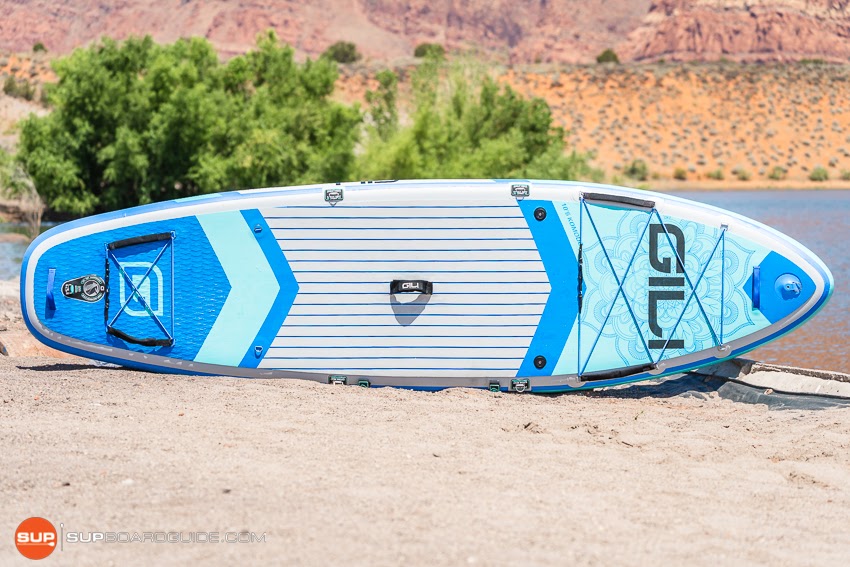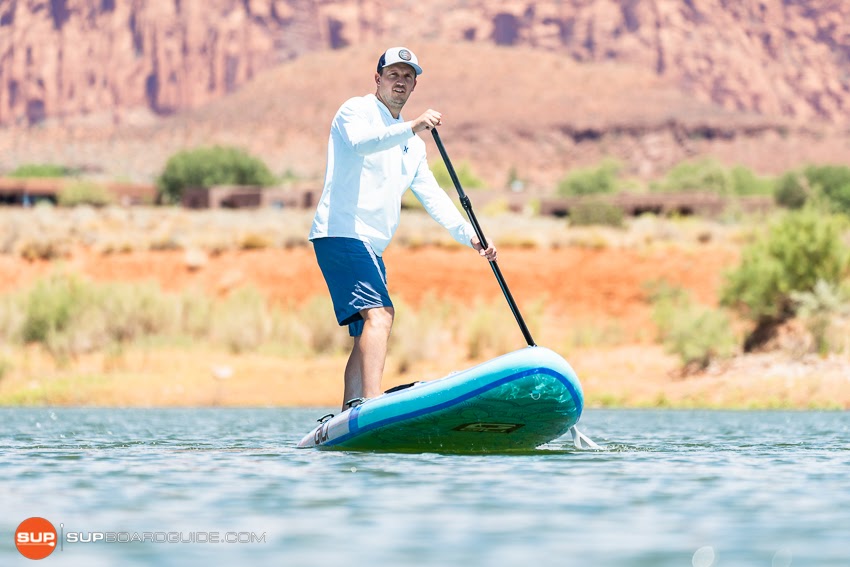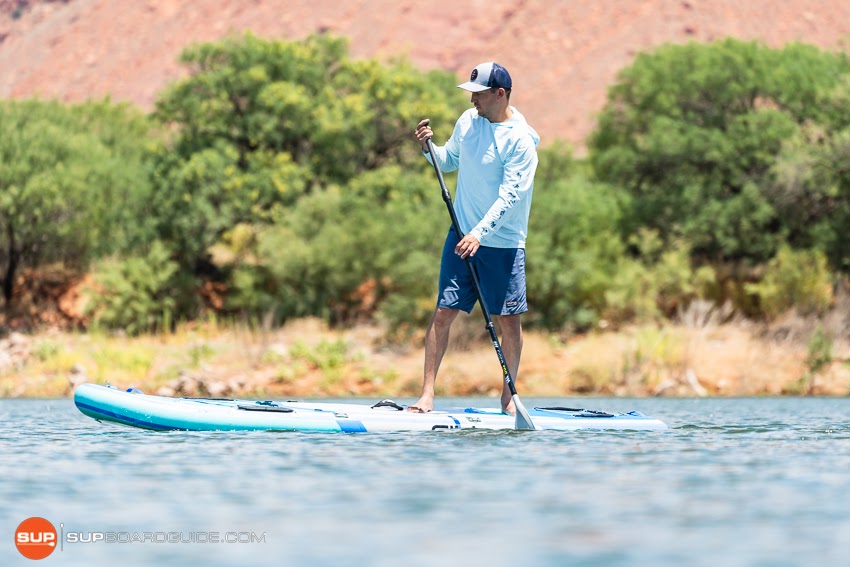 As we have mentioned, the Gili Sports 10 '6 Komodo is a great platform for on water activities such as Yoga and fitness classes. Aside from this the board makes a great choice for carrying along kids or pets. We were happy with both it's overall stability and efficiency through the water.
Stability Rating: 9.1/10
In our opinion, a board's overall stability is probably one of the most important aspects of a board. For most paddlers (new and seasoned) if you can't comfortably stay on the board you are not going to be having a great experience.
The Gili Komodo scored fairly high in our stability review and we think it has to do with both the board's construction (which we will go into detail below) and it's overall shape. At 33" wide it certainly is not the widest iSUP on the market but it rides above the average in terms of stablity and that combined with the quality full length deckpad makes it perfectly stable for any on board activity.
Weight Capacity:
The board is listed as being capable of supporting 340lbs from the factory. In our tests we found the Komodo to be more stable than the Gili Adventure and Gili Air SUPs, and just a little less stable than the Gili Meno Series.
The board successfully supported all our individual reviewers with ease (up to about 225lbs), and did OK when we put 2 riders with a combined total of over 300 lbs on it. It performed really well with me and my teenage daughter, and think this is a great option for beginners who need a stable iSUP.
Speed Test: 8.3/10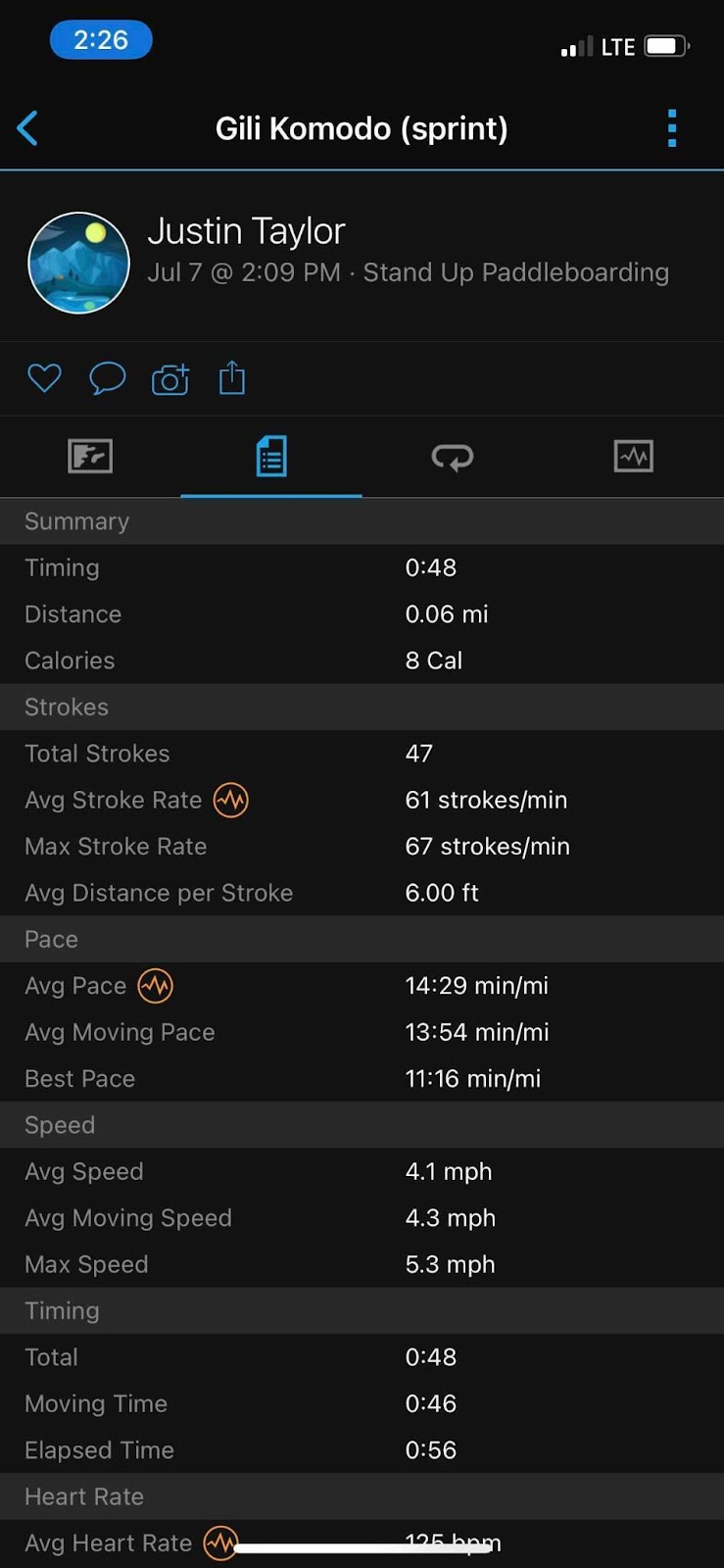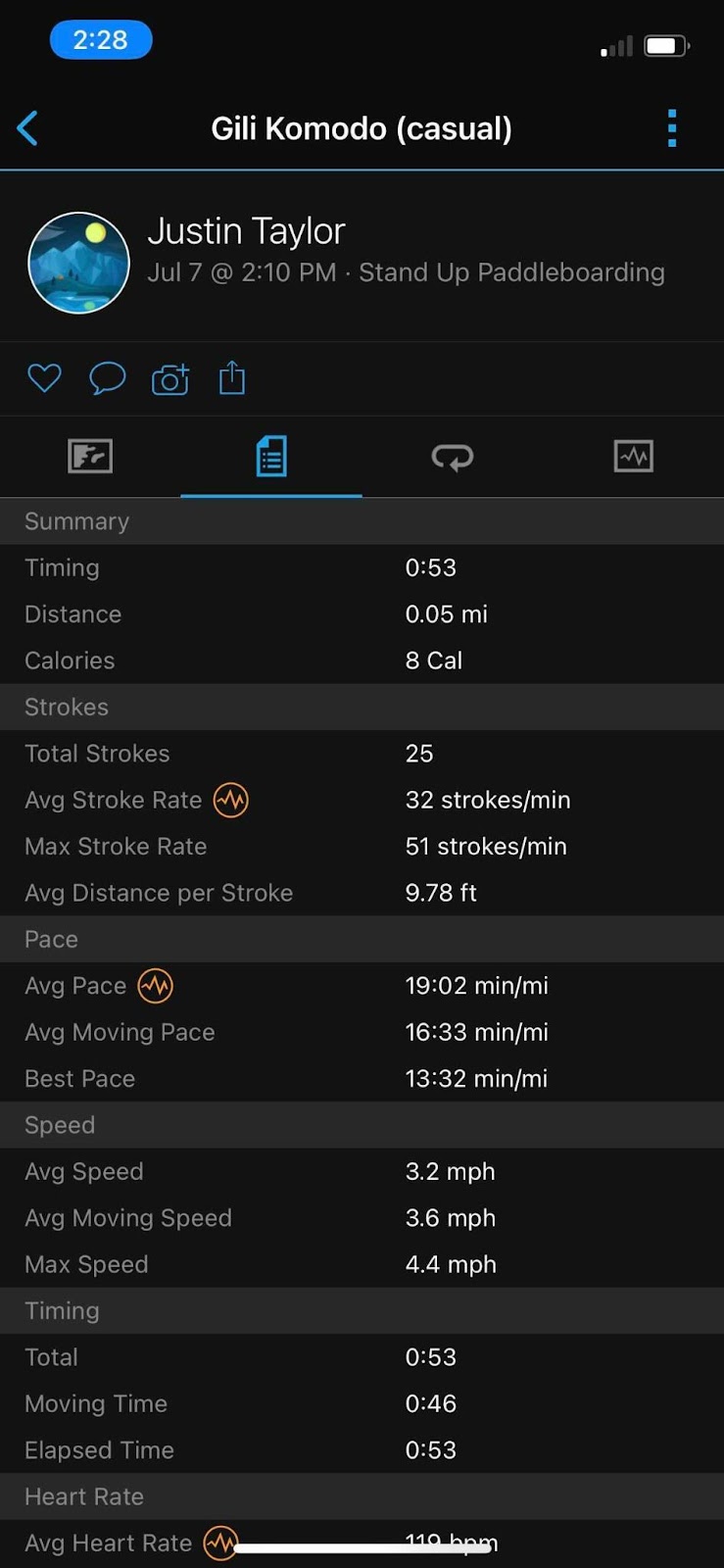 Based on its overall shape as more of a cruiser style iSUP, we didn't expect the Gili Sports Komodo to be a spread demon. However, it felt really nice on the water and was quicker than we expected it to be. The construction Gili Sports uses (see below) makes these boards fairly firm despite being so light weight – and we think that goes into the speed score as it's simply less mass to move over the water than some of the larger iSUPs out there.
One important point to remember – just because this board is slower than the Gili Adventure and Meno SUPs, that doesn't mean you are going to be left in the dust if you choose to buy the Komodo. You do sacrifice a little bit of speed for stability, but you aren't going to be left in the dust with if your partner gets the 12' Adventure and you choose the Komodo. For casual paddling, the difference is very small and not really noticeable.
Tracking: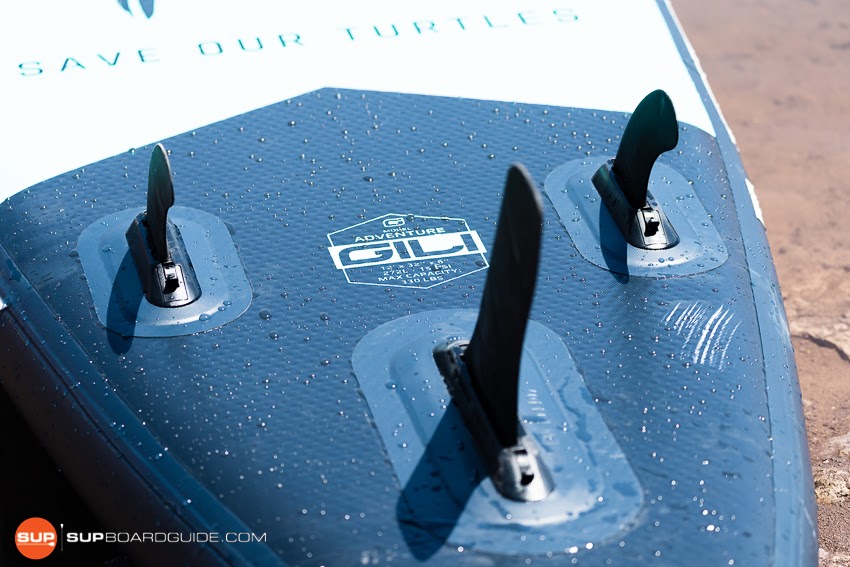 Tracking is another important aspect of a stand up paddle board as it works together with speed to give you an overall straight line performance measure. If a board allows you to take 10 or more strokes per side without altering its course too much that's really good. It saves you energy and time from constantly switching between the left and right sides.
The Komodo tracked a little better than we would expect for a 10'6 x 33" cruiser style iSUP. We easily got 5-8 strokes before needing to switch sides paddling, and as a more experienced paddlers I was able to get between 8-10. You will have a better tracking experience with the Gili Adventure SUPs, but the Komodo is on par with the Meno series.
Maneuverability: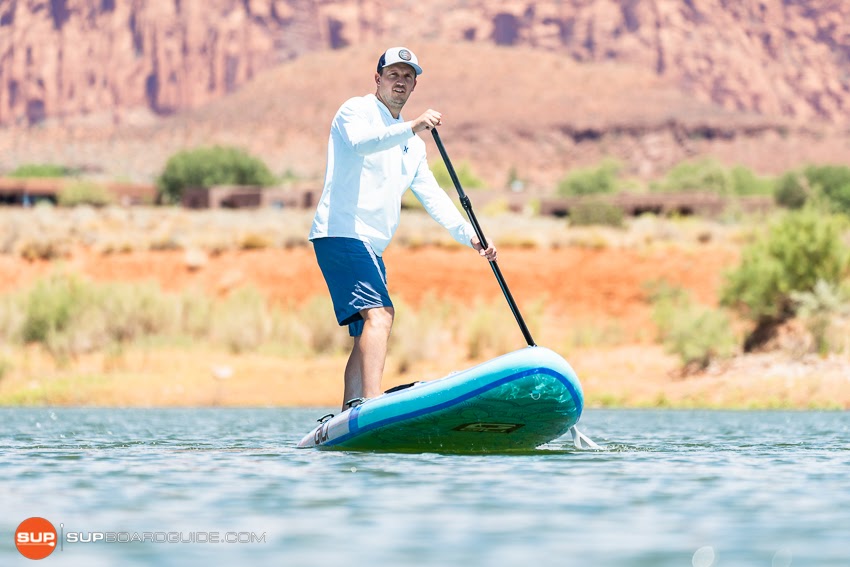 While scoring a bit below other Gili boards in terms speed and tracking, this board did much better in terms of maneuverability. Again we think this goes to not only the shape of the board, but also the construction (which we will dig deeper into below). The Komodo was able to accomplish the standard slalom fairly well. The 10'6" length is much easier to turn than say a 12' or bigger board and since it was very stable you could certainly dig your paddle in without feeling like you were on the edge of going in. All of this comes together to give you a board that is easy to maneuver with simple paddle techniques. When you want to try more advanced turns, the diamond grove textured in the rear, as well as the full length deckpad make this board an easy one to move around on.
Construction Quality: 8.8/10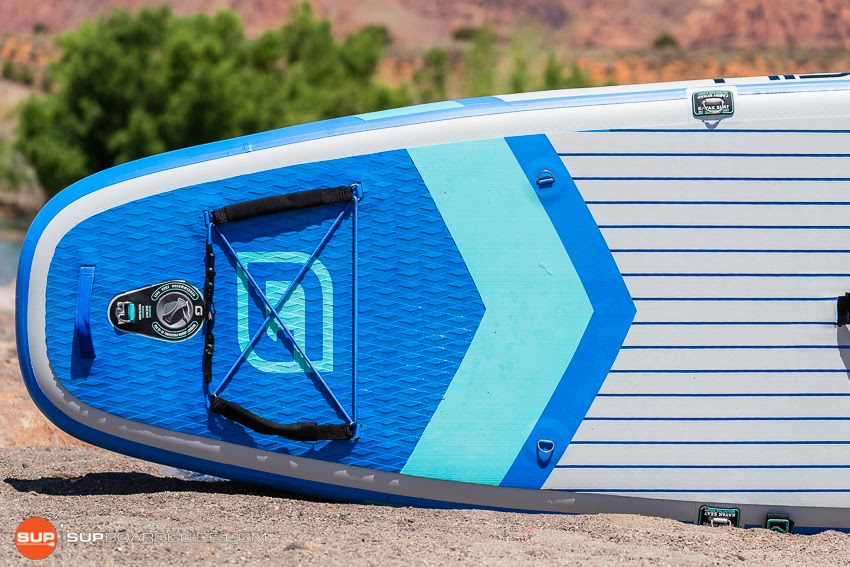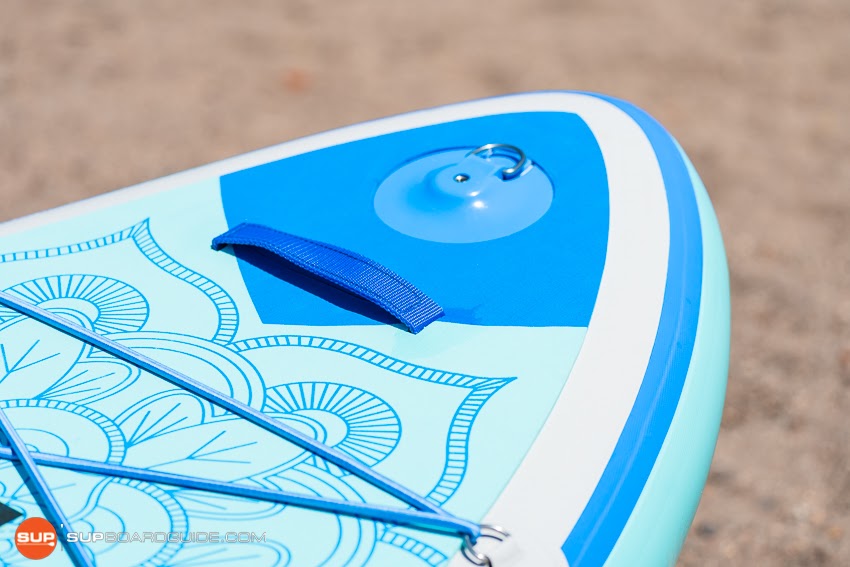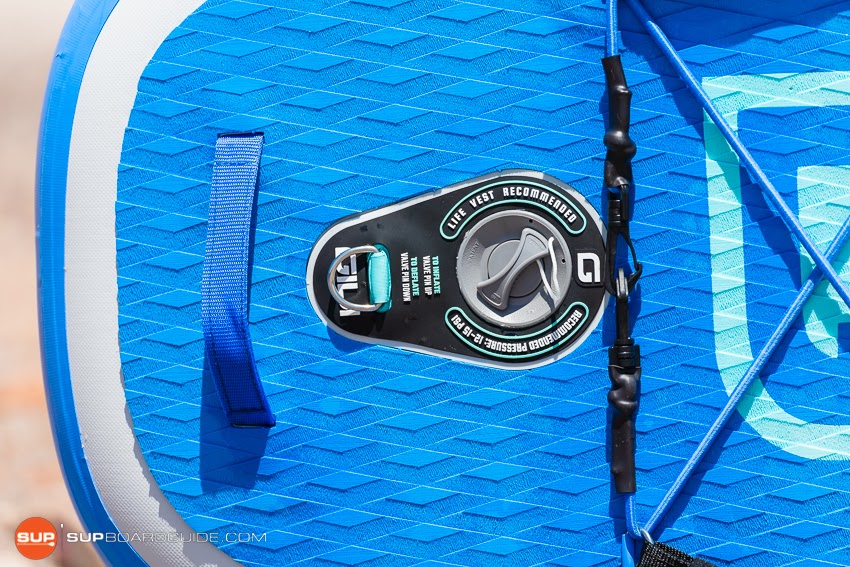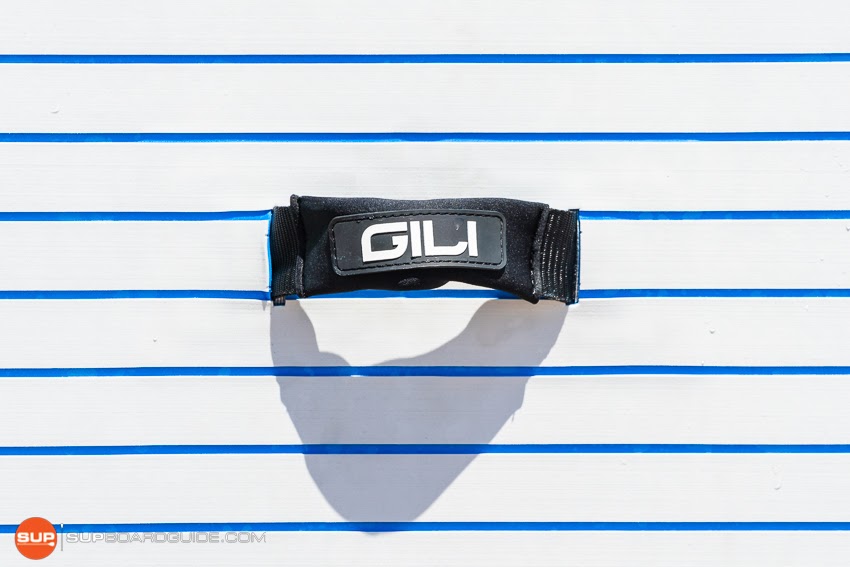 Gili Sports makes the Komodo using their dual layer fusion technology (their website currently says triple layer, but that's a typo, fyi).
The board is surprisingly light, yet still did really well in our bend tests. As far as iSUPs go, Gili boards are generally on the ligher side of things, but still feel very solid and well built.
In terms of fit and finish the board looks very solid. All the seams are well glued and all of the mounting / attachment points are sturdy. The full length deck pad was very nice, especially the rear raised portion with the diamond texture. Our only suggestion for Gili Sports would be to increase the size of their D-rings for the bungee cords. We found it slightly difficult to remove them as planned with such small D-rings. Otherwise all of the reviewers liked the fit and finish of the Komodo very much.
Board Stiffness:

Stiffness Test: 1 and 1/16" Bend (board on top of saw horses placed 7' apart, with 150 lbs of weight added right by handle in middle of the board)
The Komodo did really well on our bend test, which supports our experience of the Komodo being a well-built iSUP. While the Komodo lacks the carbon fiber reinforced rails of the Gili Meno series, you only sacrifice a very small amount in terms of flex – but you also don't feel that much when you are on the water (beginner and intermediate paddlers won't be able to tell at all, to be honest).
Note: we do this bend test as it's one of the most scientific and reproducible tests we can do on an iSUP that really compares all boards equally. We like to think that this test will show how a boards size and construction can lead to a more stable resilient platform for stand up paddle boarding.
Features/Accessory Review: 9.5/10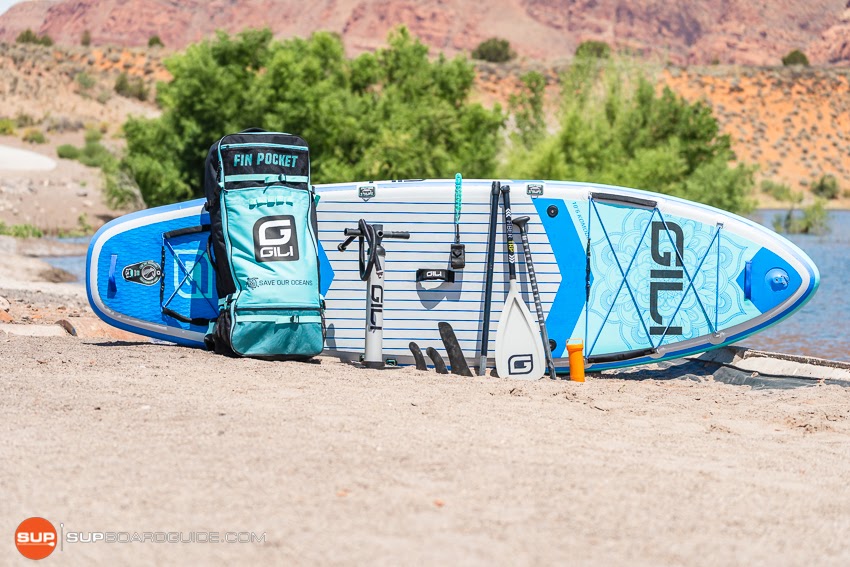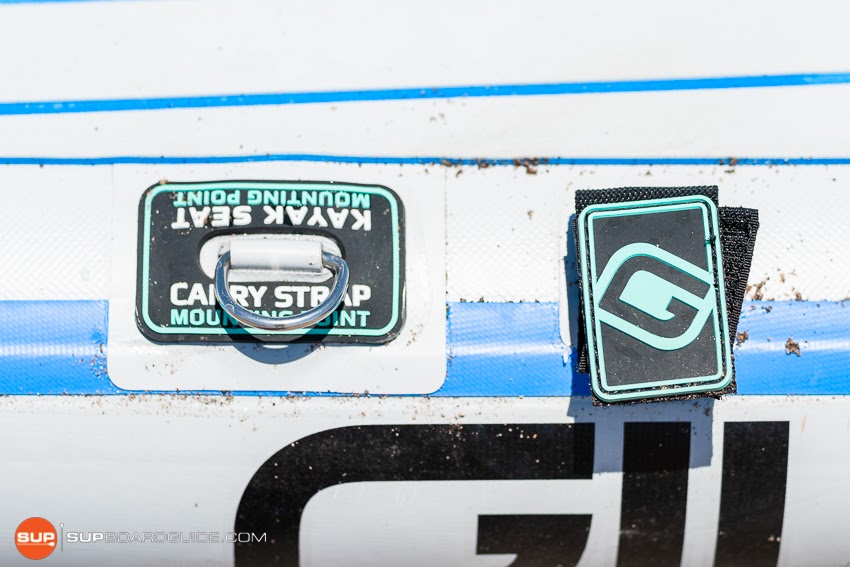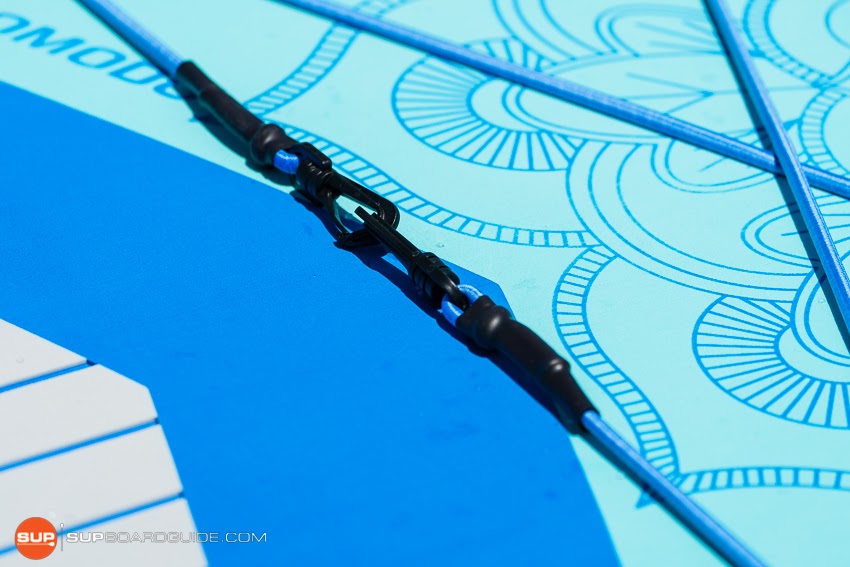 Features:

Gili Sports is great about loading their boards up with features to make them stand out in a crowd of similarly shaped and priced iSUPs. The Komodo in particular displays a very nice full length deckpad (with removable bungee cords front and rear). It also comes with those front and rear bungee straps and handles which make the board useful in a variety of situations. The board also is equipped with 3 action mounts, Velcro paddle holder (great for SUP Yoga), and additional D-rings for the carry strap and kayak seat mounting. This board is well prepared to tackle any water plans you may have.
Included Accessories:

The Gili Sports 10'6 Komodo comes with a fairly good kit of equipment "in the box (bag)". The Komodo kit includes:
SUP backpack
2 stage hand pump
3 piece adjustable paddle
Snap in center and side fins
10' coiled leash
We will go deeper into several of the pieces below but our overall opinion is that Gili Sports includes a well stocked kit with their Komodo. You only need a life jacket before heading on the water.
Paddle: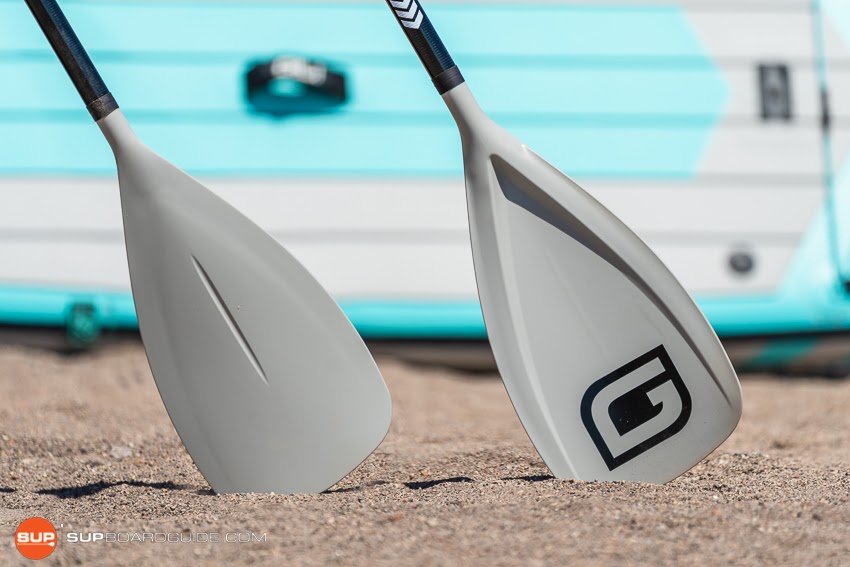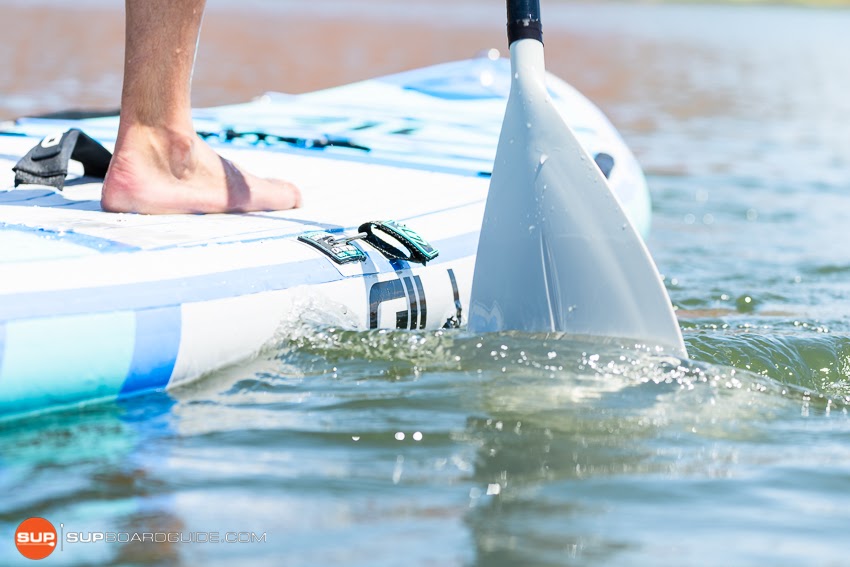 The included paddle is nothing to be upset with for sure. This is more of a value kit in our opinion. As such the included paddle is more value/durability oriented.
The 3 piece fiberglass paddle with the nylon blade does sufficiently well for short distance paddles and for social events where you're not really going at it hard. There was a little twist in the shaft while paddling and we think it would benefit from an additional clamp at the lower attachment point. All in all, this is a great entry level paddle.
We would also like to point out that this board comes with 2 additional paddle choices (for an additional fee). They have a carbon fiber and nylon piece as well as a full carbon piece. Be aware these upgraded paddles do cost a little extra but we feel they are worth the cost especially if you plan on paddling great distances on this board. If that's not in your plans though, the standard paddle will do just fine for light day to day use.
Pump: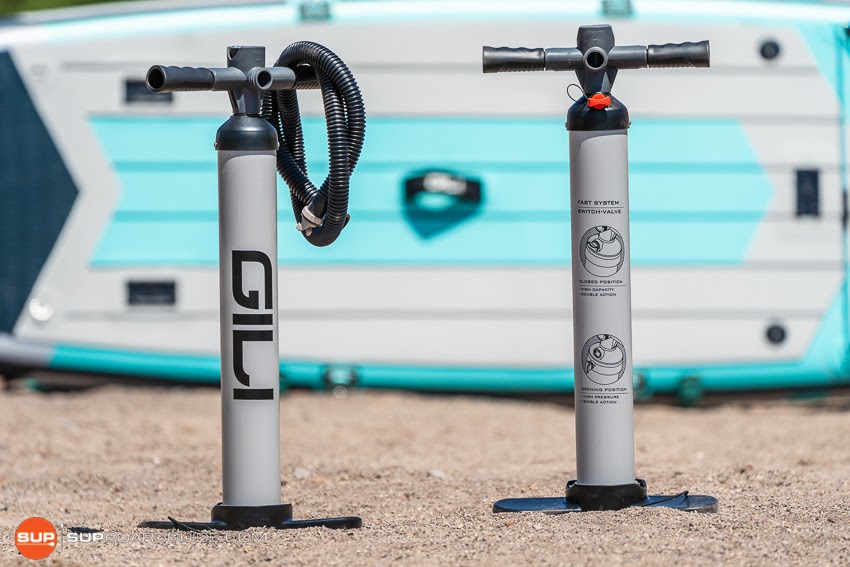 The Gili Sports 10'6 Komodo comes with a single chamber 2 stage hand pump. As we have said in the past, we feel that these are the industry standard on medium level boards. Most, if not all, higher end kits now sport the dual chamber 3 stage design.
Will this pump make it impossible to inflate the Komodo, no. It will get the job done but understand that it moves significantly less air than a dual chamber unit would. Additionally, having only 2 stages available makes this a little more challenging to get that last few PSI into the board. We have had notes from our smaller testers that it's just a difficult situation when you don't physically weigh enough to push the handle down when you get to 10+ PSI.
Bottom line – it's a good, lightweight pump. We personally prefer Gili's dual chamber pump that comes with the Meno series, but this is a good option for people looking to keep the overall SUP kit light (backpacking, other situations where you have to carry the board and kit longer distances).
Of course, we also always recommend buying an electric pump for your iSUP.
We have found that having an electric pump will increase your enjoyment of inflatable stand up paddle boarding immensely. Imagine being able to do other things while your board is being inflated. Imagine not having to sit there and manually pump your board in a hot and humid environment. Imagine relaxing with a cold beverage while the rest of the crew scrambles to inflate their craft.
Bag: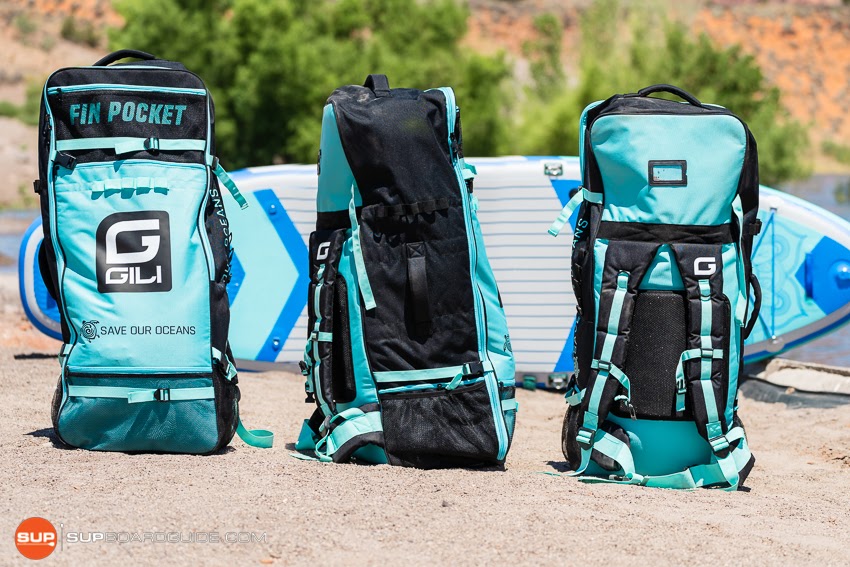 We are big fans of the Gili Sports backpack / bag. For starters we like how they have a dedicated fin pocket that makes misplacing them nearly impossible. It's also a good idea considering that Gili has so many different fin options available. The bag also has several sets of loops, which is a great way to attach different smaller pieces of gear for when you're on the go. The handle straps are all well padded for comfortable movement when moving the bag around in a trunk or at an airport. The fairly thick padded straps work well with the padded back support to make for a comfortable backpacking experience.
We are always impressed with how light weight the Gili Sports iSUP's are, and think they make great travel choices. Especially if you have to hike a distance to get to the water.
There are some additional mesh pockets around the outside and the inside easily holds the board, paddle, and pump.
We would have liked to see the roller wheels on this bag but we understand it's a cost staving option and there has to be ways to distinguish between this kit and some of the higher end offerings from Gili. All said, we really like the bag and how easy it is to carry around.
Optional Accessories
Gili Sports has some really great accessories to help you customize your paddling experience to whatever you may want to do on the water. Here are some of our must haves from their online catalogue:
12v electric iSUP paddle board pump
Paddle board anchor kit (for staying in place for the SUP Yoga classes)
Sup to kayak conversion kit (great for those who want options)
Paddle board shoulder carry strap
Paddle board deck cooler bag (and action mount cup holder!)
Various branded dry bags
Summary Review of the Gili Sports 10'6 Komodo (2022 model)
Overall we feel the Gili Sports 10'6 Komodo is a great choice for those interested in cruising across the lake, SUP Yoga, SUP fitness classes, as well as those who would like to SUP with their four legged friends and/or children. This board has a great deal of stability and can hold quite a bit of weight while still being maneuverable. It's not the fastest through the water but that's ok when you think of what this board was made for relaxation.
We hope you liked our review of the Gili Sports 10'6 Komodo. If you have any questions or comments please leave a comment below and we will do our best to answer you directly. As always, Happy Paddling! And we look forward to seeing you out on the water sometime soon!
The following two tabs change content below.
Justin - Chief Paddler
Heyo! At SupBoardGuide.com we are a team who love the water, the outdoors, and are more than grateful that our full-time job allows us to review stand up paddle boards. We paddle year round (it helps that we are just about 2 hours outside of Las Vegas), and we bring in a wide range of paddlers with the goal of providing our readers with the best, most in-depth, and accurate stand up paddle board reviews.
Latest posts by Justin - Chief Paddler (see all)