Red Paddle Co 12'6" Voyager
Pros
Fantastic premium-level stand up paddle boards you can buy for long range explorations
Cuts through the water - the V-Hull design is specifically designed to break the surface tension of the water and make long-distance paddles easier
Excellent tracking and speed due to the V-Hull combined with the twin-fin system. The twin fins help keep the board moving straight and efficiently.
Very rigid thanks to the RSS batten system, MSL construction, and reinforced rail tape. Red has a precise construction process and spends a full 72 hours on each SUP they make.
Comes with what we think is one of the best hand pumps on the market: the new Titan II pump
Five year warranty is among the longest in the industry, though remember to register your board to receive full coverage!
Cons
There isn't much we don't like on this adventure SUP - but if we are being super picky, adding an action mount for a GoPro would be nice so you could capture your epic adventures more easily.
Aptly named, the 12'6'' Voyager is designed with a V-Hull, made to cut through the water's surface tension to take you on an epic journey.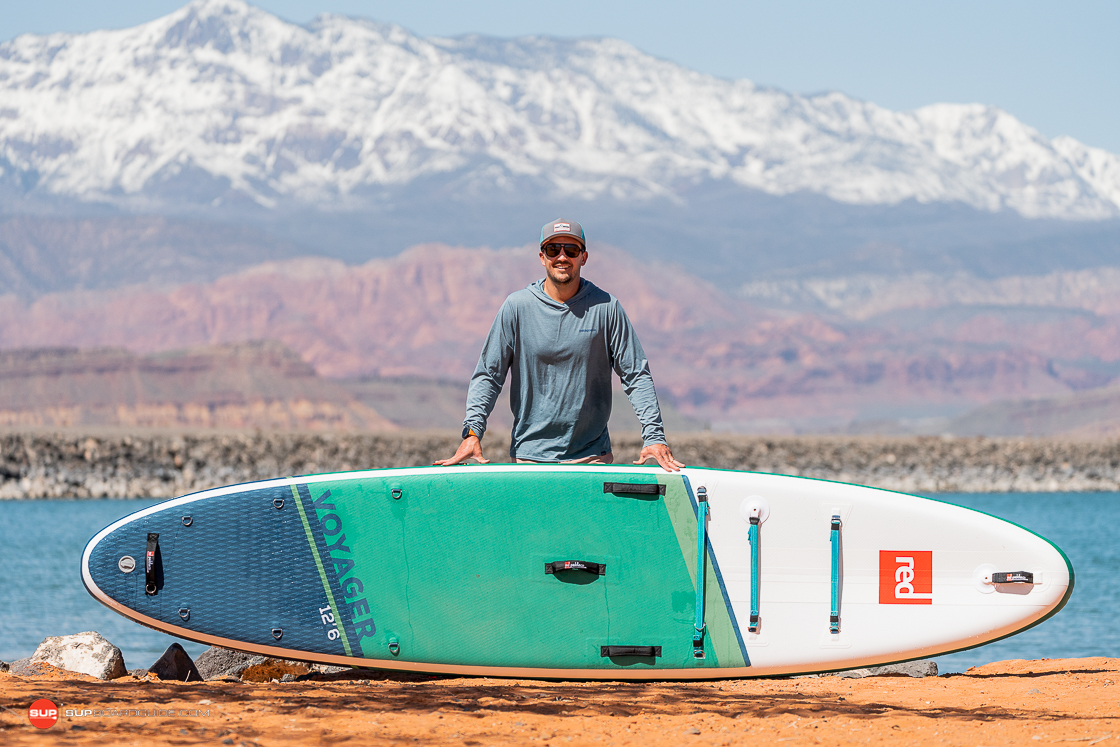 After spending a lot of time reviewing the Red Paddle Co12'6'' Voyager, it's become one of our favorite touring/adventure SUPs. Loaded with intriguing technology and features, we think this SUP is a great fit for anyone looking to load up their SUP and go for an adventure.
Most impressive is the new V-Hull technology that Red Paddle Co developed and put on their Voyager series. Red Paddle Co boards are more expensive than some, but you can tell they are putting a lot of time and money into their research and development – and you can feel that in the performance you get with the 12'6 Voyager.
It tracks better than we thought it would given its dual fin setup, is very rigid, and overall paddles extremely well. The new Voyager series features the same excellent MSL construction, with reinforced taped rails and new flexible plastic RSS rods that are even easier to install than previous versions. The new flat bungee cords are worth highlighting for extra cargo space, along with the improved Titan II pump that can inflate the paddleboard in just five minutes!
The paddleboard is large, but at 30.35 lbs, it's easier to carry than many other large paddleboards (it has 5 handles in total). Especially when packed into the deluxe, all-terrain roller backpack.
From top to bottom, this truly is a stellar paddleboard package, so if you want to upgrade or add a touring board to your collection, you will definitely want to check out and go with the 2023 Red Paddle Co 12'6'' Voyager!
We think the Red Paddle Co 12'6'' Voyager would be a great SUP for paddlers who:
Are looking for a SUP built to carry a lot of cargo for multi-day adventures – or a SUP to bring along a pet or child with you.
Are beginners, intermediates, or advanced riders. The Voyager 12'6 is great for beginners as it is a very stable board. It's also excellent for intermediate and expert paddlers looking for a top quality stand up paddle board.
Those who want a high end inflatable SUP that performs extremely well. The V-Hull technology helps the board glide through the water and gives this board a very nice feel.
Red Paddle Co 12'6'' Voyager: Spec Sheet

Main Category: Touring/Adventure
Board Dimensions: 12'6''x33'x5.9''
Listed Board Weight: 30.35 lbs
Listed Max Capacity: 330 lbs
Recommended PSI: 16 – 22
Fins: Removable US box fins
Paddle: Not included in kit
Materials: MSL construction
Warranty: 5-years
Performance Review of the Red Paddle Co 12'6'' Voyager Stand Up Paddle Board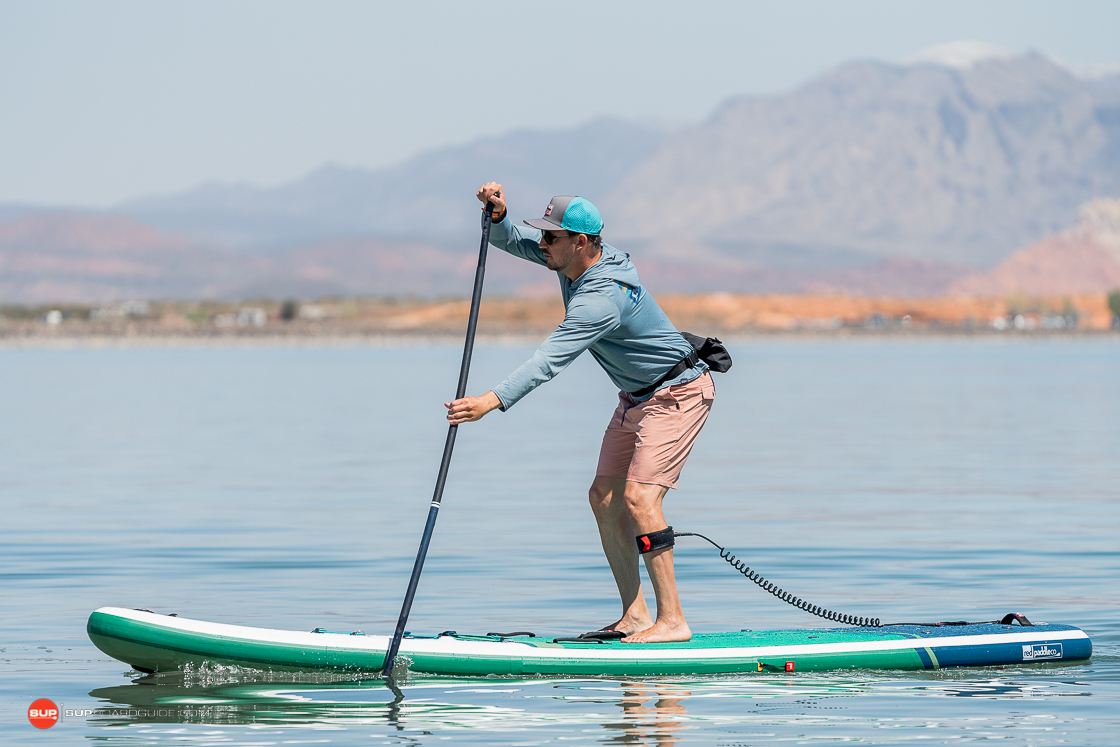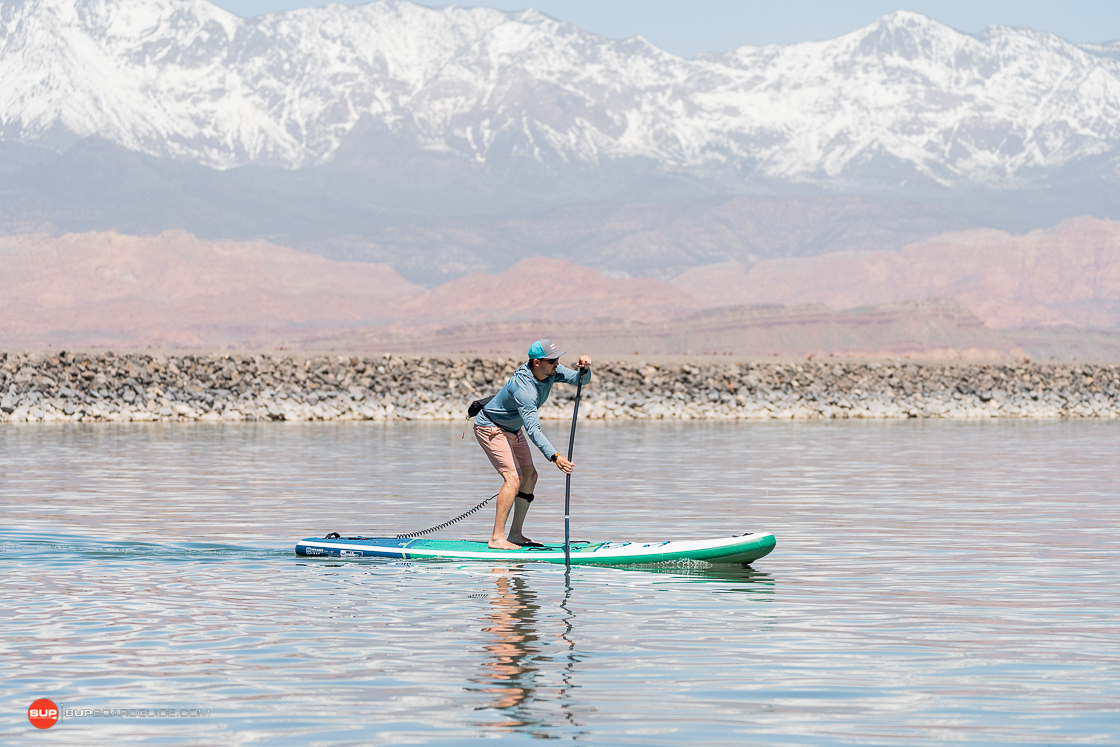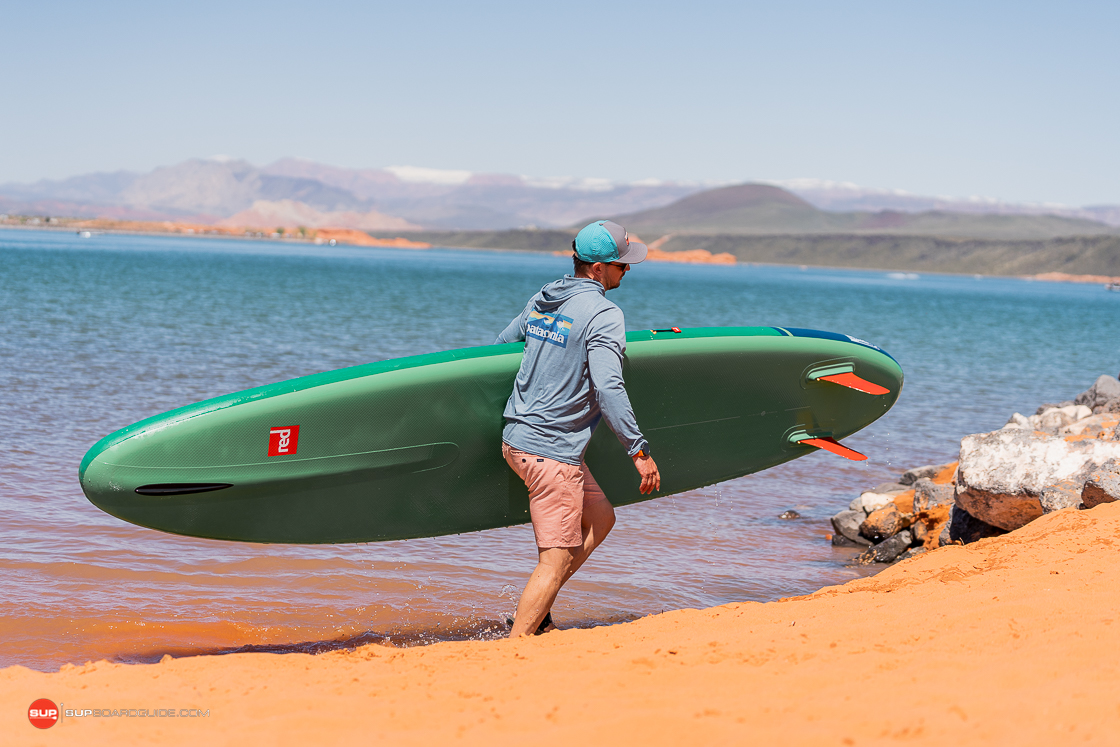 Overall Score: [9.8/10]
Stability: 9.3/10
Speed: 9.3/10
Tracking: 9.5/10
Maneuverability: 8.6/10
Construction Quality: 9.8/10
Features/Accessories: 9.8/10
Stability Rating: [8.7/10]
Being long and wide, 12'6'' x 33'', with an extended wide zone through the middle, this board has a plan shape for stability. Whether you want to stand on it alone and paddle, strap down gear, or paddle with a friend or child, this board can support it while maintaining its stability.
If you take a look at the pictures, you'll see that it has a generally oval shape with a rounded nose and tail. Yet, the tapering does not start until at least a foot beyond the widest zone in both directions. Plus, the widest point is 33'', which is wider than your typical all-around board. And while a rounded tail is not as stable as a squared-off tail, it has a twin-fin setup that works to balance this out.
Through our testing, we noticed that walking towards the tail and then back towards the middle, there is a slight sway in the board. And to be clear, it's not a "tippy" feeling, it's a sway. The board doesn't move side-to-side from rail to rail, but more so it moves across the water from left to right ever so slightly. We attribute this to the V-Hull that's underneath the board towards the nose. But the sway is minimal, and it doesn't affect the stability when you are standing in the middle of the SUP and paddling forward. And the bonus that the V-Hull does offer heavily outweighs that tiny amount of sway that happens as you walk back and forth on the deck.
Speed Test: 9.3/10
| | |
| --- | --- |
| Top Sprint Speed: | 5.6 MPH |
| Average Cruising Speed: | 4.25 MPH |
SUP Board Guide's Speed Testing:
*Notes on our speed test: We gather our speed data with a SUP Speed Coach 2. This instrument gives us accurate readings for both the sprint and cruising speed. To gather our cruising speed, we paddle at around 40 strokes per minute for one minute. To gather our sprint speed, we first maintain a cruising speed and then paddle as fast as we can for around 15 seconds
The Red Paddle Co 12'6 Voyager is a good combo of adventure + touring when it comes to speed. It does really well when loaded up with gear for long paddling adventures. The V-hull helps to cut through the water and makex it feel slightly easier to paddle. On longer adventures, this slight improvement adds up.
If you like SUP adventures and also enjoy fitness paddling, this is a great SUP. If your first and foremost goal is to fitness paddle, with adventuring coming in second, we suggest going with the Red Paddle Co Sport model SUPs.
Tracking: 9.5/10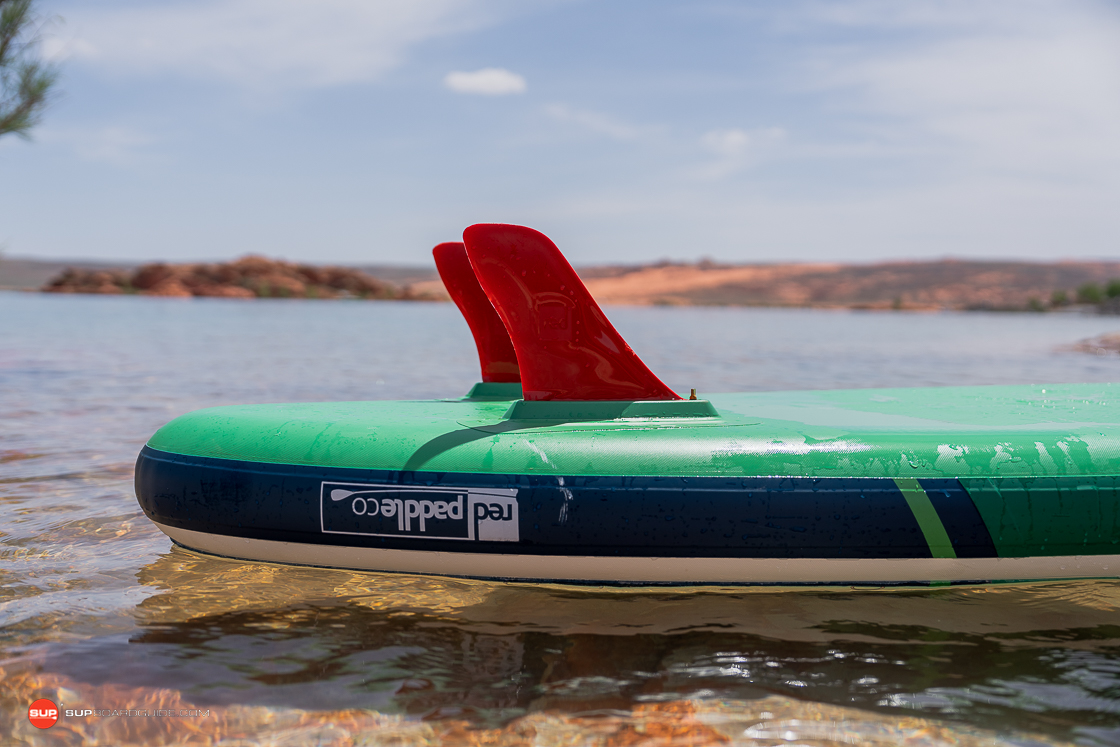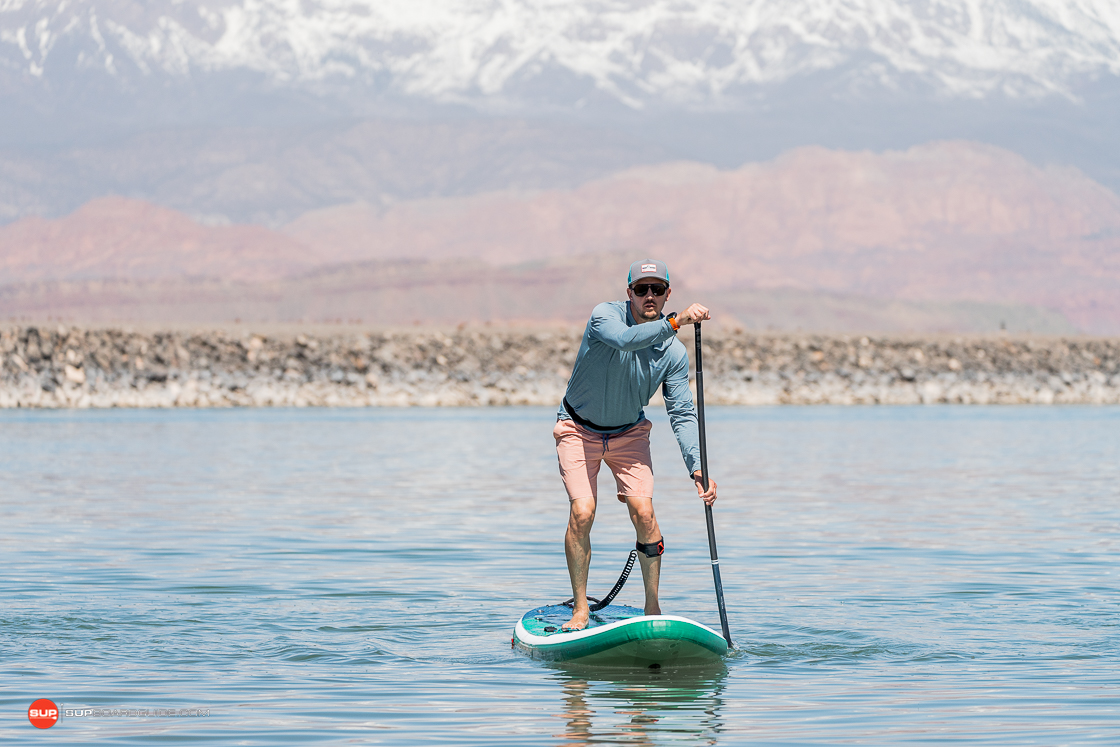 Before we reviewed the Red Paddle Co 12'6 Voyager, our team had differing opinions on how well it would track. Red decided to go with a twin-fin setup vs a more traditional single or tri-fin setup. Typically, this reduces tracking (and can increase drag resistance vs single-fin setups). In other words, we were a little worried that the board would feel a little slow, and not track as well as past Voyager SUPs.
After testing the SUP, I can say that we were pleasantly surprised with how well the Voyager did in the tracking category. It really did outperform our expectations. From a glide perspective, it was fantastic.
We think that the board can track and glide so well because of the new V-Hull design, it's 12'6 length, and the positioning of the twin fins. The new V-Hull is designed to break the surface tension of the water, and allows paddlers to paddle longer and with less effort. With the broken surface tension the Voyager 12'6'' maintains a faster and smoother glide, and seems to also improve the tracking and help the twin fins in the back.
Maneuverability: 8.6/10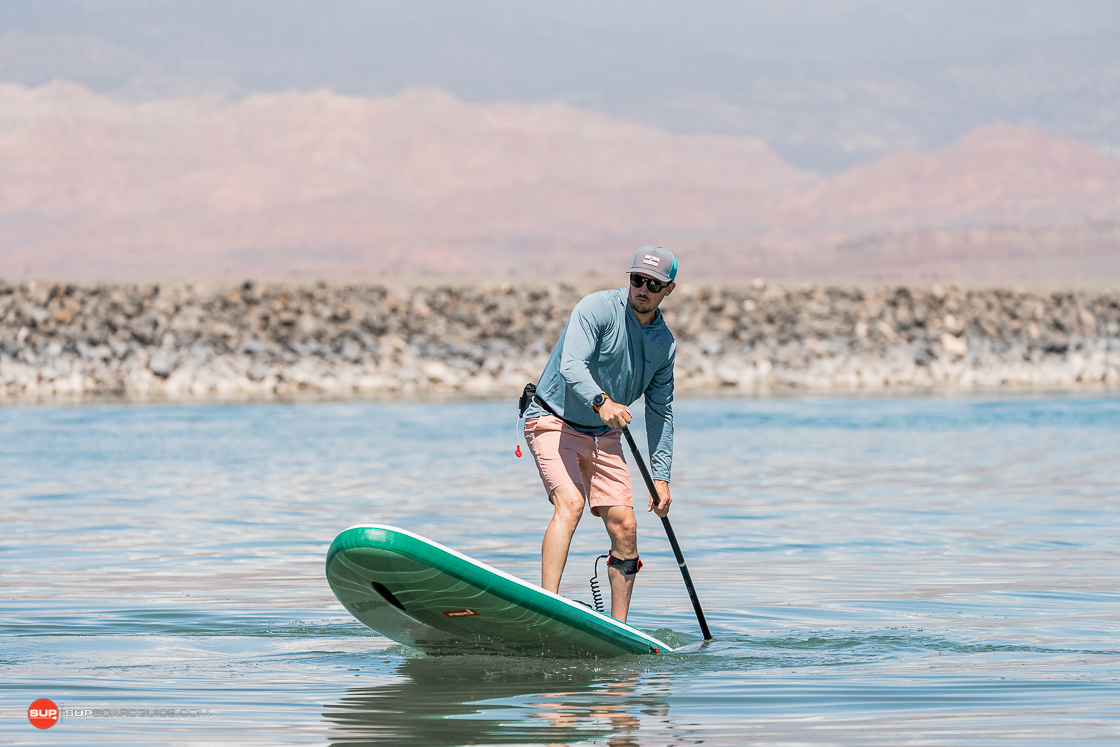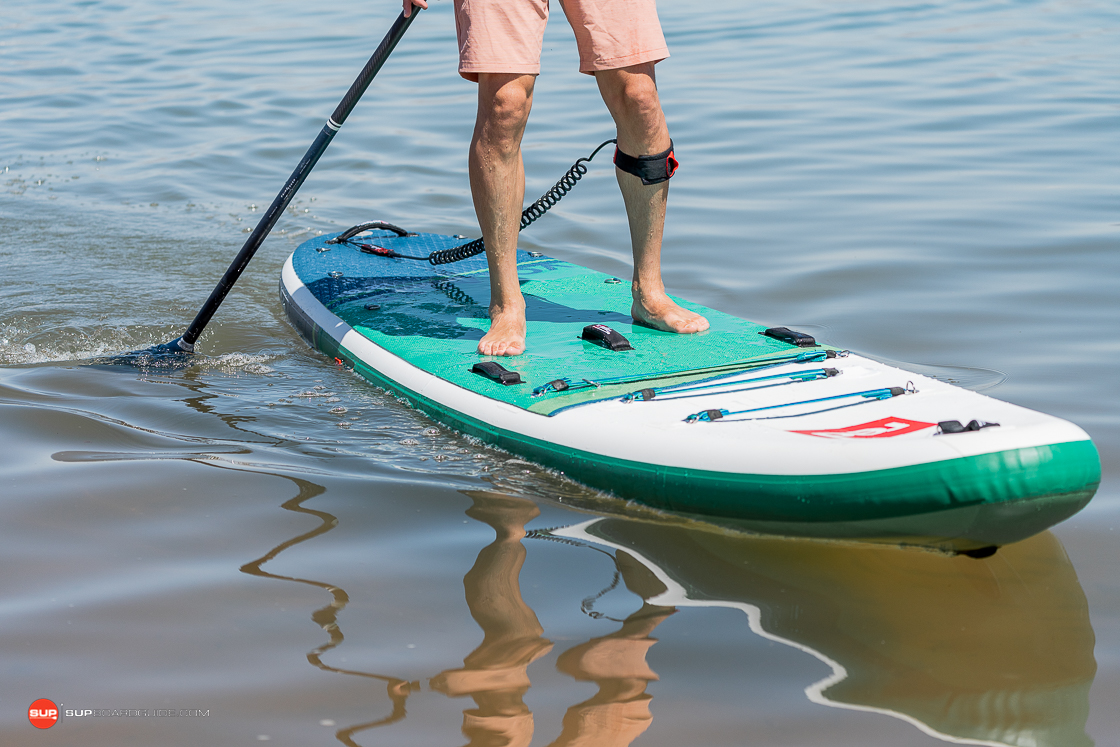 It only took about 4.5 back sweeps to turn in a full circle, which is super impressive for a board that is more geared toward tracking than maneuverability. We consider 4 back sweeps a 'highly maneuverable' score. With the front V-Hull, you are going to have a slightly harder time turning when compared to other touring/adventure SUPs that don't have a front fin or hull. Of course, this SUP is designed for long voyages – so that's a positive.
For step-back turns, the rounded tail shape of the 12'6 Voyager and full-length deck pad make it fairly easy to step back and push the tail into the water, lift the nose out, and turn the board. As you can see in the photo above, Justin was able to get that nose out of the water pretty high.
Construction Quality: 8.2/10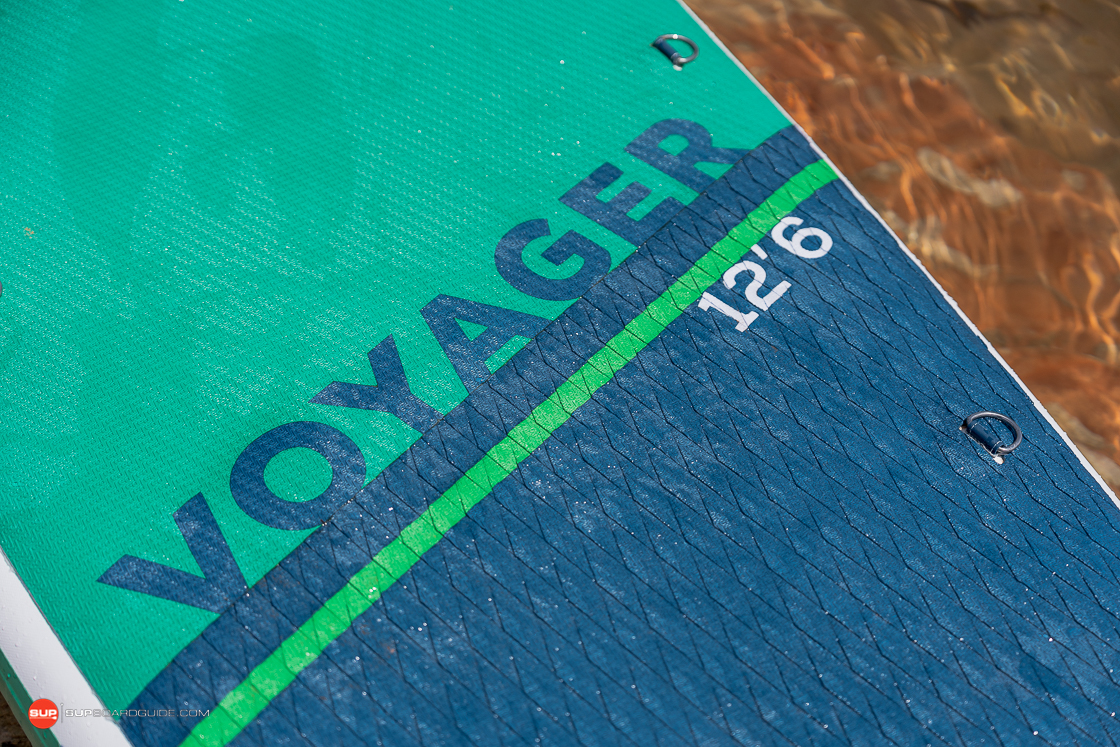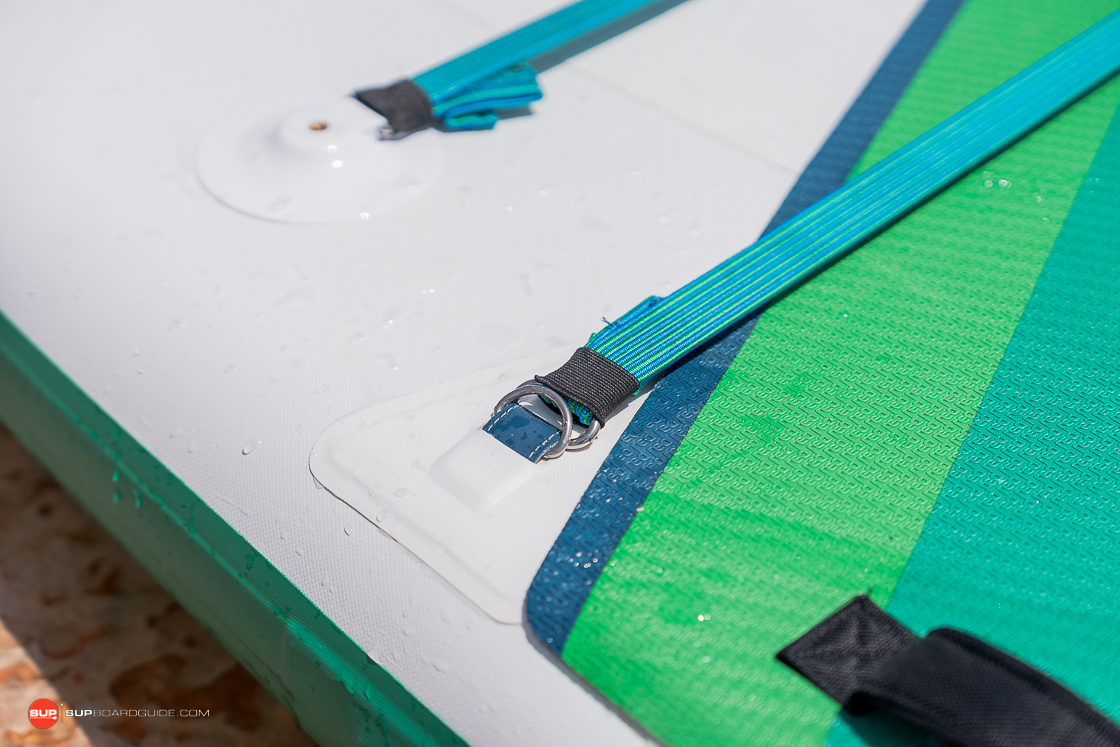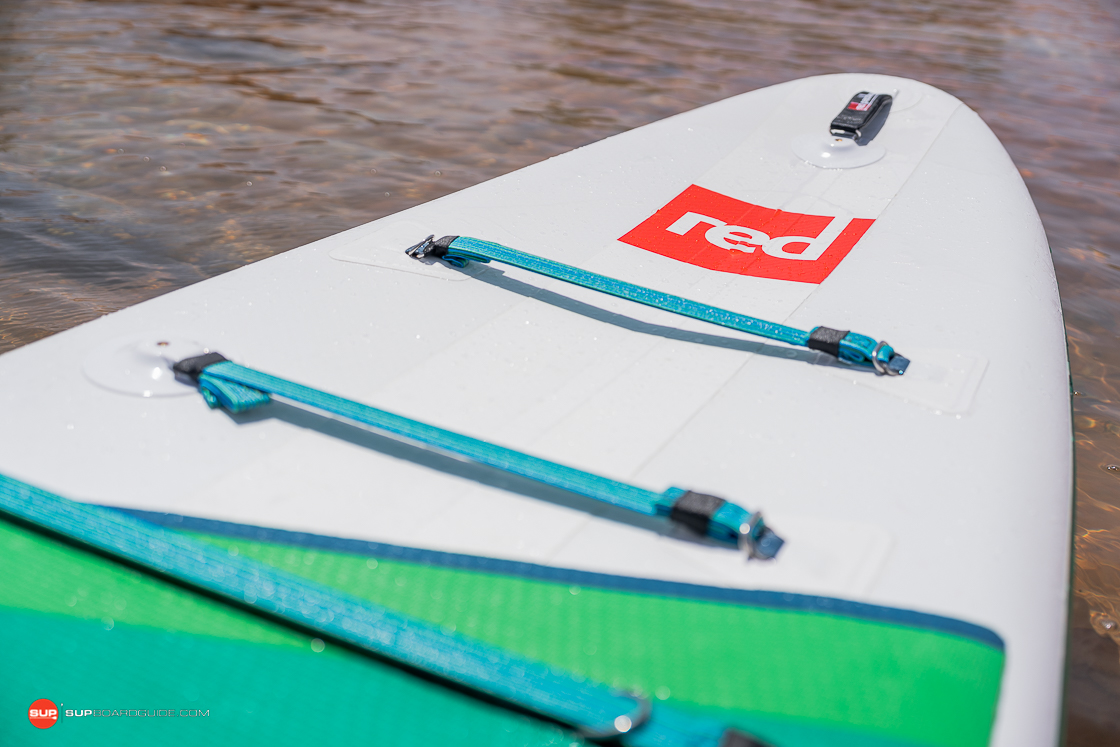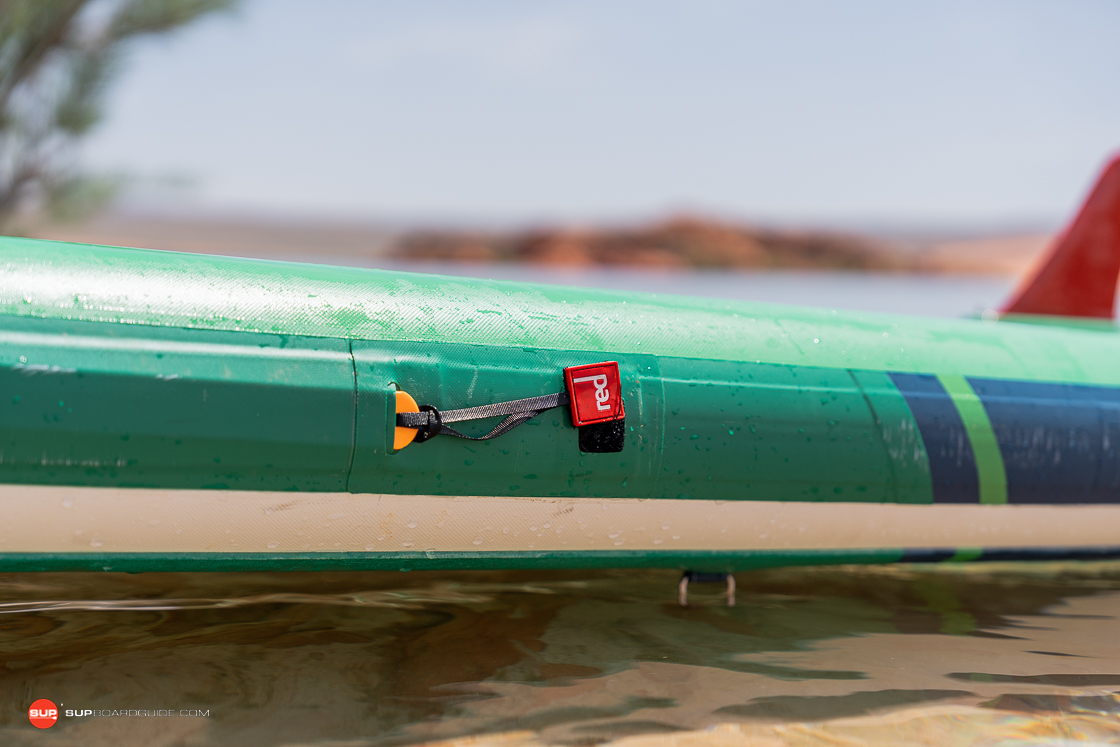 At the heart of every inflatable paddleboard is a tight drop-stitch core, which is constructed of sheets of fabric that are joined together with thousands of ultra-strong threads. As air is pumped into this drop-stitch core, the paddleboard inflates like a balloon, but instead of being round, it will assume a board shape due to the threads holding the top and bottom layers together. Red Paddle Co relies on a strenuous, precise machine-assisted 72-hour process to ensure that every stitching is done correctly, the result being the Tec Air construction that makes their SUPs among the most reliable in the industry.
Red Paddle Co's Monocoque Structural Laminate (MSL) construction consists of high density PVC coating that forms the shell of the paddleboard, claimed to offer better performance and superior durability that will help the paddleboard last even longer.
Additionally, the taped rails will provide extra rigidity and protection to the 12'6'' Voyager, but the stand-out feature is the RSS system. Two removable flexible plastic rods can be inserted into the rails of the paddleboard, improving rigidity by up to 40% without excessively weighing down the SUP with carbon fiber rails or extra PVC coatings.
Board Stiffness: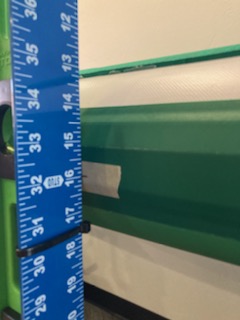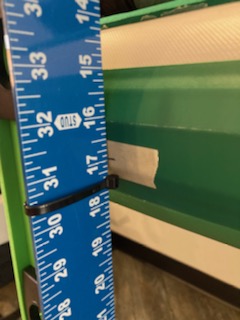 Stiffness Test: 1" Bend
SUP Board Guide's Bend Testing:
In order to attest to the rigidity of each board, we use a bend test curated by Supboardguide. In order to obtain the results, we inflate the board to its maximum recommended PSI and then place it across two sawhorses that are 7 feet apart. We then take a measurement in the middle of the board. Then, we place 150 lbs worth of sandbags on the middle top of the SUP. Last, we record its displacement (the movement from its original position). We use this method for every board we test as a way to mathematically compare boards across a common denominator.
In order to bend test our boards across a common denominator, we use the same method each time. This method consists of pumping the SUP up to its maximum PSI and then laying it across two sawhorses that are placed 7 feet apart. We then measure the middle of the board. Next, we place 150 lbs of sandbags on the top middle and record the deflection (the change from the original position).
In this case, the Red Paddle Co 12'6'' Voyager bent 1 inch. This is a great score and backs up Red's amazing construction process and attention to detail. When paddling this board, it's easy to feel its rigidity, so we weren't surprised when we saw this result.
Features/Accessory Review: [8.2/10]
Features:


Much like Red can construct such high-quality boards, they are advanced when it comes to designing their SUPs to be minimalistic but still contain all of the features necessary for a sweet setup. On the Voyager, there are 5 handles, 3 flat strap bungee cargo holders, D-rings strategically placed throughout the deck, a diamond groove deck pad section on the tail of the board, and of course, the V-hull on the underside!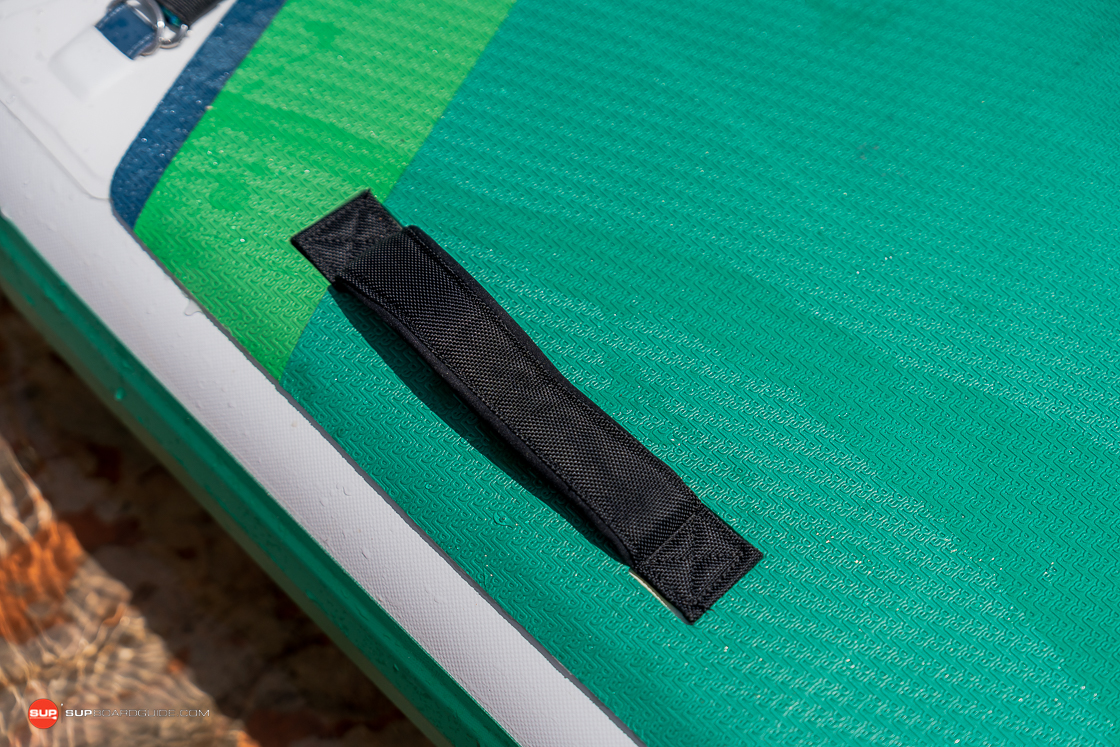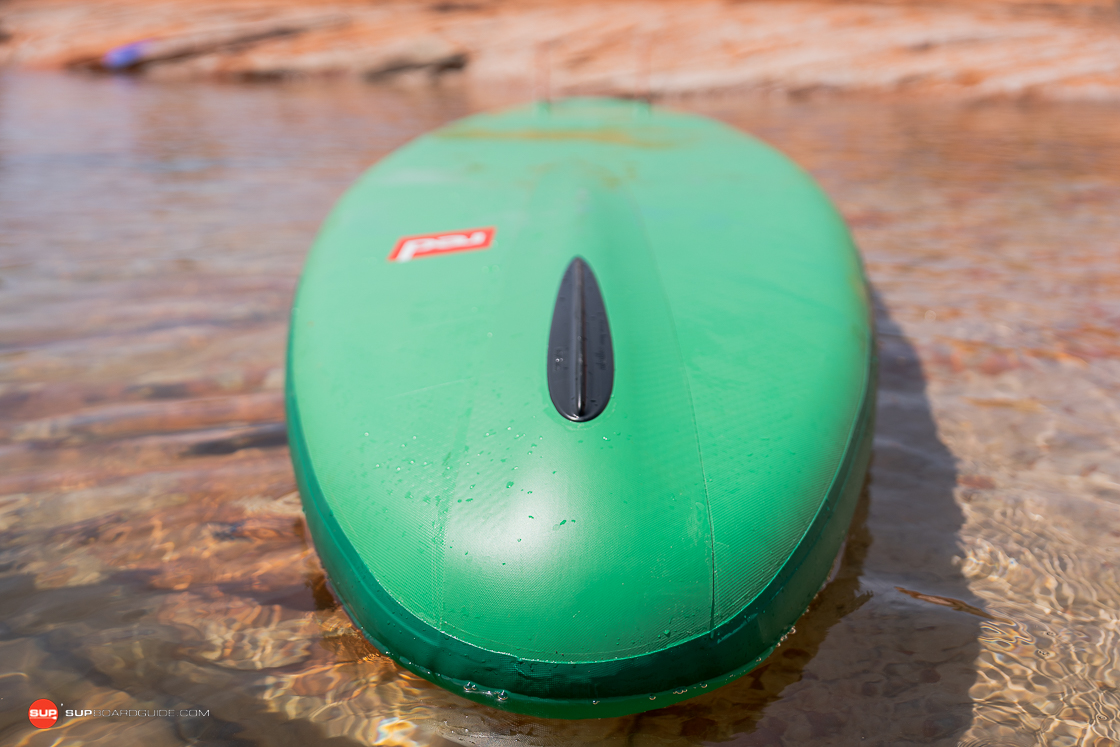 All of the features that are attached to the board after the fact are secure and pressed on with quality in mind. We love that there are extra D-rings towards the tail of the board for the option to strap down even more stuff – it reminds us that this SUP can hold up to 330 lbs and we might as well take advantage of it by strapping down a cooler with a bunch of snacks!
A note on the V-Hull: The pointed nose is not only extended but has an undercut that helps break the surface tension of the water. Thanks to this design, the paddleboard will not only glide faster through the water, but it will be easier to plant and move your paddle as well, allowing you to conserve more energy while paddling. A great inclusion for a touring SUP, and something that all paddlers will immediately come to appreciate the moment they get to try out the 12'6'' Voyager.
Included Accessories: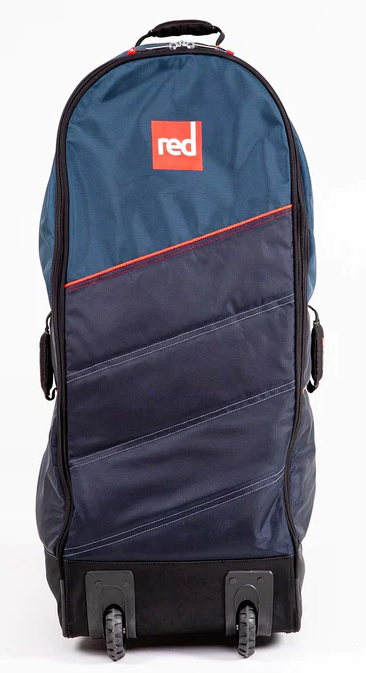 Included with the purchase of the Red Paddle Co 12'6'' Voyager is:
The Titan II pump
The ATB bag
Both of these items are extraordinarily durable. The Titan II pump is one of our favorite pumps we have tested so far because it can pump the board up to 20 PSI faster and easier than most other pumps. It's a dual chamber, high-pressure pump that truly puts the volume into your board with minimal effort required. We tested it ourselves and although it's hard to believe, it only took 5 minutes! Typically it takes around 14 – 15 minutes with other hand pumps we have tried.
The bag is 160 liters and roomy enough to easily maneuver your rolled-up SUP in and out of. Also, there are extra pockets meant to hold accessories and an outside pocket specifically for the fins, which we admire.
Red Paddle Co does not include a paddle with their package, and at first, we didn't understand this and wished they would include a paddle. But now, we realize it's for good reason: it allows Red to keep their board prices lower and it reduces waste for those who already own a paddle. If you need a paddle, Red has awesome options that can be added on at checkout..
Summary Review of the Red Paddle Co 12'6'' Voyager – 2023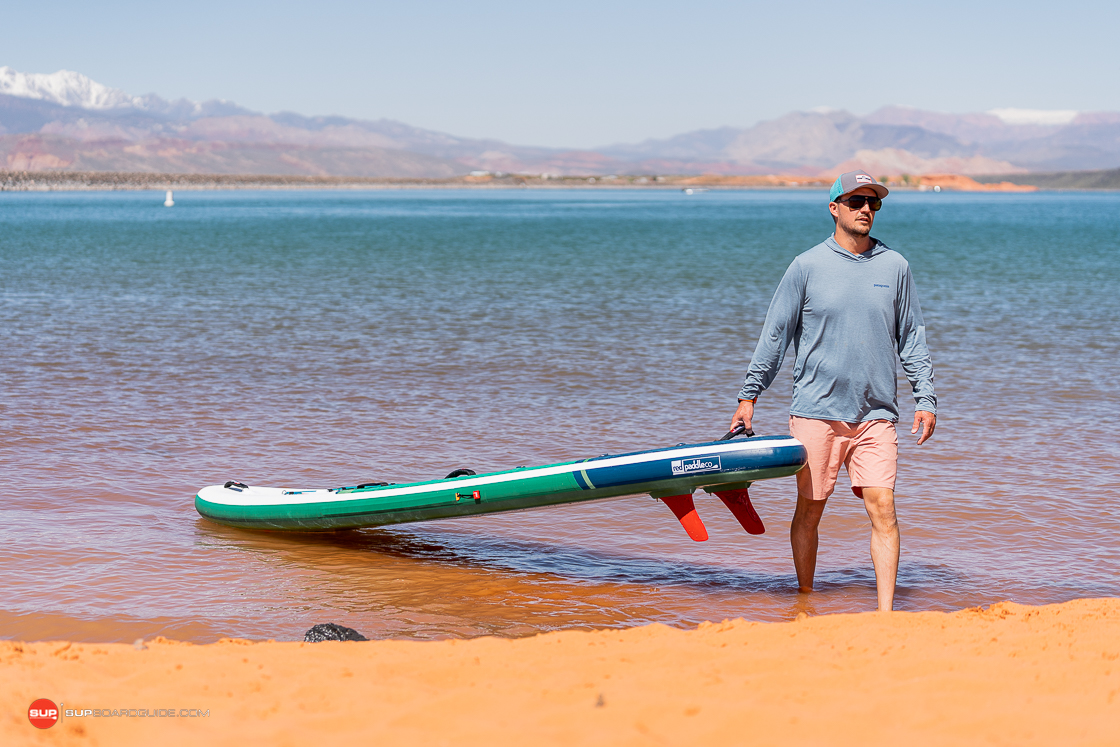 The Red Paddle Co 12'6'' Voyager is a stellar touring/adventure board in almost every regard, from the performance of the SUP to its great deck design and awesome accessories that come with the paddleboard.
The 330 lb recommended weight capacity is more than enough to support most adult sized paddlers, especially due to the stability support provided by using the dual-side fin setup. The new V-Hull, displacement hull, and 12'6'' length provide a fantastic glide, along with excellent tracking and speed thanks to the way the V-Hull breaks through the surface tension of the water. The MSL construction is as great as ever, and complemented by the reinforced taped rails and RSS baton system, this is an extremely rigid SUP that makes every trip to the water an absolute joy.
Be sure to let us know what you think of the Red Paddle Co 12'6'' Voyager!
The following two tabs change content below.
Justin - Chief Paddler
Heyo! At SupBoardGuide.com we are a team who love the water, the outdoors, and are more than grateful that our full-time job allows us to review stand up paddle boards. We paddle year round (it helps that we are just about 2 hours outside of Las Vegas), and we bring in a wide range of paddlers with the goal of providing our readers with the best, most in-depth, and accurate stand up paddle board reviews.
Latest posts by Justin - Chief Paddler (see all)