Red Paddle Co 12'6" Voyager
Pros
Fantastic premium-level stand up paddle boards you can buy for long range explorations
New V-Hull design. It cuts through the water and you can really feel the difference this makes when paddling. I love the feel of this board.
Very stable, high weight capacity (240 lbs) SUP. Lightweight as well, easy to carry at 24.2 lbs.
Very rigid board due to RSS fiberglass batten system, MSL construction, and reinforced rail tape.
Comes with what we think is one of the best hand pumps on the market: the new Titan II pump
Five year warranty is among the longest in the industry, though remember to register your board to receive full coverage!
Cons
I'd love to see Red Paddle Co offer a discount on a paddle if you purchase a board directly through their website
Bungee straps don't seem to be as strong as regular bungee cords. I love the concept, but I can't get them to cinch down super tight on smaller objects.
The 12'6'' Voyager is one of our favorite touring/adventure SUPs. Loaded with intriguing new technology and features, we think this SUP is a great fit for anyone looking to load up their SUP and go for an adventure.
Most impressive is the new V-Hull technology that Red Paddle Co developed and put on their voyager series. Red Paddle Co boards are more expensive than some, but you can tell they are putting a lot of time and money into their research and development – and you can feel that in the performance you get with the 12'6 Voyager. It tracks better than we thought it would given it's dual fin set up, has a high weight capacity, is very rigid, and overall paddles extremely well.
The new Voyager series features the same great MSL construction, and with reinforced taped rails and new fiberglass RSS rods that are even easier to install than previous versions. The new flat bungee cords are worth highlighting for extra cargo space, along with the improved Titan II pump that can inflate the paddleboard in just five minutes!
The paddleboard is large, but at 24.2 lbs it's easier to carry than many other paddleboards, especially when packed into the deluxe, all-terrain roller backpack.
From top to bottom, this is a truly stellar paddleboard package so if you are looking to upgrade or add a touring board to your collection, you will definitely want to check out and go with the Red Paddle Co 12'6'' Voyager!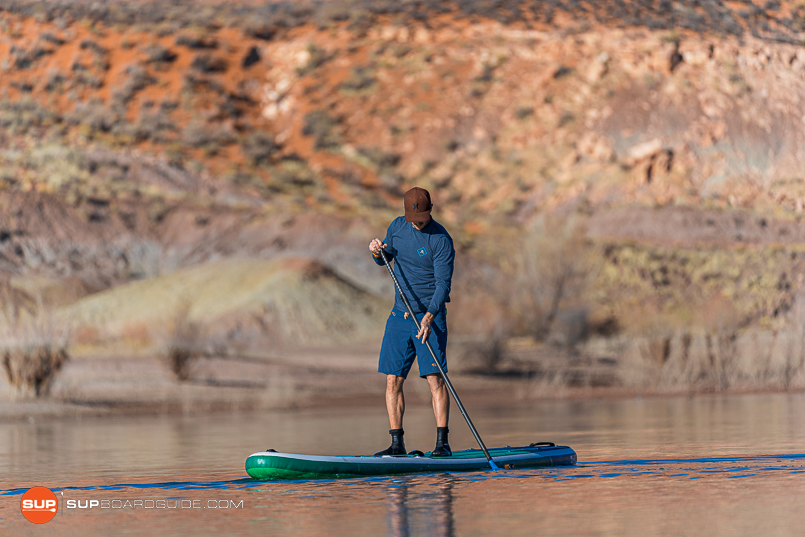 SUP Board Specs
| | |
| --- | --- |
| Length | 12'6'' |
| Width | 33'' |
| Thickness | 5.9''' |
| Weight | 24.2 lbs |
| Rider Capacity (lbs) | 240 lbs |
| Recommended Inflation | 16 – 22 PSI |
| Fins | Dual FCS US Fins |
| Paddle Type | None Included |
| Construction | Tec Air + MSL Construction |
Who Should Buy This Stand Up Paddle Board:
We found the 12'6 Voyager from Red Paddle Co to be an excellent touring board that also offers stability and a high weight capacity. Given this SUP's unique characteristics, we almost want to create a class for 'adventuring' just for this board.
Consider the 12'6'' Voyager if you are among the following:
A SUP enthusiast who is looking for a SUP built to carry a lot of cargo for multi-day adventures – or a SUP to bring along a pet or child with you.
Any level paddle boarder. The Voyager 12'6 is great for beginners as it is a very stable board. It's also excellent for intermediate and expert paddlers looking for a top quality stand up paddle board.
Someone who wants a light board, but not too light that it gets blown around the lake. We found the Voyager to be perfectly weighted at just over 24 lbs.
Those who want a high end inflatable SUP that performs extremely well. The
V-Hull technology really helps the board glide through the water and gives this board a very nice feel.
Buyers who want a high quality, performance level SUP that has both industry leading quality and the latest in iSUP technology.
Performance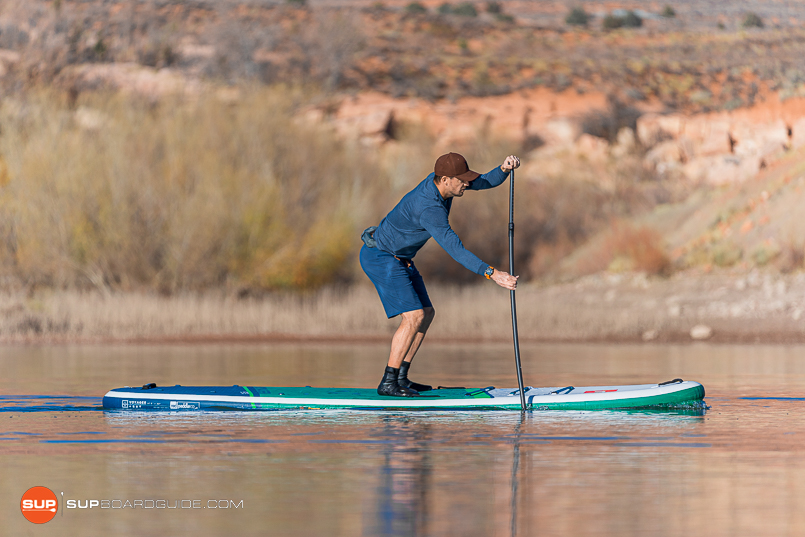 Stability
The 12'6'' Voyager has a beginner recommended weight capacity of 240 lbs, though we think that most paddlers will be able to exceed that and still feel very comfortable due to the overall design. Furthemore, Red Paddle Co tends to underestimate the recommended weight capacity of their paddleboards, and due to the new SUP upgrades we expect this board to be even more stable than past RPC models. From our testing, even our largest adult paddlers felt very stable on the Voyager, so we believe that the 12'6'' Voyager will be stable enough to support bringing along your kids or a pet even if you're new to the sport.
Maneuverability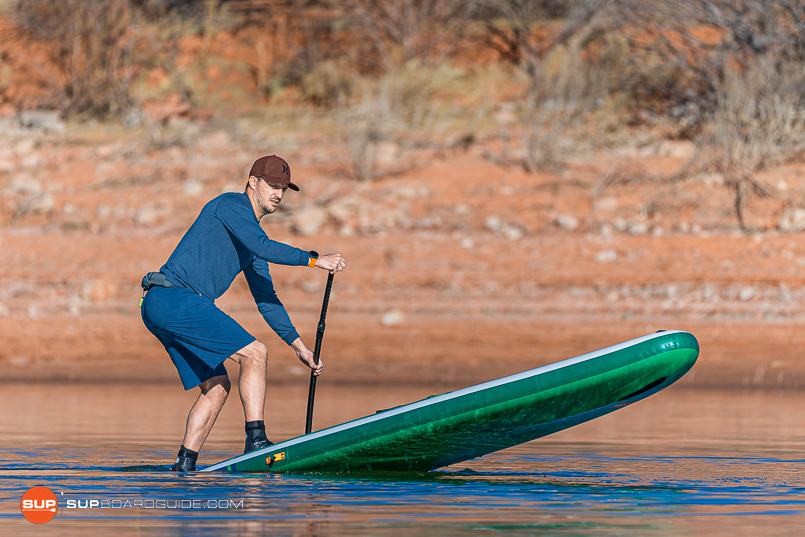 The Red Paddle Co Voyager is not meant to be the most maneuverable SUP. With the front V-Hull, you are going to have a slightly harder time turning when compared to other touring/adventure SUPs that don't have a front fin or hull. Of course, this SUP is designed for long voyages – so that's a positive.
For back step turns, the rounded tail shape of the 12'6 Voyager and full length deck pad make it fairly easy to step back and push the tail into the water, lift the nose out, and turn the board. As you can see in the photo above, I was able to get that nose out of the water without having to step back too far on the board. I felt very comfortable and do think that this is a good board to learn how to perform a step back turn for beginners.
Tracking/Glide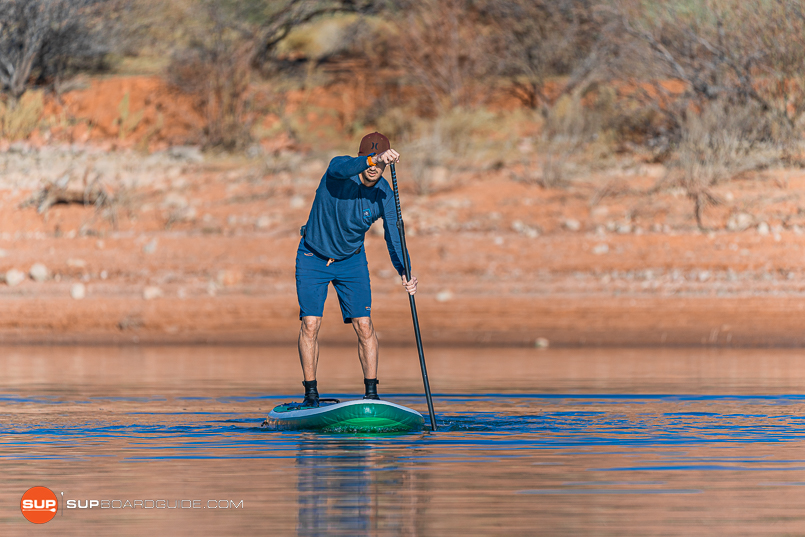 Before we reviewed the Red Paddle Co 12'6 Voyager, we were very interested to see how well it would track. Red decided to go with a twin fin set up vs more traditional single or tri fin setups. Typically, this reduces tracking (and can increase drag resistance vs single fin set ups). In other words, we were a little worried that the board would feel a little slow, and not track as well as past Voyager SUPs.
After testing the SUP, I can say that I was pleasantly surprised with how well the Voyager did in the tracking category. It really did outperform my expectations. It didn't track quite as well as the 12'6 Sport we tested last year (single fin), but the difference was very small. From a glide perspective it was fantastic.
We think that the board is able to track and glide so well because of the new V-Hull design, it's 12'6 length, and the positioning of the twin fins. I had no problem paddling straight, and the glide was excellent. I can't say enough how impressed and excited we are by the new V-hull nose design. The new V-Hull is designed to break the surface tension of the water and allows paddlers to paddle longer and with less effort. With the broken surface tension the Voyager 12'6'' maintains a faster and smoother glide, and seems to also improve the tracking and help the twin fins in the back.
After testing this and the new 11'3 Red Paddle Co Sport, I asked the team over at Red Paddle Co why they didn't put BOTH the speed tail and the V-hull on this SUP. While I'm still intrigued by that combo, their answer made a lot of sense:
Answer from Red Paddle Co:
"Adding these features is a fine balance of what performs best, right? So the longer the board the less you can feel the speed increase (it may still be faster, but not noticeably at all). Thus it is a huge addition to the Sport line, but not the Voyager. On the flip side, the V hull needs the width of the Voyager for stability. If you add a V hull to the narrower shape of the Sport you would have a hard time keeping it upside right. The Sport as an all-rounder (well just a step up) is also used in the ocean a lot more than the Voyager. And while it's not a surf specific shape, it is able to pick up small waves. But if you added a V hull on a Sport it destroys its surfing ability.
I also see these technologies (from a personal perspective) as accomplishing very different goals. The Voyager being more touring specific, I want to glide through the water with gear loaded on the nose, but I am not necessarily looking for race speeds. If and when racing resumes, I am excited to test out the new Sport in the Go Pro games and see how it handles rapids at speed, not just flat water speed. But it is not designed with the stability I need on the river for multi-day trips. Just my two cents on why I don't think I would want both technologies on the same board."
After testing a few other boards that have V-hull like shapes, I think I agree with Red Paddle Co and their decision to leave off the V-hull from the Sport series. A V-hull design can make the board a little bit tipsy (see our review of the SeaGods racing SUP) if the board is narrow. I didn't feel any tipping on the Voyager but do think I would have on the more narrow Sport.
Materials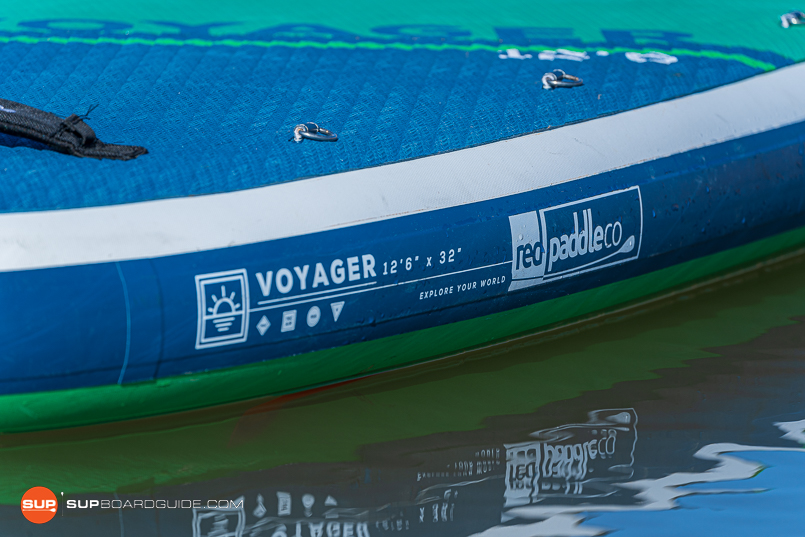 You may have already seen the video, but if you haven't you will want to watch the stress tests that Red Paddle Co do to demonstrate the durability of their paddle boards. You know that you're buying a paddleboard built to last when it can withstand getting ran over by a 24 ton road roller. This is made possible due to the two construction methodologies innovated by Red Paddle Co: Tec Air and MSL protection.
At the heart of every inflatable paddleboard is a tight drop-stitch core, which is constructed of sheets of fabric that are joined together with thousands of ultra-strong threads. As air is pumped into this drop-stitch core, the paddleboard inflates like a balloon, but instead of being round it will assume a board shape due to the placement of the internal strings. Red Paddle Co relies on a strenuous, precise machine assisted 72-hour process in order to ensure that every stitching is done correctly, the result being the Tec Air construction that makes their SUPs among the most reliable in the industry.
The drop-stitch core allows the inflatable SUP to float, but with an additional coating it will offer better performance and superior durability that will help the paddleboard last even longer. So, Red Paddle Co relies on their Monocoque Structural Laminate, or MSL construction, in order to make it not only durable, but rigid and stable enough to support any adult sized paddler. The MSL construction consists of high density PVC coatings that form the shell of the paddleboard, which is more than durable enough to withstand the common drops, crashes, and accidents that will happen on and off the water. While it's doubtful you will need to rely on it, the Red Paddle Co 12'6'' Voyager is also backed by an outstanding 5-year warranty, one of the most comprehensive protection policies in the paddleboard industry!
Board Design/Shape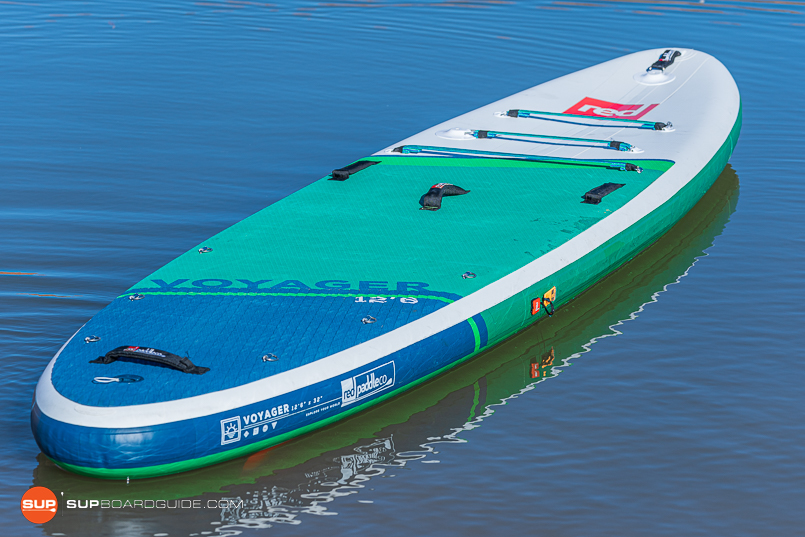 The 12'6'' length, along with the V-Hull and pointed displacement hull, makes this paddleboard a true inflatable touring SUP. The 32'' width, along with the 5.9'' thickness, provide plenty of space to stand on and good overall structural strength to support any adult sized paddler, along with kids, a pet, or even a lighter, shorter tandem paddler. The paddleboard weighs 24.2 lbs, which we found to be a great weight – it's not too heavy (some touring iSUPs come in over 30 lbs, but it's also not too lightweight where the board gets blown around by the wind).
This is a paddleboard built for touring, but with its great cargo options and accessory mounts it's also a good option for those who just want to cruise or chill on it with friends.
Board Features
The 12'6'' Voyager is a stand out paddleboard thanks to its overall design and performance, but there are a number of cool features that further make it worth checking out. Some of the top features you should know about include the following:
Reinforced Taped Rails + RSS System
Tec Air/MSL construction
V-Hull
13 D-Rings + 2 Action Mount + Removable Flat Bungee Cargo System
Five carry handles
'Red' hybrid traction pad
Rail System
The taped rails will provide extra rigidity and protection to the 12'6'' Voyager, but the stand out feature is the RSS system. Two removable fiberglass rods can be inserted into the rails of the paddleboard, improving rigidity by up to 40% without excessively weighing down the SUP with carbon fiber rails or extra PVC coatings. Between the construction, taped rails, and RSS system, the 12'6'' Voyager is an inflatable that provides a very similar feeling to paddling on an epoxy SUP!
V-Hull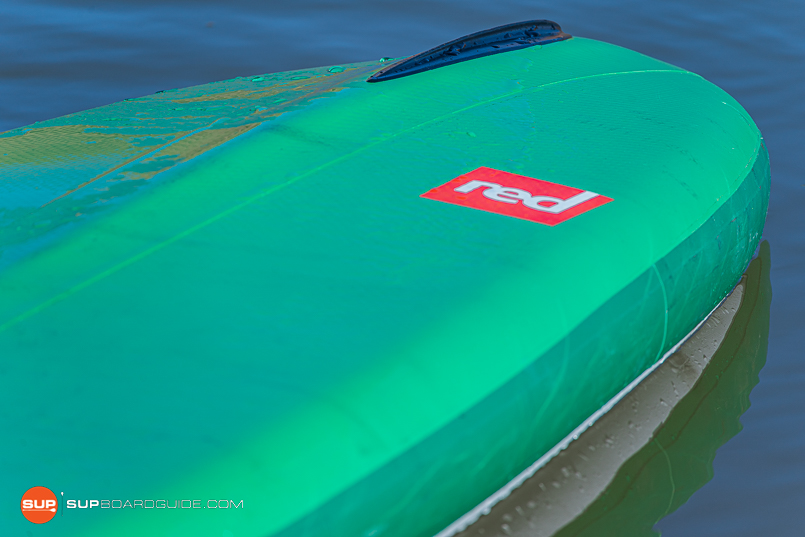 The pointed nose is not only extended, but has an undercut that helps break the surface tension of the water. Thanks to the V-Hull, the paddleboard will not only glide faster through the water, but it will be easier to plant and move your paddle as well, allowing you to conserve more energy while paddling. A great inclusion for a touring SUP, and something that all paddlers will immediately come to appreciate the moment they get to try out the 12'6'' Voyager.
Fins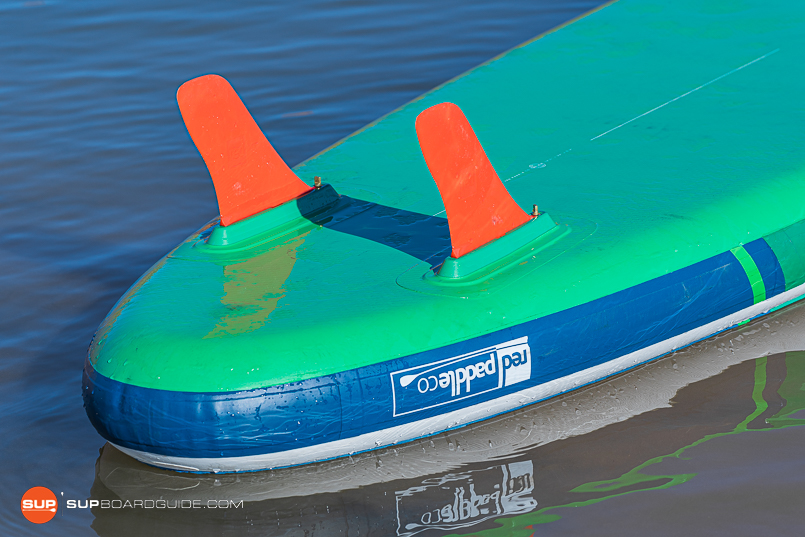 Unlike most touring paddleboards that rely on a single center fin box, the 12'6'' Voyager features dual FCS US Style fin boxes. As we discussed in the performance section we were surprised at how well these twin fins tracked, even though we do find slightly better performance on their single fin Sport series models when it comes to tracking.
By utilizing US style fin boxes, you also have more fin options overall, allowing you to optimize and fine tune your SUP performance for any situation. This is a great fin setup, and we quite like the style of the red fins too, helping them stick out compared to many other fins on the market.
Traction Deck Pad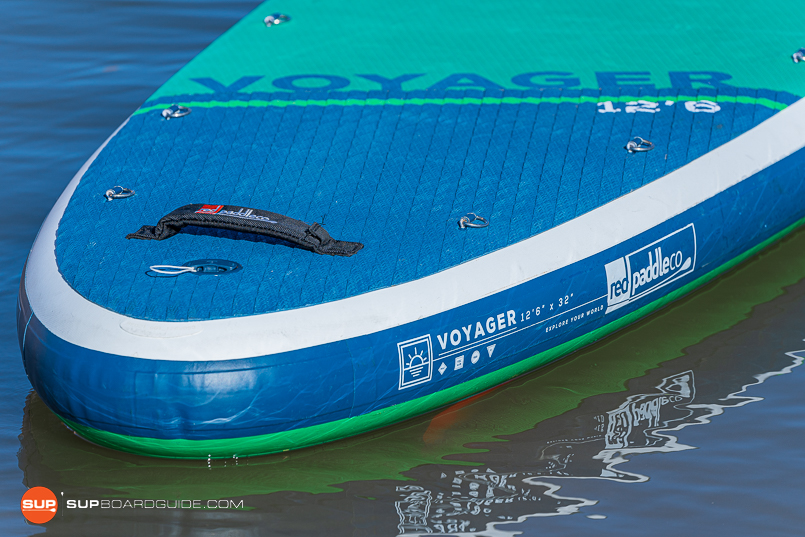 Not everything has been revamped, but if it works great you might as well leave it the same. The 12'6'' Voyager features the traditional 'Red' hybrid deck pad, the same great design used on their other paddleboard models. The deck pad is smooth and comfortable to stand on in the center, but still has texture support that helps paddlers maintain a good grip. The best traction support comes in the tail section though, where a deep diamond grooved pattern makes the tail ultra-grippy, which is important for paddlers as they perform step-back turns or brace against waves. The paddleboard deck pad is made with EVA foam, the same material used in many popular yoga mats, and is built to drain and dry water quickly. Even as you cut through waves, you won't have to worry about the deck pad getting slick as you paddle on the 12'6'' Voyager.
Handles
The 12'6'' Voyager features five carry handles, with one on the nose, three in the center, and one on the tail. All five carry handles are built with premium neoprene, which is comfortable to hold and protects against blisters even when grabbed by soaking wet or freezing cold hands. At 24.2 lbs, most paddlers will be able to carry this paddleboard by itself, but if you have a friend they have multiple places they can assist you when carrying the paddleboard. Lastly, the center three handles help form the perimeter of the nose concave, allowing you to store extra gear beneath the bungee cords.
D-Rings/Bungees/Cargo Areas
Touring boards tend to rely on having many accessory attachment points in order to support multi-day adventures, so it's great to see 13 D-rings and 2 action mounts on the 12'6'' Voyager. 6 of the D-rings are newly included in the rear section of the touring board, and are great for attaching seats, bags, and other accessories if they don't fit beneath the bungee cords. As for the action mounts, GoPro cameras, Bluetooth speakers, and other popular electronic mounts are easy to screw into the action mounts.
Another major change to the Red Paddle Co lineup are the flat bungee cords that replace the interlocking thin bungee cords used on many popular paddleboard models. These flat bungee cords are not only easier to remove, but are stronger as well and will help you store larger coolers and containers on your paddleboard. It may not affect performance, but it's great to see that Red Paddle Co is paying close attention to every aspect of their SUPs and looking for ways to improve.
Accessories
Paddle Options
While we love the 12'6'' Voyager as a paddleboard, but we do wish that Red would offer a paddle with the board, or maybe a discount on one of their great paddles. A discount would allow those experienced paddlers who already own a performance SUP paddle to save some money by not having to pay for the paddle in the kit, but those new to SUP would be able to get everything they need to get out on the water.
Red Paddle Co does produce some great SUP paddles, and they can be added to the 12'6'' Voyager at checkout. All of their paddles are lightweight, and because they come in three pieces they are easy to adjust, even when you're already paddling on the water. If you accidentally drop your paddle for any reason, the paddles do float in the water, though be aware that they tend to get caught up by currents and will float out of reach if you don't grab them quickly. Red Paddle Co paddles are constructed to be equal parts rigid and flexible, like their SUPs, so that they can help propel you through the water but resist shattering when dropped or stepped on. You will be paying even more if you don't already have your own paddle, but Red Paddle Co paddles are paddles you'll be using for years to come, even with other SUPs.
Pump
The first version of the Titan pump was one of our favorite manual pumps, so to see it get upgraded is a very exciting development. The chambers are now stacked front to back instead of side to side, making it easier to grip and stand on the pump without having to spread your legs out as wide. The action mode plug has been replaced with an easy to turn lever, making it even simpler to operate the dual-chamber, dual-action pump. We also like the small change of foldable feet, making it easier to pack this pump away compared to the Titan I.
We also have to highlight just how fast the new pump is, as we were able to inflate the Voyager 12'6'' in just five minutes, or about half the time as many other standard dual-chamber pumps.
This is one of our favorite manual pumps on the market, though we would like to see Red Paddle Co include a deflation nozzle to help make the deflation process easier.
Backpack
While the backpack might not have seen any significant upgrades, it is once again one of our favorite SUP backpacks. The backpack is built with double stitched seams and bonded nylon, forming a tough, all-terrain exterior capable of handling wind, water, sand, and the other elements you'll encounter on your SUP adventures. The interior features foil lining, which not only helps the bag be even more durable but also regulates temperatures on the inside, preventing your board from getting damaged on hot, sunny days. You can carry the backpack with one of the three carry handles, or use the adjustable straps to wear it like a traditional backpack. Rear integrated wheels will allow you to transport your 12'6'' Voyager through airports and on solid ground surfaces, making this a great option for those who want to travel long distances. The large backpack has more than enough room to pack in the 12'6'' Voyager and your paddleboarding gear, which is why you'll want to keep and reuse this backpack even with other paddleboards you may own!
Repair Kit
Included with every 12'6'' Voyager is a simple, basic triage repair kit used to treat minor paddleboard problems and injuries. The color matching adhesive patches will help you seal up small tears and holes as long as they do not occur on the seams of the paddleboard. The valve wrench actually has two uses, the first being to help you smooth out the adhesive patches and wipe off excess glue when applied. The main use of the valve wrench though is to tighten up the Halkey-Roberts inflation valve, which can come loose with repeated use.
For more significant SUP damage or performance issues, be sure to contact Red Paddle Co for assistance. You can find out more about their great warranty coverage, along with how to receive their 5-year warranty protection policy in the next section below.
Company Review – Red Paddle Co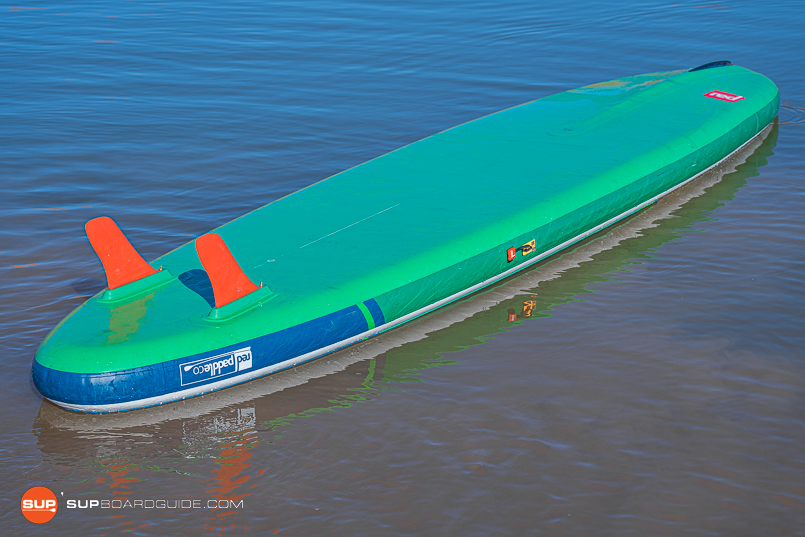 John Hibbard is the founder of Red Paddle Co, having started the company as he grew tired of using heavy epoxy SUPs and wanted to release his own lighter, inflatable alternative. What started as a simple idea for a iSUP has since grown to become one of the most recognizable inflatable paddleboard brands on the market, with twenty-two unique SUPs! Red Paddle Co produces unique paddleboards for nearly every type of paddleboarder, whether you want something for cruising or touring, for surfing or yoga, or paddleboards built with small kids in mind or for multiple adults in tandem.
Red Paddle Co also deserves to be commended for their eco-friendly practices, consisting of zero waste factories and 100% recyclable packaging for their paddleboards. With a pleasant and great customer support team, Red Paddle Co is definitely one of our favorite premium SUP manufacturers on the market!
Red Paddle Co SUPs, including the 12'6'' Voyager, feature a five year warranty if you follow the proper steps. Within the first three months of purchase, make sure to go to Red Paddle Co's website in order to fill out a short form. If you register your SUP, you will receive a comprehensive five-year warranty, one of the best in the industry. Failure to register your paddleboard will result in you only receiving a one year warranty, though Red Paddle Co is still helpful when it comes to their products outside of the warranty window. Furthermore, Red Paddle Co SUPs are built to last and withstand almost anything you can throw at them, so it's very unlikely that you'll ever need to rely on the company's warranty policy in the first place.
Conclusion/Bottom line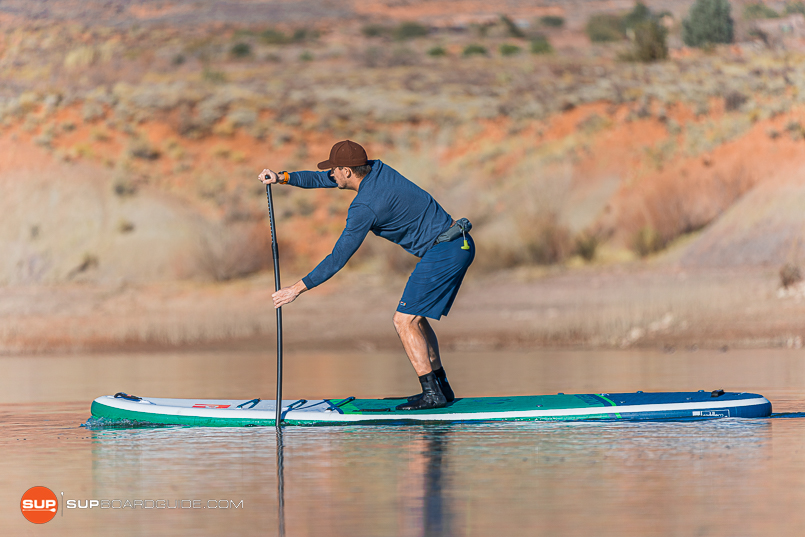 The Red Paddle Co 12'6'' Voyager is a stellar touring/adventure board in almost every regard, from the performance of the SUP to its great deck design and awesome accessories that come with the paddleboard.
The 240 lbs beginner recommended weight capacity is more than enough to support most adult sized paddlers, especially due to the stability support provided by using the dual side fin setup. The new V-Hull, displacement hull, and 12'6'' length provide a fantastic glide, along with excellent tracking and speed thanks to the way the V-Hull breaks through the surface tension of the water. The MSL construction is as great as ever, and complemented by the reinforced taped rails and RSS baton system, this is an extremely rigid SUP that makes every trip to the water an absolute joy. The RED deck is grippy and accommodating for touring adventures, and is further enhanced by the extra D-rings and new flat bungee cords that now mark the paddleboard.
The US style fin boxes provide great fin customization options, though you'll fall in love with the FCS II fins packed into the kit due to their quick and easy installation. The other accessories are also stellar, from the new and improved Titan II pump to the familiar but just as trustworthy Red Paddle Co all-terrain travel backpack. This is an extremely expensive paddleboard, a kit that will cost even more for those who don't already have their own SUP paddle. However, if you want a board that is among the best touring paddleboards on the market, you will definitely want to consider checking out the Red Paddle Co 12'6'' Voyager!
Thank you very much for reading our review of the Red Paddle Co 12'6'' Voyager inflatable SUP. If you have any lingering questions about the 12'6'' Voyager, or want to learn more about getting into paddleboarding in general, you can leave a comment below or send up and email with your thoughts. We are working hard to become the best paddleboard resource on the internet, so be sure to also visit our other paddleboard reviews, instructional guides, and in-depth video breakdowns. With your help, we can make SUPBoardGide.com a helpful paddleboard resource for new and experienced paddlers alike!
Be sure to let us know what you think of the Red Paddle Co 12'6'' Voyager!
The following two tabs change content below.
Justin - Chief Paddler
Heyo! At SupBoardGuide.com we are a team who love the water, the outdoors, and are more than grateful that our full-time job allows us to review stand up paddle boards. We paddle year round (it helps that we are just about 2 hours outside of Las Vegas), and we bring in a wide range of paddlers with the goal of providing our readers with the best, most in-depth, and accurate stand up paddle board reviews.
Latest posts by Justin - Chief Paddler (see all)