Outdoor Master Whale Electric SUP Pump Review
Pros
Built-in rechargeable battery = portability
Sturdy construction
Integrated LED flashlight for early morning/night paddles
Included wall outlet adapter for easy charging
Battery life included on the digital display
Cons
Difficult to fit cords in storage compartment
16 PSI cap (this is not a con if your board only need 15 PSI)
The Whale Electric SUP Pump is Outdoor Master's newest addition to their electric pump lineup. We've been super happy with the Shark II, their other electric pump, so we were stoked to try out this portable option. Over the course of this post, we'll be doing a detailed review of the Whale Electric SUP Pump with a goal of providing you all the info you need to make an educated purchase based on your preferences and lifestyle.
We think the Whale Electric SUP Pump would be a great fit for a paddler that needs something portable and versatile for an inflatable board in the 12-15 PSI range. While it is a bit higher priced than some other electric pumps with a battery pack option, the inbuilt battery gives this pump an edge as it's a compact, cohesive unit.
Outdoor Master Whale Electric SUP Pump Review: Overview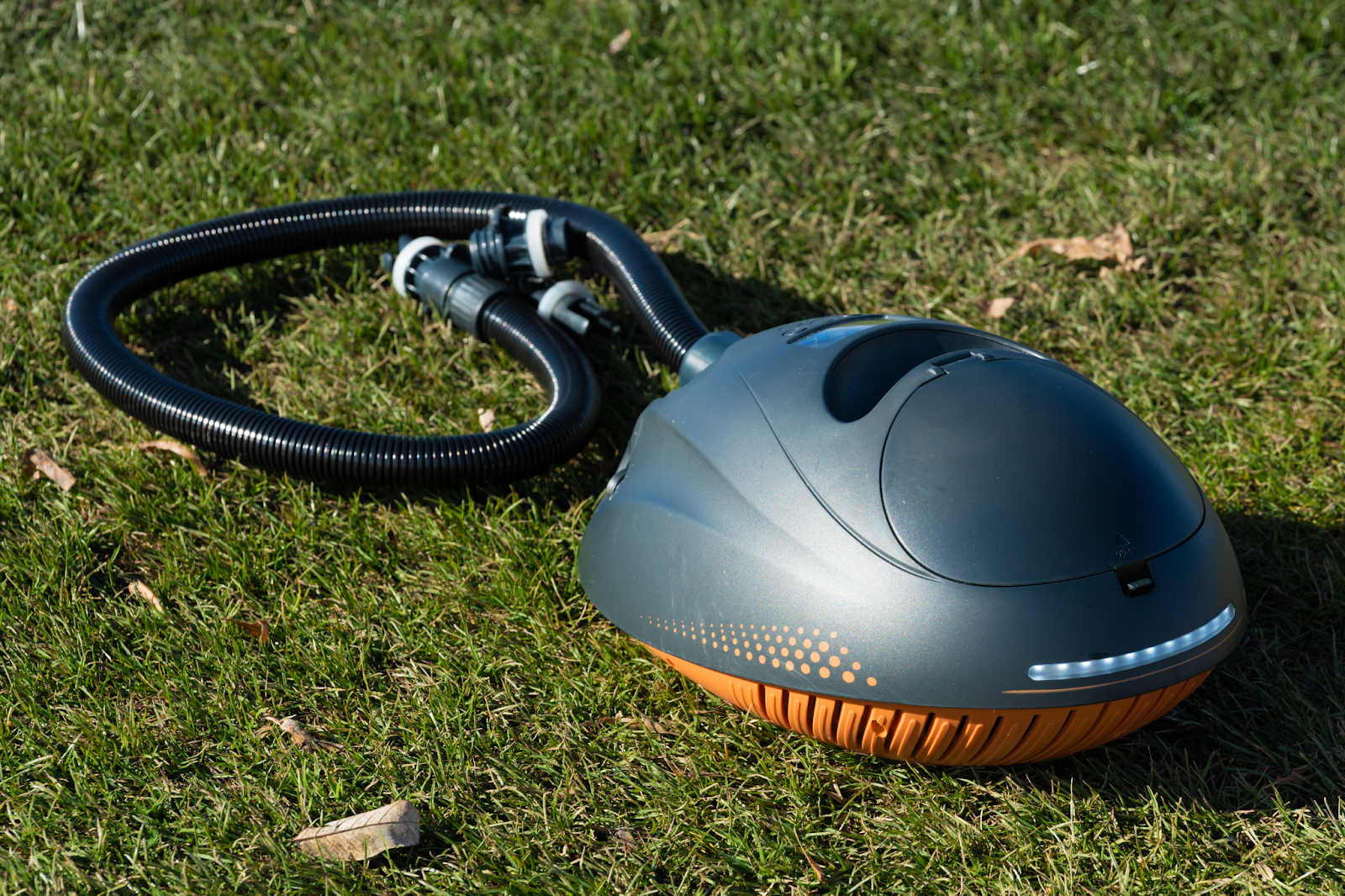 We paddle quite a lot and when we do we always grab one or more of our trusty electric SUP pumps. While it would be wrong to purposely test these pumps until failure, we can say we have put them in some pretty tough conditions as we went about getting ready. We can provide honest real world feedback on these pieces of equipment so you know what you're buying will work when it needs to.
Outdoor Master's Whale Pump is the best option for paddlers that are focused on portability and do not need to inflate above 16 PSI. If you're someone that wants that same portability, but needs to inflate a higher PSI board such as a BLACKFIN, iROCKER, or SeaGods SUP, our recommendation is to go with the Shark II SUP pump and pair that with an iRocker Battery Pack.
Outdoor Master Whale Electric SUP Pump: Spec Sheet
Main Category: Accessories / Electric iSUP Pump
Dimensions: 14.56" X 8.66" X 6.69"
Listed Max PSI: 16 PSI
Warranty: 1 Year
In-Depth Review of the Outdoor Master Whale Electric SUP Pump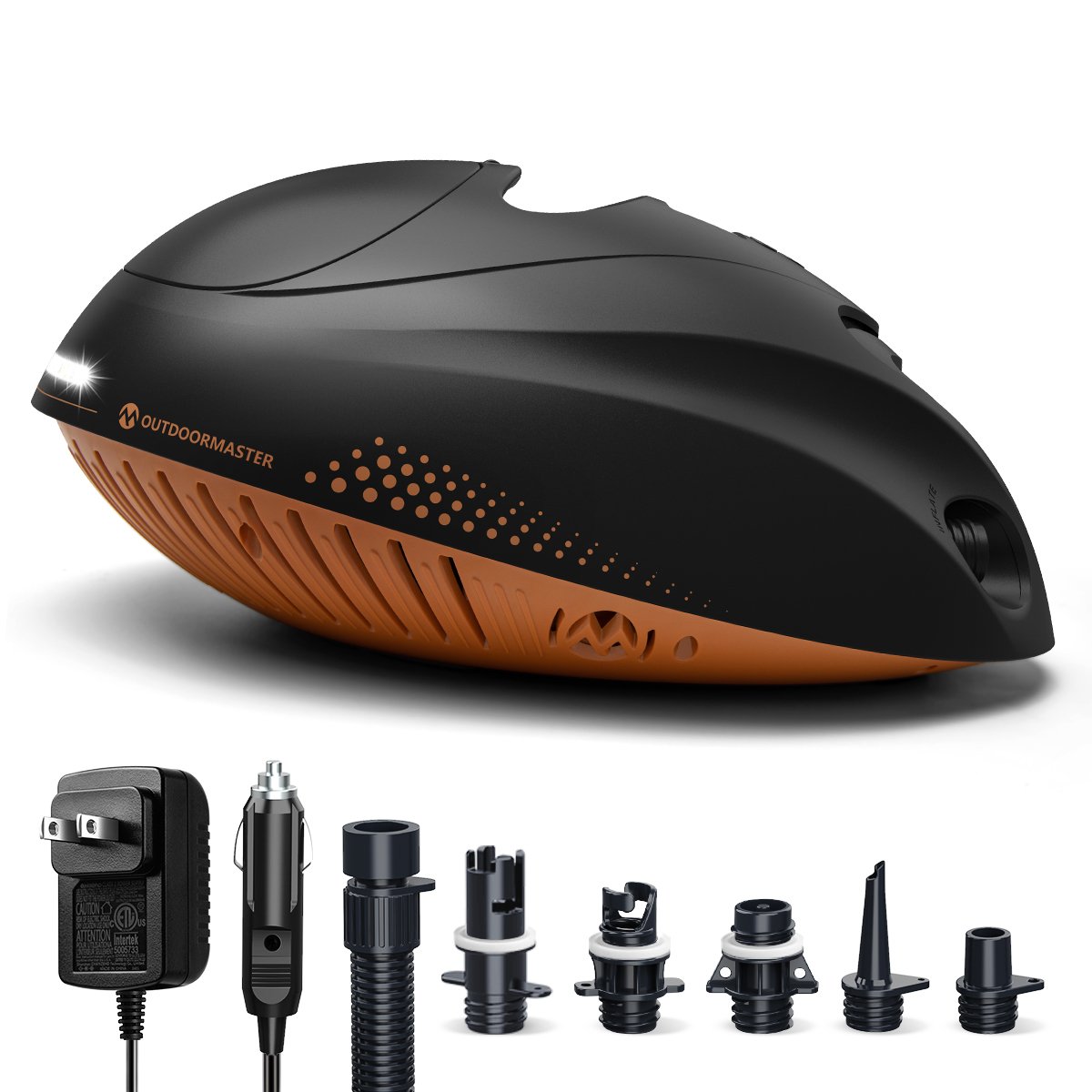 As we said earlier, we've been big fans of Outdoor Master's other electric pump option, the Shark II, so we were super excited to try out the Whale Electric SUP Pump to see how it would compare. Although we have not put this pump through as much use as we've put other pumps such as the Shark II and iRocker's 12V Electric SUP Pump, we have a lot of confidence in Outdoor Master's ability to construct a durable, portable pump that will get you out on the water without breaking a sweat on land. With that said, let's jump into our detailed review.
Performance:
This section focuses on how the unit performs, both in regards to the manufacturer's specifications as well as during our day to day experiences with them.
Battery Life
I inflated 6 boards of varying sizes and max PSI's on one full charge of the Outdoor Master Whale's inbuilt rechargeable battery. Essentially, I was about to put it through about 2 max use cycles. I want to emphasize here that this is super impressive compared to other portable battery packs we've tried out. It's typical to be able to pump up 2 or 3 boards on one full battery pack charge, so we were stoked to see The Whale nearly double that record.
Stay tuned for more testing done with the same sized board. This result also may vary depending on your environment. It is still winter here as we tested this pump, so I would advise more caution in hotter climates or recommend placing your pump in the shade.
Use Time:
Outdoor Master recommends 15 minutes of rest for every 30 minutes of use on the Whale. This is about 2 boards in a row before needing a fairly substantial break. While we'd love to see the use time increased and a smaller rest period, this is pretty standard for most electric pumps to avoid overheating. We also want to note that this estimate by the manufacturers leans on the safe side to save customers from any mechanical issues, but we have used this pump for longer than the recommended time without immediate issues.
Of course, we do not recommend pushing the use time of your own pump as it could cause some long term damage that we have yet to realize, but just want you to know that the max use and cool down times are not always written in stone.
Max PSI:
The Whale Electric SUP Pump can inflate up to 16 PSI, and I have had no problem with it reaching that selected pressure. Usually 16 PSI is enough for most boards within the 12-15 recommended PSI range, but if your board needs 18-20 PSI, this will not be the pump for you.
Again, if you need to inflate above 16 PSI, but still want an aspect of portability, we'd recommend going with the Outdoor Master Shark II and connect it to the iROCKER Battery Pack as well.
I want to note here that the other portable pumps on our list of the Best Electric Pumps, including the SereneLife Rechargeable pump, also have a PSI cap of 15-16 PSI when using the portable power bank. We're not exactly sure why this is the case, but will be reaching out to Outdoor Master to understand where the 16 PSI cap comes from and updating this page when we hear back. I don't want to knock Outdoor Master for not being able to reach that 20 PSI cap with the Whale Electric Pump, when others in the market have not done so either.
With that in mind, I would not be surprised to see Outdoor Master make updates to this pump in the future, as they did with the Shark II electric pump, when they are able to meet that 20 PSI cap.
Speed:
Inflation Speed is largely relevant to this size of your iSUP. Obviously a larger board or one that requires a higher PSI will take more time to inflate and vice versa. The Outdoor Master Whale Electric SUP Pump was not the fastest in our lineup, but not by a massive margin. Connected to my car's power, it inflated a 10' iRocker to 18 PSI in 12 minutes and 11 seconds, which is only about 1 or 2 minutes slower than the other pumps we've tested. The time was roughly the same when relying only on the inbuilt rechargeable battery.
Construction: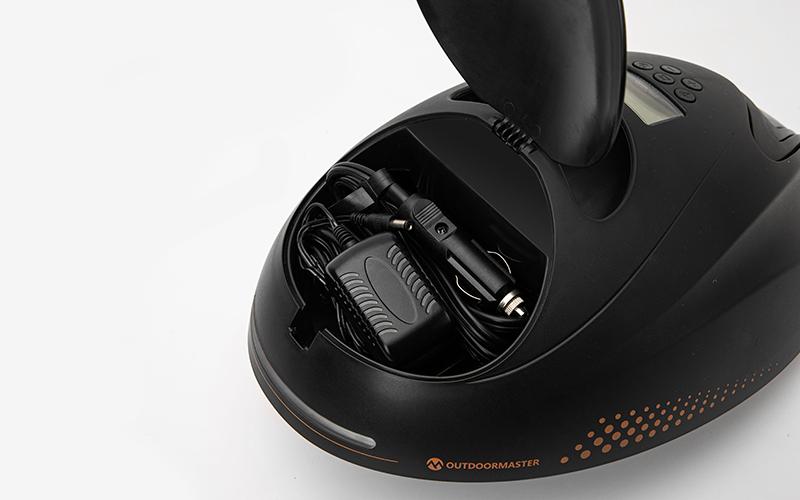 Here we will be discussing the general aspects of how well Outdoor Master's Whale Electric SUP Pump holds up to use considering its overall construction, as well as its included features. .
Durability:
Externally, this pump is constructed using standard plastic. I would expect it to hold up to being lugged along in an iSUP bag or in the trunk of a car, but you'd definitely run into issues if it was dropped onto a hard surface. The tube seems to be heavy duty given its stiffness and is fairly easy to get a tight fit on both the inflate and deflate attachment points. Initially, the stiffness of the tube may seem annoying if you're used to the flexible manual pump tubes, which would likely melt when subjected to the amount of heat that the high speed airflow of an electric pump creates. The 5 included nozzle attachments and cigarette lighter seem sturdy as well, which gives you a bit of versatility in using this pump. We also had no problems with the portable power bank and were able to inflate about 6 boards on a full charge.
Internally, the Whale electric SUP Pump has a cooling mechanism to avoid the issue of overheating as well as a built in sand filter to help keep air flowing efficiently while getting ready at the beach. It also has a digital pressure sensor that enables it to transition between its first stage of inflation that is dedicated to maximum speed and its second stage of inflation that focuses on meeting your selected pressure without burning out the pump. The digital pressure sensor contributes to the auto-shutoff function too, further lowering your chances of burn out.
Features:
The Outdoor Master Whale Electric SUP Pump is comparatively small and lightweight at just 3.6 lbs. I liked the recessed handle that makes this pump easy to carry around without sticking out and being in the way. I do think the rounded oval design is a bit awkward to store and causes the pump to be a little squirrely when attached to the stiff hose during inflation, but that's me being pretty nit-picky. I also really like the idea of the cord storage box located at the back of the pump, but I could not get the cord to fit without the latch constantly popping open. If the box was larger, you would have the ability to fit the cord and maybe even the 5 included nozzle pieces.
Like most electric pumps, the Whale uses a digital display to allow you to select your pressure in either PSI or BAR and monitor both the real time pressure and battery life while your board is inflating. We liked that there are two buttons for either increasing or decreasing pressure. Some pumps only allow you to go in one direction, so you'd have to cycle through all the pressure options to go higher or lower.
What we liked the most about this pump is the built-in rechargeable power bank, as well as a wall charging adapter included with the purchase of the pump. We have seen other brands develop a portable power bank of their own but require a separate purchase on top of the purchase of the electric pump. Another unique feature on this pump is the integrated LED flashlight located on the back. This is super convenient when you're prepping for an early morning or late evening paddle. Outdoor Master has made this a comprehensive unit, and really emphasizes that the main difference between the Whale and the Shark II is portability.
Cost:
Although this section seems pretty straightforward, the price of the Outdoor Mater Whale Electric SUP Pump is subject to some fluctuation. At the time that I am writing this, the Whale is listed at a somewhat higher budget price-point, but is well worth it if portability is your main goal when SUP pump shopping. Outdoor Master (and most other SUP brands) will also usually offer discounts with the purchases of more than one item from their SUP line. For example, if you purchase a board kit and a kayak seat, you may get a percentage off of the price for either of those purchases, and even more off of the price of a third purchase.
Warranty:
As with the rest of Outdoor Master's SUP line, they offer a one year warranty on the Whale Electric SUP Pump, should any aspect of it be broken within that time frame.
Summary Review of the Outdoor Master Whale Electric SUP Pump (2022 model)
Overall, we were pretty impressed by the Outdoor Master Whale Electric SUP Pump. While it's difficult to compare to pumps without an in-built battery, I would argue that it is one of the best portable pumps on the market if you have the budget for it and really want a cohesive 'go-anywhere' pump.
I am excited to see how Outdoor Master continues to develop this electric pump.
Happy paddling! We hope you enjoyed this review of the Outdoor Master Whale Electric SUP Pump. If you have any questions or comments please let us know!
The following two tabs change content below.
SupBoardGuide
Heyo! At SupBoardGuide.com we are a team who love the water, the outdoors, and are more than grateful that our full-time job allows us to review stand up paddle boards. We paddle year round (it helps that we are just about 2 hours outside of Las Vegas), and we bring in a wide range of paddlers with the goal of providing our readers with the best, most in-depth, and accurate stand up paddle board reviews.
Latest posts by SupBoardGuide (see all)