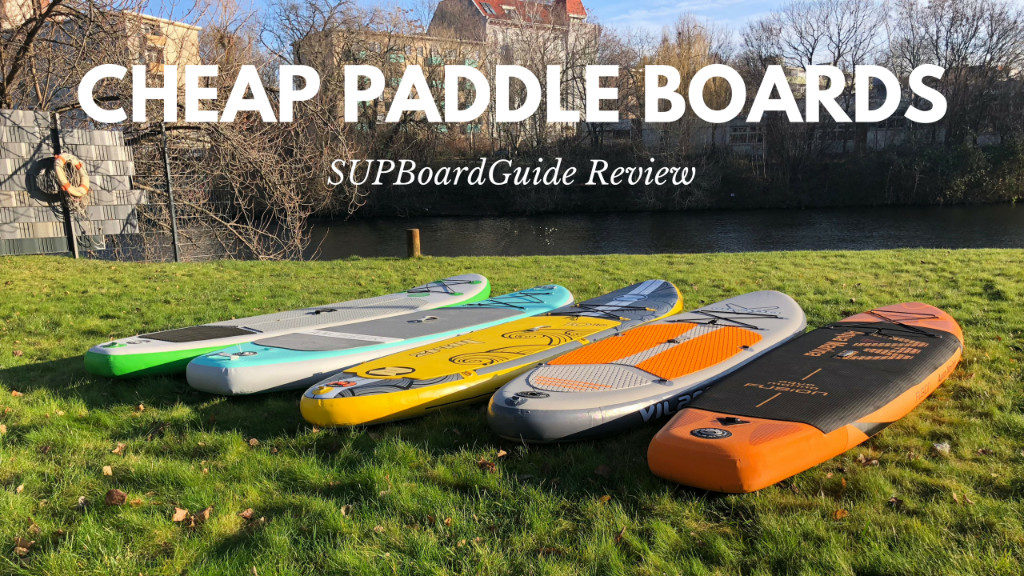 Post by Sarah Sackville
Is that wallet feeling a bit light? Still super keen to get out on a SUP though?
Next thing you're probably wondering is, is it possible to buy a decent SUP for under $500?
We've tested six of the best-selling inflatable paddle boards (Gili Air, DDM, Ancheer, Zray, Vilano and Aqua Marina) with an RRP of less than $500. While we liked some and think they are worth their money, others really disappointed us, and we wouldn't recommend them at all.
June 14th Note: The one board we would recommend is the Gili Air. We only got to test it recently and liked it so much we had to update our "Cheap Stand Up Paddle Board" list to include it. Check out our recommendations below. We've listed them in order of what we believe is worth your time.
Quick Answer: The Best Cheap Inflatable Paddle Boards

Length
– 10'6″
Width
– 31′
Thickness
– 6″
Weight
– 19 lbs
Max Capacity
– 280 lbs
What You Get
– Pump
– Removable fin
– Adjustable 3-piece Aluminum Paddle
– Carry Bag
– Ankle leash
Board Design (Materials, construction, and aesthetics)

You still get a single layer board when going with the Gili Air except there is something about this board that feels different. Perhaps the quality of construction. The single layer PVC does also make it extremely lightweight, which is great for carrying and manoeuvring but not so great for durability.
However, upon inspecting the seams and how well the features (including deck pad) are glued onto the board, it would seem it's well put together. As a result, we felt like the board would survive the usual amount of bounce and knocks you'll have on a casual paddle.
The deck pad is extended over the rails just slightly which makes for huge amount of room to move about as well lay about in comfort. If you are choosing to do yoga or just have a relaxing lie down, the handle folded out flat to make it even more enjoyable. We were surprised to see this small feature! Budget boards tend to not pay attention to these finer details.
Brilliantly blue and bold, the colour scheme is a stand out. My favourite color is blue so perhaps I'm slightly bias. With a bit of black trimming around the grey deck pad it makes for a striking appearance.
Performance

For a single fin budget board, the Gili Air does deliver. Aside from the fact it's ridiculously stable, it can move. We put the speed increase in comparison to say DDM's board because of the Gili being so light. It didn't take much to get going at all.
Stability is always a huge point for people starting out so it needs to be highlighted how ridiculously stable this board was to paddle. The squared off tail is a huge agent in stability especially for a single fin. You see the same design with Red Paddle Co Sport and iRocker's Cruiser.
In our opinion we think All-Arounds should always have tri fin setups either fixed or more desirably removable. Though you don't see that until you creep up the ladder to mid-range boards. On this list only DDM and Ancheer have the tri fin setup. However, the overall value of the board in the Gili Air was so much higher that we excused its single fin setup.
Because of the stability throughout the tail and how light it is, doing back foot turns was incredibly easy. Now the Gili is still a chunky buoyant board so it won't be comparable to boards like the ERS but putting it up against the other boards on this list, it shines brighter than the north star.

Accessories Quality
Pump (5/5)
The pump you'll receive is also a Bravo dual action just like DDM's board. You really consider yourself lucky to receive this kind of equipment in this price range. You know the company is really considering the consumer by including it. Pumping up your SUP is the most time consuming and finicky part of owning an inflatable. So a good quality pump makes a HUGE difference in the long run.
On top there's an integrated pressure reader and the bright red dual action plug is easily spotted to be used.

Adjustable 3-piece Aluminium Paddle (4/5)
We gave this paddle one better raing than Daves as we believe the blade is a better quality. It's got a pronounced dihedral shape for propulsion and the blade feels as durable and tough as a pair of Italian leather hiking boots.
Its shaft is aluminium as are all the other paddles here. It did move around a little which we suggest could impact your paddle performance. What this board offers outside of the paddle, it's worth either buying a half decent paddle or using one from the huge SUP quiver you're going to build.
Fin (3/5)
Alas why couldn't you be a tri fin Gili! You would have had us more shocked than when Coyote finally caught the Road Runner. (Has that actually ever happened?). Though as a single fin it still performs well thanks to the complimenting shape of the tail.

Backpack (5/5)
The design on the Gili Air backpack is super cool. We wanted to steal the bag for our own personal purposes! It's also got the most support and padding on the straps and back area out of this whole list. The downside is that it's a touch small. It can be a bit of a cram to get everything in if you don't roll that board reeeeeeal tight. However, it's still way better than anything else we've seen in this price-range.
Repair Kit (5/5)
Including a repair kit is such a simple but much appreciated gesture. All repair kits are a standard couple of patches, glue and wrench. Not that I've ever had to use one on a board yet, but, I would be very happy to have one included if I needed it. Much better than waiting for someone else to fix your SUP!

Ankle Leash (5/5)
The only board here that includes a leash! And a pretty color coded one too! Not that you'll be wanting to take single layer PVC board into harsh conditions where a leash is vital. But, it's a security measure that is not a bad idea for kids or people that aren't strong swimmers. I've fallen off a few times awkwardly and the board is pushed away with the force of my fall, requiring me to swim after it.
What We Do Like
Squared off tail for stability
The 4 D-rings with bungee cord on the nose
A supportive and comfortable bag
The only board that includes all accessories including a leash
Good manufacturing
What We Don't Like
It's lightweight nature makes it not suitable for even a slight wind
Heavy and loose paddle
Only a single fin setup
#2 DDM (Dave's Discount Motors)

Length
– 10'6″
Width
– 30′
Thickness
– 6″
Weight
– 27 lbs
Max Capacity
– 300 lbs
What You Get
– Pump
– Removable fin
– Adjustable 3-piece Aluminum Paddle
– Carry Bag
Board Design (Materials, construction, and aesthetics)
Introducing the only SUP on this list that has mid-range quality materials. All of the other boards are single layer PVC over a drop stitched core. Dave's is as well. However, unlike the other boards featured here, the materials used are very thick and durable (3-ply Korean PVC). Even though it's not quite as stable and stiff as double-layer boards, the difference compared to other boards on this list is significant.

The downside is that the thicker, higher quality materials make the board heavy compared to the other boards on this list. In a higher price range, this would be something to complain about. For boards costing less than $500, this is actually a good thing because the DDM SUP feels like an actual paddle board and not like a pool toy. If you compare Daves to the other SUP's here, you'll see a 10-pound difference in weight, that's why we mention it's heavy.
While the color schemes and designs available (blue, red and green) are simple, they are done well. Other budget SUPs have tried to do prints, like the Aqua Marina, but don't have the quality to back it up. The result is a bit overwhelming and tacky. We much prefer this simple two-color design.
We found the deck pad to be of a decent quality – comfortable and doesn't peel off like the Vilano Navigator tends to.
Performance
While you can't expect high performance from a low-price SUP, Dave's SUP is going to be the closest to a higher quality board.
It's the most stable out of the 5 boards we tested because of one major reason. Its materials are strong and sturdy. All the other SUPs featured use very thin PVC, and it has a significant impact on how that board performs. The DDM is more stable and you will experience less flex than on any of the 4 other boards we reviewed in this price range. However, it still doesn't quite compare to a double-layer board.
The paddle does play into performance, so for the sake of this board being a catch for price vs. value, upgrade that paddle! It's worth it. Some of these other SUP's will only be good for very occasional use, so the paddle doesn't matter too much, but with Dave's you will get a fair amount of enjoyment from it if you look after it.

Deciding to go with the tri-fin setup means this also the closest SUP to living into the title of an All-Arounder. While we still don't suggest using this in the surf, it will tackle chop and maybe a small wave the best. The tri-fin setup helps with maneuverability and also stability! Both useful in those conditions.
We made the above comment about not tackling surf because of the shape. It's quite bulky, and the nose isn't streamlined nor has a decent rocker. You need both those features to be able to cut through water easily. Talking of cutting through the water, you'll find that Dave's and the Ancheer are the fastest SUPs here.
Accessories Quality
Pump (5/5)
Yeah! A Bravo 4 pump. We were amazed to see a pump like this included considering the price range of these SUPs. The Bravo 4 is currently the gold standard, and many more expensive boards don't even include one. If you want something better Red Paddle Co's Titan pump is the only one that comes with a board and those boards cost almost three times as much.
So this guy, is a dual action. It means you'll get twice the results for half the effort of a single action! Air is pushed into the SUP as you pull up and push down. Double whammy! These are good pumps, so it's an outstanding addition to a budget SUP.

It's also got the integrated pressure gauge to keep your eye out for the 15 PSI mark. But wait there's more! You'll also get to enjoy fine features such an inflate/deflate option.
Adjustable 3-piece Aluminium Paddle (3/5)
We know we were punching with a pump like the Bravo 4 in this price range, so we aren't too surprised to see a paddle on the lower quality end of the scale. Heavy much like all the paddles that come with less expensive SUPs (2.2 lbs). It does have a few notches up on say the Vilano Navigator.
Fin (5/5)
Daves Motors and Ancheer are the only boards staring in our cheap SUPs article that have a tri fin setup. The center fin is removable, the other two side fins are fixed. The center fin is put in place by a screw. Toolless insertion is a win!
Along with the center fin, you also get little inflatable floaties to protect the side fins. We thought that was a lovely gesture!
Repair Kit (5/5)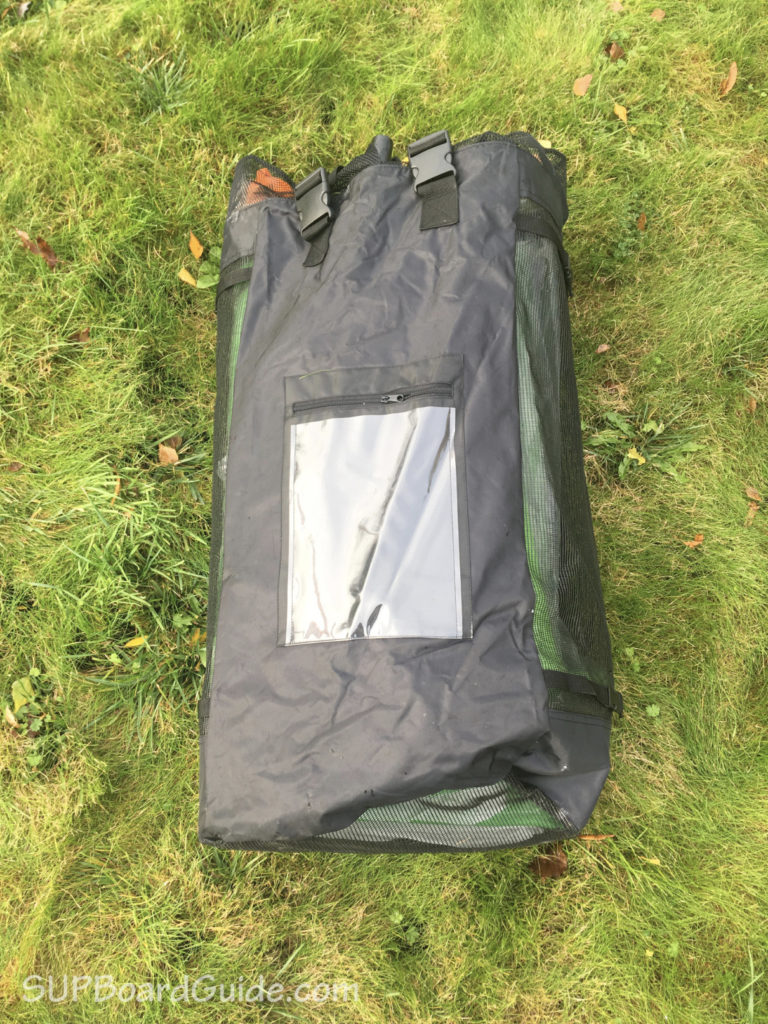 The only SUP on this page that gives you a repair kit! And also being the strongest on the list, it's a little ironic. It's a standard kit with patches, glue, and a valve tool.
Backpack (3/5)
The backpack included is one the standard designs and the same one you get with the Ancheer. They easily carry your SUP and gear but not for long distances. Without much padding, you'll get sore shoulders soon. We also don't particularly love the feeling of fins digging into our back. Though, compared to the piece of material you get with the Aqua Marina, it's something straight out of NorthFace!
We've seen this same bag on the Scott Burke – sadly ours ripped the first time using it.
What We Do Like
It's got a tri-fin setup
The 4 D-rings with bungee cord on the nose
The accessories are the best on the whole list
Design is simple but effective
Good strong materials
What We Don't Like
It's heavy (but we also kind of like that, see above)
No ankle leash (but you can buy one seperately)
No rocker for surf/chop
The paddle is heavy

Length
– 10'6″
Width
– 30′
Thickness
– 6″
Weight
– 18 lbs
Max Capacity
– 240 lbs
What You Get
– Bravo 4 Pump
– Removable fin
– Adjustable 3-piece Aluminum Paddle
– Carry Bag
– Ankle leash
Board Design (Materials, construction, and aesthetics)

Ancheer is the second board on this list that offers reasonable value for money. It's made using a 0.9mm military grade single layer of PVC. It isn't as rigid or thick as the DDM and nowhere near as good as the iRocker Cruiser or Thurso Waterwalker, and it does face issues with flex and rigidity, especially among bigger riders but nothing like the other SUPs listed below. Though having a tri fin setup does help with the balance and stability of this board. You are losing out a little on speed, but then again, compared to the other SUPs, you'd still probably come out on top thanks to the shape of the Ancheer.
While many of the others listed have been pumped out in a generic SUP matter, the Ancheer does have a little more performance throughout its body. We also love it's included handle on the nose and tail as an extra small feature.
Talking about more small features is the storage area. All other SUP's we have reviewed only have 4 D-rings for storage, but the Ancheer has 6. That tiny bit of extra room can make a huge difference!
Another part of this SUP as to why it made its way to #2 is the color! Look at that vibrancy! Relaxed blue or mottled green deck pads make you go fast!
Update: This is what happens when you use the Ancheer on a hot day.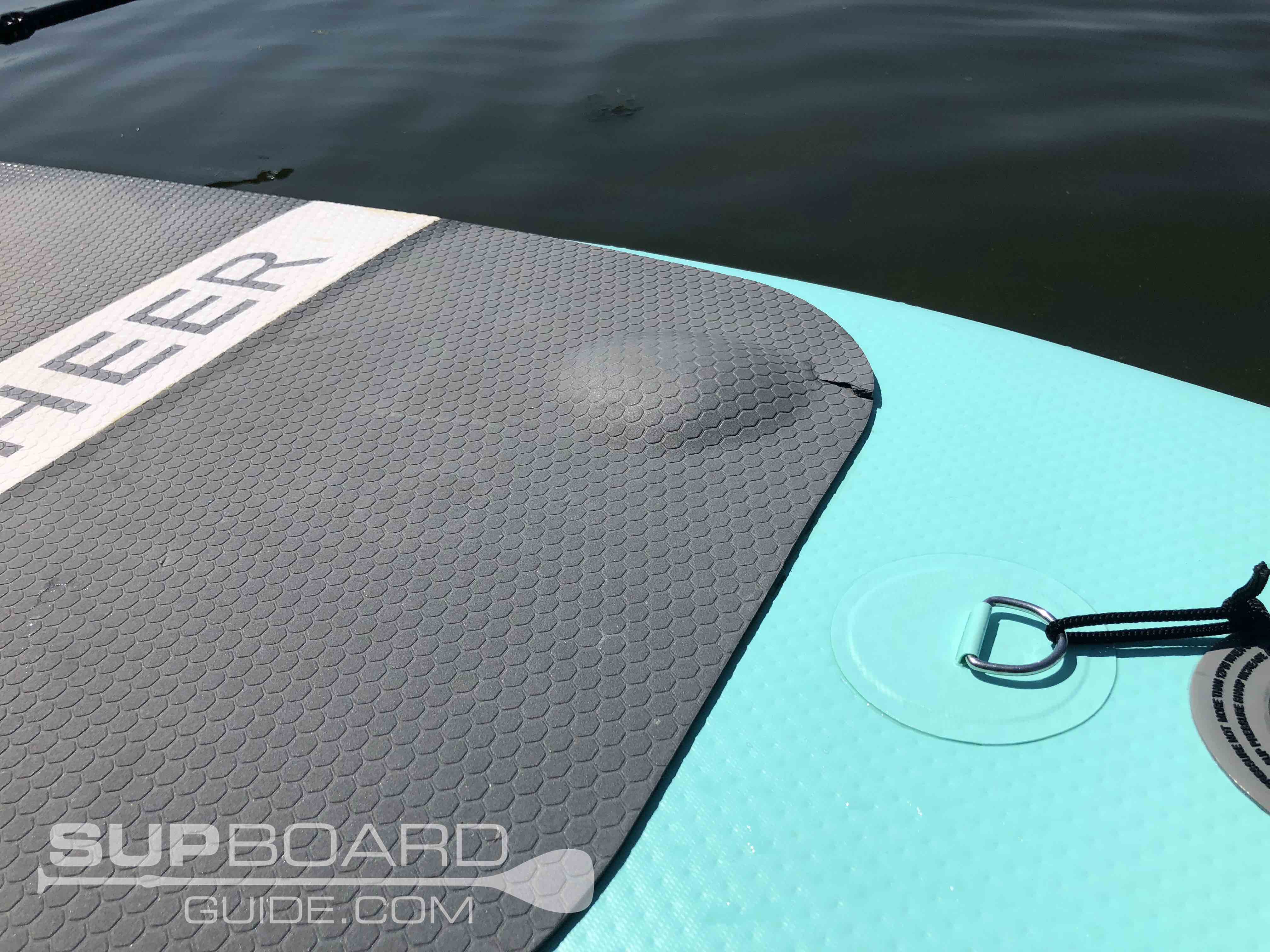 Performance
Getting out on the water with the Ancheer will be a better experience than most of the other boards though there is a big BUT with this one.
The capacity is low and materials thin, so if you are a bigger rider, you definitely want to look at other options. For females or kids, on the other hand, the Ancheer could be an interesting option since it's super light-weight and easy to handle. We weighed the board, and it's just 17.5lbs.


We feel it necessary to include that you will have a hard time as a bigger rider shopping in the lower quality SUP range for the common flex problem they have.
Now if you are a light rider, the Ancheer will hold you and glide you through the water. The speed of that glide will be subject to your paddle and technique though.
This isn't a fast board, but none of these SUPs listed are.
We do find it to be the more stable board of the lot (Dave's being the most) which helps with performance and can also make for a great sports board, SUP yoga anyone?
Accessories Quality

Pump (5/5)
Ancheer includes the same Bravo 4 pump that Daves does. It's a surprising addition for a budget SUP to include such a quality pump. It's dual action meaning you pump your SUP up with every push up AND down. Which, you guessed it, means way less effort. As well as built-in pressure gauge to watch for your optimum 15 PSI and the inflate/deflate option. You can't get much better than that! It's honestly one of the best hand-pumps on the market.
Adjustable 3-piece Aluminium/Plastic Paddle (3/5)
Again, not the best paddle on the market but a decent paddle to be included in this price range. It adjusts, breaks down and seems to be reasonable quality. Unlike some other paddles mentioned further down, this paddle appears to be sturdy. It's still heavy (2.1lbs), but you can't expect much more in a budget SUP package.
Fin (4/5)
You'll find three fins on the Ancheer. The two side fins are fixed however the center fin is removable. The fin does a great job at tracking and is made of a durable plastic.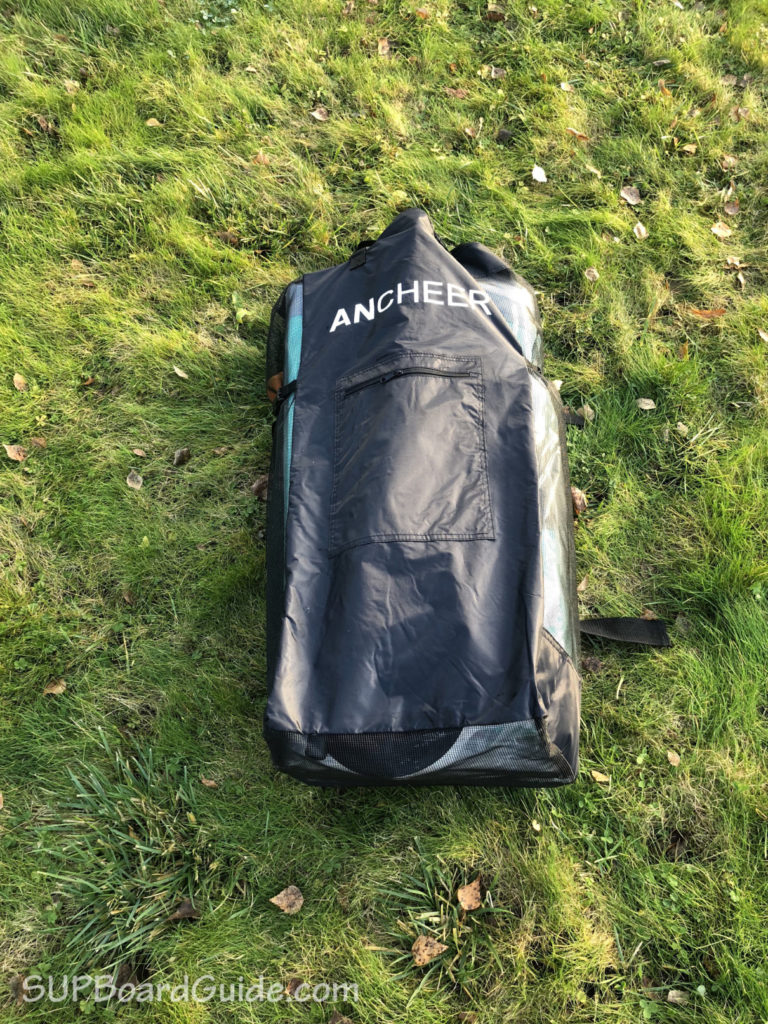 Backpack (3/5)
Again, we can't go expecting the best of the best for paddle board in this price range. We are also a little spoilt having the chance to test out higher quality boards often. So while the backpack isn't comparable to say that of bigger brands like iRocker, Red Paddle Co, etc., it is still a decent bag for the price you pay.
By no means will you want to go hiking with it but it will transport your goods easily. Like we already mentioned before, we have seen this same bag before. We got one with our Scott Burke SUP and it, unfortunately, ripped after the first use. While this was probably the exception, don't expect to use the backpack forever.
Coiled Leash (5/5)
Drum roll, please! Here we have the only SUP including an ankle leash. Seeing as it's a vital addition for your safety and relatively inexpensive to produce we're surprised the other boards didn't include one. To be fair, Dave's does have one for separate purchase though.
What We Do Like
Great pump and decent bag
Even though single layer PVC, feels a bit more durable than the others
The extra storage area
Having multiple handles
Stability
Comes with a leash
What We Don't Like
Single layer PVC
Not a good paddle
More of a rocker would help with performance

Length
– 10'10"
Width
– 30′
Thickness
– 6″
Weight
– 17.9 lbs
Max Capacity
– 320 lbs
What You Get
– Pump
– 3-Piece Aluminum paddle
– Removable fin
– Carry Bag
Board Design (Materials, construction, and aesthetics)

Zray is a step up one the Vilano Navigator with their materials. They have reinforced the side of their boards with an extra layer of PVC tape. The only issue is that there still seems to be only one layer of PVC on the outer core of the drop stitching.
The same as most other SUPs here, it means, yes, it's lightweight, but it's not durable or stable. Well not compared to the mid-range SUPs that are at least double layered. Thin materials tend to flex, be easily sun affected and just don't feel quite as rigid.
There is no real way to tell unless we were to hack a board apart (which we don't want to do) but it seems the drop stitching quality also may not be on par with the mid-high range SUPs. Which also adds to the Zray X2 not feeling as stable.
We do like the color scheme though! It's bright and has personality. Not only is it nice to have a SUP that is a bit vibrant, it's a matter of safety in busy water.
Performance
We're going to assess the performance in accordance with this SUP being advertised as an All – Arounder. Now, as long as you upgrade your paddle, paddling this guy around on flat water can be fun for a light paddler.


Zray claims that it can hold more than the Navigator, the Fusion and Daves and the Ancheer. We doubt that. We tested it up to 175 lbs and could already feel it flex, so we highly doubt that it will support anything close to the advertised 320 lbs.
Now, where there is also a bit of false advertising. We wouldn't call it an All-Aroundner. For light paddlers, it's ok on flat water. Open water or even the surf you definitely want to stay away from.
Accessories Quality
Pump (1/5)
Terrible pump. Single action, no inflate/deflate option either. It'll do the job, but in about three times the time you'd usually get it done in.
Which maybe you don't mind for paying such a low price but if you plan on using your SUP regularly, invest in something better.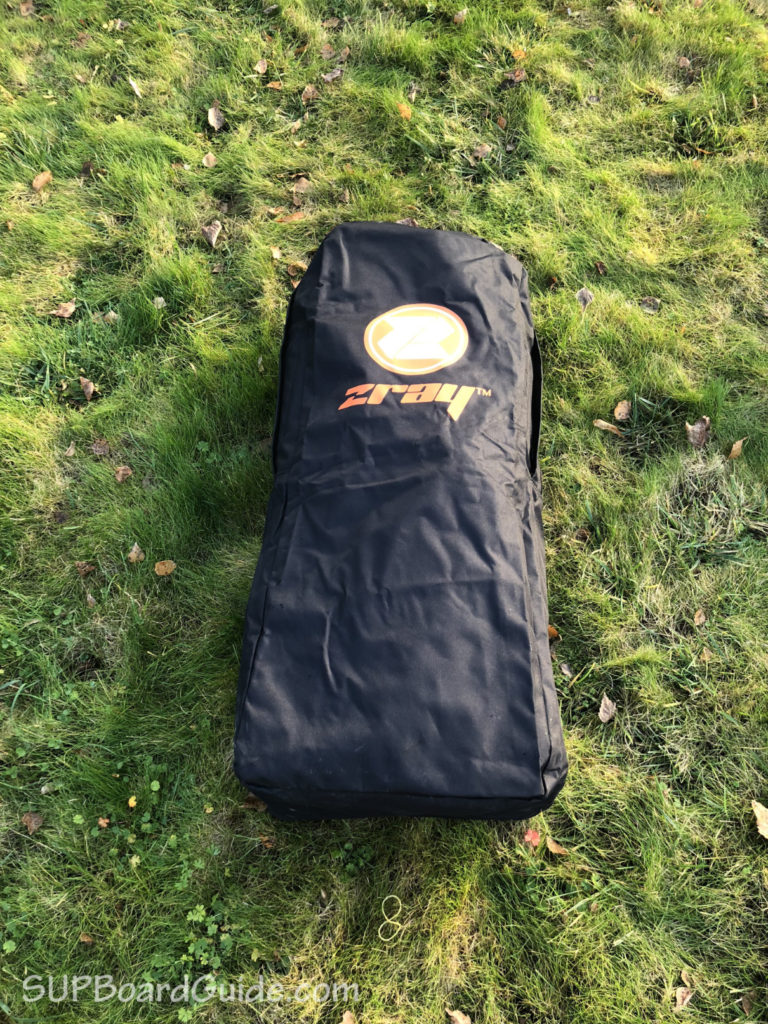 Paddle (2/5)
Another heavy paddle! A little heavier than the Navigator even at 2.2 lbs. We found the handle twisting significantly, which makes paddling pretty difficult! It's hard to come by a decent paddle when looking for an inexpensive SUP package, but it's possible to have one that is still usable. The Ancheer and Dave's are a little better.
The paddle blade is also pretty soft and will bend. That means a lot of energy is lost paddling fast.
Fin (3/5)
This SUP is a single fin only. The fin itself is 8.6 inches, which is a good size for tracking purposes. It fits in easily too. The only issue is that as this board is advertised as an All-Arounder, it should include side fins. We'll cover that more in the performance too.
Backpack (3/5)
Nothing flash hot, but still does the job of transporting your bag. There are worse backpacks in the mix like the Aqua Marina Fusion. Since the board uses very thin materials, it also rolls up very small and is easy to transport. You will find that the backpack, like the Vilano one, is small compared to others.
What We Do Like
The look of it
D-rings with bungee cord for storage
You can attach a kayak seat, and you have a sit on top kayak! (Just need the paddle)
The color scheme
They are a watersports company not just a "we make anything" company
What We Don't Like
The accessories – namely the pump and paddle
It's advertised as an All-Arounder but wouldn't go well in the surf

Length
– 10′
Width
– 31′
Thickness
– 6″
Weight
– 17 lbs
Max Capacity
– 250 lbs
What You Get
– Pump with integrated pressure gauge
– 3-Piece Aluminum paddle
– Removable fin
– Carry Bag
– Shoulder Strap
Board Design (Materials, construction, and aesthetics)

The Vilano Navigator comes in few different colors. You can choose from the orange/grey (see pictures) or get the blue/grey or aqua/grey.
It's also a really light-weight SUP which makes it super easy to carry.
So, while you may jump up and down at a lightweight board such as the Navigator (17 lbs), you may want to think first, why is it so lightweight? There is technology out there now that fuses layers together creating rigid, lightweight paddle boards, however, you won't get that on any of these SUPs.
The Navigators materials are not lightweight, they are just thin just like the other boards listed here except the DDM. In fact, when we held our SUP up to the sun we could basically see through it. If you are an intermediate or pro level SUP rider reading this, you'll scoff. Though, if you are, you probably wouldn't be looking at SUPs in this range. You'd be more suited to check out our Top 3 picks.
As a beginner, a lightweight board can be great, especially at this price range. Though, not if it means you'll be sinking. The thin materials obviously mean it's not very stable and that the board does flex. It's hard to pinpoint the exact weight that the board will support, but a reasonably tall man will feel the flex. I did (175 lbs) just like I did on the Zray.
We do like the fact it's available in 3 different colors, but we still don't feel the board design is as appealing as some of the other board listed here. A few different users reported their deck pad peeling off from the SUP as well the seams leaking after a short use. While we haven't used ours long enough to report if that's true, the fact the same complaints are on a few different forums, it does make you wonder!
Performance

There are a few issues with the performance of this board, but for the right person, some of these problems wouldn't matter!
If you are a light rider and not a complete beginner, the Navigator could be attractive as a second SUP in your quiver. The Navigator would happily get you from boat to shore or as a backup for one-off visitors.
Why we say not a complete beginner is that the board is a little unstable. The let down is in the narrow body and materials not being entirely rigid. That also plays into the durability of the board, it may not last long if you intend on heavy use. There are quite a few purchasers who also claim their board is not the width they advertise, in fact, quite smaller.

As far as speed and maneuverability go, a single fin setup is brilliant for tracking and the fin included is what you'd expect for a low range priced SUP. The shape of the board lets it down with speed though, being quite sluggish, as it's a bit of a blob shape without much point in the nose or angles through the body.
Now, as we said, this may not matter to some riders. If you aren't concerned about speed and you are a light rider you may find this SUP something worth considering. Depending on what you'll be doing we highly encourage to get a different paddle though.
Accessories Quality
Pump (1/5)
The pump is single action so unfortunately not the flashiest inclusion. Much prefer a dual action pump to save time when inflating. Could argue that budget SUP's won't include decent pumps but the DDM and Ancheer do include the Bravo 4.
We would advise you get a different pump straight away.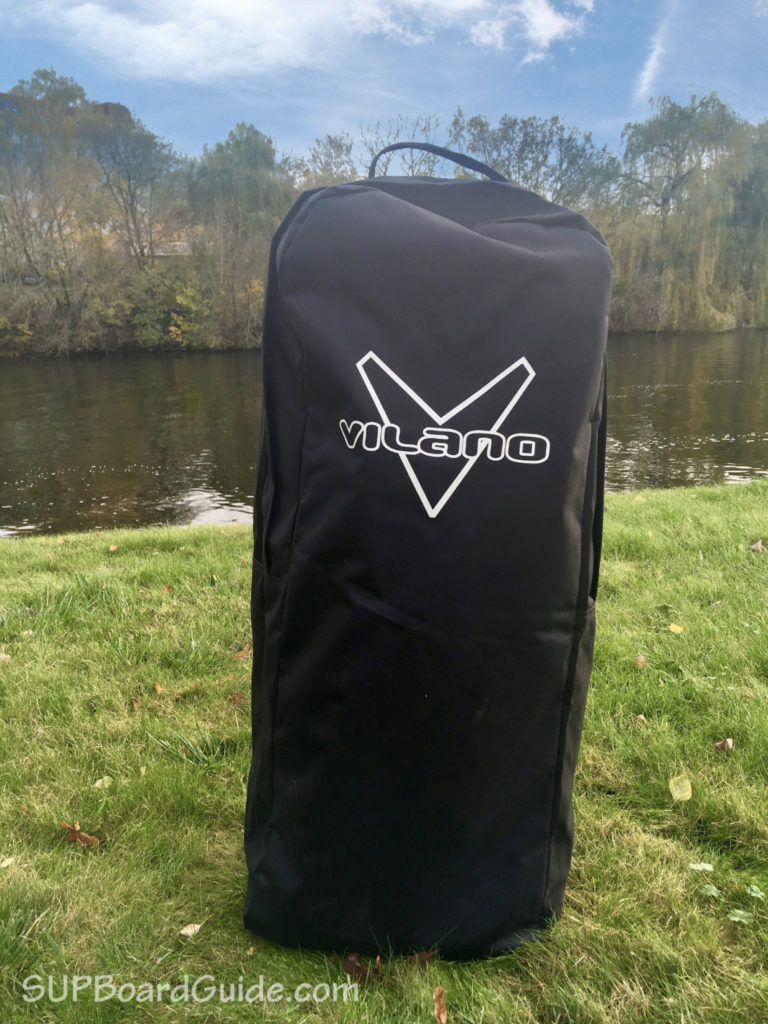 Paddle (2/5)
You'll receive a 3-piece aluminum paddle with the Vilano Navigator. Love that it breaks down and is easy to store, but it's also heavy paddle at 2.2 lbs. It's ok for the first couple of times, but you definitely want to upgrade it if you're going to paddle regularly.
Fin (2/5)
The single fin seems reasonable however it doesn't secure in place easily. You don't want to be spending an extra 10 mins fiddling with the fin!
Backpack (3/5)
Where some of these other bags really let you down like the Aqua Marina, the Navigators bag is okay. It's not extremely padded, so you won't want to use it for long distances. Saying that using it to cart your board from home to shore, you'll be more than satisfied. There's also plenty of room, so it's not going to be a game of Tetris to get your gear in.
What We Do Like
Having storage area on the nose for gear
The D-rings on the deck to attach a kayak seat
Colour choices
Half-decent (for price range) bag
What We Don't Like
The paddle – the worst out of all boards listed here
How thin the materials are
Lack of performance
Poor construction in the seams

Length
– 10'10"
Width
– 30′
Thickness
– 6″
Weight
– 17.9 lbs
Max Capacity
– 308 lbs
What You Get
– Pump
– Removable fin
– Carry Bag

Board Design (Materials, construction, and aesthetics)
In some diagrams that can be found on Aqua Marina's website and also their Amazon listing, you can see the materials listed in detail. But, we also believe we can judge a SUP's material quality by eye now having reviewed so many SUPs.
It's only a single layer PVC protecting the drop stitching core, and it hasn't been put together well. Compared to the other SUP's this is the lowest on the scale for quality.
There are some noticeable bubbles throughout the materials, definitely some bad craftsmanship at play here. Something as noticeable as that it does make us wonder what the inside, where we can't see, looks like. Poor materials and construction is a sure way to make this is a one summer board.
We personally don't appreciate the color scheme either, don't find the board aesthetically pleasing at all. This isn't to say you may not though? It looks tacky and low quality. It does not have the retro appeal they were after. The photos online make it look okay, but in person, the quality is low and not what we would want to spend money on.

Performance
Unfortunately, we can't talk the Aqua Marina up in performance either. As a general paddle here or there, sure, but, as a SUP you want to get adventurous with, not really. We'll explain why it'd be okay in some conditions and not so much in others. To start, like the Zray X2, the Aqua Marina is advertised as an All-Arounder.

And it doesn't belong in the surf or chop. As a smaller rider who perhaps is only going to use the SUP every now and again, you'll find the board moderately stable, and it does gain traction and speed well (so long as the fin box isn't warped the direction of your fin). Now, this also relies on you having a paddle because you don't get one with every Aqua Marina board! There are different packages, and some don't include a package. However, seeing that most of its competitor's paddles are to be replaced sooner rather than later, this could be a good thing. Instead of throwing a paddle away, you pay a little less upfront and can buy a decent one right off the bat.

There also isn't much shape to the board, by that, we mean there are no angles for a hydrodynamic performance. So much like the Vilano and Zray, you'll feel like this SUP is sluggish. Again, that's also if you've been on higher quality SUPs. A complete beginner may not notice it!
The only part a beginner may struggle with is that it's got a narrow body for being an All-Arounder. Generally, you'd hope for a couple inches more. That and the single fin tail that isn't very wide and the thin materials; it'll be a little rocky.
Accessories Quality
Pump (1/5)
Another single action pump! So all the pumps included here on the list minus the Daves and Ancheer SUP's are single action. Beware if you buy a SUP with a single action pump, you may be over the whole idea of SUP-ing before you even get in the water. The extra effort will become a tedious task quickly. Lucky there are lots of pumps available to make your life easy and many at a reasonable cost too!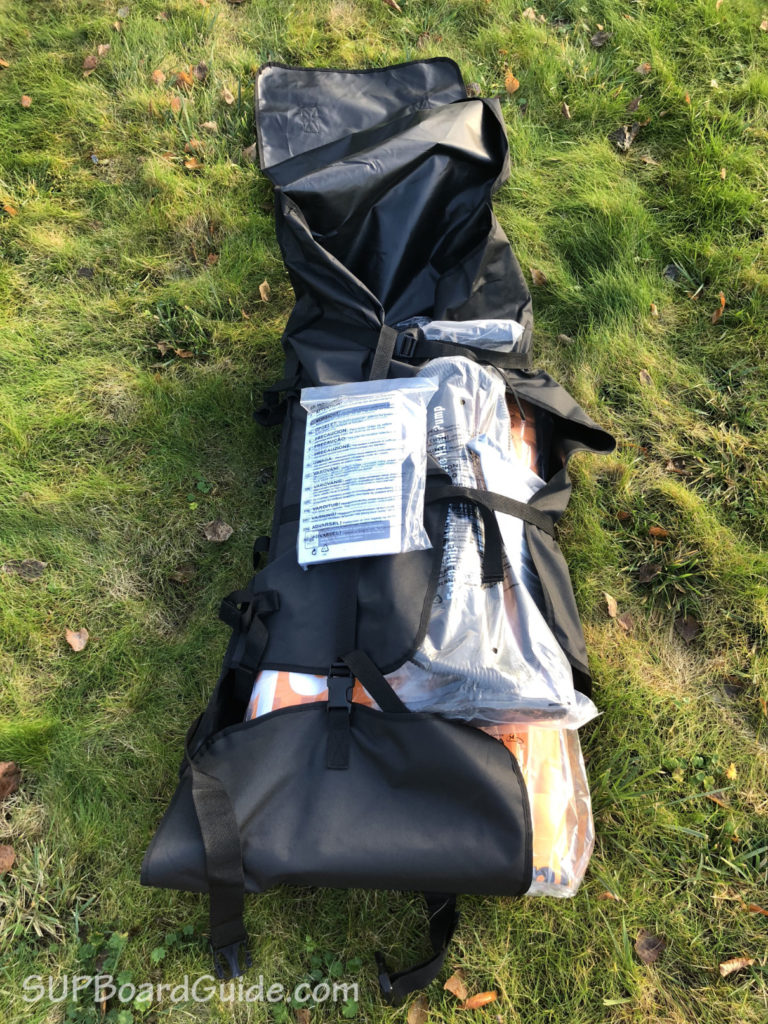 Fin (2/5)
One single center fin is supplied to you with purchase. Which does the job, the fin box, however, is lacking quality. So, be sure to inspect it on purchase, sometimes it can be rectified or at least a replacement board can be requested. Issues that arise are things such as alignment being out (this will have you going in circles) and also seams separating.
Backpack (1/5)
We're not comfortable calling this material a bag. Not to sound too harsh but a strap would have been just as useful. Maybe more so.
Items don't fit well, they don't secure, and the bag more or less is just a cover that you fold up. Expect stuff to fall out constantly.
What We Do Like
It's single fin for tracking
The 4 D-rings with bungee cord on the nose
What We Don't Like
The accessories are the worst of this list
The construction is poor
Materials are thin
Colour / patterns
What do you SUPpose?

We hope you've found this to be an insightful, honest but still helpful article. As you can tell, we're not fans of most boards we reviewed for this article. The saying "you get what you pay for" is more accurate than ever when it comes to inflatable paddle boards.
Though we don't want to be entirely discouraging. Since adding the Gili Air to the list we feel more more optimistic for the future of budget SUPs. It's incredible value and actually an enjoyable paddle! If you're on a tiny budget, Dave's DDM offers good value for money considering it's less than $400. If you're a light female or kid and want to paddle in flat water only, the Ancheer is another option.
We wouldn't suggest buying the other 3 SUPs mentioned here. Unfortunately, the quality is just not what we feel comfortable recommending. It's not just the boards though. The accessories are not great either. The single action pumps will drive you insane. The paddles need to be upgraded sooner or later, and the thin materials mean the board won't last very long.
If you're interested in really high-quality boards that offer exceptional value for money and will last for years to come we've got two recommendations. You can either check out any board by iRocker like the Cruiser, the All Around or you can take a look at the Thurso Surf Waterwalker which is available as a 10'6″ or a 11′.
All iRocker and Thurso boards use very high-quality materials and come with great accessories (Thurso even includes carbon paddles). However, they are still very reasonably priced. If you're interested in learning more about the differences in board quality here you go.
The Difference Between A Cheap SUP and a More Expensive Paddle Board

Materials
Cheaper boards use single layer PVC. Higher range boards will always be double to triple layer. More recently fusion laminating has been introduced. Why does the layering matter? Because it's what distinguishes your SUP from the pool toys and the real thing. Quality reinforced materials are what keep your iSUP tough, durable and stable.
Accessories
For the most of it below the accessories are not something you want for long term. Low-grade paddles are hard to use, which makes paddling no fun. Budget pumps take forever to inflate – again no fun. Higher range SUP's make sure their accessories also compliment their boards quality.

Performance
When combining the two factors above, you get the performance of the board. Remember, this is the board's performance, not yours. So the performance level differs between the rider. When we talk about performance here, we are mainly referring to beginners as we wouldn't expect seasoned SUP riders to explore the low-range range for a performance board.
That's it guys. We hop you found this review helpful. Let us know which board you bought and how you like it in the comments!
The following two tabs change content below.

SupBoardGuide
Hey there and welcome to SUPBoardGuide. We're a small team of paddleboard enthusiasts living in Australia, Germany, the US and the Philippines! We really hope you enjoy our content and feel free to comment or reach out to us with ideas or questions 🙂

Latest posts by SupBoardGuide (see all)