Bay Sports Explore
Pros
Versatile all-around board that is great for all sorts of SUP water sports.
Very lightweight at just 18 lbs. Offers solid 330 lbs weight capacity - great backpacking option
5" thickness improves stability, performance, and feel. Great price for a 5" thick SUP!
Very cool FCS II fin included + 2 permanent side fins. No loose screws to deal with.
Full package kit, including pump, paddle, and backpack. Ready for water out of the box.
30 Day Guarantee + 3 Year warranty. Extensive coverage protecting against most common accidents.
Cons
We'd love to see a few more d-rings and a front handle added to future boards
Doesn't have removable side fins.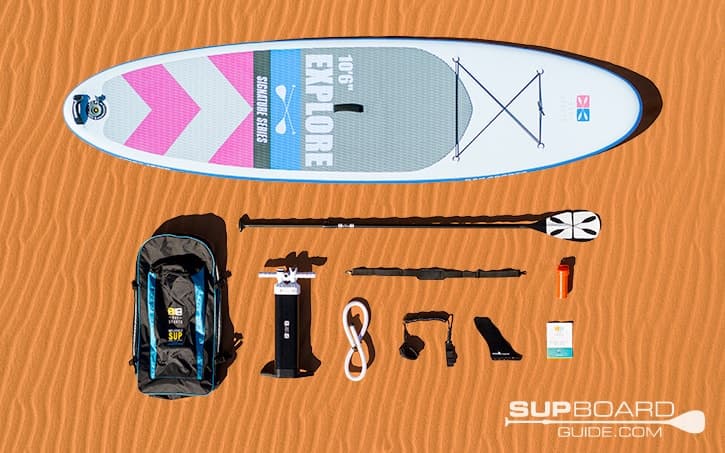 The 10'6'' Explore is one of the most popular boards produced by Bay Sports, and for good reason! This all-around is a very fun jack of all trades SUP that offers a healthy balance of stability, maneuverability, and tracking alike. Those brand new to the sport will find it very easy to use the Explore, with a 330 lbs weight capacity when inflated to 15 PSI. Those with more experience will be able to bring small kids or pets out with them, or paddle solo for some great performance. The 5'' thickness causes the SUP to ride lower in the water, increasing performance as it lowers the paddler's center of gravity as well. Triple-layered reinforced rails are also included for additional rigidity, further enhancing the overall performance of the 10'6'' Explore. If you are looking for something that is fun to paddle around, tour, or do SUP tricks with, the 10'6'' Explore all-around is definitely a SUP to consider!
SUP Board Specs
Length
10'6''
Width
32''
Thickness
5″
Weight
18 lbs
Rider Capacity (lbs)
330 lbs
Recommended Inflation
15 psi
Fins
9'' FCS Connect II center click in fin,
2.5'' molded plastic side fins
Paddle Type
Fiberglass shaft and Fiberglass Blade, 26 Ounces
Construction
Fusion-Tec Drop-Stitch Construction
3-Layer Side Rail
Who Should Buy This Stand Up Paddle Board:
As an all-around paddleboard, the 10'6'' Explore is a stellar option for all sorts of paddlers. You'll want to consider the Explore if you are:
Just getting into paddleboarding, and want a board with good performance that is easy to learn with.
Looking for an ultra lightweight SUP for backpacking or adventuring
A shorter or younger paddler, such as a teenager, needing a lighter board to carry.
Someone who wants a SUP that has a very grippy yet comfy deck pad.
Wanting a board that looks as good as it performs, with 3 different color options!
You're also not just stuck going to the same type of water spot with the 10'6'' Explore. Consider trying the following:
Calm, still water environments. You'll get the best performance out of the Explore!
Lakes, bays, and marinas with light wind or chop. The Explore can handle less than perfect waters, though you'll want more experience the rougher the water is.
River paddling, though make sure you dodge the rocks!
The ocean, including open waters and small waves
Performance
Stability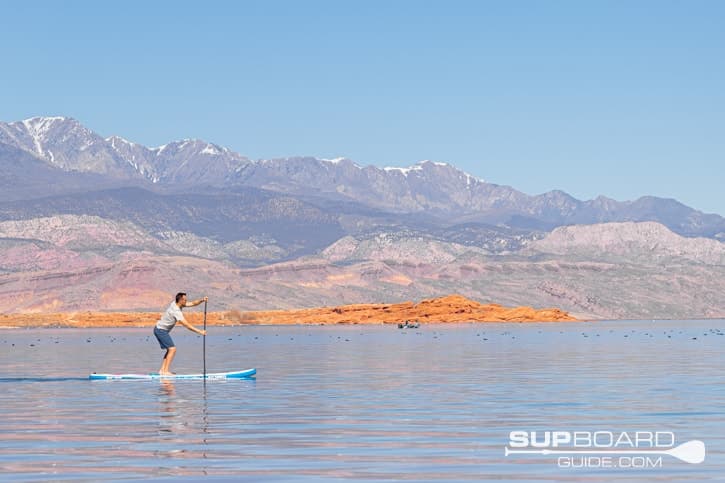 The 10'6'' Explore is a stable board that is a great tool for learning how to stand up paddleboard. The Explore has a recommended weight capacity of 330 lbs, so even larger sized paddlers should feel very solid on it. We like the 5' thickness, which lowers your center of gravity to the water for additional board stability. The 10'6'' Explore also has triple-layered reinforced tape rails, which increases the SUP rigidity for additional stability and a better board feel. With a little bit of practice, you'll be able to even bring your kids or pet along with you on the 10'6'' Explore.
Maneuverability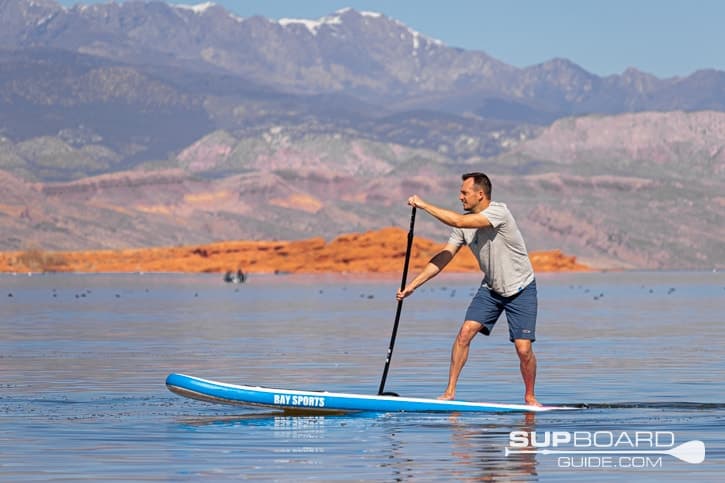 The 10'6'' Explore is a fun board to paddle on, and has no trouble navigating around the water. The 10'6'' length is a great balance for providing stability, as detailed in the previous section, but also staying small enough to stay a nimble board. You'll have no trouble dodging trees, rocks, and other objects in the water with just a few side strokes. It's also great to do a step-back turn on, which allows you to lift the nose and pivot on the spot. The maneuverability and overall performance even makes it suitable for some river paddling, though get some practice first before you challenge fast moving waters.
We'd say the Bay Sports leans more towards the maneuverable side of things when looking at the tradeoff between stability and maneuverability.
Tracking/Glide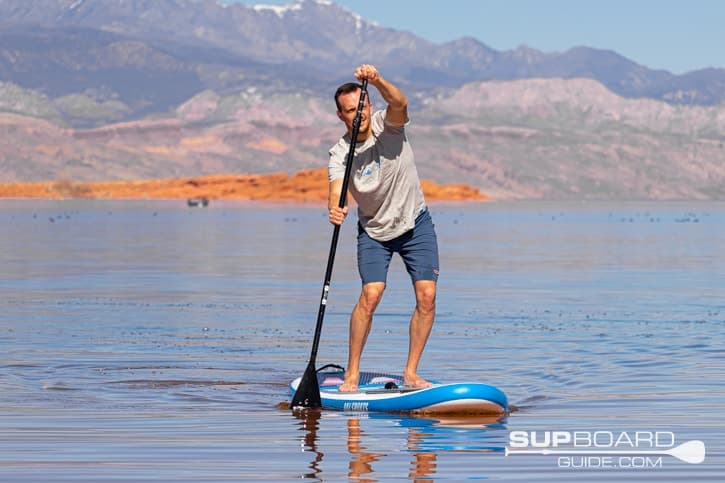 The 10'6'' Explore certainly lives up to its name, offering a good mixture of speed, tracking, and glide to make it suited for long day exploration trips. The 32'' wide deck keeps the Explore nimble, quick to accelerate and able to maintain its momentum in the water well. The board has a very smooth glide in still water, and the raised rocker does help it handle very light waves and chop. As a lighter board, the Explore will be more 'quick' off the line vs heavier, longer SUPs. The only downside to this is that you don't get quite the same glide as you do on the Bay Sports 11'6 tour (although that is to be expected since this is an all-around SUP vs a touring SUP). We also noticed that because the board is so light it can get slowed down a little bit in windy and choppy conditions. This is not much of a problem for more experienced paddlers, and even beginners did fine in these conditions.
The Explore tracking especially well in smooth waters. This is due partially to the nice 9" FCS II center fin, which you can read about a little further down.
Materials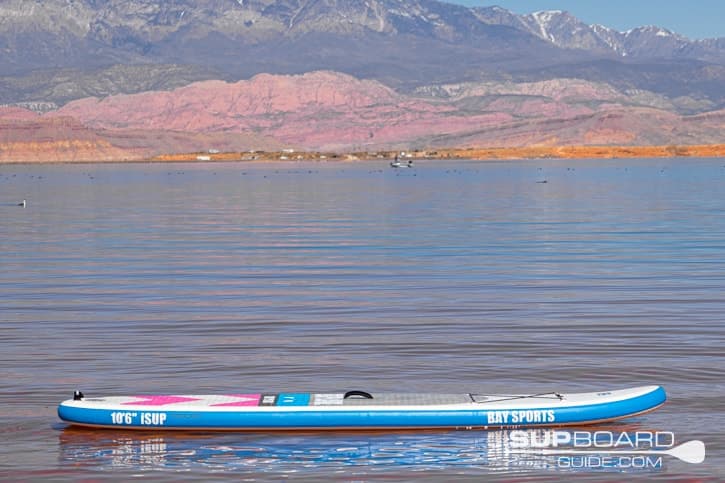 Bay Sports has used their traditional Fusion-Tec construction to build the 10'6'' Explore, which consists of a tight drop-stitch core protected by a fused layer of military grade PVC. To break it down further, the drop-stitch core is made of sheets of fabric bound together with thousands of short threads. This core, when inflated, will expand and create the board shape you see above due to the thread placement instead of something more rounded like a balloon or tube.
To safeguard this core and enhance performance further, a military grade PVC coating is fused directly to the drop-stitch core. The PVC coating acts as an outer shield, resistant to most common SUP accidents, while providing the stability and weight support to support adult paddlers. To protect against sun damage, a UV coating is also applied along with the cool Bay Sports print job. A triple-layered reinforced tape system is also incorporated, which not only protects the vulnerable seams but makes the SUP more rigid for additional performance support. All in all, the Bay Sports 10'6'' Explore is a very well built SUP, durable to resist crashes and drops while weighing a very light 18 lbs.
Board Design/Shape


The 10'6'' Explore has the shape of a very traditional all-around board, making it well suited for all sorts of SUP water sports and providing good performance in every factor. The 10'6'' length helps the Explore track well in the water while also staying rather maneuverable in the water. The 32'' wide deck is spacious and stable enough to comfortably stand on no matter the size of the paddler, while being thin enough to be nimble and speedy in the water. The 5'' thickness further helps the overall performance of the 10'6'' Explore, lowering the paddler's center of gravity and further decreasing board weight. Those switching over from hard paddleboards will also feel more at home with a 5'' thick board than a 6'' thick board, another reason to consider the 10'6'' Explore.
Board Features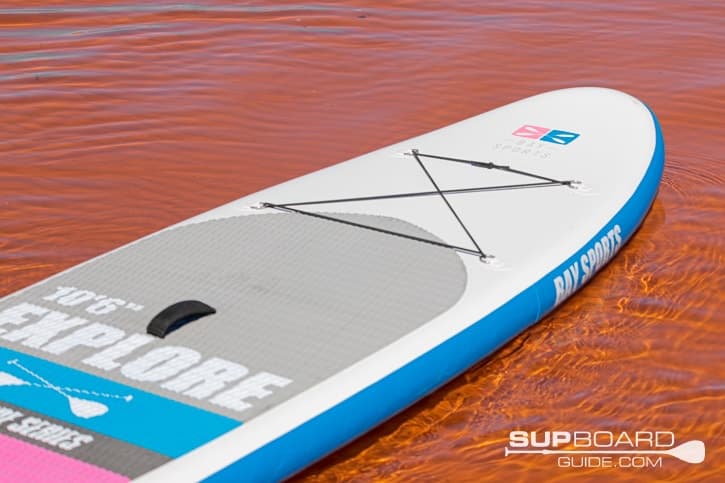 The 10'6'' Explore offers great performance, and also comes with a few extra features you might not notice or know about. Some features we want to highlight include:
Fusion-Tec drop stitch PVC layer construction: The Fusion-Tec keeps the Explore durable, strong enough to resist most common drops and crashes, while staying light and easy to carry. With just a little care, you'll have no trouble using the 10'6'' Explore for years without any sort of performance loss.
Compact, removable cargo area: Attached via 4 D-rings, there is a bungee cargo area great for storing coolers, lunch boxes, and other small to medium sized containers. The bungees are also fully removable, allowing you to make use of the full length of the board.
Fiberglass shaft + Fiberglass paddle: The 3-piece paddle weighs 26 ounces fully put together, making it a good lightweight option you can paddle for hours with. Very easy to adjust to any adult paddler height!
Dual carry handles: The center neoprene handle makes it very easy to carry the 18 lbs SUP, so that even young teenagers can carry the 10'6'' Explore by themselves.
Diamond Grooved EVA deck pad: The diamond groove pattern quickly drains water when wet, and significantly improves traction for superior board grip. The EVA foam makes it comfy to stand on, and helps paddlers avoid developing blisters on their feet.
Fins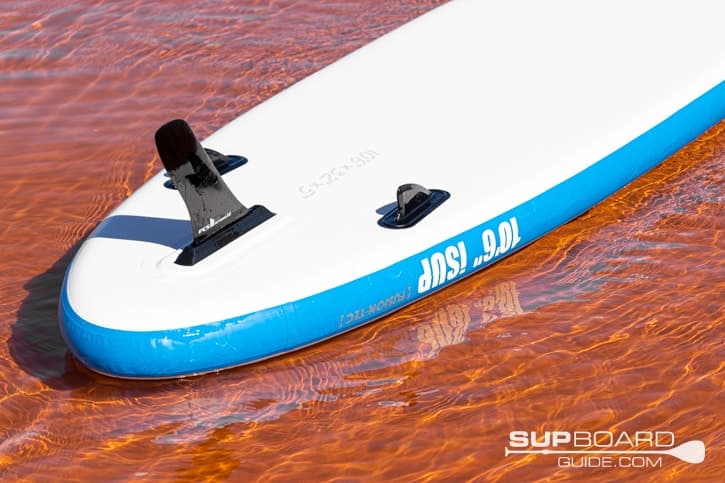 The center fin for the 10'6'' Explore is a FCS Connect II fin. Installing it is really easy, and doesn't involve any loose pins or screws. Just insert the front portion of the fin into the center of the fin box, slide the fin to your desired position, and then push down on the back end of the fin until you hear the barrel lock in place. It shouldn't take more than five seconds to install, and the fin is built with durable fiberglass material, making it very difficult to damage. Using the center fin will improve your tracking, and can be moved forward for tighter turning or moved back for additional stability. The Explore is also built with a US fin box, so you have the option to change the fin out for a multitude of other fin options as well.
The side fins aren't removable, but the 2'5'' fins are short enough to ensure you can use the 10'6'' Explore anywhere, even in shallow water. The side fins are made from molded plastic, and their inclusion further improves the stability of the SUP besides complimenting the center fin. They shouldn't ever get damaged, but if they do get bent out of shape you'll be able to quickly restore them yourself. Pour some hot water on the fins and leave the SUP to try out in the sun, and you'll find that within 15 to 20 minutes your fins will look as good as new!
We do with that Bay Sports would move to removable side fins. That would give the rider a little more flexibility with their fin set up, and the removable side fins would compliment the top-notch center fin better.
Diamond Grooved Eva Deck Pad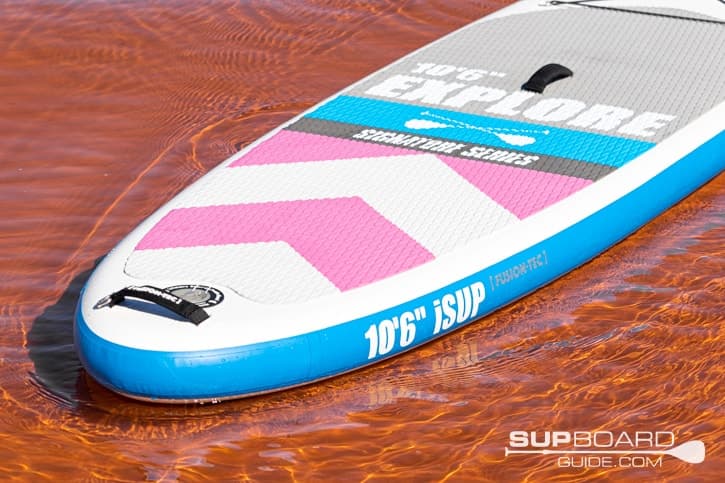 The diamond grooved pattern of the deck pad provides significant traction support, making it so that even those brand new to the sport will have an easy time maintaining their grip. It's one of our favorite deck pads and is very high quality.
The deck pad covers more than 75% of the top surface of the board, giving you and additional passengers plenty of room to stand. The whole length of the deck pad is built with EVA foam, which withstands the water well and dries out quickly, while being very comfy to stand on. If you intend to paddle from sun up to sun down, you won't hurt your feet with the 10'6'' Explore deck pad.
Handles
There are 2 handles on the 10'6'' Explore, located in the center and the tail of the SUP. At just 18 lbs, even teenagers will be able to carry the 10'6'' Explore by just using the center carry handle. Those who want to carry in tandem can also use the tail handle for additional support, or can tug the Explore in the water by connecting to the rear handle or it's D-ring. Both handles also feature neoprene covers, which protects against chafing when held with cold or soaking wet hands. While we would prefer adding a nose handle, we think the 10'6'' Explore is so light and easy to hold that we don't mind it not having one.
D-Rings/Bungees/Cargo Areas
There are 5 D-rings scattered about the 10'6'' Explore. Four of the D-rings are located up front and make up the front bungee cargo area, which is great for securing coolers and other containers. Another D-ring is attached to the tail handle, making it an optimal spot for clipping a cell phone case or using it to attach your leash.
Accessories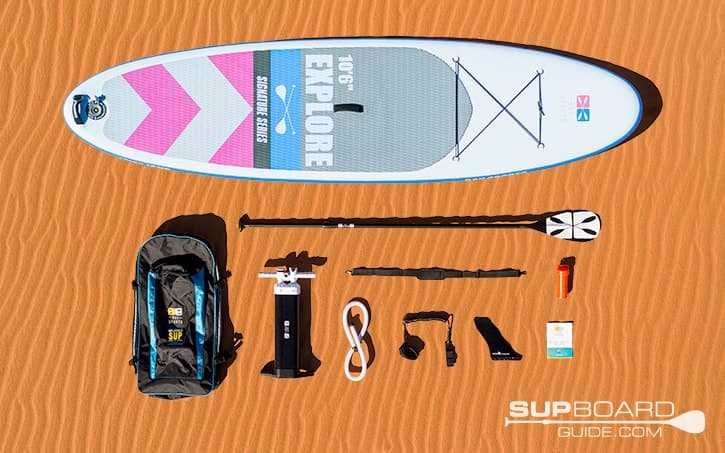 Full Fiberglass Paddle
The 3-piece adjustable paddle is made up entirely of fiberglass, helping the shaft and blade stay light for a total of just 26 ounces – which is really light-weight for a fiberglass paddle. You won't have any problem using the included paddle for hours, and will find the ergonomic handle comfortable in your palm as well. Bay Sports does offer an even lighter full carbon fiber paddle for 22 ounces, which we would recommend to those who want to invest in the best paddle for the long run. For most casual paddlers or those just getting into paddleboarding, we think you'll enjoy the included paddle on its own.
It's very easy to assemble the 3-piece paddle, and is also very adjustable as well. If you want to pass the paddle to your friends, just follow the markings printed on the shaft of the paddle to find the ideal height setting. The 3-piece nature also helps it break down into small enough parts that you'll have no trouble packing it up in the included Bay Sports bag once you're ready to head home.
Pump
The 10'6'' Explore comes with the Helios, triple-action, dual-chamber pump. We love dual-chamber pumps over single-chamber pumps due to how much faster they are at inflating paddleboards. The instructions are very easy to follow and are printed on the body of the Helios pump, ensuring that even first time paddlers can inflate the 10'6'' Explore in 10 to 15 minutes.
We appreciate Bay Sports including the dual-chamber pump, and think that most paddlers will love it as well. However, it can be tiring to inflate your paddleboard, especially if you have multiple SUPs you need to inflate before going out. That is why electric pumps are our favorite accessory to go with paddleboards. An electric pump will blow up an SUP for you, and will also help deflate your SUP as well, ensuring you have enough air out to roll it up and pack it away. Electric pumps are easier to store in your paddleboard bag, and can also free you up to inflate another SUP at the same time if you have more than one board. For these reasons, definitely check out an electric pump to make your 10'6'' Explore SUP experience even better.
Backpack
Bay Sports has included an awesome ballistic-weave nylon backpack for transporting the 10'6'' Explore. The bag is large and roomy, making it easy to store your gear, and comes with both a main storage compartment and a separate front facing compartment. The front facing compartment is great for storing your fins, leash, and other small items while keeping the rest of the bag tidy. For short distance carrying, you can use one of the three carry handles, or wear the bag like a backpack if you want to hike with this lightweight board. The backside of the bag is padded, and has adjustable straps so paddlers short and tall will both be able to comfortably carry the 10'6'' Explore.
Bottom line, the Bay Sports backpack is one of our favorite SUP back packs. If you are looking for a lightweight SUP that has a good backpack for hiking – this pack is at the top of our list.
Leash
The Explore 10'6'' can get away from you if you fall off of it in fast moving waters. To counteract this, you'll want to wear the included 11' leash, which will keep your SUP close if you ever take a tumble. What the leash can't do though is help you stay afloat, so make sure you bring a PFD with you to stay safe when you paddle!
Repair Kit
The final accessory packed into the 10'6'' Explore kit is a traditional SUP repair kit. You'll find some patches that will cover small punctures that don't occur on the seams. Also included is a wrench for the Halkey-Roberts inflation valve, which can come loose with years of use and inflation. While we doubt you'll ever have to use these items, they are nice to keep to handle small issues and damage to the Explore. For any significant problems with the 10'6'' Explore SUP, be sure to contact Bay Sports.
Optional Accessories
As paddleboards grow increasingly popular, more and more companies are making accessories that are great to use with the 10'6'' Explore. Between the D-rings, action mount, and cargo bungee area, most common accessories will work well with the SUP, though checking compatibility before purchasing is recommended. There are also a number of accessories manufactured by Bay Sports as well that we would recommend looking at, including:
Bay Sports Hercules electric pump
Stand Up Paddle Board Trolley
Dry Bags/Waterproof Deck Bag
Waterproof deck phone case
Compact key vault
Company Review – Bay Sports
Bay Sports is a 100% family-owned and operated business, founded and continuing to operate out of Sydney, Australia. While their original products were focused on kayaking, Bay Sports expanded their expertise and now manufactures great paddleboard equipment as well. We find that Bay Sports SUPs are consistently lightweight and affordable, while also remaining rigid and very fun to paddle with. Many others agree with us, Bay Sports SUP products having garnered over 1,000 five star reviews.
For the 10'6'' Explore, Bay Sports offers free shipping to the US and several other countries throughout the world. The Explore features a 3-year warranty and 30-day guarantee, with exchange options for defective or damaged boards. The Fusion-Tec construction methodology crafts sturdy performance boards that will withstand common accidents and still perform great. If you like the 10'6'' Explore, be sure to take a look at their Cruise, Tour, and Yoga paddleboards as well.
Conclusion/Bottom line
The Baysports 10'6'' Explore is a fantastic quality SUP at a really great price. It is possibly the least expensive 5" SUP on the market today. It's a very fun all-around SUP that will let you experiment with everything stand up paddleboarding has to offer. The board is stable enough to support a parent with their kids or pets, while offering a quick and smooth experience to keep up with your friends. The board is very lightweight at 18 lbs, and is a great option for young and beginner paddlers to learn with. Those who are more experienced will find the Fusion-Tec board capable of tackling rivers and light waves alike, thanks in part to the increased rigidity provided by the triple-layered rails. If you're interested in something that can do cruising, regular paddling, some long exploration trips and yoga alike, check out the 10'6'' Explore.
Want to know more about the 10'6'' Explore or Bay Sports paddleboards? Have a question about how you can get better at paddleboarding, or feel we missed something in our review? Then make sure to leave a comment below, or send us an email with anything you want to know or discuss. We love talking paddleboards, and also periodically update our reviews based upon new models and the feedback we receive. Be sure to check us out again in the future to see what Bay Sports develops next.
Thank you very much for reading, and make sure to have fun paddleboarding!
The following two tabs change content below.
SupBoardGuide Editorial Team
At SupBoardGuide.com we are a team who love the water, the outdoors, and are more than grateful that our full-time job allows us to review stand up paddle boards. We paddle year round (it helps that we are just about 2 hours outside of Las Vegas), and we bring in a wide range of paddlers with the goal of providing our readers with the best, most in-depth, and accurate stand up paddle board reviews.
Latest posts by SupBoardGuide Editorial Team (see all)