Bluefin 12' Cruise Carbon
Pros
Great performance all-around that is built to last. Very beginner friendly, but also well suited for intermediate to advanced level paddlers.
Very stable, with 385 lbs recommended weight capacity that can be exceeded with very little performance loss. Dual inflation chambers make the board feel very rigid.
Good balance of maneuverability and tracking, making it easy to turn or maintain a straight line. Fast as well, even when paddling through chop.
Crocodile skinned, diamond grooved EVA foam deck pad. Premium deck pad that balances comfort and grip support. One of our favorites!
Premium accessories included with this SUP, everything you need out of the box. Also features a kayak conversion kit and additional kayak paddle attachment!
Five year warranty that covers all defects and damage outside of normal wear and tear. One of the best warranty policies within the SUP industry.
Cons
While this board is extremely stable and durable, in part to the triple-layer PVC construction, it is also difficult to carry for lighter paddlers due to the additional weight.
Due to the weight of the board, it takes some effort to get the board up to speed. However, once it gets going it glides exceptionally well and can maintain speed rather well.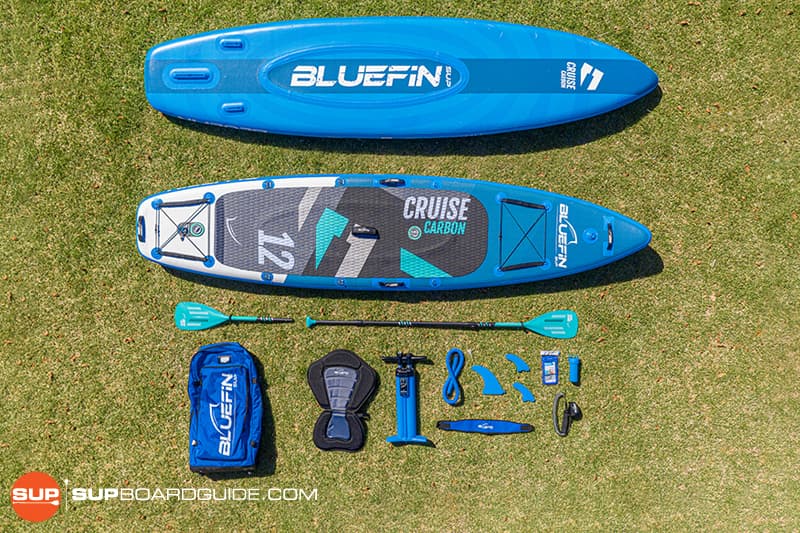 The 2023 Bluefin 12' Cruise Carbon SUP is a fantastic all around board, and a great SUP for beginners and advanced paddlers alike. This is a very stable paddleboard, making it easy to learn on or a SUP you can take into rougher waters. As an all around board, there is a great balance between tracking and maneuverability, with an awesome overall glide that goes over chop with ease. The dual-inflation chambers and carbon fiber reinforced rails, along with the triple-layer PVC construction, all contribute in making this a fantastically rigid SUP.
Outside of the board, we're also impressed with the great accessories thrown in, from the rapid dual-chamber pump and lightweight carbon fiber paddle to the kayak conversion kit packed into every kit. We also appreciate the upgrade that Bluefin has made, switching out the snap-lock center fin used in past models for the new US standard fin box that offers greater fin versatility. We've had a blast testing the Bluefin 12' Cruise Carbon, and are excited to share more about why this is a great premium all-around SUP you'll want to consider picking up this year!
SUP Board Specs
Length
12'
Width
32''
Thickness
6″
Weight
TBD
Rider Capacity (lbs)
385 lbs
Recommended Inflation
15 – 18 PSI
Dual Inflation Chambers
Fins
US Center Fin Box
2 Snap-lock Side Fins
Paddle Type
Carbon fiber shaft + polyurethane blade
Construction
Triple Layer PVC construction
Who Should Buy This Stand Up Paddle Board:
As an all-around board, this is one of the most universal paddleboard options on the market, and can be used to try a bit of everything out on the water. Consider purchasing this paddleboard if you are one of the following:
A beginner paddler who wants a paddleboard they can grow into. This is a fantastic board to get comfortable on initially but grow on while more advanced skills are developed.
An intermediate or advanced paddler looking for a premium inflatable SUP, but are trying to spend less than $1,000 dollars for a kit.
Paddlers who must have a great, grippy deck pad when they go out paddleboarding.
Those who want an all-around style SUP, but prefer it to be a bit longer and have better tracking than a traditional all-around SUP.
Advanced paddlers who are interested in getting into SUP kayaking.
Larger, heavier paddlers who want something that is a bit more accommodating to their size, especially if they've found the 10'8'' Cruise a bit too short.
Performance
Stability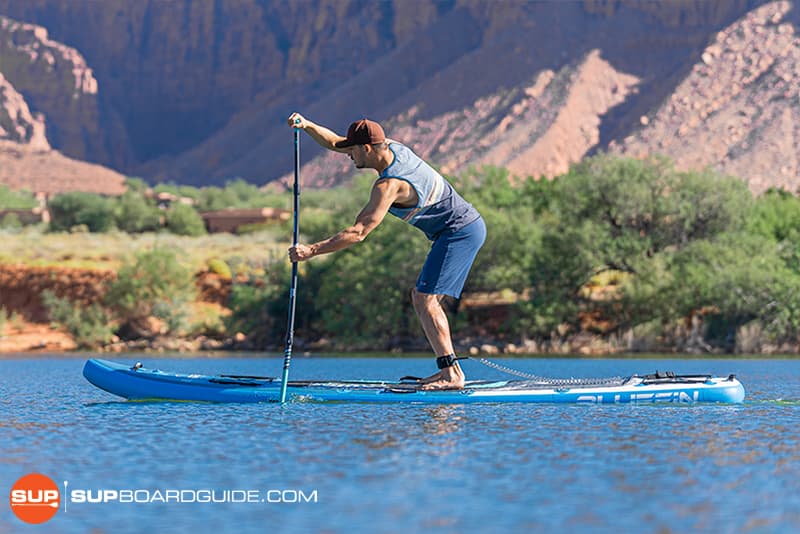 All-arounds are usually known for having good stability, making them great learning tools for beginners trying to figure out how to stand on the water. With dual-inflation chambers, carbon fiber rails, and a weighty triple-layer PVC build, the 12' Cruise Carbon offers fantastic stability that is more than enough to satisfy any adult sized paddler. Between the stability and grab handles, this is a great paddleboard for families and friends to go out on, with enough support and space to bring out your kids, pets, or a second adult paddler. Bluefin suggests a 385 lbs recommended weight capacity of the 12' Cruise Carbon, but we exceeded that limit with little performance loss. If you need a very stable SUP, the 12' Cruise Carbon is a great fit and option to consider!
Be aware that there are two other sizes of the Bluefin Cruise Carbon though, that may be a bit better suited depending on your needs. If you anticipate going out often as part of a tandem paddleboarding team, consider going with the 15' Cruise Carbon. If you are shorter than 6' and only plan for solo paddling, and especially if you are shorter than 5'6'', you'll have an easier time on the 10'8'' Cruise Carbon. For everyone else though, we think that the 12' Cruise Carbon is a great mix and balance of the other two SUP lengths, especially as you read about the next performance factors.
Maneuverability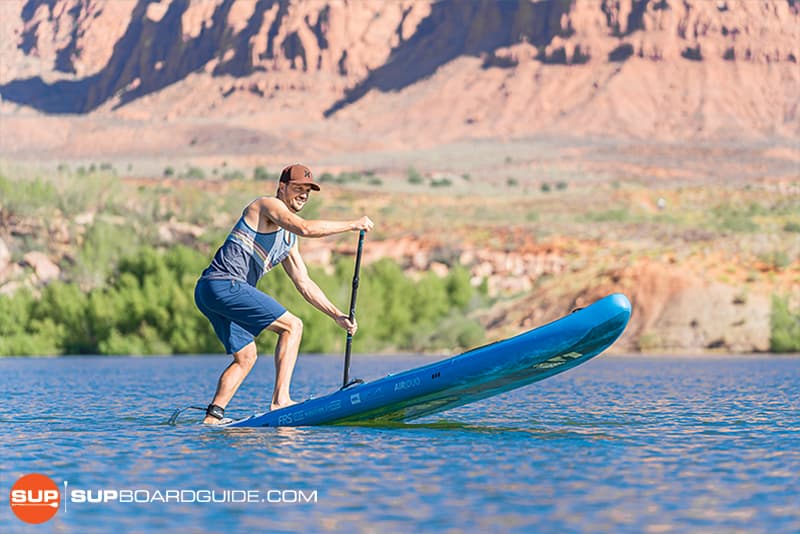 The 12' Cruise Carbon offers solid maneuverability, and is easy enough to turn in the water so that you can dodge boats and paddleboards, or so that you can get past tight corners as you explore the water. After a few hours on the SUP, we think even intermediate paddlers will be able to go out and tackle rivers thanks to the responsiveness of the 12' Cruise Carbon. While its typical maneuverability is enough to get you where you need to go, Bluefin has included a raised heel pad to help paddlers perform a step-back turn. By moving a foot to the raised heel pad, you can push the tail into the water in order to raise the nose into the air like you see in the photo above. Once the nose is out of the water, you can paddle to your side to quickly pivot on the spot, turning your paddleboard where it needs to go. Once you've gotten the step-back turn down and are familiar with the 12' Cruise Carbon, you'll be able to go anywhere on the water with this inflatable SUP!
Tracking/Glide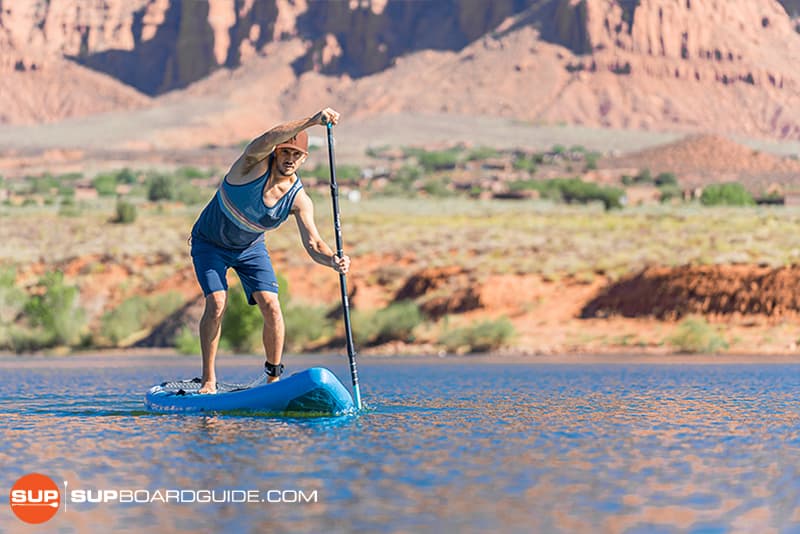 One of the reasons why you might want to consider the 12' length over the 10'8'' length isn't just for the improved stability and weight support, but the superior tracking as well. While not quite as good as a true turning board, you can go quite far before having to switch paddling sides with the 12' Cruise Carbon. Having solid tracking is especially helpful for beginners, as it will help them maintain a steady line in the water even as they work on improving their paddling form. Beyond the tracking, the 12' Cruise Carbon has an excellent glide, and we found that it could deftly cross over even moderate chop with ease as we tested the board. We also found it to be pretty easy and quick to paddle with as well, thanks in part to its overall rigidity and solid feel that helps you maintain a steady and confident cadence.
The side fins will help tighten up your turn radius, while the center fin will help your tracking and ensure you can maintain a much straighter line in the water. If you put all three fins on, our typical setup, you'll also find the paddleboard to be a bit more stable as well, but make sure you either take the center fin out or replace it with a shorter river style fin before going SUPing in shallow water!
Materials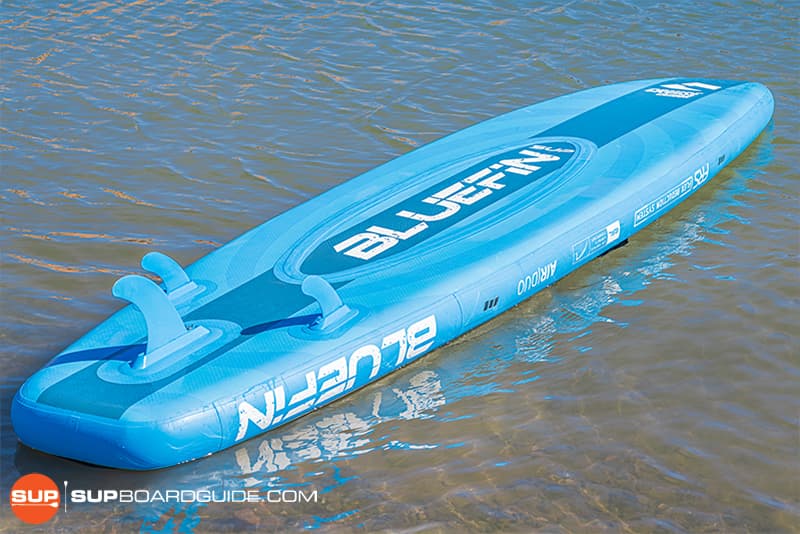 Like other inflatable SUPS, the Bluefin 12' Cruise consists of a tight drop-stitch core protected by several layers of military grade PVC construction. To go a bit deeper, the drop-stitch core itself is made up of sheets of fabric bound together with 11,200 stitches of denier space yarn. As air is pumped through the two inflation chambers into the core, it expands like an inflatable but assumes a board shape, instead of something more rounded like a balloon, thanks to the placement of the internal threading. It is thanks to this tight drop-stitch core that the SUP can float on the water and be used like an epoxy paddleboard despite being an inflatable.
In order to protect the core and alleviate this issue, besides further improving SUP performance, coatings of fabric and military grade PVC are applied. On the 12' Cruise Carbon, there are three separate layers of PVC/fabric, making this a very durable, stable, and rigid paddleboard, though very heavy as well. To further protect the board and improve performance, without driving up costs and weights significantly, this version of the 12' Cruise also has additional carbon fiber rail reinforcements. As an end result, it is very, very difficult to damage the 12' Cruise Carbon, so you won't have to worry about the occasional drop or crash that will eventually happen as you handle the paddleboard. As a final note, while you'll never want to leave SUPs sitting in direct sunlight for prolonged periods of time, a high pressure UV resistant coating is the final layer of protection on the 12' Cruise Carbon. With this coating, board degradation as a result of sun damage is greatly slowed, ensuring you can use this SUP for years to come while maintaining the luster of the great Bluefin design.
Board Design/Shape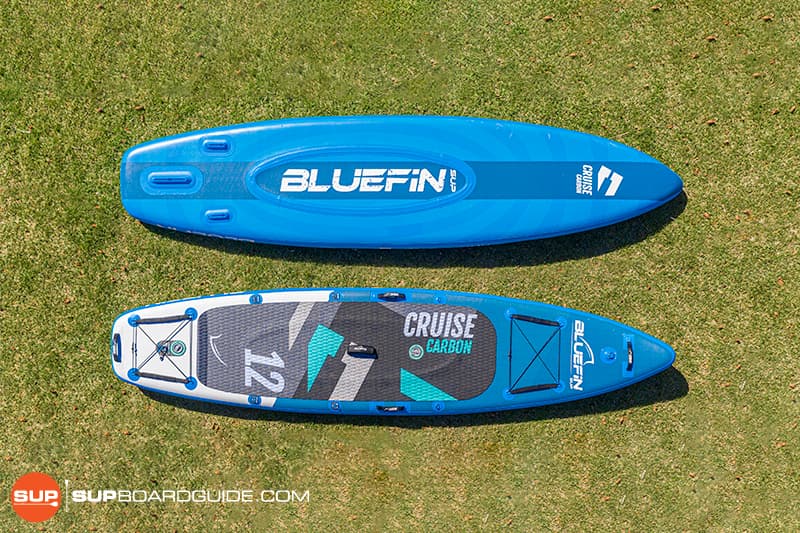 The Cruise Carbon series are all-around paddleboards, though at a 12' length it's fair to call it an all-around in order to get a better idea of what to expect performance wise. The 32'' width and 6'' thickness are typical sizes for all-around SUPs, and provide extra stability that ensures that heavier adult paddlers can comfortably paddle the 12' Cruise Carbon. This is designed as a balanced board, and with premium qualities such as the carbon-fiber reinforced rails, dual-inflation chambers, and triple-layer PVC construction, beginners and advanced paddlers alike will love using the SUP.
As an all-around board, you can get a sample of everything in the world of SUP water sports, and get a great taste of it all even if you might not excel in any consideration. Cruise or tour with this easy to pilot paddleboard, or take some time to relax as you hang out with family or get an improteu yoga session in. The deck pad offers great traction support and is also built to prevent slippage, so you can confidently take this paddleboard out onto quick rapids or ocean waves and maintain a good grip. Bluefin has also packed in a second paddle blade and kayak conversion kit with the SUP, so you have to try out paddleboard kayaking at least once. Be sure to try a bit of everything in order to become a true paddleboarding master with the 12' Cruise Carbon!
Board Features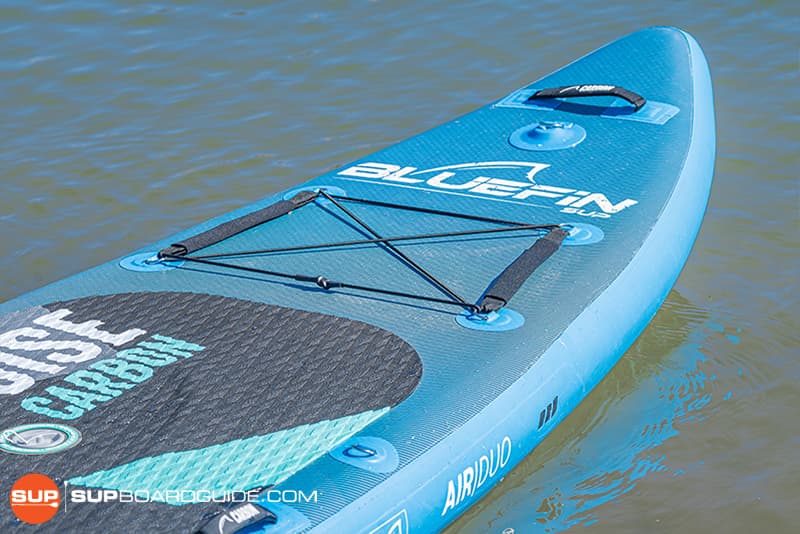 We love the 12' Cruise Carbon for its performance, and for its great assortment of features as well! Some of these features are a bit hard to notice though, or you might not ever even discover as they're part of the inside of the board. The features we think are worth knowing about include the following:
Triple-layer Construction.
Carbon Fiber Reinforced Rails.
14 D-Rings + Action Mount.
Removable Bungee Cargo Areas + Grab Handles.
Five carry handles.
Raised kick pad.
Thermosealed Croco-Diamond Deck Pad.
Carbon Fiber Reinforced Rails
This is the reason for the major performance difference between the traditional and Carbon Cruise. Carbon fiber reinforced rails allow inflatable SUPs to become more rigid without significantly increasing cost or weight. By reinforcing the rails directly, you also avoid having to deal with removable rails, wasting time better spent on the water, while further improving performance compared to reinforced taped rails. Carbon fiber rails are one of our favorite features when it comes to paddleboards!
Fins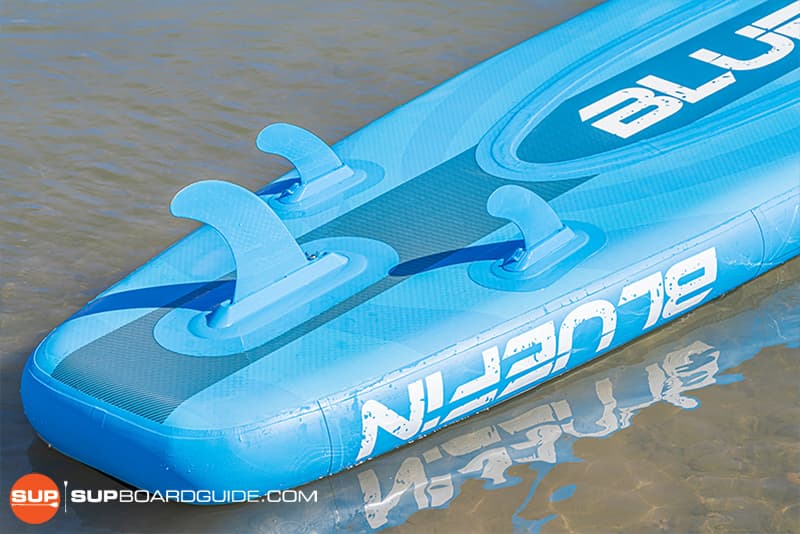 One of the major areas upgraded from past versions of the 12' Cruise Carbon, the fin box setup now consists of two snap-lock fin boxes and a standard, US center fin box. The snap-lock fins are very easy to use, as you just have to insert the 2.5'' side fins and push the lever down to lock them in place. The center fin box is the more useful one though, and by changing it from a snap-lock fin box to a US center fin box its now compatible with far more fins than before, including FCS fins. However, if you are a beginner to intermediate paddler, we think you'll be fine just sticking with the 8.5'' center fin, at least until you go river running. If you're ever paddling in shallow water, make sure you remove the elongated center fin, or you might wind up dragging across the ground and damaging your fin boxes or fins if you don't!
Traction Pad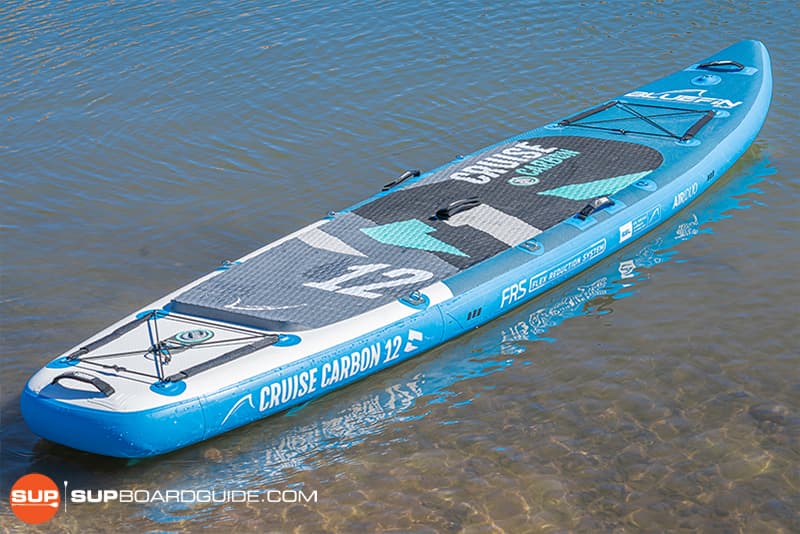 Why do we love Bluefin traction pads so much? There's quite a few reasons why! The 12' Cruise Carbon is built with EVA foam, the same material used in many popular yoga mats, for a comfortable surface that you can stand on all-day without developing blisters or irritating your feet. The EVA foam dries out very quickly when wet, and will drain rapidly too when you hit the occasional wave, ensuring that your deck pad should never feel too slippery to stand on. Most importantly though, a diamond grooved pattern and crocodile skin texture is built into the deck pad, significantly improving traction support in order to maintain a steady grip as you paddle. You can stand, sit, practice yoga, or even sunbathe on the 12' Cruise Carbon's traction pad and have a fantastic time!
Handles
While the 12' Cruise Carbon is very heavy for an inflatable SUP, a feature that helps transporting the SUP is the five carry handles positioned throughout the paddleboard. There is a handle on the nose and tail, with three handles located around the center of the paddleboard. All of these carry handles have neoprene covers as well to improve grip comfort and durability of the handles. Overall, we quite like the handle setup, though if you need even more help carrying the 12' Cruise Carbon Bluefin has included a shoulder strap as well.
D-Rings/Bungees/Cargo Areas
With 14 D-rings, you have plenty of options for attaching your SUP accessories to, whether it be a dry bag or other clip on case to the waterproof phone bag included with every board. These D-rings are also high quality, and large enough to support many of the popular and common SUP accessories out there on the market. Beyond the D-rings, there is also an action mount on the nose, which is compatible with GoPro camera mounts, Bluetooth Speaker mounts, and other popular electronic mounts. If you have accessories, you'll find a good place to put them on the 12' Cruise Carbon.
We also want to highlight the two removable bungee cargo areas on the 12' Cruise Carbon, with a larger nose cargo area and a small equivalent in the tail. It's very easy to remove these bungee cords if you need more deck space, but we suggest keeping them on the board as they also serve as grab handles for passengers to hold onto as the waves kick up. If you have a lunch box, a cooler, or some other small to medium sized bag or container that doesn't clip in, they're great for storing underneath the bungee cords as well.
Accessories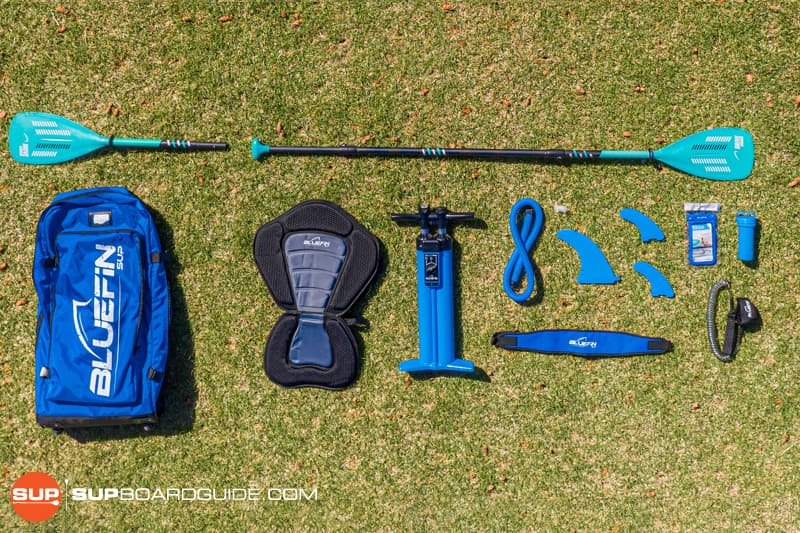 Paddle
As part of their premium paddleboarding kit, Bluefin has opted to include a carbon fiber paddle shaft with their 12' Cruise Carbon kit. Carbon fiber paddles are typically the best, most expensive paddles you can get due to their strong but lightweight build, making it a great inclusion with the SUP kit. Even better, as part of their paddling conversion kit, a second paddle blade is also included with the 12' Cruise Carbon. While you can look elsewhere and find paddles that are a couple ounces lighter, we think it's great that Bluefin has decided to include such a high quality paddle with their 12' Cruise Carbon kit.
The paddle comes in four pieces, though if you are using the paddle to SUP you will only need three. The paddle is fully adjustable, and so it should be compatible with most traditional adult heights and sizes. Both paddle shaft and polyurethane blade are very sturdy and resilient, with enough rigidity that you can have a strong push as you paddle in the water while still having enough flex that they won't shatter if you drop them on the ground. These paddles will float as well if you drop them into the water, but be careful as they will float away quickly if you aren't paying attention to them.
Pump
Another premium inclusion, the 12' Cruise Carbon is quick and easy to inflate with a dual-chamber, triple-action pump. Even first time paddlers can inflate their SUP in less than fifteen minutes, as the instructions are simple and easy to follow, printed right on the body of the dual-chamber pump. Though it is a bit larger than a single-chamber pump, we prefer dual-chamber pumps due to their efficiency and ease of use, besides how much faster they are at inflating paddleboards.
However, if you are looking for something a bit smaller, and want to save your energy for the water, consider upgrading to the Bluefin electric pump. The Bluefin electric pump will inflate your SUP for you, and unlike the included manual pump the electric pump will also deflate your paddleboard for you as well. Electric pumps are about as quick as a manual pump, but as they can inflate two to three SUPs in a row without resting they'll get your boards inflated quicker than most paddlers who have to rest in order to recover their stamina. Lastly, electric pumps are smaller than dual-chamber pumps and are lighter too, making them easier to pack into your paddleboarding kit. With so many great features and benefits, electric pumps such as the Bluefin electric pump are our number one recommended upgrade for all paddleboard kits!
Backpack
To transport your 12' Cruise Carbon, and all of your other SUP equipment, you'll definitely enjoy using the Bluefin roller backpack. This thick backpack is built with heavy duty nylon that will protect your gear and equipment from the elements, including water, sand, and wind. The two carry handles will let you transport the bag short distances, and with roller wheels you can easily take your kit through airports and over flat roads. Most of the time we expect you'll be relying on the adjustable backpack straps, which will feel great thanks also to the extra padded backside. There are two main compartments for storing your gear, with the roomy interior compartment for your board, pump, and paddle and a smaller secondary compartment for your other accessories. A small detail many paddlers might not notice is that there are small fin pouches on the interior of the SUP bag as well, which will keep the fins safe and prevent them from scratching up your other gear. Overall, we love the Bluefin backpack, and find it another great inclusion that makes the $900 dollar price tag an even better value!
Leash
Included with the 12' Cruise Carbon is also a coiled leash. The leash is very easy to install, as you just have to attach it to a D-ring while sliding the cuff over your ankle or calf. When worn, a leash will keep a paddleboard close and ensure it doesn't drift away if you ever fall off, and the coiled nature will protect you against whiplash when you yank on the leash. Just know that while a leash will keep a paddleboard close if you fall off, it won't help you float any better. Always head out with a PFD in order to stay safe, even when you're paddling in shallow water!
Repair Kit
If you need to do some small SUP triage, you have a couple of options thanks to the SUP repair kit. The adhesive patches are easy to apply, and will seal up small holes and punctures as long as they don't occur on the seams of the 12' Cruise Carbon SUP. Also included in the repair kit is an inflation valve, which you can use to tighten up the Halkey-Roberts inflation valve if it ever comes loose.
With a triple-layer PVC construction, we doubt that the 12' Cruise Carbon will ever have major structural damage or performance issues as long as you show just a little proper care. If you do have any problems though, be sure to contact Bluefin directly, especially due to the great warranty coverage which you can read more about below!
Company Review – Bluefin
Bluefin is a family owned and operated SUP company, founded by William Vaughan and his partner Charlotte and based out of West Yorkshire. While originally started as Bluefin Kayaks, the company has since transitioned into primarily creating paddleboards, with 2023 featuring ten unique and different SUP models. Bluefin aims to create SUPs with great durability and premium performance while staying highly affordable, while also creating SUPs that are specialized for different types of paddlers and SUP water sport activities. The Cruise lineup is great for those looking for an all-around SUP, but if you're in the market consider the touring Sprint series, the yoga Aura Fit, or their Cruise Junior for younger paddlers. Bluefin SUP offers great boards with fantastic performance for inexperienced and advanced paddlers alike!
While the 12' Cruise Carbon is built to last, the paddleboard is also protected by one of the best SUP warranty policies within the paddleboard industry. All new Bluefin paddleboards are protected by a 5-year warranty that covers all damage outside of normal wear and tear. In addition to this, Bluefin offers free shipping to the US and many countries in Europe, with paid shipping options for other international buyers. From our personal perspective, we've found Bluefin to have a great support team as well, as they've always been quick to answer our questions and help us out when we've approached them. Bluefin has also released great boards year after year, and are excited to see the rest of their 2020 lineup!
Conclusion/Bottom line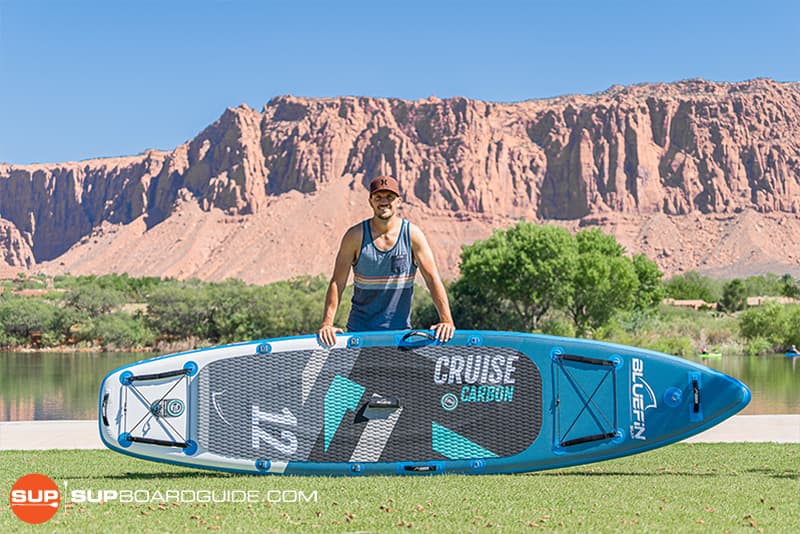 The 12' Cruise Carbon is a great all-around/touring board that all paddlers, beginner or expert, will adore. The paddleboard is extremely stable, and is a great option for those who want to go solo paddling one day while heading out with their kids, pet, or a friend the next. The 12' length and overall design finds a good balance between maneuverability and tracking, further making it a beginner friendly board but performing at a level that will satisfy advanced paddlers. We love how rigid it is thanks to the carbon fiber reinforced rails and dual inflation chambers, and think that the diamond-grooved deck pad and raised heel pad provide great feet support as well. While we do hope it can shed a few lbs in a future model, the large and heavy board does perform well even as the wind and chop picks up, ensuring you can use it almost anywhere. It's also fantastic that Bluefin is selling this great paddleboard with a premium pump, carbon fiber paddle, backpack, and kayak conversion kit at such an affordable price! If you are in the market for a new all-around SUP, the Bluefin 12' Cruise Carbon is definitely an option worth considering!
Thank you for reading our review of the Bluefin 12' Cruise Carbon SUP! If there is anything else you would like to know about the paddleboard, Bluefin, or SUPing in general, be sure to reach out to us by leaving a comment below or sending us an email with your thoughts! As we update our reviews based upon the feedback we receive from our readers, and as our team goes out and tests these paddleboards, be sure to visit our review again in the future for our up to date thoughts. We are also working on in-depth video reviews that further discusses popular SUPs, so be sure to subscribe to our SUPBoardGuide.com Youtube channel to be notified of our latest paddleboard reviews.
Stay safe, have fun, put on plenty of sunscreen, and be sure to have fun SUPing!
The following two tabs change content below.
SupBoardGuide
Heyo! At SupBoardGuide.com we are a team who love the water, the outdoors, and are more than grateful that our full-time job allows us to review stand up paddle boards. We paddle year round (it helps that we are just about 2 hours outside of Las Vegas), and we bring in a wide range of paddlers with the goal of providing our readers with the best, most in-depth, and accurate stand up paddle board reviews.
Latest posts by SupBoardGuide (see all)