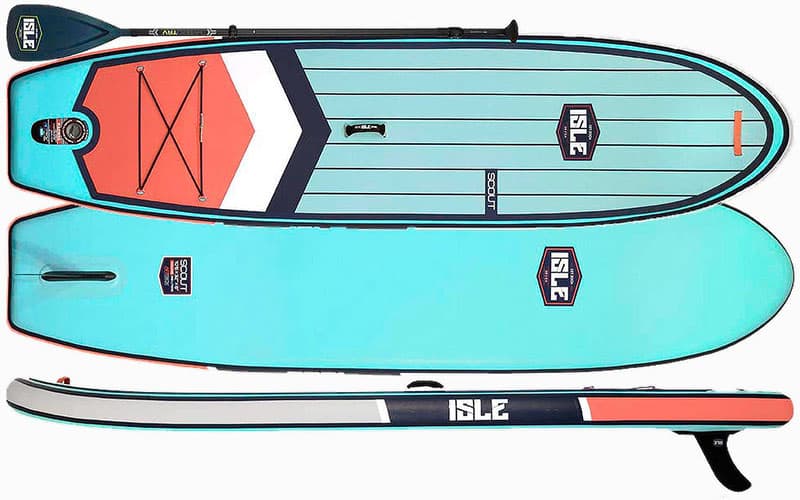 The ISLE Scout is a premium yoga board. The best part is it doesn't have to be used just for yoga. It has an extra-large premium deckpad, is pet-friendly, and is designed for stability. It's perfect for getting away and doing some yoga in nature. Not into yoga? This board is also an excellent all-around board for beginners and families.
SUP Board Specs
| | |
| --- | --- |
| Length | 10'6" (3.2m) |
| Width | 36" (91.4cm) |
| Thickness | 6" (15.24cm) |
| Weight | 21 lbs (9.5Kg) |
| Weight Capacity | 240 lbs (108.9 Kg) |
| Recommended Inflation | 14 – 17 PSI (17 PSI Max) |
| Fin | US Box Fin |
| Action mount | No |
| Pump Type | Double-action, Single-chamber |
| Paddle Type | Carbon Fiber |
| PVC Layers | Dual-layer |
| Volume | 268 L |
Performance
Stability
Yoga: The Scout's primary purpose is to be an ultra-stable board. Because who would want to do warrior pose underwater, right? The rounded nose, wide tail, and 3 ft. Continuous width makes this board a floating yoga mat. If you've been doing yoga for awhile and want to try it on a paddle board than this board will impress you. The Scout is a great tool to help you do yoga on a lake.
Beginner: That same stability offers beginners with a more comfortable ride. You don't have to worry so much about balance and foot placement because the Scout is pretty forgiving. This is nice because those new to the sport can focus on form and stance without the constant threat of falling in.
Family: The Scout is also a great family board that can handle you and a couple of small kids without the fear of tipping over. It is also pet-friendly so you can bring some furrier guests along for a trip around the lake.
Tracking/Glide: This board tracked really well. You can tell that even with its fin configuration that the Scout was designed for yoga. It consists of only a single large US box fin, which gets you to where you'll need to go. We didn't notice a significant difference without the side fins.
de, this board glides great. It has more of an all-around board feel to it as you get going. Meaning it doesn't feel like a sport board and it doesn't feel like a boat. It's in the middle. You won't tire as you paddle to your favorite yoga spot.
Maneuverability: The Scout is slightly less maneuverable than some of the boards of the same size. But that's OK. You'll still be able to steer just fine you just won't want to take this board down any rivers. Afterall it is a yoga board. The tiny sacrifice in maneuverability is made up for by the stability and overall versatility of the board.
Materials
The ISLE's Scout has a very durable design. It has a dual-layer military grade PVC construction with an extra large EVA trackpad that covers most of the topside of the board. ISLE has videos of standing on the board while its suspended between two sawhorses and also hitting it repeatedly with a hammer (don't try that at home). The board can handle a lot of abuse as long as you steer clear from sharp objects.
Board Design/Shape
The board is designed to be wide and stable. The nose is rounded with hardly a point and it has a very slight rocker. The tail is also wider and squared off more than other boards we've tested. With that shape the Scout is inching towards a giant yoga mat shape while still keeping some of the familiar paddle board aspects. The Scout is also almost 3' wide the majority of the length of the board, increasing the overall surface area of the it and giving you more room for your feet.
Board Features
Fins: The Scout has a single US box fin configuration. That means that there are no side fins. We thought we'd miss the side fins but found that the board tracked just fine without them. The fin itself is heavy-duty and high quality which is everything you'd expect from an ISLE board.
Deckpad: The deckpad makes this board unique from touring and all-around boards. The deckpad runs along 3/4s of the topside of the board which gave us plenty of room to move around. There are several advantages that we found in having so much space. For one we had plenty of room for our kids. There were no bungees that got in the way or made their ride uncomfortable. It also makes an amazing surface to just lay on the board and read a book or enjoy the day. And we also found that dogs do just fine and love to stay at the tip of the board while we paddled around the lake. Overall it is an excellent deckpad with plenty of uses.
Handles: The ISLE Scout has two handles. The center handle is a rounded neoprene design which is a lifesaver for the hands. The second handle is found on the nose and is a good quality sturdy nylon design.
What we did notice and would like to see is another handle on the tail of the board so we could use some teamwork in transporting it to the water's edge.
D-Rings/Bungees/Cargo Areas: The Scout has one bungee cargo area that is held together by four D-rings. This can hold plenty of the gear needed for a yoga sesh as well as some extras. D-rings are always great because you can clip whatever you need to them (I clip on my hydroflask) and be on your way.
Accessories
Paddle: ISLE includes their carbon fiber Travel Paddle with the Scout. This paddle is great and has some unique features that other paddles lack. The most obvious is that its made from carbon fiber which means its durable and lightweight. The other notable feature is the rubber grip that is inlaid in the handle makes it extremely comfortable compared to other molded plastic handles.
Pump: The included pump is ISLE's dual-action single-chamber pump. Its good quality and does the job. It is much smaller than a triple-action dual-chamber pumps. Which is an advantage if you want a lighter backpack with smaller dimensions.
Backpack: The ISLE backpacks are some of the most comfortable packs out there. They have cushioning in the shoulder straps and all along the back of the backpack. The foam used is thick and keeps you comfortable despite having ~ thirty pounds on your back. It prevents that strong but uncomfortable nylon from digging into you.
The backpack is also put together very well. The stitching is heavy duty and the weight bearing parts of the bag are reinforced with nylon strips. We've carried these bags stuffed with equipment over some decent distances and were confident they wouldn't break or rip.
Leash: The leash is of good quality and we liked how it was designed to compliment the board. There are others out there that'll just stick with black but ISLE makes there's pop.
Repair Kit: The ISLE comes with a repair kit that has patches and a Halkey-Roberts valve wrench. One thing to keep in mind is that a lot of companies don't include an adhesive with their repair kits. That's partly due to the glue going bad before you ever have to use it. I guess that's a downside to having a very durable board… So it might be a good idea to pick some up from a hardware store just in case.
Conclusion/Bottom line
If you're a yoga aficionado, beginner, and/or in the market for family board then the ISLE Scout would be perfect for you. The large deckpad and ultra stability make this an excellent yoga and all-around board. It has plenty of room for kids or for the family pet. All in all the Scout is awesome.
The following two tabs change content below.
SupBoardGuide
Heyo! At SupBoardGuide.com we are a team who love the water, the outdoors, and are more than grateful that our full-time job allows us to review stand up paddle boards. We paddle year round (it helps that we are just about 2 hours outside of Las Vegas), and we bring in a wide range of paddlers with the goal of providing our readers with the best, most in-depth, and accurate stand up paddle board reviews.
Latest posts by SupBoardGuide (see all)