ISLE Sportsman Fishing iSUP
Pros
Long, wide, sturdy board that is great for calm water such as lakes, open ocean, and slow moving rivers.
3 Scotty mounts and 13 D-Rings offer plenty of fishing gear compatibility.
Airtech Fusion Lite gives good durability but keeps the large board lightweight.
Long, grooved EVA trackpad maintains grip while staying comfortable.
Carbon fiber paddle is light and powerful
60-day guarantee, and multiple finance options. Free shipping to the continental US
Cons
The bag could use some wheels, especially because the Sportsman is a large board.
1-Year warranty is shorter compared to most SUP company warranties.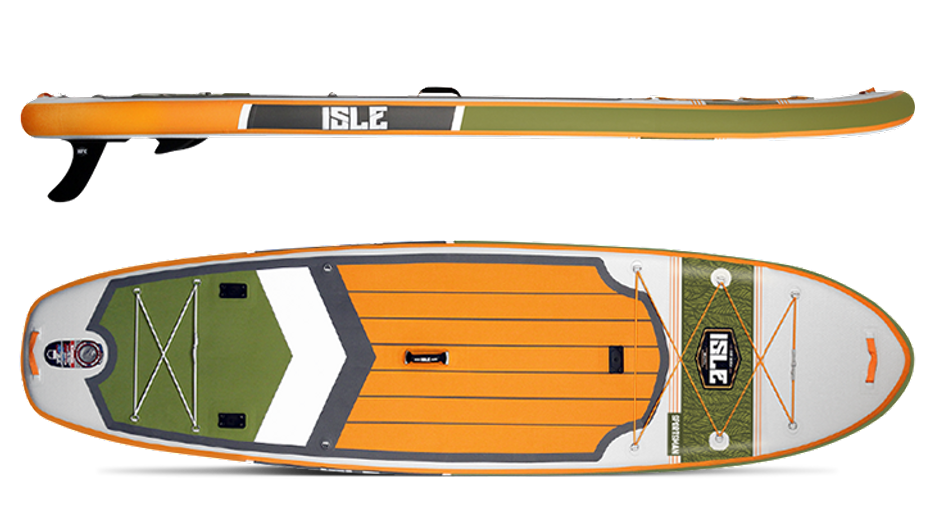 If you're a fisher looking for a stable and sturdy board designed for SUP fishing, then the Isle Sportsman is a great selection. 11'6'' long and 36'' wide, the large Sportsman offers plenty of deck space for your gear while keeping the board steady for new and experienced users alike. The scotty mounts offer easy installation for the most popular fishing accessories, while also coming with everything you need to get on the water out of the box. The flat, wide nose shape will also help you maintain a silent and smooth glide, ensuring that you can get right up to fish without scaring them away.
The ISLE Sportsman is a stable, easy to learn board that is a great option for those trying to get into SUP fishing.
SUP Board Specs:
| | |
| --- | --- |
| Length | 11' 6″ |
| Width | 36″ |
| Thickness | 6″ |
| Weight | 27 lbs |
| Rider Capacity | 320 lbs |
| Recommended Inflation | 13 – 17 PSI |
| Fins | Center removable nylon touring fin. Two permanent side fins |
| Drop-stitch Density | Airtech Fusion Lite |
| Paddle Type | 3-piece adjustable Carbon Fiber shaft. Nylon blade. |
Who Should Buy This Stand Up Paddle Board:
As you might guess from the name of the board, fishers will really appreciate the ISLE Sportsman Inflatable Fishing SUP. However, we think the board is really great for non-fishers too. The Sportsman Fishing SUP will perform best for the following riders:
Fishers! The name doesn't lie; it's great for those getting into SUP fishing!
Beginner paddlers who want a friendly board to learn the sport.
Intermediate to advanced paddlers who want a solid, stable board.
Tall, heavy SUPers who want a board that's more accommodating to their size.
Adults who intend to ride with their kids or their pets.
The ISLE Sportsman will perform best in the following conditions:
Calm and still waters, such as lakes, bays, and the local water park.
Open ocean waters. You'll be able to leave the confines of the sea harbor to fish.
Performance
Stability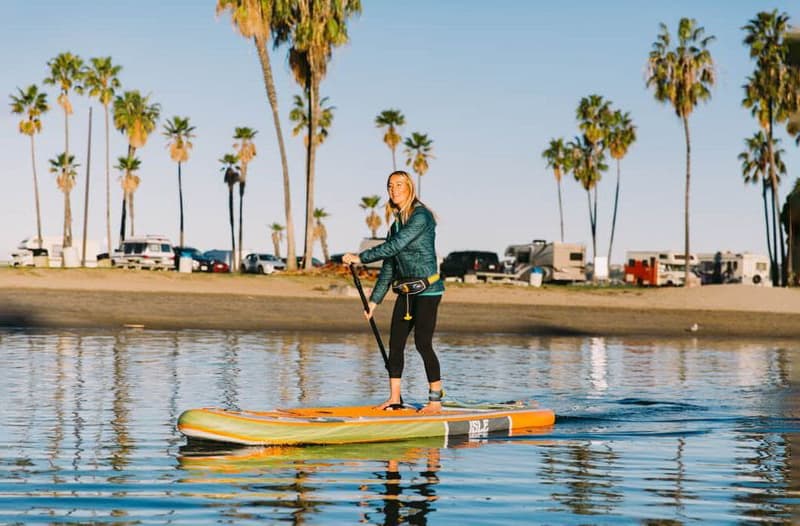 Like all of our other reviews, we start by discussing the stability of this board. Your ability to safely and steadily stand on your board is going to influence your opinion of how good it is. Stability is extra important for fishers, because you'll be rocking and shaking your board more than the average user. Unless you feel like wading or swimming with the fish, you'll be looking for a board that offers plenty of stability no matter your experience level.
So how stable is the ISLE Sportsman? Incredibly stable, which is what we expected from its size. 36'' wide and 6'' thick, this board can nicely support up to 320 lbs, meaning adult riders can comfortably take a pet or their kids with them when they ride. Despite its large size though, the Sportsman only weighs 27 lbs, making it a little easier to carry compared to similarly-sized boards. Younger paddlers might have some trouble carrying the board because of its long length, but if you can get the board on the water they'll appreciate how steady it is to paddle.
As for fishing, you'll have a tough time tipping the Sportsman over, even when you're getting pulled by a larger catch.
Maneuverability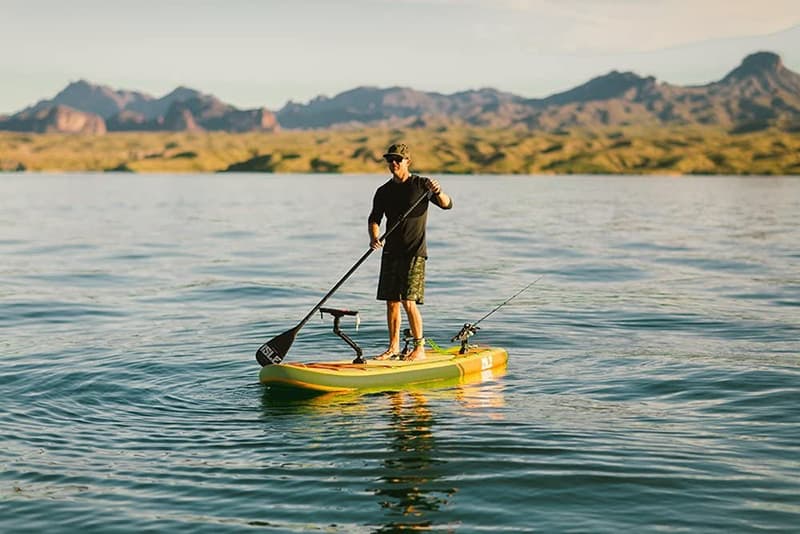 When you have a board that's 11' 6'' long, you don't expect it to turn like an all-around or surfboard. However, you'll be able to maneuver around a lake or the ocean just fine with the ISLE Sportsman, and have no problem chasing fish you set your sights on. Beginner SUPers won't have to work too hard to change the direction of the board. As for fishers, you'll be able to make an emergency turn in still lake water or light ocean chop alike.
Tracking/Glide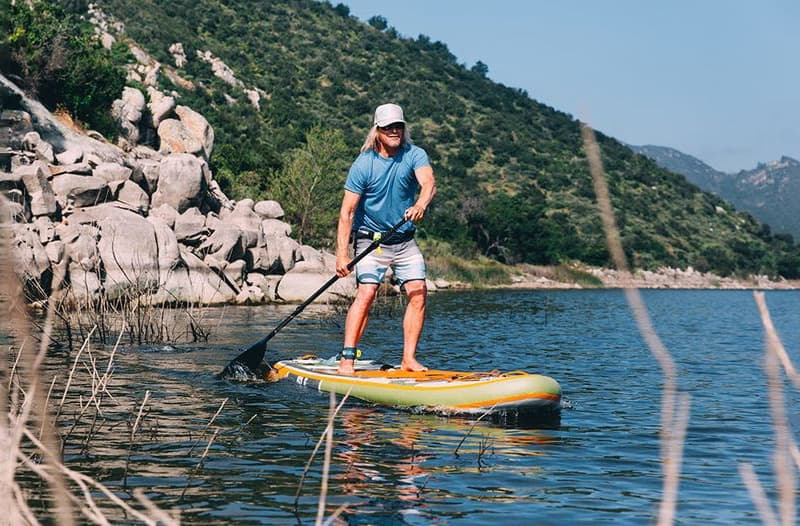 The Sportsman is built for fishers who want a stable board that stays in one place, and with a fat planing hull it won't track as well as touring or race board. For what it is though, we found the Sportsman to track really well once it was going. A removable large center fin helps drive the board straight in the water, assisted by the two permanent side fins. If you have a destination in mind and the proper paddling technique, you'll hardly go off track in the water.
The board also glides quite well and can handle light wake and waves without much trouble. The wide, planing nose helps a lot with the glide, so you can go over small chop without an issue. The wide tail also helps keep things smooth and stable as it rides. Many SUPs tend to thin out significantly at the back of the board, so while it does increase the weight it makes the Sportsman even more stable for fishing.
Materials
ISLE manages to maintain a balance of strong durability while keeping their boards lighter by using Airtech Fusion Lite drop-stitch construction technology. Thousands of short threads are attached to layers of fabric that form a tight drop-stitch core when inflated. The length of the inner threads are kept short, giving the inflatable a board shape rather than the rounded balloon shape common with most inflatables. Most SUPs then cover the fabric layer with military-grade PVC layers, to protect the inflatable against damage and offer additional weight support.
ISLE coats the drop stitch core with a bonding layer before covering their SUP with military grade PVC.. By doing so, their SUPs become more rigid, provide more stability and weight support, and are durable against punctures without becoming significantly heavier. By using Airtech Fusion Lite, ISLE can also better protect the board without massively driving up the price as well.
Board Design/Shape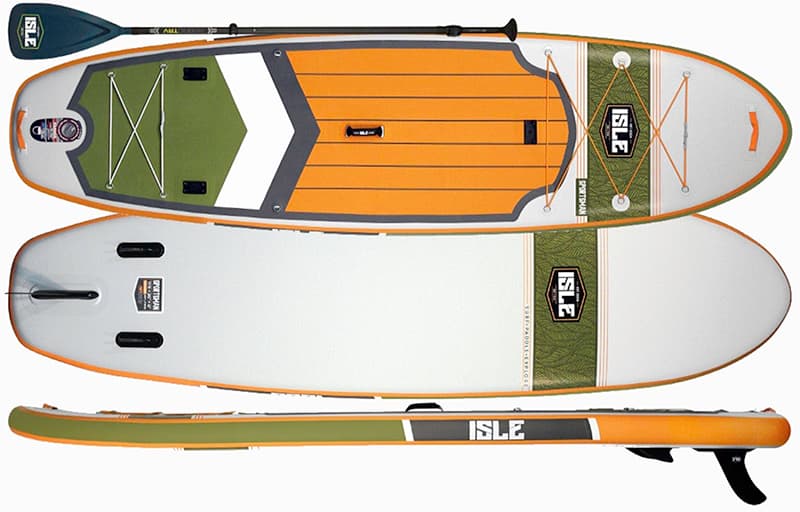 The easiest way to classify the shape of the ISLE Sportsman is as an all-around fishing board. At 11'6'' long and 36'' wide, the Sportsman is technically on the larger end of the all-around size spectrum. However, the long length with a wide width will help maintain the Sportsman's speed and glide on the water while providing plenty of stability. 6'' of thickness increases the volume of the board, making it able to support a higher weight capacity for more gear.
Board Features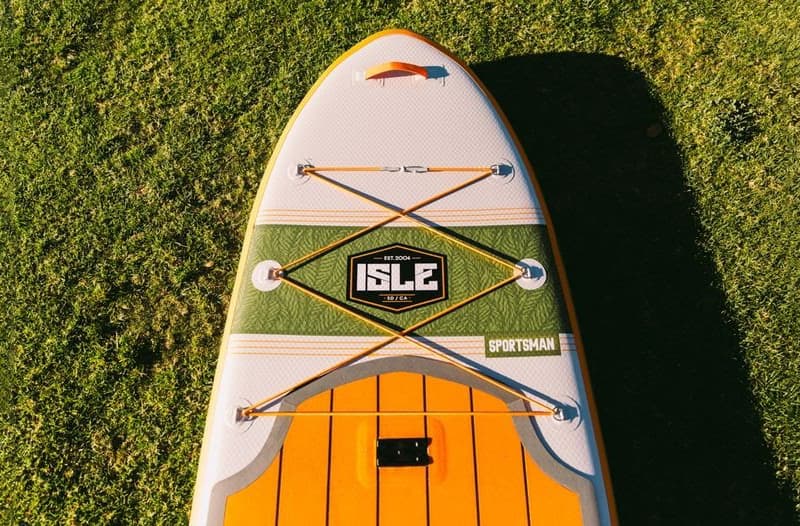 With the word 'fishing' in the title, you'd hope that the ISLE Sportsman Fishing SUP has something to offer to fishers above other boards. Not only will you be happy to know that the board is feature ready for fishers, but it has a bunch of features for non-fishers as well.
You can expect the following features with your ISLE Sportsman Inflatable Fishing SUP:
Airtech Fusion Lite Drop Stitch Core: The Sportsman is an incredibly durable board while weighing a few lbs less than many SUPs of the same size and shape. Drops, falls, scratches, and debris will have a hard time damaging the Sportsman. Should something go wrong though, the Sportsman is backed by a 1-year warranty and 60-day guarantee.
Reinforced Carry Handles: Because of the size of the Sportsman, you're probably wondering how you'll be transporting it to and from the water. Worry not, for the Sportsman comes with three reinforced carry handles to help carry the board. Use the front and back handle in tandem for multiple users working together. If you're riding solo, the center carry handle will get you to the water without too much trouble.
Huge Accessory Compatibility: First and foremost, fishers will appreciate the 3 Scotty mounts. Scotty mounts are the most popular fishing mounts in the world, and are used in boats, kayaks, and fishing SUPs alike. Most fishers who already own a bunch of gear will find their equipment already compatible for mounting with the Sportsman. If it doesn't go on the Scotty mount though, it probably attaches to one of the 13 D-Rings scattered along the board.
Large Forward and Small Back Cargo Areas: Gear boxes, coolers, dry bags and more; there's a ton of gear that you need to bring along for the optimal fishing experience. For the worried fisher, Sportsman comes with a forward and back bungee cargo area for locking down your equipment. Use the forward cargo area for larger containers, and smaller back one for things you'll want quick access to.
Grooved Eva Traction Pad: It's hard to find the balance of a comfy traction pad that doesn't irritate your feet but also offers enough grip to keep you steady on a SUP. Fortunately, the Sportsman manages to strike a great balance with its extended EVA traction pad. Non-abrasive, you'll find it relaxing to not just stand on but kneel and stretch out on throughout the day. The textured surface and grooves help maintain your feet grip, with the grooves better-displacing water if your board goes under. Follow the grooves to figure out your feet placement without ever needing to look down!
3 Piece Adjustable Carbon Fiber Paddle: While we still prefer pure carbon paddles, the Sportsman carbon fiber paddle is a close second for us. The carbon fiber shaft is lighter compared to most other paddle shafts while maintaining a comfortable texture that you won't hate holding all day long. The nylon paddle blade is stiff, maximizing the power of your stroke, and keeping the overall paddle weight down. The three-piece adjustable assembly makes it so you can optimize the paddle for most rider heights. Easy to adjust, you'll be able to slide the paddle shaft along an inner rail to find your perfect length, even on the water.
Fins
The Sportsman Inflatable Fishing SUP is a great board, but if there was one thing we'd like upgraded in the future it's the fin set up. The center fin is fantastic; the nylon touring fin will help you track in a straight line, and can be easily installed in half a minute. The US standard fin box means you can also change out the center fin for many alternative fin options.
As a side note, if you are tired of screwing the fin in and out each time, we'd recommend taking a look at the awesome, new FCS II fins. They will lock into your board within seconds without having any extra parts to lose!
The side fins are permanently attached though, limiting your customizability. Overall, these fins perform well, they're incredibly hard to break, and beginner riders will appreciate one less thing to worry about.
The Sportsman fin setup is well suited for fishers looking for an easy to install, stability focused fin system.
Grooved EVA Traction Deck Pad
Orange might be a little unexpected as a color, but I personally love how it helps the Sportsman SUP stick out from many other SUPs. The whole deck pad stretches from the inflation value to about where the forward cargo space starts, making it long and pertinent for those who want to stretch out.
It's doubtful you'll ever go through a wave, but the six grooves will help drain the water off your deck pad should it occur. Most of the time, you can use the grooves to help grip and configure your feet placement as you ride without having to look down all the time. Whatever you're doing though, the soft EVA pad is definitely nice on the feet and knees. You shouldn't feel any irritation when using the deck pad over the course of long fishing outings.
Reinforced Handles
You can never go wrong with a 3 handle setup, especially handles that are as cozy to grip as the Sportsman reinforced handles. The center handle is supported with neoprene cushioning, making it easy to hold no matter how wet and cold your hands might be. The front and back handles are a little rougher, but because of how secure they are they can double as a leash or dock tie-up point. Carry the board with the center handle, pull it with the front or back, or work in tandem as a pair to move your board to the water. We always appreciate a board that offers multiple ways to transport them!
Scotty Mounts/D-Rings/Bungees/Cargo Areas
The center Scotty mount will work well with a vertical rod holder, allowing you to quickly switch out your paddle for your rod once you've found something you want to catch. The back two Scotty mounts will work well with a fish finder, or can be set up to troll with rods if you want to focus on paddling. Whatever your intention, the Scotty mounts are compatible with a variety of fishing accessories. Most fishers who've accumulated a ton of gear over the years won't have to buy a conversion kit to make their gear work.
The 13 D-rings might seem like an unlucky configuration, but you'll be glad to have them as you ride. The back most D-Ring is the perfect place to attach your leash to, while the center two D-Rings give additional leash options. The remainder D-Rings are used with the two bungee systems, with the larger cargo area in the front and smaller area in the back.
Accessories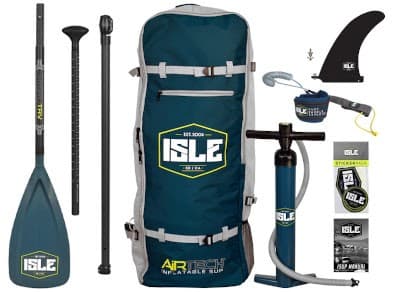 Paddle
We really like the paddle that comes with the ISLE Sportsman. ISLE paddles offer an interesting assembly system, in that the inner core of the shaft has a rail guiding system. While this might make putting the paddle together a little more time consuming, you'll never worry about putting your paddle together wrong with it. The rail guarding system also helps keep the paddle firm, so it's not rattling or sliding every time you push on it. Once you lock the paddle claps, the Sportsman paddle offers upper-end performance that will serve you well in your adventures.
The shaft is made of carbon fiber and is accompanied by a nylon paddle that, when put together, weighs just 29 ounces. For performance, we still regard pure carbon shafts as the best in the business, but they typically cost several hundred dollars as a bare minimum. Carbon fiber paddles offer a close alternative, lighter than heavy aluminum shafts but having the strength, performance, and comfortable feel similar to pure carbon paddle shafts. Nylon paddle blades are also typical of a carbon fiber blend, boosting performance with its rigidity and also being very durable..
Beginner paddlers will find the Sportsman carbon fiberglass blend paddle an excellent learning tool. Fishers and advanced users are also still getting a high performing paddle, and will be quite happy with it in the long run.
Pump
A typical single-chamber, dual-action pump comes with the ISLE Sportsman Inflatable Fishing SUP. Because of the large size of the board, a dual-chamber pump would be preferable to help pump up the voluminous inflatable quicker. However, the single chamber is smaller and more compact, keeping the total weight load and kit size down with only a slight decrease in inflation time.
The included Sportsman pump is pretty easy to use, and even first-time SUPers should be able to get their board inflated in 10-15 minutes. Attach the hose from the pump to the inflation valve, and make sure that the pressure cap is inserted into the manual pump. With the pressure cap inserted, you will be in the first action mode, which pumps air into your board on the rise and fall of the pump. Inflate the board until you hit about 7 PSI, or until you find it difficult to continue pumping air in. Remove the pressure cap, and you'll be in the second action mode, which pumps air in only as you push down on the pump. Use your weight to continue pushing down on the pump until you get to your desired PSI. We would recommend 15 PSI for maximum stability and performance, but anywhere between 13-17 is recommended by ISLE for the Sportsman.
Pumping by hand isn't the hardest thing in the world, but there are those who just want to get out on the water as fast and as effortlessly as they can. Our number 1 accessory recommendation for all inflatable SUPs is to skip pumping yourself by buying an electric pump instead, especially the great electric pump offered by ISLE. Not only will an electric pump save you time, effort, and energy by pumping your board for you, but it will deflate your board as well. No more worrying about whether you got enough air out or in; just hook up the electric pump and let it do the hard work for you!
Backpack
I am mostly happy with the ISLE Sportsman backpack. The bag offers plenty of space for not just the board, but for the pump and paddle as well. Packing your Sportsman won't be like packing a tent, so with proper deflation you'll be able to pack your board without too much effort. There's also a front zipper compartment for storing your leash, your center fin, your repair kit, and for a couple of other small items about the size of your hand.
I would love for the Sportsman backpack to have some wheels on it. The backpack is comfortable, and has plenty of options to help adjust it, but the kit does feel on the heavy side when you're hauling it on your back. However, I can also see how paddlers who need to hike long distances and can't drag their backpack will want to minimize kit weight as well. Many fishers bringing extra gear will probably already have a trolly as well that they can just toss their bag on. It's not critical, but it would at least be a nice option to have on a future backpack.
Leash
The 8' coiled leash will keep your board from floating away when you take the occasional accidental trip into the water, without having to worry about getting tangled up as you swim. While it will keep your board close, the leash won't necessarily help you float, especially if you take a sudden fall. Always be sure to take a PFD with you when you paddle!
Repair Kit
There are two things packed into the ISLE Sportsman repair kit. The most useful item included is an inflation valve wrench, which you can use to tighten your inflation valve if it comes loose over time.
There are also patches, which you can apply to small holes and leaks. The patches won't work if the puncture is on the seams, and they are a short term repair option just meant to cover minor punctures. For any significant board damage, be sure to contact ISLE for assistance.
Optional Accessories
With the Scotty mounts and D-Rings, there are plenty of accessories you can use with an ISLE Sportsman Inflatable Fishing SUP. The official ISLE accessories we recommend taking the closest look at are the following:
ISLE 12v Electric iSUP Pump, or the BP20-1 Electric Pump w/ Chargeable Battery
ISLE Sportsman Fishing Kit
ISLE 15L Dry Bag
ISLE UV Protecting SUP Board Sock
MTI Fluid 2.0 Inflatable Belt Pack Life Jacket
Company Review – ISLE Surf and SUP
Founded in 2004, ISLE Surf and SUP is a San Diego, California based company founded by Marc Miller and Doug Pate. ISLE specializes in paddleboards, surfboards, and many other water-based accessories. With over 5,000 five star reviews, ISLE boards are dependable, high performing, and well suited for water based sports.
ISLE boards have a 60-day guarantee and a 1-year warranty, along with 3, 6, and 12 month finance options. While ISLE warranties are on the shorter side of things, they strive to have 100% customer satisfaction, and will try to work with customers even outside of warranty. For any questions or concerns, be sure to contact ISLE for support.
Conclusion/Bottom Line Review
The ISLE Sportsman Inflatable Fishing SUP is a large but incredibly stable board that would serve the needs of most SUPers very well. Beginners will find the learning curve much more forgiving with a wide deck that's difficult to topple over. All paddlers alike will appreciate the resilience of the Sportsman, along with the huge accessory compatibility. The larger weight capacity means that an adult paddler can ride out with their kids or pets without majorly impacting the board's stability. Fishers will appreciate the board most of all, and will find the Sportsman capable of fishing in any water setting.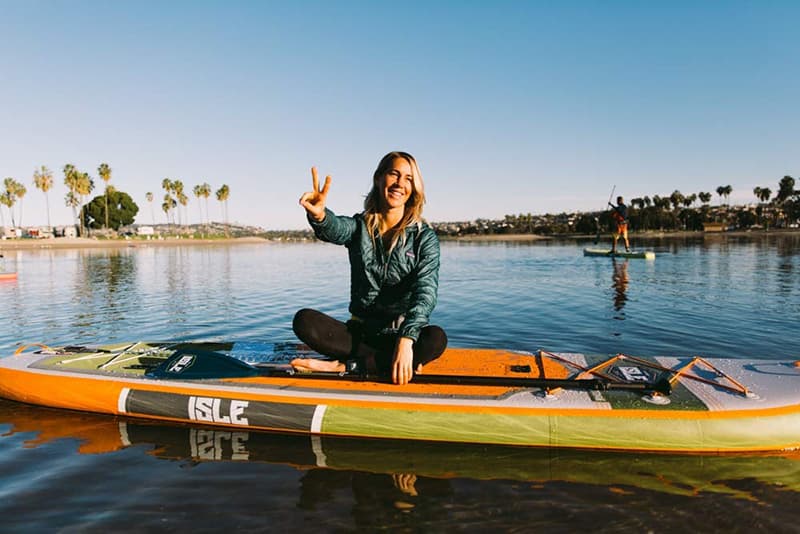 The ISLE Sportsman Inflatable Fishing SUP is well worth the attention of not just fishers, but anyone looking for an ultra-stable all-around board. However, if you have any questions, we'd love to hear from you. Feel free to either ask as a question below or contact us directly and we'll respond as quickly as we can. We also periodically update this review with feedback, so help us have the most up to date review we can.
Thank you for reading! Let us know how your next SUP trip goes!
The following two tabs change content below.
SupBoardGuide Editorial Team
At SupBoardGuide.com we are a team who love the water, the outdoors, and are more than grateful that our full-time job allows us to review stand up paddle boards. We paddle year round (it helps that we are just about 2 hours outside of Las Vegas), and we bring in a wide range of paddlers with the goal of providing our readers with the best, most in-depth, and accurate stand up paddle board reviews.
Latest posts by SupBoardGuide Editorial Team (see all)