Starboard 12' x 33" iGO Deluxe DC iSUP
Pros
One of Starboard's most stable SUPs - this is a great option for taller/heavier paddlers or paddlers who just need a bit of extra volume
Faster than we expected on the water
Surprisingly maneuverable despite it's better-than-expected tracking capabilities
Lots of deck space to practice some SUP yoga, bring along a pet, or passengers
Double chamber construction is required in some bodies of water - so this SUp would be ideal there
Cons
Priced higher than most all-around SUPs in this size range, however, Starboard does use some of the bets construction methods in the industry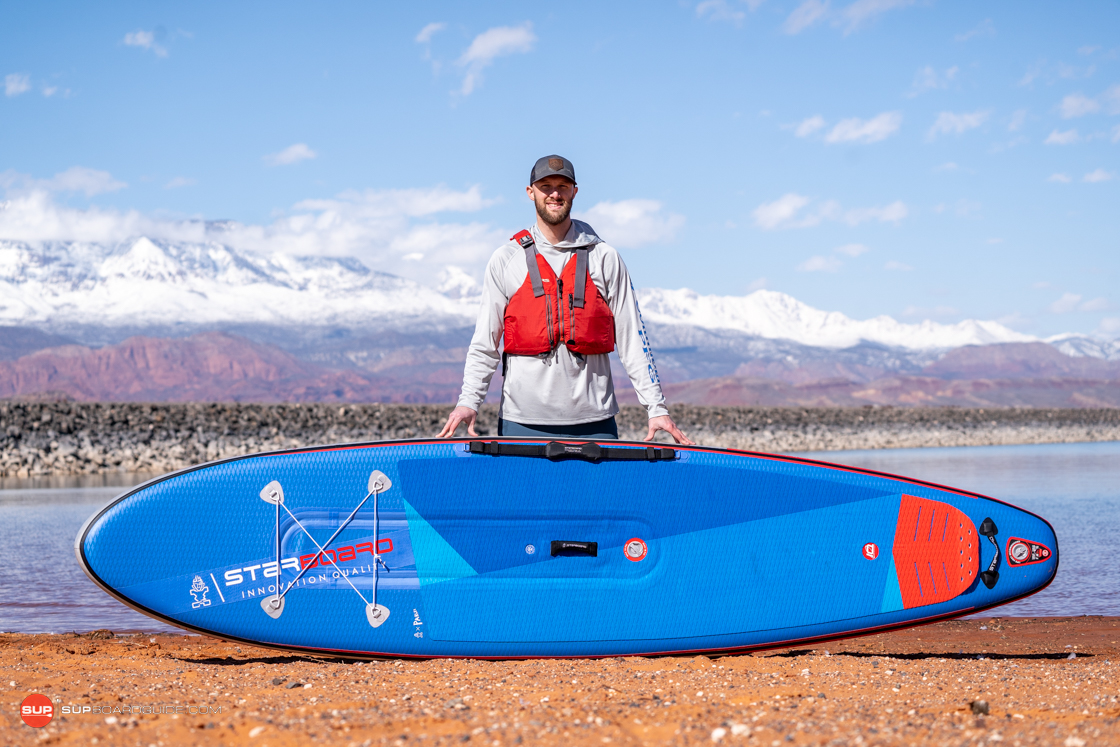 Larger all-around SUPs, like the 12'0 x 33" iGO Deluxe DC from Starboard, are always a little interesting to review. The bottom line is that it can be difficult to make predictions on how they'll perform in the water. Of course, the general rule of thumb is that wider, rounder, larger SUPs will be a bit slow and sluggish to paddle. However, with advancements in construction techniques, we've continued to see these big boards defy the odds by being capable of nearly as much speed and maneuverability as their small counterparts – and in our review of the Starboard 12'x33 iGO, the board surpassed all our expectations.
Its high volume shape and dimensions make this 12' x 33" iSUP extremely stable for taller/heavier paddlers or paddlers with pets and gear. On top of its stability, though, this board is surprisingly fast. It performed similarly in our speed testing to narrower all-around SUPs, and its stiff but lightweight construction keeps it much more responsive than we expected.
Considering this board's performance and construction, it's no surprise that it's now one of our favorite 'big boards' to take out when we need a bit of extra volume or just a board that will suit a wide range of paddler sizes and skill levels.
We think the Starboard 12′ x 33″ iGO Deluxe DC would be great for paddlers who
Want to do some serious adventure paddling (overnight, longer paddles) and need a high-volume all-around that isn't sluggish or heavy
Paddle somewhere that requires a double chamber iSUP (side note: we usually don't like the feel of dual-chamber iSUPs. That's not the case with the Starboard 12'x33″ – we really enjoyed the feel of this board on the water)
Prefer lightweight construction, but don't want to sacrifice stiffness
Need a versatile board that can handle a variety of water environments
An experienced paddler looking to invest in a high performance, larger iSUP
A beginner who wants a larger adventure SUP and has the $$$ to dive right into a high-end product
Starboard 12′ x 33″ iGO Deluxe DC: Spec Sheet
Main Category: All-Around, Inflatable
Board Dimensions: 12' x 33" x 6"
Listed Board Weight: 26 lbs
Listed Max Capacity: 265 lbs
Recommended PSI: 15-18 PSI for outer chamber; 10 PSI for inner chamber
Fins: Single center fin; US fin box
Paddle: Not included
Materials: Woven dropstitch w/ fusion tech and welded rails
Price Range: high
Warranty: 2-year
Performance Review of the Starboard 12′ x 33″ iGO Deluxe DC Stand Up Paddle Board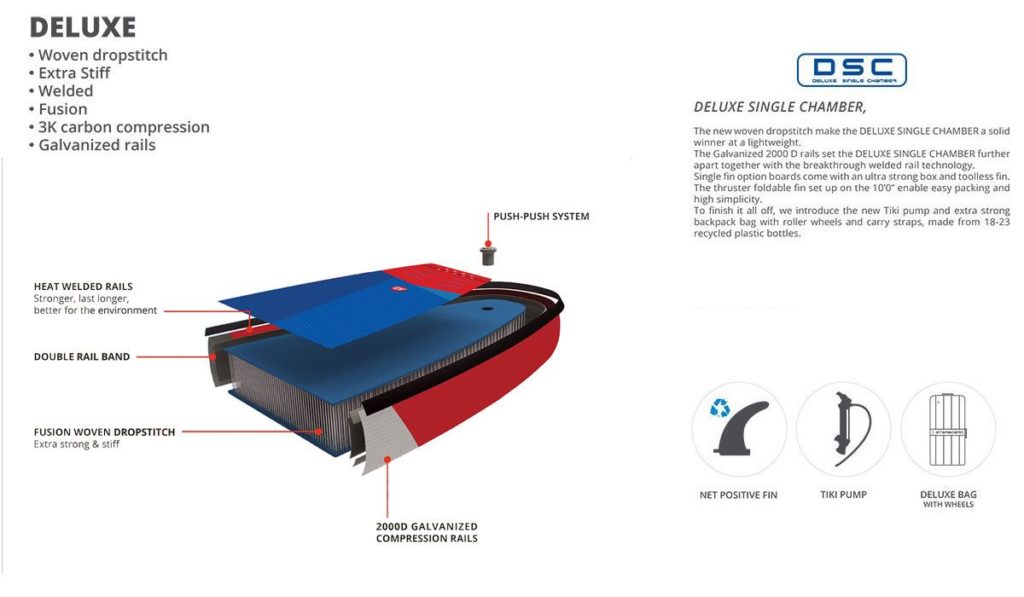 Overall Score: 9.5/10
Stability: 9.8/10
Speed: 9.3/10
Tracking: 9.2/10
Maneuverability: 8.9/10
Construction Quality: 9.8/10
Features/Accessories: 8.6/10
Stability Rating: 9.8/10
This all-around is one of Starboard's highest volume SUPs, and it's no shock that it is very, very stable. However, in this case, we think they did a great job balancing stability and performance. This is not a SUP that feels sluggish or 'boat'ish on the water – it is still surprisingly fast and reasonably maneuverable (see speed test sections below).
We're confident that this would be a good option for larger paddlers who need volume but prefer something with a bit higher performance capabilities. It's also a good choice for paddlers who want an all-around stable enough to bring along pets or passengers, or a board with the capacity to be loaded up with camping or overnight gear for longer treks. We also found it to do really well when paddling with a child or small teenager on board.
Speed Test: 9.3/10
Despite being such a large SUP, this board did SURPRISINGLY WELL in our speed testing. And yes, those capital letters were inserted on purpose – it did that well.
Justin was able to get up to 5.8 mph on the sprint test, and found the board easily held that speed. While casually paddling (around 70% effort, around 40-45 strokes per minute) he cruised around 3.8-4.0 mph. This is around .4 mph faster than a board like the Blackfin Model XL, which is one of our favorite big SUPs. We attribute that to having an extra 6″ in length on those other big boards, and trimming 1″ in width at 33″ vs 34″. Personally, we really like the shape and design and have a feeling we might see more big iSUPs follow this shape in the future.
The Starboard 12'x33 iGO also held better speed than its smaller all-around counterpart, the 10'8 x 33" iGO Deluxe SC in both our cruising test and our sprint test, which exemplifies the fact that when the width is kept the same, a longer waterline will almost always create a faster board. And, while the 12' x 33" double chamber Starboard is not intended to be Starboard's speed demon on the water, it will surprise you and fits very nicely into the mixed category of all-around / adventure / touring SUP and will allow you to comfortably keep up with a group of friends on longer paddles and be a joy when loaded up with gear.
Tracking: 9.2/10
Again, for how large this board is, it tracks really well.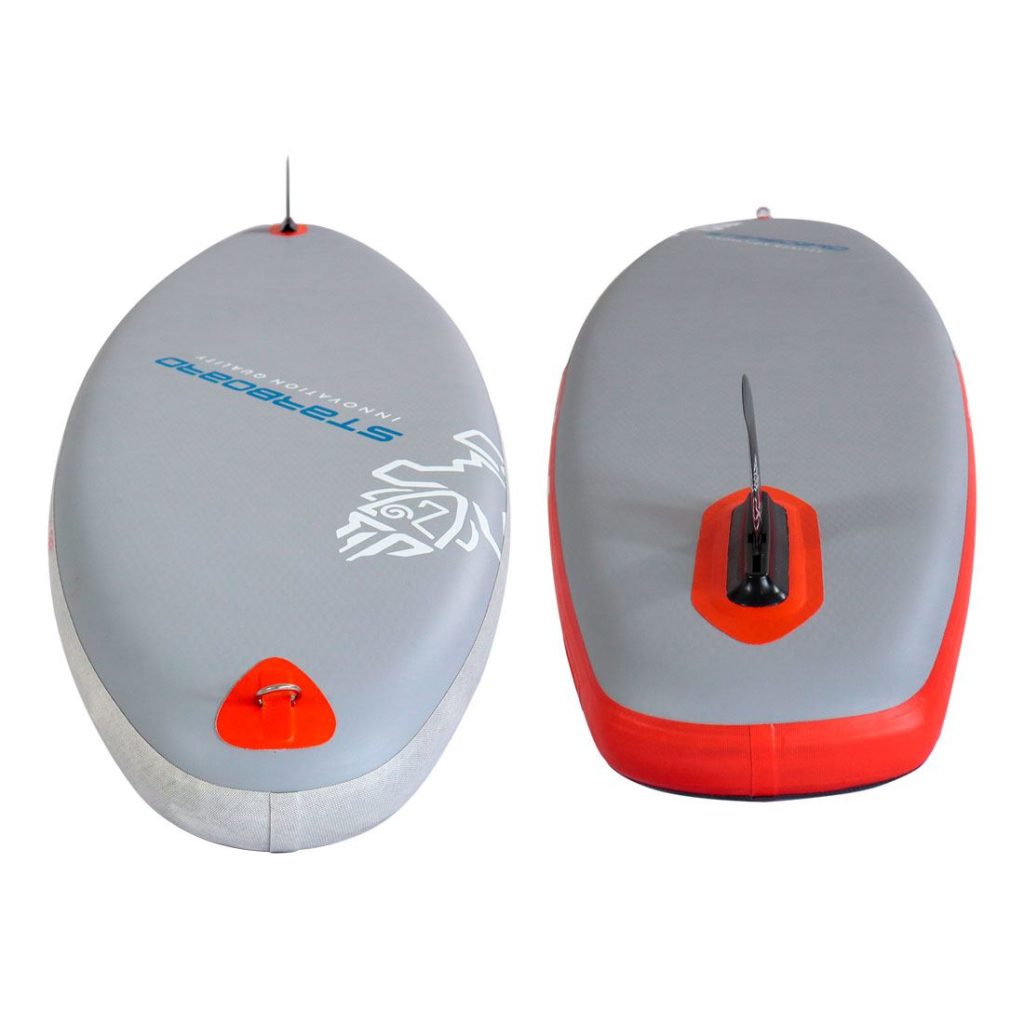 It's not quite as directional as a 12' touring SUP, but it holds a straight path about as well as any other well-made all-around board. We found that we'd need to switch sides every 5 or so strokes, which is fairly average, and especially good for a big board. And, because Starboard uses a US fin box, the fin is customizable meaning you can always enable this board to rack better by swapping in a larger hatchet-style fin.
Maneuverability: 8.9/10
This 12' SUP maneuvers about as well as we expected. It doesn't exactly turn on a dime, but it doesn't require a ton of effort to change its direction with either sweeping turns or crossbow turning maneuvers. And, because of its increased stability, it's super easy to move around the board and walk back towards the raised kick pad for a more aggressive pivot turn.
Construction Quality: 9.8/10
Starboard constructs all of the board in their 'Deluxe' line-up using a woven drop stitch core, fusion technology, and heat-welded seams, which makes their boards impressively rigid and lightweight.
Now, we'd be remiss if we didn't explain what exactly all of those construction terms mean. Essentially a woven drop stitch core means that the board's fabric base is made from a woven material rather than a knitted material which would be more flexible and therefore more susceptible to bending under a paddler's weight.
Starboard then coats this woven fabric base in PVC and bonds the two together using heat instead of glue, which would add weight to the board in the form of adhesives. They seal the whole board together at the rails and seams using heat welding, which melts the PVC together to form a tighter bond and significantly limit the risk of seam failure over the board's lifetime.
Also obviously important to note, this SUP has double chamber (DC) construction which means that there is a small inner chamber in the middle of the board and a large outer chamber making up the rest of the board. It's almost as if you put the donut hole back into the middle of the donut. We haven't found it to benefit or detract from the SUP's performance, but there are some bodies of water that require double chamber construction.
Overall, this is one of the most advanced construction techniques in the industry, and it's part of the reason these boards come with an incredible reputation and a bit higher price tag.
Board Stiffness: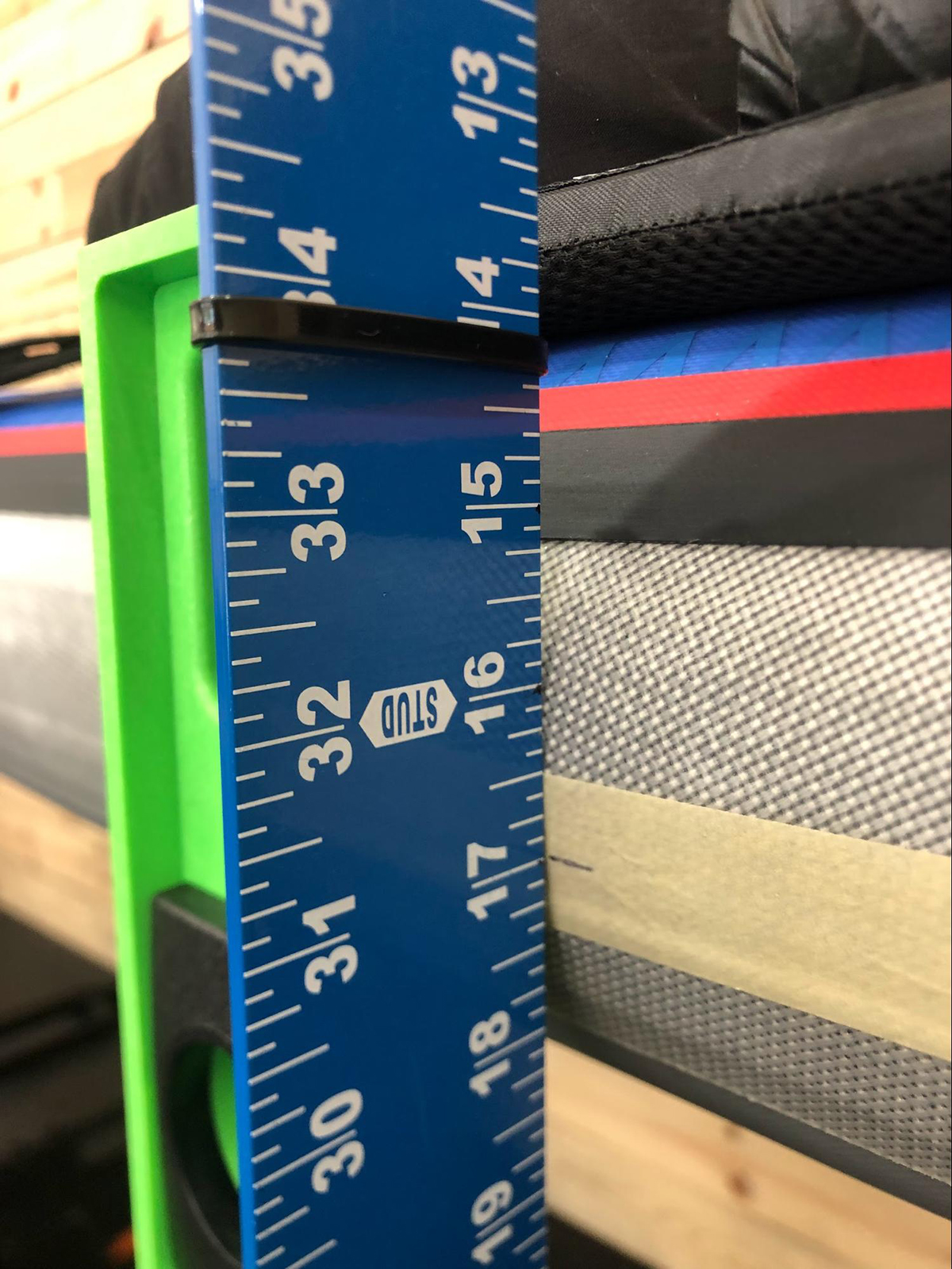 Stiffness Test: 1" Bend
Our stiffness test is done by placing the SUP on top of two sawhorses spaced 7' apart, and placing 150 lbs at its midpoint (or approximately the area where the paddler would be standing). We then measure how much it bends under the weight at its maximum PSI.
The 12' x 33" iGO Deluxe DC bent 1" in our bend test, which puts it among the top performers. While this isn't exactly a surprise, knowing this SUP's construction, it is still impressive given how light this board is for its size.
Features/Accessory Review: 8.6/10


This SUP is fairly minimalistic when it comes to features and add-ons, which is fairly typical for higher-performance all-around boards.
At the nose, this 12' Starboard has one 4-point bungee cargo area, which easily fits some day gear or a couple of dry bags. There's also a standard center carry handle and another carry handle at the tail.
We also love the raised kick pad as it's placed perfectly to brace your foot during pivot turns, as well as the diamond-grooved deck pad with a crocodile finish – it makes it that much easier to move around this ultra-stable SUP.
Lastly, we found the single fin set-up to be appropriate for this SUP. The included dolphin-style fin helps keep this large SUP maneuverable, though if tracking is a major priority, you can always switch your fin out for a larger hatchet-style fin using the US fin box.
Included Accessories:
The 12' x 33" iGO Deluxe DC by Starboard comes with the following accessories:
Dolphin style center fin
Leash
Single chamber hand pump
Wheeled SUP backpack
While this accessory list is light, each piece of equipment is of great quality. We especially like Starboard's included leash for its ability to flatten out when stepped on. It's a small touch, but it's super nice if you move around your board frequently.
The only thing to note here is that this board does not come with a paddle included, but there is the option to bundle one of your choosing with your SUP. We don't think this is necessarily a bad thing, as we expect most people buying this board are going to be either experienced paddlers looking or beginners with fairly deep pockets and want to start with a top of the line SUP.
Summary Review of the Starboard 12' x 33" iGO Deluxe DC iSUP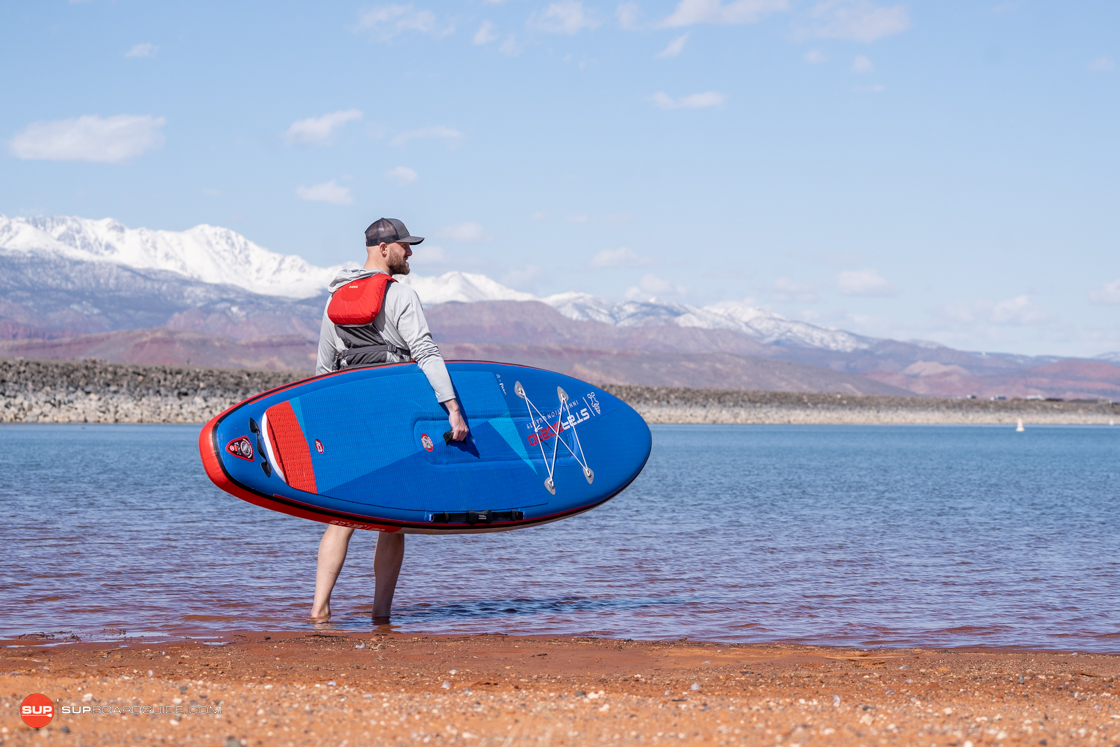 Overall, the Starboard 12' x 33" iGO DC Deluxe is a good option for paddlers who need a large, stable board that doesn't make much sacrifice in terms of performance and that will outperform most other intermediate level big (11'6 or above) iSUPs. Yes, it's more expensive than those boards, but we think the price tag is warranted if you have the extra $$.
This board exceeded our expectations in nearly every phase of our testing. It's impressively quick for its size and reasonably responsive when it comes to maneuverability. Much of this can, of course, be credited to Starboard's careful design and careful construction techniques that make this board extremely rigid without weighing it down with heavy materials.
The 12' x 33' iGO Deluxe DC can simply fit a wide range of paddlers, size ranges, skill levels, and disciplines – there just simply aren't a lot of people this board wouldn't work for, and that's exactly why we like it so much.
As always, we hope that this review has been helpful as you search for the right stand-up paddleboard. Please reach out to us in the comments below if you have any questions or feel that we've missed anything.
Happy Paddling!
The following two tabs change content below.
SupBoardGuide
Heyo! At SupBoardGuide.com we are a team who love the water, the outdoors, and are more than grateful that our full-time job allows us to review stand up paddle boards. We paddle year round (it helps that we are just about 2 hours outside of Las Vegas), and we bring in a wide range of paddlers with the goal of providing our readers with the best, most in-depth, and accurate stand up paddle board reviews.
Latest posts by SupBoardGuide (see all)