Starboard 12' x 33" iGO Deluxe DC iSUP
Pros
Super stable for paddlers of all levels and all sizes, thanks to the larger than average all-around dimensions and overall plan shape.
Great balance between maneuverability and tracking. It listens when you nudge it in a certain direction and maintains its line moving forward.
Awesome on the water sensation, this is a generally high-performing SUP.
Heavier than its smaller sibling (10'8x33) but still faster due to its longer water line.
Double chamber board so if you live in a place that requires this, you're all set!
Rigid and high-performing due to Starboard's deliberate construction process. The x-woven drop-stitch core + heat welded seams make this board very durable.
Cons
Priced higher than most all-around SUPs in this size range, however, Starboard does use some of the bets construction methods in the industry
A longer all-around board that is great for stabilizing paddlers of all sizes and skill levels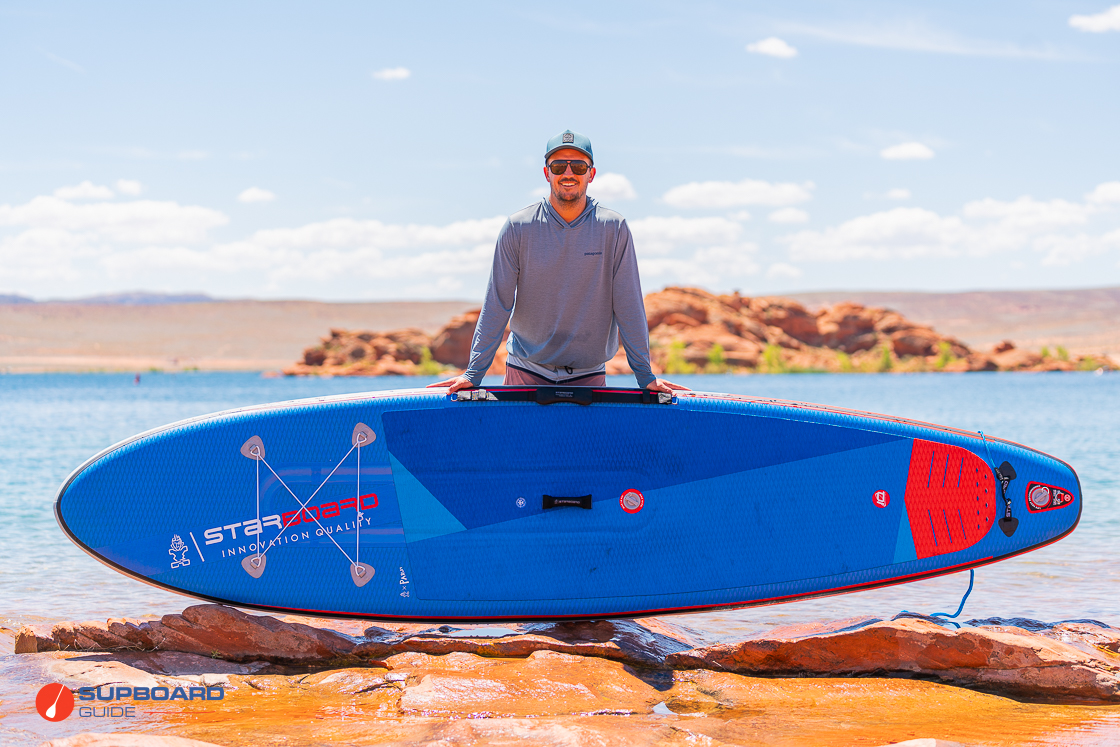 Larger all-around SUPs, like the 12'0 x 33" iGO Deluxe DC from Starboard, are always a little interesting to review. The bottom line is that it can be difficult to make predictions on how they'll perform in the water. Of course, the general rule of thumb is that wider, rounder, larger SUPs will be a bit slow and sluggish to paddle. However, with advancements in construction techniques, we've continued to see these big boards defy the odds by being capable of nearly as much speed and maneuverability as their small counterparts – and in our review of the Starboard 12'x33 iGO, the board surpassed all our expectations.
Its high volume shape and dimensions make this 12' x 33" iSUP extremely stable for taller/heavier paddlers or paddlers with pets and gear. On top of its stability, though, this board is surprisingly fast. It performed similarly in our speed testing to narrower all-around SUPs, and its stiff but lightweight construction keeps it much more responsive than we expected.
Considering this board's performance and construction, it's no surprise that it's now one of our favorite 'big boards' to take out when we need a bit of extra volume or just a board that will suit a wide range of paddler sizes and skill levels.
We think the Starboard 12′ x 33″ iGO Deluxe DC would be great for paddlers who
Want to do some serious adventure paddling (overnight, longer paddles) and need a high-volume all-around that isn't sluggish or heavy
Paddle somewhere that requires a double chamber iSUP (side note: we usually don't like the feel of dual-chamber iSUPs. That's not the case with the Starboard 12'x33″ – we really enjoyed the feel of this board on the water)
Prefer lightweight construction, but don't want to sacrifice stiffness
Need a versatile board that can handle a variety of water environments
An experienced paddler looking to invest in a high-performance, larger iSUP
A beginner who wants a larger adventure SUP and has the $$$ to dive right into a high-end product
Starboard 12'x33 iGO Deluxe: Spec Sheet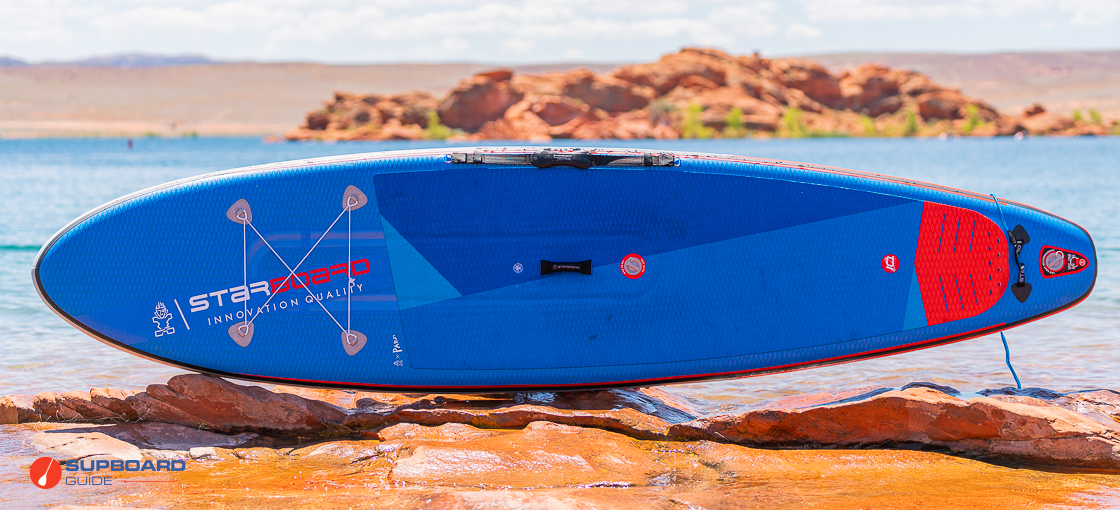 Main Category: All-around
Board Dimensions: 12' x 33'' x 6''
Listed Board Weight: 26 lbs
Listed Max Capacity: 265 lbs
Recommended PSI: 15 -18 for outer chamber, 10 PSI for inner chamber
Fins: Single center fin; US fin box
Paddle: Not included
Materials: Woven dropstitch w/ fusion tech and welded rails
Warranty: 2 years
Performance Review of the Starboard 12'x33 iGO Deluxe Stand Up Paddle Board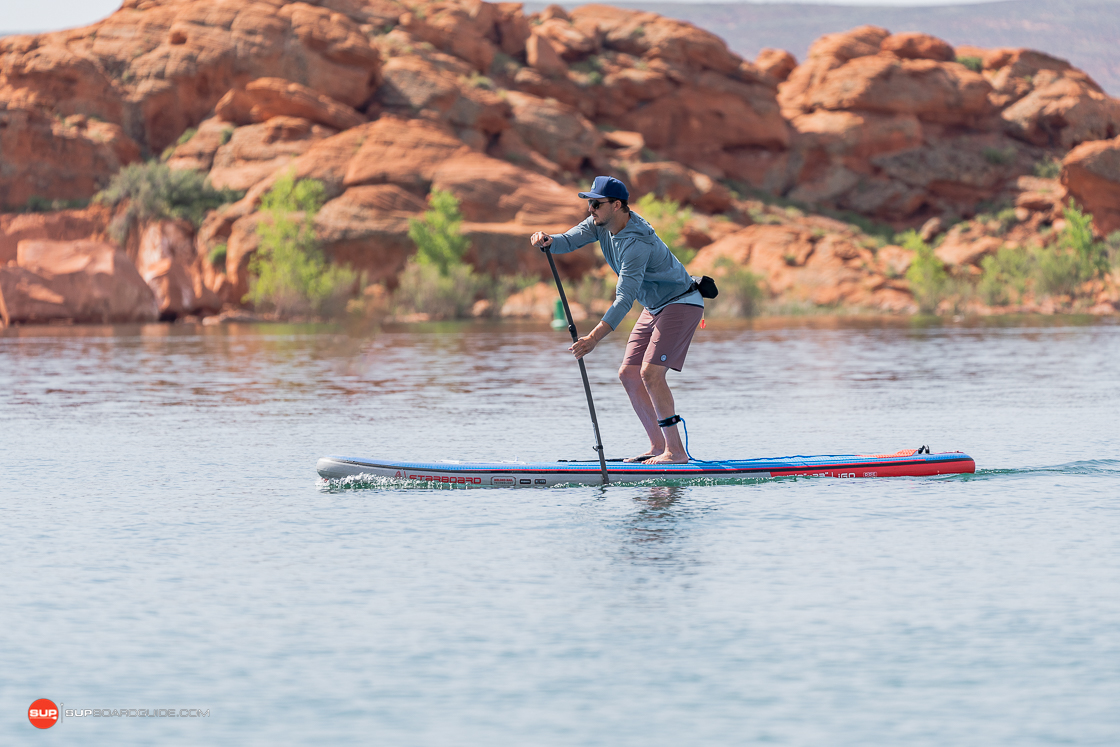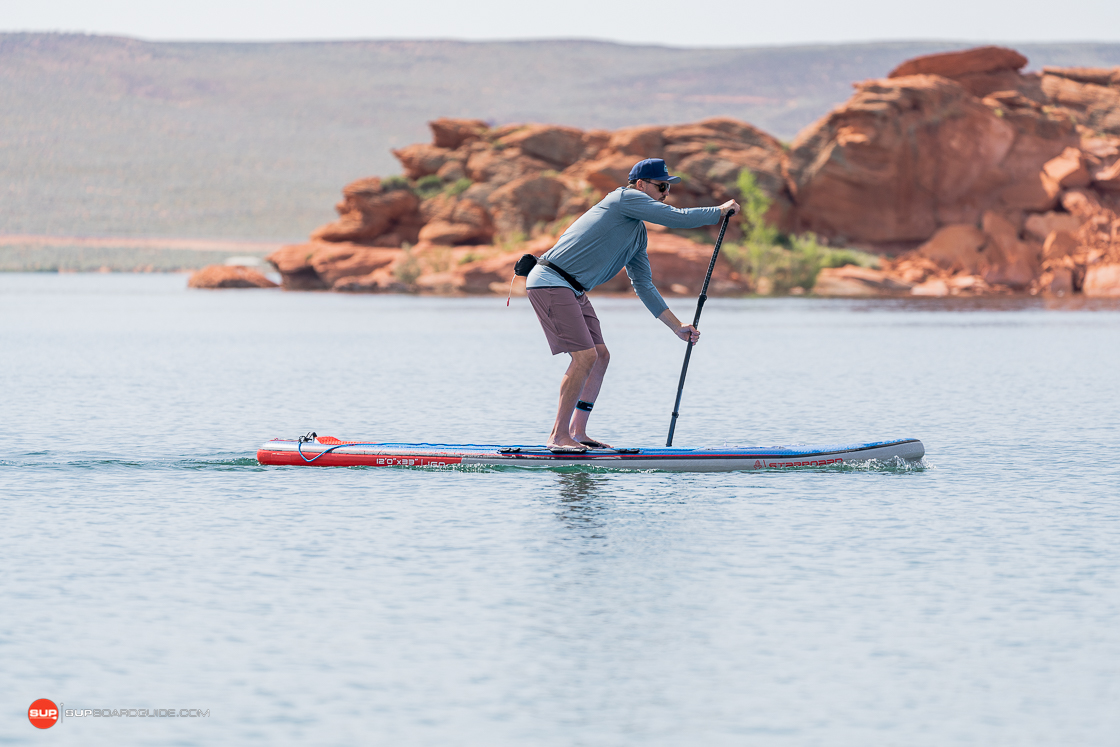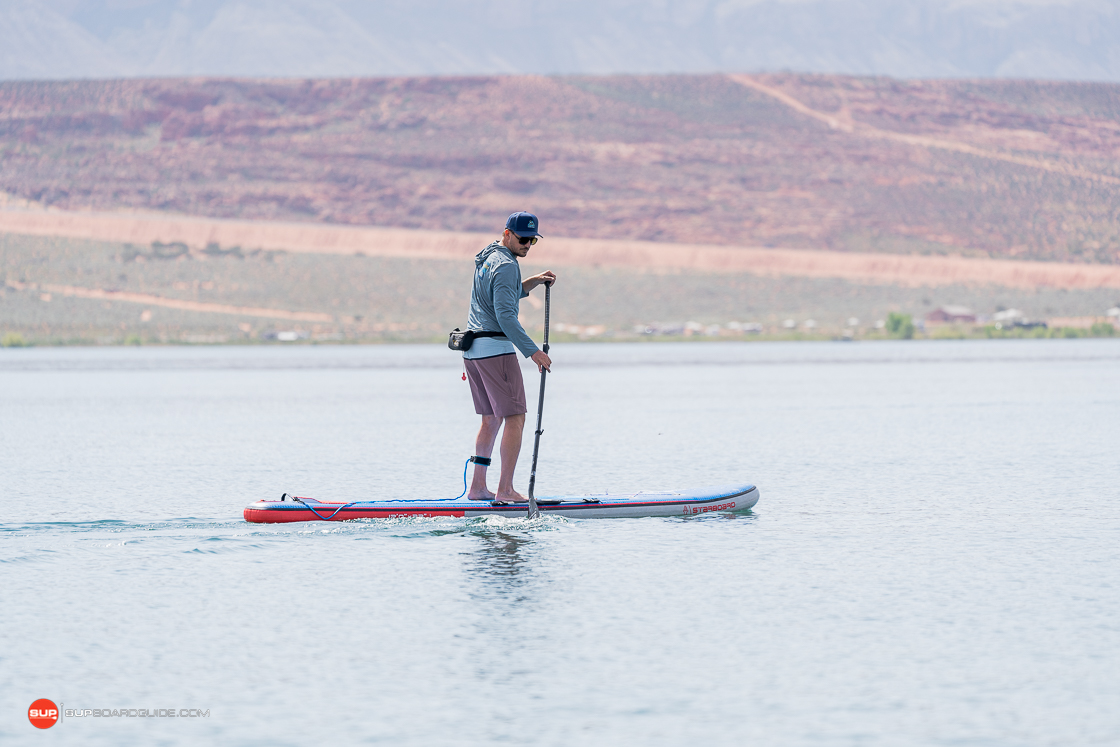 Overall Score: [9.5/10]
Stability: 9.6/10
Speed: 9.4/10
Tracking: 9/10
Maneuverability: 8.9/10
Construction Quality: 9.6/10
Features/Accessories: 9/10
Stability Rating: [9.8/10]
Without wasting any time: this is an exceptionally stable board. It's 12'x33 inches, so there is a large amount of surface area in direct contact with the water, thus more stability. Both the primary and secondary stability are great, meaning you will be able to maintain balance while simply standing and paddling, and when going over waves or experiencing conditions that rock the board from rail to rail.
In general, length does not have as significant an impact on stability as width does. But when you push an all-around SUP all the way to 12' and pair it with a full 33 inches, that extra length does definitely play its part.
You may be wondering if this board is better suited for larger/taller paddlers. The answer is yes and no. Laura, our 5'5'' and 135 lbs paddler, had no qualms with this board and loved paddling it. However, for the sake of better maneuverability and control, she would pick the 10'8×33 iGO Deluxe over this one. 5'5'' is a tad short for a 12' board, and she can more easily steer a shorter board. But because Starboard has such excellent construction processes and attention to detail, they do not make any boards that feel 'boat-ish' or sluggish on the water. So even if you are shorter/average-sized, you can handle paddling this board without feeling overwhelmed.
In sum, the Starboard 12'x33 iGO Deluxe is a high-performance all-around board that feels awesome on the water and is stable for all paddlers. It's up to you whether you want a longer or shorter board for the sake of maneuverability or deck space.
Speed Test: 9.2/10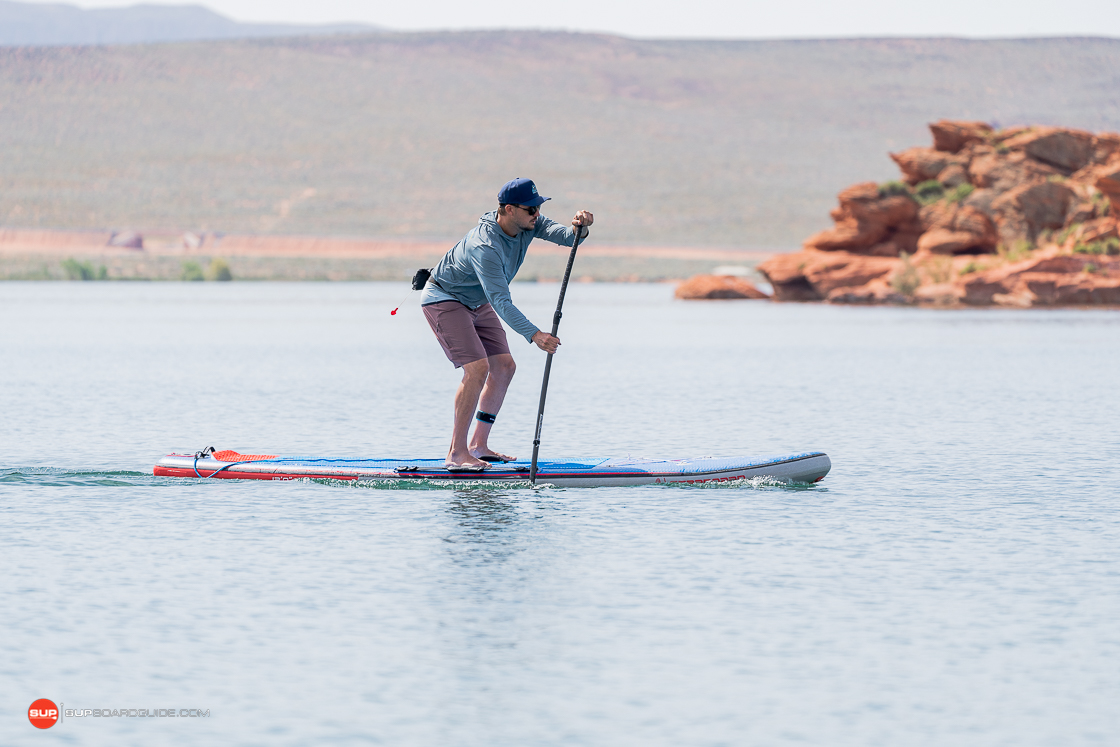 | | |
| --- | --- |
| Top Sprint Speed: | 5.4 MPH |
| Average Cruising Speed: | 4.5 MPH |
SUP Board Guide's Speed Testing:
To obtain our speed test results, we use a Speed Coach Sup 2. This gives us accurate readings on how fast we are paddling and our current stroke rates. For the top sprint speed, we paddle as hard as we can for approximately 10-15 seconds and then record our average speed. For the casual test, we paddle at 40-35 strokes per minute for approximately 30-60 seconds and record the average speed.
Despite being such a high-volume and stable SUP, it did surprisingly well in our speed testing.
It held better speed than its smaller all-around counterpart (the 10'8 x 33") in both our cruising test and our sprint test. This is a great example of when the width is kept the same, a longer waterline will always create a faster board. Keeping in mind that the Starboard 12' x 33' DC iGO Deluxe is not intended to be a speed demon, it will allow you to comfortably keep up with a group of friends for leisurely/casual paddles, or push your limits if you feel like it.
Tracking: 9/10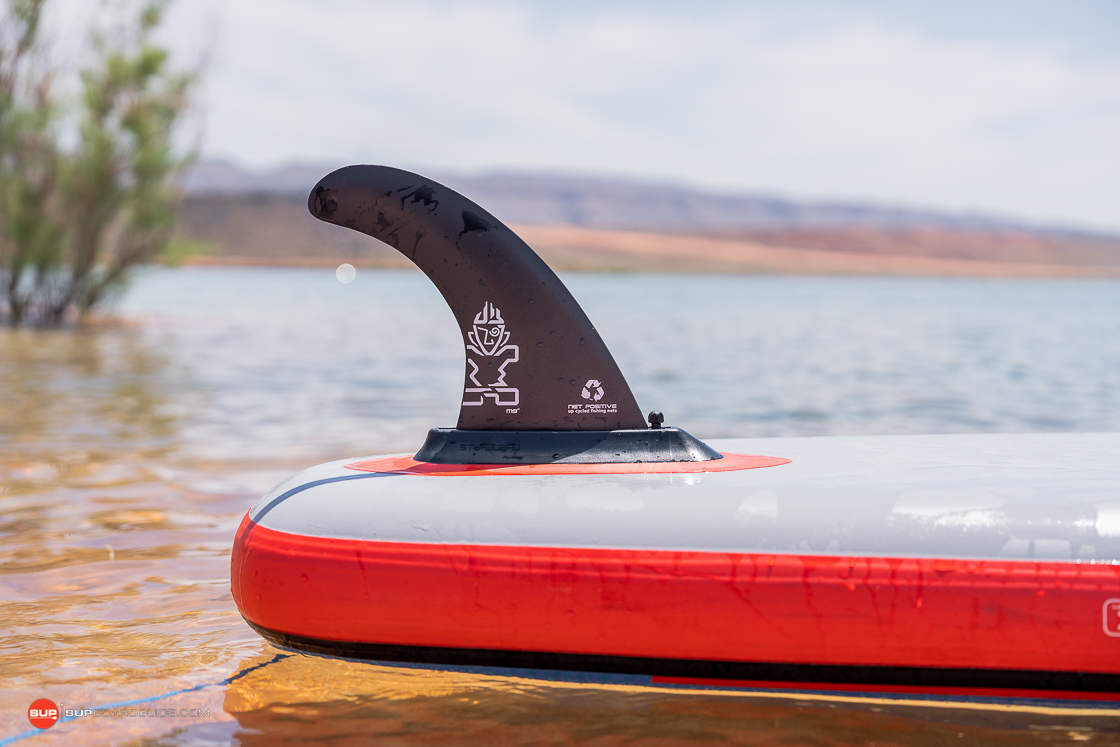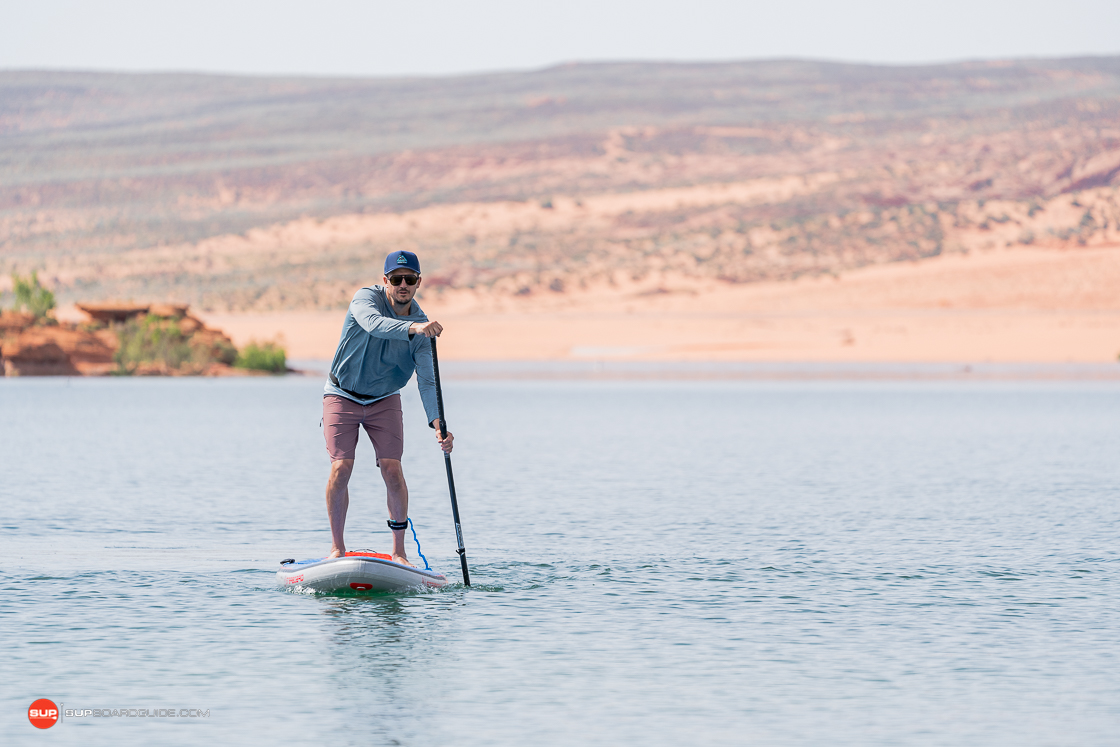 The Starboard 12×33 iGO Deluxe has a long waterline and naturally tracks well. This is helpful if you're a beginner paddler because in most cases the majority of tracking comes down to your paddle stroke. Here, there's some aid from the board itself.
It comes with a 9'' fin that has a swept-back shape, as can be seen in the picture above.
This curve makes a smaller angle between the base of the fin and the tip compared to a straighter fin. In general, the more swept back a fin is, the more 'loose' it is in the water and is your typical surfing fin shape. Because the Starboard 12×33 iGO Deluxe is an all-around board at a full 12' long, this swept-back fin is a good choice because it allows the board to maneuver more easily. In terms of tracking, it's mostly the length of the board that is keeping it in a straight line as you paddle.
It also comes with a US fin box so if you want to change out the fin for a different style, it's easy to do so. If you decide to put in a straighter fin, the board will track even better but the maneuverability will go down.
Maneuverability: 8.9/10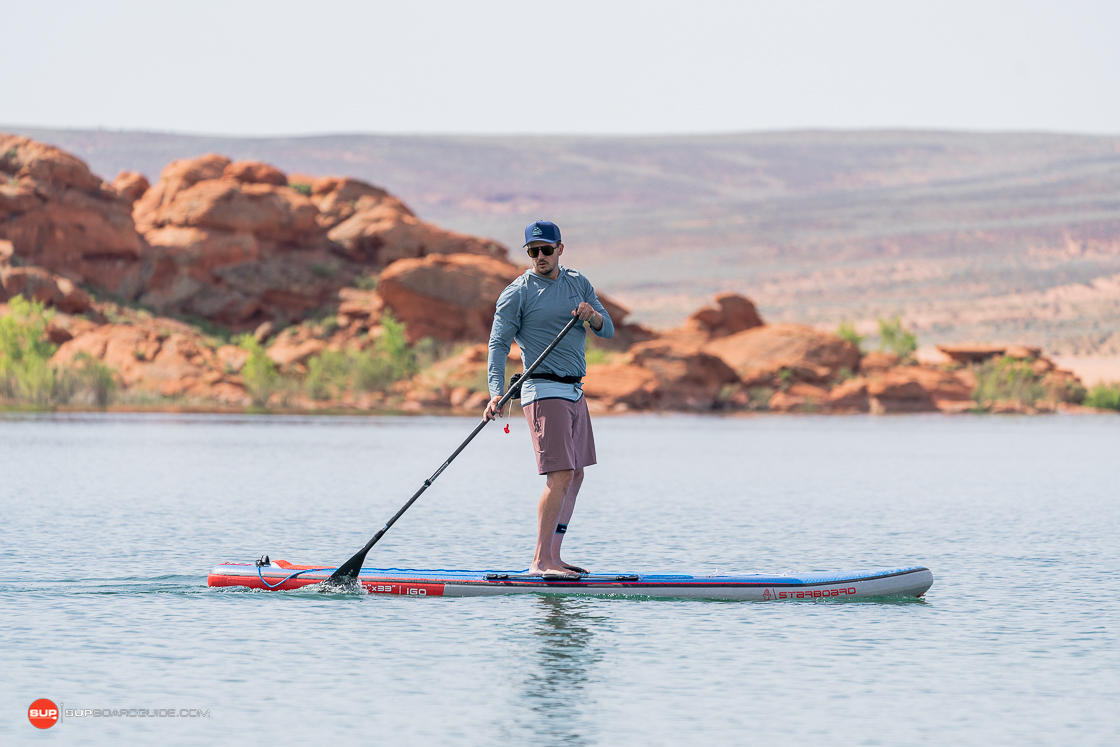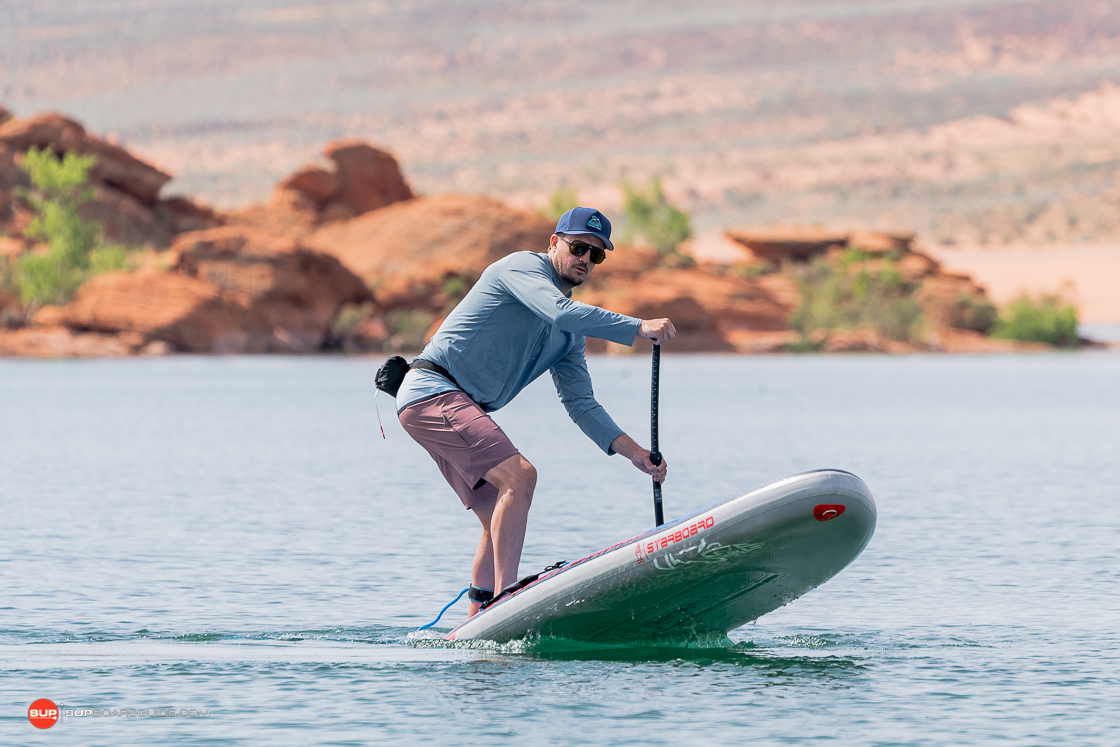 This 12' SUP maneuvers about as well as we expected. It doesn't exactly turn on a dime, but it doesn't require a ton of effort to change its direction with either sweeping turns or crossbow turning maneuvers. And, because of its increased stability, it's super easy to move around the board and walk back towards the raised kick pad for a more aggressive pivot turn. Plus, this board is only 26 lbs, so it doesn't feel heavy on the water.
While Laura was reviewing this SUP, she took it into a more secluded part of the lake (a small spot enclosed by big rocks) and was able to maneuver in and out easier than she expected. She was honestly shocked at its performance and while she did have to do an 8-point turn at one point, she was still able to get in and out of the small spot without getting road rage. Water rage? Either way, the smooth glide of the board kept her calm as she successfully maneuvered my way out of a spot too big for the board.
Construction Quality: 9.6/10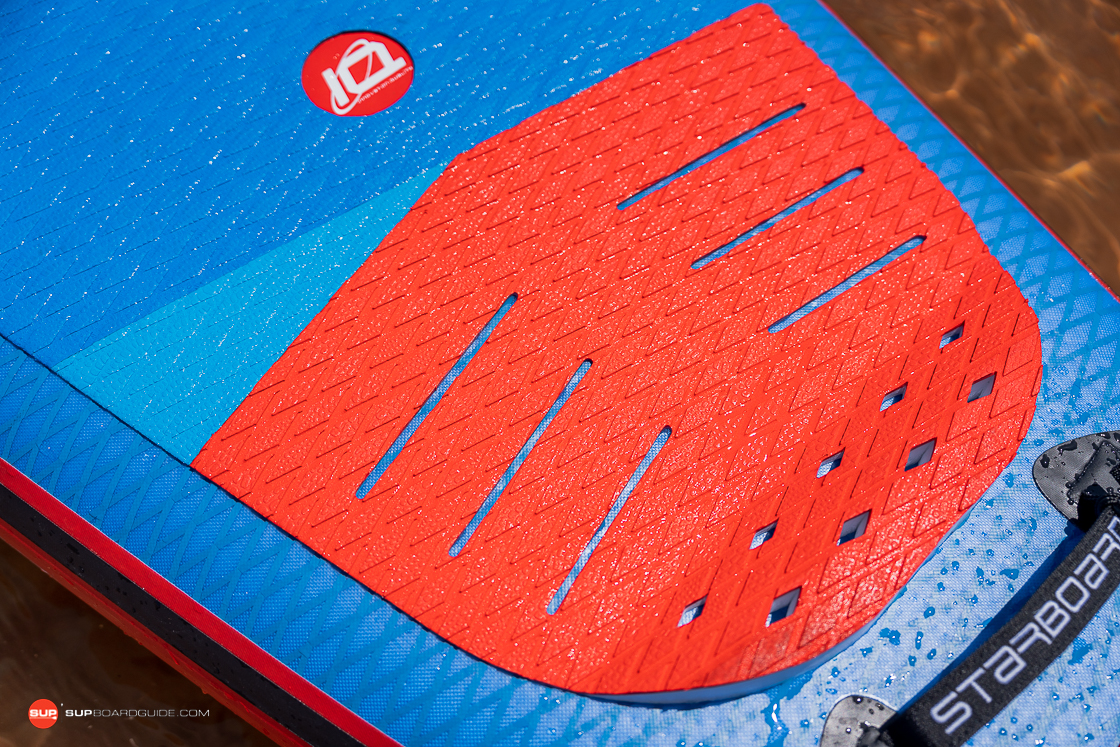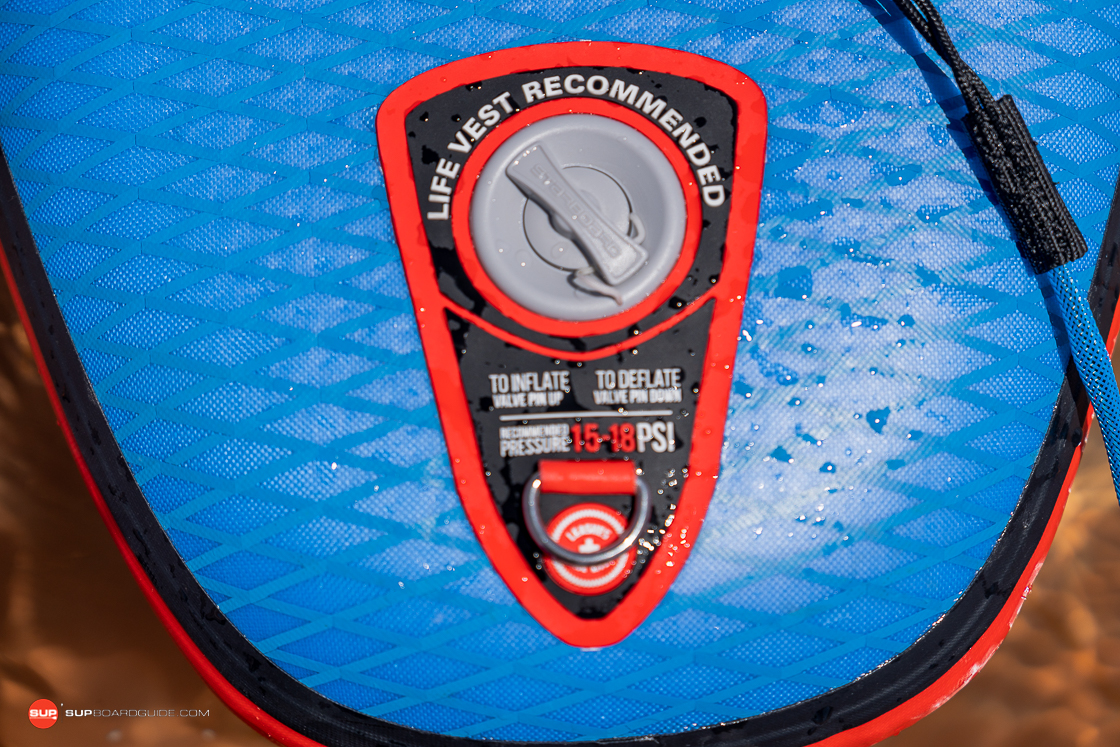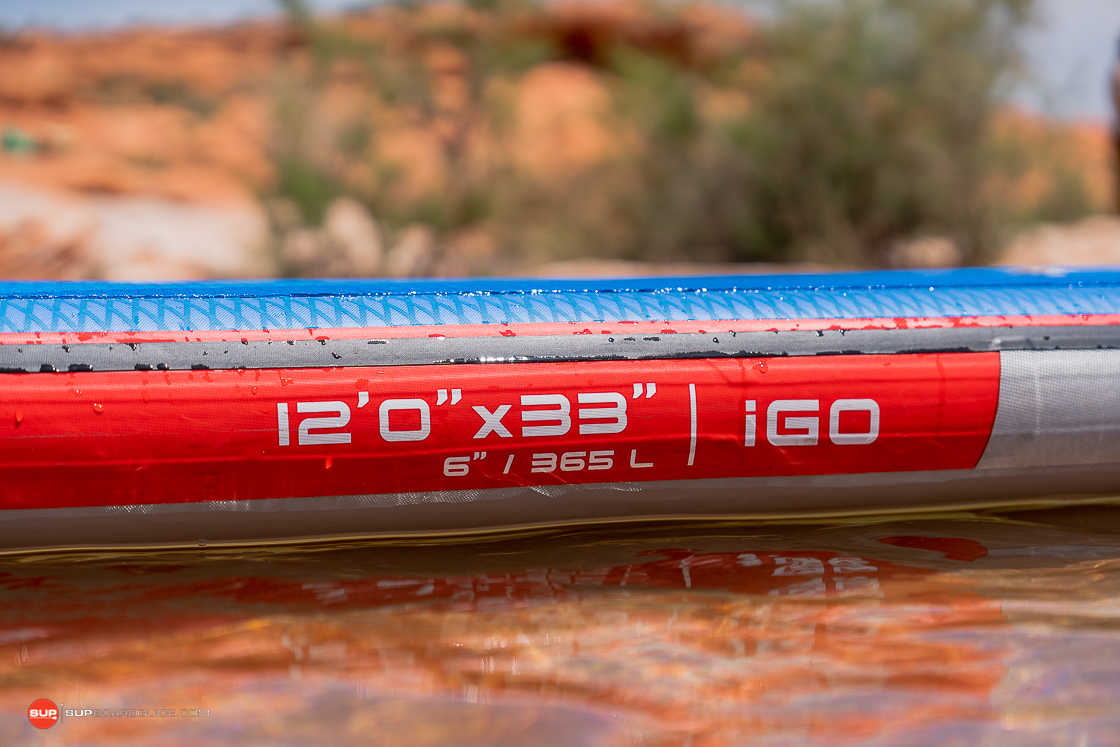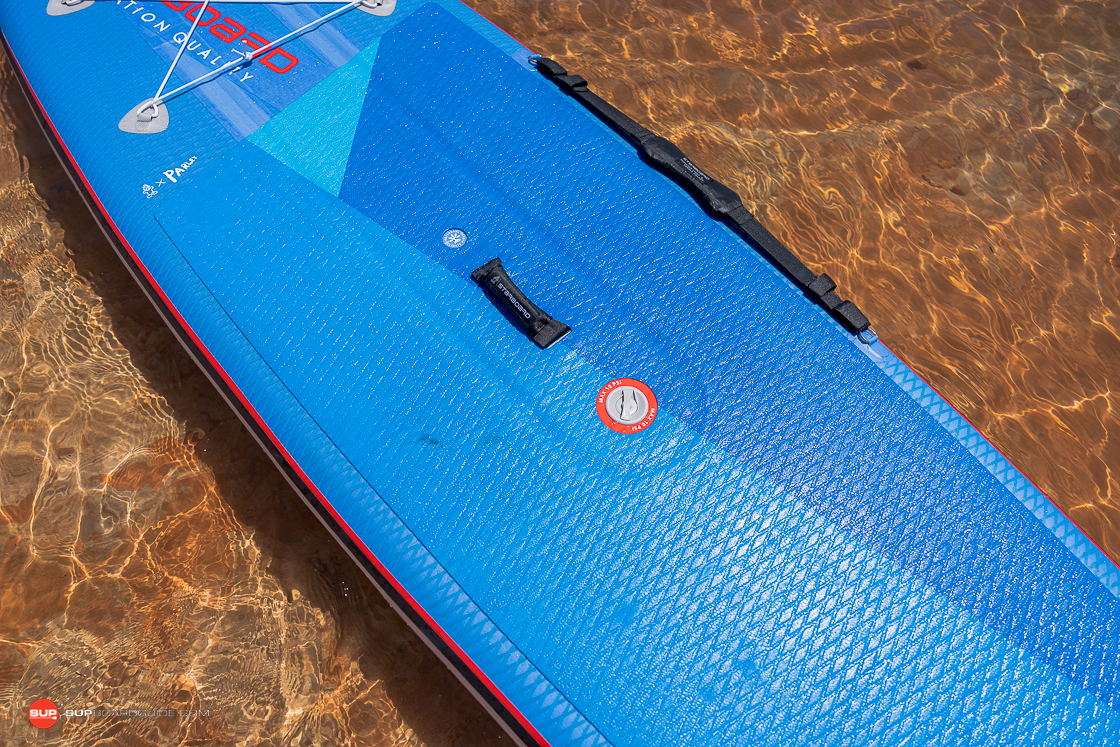 Starboard's Deluxe construction focuses on creating lightweight, exceptionally stiff boards that have a certain on-water sensation that isn't easily mirrored by other brands. Starboard is a leading brand in the SUP race industry, so it checks out that they have phenomenal construction processes.
To achieve this, they use a woven drop-stitch core, which means the base fabrics are a woven material and the inner threads that create the shape of the board are oriented in an 'X' pattern. Moving from a linearly aligned drop-stitch to X-woven makes it possible to use fewer strings, thus cutting weight, while increasing rigidity.
Additionally, on this SUP, Starboard fuses its layer of PVC to the deck and hull rather than using adhesives. Fusion means using heat and pressure to bond layers of material together. On the rails, Starboard uses carbon rail bands to add extra strength and stiffness to the board. These rail bands also help to mitigate storage rub and wear. Also, Starboard uses heat-welded seams. Heat welding is the process of using heat and pressure to bond materials into one solid layer.
Through these construction processes and the performance of the boards, it is very obvious that Starboard emphasizes quality and precision to turn out durable boards that will last a long time.
Board Stiffness: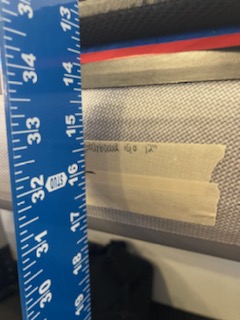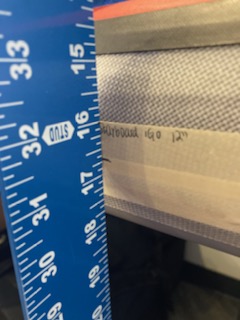 Stiffness Test: 1" Bend
SUP Board Guide's Bend Testing:
In order to attest to the rigidity of each board, we use a bend test curated by Supboardguide. In order to obtain the results, we inflate the board to its maximum recommended PSI and then place it across two sawhorses that are 7 feet apart. We then take a measurement in the middle of the board. Then, we place 150 lbs worth of sandbags on the middle top of the SUP. Last, we record its displacement (the movement from its original position). We use this method for every board we test as a way to mathematically compare boards across a common denominator.
As you can see, this board bent 1 inch. Which is a great score.
Its sibling (the shorter of the pair), the Starboard 10'8×33 iGO Deluxe, bent 0.875 inches in our bend test. The difference of 0.125 inches is very minimal and can be explained by the difference in length (12' vs 10'8). Intuitively, it makes sense that a slightly longer board will bend slightly more. And if you're a science person and you need an explanation based on pure logic, google the physics of levers.
Features/Accessory Review: [9/10]
Features: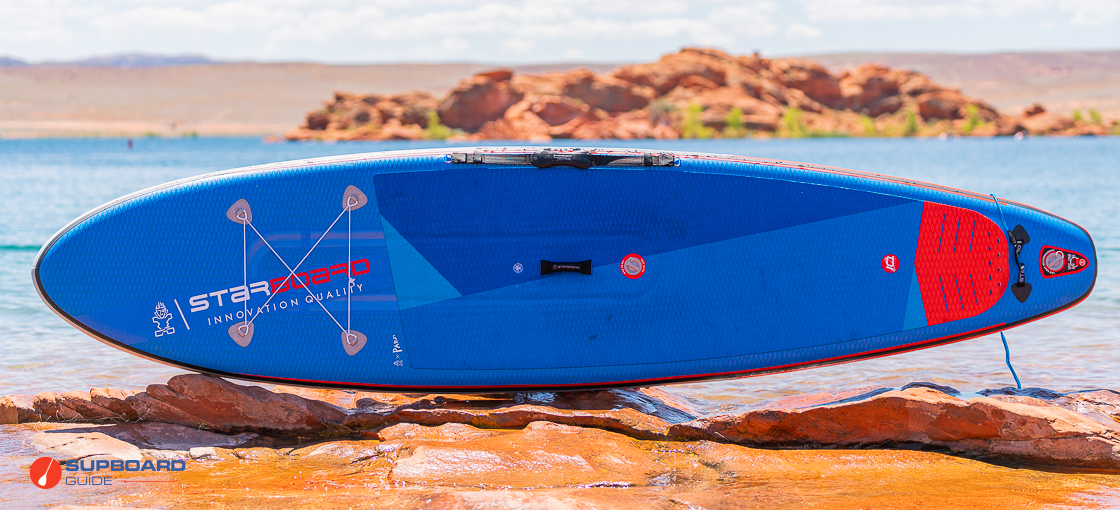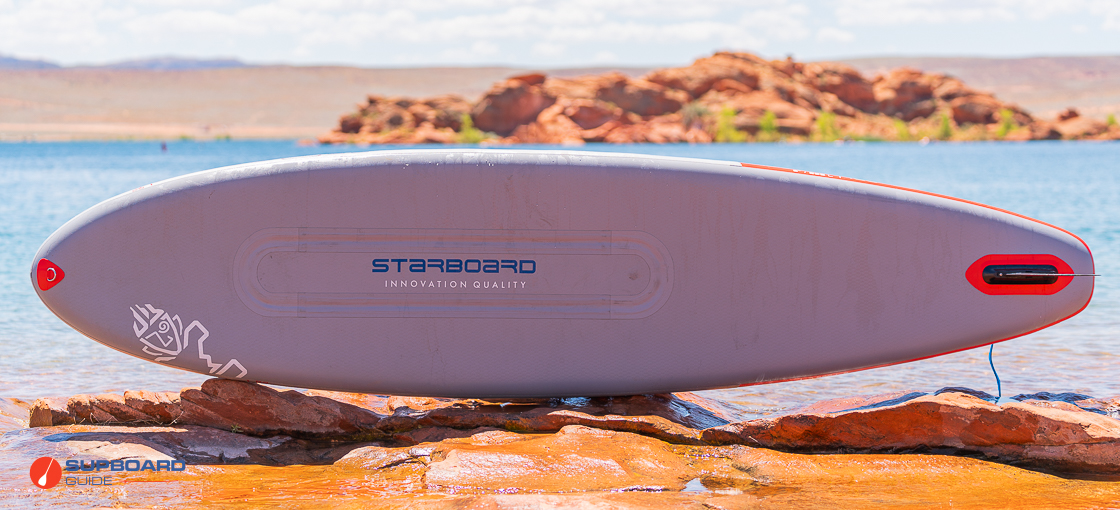 This board has an intimidating look in the best way possible. The cool blue and the deep red have a stark contrast that is unique to Starboard and is easy to spot in a crowd of racers. We love that they use this color combination on this board.
On the nose, there is a bungee cargo area that is a great size for smaller personal items such as a water bottle, a towel, a hat, etc. If you want to bring a dry bag, there is optimal room for one full one, but not much more. We don't recommend using this as an overnight adventure board because of the minimal cargo space, and if we could make one upgrade to this board, it would be to make the cargo space slightly larger so this board can be used for longer adventures!
The deck pad is high-quality and comfortable. It's firm but has just the right amount of cushion for comfort. The diamond grooves are great for allowing the water to drain off of the board and for grip. Also, there is a raised kick pad that is optimally placed for easy step-back turns. It's slight but noticeable enough that you can tell when you're stepping on it without having to look back.
For easy 'from land to water' transportation, Starboard has its own shoulder carry strap that comes with the board. There are two d-rings on the side of the deck that you can use to attach this strap to. It's a very convenient way to handle the board, but if you don't choose to use it, you can utilize those d-rings for other purposes.
If you look at the deck of the board, you'll notice that there is a diamond pattern within the PVC. This intrigues us, and we aren't entirely sure what it is – whether it be part of the construction or part of Starboard's sleek and professional look. When we find out more, we will report back!
Included Accessories: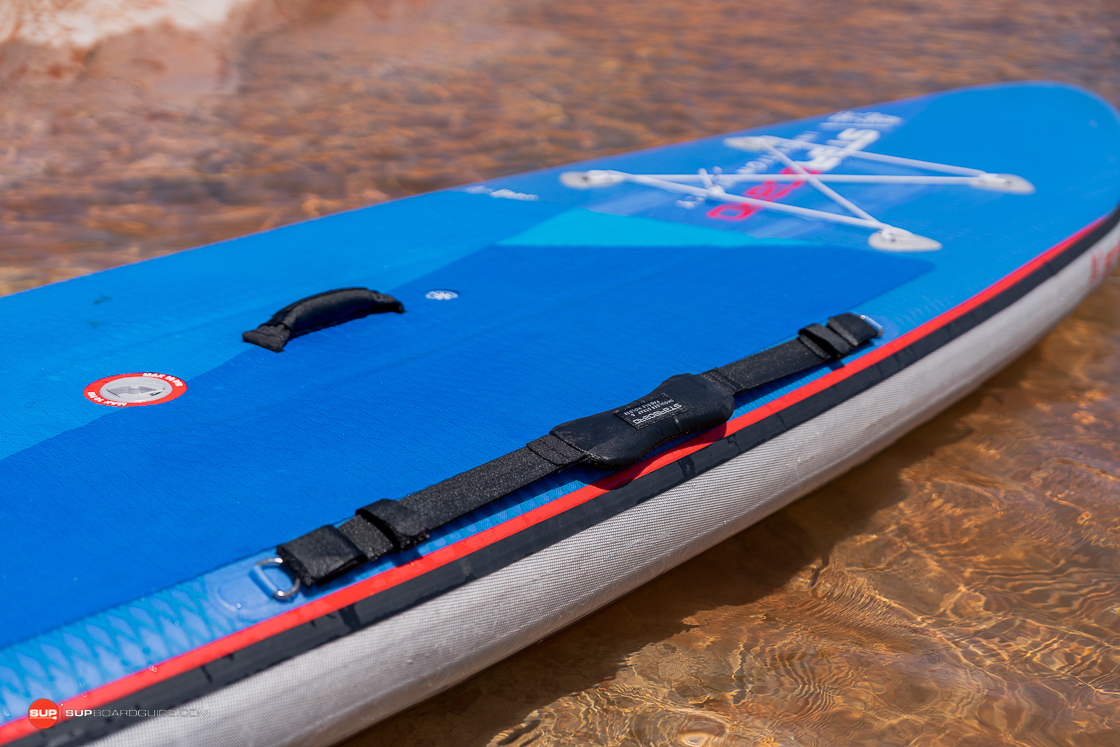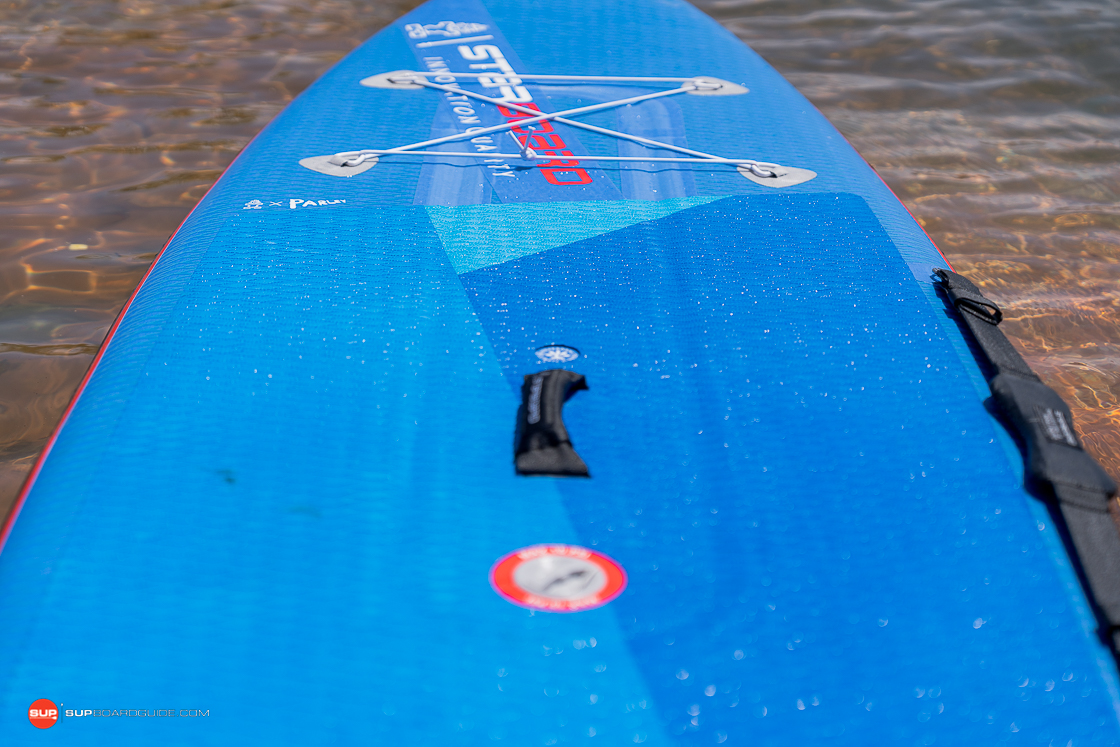 The Starboard 12'x33 iGO Deluxe comes with a large wheeled backpack, a Starboard Tiki hand pump, a shoulder carry strap, a 9'' fin, and a lightweight straight leash.
All of these accessories are high-quality and we love them all! The wheeled backpack is bigger than most SUP packs we see, which is a huge plus because one of my pet peeves is struggling to get the rolled-up iSUP back into its bag. With this bag, you can easily fit the board in and there's additional room left over for your accessories!
While we always suggest using an electric pump, the Tiki pump can get the job done and is a great backup to have on hand. Not only does it inflate the board in a timely manner, but it also allows you to deflate it. We think it's great that Starboard includes it in the kit for those of you that don't already have one.
As for the lightweight leash, we like the design in that it doesn't get curled into your toes like a coiled leash tends to. However, the velcro strap isn't quite long enough to be able to stretch around the calf, so it has to be worn around your ankle. This wouldn't be a big deal but the leash is quite long and tends to drag in the water. We would love to see Starboard lengthen the velcro strap ever so slightly so it is long enough to reach around the calf muscle.
Summary Review of the Starboard 12'x33 iGO Deluxe DC iSUP – 2023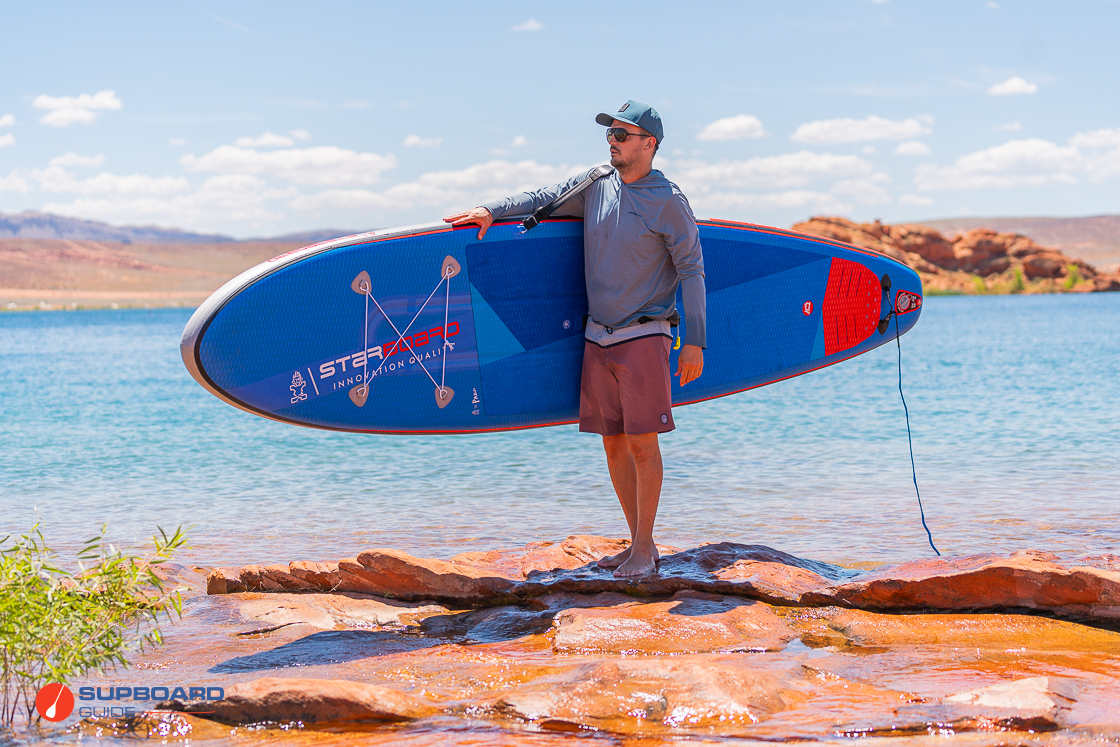 Overall, this SUP is longer than an average all-around board, making it very trackable and suitable for larger/taller people who want an all-around with a higher volume. However, it's not only meant for the larger/taller paddler and can be enjoyed by everybody.
If you are searching for a 12' all-around that is super stable and also a top performer, then then the Starboard 12×33 is an excellent choice.
Happy paddling! We hope you enjoyed this review of the Starboard 12'x33 iGo Deluxe. If you have any questions or comments please leave us a comment below!
The following two tabs change content below.
SupBoardGuide
Heyo! At SupBoardGuide.com we are a team who love the water, the outdoors, and are more than grateful that our full-time job allows us to review stand up paddle boards. We paddle year round (it helps that we are just about 2 hours outside of Las Vegas), and we bring in a wide range of paddlers with the goal of providing our readers with the best, most in-depth, and accurate stand up paddle board reviews.
Latest posts by SupBoardGuide (see all)