BOTE Zeppelin Aero Inflatable Kayak
Pros
Incredibly versatile inflatable kayak built with solo and tandem paddling in mind. Provides excellent performance, whether you're by yourself or with a friend. One of the most stable inflatables we have ever tested.
Triple chamber design that is surprisingly quick to inflate. Able to support around 600 lbs, so even taller and heavier adults can kayak on it together.
Drain holes on the bottom of the kayak do an excellent job of draining water from the deck preventing water from building up while paddling.
Extensive accessories and mounts including the new Magnepod which lets you secure your BOTE tumbler to the deck, as well as other metal objects, thanks to its magnetic design.
Kayak seat, paddle, RAC system, and oversized waterproof roller bag all included. The kayak and all of these accessories, store well in the provided roller bag even if you didn't roll the kayak up perfectly.
Extended 60 day guarantee and 2 year warranty. Fused Aero construction provides better durability than a typical hard kayak.
Cons
Solo paddle performance takes a bit more effort to get up to speed, compared to tandem, but keeping a higher speed was not an issue once you got going.
Would love to see more Magnepods placed throughout the deck simply because we loved this feature so much.
Intro
The Zeppelin Aero is the latest inflatable kayak available from BOTE, and a great option for solo kayakers or those who want an ultra-stable platform to go out with a partner on. Able to support over 600 lbs, there is more than enough stability to support two adult kayakers, along with any gear that they want to take out with them.
The kayak is nimble and easy to maneuver with, and despite coming with a single-chamber pump it took us less than 10 minutes to get it inflated and ready for the water. BOTE is well known for including a vast assortment of accessory mounts on their watercraft, and with the Zeppelin Aero you also get to try out the brand new Magnepod system! If you have a compatible thermos or tumbler, it snaps and locks to the Magnepod pad for a tight hold that won't tip over as you kayak.
Whether you are looking for a new inflatable kayak for yourself, or one you can take out and paddle with your kids or in tandem with a friend, read our review to find out why we highly recommend the BOTE Zeppelin Aero iKayak!
Video Review
SUP Board Specs
Length
12'6''
Width
38''
Diameter
9''
Weight
41 lbs
Rider Capacity (lbs)
600 lbs
Recommended Inflation
10 to 12 psi
Fins
Single Clip In Center Fin
Two Permanent Plastic Molded Side Fins
Paddle Type
5-piece Fiberglass Paddle, Dual Kayak Blade
Construction
Dual Layer Fusion BOTE Aero Construction
Who Should Buy This Inflatable Kayak: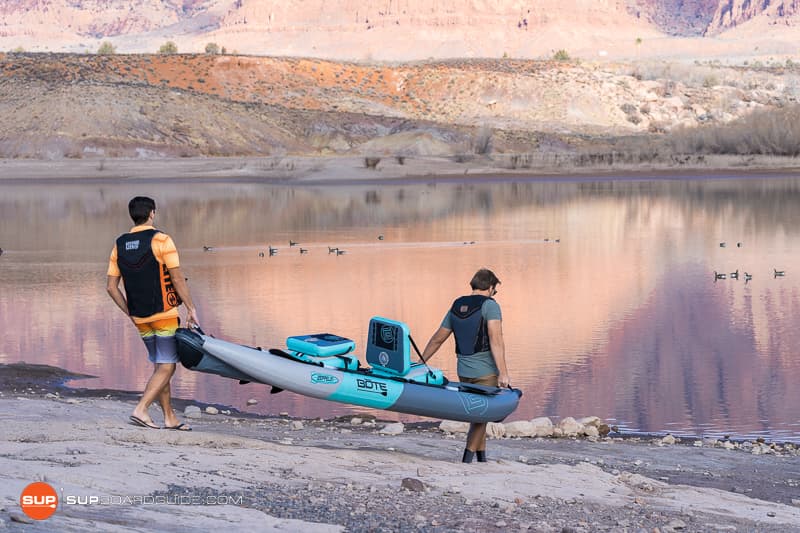 The Zeppelin is an effective inflatable kayak and paddleboard combination, so both types of paddlers will enjoy the time they spend out on it. Consider the BOTE Zeppelin if you are among the following:
Anyone interested in an easy to inflate kayak that offers an incredible amount of versatility from solo paddling to riding tandem.
Expert paddlers who want an inflatable kayak better able to handle faster moving rivers.
Friends or family who want to go out paddling with a partner or their kids. You will need to buy extra equipment for tandem kayaking or paddle boarding.
Paddlers who prefer a sit-on-the-top kayak as opposed to something more rigid with a permanent skirt or cockpit system. Makes it easy to stand up, stretch, get on and off and more. Very comfortable design.
Consumers who want an inflatable kayak built to last. BOTE makes some of the longest lasting and most durable iKayaks on the market.
Performance
Stability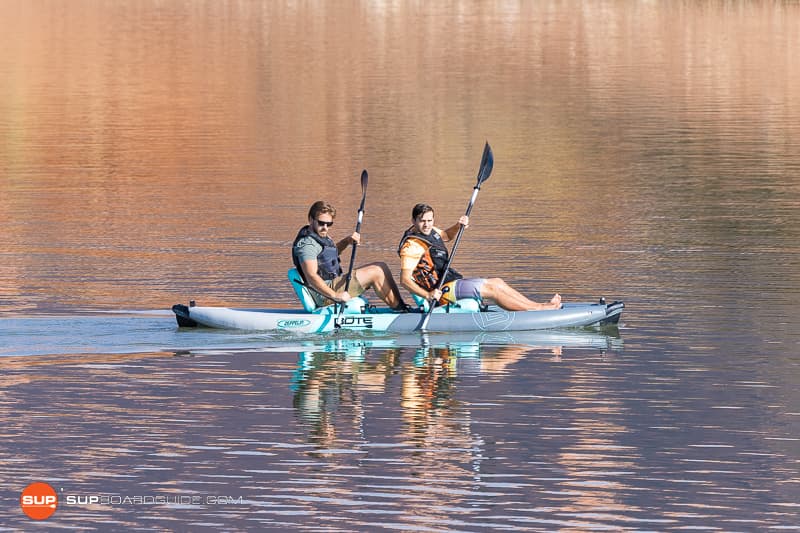 The Zeppelin Aero has a recommended weight capacity of about 600 lbs, with a triple chamber design and wide 38'' width. The beginner and heavier paddlers on our team had no trouble paddling by themselves with the BOTE Aero Zeppelin. If you're new to water paddling sports, the Zeppelin is a very stable option that will help you adjust to being out on the lake, ocean, or river alike.
As a 12'6'' long kayak, with multiple seat mount positions, this is also a great option for those who want to go out tandem paddling. Whether you have kids, a dog, or an adult partner who would like to accompany you, you'll find the stability and space you need to support them. The triple inflation chamber helps you avoid sinking too much as well as you load the deck with people and cargo, but be careful how much water gets into your kayak as you paddle. The Zeppelin iKayak does drain well, but you do have to paddle around a bit to get the water moving over the deck for it to quickly drain from the kayak.
Maneuverability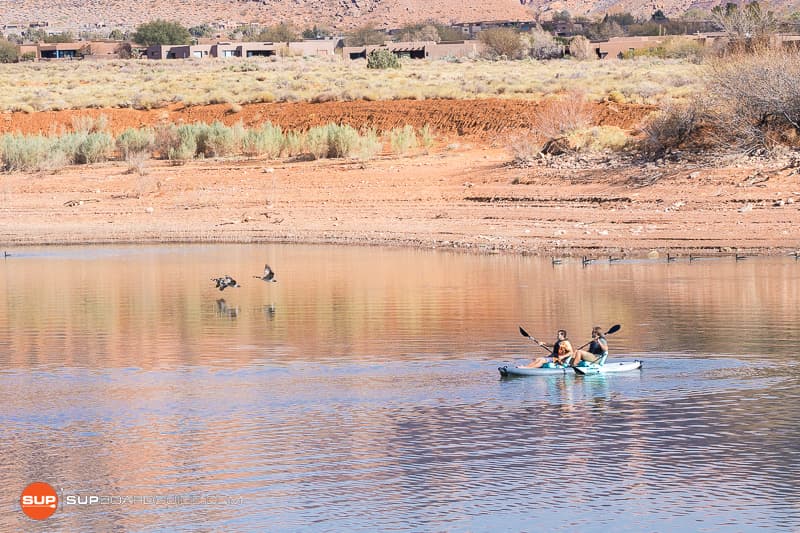 One of the very advantages that hard kayaks have over inflatable kayaks is better maneuverability and control, especially in very fast moving water. For our part, we think that the BOTE Zeppelin has good handling in calm and slower moving currents, but it would struggle if you took it on something more extreme such as in white water conditions. Due to the lack of a skirt and true cockpit on the Zeppelin, we'd recommend the Zeppelin for friendly to moderate waters, with more extreme challenges better suited for advanced kayakers only.
Tracking/Glide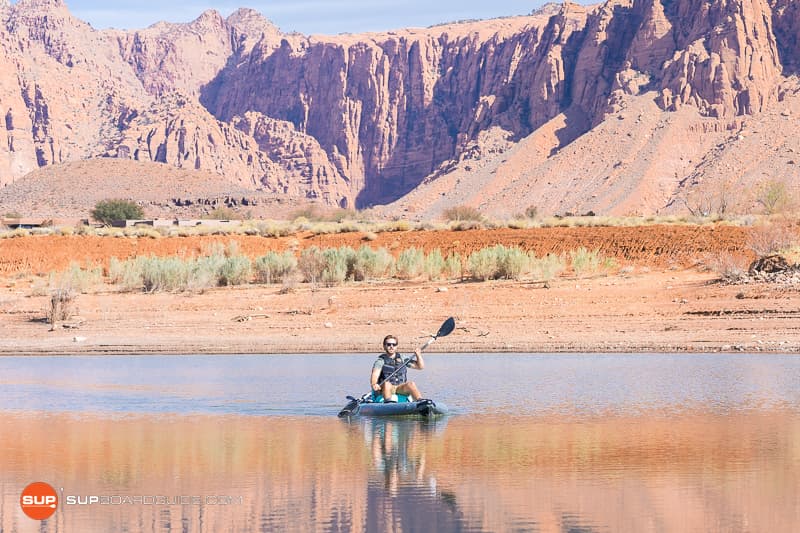 As a kayak, the BOTE Zeppelin offers excellent tracking. Even the most inexperienced kayakers on our team were able to maintain a steady and straight line in the water, making it a blast for our whole reviewing team. Outside of its long 12'6'' length, a major reason for the excellent tracking is the keel guard, which covers the underside of the front half of the iKayak. The keel guard helps break the water, which leads to more efficient paddling, faster speeds, and a smoother kayaking experience overall.
The impact that the fin setup has on the Zeppelin Aero iKayak is rather unique. There are two permanent side fins, which improve stability by reducing rocking, and a mount for a clip-in center fin. When kayaking, it tracked very well with or without the center fin in, and while it was better the 6'' fin overall doesn't change the performance of the Zeppelin that much. However, if you're new to the sport, or intend to do some long distance kayaking with the Zeppelin, make sure you install the included center fin for a better, smoother paddling experience.
Materials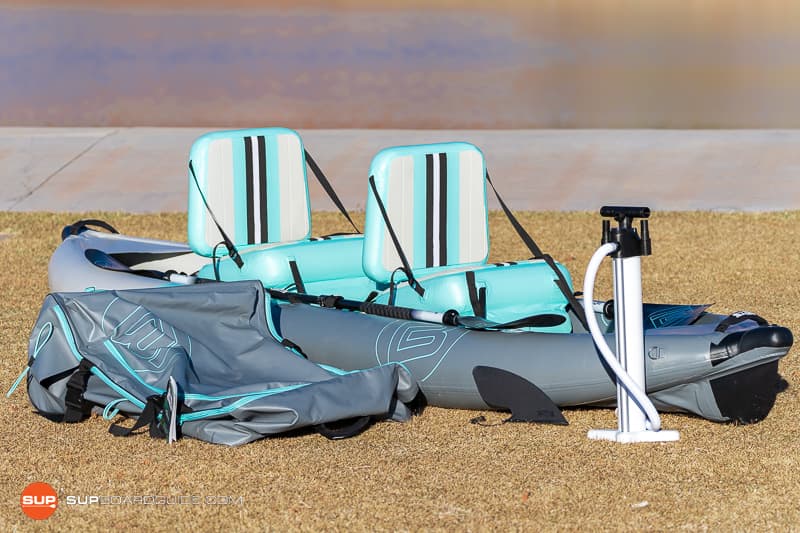 If you are familiar with how BOTE inflatable paddleboards are made, then you'll see that many of the same principles and technologies are used for their inflatable kayaks as well. The BOTE Zeppelin is constructed with a tight drop-stitch core, held together by thousands of composite drop stitching threads to form the core. This is the base of the inflatable kayak, used for both the central deck along with the side inflation chambers.The center deck piece holds up it's rigid structure thanks to its drop stitch core and is wedged between the two inflatable pontoon sides.
For added performance and improved rigidity, the composite drop stitch core is further reinforced with layers of military-grade PVC composites. For the Zeppelin iKayak, a total of two layers are fused together and heat pressed directly to the drop-stitch core, maximizing bonding strength and minimizing the total weight added to the inflatable kayak. Topping off the PVC on the central deck of the Zeppelin is a BVA foam pad, adding a comfortable layer to sit or stand on while you're paddling. The end result is that the inflatable Zeppelin iKayak is an extremely durable inflatable kayak, better able to withstand the crashes, rolls, and other accidents that comes with kayaking than a traditional hard kayak.
Board Design/Shape
The BOTE Zeppelin is a general, all-purpose inflatable kayak that can also be used as a stable and fun tandem option, meant for casual and moderate waterfront challenges. Unlike other BOTE inflatable kayaks, there isn't a skirt, removable cockpit, or any other configuration setup to make the BOTE Zeppelin a true iKayak out of the box. While it means that the iKayak won't perform as well in very fast, Class IV and V waters, it does mean that it is more capable than a paddleboard and is ideal for those who are visiting calmer waters and slight swells. The 12'6'' length provides excellent tracking, especially when you install the center fin, while the 38'' width and triple chamber design provide significant stability support for tandem kayaking or solo paddling. The one area where the overall design does suffer is that, due to its large size and pontoon sides, this is the slowest kayak from BOTE due to the priority on stability and versatility over performance. If you prefer an inflatable kayak that is better for cruising or enjoying the water with friends than getting somewhere fast, the Zeppelin Aero iKayak is the choice for you!
Board Features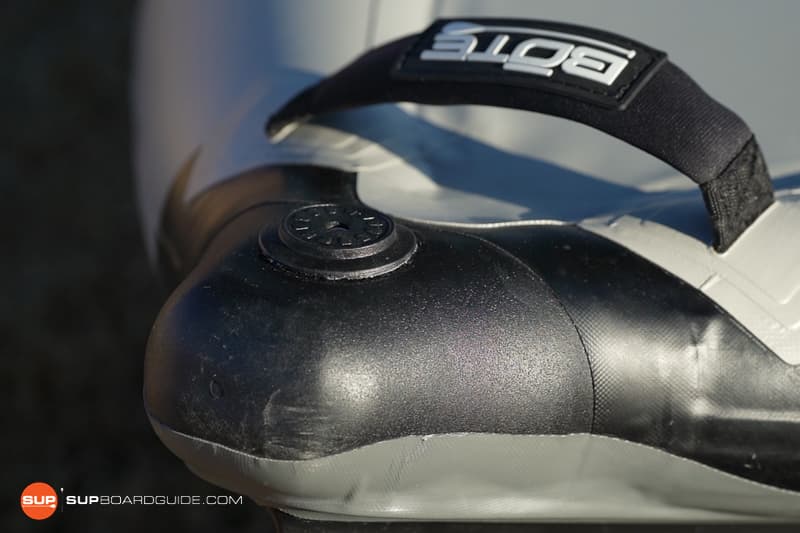 BOTE is one of the most well regarded water sports manufacturers in the industry for the large number of accessory mounts included with every one of their releases. The BOTE Zeppelin is no exception, with an extensive lineup of accessories, features, and other surprises included right out of the box. A few we think are worth highlighting are as follows:
Dual-Layer Fusion Aero Construction
Keel Guard Hull (With a Keel Guard Tail)
Magnepod Drink Holder
2 Action Mounts
2 RAC Receivers
8 D-rings
Removable Nose Bungee Cargo Cords
4 Carry Grab Handles
2 Splash Guards
2 Paddle Holders
BVA Foam Deck Pad
3 Kayak Seat Tie-Down Positions
Magnepod Drink Holder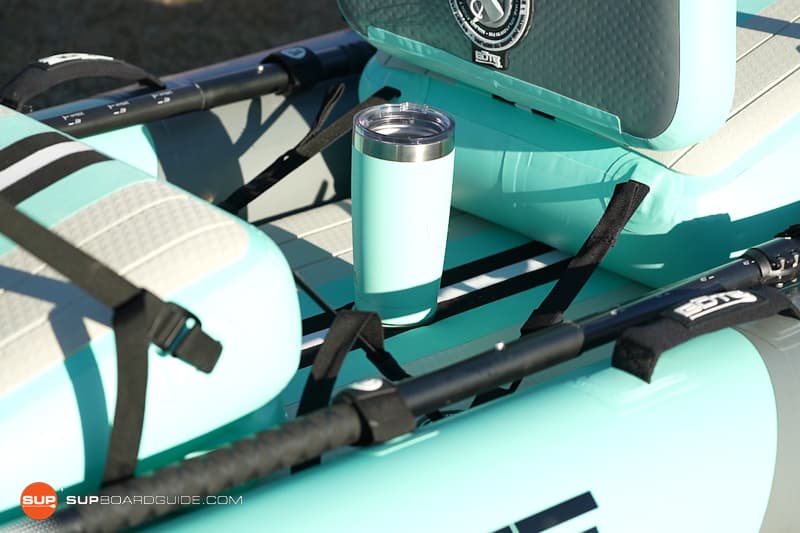 New to BOTE's series of inflatable watercraft is the brand new Magnepod drink holder system. Using an innovative magnetic system designed by BOTE, all you have to do is set your thermos down for it to magnetically secure itself to the board. You won't have to worry about waves knocking your drink over, and by just tilting it a few degrees at an angle, you'll be able to easily pick up your thermos to take a sip too! One important thing to note is that, currently, the Magenepod drink holder is only compatible with BOTE thermos and tumblers. We are very excited to see the endless possibilities of accessories that Bote delivers with this feature as we were fascinated with sticking as many items to it as possible such as a leatherman and our keys.
Fins
The fin setup consists of a single center clip-in fin box, along with two permanent plastic molded side fins. The flexi side fins are very short and are optimized for river paddling as the dual inflation chambers keep you afloat on top of the water and will limit the possibility of dragging the fins on the ground below.. If they do somehow get bent out of shape, they are easy to fix as you'll just need to douse the side fins with hot water before leaving them in the sun to dry out. After 10 to 15 minutes, the side fins will look as good as new, allowing you to get back out there and have fun on the water. In terms of the center fin, it takes just a few seconds to install, using a clip system that's more secure than your typical snap-lock setup. Your center fin will be very difficult to damage as well, but it is very inexpensive to replace if you do wind up losing or misplacing it.
Traction Deck Pad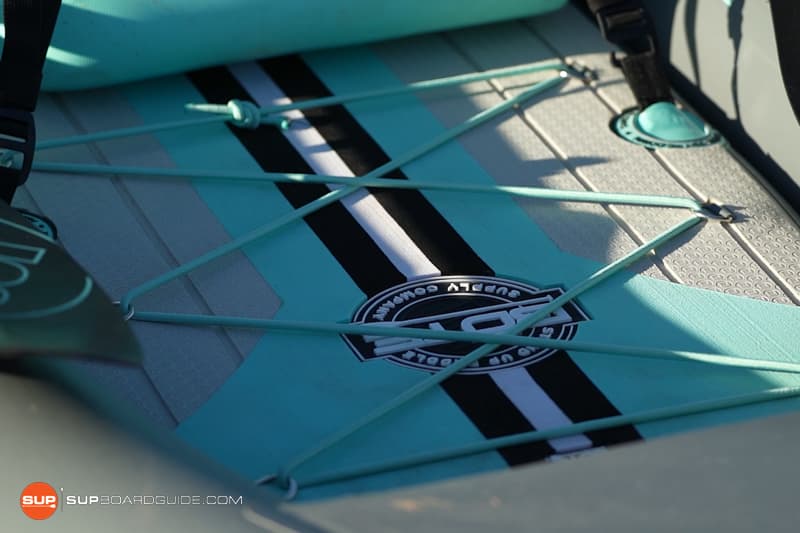 The deck pad is made out of BVA foam, the same soft and cushy material used in many other inflatable watercraft and in many popular yoga mats. Whether you're sitting or standing up to stretch on the deck, you'll be able to go out for hours without irritating your feet. The deck pad does dry quickly when it gets wet, but because of the double pontoon inflation chamber design without any major outlets, it doesn't drain as well as we would hope. If you do go out kayaking in very turbulent waters, be careful as the Zeppelin can take in a lot of water, which can affect its overall performance while extending how long it takes to dry the kayak out. As a final note, two separate paddle holders are also included, allowing you and your partner to mount your paddles on the side pontoons rather than having to lay them flat on the deck when not in use.
Handles
There are a total of four grab handles on the BOTE Zeppelin. One handle is on the nose, one handle is on the tail, and two handles are on the center of the side pontoon inflation chambers. All handles are made with the same high quality neoprene, providing a cushy hold whenever you need to lift the kayak up. Due to how heavy the Zeppelin is fully inflated, we would recommend having a second person help you for easy carrying. If you do need to carry the Zeppelin around by yourself, we would recommend that you install the seat after you put the Zeppelin in the water or on the shore. For some of our reviewers, the inflatable kayak seat got in the way of carrying the Zeppelin, making it even more difficult to transport the already heavy inflatable kayak.
D-Rings/Bungees/Cargo Areas
When it comes to inflatable watercraft, one of the major reasons to buy a BOTE is due to how many accessory mounts are on each of their platforms. Starting on the nose and tail, you have action mounts that are compatible with GoPro cameras, Bluetooth speakers, and other electronic devices you want to secure to the Zeppelin inflatable kayak. 8 D-rings are also included, which are great for cell phone cases, waterproof pouches, and other clip on or string accessories you want to easily attach. Just behind the solo seat mount, you also have two RAC receivers, which are compatible with a wide range of accessory mounts from BOTE like fishing rod holders, net holders, cooler seats, umbrellas, and more.
One of the key features of the BOTE Zeppelin is that you have multiple seat configurations for the BOTE Zeppelin. Whether you want to go out by yourself, with your kids or pet, or with a second adult partner, you'll find ways to set up your kayaking configuration so everyone has enough space to feel comfortable. The multiple attachment points also means that you have greater variety in changing how your seat adjusts, providing better recumbent style back support than your typical SUP to kayak conversion kit.
Accessories
Five Piece Kayak Paddle Blade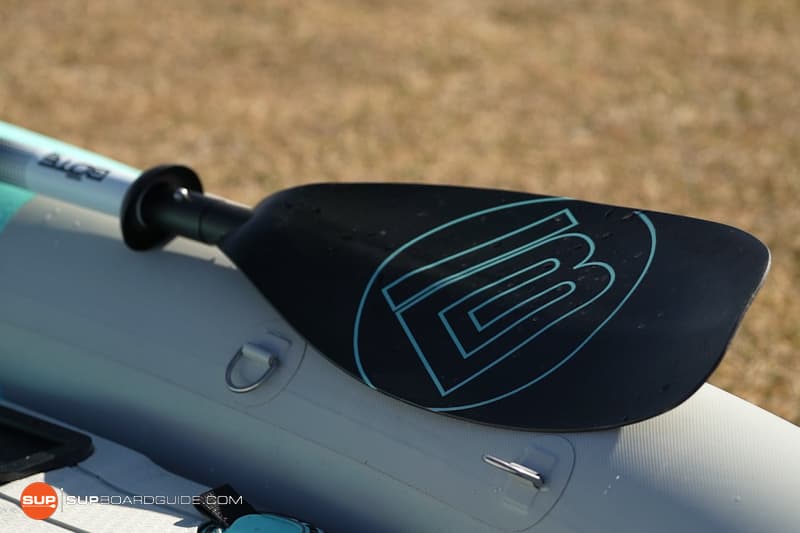 Unlike traditional paddleboard kits that have a convertible SUP to kayak paddle, the paddle included with the Zeppelin is designed specifically for kayaking. Coming in five pieces, the paddle has extensive range adjustment that will make it well suited for short and tall kayakers alike. The fiberglass paddle is lightweight, so even though it is five pieces you won't tire your arms out even after a long paddling session. However, our one complaint is that despite being a kayak/paddleboard hybrid, the paddle that comes with the BOTE Zeppelin doesn't have a proper handle. No matter how you assemble it, it's a bit awkward trying to SUP with the included paddle. Many paddleboarders interested in the BOTE Zeppelin will likely already have their own paddle, but it is something to be aware of if this is your first inflatable watercraft purchase.
Pump
The BOTE Zeppelin iKayak is an entry-level priced watercraft, so we aren't too surprised to see that it comes with a single-chamber pump; however, you don't necessarily need anything more than this as pumping up the Zeppelin was relatively easy. Due to its overall configuration, the BOTE Zeppelin is much easier to inflate than a paddleboard with a similar size, especially since the Zeppelin doesn't have to be pumped to as high of a PSI. As a result, inflating the central chamber, side chambers, and inflatable kayak seat all took just about 12 minutes. A dual-chamber pump would probably cut that inflation time down to 10 or 8 minutes, but for the most part we didn't find ourselves getting that tired inflating the Zeppelin iKayak with the included pump.
However, if you want to make inflation as easy as possible, we would recommend using an electric pump instead. Electric pumps will quickly inflate an iKayak, iSup, and more for you without you breaking a sweat, and can even inflate kayaks like the BOTE Zeppelin faster than your typical manual pump. Electric pumps can also be used to help deflate the iKayaks faster, besides being easier to store in your cargo bag than your typical, tall manual pump. For all of these reasons, we prefer using electric pumps instead of manual pumps, so check out our list of favorite electric pumps, all of which are compatible with iSUPs and iKayaks alike.
Cargo Bag
The BOTE Zeppelin cargo bag is effective, if very simple. There are just two cargo compartments, with the central storage compartment for most of your large gear and a smaller front pouch for your repair kit, fins, accessory racs, and other items. Because of the kit size and heavy equipment weight, this cargo bag is not meant to be worn like a backpack, but it does have roller wheels that work well on concrete, grass, and in sand. The backpack will protect your gear against the elements, be it wind, rain, or the sun, but be aware of its large packing size. While the inflatable Zeppelin packs down far better than a traditional hard kayak would, the backpack is wide enough that we had to put it lengthwise to fit it in the trunk of our cars. If you have a smaller car, especially one where you can't put the back seats down, you might struggle trying to transport the Zeppelin iKayak.
Kayak Seat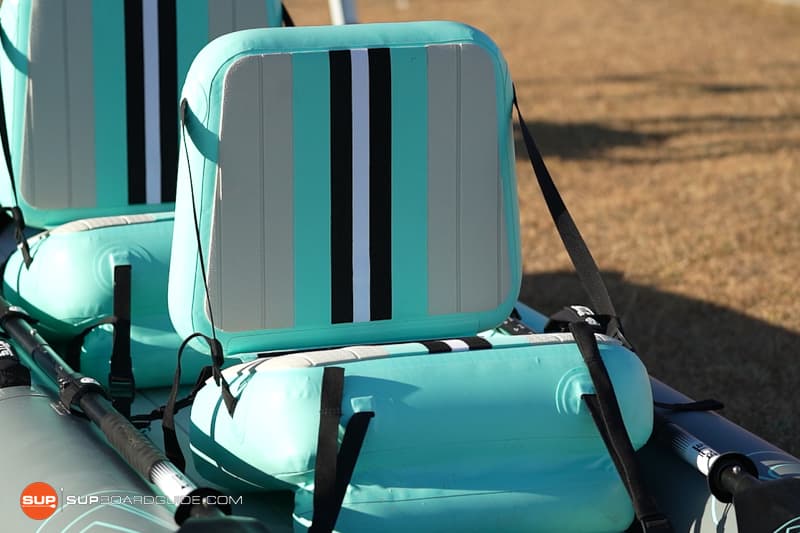 The BOTE Zeppelin comes with an inflatable kayak seat, and let's just say we absolutely loved them as they are a huge step up from kayak conversion kits that come with some paddleboards. These seats inflate quickly just like the kayak itself, are comfortable to sit in, are elevated off of the board itself, and even have features such as a pocket and molly chains to store your gear. The one struggle with the inflatable seat is that it doesn't work well with large and bulky PFDs, however, you can take off the top part of the seat to accommodate for this if necessary. While you're very unlikely to fall out unless in whitewater environments, a thinner PFD or belt PFD are both fine to wear while using the Zeppelin iKayak.
Repair Kit
While the BOTE lineup of inflatable watercraft are known as some of the most sturdy watercraft in the industry, a repair kit is included in case you do suffer minor kayak damage. Adhesive patches and paste are included, allowing you to seal up small holes and tears as long as they do not occur to the seams of the inflatable kayak. Repeated inflation can potentially cause the Halkey-Roberts inflation valve to come loose over time, so a wrench can also be found in the repair kit in order to tighten that up in case it does ever happen.
For more serious performance problems or kayak damage, be sure to contact BOTE's customer service team for assistance.
Company Review – BOTE
Bote has been around since 2008, having been founded with the goal of creating fast, stable, durable, and efficient paddleboards meant for making the most of all water sports activities. Outside of their fantastic construction and extensive accessory compatibility, BOTE's boards are built to last, with great coverage for the rare occurrence when something does go wrong.
The BOTE Zeppelin has a 60 day full satisfaction guarantee, allowing you to return the iKayak within 60 days of delivery minus a 20% restocking fee. By filling out an online warranty registration form, you will also receive 2 year warranty protection for the BOTE zeppelin. This warranty policy will protect against all material or manufacturing defects, with BOTE promising to repair or replace any major defective components.
With a fast and responsive customer support team, BOTE is definitely among the watercraft manufacturers you can trust to build a great, reliable product.
Conclusion/Bottom line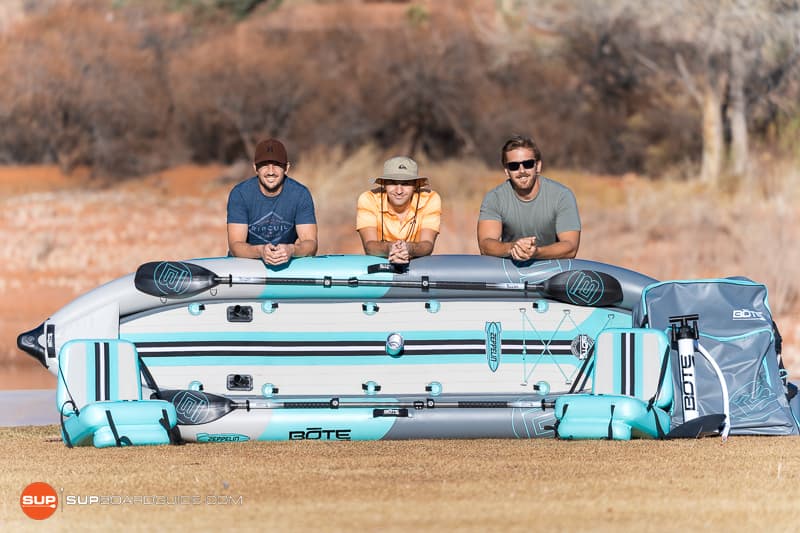 There is a long list of reasons why we would highly recommend the BOTE Zeppelin Aero iKayak. The inflatable watercraft is easily able to handle over 600 lbs, making it a great option for tandem kayakers or those who bring a ton of gear with them when they paddle. It handles really well, and while it's not the fastest kayak out there we found it to be an excellent all-around kayak for lakes, rivers, and oceans.
Our only complaint really is that Bote needs us to send this back for the next media outlet, but we are hoping to get another one later in the season. When we do, we'll update the review with how the Zeppelin Aero performs out in the ocean and rivers.
Thank you so much for reading our review of the BOTE Zeppelin Aero iKayak! If you would like to learn more, we invite you to watch our full video review of the BOTE Zeppelin. Feel free to leave any questions for us down below, and if you buy the iKayak let us know what you think of the BOTE Zeppelin Aero!
The following two tabs change content below.
SupBoardGuide Editorial Team
At SupBoardGuide.com we are a team who love the water, the outdoors, and are more than grateful that our full-time job allows us to review stand up paddle boards. We paddle year round (it helps that we are just about 2 hours outside of Las Vegas), and we bring in a wide range of paddlers with the goal of providing our readers with the best, most in-depth, and accurate stand up paddle board reviews.
Latest posts by SupBoardGuide Editorial Team (see all)