Note: iRocker released an updated model of the Sport. Here is my review of the 2018 Sport.
The iRocker 11′ Stand Up Paddle Board is a high-quality inflatable paddle board that feels like a hardboard.
Updated: 1/23/18
Introduction
One of the perks of running SUPBoardGuide.com is that I get to test a ton of different gear. I've tested a bunch of amazing boards over the last three years, but a board I was particularly interested in was the iRocker. The iRocker is one of the most popular and talked about boards in the market. Since I live in Europe, however, I never got to check it out. So, when the guys at iRocker told me that they now ship to Europe as well, I wanted to scream my lungs out in excitement. Then, it got even better: They asked me to review the iRocker.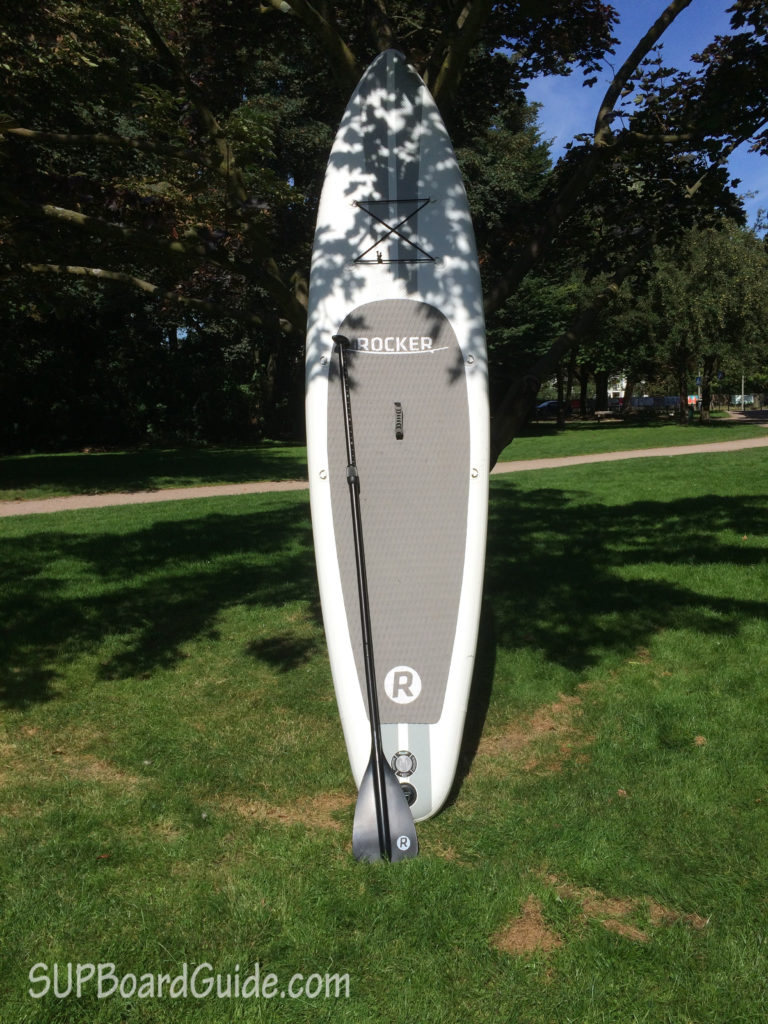 Here are some quick facts:
The iRocker is an inflatable paddle board, yet it feels solid like a hardboard. To ensure premium quality and durability, military grade PVC is used to create the inflatable SUP. The board looks tough with an elegant flourish, and comes with a complete kit when you purchase it. The kit is composed of a dual action high-pressure hand pump to inflate the SUP in a fast and easy way, an adjustable paddle made of aluminum, a repair kit, and a carry bag to make it easier for you to carry the deflated board wherever you go.
iRocker Board Review
Inflating/Deflating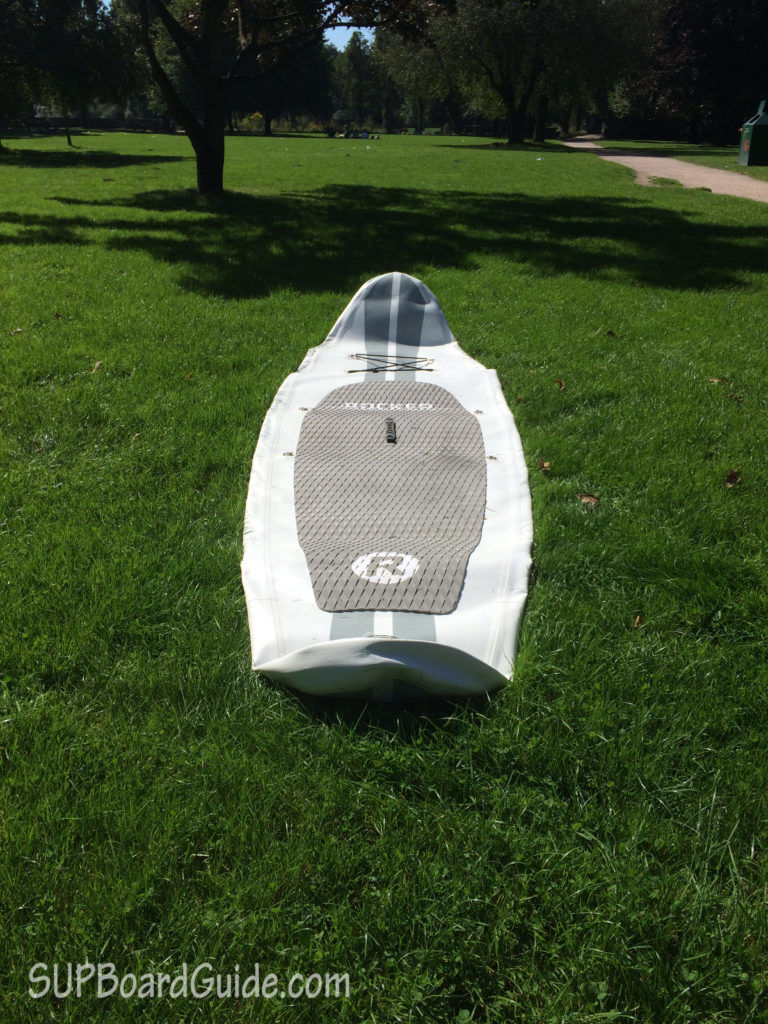 Inflating and deflating the board is easy. It comes with an ultra-efficient dual action pump. It's definitely one of the better pumps on the market. Even though it only has one chamber, the pump is just as good as the Titan Pump by Red Paddle Co and way better than some of the cheaper pumps out there. The dual action system will basically allow you to pump air into your board during the push down and the pull up, meaning there is no wasted motion. The integrated pressure gauge starts registering pressure at approximately 7 PSI (around 120 pumps). Once pumping gets too hard, you can remove a little screw and switch from "High Capacity" to "High Pressure" and continue inflating the board. Pumping it up to the recommended 15 PSI takes about 200 pumps and took me around 5-7 minutes. Once the fin is attached, you're ready to get on the water.
Deflating the board once you're done is even easier. You just open the valve and push in a little pin, then roll up your board and store it away in the bag.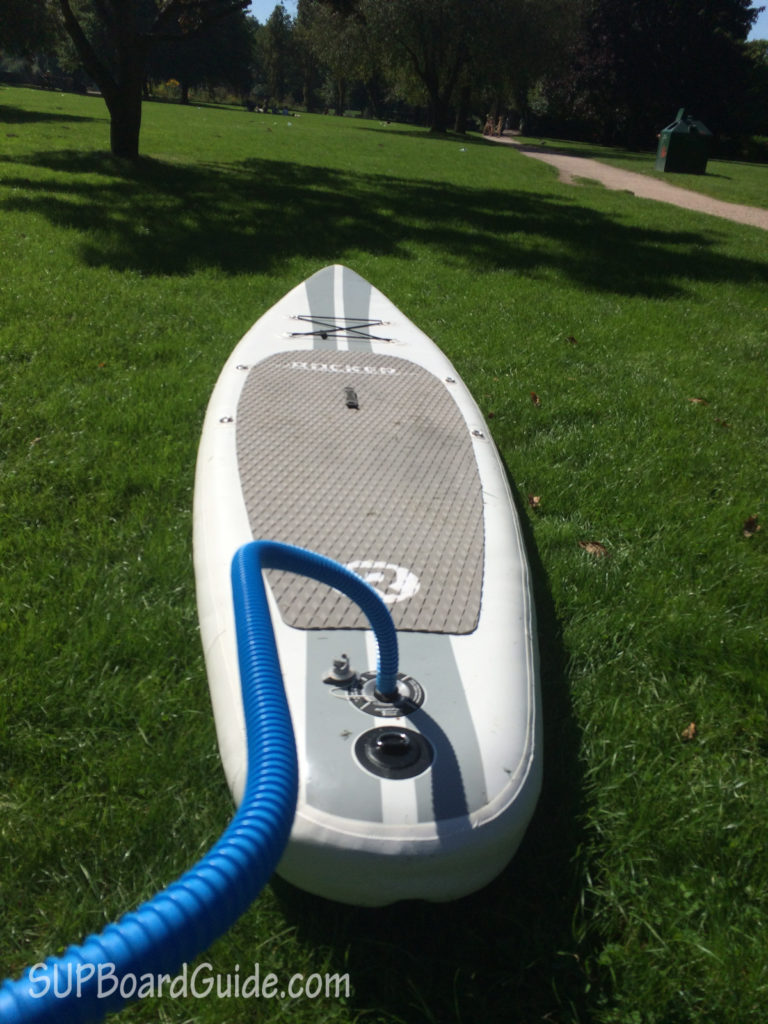 Materials and Quality
Although this inflatable stand up paddle board is more affordable than its peers, I was really impressed with the high quality and great performance. Only materials of the highest quality were used to make the iRocker board, like the military grade PVC i mentioned above. It has an internal triple layer of drop stitch core that is six inches thick to make sure that it is stable and more rigid than other inflatable paddle boards in the market that are only four inches. When choosing a paddle board, just remember that the thicker the board, the more stable you will feel.
The iRocker also has a groove deck traction pad that is made of non-slip EVA to help you keep your feet in position. You can choose between the blue and the white board. Both are designed really well and remind me a bit of a retro style race board. It also comes with some nice added featured like a bungee cord to bring a deck bag and an extra D-Ring.
The overall quality and look of the board isn't that of a $600 board. If somebody had told me it's $1000, I wouldn't have been surprised.
Performance
At the beginning of the review, I claimed that the iRocker performs like a hard board and it really does. I never pumped it up to more than 15 PSI and am really impressed by the performance in different conditions. The 11' version I tested (there is a 10' version) is stable enough for anyone just learning to paddle board, yet fast and versatile enough for advanced riders.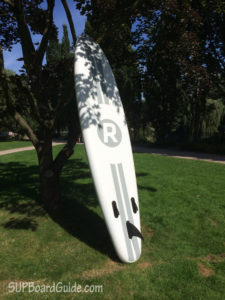 The board also tracks really well making it easy to go in a straight line if you're a beginner. The 2+1 fin setup composed of 2 smaller fins and 1 large detachable fin (check the picture) really works well. The bounciness you usually see in inflatables is minimal, and the board glides well. At a 30" width it's stable yet fast compared to other, similar boards.
I've tested it in different conditions and the iRocker SUP never disappointed me in any way. It has a weight limit of 385 pounds which should be enough for most people even if you want to bring some gear or have your kids hop on.
Paddle and Backpack
So far I've only been praising the iRocker. However, there are two things that I didn't like that much. The paddle that's included is fairly heavy and not as high quality as the board itself. The top part has a turning mechanism to hold the handle in place. When I took the board out for a few hours, it sometimes got a little loose after a while, and I had to readjust the paddle. That being said, given the price point, it is nothing to complain about, but I still wanted to point it out. If you're going to SUP a lot, a new paddle is one of the first things you want to buy anyway. The ones included in packages like this are always fine to get you started, but that's about it.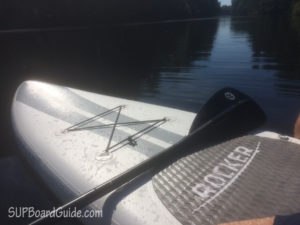 The backpack included is pretty rigid. The material looks like it can definitely withstand most travel. The board will fit without much hassle, and you can also fit the pump and paddle. The padding and zippers, however, are not quite as good. If you throw the bag in the trunk of your car, you won't have any issues. If you're going to carry the backpack a lot or want to travel frequently, definitely look into buying the new backpack. It's the upgraded backpack and has better padding making it more comfortable to carry as well as extra handles, roller wheels, and pockets.

Conclusion
The iRocker paddle board is an inflatable SUP made of quality materials. It was built to last, and you will have fun for years. It's backed by a 2-year warranty, and the customer service is just fantastic. It comes at an affordable price, and the entire family can enjoy it. I recommend it for anyone looking for an all-round board that comes at a reasonable price and is beginner friendly. I can't think of a better board in this price range. 5 Stars!
Update: I included the iRocker in my article about the three best inflatable paddle boards of 2017.
If you're interested in the iRocker check it out on Amazon or buy it directly on their homepage.
Board Specs
| | |
| --- | --- |
| Length | 10′ and 11′ versions |
| Width | 30″ |
| Thickness | 6″ |
| Fins | 2+1 |
| Weight | 29 lbs |
| Capacity | 350 lbs |
Update and more options
iRocker has released a bunch of new boards this year that I've had the chance to test. The best part? They took my feedback to heart and improved many of the things I complained about, making their new board range even better. Now performance wise I love the original iRocker reviewed here. However, the standard paddle and backpack aren't ideal as I've previously mentioned. All the new boards have a new vastly improved backpack that's now industry leading in the medium price range. The paddle has also been upgraded from an aluminum one to a lighter fiberglass paddle! Great job iRocker. Here is a picture of the new gear (the paddle has the optional kayak blade attached):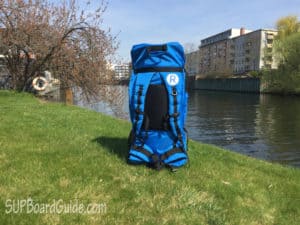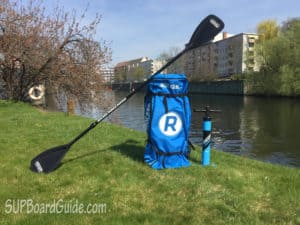 And here is the new backpack compared to the old one on the left: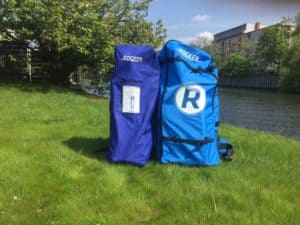 The normal iRocker still comes with the old backpack. However, you can upgrade to the new backpack here. If you intend to travel with the boards or carry it for an extended period I highly recommend you get the new backpack. The paddle can also be upgraded to the fiberglass version, or you can go all out and get the carbon fiber paddle if you really want to treat yourself.
New Boards
I've mentioned the new boards, but so far I've only talked about the new gear that's included. Here are the new boards: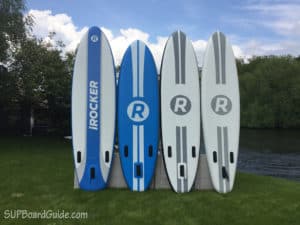 The Cruiser is as the name suggest you're perfect cruising option. It's extremely stable (33″ wide) and perfect for beginners that are still a little wobbly on their feet, to bring your kids/dog or try some yoga. I wrote a full review here. The two boards in the middle are the All Around 10′ and 11′. Both are basically the same shape and style board as the original iRocker Sport. However, they have a slightly wider tail making them more stable and are also 2″ wider. That means they are less of a touring board and more of your typical allrounder that some people have been missing. You can read my review here.
The following two tabs change content below.
SupBoardGuide Editorial Team
At SupBoardGuide.com we are a team who love the water, the outdoors, and are more than grateful that our full-time job allows us to review stand up paddle boards. We paddle year round (it helps that we are just about 2 hours outside of Las Vegas), and we bring in a wide range of paddlers with the goal of providing our readers with the best, most in-depth, and accurate stand up paddle board reviews.
Latest posts by SupBoardGuide Editorial Team (see all)