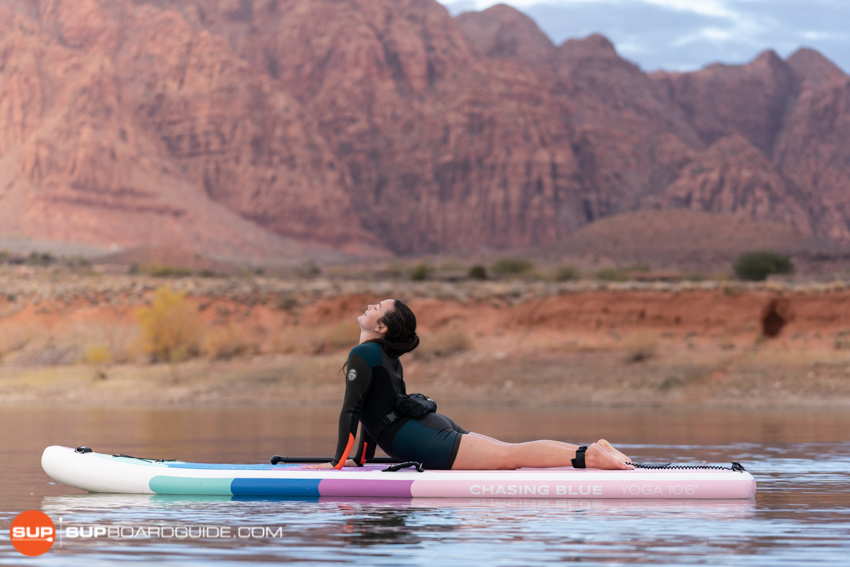 Stand Up Paddleboarding allows us to immerse ourselves into remote, peaceful water environments. If you're looking to enhance the meditative, full body workout aspect of SUP'ing, SUP Yoga is the way to go.
Admittedly, I am definitely not a yoga pro (as I'm sure you can tell by my below average cobra pose above). Honestly, my best yoga session could probably be called intermediate stretching at best. With this in mind, you can be assured that if I could successfully move through a flow on each of the boards below, a more advanced yogi will have no problem finding their zen.
Below we'll rank some our favorite boards for SUP yoga and elaborate on some of the specs, features, and included accessories that made it stand out amongst the multitude of boards we've tested out. We'll also lay out a yoga SUP buyers guide, explain the differences between hard and inflatable yoga SUPs and provide some tips to make the most out of your board once you get it onto the water. Our goal here at SupBoardGuide is to provide you with all of the technical information and real world experience to help you make the most educated decision when it comes to purchasing a board of your own.
Before we fully get into our list, let's go over some of the characteristics that we considered to decide which boards make for a great Yoga SUP.
What Makes a Great Yoga Stand Up Paddle Board (SUP)?
As with any SUP, a great yoga SUP is one that best fulfills your needs as both a paddler and a yogi, which of course will vary among individuals. Generally speaking, a great yoga board is one that is stable enough to move through your poses and around the board, not massively difficult to carry or paddle, and loaded with the right features and versatility to fully enjoy in any aspect of the sport.
When it comes to SUP yoga, stability is your board's most important attribute. Stability on any SUP primarily comes from the width of the deck, so you'll notice on this list most of the boards are between 33" and 36" wide. However, the shape of the board also plays into this, as a less tapered 33" wide board will have more stability than a tapered board with the same width. This is because tapering a board decreases the surface area that is in contact with the water, thereby decreasing stability.
Now when it comes to paddling the board for longer distances, most will find that the tapered 33" wide board (this specific width is just for example purposes) is faster and easier to pull through the water than a non tapered board of the same width. This goes back to our note about surface area, as the tapered board has less surface area in contact with the water, thus reducing friction, and allowing the board to move over the water more easily. This is one of the trade-offs that you'd have to consider when picking out your own board. If you know you'll have to paddle a considerable distance to get to your yoga spot, it may be worth it to you to opt for a tapered option even if you lose a small amount of stability.
As a small note, you can play around with different width and tapered/less tapered combinations to find your best match, but keep in mind that as you increase your width, it can be harder to keep proper paddling form, especially if you're a smaller person with less reach. Though we've found that this can be mitigated by stepping your foot opposite to your paddling side closer to the midpoint of your board and moving your paddling foot closer to the rail.
When it comes to considering features, this always comes down to personal preference. For most yoga specific boards, you'll want to keep an eye out for a full length deck pad that gives you plenty of space to stretch out and move around the board as you transition between poses. You'll also want to consider finding the right balance between traction and comfort, as you'll want to be able to comfortably lay out on your deck, but will need the grip to keep your hands and feet stable with each position.
Another thing to consider is your board's versatility and compatibility. Some specialized yoga SUPs opt not to incorporate multiple cargo areas to free up space on the deck, while others choose to only incorporate one, or opt for removable bungee cargo areas to give you some versatility. Also pay attention to the amount of D-rings or action mounts you'd like on your board that would give you the ability to attach kayak seats, more cargo areas, or set up a camera, cup holder, speaker etc. This really just comes down to your own needs regarding additional bells and whistles.
Lastly, we like to evaluate the overall value of the kit. We appreciate companies that include quality accessories such as carbon paddles, double action pumps, and high quality roller bags for a reasonable overall price.
With that in mind, we have an array of boards on our list that could fit any paddlers needs and preferences when it comes to the above characteristics. We hope you'll find the right math on our list of Best Yoga SUPs of 2023.
Best Inflatable Yoga SUPs
1. SeaGods Infinite Mantra
2. GILI 10'6'' Komodo
3. Bluefin 10'8'' Aura Fit
4. Thurso Surf 10'8'' Tranquility
5. Outdoor Master x Chasing Blue Synergy
6. iROCKER 10'6'' Cruiser
7. NIXY 10'6'' Venice
8. Red Paddle Co 10'8'' Activ Yoga

Pros
Lightweight 21 lbs
Diamond grooved EVA deck pad provides comfort and traction like a yoga mat
No center handle so you won't catch your feet in between poses
Plenty of D-rings for the option to bring on more gear
Less-tapered shape improves stability
Included carbon paddle
US fin-box with Kumano system allows for easy customization
Lifetime warranty
Cons
We'd prefer a double chamber, triple action pump (though we always recommend purchasing an electric pump anyway)
The SeaGods infinite Mantra inflatable Yoga SUP is going to take the top spot on our list of best Yoga SUPs for 2023. This board is super stable at 11' long and 34" wide, but remains lightweight at just 21lbs. It also will allow you to take some gear or a passenger with you with its weight capacity of 350lbs. The Infinite Mantra's single-fin setup allows this board to maintain decent performance when it comes to speed and tracking even with its added width and stability.
As for its features, the Infinite Mantra excels even outside of its yoga specialization. This board sports a nearly full-length comfy, but grippy croco-diamond deck-pad enabling you to spread out and move through your poses without slipping or running out of space. There are also front and rear cargo areas, as well as extra D-rings to attach kayak seats or ther accessories. Sea God chose to place 4 carry handles on the Infinite Mantra, located at the nose, tail, and side rails. Not only does this make this lightweight board even easier to transport, but it also frees up the center of the deck-pad for a relaxing savasana.
SeaGods never disappoint when it comes included accessories, and the Infinite Mantra is no exception. Included with this board is a 3-piece carbon paddle, Kumano System/US fin-box 11' center fin, a carry strap, 11' coiled leash, single chamber dual action hand pump, repair kit, and a wheeled backpack. Each of these accessories is good quality, but we specifically loved the carbon paddle, as it's lightweight and rigid to get the best paddling experience. We were also happy with the convenience of the tool-less kumano system finbox as well as the tracking capability of the 11' single center-fin.
Overall, the Sea God's Infinite Mantra Yoga SUP would be an ideal board for a paddler looking to really enhance their SUP yoga experience with a stable, comfortable, versatile board that includes quality accessories to get you started right out of the box.
---
2. GILI 10'6 Komodo (See Full Review)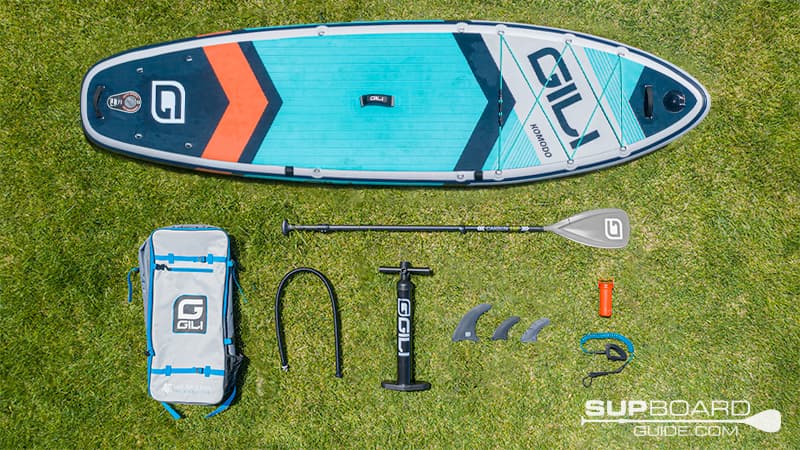 Pros
Capable of yoga and all-around casual paddling
Full length comfortable, grooved deck pad allows you to stretch out
Multitude of D-rings for gear/kayak seat attachments
Each purchase contributes to conservation focused charitable donations
Velcro paddle holder to get your paddle out of the way during your flow
Cons
Center handle could get in the way during yoga transitions
The Gili Komodo is a shorter option than the Sea God's Infinite Mantra for paddlers who want just a bit more maneuverability. This board is still a stable 10'6 long and 33" wide while being just 21 lbs. Like the Infinite Mantra, the Komodo gives you some wiggle room to bring along gear or a passenger with its 340 lb weight capacity. It's 2+1 snap-lock fin set-up also plays a role in helping this board excel in stability even at its shorter length.
Despite being well cut-out for yoga, it's long list of features make the Komodo a well-equipped, versatile board. The comfy, grooved EVA deck-pad stretches from nose to tail, giving you plenty of space to practice yoga solo or with a partner, especially if you remove the bungees from the front and rear cargo areas. There are 3 action mounts to customize your SUP when it comes to cup holders, camera mounts, rod holders, etc. as well as 4 extra D-rings to attach a kayak seat or more gear. As a nice final touch, Gili incorporated a velcro paddle holder along the side of the board to store your paddle out of the way as you get into your yoga session. If Gili specified this board as a yoga SUP, we would have liked to see the center handle replaced with 2 handles on the sides of the board to open up the deck, but it's marketed as more of a larger, more versatile all-around option. The center handle also does make it easier to carry, if you're not comfortable carrying a board on your head.
As with every Gili board, the Komodo comes with all the necessary accessories to get you out paddling the second it's unpacked. Included in this kit is a 3-piece fiberglass paddle, 3 snap-lock removable fins (one center, 2 sides), a single chamber dual action hand pump, 8' coiled leash, and a travel backpack. While these accessories are great considering the price of the whole kit, we would have appreciated a carbon fiber paddle. However, Gili does provide the option to upgrade your kit-included paddle to a carbon fiber shaft with either a nylon or carbon fiber blade for a small additional cost.
The Gili 10'6 Komodo is a great choice for paddlers that want a shorter, versatile yoga board. The Komodo can just about do it all, from SUP yoga, kayaking, hauling gear, or bringing along kids or pets.
---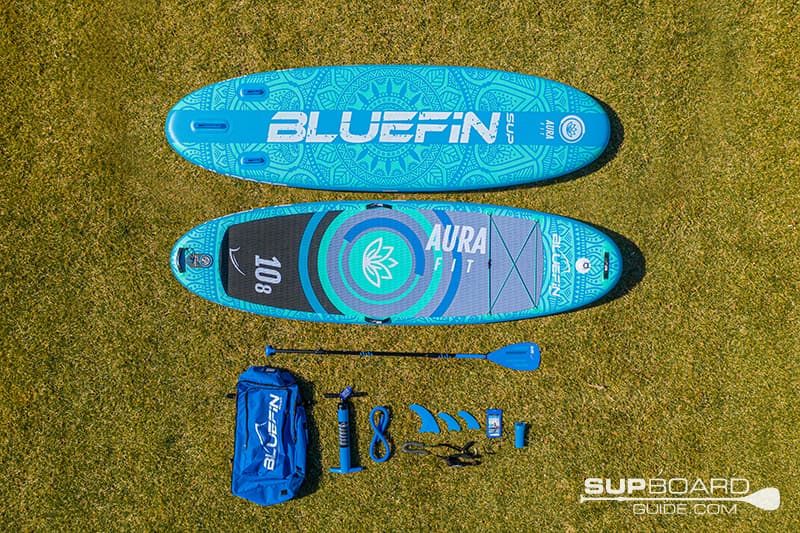 Pros
Included a kick-pad for easier tep-back turns
Removable bungees on the front cargo area to free up space for yoga on the deck pad
Croco-diamond deck pad pattern provides grip and comfort
No center handle
Cons
Heavier board (though we have not yet verified the exact weight)
Width makes it a bit hard to keep proper paddling form
The Bluefin 10'8 Aura Fit is the perfect option for those on a budget looking for an all-inclusive SUP package. This 10'8 long by 35" wide, 2+1 fin set-up board is super stable for any beginner or advanced SUP yogi. Though it is a bit slower than a typical all-around or lighter, narrower yoga SUPs, Bluefin's 10'8 Aura Fit tracks pretty well, and its non-tapered planing hull allows it to handle light to moderate chop. You'll also be able to bring along kids, pets, or gear with its 350lb total weight capacity.
Designated as a Yoga SUP, the 10'8 Aura Fit has less versatility focused features than other boards on this list, but still has a variety of features to accommodate a stellar yoga flow on the water. This board has 4 carry handles, dispersed on the nose, tail, and sides to eliminate the need for a center handle that could get in the way of your feet as you move through poses. It also has a removable front cargo area located towards the nose on it's nearly full-length diamond patterned deck pad, giving you the option to bring gear if needed or make full use of the deck space. Bluefin also anticipated maneuverability challenges that come with longer, wider boards and mitigated the issue by adding a raised kick-pad for easy foot placement during stepback turns.
Bluefin has a reputation of sending all of your necessary accessories along with your board to get started right away. Included with the 10'8 Aura Fit is a 3-piece fiberglass paddle, single chamber dual action hand pump, coiled leash, 3 snap-lock fins, and a roomy backpack. Of course, we'd prefer a carbon fiber paddle over fiberglass and a roller backpack, as this board does feel like it's on the heavier side, but given the total price of this kit, it's still a great deal.
As we've already stated, the Bluefin 10'8 Aura Fit is a great option for paddlers on a budget looking for a durable, all inclusive, yoga SUP kit.
---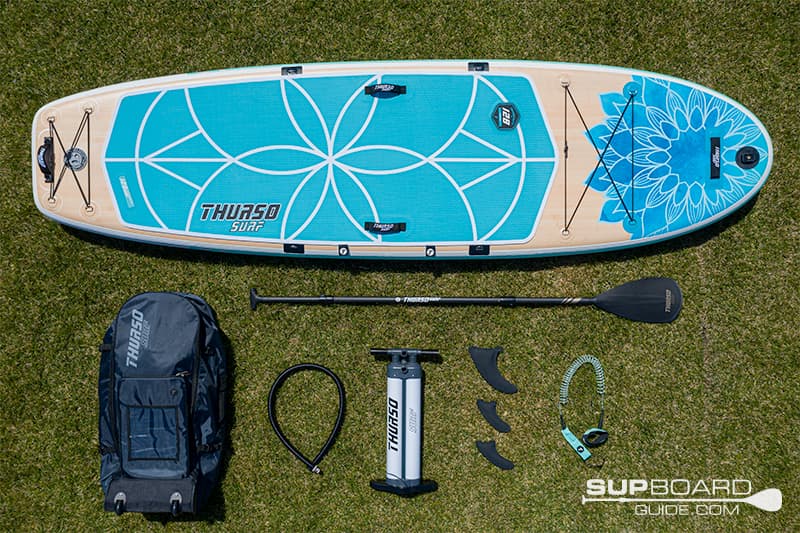 Pros
Non-tapered shape adds stability
In-built carbon rails improve rigidity/performance
12 D-rings add versatility for gear attachments
Included carbon paddle
No center handle
Paddle holder to store your paddle during your practice
Cons
We would have liked to see a full length deck pad for this yoga SUP
Heavier at 29lbs
Thurso Surf's 10'8 tranquility sits at the halfway point on our list. This is a heavier board at 29 lbs, but is super stable at 10'8 long and 34" for those who want to practice yoga, beginners paddlers, or those paddling in bumpy water. It's carbon fiber rails add rigidity and make this inflatable SUP feel pretty similar to a hard SUP, while maintaining a 350 lb weight capacity.
The features on the Tranquility give it a bit of customization ability without taking away from it's true purpose as a yoga SUP. We loved the addition of the action mount on the nose to document your paddling adventures with a camera, attach a cup holder, speaker, or anything else you could think to set up. This board also has a front a rear cargo area as well as D-rings for a kayak conversion kit. The velcro paddle holder on the side lets you stow your paddle out of the way while you practice yoga, and the lack of center handle allows you to fully utilize your deck space. One thing I would suggest to Thurso Surf is to shift the side-handles closer to the rails of the board so that they don't take up any room on the deck pad. Not that they necessarily get in the way, I'm just being a bit nit-picky and think it would give you more space.
We're always happy with Thurso's list of included accessories, and the 10'8 Tranquility is no different. With the purchase of this yoga SUP you'll receive a 3-piece carbon hybrid paddle, double chamber triple action pump, shoulder carry strap, 3 snap-lock fins, 10' coiled leash, and a wheeled backpack. Each piece in this kit is of great quality, especially given the affordable overall price. I personally love Thurso's carbon hybrid paddle. It just feels super rigid in the water and makes your ride feel smoother and more effortless. I also really appreciate the addition of the shoulder strap in the kit, as there is no center handle and this is a heavy board to carry over long distances. This is also the first board on this list to include a double chamber triple action pump, which we think are much more efficient when it comes to inflating your board by hand.
In short, Thurso-s 10'8 tranquility is the perfect match for someone who wants a well built, stable iSUP that can mimic the feel of a hard SUP for just a fraction of the cost.
---
5. Outdoor Master x Chasing Blue Synergy (See Full Review)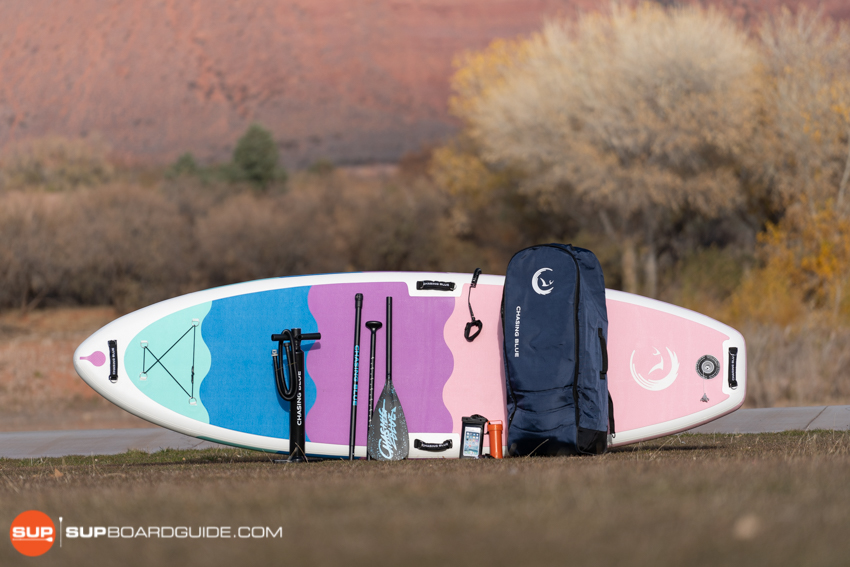 Pros
Full length EVA croco-diamond deck pad feels like a yoga mat
No rear cargo area, and front cargo area is removable to free up the entire deck space
Lightweight 22 lbs
Affordable price
No center handle
Cons
A little wide to keep your paddling form over long distances
Some included accessories will need to be upgraded
Outdoor Master's Synergy 10'6 is another budget friendly option on our list. This board lacks nothing in stability at 35" wide, but has a bit less rigid of a feel than the Thurso 10'8 Tranquility we discussed above. The Synergy is a lightweight 22 lbs and has a weight capacity of 320 lbs, so I'd expect no issue bringing along a passenger, a pet, or extra gear. One thing to note with the Outdoor Master's Synergy is that the wide deck will pose a slight challenge when it comes to keeping your paddling form, and consequently, keeping the board on a straight path. You'll have to really focus on stacking your shoulders to get a vertical paddle entry, or if you have a shorter reach you may want to consider working on shifting your feet over toward whichever side you're paddling.
Looking at its features, the Synergy is clearly a designated yoga SUP. It has 4 handles, spaced out on the nose, tail, and sides (no center handle so as to not get in your way), and a front cargo area. There's no built-on extra D-rings, kayak seat compatibility, no action mounts, but there are optional stick-on mounts in the kit. This is essentially a floating yoga mat and is clear of most bells and whistles that come with yoga/all-around hybrid style boards. The soft croco-diamond grooved deck pad is grippy but comfortable enough to fully lay out on this board. Moving to the bottom of the Synergy, I like the 2+1 fin setup for its added stability on a yoga SUP, but I wish that all 3 were removable on the Synergy instead of just the slide-lock center fin. Molded flexi fins are super durable and convenient when it comes to packing up your board without extra parts, but they tend to get bent out of shape over time and need to be remolded with heat.
Given the affordable price of this entire kit, the included accessories are sufficient enough for a beginner or leisurely paddler, but if you're looking to advance your skills or paddle for longer distances, you'll definitely need to upgrade some of this gear. Included with Outdoor Master's Synergy 10'6 is a 3-piece aluminum paddle, coiled leash, single chamber dual action pump, waterproof phone case, stick-on action mounts, a slide lock 10" center fin, and a roomy insulated roller bag. We liked the inclusion of optional mounts, as it allows you some customization for an otherwise clean deck pad. We also found the wheeled bag to be of good quality and spacious enough to easily fit the board and accessories, though we're not huge fans of the aluminum paddle. We probably would have even preferred fiberglass to aluminum, since a carbon fiber paddle seems unreasonable at this price. Aluminum paddles just tend to be on the heavier side and get slippery when wet.
The Outdoor Master Synergy 10'6 is a great choice for those looking for a barebones, lightweight, true yoga SUP that won't break that bank. It may not be ideal for paddlers looking for a yoga SUP that they could easily use as an all-around for casual paddling days, but it'd be a fun board to paddle over short distances with a passenger or pets.
---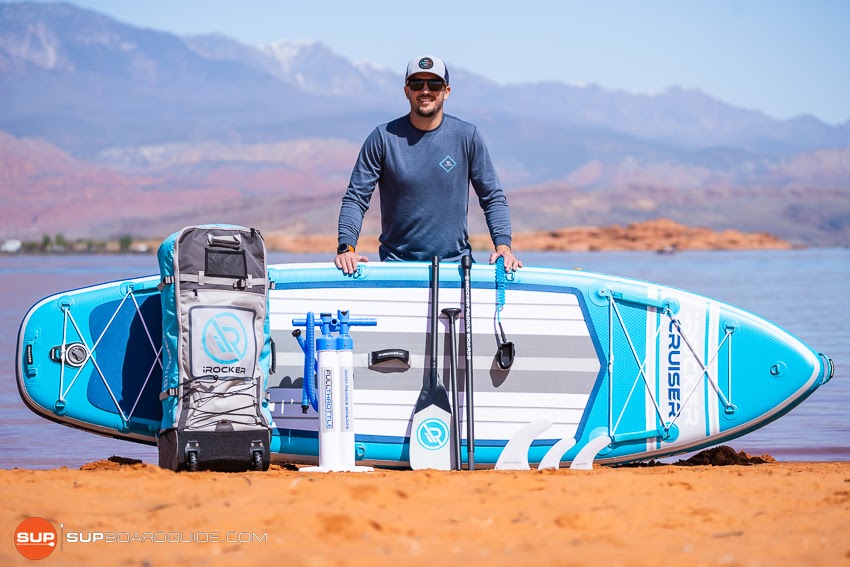 Pros
Stable enough for yoga but sporty enough for all-around use
Faster and more maneuverable than other listed boards
Durable construction for an affordable price
Front and rear cargo areas and extra D-rings so you can bring plenty of gear
Stamped deck pad is a comfy, grip focused, stylistic touch
Good quality included accessories
Cons
Deck space is limited for yoga due to its features/accessory compatibility
Not a true dedicated yoga SUP, but an all around SUP that you could do yoga on
Would like to see rear action mounts shifted back or incorporated into rear d-rings
If you are looking for a board that you can use for both yoga and all-around paddling as well, the iROCKER 10'6 Cruiser will be a great choice. At 33" wide and 10'6 long, it's a great balance between stability and sportiness, though it's on the cusp of being a heavier board at 25 lbs. You'll be able to practice SUP yoga without making sacrifices when it comes to speed and maneuverability, and you'll have no problem loading on gear, kids or pets with the Cruiser's 400 lbs weight capacity.
Like most iROCKER boards, the Cruiser is decked out in features to maximize compatibility and versatility. There are front and rear cargo areas, each possessing a safety strap for passengers to hold onto, as well as 3 carry handles on the nose, tail, and center of the board. The Cruiser is kayak seat compatible, with its 4 extra D-rings , and has 4 action mounts to set up a camera, phone, speaker, cup-holder or fishing rod holders. We're also big fans of iROCKER's deeply grooved deck-pad that transitions into a tracio focused diamond pattern on the tail to help with step-back turns. While not as much as a specialized SUPs as the other boards on this list, the Cruiser will enable you to do any SUP activity, yoga included.
As always, iROCKER sets you up with a list of great accessories right out of the box. Along with the 10'6 Cruiser, you'll receive a 3-piece carbon matte paddle, 3 snap-lock fins, double chamber triple action pump, 10' coiled leash with key pocket, repair kit, and a sturdy wheeled travel backpack. Each of these accessoires is high quality and built to last over tons of use. We love the carbon matte paddle for its lightweight, rigid feel as well as the fully removable 2+1 fin set-up that contributes to more consistent performance. A personal favorite of mine is iROCKER's wheeled backpack, for its color coordination and variety or organizational compartments.
I also want to note here that the iROCKER Cruiser is a better overall quality board and kit than the Outdoor Master Synergy 10'6, but is ranked below it on this list because it's not so much of a designated yoga SUP, but rather a versatile all-around SUP that will allow you to do yoga, which is not necessarily a bad thing but given the purpose of this list, we felt this ranking was more appropriate.
As we've already said, the iROCKER 10'6 Cruiser is a well constructed SUP with a range of quality accessories, that would be the perfect option for paddlers looking for a versatile all-around board that will allow them to tackle any SUP activity, yoga included.
---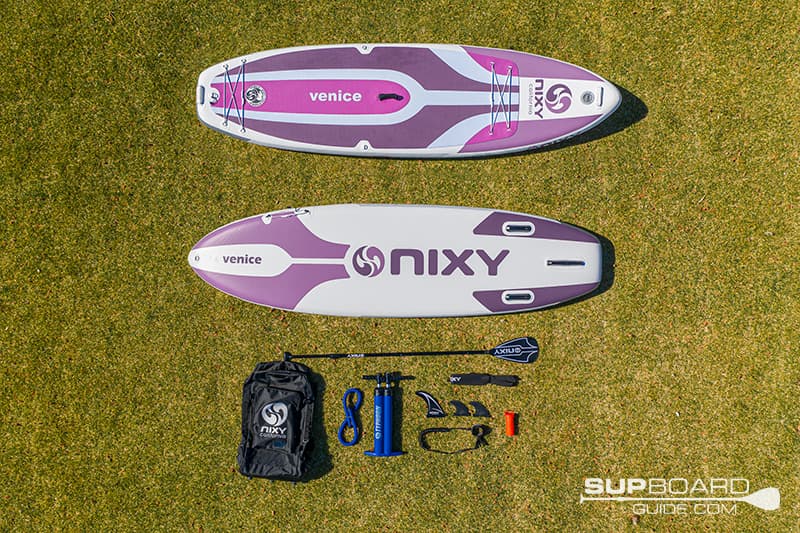 Pros
Quick, maneuverable all-around, but yoga capable board
Both bungee cargo areas are removable to free up yoga space
Almost full-length deck pack
Extra D-rings for kayak seat or gear attachments
In-built carbon side rails may add stiffness/ performance
Cons
Solo center handle may get in the way during yoga
Like the iROCKER 10'6 Cruiser, the Nixy 10'6 Venice G4 is more of an all-around SUP that will enable you to do yoga, instead of a designated yoga board. Like most Nixy boards, the 10'6 Venice is sporty, maneuverable, and easy to paddle in the water but its 34" wide deck gives you plenty of stability to flow through a yoga session. The Venice is a lightweight 23 lbs with a 350 lbs weight capacity, so is more than capable of supporting most adult paddlers and should have no problem bringing along a kid or a pet.
The Nixy 10'6 Venice has a full-length comfy EVA deck pad (the board pictured is a previous year's model; the deck pad has since been extended up the nose) that will keep your hands and feet solidly in place as you move through poses. It also has front and rear removable cargo areas, allowing you to bring gear if needed but also free up some deck space to stretch out or practice yoga with a partner. There are 3 handles dispersed at the center, nose, and tail as well as 4 action mounts, and 4 extra D-rings for a kayak seat conversion or other attachments. Nixy also incorporated inbuilt carbon fiber side rails, similar to those in the Thurso Surf 10'8 tranquility, that are aimed at improving rigidity and creating a hardboard-like feel. It's clear that Nixy has made some notable upgrades since our most recent model of the board to add versatility and compatibility to this cruiser style iSUP.
Nixy does an awesome job of including high quality accessories to get you started on the water. With the Nixy Venice 10'6 G4, you are given a 3-piece carbon fiber hybrid paddle, double chamber triple action hand pump, 10' coiled leash, 3 tool-less screw-in fins, repair kit, and a 3-wheel backpack. I personally love the kit-included paddle with every Nixy board, it's super lightweight and feels effortless to pull through the water. I also really appreciate tool-less screw-in fins, as I think they're more secure than a snap-lock system and hold up better over time than the slide-lock finbox. The nixy backpack is also one of our favorites for its roominees and large front zipper compartment to store your smaller accessories outside of the main pocket, but we question if the third wheel is truly necessary.
The Nixy 10'6 venice is a hybrid style all-around board that will allow you to comfortably try out yoga, as well as many other SUP sports.
---
8. Red Paddle Co 10'8 Activ Yoga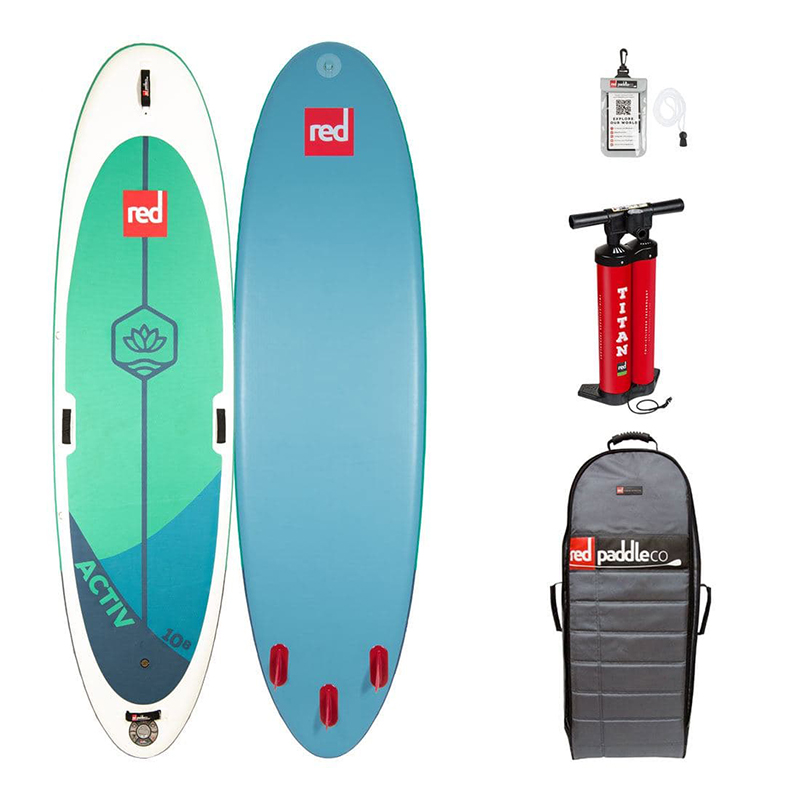 Pros
Extremely well built SUP yoga board
Faster and easier to paddle than other yoga boards
Includes a powerful double chamber triple action hand pump
Full-length deck pad gives you plenty of space to stretch out without tripping on a center handle
Cons
Higher price makes given its lesser accessories and features
4.5" non-removable fins limits customization and need to be heat-fixed every so often to keep their shape
The Red Paddle Co 10'8'' Activ is the best option for those who want a dedicated yoga board entirely free of bungee cords, excessive D-rings, and other add-ons that get in the way of the deck pad. This board has a bit of a unique shape at 10'8'' long, 34'' wide, and a 5'9'' thickness, the Activ an extremely stable paddle board that has some solid overall performance as well. One unique thing to note about the 10'8 Activ is that it has a 25 PSI limit, which is the highest on this list. We recommend inflating between 15 and 20 PSI, but this wide range does allow you to customize it in terms of rigidity and weight. This is almost a heavier board, weighing 23lbs at 15 PSI, and is listed to accommodate up to 265 lbs, though we think this is an under-estimation.
While it is light on D-rings and accessories, there are still a number of cool features that make the 10'8'' Activ worth considering. The side rails have four layers of taping that improve the overall rigidity, but without the removable rods like other Red Paddle Co boards. There three 4.5'' fins are built into the board, maximizing stability, tracking, and control in all water environments. There are a couple of D-rings included so you can attach a shoulder strap, giving you extra carrying options outside of the four neoprene carry handles. The 'Red' EVA foam deck pad covers nearly the whole length of the board, and is very soft to prevent skin irritation while performing asanas with a great texture for additional traction and grip support. Lastly, you'll find this board stays firm even when you leave it inflated for several days due to the integrated air block which slows down the overall air leakage as you paddle and leave it out to dry.
The kit also includes a dual-chamber pump, waterproof phone case, and a very roomy backpack. We recognize that this is a lighter accessory list than other boards on this list, especially considering the higher price point for this board. However, the 10'8 Activ is a full-on specialty board, so it is somewhat typical to not include a paddle or an array of bells and whistles. This is usually with the expectation that those buying a specialty paddleboard have already gotten their feet wet in the sport and likely own their own paddle already that is well suited to them.
We definitely recommend the Red Paddle Co Activ for those who want a premium, dedicated yoga board free of the distractions that might disrupt their quest for inner peace.
---
Best Hard Yoga SUPs
1. Pau Hana 10' Moon Mist Yoga Paddle Board
2. Adventure Paddleboarding All-Around 11'6''
1. Pau Hana 10' Moon Mist Yoga Paddle Board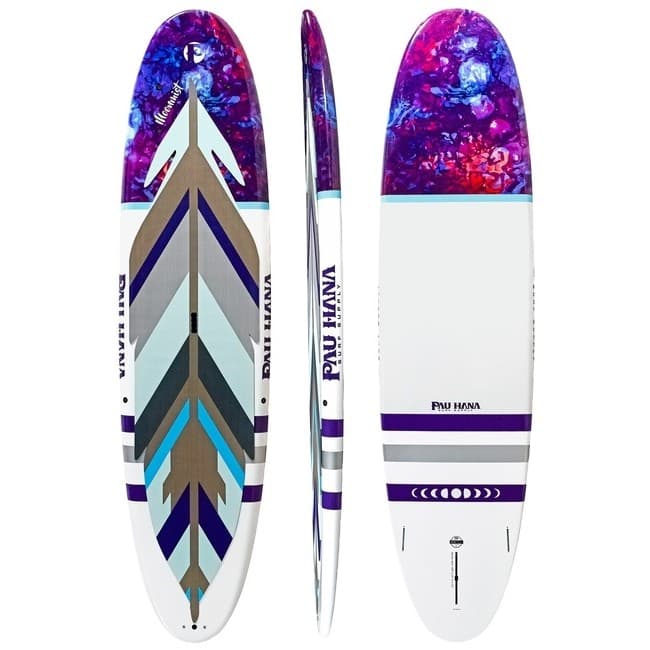 Pros
Fast and easy to paddle for activities outside of yoga
Planing hull is suited for flatwater and choppy conditions
Almost full length EVA deck pad provides grip and comfort
US fin-box allows for tons of customization
Cons
No included side fins
No included paddle
Not super wide for a yoga SUP
The Pau Hana 10' Moon Mist is a stable hardboard that is lightweight and quick, making it great for yoga and some light surfing alike. This 10' long paddleboard is 29'' wide and 4.25'' thick, the thinner deck making this a solo yoga board only but one that is very fast and maneuverable in the water. This is a great paddleboard option for those who want the perfect balance between stability for yoga and those who want high performance for non-yoga activities.
So what other features make the Pau Hana 10' Moon Mist stick out? We love the soft brushed EVA deck pad that is extremely comfortable for stretching and posing on, while still retaining good traction when wet. There are 6 Seamount anchor points which are compatible with a large range of SUP accessories, placed on the nose and edges of the board to clear up deck space. A self regulating Goretex vent plug protects the board against damage from intense heat and pressurization, while preventing water and rocks from getting inside your board. There is also a center handle insert molded for comfortable carrying, without relying on a center handle that might otherwise trip you up.
The 10' Moon Mist is constructed with Pau Hana's 'Bamboo Sandwich', which combines fiberglass and bamboo layers to protect an EPS foam core. This hardboard weighs a light 22 lbs, and has a recommended weight capacity of 260 lbs. The Pau Hana Moon Mist has a center standard US fin box and comes with a 9'' fin. There are also two side bites compatible with traditional US side fins, though these fins do have to be purchased separately along with a paddle.
If you want a yoga board that is cushy and solid that is great for tackling the waves when you've done your meditations for the day, consider the Pau Hana Moon Mist 10'!
---
2. Adventure Paddleboarding All-around 11'6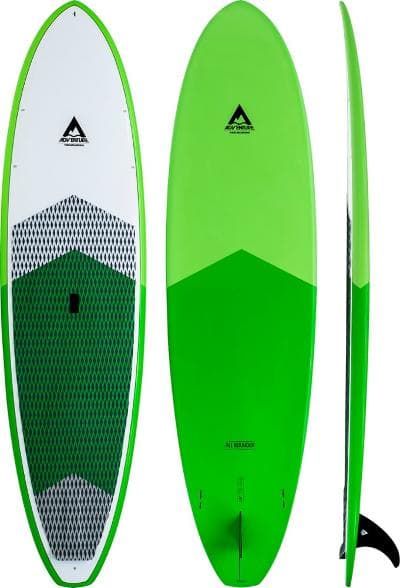 Pros
Raised kick-pad makes this 11'6 easier to maneuver
Stable enough for yoga but still fast with its tapered, concave nose shape
Recessed handle won't trip you up
US fin-box center fins adds customization but FCS II side-fins add convenience
Cons
No manufacturer based warranty
Adventure Paddleboarding All-Around 11'6'' is a solid yoga board option for those who want a healthy balance of yoga and all-around performance, and are trying to spend less than $1200 dollars. This is a 11'6'' board that is 5'' thick and 33'' wide, able to support a single adult paddler and their kids or pet with ease. Easy to handle and beginner friendly while being stable enough to perform all sorts of asanas, those new to trying SUP yoga will enjoy the Adventure Paddleboarding All-Around 11'6''.
There are a variety of features that further help this all-around/yoga hybrid stick out on our list. The textured traction pad feels good to stand on and is prevents slippage when wet, but also has a back foot kick and arch bar for improved step-back turning and foot grip.The simple yet well designed flat-to-double concave bottom improves the board's acceleration, and give sit a very smooth glide when used in flatwater. There are multiple nose plugs that improve air flow, with the plug on the tip of the board doubling as a GoPro accessory mount as well. If you have bungees, you can also use the other nose plugs to create a forward bungee cargo area similar to many inflatable boards!
The Adventure Paddleboarding All-around 11'6'' is built with a combination of molded epoxy and fiberglass for great protection and solid all-around performance in the water. This paddleboard weighs 28 lbs, and has a recommended weight capacity of 250 lbs that most experienced paddleboarders won't have any trouble exceeding. Included is a 9' center fin that improves tracking, and for those who want additional maneuverability there are two side plugs compatible with FCS II fins.
If you want an inexpensive all-around and yoga board combination, we recommend the Adventure Paddling All-Around 11'6'' SUP.
Yoga SUP Buying Guide
While we are confident that any board on this list would satisfy any paddlers needs, we want to feel confident to shop around even if that does take you outside of your recommendations. Below, we'll go through a yoga SUP buying guide to help you know what to consider before making a board purchase.
Stability
Stability is always the most important factor when shopping for any SUP, but deserves even more emphasis when it comes to yoga SUPs. There's no worse way to kill your vibe and break you out of a meditative state than an unintentional dip in the water. A yoga SUP needs to be stable enough to allow you to comfortably flow through different poses and different hand or foot placements without posing a significant challenge to your balance. Yoga SUPs will typically be wider and less tapered to improve overall stability.
Paddling Ease/Performance
Because yoga SUPs tend to be wider or less tapered, they are bound to be a bit slower when compared to a smaller all-around or a more touring oriented board. However, if you know you're going to have to paddle moderate to long distances before settling into your yoga spot or if you're planning to utilize your board for more casual paddling as well, you'll want to find a good balance between stability and performance. Eah board on this list is stable enough to get through a yoga session, but not so wide or heavy as to make it a chore to actually paddle.

As a side note, yoga SUPs also come with some maneuverability challenges due to their size and width. If maneuverability is really important to you, keep an eye out for boards with a raised kick pad as we mentioned on this list.

Durability/ Construction weight
Because specialized yoga SUPs can be a considerable investment, it's always nice to have peace of mind that it's constructed to last through multiple seasons and uses. The inflatable boards on this list utilize durable dual or triple layer PVC construction, while the hard SUPs are sturdy fiberglass/resin sealed foam core. We're confident that all of these boards will hold up to heavy use or minor dings and drops, but keep in mind that construction plays a huge role in board weight. Triple layer inflatable boards will generally be heavier than those with dual PVC layers, while hard SUPs that incorporate wood sandwiching will also be heavier than other hard board options.

When considering your board weight versus its construction, think about the distance that you'd normally be carrying it, and if you'll typically be transporting it alone. As a smaller solo paddler that's of about average strength (5'2 and 140lbs), I like my boards to be in the 21-25lb range.

Features
What I mean by 'features' includes things like your deck pad, d-rings, action mounts, cargo areas, paddle holders, handle placement, and fin set-up and box. Again, this a personal preference thing, but think about what type of balance you like between grip and comfort on your deck pad, as well as how often you'll want to bring along gear. Also consider how versatile you'd like your board to be when it comes to attachments and accessories. Lastly, note what type of fin-set up would be best for your paddling style or stability needs. Single fin set-ups will contribute to added speed, while 2+1 set-ups slightly improve stability.
Accessories
When it comes to accessories, think about what you'll need to be included in your paddling kit. If you need all of the accessories to get started, look for an all inclusive kit that provides a paddle, leash, pump, and bag with your board. If you already have a paddle of choice or an electric pump, then you can search for a board that does not include a paddle and won't need to pay too much attention to the quality of an included hand pump.
At this point, you've probably noticed that each board characteristic in our buying guide relies majorly on your personal preferences and requires you to consider some trade-offs. Unfortunately, there's no 'one size fits all' when it comes to the perfect yoga SUP. However, with this buyers guide in mind, you'll be able to feel confident narrowing down your board search to best match your needs.
Inflatable Yoga Board or Hard Yoga Board
I want to preface this section by saying that when it comes to comparing hard SUPs to inflatable SUPs, it's not so much that one is 'better' than the other. Rather, each option has their own benefits that can better fit an individual's environment, lifestyle, storage capabilities, etc. Below, we'll list some of our favorite attributes of both inflatable and hard SUPs.
Benefits of Using and Inflatable Yoga Board:
Stability/weight support
Inflatable SUPs generally have higher weight capacities than hard boards of a similar shape and size. This give you the option to bring along more gear or an extra paddler without always needing a larger board.
Damage resistant
Because of their construction, hard boards are easier to scrape, chip, or crack, whereas the PVC layers on iSUPs are extremely resistant to damage. An iSUP can hold up against most drops and collisions without even leaving a noticeable mark on the board. This does come with the caveat that if an iSUP does get damaged, it usually needs to be sent out to the company for repair, instead of being done yourself or at a local shop.
Weight
iSUPs are typically lighter than similarly sized hard boards. This makes it easier to carry them over long distances, but also allows them to be more easily pushed around by tide, wind, or choppier waters.
Storage and transport convenience
A common appeal of iSUPs is that they are able to be deflated and rolled up into a bag that can easily be stored in a trunk or a closet. It makes owning a paddleboard more feasible for those living in more confined spaces such as apartments or dorm-rooms.
Cost
Inflatable SUPs are generally more affordable than similarly sized hard SUPs. They also typically come with an included paddle, leash, and fins whereas most hard SUPs do not.
Benefits of Using a Hard Yoga Board:
Performance in non-ideal conditions
Because hard SUPs are typically heavier than iSUPs of a similar size, they are less prone to being pushed around by wind, tide, or bumpy water.
Speed
Hard SUPs usually have better tracking than inflatables and are designed to cut more through the water instead of gliding over top, making them a faster performing board.
No need for extra accessories
Hard SUPs don't require a lot of additional accessories such as hand pumps and roller backpacks. You'll be ready to paddle with just your SUP, paddle, leash and life jacket.
Ease of Repair
Although hard SUPs are easier to damage, they're also easier to repair. Most dents, scrapes, or cracks can be fixed at home with a fiberglass and epoxy patch. Even if it is outside of your comfort zone, most local board shops will be capable of board repair without you having to ship it out.
Rigidity
Hard SUPs are more rigid than iSUPs, which can be more comfortable when it comes to a relaxing yoga session.
Tips for Making the Most of Your Yoga Board
Once you've unpacked and readied your board, it's time to take it out on the water and put it to the test. If you're a beginner paddler or new to the SUP yoga scene, this can be slightly overwhelming. Our best advice is to just paddle around and have fun. Jump up and down, try to walk from nose to tail, push your own and your new board's limits to see what you and it can handle before falling in. Besides that, we've compiled a list of things we've learned along the way that will hopefully be helpful tips to help you make the most of your board.
Get comfortable falling in
Whether you're new to yoga or have been practicing on land for years, falling in during a SUP flow is nearly inevitable, especially if it's your first time. The bottom line is that there's more factors at play than just moving between poses. The wind, tide, or any wake in the water can challenge your balance at any point, in any position. It's important to remember that falling in is no big deal as long as you wear your leash and know how to get back on your board (the easiest way is to place your hand by the handle and push yourself out as if you were getting out of a pool). It's also fun to incorporate the water into your routine after a series of high intensity movements.
Practice paddling form
Yoga SUPs are typically wide, and while this does help with stability, it can often challenge your paddling form. With a wider yoga board, you'll want to focus on stacking your shoulders to keep your paddle vertical as it enters the water and as you pull through your stroke. If you have a smaller reach like I do, you can try shifting your feet towards whichever side you're paddling on.
Take it slow
Yoga on a paddle board is much different than yoga on land. Take it slow as you start your SUP yogas sessions and build up to more challenging flows and movements. Also remember not to take it too seriously, the challenge is part of the fun.
Use the entire deckpad
Yoga SUPs generally have a lot of space on the deck to allow you to spread out and really get into your routine. As you're starting out, you'll want to spread yourself out on as much of the deck space as possible to help with stability. Beginners will typically be most comfortable keeping at least 2 points of contact with their board, but as you progress you can challenge yourself with one point of contact movements (just remember it's okay to fall in).
Find a secluded spot
Another way to help with stability when you're just starting out is to find a secluded, sheltered spot. Usually I'll look for a cove that is blocked from the wind and boat wake to ensure that choppy water won't interfere with my flow. This also helps with your focus and meditation, as these spots tend to be quieter and harder to reach.

As a side note: always check that the water is deep enough so that you won't get hurt on the bottom if you fall in.

Bring a lifejacket
As we've said several times, falling in is super common when it comes to SUP yoga. Of course, this is part of the fun, but always be sure to bring or wear a lifejacket or PFD (personal flotation device). Accidents happen, and it's much better to be prepared from the start than to wish you had been in case of an emergency.
Conclusion
Hardboard or inflatable, new or experienced, our number one recommendation for all paddleboarders is to just remember to have fun! Yoga boards are great for trying a new water sport away from the noise and bustle of the city, and will provide a new challenge to your meditative sessions. Whether you're going out to work out your muscles or to find a nice and quiet place to think while you stretch, yoga boards are built for all sorts of paddlers and activities. So make sure to experiment, try new things, and enjoy the wonders of nature and the water the next time you go out on your yoga paddleboard!
Thank you so much for reading, and we hope that this article has been helpful to you in learning about yoga paddleboards. If you have any questions, or want our feedback on a particular yoga board you found, send us an email or leave a comment below! We also update our articles based upon the comments we receive, so if you feel like there is something we missed that other yoga SUPers should know about, be sure to let us know! Be sure to check us out again in the future as well, as we update our lists based upon our reviews of the latest and greatest yoga boards.
And remember to have fun paddleboarding!
The following two tabs change content below.
SupBoardGuide
Heyo! At SupBoardGuide.com we are a team who love the water, the outdoors, and are more than grateful that our full-time job allows us to review stand up paddle boards. We paddle year round (it helps that we are just about 2 hours outside of Las Vegas), and we bring in a wide range of paddlers with the goal of providing our readers with the best, most in-depth, and accurate stand up paddle board reviews.
Latest posts by SupBoardGuide (see all)