SeaGods Elemental Wave CX
Pros
Incredibly beautiful board! The Folk Surrealism inspired artwork by Heather Renaux is 100% original and created specifically for the Elemental Wave CX.
Rigid, high-performing all-around iSUP that is both lightweight and stable thanks to new CX (cross-weave) technology.
Great SUP for paddlers of all skill levels who want a classic all-around board (10'6x32) that feels sporty on the water without sacrificing stability.
One of the best iSUP wheeled backpacks we've seen. The zipper is on the same side as the straps, which makes it very easy to load the rolled board into along with other accessories.
Very easy to set up the fin thanks to the Kumano fin system. We also like that it's very quick to change to whatever fin you prefer given the US/universal fin box.
Awesome board for the average sized paddler (under 6 ft and 180 lbs). For a larger paddler, we'd recommend checking out the Skylla or Diatom.
Cons
We would love to see SeaGods start adding kick-pads to the tail of the boards for easier step-back turns.
Not much else - the Elemental Wave CX is really dialed in as an all-around SUP.
A high performance all-around paddle board meets a gorgeous piece of art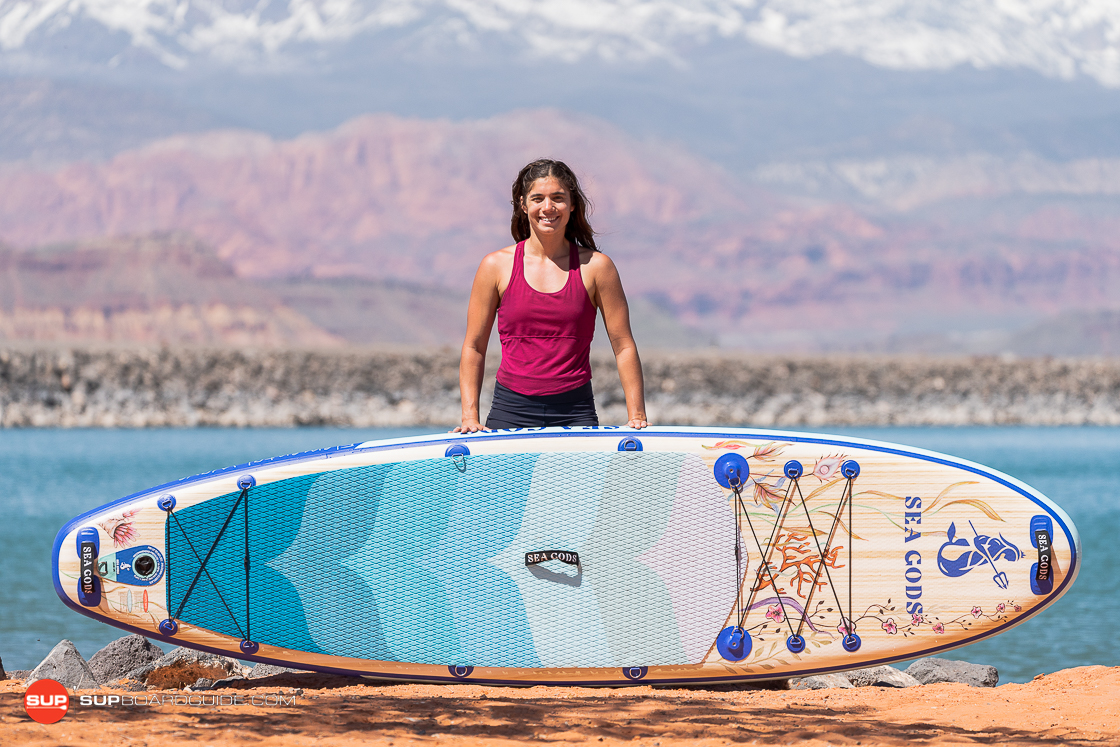 The Seagods Elemental Wave CX iSUP is a beautiful rendition of a classic all-around board. At 10'6x32x6 and an oval build, it is the standard shape and size of an all-around iSUP in today's market. However…
My favorite aspect of SeaGods as a whole is their ability to be a fierce competitor in the modern iSUP world without having to reinvent a standard. In the case of the Elemental Wave CX, SeaGods took the standard shape and size of an all-around board and made it truly stand out.
The Elemental Wave CX is lightweight and zippy on the water. It is a great introductory board because of its stability, as well as an impressive board for more advanced paddlers because of its sportiness and surprising speed.
In our Seagods Elemental Wave CX Review, we will give an in-depth explanation of the new CX (cross-weave) technology and how SeaGods were able to make their lightweight boards even lighter – all while improving the overall performance.
And the cherry on top? Artist Heather Renaux's Folk Surrealism-inspired painting printed onto the deck and hull make this board so magical you're going to want to dedicate a spot on your wall to hang this board up after you're done paddling!
We think the SeaGods Elemental Wave CX would be a great SUP for paddlers who:
Want a SUP that is also a true piece of art
Are looking for a stiff and fast all-around board
Are in the 120-180 lb range and less than 6' tall (for those taller than 6'0-6'2 and over 200 lbs we would recommend checking out the Skylla or Diatom)
SeaGods Elemental Wave CX: Spec Sheet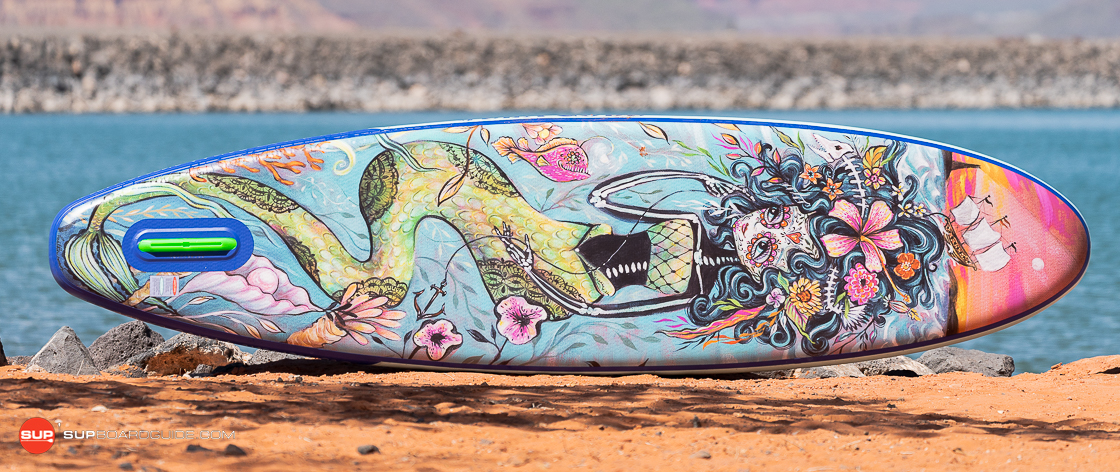 Main Category: All-Around
Board Dimensions: 10'6''x32''x6
Listed Board Weight: 18 lbs
Listed Max Capacity: 250 lbs
Recommended PSI: 14-18 MAX 20
Fins: single fin, Dolphin style Kumano pressure fit with Air 7 V2 Universal Fin Box
Paddle: 3-piece Carbon Fiber
Materials: upgraded 2023 Cross Weave ULF technology and heat molded seams
Warranty: lifetime
Performance Review of the SeaGods Elemental Wave CX Stand Up Paddle Board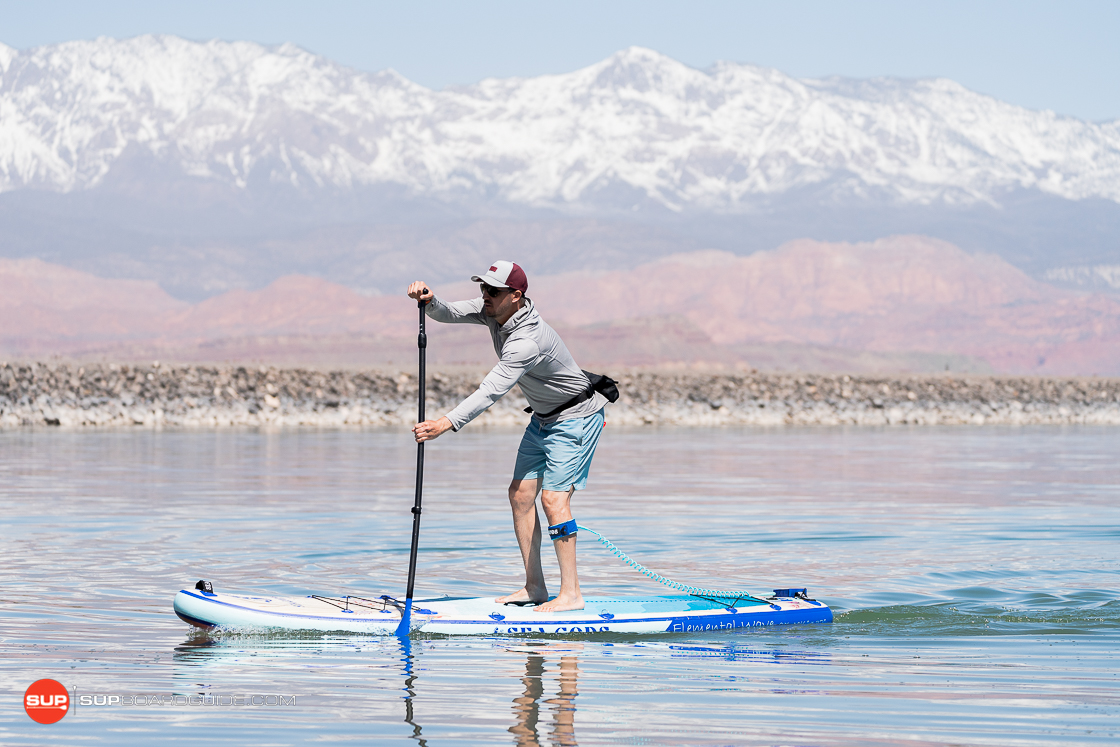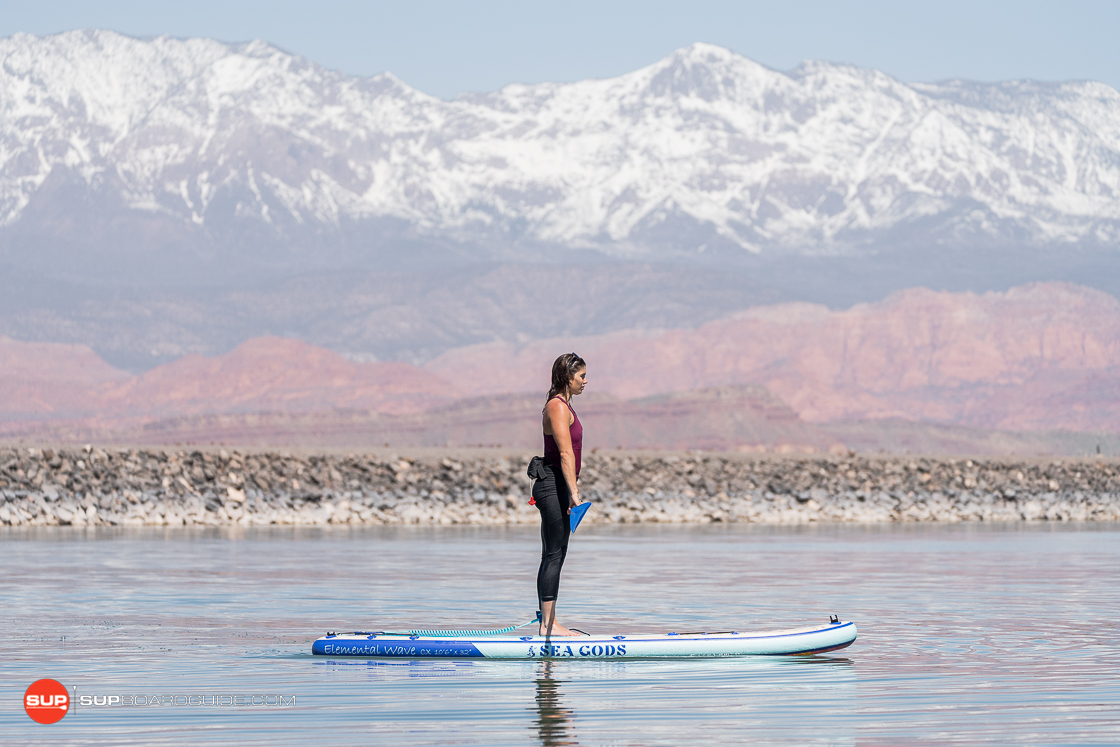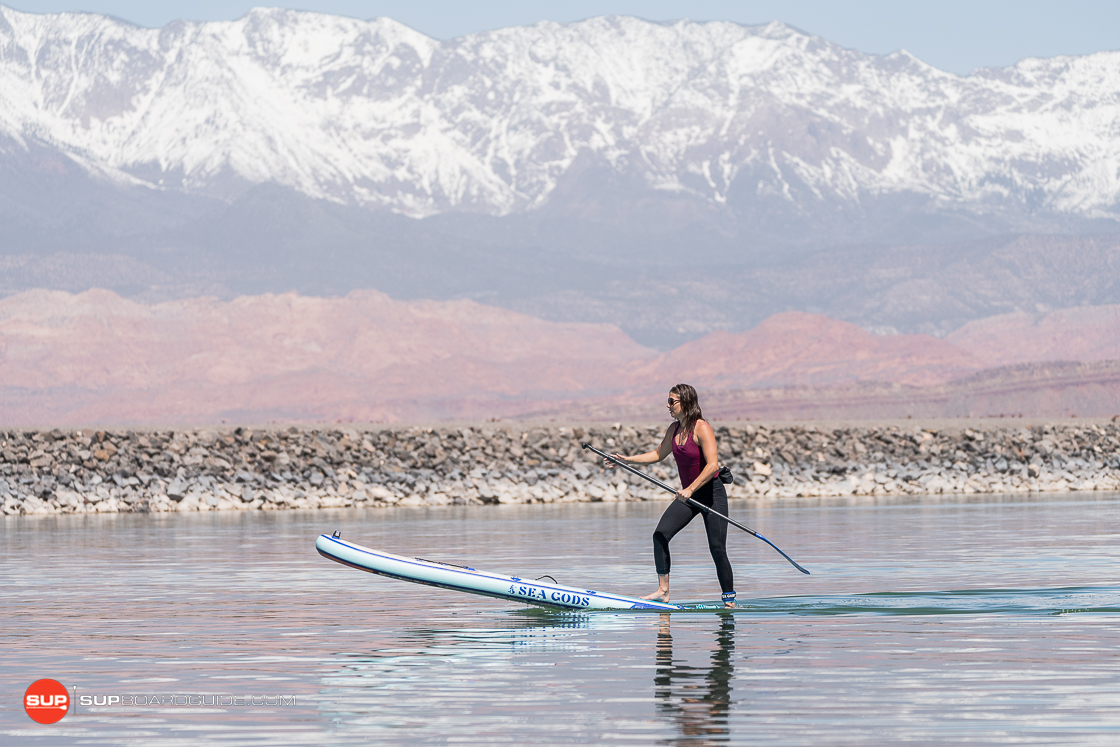 Overall Score: [9.5/10]
Stability: 8.8
Speed: 9
Tracking: 9
Maneuverability: 9.2
Construction Quality: 9.8
Features/Accessories: 9.4
Stability Rating: 8.8/10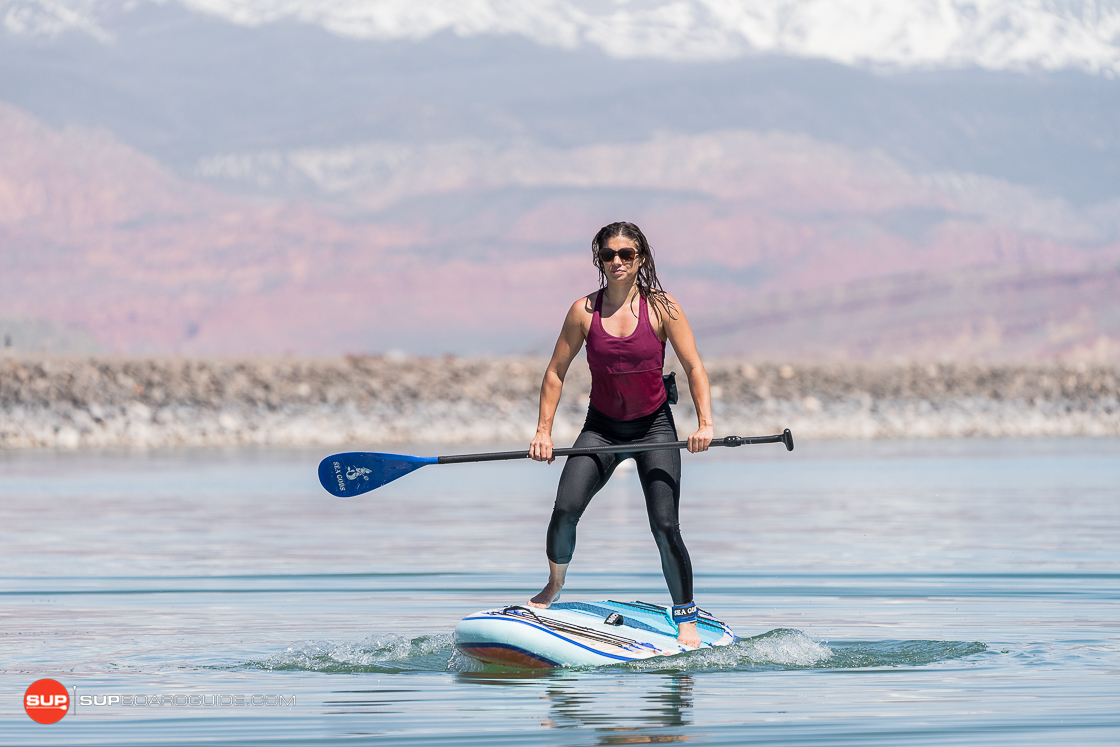 The stability of the SeaGods Elemental Wave CX is above average despite having dimensions that are typical for an all-around iSUP (10'6×32). If you look at the pictures, you'll notice that the shape of the board is mostly consistent from the nose to the tail, with the tail tapering just slightly. That slight taper, when combined with the rigid and lightweight construction, makes the Elemental wave a very quick and fast iSUP (which I will get to further down in this review).
When we see a SUP that is a pretty consistent shape throughout, we tend to predict that it will be a generally stable board. This is due to the fact that the bulk of the board (the surface area) is in direct contact with the water. The Elemental Wave CX's shape and rigid construction work together to give the board a leg up in stability. Additionally, the board's 6″ thickness adds to its volume, keeping the board stable at even higher weight capacities.
I want to add that the stability of this board will be best noticed by paddlers who are average-sized and smaller (approximately below 6' and 180 lbs). For those who are nearer to the max capacity of the board (250 lbs) or quite tall, the SeaGods Diatom or Skylla will be a better fit.
Speed Test: 9/10
Speed Test Results: SeaGods Elemental Wave CX

| | |
| --- | --- |
| Top Sprint Speed: | 5.2 MPH |
| Average Cruising Speed: | 4.1 -4.2 MPH |
*Notes on our speed test: To gather our speed data, we use a SpeedCoach SUP 2. To obtain the top sprint speed, we first maintain a cruising speed and then we paddle as hard as possible for 10-15 seconds. We aim to conduct these tests in calm, smooth water with minimal to no wind in an attempt to maintain consistency across all boards.
While the top sprint speed of 5.2 MPH surprised Justin, it was the cruising speed that had him truly impressed. For a 10'6×32" all-around style board, a cruising speed of 4.1 – 4.2 is excellent!
As I mentioned above, we found the combination of the tapered tail and rigid, lightweight CX construction (see below for details) creates a very quick board. A tapered tail decreases the drag on the board, and at only 18 lbs we found it very easy to get the board up to speed quickly. The improved rigidity on the CX model also helped the board to more easily glide across the water.
So if you are searching for an all-around board with a bit of pep in its step, the Elemental Wave CX should be at the top of your list.
Tracking: 9/10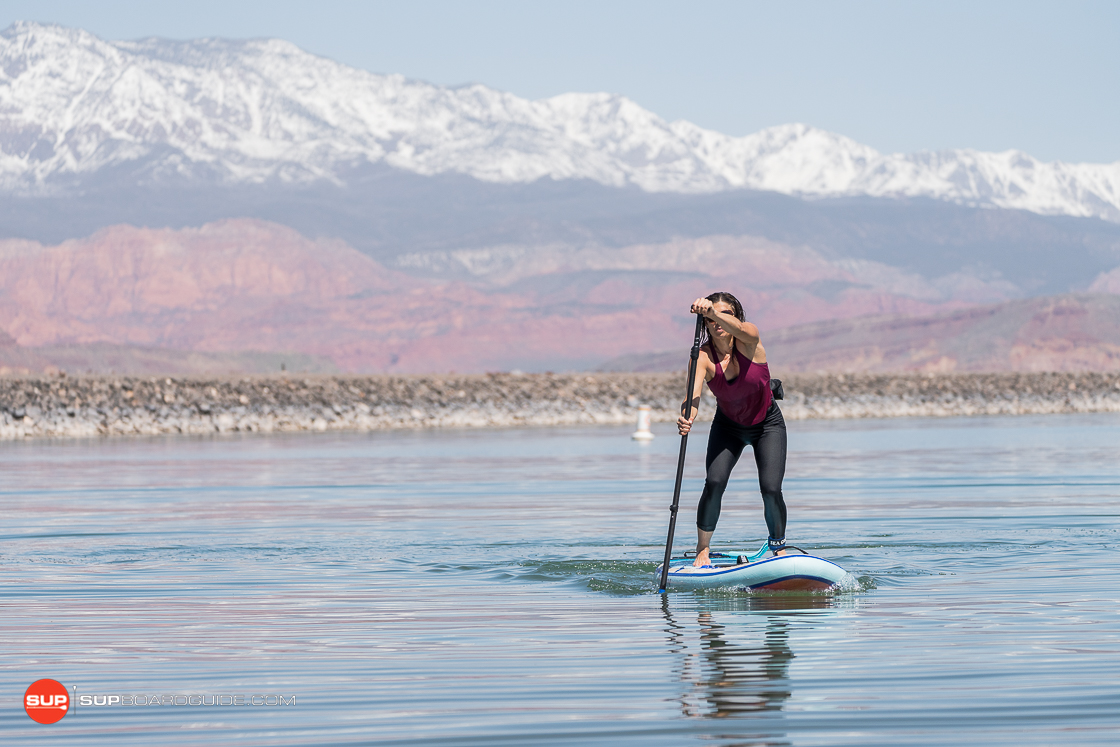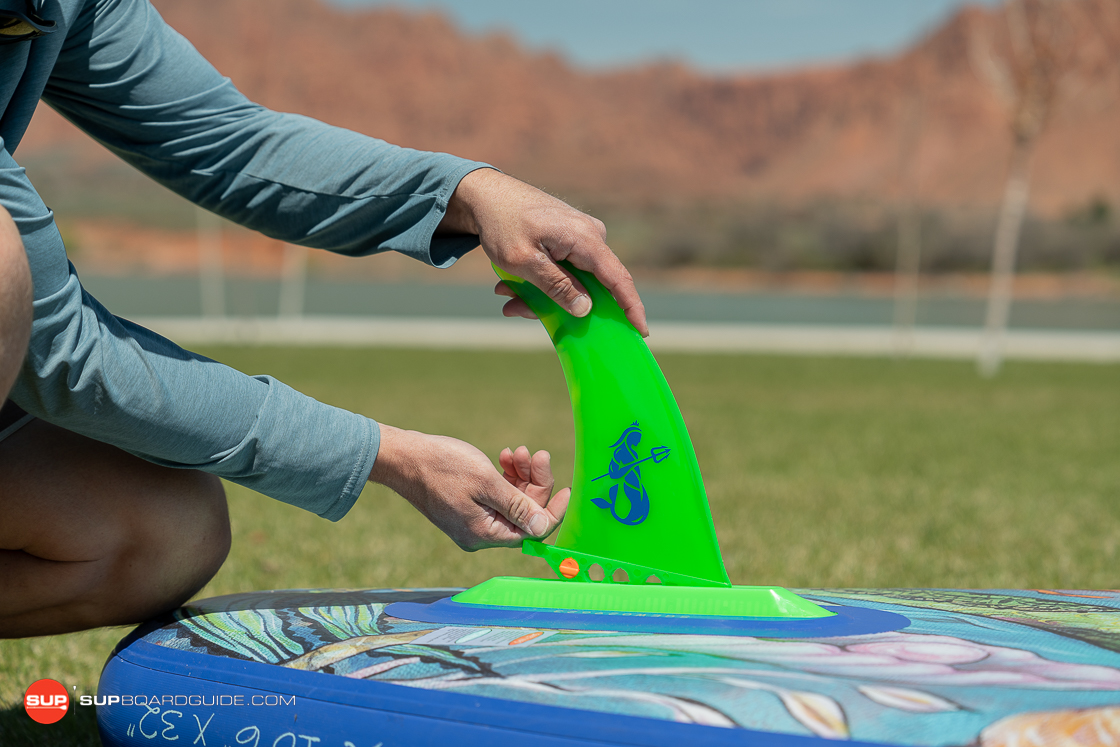 Much like its surprising speed, the Elemental Wave CX also has surprising tracking abilities. At 10'6'' long and 32'' wide, it is an average-sized all-around board. However, it's also lighter than average, at just 18 lbs. At times we find that super light iSUPs don't track very well as it's very easy to push them across the water. However, that was not the case in our testing of the Elemental Wave CX.
The dolphin-style fin that this board comes with is a great fit because it is able to grab the water as it moves through it, which helps steady the board and keep it moving straight. With this style fin in conjunction with the shape, size, and construction quality, you avoid a zig-zaggy feeling.
Also, we love how Sea Gods boards use a US fin box, so if you want to change out the fin for a hatchet style to up the trackability even more (perhaps for long-haul adventures), you can easily do so.
Maneuverability: 9.2/10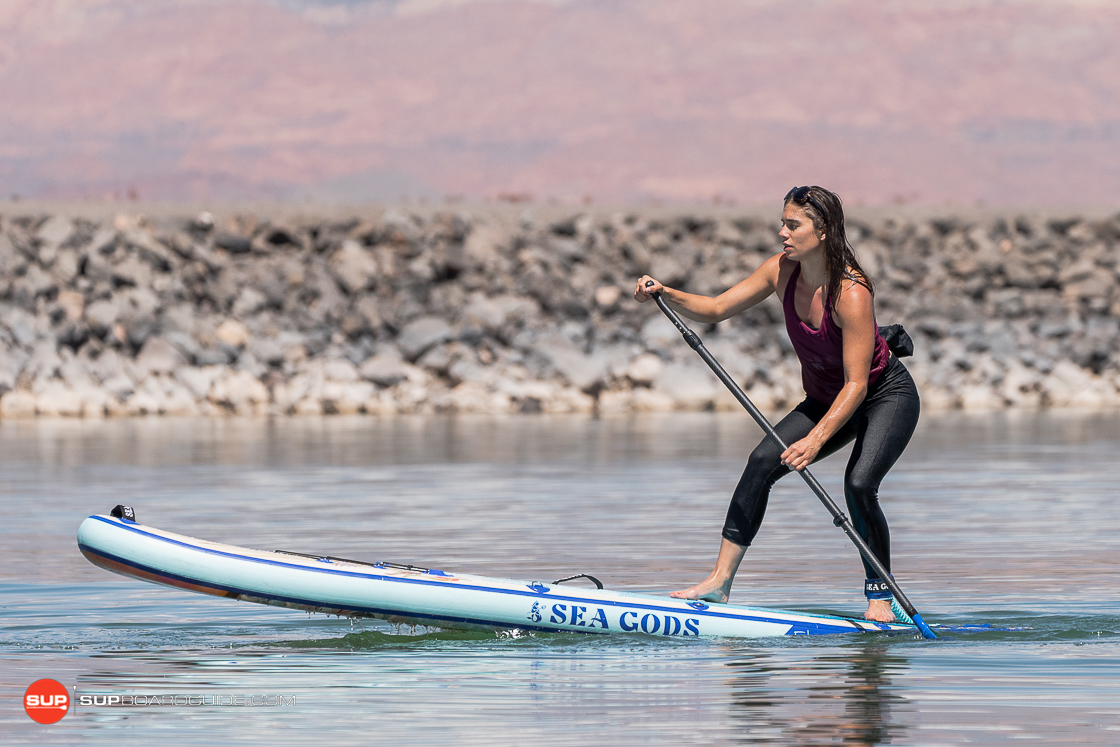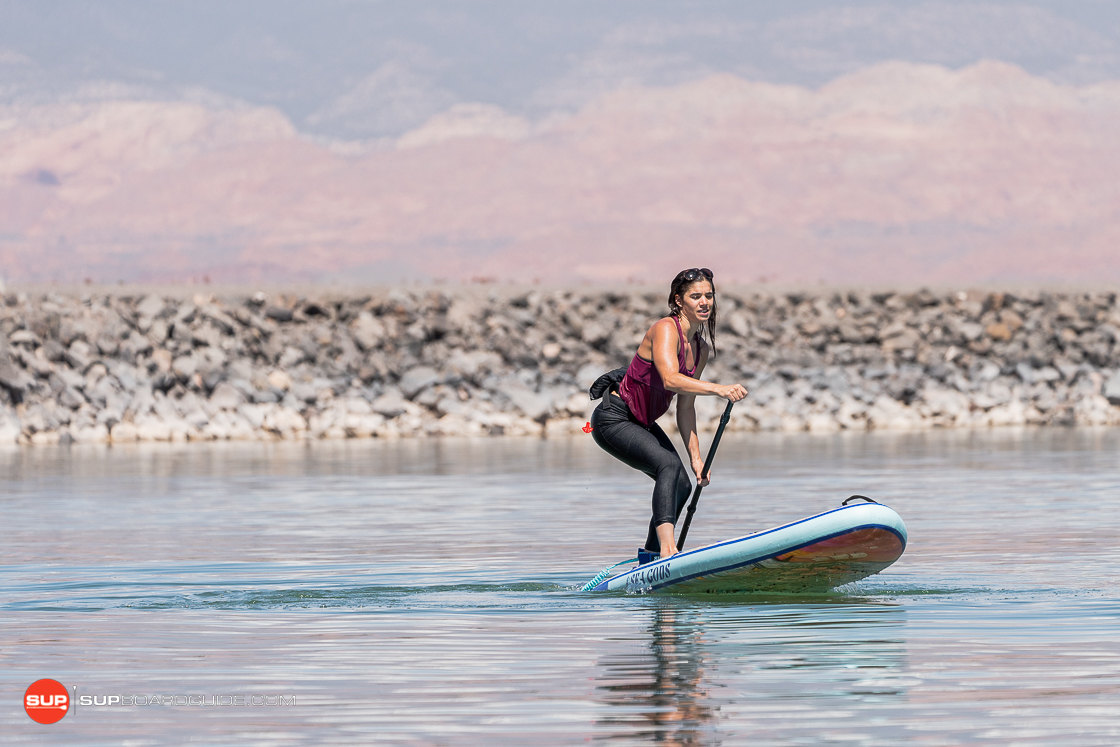 With the new CX technology, The Elemental Wave CX is down 2 lbs compared to the ULF version of this same SUP. In general, the lighter a board is, the more maneuverable it will be. So this time we weren't surprised when this SUP excelled in maneuverability and improved upon the ULF model.
Also, 10 '6'' is an average length for an all-around SUP for a reason: the shorter the board (just like the lighter the board), the more maneuverable. We see all-around boards being most successful when they are easily maneuverable because then a larger range of paddlers feel effective on the board.
Step-back turns are a great way to test out the maneuverability of an iSUP. In the case of the Elemental Wave CX, it's very easy (almost too easy!) to pop the nose out of the water and make a 360-degree turn. We can once again attest this to its low weight. If you want, you can very easily turn around and around on this board until you're so dizzy you fall right off. If you decide to do that, please leave a comment below on how many turns you got before falling off!
Construction Quality: 9.8/10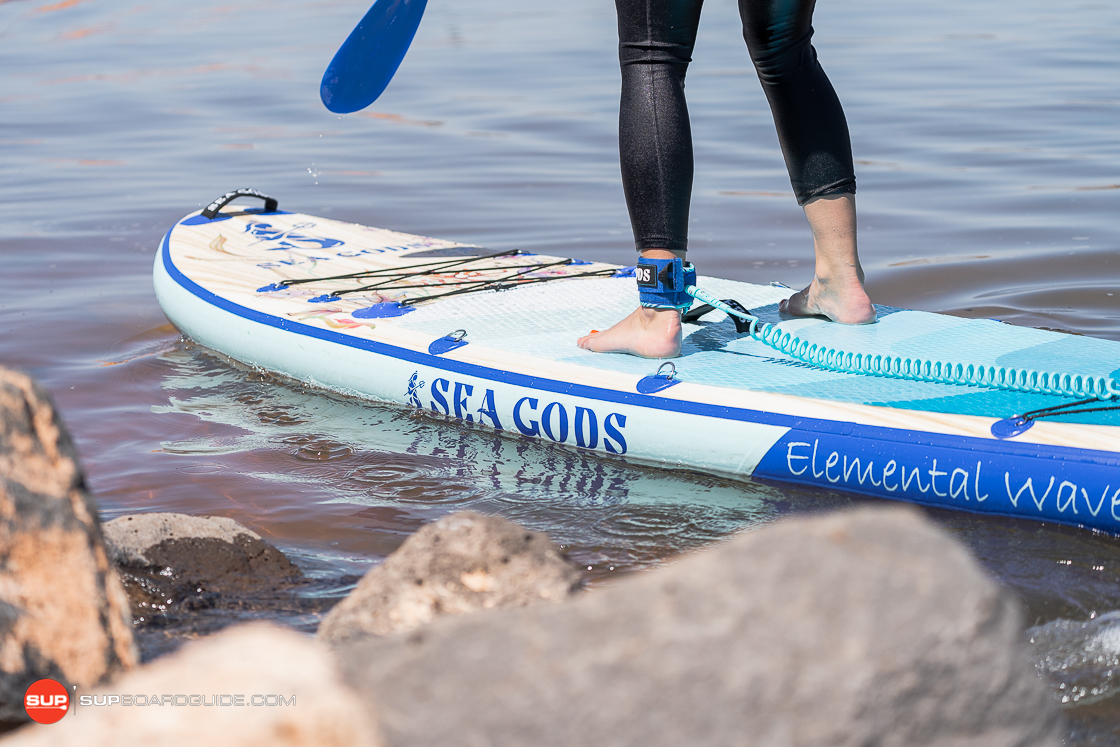 When it comes to the construction of the Seagods boards, it is on par with the artwork: very high quality and spectacular.
The new 2023 Cross Weave technology and heat-molded seams increase the rigidity and durability while decreasing the weight by 4 lbs vs the original Elemental Wave. The Elemental Wave CX weighs only 18 pounds, as compared to the Elemental Wave ULF which weighs 22 pounds. I know this is repetitive at this point, but it's a very important detail that we are proud to report.
The upgrade to CX technology has to do with the drop stitch core, which is composed of strings or "space yarns" that create the rigidity and shape of the board. The new cross-weave technology means the space yarns cross each other in an X pattern instead of being arranged linearly or in a v-shape pattern. The CX technology uses fewer strings and thus is lighter weight. Yet because the strings cross, they do not lose any strength, and the Elemental Wave CX remains extremely rigid.
SeaGods use 'Ultra Light Fusion" (ULF) to apply dual PVC layers. This method means they apply the PVC as a laminate – liquid sheet – to the inner fabric layer using heat and pressure. This results in a more uniform bond between the fabric and PVC and lowers the margin of seam error as well as eliminates any messy glue jobs. Also, no glue = lighter weight.
When you first look at the boards, you'll notice they all have a strip of blue "tape" that outlines the entirety of the board on the rails. It looks very clean and almost seems like its purpose is to tie together the overall look of the board. And while that's true (it does look really good), it is a reinforcing strip that mitigates damage, seam tears, and storage rub. So not only does it tie the look of the boards together, but it is a construction technique that adds to the durability and longevity of the boards.
I might add that they also spray their boards with UV-protective spray glazing. I think that is important to mention because, in the case of SeaGods, I am constantly wondering how they can print such majestic artwork onto the boards. Regardless of how it's done, it must be protected. I'm glad to see they have a solution for that.
Board Stiffness: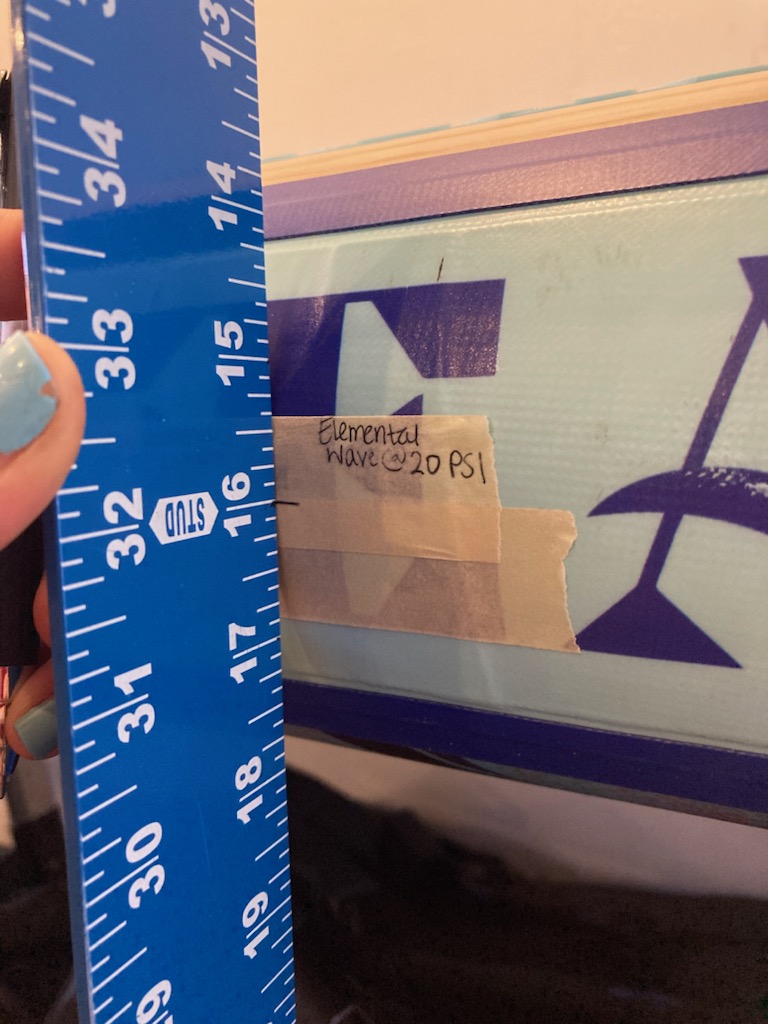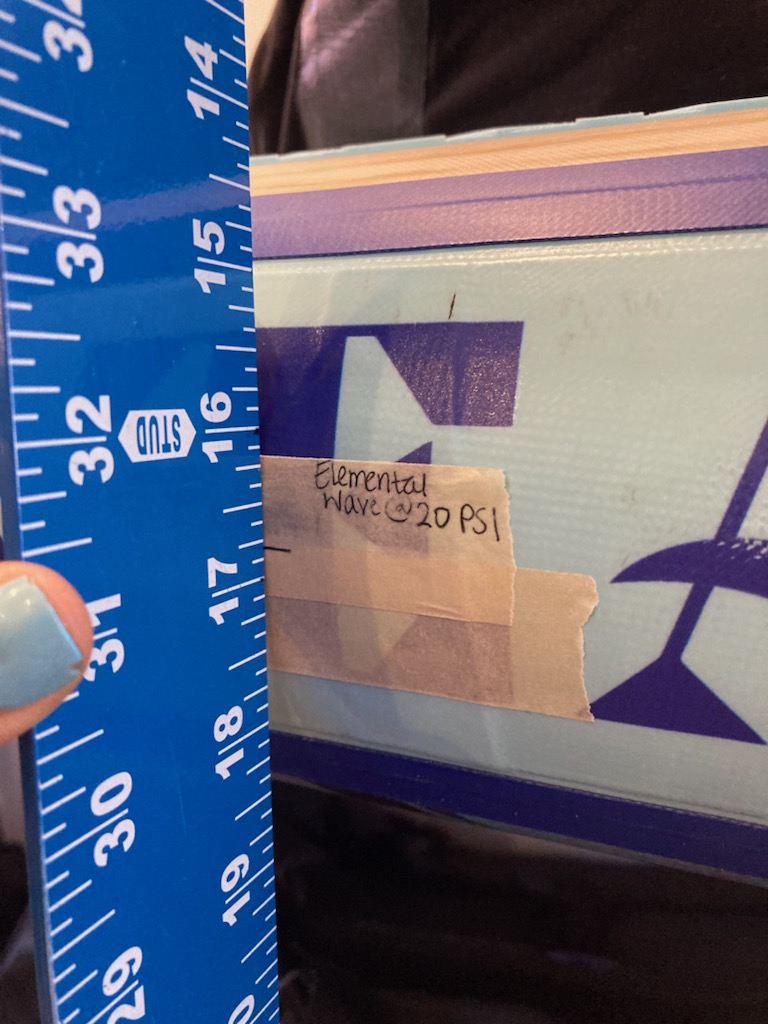 Stiffness Test: 0.8125 inches Bend
To test the stiffness of a board across a common denominator, we created our own bend test. For this test, we inflate the board to its maximum recommended PSI, which in the case of the Elemental Wave is 20 PSI. We then lay the SUP across two saw-horses that are 7 feet apart and take a height measurement in the middle of the board. Next, we place 150 lbs worth of sandbags in the middle of the board and re-record the height. We measure the displacement (the movement from its original position) to report the bend of the board.
The SeaGods Elemental Wave CX bent 0.8125 inches. That is 0.25 less of a bend than the Elemental Wave ULF board!
That is amazing, given how well the ULF board performed in our testing last year.
This means that their new construction technology does increase the rigidity of the boards, which we have seen in our other tests. For our predictions and then test scores to be backed by our bend test is always an accomplishment.
Features/Accessory Review: 9.4/10
Features: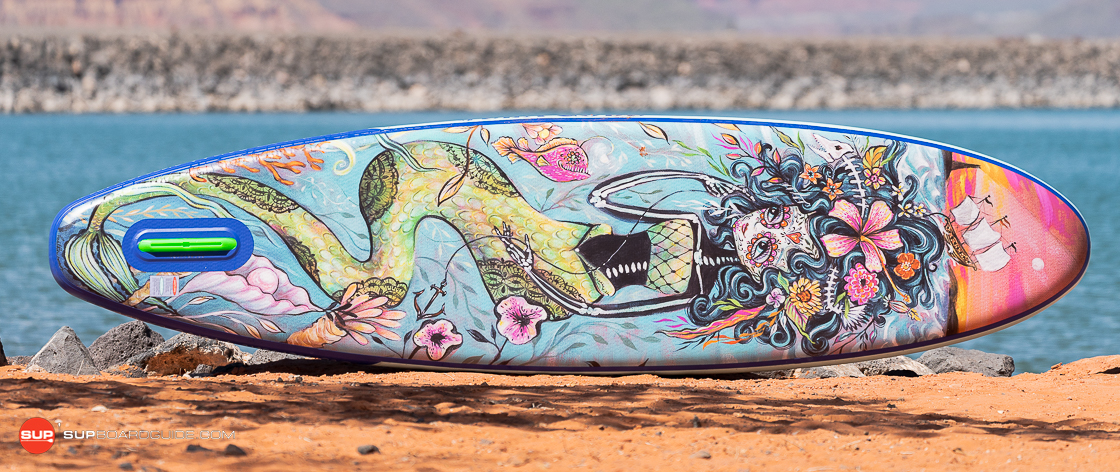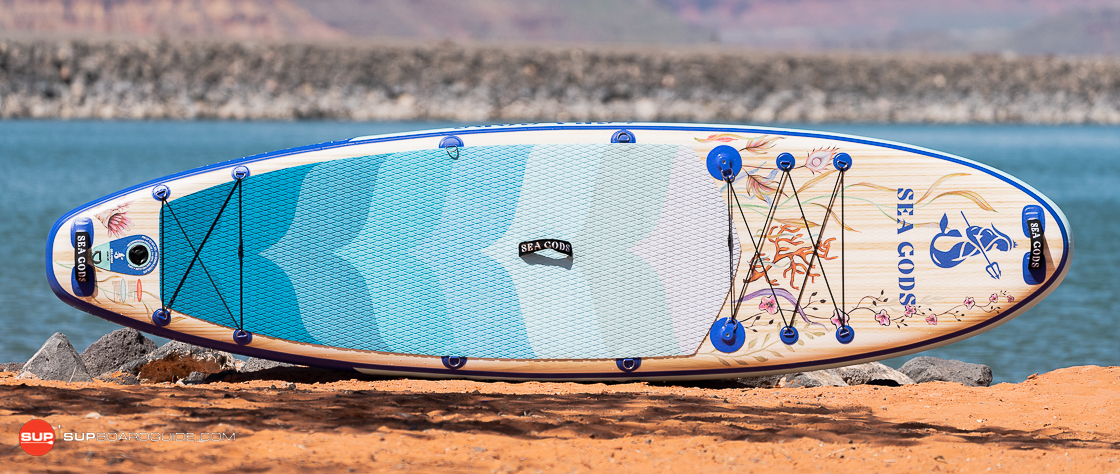 For uniformity purposes, let's walk through the features of the Elemental Wave CX from tail to nose.
On the tail, there is a carry handle embroidered with the brand name "SeaGods." I know, I know, it's just a handle. But what if I tell you it's not just a handle, but a neoprene-wrapped woven nylon carry handle!? Well, it is. And all of the handles they make are. But seriously, I love carry handles because they allow for easier partner or cargo carrying as well as effortless launches. Our team experienced this firsthand the other day: the wind was so strong it took two of us (each using one handle) to get it into the truck bed.
They use triple-reinforced stainless steel D-rings, and one sits right above that first carry handle for easy leash attachment or anchor attachment. I appreciate this D-ring placement because then you don't have to attach the leash to the handle which causes wear over time.
Moving up the board, but still on the tail, comes the first cargo bungee holder. It is 4-points, attached by D-rings that can also be used to secure cargo or special items you might want to bring along such as a cooler. There are also two D-rings on either side of the board just below the middle carrying handle. These are strategically placed for the option to secure a kayak seat.
The deck pad of the Elemental Wave CX is simply amazing. It's a blue to light green ombre of mermaid tails! Enough said.
At the nose of the board (we made it!) There is a 6-point bungee cargo holder. The two points closest to you (when standing on the board) are integrated accessories mounts for your GoPro or camera or other attachments. I love that they integrate these mounts with the D-ring bungee cargo holder because it keeps the deck cleaner and more spacious.
To top it off (ha), the nose of the board has the second carry handle. No need to repeat myself here.
Overall, the color scheme of the Elemental Wave CX is classy, and the artwork on the top, which is also done by Heather Renaux, is subtle but brings everything together. I absolutely love the look of these boards, and I think SeaGods does a great job of keeping the features simple yet polished.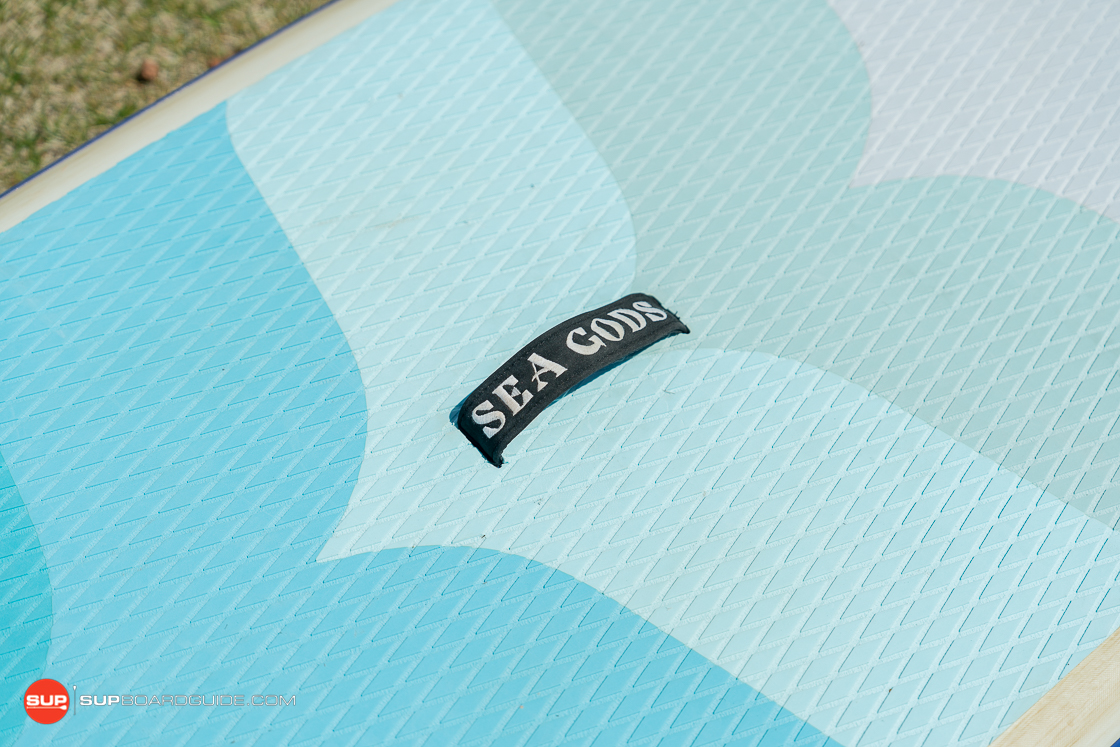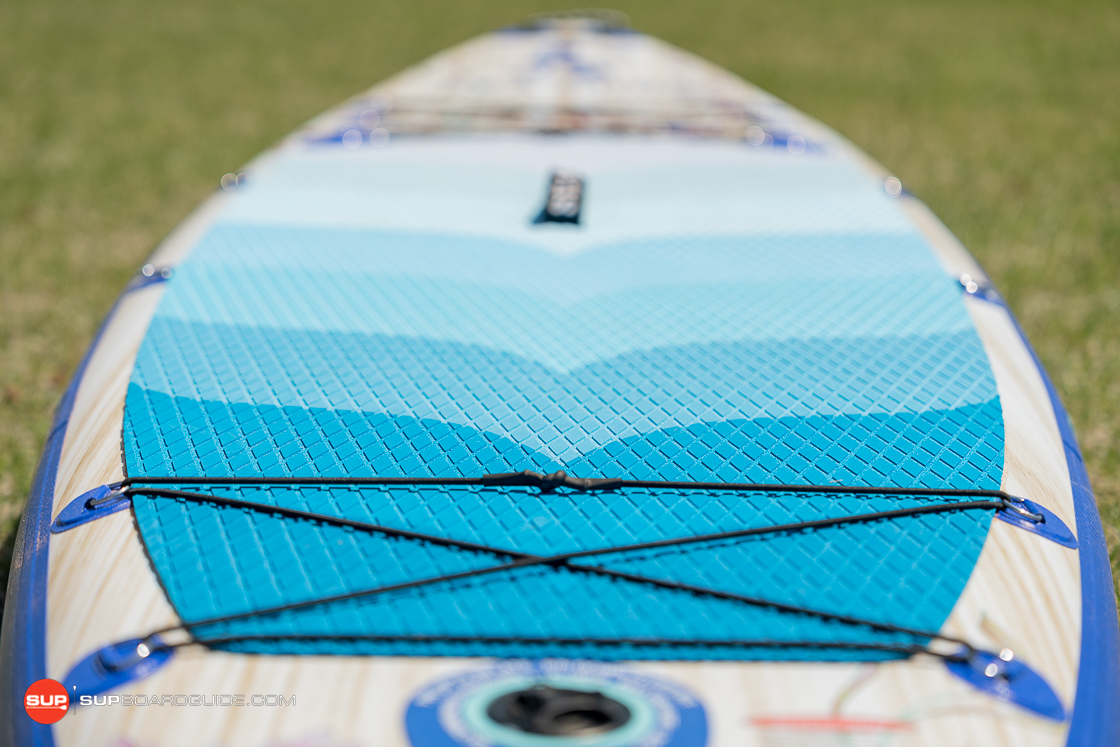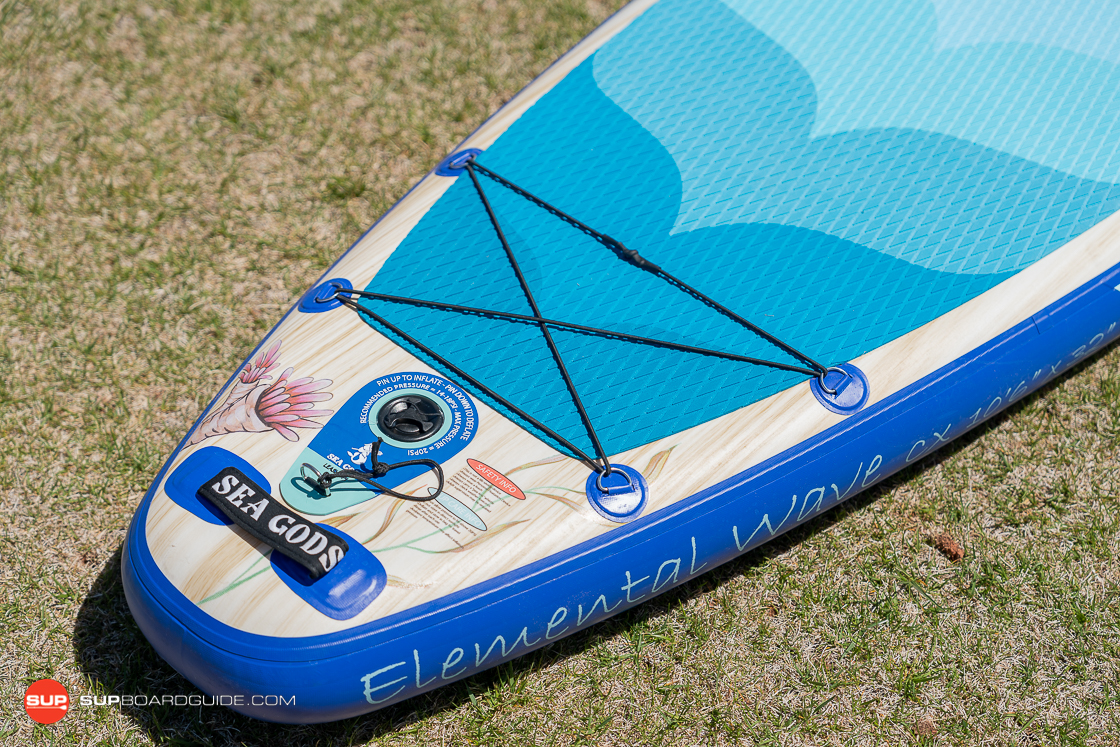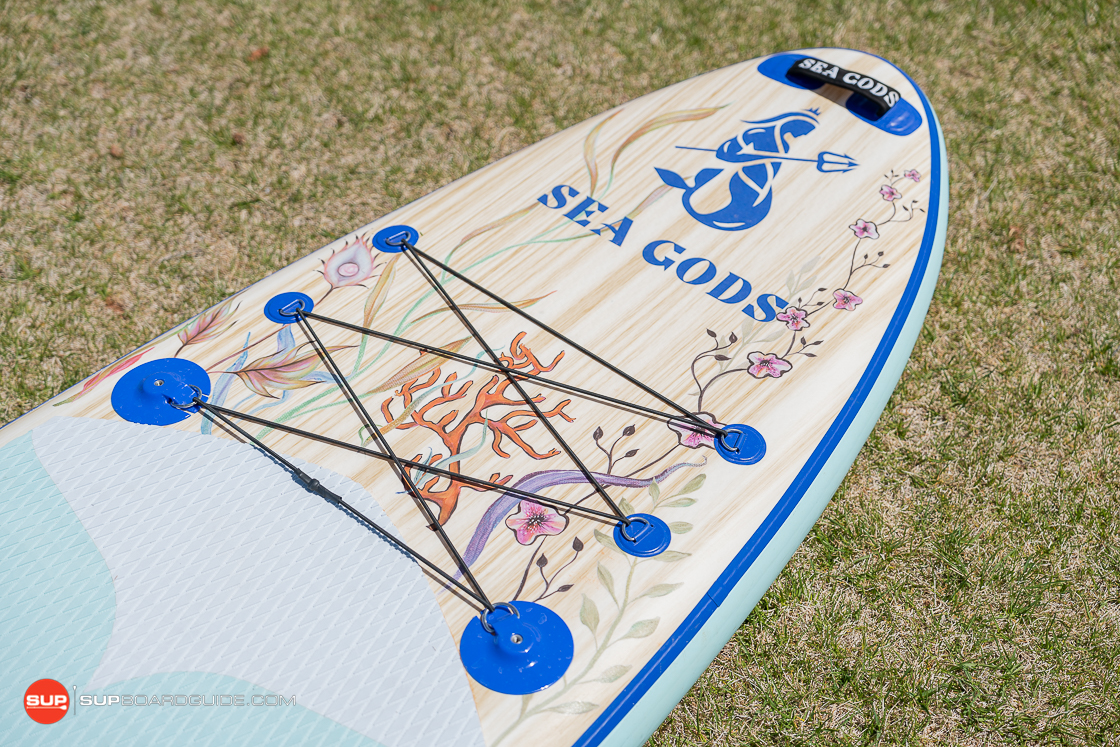 Included Accessories: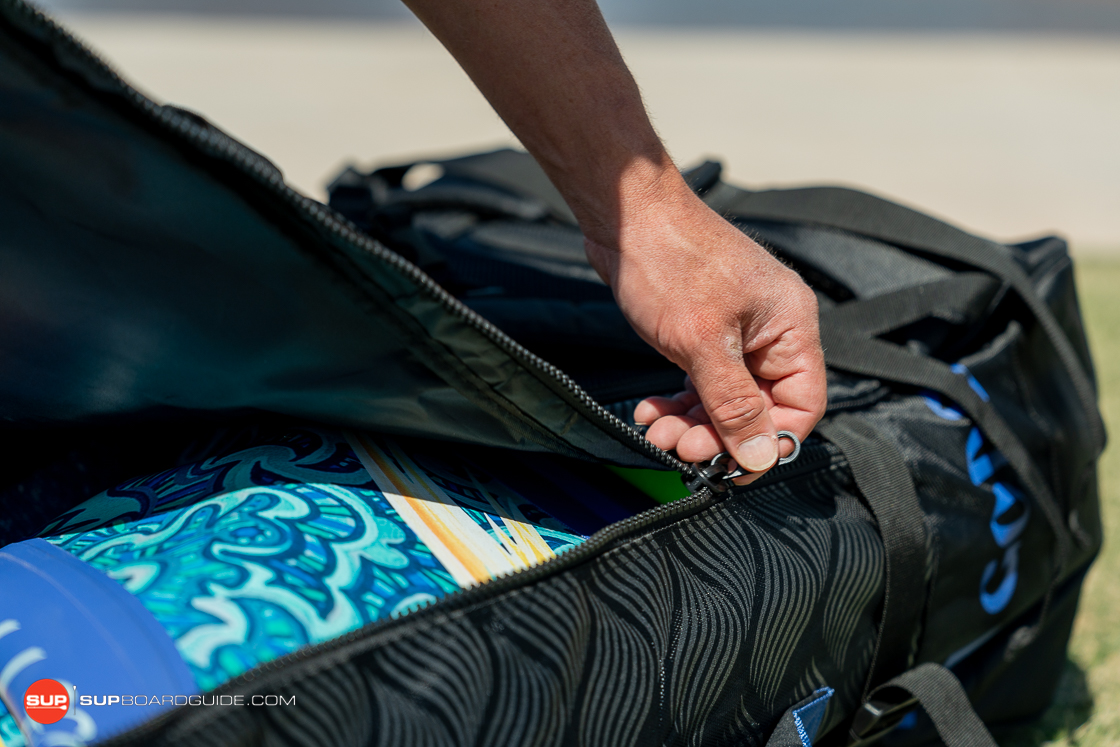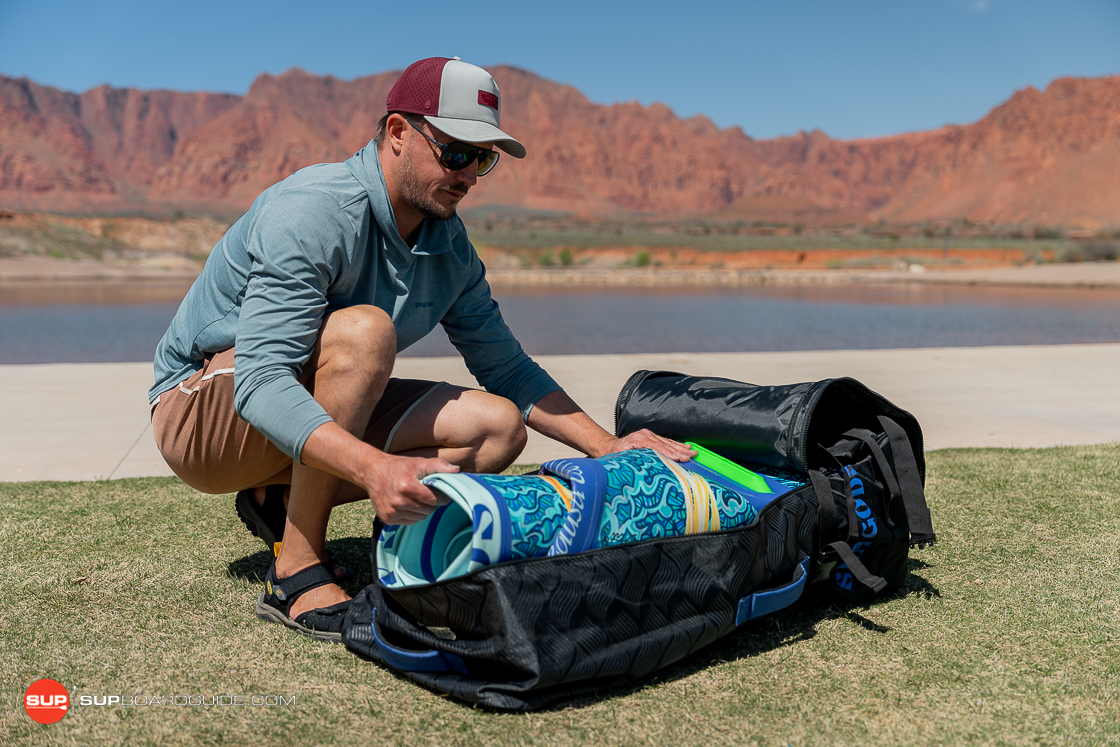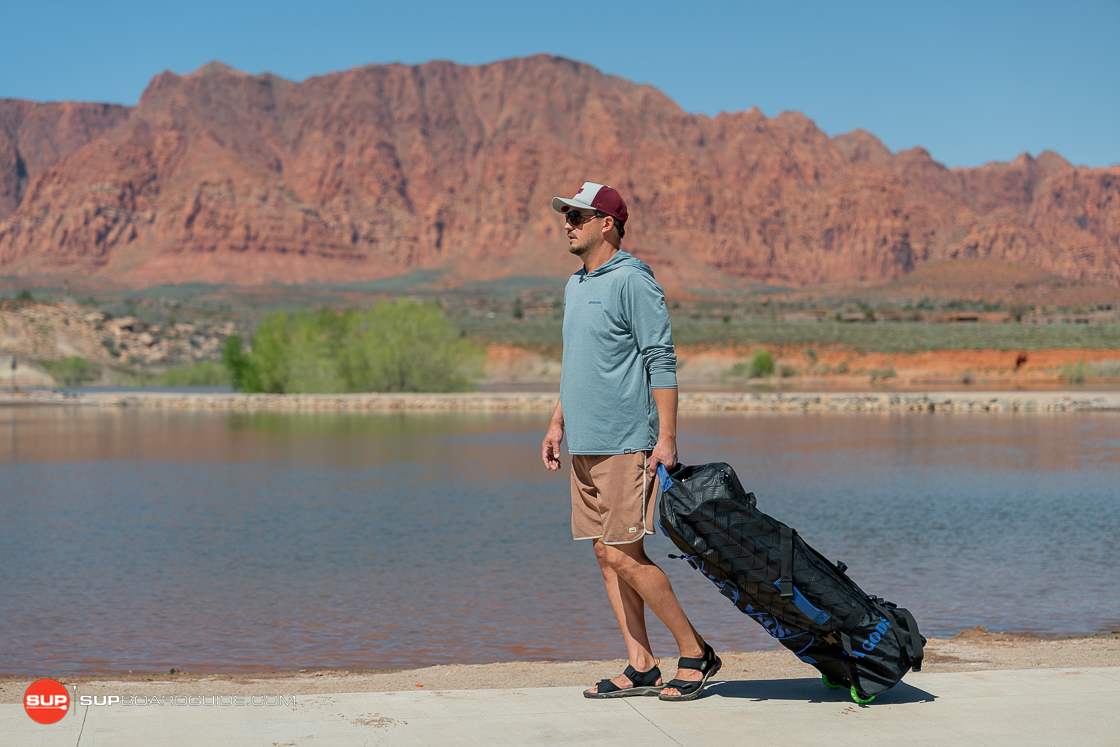 Put plainly, SeaGods puts together high-quality, awesome kits. When you order the SUP, you also get everything you need to hit the water. With your SeaGods Elemental Wave CX, you get:
3-piece carbon fiber handle
10' SeaGods turquoise leash with key pocket
Double-action high-pressure pump
Kumano pressure fit center fin
Repair Kit
Wheeled backpack
The wheeled backpack that comes with the SeaGods board is pretty fantastic. The material and the zipper are both thick and feel very sturdy. It's also roomy and easy to take the SUP in and out of the bag. We really like that the backpack zips on the side that is close to your back, which is the opposite of most SUP wheeled backpacks. This design makes it very easy to roll the SUP up and put it into the bag along with other accessories. It's also very comfortable on your back. Not to mention the color scheme of the backpack looks awesome, the wheels and zipper are neon green!
It's exciting that in our review of the Elemental Wave ULF iSUP, we wrote that our only complaint was that the board comes with a single chamber pump and we want to see an upgrade. Now, the Elemental Wave CX comes with a double-chamber high-pressure pump. It's really neat to see this upgrade was made!
Summary Review of the SeaGods Elemental Wave CX – 2023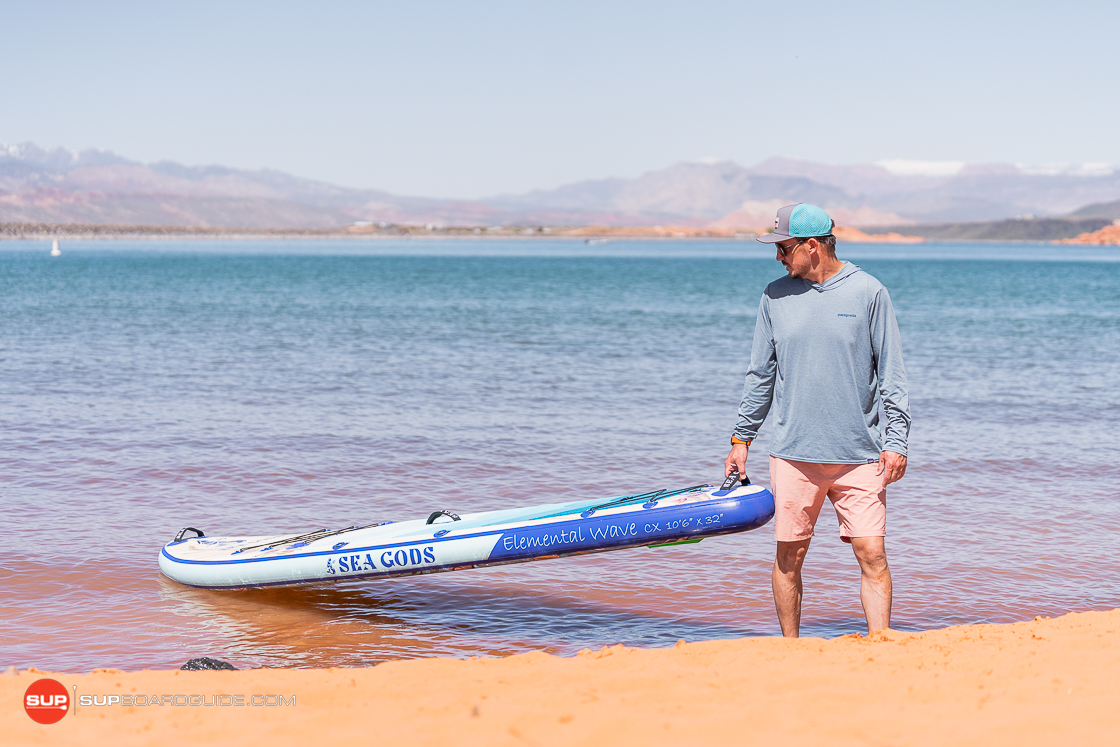 For a standard shape and size all-around iSUP, the Elemental Wave CX has many attention-grabbing qualities. For the average to the small paddler, it is a very stable and sporty board that has outstanding results in all of our comprehensive tests. It's quick and super fun to paddle! Also, its new CX technology makes the board even lighter while remaining rigid and durable, which backs its excellent performance and results.
And it undoubtedly shines in appearance, making it not only a great iSUP but a piece of art.
We hope you enjoyed reading this review, and we are looking forward to seeing your comments and answering any questions.
The following two tabs change content below.
Latest posts by Laura Coor (see all)