Starboard 11'2 x 31+" iGO Zen iSUP
Pros
One of Starboard's most affordable SUP - great for entry-level paddlers who want to buy from an extremely reputable brand
Good amount of stability due to it's rounded shape, but it's still relatively fast due to its slightly narrower 31+" width
5.5" thickness lowers your center of gravity slightly for more stability in choppy conditions
Large deck space area is good for paddlers bringing along pets/passengers, practicing SUP yoga, or hauling some gear
Cons
Priced a bit higher than other similarly constructed SUPs due to Starboard's incredible reputation in the industry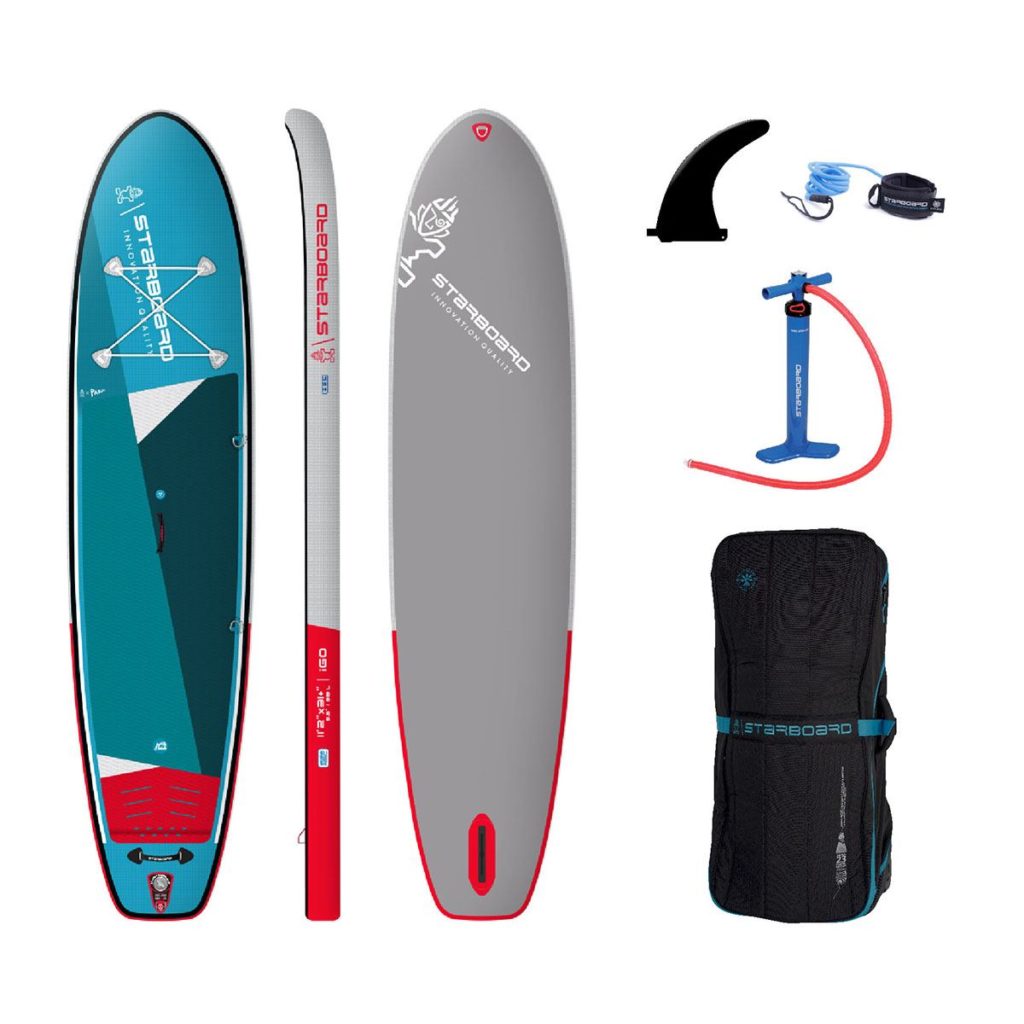 When people think of the brand Starboard in terms of stand-up paddleboarding, images of race SUPs cross their mind or thoughts of standing atop podiums, weighed down with a shiny gold medal. However, Starboard has a fairly wide selection of all-arounds as well, and their 11'2 x 31+" iGO Zen that we'll be reviewing below is one of their most affordable options.
Because of its price, and its comfortable level of stability, this board is also one of Starboard's most entry-level options, though that's not to say it's not still a ton of fun for more advanced paddlers. This board has a fun level of maneuverability and responsiveness, and although it's a forgiving SUP for newcomers, it's one that can grow with them as they develop their skills.
We're also impressed with the lightweight 5.5" thick construction on this board, as it adds just a bit more of an edge when it comes to performance though we would have liked to see this SUP made a little bit stiffer.
Overall though, it's a good option for small to midsize paddlers that one of the most affordable and entry-level boards from one of the best names in the industry.
We think the Starboard 11'2 x 31+" iGO Zen would be great for paddlers who
Need a lightweight SUP that's stable enough for beginners
Want a SUP that can perform well in all stages of their paddling
Want a happy medium between a higher end board from a brand with a phenomenal education and a board that's not too hard on the wallet
Prefer to build out their SUP kit with a paddle of their choosing ind 8'
Starboard 11'2 x 31+" iGO Zen: Spec Sheet
Main Category: All-Around, Inflatable
Board Dimensions: 11'2 x 31" x 5.5"
Listed Board Weight: 19.6 lbs
Listed Max Capacity: 220 lbs
Recommended PSI: 15-18 PSI
Fins: Single Fin; US Fin box
Paddle: Not included
Materials: Single layer PVC w/ linear dropstitch
Price Range: mid-high
Warranty: 2-year
Performance Review of the Starboard 11'2 x 31+" iGO Zen Stand Up Paddle Board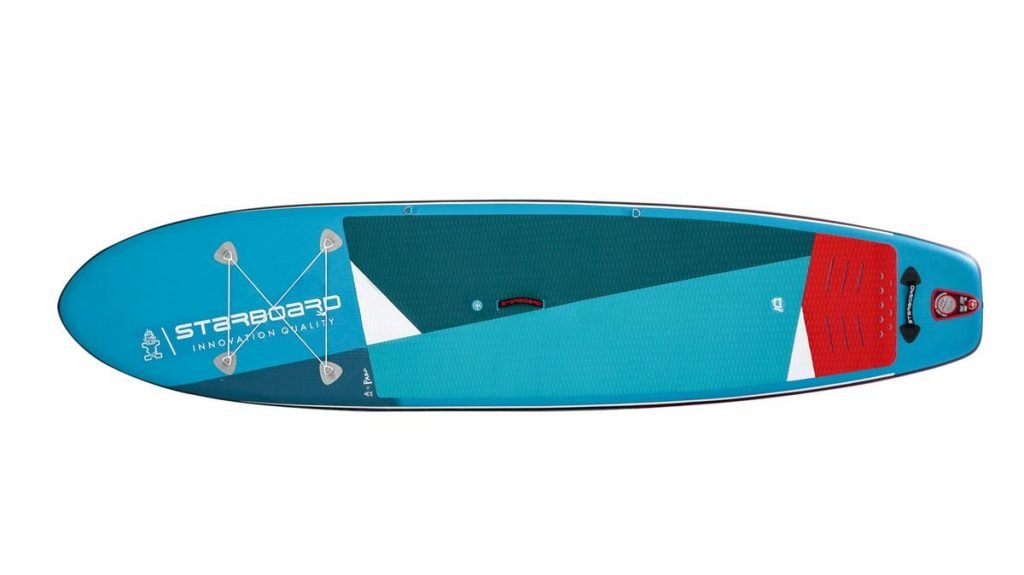 Overall Score: 9.3/10
Stability: 9.2/10
Speed: 9.0/10
Tracking: 9.2/10
Maneuverability: 9.1/10
Construction Quality: 9.0/10
Features/Accessories: 8.9/10
Stability Rating: 9.2/10
Starboard has done a fantastic job keeping this board stable, despite it being slightly narrower at 31" wide by carefully distributing the width throughout the board's shape. You'll notice that the nose is rounded, and its rails are fairly straight from its nose through the standing area, all the way to the tail, where it tapers in ever so slightly.
By shaping the board in this way, they've been able to retain this SUP's volume and maintain a higher wet area (board surface in contact with, and being supported by, the water), though its width still allows it to be reasonably fast for an all-around SUP, which we'll dive into more in the next section.
Adding to its shape in making this board just a hair more stable is its 5.5" thickness, which lowers the paddler's center of gravity by just half an inch compared to standard 6" thick inflatable SUPs.This does make a noticeable difference in chop and less-than-ideal conditions.
It's clear that Starboard put a lot of attention to detail into ensuring that they created a fast and sporty all-around that isn't lacking in stability, and they've managed to do that at a reasonable price.
Speed Test: 9.0/10
As expected, the 31" wide iGO Zen is a faster all-around SUP. The narrower width is, of course, one of the main contributors here. However, the weight of this Starboard comes into play as well. Being just 19.6 lbs, this board is easy to accelerate off the line – it doesn't require a whole lot of effort from the paddler to get it moving. On top of that, the straightened rails of this board create a straighter, torpedo-like waterline that makes for a really efficient glide and a consistent amount of drag as you paddle.
The only thing that I think hinders the speed of the 11'2 x 31+" iGO Zen is its slightly more flexible build quality. As you power into your stroke, especially if you use quite a bit of leg drive, this Starboard has a tendency to bounce underfoot. This increases and decreases the rocker with each stroke and creates a good amount of drag. If this board was just a hair stiffer, I think its speed would be improved pretty significantly.
Tracking: 9.2/10
Being an all-around SUP, this Starboard tracks exceptionally well. Again, I think this mostly has to do with the shape. Starboard has made these rails as parallel as possible, and doing so has not only made the board more stable but has also made it extremely directional. Its 11'2 length contributes to its tracking capabilities as well, as it does have a longer waterline than most other all-arounds.
While paddling at a cruising pace, I only needed to switch sides every 6-7 strokes (if I maintained decent form), which is impressive for a board in this category. And, because Starboard utilizes a US fin box, you can improve your tracking even further by inserting a larger hatchet-style fin.
Maneuverability: 9.1/10
Given its excellent tracking capabilities and longer waterline, I was expecting the 11'2 x 31+" iGO Zen to be slightly less maneuverable than a more standard, shorter, all-around. However, this board responds quickly to more basic turning maneuvers like sweep strokes from the nose or tail and is easily steered while paddling. Its lighter weight build makes it more nimble than I initially thought, and its squared-off tail combined with its raised kick pad makes pivot turns much easier and a ton of fun.
Construction Quality: 9.0/10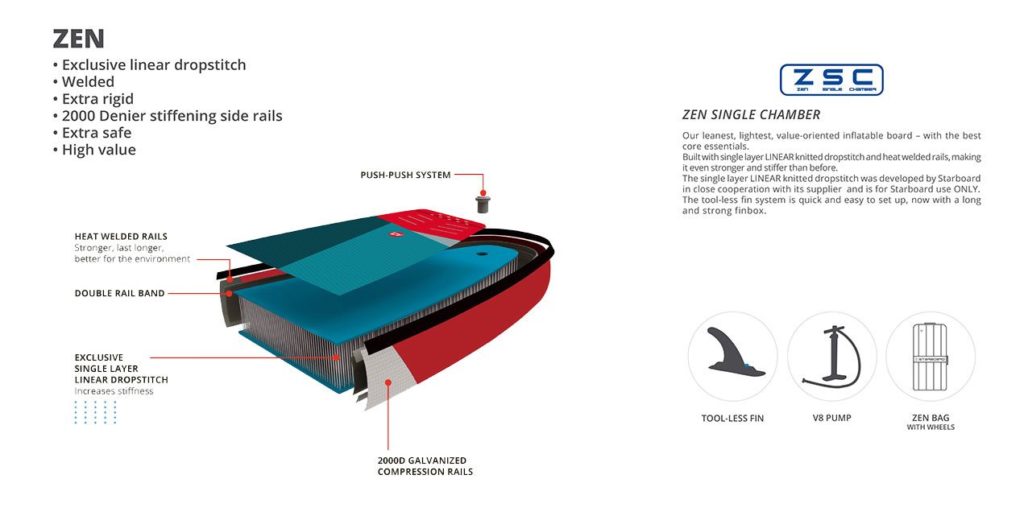 The reason this iGO Zen is one of Starboard's most affordable SUPs is that it relies on more basic construction methods. However, that doesn't mean that the construction is lacking in any way.
Internally, this SUP has a linear drop stitch, as opposed to Starboard's more commonly used woven drop stitch. Essentially all this means is that the thousands of threads that maintain the shape of this SUP run parallel to each other spanning the deck and bottom of the board. While this doesn't create quite as rigid of an inflatable as a woven drop stitch, it can be lighter depending on the drop stitch density.
This drop stitch and fabric core of the SUP are encased in a single layer of PVC via fusion technology, meaning the PVC is bonded to the inner core via heat instead of glue, which would add quite a bit of weight. Starboard then seals all of their seams via heat welding, which should lower the risk of seam failure over the lifetime of your SUP – though this is difficult to accurately test, so we cannot say with 110% certainty.
Board Stiffness: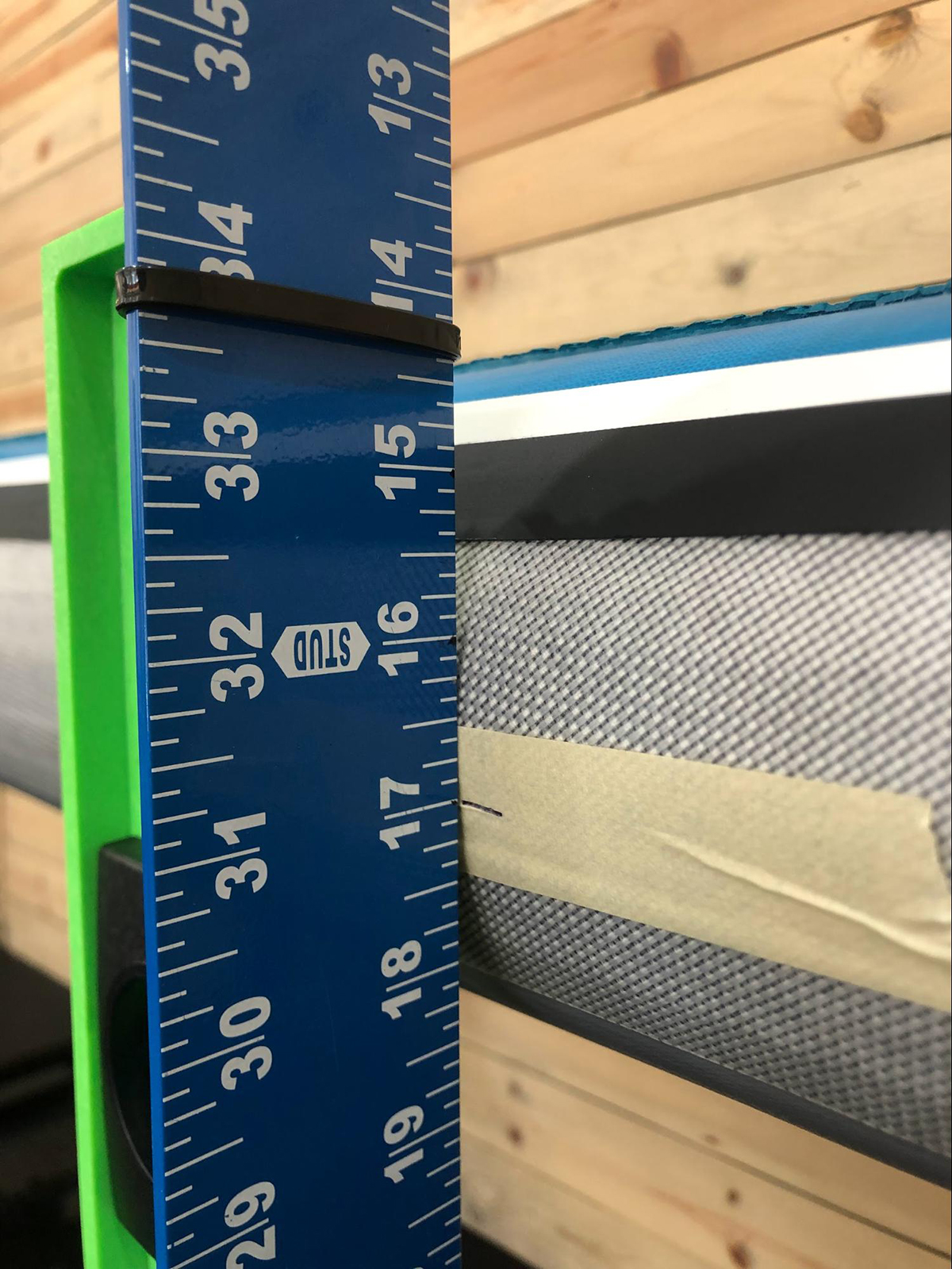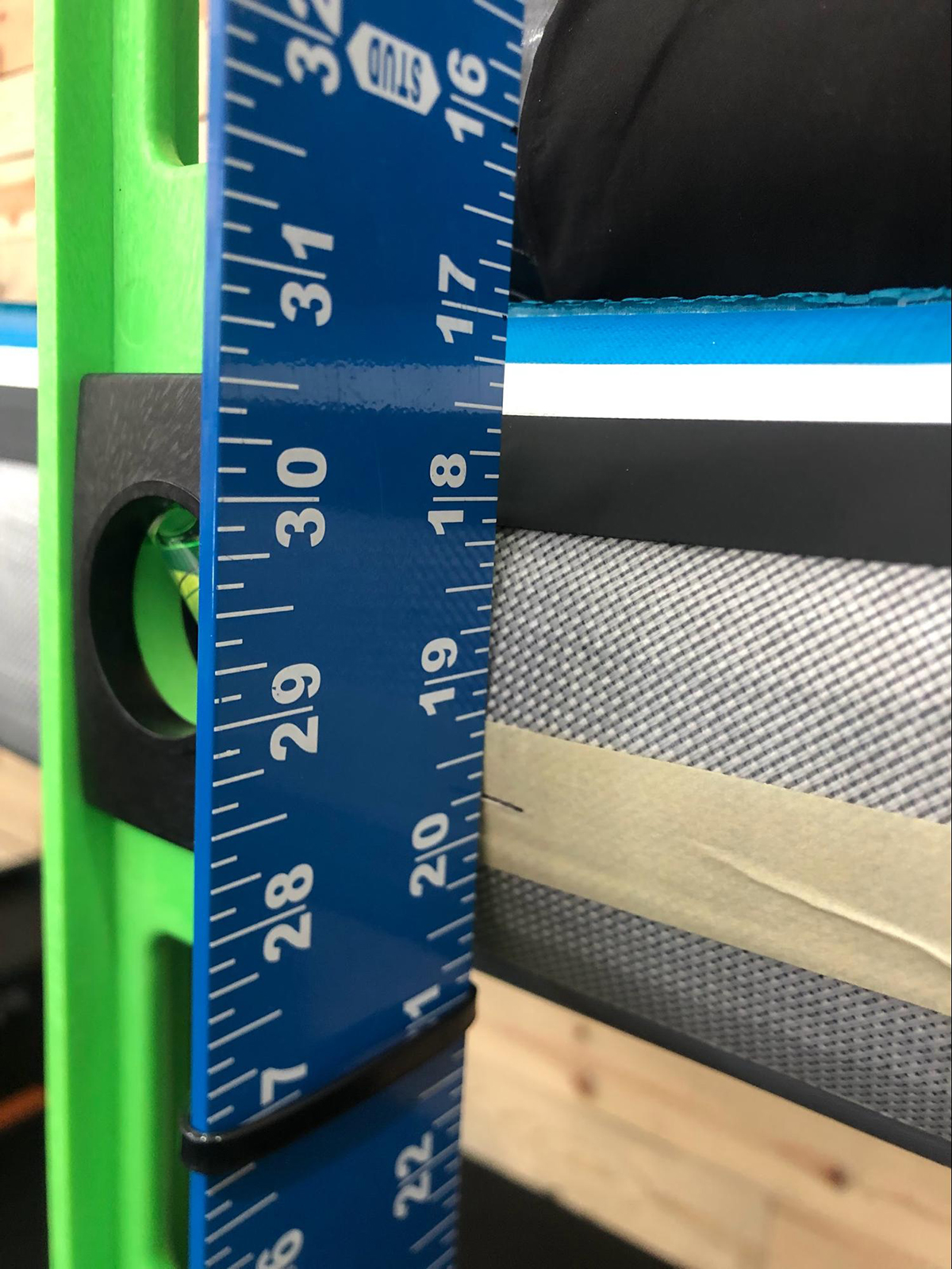 Stiffness Test: 2.75" Bend
During our bend test, we place the SUP on two sawhorses spaced 7' apart. We then set 150 lbs on its midpoint and measure how much it flexes under the weight. While this is obviously not meant to replicate conditions on the water, it does give us a quantitative value that we can use to compare how different construction methods improve stiffness.
This Starboard bent a bit more than we expected during our test and honestly ended up among some of our less rigid SUPs. However, it performed extremely similar to the Red Paddle Co. 11' Compact, a board that uses similar construction techniques to make a SUP that is lightweight and thinner than a standard 6" board. And, neither of these SUPs felt 'floppy' on the water.
This is kind of a testament to the fact that this test is not the end all be all of identifying construction quality. Both the 11' Compact and the 11'2 x 31+" iGO Zen are constructed exceptionally well.
Features/Accessory Review: 8.9/10
Starboard errs on the side of minimalism with this SUP, but they didn't exclude a few necessary features.
This board has a 4-point cargo area at the nose, great for a day's with of gear. And, while there is not a cargo area at the rear of the SUP, Starboard extended the deck pad all the way to the tail, making it much easier to move around on the board.
Along the right rail, Starboard has placed a pair of D-rings to be compatible with their shoulder carry strap. They've also opted for a lightweight center handle that fully flattens when you sit or lay on it.
Lastly, we love that this Starboard has a raised kick pad at the tail, as it does contribute a lot to its incredibly fun level of maneuverability.
Included Accessories:
The 11'2 x 31+" comes with a shorter accessory list, but still includes most of the necessities to get you on the water.
Dolphin style center fin
Leash
Single chamber hand pump
Wheeled SUP backpack
At this price point, the quality of these accessories seems pretty standard, though we do really like the SUP backpack as its the same bag as Starboard's higher-end boards. Our only complaint is that we would have liked to see a paddle included in this board's kit given that it is one of Starboard's more affordable, entry-level models. However, if you purchase through our link there is the option to bundle a paddle with your SUP.
Summary Review of the Starboard 11'2 x 31+" iGO Zen iSUP
In short, the Starboard 11'2 x 31+" iGO Zen is among this brand's most affordable, entry-level-friendly options. And, although the construction is a bit less advanced than Starboard's other options, it isn't lacking in performance or stability for small to midsize paddlers.
In the future, we'd love to see Starboard make this SUP just a bit stiffer, as we've come to get used to an impressive level of rigidity from other boards in their line-up. Though for now, we appreciate its lightweight, thinner build.
As always, we hope that this review has been helpful to you as you browse for SUP options. Feel free to reach out to us in the comments below if you have any questions or feel that we've left anything out of this review, and if you'd like an even broader list of stand-up paddleboards, head over to our list of Best Inflatable SUPs.
Happy paddling!
The following two tabs change content below.
SupBoardGuide
Heyo! At SupBoardGuide.com we are a team who love the water, the outdoors, and are more than grateful that our full-time job allows us to review stand up paddle boards. We paddle year round (it helps that we are just about 2 hours outside of Las Vegas), and we bring in a wide range of paddlers with the goal of providing our readers with the best, most in-depth, and accurate stand up paddle board reviews.
Latest posts by SupBoardGuide (see all)