Starboard 11'2 x 31+" iGO Zen iSUP
Pros
Entry-level board from a top-tier brand! It's the beginner and budget-friendly version from a brand favored by professional athletes.
Good performance for the smaller to average-sized paddler.
Nice balance between speed and stability. It is lightweight so it's easy to get up to speed, yet it has decent width throughout and a broad tail to enhance stability.
Durable thanks to the welded rail technology and precise construction processes.
Smooth on-the-water sensation and glide due to it being 5.5'' thick compared to the typical 6'' for an all-around board.
Minimalistic design that appeals to people who aim to use this board to improve their paddling and don't want/need action mounts and extra d-rings.
Cons
The linear drop-stitch core is lightweight, but the x-woven core of other Starboards SUPs has proven to be more rigid and would be welcome on the 11'2.
Larger paddlers (approaching 220 lbs) will notice the flex and lose performance on the board.
Considering it's marketed as a beginner board, we wish it came included with a paddle.
'Wallet friendly'' and entry-level iSUP by Starboard!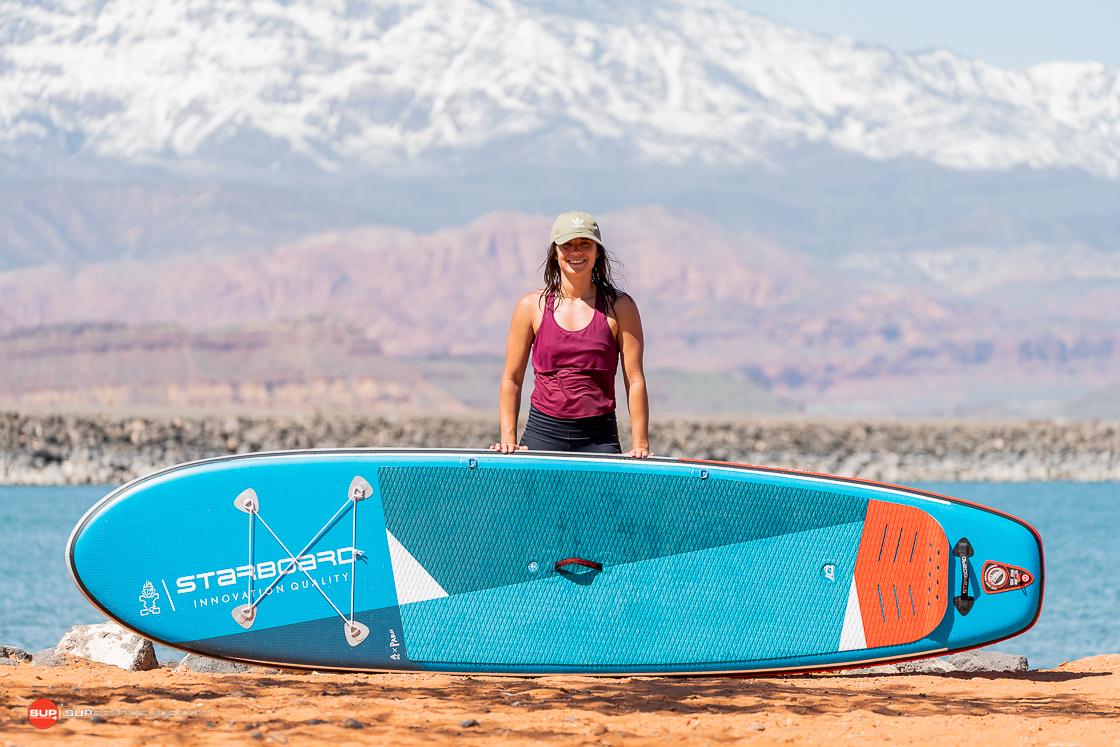 When people think of the boardsports company Starboard, pictures of race SUPs or standing atop podiums with dazzling gold medals often come to mind. However, Starboard has a fairly wide selection of all-around boards as well, and their 11'2 x 31+" iGO Zen that we'll be reviewing below is one of their most affordable options.
Because of its price, and its comfortable level of stability, this board is also one of Starboard's most entry-level options, though that's not to say it's not still a ton of fun for more advanced paddlers. This board has a fun level of maneuverability and responsiveness, and although it's a forgiving SUP for newcomers, it can grow with them as they develop their skills.
While the board is slightly lacking in the stiffness department, we were impressed with the lightweight 5.5'' thick construction on this board, which adds just a bit more of an edge when it comes to performance.
Overall, it's a good option for small to midsize paddlers that is one of the most affordable entry-level boards from one of the best names in the industry.
We think the Starboard 11'2 x 31+" iGO Zen would be great for paddlers who:
Want an all-around style board that leans towards performance-paddling characteristics
Want a relatively affordable board from a top-tier brand
Are smaller to average-sized paddlers (under 6' and 200 lbs)
Value a balance between speed and stability to incorporate fitness paddling as well as leisure paddling
Starboard 11'2×31+ iGO Zen: Spec Sheet

Main Category: All-around
Board Dimensions: 11'2 x 31 x 5.5
Listed Board Weight: 19.6 lbs
Listed Max Capacity: 220 lbs
Recommended PSI: 15 -18
Fins: Zen fin
Paddle: Not included
Materials: PVC
Warranty: Standard 2 years but can be up to 6 if you register within a certain time frame
Performance Review of the Starboard 11'2×31+ iGO Zen Stand-Up Paddle Board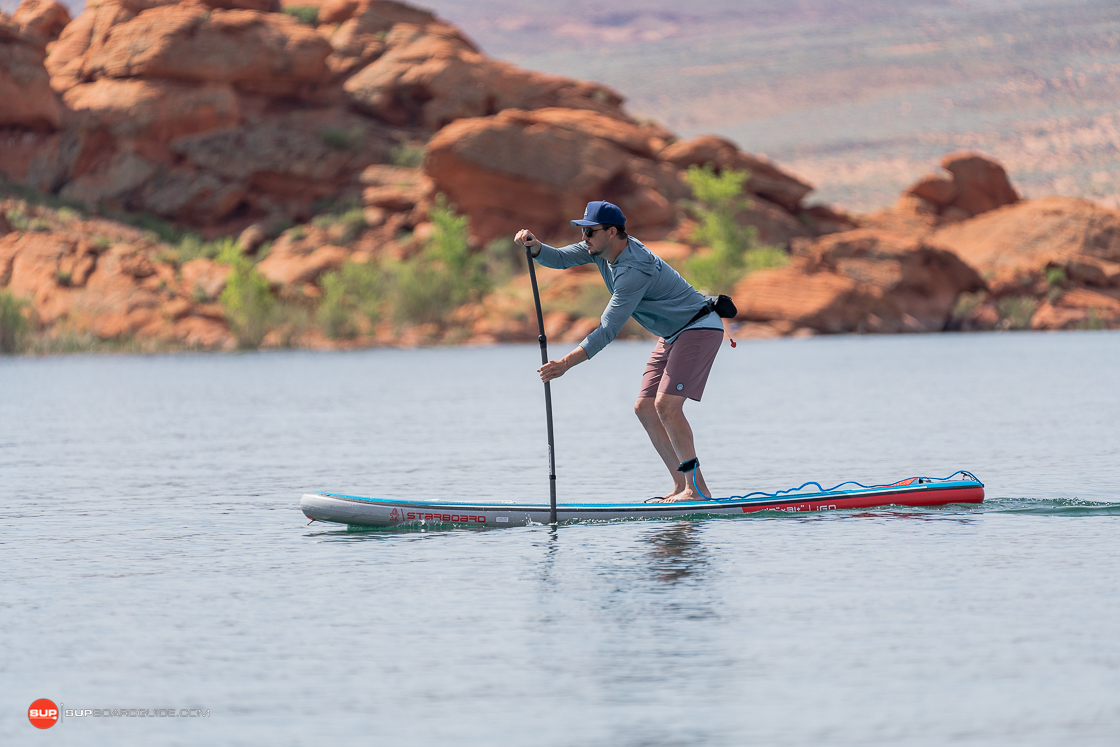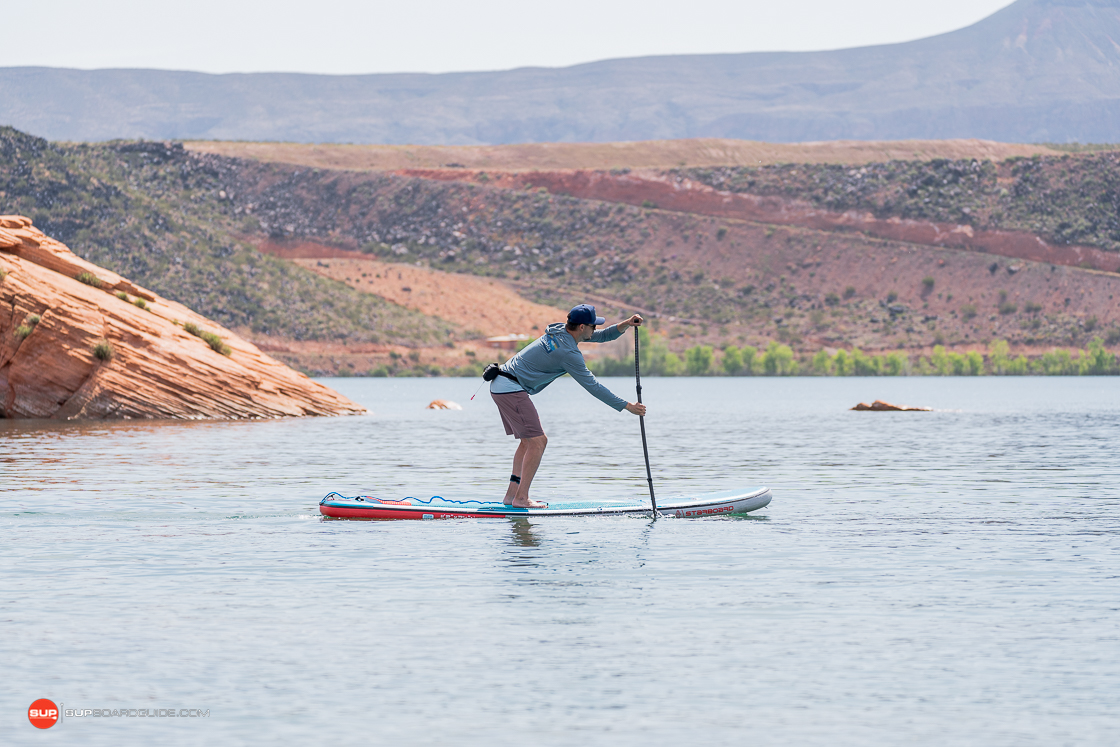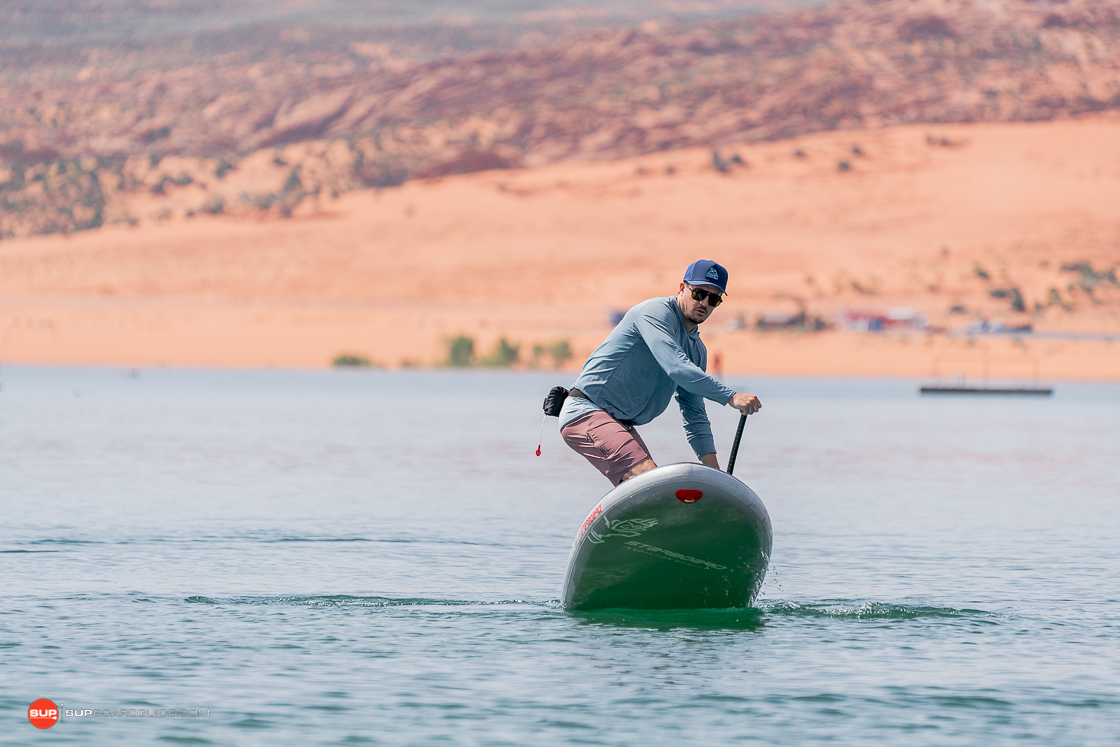 Overall Score: [9.3/10]
Stability: 8.9/10
Speed: 9.1/10
Tracking: 9/10
Maneuverability: 9.1/10
Construction Quality: 9/10
Features/Accessories: 9/10
Stability Rating: [8.9/10]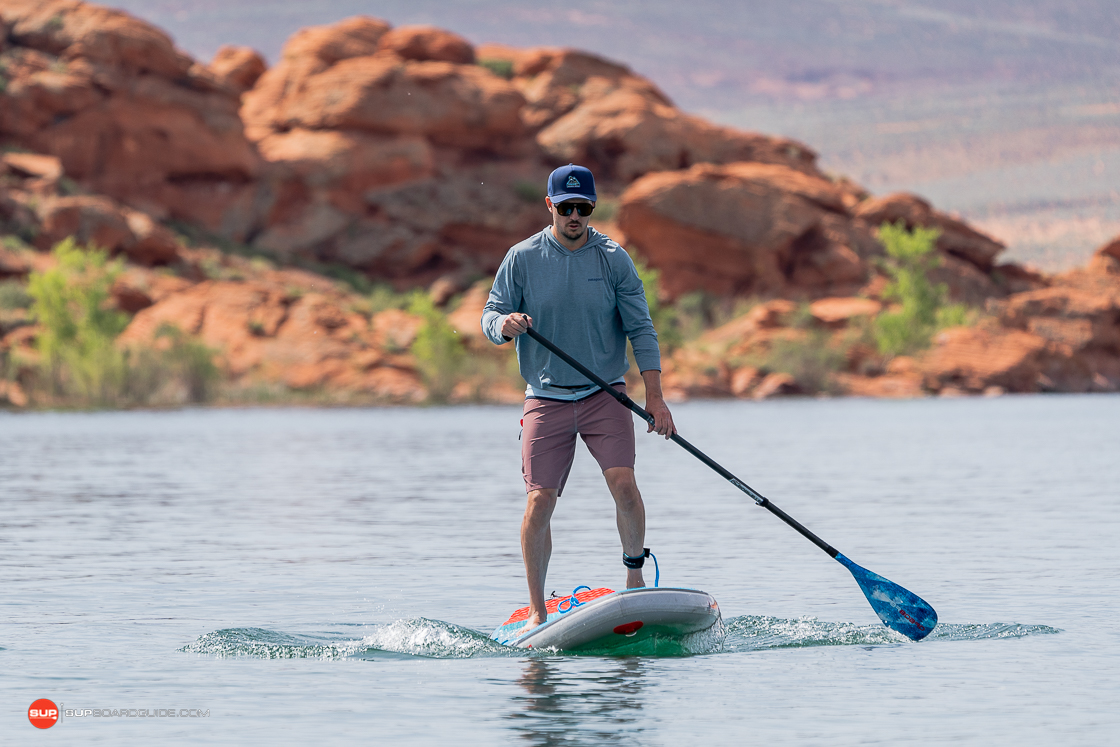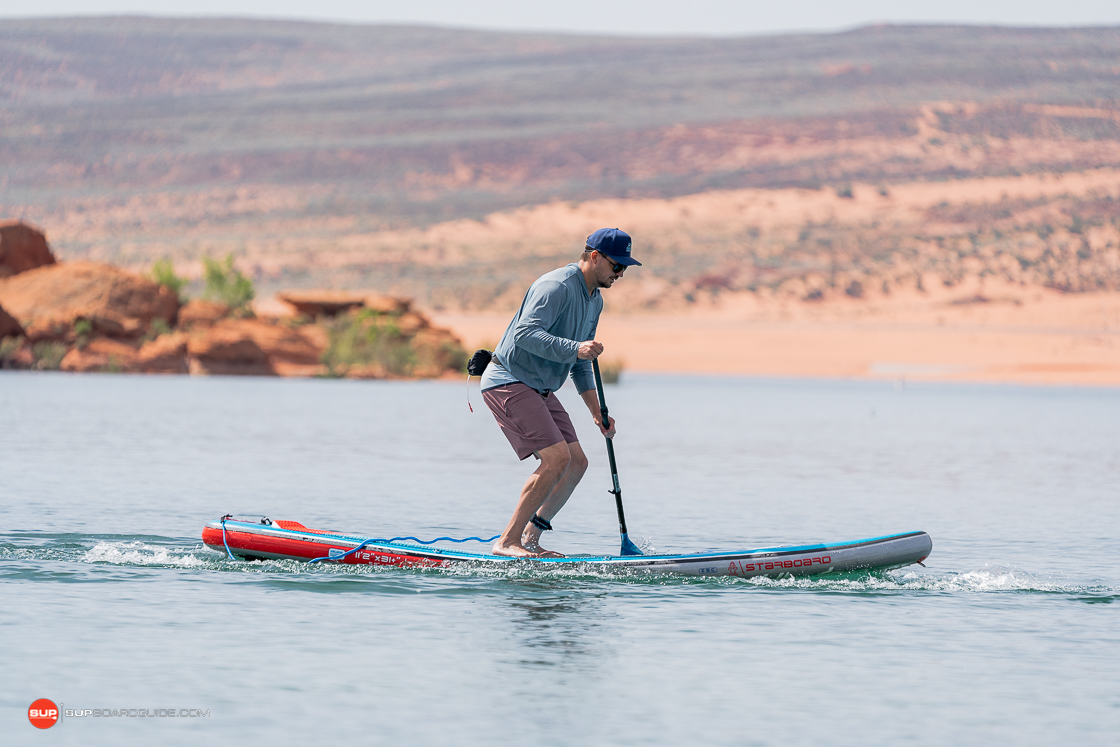 Starboard has done a fantastic job at keeping this board stable despite it having a slightly narrower plan shape at 31''. By maintaining a broad width throughout much of its length, there is a large amount of even surface area in direct contact with the water. This, combined with the square tail, enhances the stability. Also, it's only 5.5'' thick (compared to the 6'' thickness of most all-around boards) which brings you closer to the water for a lower center of gravity. This is especially useful in less-than-ideal paddling conditions because it gives you leverage to keep your balance while moving over mild chop!
Starboard says that the maximum weight capacity is around 220 lbs, which we see as a benchmark for who will feel the most stable on this SUP. As you get nearer to that weight, the board begins to sink further down into the water and can have a 'taco' effect, which is when the center of the board starts to flex underneath your feet. If you're a heavier paddler worried about the flex, we recommend the 12'x33'' Starboard iGO Deluxe.
Speed Test: 9.2/10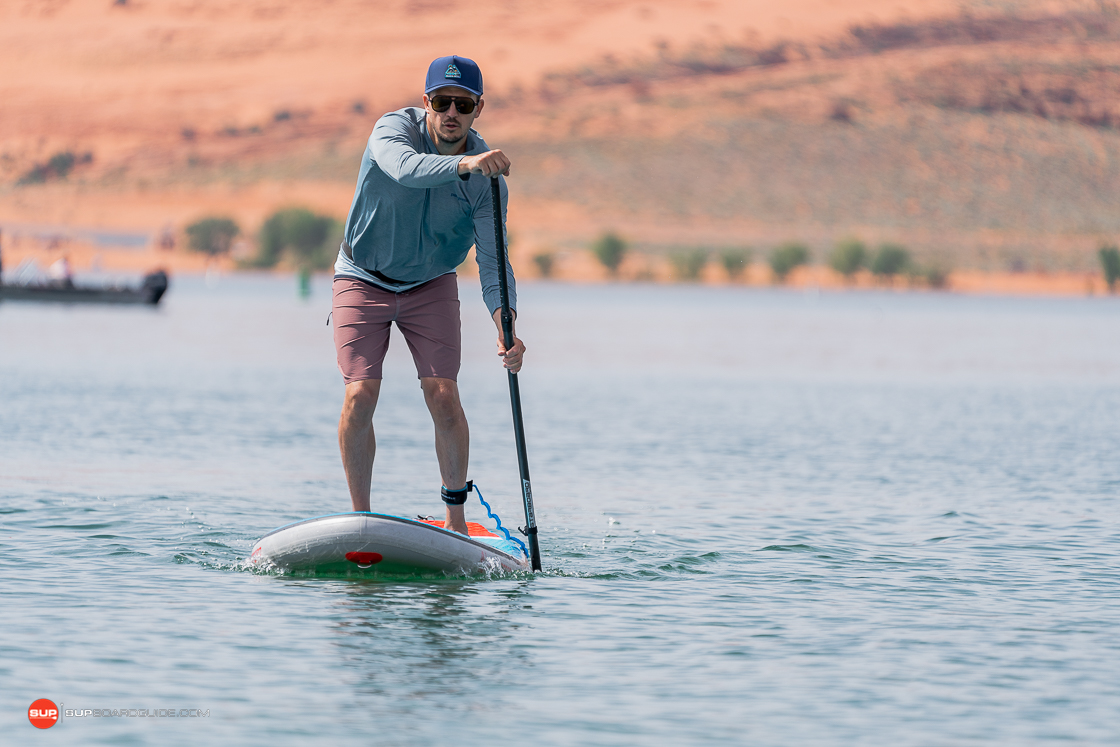 | | |
| --- | --- |
| Top Sprint Speed: | 5.55 MPH |
| Average Cruising Speed: | 4.65 MPH |
SUP Board Guide's Speed Testing:
To obtain our speed test results, we use a Speed Coach Sup 2. This gives us accurate readings on how fast we are paddling and our current stroke rates. For the top sprint speed, we paddle as hard as we can for approximately 10-15 seconds and then record our average speed. For the casual test, we paddle at 40-35 strokes per minute for approximately 30-60 seconds and record the average speed.
As expected, the 31'' wide iGO Zen is a faster all-around SUP. The narrower width is one of the main contributors here. However, the weight also comes into play. At only 19.6 lbs, it's easy to accelerate off the line – it doesn't require much effort from the paddler to get it moving. And to top it off, the torpedo-like waterline makes for very efficient glide.
The only thing that I think hinders the speed of the 11'2 x 31+" iGO Zen is its slightly more flexible build quality. As you power into your stroke, especially if you use quite a bit of leg drive, this Starboard tends to bounce underfoot. This increases and decreases the rocker with each stroke and creates drag. A stiffer board would be even faster.
Tracking: 9/10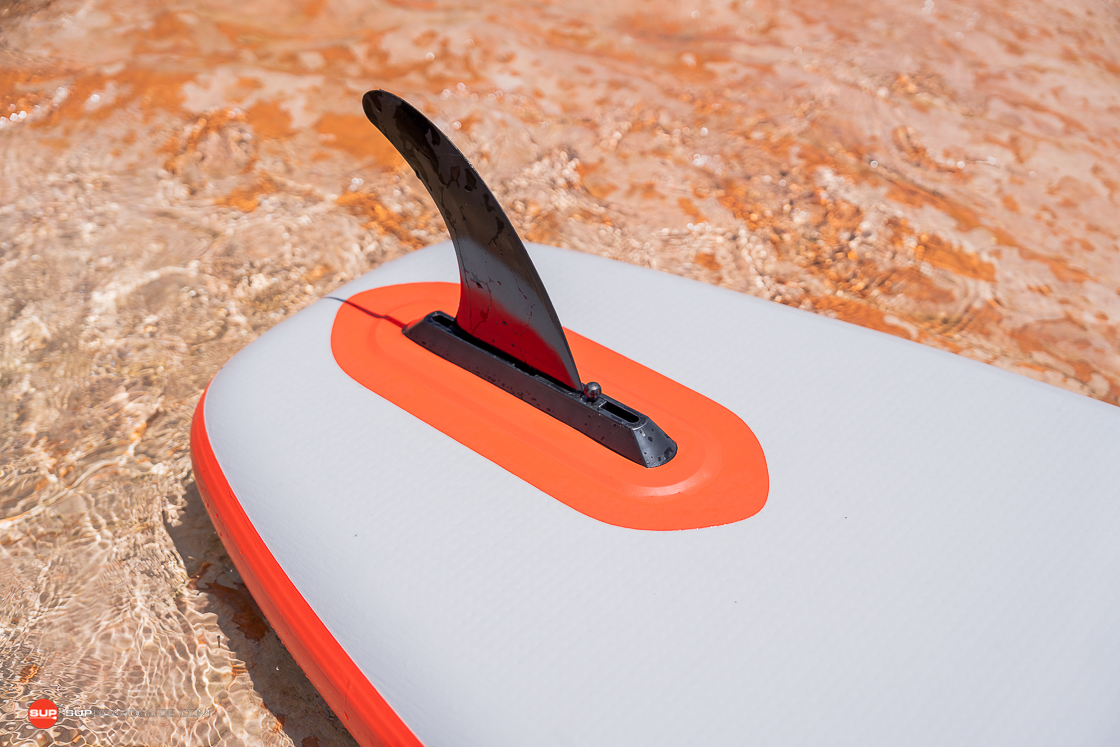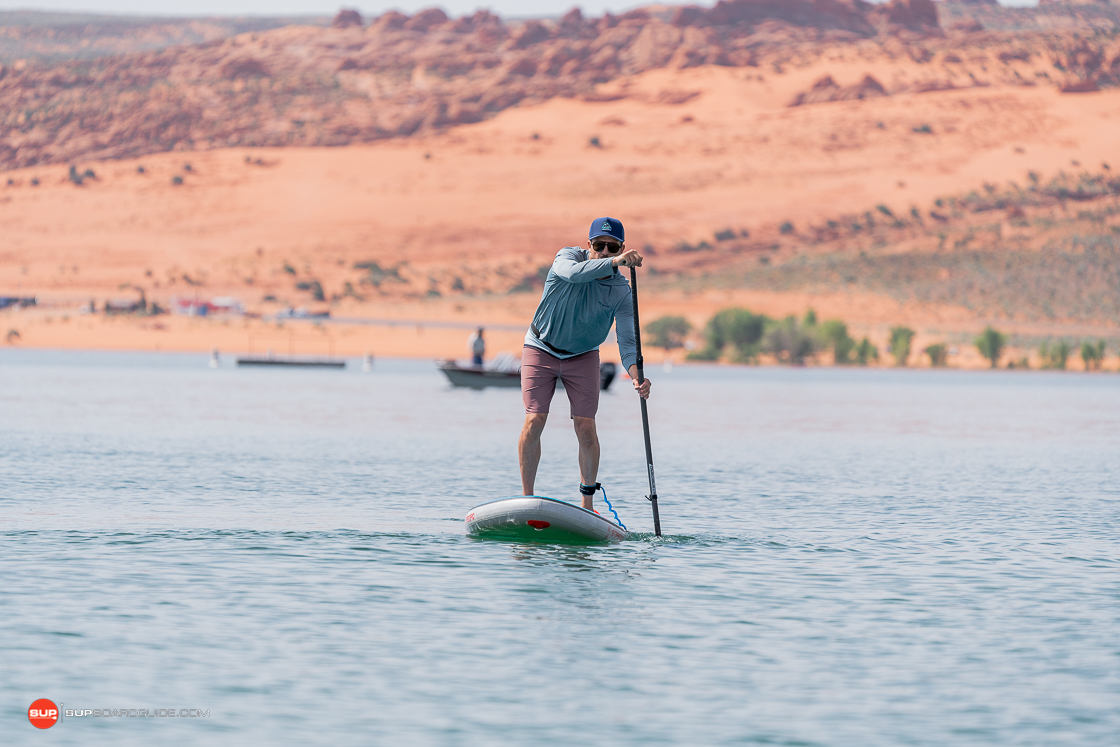 This board tracks exceptionally well for an all-around style board. Again, this is due to the very parallel-sided plane shape, which keeps the board very directional. Its 11'2 length contributes to its tracking capabilities as well, being a little longer than most other all-arounds.
While paddling at a cruising pace, we only needed to switch sides every 6-7 strokes (if I maintained decent form), which is impressive for a board in this category. And, because Starboard utilizes a US fin box, you can improve your tracking even further by inserting a larger hatchet-style fin. However, we do like the 'Zen' fin that comes with the board and found it to perform quite well.
Maneuverability: 9.1/10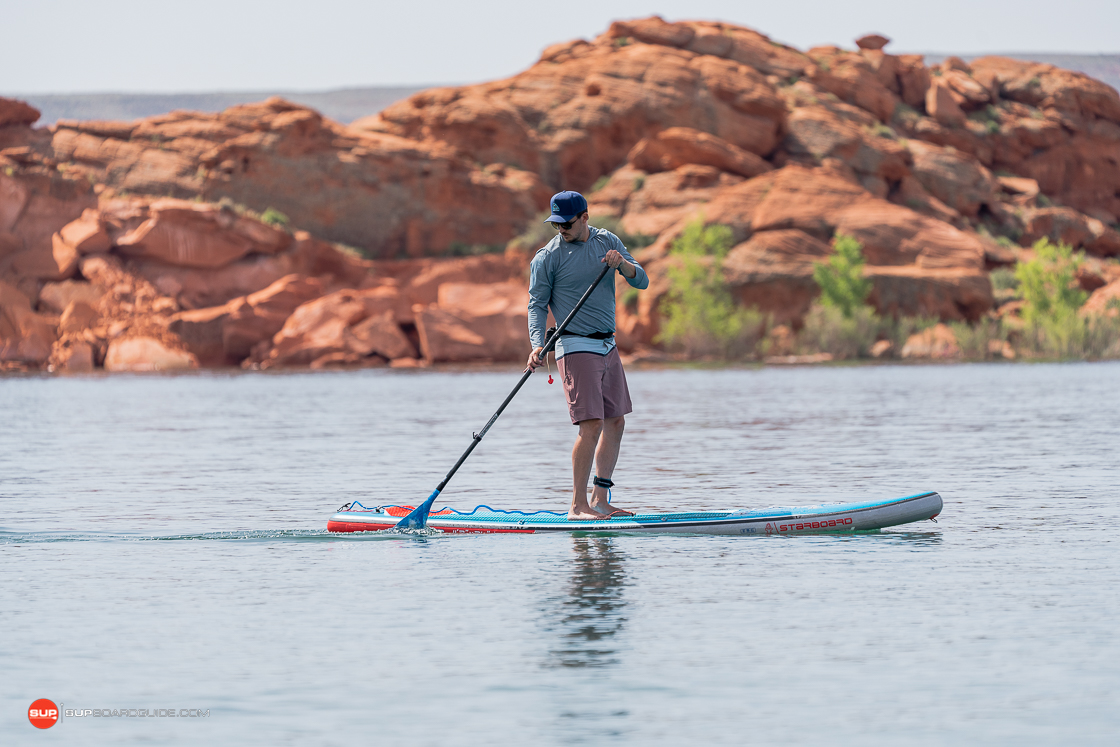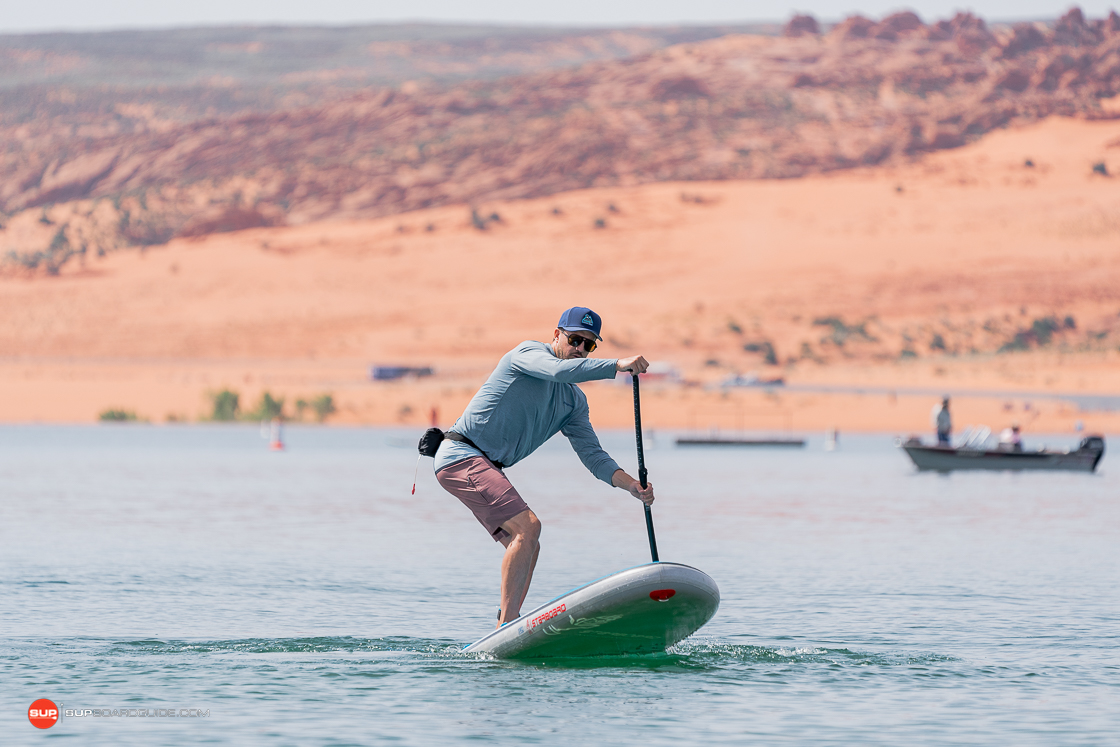 Given its excellent tracking capabilities and longer waterline, we were expecting the 11'2 x 31+" iGO Zen to be slightly less maneuverable than a more standard, shorter, all-around. However, this board responds quickly to more basic turning maneuvers like sweep strokes from the nose or tail and is easily steered while paddling. Its lighter weight build makes it more nimble than we initially anticipated, and its squared-off tail combined with its raised kick pad makes pivot turns much easier and a ton of fun.
Construction Quality: 8.7/10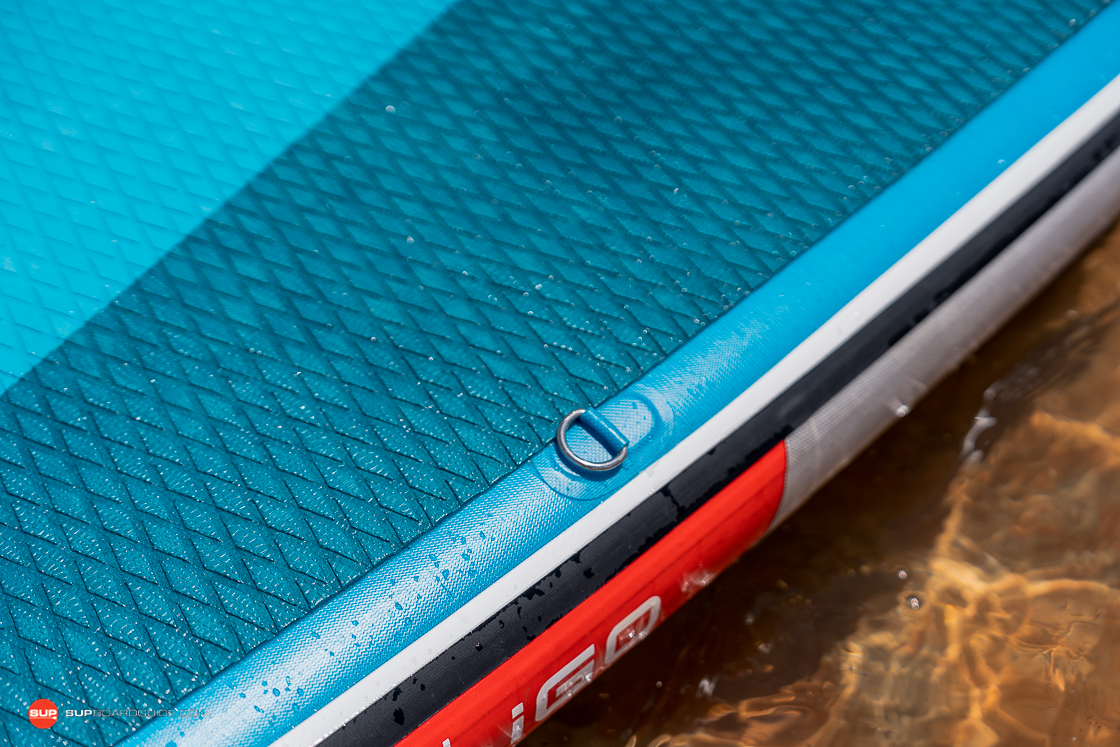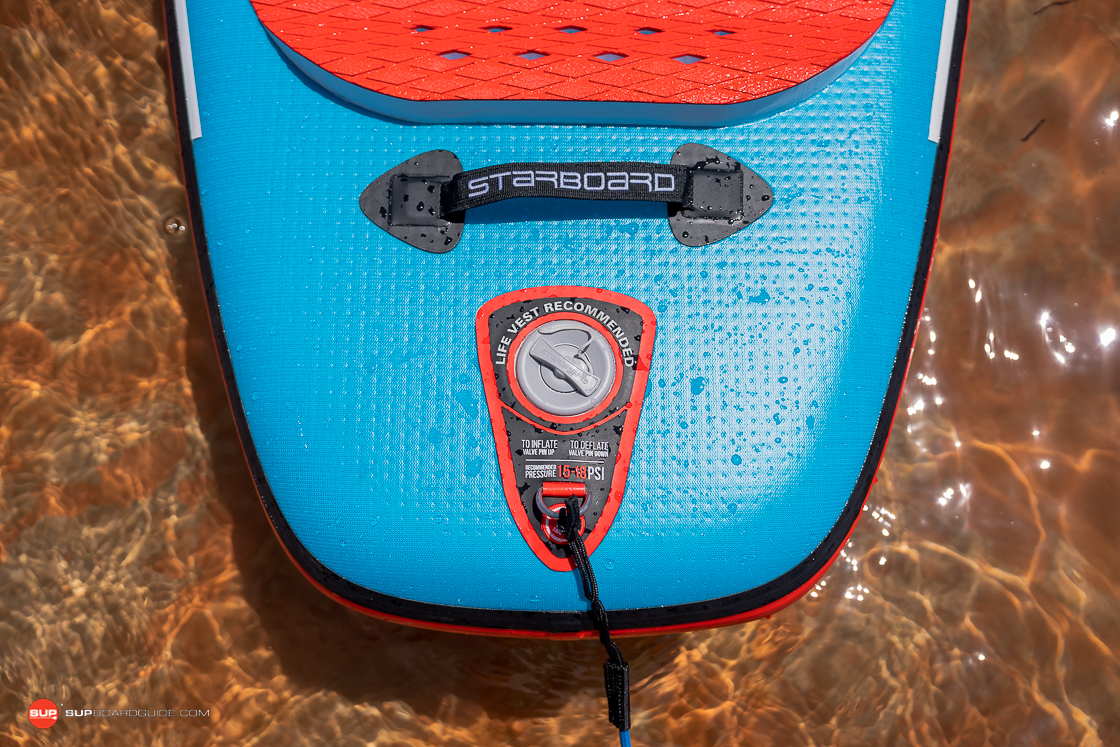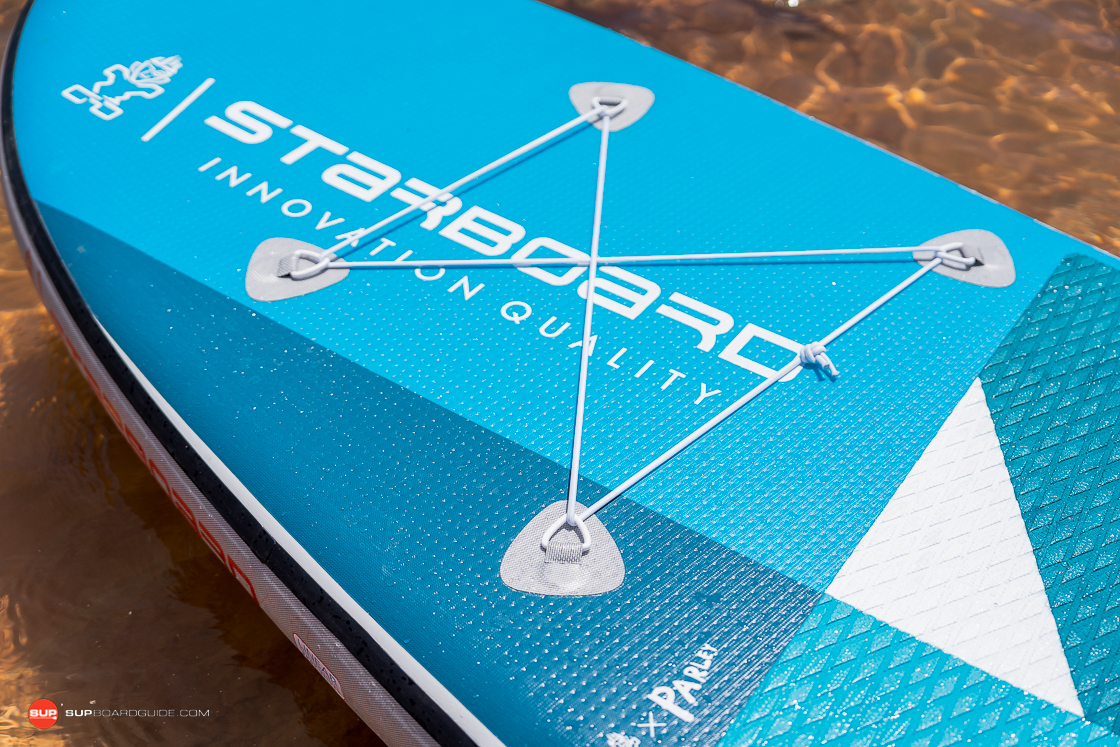 The Starboard 11'2×31+ iGo Zen is constructed as a single-layer board with a linear drop-stitch inner core. This means the space yarns that make up the inner chamber of the board are distributed along the length of the SUP in a straight line instead of in an X or V pattern. While a linear drop stitch doesn't create an inflatable that's quite as rigid as woven drop stitch does, it is generally lighter as it means fewer threads overall.
The rails are constructed using welded technology. A weld is applied after the seams have been glued to give even greater strength and durability.
There are two main differences between Starboard's iGO Zen construction (like this board has) and the iGO Deluxe construction. Firstly, the iGO Zen uses a single layer PVC construction while the Deluxe uses dual layer construction. Second, the iGO Zen has a linear drop-stitch core while the iGO Deluxe has a cross-woven drop-stitch core.
We know from bend-testing hundreds of boards that a woven drop-stitch core is more rigid than a linear drop-stitch core, and while we welcome the idea of bringing a woven drop-stitch to this board, we understand that the board is still high-performing in its current state, and the linear drop stitch is definitely a lower price option.
Board Stiffness: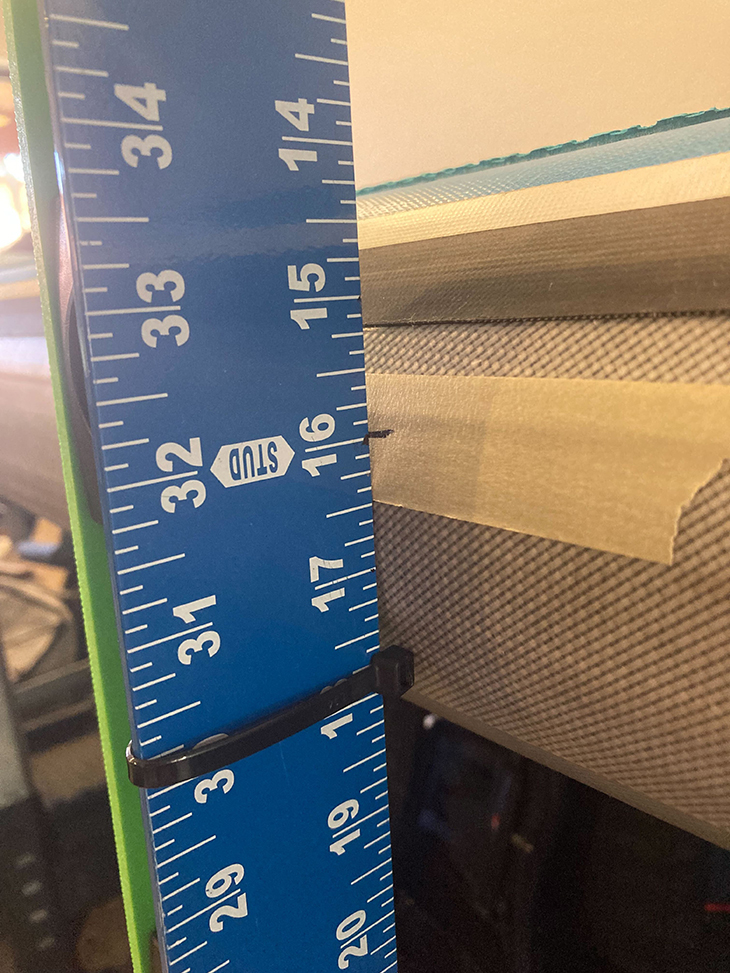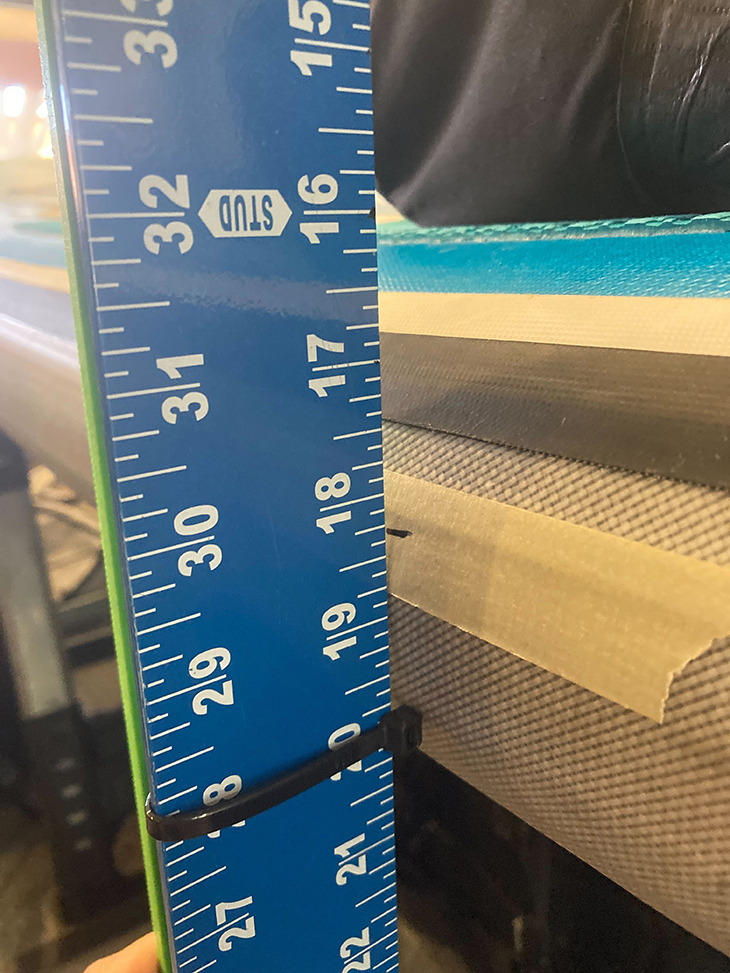 Stiffness Test: 2.25" Bend
SUP Board Guide's Bend Testing:
In order to attest to the rigidity of each board, we use a bend test curated by Supboardguide. In order to obtain the results, we inflate the board to its maximum recommended PSI and then place it across two sawhorses that are 7 feet apart. We then take a measurement in the middle of the board. Then, we place 150 lbs worth of sandbags on the middle top of the SUP. Last, we record its displacement (the movement from its original position). We use this method for every board we test as a way to mathematically compare boards across a common denominator.
By bending the Starboard iGO Zen boards and the iGO Deluxe boards, we can see that the iGO Zen's yield more bend in our bend test. This is due to the iGO Zen's combination of linear drop stitch and single layer construction. However, the goal of this board is to provide beginners with a more budget-friendly board from Starboard. And using a linear drop-stitch and single layer construction is how Starboard made that possible.
Overall, this SUP has a great on-the-water feel but you will notice the bend and think that Starboard would be better off either going away from the linear drop stitch to woven, or from single layer to dual layer to improve rigidity.
Features/Accessory Review: [9/10]
Features:


The 11'2×31+ iGo Zen does not have a ton of action mounts or features – it's a minimalistic board with a sharp look. On the nose, there is a four-point bungee cargo holder with 4 d-rings. This cargo area isn't huge, but it is suitable for your basic needs such as a dry bag, a water bottle, shoes, a sunhat, etc. However, it does not have adequate space to consider this an adventure board that you can use for long-haul expeditions.
Two D-rings on the side of the board can be used for the Starboard shoulder carry strap, or for attaching any extra cargo. There is also a D-ring on the underside of the nose. We'd like to see a few more D-rings added to the deck so that there is that option to bring more gear.
The deck pad itself has diamond grooves, which we love. It's super comfortable and it has a quality to it that you can feel under your feet. It's thick and durable.
On the tail, we get that rear kick-pad which is a big bonus in our book! As a team, we do a lot of step-back turns for testing purposes, and we always find them easier to do on boards with rear kick pads. This one is subtle yet exactly what you need.
There's a back carrying handle, but there isn't one on the nose. We think Starboard should add one for easier launching and general safety (a handle on the nose means it's easy to tow a board). Also, who doesn't love symmetry?
Included Accessories: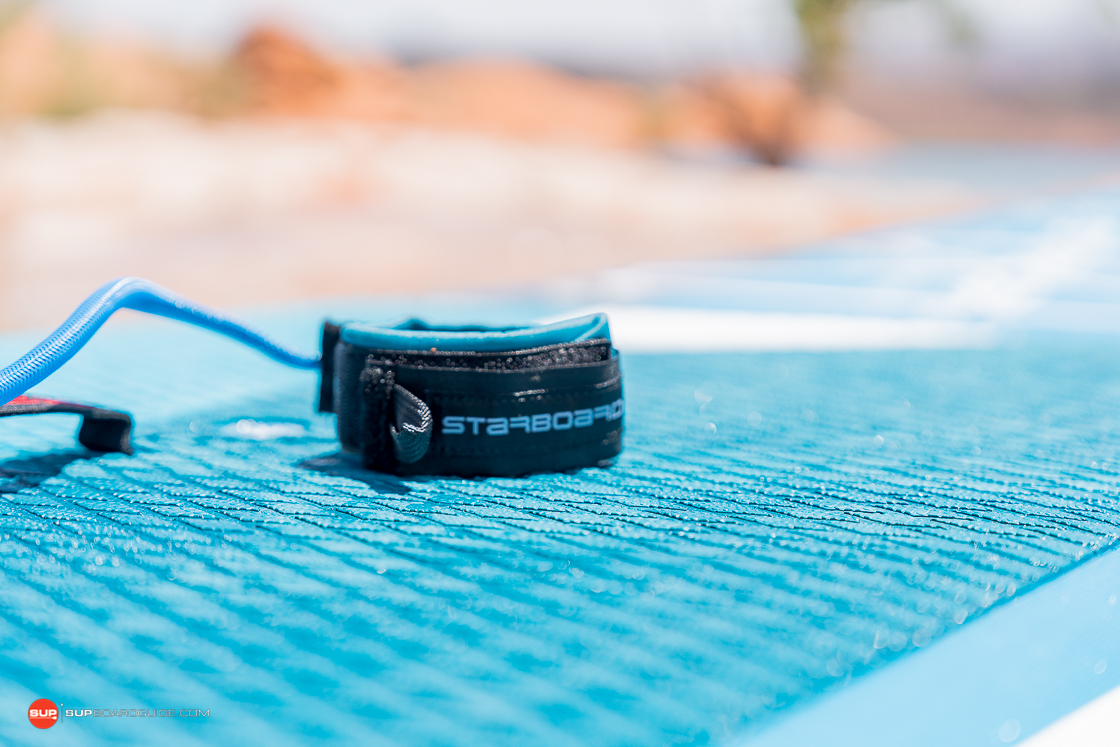 Included with the purchase of this iSUP you also get
1 lightweight straight leash
1 Tiki pump
1 durable wheeled backpack made from recycled bottles
We want to give Starboard props for making their wheeled backpack slightly oversized. It's never fun to fight your rolled-up SUP back into its bag after a long day on the water. With this bag, you can easily get your SUP inside plus more gear. You honestly won't need an extra backpack for your towel or even your electric pump if you have one. Just zip it into the bag with the board. Also, it's from recycled plastic bottles and Starboard does a great job at focusing on making environmentally friendly products.
Something to consider is that the straight leash is pretty long, but it doesn't fit around your calf, so it might drag in the water. We'd love to see Starboard lengthen the velcro strap so it can fit around your calf. Until that happens, it's possible to jerry-rig the leash to be shorter or just let it drag. Lastly, we hope in the future a board meant for beginners includes a paddle.
Summary Review of the Starboard 11'2×31+ iGO Zen – 2023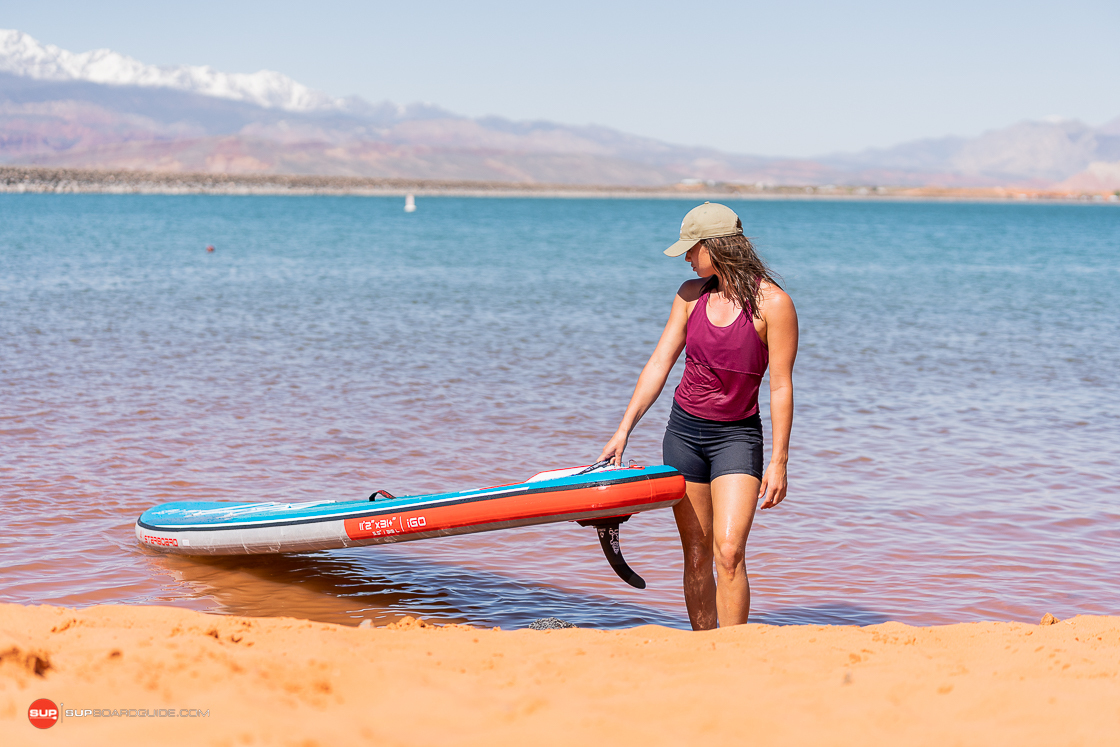 In short, the Starboard 11'2 x 31+" iGO Zen is among this brand's most affordable, entry-level options. And, although the construction is less stiff than Starboard's other options, it isn't lacking in performance or stability for small to midsize paddlers.
Happy paddling! We hope you enjoyed this review of the 11'2×31+ iGO Zen. If you have any questions or comments please leave us a comment below!
The following two tabs change content below.
Latest posts by Laura Coor (see all)