Tower 10'4'' Yachtsman iSUP Review
Pros
Effectively handles light chop thanks to the nose rocker and touring-style point.
Easy to steer and maneuver since it is a fairly short SUP at 10 feet 4 inches.
The deck pad feels nice on your feet and provides great traction. It's thick, durable, and has elongated grooves that help mitigate pooling water. Plus it looks fabulous!
Minimalistic and practical - it has no 'frills,' not even a bungee cargo area.
Towing D-ring on the underside of the nose.
A very reasonably priced board that includes a hand pump, a center fin, and a 3-piece paddle.
Cons
We'd prefer a fin box that allows for swapping out fins - we would also use a longer fin for better stability and tracking.
Similar to the other Tower 10'4 all-arounds, but with a teak-style deck pad that gives it its 'yachty' look.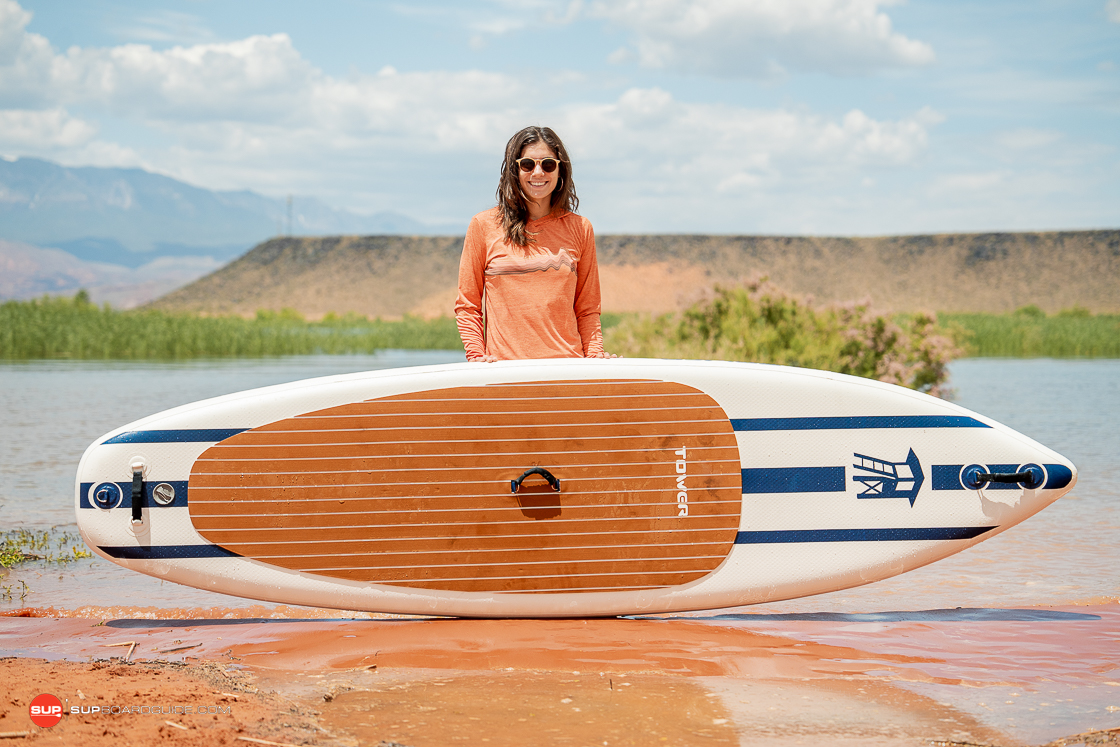 At 10'4'' x 32'' x 6'', this Tower Yachtsman review will closely reflect other Tower 10'4'' boards we have tested: they are all spec'd the same, with only subtle aesthetic differences between them. In this case, the Tower Yachtsman differs from the rest due to not having any cargo bungee areas and a different deck pad. And we'll say it, this is our favorite deck pad out of all the Tower 10'4 boards. We love the teak!
It has a touring-style nose so it can handle mild chop well, and while it's not as quick and nimble as some, it is a balanced ride. The 32'' inch wide zone is right beneath your feet, and the board stays wide as it extends toward the tip and tail. Plus, the squared-off tail enhances the stability even more. However, if you are not an experienced paddle who is 6' or above, you may feel a bit wobbly. The board is 10'4'', but it has 4 inches of nose rocker so in reality there is only 10' in direct contact with the water, which we found to be slightly too short to accommodate tall paddlers on the stability front. But overall, this is a satisfactory all-around SUP for smaller to average-sized paddlers.
We think the Tower 10'4 Yachtsman would be a great SUP for paddlers who:
Are under 6' and 190 lbs and are seeking an inexpensive, stable, and easily maneuverable iSUP.
Do not need any space for personal items or cargo
Prefer a pointed nose for cutting through mild chop as opposed to a more traditional all-arounder with a rounded nose
Tower 10'4'' Yachtsman: Spec Sheet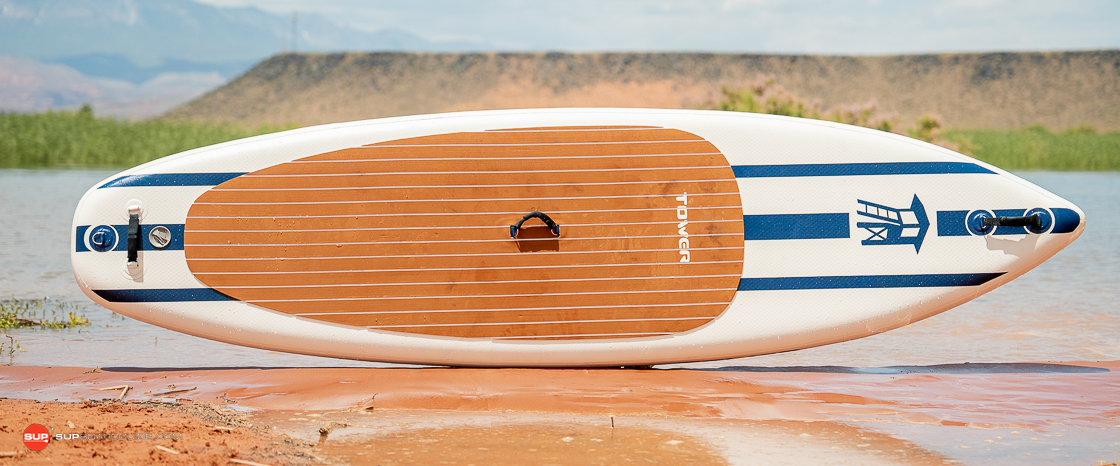 Main Category: All-around
Board Dimensions: 10'4'' x 32'' x 3''
Listed Board Weight: 26 lbs
Listed Max Capacity: up to 400 lbs
Recommended PSI: 10 – 12
Fins: 2 + 1 plastic single-center fin
Paddle: 3-piece fiberglass
Materials: Double-layer hand-glued
Warranty: 2 years
Performance Review of the Tower 10'4'' Yachtsman Stand Up Paddle Board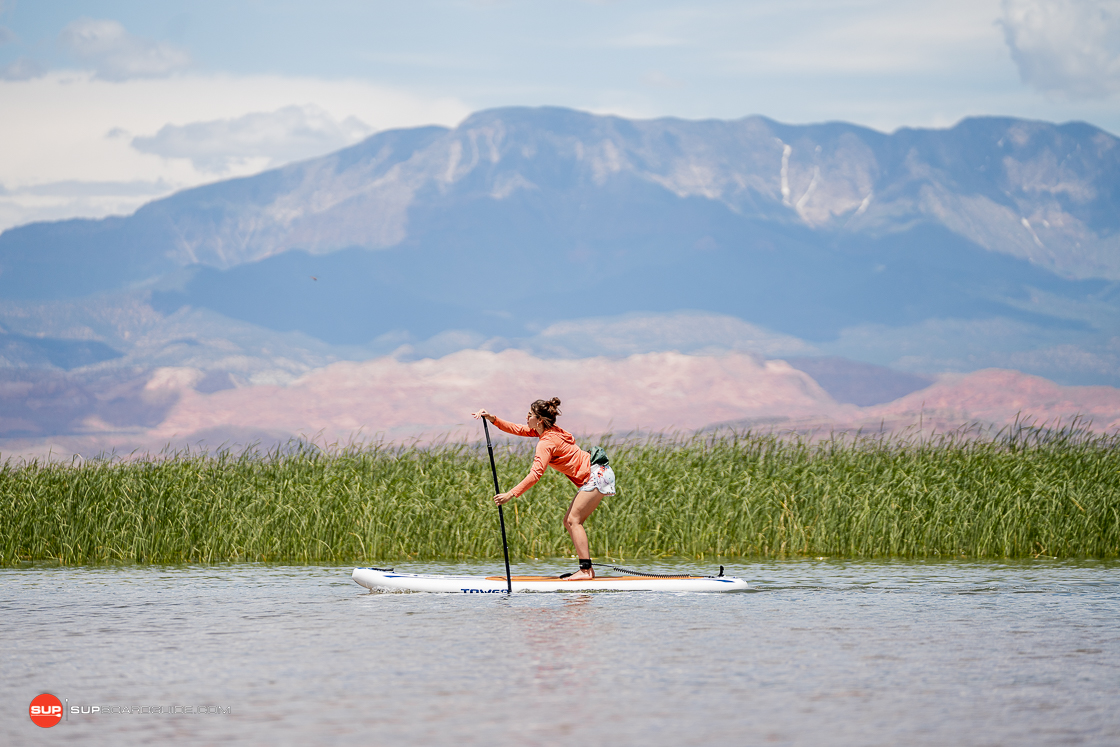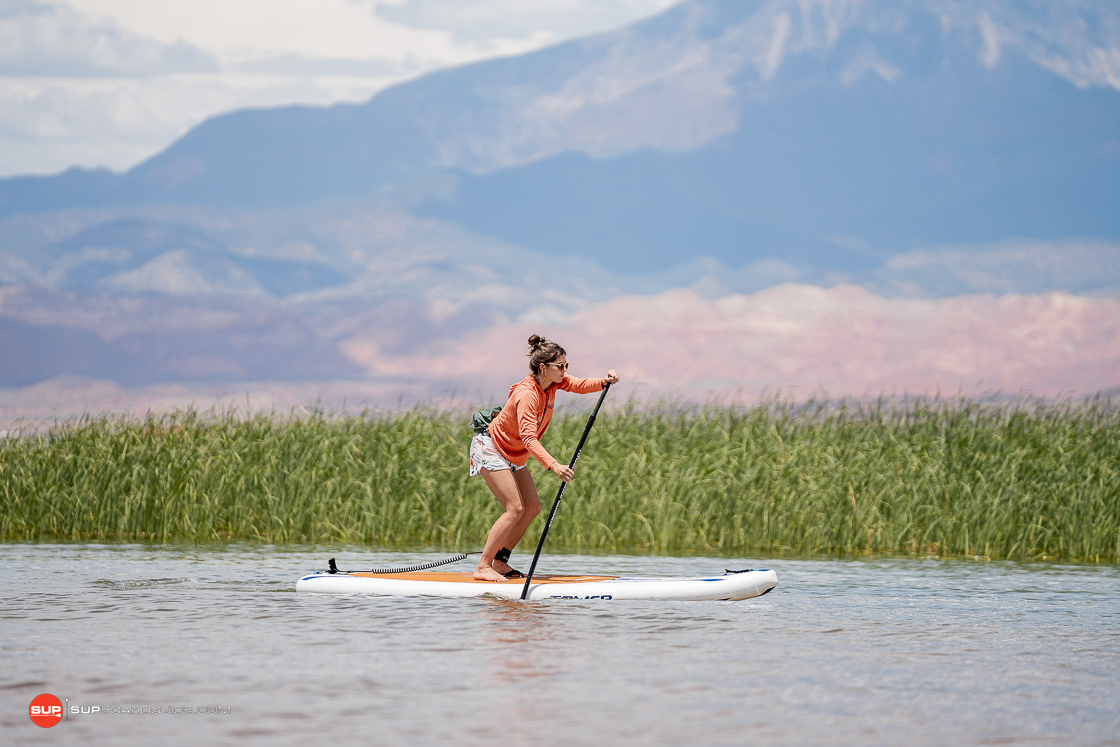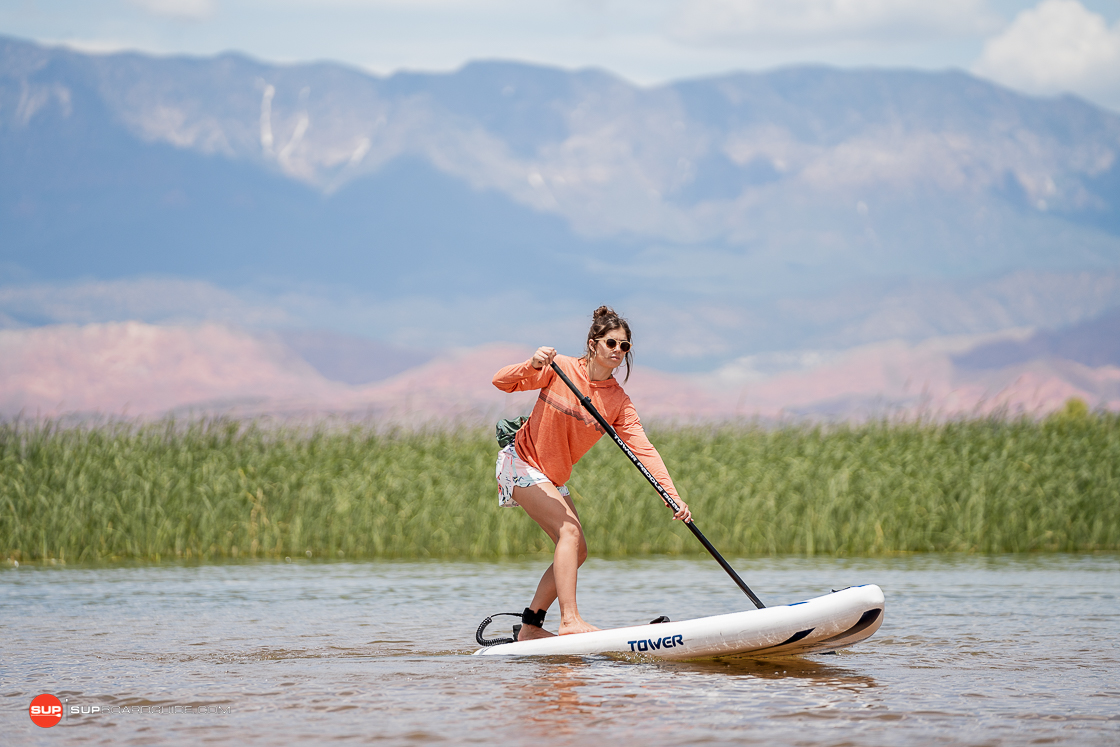 Overall Score: [8/10]
Stability: 8.1/10
Speed: 7.7/10
Tracking: 7.8/10
Maneuverability: 8.8/10
Construction Quality: 8.2/10
Features/Accessories: 8/10
Stability Rating: [8.1/10]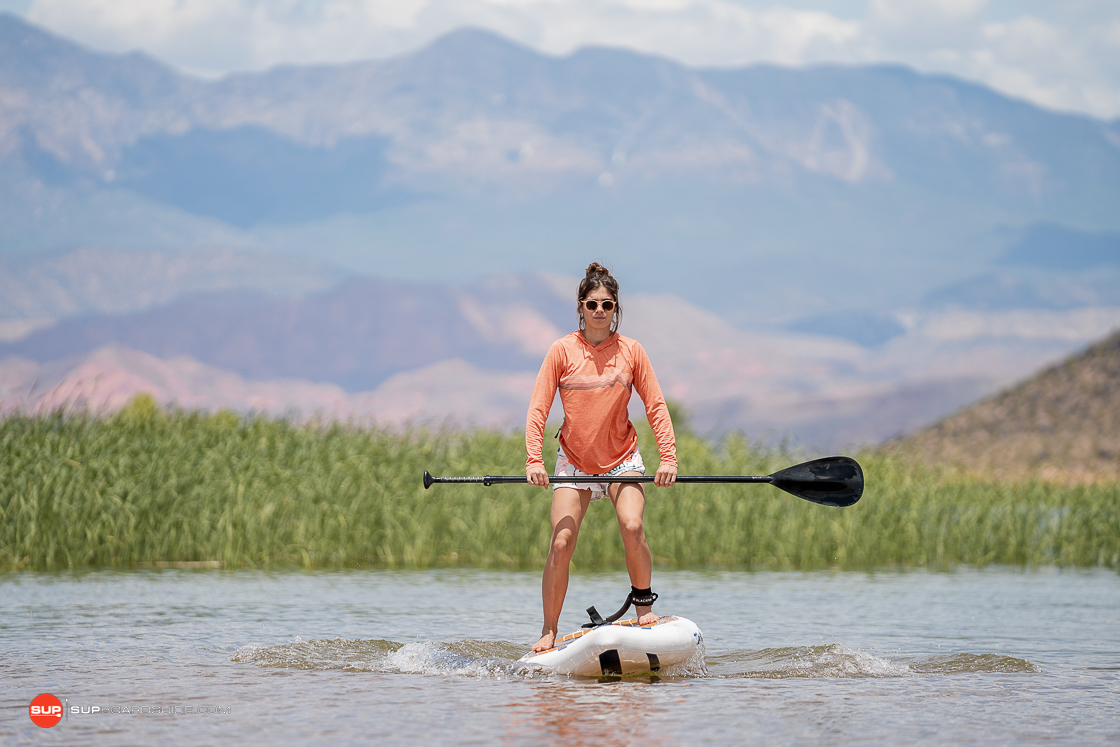 Because the Tower 10'4 Yachtsman is 32'' wide and stays fairly wide up until it comes to a point at the nose, it is quite stable for small to average-sized paddlers. Plus, the squared-off tail adds even more balance to the board. This plan shape allows the SUP to fully utilize its touring-style nose to cut through mild chop and succeed in windier conditions without becoming unstable. It does, however, become less stable the taller you are because it is just 10'4′ with 4 inches of nose rocker (thus only 10′ in direct contact with the water). Our team members who are above 6 feet tall and inexperienced paddlers found it difficult to maintain their balance when using this SUP. However, if you are a skilled paddler or are willing to practice, you won't struggle too much (Justin and Laura had no issues).
Speed Test: 7.7/10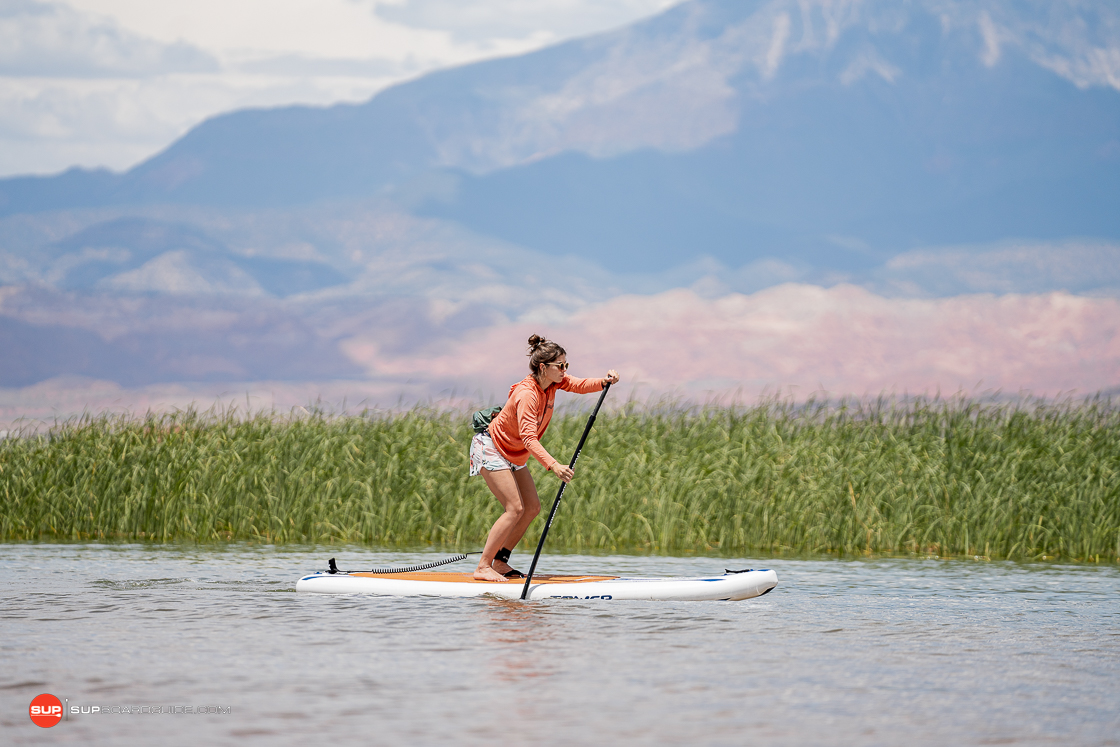 | | |
| --- | --- |
| Top Sprint Speed: | 3.9 MPH |
| Average Cruising Speed: | 4.95 MPH |
SUP Board Guide's Speed Testing:
To obtain our speed test results, we use a Speed Coach Sup 2. This gives us accurate readings on how fast we are paddling and our current stroke rates. For the top sprint speed, we paddle as hard as we can for approximately 10-15 seconds and then record our average speed. For the casual test, we paddle at 40-35 strokes per minute for approximately 30-60 seconds and record the average speed.
At 26 lbs and a plan shape that caters toward stability, we did not expect this SUP to be very fast. And while it did not surpass our expectations, it's easy to keep up a relaxed cruising speed and push it a little bit faster if you want to. Its overall layout and 10'4″ x 32″ size are intended to be enjoyable rather than quick.
Tracking: 7.8/10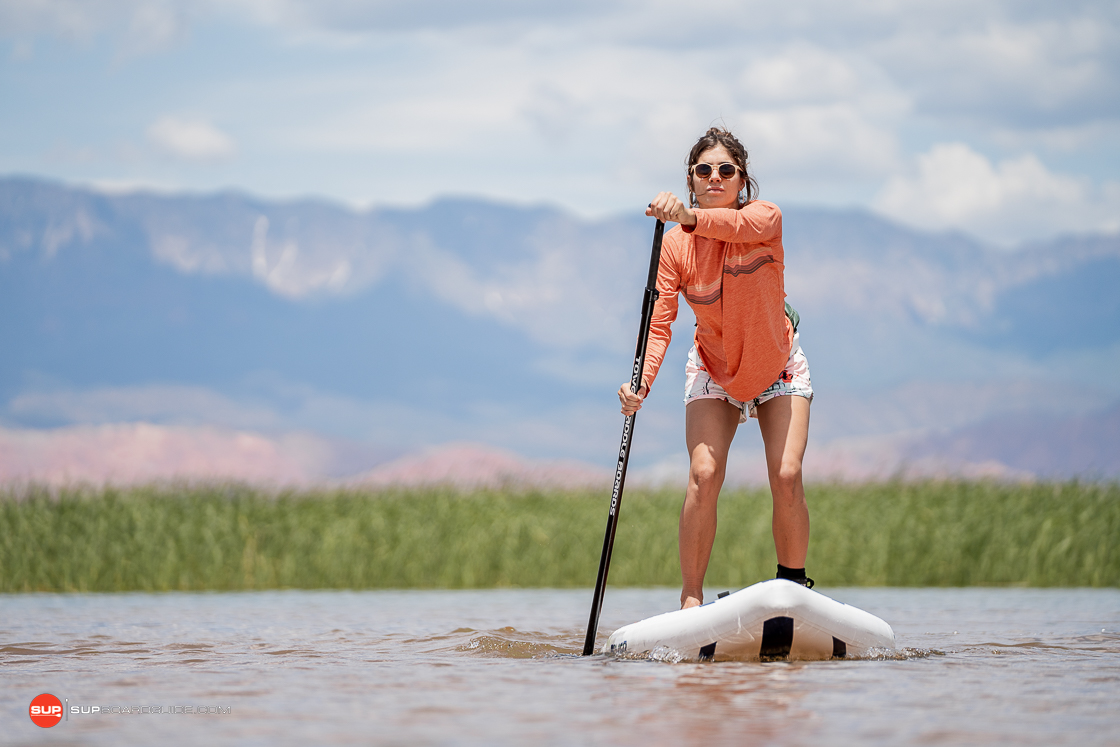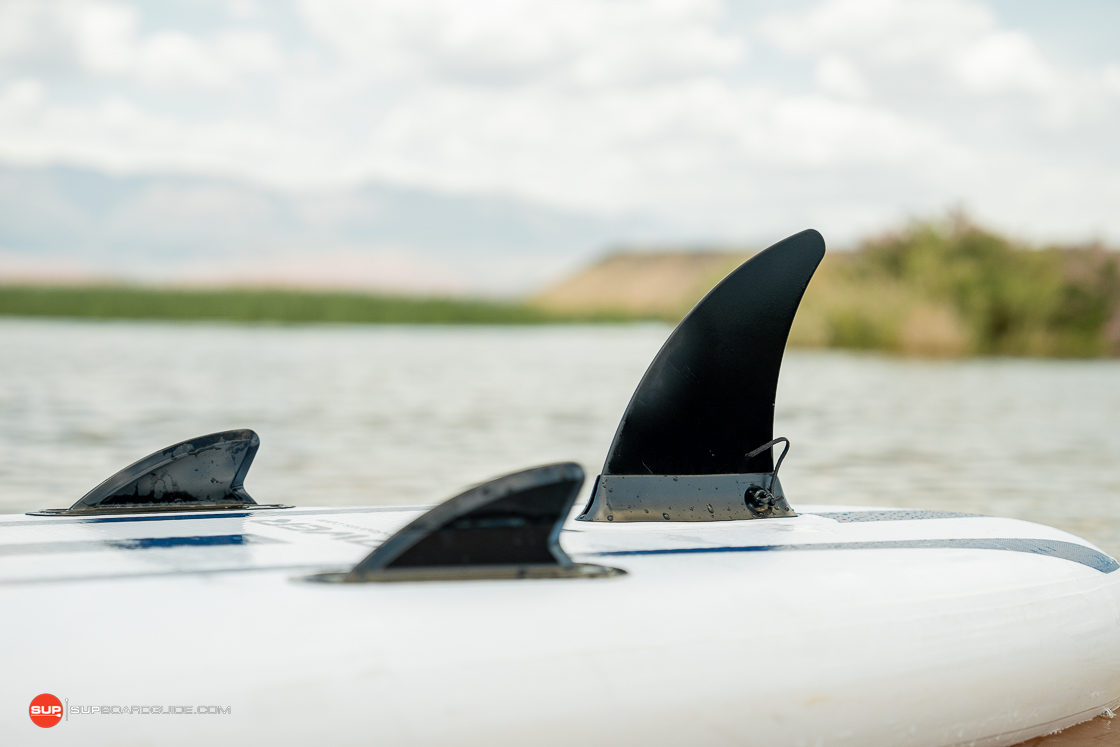 Like any 10'4'' iSUP, this board is geared more toward maneuverability than tracking. However, we found it to still track relatively well and our main recommendation is for Tower to upgrade the fin box so it's possible to interchange fins. Improve the fin, and improve the tracking! We are confident that if we put a bigger fin on this board, we would feel a big difference.
Maneuverability: 8.4/10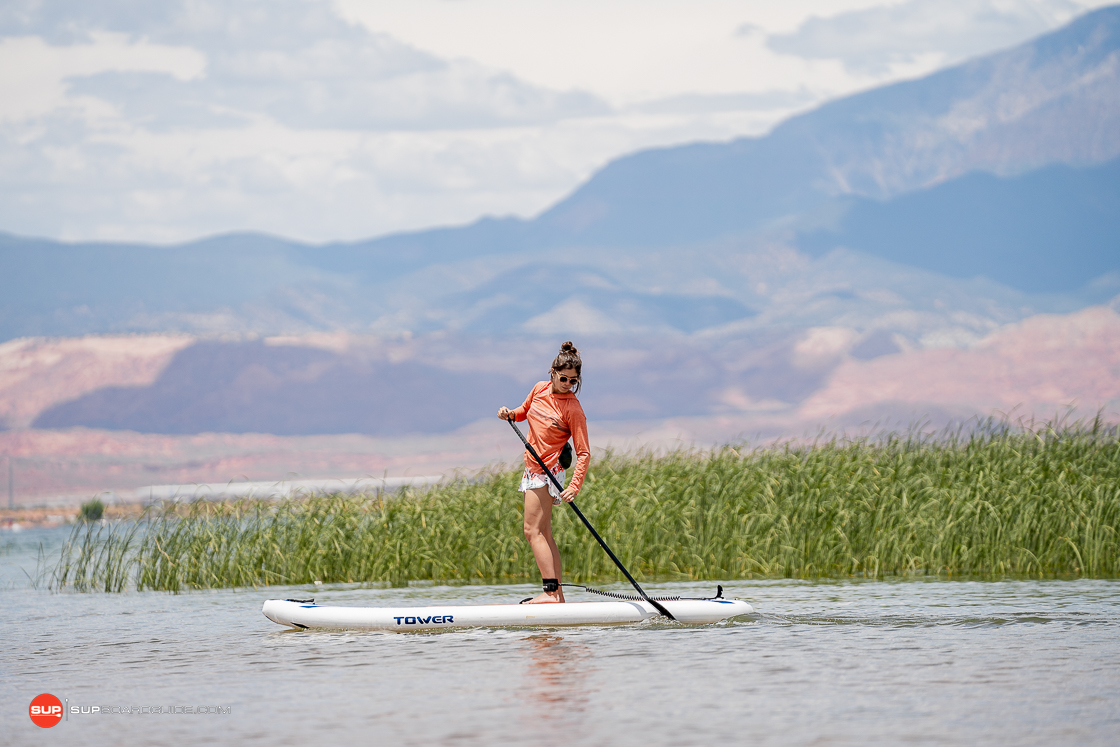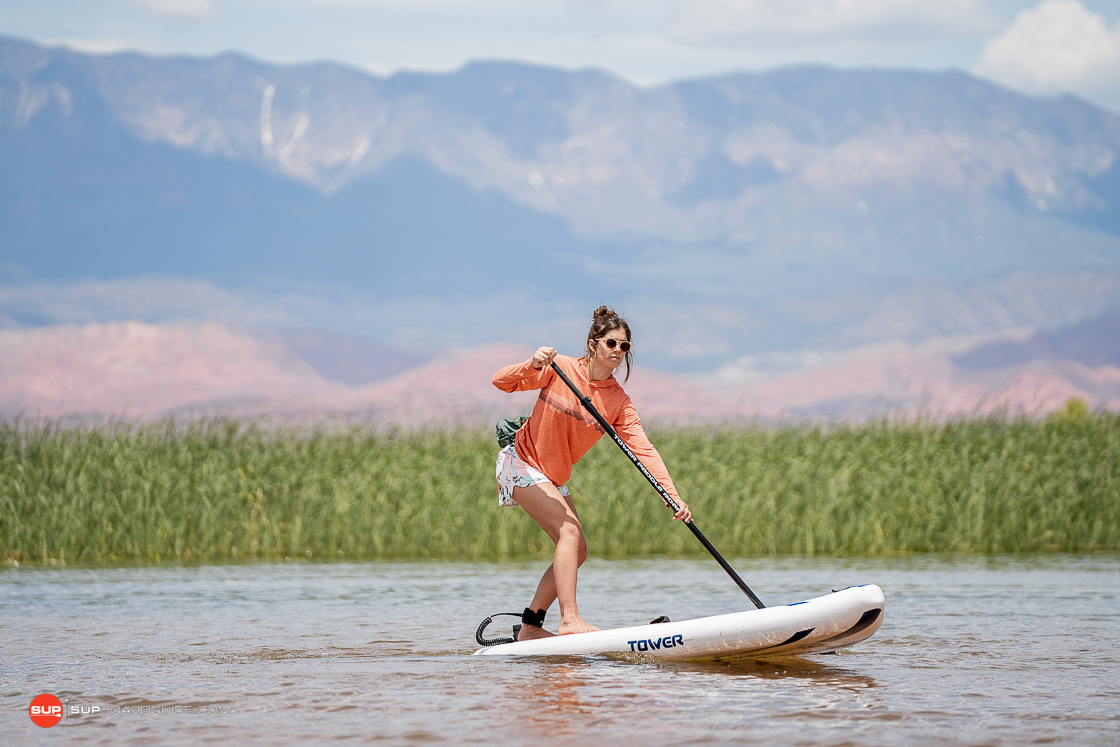 The Tower 10'4 Yachtsman has great maneuverability. It's easy to steer with whichever paddle stroke you decide to use, and it's quite easy to get the nose out of the water and start spinning in circles. We turned this board in a full circle in only 4 back sweep strokes, which is a score that we consider to reflect high maneuverability. We do have an additional fin suggestion (besides swapping the fin box) and that is to remove the side fins. They are so small, only about 2 inches, that the only things we found them to do were create more drag through the water and slow the turn rate down.
Construction Quality: 7.8/10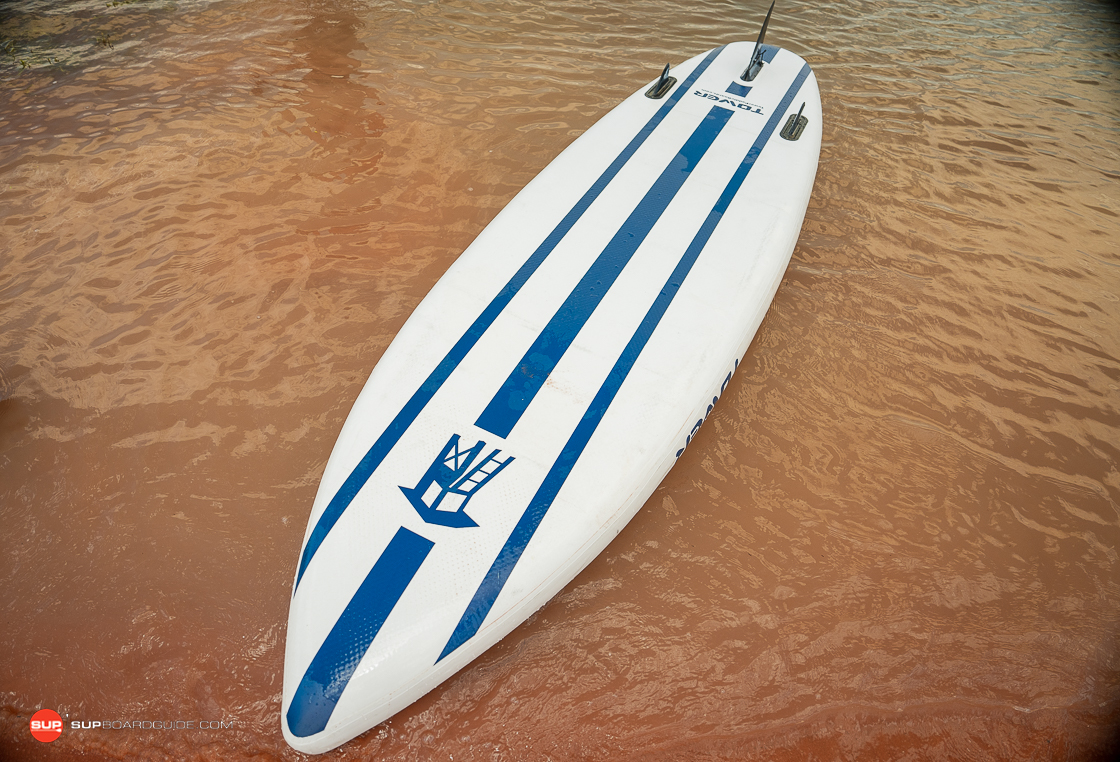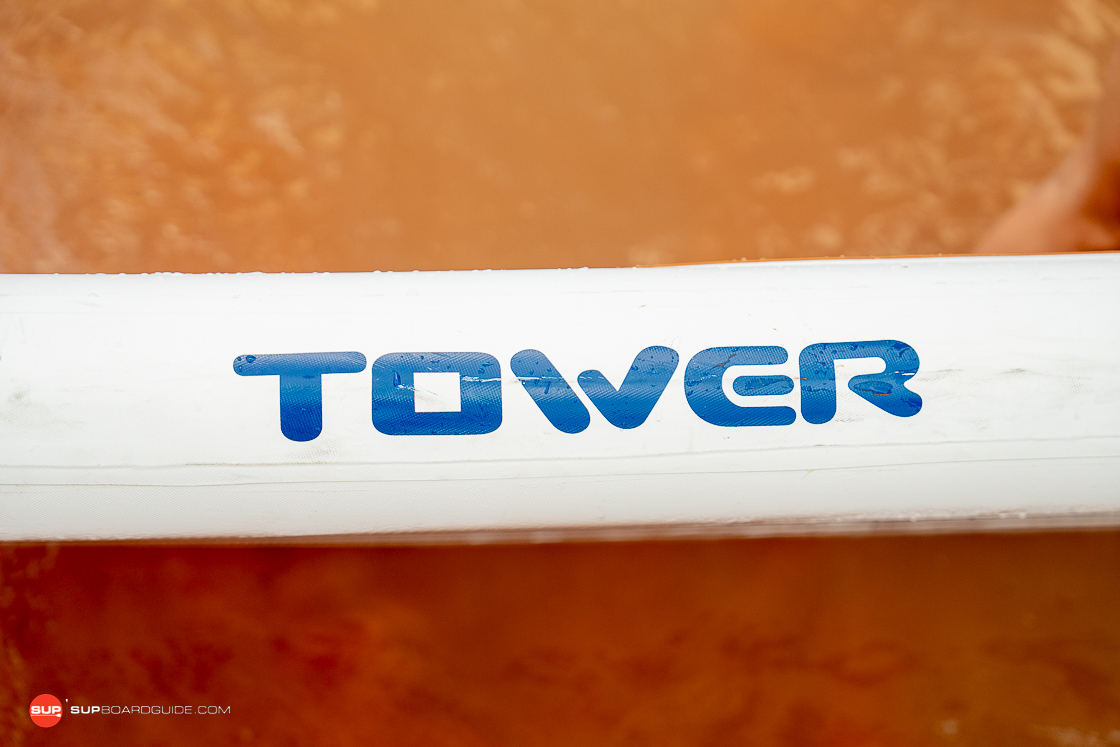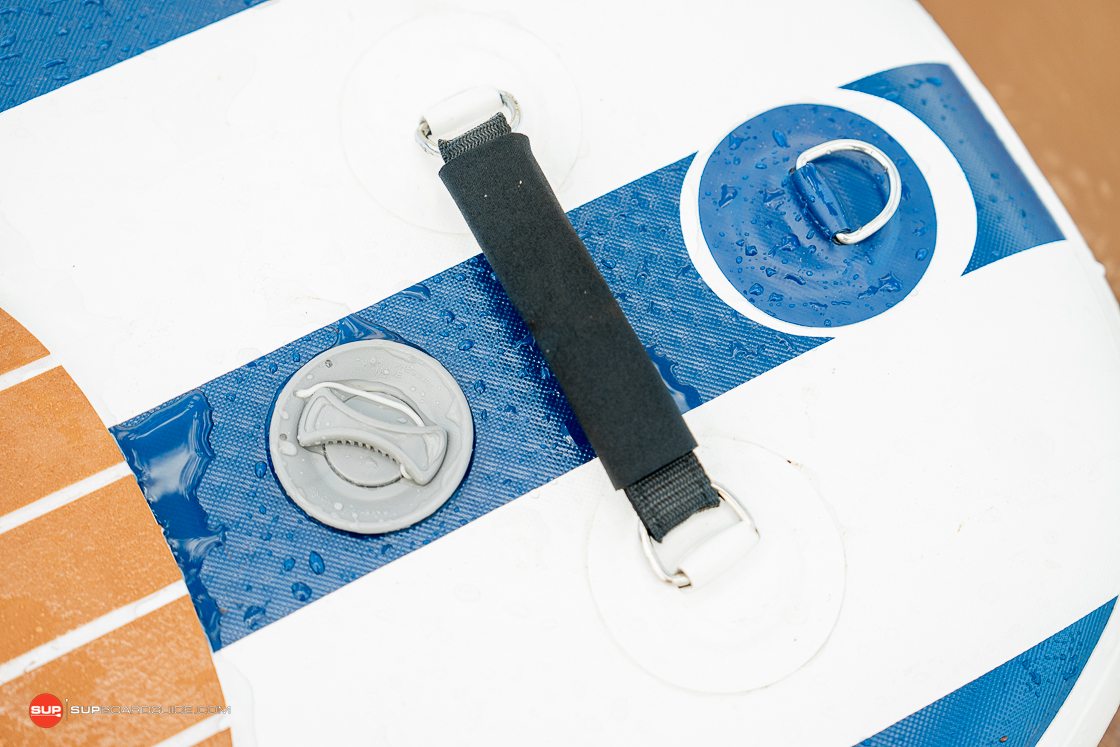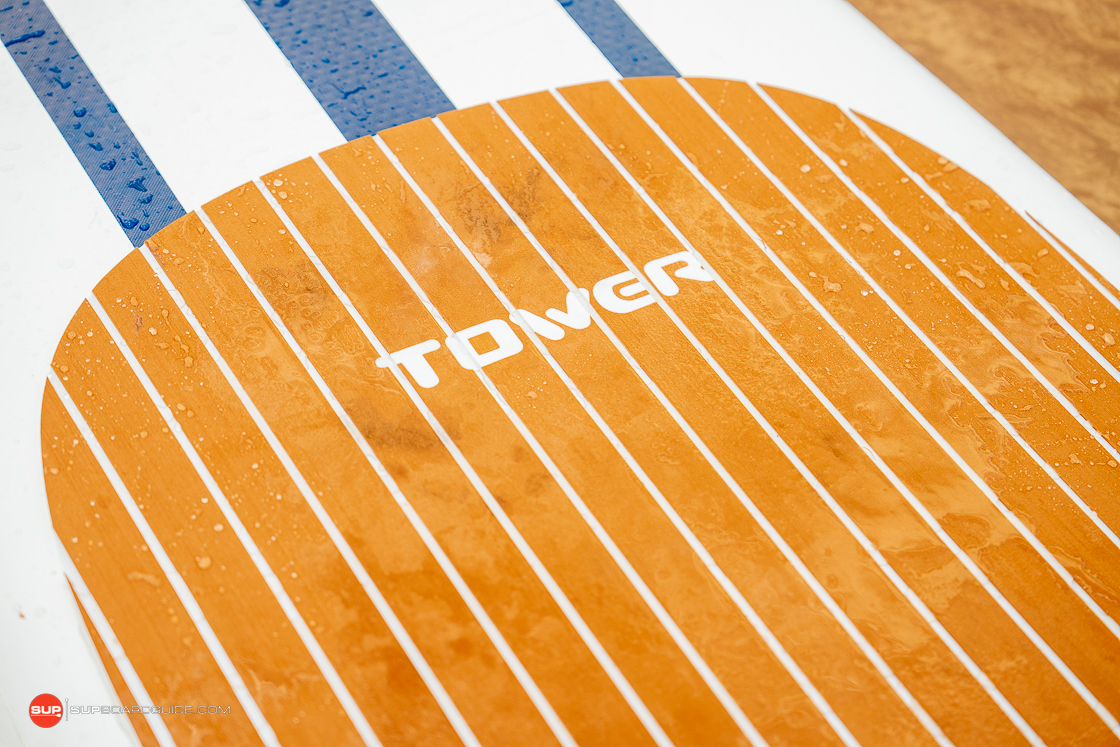 The construction process of the 10'4 Yachtsman is the same as the 10'4 Mermaid and the 10'4 Aventurer 2: Tower describes it as a hand-glued, dual-layer, 6-inch thick board. A graphic and key on the Tower website reveal that it was put together using a PVC Tarpaulin sandwich featuring a 2.2mm thick deck.
The 500 Denier Scrim is sandwiched between two 0.7mm PVC layers to create the 2.2mm deck. This creates the 1.4mm PVC top layer, which is then manually bonded to a laminate of 0.7mm PVC, which is then adhered to the drop-stitch core. This process is duplicated on the hull and measures at approximately 2.22mm total, but Tower is transparent in the fact that it is an approximate measurement and not exact. As for the drop-stitch core, it is described as being made out of warp-knit polyester yarn.
Board Stiffness: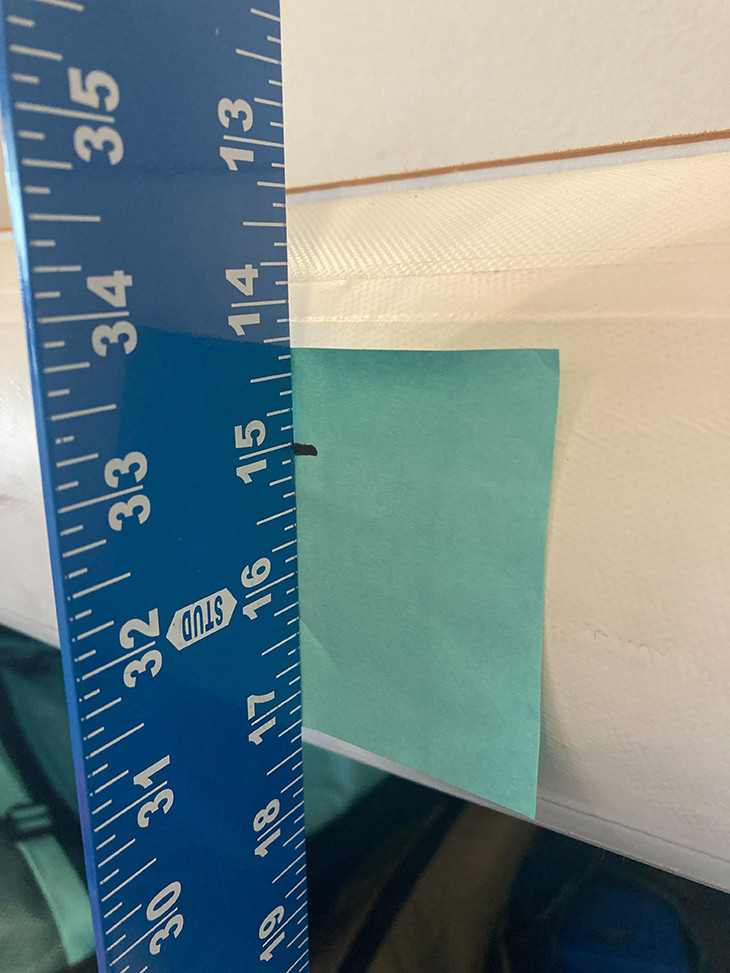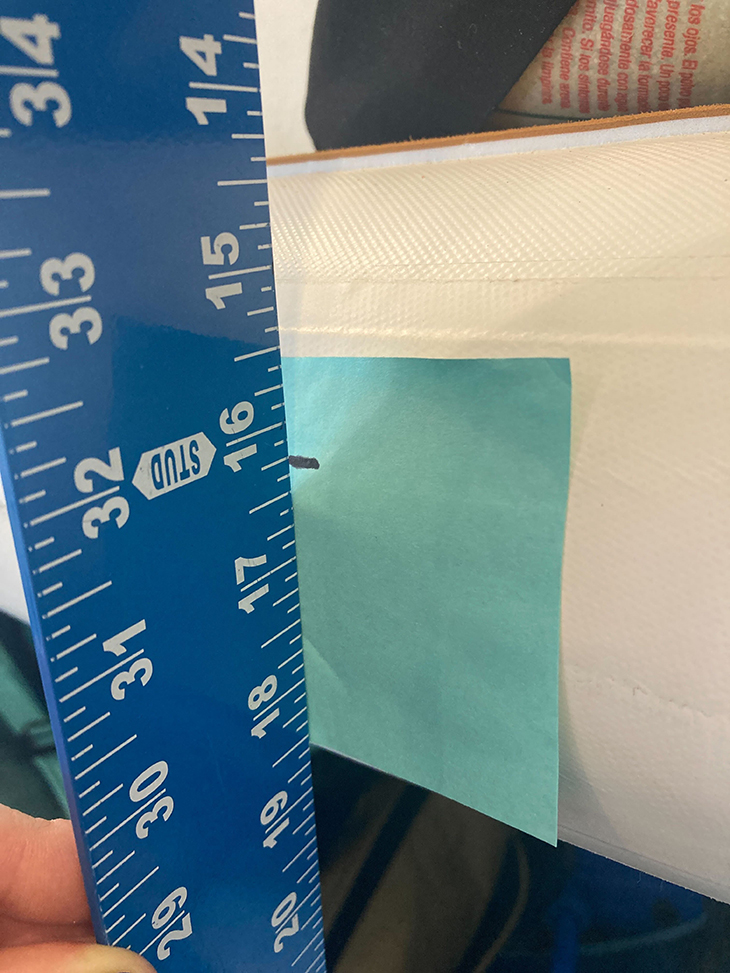 Stiffness Test: 1.1250" Bend
SUP Board Guide's Bend Testing:
In order to attest to the rigidity of each board, we use a bend test curated by Supboardguide. In order to obtain the results, we inflate the board to its maximum recommended PSI and then place it across two sawhorses that are 7 feet apart. We then take a measurement in the middle of the board. Then, we place 150 lbs worth of sandbags on the middle top of the SUP. Last, we record its displacement (the movement from its original position). We use this method for every board we test as a way to mathematically compare boards across a common denominator.
The Yachtsman bent just over an inch, which we consider to be a great score. Since this board has the same construction as the 10'4 Mermaid, which bends the same, we are not surprised with this result and are satisfied with its rigidity for being a board that has a recommended maximum capacity of 12 PSI.
We are checking with Tower to see what their max recommended PSI is, as the language on their site says it's been tested to 20 PSI, but that you only need to pump to 10-12 PSI for optimal performance. We disagree, especially for larger paddlers and think the performance would improve if you were able to pump to 15-20 PSI. Once we have heard back from Tower on what the max recommended/safe PSI is, we will update our bend test and the review.
Features/Accessory Review: [8/10]
Features: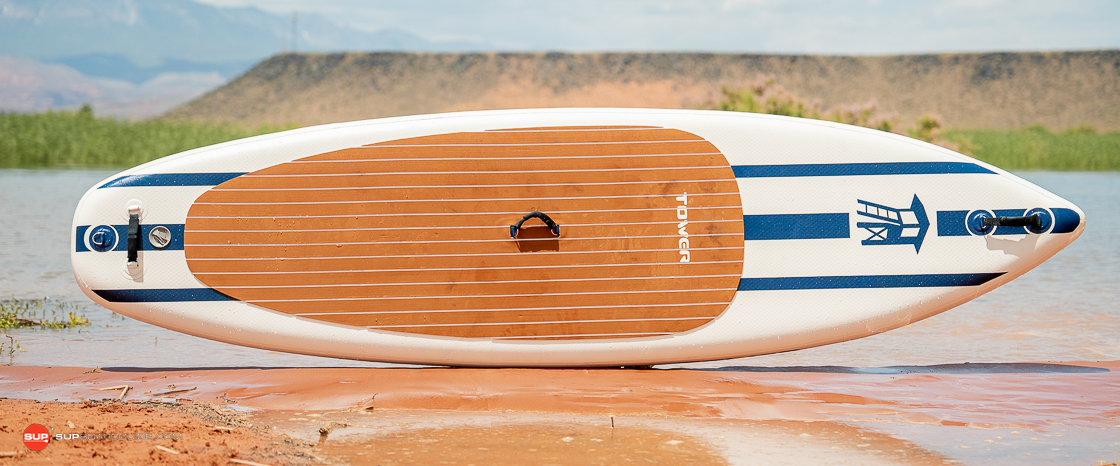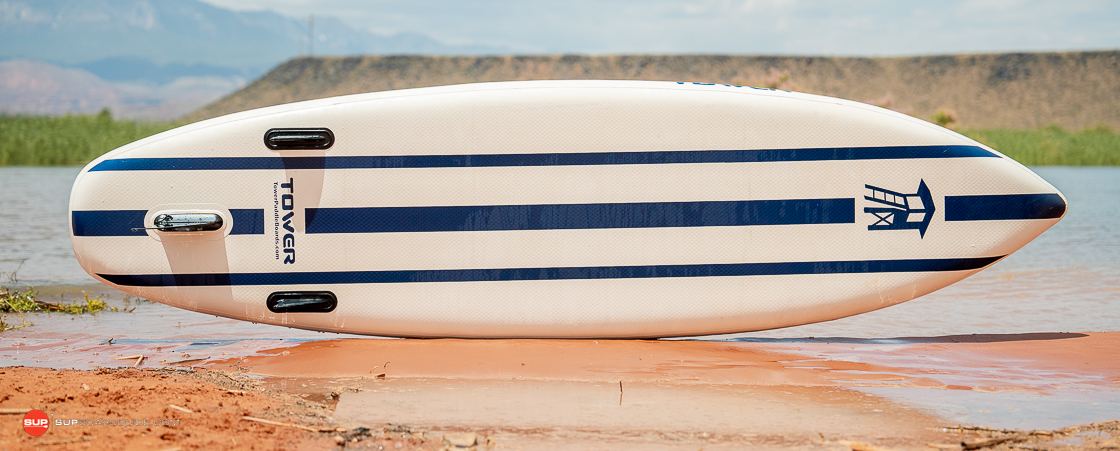 This section of the Tower 10'4 Yachtsman review is inevitably small. There are no features on the deck of this board, except for the handsome deck pad, which is comfortable and offers great traction for your feet. It differs from the other 10'4 Tower boards in that it is a teak design, with elongated grooves rather than diamond cuts.
As advertised by Tower, this is a SUP designed to pair well with a boat, hence the name The Yachtsman. We agree with this in terms of its style and name – the teak deck pad does indeed pair well with a Yacht– but we do wish that there was at least one cargo space so you can carry cargo from the shore to your boat and vice versa. There is a D-ring on the underscore of the nose, which is meant for towing. The only other features are the carrying handles on the tail, in the middle, and the nose which are all neoprene-wrapped for comfort and traction.
Included Accessories: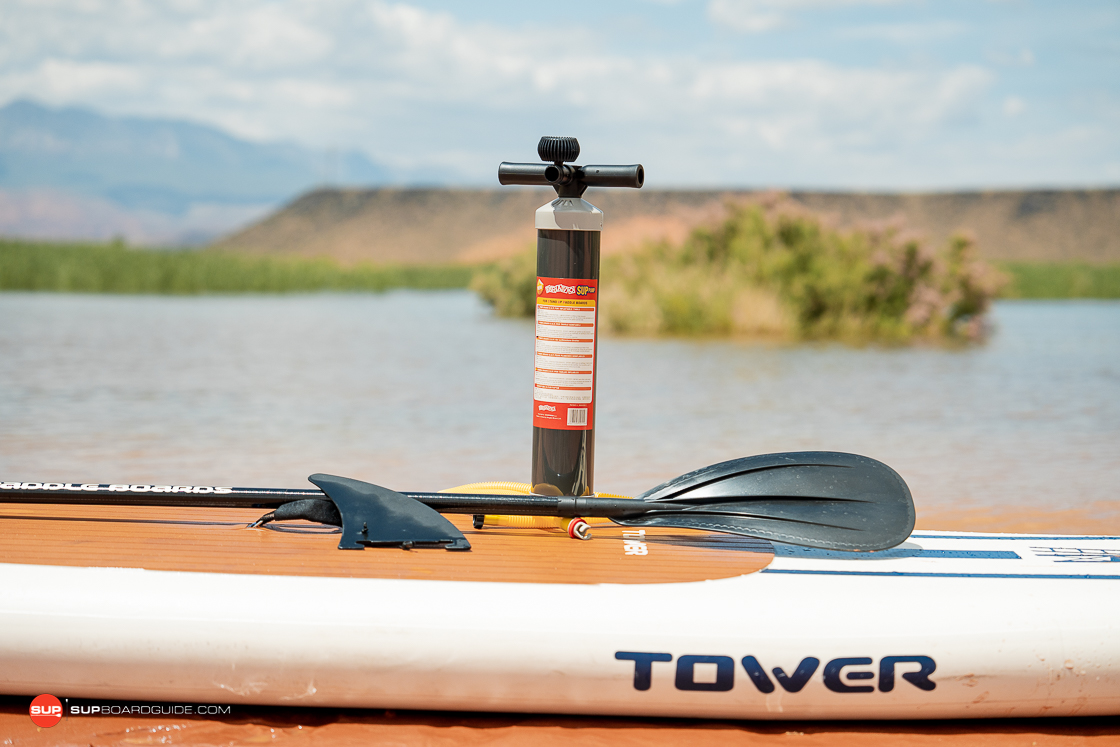 You can either purchase this iSUP as a stand-alone board, or as a package that comes included with a 3-piece adjustable fiberglass paddle, the single center fin, a repair kit, and a hand pump. For $699, we see this as a great package deal. However, we would very much like to see Tower include a leash with the package since it's a vital component of SUP safety.
For novice paddlers and for people who just want to have fun, you will be satisfied with the paddle. However, it's a basic paddle meant for beginner paddlers, so it will flex and potentially break if you put too much weight on it too often.
Summary Review of the Tower 10'4'' Yachtsman – 2023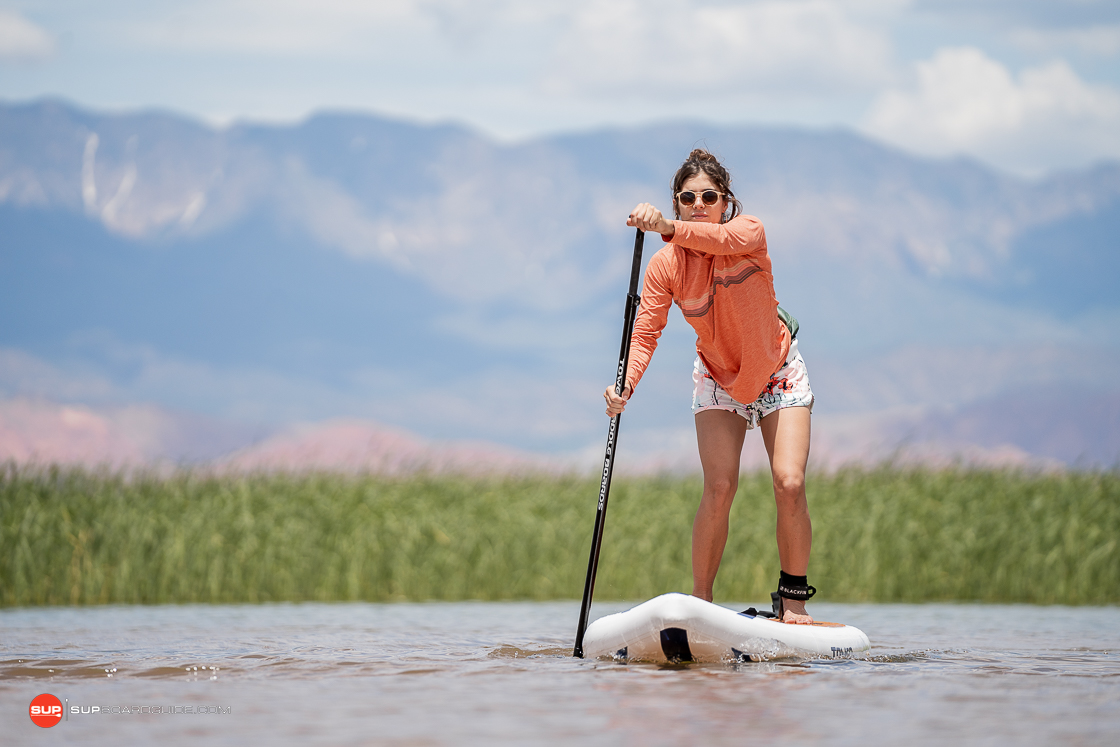 As a team, we find this SUP to be the best looking out of all of the Tower 10'4 boards. What can we say? We are big fans of the teak deck pad, giving the board a truly 'yachty' look (side note: it's marketed as a board that would go well with a yacht…but other than the tow ring on the bottom of the board we aren't quite sure why as we think a board that someone wants to take out on a boat would do better with a front bungee area for storage).
It's a good all-arounder for small to average-sized paddlers. It's an agile board that's easy to steer, and it's fun to take out even in windy conditions since it has a touring-style nose and can cut through chop more easily. We'd feel more at ease recommending it to taller/larger people if it were about 8 inches longer, and we'd like to see Tower design an all-around board around 11'.
Happy paddling! We hope you enjoyed this review of the Tower 104' Yachtsman. If you have any questions or comments please leave us a comment below!
The following two tabs change content below.
Latest posts by Laura Coor (see all)