Nautical Go Cruiser iSUP Review
Pros
Good quality SUP from a recognized brand with good customer service
Super stable, beginner-friendly board particularly suited to larger paddlers
Very affordable
Very lightweight at just 20 lbs
Convenient tethered-lock fin system
Clean look with a comfortable deck pad and an action mount on the tail
4 different paddle options upon checkout
Nice board shape that you don't generally find with cheaper SUPs
Cons
Less rigid and durable than the iRocker and Blackfin lines (to be expected given the price of the board and single layer construction)
Fairly small deck pad for a non-compact SUP
The kit doesn't come with a bag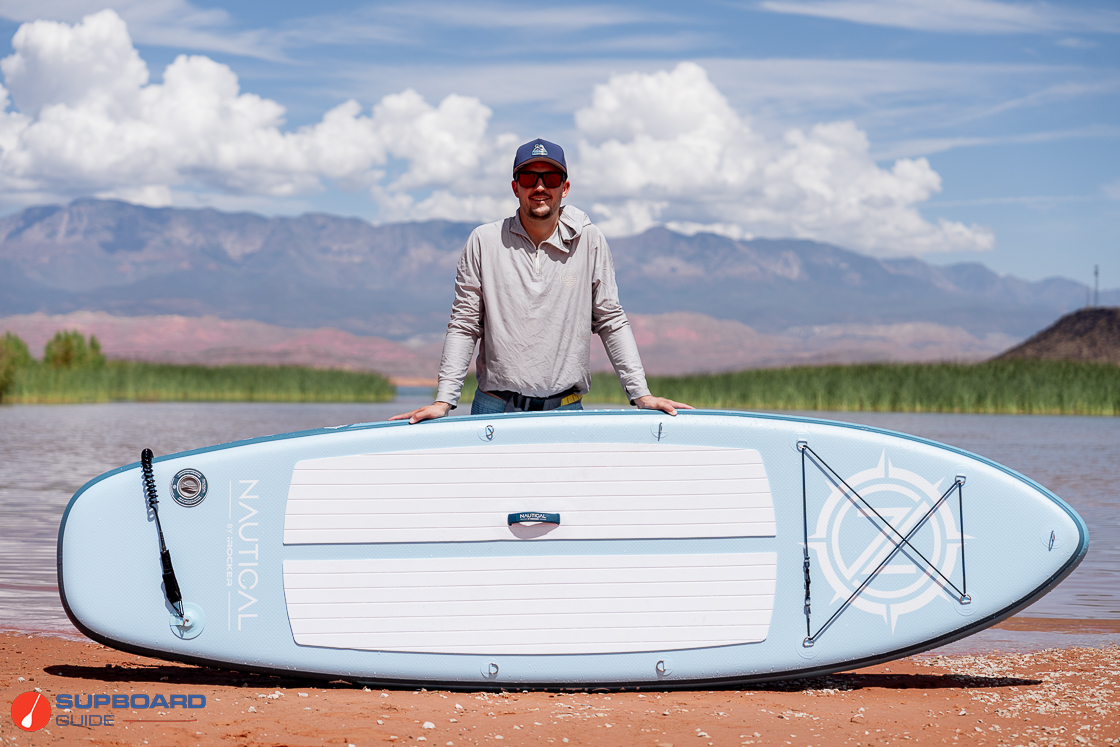 The Nautical Go Cruiser is a great family-friendly SUP for cruising and mini adventures. Its affordability and generally upbeat performance more than makes up for the lower scores inevitable in a few areas due to the less expensive construction. iRocker (the parent company of Nautical) are clearly targeting this board at first time SUP buyers for whom budget is the overriding factor, and we think they've done a great job in producing this very recommendable board.
In this review, we will discuss both the technical specs of the Nautical Go Cruiser and what we found in our day-to-day testing. So with that, let's dive in!
We think the Nautical Go Cruiser would be a great SUP for paddlers who:
Are looking for an affordable, all-around style SUP
Want stability to be the main focus of the board
Like a lightweight design for easy transportation
Don't need a ton of extra 'frills' on deck – this board has one small cargo bungee area and that's it
Nautical Go Cruiser: Spec Sheet

Main Category: All-Around
Board Dimensions: 10'6 x 34 x 6
Listed Board Weight: 20 lbs
Listed Max Capacity: 275 lbs
Recommended PSI: 12- 16
Fins: Tethered flip lock twin-fins
Paddle: Choose your paddle required at purchase
Materials: Single-layer PVC
Warranty: 1 -3 years
Performance Review of the Nautical Go Cruiser Stand-Up Paddle Board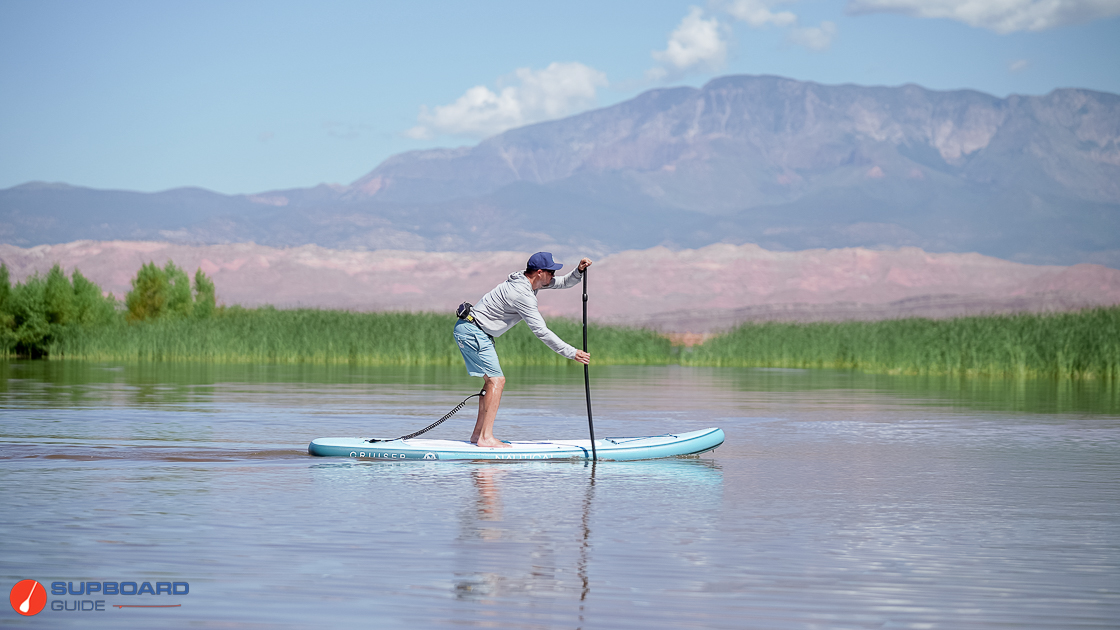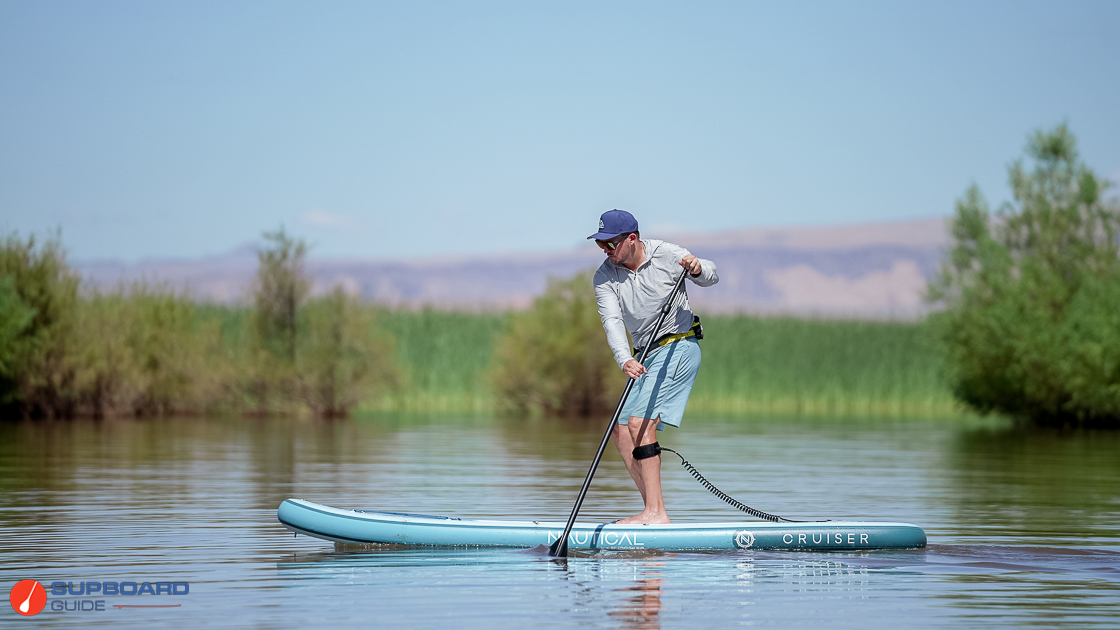 Overall Score: [8.4/10]
Stability: 9.1/10
Speed: 8.5/10
Tracking: 8.6/10
Maneuverability: 8.6/10
Construction Quality: 8.1/10
Features/Accessories: 8.5/10
Stability Rating: [9.1/10]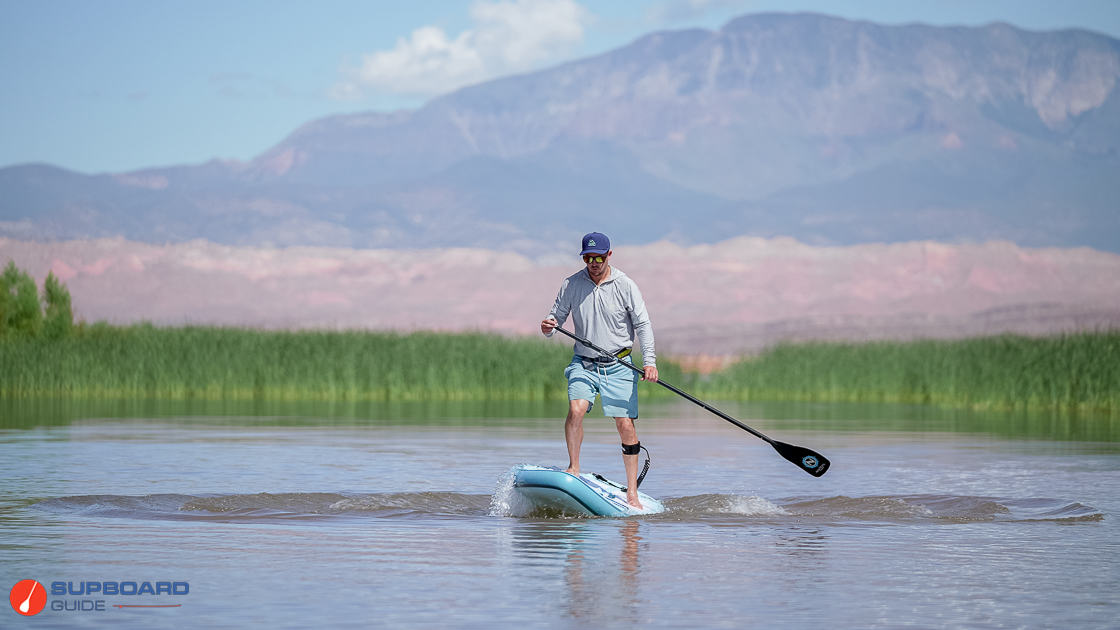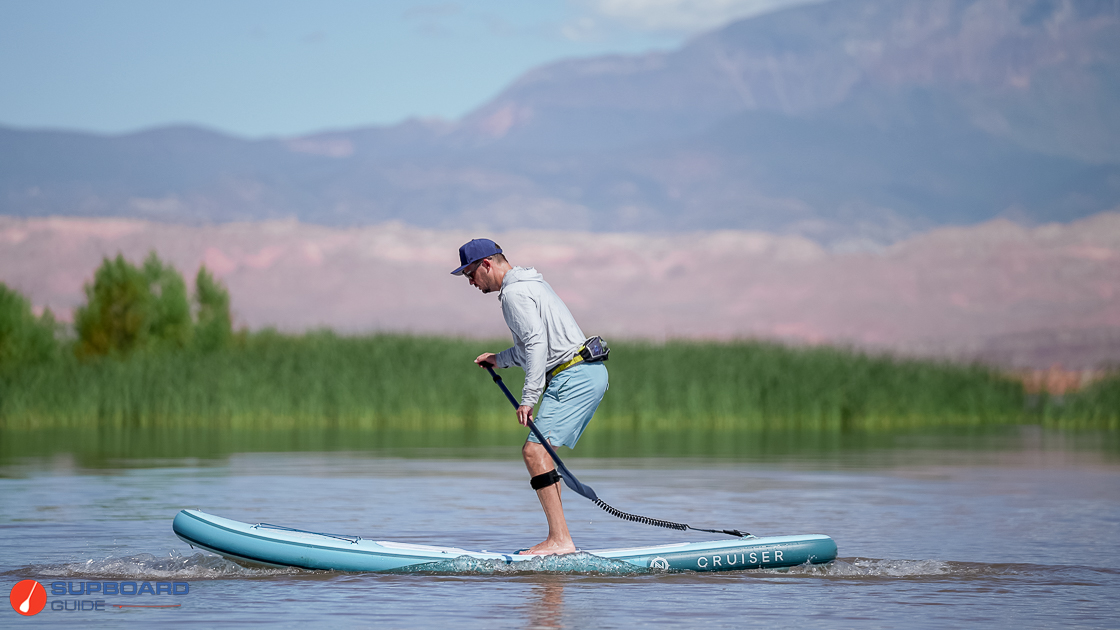 The Nautical Go Cruiser is 34" wide, which is about an inch more than the average for a general-purpose all-around board. It also has a noticeably wide square tail, and it maintains the wide plan shape a long way forward. All this width creates an extremely stable platform, indeed it would be a challenge to design any more stability into the planshape without dramatically reducing the other aspects of performance.
All this stability plus the wider-than-average width targets the board very clearly at the heavier/larger rider, or at a push, the average-weight rider just wanting maximum stability. A smaller beginner would find it fabulously stable for the very first steps, but soon grow out of it. (Too much width for your bodyweight just equates to drag).
The extra stability on offer would suit those wanting to carry a bit of extra cargo, such as a cooler or picnic. However, the relatively light construction of the board makes it less suitable for carrying dogs or potentially injurious activities such as fishing.
Speed Test: 8.5/10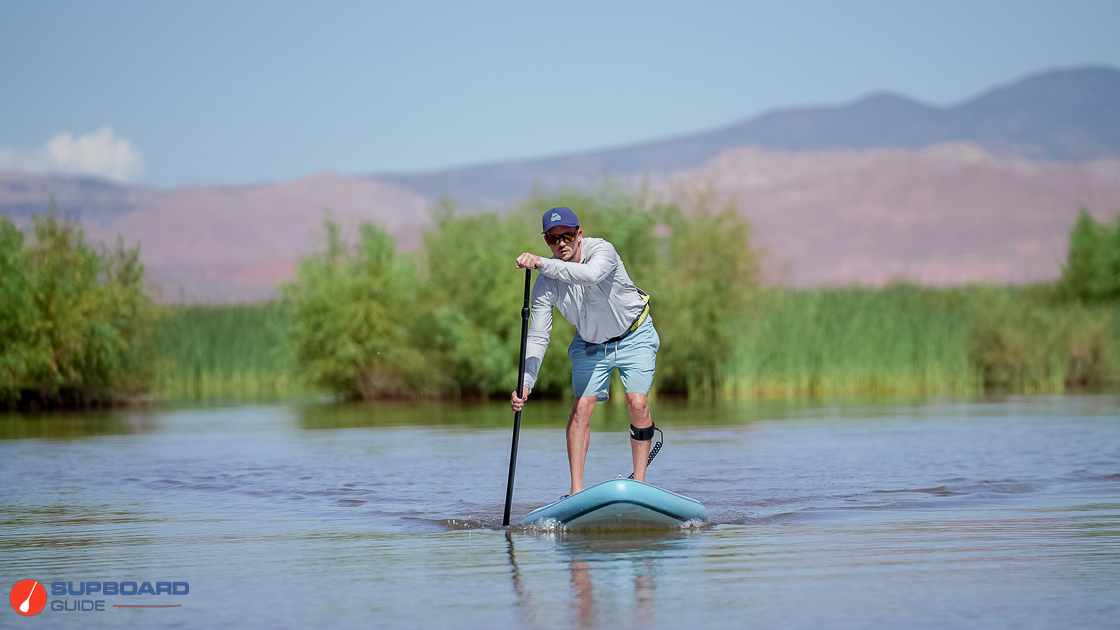 | | |
| --- | --- |
| Board | |
| Top Sprint Speed: | 3.9 MPH |
| Average Cruising Speed: | 5.0 MPH |
SUP Board Guide's Speed Testing:
To obtain our speed test results, we use a Speed Coach Sup 2. This gives us accurate readings on how fast we are paddling and our current stroke rates. For the top sprint speed, we paddle as hard as we can for approximately 10-15 seconds and then record our average speed. For the casual test, we paddle at 40-35 strokes per minute for approximately 30-60 seconds and record the average speed.
Despite being wider than average, the pointed nose and relatively parallel sides provide this board a respectable turn of speed. It would be even quicker if it were not for the relatively high degree of flex, which we'll discuss later in the Stiffness section. You could definitely feel the flex quite noticeably in the sprint test, and it also just puts the brakes on slightly when cruising. However, sprint performance isn't something you'd ever be buying a board like this for, and its cruising speed is more than proficient for the general purpose paddling the board will be used for, so we are happy with this board's speed scores overall.
Tracking: 8.6/10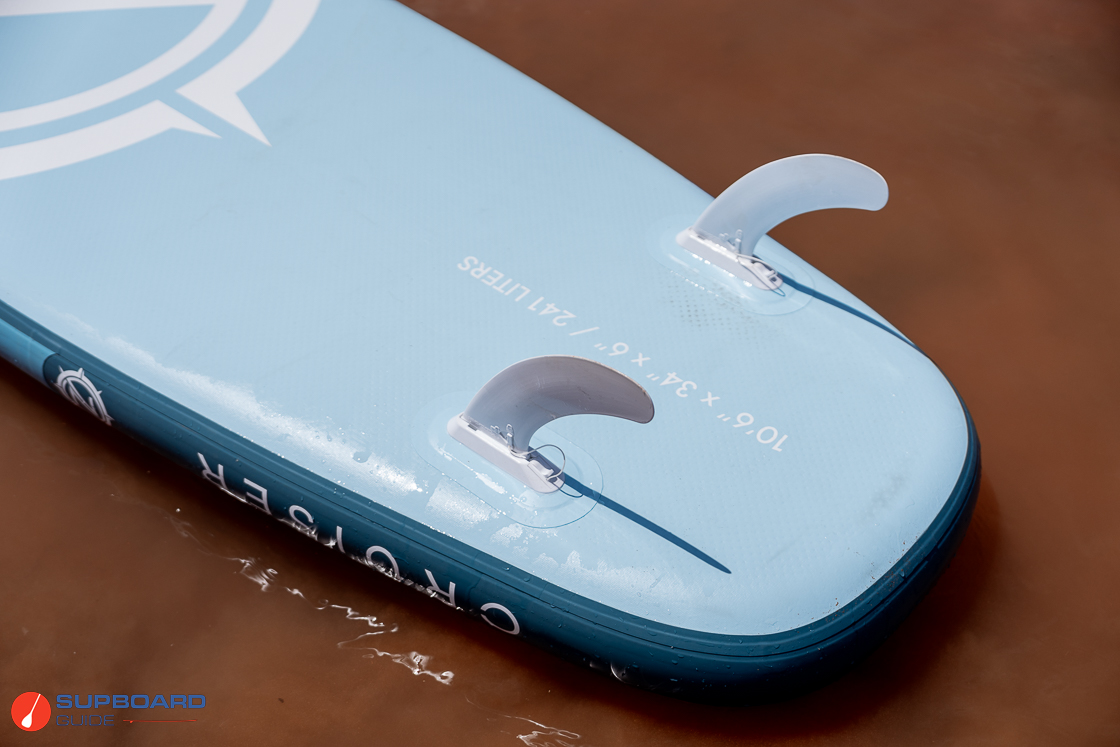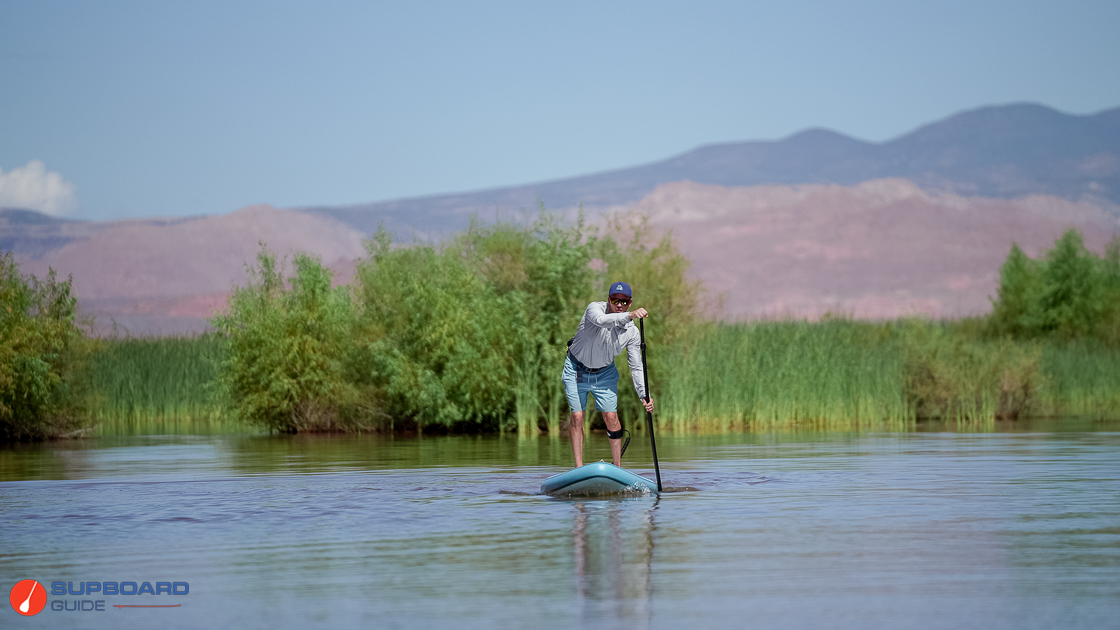 The tracking score is very respectable for a board of this length. Normally shorter boards track less well, but the straight-sided plan shape, and wide tail, coupled with the two long fins, come together to produce a board that tracks pretty well.
As you'll see in the photo, the 9" fins are 'skinnier' than your typical SUP fin, which aids the maneuverability without adversely affecting the tracking. We love the tethered-lock fin system; snapping them into place takes 5 seconds each (if that); very easy and appropriate for a super family-friendly SUP. The twin fins also seem a lot more sturdy than the more flexible fins that typically come with cheaper boards. If this was a board aimed at high performance, we would recommend that Nautical use a US fin box single-fin system to allow for a wider range of fin options, but that would add extra cost and complexity. Just be careful not to lose the fins, as you won't be able to get replacements from anywhere other than the iRocker website.
Maneuverability: 8.6/10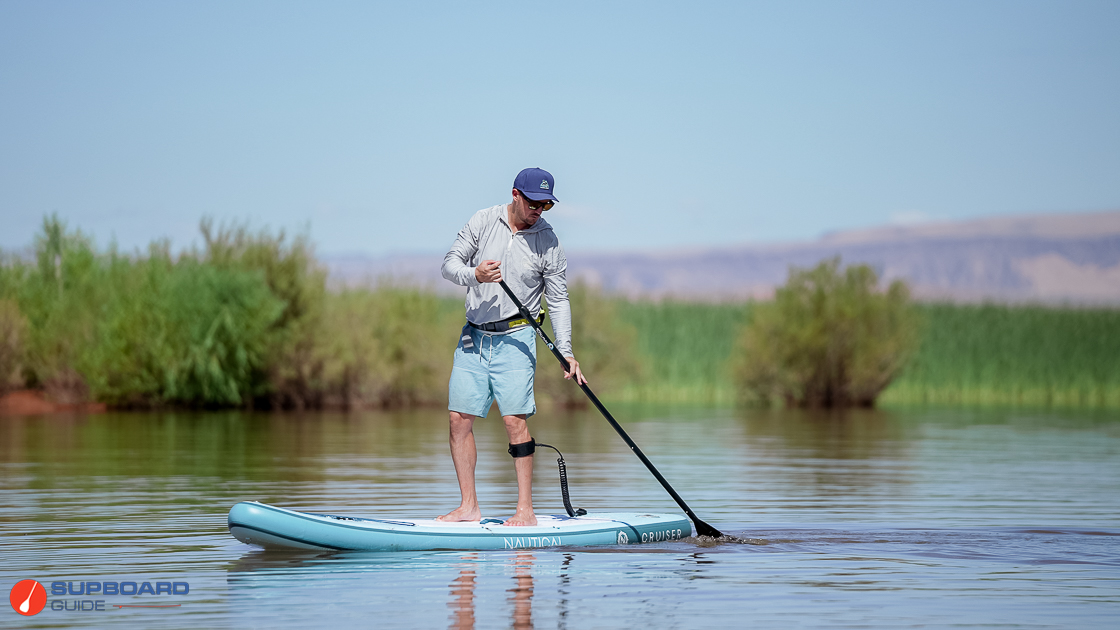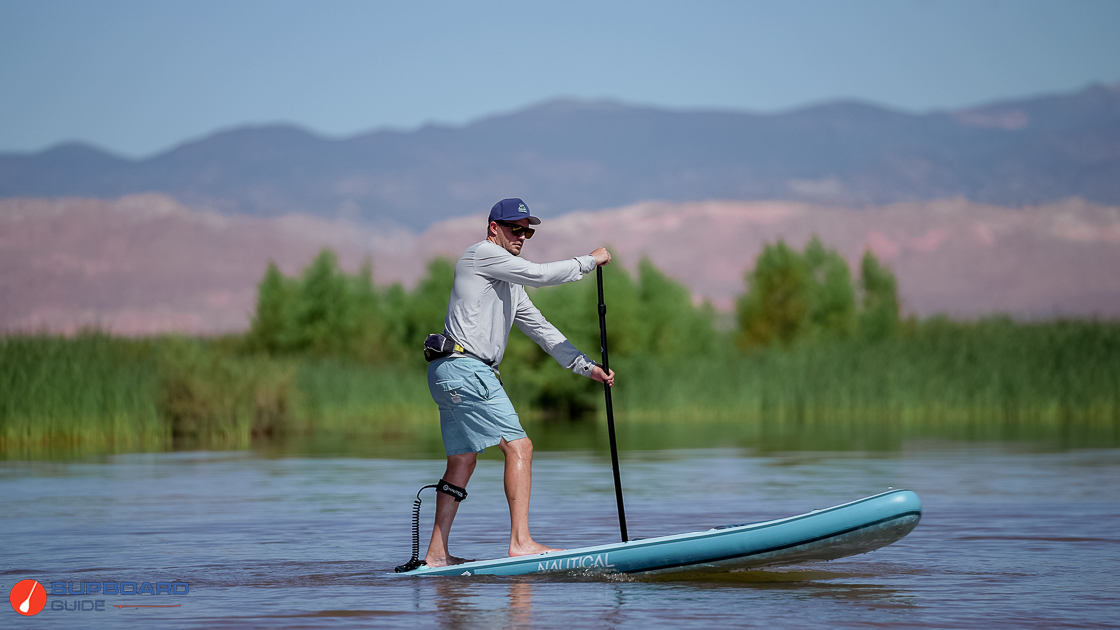 The board's plan shape, skinny fins and light weight allow it to maneuver with ease. It's easy to pop the nose out of the water for a step-back turn or get it to rotate by using turning strokes (such as reverse sweep strokes or big forward sweeps).
It only took us on average 3.5 reverse sweep strokes to turn the board in a full circle, which is a score that we'd typically describe as 'very maneuverable.'.
Construction Quality: 9.5/10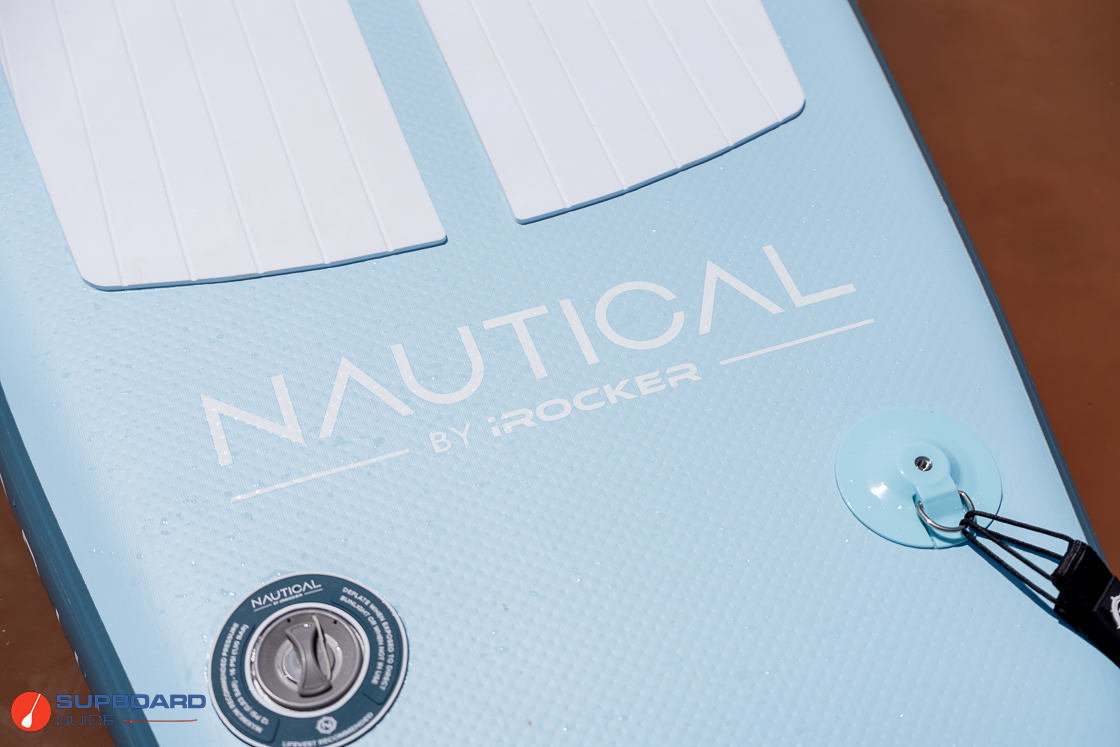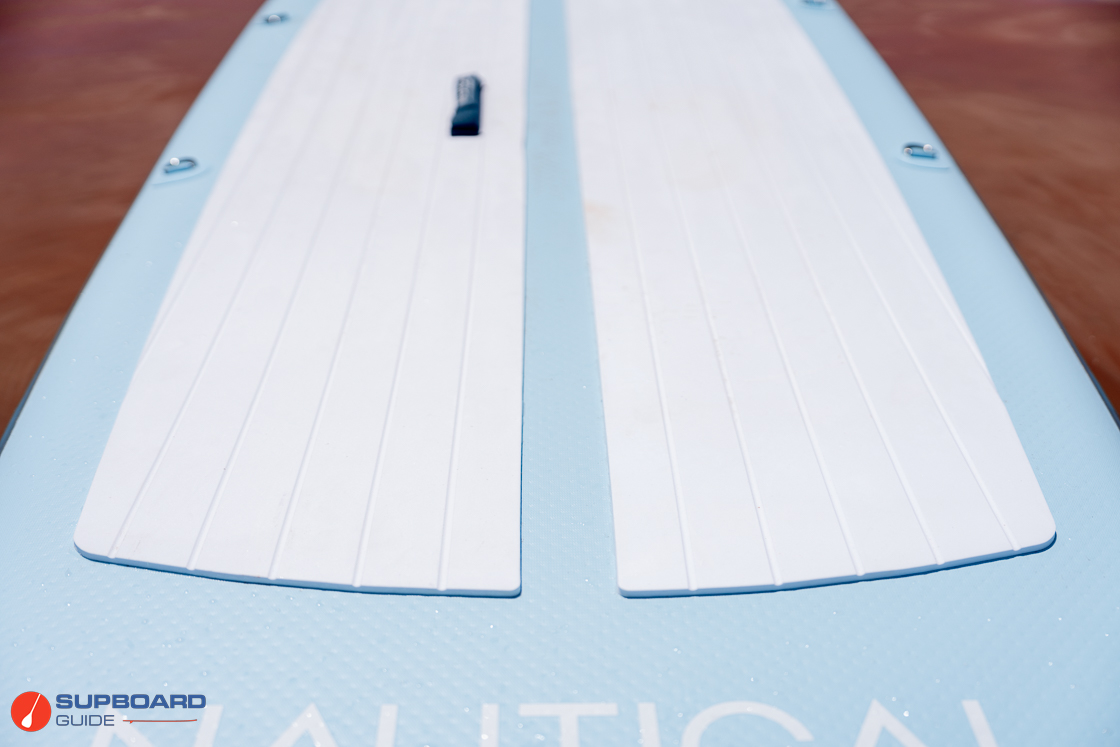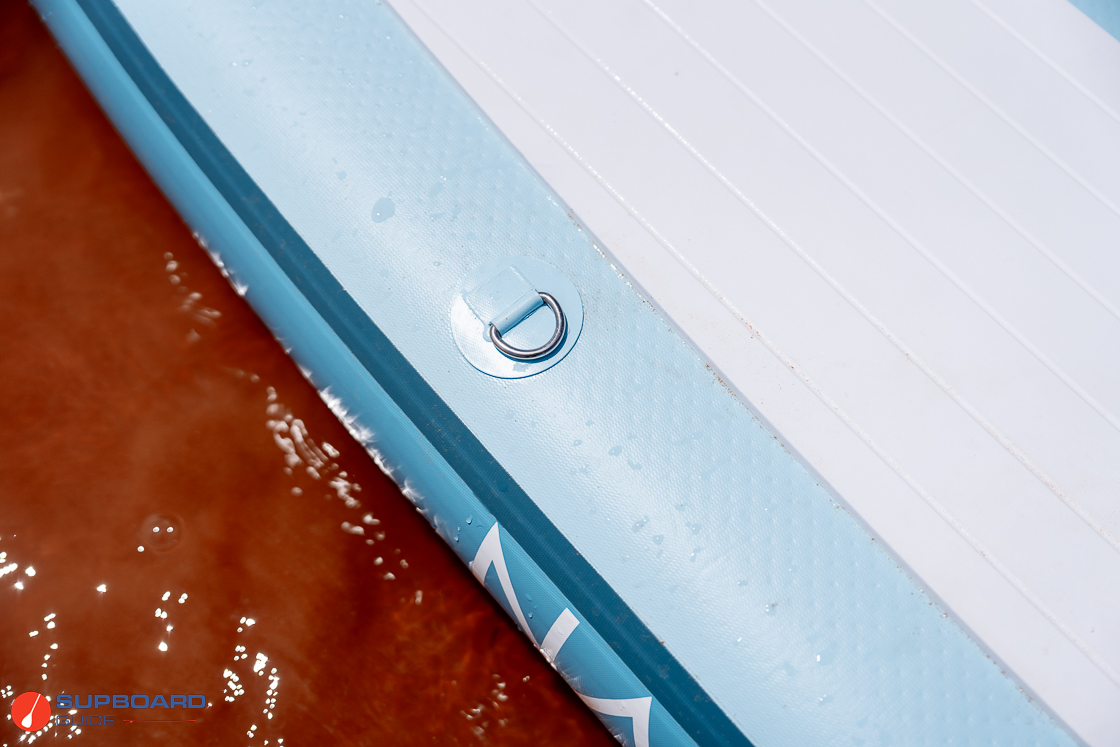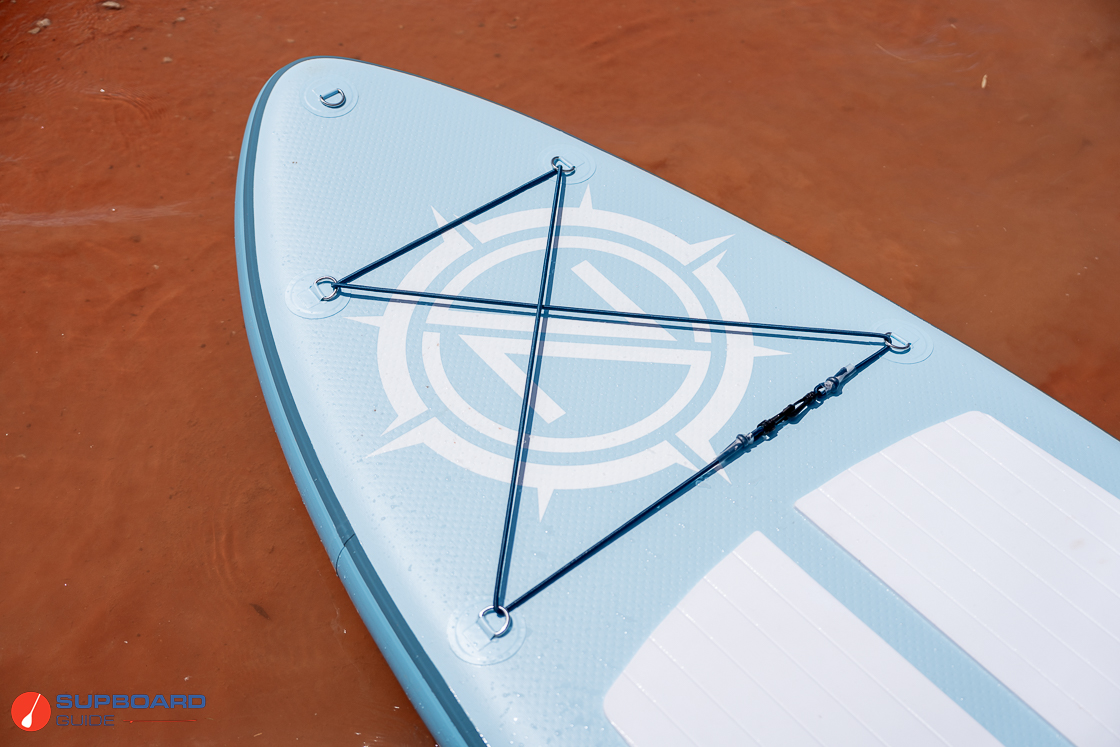 Nautical describes the board's composition as dual-layer PVC. However, we think it is actually a single skin of PVC, and the second layer they are referring to is the fabric base of the drop-stitch core, which is there on every board. So we would term it a single-layer construction. We cannot say this for certain without cutting the board open, but the bend test score and impressively light weight of the board are both consistent with single skin construction.
Inside the board, iRocker states that the fabric base layer is a knitted fabric and the drop-stitching is a standard V shape.
Board Stiffness: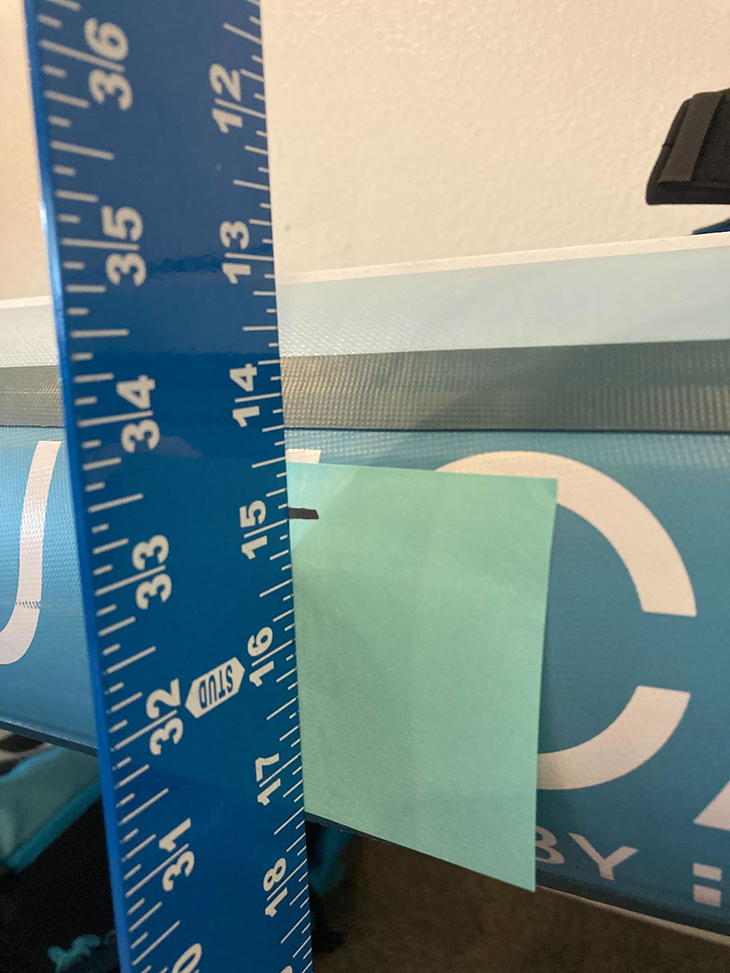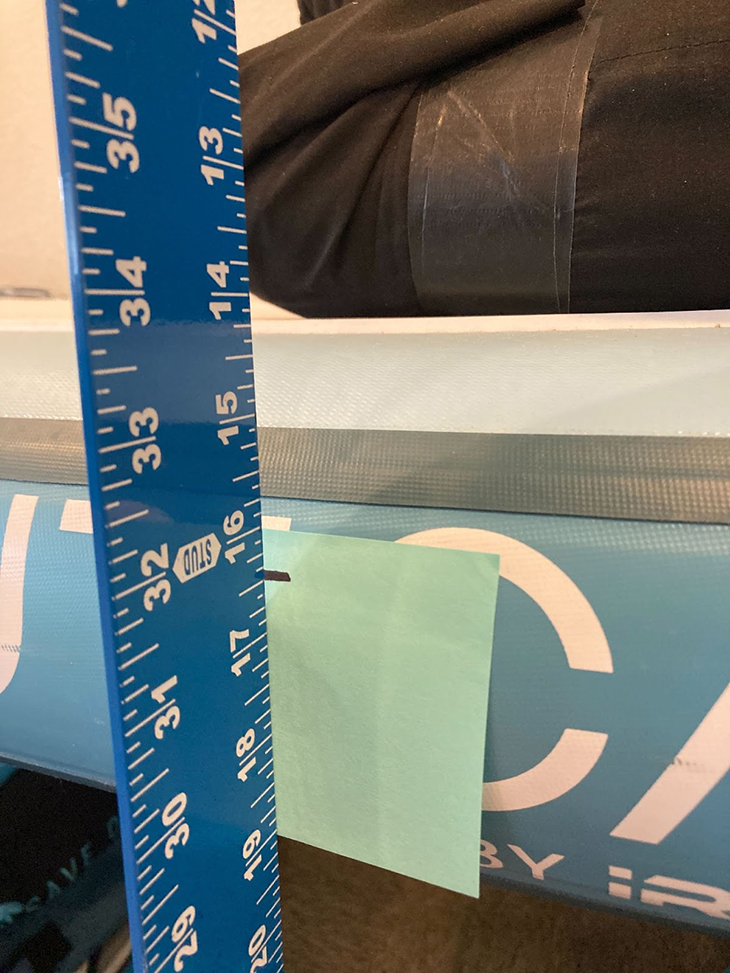 Stiffness Test: 1.43" Bend
SUP Board Guide's Bend Testing:
In order to attest to the rigidity of each board, we use a bend test curated by Supboardguide. In order to obtain the results, we inflate the board to its maximum recommended PSI and then place it across two sawhorses that are 7 feet apart. We then take a measurement in the middle of the board. Then, we place 150 lbs worth of sandbags on the middle top of the SUP. Last, we record its displacement (the movement from its original position). We use this method for every board we test as a way to mathematically compare boards across a common denominator.
This deflection score would not be impressive on a board with double-skin or fusion construction, but for a single skin board at this price point, it's actually really good. We regularly encounter single skin boards deflecting as much as 2 inches! The extra stiffness is coming from the wider plan shape, particularly in the tail area, and is more evidence of the cleverness of this design and quality of this package.
So all things considered, we are very pleased with this bend test result. While it isn't the most rigid board and does start to flex as you start paddling hard, it still performs better than we expected.
Features/Accessory Review: [8.5/10]
Features:


This board has a split deck pad, a small bungee cargo area on the nose of the board, an action mount on the tail, and D-rings spread throughout the deck. There is one D-ring on the nose, two on each side of the middle section, and one integrated into the rear action mount. The D-rings in the middle are aligned so you can attach a kayak seat if you want. iRocker just came out with a new inflatable kayak seat that is compatible with this design. We aren't certain why the deck pad is split, but either way, it's comfortable and provides great traction.
As already mentioned the 20lbs weight is extremely respectable for a board of this size; you can walk it down to the beach with feeling like your arm is going to come off. For carrying longer distances, Nautical sells neat straps to wrap around the board and then carry it like a purse. We think every board needs those….
While it isn't a SUP loaded up with action mounts or extra features, we do think it has just enough to be able to do almost everything you want, other than perhaps paddling long expeditions, which would require a bit more cargo carrying capability.
Included Accessories: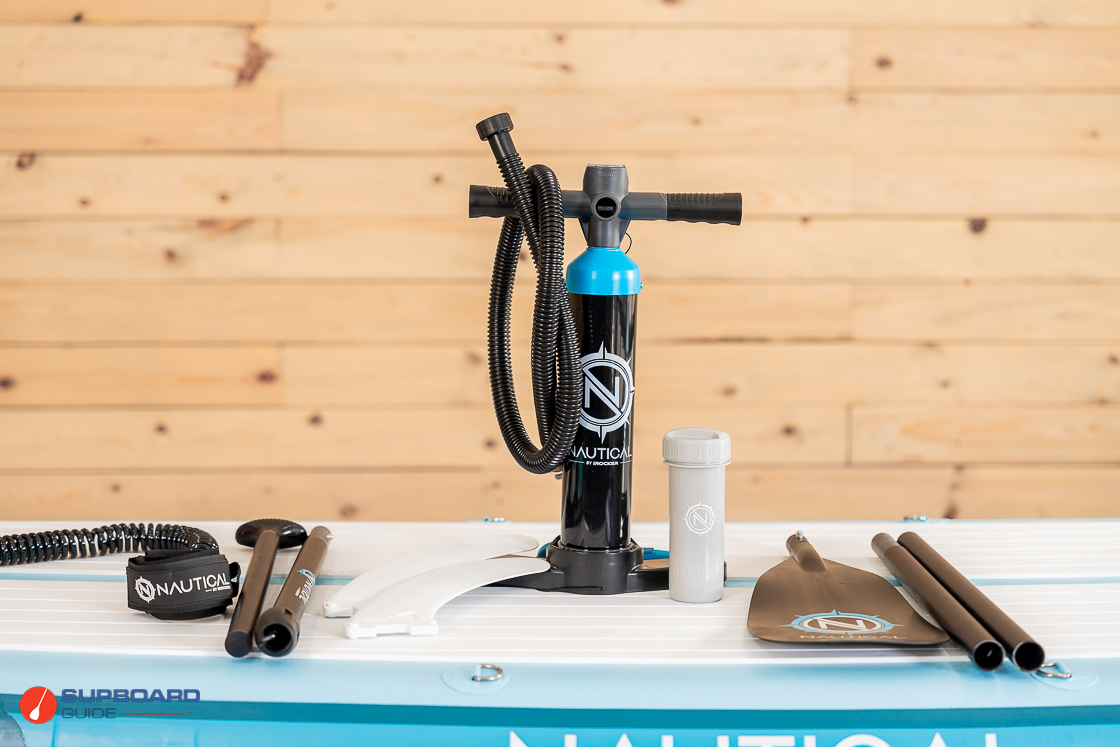 The board comes with a 10' straight leash with a key stash spot (awesome), the tethered flip lock fins, and one repair kit. You get to choose your SUP pump and paddle at checkout. We got the Nautical 5-piece fiberglass paddle and we really like it. Since it's 5-pieces and each piece is small and short, it makes the entire kit even more portable.
The kit does not come with a bag as standard. However, we found that we can roll up the pump, the 5-piece paddle, the repair kit, and the fins inside the deflated board and it works great. Just make sure to tuck the fins in the bungees or put them in your car so they don't fall out when you move the rolled-up board around. And if you decide to purchase the Universal paddle board carry strap, you can carry your rolled-up board like a purse, with all of the accessories inside!
Summary Review of the Nautical Go Cruise 2023
The 'bottom end' of the SUP market is filled with low-quality, low-priced inflatable paddleboards, which do not come from recognized brands, and are sold via discount or bulk purchase stores, or online via auction sites or Amazon. These boards are built to the cheapest possible specification, rarely last more than a season and deliver a very poor paddleboarding experience. Nevertheless, they sell because there are many consumers who are just looking for the most affordable option, or they aren't sure if they're going to like paddleboarding anyway and thus do not want to invest money on a first-time purchase. So, it's great to see a board like this Nautical Go Cruiser from a recognized paddleboard brand with a good reputation in design and construction and good customer service, at a price point that presents a realistic alternative to buying something of poor quality from Amazon or a discount store. Indeed, once the word spreads about this board, it might just be game over for all of the others!
For around $300 dollars you get a 20lb beginner-friendly SUP that has a sleek, clean finish and performs nicely in its role. More importantly, it offers excellent stability for a board of this size. All too many of the low-cost paddleboards tend to fall short in this department, resulting in the rider resorting to 'sit-down-paddling' rather than 'stand-up-paddling'. That won't be an issue with this board.
To keep things in perspective, the lower-cost construction can be felt in the extra flex in the board, and upgrading to a board in the iRocker range or even the Blackfin line-up will deliver more performance, more durability and more fixings and fittings. Nevertheless, we have absolutely no hesitation in recommending this board to the casual paddler on a very tight budget.
Happy paddling! We hope you enjoyed this review of the Nautical Go Cruiser. If you have any questions or comments please leave us a comment below!
The following two tabs change content below.
SupBoardGuide
Heyo! At SupBoardGuide.com we are a team who love the water, the outdoors, and are more than grateful that our full-time job allows us to review stand up paddle boards. We paddle year round (it helps that we are just about 2 hours outside of Las Vegas), and we bring in a wide range of paddlers with the goal of providing our readers with the best, most in-depth, and accurate stand up paddle board reviews.
Latest posts by SupBoardGuide (see all)