Glide Lotus O2 iSUP Review
Pros
Ideal for yogis thanks to Glide building the middle section of the board with a completely flat rocker to mimic a yoga mat on solid ground. Boards with a ton of rocker can feel as if you are doing yoga on a curved surface.
Beautiful, bright graphics that add positive energy to the board to increase enthusiasm to start stretching (or hanging out in Savasana if you prefer).
Exceptionally stable board that is great for keeping your balance as you hold your yoga poses!
Strong and rigid with a smooth ride. The dual-layer PVC and welded rails are fused with an ultrasonic welder so there is precision and strength in the construction process that enhances durability and performance.
Decent family or dog board given its 35'' width, full-length deck pad, and 400 lb weight capacity.
Cons
I love the tip-to-tail deck pad, but since there are no cuts or grooves, water droplets tend to pool on the top of the board.
We would like to see a larger bungee area up front with removable bungees.
It may be thin and lightweight but its performance is top-notch – so much so that we are surprised by the boards lower-than-expected price tag.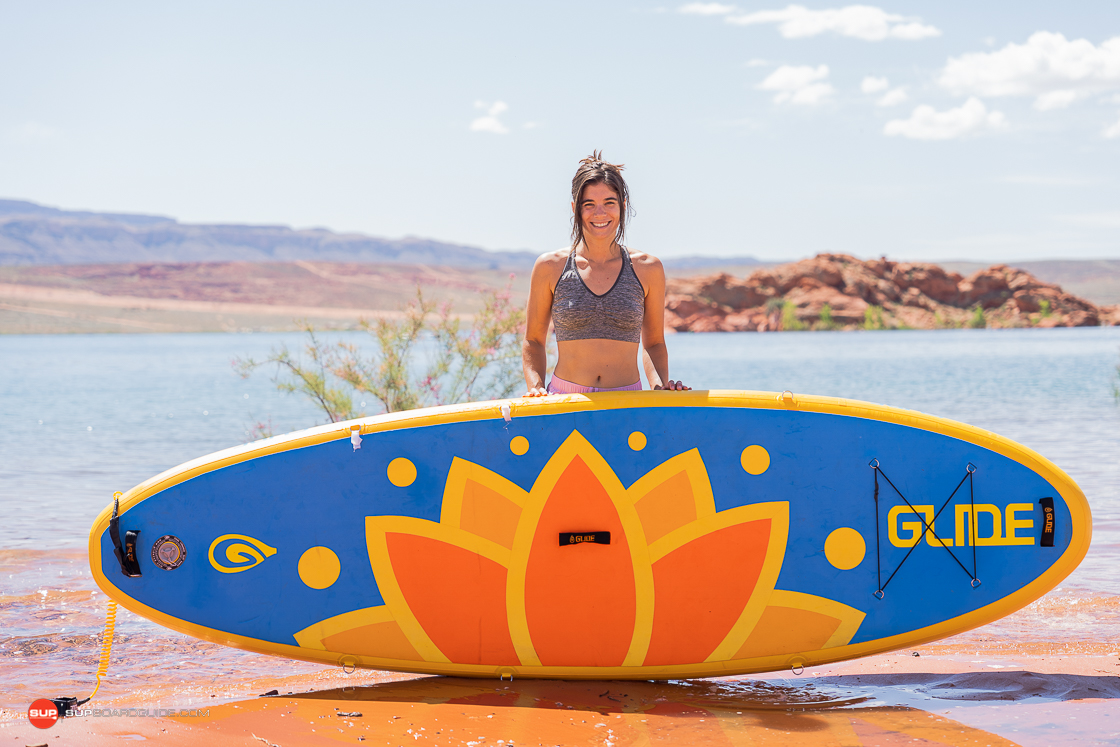 Relax. Rejuvenate. Unwind.
Those are the first three words that come to mind after spending time reviewing the Glide Lotus O2 inflatable paddle board.
Stable. Durable. Thoughtfully designed.
Those are the next words that come to mind.
The Glide Lotus iSUP is a high-quality and high-performing Yoga board that has both a precise construction process and an aesthetic that embraces vitality. This means it performs great on the water for yogis and everybody else alike, plus, it's brightly colored, comfortable, and features a large yellow Lotus flower that sweeps across the deck pad. And because it is carefully constructed, it is an easy-to-handle (and roll-up) board that has a great glide on the water.
So if you're ready to move your yoga practice from land to water, this Glide Lotus O2 review just may be the sign you have been waiting for. However, if you aren't necessarily a yogi but are looking for a super wide and colorful SUP that is extra stable and roomy enough to stretch out on with a few bodies on board (furry friends or a child), then the Glide Lotus O2 will also work for you!
While I personally love to use this board for yoga, I also used it to go for a nice mellow cruise around the lake. I found it to perform quite well across all of its core capabilities that we test (speed, maneuvering, trackability, etc).
Before this introduction turns into more than that, let's dive in.
We think the Glide Lotus 02 would be a great SUP for paddlers who:
Practice yoga daily and want a reliable, stable yoga SUP
Want a wide SUP with a high weight capacity to accommodate multiple people or pets
Simply like to cruise around and love the look of the Lotus flower
Glide Lotus O2: Spec Sheet

Main Category: Yoga
Board Dimensions: 10'x35x6
Listed Board Weight: 25 lbs
Listed Max Capacity: 400 lb
Recommended PSI: 18
Fins: Single dolphin-style fin
Paddle: 3 piece adjustable paddle
Materials: PVC fusion
Warranty: Limited lifetime
Performance Review of the Glide Lotus O2 Stand Up Paddle Board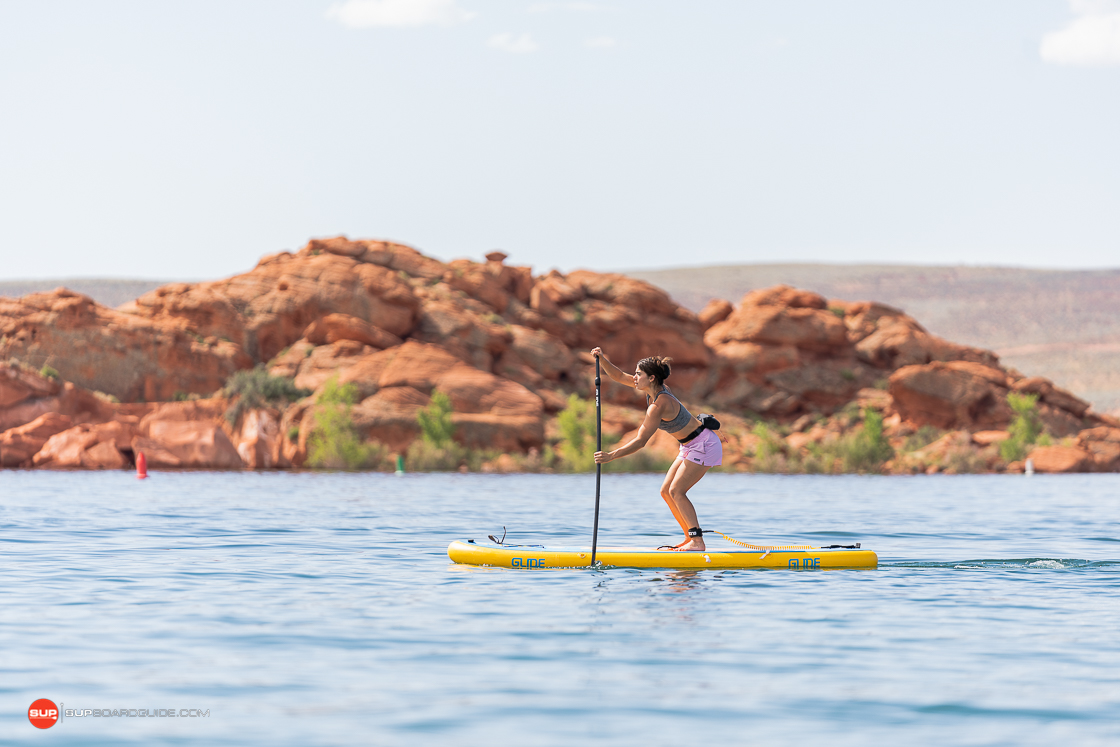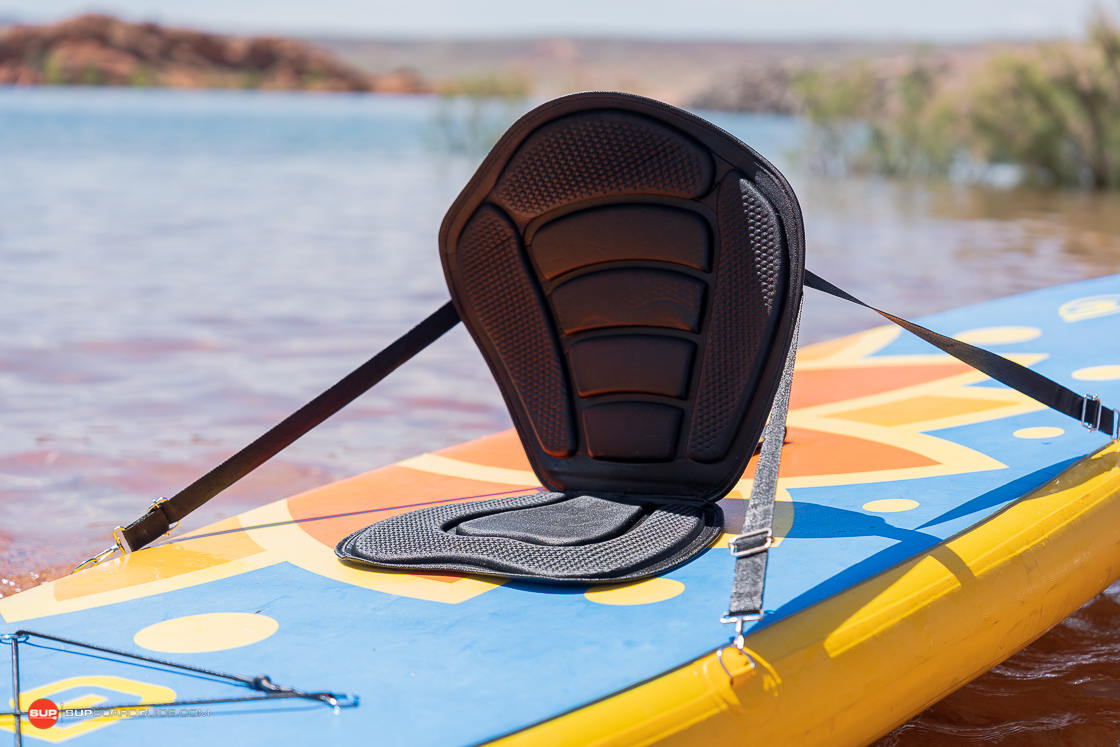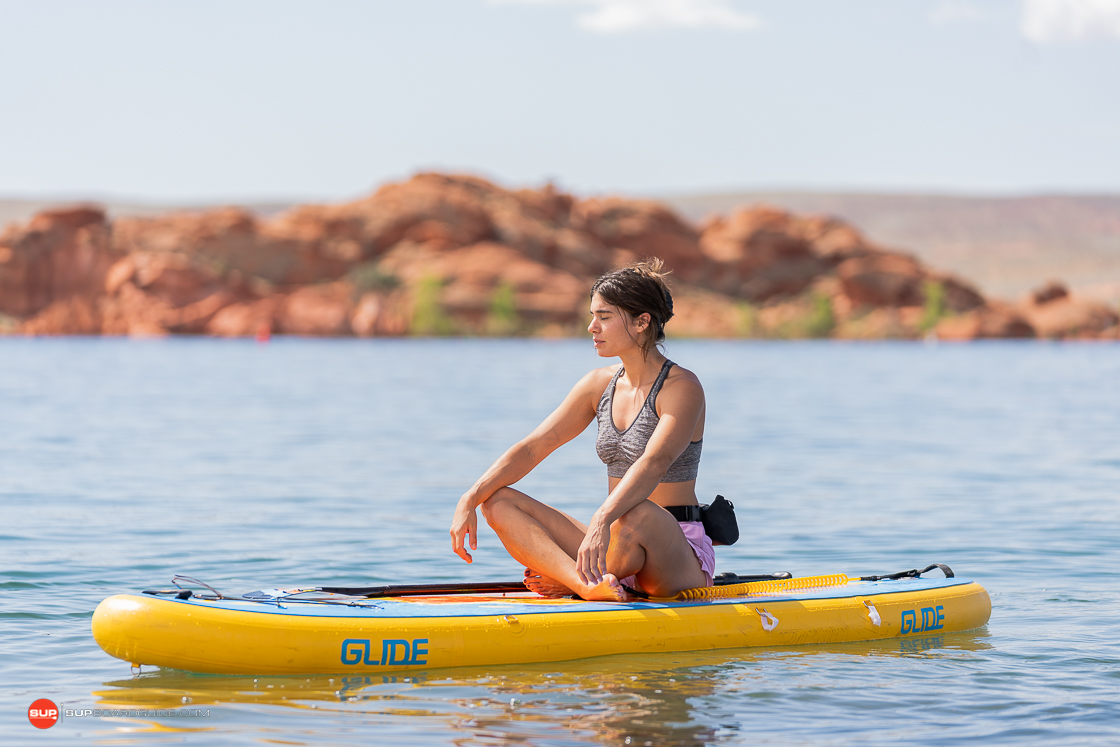 Overall Score: [9.4/10]
Stability: 9.8/10
Speed: 8.5/10
Tracking: 8.5/10
Maneuverability: 9.1/10
Construction Quality: 9.7/10
Features/Accessories: 8.8/10
Stability Rating: [9.8/10]
As a 10' x 35'' board, the Glide Lotus O2 is exceptionally stable. While 35'' broad boards are frequently seen when a brand is aiming for stability, it's not very often that we see it being paired with only 10' in length. For clarity's sake: 10' is a relatively short SUP. While it's true that a shorter board can offer less stability for taller people, it's important to note that the extra width aims to balance this out. And keep in mind, a majority of yoga poses use more than two grounded limbs, or are done sitting on the board, so your center of gravity becomes lower and more condensed which is naturally more stable than a standing position.
However, there are those poses that are one-legged or even upside down! So while those might be a challenge (whether you are tall or not!), the 35'' width is really going to help with that. Also, if you look at the pictures, you'll notice that the nose of the board only slightly tapers and is rounded. And as for the tail, it also slightly tapers but it comes together in an ever-so-slightly squared-off shape. The slight amount of tapering + a round nose + a square tail = the optimal shape and design when trying to maximize stability.
It also has a high carrying capacity of 400 lbs, so if you're not up for yoga but are up for taking your dog or child out with you, go on ahead. It's wide enough for multiple people at once, which also helps it stay stable when everybody is on for a ride!
Speed Test: 8.5/10
| | |
| --- | --- |
| Top Sprint Speed: | 5.15 MPH |
| Average Cruising Speed: | 4.1 MPH |
SUP Board Guide's Speed Testing:
To obtain our speed test results, we use a Speed Coach Sup 2. This gives us accurate readings on how fast we are paddling and our current stroke rates. For the top sprint speed, we paddle as hard as we can for approximately 10-15 seconds and then record our average speed. For the casual test, we paddle at 40-35 strokes per minute for approximately 30-60 seconds and record the average speed.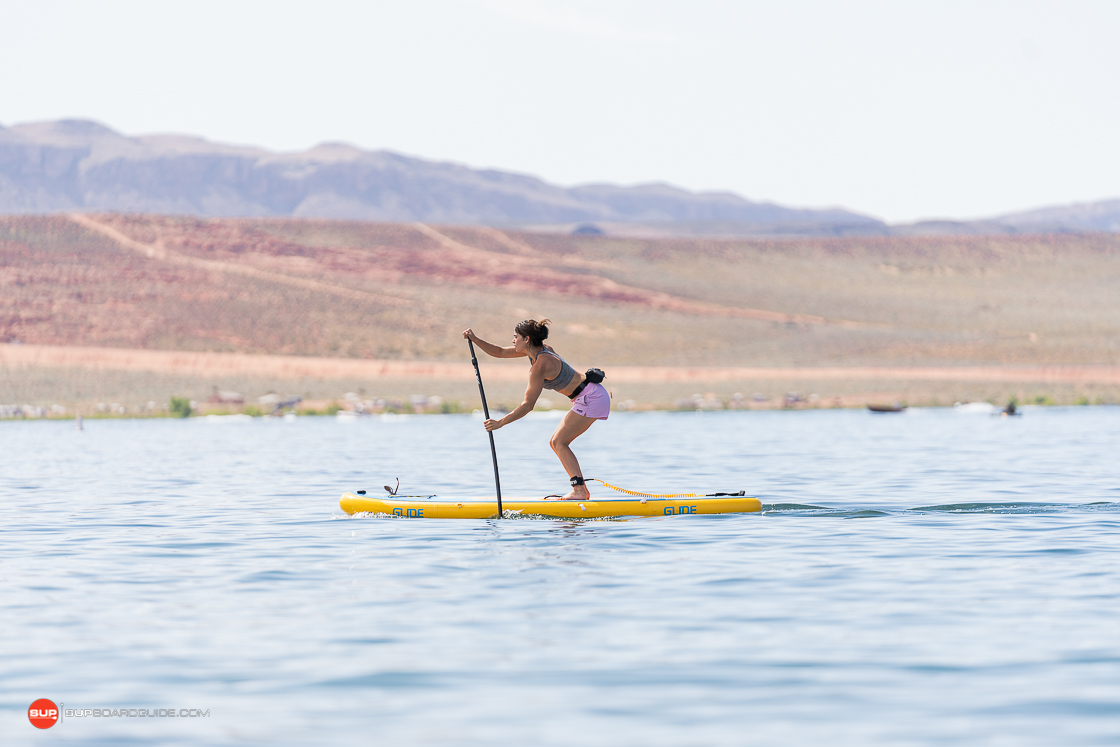 We didn't have very high expectations in this category considering the Glide Lotus O2 is short and wide with a rounded tail meant for yoga. However, as a team, we were very impressed with the 4.1 MPH cruising speed. It is fast enough to casually paddle without feeling burdened, which is a characteristic that we value because it makes it more enticing to find the perfect spot to anchor in for your practice. If it's a sunny day and the shady spot is across the way, this board will get you there in decent time.
Tracking: 8.5/10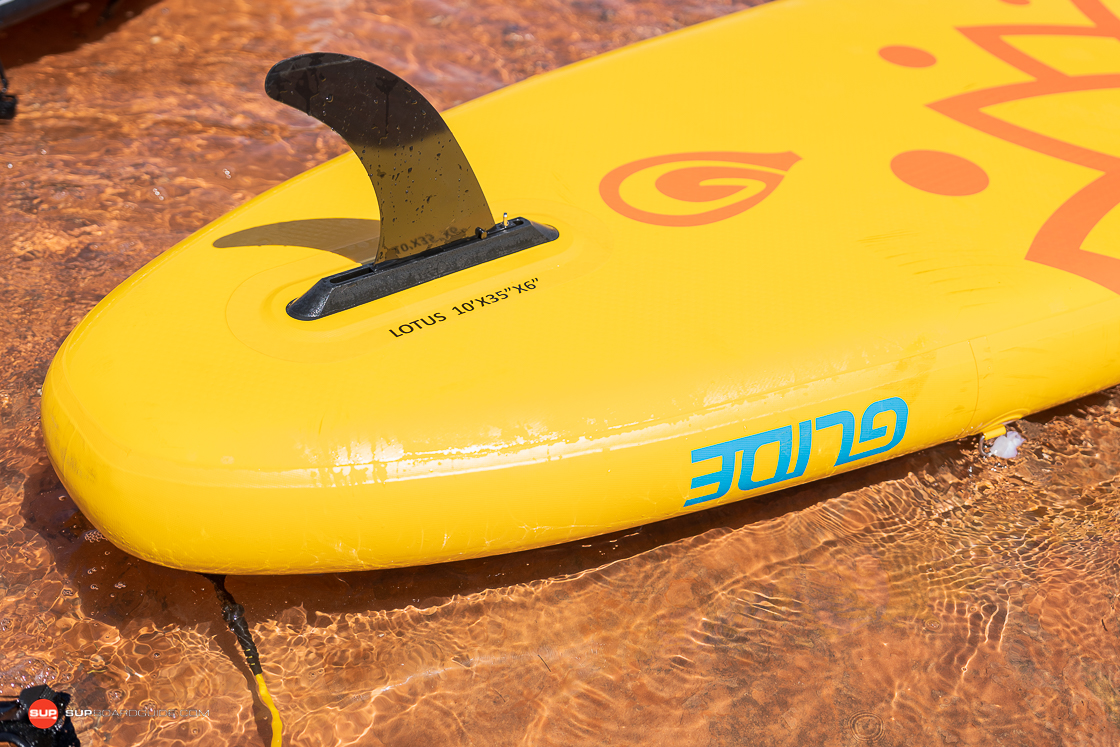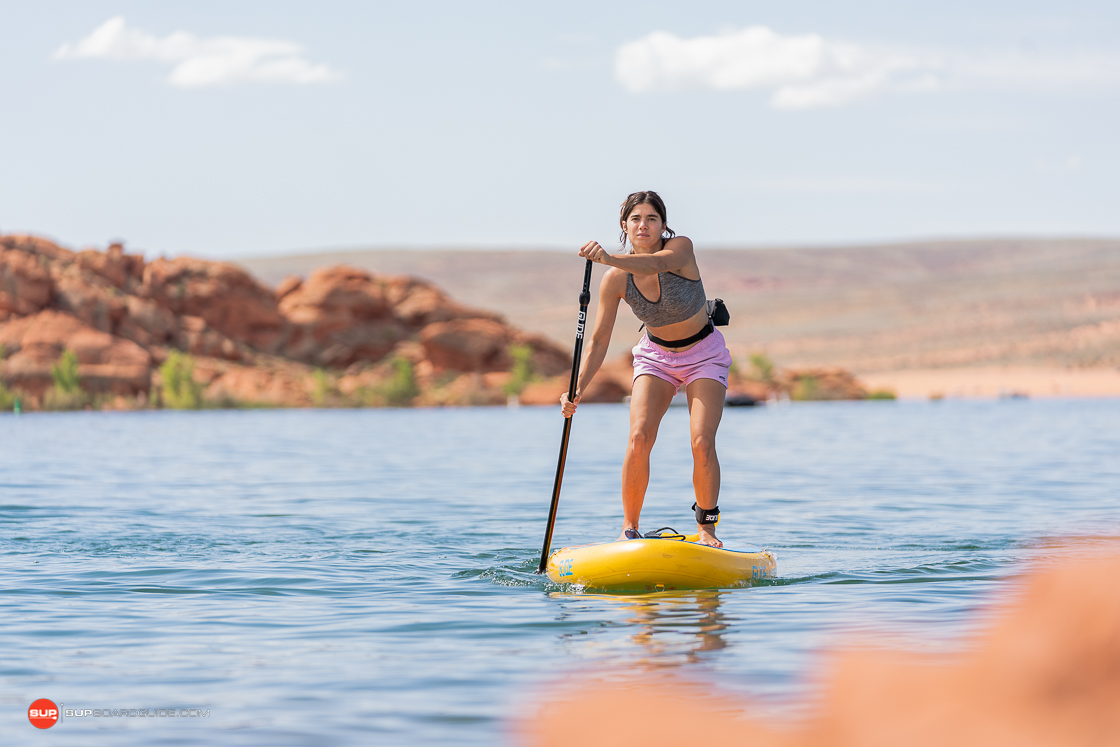 For a very short and wide board, the Glide O2 Lotus tracks better than we expected. It has a well-made dolphin fin that digs into the water and helps keep the board in a generally straight line as you paddle. I say generally because it is a yoga board and its wide and short dimensions are not the ideal build for precisely straight lines.
When I tested this SUP, I paddled out fairly far to find a more secluded spot to practice yoga. On this longer paddle I noticed that while I had to switch paddling sides more than I would on a touring SUP, the Glide Lotus tracked better than expected. I still felt very comfortable paddling, and while it didn't feel like a long skinny board where I could move far fast, it felt more like an all-around SUP than a SUP solely designed for yoga.
Maneuverability: 9.1/10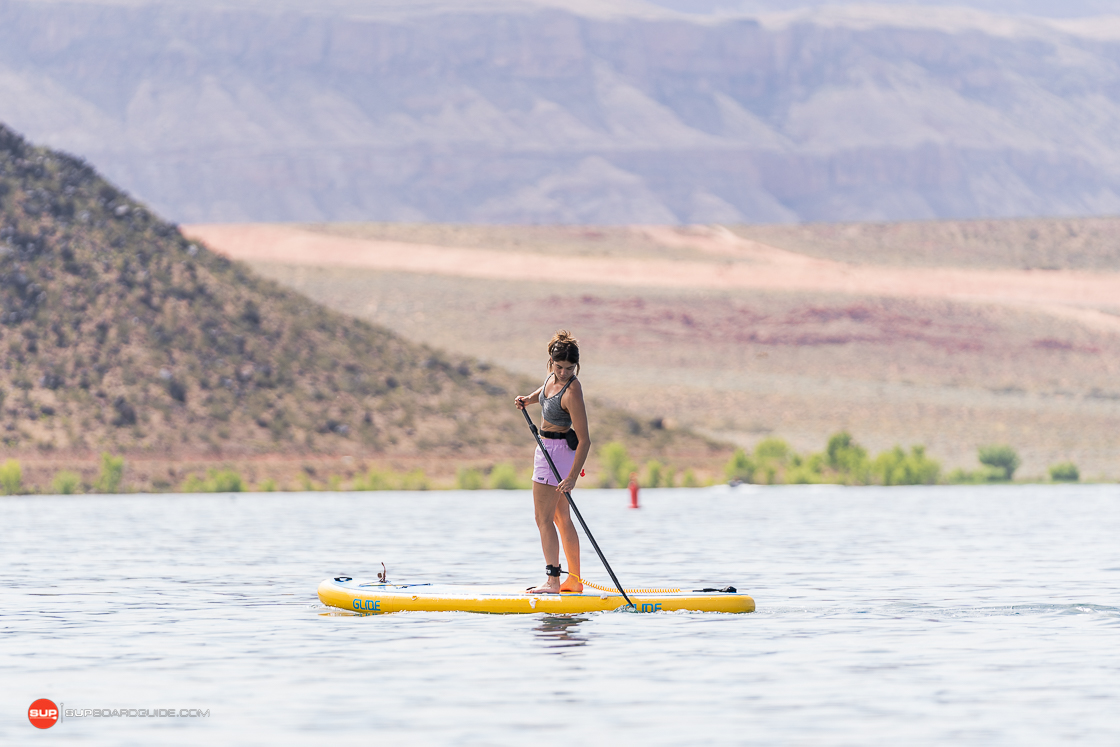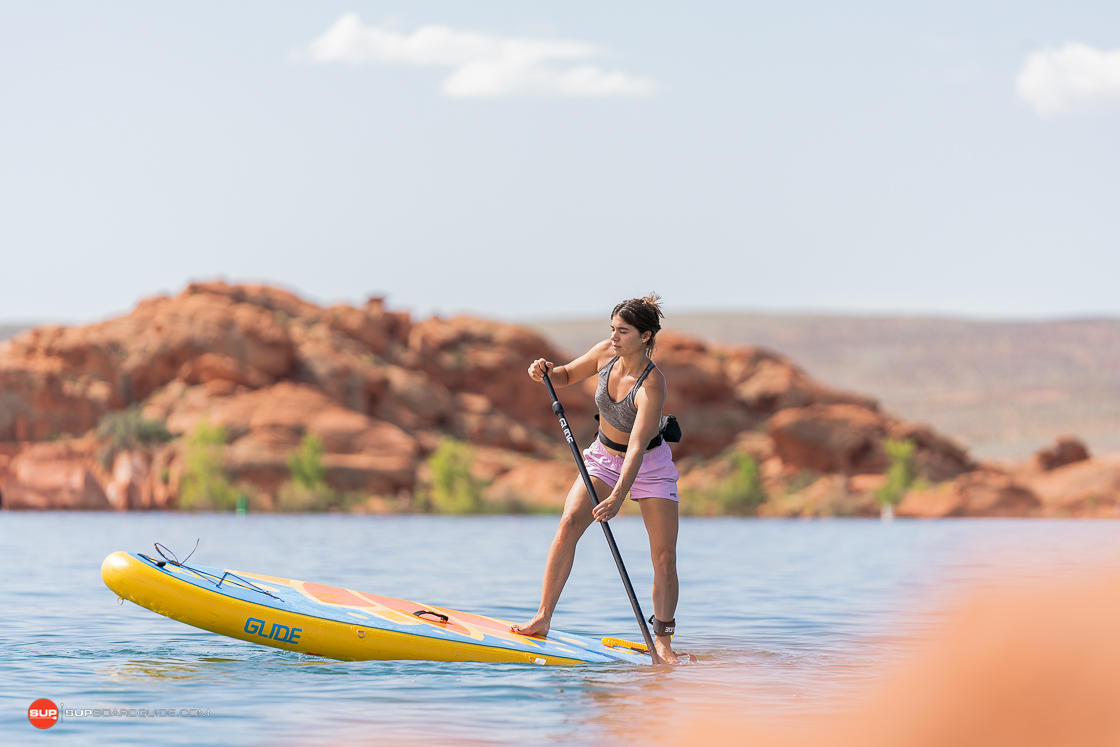 The Glide Lotus O2 maneuvers very well, which is to be expected because it's a short and wide board and doesn't necessarily excel in trackability. In general, we find that boards that aren't built for straight tracking have higher maneuverability and vice versa. The Glide Lotus O2 only took 4 back sweeps to turn a full 360 degrees. And as for step-back turns, it was easy to sink the tail and use forward sweeps to move in a circle. The shortness of the board makes step-back turns manageable, so if you're a beginner, this is a great board for trying them out.
Also, step-back turns can be easily performed because it is a board with a great combination of maneuverability and stability. Its shorter length makes it maneuverable and its 35'' width makes it super stable, so when you lift the nose out of the air and start to turn the board you have a good chance of staying dry! I like this about this board and think it's a fun combo for shorter yogis.
Construction Quality: 9.7/10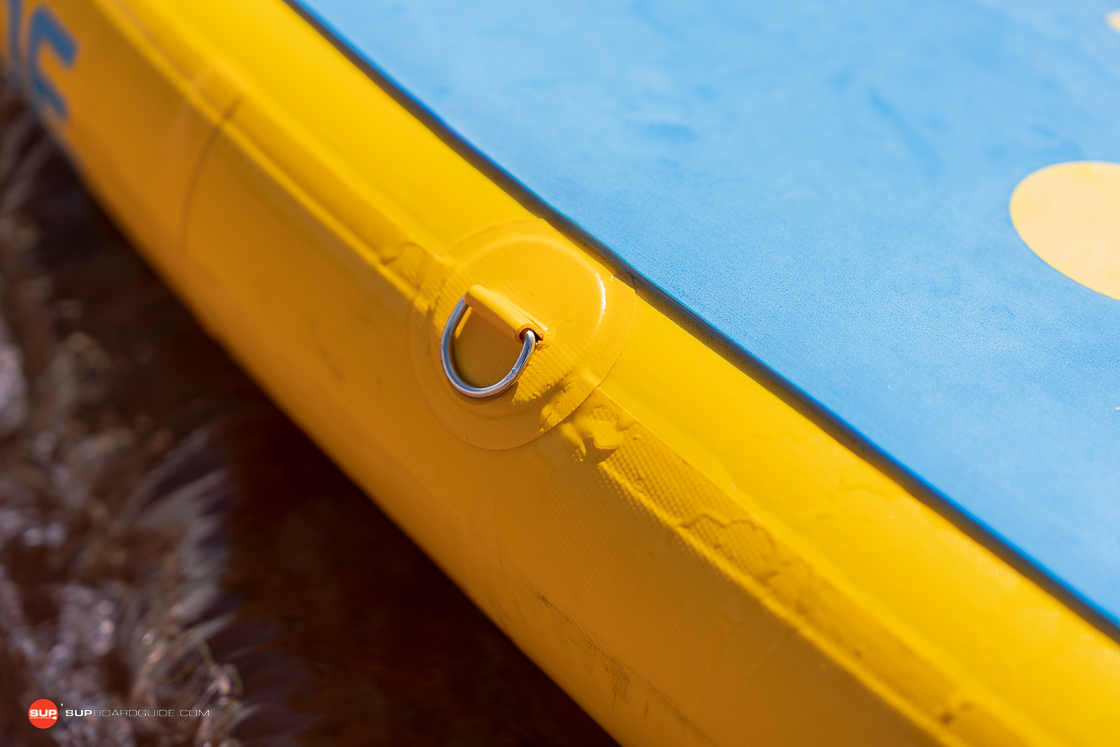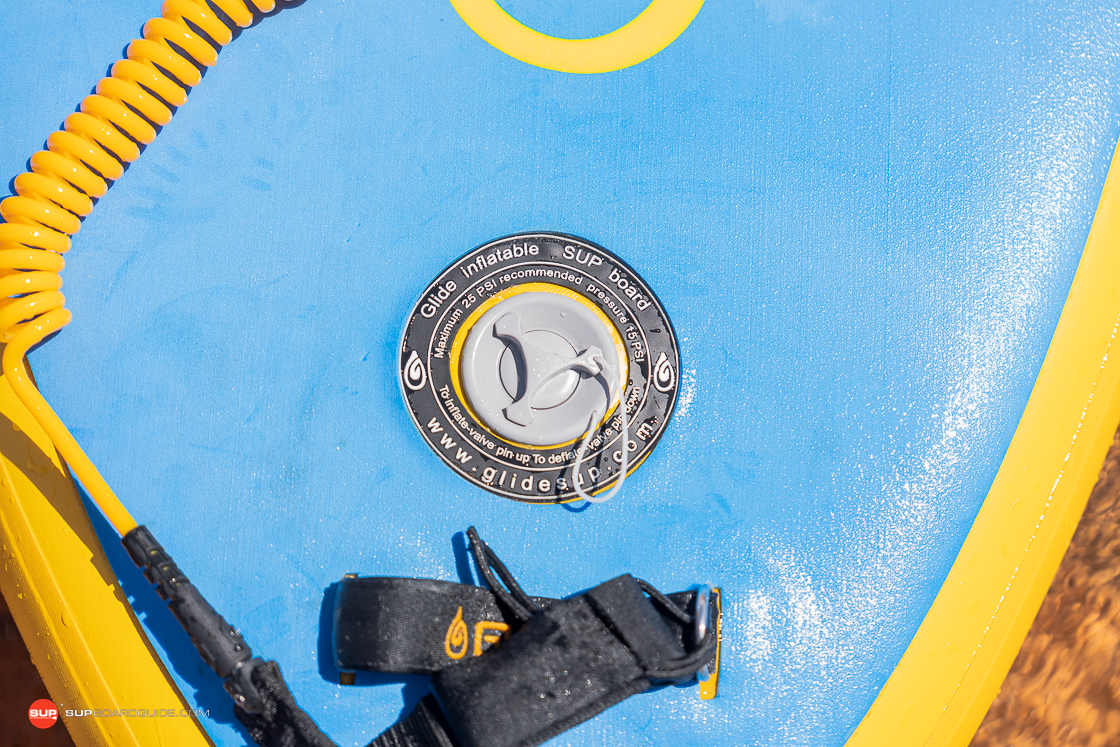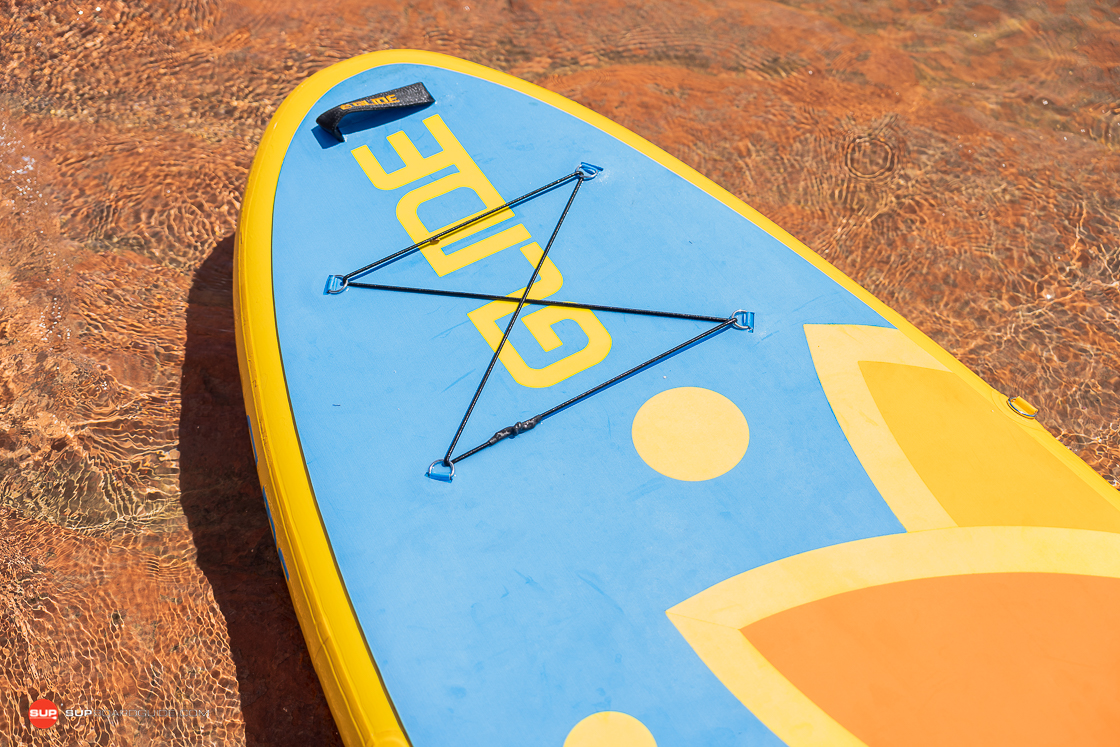 The Glide O2 Lotus is constructed with quality and durability in mind. It has an inner woven drop-stitch core, which through our own testing, we have found to increase the stiffness and rigidity of a board in comparison to the more traditional knitted fabrics. As for the Glide Lotus O2, it feels very rigid and durable both on and off the water.
As for the outer layers of the SUP, they are made up of two layers of PVC Tarpaulin that are fused together. Using two layers of PVC provides additional stiffness and protection against potential wear. Fusing PVC layers means they are cohered together using heat and pressure rather than glue. Also, this process allows for lighter-weight, more durable boards with a more precise and aesthetic finish. Additionally, there is an interior PVC seam that is fused to the top and bottom layers with the purpose of tightly sealing the deck and hull together.
When writing about the construction process, there comes a point where words can't truly justify the feeling of the board. In this case, there is something about the construction process that makes the Glide Lotus O2 feel high-quality both on and off the water.
While I don't have all the words to describe the awesome on-the-water feeling, I can say that it's mostly due to it being a very rigid iSUP. The better construction a board has, the more rigid it will be. So it makes sense that this board feels awesome on the water considering it's very well built. Plus, I not only felt its rigidity but verified it through our bend test where it only bent 0.75 inches (see more details on this in the next section). And as a bonus, it rolls up easily and fits into its bag without a fight!
Board Stiffness: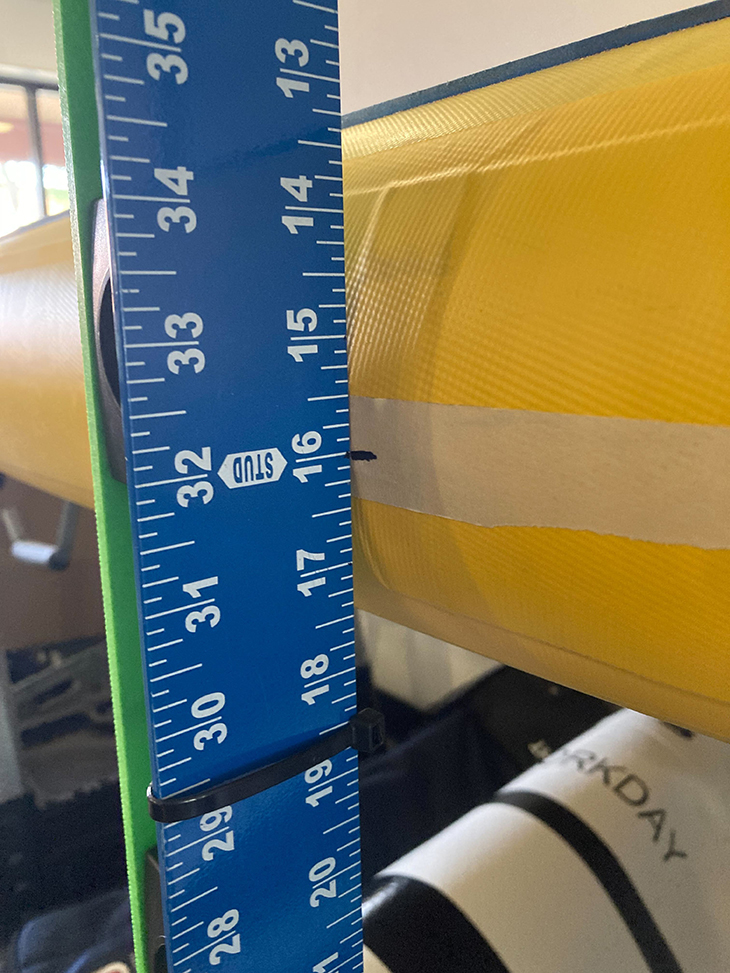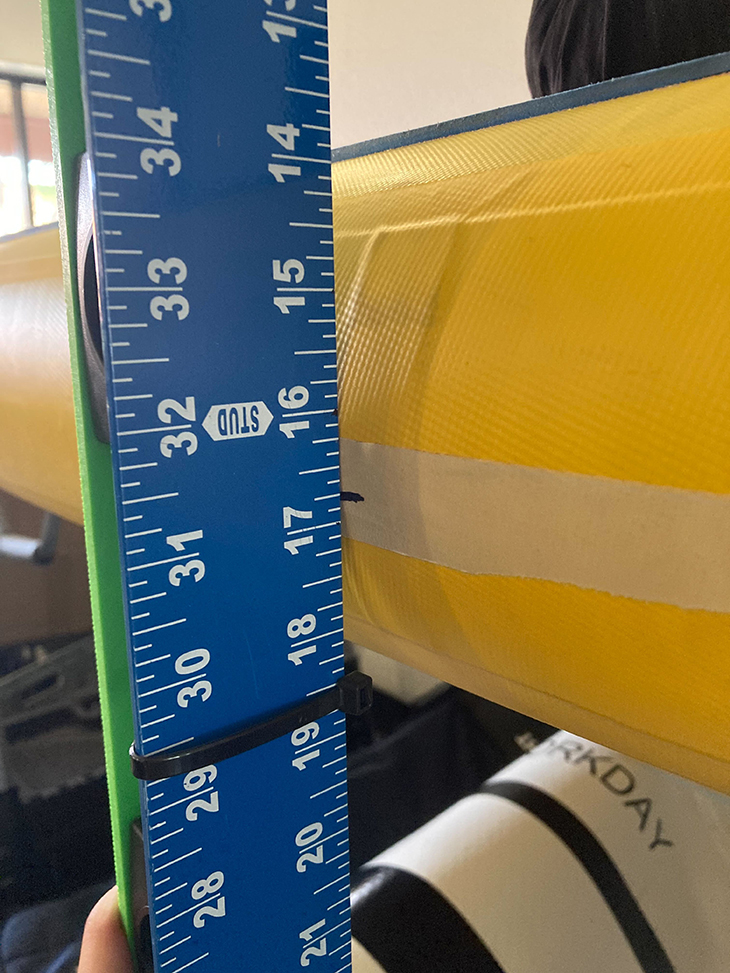 Stiffness Test: 0.75" Bend
SUP Board Guide's Bend Testing:
In order to attest to the rigidity of each board, we use a bend test curated by Supboardguide. In order to obtain the results, we inflate the board to its maximum recommended PSI and then place it across two sawhorses that are 7 feet apart. We then take a measurement in the middle of the board. Then, we place 150 lbs worth of sandbags on the middle top of the SUP. Last, we record its displacement (the movement from its original position). We use this method for every board we test as a way to mathematically compare boards across a common denominator.
The bend test results were great. We have tested a lot of boards using this method, so when we say that a test result is great, we mean it. The double PVC layers and the fusion technique used to construct the Glide Lotus O2 work very well for achieving rigidity.
Features/Accessory Review: [8.8/10]
Features:

One of the best features of this SUP is the tip-to-tail EVA deck pad that is not only comfortable and smooth, but also features a giant yellow Lotus flower that cascades across the pad bringing forth bright, vitalizing energy. It's an amazing pad and inviting design for going through a deep yoga flow, and you can even do poses on the tips of the board without slipping off (don't get me wrong, you might fall off if you go too far forwards/backward). When I was out with this board, somebody stopped me to compliment how pretty and bright my board is and asked where I got it!
I think it's awesome that the deck pad closely resembles a yoga mat, but the tradeoff of that is that water can pool on it a bit easier due to the lack of grooves. But it's easy enough to wipe away or ignore.
Other than the awesome deck pad feel and design, the Glide Lotus is rather minimalistic. It has a small bungee cargo area on the nose that is just big enough to secure down small items like a water bottle or shoes, and it also conveniently fits the slim kayak attachment that you can purchase for the board (you have to bend it to fit it in). So, if you prefer to kayak out to a secluded spot to do your yoga then that is an easy option. Once you get to where you're going, you can undo the kayak seat and slip it into the bungee cargo area for safekeeping.
When discussing the features of this board, we felt like the bungee cargo area could be improved. It's very minimalistic and we think the board would benefit from more cargo space for things like extra water bottles, sunscreen, a yoga towel, etc, on top of being able to fit the kayak seat. We would like to see it a bit bigger and removable, so if you don't bring anything with you you can open the deckpad up completely for more yoga space.
There are carry handles on both the nose and tail of the board which is convenient for carrying and launching it. There are also small velcro loops that function as paddle holders, and D-rings that are securely attached that you can use to strap down cargo or for the kayak seat.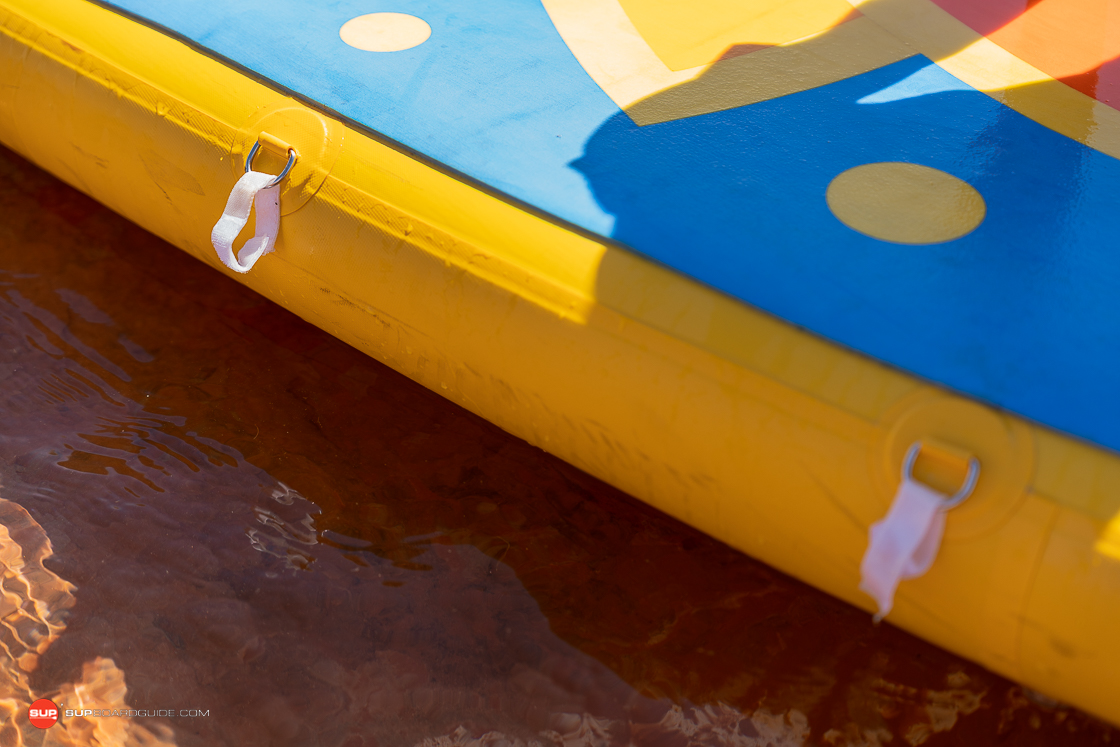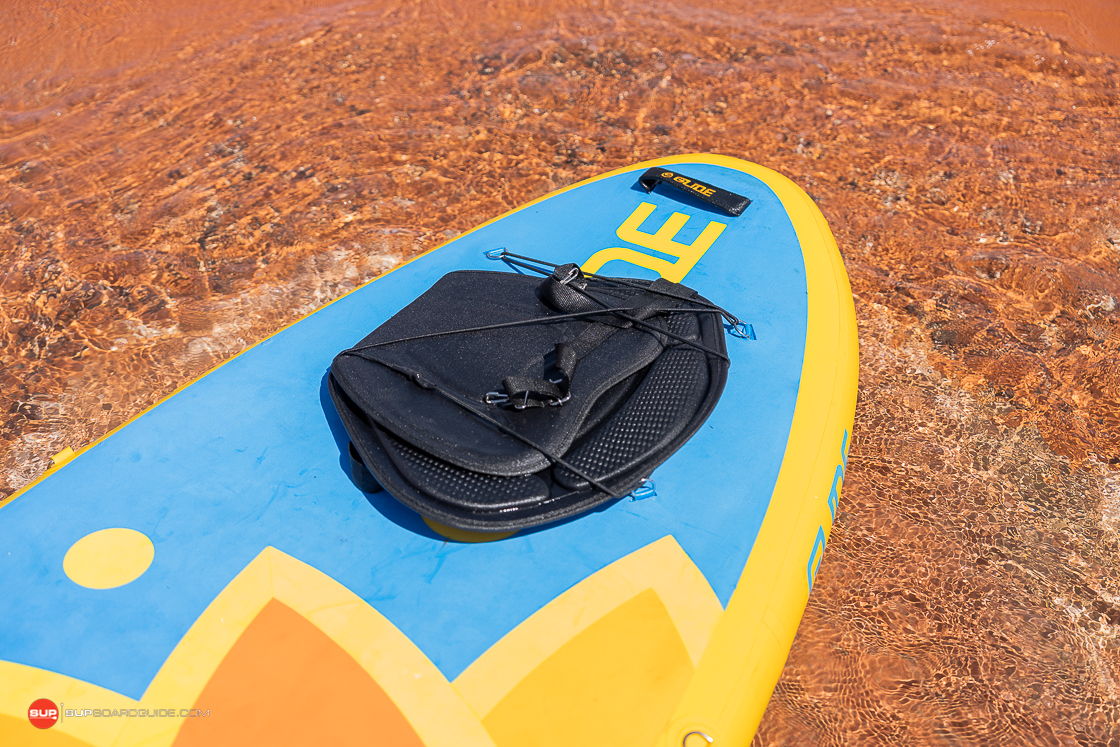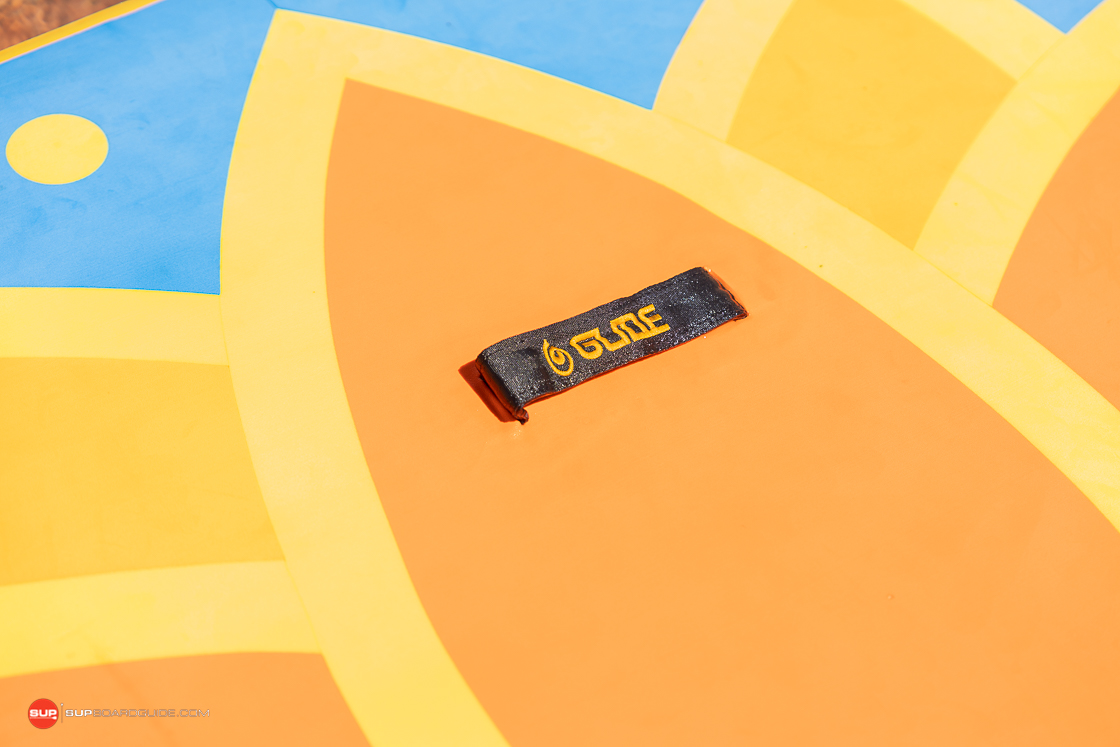 Included Accessories:
When you purchase the Glide O2 Lotus, you will also get a repair kit, the dolphin-style fin, a coiled leash, a three-piece paddle, and a double-action hand pump. These all fit into the heavy-duty wheeled travel bag that is also included. The bag itself is a bright light blue with heavy-duty yellow zippers and has a large front cargo pocket that is convenient for extra accessories. The bag is big enough to fit the SUP + the accessories in without having to struggle!
While it does not come included in the kit, Glide makes a slim kayak seat that can be easily attached to the Glide Lotus O2 and stored in the front bungee cargo holder for the convenience of taking it on and off while you're out on the water. We really like this seat and we recommend adding it to your purchase.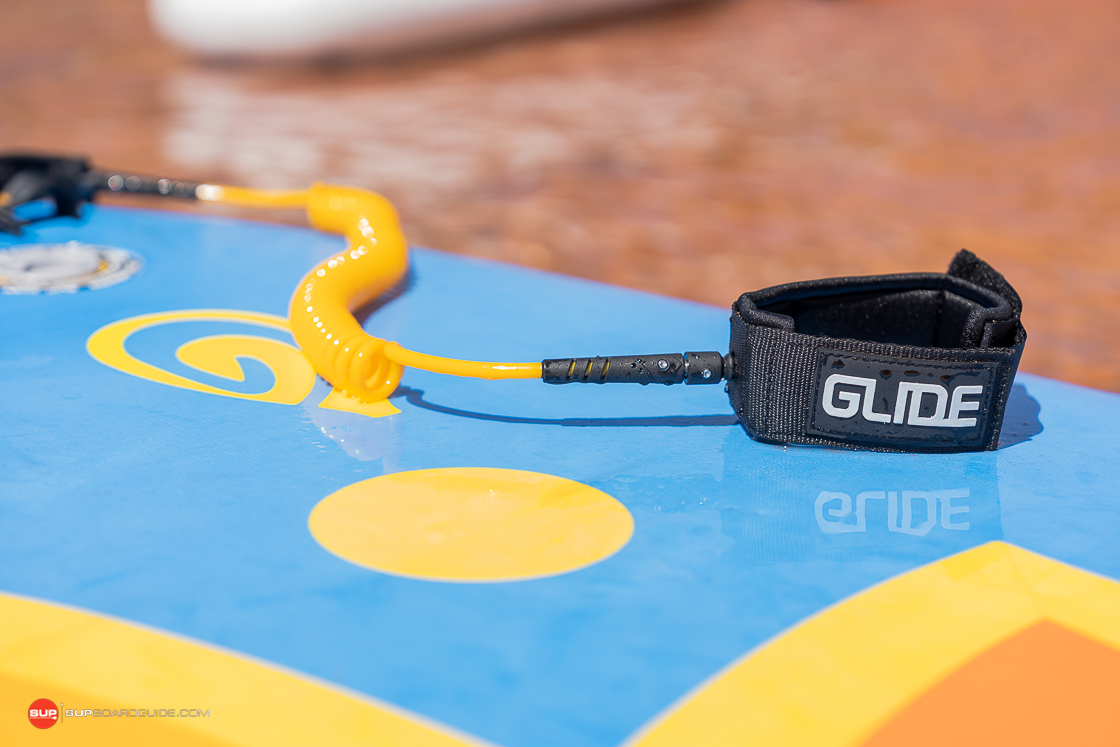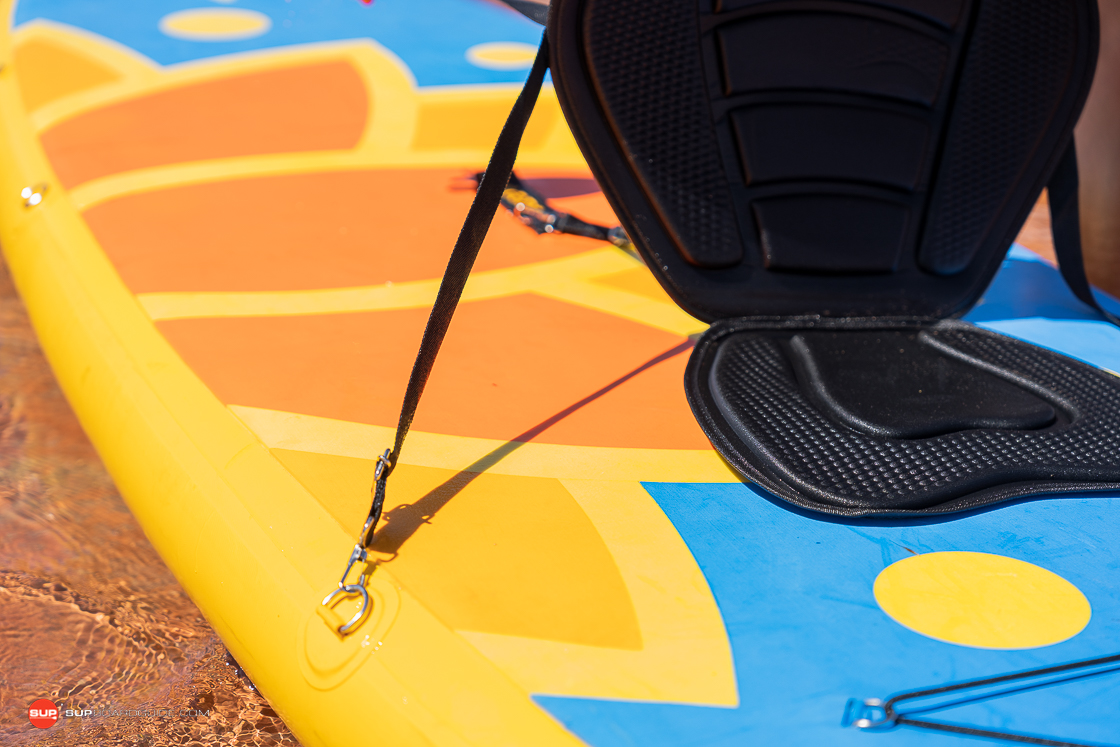 Summary Review of the Glide Lotus O2 – 2023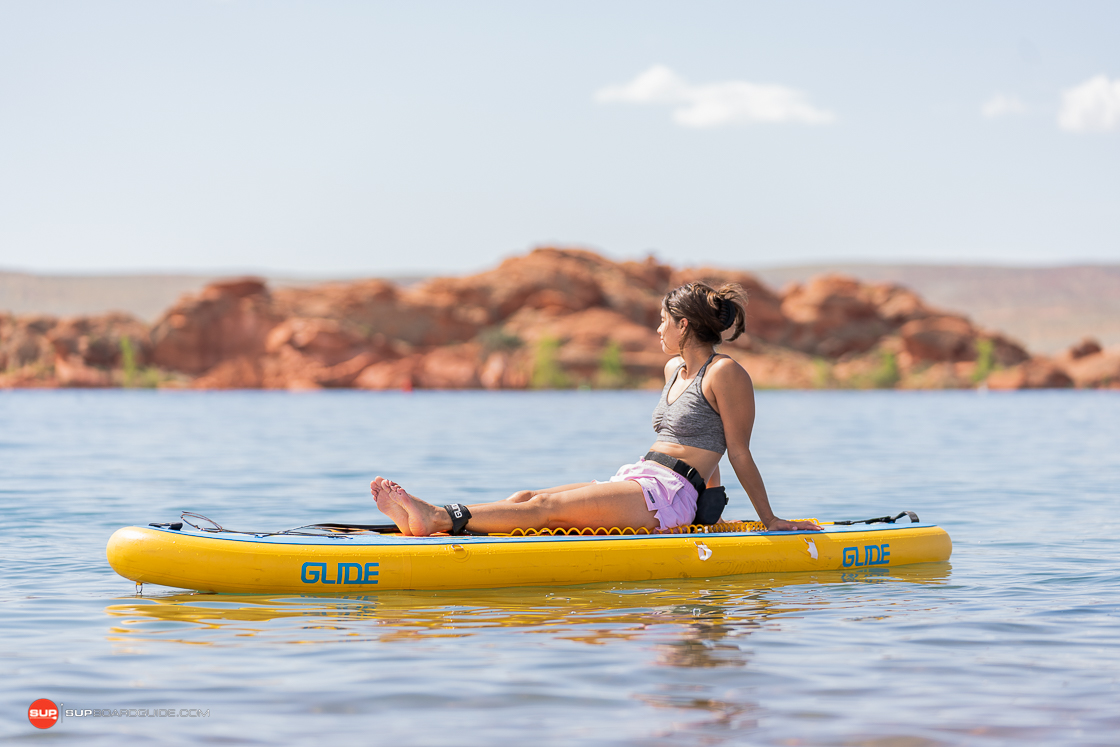 We hope this Glide Lotus O2 review was as relaxing to read as it was thoughtfully written. If that's the case, then I achieved my own goal of writing this in a way that aligns with the board itself! The Glide Lotus O2 promotes relaxation due to its yoga-specific design that is carefully constructed with performance in mind.
In sum, the Glide Lotus O2 is a great board for beginner to advanced yogis, as well as anybody who is looking for a wide, stable platform to hang out on or cruise around with.
It is a high-quality, durable iSUP, meaning that it is rigid and stiff and has a great on-the-water feel. The dimensions of it are short and wide, which we find to be an interesting combo of fun and maneuverable but at the same time stable (especially for beginner paddlers under 6' or more advanced paddlers of all sizes).
Let us know how you feel about this SUP in the comments below and happy paddling!
The following two tabs change content below.
Latest posts by Laura Coor (see all)