Who is NIXY Sports?
Founder(s): Nicolas & Alexandra Szczedrin
Where: Irvine, California
When: 2016
Hello, and welcome to our review page for NIXY Sports stand up paddleboards! On this page you will find abridged snippets and direct links to our reviews of 2023 NIXY Sports inflatable stand up paddleboards, also referred to as iSUPs. NIXY Sports has four unique paddleboards for 2023, each of which offer a solid combination of stability, nimble maneuverability, tracking, and a comfortable glide.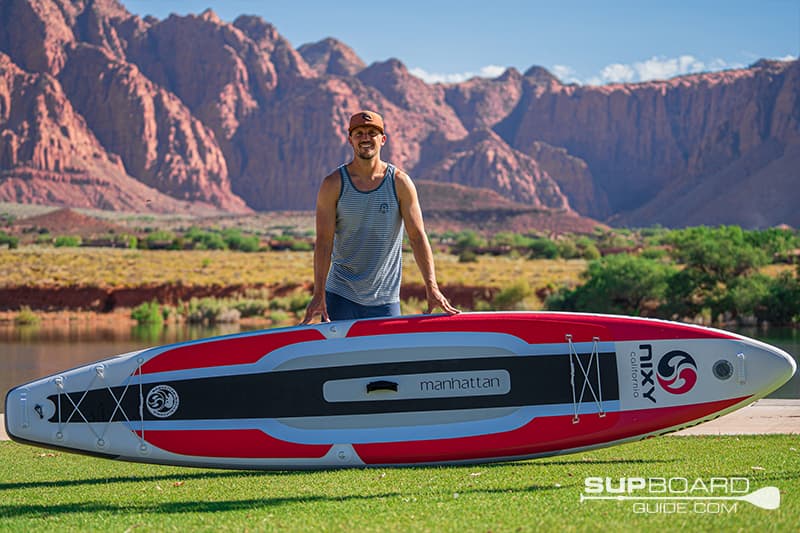 As there is a lot of information to digest on this page, here is a quick rundown of what you'll find below. In the first section, we dive into NIXY Sports as a company, from their foundation a few years ago to some of the key traits of their lineup. The second section gives you a short run down on what we like most about each of their boards and some key features, with links to the full technical deep dive into every NIXY SUP. In the third section, we highlight what is included with each of the NIXY paddleboards, along with a few recommendations of key NIXY accessories you should add to your kit. The fourth and final section is an explanation of the shipping, warranty, and return policies for NIXY Sports SUPs, with a link to their full terms if you are interested.
We hope there is something on this page that will help you determine what NIXY Sports SUP is best suited for you. If you have any questions, be sure to contact us by leaving a message below or sending us an email. We also update our page based upon feedback that we receive from other paddlers who use NIXY boards, and as new NIXY products come out. Be sure to check us out again in the future for our up to date thoughts!
Thank you for reading, and remember to have fun SUPing!
Why do we love NIXY Sports SUPs and recommend them?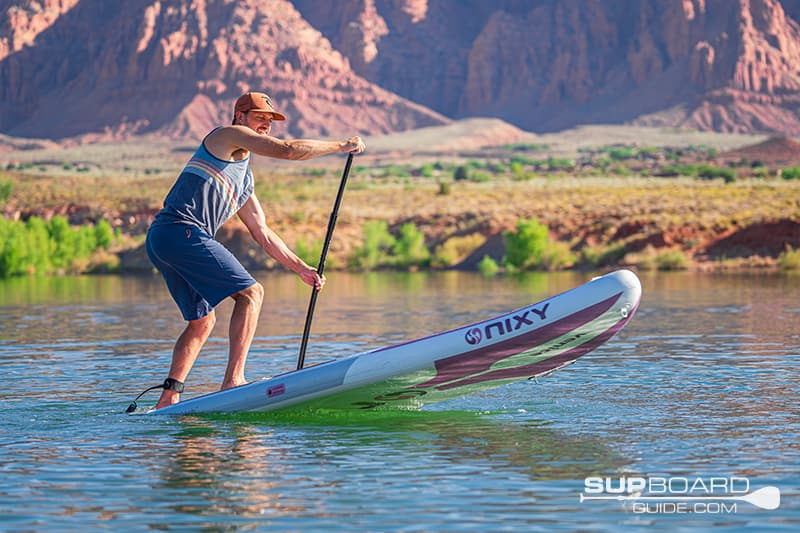 Nicolas and Alexandra Szczedrin have nearly two decades of experience each engaging in scuba diving and other water sports activities around California. A few years ago, they tried out paddleboards for the first time and, while enjoying the boards they rented, were unable to find the type of paddleboards they were looking for. So, the Szczedrin family founded NIXY Sports with the goal of creating affordable, stylish, and lightweight paddleboards that didn't compromise on performance.
NIXY Sports has met their goal, with 2020 featuring four different paddleboards that are fine tuned for all sorts of paddlers. Hikers, teenagers, and others who want a small and easy to travel with board will love the Huntington 9'6'' Compact. Those who want an all-around board capable of doing a bit of everything will favor the Newport 10'6'', or can go with the Venice 10'6'' if they want a cruiser style instead. Finally, there is the 12'6'' Manhattan, one of our favorite touring paddleboards for 2020.
NIXY paddleboards will last you for years to come, built with a lightweight dual-layer FusionTech construction system. Featuring a tight-drop stitch core and two coatings of military grace PVC composite, this board will withstand most common drops, crashes, and other typical SUP accidents. While it's extremely difficult to damage NIXY SUPs, they also come with a 30-day guarantee and 2-year warranty that will cover everything outside of typical wear and tear. NIXY Sports is a very pleasant company to deal with, and one that has also worked hard to update their SUPs year after year. We also appreciate how their boards come with everything you need to get on the water out of the box, which further accentuates the great value of their SUP kits.
So if you want a board that balances overall performance with style at a great price, considering going with a NIXY Sports paddleboard!
NIXY Sports SUP Reviews – The Boards
Huntington G3 Compact 9'6''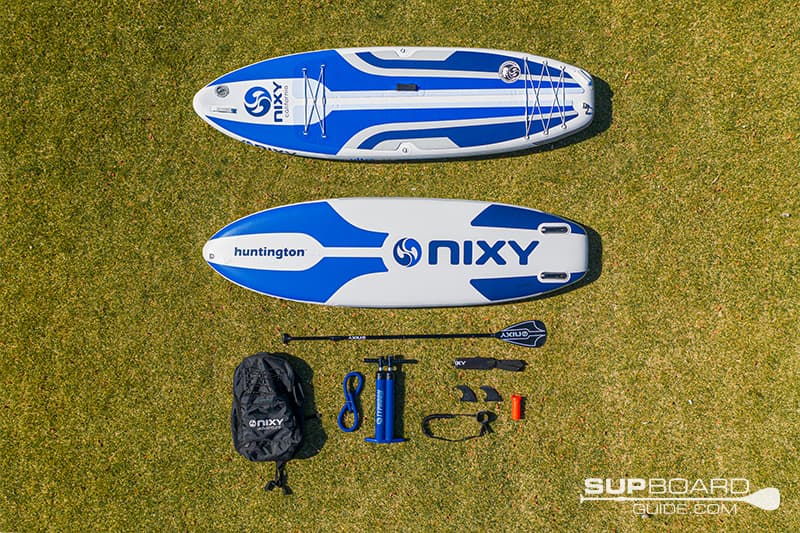 The shortest paddleboard offered by NIXY Sports, the Huntington G3 Compact 9'6'' is an excellent option for those who want something easy to travel with. Due to its small size, this is also a suitable board for those who want something very easy to maneuver with, a true sporty paddleboard for those interested in tricks or fast moving waters. It's not the most beginner friendly, but if you have experience paddleboarding you'll be impressed with what you can do on the Huntington G3 Compact.
This board is very easy to pack, with total measurements of a 9'6'' length, 32'' width in the center, and 6'' total thickness. The board weighs an incredibly light 17 lbs, with a recommended weight capacity of 250 lbs and a inflation recommendation of 15 PSI. Despite its small size, there is still a ton of great accessory compatibility with 14 D-rings littered about this paddleboard.
We think that this is an excellent paddleboard for teenagers and shorter adults who are trying to get into the sport, or for experienced paddlers who want something highly maneuverable. Outside of typical lakes, bays, and marians, you can challenge rivers and ocean environments alike with the Huntington G3 Compact. Overall though, this is a very lightweight board built for travel, so if you are traveling by plane or are hiking to get to the water, go with the NIXY Huntington G3 Compact 9'6''!
Read our full review of the Nixy Huntington G3 Compact 9'6''
Newport G3 All-Around 10'6''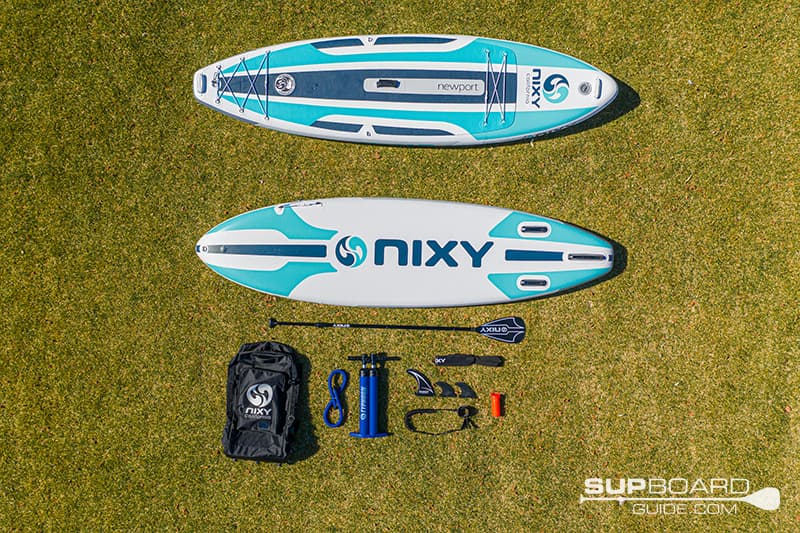 The Newport G3 All-Around 10'6'' is a stable and maneuverable paddleboard built for those who want to try a little bit of everything when it comes to SUP sports. As a jack of all trades board, it may not excel in any particular field, but offers a balanced level of performance that will satisfy newcomers and veterans of the sport alike. Touring, casual racing, cruising, and even a bit of yoga are all fun on the Newport All-Around 10'6''.
This board has a typical all-around shape, measuring 10'6'' long, 33'' wide, and 6'' thick. We recommend inflating this SUP 15 PSI for the most firm and stable performance. The Newport G3 weighs about 23 lbs, and has a recommended weight capacity of 350 lbs. You'll not only have plenty of space to spread out on, but multiple options to attach your gear with the board's 14 D-rings.
Due to its balanced performance, we believe that beginners and advanced paddlers alike of any height will enjoy the Newport G3 10'6'' just as much as we do. This board handles the calm water you'll find at lakes and bays rather well, and can handle some moderately difficult settings as well. So, if you want a reliable all-around board that you use to keep up with your friends no matter the activity, consider going with the NIXY Newport G3 All-Around 10'6''!
Read our full review of the Nixy Newport G3 All-Around 10'6''
Venice G3 Cruiser 10'6''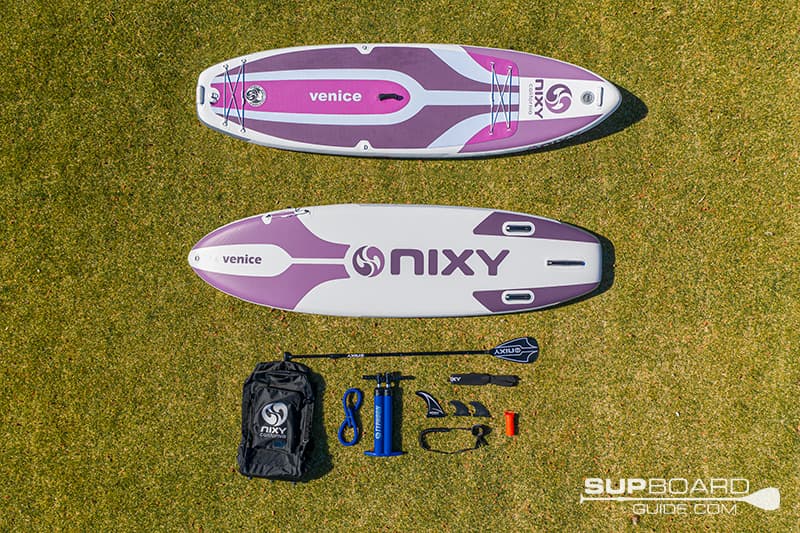 For those who want an all-around board that has a little bit extra width and stability, there is the Venice G3 Cruiser 10'6'' SUP. This board is very beginner friendly, and is also a great option for those who want an affordable yoga board with solid overall performance. Whether it be for stretching on the water or just casually paddling around the water, we recommend looking at the Venice G3 10'6'' Cruiser!
This is a board designed to be similar to most traditional all-around SUPs, though a bit wider for added stability and space to spread out on. The Venice G3 Cruiser is 10'6'' long, with a 34'' wide deck and 6'' overall board thickness. The G3 Cruiser weighs 23 lbs and has a recommended rider capacity of 350 lbs, with an additional inflation recommendation of 15 PSI. As for accessories, bring a speaker along for some guided yoga instruction by clipping it onto one of the board's 12 D-rings!
Paddlers who are interested in an extra stable variant of a traditional all-around board will like the Venice G3 Cruiser. Additionally, those who want a hybrid all-around board that is capable of cruising on the water and occasionally getting in a yoga session will benefit from the Venice. As for water settings, stick to calm water if you want to practice your posture or pose, or take it in the river or ocean if you feel a bit more adventurous. There are a ton of things you can do with the Venice G3 Cruiser 10'6'' inflatable SUP!
Read our full review of the Nixy Venice G3 Cruiser 10'6''
Manhattan Touring 12'6''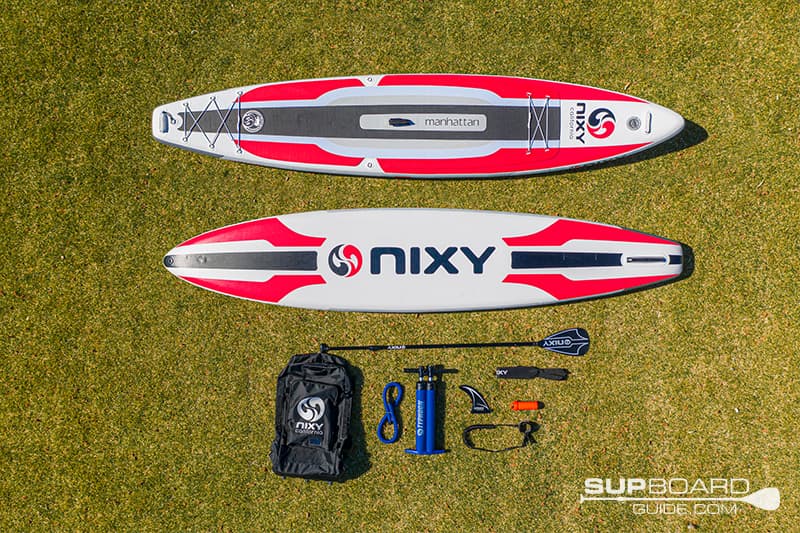 The last board on our list, the Nixy Manhattan Touring 12'6'' is made for those who have long paddling adventures in mind. With excellent tracking and a smooth, comfortable glide, you can go the distance and explore the water from sun up to sun down with this touring board. The great stability also makes the Manhattan 12'6'' a good option for those interested in bringing their kids, pet, or a partner along for the trip as well!
The Nixy Manhattan touring board offers a real good mixture of speed, stability, and tracking with its dimensions. The 12'6'' long SUP has a 30'' wide deck, with a 6'' thickness for additional volume and stability. When inflated to 15 PSI, you'll find the Manhattan 12'6'' is still easy to carry at just 22 lbs. This lightweight touring board is able to support around 350 lbs, and a bit more with experience and weight distribution. There are also 14 D-rings scattered throughout the Manhattan, giving you places to clip on your gear or attach your kids or pet to.
Younger paddlers or hikers who like touring boards but are normally turned off by their heavy weight will appreciate the NIXY Manhattan G3. This board is capable of navigating rivers and handling longboard style waves, but we really love how it performs when exploring long and open water environments. If you want to tour the coast or go from one side of a lake to the other quickly, we recommend the NIXY Manhattan G3 12'6'' touring SUP!
Read our full review of the Nixy Manhattan Touring 12'6''
NIXY Sports SUP review – Accessories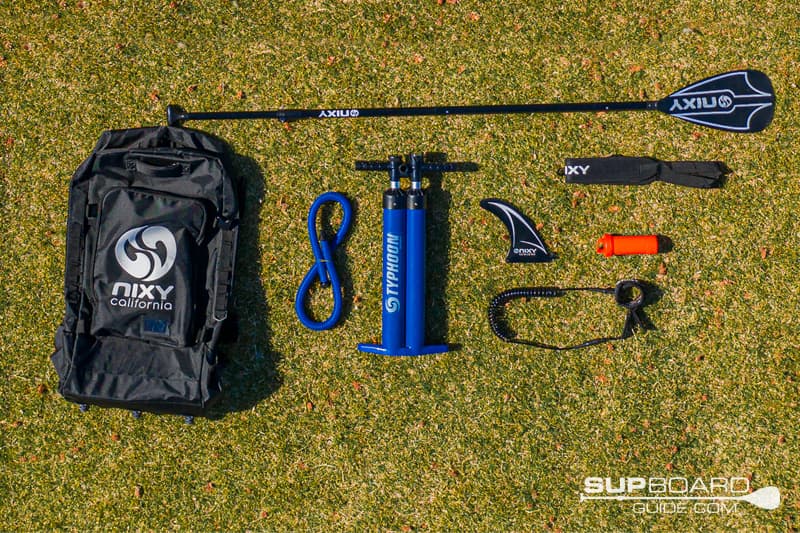 NIXY Sports has taken the time to really fine tune the accessories that comes with each kit, giving you gear that really matches each board. There are a few accessories that do match up with each kit though, which we'll highlight first. Every NIXY SUP comes with the following accessories:
NIXY Typhoon manual pump. This dual-chamber, triple-action pump will inflate your SUP in ten to fifteen minutes. Easy to use, with instructions printed on the pump for first time paddlers.
10' hybrid coiled leash. Leashes will keep your paddleboard close to you if you fall off without drifting too far away. The hybrid coiled nature will protect you against whiplash as well, while also giving you a long enough length as to not impact your paddling performance.
NIXY Carrying strap. An over the shoulder carrying strap to help you carry your paddleboard if you need to free up your hands to carry other gear.
Adjustable fiberglass/nylon paddle. The fiberglass shaft is smooth and comfortable to hold, while the nylon paddle blade will help your strokes feel powerful as you propel yourself through the water. The paddle is highly adjustable, ensuring that adults of all sizes can find the perfect configuration for their stature. The Compact paddle comes in four pieces, while the traditional NIXY paddle for other SUPs is built with three instead.
Each NIXY paddle board comes in a fantastic backpack as well. Depending on your board, you will receive the following:
Huntington G3 Compact backpack. About half the size of the typical NIXY backpack, this shrunken bag still has enough space to fit your gear in. Perfect for hikers or shorter and younger paddlers who find larger backpacks unwieldy!
NIXY Ultra-Rugged Roller Backpack. All other NIXY SUPs come with the rugged, thick three wheeled roller backpack. Protect your gear against the elements and get where you need by either rolling it along the ground or using the adjustable straps and padded back!
There is also different fin configurations that compliment the performance of each NIXY SUP. They are as follows:
The Huntington G3 Compact fins. Two 5'' screw in side fins. Easy to install, improving stability and the turn radius of the sporty SUP.
Newport G3/Venice G3 fins. A standard center US fin box with a 9'' center fin, and two 5'' screw in side fins. Improves the stability, tracking, and overall performance of the board when all three fins are used together.
Manhattan G3 Touring fins. A standard center US fin box with a 9'' center fin. Improve the overall speed and tracking of the Manhattan even more with this fin. While the center fin does involve screwing it in, the standard US fin box is compatible with a wide range of third-party fins for even more fine tuned performance.
That is the end of the accessories include with the NIXY paddleboard kits, but NIXY Sports has a range of official SUP accessories we recommend checking out as well. Our favorite NIXY Sports accessories include:
The NIXY Elite electric pump. It will do the hard work of inflating your SUP for you, and do it almost as fast as you can do it manually. Helps deflate your SUP as well, making it easier to pack up your board when you are ready to leave.
NIXY Landing mat. Finding a place to lay your board down without scratching it or dirtying it can be a pain. The NIXY landing mat is made so you keep your SUP clean and dirt free as you inflate or deflate it.
NIXY adjustable kayak seat. Want a place to sit or interested in a kayak like paddling experience? Then this easy to install kayak conversion kit is for you! Clips onto the NIXY D-rings, and can fold up into a small, compact size that fits beneath your bungees when you don't want to use it.
There are a ton of other great third-party SUP accessories that will enhance your NIXY Sports paddleboarding experience as well. Be sure to check compatibility with the manufacturer before purchasing though!
Where To Buy a NIXY Sports Stand Up Paddle Board, Warranties, and Return Policy:
NIXY Sports are available through several online retailers, but we recommended buying them directly through NIXY Sports website for the best prices and coverage. NIXY Sports offers free shipping to continental US customers, with paid shipping options for international customers. All NIXY Sports paddleboards also come with a 2-year warranty and 30-day guarantee that covers all board damage and performance issues outside of normal wear and tear. If you purchase from NIXY Sports directly, they also offer 3, 6, and 12 month finance options to help you pay off your SUP.
The following two tabs change content below.
SupBoardGuide
Heyo! At SupBoardGuide.com we are a team who love the water, the outdoors, and are more than grateful that our full-time job allows us to review stand up paddle boards. We paddle year round (it helps that we are just about 2 hours outside of Las Vegas), and we bring in a wide range of paddlers with the goal of providing our readers with the best, most in-depth, and accurate stand up paddle board reviews.
Latest posts by SupBoardGuide (see all)