Who is NIXY Sports?
Founder(s): Nicolas and Alexandra Szczedrin
Where: California 
When: 2015
If you've landed here it's hopefully because you are looking for the best NIXY SUP reviews. We've personally reviewed every one of the NIXY SUP's, taking it out in various conditions and comparing up against other boards in its price range. We also have been reviewing them for years so we have watched their progression and improvements. 
On this page, you can find out a bit about NIXY themselves, a short description of each board and link to a full review, where to buy and get the insight into any good deals going on.

The family brains behind NIXY and their products hail from Southern California. For 15 years this family has holidayed out at Catalina Island where they would spend their days out on and under the water. Getting to scuba spots was always half the fun and after watching people use SUP's to get into unique places, they decided they would ditch their kayaks and follow suit. Though they came up against transport issues when wanting to buy their own. At the time, they couldn't find a board that suited their needs for their price, so they made their own! And thus NIXY Sport was born. 
Why do we recommend NIXY Inflatable Sups?
One of the biggest stand out reasons why we love NIXY is because of their attention to detail. Each feature, down to the handle placement is thought about. Rather than going with generic pop out shells than just sticking a logo on them, they have looked to make something unique.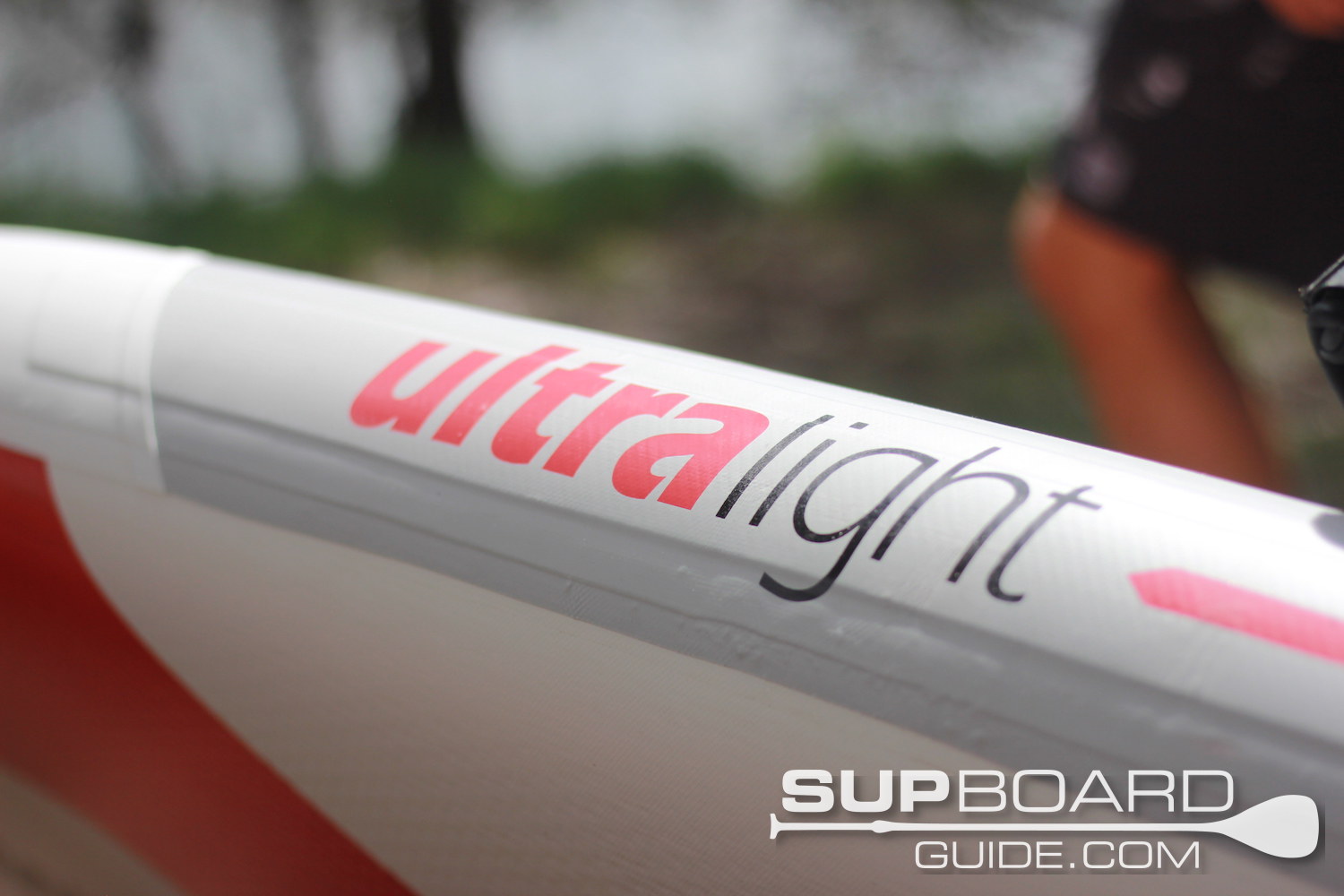 Not only are the boards and accessories unique to NIXY they also are unique to their area. Each board is named after a certain area for its most intended use in those areas. They have a board for every type of paddling and paddler! 
Another reason is their boards are built with a Dual Layer Fusion which makes them super light but still rigid and durable as ever. Having a light board means you can carry your SUP even further to get to even better locations! 
NIXY SUP Review – Accessories 

Fiberglass paddle with nylon blade – impressive blade design

Typhoon pump – dual action and high pressure 

Hybrid coiled/straight leash with branded NIXY cuff 

NIXY backpack – 3 wheels and carry straps 

Either 3 fins or large center fin depending on which boards 

Shoulder strap for easier carrying!



Extra accessories for you NIXY SUP 
Swag. Tshirts, hats, rep your brand! 

Collapsible water bottle 

Nixy electric pump – 12V or alligator clips (Best accessory!)

Kayak seat and extra blade for a kayak paddle 

NIXY Newport 
Starting with the most popular NIXY board, the Newport! It's a fantastic, versatile all-around SUP. With perfect dimensions for the ultimate balance between stability and performance (10'6" X 33 X 6"), this is a board that can go to many places and be ridden by most. 
The unique manufacturing of these boards allows for a weight capacity of 300 lbs+. So not only can it be a board for you, but you could also bring along your dog or kids! Or perhaps do some SUP exercise and take advantage of the paddle holder (epic feature!) on the rails.

Transporting the Newport is easy with the great bag but also because it's super lightweight. You can get into some tricky areas you normally wouldn't be able to launch from! Further on the topic of location, this board will go great from small waves to a half-day adventure down your local rivers. It holds well in choppy conditions and glides well when you've picked up speed. The beautiful balance of stability and performance means this is also a great option for beginners all the way through to experts. 
** There is also the beautiful and unique Palm edition of the Newport – a cool tropical design! **
Read our full review of the NIXY Newport 
NIXY Huntington 
The coolest kid on the block! The Huntingon is the first mid-range, affordable compact SUP to be released. Currently, (mid-2019) the only other company doing a compact SUP is Red Paddle Co and their boards are on the premium side of things.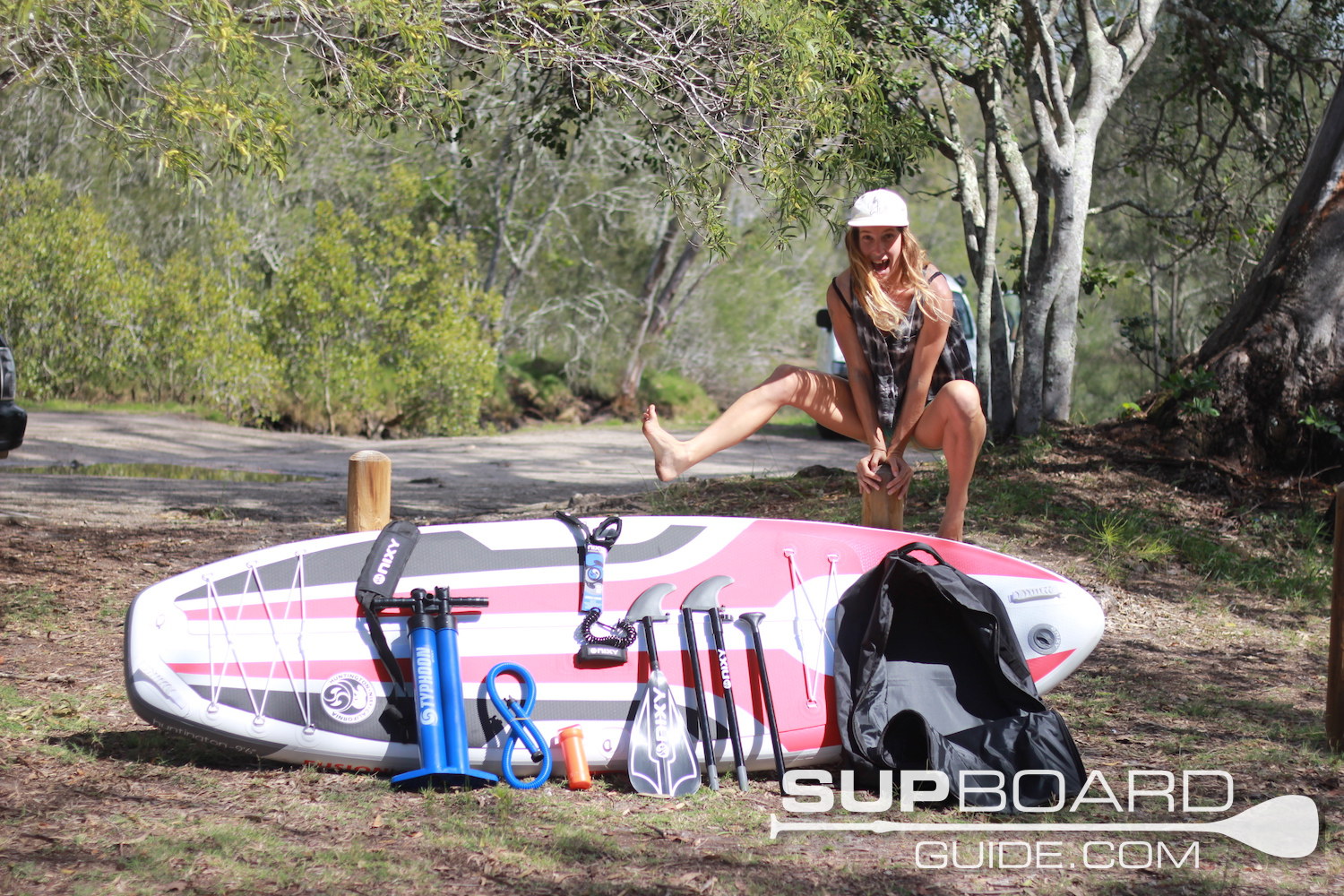 The Huntington folds up to half the size of a normal inflatable SUP, opening up way more opportunities for adventure. This is the kind of SUP you can really travel with. So how does it perform? Due to its unique folding the board was made a twin fin, so some people may find the board a little tricky to track well. Other than that, it's AMAZING. It's revolutionary.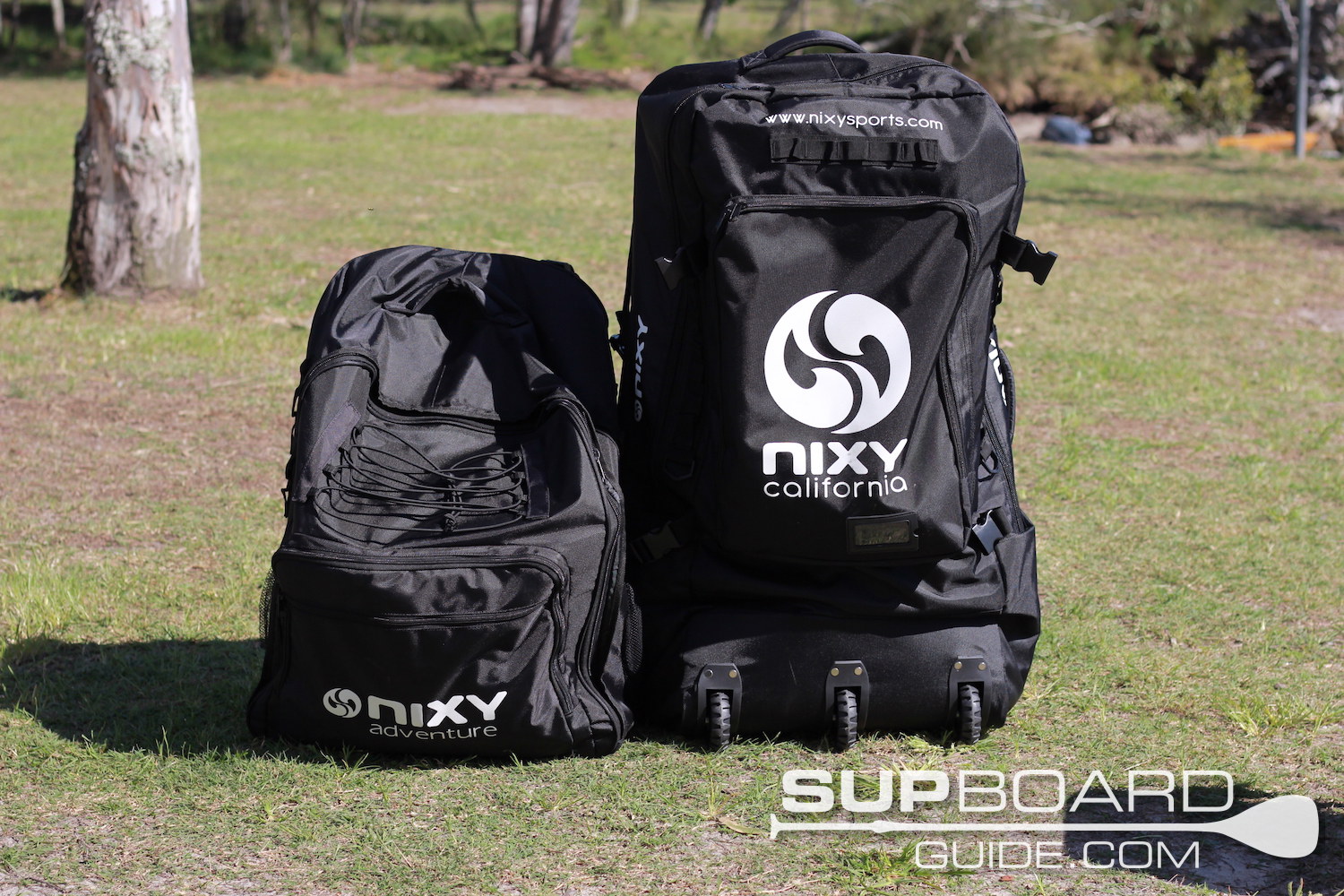 You'll be able to take this compact SUP most places, it's built as an all-around kind of board. Though it's best suited to general cruising, small waves, adventure paddling etc. Other all-arounds like the Newport do better on longer distances but the Huntington is the perfect adventurer. 
Read our full review of NIXY Huntington
NIXY Manhattan
The Manhattan is made for touring! If you like to cover long distances with speed but don't want to sacrifice stability to do so, then the Manhattan should be your choice. It's long at 12'6" and the narrow 30" body paired with the length makes it great for picking up speed. Though thanks to rigidness and 6" buoyancy thickness this iSUP is still quite stable.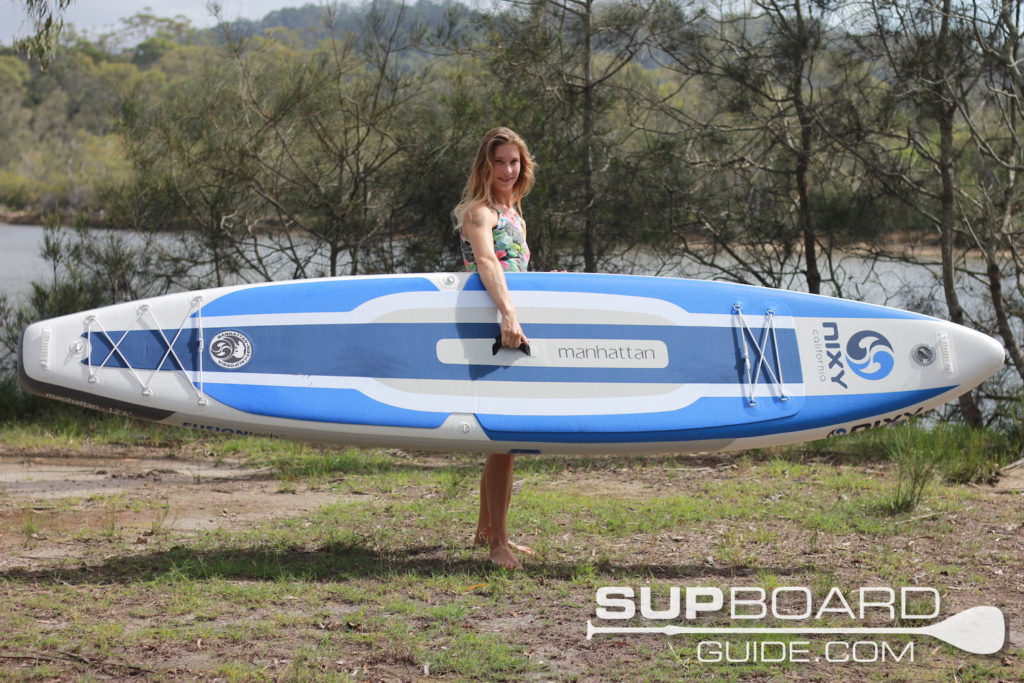 Another feature of touring SUPs that is important is its features. If you are planning a long day out or even overnighters, you need to be taking gear. You need a reasonable amount of space for clothes, supplies, camping, etc and this board provides it. You can find quite a lot of room to store things under the bungee cord at both the front and the back of the board. 
Your Manhattan is best suited for long-distance padding where you can build up some speed and glide your way into adventure. It's got a slight rocker in the nose and the slim body is quite agile so it can handle some chop too. This is a board for all types of paddler but if you are a beginner used to the wide and chunky boards you may find this a little wobbly at first. 
Read our full review of NIXY Manhattan 
NIXY Venice
Calling all existing and potentially new yogis out there! The Venice is here to whisk you out onto the water for an hr or two of complete zen. SUP Yoga is growing in popularity HUGELY, there's something pretty special about doing some gentle stretching on a board listening to only the gentle lapping of water. 
What makes the Venice a great Yoga or exercise board is the shape. It's very consistent and the square tail also makes it stable from nose to tail. 10'6" is also a great length for a cruisy paddle. This board is definitely a hybrid between a cruiser and Yoga board, which allows great versatility in your paddling! 
The wide-body and rounded shape is great for stability but restricts maneuverability a bit so you mainly only want to be in calm conditions. While the board is perfect for Yoga or any type of SUP fitness, it also is great for a casual paddle too. Especially if you are beginner, you may find the extra stability exactly what you need! 
Where To Buy 
You'll get the best deals on Nixy Inflatable SUPs when you buy direct from them (sorry, they are not selling direct in Europe yet).
The following two tabs change content below.

SupBoardGuide
Heyo! At SupBoardGuide.com we are a team who love the water, the outdoors, and are more than grateful that our full-time job allows us to review stand up paddle boards. We paddle year round (it helps that we are just about 2 hours outside of Las Vegas), and we bring in a wide range of paddlers with the goal of providing our readers with the best, most in-depth, and accurate stand up paddle board reviews.

Latest posts by SupBoardGuide (see all)