GILI Meno 10' 6'' Inflatable Paddle Board
Pros
Very stable, rigid all-around SUP with good tracking and glide.
Massive 450 lbs weight capacity despite weighing only 23 lbs.
Very sturdy dual-layer fusion PVC construction + carbon fiber rails.
Versatile 5 piece fin kit, carbon fiber paddle, dual-chamber pump. Great overall kit.
A portion ($12 - $15) of every purchase is donated to ocean preservation charities!
Great looking board - we love how they designed the bottom as well as the top!
Cons
We'd like to see some improvements on the deck pad. The pad feels good, but we would love some groves for traction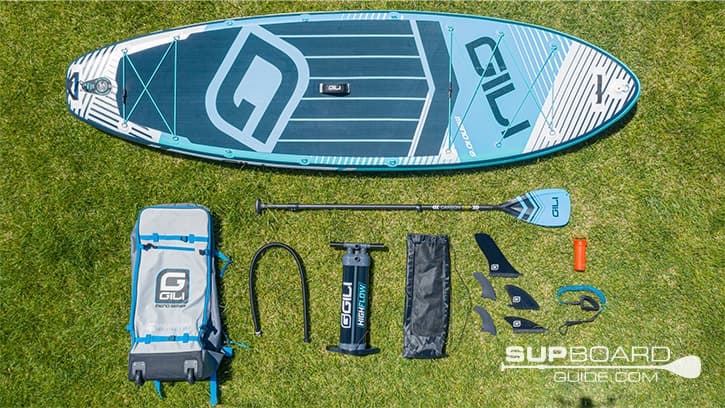 The Gili Meno 10'6'' is a premium, high capacity SUP that is great for newcomers and veterans to SUP water sports alike. The Meno supports between 450 to 500 lbs, making it stable for paddlers large and small, yet only weighs 23 lbs for easy carrying. Rigid thanks to its multi-layer fusion construction, carbon rails further help it stay firm for added performance. The Meno 10'6'' has good tracking in the water, which is only increased by the options offered by its 5-piece fin set. Lastly, the Meno comes with a light, 29 oz carbon fiber paddle that is just as comfortable to use as the Meno is to paddle on.
Overall, this is a great all-around SUP that offers good performance on the water, while keeping the weight (and price) low to accommodate those interested in their first SUP and those looking to upgrade.
SUP Board Specs
Length
10'6″
Width
35″
Thickness
6″
Weight
23 lbs
Rider Capacity (lbs)
450 lbs
Recommended Inflation
12-18 PSI
Fins

Tri-fin setup, US center fin, snap in side fins
5 pieces:
Center fin: 9'', 4.5'', 3''
Side fins: 4''

Paddle Type

Carbon fiber shaft, Nylon blade
Weight: 29 ounces

Construction
Dual-layer, fusion laminated military grade PVC with a drop stitch core, carbon rails
Who Should Buy This Stand Up Paddle Board:
For the best paddling experience, the Gili Meno 10'6'' is best suited for the following type of paddlers:
First time paddlers who want an incredibly stable SUP for learning with.
Paddlers who want to go out with children or pets.
Those who want great stability while keeping the SUP light. Great for hikers!
Anyone wanting a wide, long SUP deck pad for activities like stretching and yoga.
Paddlers who are interested in an upper-end all-around SUP that is sub $800.
Those who want a multitude of fin options for various situations.
While the versatile 5-piece fin set will help you enjoy paddling in all types of water conditions, you'll experience the best the Meno has to offer in these types of settings:
Flat, still water settings such as marinas, bays, and lakes.
Ocean paddling, including riding small waves.
Rivers, including some light rapids.
Performance
Stability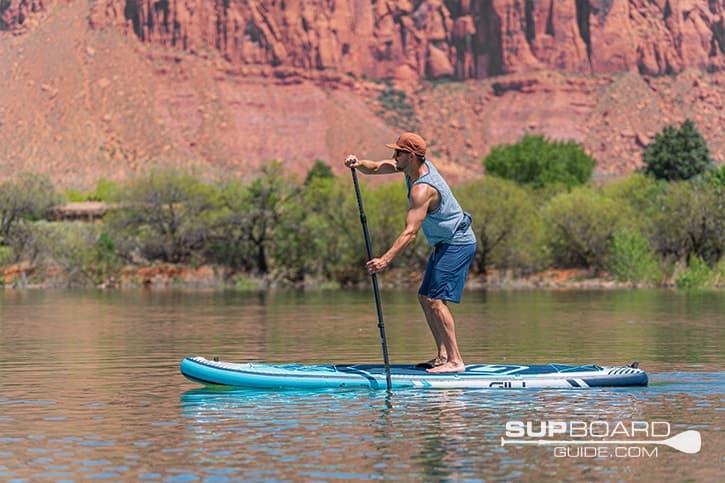 At 35'' wide and supporting 450 lbs, the Meno 10'6'' offers fantastic stability. Those who are trying to learn how to stand up on a paddleboard will learn very quickly how to maintain their balance with the Meno. The great stability and weight capacity also makes it a great pick for those with kids or a pet they want to bring along. Advanced paddlers who want to paddle with a second person will probably be more interested in the 11'6'' than the 10'6'' Meno. However, if you do want the shorter, more compact SUP, the 10'6'' is capable of supporting two adult paddlers with a bit of practice and experience.
Because of its great stability, along with the fantastic fins included that you can read more about below, you'll be able to use the Meno in almost every water environment.
Maneuverability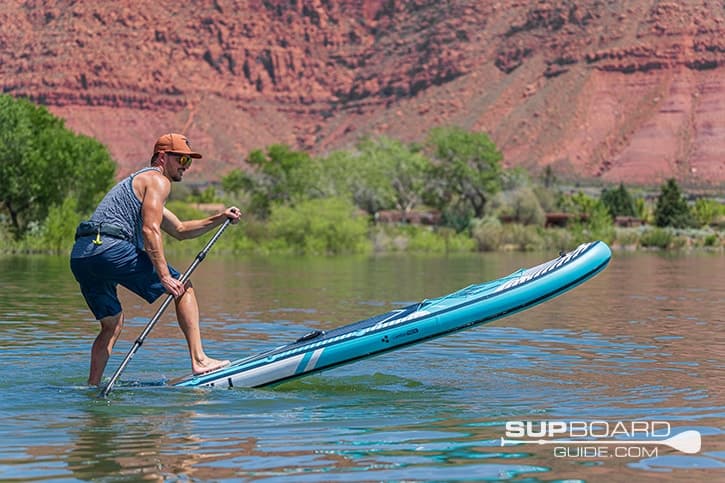 We really like how maneuverable the Meno 10'6'' is. Most all-around SUPs offer good maneuverability, but the Meno 10'6'' is great in how easy it is to turn. Part of the great maneuverability is because of the lightness of the board. Weighing just 23 lbs, it's easy to twist and turn to dodge objects on the lake or river by pushing down and performing a step back turn like you see above.
Another major reason though is the great fin set included. The 10'6'' Meno doesn't just come with long fins for improved stability and tracking, but shorter fin options as well. By using these shorter fins, you'll be able to improve your maneuverability, especially in shallower waters and rivers. While we would advise against taking the 10'6'' Meno on white water rapids, we definitely think the stability and maneuverability work well enough together to make this a good SUP for river situations.
Tracking/Glide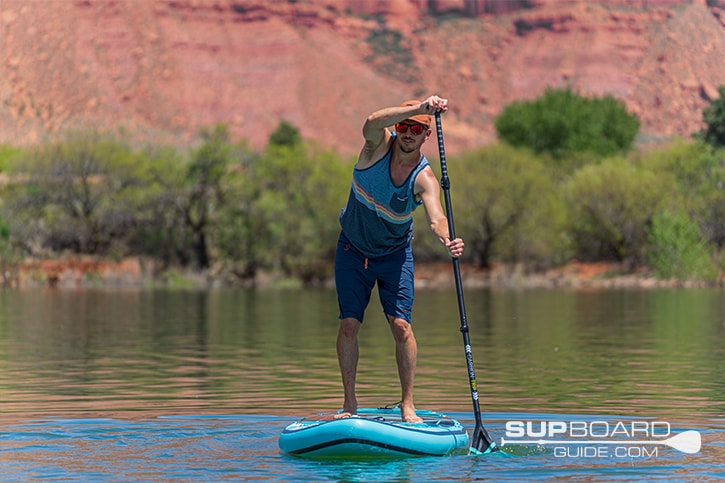 Trading out the short fins for the longer ones, especially the 9'' option, and you'll wind up with a SUP with good tracking and gliding as well. You'll have no problems going straight on the water while maintaining momentum to paddle along at a steady pace. The nose rocker is slightly raised, helping you tackle light chop and waves, with the Meno 10'6'' maintaining a steady glide on still and light chop alike. The carbon rails also help with maintaining a firm, rigid board that will keep you above the water and going where you want as you explore lakes, rivers, and the ocean.
Materials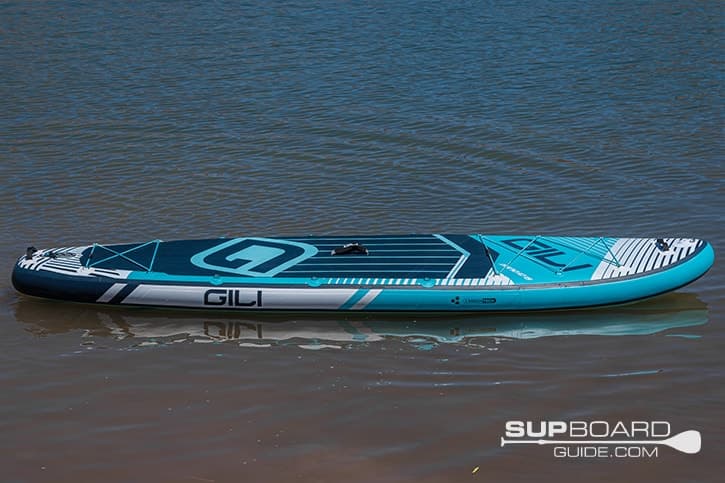 Wonder how the Gili Meno 10'6'' can support up to 500 lbs despite weighing only 23 lbs when inflated? Then you'll be interested in knowing how the Meno 10'6'' SUP is made.
GILI Sports starts with a tight, drop-stitch core. Several fabric sheets are connected by thousands of short strings. These strings help it attain the SUP shape you see above as air inflates this drop-stitch core, despite being an inflatable. To provide further weight support, stability, comfort, and durability, several layers of military grade PVC composite are applied to form an outer shell. The Meno 10'6'' relies on fusion dual-layer technology that balances keeping the paddleboard lightweight while providing it with the upper-end performance we've described above. Accidental drops, crashes, and other common accidents will do little to no damage to the overall structure of the SUP.
We want to give a special highlight to the carbon fiber rails though. Besides adding extra protection to the sides of the SUP, the added rigidity really makes a difference in performance without significantly increasing the weight and cost of the SUP. It's great that the Meno 10'6'' can provide enough support for two paddlers at the same time, while staying light enough that a single person can hike to the water with it.
Board Design/Shape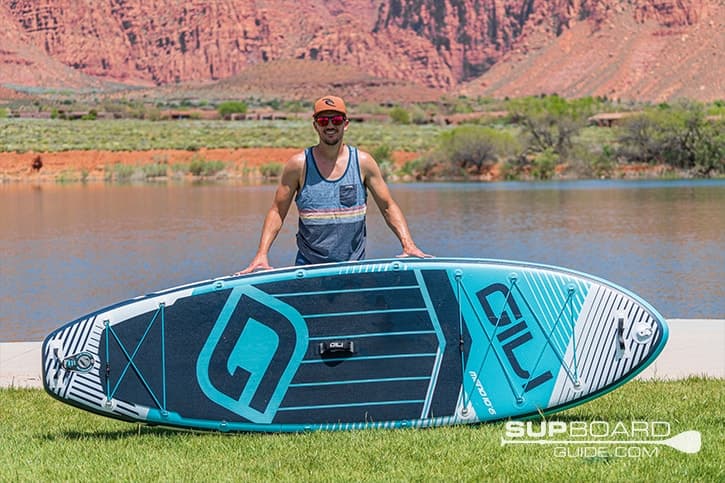 A good indicator of how much we like the design and the shape of the Meno 10'6'' is that it is nearly the same design as the BLACKFIN Model X. Consider that a compliment, as the Model X was voted our favorite all-around SUP of the year.
As an all-around, the Meno 10'6'' is good to use for most SUP water sports, be it racing, touring, or even yoga for those with a good sense of balance. The 10'6'' helps the Meno be long enough to have good tracking, but short enough that it is easy to turn. The 35'' wide deck is definitely big, to the point that smaller paddlers may have to adjust their paddle technique. However, the wide deck is a major reason for the superb stability and weight capacity that the Meno 10'6'' features. The 6'' thickness also contributes to the great support that the Meno 10'6'' provides, besides the carbon rails for increased rigidity and firmness. Outside of stability, it isn't necessarily among the best in any single performance factor, but it is good enough that beginners and advanced paddlers will like what the Meno 10'6'' offers.
Board Features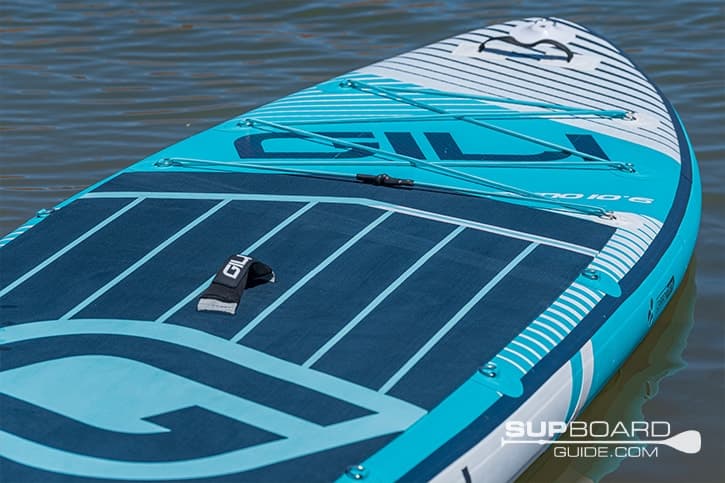 Besides just being a great SUP, the Meno 10'6'' comes with a long list of features that will help you further enjoy this premium inflatable paddleboard. The features we think are the most noteworthy include:
Carbon fiber rails: ECarbon fiber rails. The dual-layer fusion layers are nice, as you can read above in the . However, it's the carbon fiber rails that really help the Meno 10'6'' maintain a high level of performance while weighing just 23 lbs. The stiffness and rigidity helps with the maneuverability and speed, besides just providing a better, more comfortable feel to the paddleboard overall.
Dual-layer fusion military grade PVC construction: While you want to be careful, the occasional drop, crash, or other accident shouldn't cause any performance decrease to the paddleboard either. Fortunately, even on the very rare occasion something does go wrong, the Meno 10'6'' has both a 60-day guarantee and a 2-year warranty.
17 D-rings + 1 Action Mount: With 17 D-rings, you'll have plenty of places spread out all along the SUP for attaching cell phone bags, dry bags, and other clip on accessories to. On the nose of the Meno 10'6'' is an action mount, which you can screw a GoPro camera or other mounts to. Between the D-rings and the action mount, you'll have almost universal compatibility with a wide range of SUP accessories.
Carbon Fiber 3-Piece Adjustable Paddle: Weighing just 29 ounces, the carbon fiber paddle is easy to put together and comfortable to hold. You can use the paddle for hours without tiring or irritating your hands. If you do lose your grip on the paddle, no worries; it even floats in the water!
Three Carry Handles: Located on the nose, tail, and center, the carry handles make moving this already lightweight SUP even easier. Work in tandem with a partner to easily lift the SUP to the water with the front and rear handles, or just use the center one if you're by yourself.
Large Eva traction pad: The EVA foam traction pad is comfortable and smooth to stand on, ensuring that you can paddle for hours without hurting your feet. The long length of the traction pad gives you room to spread out, stretch or even some yoga. While smooth, the texture will also help you maintain your grip, so you are less likely to slip off even when the deck pad is wet.
2 Color Options: The Gili Meno 10'6'' is available in both blue and teal options, with our review featuring the blue SUP.
Charitable Donation with Every Purchase: On its own, the turtle icon on the bottom of the Meno 10'6'' definitely helps this paddleboard stick out from many other SUPs. However, the turtle icon also represents the pledge that, with every Meno 10'6'' purchase, GILI Sports will donate $15 – $18 dollars to ocean charities.
Fins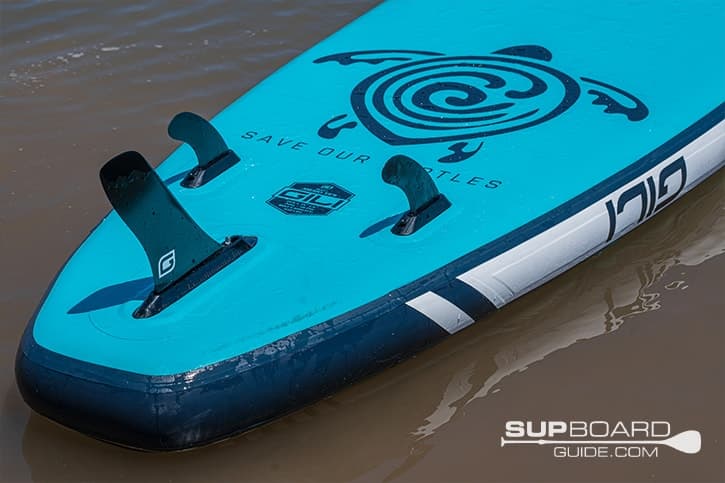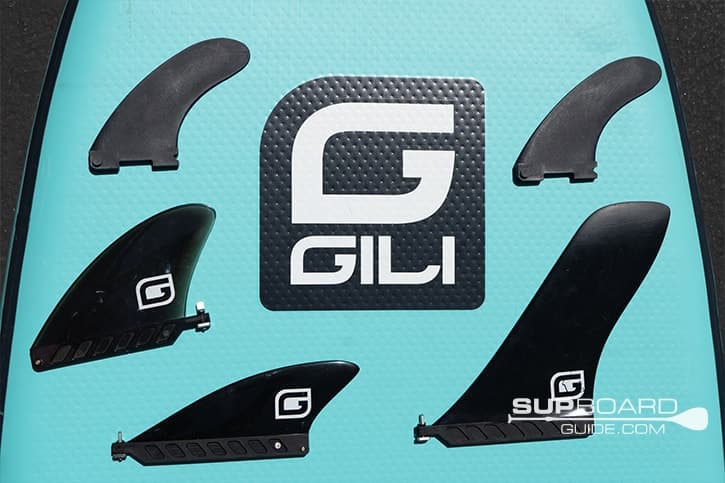 The Gili Meno 10'6'' has a tri-fin setup. The center fin box is a standard US fin box, allowing for compatibility with a wide range of SUP fins. The two side fins are more limited, but the snap in boxes make them easy to install in seconds. Besides offering great performance, the Meno 10'6'' sticks out with how many fin options it includes right out of the box. They include:
Gili Meno 10'6'' Center Fin Options:
9" Center Fin: Use this fin for most water settings for increased tracking and stability.
4.5" Speed fin: Use this fin for most water settings for increased speed and maneuverability.
3" River Fin: Use this fin for shallow waters and rivers.
With these fin options, you'll be able to fine tune your fin setup for any water environment or situation. Whatever you go with though, you'll appreciate the added performance boost that they all provide. It's great to see so many fin options included, especially at a sub $800 dollar price.
Deck Pad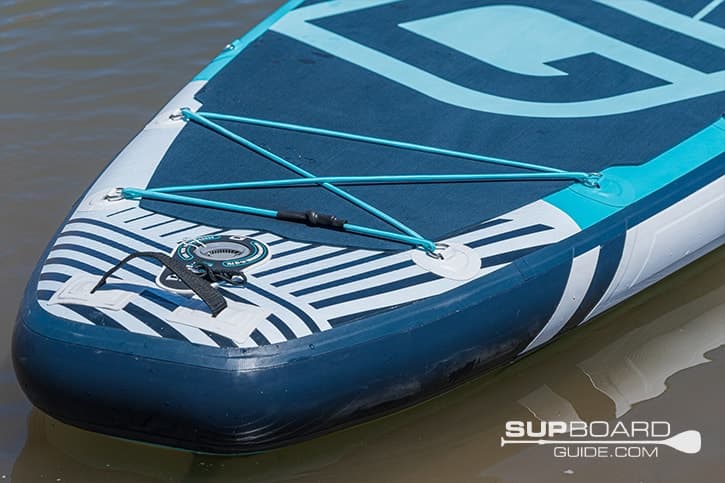 While the Gili Meno 10'6'' is a great board overall, the one area we would like to see improved is the deck pad. The length of the deckpad is nice, lending itself well to whatever activity you do on top of the SUP. It's comfortable to stand on, and you won't feel like you'll fall off even when your SUP is soaking wet. The 10'6'' does not have the Scotty mounts that the 11'6'' option has, a nice subtraction that helps the deck stay clear despite being the same board line. We also like the color of the deckpad, which resists and hides stains well.
However, we would love to see Gili upgrade the deck pad. While the pad is still very comfortable and does provide some support, we would either like to see actual grooves integrated or the diamond texture pattern to improve grip and feel.
Handles
There are three carry handles on the Meno 10'6'', a feature we always appreciate on SUPs. The center handle is the best of the three, featuring a neoprene grip that is very comfortable to hold. The handles on the front and back of the board are nice to have, although we'd love to see them also come with a neoprene cover or be a little thicker for better durability
Despite not featuring neoprene, the other two handles are still comfortable to hold onto and solid in most situations. Two paddlers working in tandem can easily carry the SUP to the water with the nose and rear handles. launching the board .
D-Rings/Bungees/Cargo Areas
There are 17 D-rings in total spread across the length of the Meno 10'6'', providing more than enough support for the traditional SUP add-ons out there. We admit its a little nit picky, but these D-rings are a little thinner than what we've encountered on many SUPs, especially premium ones. While most traditional bags and accessories will still clip in fine on these D-rings, making them a little bigger would make attaching things even easier.
The action mount on the nose works great though, and will ensure that your GoPro, cell phone, bluetooth speaker, or other critical devices are securely attached to the SUP. The forward and rear bungee cargo areas serve a similar purpose for coolers, lunch boxes, and other small containers. This is an all-around SUP, not just in performance, but in its compatibility with add-ons and accessories.
As we've noted in the deck pad section though, the 10'6'' Meno does not feature the Scotty mounts that the 11'6'' has. While we think the 10'6'' is better without the Scotty mounts, those who are interested in them or a fishing SUP should check out the 11'6'' instead.
Accessories

Carbon Fiber 3-Piece Adjustable Paddle
Carbon fiber paddles are some of the lightest, best paddle options on the market. The paddle included with the Meno 10'6' is no exception, weighing just 29 ounces. You'll have no trouble paddling the whole length of the day with this paddle, especially because of the comfortable, ergonomic grip. The nylon blade is what keeps the paddle from being even lighter, but at sub $800 dollars we're more than happy with the high-quality, lightweight paddle included in the Meno 10'6'' kit.
The 3-piece, adjustable nature of the paddle breaks down to 38'', making it easy to pack away and store in the kit bag. The twist lock in system allows you to alter and secure the height of the paddle in seconds, with the perfect height setting for almost all adult paddlers marked on the shaft. Besides being sturdy enough that the occasional small accident won't shatter the shaft or blade, the entire paddle floats on the water as well. You'll have no problem using the carbon fiber paddle for years with just a little care.
Pump
The dual-chamber, triple action pump is a great inclusion for quickly inflating your SUP. By following the instructions printed just below the action mode dial, you'll be able to inflate the Meno 10'6'' in less than 15 minutes, and less than 10 minutes with some practice. Gili also made sure that there is a deflation option with this pump as well, making it easier to deflate your SUP once you're ready to pack up for the day.
Backpack
The GILI Meno 10'6'' is a great SUP on its own, but one of the major improvements that GILI Sports has made overall over past equipment is with their backpack. The new 2020 GILI Sports bag is thicker, providing added protection and a more sturdy feel to the bag over the previous one. There's a front compartment that you can use to store your keys and other small items, helping you keep things organized and seperate from the large, roomy main compartment.
A new side handle has been added for easy carrying over short distances, though the top handle and adjustable backpack straps provide options for long term hiking as well. The Meno bag also has front roller wheels, setting it apart from all of the other GILI Sports bags. It's a fantastic kit bag, and as long as you get most of the air out of your SUP you won't have any problem fitting your Meno 10'6'' in it.
Leash
You can wrap the 10' coiled leash around your ankle or thigh, and attach it to one of the D-rings scattered on the SUP. The leash might not do much on a calm water day, but if the water is choppy it will make sure your SUP doesn't float out of reach if you fall off. However, no matter if the water is calm or rough, the leash won't do anything to help you float in the water. We always recommend heading out with a PFD for the safest SUP experience.
Repair Kit
For significant damage, you are better off contacting GILI Sports to try to resolve your issues. However, the included repair kit can help you fix minor problems with your Meno 10'6''. If you have a small scratch or hole you want to cover that isn't on the seams, the included patches can serve to be a temporary solution. If the Halkey-Roberts inflation valve comes loose, you can tighten it up with the valve wrench. Be sure to take advantage of the 60-day guarantee and 2-year warranty covering the Gili Meno 10'6'' for any other problems though.
Optional Accessories
Between the 17 D-rings, the action mount, and the large size of the SUP, there's likely something you'll bring with you when you paddleboard. On Amazon and other online retailers, you'll find a ton of add-ons you can use for your Meno 10'6''. GILI Sports also produces official accessories that we think are worth taking a look at. They include:
Kayak conversion seat
Paddleboard carry straps
Waterproof dry bag
Waterproof phone case
Company Review – GILI Sports
Named after the Gili Islands, a three island chain located near Indonesia, GILI Sports is dedicated to creating paddleboards just as beautiful and sustainable as the islands they are named after. As such, you might have noticed the turtles and other beautiful logos stamped on the bottom of their SUPs. These logos not only help these cool SUPs stick out, but are also a representation of the promise made by GILI Sports. With every purchase of a GILI Sports SUP, a portion of the proceeds are donated to ocean preservation organizations and other charities. The Coral Reef Alliance, Project Aware, Oceana, and Save our Turtles are just a few of the groups that have benefited as people have bought boards like the Gili Meno 10'6''.
GILI Sports offer great support beyond just supporting charities though. The Meno 10'6'' is covered by both a 60-day guarantee and a 2-year warranty. While the Meno's dual-layer PVC construction will resist most common accidents you might experience on the water, it's definitely nice to know you're covered if something does happen. We've found GILI Sports quick to respond to our questions and pleasant to work with, besides constantly finding new ways to improve their SUPS year over year. We think that GILI Sports support is just as great as the boards they make, and continue to look forward to what they'll develop next.
Conclusion/Bottom line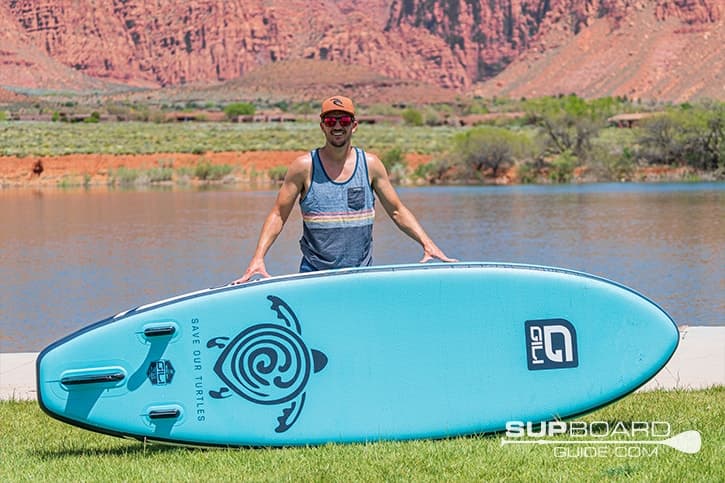 It's hard to believe that the Gili Meno 10'6'' offers such high performance despite weighing only 23 lbs. The stability is stellar, and is capable of supporting 450 lbs with a little bit of practice. The tracking and glide are good, enhanced by the diverse fin setup that you can fine tune for any occasion. Easy to turn, you'll have no problem dodging debris and exploring every cove and corner of your favorite watering hole. Families and friends will enjoy paddling together, while single paddlers large and small will enjoy the performance of this SUP.
Beginners will benefit from the Meno 10'6'', not just for the great performance but the kit that features everything needed for the water out of the box. The sub $800 dollar price tag should also be enticing for experienced paddlers looking to upgrade to a more premium, upper end paddleboard without breaking the bank.
Have any questions about the Gili Meno 10'6'', or want to learn more about GILI Sports as a company? Or, are you trying to learn more about paddleboards in general? Be sure to leave a comment below, or send us an email with anything you want to know. We also periodically update these reviews with feedback we receive, so we would love to hear your experience with the Gili Meno 10'6''.
Thank you for reading, and we hope to hear about your adventures on the water!
The following two tabs change content below.
Justin - Chief Paddler
Heyo! At SupBoardGuide.com we are a team who love the water, the outdoors, and are more than grateful that our full-time job allows us to review stand up paddle boards. We paddle year round (it helps that we are just about 2 hours outside of Las Vegas), and we bring in a wide range of paddlers with the goal of providing our readers with the best, most in-depth, and accurate stand up paddle board reviews.
Latest posts by Justin - Chief Paddler (see all)