Gili Sports 11'/12' Adventure
Pros
Versatile, stable touring board that is great for SUP adventures
Great value. Lower priced than most comparable iSUPs
Excellent features - comes with 2 bungees, 3 carry handles, 20 d-rings, and even fishing mounts
Great kit that comes with a quality bag, nice paddle
High weight capacity - good for bringing kids and or pets
A percentage of profits go towards helping protect our oceans!
Cons
We like the deckpad (especially the raised tail pad), but traction could be improved by adding stamped logo or diamond grooves throughout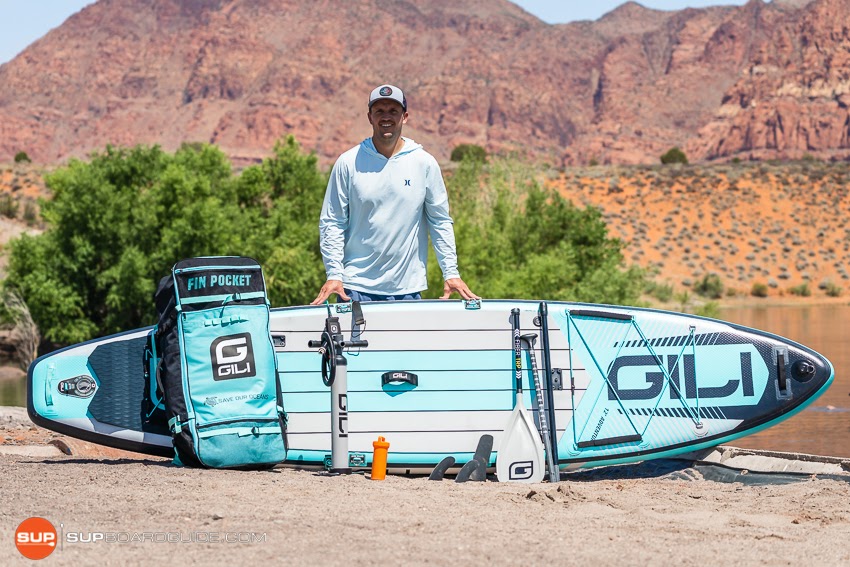 Today we will be reviewing the Gili 11' / 12' Adventure inflatable stand up paddle board. Like the rest of the Gili Sports lineup, the Adventure is packed with tons of great features and is made with their continued commitment to quality. We have been impressed by all of the Gili Sports lineup so far and we are expecting good things to come. So without further ado, let's dive into our Gili 11' / 12' Adventure Review.
For starters we would like to point out that any paddle board purchase from Gili Sports helps save the oceans through one of their various supported charities. In fact they even designate certain graphics to specific charities. Most notable is the "save the turtles" logo that is probably their best seller and generates money for many endangered turtle species. So at the very least you can feel good about buying boards from this very eco conscious company.
Stepping out from behind their conservation work we like to think of Gili Sports as a fairly forward thinking stand up paddle board manufacturer. They are often quick to see industry trends and also produce some of their own. The Adventure series boards are no different incorporating some very nice features and the ability to attach different accessories to customize the experience. They also produce some of the lightest boards on the market making them perfect for smaller paddlers or those looking to hike into a lake or river. Available in two sizes (11' and 12'), the Gili Adventure is aptly named as adventure is what awaits you with this iSUP.
We think the Gili Adventure would be great for paddlers who
Want a light but well constructed iSUP for various paddling conditions
Would like to be able to comfortably support approximately 300lbs
Want a good touring SUP that has the stability to be used for casual paddling around the lake, or even fishing.
Want to paddle with a little additional gear, children, or pets
Want the ability to customize their board with various accessories for any situation
We think the Gili Adventure is great for the following water conditions and situations:
Distance flat water paddling
Touring adventures w/ gear
Recreational paddling
Ocean paddling
Gili Sports 11' / 12' Adventure Review: Overview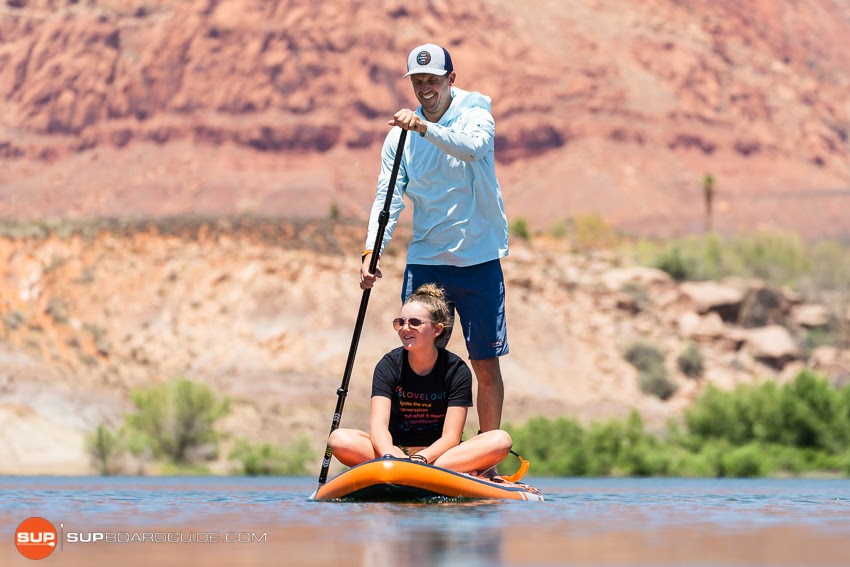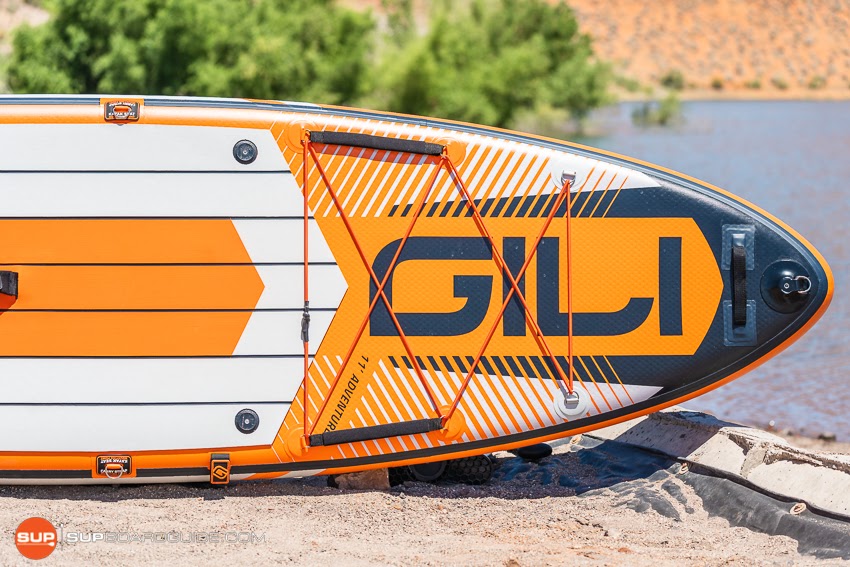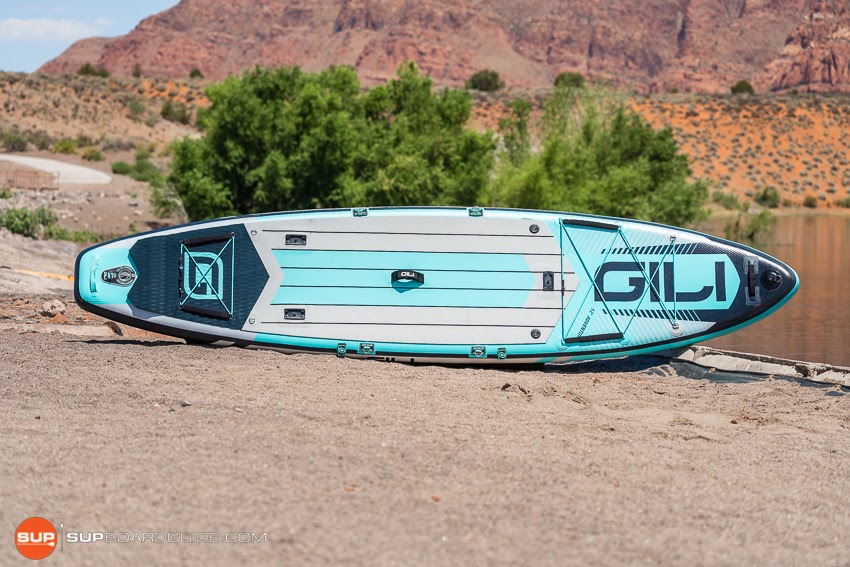 The 2022 Gili Sports Adventure comes in two distinct sizes, 11' and 12' as we have mentioned. . We have had the pleasure of testing them both on numerous occasions and we always get the question "which size is right for me?". In our opinion it's generally worth it going for the larger board. We understand that might be more difficult for smaller paddlers but in the grand scheme of things, we really feel most paddlers would be better suited to having more buoyancy (and therefore more carrying capacity). We do commend Gili Sports for offering both sizes for those who may not need the extra size but in almost all conditions we can think of we would rather have the additional room for kids, pets, coolers, etc.
Moving beyond the obvious choice of size the boards are both offered in 4 different colors, with different graphics, including the now famous "save the turtles" print. These boards also come fully outfitted for just about any situation you could imagine. Gili Sports is also working on a fishing rack system so keep your eyes open for some more great accessories.
Note: We do not write spec reviews. We take these boars out frequently to use them in as many different conditions and situations as possible. We go in depth and we update our findings as time goes on. Please if you have any questions just leave us a message below and we will reach out to you!
Gili Sports 11' / 12' Adventure : Spec Sheet
| | |
| --- | --- |
| Main Category | Touring, Inflatable |
| Board Dimensions | 11'/12' x 32" x 6" |
| Listed Board Weight | 22 / 23 lbs |
| Listed Max Capacity | 290 / 330 lbs |
| Recommended PSI | (coming soon) |
| Fins | 3 snap in fins, one 9" center and 2 side fins |
| Paddle | 3 piece travel paddle |
| Materials | Dual layer fusion technology |
| Price Range | Mid range |
| Warranty | 2 years, 60 day money back guarantee |
Official SupBoardGuide.com Test Results: Gili Sports 11'/12' Adventure (2022 model)
We put these boards through as many real world simulating tests as possible. Our goal is simple, we are trying to give you, the consumer, real world data when making your purchasing decisions. We do our best to verify manufacturers claims and get you performance data to back that up.
Overall Score:
11' – 9.3/10
12' – 9.4/10
The Gili Sports Adventure performed very well through all of our tests. We were continually impressed with it's overall stability. It als0 was very smooth and efficient through the water, good for longer touring adventures. It is no slouch when it comes to places to store gear either. With approximately 20 D-rings, front and rear bungee straps, 3 action mounts, and scotty mounts this board is ready for just about any adventure you can think of.
11' Adventure
Stability: 9.1/10

Speed:8.9/10

Tracking: 9.0/10

Maneuverability: 9.1/10

Construction Quality: 8.8/10

Accessory Review: 9.5/10
12' Adventure
Stability: 9.3/10

Speed:9.1/10

Tracking: 9.1/10

Maneuverability: 9.0/10

Construction Quality: 8.8/10

Accessory Review: 9.5/10
Our overall rating of 9.3/10 for the 11' Adventure and 9.4/10 for the 12' adventure highlights how good we felt these boards were – and also earned them a spot on our best touring SUPs list for 2023. It also displays our overall feeling that in most cases the larger board will be more utilitarian than the shorter counterpart. Especially when the only difference is the length (they are both 32" wide).
In-Depth Review of the Gili Sports 11'/12' Adventure Stand Up Paddle Board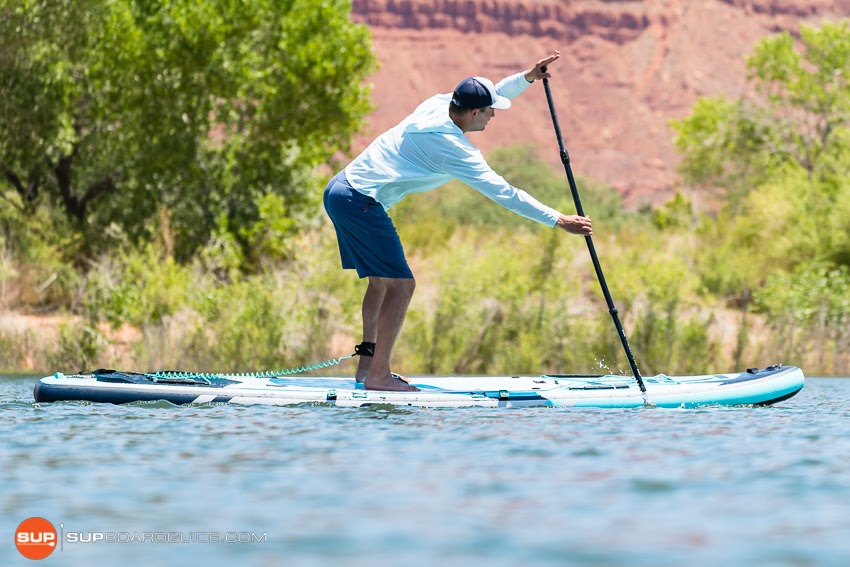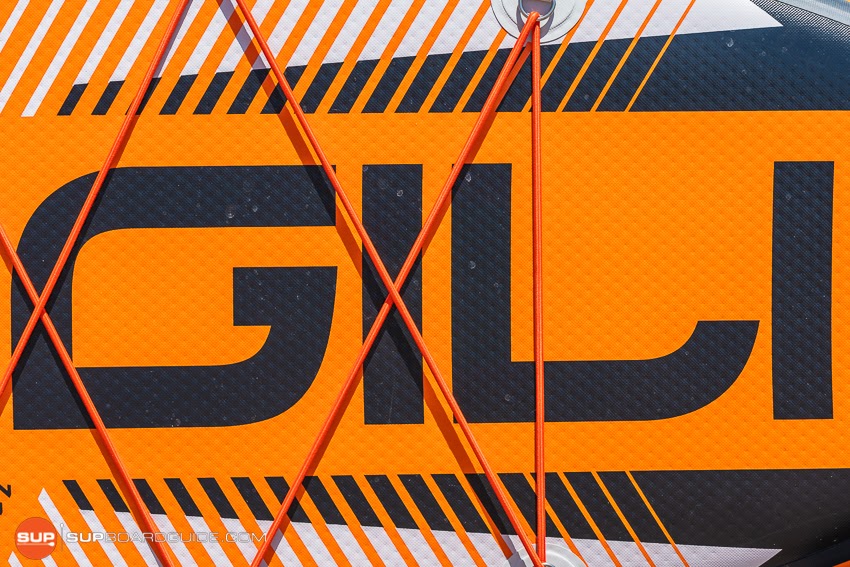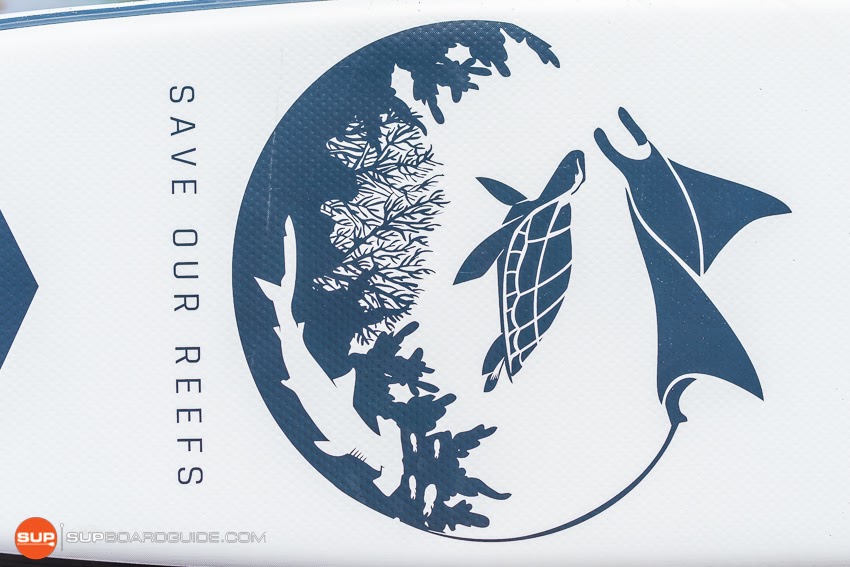 As we have mentioned these boards did very well in our tests. We appreciate their relative swiftness through the water combined with their swiss army knife-like utility. They also have a very stable feeling to them despite being touring SUPs that are fairly light for their overall size. This is especially useful if you're planning on carrying these iSUPs any sort of longer distance. They are both offered in the same 4 colors (blue, teal, yellow, and orange) with unique graphics for each colorway. They also have a fairly decent weight capacity, meaning you can load out these boards for all types of adventures. We are especially thankful for the bungee handles on the front and rear as these make paddling with small kids a breeze. Overall we were very pleased with both of these boards.
Stability Rating:
11' – 9.1/10
12' – 9.3/10
We will always put a board's stability first before almost anything else (at least for beginners). Our thinking has always been, if you're not comfortable on the board, you're not going to be having fun. Thankfully the Gili Sports Adventure provides a stable platform in almost all conditions. We feel that stability is a function of the boards overall shape (volume), and construction. In this case these boards come very close in terms of overall shape (they share the same width, one is simply a foot longer) and are identical in terms of construction.
The smaller 11' board did great with most sized paddlers, and we found the 12' version to be even more stable for larger paddlers above 220 lbs. Both versions also did really well with gear and kids, and you can get away with paddling around with another sitting adult on the 12' model.
Weight Capacity:
Listed Weight Capacity: 11' – 290 lbs / 12' – 330 lbs
Tested Capacity: 310 lbs (both boards)
We are also impressed with their functional weight capacity. These boards could take a 200+ lb paddler and their pet or child with relative ease. Again we are favoring the slightly longer 12' version, but make no mistake both boards are stable under your feet with effectively loaded gear.
For those who may not realize we attempt to analyze both functional weight capacity and the manufacturer listed weight capacity. For our definition of functional capacity, we look for the maximum weight that can be on a board and the board still be paddle-able. We have found that some manufacturers will often list the point at which the boards sink or otherwise fail on the water. We feel a board is useless long before you reach that point, especially if it's rendered unpaddle-able.
We tested these boards with a varying group of testers and even loaded up a parent child combo to see how it would do. They both did excellent, with the 12' doing better in terms of balance and control while paddling.
Speed Rating:
11'- 8.9/10
12'- 9.1/10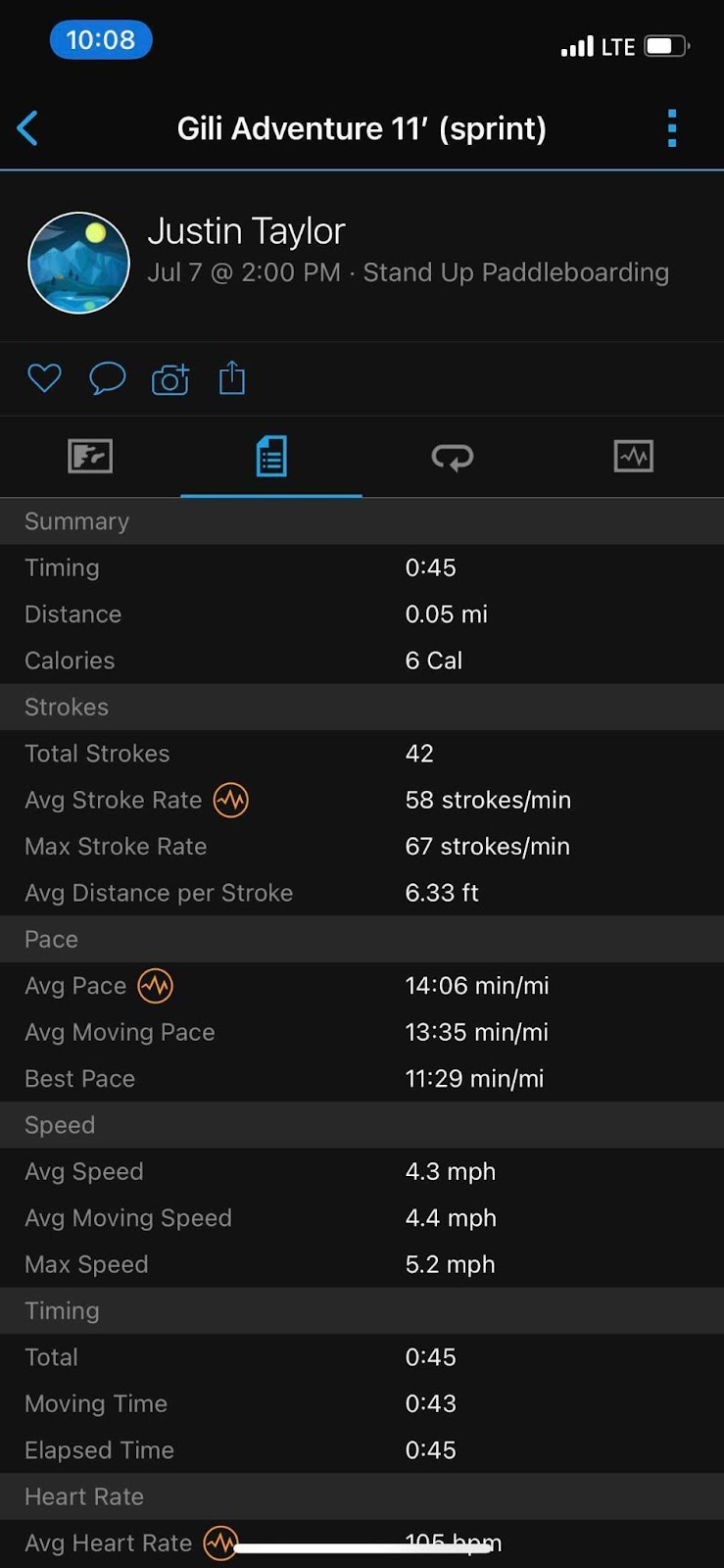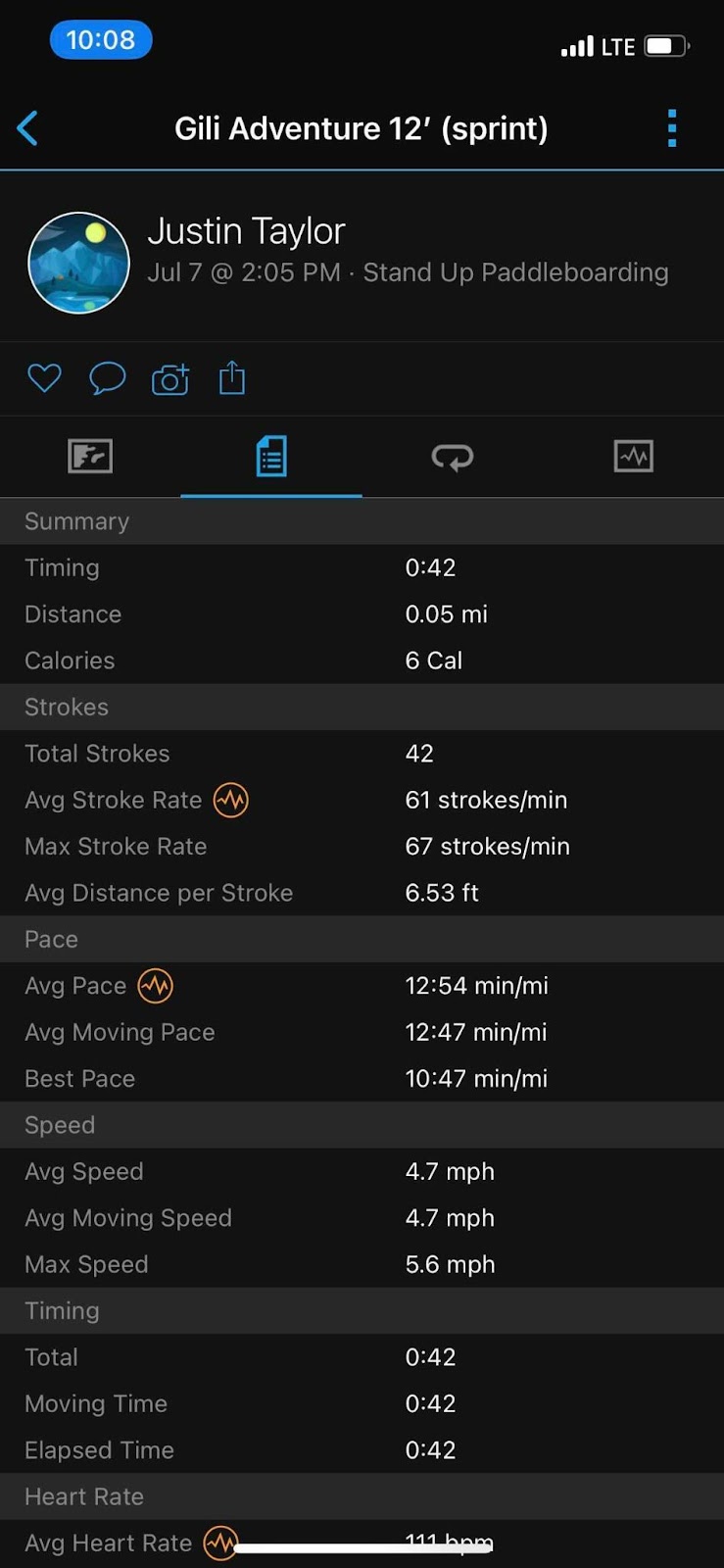 We realize the "speed" of a SUP is highly subjective, especially considering the varying conditions we typically paddle in and the different experience levels of our testers. What we look for is trends across the board in all conditions for all riders. We want to emphasize that most paddlers will do fine with most boards speed. We just rate this so you can get an idea of how easy a board is to move through the water. So if you want to do longer distances, you can make it easier on yourself. Again, we are all about getting you the best board for your specific needs.
In this case both of the boards performed surprisingly well. The longer water line of the 12' was just faster through the water than the 11', but don't think the difference is so great that you will be left behind by similar boards. They both are solid choices for short to medium length trips. This is also due to their overall shape. At 32" wide they are a good deal thinner than other alternatives. That combined with their fairly long lengths of 11' and 12' you get a board that is suited for paddling efficiently over long distances.
Tracking:
11'- 9.0/10
12'- 9.1/10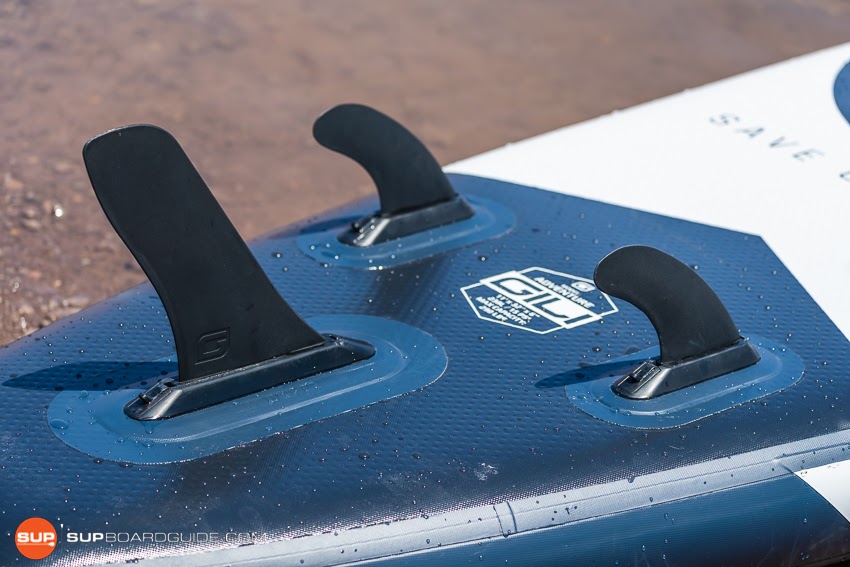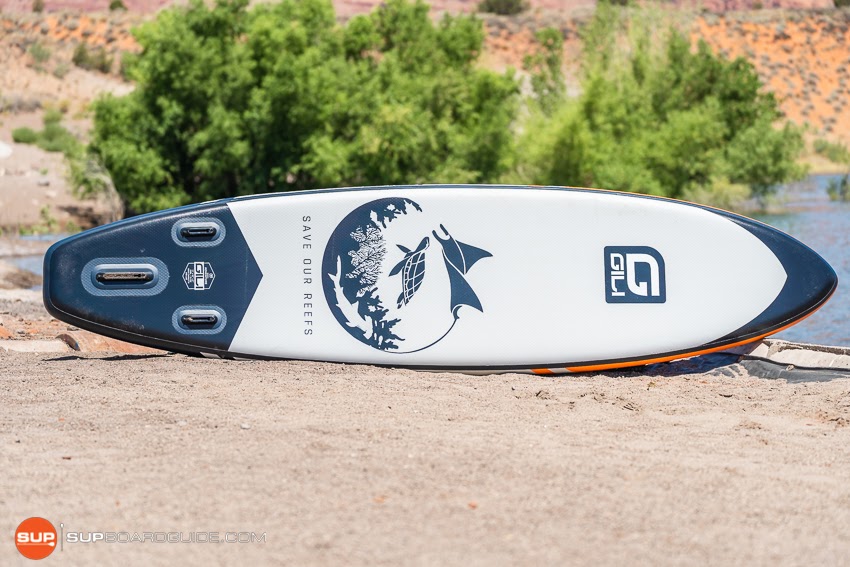 We get a lot of questions on why we include tracking in our reviews and it boils down to the fact that, like speed, it will have a big impact on your enjoyment on the water if you're going for any sort of distance. We like to see boards that can be paddled 6-8+ strokes per side without needing a major directional change. Admittedly your paddling form dictates a big part of that, but what help the board does provide is important to recognize. The longer you can paddle without switching sides the more efficiently you will move through the water. This not only helps with speed but also when navigating crowded waterways.
We were really pleased with how well the both Gili Adventure SUPs tracked. We were able to paddle 10+ times before having to switch sides, with the 12' version again doing a little better here (i.e. – we got an extra 2-3 strokes per side on average).
A good part of this performance comes from the tri fin setup. The fin set up is focused on touring, as it comes with a larger than average center fin, with 2 regular size removal side fins. All the fins are snap-lock, so they are super easy to install and remove when you are done paddling.
Maneuverability:
11' – 9.1/10
12' – 9.0/10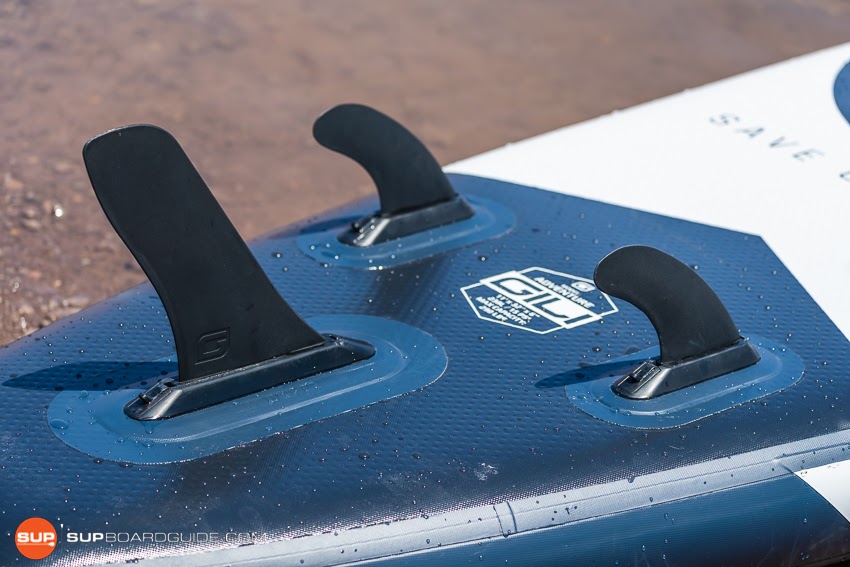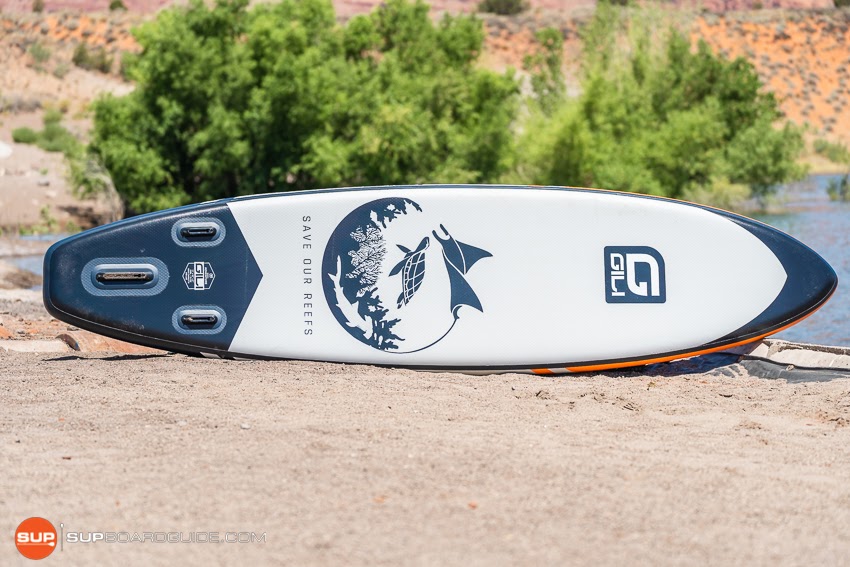 Gili Sports makes their SUPs very lightweight and responsive, which helps them be highly maneuverable. The 11' is a little more maneuverable than the 12' simply because there is less lenght/mass of board to move around. Both the boards handled a complex slalom of river plants and tree's with relative ease. Their light mass makes it easy to turn and change direction using simple paddling techniques. When trying to do more advanced turns the boards were equally as adept. Stepping back on these boards felt sure footed especially considering the raised step pad with diamond grooves the tail of the board.
Construction Quality:
11' – 8.8/10
12' – 8.8/10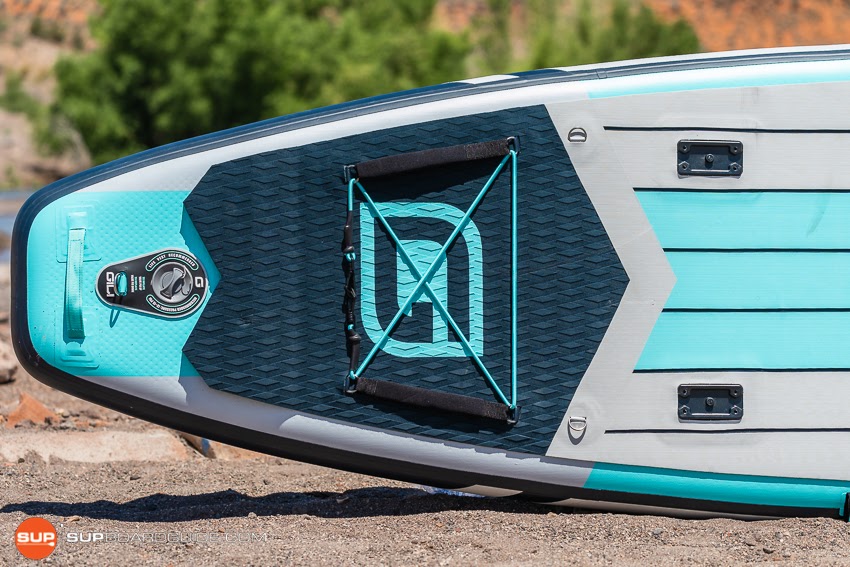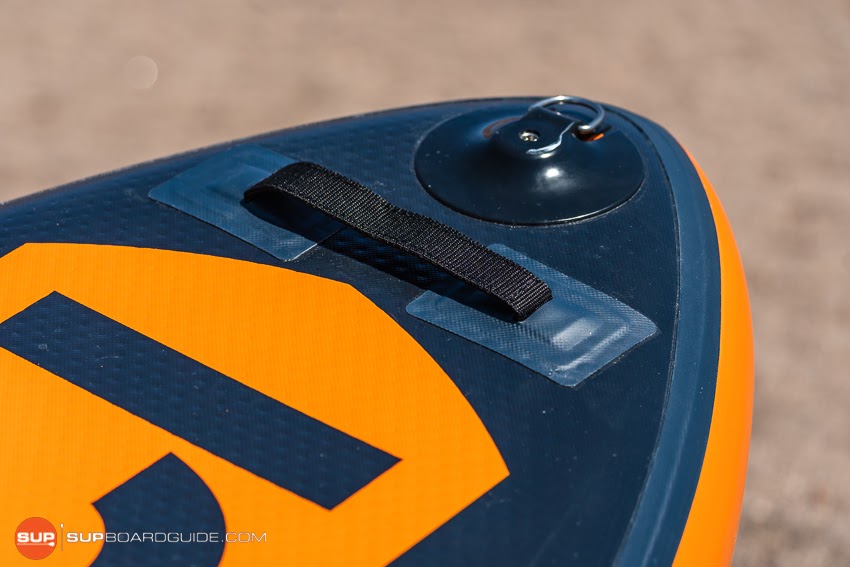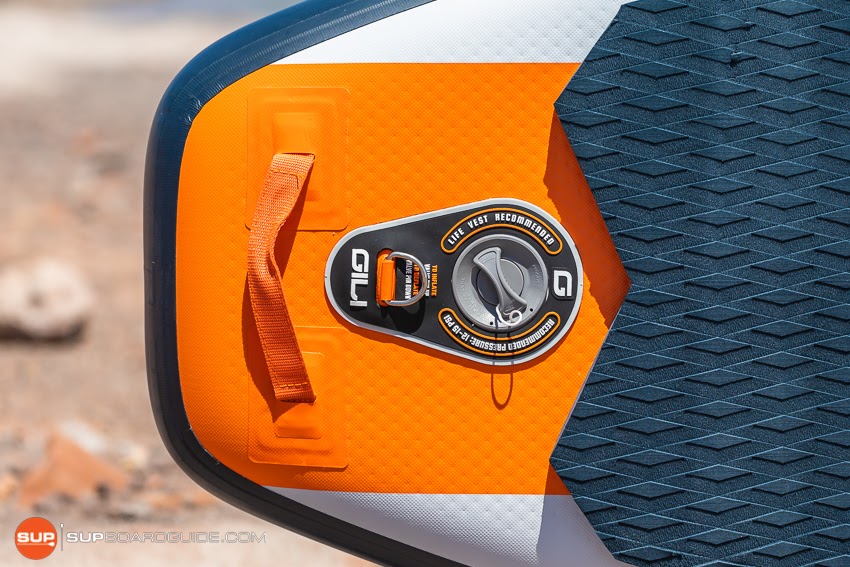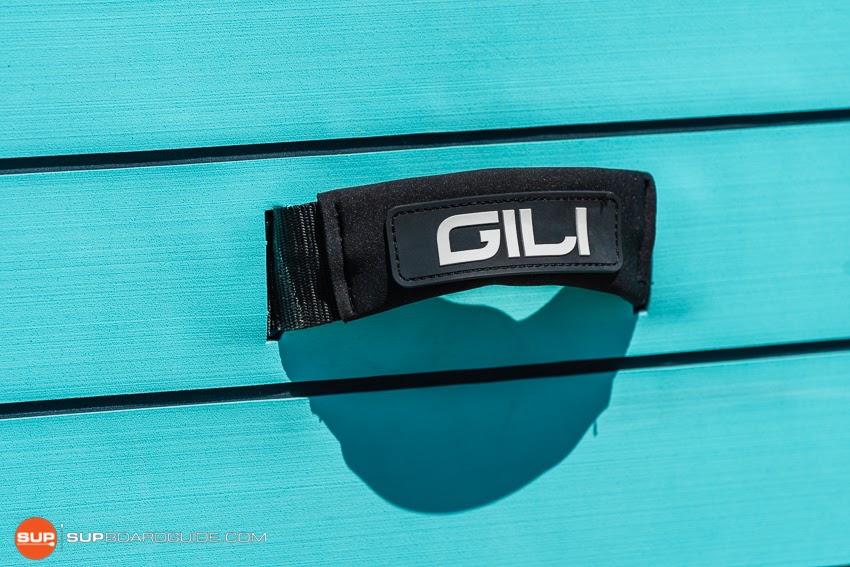 Gili Sports makes their Adventure series their "advanced dual layer fusion technology". This is the same construction they've used on the rest of this year's lineup and we have been impressed with it so far. It is important to note that the Adventure lacks the carbon rails of the Meno, and is thus slightly less rigid due to the lack of the extra layer of material.
However, both boards feel very well built even though they are surprisingly light – which we think is a really nice combo. All the seams look/feel solid and all the attachment points for the various accessories are very sturdy. The finish on these boards was excellent. Under your feet the board feels nimble for its size yet still has the stability you expect to find on a larger SUP.
Board Stiffness:

Stiffness Test: 1.1875" Bend (board on top of saw horses placed 7' apart, with 150 lbs of weight added right by handle in middle of the board)
*note: you will only see one measurement here where most of the rest of this review is divided in two. That is simply because the boards share the same width. So they are both performing the test with the exact same materials, and surface area.
Gili Sports has a reputation for building lightweight but surprisingly solid boards. These boards did not disappoint in this aspect. In terms of stiffness, these boards performed very well and had just 1/16" more bend than the Meno SUP series. Given how well they performed, we like how Gili didn't add carbon fiber rails. Yes, carbon fiber rails would have improved rigidity slightly, but they also would have added weight. We like how lightweight the board is as it makes it a great option for those looking to backpack and also gives it a nice responsive feel while paddling on the water.
Features / Accessory Review:
11' – 9.5/10
12' – 9.5/10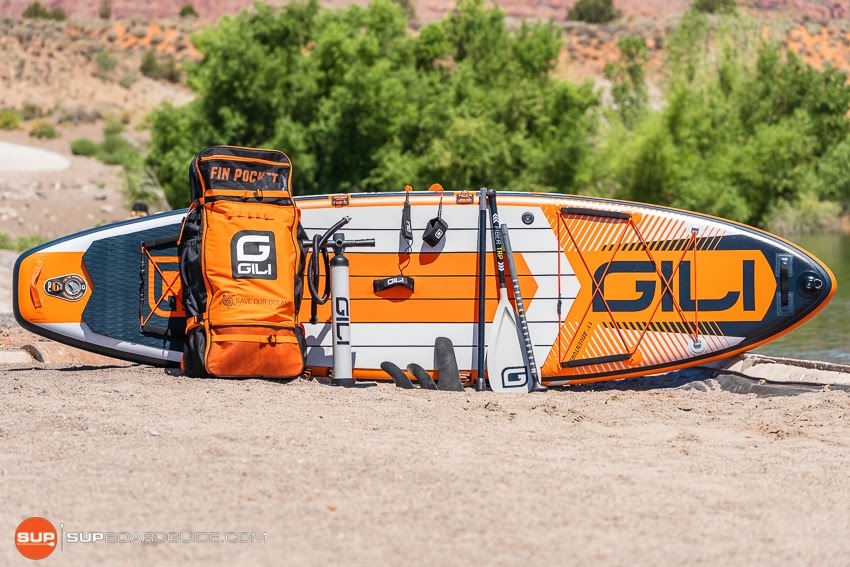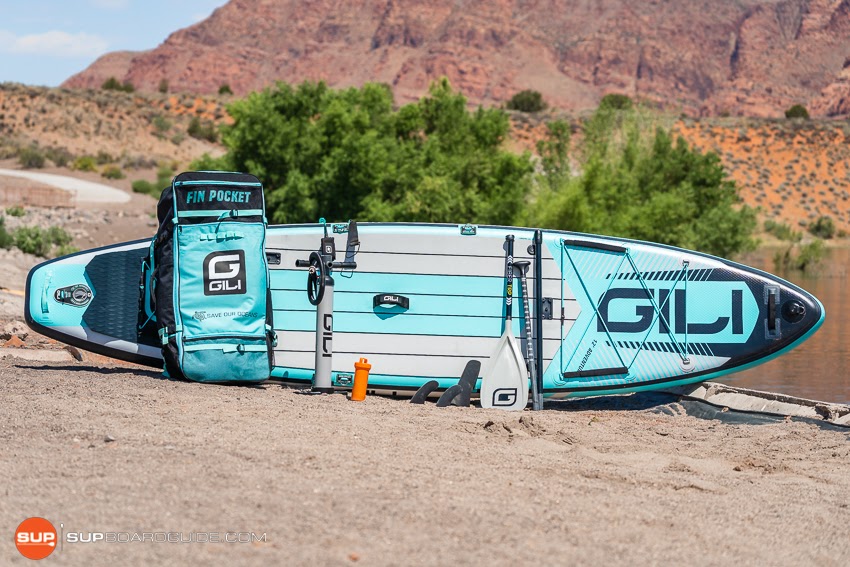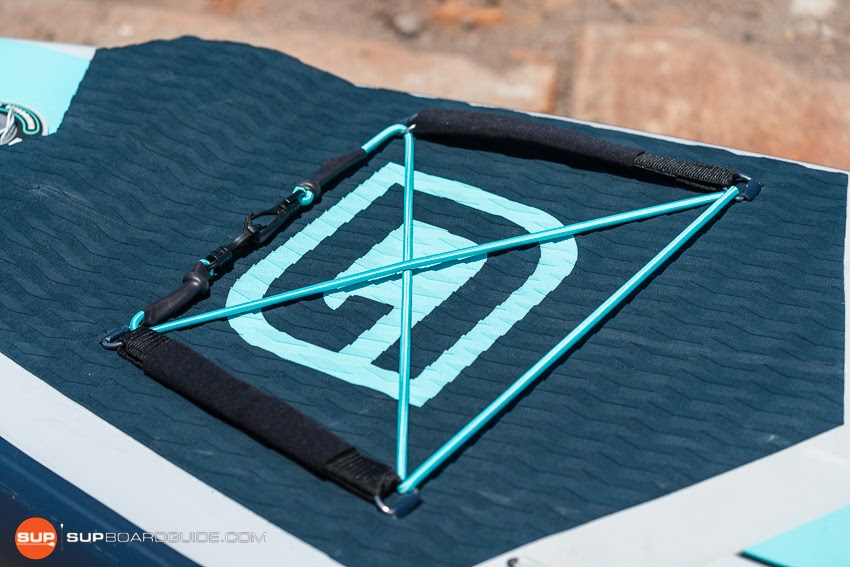 Features:

The Gili Sports Adventure is absolutely loaded with useful features. Starting at the nose you have the forward most action mount (of three total) and a great grab handle. Moving down the deck you see the forward most of the bungee straps and the integrated handles that hook through the D-rings. These are an amazing idea if you plan on paddling with kids, as they make the perfect grab handles. Making our way on the very smartly colored deck pad you will see an additional two action mounts as well as forward most D-rings for their carry sling attachment. The center handle is a nice padded one that feels comfortable when carrying. These boards also come with a side mounted velcro paddle holder as well, good for securing your paddle during longer lounges. The back of the center deck pads is where the Scotty mounts are located. According to Gili Sports they are in the process of developing their own proprietary fishing rack for the adventure and we can't wait to try it out. Moving to the rear of the board you will see the rear most bungee straps. These are designed to be removable (via the clip in the straps), however we have found that their D-rings a bit small to make this a simple task. Perhaps the inclusion of larger D-rings would alleviate this problem. We do like the idea though. A lot of the time we wish the rear most bungee's could be removed. More specifically with this boards raised rear deck pad (kick pad / stomp pad) this feature is especially special. When moving back on the board for tight turns it's nice to have a bungee free stepping area. Finally we come to the rear mounted valve and the attached leash mounting point and rear most handle. This board is absolutely loaded in our opinion.
Included Accessories:

Gili sports has done a great job this year including a full well rounded kit with all of their iSUPs. The Adventure is no exception and it comes with:
Backpack
2 stage hand pump
3 piece hybrid adjustable paddle
9" snap in center fin and 2 side fins
8' coiled leash
We will go more in depth with some of these below but know that we really like Gili's inclusion of a Tri fin setup with this iSUP. It's important to know that these fins are interchangeable with the rest of the Gili Sports fin lineup (as well as some other manufacturers). All in all this is a very complete kit.
Paddle: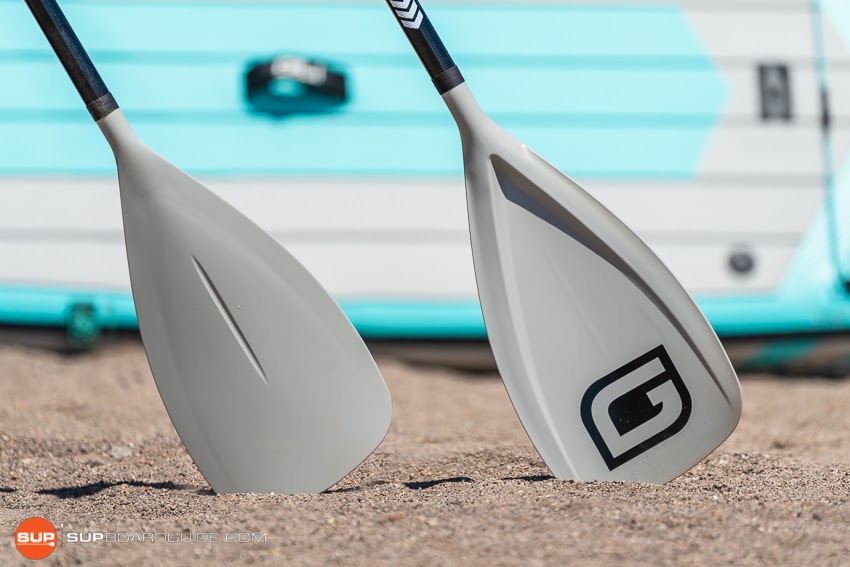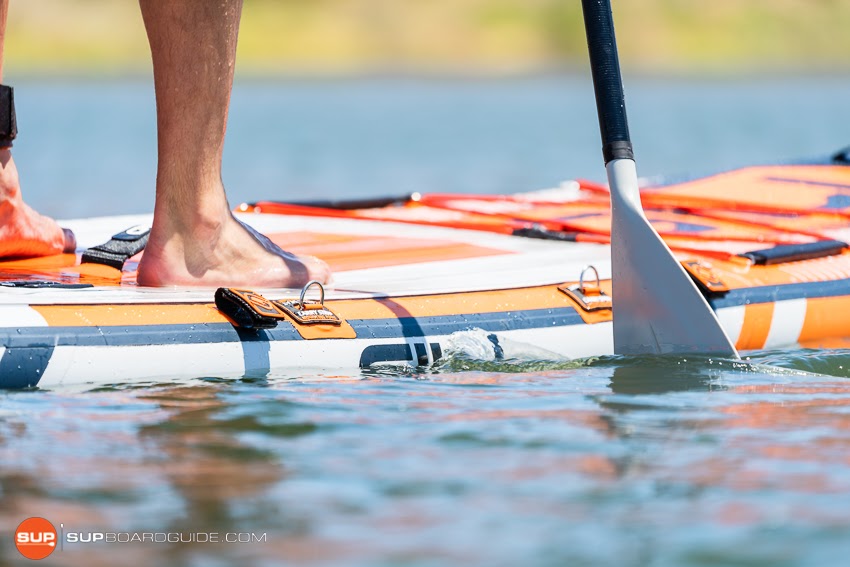 The Gili Sports included paddle is a three piece hybrid design. What it's made of is dependent on which option you select at the checkout. They have 3 options, a fiberglass with nylon blade, carbon fiber with nylon blade, and full carbon option. The full carbon piece is new for 2022 and for the added price we feel it a worthwhile investment. However both the fiberglass and carbon fiber options are equally as well made, just not as light. We think the carbon/nylon hybrid is probably the best choice for weight and durability.
In terms of paddling, the paddles all are essentially the same shape and carry the same adjustment profile. The paddles themselves could use some better clamping mechanism to prevent any twist in the paddle while using it. We like that Gili offers you the option to upgrade your paddle at the outset.
Pump: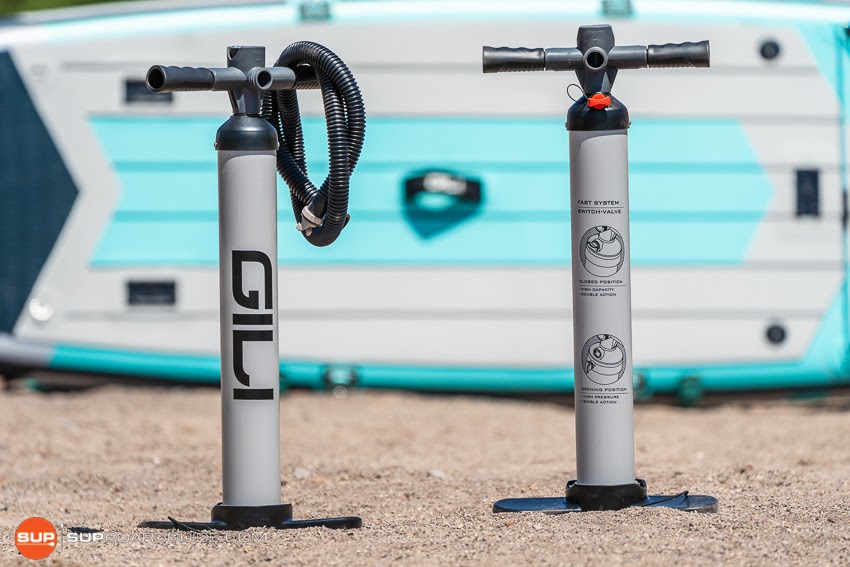 I can say the one part of the kit we are less satisfied with is the manual pump. It's a simple single chamber dual stage piece. It's not exceptionally wide or voluminous and we feel this leads to a bit of a struggle when pumping the board to the max. We really feel the new standard has become the dual chamber 3 stage pumps.
Now that you have our opinion of the pump, go out and buy yourself an electric pump for your SUP. We can't say how much of a difference this makes in our overall enjoyment of our time on the water. Gili offers one, as do most other manufacturers, but regardless of which one you choose, we implore you to choose one. You'll thank us later.
Bag: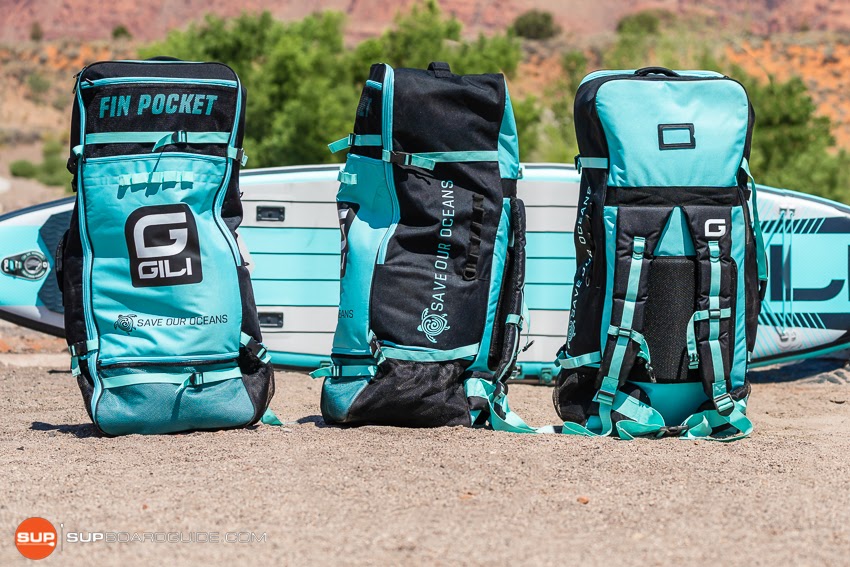 Gili Sports has one of our favorite kit bags. Starting with the exterior we see the very thick and well padded backpack straps. These combined with the fairly thick back pad makes for a very comfortable way to carry these lightweight iSUPs. These make great inflatables for hiking.
From there we can see the heavily padded top and side handles, great for moving the full bag around and storing it in trunks or cabins. We are also fans of the raised looping on both the rear and the sides of this bag. These are great for attaching any last minute extra pieces of equipment you may need via carabiner. Additionally this bag has a dedicated fin pocket for the 3 included fins, as well as any more you purchase. Finally there are cinching straps on three sides of the bag to secure the contents while you're transporting them. We also kinda like how the bags are color matched to the boards themselves. Not only is it stylish but it's a great way to keep track of a "his and hers" set.
Optional Accessories
Gili sports has a fairly good supply of additional equipment for purchase when checking out (they often will give you a discount when buying with the board as well). While it's not feasible to list their entire inventory we can for sure recommend some of our favorites:
Electric iSUP pump
Shoulder carry straps
Cup holders for the action mounts
Optional center fins in various sizes
Branded drybags and coolers
Various branded clothing options
Summary Review of the Gili Sports 11'/12' Adventure (2022 model)
We really were impressed with the Gili Sports 11'/12' Adventure. As an extremely light iSUP (in general not just for its size) it feels easy to maneuver on the water while still having an impressive weight capacity. We love that it's so feature rich, with a lot of common sense items that really make a difference to the paddling experience. It was fairly efficient through the water while still being stable enough for most of the rougher water we encountered on several occasions. All in all we think these boards are very deserving of their high overall scores. Happy paddling!
We look forward to seeing you out on the water, until then if you have any questions about the Gili Sports 11'/12' Adventure review, please comment below. We love answering questions and we look forward to hearing from you.
The following two tabs change content below.
SupBoardGuide
Heyo! At SupBoardGuide.com we are a team who love the water, the outdoors, and are more than grateful that our full-time job allows us to review stand up paddle boards. We paddle year round (it helps that we are just about 2 hours outside of Las Vegas), and we bring in a wide range of paddlers with the goal of providing our readers with the best, most in-depth, and accurate stand up paddle board reviews.
Latest posts by SupBoardGuide (see all)