iROCKER All-Around 11' Ultra Compact Inflatable Paddleboard
Pros
Lightweight 21.4 lbs; a full 4.6 lbs lighter than the standard iROCKER 11' All-Around
Rigid construction = almost no noticeable flex on the water
iROCKER's 12V Electric Pump is included in this SUP kit
Compact design packs up to be slightly larger than a regular backpack
Great tracking capabilities
Cons
We'd like more fin options, to be able to customize maneuverability and tracking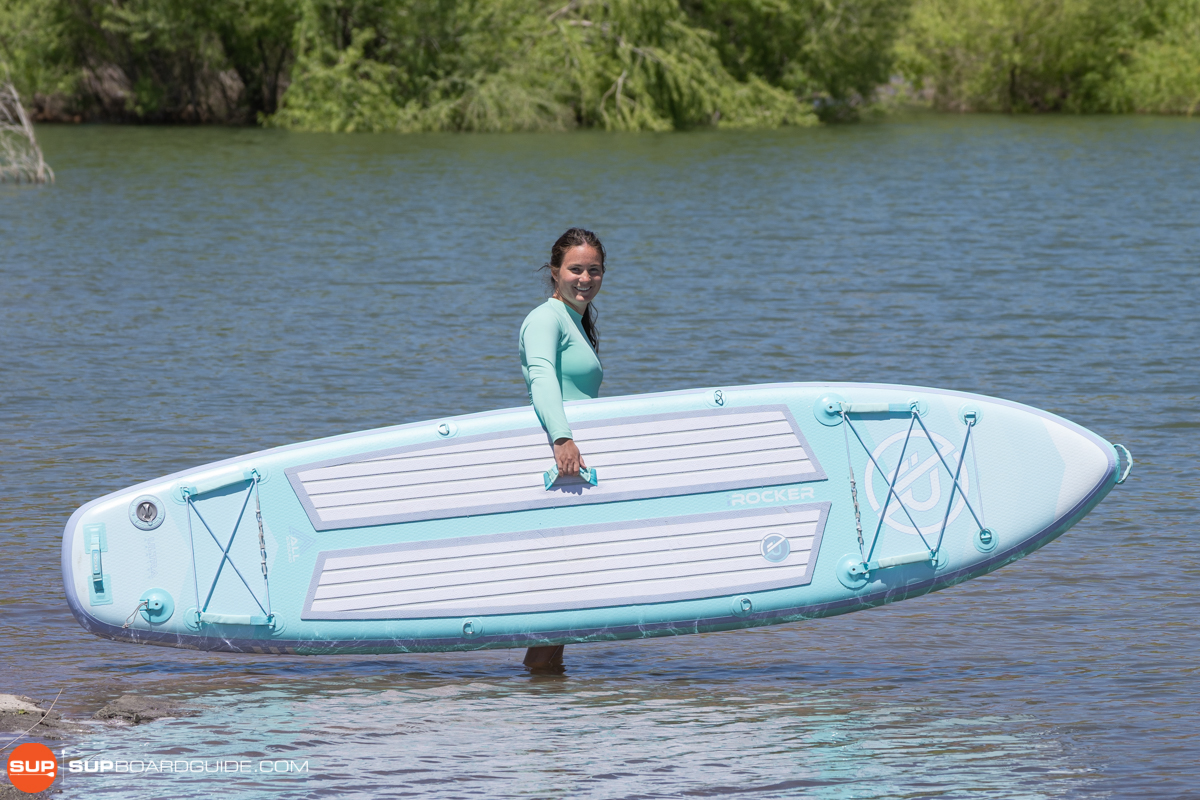 When iROCKER first informed us that they would be sending us a new compact/ultra-light series of SUPs to review, we were absolutely stoked.
Compact boards, in general, are among our favorites to test and review because they walk such a delicate line to balance convenience and lightweight with overall performance in the water. Combine this with the quality that we've come to expect and love from iROCKER SUPs, and we were fully prepared for a seamless technological marriage that would manifest into just a flat-out cool line-up of boards.
Luckily, we prepared accordingly, as the iROCKER All-Around 11' Ultra Compact iSUP easily fits that bill. Being just 21.4 lbs, surprisingly stiff, and able to fold up to the size of a larger backpack, the 11' All-Around Ultra meets the mark in terms of convenience and improved portability without sacrificing quality construction.
More than that, the 11' x 32" iSUP mimics the beginner friendly stability of iROCKER's standard/non-compact 11' All-around, while being slightly faster to paddle. It also tracks exceedingly well in the all-around category (though this does impact maneuverability, as we'll touch on below), sports a versatile array of features and is shipped with an upgraded, inclusive kit.
In short, we think iROCKER is off to a great start in the compact SUP market, and are looking forward to seeing this line evolve in the coming years.
We think the iROCKER All-Around 11′ Ultra would be great for paddlers who:
Want a light and compact SUP that they can easily take with them on a plane, on a hike, or stow in the back seat of a car.
Need an all-around SUP that is stable enough for beginners but isn't lacking in speed
Want the versatility of an all-around SUP, but also some of the tracking capabilities of a touring SUP
Frequently paddle in a variety of environments such as flat water, chop, waves, and wide, slow-moving rivers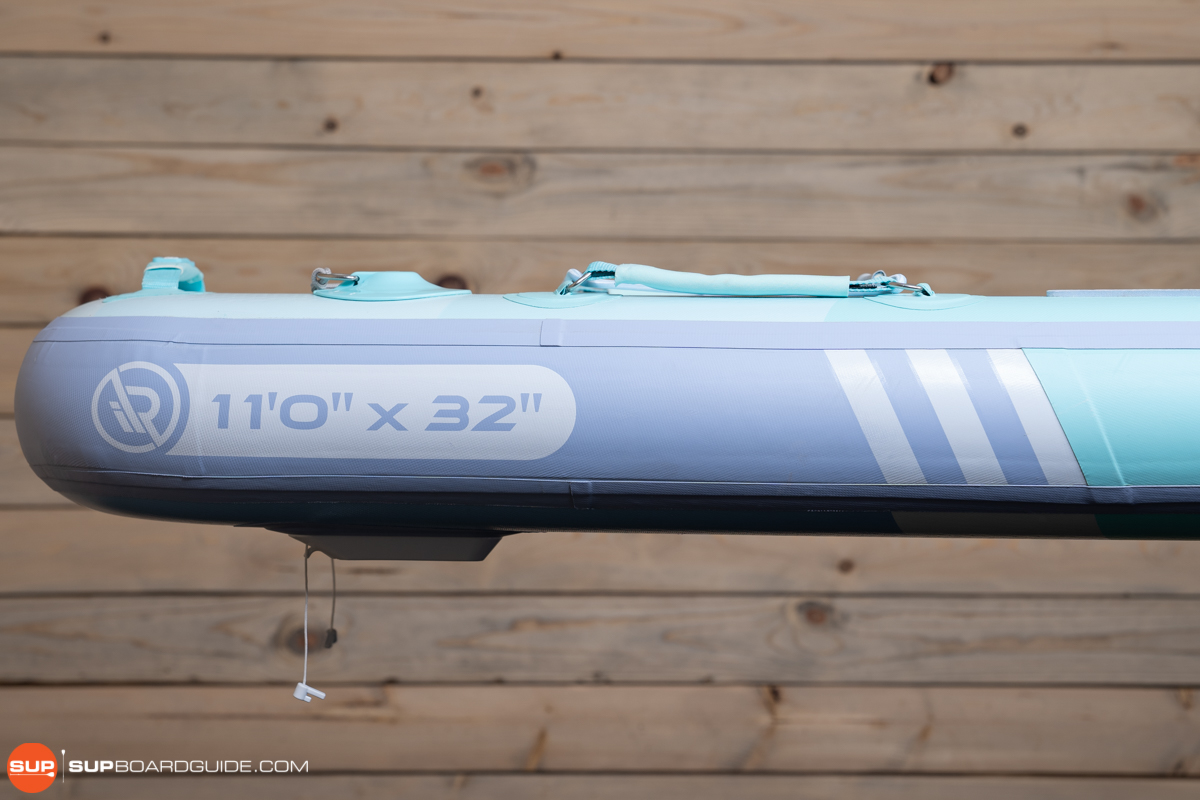 iROCKER All-Around 11′ Ultra: Spec Sheet
Main Category: All-Around, Inflatable, Compact
Board Dimensions: 11' x 32" x 6"
Listed Board Weight: 21.4 lbs
Listed Max Capacity: 290 lbs
Recommended PSI: 14-16 PSI
Fins: Twin fin; 9" dolphin style w/ lockable snap-lock mechanism
Paddle: 5-piece carbon hybrid paddle
Materials: Triple layer 'composite' PVC (as per iROCKER's specification)
Price Range: high
Warranty: 3 years
Performance Review of the iROCKER All-Around 11′ Ultra Stand Up Paddle Board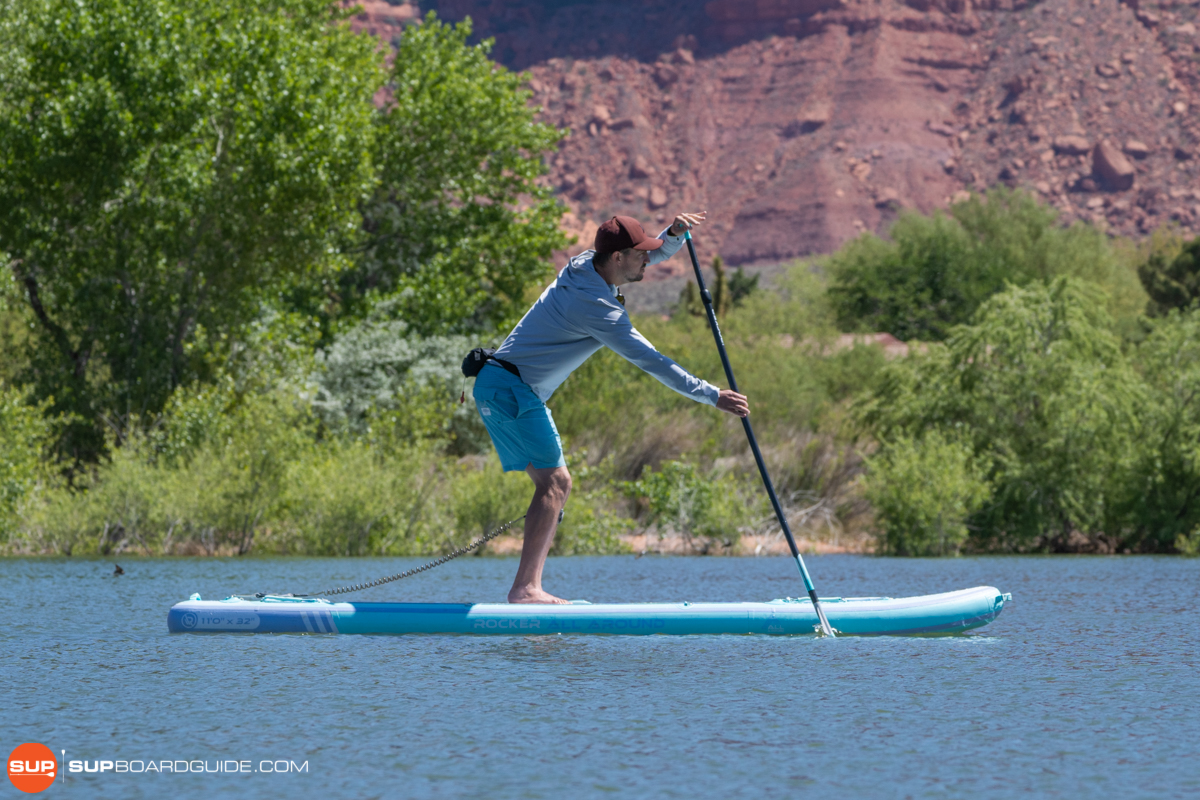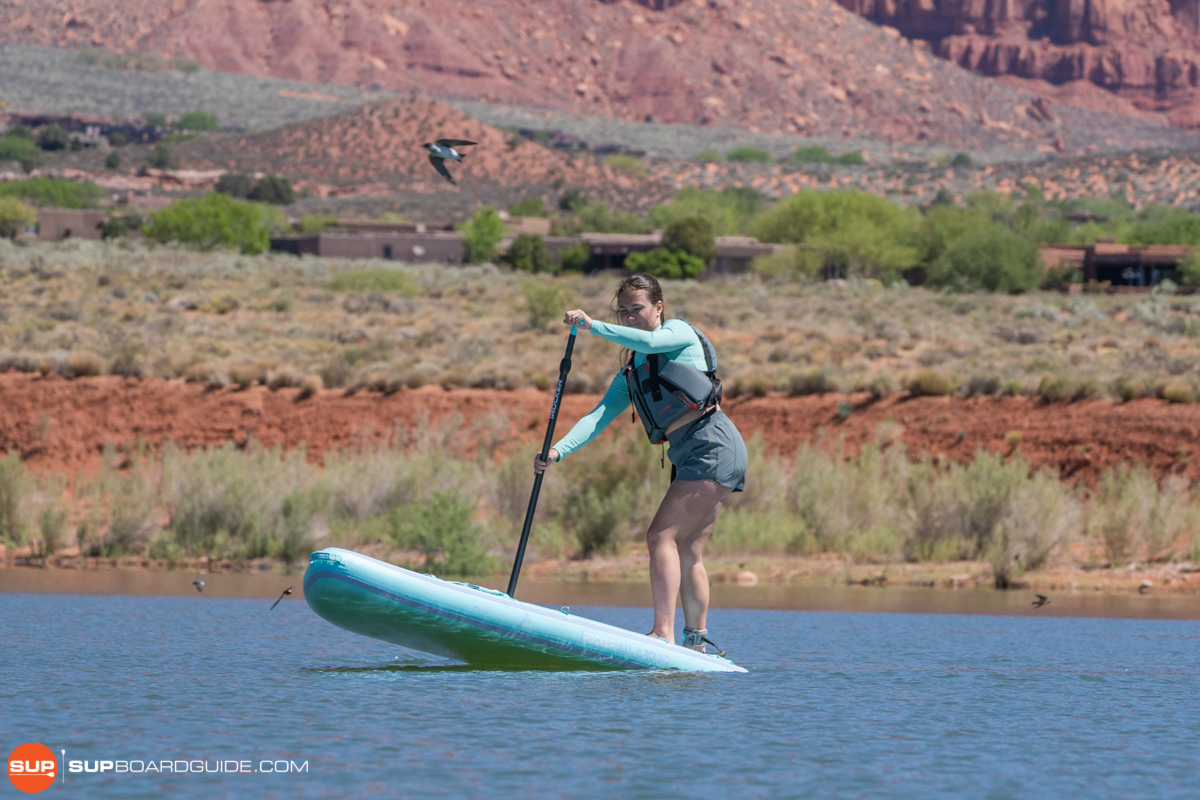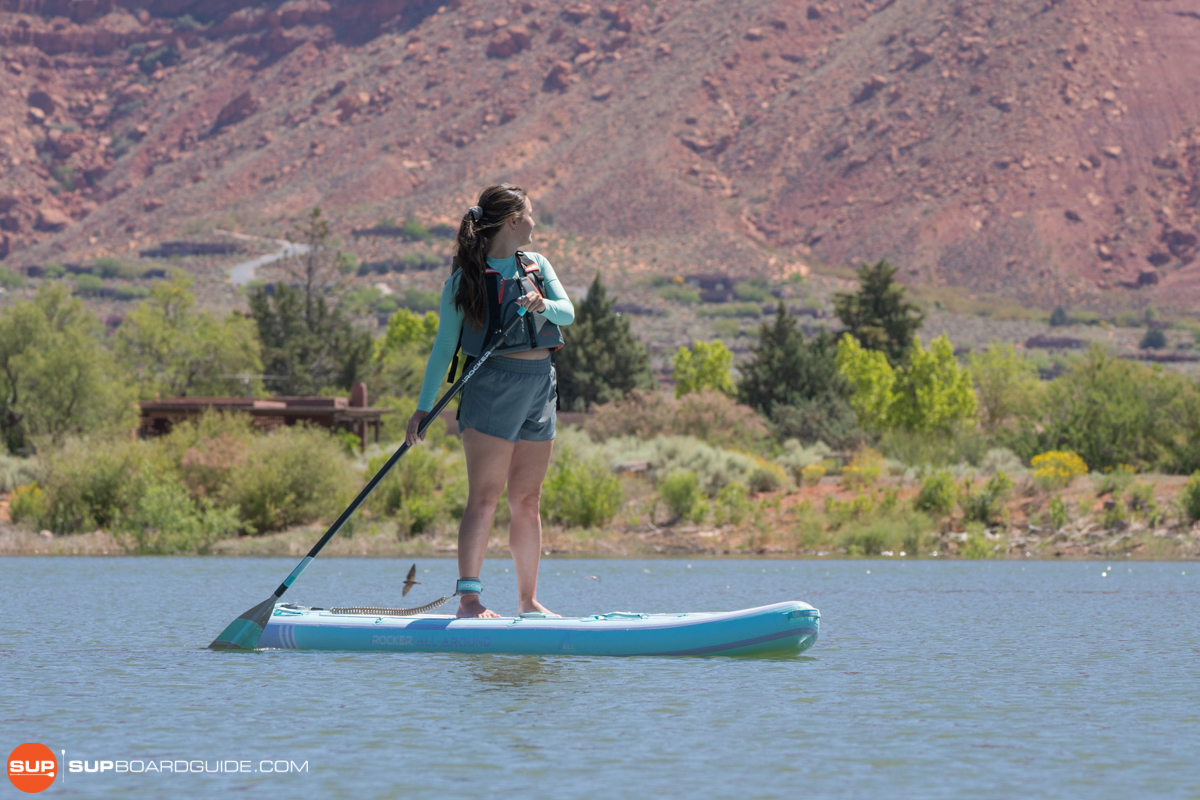 Overall Score: 9.8/10
Stability: 9.5/10
Speed: 8.7/10
Tracking: 9.4/10
Maneuverability: 8.5/10
Construction Quality: 9.7/10
Features/Accessories: 9.8/10
Stability Rating: 9.5/10
Compared to iROCKER's original 11' All-Around, we did notice a small stability decrease on the 11' Ultra. While the stability change can be credited to several factors, we think the two main contenders here are the slightly narrower width and the stiffer construction.
In measuring the two, we've found the iROCKER 11' Ultra to be just a bit narrower across the center handle than the original 11' All-Around. We've also found that the added rigidity from the Ultra's construction contributes to more responsiveness under foot, which does improve overall performance, but can take some getting used to. We want to be clear that it's not a massive difference, but it was definitely enough for us to pick up on. Regardless, I still think the 11' Ultra would be manageable for newcomers to the sport; there would just be a bit more of a learning curve on the Ultra than we'd expect from the original 11' All-Around.
Compared to the rest of the Ultra series, the 11' Ultra is about tied with 10' Ultra depending on the paddler. As a smaller/shorter paddler (5'2" x 135 lbs), I prefer the stability of the 10' Ultra over the 11' Ultra because I don't need any extra volume in the longitudinal direction (nose to tail), and I find the lateral stability (side to side) to be more than sufficient. On the other hand, Justin (6'0 x 180) prefers the stability of the 11' Ultra because paddlers of his size benefit from the extra volume. Neither of these options are quite as stable as the Blackfin CX Ultra or the Cruiser Ultra, but that's to be expected given that these are both wider boards.
Speed Test: 8.7/10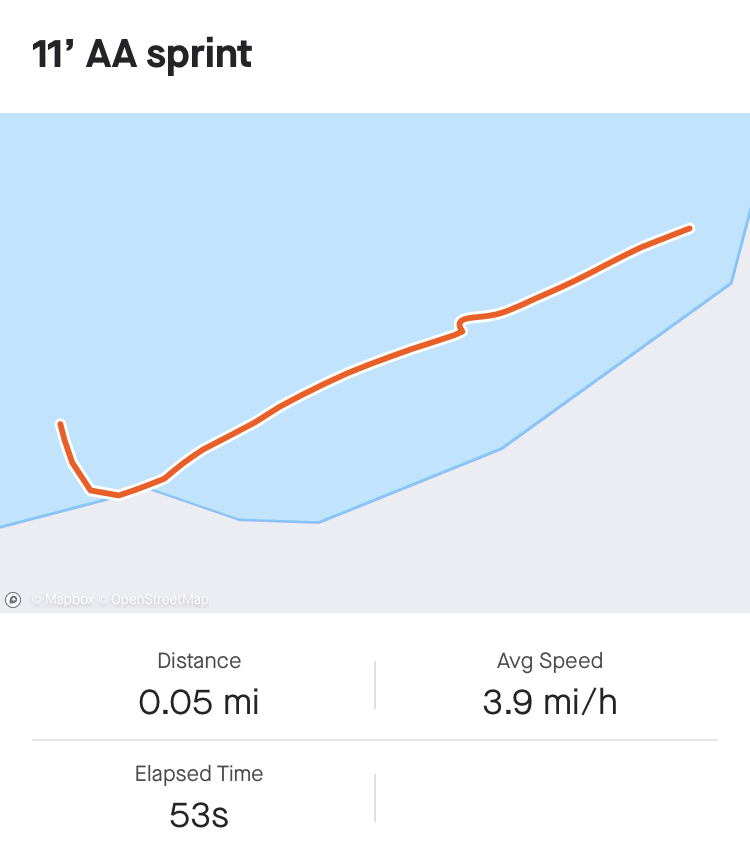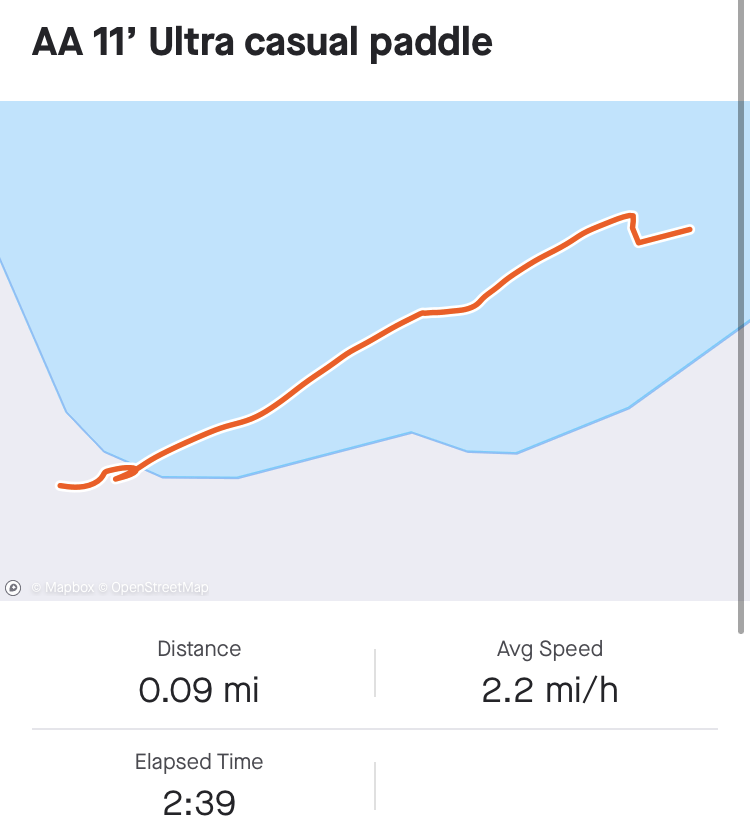 The 11' Ultra's lighter build has improved its speed when pinned against the original version, and its natural ability to track puts it near the front of the pack when raced against the other Ultra SUPs.
Being 21.4 lbs, the 11' Ultra has clearly shed some of the weight of it's non-compact counterpart, the original 11' All-Around. With that in mind, it didn't really surprise us that the Ultra was a bit faster for all of our reviewers. For Justin, the difference in sprint times were less pronounced at first, but started to become more evident as he got more fatigued. For me, the difference was pronounced at the start, which makes sense as I am a smaller paddler and am putting less weight behind each stroke.
Again making comparisons to the rest of the Ultra line, the 11' Ultra was nearly as quick as the fastest of the pack, the Blackfin CX Ultra. We'd attribute this to its longer waterline, as well as its seemingly natural ability to track (which we'll discuss in more detail below).
Tracking: 9.4/10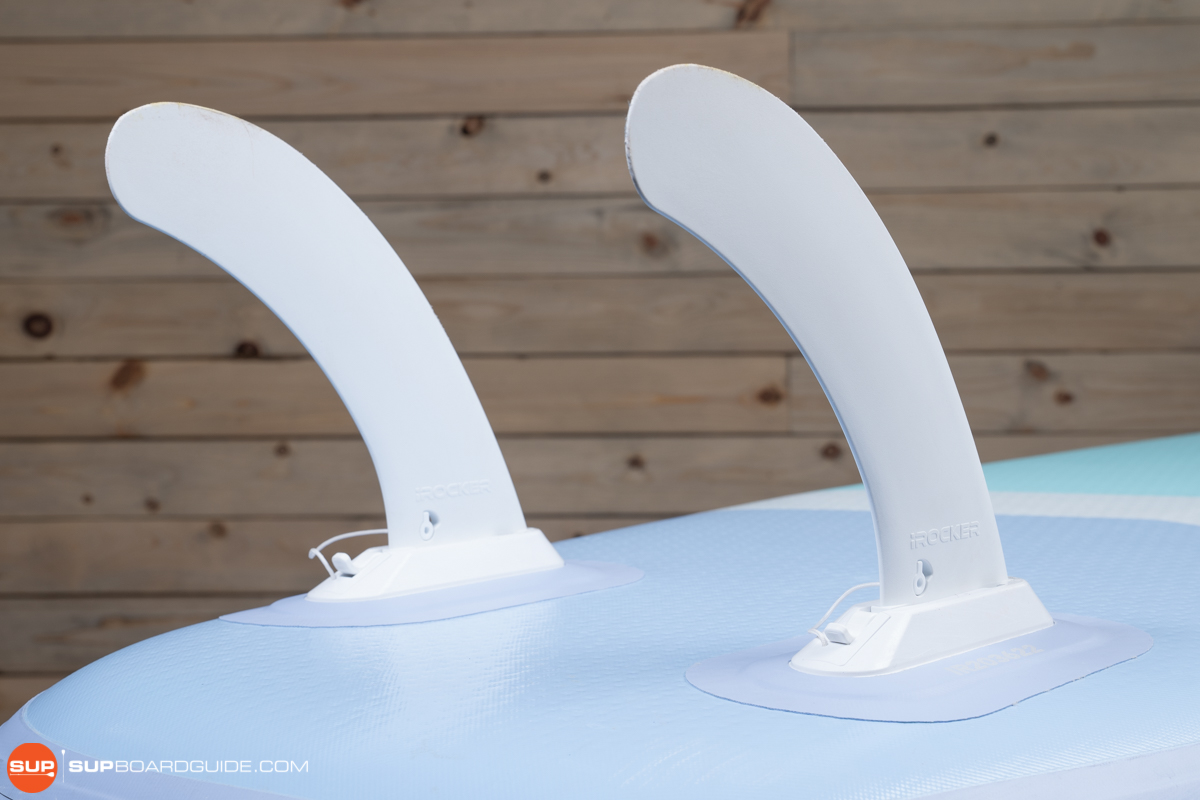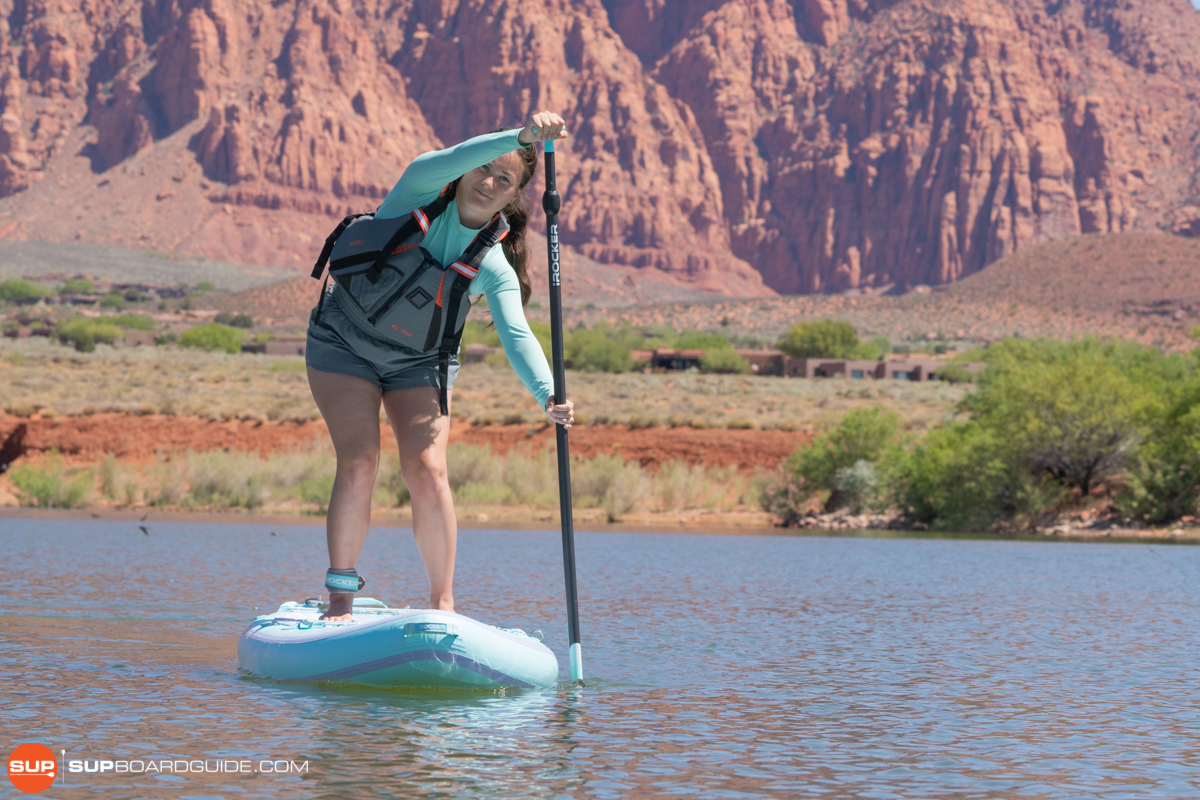 Here's the thing, the iROCKER All-Around 11' Ultra tracks exceptionally well for an all-around SUP. It excels well above the original 11' All-Around in this area, and beats out all of the other Ultra boards as well (by a smaller margin, but still has them bested nonetheless).
At the same time though, it does require a bit more effort to to turn and maneuver. We'll dive deeper into maneuverability in the next section, but the touring-SUP-level tracking capabilities of the 11' Ultra kind of force a trade-off in that area.
That being said, it ultimately does come down to personal preference. If you're a paddler that really values tracking capability, but also loves the stability that all-around SUPs offer, the 11' Ultra from iROCKER would likely be your match-made-in-heaven.
We also want to note that the reason the 11' Ultra tracks so well is because of its included 9" fins that attach to the SUP in a twin fin setup. We've found that in every Ultra board, the 11' Ultra in particular, the twin fins just seem to grip your path in the water really well and are super forgiving if your form isn't 100% honed in.
Maneuverability: 8.5/10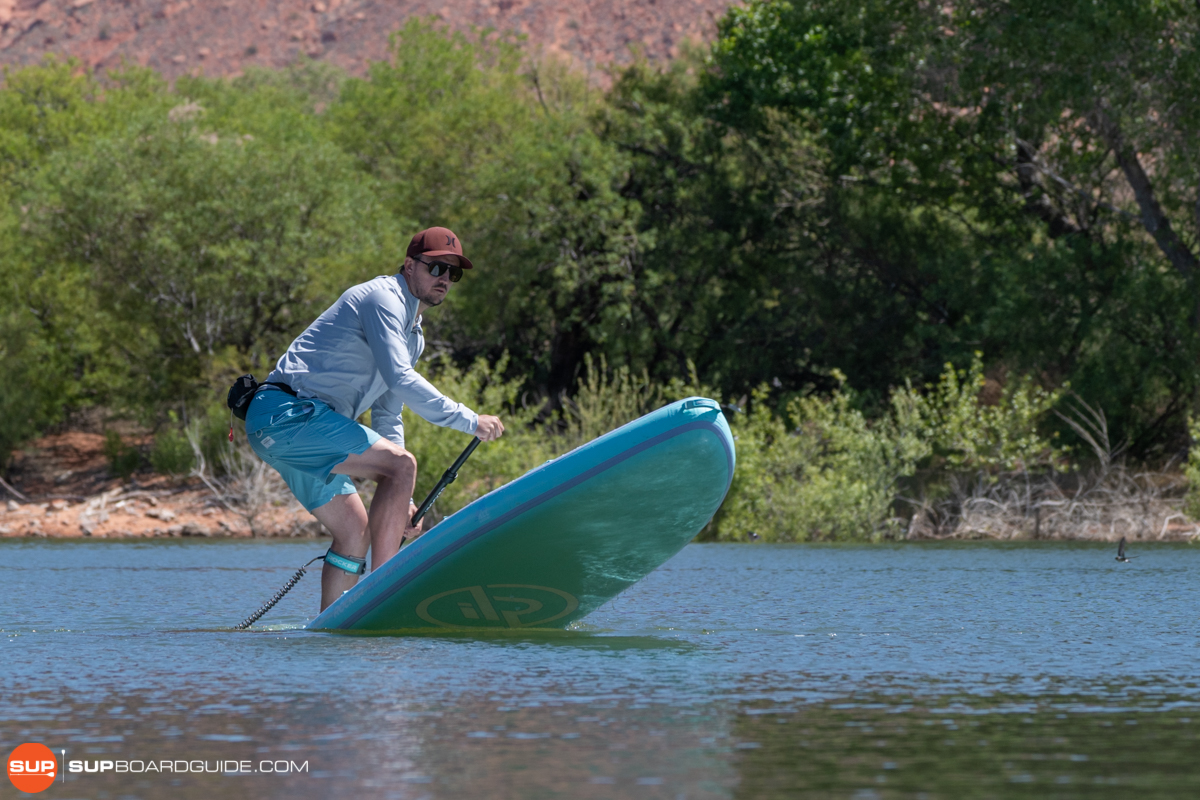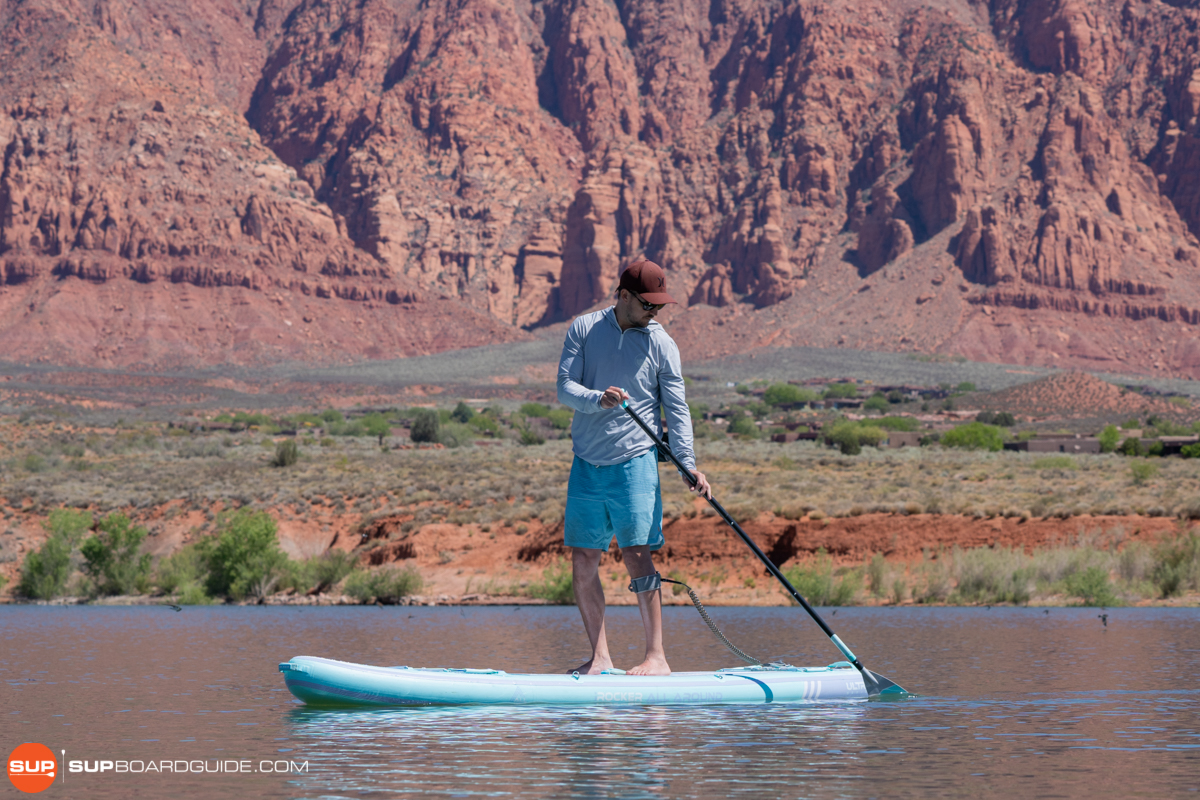 As I alluded to in the previous section, the iROCKER All-Around 11' Ultra isn't quite as maneuverable as the original 11' All-Around and is the least maneuverable of the Ultra series.
It is noticeably slower on both forward sweeping and backstroke turns, compared to the original and the other Ultra SUPs. Though step back turns still feel fairly easy. With that said, we want to make clear that the lack of maneuverability is less noticeable if you're going for a longer paddle in more open water and only need to make slight steering adjustments.
Ultimately we think trade-offs like tracking vs. maneuverability come down to paddler preferences. Personally, if I'm going for a longer paddle in flat water, which doesn't require quick turns, I'd rather my board be able to track well and limit the amount of times I need to switch sides. On the other hand, if I'm paddling in the ocean and need to be able to quickly turn my nose into waves, I'd prefer a little more maneuverability than the 11' could offer. In these cases, I'd prefer the 10' Ultra, or the Blackfin CX Ultra and Cruiser Ultra depending on stability needs.
Construction Quality: 9.7/10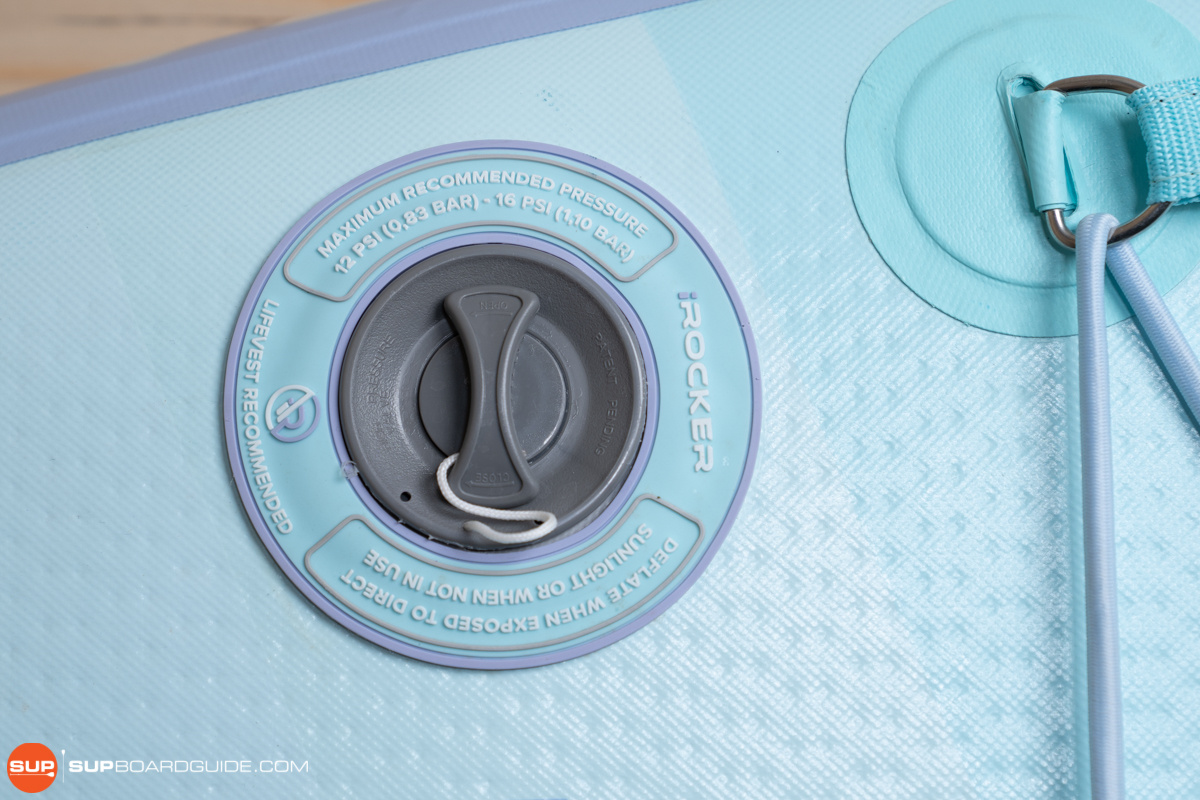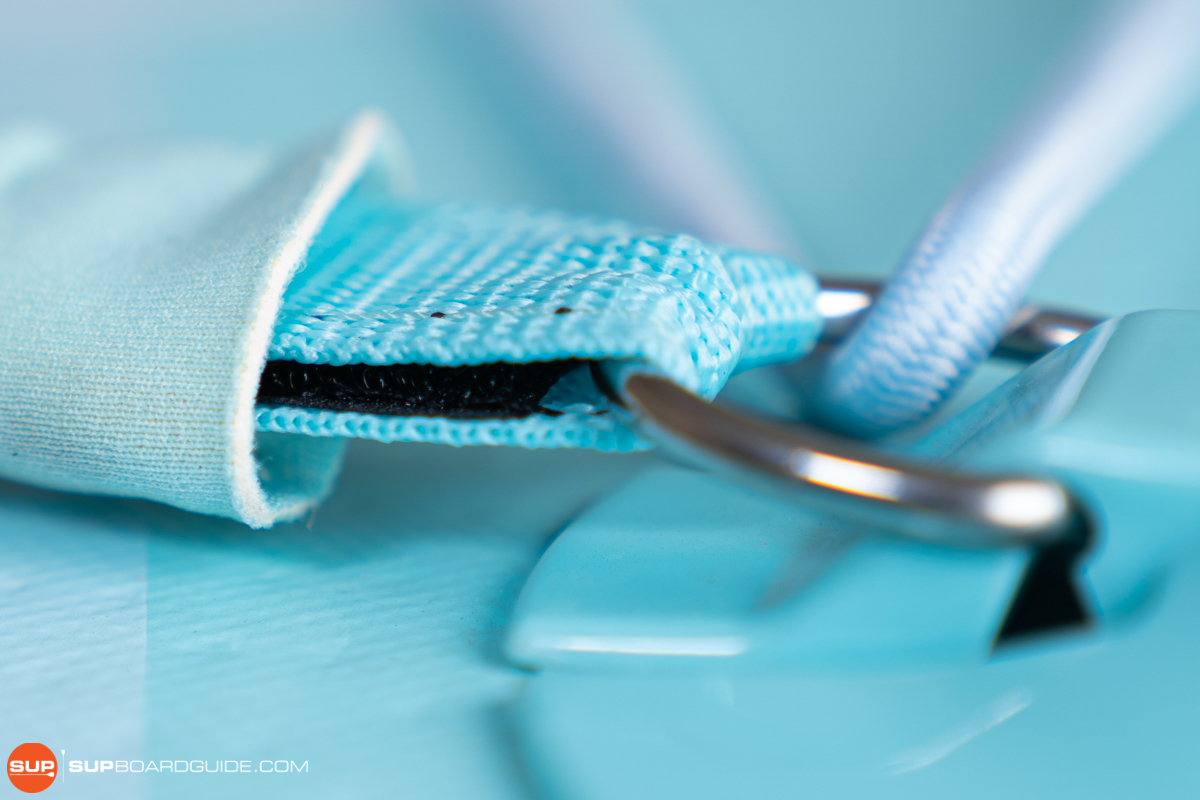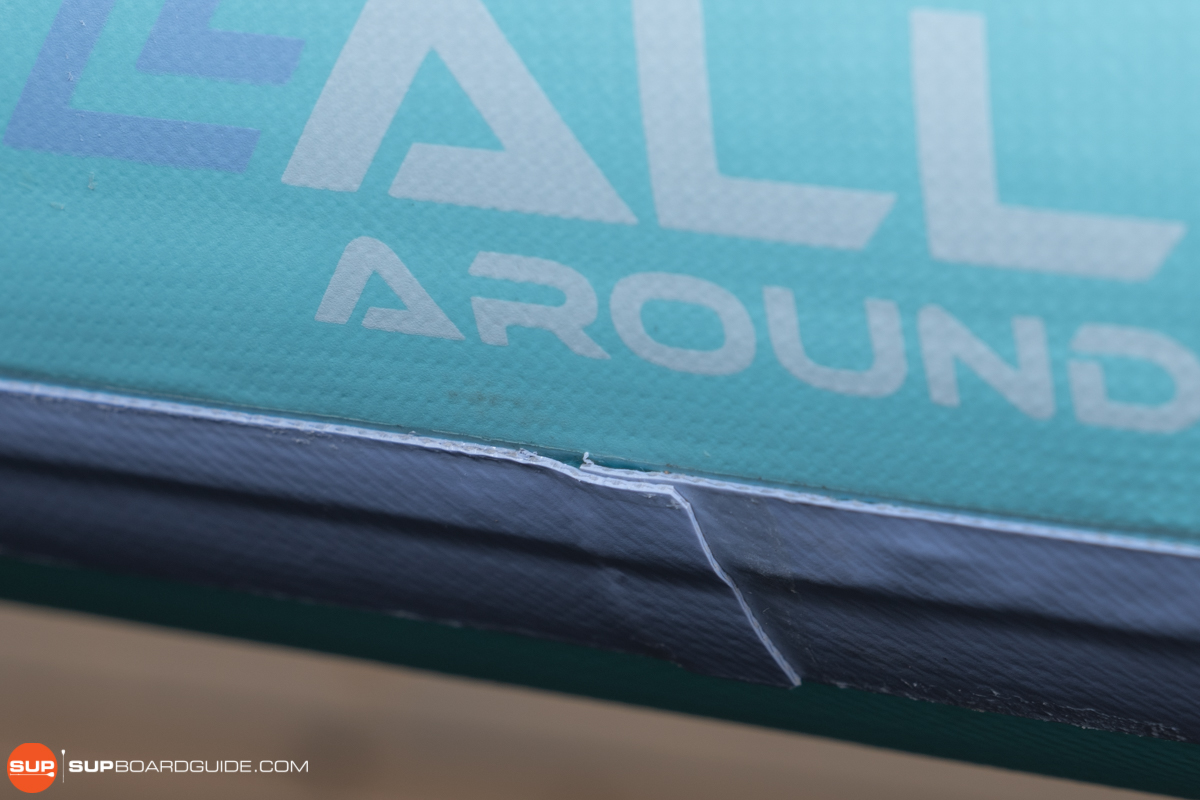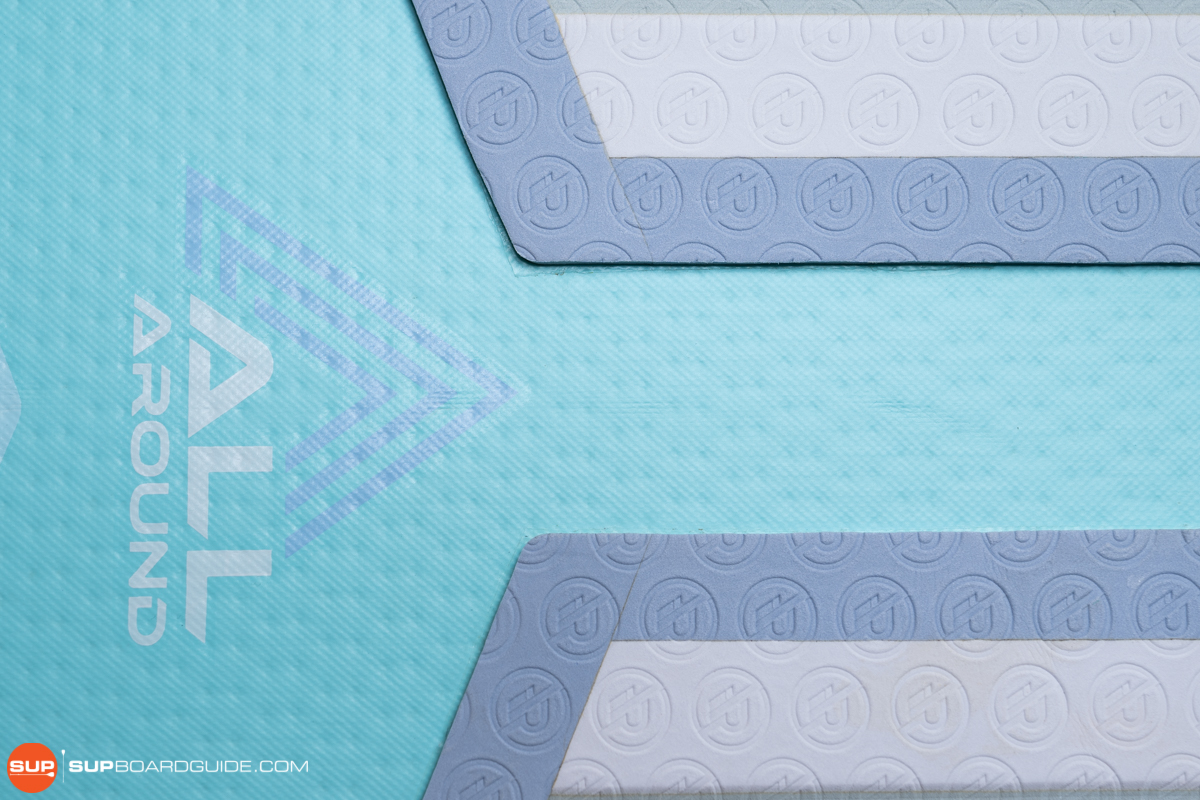 Given the fact that the iROCKER All-Around 11' is more than half the price of one of its its higher end counterparts, the Red Paddle Co. 11' Compact, we're extremely impressed with the construction.
Working from the inside out, the 11' Ultra is constructed with a cross or 'woven' drop stitch core that anchors into the fabric layer, ultimately resulting in a surprisingly stiff iSUP using less raw material (essentially decreasing the overall board weight). To encase the inner fabric-based core, iROCKER applies 3 composite* layers of PVC to add rigidity and durability without adding an exorbitant amount of weight. Lastly, the 11' Ultra's seams are reinforced with tape to enhance the lifetime of this SUP and limit the potential for a (very unlikely) critical failure.
This type of construction is the reason the 11' Ultra is stiffer than the aforementioned RPC 11' Compact, yet only 1 lb heavier (as per each SUPs specifications). Its general light-ness is also the reason the ultra works so well as a compact SUP. It is super manageable to carry both fully inflated and when it's packed up into its bag, and I'd have no problem bringing it along with me on a flight or a shorter hike. It elevates the level of portability that we've already come to love from inflatable SUPs.
*'Composite' PVC layers means that different densities of PVC are used in each layer.
Board Stiffness: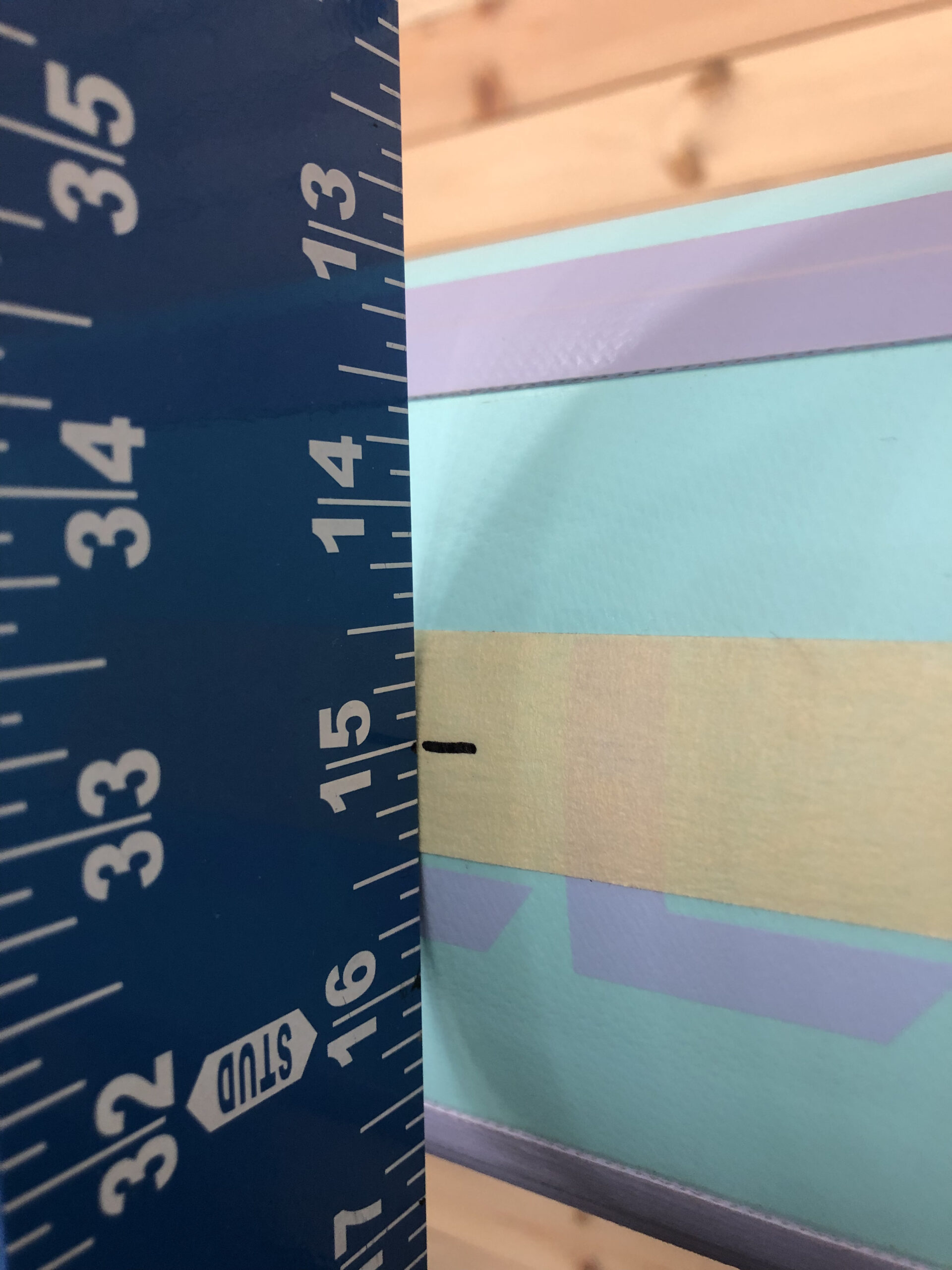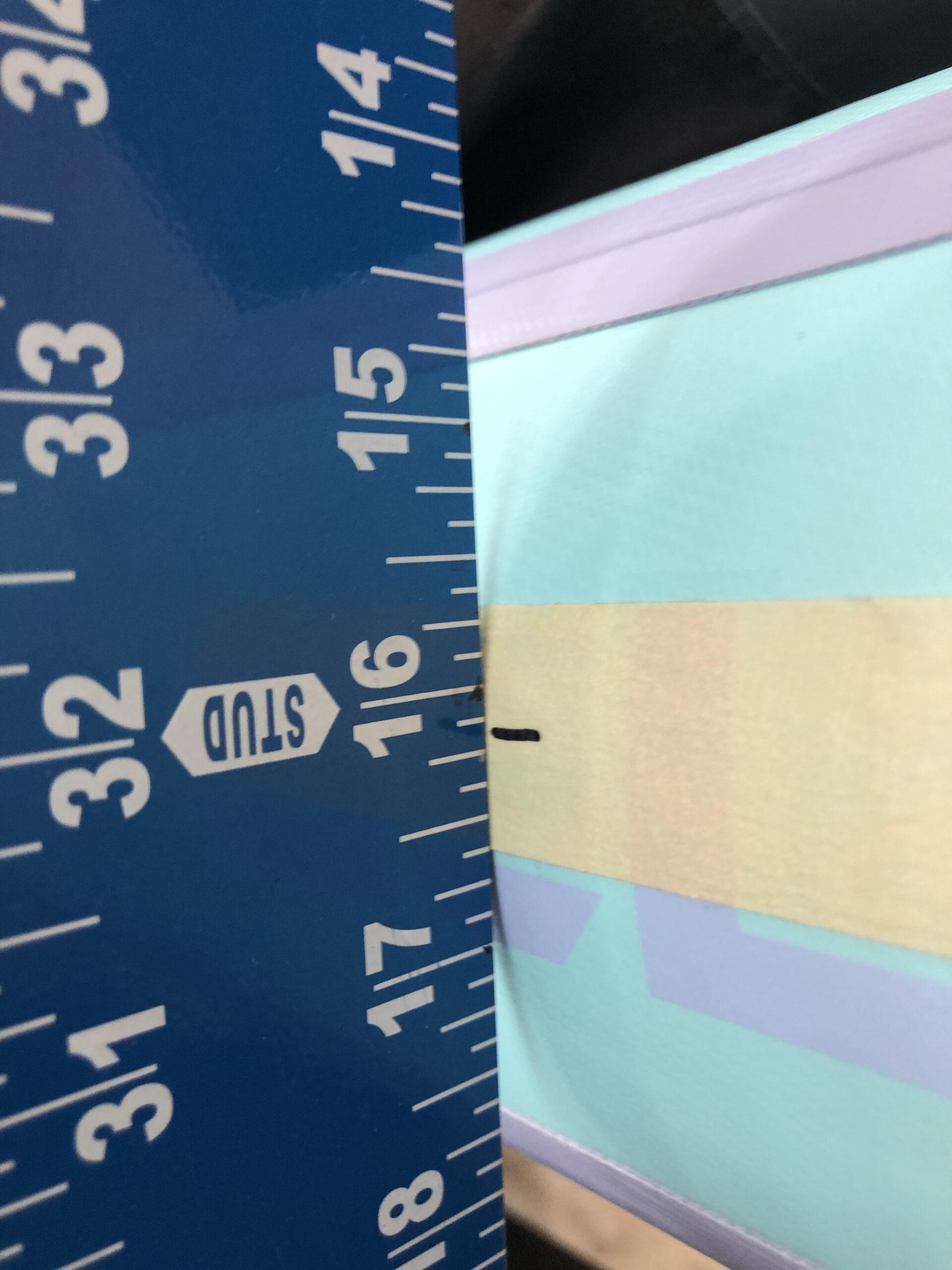 Stiffness Test: 1.0313" of Bend
As usual, the SUPBoardGuide bend test is performed by placing the SUP on top of two sawhorses set 7' apart. We then load the SUP with 150 lbs at its midpoint and measure how much it bends under the weight. Obviously, this is not replicative of how the board performs in the water, but it does help us differentiate between how different construction processes contribute to overall stiffness.
The 11' Ultra performed really well in our bend test with only a bit over an inch of bend. This is not just on par with iROCKER's non-compact all-around line, but actually a little bit better, despite being 4.6 lbs lighter than their standard 11' all-around.
This stands as a testament to the efficacy of cross-drop stitch technology and its ability to achieve the same, and better, stiffness as linear drop stitch while using less material. While this technology isn't exactly new, we've typically only seen it in higher-budget SUPs, and I'm excited to see it become more accessible in the mid-range market as the industry progresses.
Features/Accessory Review: 9.8/10
As with the standard 11' All-Around from iROCKER, the 11' Ultra's features are versatile, but functional for a compact SUP.


The All-Around 11' Ultra has front and rear cargo areas, as well as 3 action mounts (2 integrated into the front D-rings and one at the tail), and kayak seat compatibility.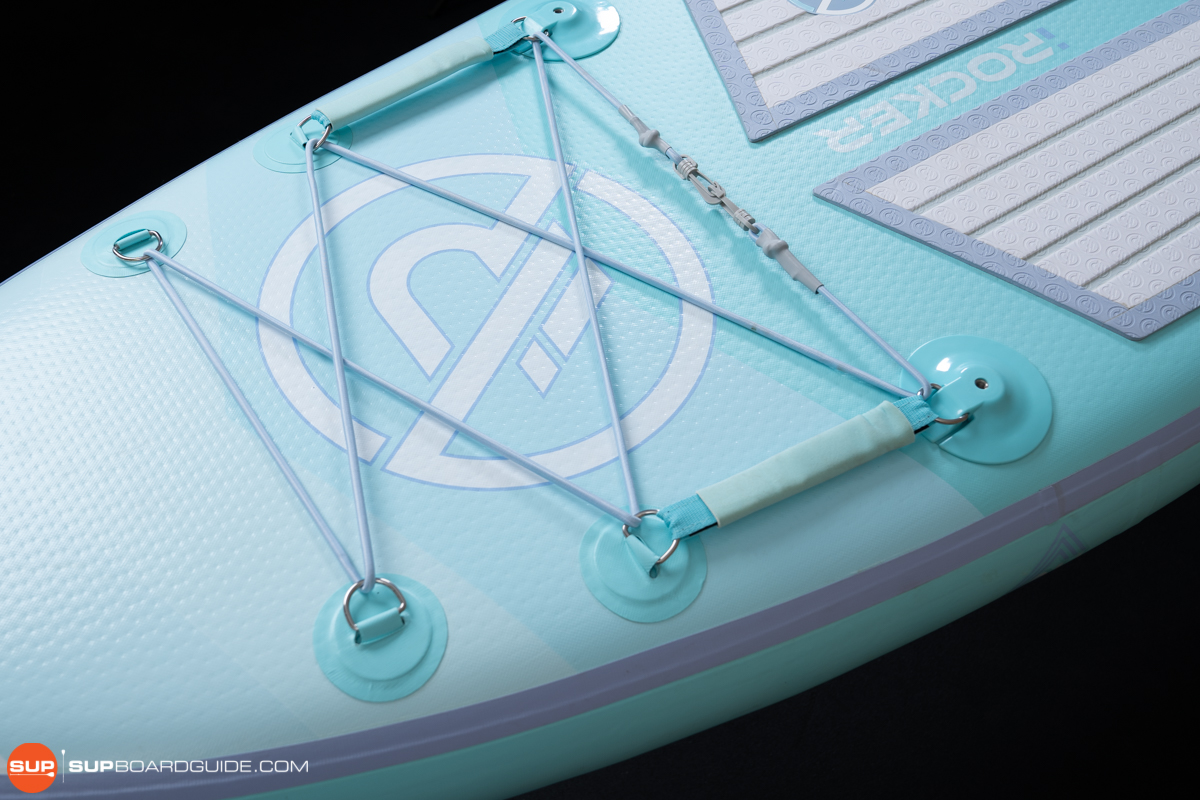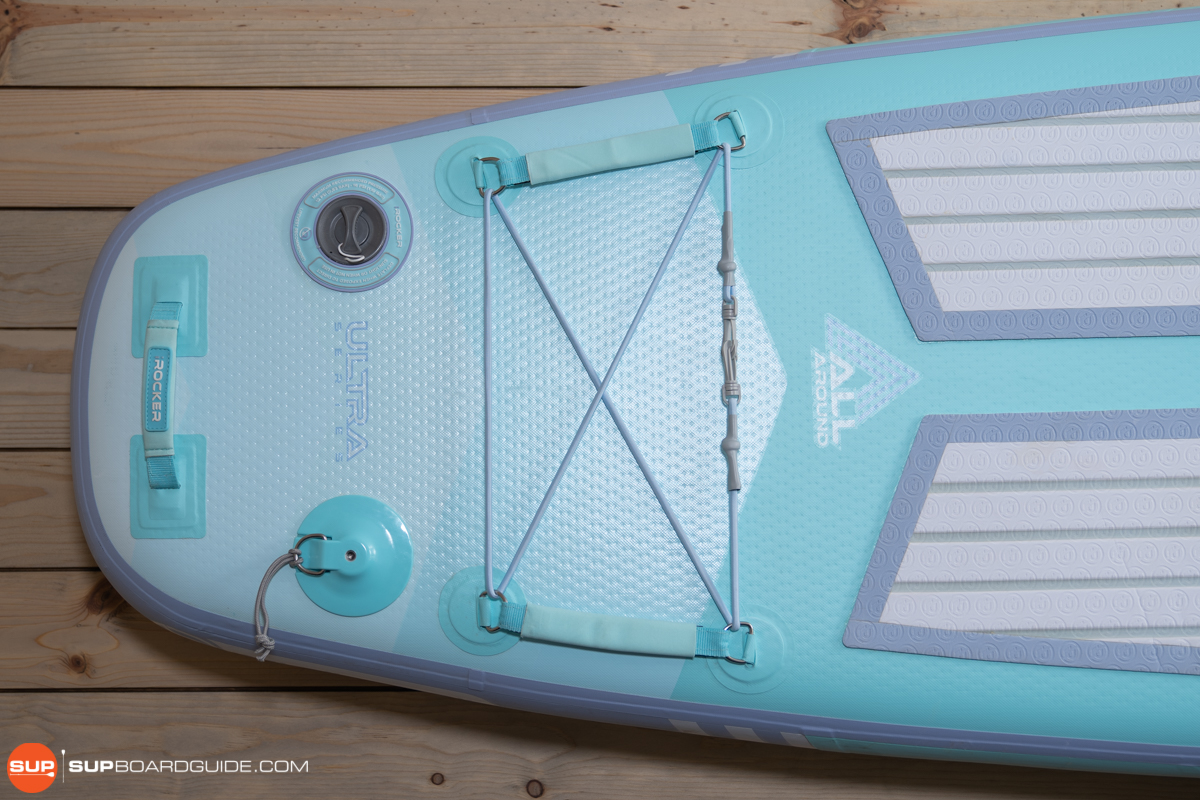 Keeping this newer line classic, iROCKER still incorporated 3 carry handles at the nose, tail, and center of this SUP, with the center handle just shifted off to one side. Though the shifted center handle does make folding up much easier, it can get in the way slightly if you have a more narrow paddling stance.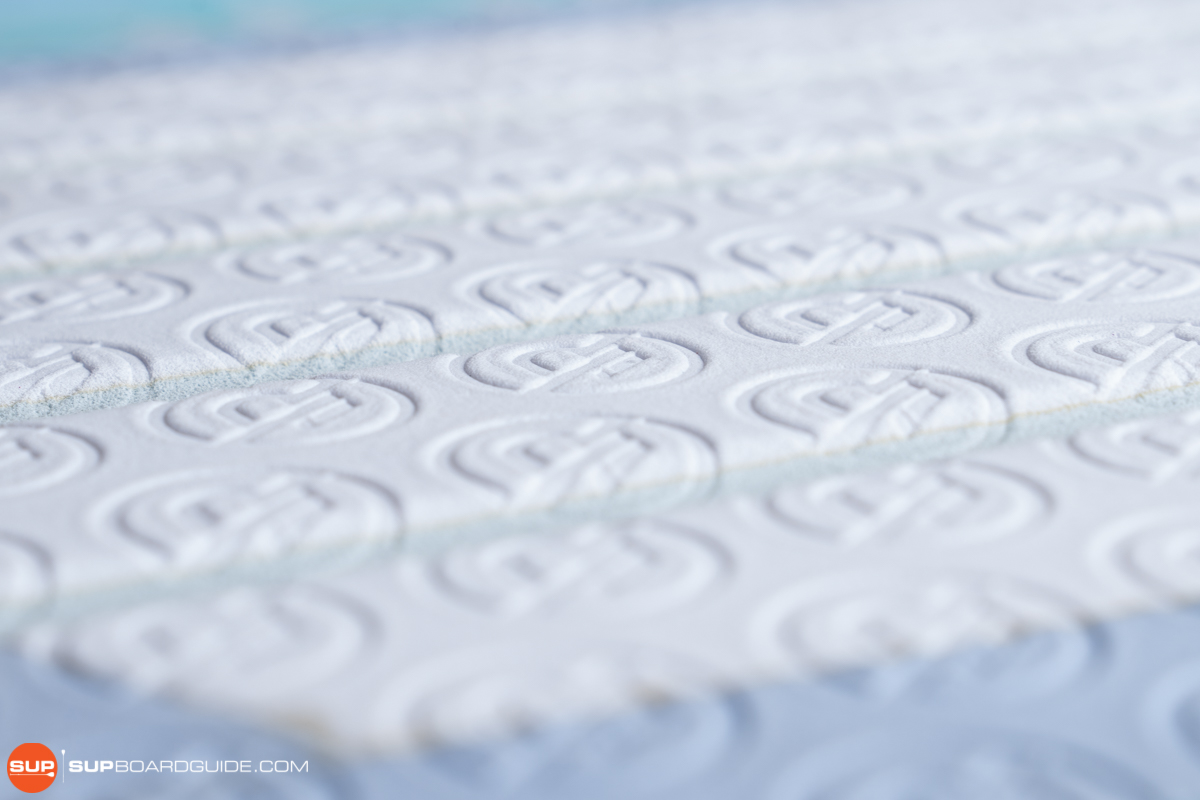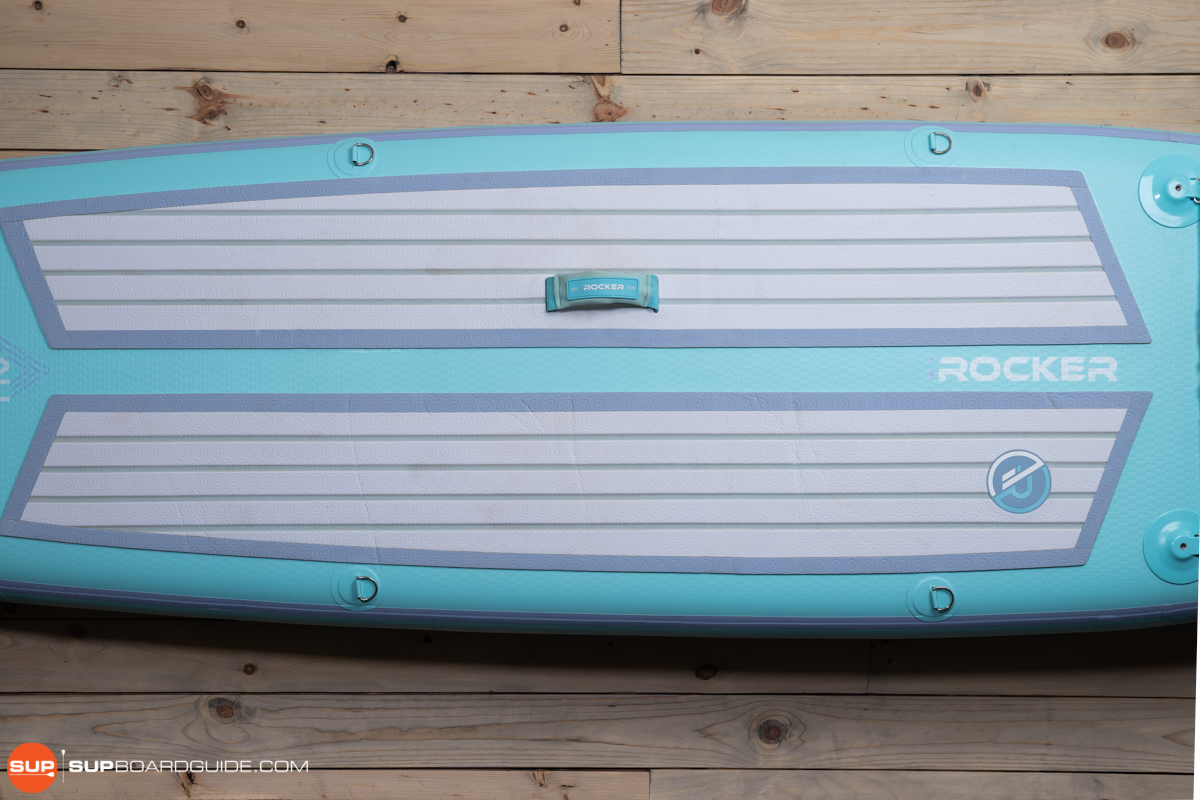 Lastly, I love the brand stamped deck pad on the 11' Ultra just as much as I love it on their standard all-around 11'. It's the perfect balance of comfort and traction. The key difference here is that the Ultra's deck pad is split up the middle to allow you to fold the SUP in half before rolling it up, therefore making it 'compact'.
Included Accessories: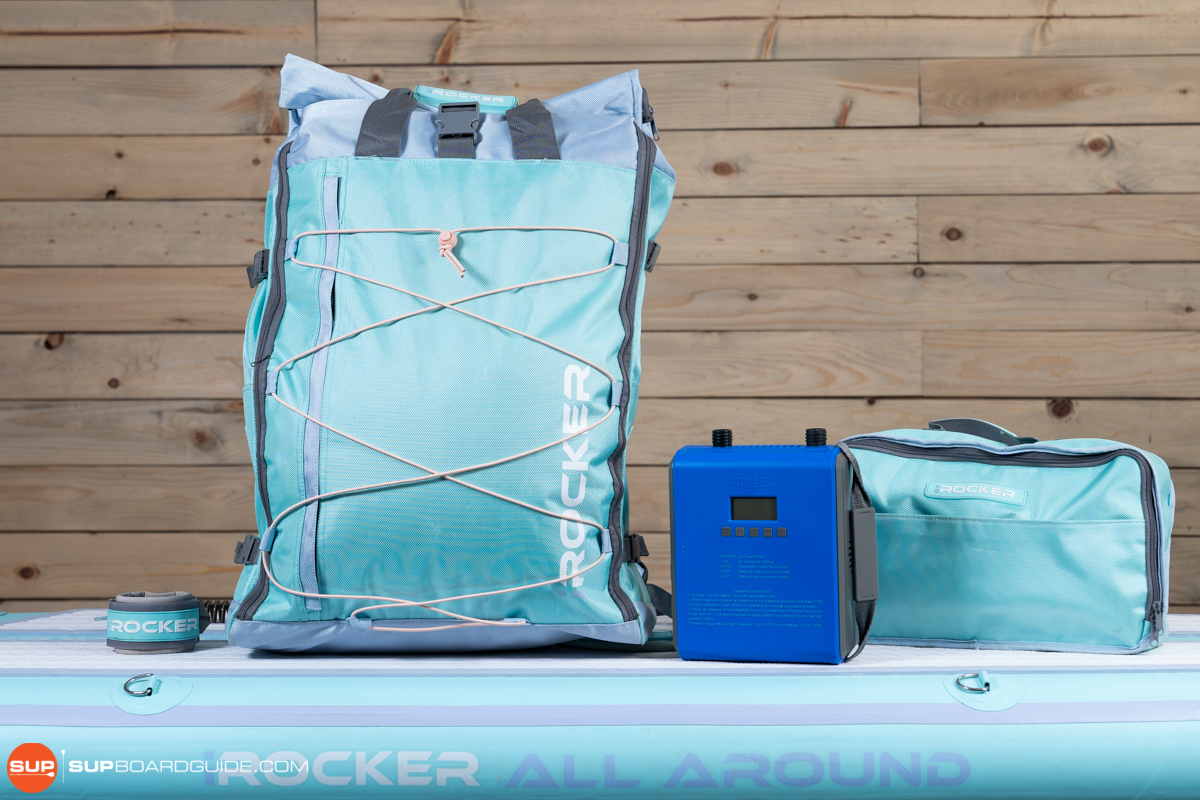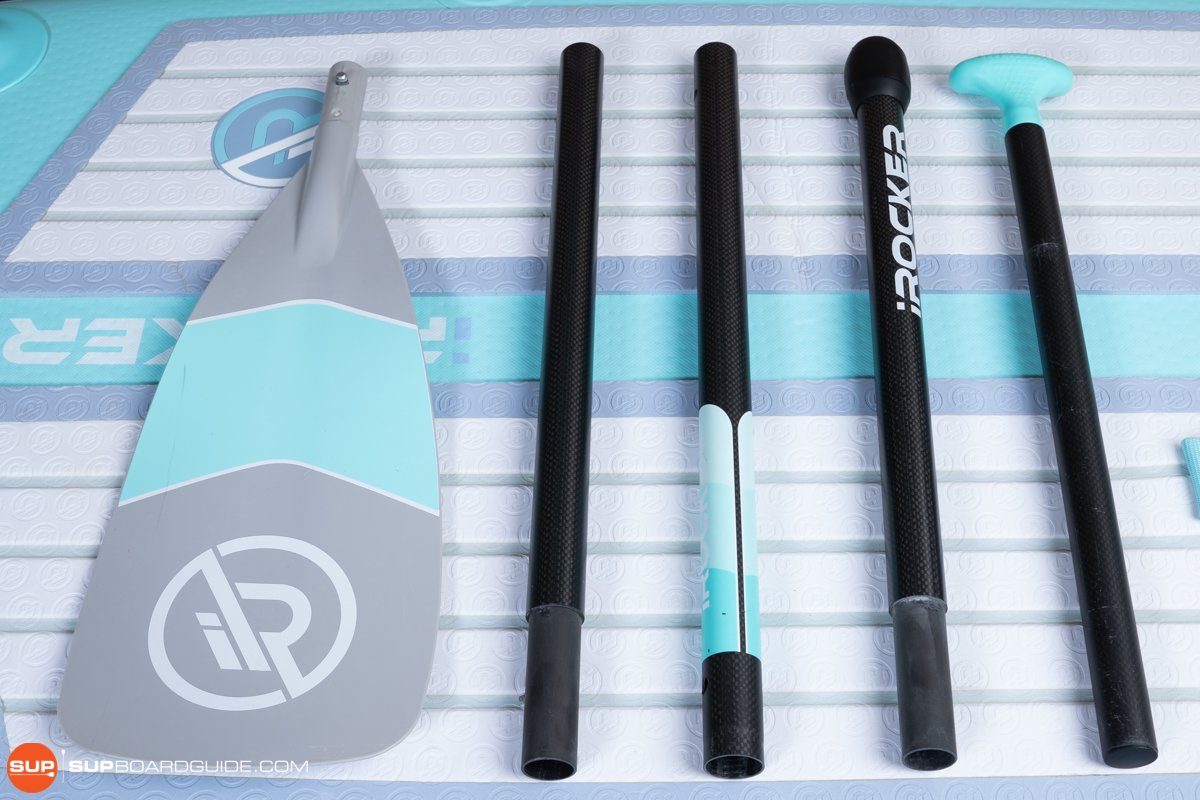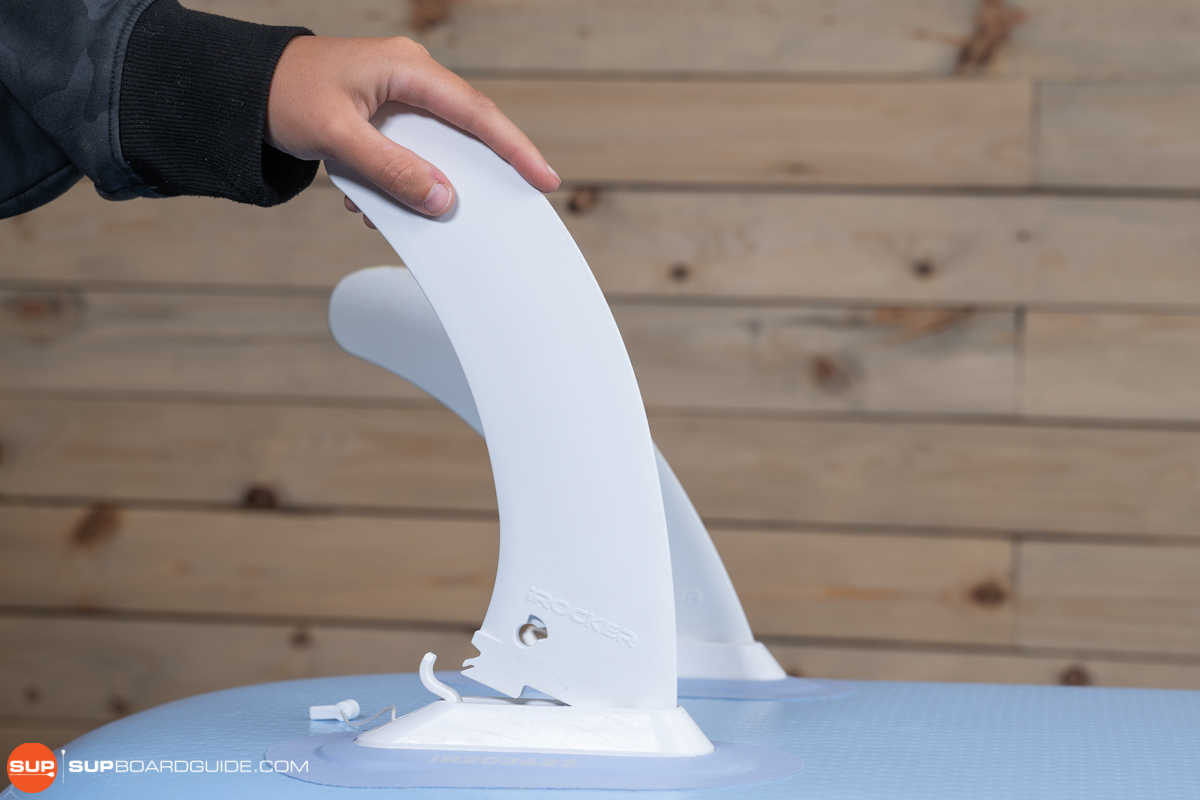 The Ultra series is shipped with their own list of included accessories, which includes the following:
5 piece carbon hybrid paddle
iROCKER's 12V Electric Pump
10' Coiled leash (w/ key pocket)
Pair of 9" fins
Repair kit
Accessory Pouch
Compact SUP bag
This kit could easily become one of my personal favorites with just a few quick tweaks.
Starting with the SUP bag, I really love its compact design despite it being insanely easy to pack the board into. The entire front panel can be unzipped to simply place the rolled/folded up board in, and then once zipped, the top of the bag is a velcro/roll top mechanism. This style makes it extremely easy to access the accessory pouch if placed on top or stash in some of your own gear in an easy-to-reach spot.
Coming back to the accessory pouch, it is hands down my favorite part of this kit. I always harp on SUP bags having organizational pockets to store small accessories, and iROCKER has answered a prayer I didn't even know I sent out. By including this convenient little pouch to carry all of the small pieces I can happily store all of the items I would otherwise lose track of like my leash, fins, or spare flip-locks.
Another piece of this kit that fits nicely in the accessory pouch is iROCKER's 12V Electric pump. We've liked this pump on it's own over the past few years (it even holds a spot on our list of Best Electric Pumps for 2023), and we like it even more as 'kit-included'. It adds a significant amount to the overall value of the compact series, and is one of the only SUPs on the market to come with an electric pump (and a reliable one, at that).
The only real changes I'd make to this kit are, again, to switch the long 9" fins out for a slightly shorter option to improve maneuverability and to include a portable battery to go with the electric pump. Of course, the inclusion of a portable battery would, understandably, increase the overall price of the Ultra series, but I think it makes a lot of sense considering the portability focus for compact SUPs. The 11' Ultra is only 21.4 lbs, and it'd be a prime option to hike into more remote or alpine lakes, but because there's no included hand pump, you'd need to purchase the battery separately to be able to accomplish this.
An alternative to including a portable battery as a standard piece of the Ultra line's kit would be to offer it for discounted purchase when bundled with an Ultra SUP. That way, the choice is left to the consumer, rather than needing to raise the price for the entire line if the battery was included from the get-go.
Summary Review of the iROCKER All-Around 11' Ultra
We'll wrap up our review of the new 11' Ultra from iROCKER with this: They are off to a phenomenal start venturing into the compact/ultra-light market.
The iROCKER 11' Ultra is stable, quick, and impressively rigid, despite being just 21.4 lbs. We also love the included accessories and think it sets this compact series apart from the rest in terms of a great overall value.
With just a few adjustments made to the fins, iROCKER is well on their way to producing the best compact SUP on the market.
As always, we hope you've enjoyed reading through our review of the iROCKER All-Around 11' Ultra. If you have any questions/concerns, or feel that there's something we've missed, please reach out to us in the comments below.
Stay safe and enjoy the warmer weather!
The following two tabs change content below.
SupBoardGuide
Heyo! At SupBoardGuide.com we are a team who love the water, the outdoors, and are more than grateful that our full-time job allows us to review stand up paddle boards. We paddle year round (it helps that we are just about 2 hours outside of Las Vegas), and we bring in a wide range of paddlers with the goal of providing our readers with the best, most in-depth, and accurate stand up paddle board reviews.
Latest posts by SupBoardGuide (see all)