Bay Sports 10'8" SEEK
Pros
Ultra stable all-around/family paddleboard that is very beginner friendly.
Lightweight, 20 lbs SUP. Recommended weight capacity of 400 lbs.
Thick, diamond grooved EVA foam deck pad. Cozy and grippy!
Toolless FCS II fin + 2 permanent side fins. US fin box for maximum fin customization.
5 distinct color options, all of which look great.
Single chamber pump + fiberglass/nylon paddle + solid backpack. Full kit w/ high quality gear for less than $500!
Cons
We'd like to see a few more d-rings, and maybe an action mount.
Removable side fins would be nice.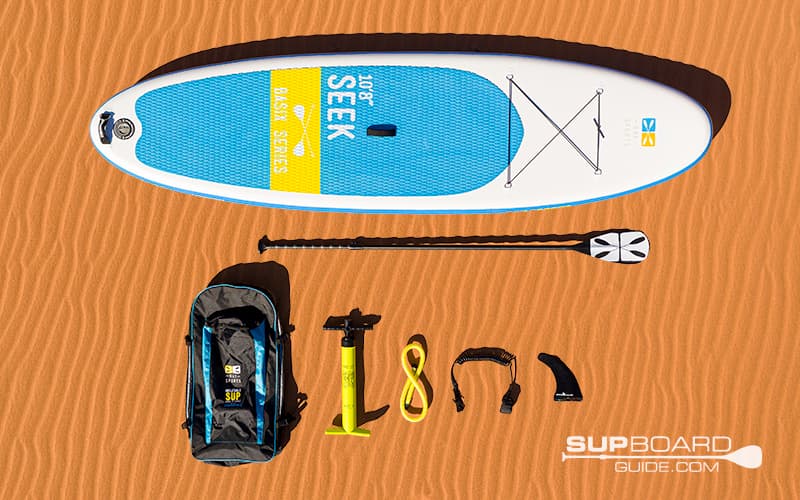 The Bay Sports 10'8'' Seek BasiX is an ultra stable lightweight paddleboard that is fantastic for solo and group paddlers alike. Weighing 20 lbs when inflated to 15 PSI, the 10'8'' has a recommended weight capacity of 400 lbs, making it very stable for paddlers no matter their size. There is plenty of room to spread out on the 34'' wide deck, most of which is covered with a soft but grippy diamond groove EVA deck pad. The 10'8'' Seek also comes with a superb FCS II fin, a fiberglass/nylon paddle, and a single chamber pump that all fits into a sturdy, comfortable to wear backpack. The 10'8'' Seek is a great family/all-around paddleboard that is perfect for beginners and first time paddlers, especially with its very affordable sub $500 dollar price. It also is a great option for larger paddlers looking for a sub-$500 SUP.
SUP Board Specs
Length
10'8''
Width
34''
Thickness
6"
Weight
20 lbs
Rider Capacity (lbs)
400 lbs
Recommended Inflation
15 psi
Fins
9'' FCS Connect II center click in fin,
2.5'' molded plastic side fins
Paddle Type
Fiberglass shaft and Nylon Blade, 30 Ounces
Construction
Fusion-Tec Drop-Stitch Construction
3-Layer Side Rail
Who Should Buy This Stand Up Paddle Board:
This mix of an all-around/family board is versatile, being great for solo and group paddlers alike. Consider using the 10'8'' Seek if you are one of the following:
Someone new or starting to learn how to paddleboard and want something very stable.
Interested in bringing out your kids, pet, or another adult paddler with you on the water.
A larger paddler who wants a light, wide (34"), stable beginner board.
Someone interested in a board they can easily hike long distances to the water with.
Those who want a board that performs well and has a thick, grippy, yet comfy deck pad.
Wants a SUP with their favorite colors. Choose from five unique color options!
There are several different water options you can paddle on with the 10'8'' Seek BasiX. They include:
Large, open, calm water areas. Perfect for enjoying the water with friends and family!
Rougher, somewhat choppy waters like at a busy lake, bay, or marina.
River paddling, though stick to slow, easy to navigate rivers if you aren't experienced.
Ocean paddling (open waters and small surf)! You can have some fun on longboard type waves once you're used to the 10'8'' Seek.
Performance
Stability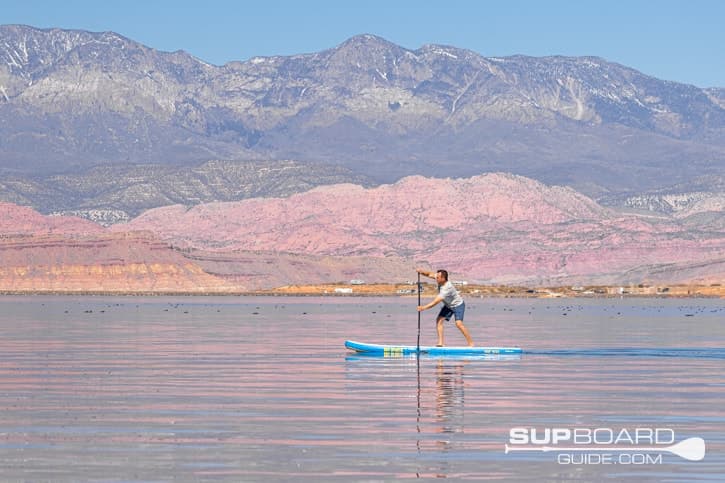 Bay Sports calls the 10'8'' Seek their most stable board, and we're happy to agree with them. The large volume and 34" thick width of the 10'8'' Seek, coupled with the durable Fusion-Tec construction and reinforced taped rails, work together to form a very stable board in the water. There is a 400 lbs recommended weight capacity for the Seek BasiX when inflated to 15 PSI, which is more than enough to accommodate any size of paddler. The ultra stability is very friendly to beginners, so once you get used to paddling be sure to bring your kids, a pet, or a partner out with you for extra fun on the 10'8'' Seek.
Maneuverability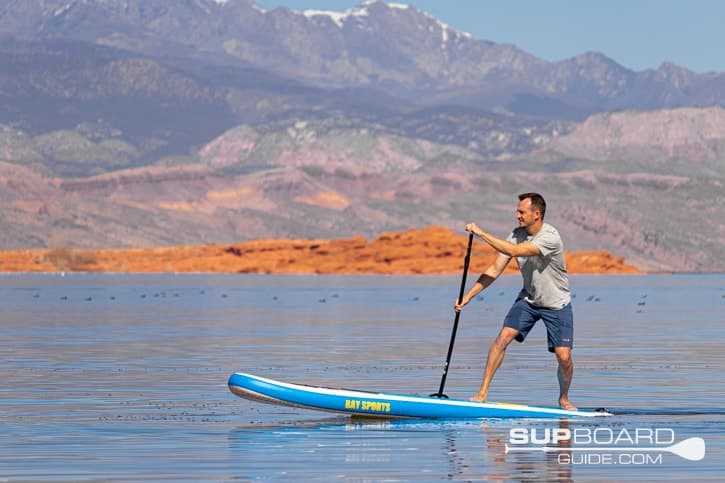 While the 10'8'' Seek is a wide, stable SUP it still handles very well given how light the board is. Most of the time, it will just take a few side strokes in the water to get you to turn where you need to go or dodge objects in your path. If you do need to change where you want to go on the spot, you can perform a step-back turn by pressing the tail down into the water. This will cause the nose to raise up, as you can see in the picture above, and allow you to pivot on the spot. Once you're familiar with how the 10'8'' Seek turns, you'll have fun navigating lakes, bays, coastlines, and even friendly rivers and ocean waves alike.
Tracking/Glide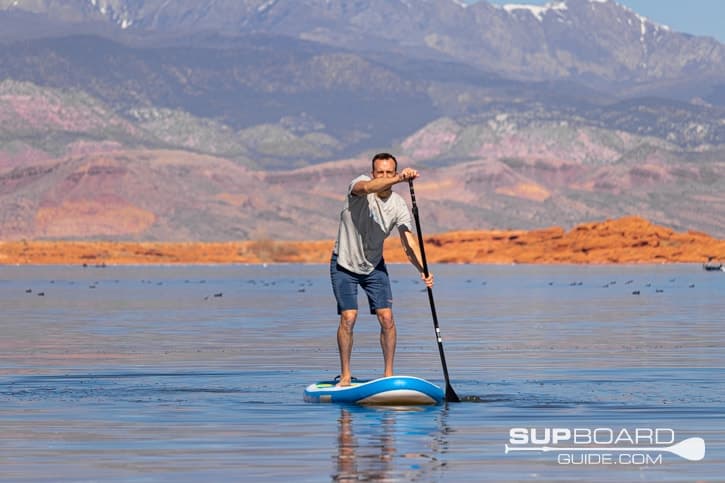 The 10'8'' Seek is not going to be the fastest SUP in the water, but it does offer a smooth glide that will make your paddling experience an enjoyable one. The raised nose rocker helps it tackle small chop and waves, ensuring that you can maintain a steady course in pristine water and less than perfect conditions alike. The 10'8'' length also helps the board track straight, which is helpful for beginners who are still trying to perfect their paddling technique. Once you know the proper way to paddle, you'll be able to casually cruise wherever you want to go with the 10'8'' Seek.
Another feature of the 10'8 Seek that helps the tracking is the included 9" FCS II center fin. This is a FANTASTIC center fin (especially given the price of the board), and combined with the 2 permanent side fins gives the board nice tracking capabilities.
Materials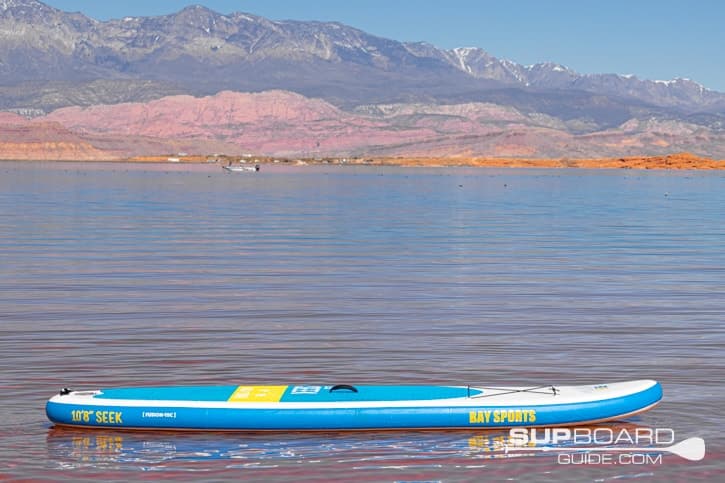 Fusion-Tec is the name of the construction methodology used to build Bay Sports paddleboards, consisting of a tight drop-stitch core protected by military grade PVC composite coating. The drop-stitch core is made with sheets of fabric joined together by thousands of carefully placed strings. When air is pumped into the core, it will inflate to the board shape you see above as the strings go taught. This core is durable and floats well in the water, but can be damaged and punctured like traditional inflatables.
To protect the drop-stitch core and provide additional stability and weight support, military grade PVC composite is fused directly to the fabric drop-stitch core Thanks to the PVC coating, most common drops, crashes, and miscellaneous SUP accidents will do little to no damage to the Seek board structure or performance. For additional protection, a UV coating has also been applied to protect the board against sun damage A triple-layered reinforced tape system is also built into the rails, which not only protects the seams but also increases overall rigidity, performance, and feel. All of this is wrapped up in a beautiful package, with the 10'8'' Seek available in five different color options. See the full list of colors in the feature section below!
Board Design/Shape


The Bay Sports Seek BasiX is a slightly wider all-around board, good for solo padlers, families, and those with pets. The 10'8'' length and tri-fin setup help you maintain a straight and steady course, bolstered in part by the raised rocker. The 34'' wide deck and 6'' thickness provide the volume support capable of supporting up to a recommended 400 lbs. When inflated to 15 PSI, the 10'8'' Seek weighs just 20 lbs, making it a great option to hike with or to train younger paddlers on. It won't outperform dedicated performance boards, but you can have fun and keep up with friends in casual races or touring adventures. We also think this is a great board for practicing yoga on if you want to hog the large deck pad to yourself!
Board Features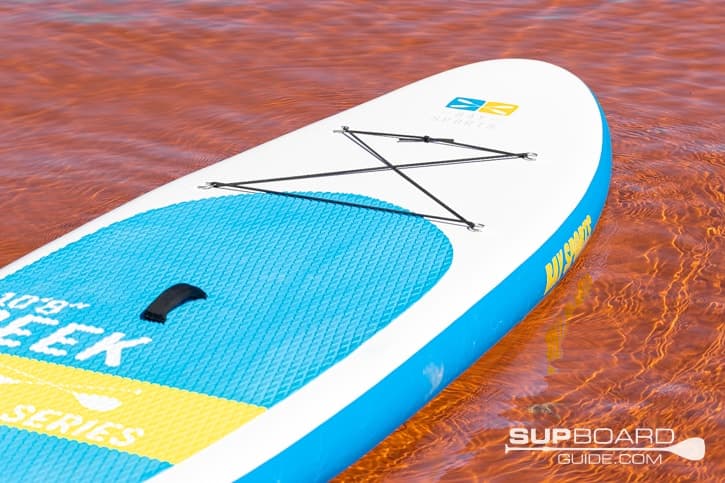 We like the performance, and we also like the many features that comes with the 10'8'' Seek BasiX. Some features we want to highlight include:
Fusion-Tec drop stitch PVC layer construction: Don't do it on purpose lest you scratch the design work, but you can crash into other paddlers, trees, and other objects in the water without damaging your board. The Fusion-Tec Seek is built to last, and will allow you to paddle for years to come with little to no performance loss!
5 D-rings + Removable Cargo Area: The 4 forward D-rings are great for clipping in accessories, and come with a removable bungee cargo system. Strap in coolers and other small containers, or remove the bungees for extra deck space.
Fiberglass shaft + Nylon paddle blade:When put together, the 3-piece adjustable paddle weighs 30 ounces. Easy to assemble and adjust, you can take turns with friends and shift the length of the paddle to the optimal paddler height.
Dual carry handles: Both handles are covered with neoprene, protecting against chafing when your hands are cold or soaking wet. The handles are located in the center and on the tail of the SUP.
Diamond Grooved EVA deck pad: This thick, premium deck pad sports a diamond grooved pattern, improving traction and grip. The EVA foam is very comfortable to stand on, ensuring you can paddle for hours without developing blisters or irritating your feet.
5 Awesome color options: Available in yellow/orange, blue/yellow, pink/gray, green/gray, and navy/turquoise. The blue/yellow is the version pictured throughout our review.
Fins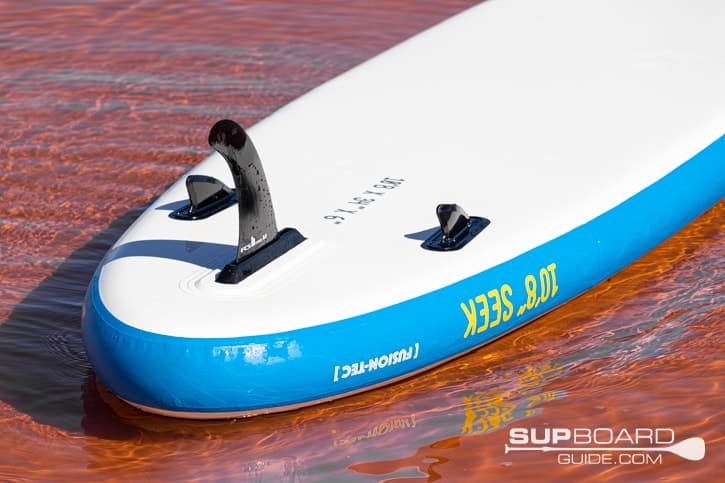 The 10'8'' Seek BasiX comes with a FCS Connect II fin. We love how easy it is to install, and that you don't have to rely on any extra screws or plates. Push the front portion of the fin into the middle of the fin box, slide the fin to your desired position, and then push the back end of the fin into the box for the barrel lock to engage. The FCS Connect II fin is built with durable fiberglass, and will last just as long as the life of your paddleboard with the proper care. Installing the center fin will improve your tracking, and you can move it forward for tighter turning or move it back for additional stability. The Seek BasiX relies on a standard US fin box, giving you the option of installing a vast multitude of additional third party fins as well.
The 2'5'' side fins are permanent, but due to how short they are they will work in any water environment, including shallow rivers. These side fins further improve the stability of the Seek, especially when used in tandem with a center fin. While it is unlikely that you would ever bend them, it is a pretty easy fix to get them back in shape if they appear off. Douse the fins with hot water and leave them facing the sun for about 15 to 20 minutes. Once they are dry, they should look better than ever, and ready for your next paddleboarding adventure!
While we'd love to see removable side fins, that's not a feature we typically see in SUPs priced below $500.
Diamond Grooved Eva Deck Pad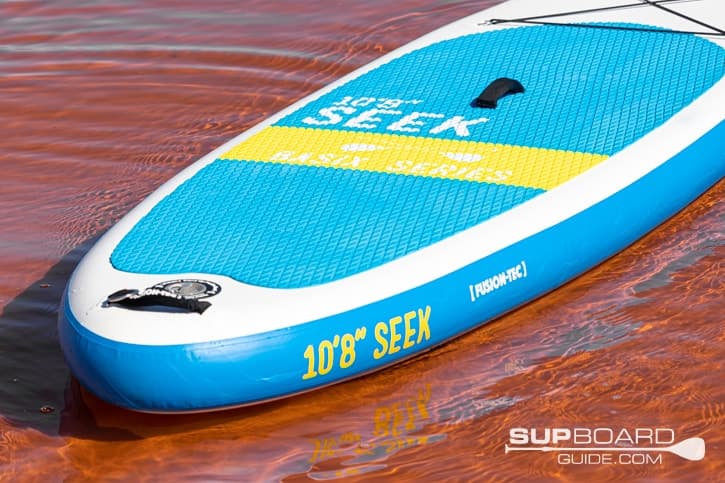 We like how thick the deck pad is, and especially love the diamond grooved pattern. With this pattern, you have extra traction support and grip, making it really easy to maintain your feet placement on the board. It's very comfortable to stand on as well, the deck pad made from EVA foam, a material used in many popular mainstream yoga mats. Sit, stand, or stretch out on the deck pad for as long as you want, the EVA foam used to avoid causing blisters and skin irritation.
Handles
The 10'8'' Seek BasiX has two carry handles, located in the center and the tail of the paddleboard. As the board weighs just 20 lbs, most paddlers won't have any problem lifting the paddleboard with the center handle, though a partner can aid by grabbing the tail handle as well. We also like that both handles have neoprene covers. Traditional SUP handles can be irritating to hold with wet or cold hands, something you won't experience with neoprene handles. Neoprene handles are also just softer to hold, so it's great to see this sub $500 dollar board have them.
D-Rings/Bungees/Cargo Areas
There are 5 D-rings on the 10'8'' Seek BasiX, 4 of which are located on the nose and serve as the base for the cargo bungee system, the final D-ring built into the rear carry handle. The bungee cargo area is great for making sure your coolers, containers, and other small to medium sized containers will stay on your board. The D-rings themselves are helpful for attaching cases and other clip on accessories, besides the leash that comes with the SUP.
We're torn on whether the current D-ring setup is enough for most paddlers. On the one hand, the included D-rings for accessories will satisfy the majority of paddlers, and it keeps the board clear for loading it up with friends. On the other hand, for groups that like to bring a bunch of stuff with them or someone who wants to load the board with gear, they are limited in their options. A couple more D-rings, or preferably an action mount on the nose like other Bay Sports SUPs, would be an effective addition that would add accessory options without making the board cluttered.
Accessories

Fiberglass Shaft + Nylon Paddle Blade
Packed into the kit is a fiberglass shaft and nylon paddle blade combo that weighs 30 ounces when fully assembled. This is a heavier paddle than the full fiberglass paddle offered in most of the Bay Sports kits, but also is a reason why the 10'8'' Seek can be priced sub $500 dollars. It is a great tool for beginners or casual paddlers to learn how to paddle with though, and also a step above aluminum or plastic paddles. If you find yourself really getting into paddleboarding or consider yourself at least a moderate paddleboarder, consider upgrading to the full fiberglass or carbon fiber paddles.
The paddle is very easy to put together though, coming in 3 separate pieces that can be put together or broken down in seconds. You can adjust the shaft height without taking it fully apart, making it a great option to pass along with your friends. The ergonomic handle fits well in the palm of your hand, and the fiberglass/nylon are both tough enough that they can take the occasional drop without cracking. Your strokes will feel powerful as you propel yourself through the water with this paddle, though make sure you are facing the right way with it!
Pump
In order to inflate the 10'8'' Seek Basix, you'll be able to use the included dual-action, single-chamber GRI HP2 pump. This pump is very easy to use, and even has instructions for its dual-action mode printed on the chamber of the pump. Most paddlers will be able to inflate their SUP in about 10 to 15 minutes with this pump, or faster if they have the stamina for it. We also like that the pump comes with a deflation nozzle as well, which will help you deflate your board faster when you're ready to pack up.
The single-chamber pump is effective and keeps the kit price down, though it is slower than dual-chamber pumps. However, if you are interested in upgrading, we would recommend considering an electric pump instead. Electric pumps are our favorite SUP accessory, as they do the hard work of inflating a paddleboard for you in about the same length of time. Electric pumps will help you deflate as well, freeing you up to pack the rest of your kit at the same time. Speaking of packing, electric pumps are more compact than manual pumps, freeing up room in your kit bag for other things. Go with an electric pump for the best paddle boarding experience!
Backpack
If you're wondering what you'll be carrying the Seek in, you'll be interested in the Bay Sports ballistic-weave nylon backpack. The backpack has two separate storage compartments, consisting of the main compartment and the forward facing pouch. The pouch is a great place for putting your fins, leash, repair kit, and other small objects you want to protect and bring with you. The main storage compartment itself is very roomy, making it easy to pack up the 10'8'' Seek, pump, and paddle. As for carrying the bag, you can use any of the 3 carry handles for short distance trips, or the backpack straps for long distance hikes. The straps are adjustable, and the back is padded so that paddlers short and tall can feel comfortable while backpacking with the 10'8'' Seek.
Bay Sports makes one of our favorite backpacks – it's very comfortable, well-made, and would work great for a short hiking trip (not something we can say about all backpacks).
Leash
In fast moving water settings, the 10'8'' Seek can float away quickly if you ever accidentally fall off of it. While you're very unlikely to tumble from the very stable board, you can prevent the board from getting lost in a current with the included 11' leash. Attach the leash to the D-ring located on the handle and wrap it around your ankle or calf, and you'll keep your SUP close if you ever fall. Just make sure you go with a PFD as well, as the leash will not help you stay afloat!
Repair Kit
Last of all is the repair kit, which consists of PVC patches and an inflation valve wrench. The patches will help you seal up tears and holes, as long as they're small and aren't located on the seams. The wrench will tighten up the Halkey-Roberts inflation valve, which comes loose on some SUPs as you insert and remove the inflation hose. It's very unlikely you'll need to use these tools, but knowing what they're for is important to save you time fixing these small problems. For larger, more significant board problems, contact Bay Sports for additional help.
Optional Accessories
Dry-bags, coolers, lunch boxes, cell phone cases; there are a ton of great SUP accessories out there to improve your paddling experience. Bay Sports also has a few cool add-ons that you can purchase to make your 10'8'' Seek BasiX even better. These include:
Bay Sports Hercules electric pump
Stand Up Paddle Board Trolley
Dry Bags/Waterproof Deck Bag
Waterproof deck phone case
Compact key vault
Company Review – Bay Sports
Bay Sports is a 100% family-owned and operated business that operates out of Sydney, Australia. Starting off with kayaks under the company name of Bay Kayaks, the company took their knowledge of crafting water sports products to create fantastic paddleboards. We love how lightweight Bay Sports paddleboards are, enjoying their performance, rigidity, and style. With over 1,000 five star reviews, Bay Sports is a dependable SUP manufacturer with a very cool assortment of paddleboards.
With the 10'8'' Seek BasiX, Bay Sports offers free shipping to the US and several other countries throughout the world. The Seek is protected by a 3-year warranty and 30-day guarantee, with Bay Sports also having multiple exchange options for defective or damaged boards. Because of the Fusion-Tec construction though, we doubt you'll ever need to get your board repaired. We think you'll love the 10'8'' Seek, but also check out their Explore, Cruise, Tour, and Yoga paddleboards as well.
Conclusion/Bottom line
Those who want something that can function as a great family paddleboard, and as a reliable all-around SUP, should take a look at the 10'8'' Seek BasiX. Short and tall paddlers alike will love how stable it feels in the water, while also finding it maneuverable and easy to paddle with. The 10'8'' Seek can accommodate kids, pets, and even two adults with ease, while also being a suitable SUP choice for young teenagers as well. We love the deck pad and varied color designs of the 10'8'' Seek, and appreciate the paddle, pump, and backpack included for the affordable sub $500 dollar price. The Bay Sports 10'8'' Seek BasiX has something to offer to everyone, offering good performance while remaining light and easy to carry to close and distant destinations alike.
Want to know more about the 10'8'' Seek, or feel we missed something in our review? Having trouble figuring out the perfect paddle for you, or interested in the different electric pumps out there? Then make sure to either leave a comment below, or shoot us an email with any questions, comments, or feedback you want to share with us. We also periodically update our reviews based upon our experiences with these paddleboards, so check on us again in the future for our up to date thoughts.
Thank you so much for reading! Enjoy the sun, enjoy the water, and enjoy stand up paddleboarding!
The following two tabs change content below.
SupBoardGuide
Heyo! At SupBoardGuide.com we are a team who love the water, the outdoors, and are more than grateful that our full-time job allows us to review stand up paddle boards. We paddle year round (it helps that we are just about 2 hours outside of Las Vegas), and we bring in a wide range of paddlers with the goal of providing our readers with the best, most in-depth, and accurate stand up paddle board reviews.
Latest posts by SupBoardGuide (see all)