iRocker Sport iSUP Review
Pros
Fastest iRocker SUP in the lineup, good mix between all-around and touring iSUP
Good overall weight capacity
Light sporty feel with shape and stomp pad
Plethora of D-rings and action mounts
Quality construction and overall feel
Nice kit paddle
Cons
We'd love to see iRocker move the location of the 2 rear action mounts more to the side of the board
2 piece deck pad leaves a section that is uncovered
I'm going to be very honest, this was the favorite iRocker board of at least 2 of our intermediate to advanced reviewers. The simple fact that it "feels" faster kinda brings a smile to our face as well as the purpose built stomp pad in the rear. With this board, you can see where iRocker was going. They wanted something a bit faster than the all around, not quite a touring board due to its length, but that's the category we think it's reaching towards.
Let's start with what the board is factually; at 11' x 31" it's the most svelte of the iRocker lineup. This translates into the fastest, best gliding board in the iRocker lineup. This board is great at getting from point A to point B, and we recommend it to anyone looking for a medium to long distance touring board, or someone who is going to use paddlesports as a fitness routine. It's also a pretty maneuverable board, as it's shorter than other traditional touring boards – hence why we put it as a hybrid touring / all-around inflatable SUP.
It's an excellent choice for anyone who:
Wants fast board with a fantastic glide
Wants more touring oriented all-around SUP
Wants to occasionally take children or light gear
Wants to maximize their SUP with available accessories
We think the iRocker Sport 11' would be great for the following:
Flat water paddling (lakes, bays, marinas, etc.)
Recreational paddling
Fitness paddling
Touring adventures
Small surf in easy, long-boarding type conditions
iRocker Sport 11' Review (Overview)
iRocker kept this board mostly the same for this year. New bag, new paddle, new colors, but otherwise the same. As mentioned in other reviews this was a good move through the pandemic as supplies of iSUPS dropped to critical lows and they probably would have lost out on a lot of revenue had they needed to retool their factory.
Again, iRocker did take the time to upgrade the backpack, and the new standard paddle is a great kit paddle. Would it have been nice to see as many color options as the All Around 11'? Yes, but I'm just nitpicking now. This board is great as a touring / fitness board to conquer miles of paddling.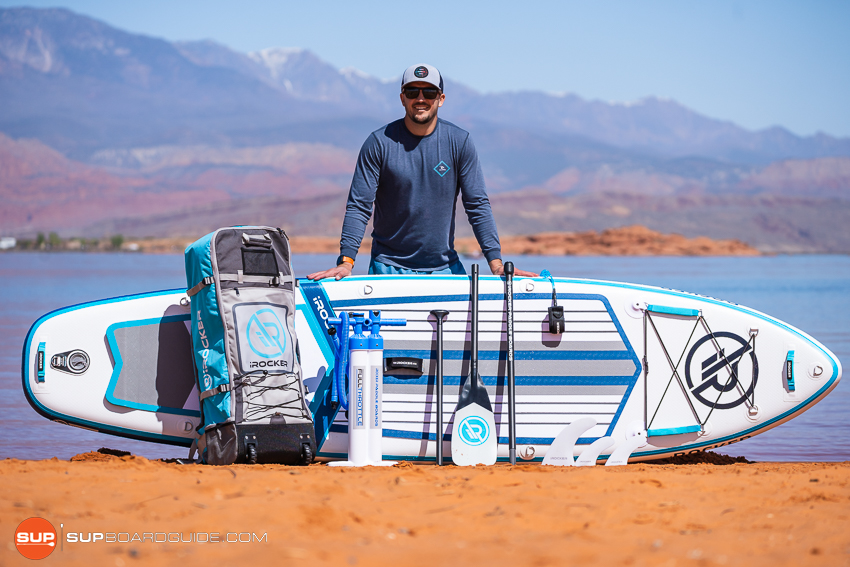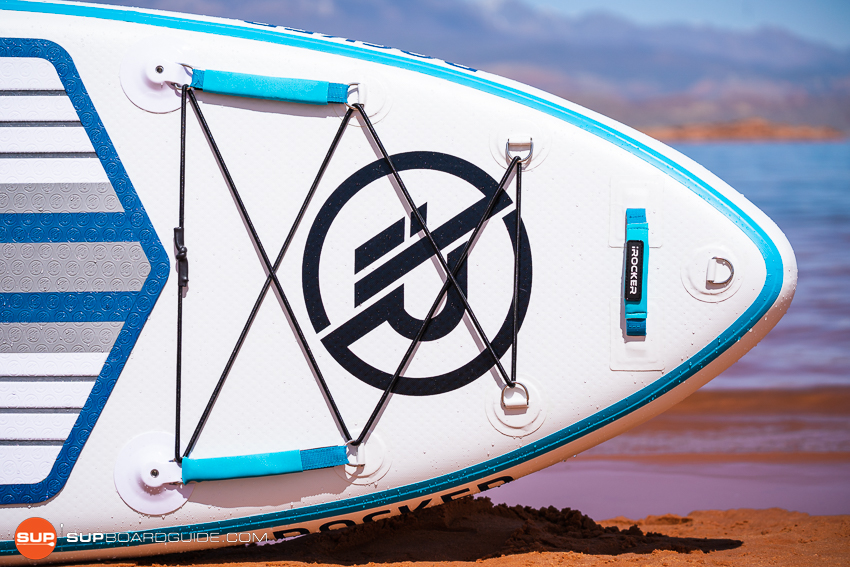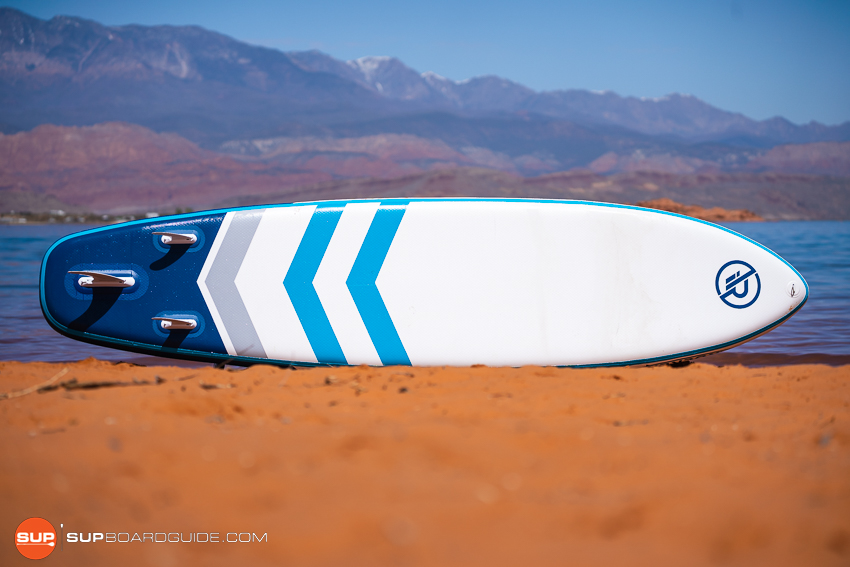 Note: We put a lot of hours in paddling the iRocker Sport Series. Unlike spec reviews you see elsewhere, we do our best to provide a comprehensive review based on our testing. We are happy to answer your questions about this board just comment below!
iRocker Sport 11': Spec Sheet
| | |
| --- | --- |
| Main Category | Touring, Inflatable |
| Board Shape | Touring / Inflatable |
| Board Dimensions | 11' x 31" x 6" |
| Listed Board Weight | 25 lbs |
| Listed Max Capacity | 385 lbs |
| Recommended PSI | 14-18 psi |
| Fins | 3 Flip Lock Nylon Removable Fins |
| Paddle | Full Carbon Matte 3-piece paddle with nylon blade |
| Materials | Triple layer composite PVC, high density drop stitch inner core |
| Price Range | Medium |
| Warranty | 30 Day Guarantee and 2 Year Manufacturer Limited Warranty on the board |
Official SupBoardGuide.com Test Results: iRocker Sport 11'
Our goal with these tests has always been to verify the manufacturer's stated information and help the buying public make an informed choice when buying a stand up paddleboard. You will see the results below from our extensive testing.
In-House Measurements:
| | |
| --- | --- |
| Board Shape | Touring / Inflatable |
| Tail Width | Coming Soon |
| Nose Width | Coming Soon |
| Nose Rocker | Coming Soon |
| Weight | Coming Soon |
| Bend Grade | Coming Soon |
Overall Score: 9.5/10
To be successful in the touring category, it needs to really move through the water well, be less affected by wind and /or chop, and still have a comfortable and stable feel for multi hour paddle trips.
The iRocker Sport 11' is a good example of a shorter, more nimble touring board built well at a fair price. We like its 11' length and 31' width, as the Blackfin Model V is the more dedicated touring iSUP from the brand, and the shorter width gives customers a more responsive touring board option. The stomp pad is great for turns and moving around the board in general. It comes with iRockers army of accessories and many of the same attachments found throughout the lineup. It does forgo the rear bungee cords in favor of the stomp pad, but 4 D rings are provided should you want to tie something up in a pinch. This board is best suited for those looking into getting a sporty / touring board but are afraid of the shrinking widths of other board manufacturers.
Stability: 9.0/10

Speed:9.1/10

Tracking: 9.1/10

Maneuverability: 9.1/10

Construction Quality: 9.2/10

Accessory Review: 9.6/10
Our overall rating of 9.5 for the iRocker Sport 11' puts this board in the middle of the pack for the touring category. Its shape worked both for it and against it. On the one hand it's not the skinniest or longest touring board out there. So it's not inherently the fastest. However that same shape lends itself to a slightly more stable board when compared vs touring boards, and slightly faster and more maneuverable when compared to all arounders. Essentially, this is perfect for beginners or those who are unsure about taking the dive into 30" wide touring boards, or even more advanced paddlers who want a faster, more fun all around SUP.
In-Depth Review of the iRocker Sport 11' Inflatable Stand Up Paddle Board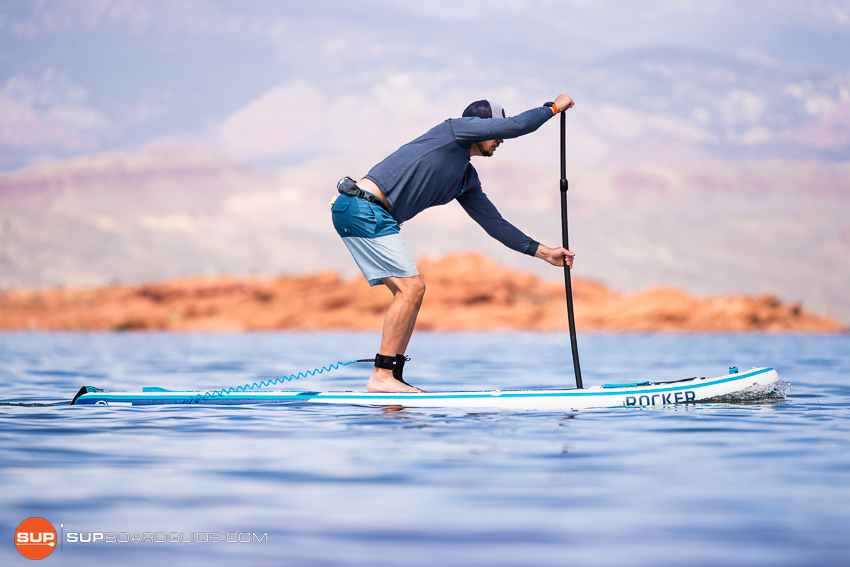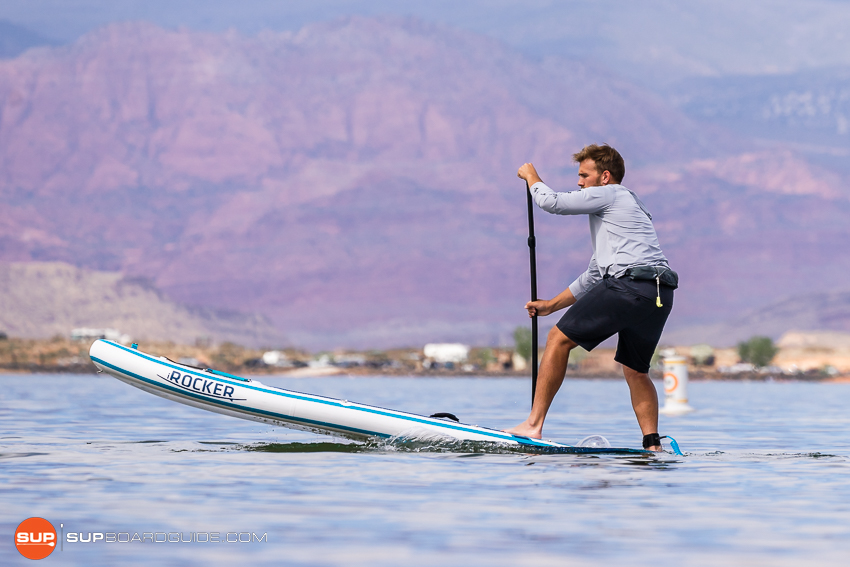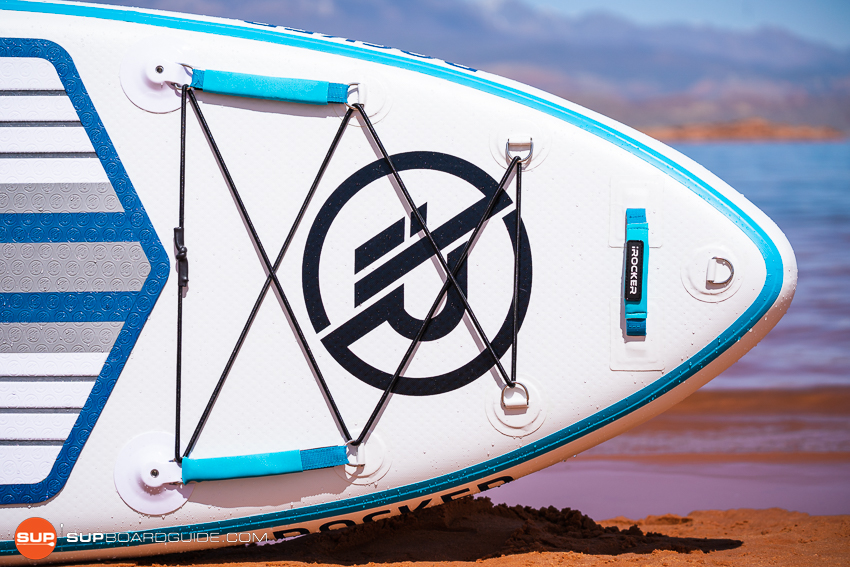 Stability Rating: 9.0/10
For us here at www.supboardguide.com, stability is probably the single most important aspect of our reviews. In our opinion a board's stability has a direct correlation with how much fun a beginner paddler is going to have on the water. The more stable a board, the more confidence they feel, the more likely they are to enjoy the experience.
The iRocker Sport was a fairly stable board. Admittedly not so much as the wider 11' iRocker All Around, but it still felt solid under our feet (even for reviewers in the 200+lb range) and we've found that even beginners do well on the iRocker Sport from a stability standpoint.
Board Stiffness:

Stiffness Test Results: 1.0625" bend at 18 PSI
By placing the board on two sawhorses 7 feet apart, we then apply 150lbs of weight to the center of the board and we see a 1.0625" bend at 18 PSI (we also tried it at 15 PSI with only a minimal change), or change in shape, overall. It's important here to note that we chose the different PSI ratings so that we could more accurately compare boards in an apples to apples fashion, despite their highest rated PSI. We also measured the board after the weight had been removed in an attempt to see how the board recovered from the extra work.
As mentioned in other reviews, the iRocker lineup does not come with the carbon fiber reinforced rails that the Blackfins have. This being the first year we've done what we call 'The Bend Test', we are finding that while carbon fiber rails do help, the iRocker lineup are still very solid boards and are just slightly less stiff. The additional factors of board construction, width, and quality come into play as well – and the iRocker lineup is essentially a smaller version of the Blackfins minus the carbon fiber rails.
The iRocker Sport 11' performed above our expectations. It did just as well as the 10' All Around, while being a whole inch narrower. This board certainly feels stiff below your feet and while not as stable as the wider options in the iRocker line, it still is a very solid board.
Weight Capacity:

Listed Weight Capacity: 385 lbs
Tested Capacity: (coming soon)
The board is listed as being able to carry up to 385 lbs, and is going to be a great option for riders looking for a fairly stable touring board with room to carry basic gear and equipment.
Overall: Stability wise, this board is ahead of its peers in the hybrid all-around/touring class due to the 31" width and 3 fin setup. Having a fairly high weight capacity also means that it is a good choice for riders of all sizes.
Speed Rating: 9.1/10
As always, speed is relative. Don't think that because this board outperforms or underperforms others you'll be left in a lurch during your group paddles. This is the fastest in the iRocker line up, but not the fastest touring board overall. And that's OK. It's stable as all get out and still able to put up decent numbers.
Basically, in terms of speed, the iRockers rank in the following order:
1. Sport
2. 11' All Around
3. 10' All Around
4. Cruiser
Now, when comparing the Blackfin models, we found the 11' Sport to be the closest of the iRocker lineup to the Model V in terms of speed. It's not quite as fast, but is a little more agile due to it being lighter and a little less wide.
Tracking: 9.1/10
Touring boards have to track well. Going long distances doesn't lend itself to constantly veering off course. In that light it tracks very well. Again the 3 fin system gives it great directional holding capabilities while its width allows for an easy stroke pattern. The narrower a board the more vertical (and directionally correct) your paddle stroke can be. This, in turn, means the power is being applied evenly to the water in a way that propels the board in a straight line as opposed to slightly veering in either direction.
Maneuverability: 9.1/10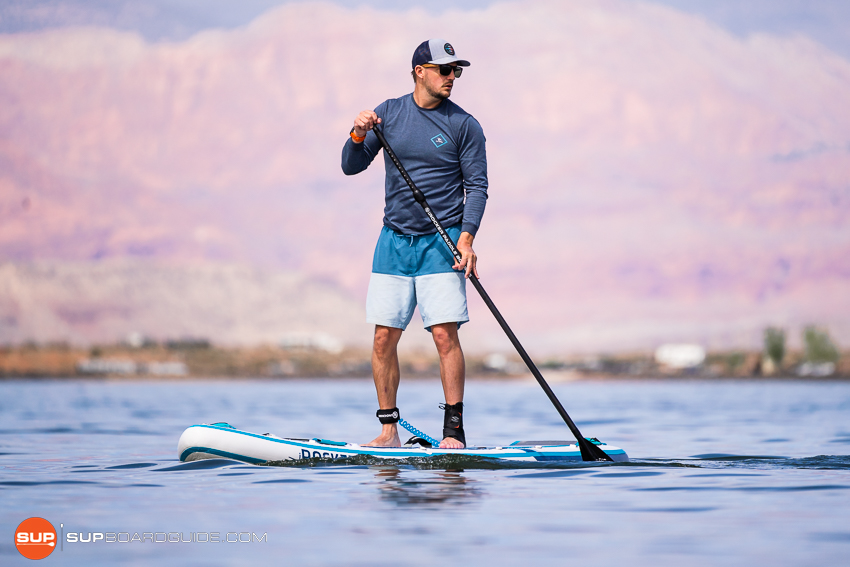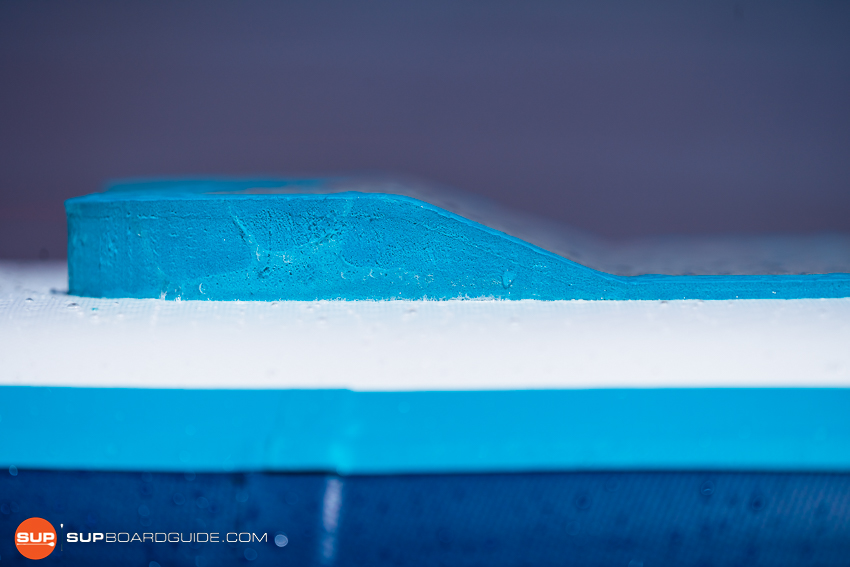 Being an 11' touring board this is also going to be more maneuverable than other touring boards, and we also found it easier to move around when compared vs the 11' All Around.The added rear stomp pad makes sinking the rear of the board a breeze, so if you've practiced your step-back (buoy) turns you should be right at home.
Construction Quality: 9.2/10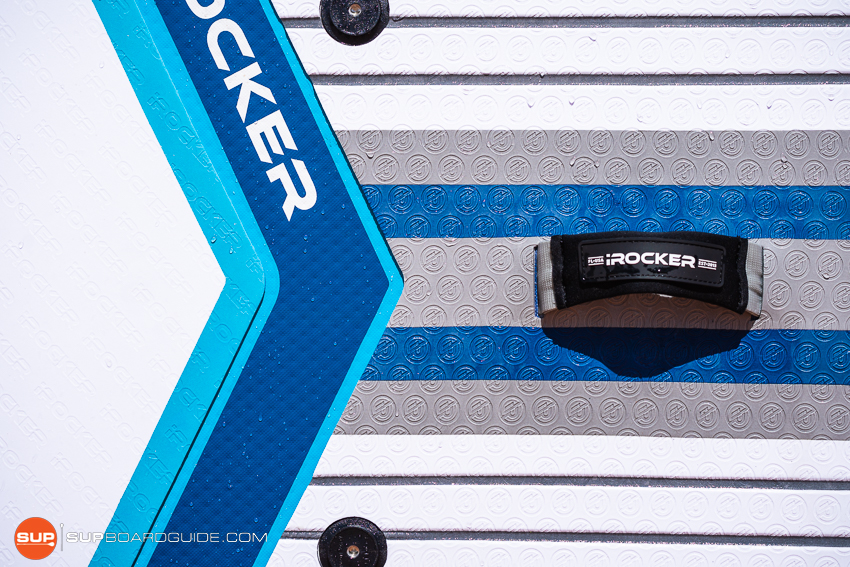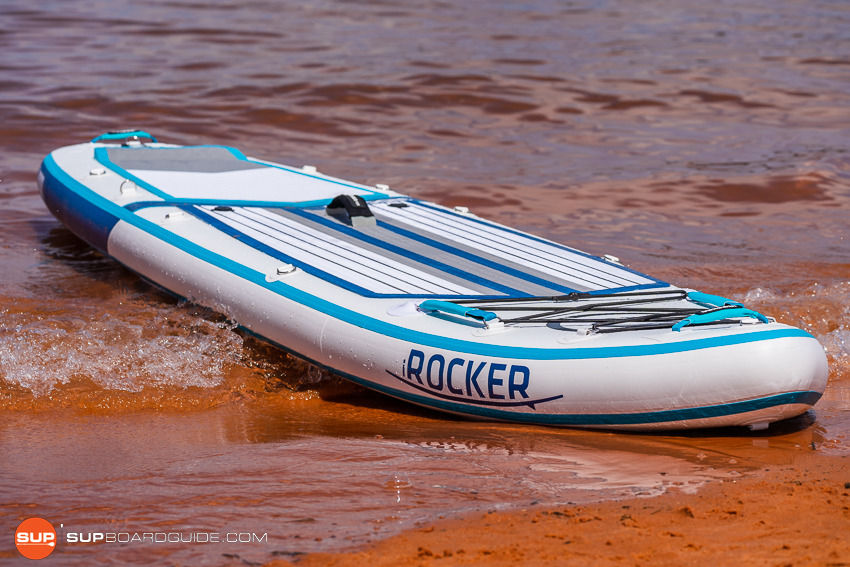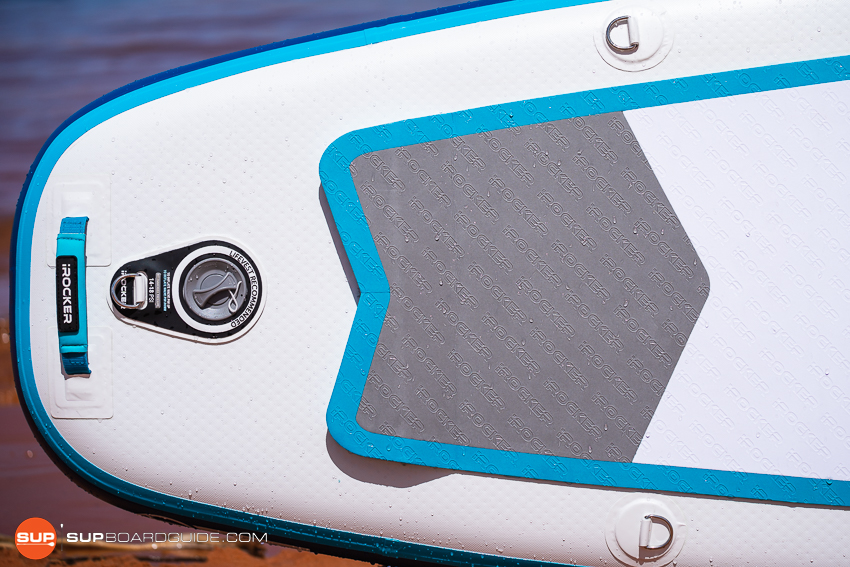 iRocker does a great job when it comes to board construction. They use a drop stitched core with 3 actual layers of PVC wrapped around it. This three layer setup gives the board its slightly hefty but solid feel.
We also appreciate the deck pad for it's feel and design. The iRocker Sport comes with a two piece deckpad that has a small gap between both sections. It's a great setup for longer water journeys. We would recommend the addition of a single pad from the front to rear, or at least a strip covering the currently uncovered "iRocker Chevron" piece.
We do commend iRocker for realizing the utility of a kick pad as well as not including straps on the rear D rings for you to get tangled in either. The D rings are still there so you can attach gear if you want to. Best of both worlds in our opinion (although I wouldn't mind if iRocker included some removable bungee cords in case you do want to turn this into more of an adventure SUP).
We also feel that the deck pad would benefit from the same replacement of the two rear most action mounts. They could easily be integrated into the D-ring loops like at the front of the board. Again, on a board that is meant to be moved around on to enjoy, a clear uniform deckpad is the key to minimizing missteps.
Accessories: 9.6/10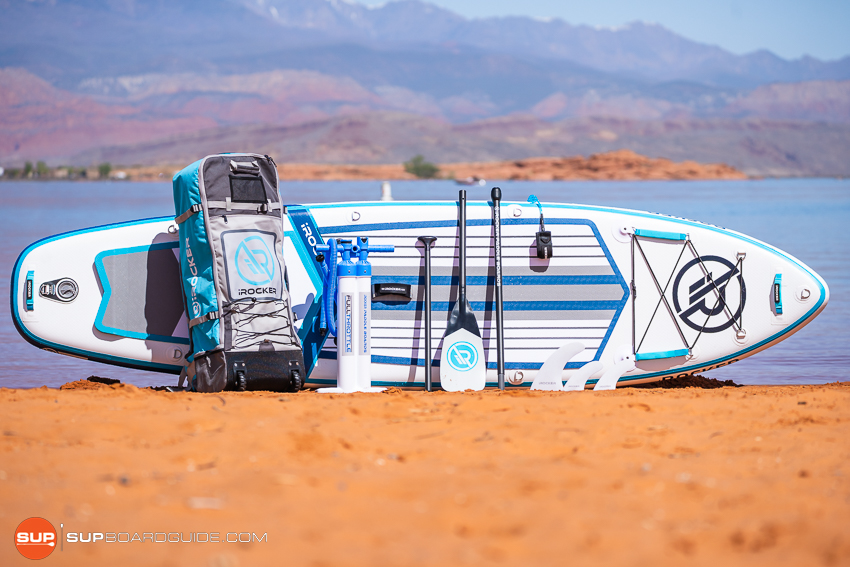 We like that iRocker gives you just about all you need to get on the water, aside from a coast guard approved life jacket. We look closer at a few items below but we feel for the price, this board comes fully equipped with quality accessories.
The iRocker Sport 11' comes with the following out of the bag (i.e. you don't need to buy anything to get out on the water):
3 piece carbon fiber shaft, nylon blade, plastic handle
Dual chamber, triple action pump
10' leash
Wheeled SUP backpack
Standard SUP repair kit
4 multi-use action mounts
15 d-ring attachments
Paddle: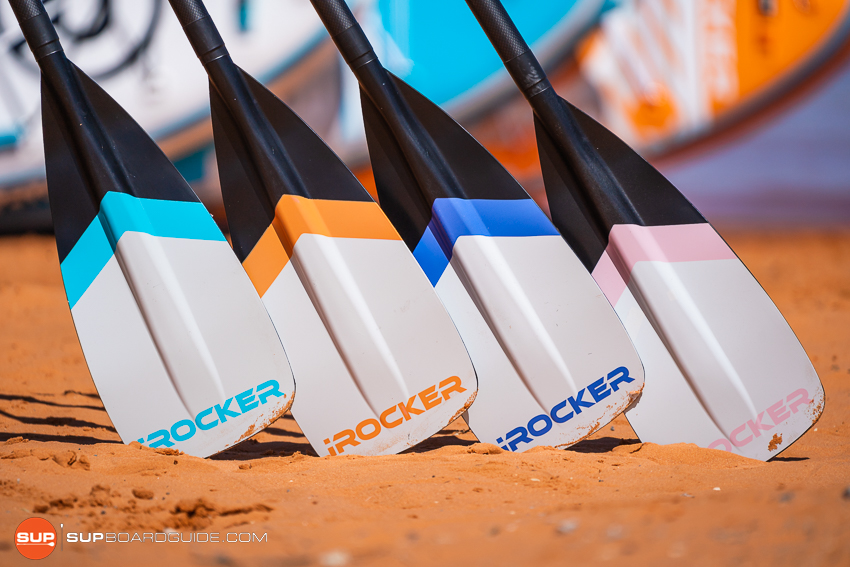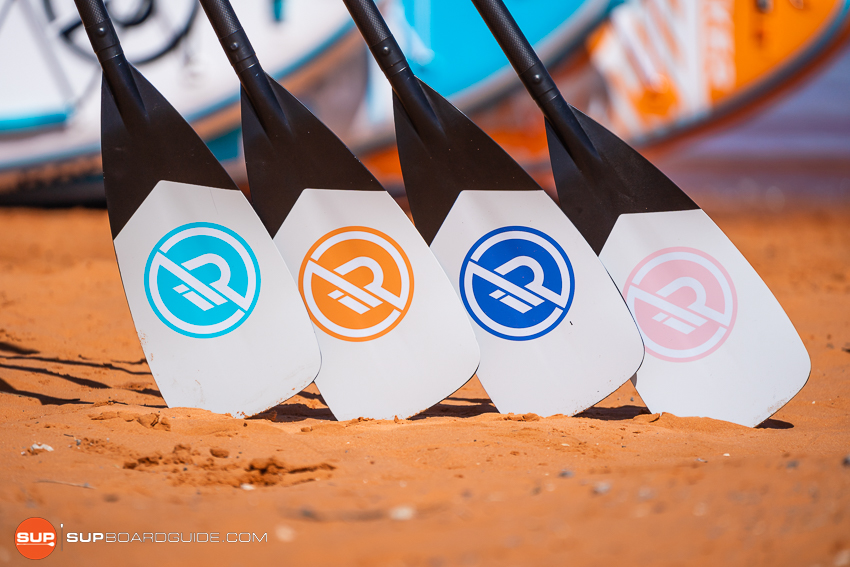 This board comes with a carbon paddle shaft, nylon blade, and a plastic top handle. It looks sleeker and it's lighter than the previous years fiberglass/carbon blend. At 28.5 oz is extremely light for standard equipment. Adjusting from 72" up to 86", this paddle should fit most individuals. It feels good in the water, specifically we like the smaller blade size. I personally feel paddling is a sport where you are rewarded for your cadence, so the small blade size makes it a lot easier.
This paddle does have room for improvement though. It might benefit from a clamp or some sort of edged groove preventing twisting of the paddle at the lower connection point. We also have to say that the plastic handle just feels a bit too delicate in our hands. We would also ask that iRocker extend the length of that top shaft and/or add more holes closer to the handle. It's so close to fitting in the bag when you push the top shaft into the middle.
This paddle is a great kit paddle regardless. We like how it's color matches the board color as well. Though we did find that the paddle colors tend to scrape off once it gets a bit of use. But if you're careful with your gear you should have a good looking paddle for a long while.
Pump: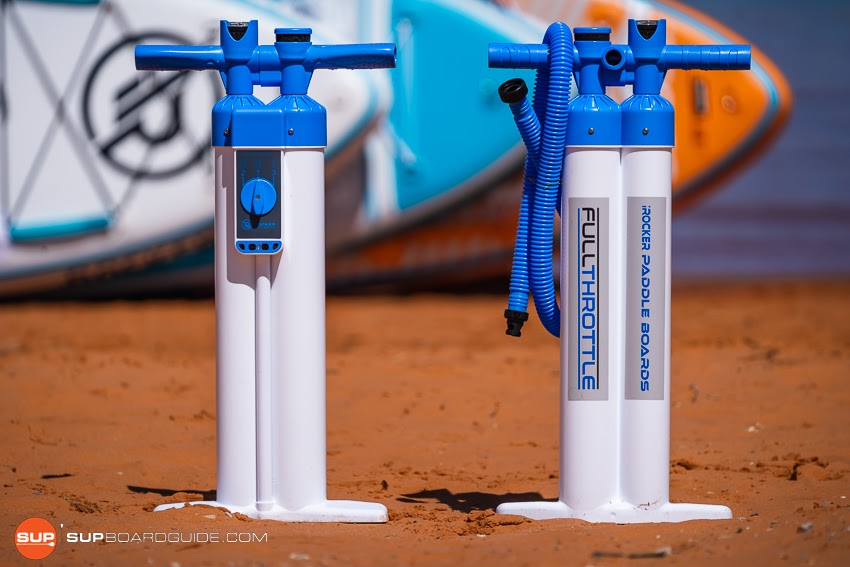 The triple action pump does well in our opinion. Having the three settings allows you to effectively pump the board as it gets higher in it's psi. As a kit pump we have seen much worse. It's solid and has some interesting knurling on the handles. Especially good when you're stuck pumping your board up in 100 degree heat. It channels your sweat and tears away from the pump itself.
Now for the beating of the dead horse. Get an electric pump. You will thank us, your friends will thank us, your hands and lower back will thank us. Seriously, this should be the first thing you buy after a lifejacket. Our current favorite is the iRocker electric pump and battery pack, but anything that gets you out of that manual labor will do. Trust us. You're so worth it.
Backpack: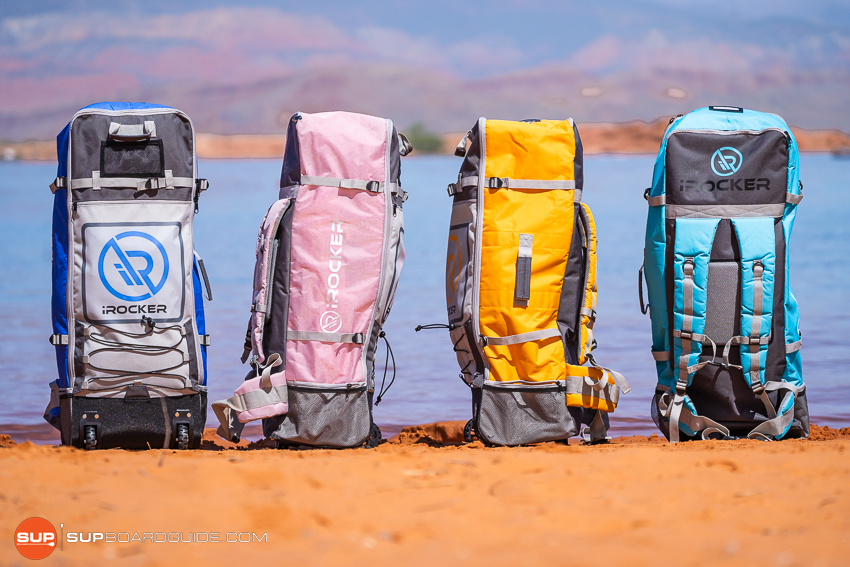 2023 brings a slightly updated bag. The chief improvement being the wheels. No more gross back sweat lugging this down from the car. We also like the color matching aspect of these new bags. Like the matching paddle, it was a really stylish move. There are plenty of pockets for your additional gear as well as a bungee on the outfacing side for quickly adding extra.
The shoulder pads are nice and padded fairly thickly along with the back. It could use some additional padding on the two handles. This is most noticeable on the top handle used for rolling.
Rolling wheels, placed out of the way for hiking
Dual mesh side pouches with zipper pockets
Small front compartment
Compartment at the top (really ideal for their electric pump)
Handles on the top and side
Bungee straps on front
Color matching credibility (style points)
Optional Accessories
iRocker offers more accessories than you could even imagine (seriously, check their website). 15 d-ring attachments and 4 multi-use action mounts allow you to do a lot with the iRocker Sport 11'.
Some of our favorite accessories are:
Electric Pump (just buy it, seriously)
River fin system (good if your constantly in weeds)
Kayak conversion kit (great for those wanting stand up and sit down options)
Kayak seat cushion (a great comfort update to the Kayak conversion)
SUP anchor (good for fishing or tethering in your favorite spot)
Cell phone holder
Cup holder
Vibe waterproof speaker (tunes are a must on the water)
Soft cooler deck bag
Hard cooler
Summary Review of the iRocker Sport 11'
We really like the iRocker Sport 11'. In fact, it's our team's favorite iSUP among the iRocker lineup due to its sporty, playful feel. The Sport is also almost in its own category of SUPs. It's not quite as long as most touring boards, but is a little narrower than most all around SUPs. I like to say that the iRocker Sport is an all around SUP that accells in touring and sporty situations.
When compared to other touring boards, the Sport is not going to be the fastest, but you do get a lot more maneuverability out of it, making this a really fun board.
Of course, if you do want a more classic touring board, then you can check out the Blackfin Model V, or our list of top rated touring iSUPs.
Happy paddling, and as always if we left out anything in this review of the iRocker Sport 11', please let us know in the comments below!
The following two tabs change content below.
SupBoardGuide Editorial Team
At SupBoardGuide.com we are a team who love the water, the outdoors, and are more than grateful that our full-time job allows us to review stand up paddle boards. We paddle year round (it helps that we are just about 2 hours outside of Las Vegas), and we bring in a wide range of paddlers with the goal of providing our readers with the best, most in-depth, and accurate stand up paddle board reviews.
Latest posts by SupBoardGuide Editorial Team (see all)