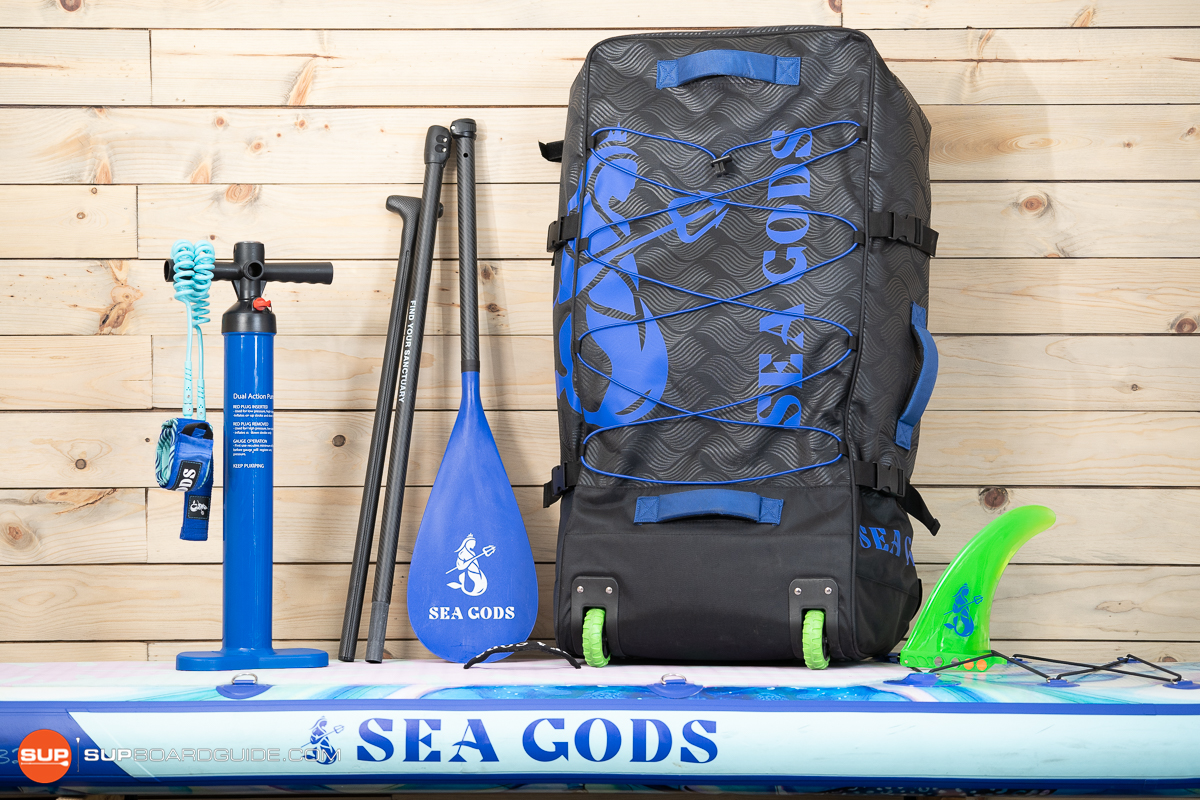 Sea Gods is known for their attention to detail when it comes to their line-up of eye-catching SUPs. It's no surprise to us that this level of attention and affinity for higher quality carries over to their included accessory list as well. We also love that Sea Gods makes sure to set you up with everything you need to get their SUPs on the water as soon as you open the box.
Included Accessories:
Listed Below are all of the accessories that come with each Sea Gods SUP (with a few minor differences for the ASR kids SUP).
3-piece adjustable carbon fiber paddle
9" Tooless Kumano click fin (semi-flex)
Single chamber dual action hand pump
11' Coiled leash
Wheeled SUP backpack
We'll be covering each piece in more detail throughout the remainder of this post, but in short, we think Sea Gods has hit the mark on providing high quality necessities to get paddlers started on the water ASAP.
Paddle: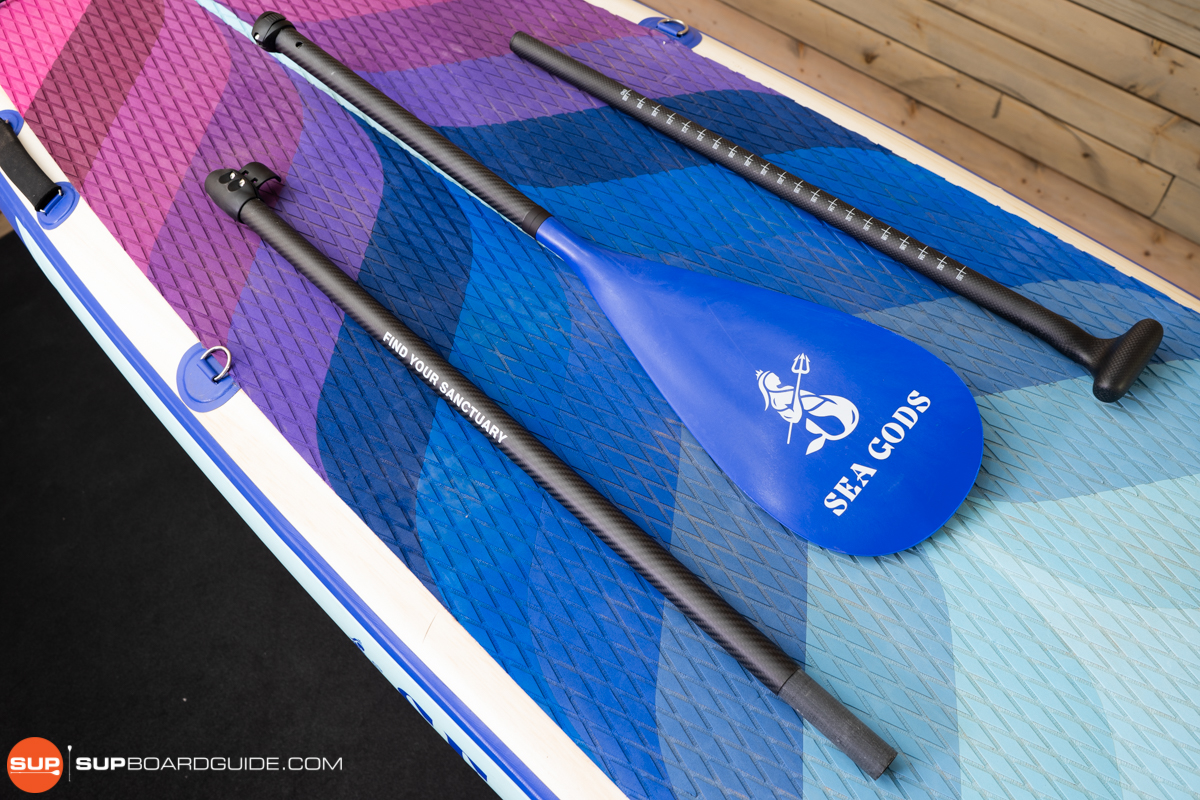 Sea Gods ' SUP kits include one of the nicer paddles we've tried out. The shaft is full carbon fiber and the 8.5" x 17" teardrop shaped blade is made up of a durable nylon material. There's also a groove on the handle (T-grip) segment that lines up with the clamp on the mid segment to ensure your grip is oriented correctly to your blade. As a final added bonus, it floats, too!
The carbon fiber build not only keeps Sea Gods paddles lightweight, but also contributes to their rigidity as you pull your board through the water. We've noticed fiberglass or aluminum paddles exhibit a decent amount of flex when we run them through our sprint tests or even some casual paddles. While a small amount of flex in the paddle's shaft is normal, and can even help limit stress on your shoulders, too much flex causes you to lose power during the pull phase of your stroke and results in slower speeds overall, despite your best efforts.
We also really like the blade on Sea Gods ' paddle both in its durability and its size. The nylon material makes it more resistant to fatal cracks and scratches should you hit it on some rocks or hard sand, though it does add a little more weight than a full carbon fiber blade would. We've found the size of the blade to be right in that sweet spot between catching enough water to make for fewer, more effective strokes, but not so big that each stroke feels 'heavy'.
As for the blade shape, teardrop style paddles are the best option if you want to put in less frequent, but more powerful strokes, as you would while surfing or going for a casual tour with some friends, which is fitting for Sea Gods SUPs. However, If you have a real need for speed, or are geared towards fitness paddling, a smaller, more rectangular blade shape would be your better bet.
Sea Gods has done a great job so far of incorporating a high quality paddle to compliment their lightweight, well-constructed SUPs. In the future, I'd personally like to see Sea Gods come out with their own line of paddles with variations in blade angles, sizes, and materials, as well as different options for carbon fiber weave density.
Fins: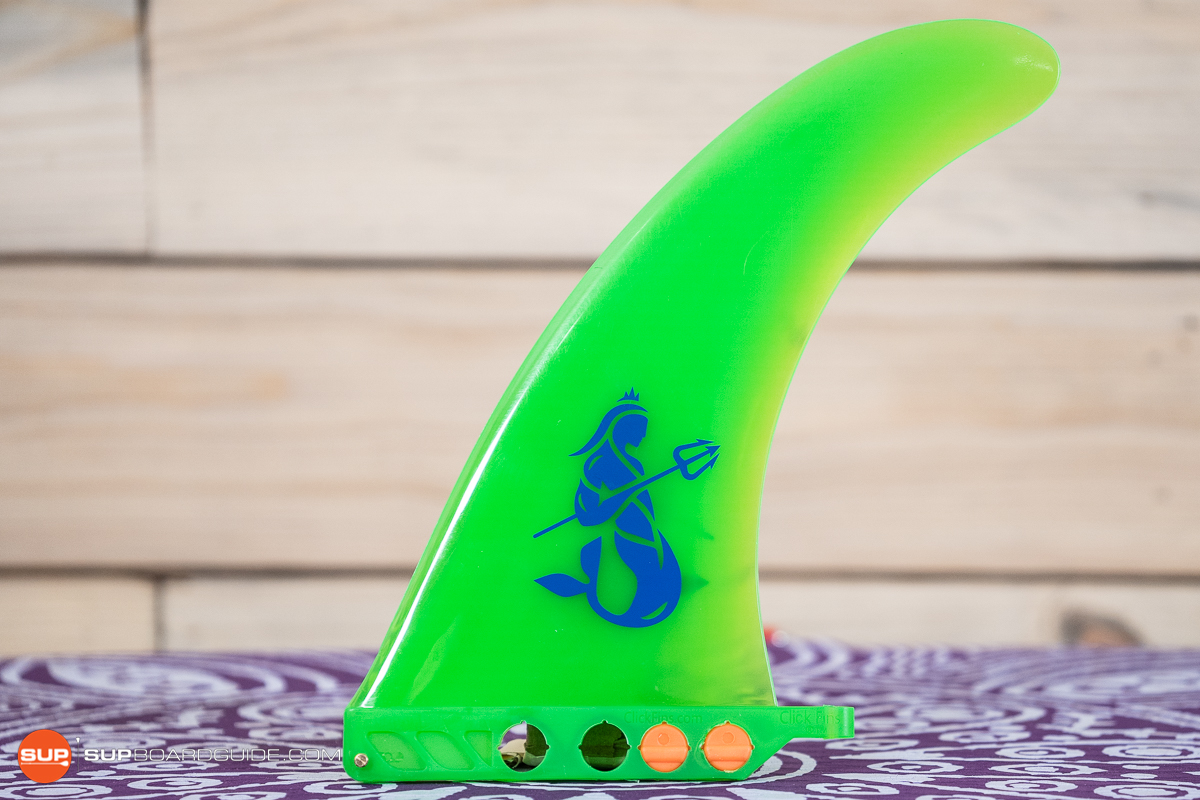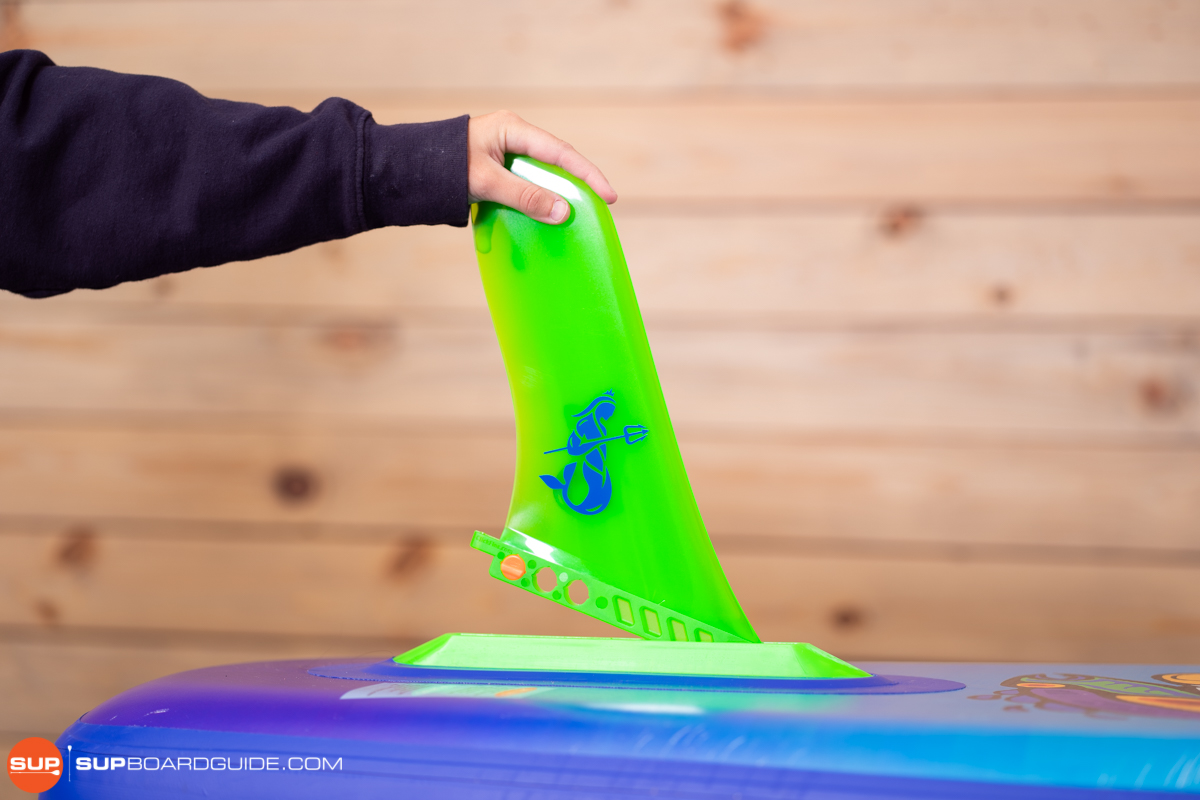 Sea Gods fins are a stand-out in the SUP world, and not just because of that fluorescent lime green. Their durable semi-flex material combined with their convenient Kumano click fin system has made these fins one of my personal favorite.
The Kumano system ditches the extra hardware needed for screw-plate fins and instead locks the fin in place with rubber pressure plugs. All you have to do is slide the metal tip into the fin box groove and firmly press the plugs down into the slot to secure your fin. As I said, I really like the Kumano set-up (I never keep track of fin screws and plates), but if you're someone who likes to keep it old school or just like a little extra security in your fin box, Sea Gods does include the screw plate hardware as well.
Another unique feature to Sea Gods fins is that they're made of a semi-flexible material, meaning that your fin will bend if you rest your board on hard ground, get stuck in some rocks, or run yourself aground. This is a huge plus if you're frequently paddling in shallow or rockier water, as it eliminates the risk of snapping your fin or damaging the fin box. However, the one downside to semi-flex fins is that they can become mis-shaped, which can hinder your SUP's tracking capability over-time. Though I wouldn't necessarily sweat this, as these fins are easy enough to re-shape with some heat from a hair dryer.
Leash: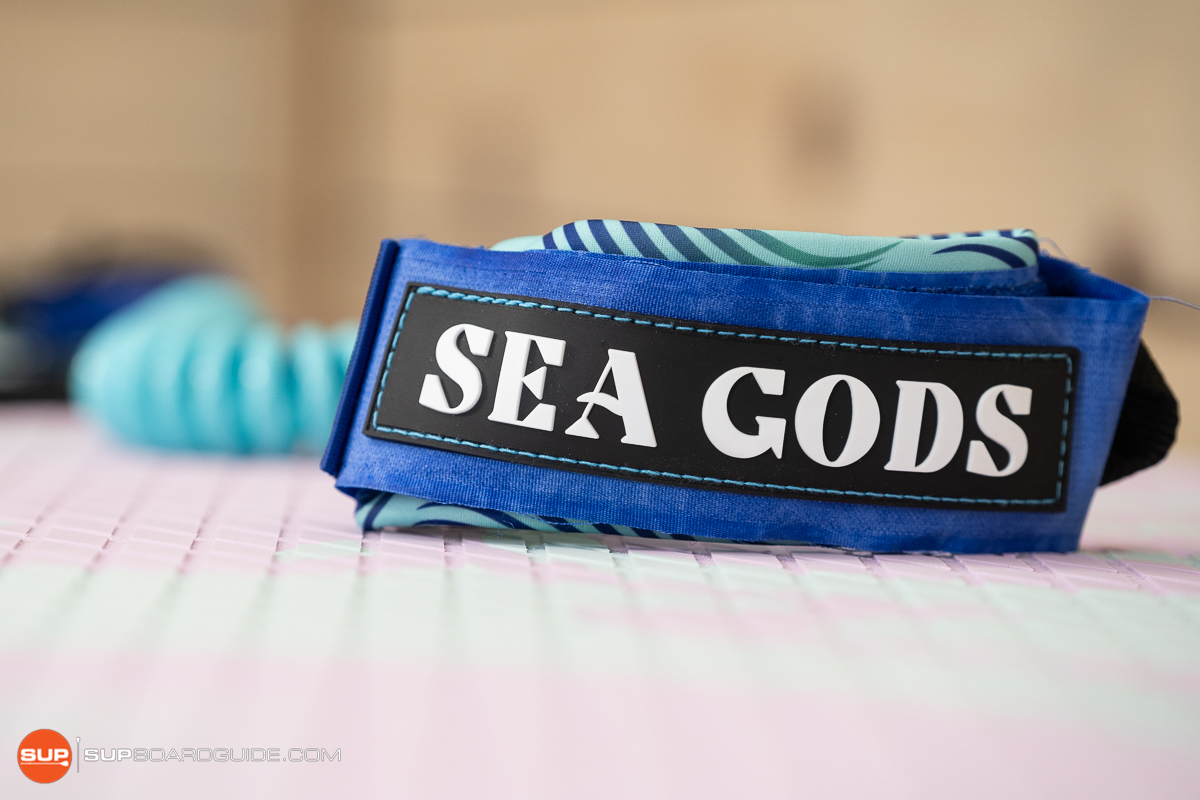 We love to see brands like Sea Gods include a well-made leash in their kit. It's something that tends to be overlooked, but the reality is that if you do fall off your board and aren't wearing a PFD, your leash becomes your life line, especially if you're a far distance offshore.
The Sea Gods leash is a thick, well cushioned 11' coil that is able to fully swivel at both ends, eliminating the risk of any tangles or trip-ups while you paddle. It's also large enough to fit around virtually any human (it should not be attached to your dog) ankle and could be worn below the knee, if you prefer that location. All-in-all, it's a solid SUP leash and I love the turquoise color.
I do want to note, however, that if you're planning on surfing on a Sea Gods SUP, you'll want to switch out your leash for a straight surf leash. If you're SUP'ing on a fast moving river, you'll need to invest in a quick release leash for safety purposes as well.
Pump: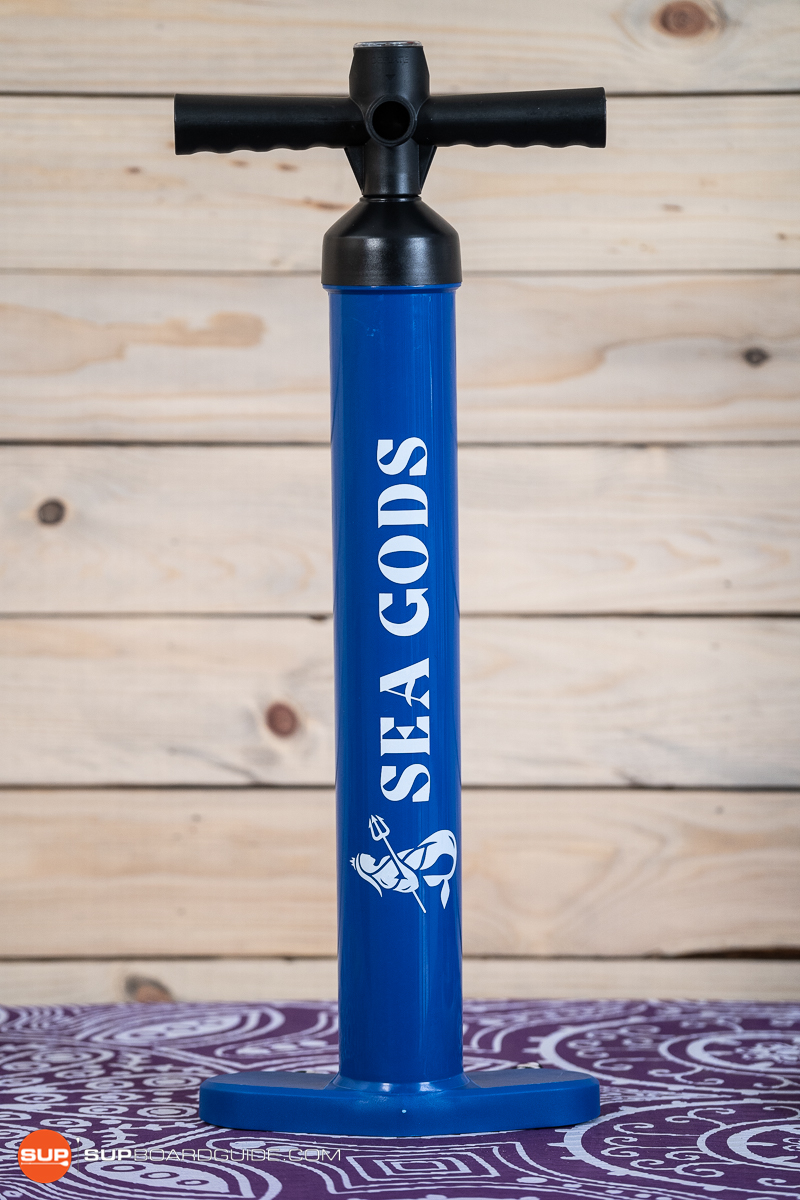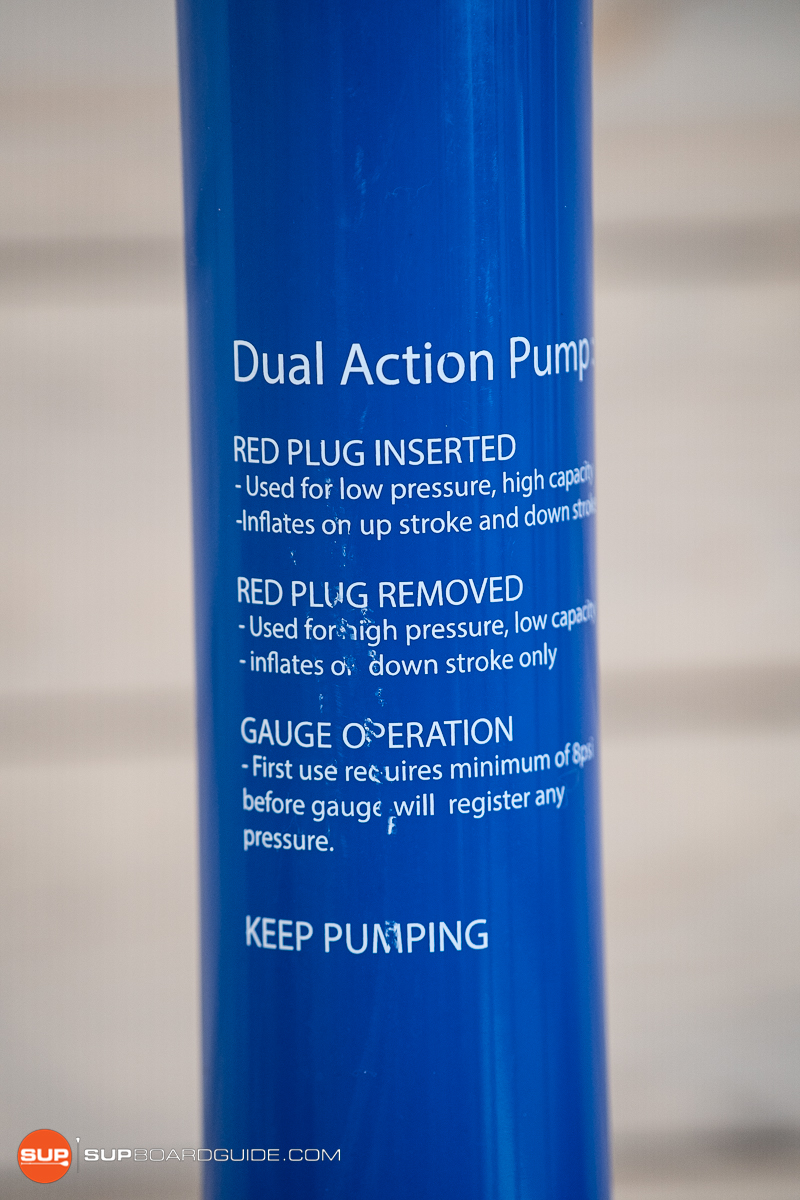 For the sake of transparency I'll tell you right off the jump that we're never excited to see single chamber hand pumps. Sure, they'll get the job done to inflate your SUP and they save space in your bag, but you'd be hard pressed to find someone who isn't breaking a sweat by the time the board reaches about 5 PSI. Sea Gods SUPs have a recommended PSI range of 14-18 PSI, and we just think a double chamber hand pump would make that mark much easier to reach.
Now, if you're a regular reader of SUPBoardGuide, you'll know that this is where we beat the dead horse that we've affectionately named 'buy an electric pump'. I'll be the first to tell you I didn't believe the electric pump hype. I came from a hard SUP background and thought inflating an iSUP would be no more difficult than inflating a bicycle tire: dead wrong. Every time I inflate a SUP by hand my apple watch nearly begs me to start a workout and I end up sweaty, red faced and out of breath before I start paddling.
I know there's some people that will read that and say 'Alli, it's a great way to warm up the muscles, you burn extra calories, etc.' and to that I ask: are you trying to convince me or yourself? Now that I've hopped on the electric pump band wagon, I can simply hook up my SUP and chill out to finish my coffee or get in a pre-paddle stretch while my hand pump die-hard friends look like stationary pogo sticks; it's euphoric.
Sea Gods does now offer their own electric pump as well, though we've not yet been able to review it so cannot fully attest to it's quality. However, given Sea Gods attention to detail and dedication to quality control, I have high hopes. For electric pumps that we have reviewed and recommend, visit our list of the best electric pumps.
Bag: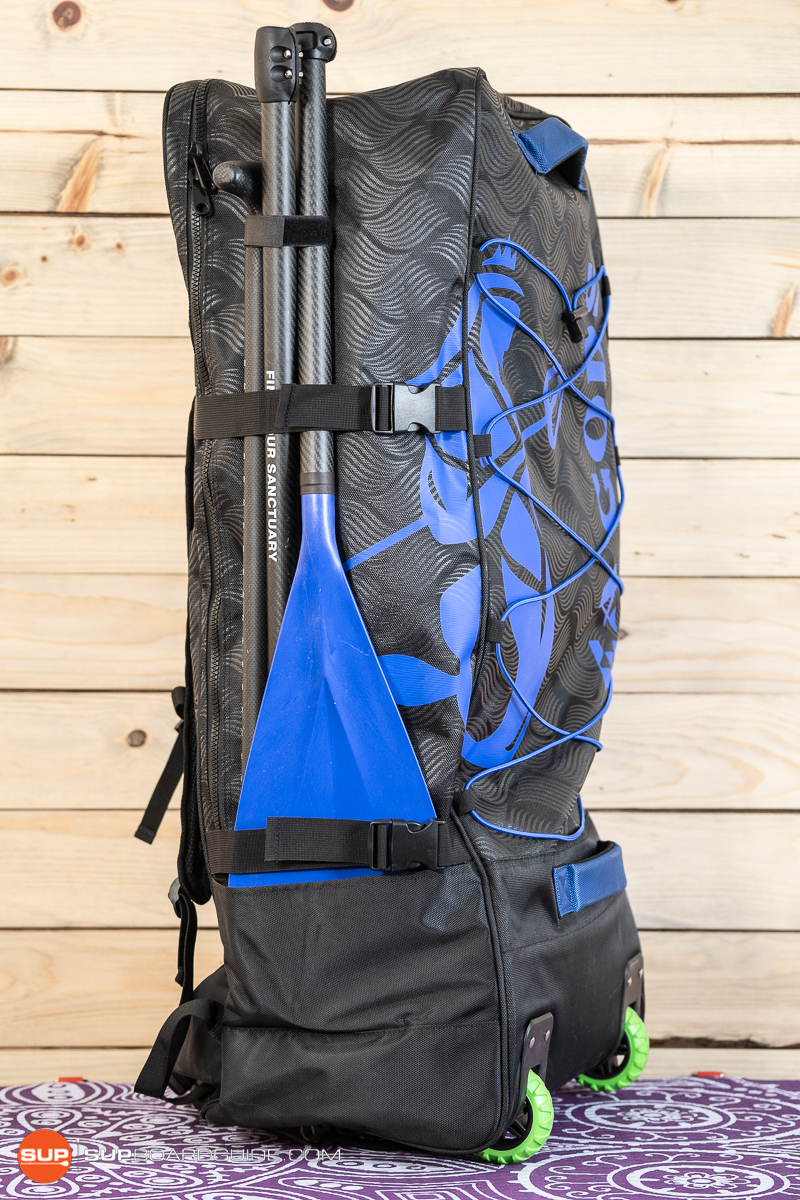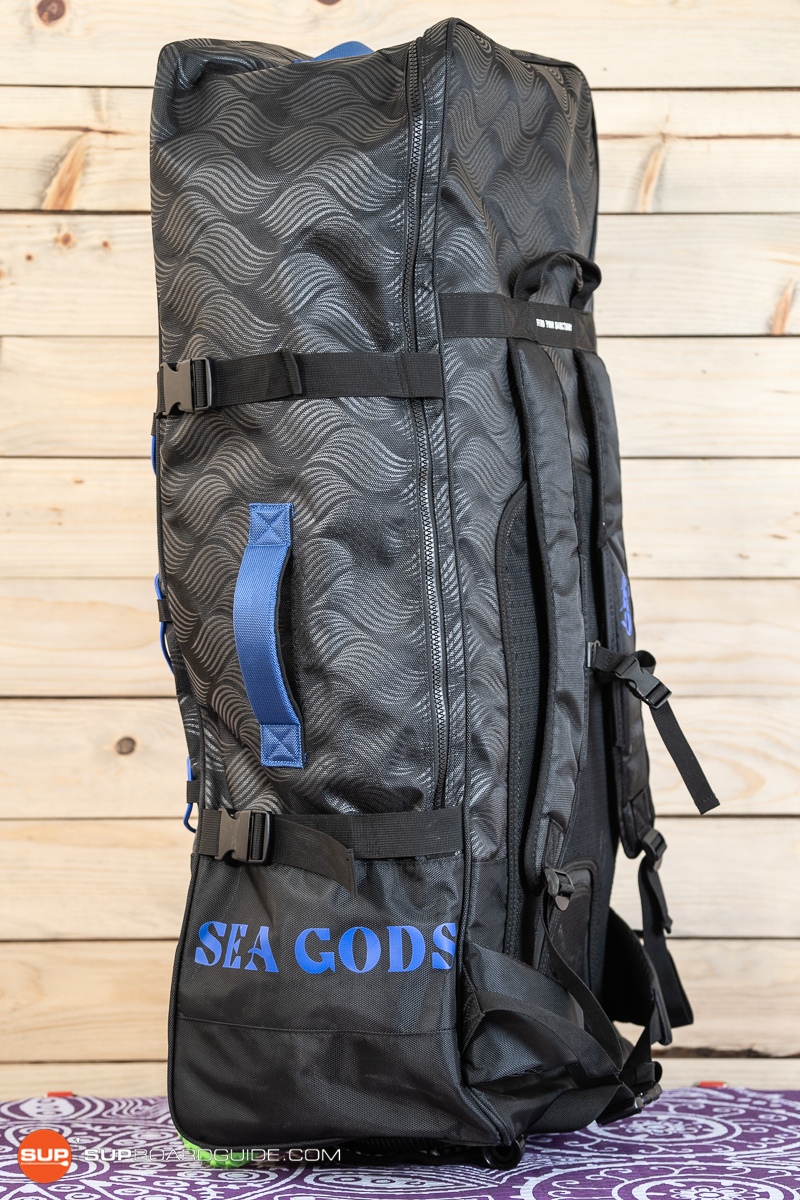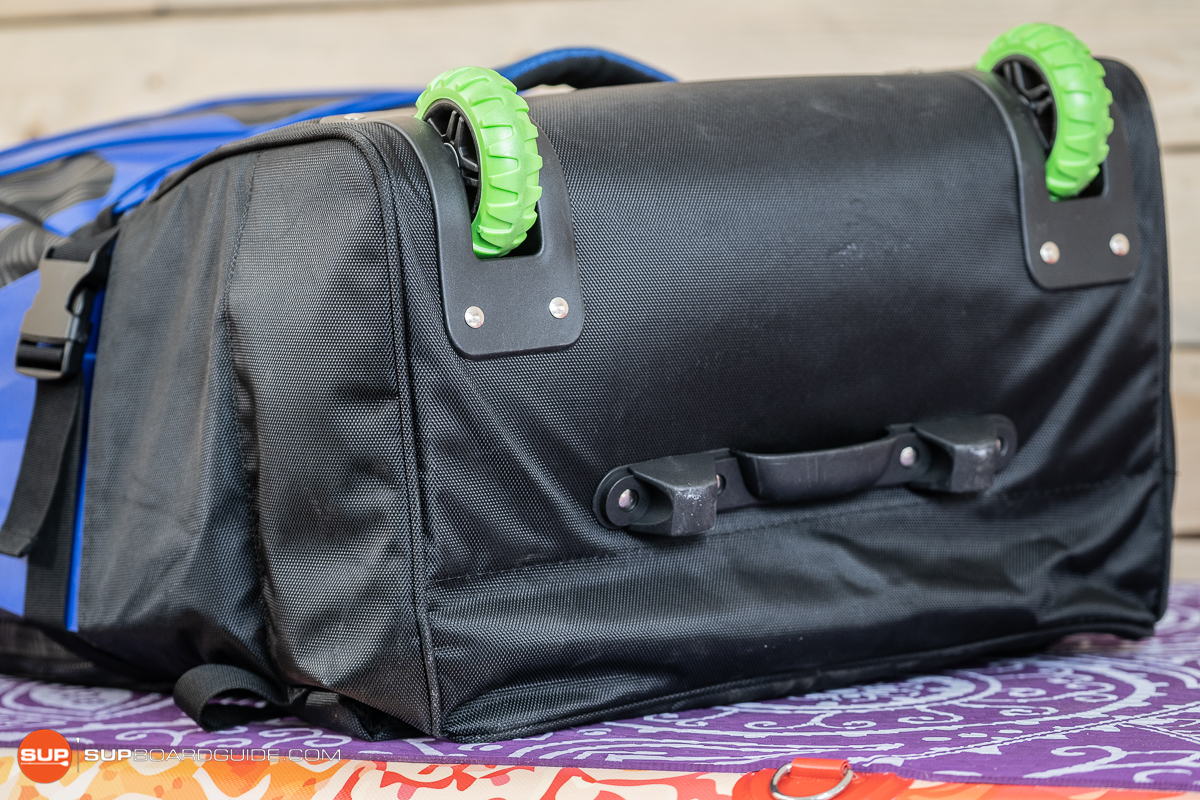 Once again, we were super happy with the Sea Gods wheeled backpack. It's roomy enough to comfortably fit your SUP and handpump, and has organizational pockets on the interior to stow away your fin, extra pressure plugs, your leash, or any other small pieces you won't want to dig around for. There's a pocket and strap on the side of the bag as well to hold your paddle. We also liked the two handles on the front of the bag that make it much easier to load it into a trunk.
This backpack is also somewhat unique in that the main zipper is located on the back of the bag (the same side as your shoulder straps). We've found this to be pretty convenient because you don't have to flip the bag over to get your SUP after rolling or back-carrying it to your spot. Our one piece of advice with this, however, is to roll your hand-pump up inside of your SUP instead of placing it on top before zipping up the bag. The latter causes the hand pump to sit uncomfortably against your back.
Optional Accessories:
As we stated at the beginning, Sea Gods includes all of the necessities to get you out on the water the same day you unbox your SUP. However, they still offer some extra gear and accessories for an additional purchase on their site to help really complete your SUP arsenal. Here are some additions that caught our eye:
SUP Cleaning kit
Battery Electric Pump
Kayak seat and kayak blade
Bracelets for charity
Camera mount
A variety of soft t-shirts and hoodies
Summary of Sea Gods Accessory Review
At the end of the day, as long as you have a SUP, a paddle, a leash, and a lifejacket, you're set up for a fun day on the water. Sea Gods goes the extra mile to provide high quality accessories to set you up with the necessary equipment to fully enjoy their array of boards.
For more information on the SUPs behind the Sea Gods accessory kit, check out our reviews of the Diatom Ten6, Elemental Wave, Carta Marina, and Skylla (we'll update when we review the Ketos, Infinite Mantra, and ASR kids SUP).
The following two tabs change content below.
SupBoardGuide
Heyo! At SupBoardGuide.com we are a team who love the water, the outdoors, and are more than grateful that our full-time job allows us to review stand up paddle boards. We paddle year round (it helps that we are just about 2 hours outside of Las Vegas), and we bring in a wide range of paddlers with the goal of providing our readers with the best, most in-depth, and accurate stand up paddle board reviews.
Latest posts by SupBoardGuide (see all)