SeaGods Carta Marina CX Inflatable Paddleboard
Pros
Beware of the Kraken! An awesome piece of art by Jenny Kirby is printed straight onto this iSUP as if the board is a canvas.
Impressive score in our bend test. This board is super rigid thanks to the new and improved CX (cross-weave) technology.
Great for supporting larger paddlers and functioning as a fitness board since it's slightly shorter and wider than a typical touring SUP
Excellent stability so it's great for newer paddlers of all sizes.
With a pointed nose but a squared-off tail, it stays stable through mild chop.
Speedier than most touring boards. Awesome construction quality delivers speed despite being shorter and wider than a typical touring SUP.
Comes with a kit full of gear: 3-piece carbon fiber paddle, 10' coil leash, double-chamber high-pressure pump, repair kit, Kumano pressure fit fin (with a US fin box), and a thick wheeled backpack that we love.
Cons
A raised kick-pad would be a great addition to this board so step-back turns can be performed easier.
The Carta Marina CX is not only a great touring + adventure SUP but a beautiful piece of art.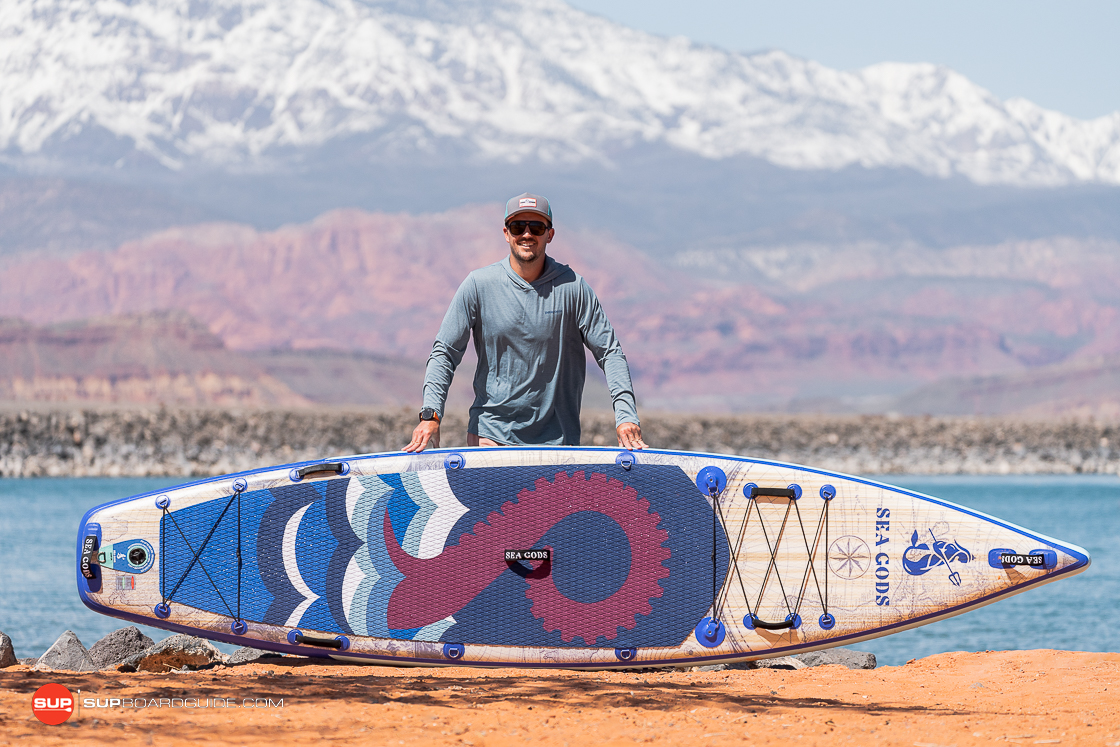 So you want to go fast, huh? Well the SeaGods Carta Marina CX can help you do that. And with the absolutely stunning yet rebellious "Nautical Nonsense" deep sea-inspired artwork by Jenny Kirby on the hull and the deck, you'll look awesome doing it.
At 12' x 32'' x 6' the SeaGods Carta Marina CX is a touring board that can go fast, take mild chop, and remain stable doing so. It is a bit wider and shorter than a typical iSUP touring board, but still performed very well in our speed testing.
Similar to the other SeaGods CX boards, it is lightweight but very rigid so it is stable yet has that extra "zip" to it. With high-quality construction, great speed, and an awesome deep-sea design, you'll definitely enjoy riding it whether you're a beginner or an advanced paddler.
Let's dive into our SeaGods Carta Marina CX review!
We think the SeaGods Carta Marina CX would be a great SUP for paddlers who:
Want a touring iSUP that doubles as a fantastic piece of art
Are new to touring and don't want to compromise stability for speed
Want to fitness paddle without worrying about stability
Need a 12' length board with a high carrying capacity (350 lbs) to accommodate taller or heavier paddlers
SeaGods Carta Marina CX: Spec Sheet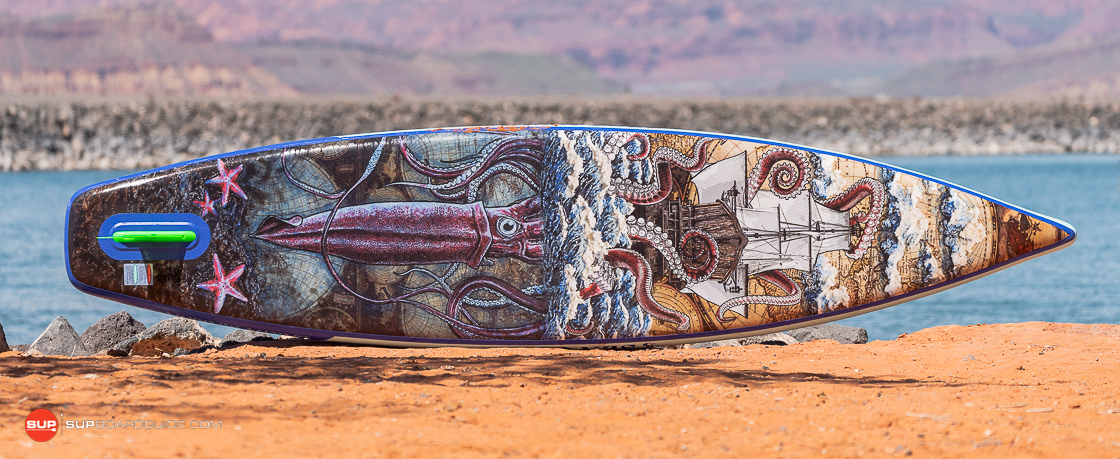 Main Category: Touring
Board Dimensions: 2'x32''x6''
Listed Board Weight: 21
Listed Max Capacity: 350 lb
Recommended PSI: 14-18 MAX 20
Fins: Single touring fin with Kumano pressure fit and Air 7 V2 Universal Fin Box
Paddle: 3-piece carbon fiber
Materials: Upgraded 2023 Cross Weave ULF technology and heat molded seams
Warranty: Lifetime
Performance Review of the SeaGods Carta Marina CX Stand Up Paddle Board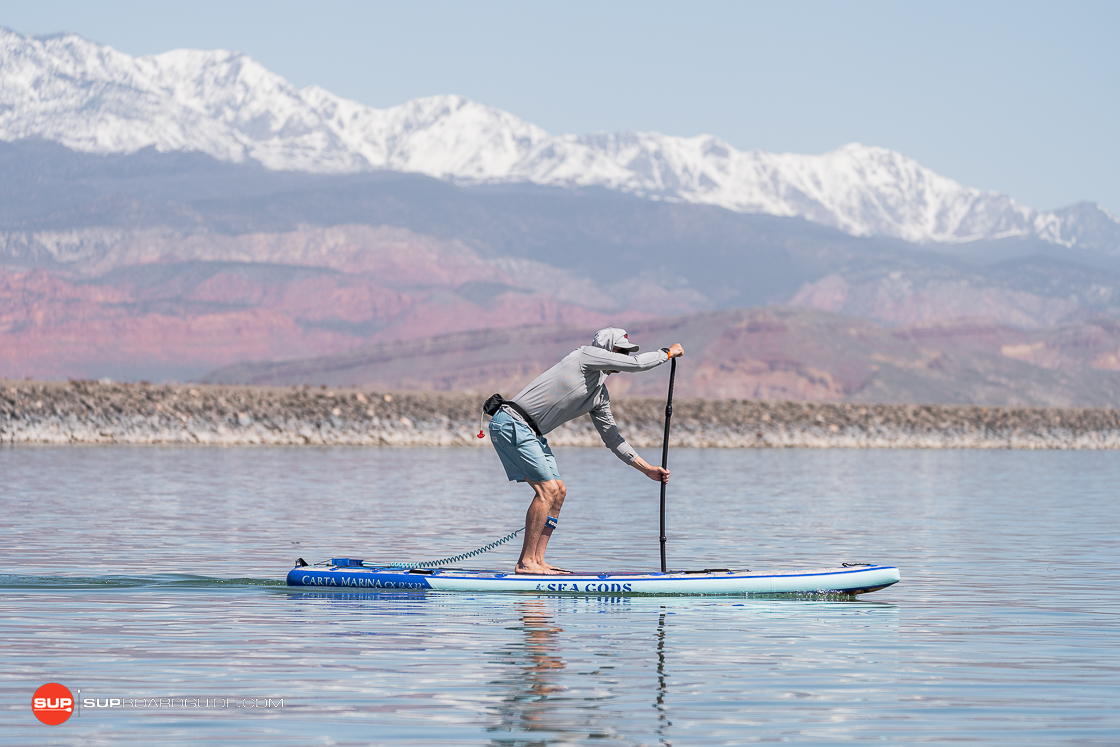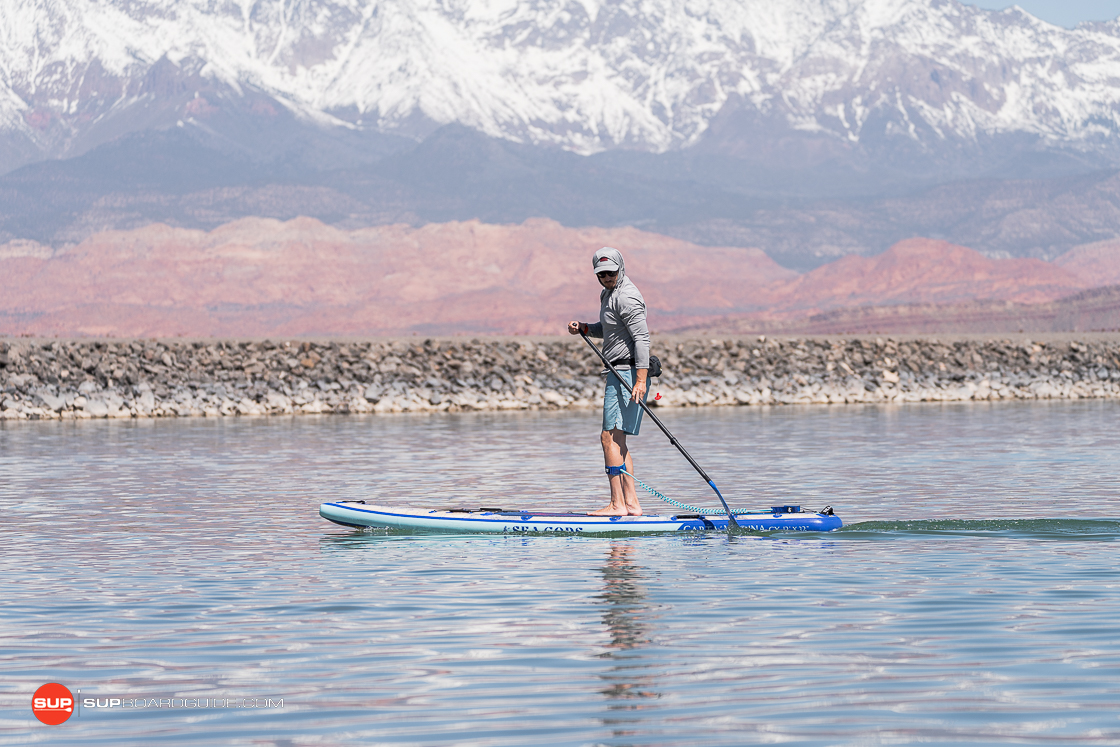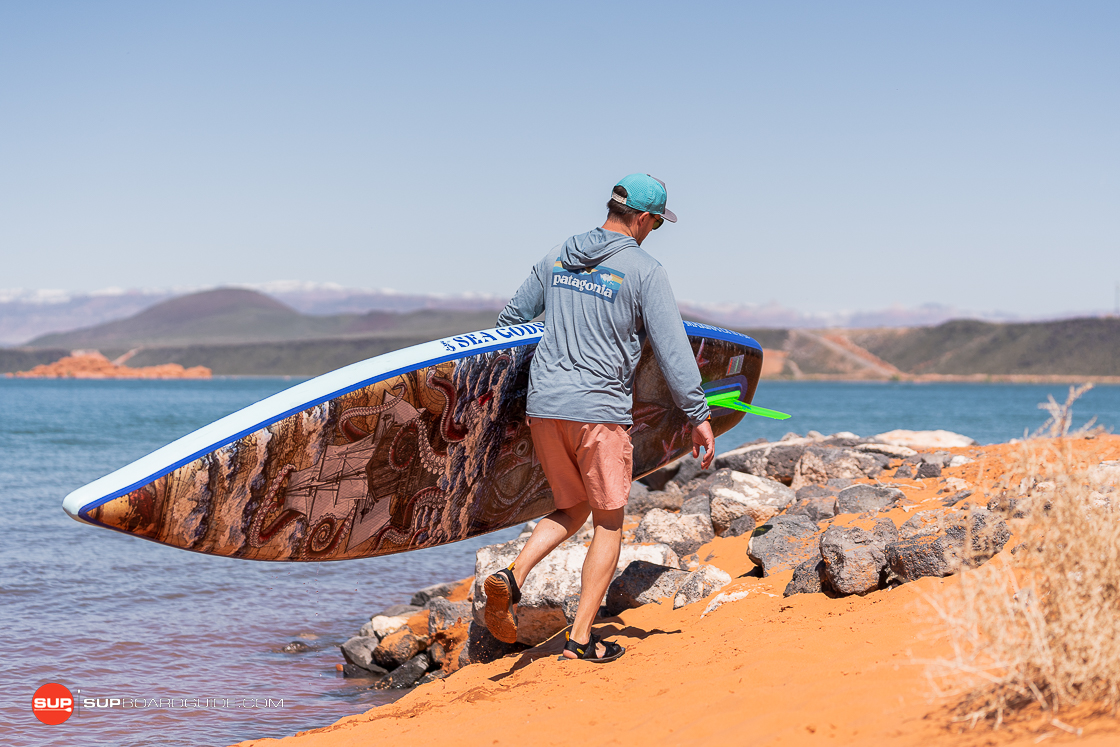 Overall Score: [9.6/10]
Stability: 8.8/10
Speed: 9.2/10
Tracking: 9.2/10
Maneuverability: 9/10
Construction Quality: 9.8/10
Features/Accessories: 9.4/10
Stability Rating: [8.8/10]
Being 12' X 32'' wide (which is just a tad wider than average for a touring SUP), the Carta Marina CX is more stable than some touring boards even though it tapers nicely at the nose and tail for improved speed. This extra width lowers the learning curve for finding stability, and for newer paddlers, it won't be long before you feel balanced and ready to paddle for however long you want.
Its high-quality construction keeps it stiff and rigid on the water so you avoid any 'taco' effect (a slight bend in the board where you're standing that disrupts stability and efficiency). The Carta Marina CX does not have much perceivable bend or flex when you are standing and/or paddling, so it's a lot more stable than any lower-quality board.
The maximum weight capacity is 350 lbs. Of course, the closer you get to the maximum capacity the less stable you will feel, but we did not notice a significant decrease in stability when we put our larger paddlers on it (~230 lbs.). We felt stable enough to say that the Carta Marina would also be a great adventure SUP in addition to a touring board.
I also tested the Carta Marina in windy and choppy weather. I felt balanced and stable, and really appreciated the more pointed nose that helped cut through the chop in those conditions.
Speed Test: 9.2/10
SUP Board Guide's Speed Testing:
To obtain our speed test results, we use a Speed Coach Sup 2. This gives us accurate readings on how fast we are paddling and our current stroke rates. For the top sprint speed, we paddle as hard as we can for approximately 10-15 seconds and then record our average speed. For the casual test, we paddle at 40-35 strokes per minute for approximately 30-60 seconds and record the average speed.
| | |
| --- | --- |
| Top Sprint Speed: | 5.6 – 5.7MPH |
| Average Cruising Speed: | 4.3 MPH |
*Notes on our speed test: We use the SpeedCoach SUP 2 to gather our speed data. For our sprint speed, we first maintain a cruising speed and then we paddle hard for 10-15 seconds. We gather this data when we are in smooth water with little to no wind to maintain consistency across all boards.
This board is fast! While we knew that it was going to perform well in this category because it is a touring board, we were surprised at just how well it did.
In regards to the cruising speed of 4.3 MPH, Justin (who speed tested this board) was able to maintain that speed without much effort. The Carta Marina CX has an excellent glide and can get up to speed easily and stay there without having to continuously push yourself.
For a board that is 12'x32'', it's faster than we thought it would be, and it performed as well as some 12'6 boards. After paddling it again and again, we concluded that it's a combination of high-quality construction, the touring shape, and how lightweight it is that causes it to excel in performance.
Tracking: 9.2/10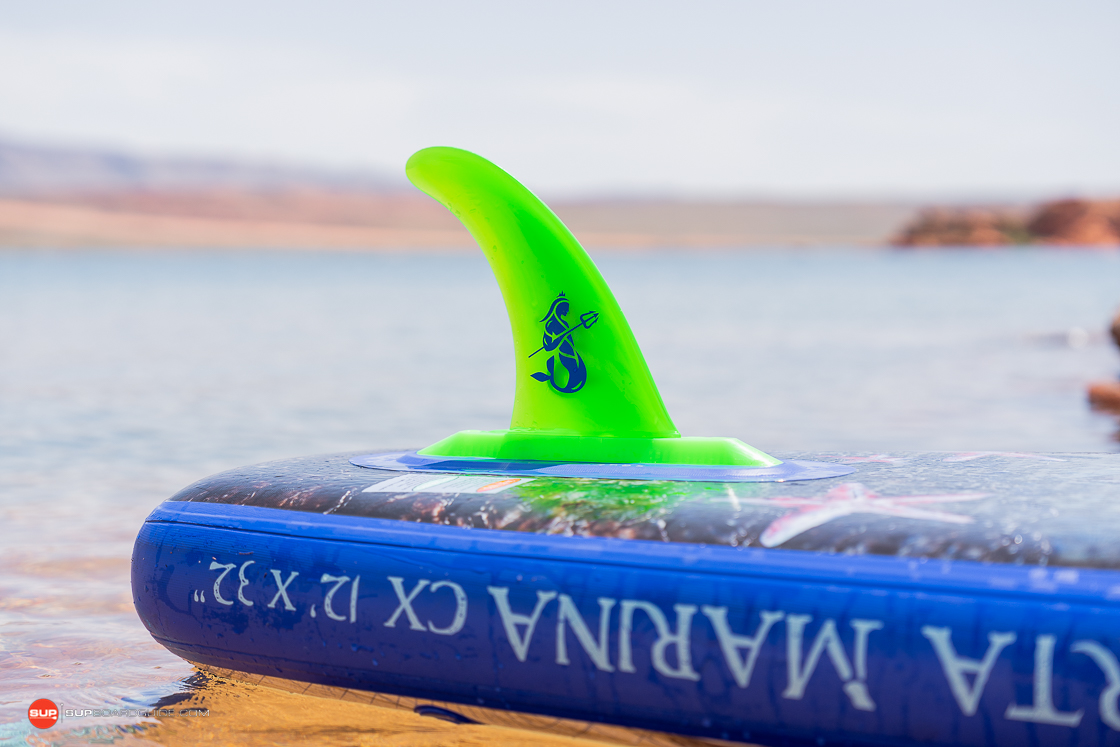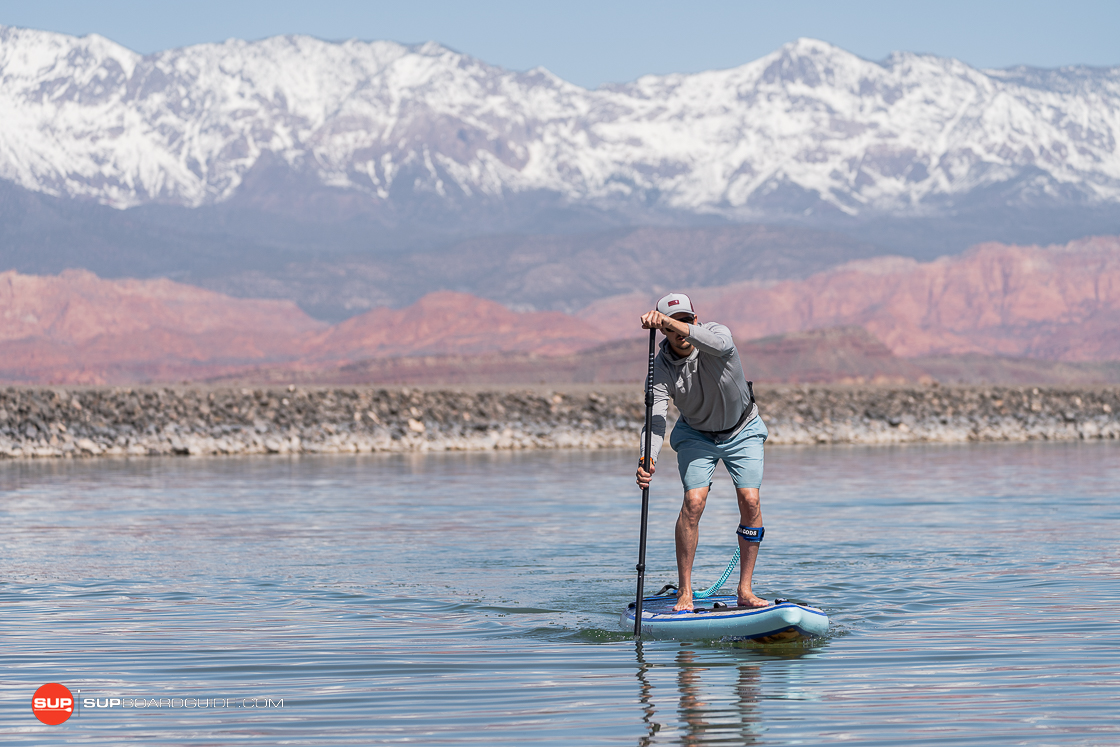 The Carta Marina CX tracks very well. It comes with a bright green touring 9'' fin that digs deeper into the water for more of a grab than the dolphin-style fins that you see on Sea Gods Elemental Wave CX and the Medusa CX. And as a bonus, the color makes it easy to find if it happens to fall off (we suggest using the pin as well as the click-in system, our team lost a fin while we were out testing).
Maneuverability: 9/10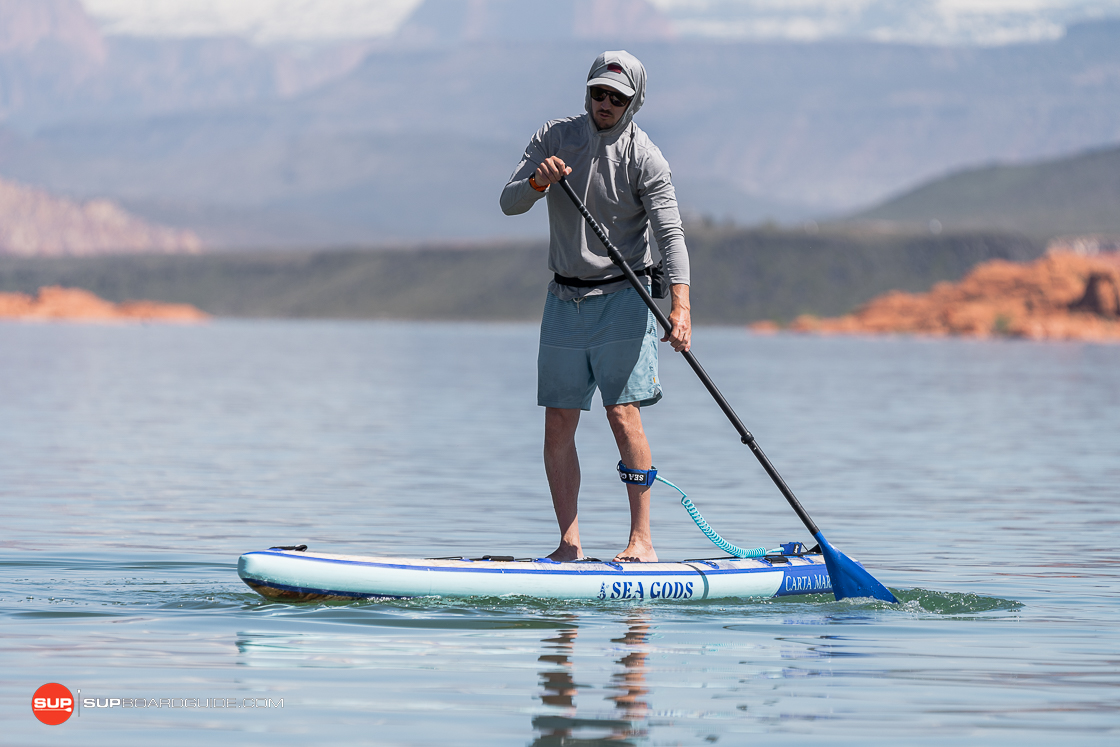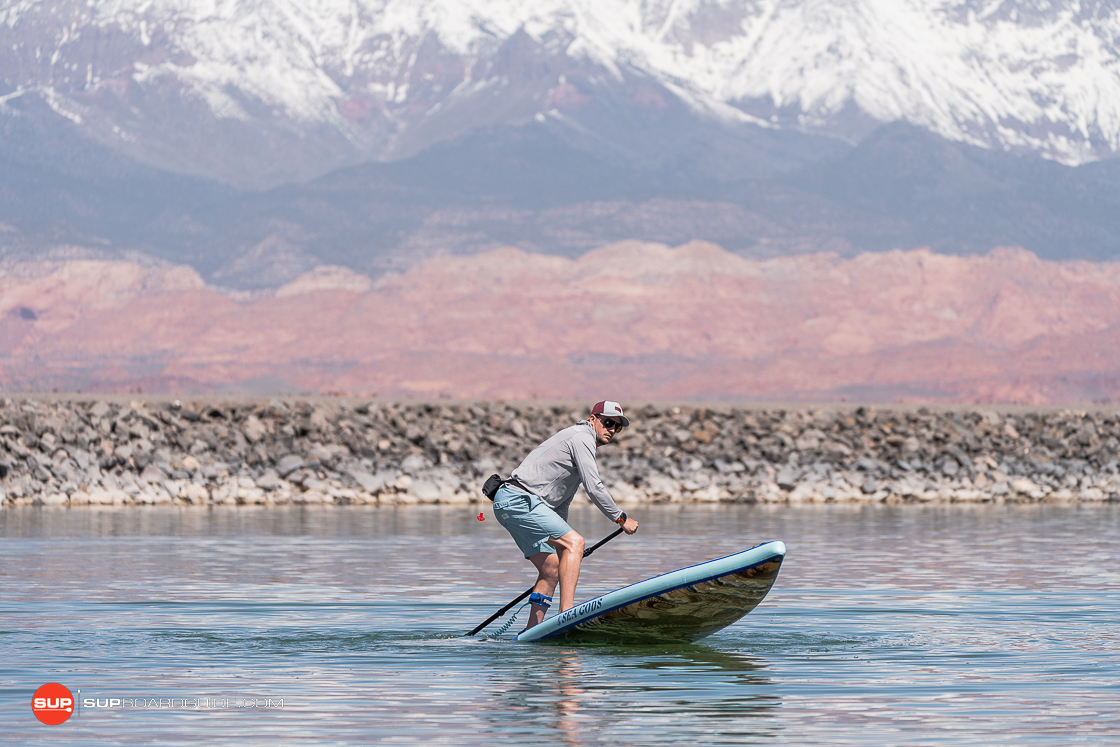 Since this board is lightweight (21 lbs), it is generally easy to steer or use back sweeps to change directions. But of course, because it's a touring board and 12' long, it's constructed to go fast and straight which is a tradeoff to maneuverability.
But honestly, with this SUP, you really don't notice that slight tradeoff. It's still very maneuverable.
Once again, the lightness of the board makes the step-back turns easier than you might think, especially for a touring board. The nose pops right out of the water and you can use big forward sweeps to make that full turn with ease.
We would love to see SeaGods add a raised kick-pad to the tail for even easier step-back turns. While we think kick-pads are a great addition to almost any deck (excluding Yoga boards), we especially like to see kick-pads on touring SUPs.
Construction Quality: 9.8/10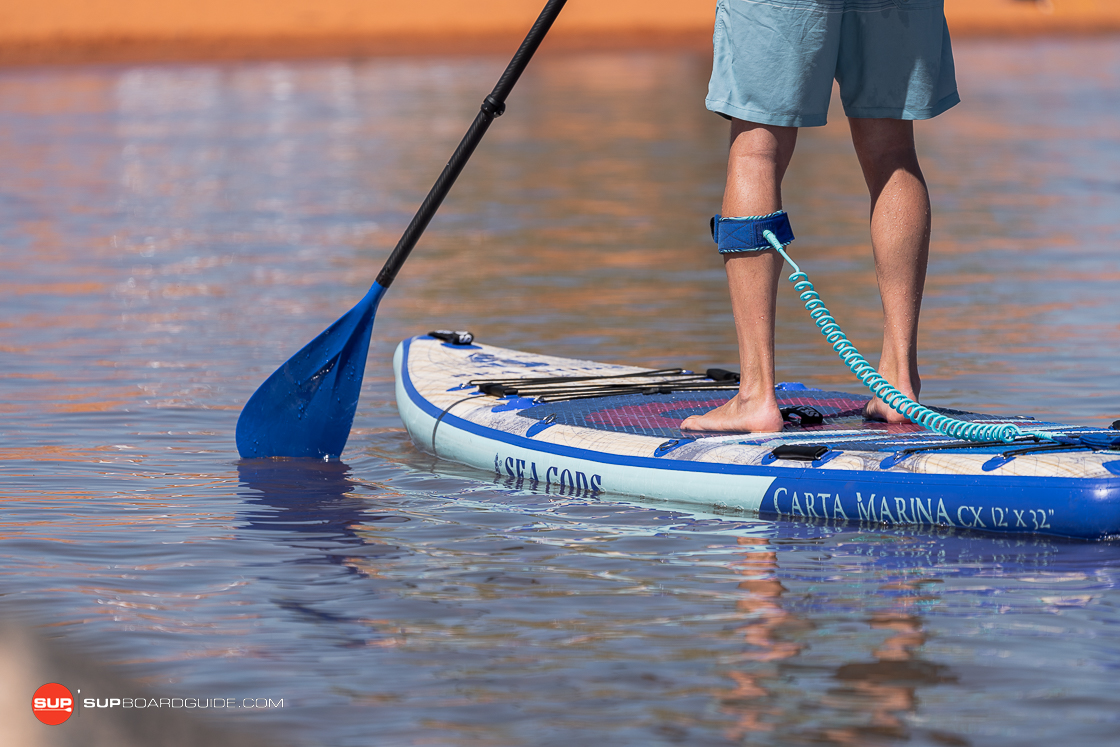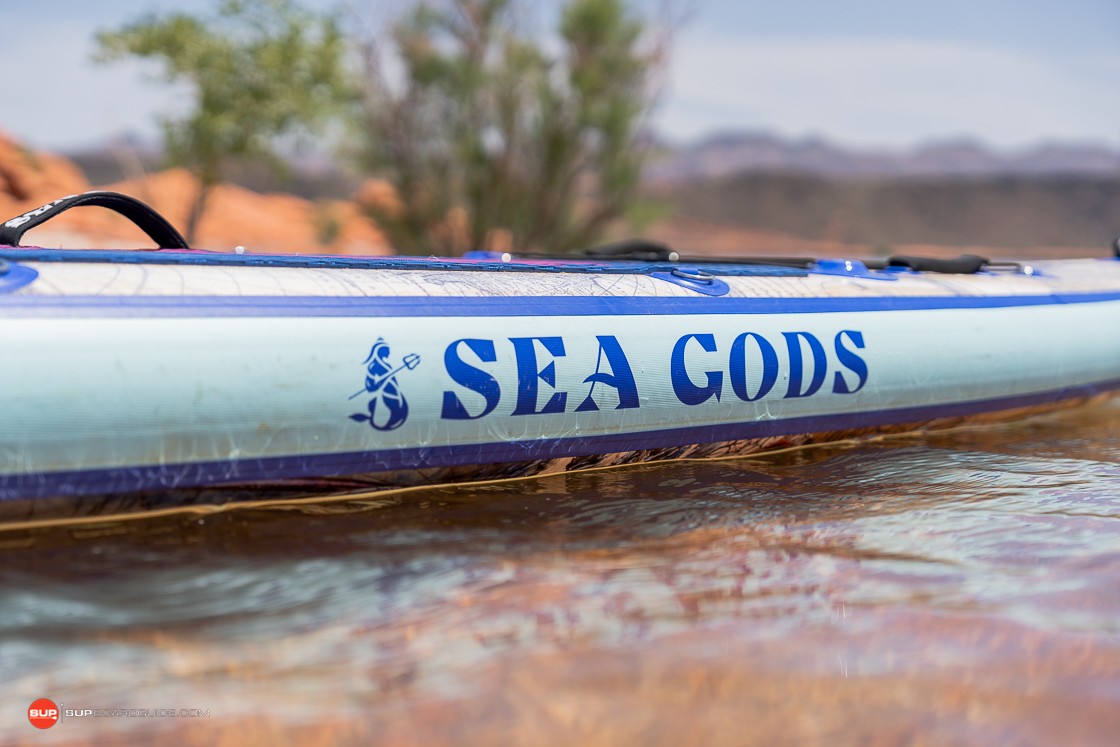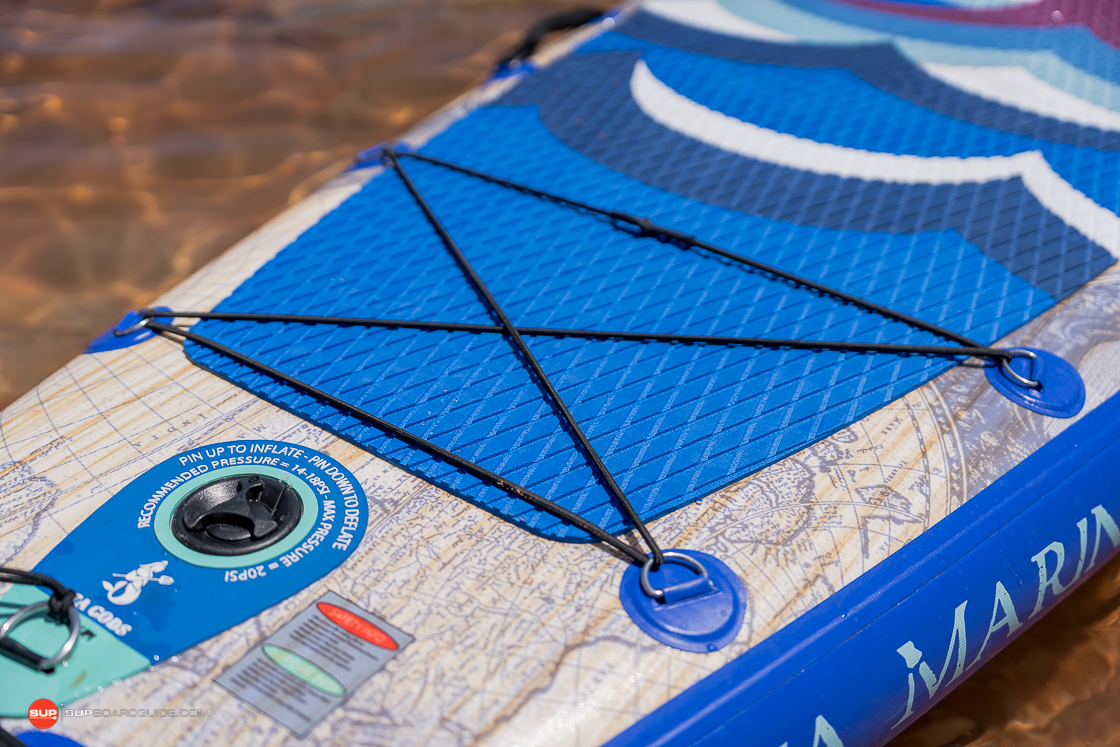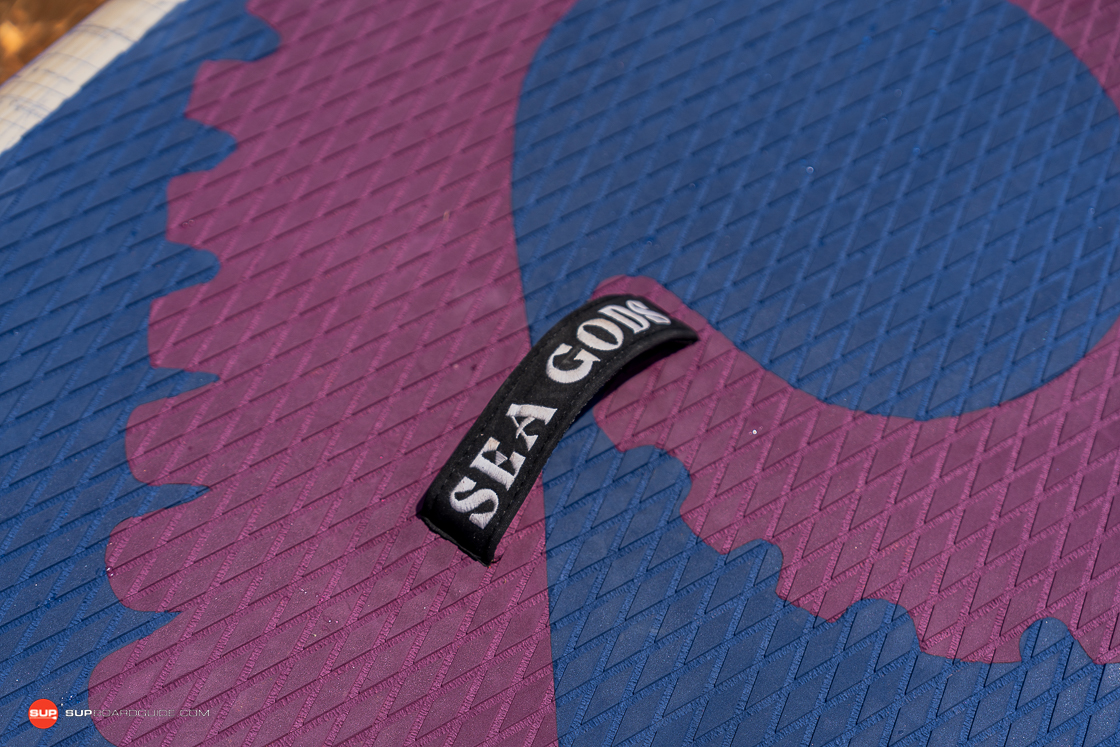 The upgraded technology that is used in the construction of this SUP is right in its name: CX.
The Carta Marina CX, which stands for cross-weave, is an upgraded version of the previous models of the SUP. Cross-weave technology is when the space yarns that make up the inner chamber of the board align in an X pattern rather than align linearly. The X allows for the board to have fewer space yarns altogether, cutting weight, but remaining extremely rigid and durable.
While SeaGods now use CX technology to increase rigidity and cut weight, they still implement their ULF technology when adhering dual outer PVC layers to the drop stitch core. This ULF technology (Ultra Light Fusion) means they apply the PVC as a laminate -liquid sheet- to the inner fabric layers using heat and pressure. This provides a more durable hold, eliminates the possibility of air leakage that glue adhesives are prone to, and increases the longevity of the SUPs.
To mitigate damage, seam tears, and storage rub, there is blue rail tape that is actually reinforcing seam tape. This is an awesome addition that not only looks great but also improves the durability and longevity of the boards.
Board Stiffness: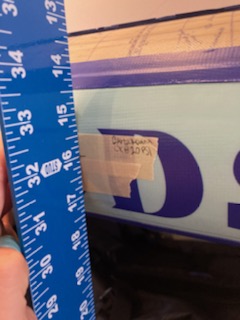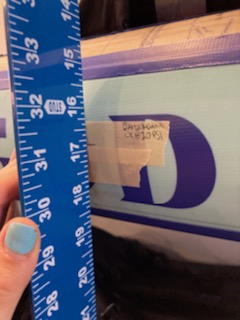 Stiffness Test: 0.875'' Bend
SUP Board Guide's Bend Testing:
In order to attest to the rigidity of each board, we use a bend test curated by Supboardguide. In order to obtain the results, we inflate the board to its maximum recommended PSI and then place it across two sawhorses that are 7 feet apart. We then take a measurement in the middle of the board. Then, we place 150 lbs worth of sandbags on the middle top of the SUP. Last, we record its displacement (the movement from its original position). We use this method for every board we test as a way to mathematically compare boards across a common denominator.
We use our own personal curated bend test to check the rigidity of each board. We place the board across two sawhorses that are 7 feet apart and measure the middle of the board. We then place 150 lbs of sandbags on top of the board and re-record our measurements. We measure the displacement (movement from its original position) to gather our bend test result.
I've said it before but I'll say it again: it's one thing to read about a board's improved technology and another thing for the board to prove this advancement through its testing results.
The Carta Marina ULF board bent 1.0313 inches. Which is a great score.
However, the Carta Marina CX board bent only 0.875 inches!
This is an undeniable improvement. This is due to the new CX technology that we just gushed about.
We are stoked to see that our test results corroborate the new construction process.
Features/Accessory Review: [9.4/10]
Features: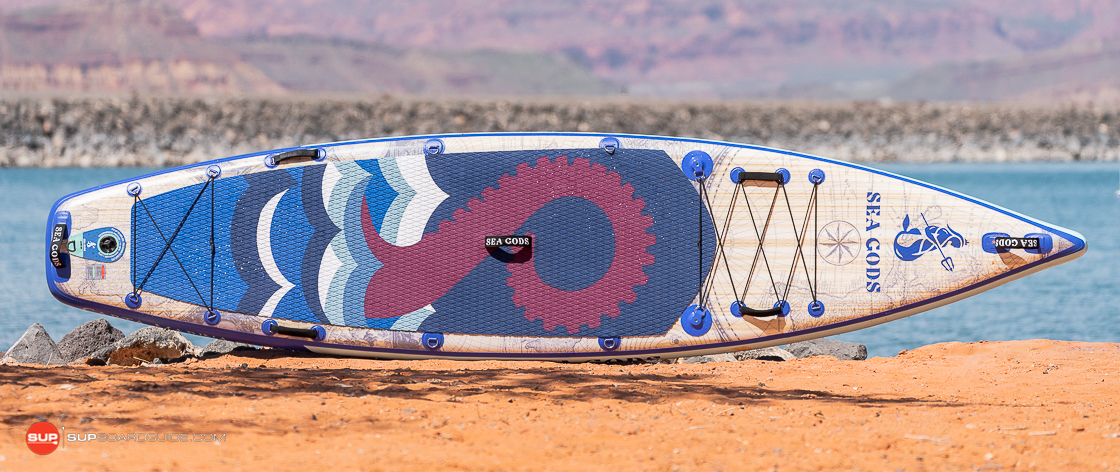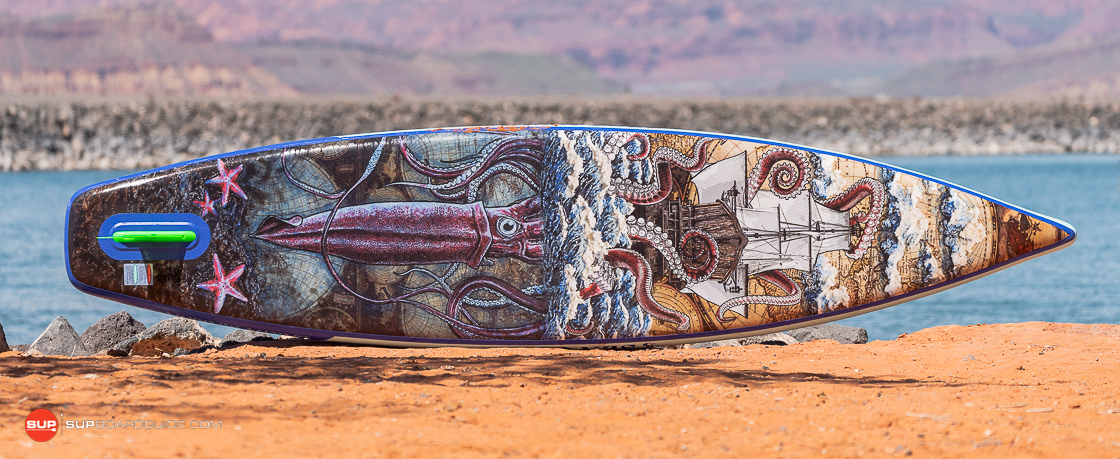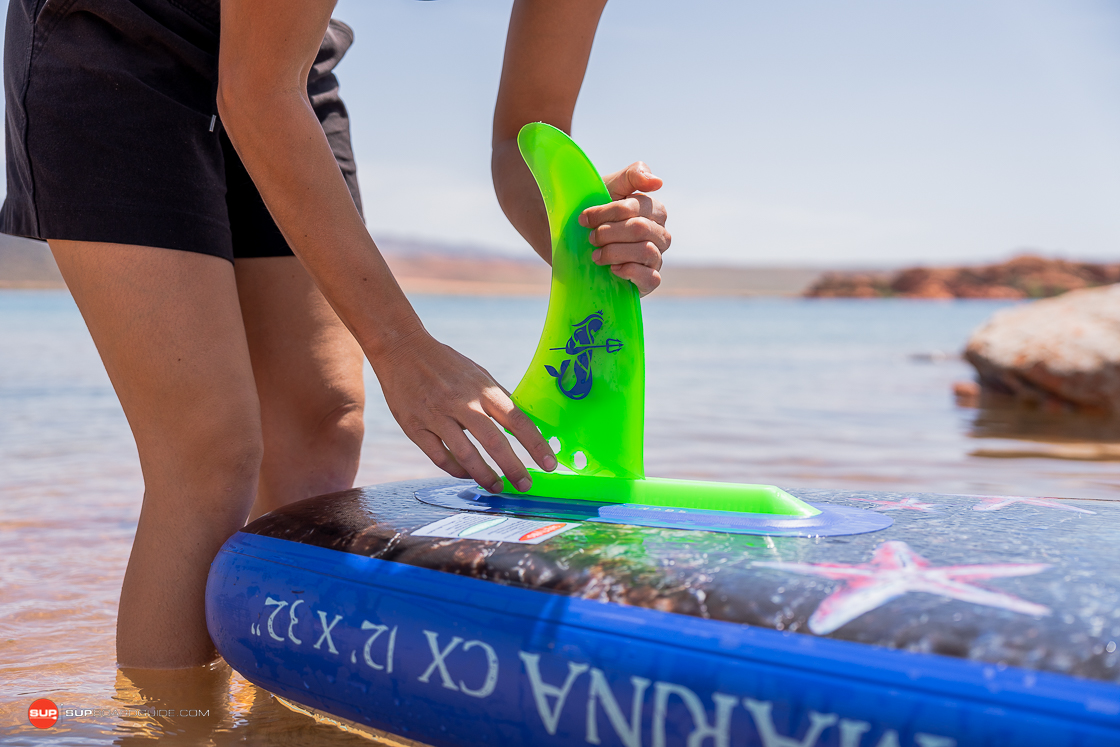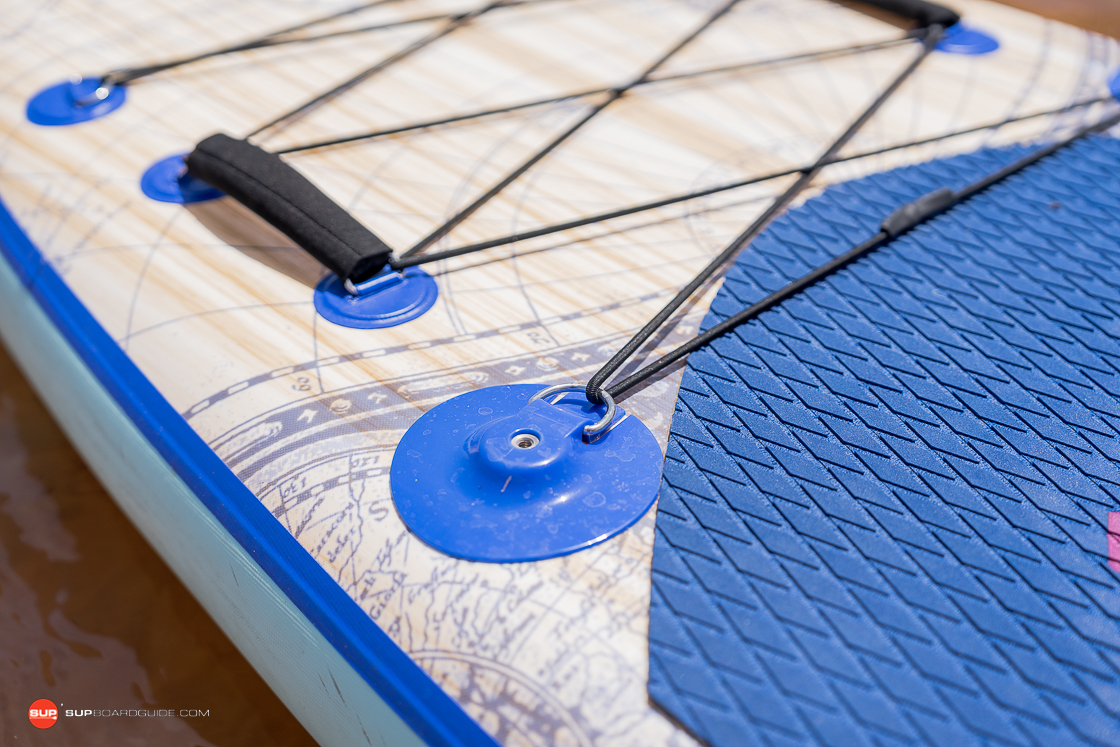 To start with the obvious, the Carta Marina CX has an amazing piece of art printed on it featuring the artist Jenny Kirby. She calls this piece "Nautical Nonsense." It's absolutely stunning, which you can see for yourself via our pictures.
The deck pad has a sweet ocean design with an aggressive Kraken breaking through the waves. Pretty fitting for a fast-and-furious board! It is also comfortable and grippy with its diamond grooves.
On the tail of the board, there is a 4-point bungee cargo holder that can easily be strapped up with any cargo you may need for the day or longer expeditions. On the front, there is a 6-point bungee cargo holder with integrated accessory mounts. This allows for even more room for cargo, such as a cooler or dry bags. Also, you can hook up a GoPro to capture your expeditions.
I already mentioned that this board isn't the best for multiple-night or week-long adventures. That is because the cargo holders are not very big. That's one thing we might want to see added: an extension to the cargo holders. But it's hard to say because we do not want to detract from the fabulous art. So, as it currently stands, we suggest this board for long fitness days or possibly a one-night overnight.
There are also optimally placed triple-reinforced stainless steel D-rings for attaching a kayak seat. And let's not forget the very comfortable neoprene-wrapped and nylon-woven carrying handles embroidered with the SeaGods label. All of the features on the SeaGods boards are high-quality and thoughtfully designed.
Included Accessories: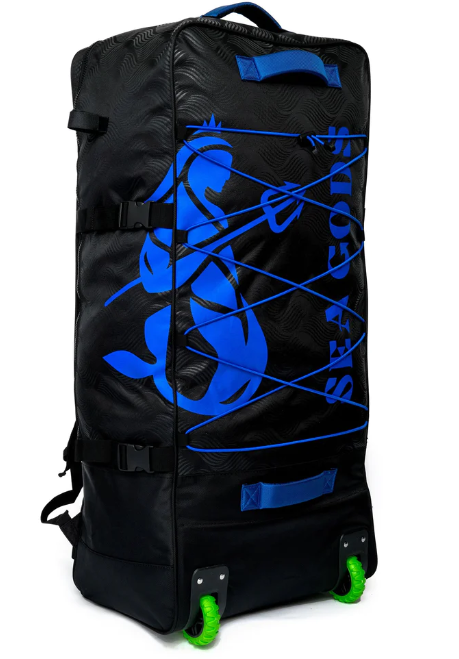 When you order this iSUP, you will get everything you need to hit the water that same day. This includes
3-piece carbon fiber handle
10' SeaGods turquoise leash with key pocket
Double-action high-pressure pump
Kumano pressure fit center fin
Repair Kit
Wheeled backpack
I'll add that the deep blue color of the blade and the dark gray/black poles look clean and sharp. Whenever I have a SeaGods paddle in hand, I feel ready to fight some chop!
The new CX boards come with a dual-action, high-pressure pump, so you can pump the boards to 20 PSI by hand! We wanted to see this upgrade from the single chamber pump that comes with the ULF boards, and it's really neat that they decided to do it! As a challenge, I decided to pump this board up to 20 PSI by hand. It took me 14 minutes and 26 seconds to do it. In reality, that's not a long time. But when you are using your entire body to do it (me), it feels like a while.
This is why we always suggest using an electric pump if you have the budget for it. Sea Gods offer one that we like, but sadly it doesn't go to 20 PSI. You can check out our list of the best electric pumps for SUPs though if you want to save yourself the 14-minute workout.
Summary Review of the SeaGods Carta Marina CX – 2023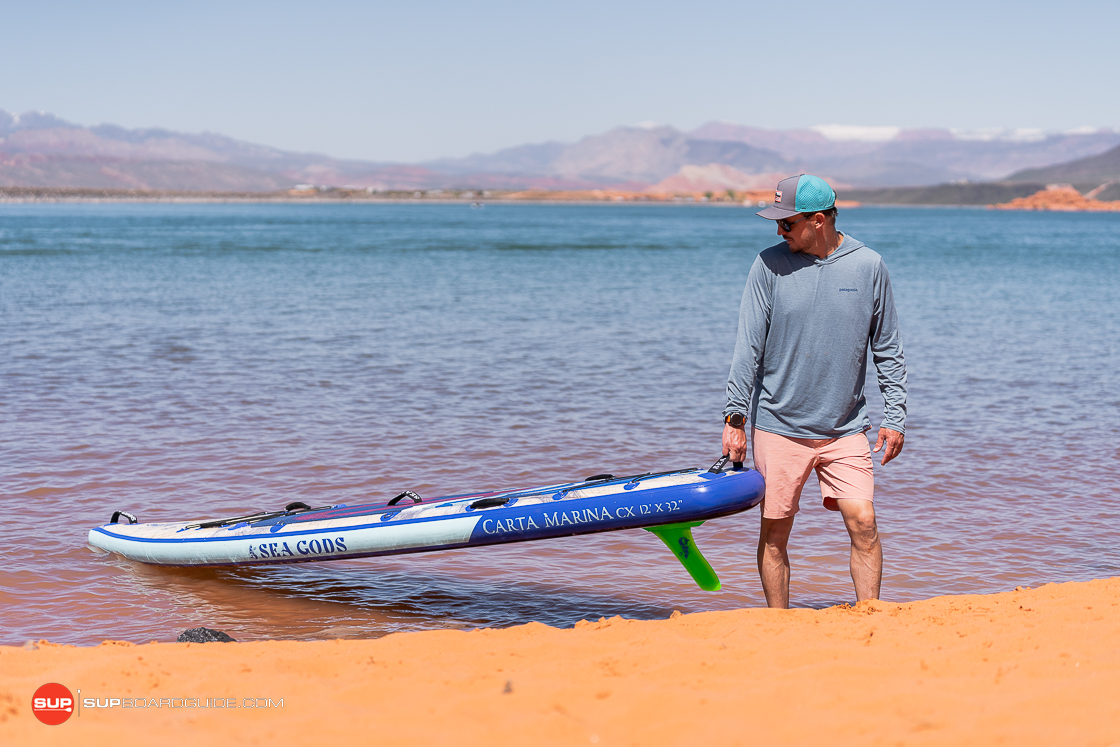 We love this board! And not just because it looks amazing (but that is a huge bonus). The Carta Marina CX board is an awesome touring board for everyone, including larger paddlers. It has a high maximum weight capacity as well as wider and shorter dimensions than a typical touring board, which allows for more stability but still has great speed.
If you are looking for a high-quality fast board without compromising stability, then the SeaGods Carta Marina CX is a great pick. And if you're big on having an amazing touring board in the aesthetic realms as well, then I would recommend the Carta Marina CX as the pick.
Thanks for reading this Sea Gods Carta Marina CX review, and we are looking forward to hearing your thoughts and/or questions about the board!
The following two tabs change content below.
SupBoardGuide Editorial Team
At SupBoardGuide.com we are a team who love the water, the outdoors, and are more than grateful that our full-time job allows us to review stand up paddle boards. We paddle year round (it helps that we are just about 2 hours outside of Las Vegas), and we bring in a wide range of paddlers with the goal of providing our readers with the best, most in-depth, and accurate stand up paddle board reviews.
Latest posts by SupBoardGuide Editorial Team (see all)