Outdoor Master Shark Electric Pump
Pros
Fantastic 30 minutes of continuous inflation. Can inflate three SUPs in a row without taking a break.
20 PSI cap and rapid 2-stage inflation. Automatic shut off included as well.
Deflation nozzle, though it does not have automatic shut off.
Simple, easy to use button touch pad and digital screen. Great, solid overall build.
1 year warranty and 90 day guarantee.
Carry handle ergonomically built into the body.
Cons
Larger and heavier than most electric pumps. Size isn't a problem if you leave it in the car, but it can be tricky to pack in some SUP backpacks.
12 V cigarette or car outlet only. Jumper cables to connect directly to a 12V battery would be helpful to some people.
**Use Coupon Code: SupBoardGuide20 to get 20% today!**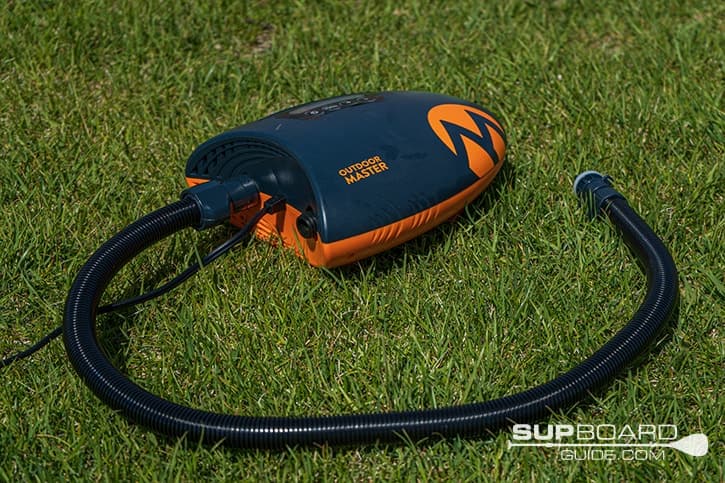 If you're looking for a tough, well-put together pump that can inflate up to three SUPs in a row without resting, then look no further than the 2020 Outdoor Master Shark II electric pump! After two months of use, the Shark electric pump has proven to be constantly reliable, fitting well and easily inflating boards from iROCKER, Thurso Surf, GILI, Red Paddle Co, and other popular SUP brands. While the pump is a bit bigger than many other electric pumps we've tested, it's very easy to hold, and also has a durable build that will ensure it still works after the occasional drop. More importantly, this pump is extremely easy to use with great features such as an automatic shut down once your board is inflated and a deflation nozzle to help you get the air out of your board.
We love the Outdoor Master Shark II electric pump, and think it's one of the best electric pumps on the market, especially well suited for families or friends who want to inflate multiple boards in a row! It also dominated every other pump on the market during our summer electric pump off – running solid for several hours and inflating over 11 boards (no we don't recommend doing that at home – this was an extreme test).
**Use Coupon Code: SupBoardGuide20 to get 20% today!**
Electric Pump Specs
Voltage Required:
12 V Car Outlet, 9' power cable
Max PSI Capability:
20 PSI
Max Use Time (Constant):
30 Minutes
Cool Down period Required:
30 Minutes
Stages:
2 Stages:
Stage 1: 350 liters per minute
Stage 2: 70 liters per minutes
Shut off:
Inflation: Automatic once PSI is reached
Deflation: No automatic shutoff
PSI Selection:
Button touchpad with digital screen
Weight:
3.6 lbs
Dimensions:
Length: 11.9''
Width: 9.45''
Height: 4.84''
Warranty:
90 day guarantee and 1 year warranty from time of purchase
Who Should Buy This Electric Pump:
Electric pumps are our top recommended accessory for all inflatable paddleboard kits, and the Outdoor Master Shark has several great features that further make it an awesome addition. You should buy the 2021 Outdoor Master Shark II if you are part of the following:
Tired of having to inflate your SUP manually and want something that will do the hard work for you.
Find yourself struggling trying to get the air out of your SUP and would like something that can assist you.
Have multiple paddleboards in a row you need to get inflated without wearing yourself out.
Have a smaller, younger, or weaker paddler that is unable to inflate their paddleboard by themselves.
You lost or broke your manual pump, and are wanting to replace it with something better for a similar price.
Performance
Stages/Speed
The Outdoor Master Shark has a two-stage performance which allows for rapid but safe inflation. Stage one will inflate the board at a rate of about 350 liters per minute, until about 3 to 4 PSI is reached. The Outdoor Master will then switch to stage two automatically, where it will continue to inflate at a lower rate of 70 liters per minute but do so without letting any of the high pressure air escape or damage the board. We typically inflate our boards to 15 PSI, and have found that the Shark II can go from 0 to 15 PSI in about eight to ten minutes depending on the volume on the board. This puts the electric pump at about the same speed as most people who are manually inflating their paddleboard with a dual-chamber pump, and with the obvious savings of doing the hard work of pumping your board for you.
The Outdoor Master Shark is recommended to be used for up to thirty minutes continuously, which is longer than many other electrical pumps on the market. Overall, we've found that it is able to do so, but if you use the Shark in a hot or sunny environment make sure it is in the shade to prevent overheating. The Shark is also meant to be used in less than 100 degree fahrenheit or 38 degree celsius environments, so we'd recommend letting the electric pump cool down after twenty minutes of use when using it near those temperatures. If used for thirty minutes, the Master Shark also has a recommended cool down of another thirty minutes, which we recommend following to ensure the maximum life of the electric pump.
PSI Cap/Measuring:
The Shark electric pump has a 20 PSI cap, which means it can inflate to the PSI limit of the majority of the inflatable paddleboards on the market. As over inflation can lead to board damage, we also test how accurate the PSI measurement is by inflating the board with a manual pump to various points before switching to the electric pump. Outdoor Master proclaims that the Shark electric pump can measure the air within a SUP to within .01 PSI margin of error, and were happy to find that to be true. The Outdoor Master Shark not only accurately measured the level of PSI on the board every time, but was able to pick up from that point with zero issues. Not only does this prevent over inflation, but this also means you can get started manually pumping a board and let the Outdoor Master Shark take over once it finishes inflating another SUP.
Automatic Shutdown/Nozzles:
The Outdoor Master Shark can both inflate and deflate, having two separate nozzles that are clearly marked for it. The inflation incorporates the two-stage process and has an automatic shutdown, stopping whenever the desired PSI is reached. You can alter the PSI cap by increments of .5 PSI, and we tested it at every stage from .5 PSI to 20 PSI to confirm that the automatic shutdown works. Sure enough, the Shark stopped at every level it was supposed to, ensuring you can inflate to any desired PSI level without going over your set cap.
The deflation nozzle also functions well, helping you get the air out of your SUP in order to have an easier time rolling it up along with extending the life of the paddleboard. The deflation function does not have an automatic shutdown feature however, so you will have to watch in order to tell if your paddleboard is done. From 15 PSI, we've found that five minutes is more than enough time to completely deflate your paddleboard. If your paddleboard is no longer shrinking, that is also a good indicator that you've fully deflated it and that it's ready to be packed up.
Electric Pump Design/Shape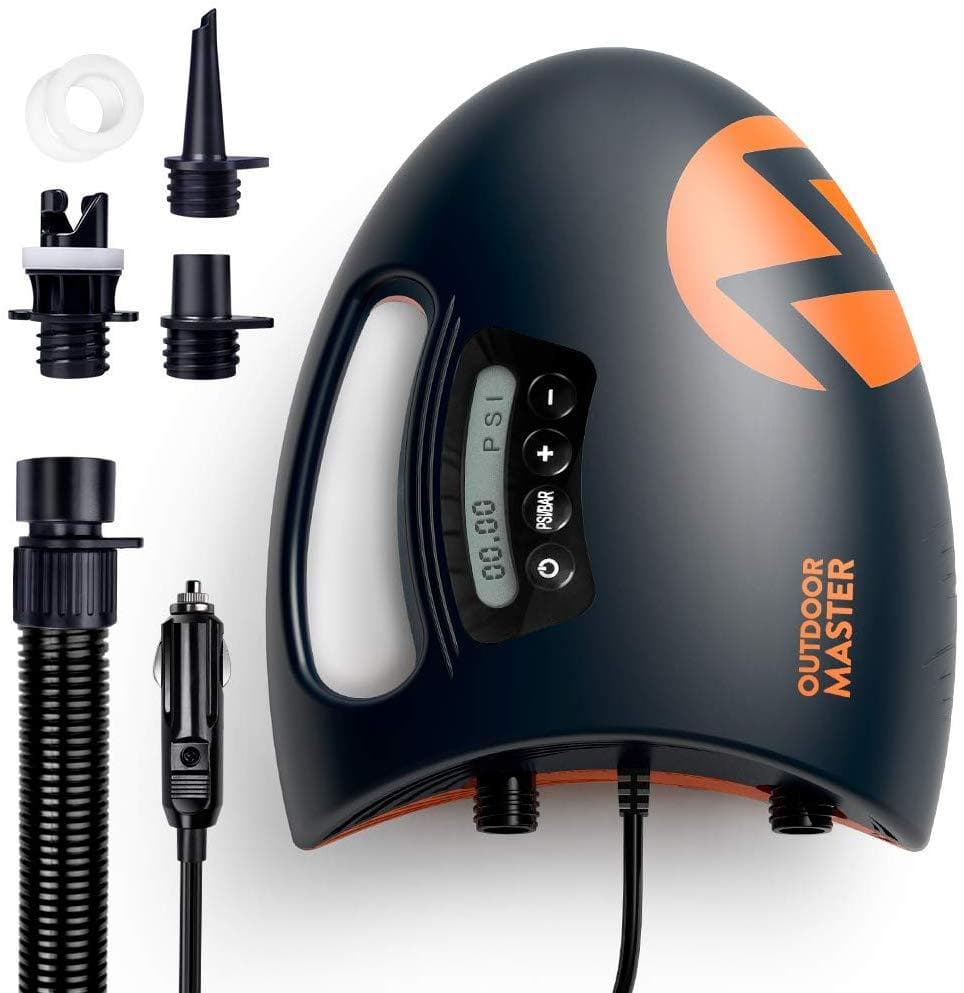 The Outdoor Master Shark is a bit bulkier and heavier than most electric pumps we've used, but should still fit well in most normal or large sized SUP kit bags. The electric pump is 11.9'' long, 9.45'' wide, and 4.'84'' tall, with a total weight of 3.6 lbs, weighing more than many single-chamber pumps but less than many dual-chamber pumps. Overall, this pump is more compact in size than a manual pump, and should save you room in your SUP backpack once you find a place to put it. Alternatively, we would recommend just leaving your electric pump in your vehicle if you drove to get to the water.
The overall shape of this electric pump is meant to invoke a shark fin, which also explains the name of the Outdoor Master Shark. There is a single carry handle on one side of the pump, with the digital LCD screen and four operational buttons found just below it. On the backside of the pump you will find the power cord, the inflation nozzle, the deflation nozzle, and air vents for the Master Shark. Lastly, you will find several small lifts that will allow you to safely put down your electric pump in almost any environment, along with a circular vent for the pump's unique active cooling system. This is a great electric pump to feel and hold, and while we would always recommend being cautious with it the Shark should be able to take the occasional small drop or two without suffering a dent.
Electric Pump Operation
Digital LCD Screen and Buttons: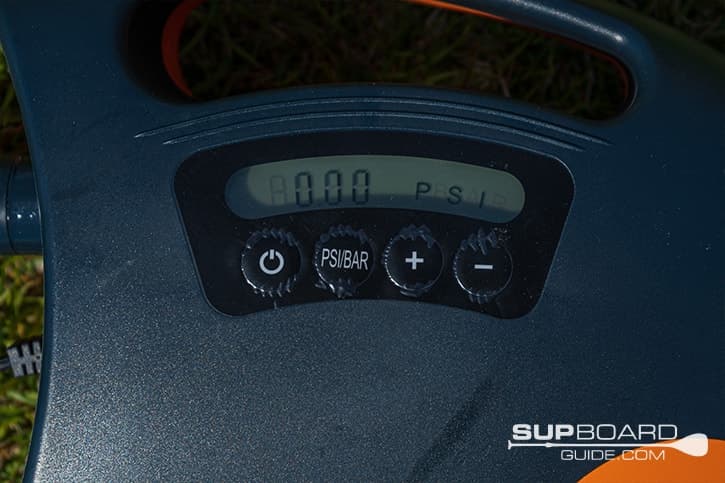 The Outdoor Master Shark electric pump is very simple to operate, with just four buttons you need to worry about. These buttons have the following functions.
Power Symbol. The Outdoor Master Shark will automatically turn on when you plug it into an electrical outlet. The power symbol, located on the far left, is used to start or manually turn off the inflation and deflation of the board. When inflating, the Shark will shut down itself when you reach the desired PSI cap. You will need to remember to manually turn off the electric pump when deflating with the Outdoor Master Shark.
PSI/BAR symbol. The Outdoor Master Shark can be used to inflate not just paddleboards, but inflatable boats and kayaks as well. Depending on what you are inflating or where you are from, you may prefer to measure your progress with either pound per square inch (PSI) or by how many units of bar. You can instantly switch your measurement system by pressing this button, though be aware that this will have zero impact on the speed and performance of the electric pump.
+ symbol. This is used to increase the cap of the electric pump up to 20 PSI by increments of .5 PSI. If you attempt to go above 20 PSI, the Shark will safely reset the cap to .5 PSI before being allowed to increase it again.
– symbol. This is used to decrease the cap of the electric pump down to .5 PSI by increments of .5 PSI. If you attempt to go below .5 PSI, the Shark will safety reset the cap to 20 PSI before being allowed to decrease it again.
12 V Electrical Outlet Power Cable:
In order to power the Outdoor Master Shark, you will need to plug the 9' central cable into a 12V cigarette lighter found on portable batteries or a traditional car lighter. The power cable itself is very flexible, and the plug itself can be disassembled and easily replaced with new parts if it is ever damaged. With this power cable, the majority of paddlers who use the Outdoor Master Shark will find it easy to operate, though not as versatile as some electric pumps that have both an electrical outlet and alligator clips as power options. It is a small thing, but the Outdoor Master Shark would be even better suited for everyone if alligator clip jumper cables were included as a power option in a future model.
Nozzles: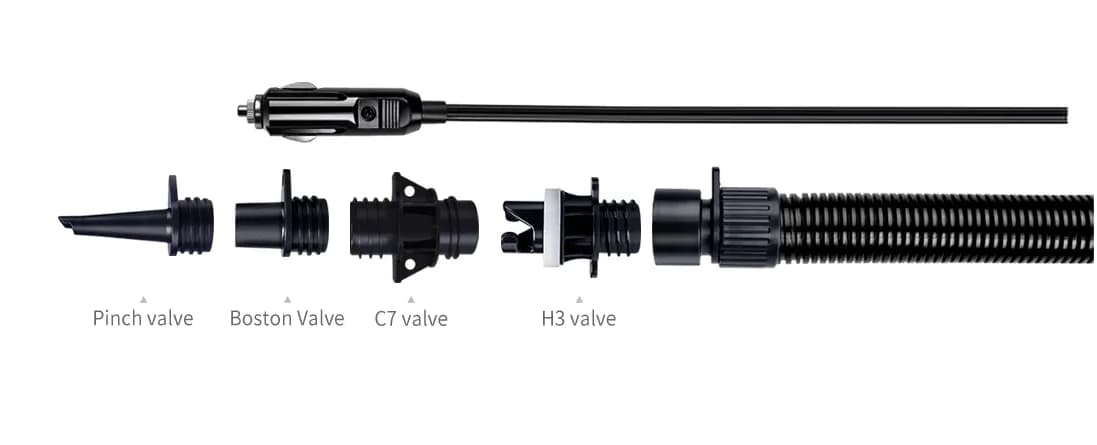 While you will only have to rely on one nozzle when inflating most traditional inflatable paddleboards, there are multiple nozzle configurations included with the Outdoor Master Shark. The nozzles consist of the following:
Pinch Valve: For inflating small inflatables, such as pool rings or platforms.
Boston Valve: For use with many common boat tubes and equipment.
C7 Valve: For inflating most traditional inflatable kayaks.
H3 Valve: For inflating most traditional inflatable SUPs, especially those with Halkey-Roberts inflation valves.
The H3 valve fit very well and was easy to connect to the boards we tested on, which included SUPs from popular paddleboard brands like iROCKER, Thurso Surf, and GILI Sports. The hose is only 4.5' long, so you will have to put your pump next to the board to inflate it, but is flexible enough that you shouldn't have any problem connecting it. Just be sure to leave your pump in a shady spot while you're inflating if you want to prevent overheating on hot summer days!
Active Cooling System/Sand Filter:


There is a small circular vent on the bottom that is connected to the unique active cooling system that allows the Outdoor Master Shark to pump for up to thirty minutes continuously. As long as you don't directly cover the vent, which the feet and inserts on the bottom of the pump help to prevent, it will work automatically as you pump up your board. Outdoor Master has also made sure to include a sand filter to cover the active cooling system and the vents located to the sides of the electrical outlet cable. With these sand filter vents, you can safely put your pump down in the sand to pump up your paddleboard without having to worry about sand or debris jamming it. The sand filters also help protect the Shark electrical pump from rain and water droplets from damaging the pump, though be sure to keep it away from waves to prevent it from being seriously damaged.
Company Review – Outdoor Master
In January 2010, a fateful encounter occurred on the slopes of the Les Deux Alpes in France, where a group of skiers from around the world talked about how they would improve various sporting activities. What was just small talk while skiing transformed a dream into reality in 2015 with the launch of Outdoor Masters,a premium sporting goods manufacturer. Made up of a team with representatives in New York, Paris, Hong Kong, and other parts of the globe, Outdoor Master works hard to develop products that will make every sporting and outdoor experience a better one. With a line up of snow, camping, hiking and water gear, you'll find a ton of awesome gear to make your next outdoor adventure an even better experience. For paddleboard enthusiasts, you'll find a line up of dry bags, beach tents, goggles, and their fantastic 2020 Outdoor Master Shark electric pump.
The Outdoor Master Shark is built to last, and we've had zero problem using it over these past few months of testing. However, if something does go wrong or you aren't entirely satisfied with the electric pump, Outdoor Master has a 90 day guarantee and 1 year warranty on the Shark electric pump. The Outdoor Master is available through many major online retailers, including Amazon, though it is also available from their website, with free shipping options for the US and many parts of Europe. For our part, we've had nothing but positive experiences dealing with Outdoor Master, finding them quick to respond to our questions and helpful in explaining the design of their electric pump. We heartily recommend the Outdoor Master electric pump, and look forward to other improvements they'll make beyond the 2020 model!
Conclusion/Bottom line
The Outdoor Master Shark is a very solid, easy to use electrical pump that will allow you to pump up to three paddleboards in a row. The thirty minutes continuous use time is above what we've found with many other pumps, and the thirty minute rest ensures you don't have to wait too long if you have more than three boards to inflate. The two stage inflation will help you inflate nearly as fast as manualling pumping the board yourself, and with an automatic shutdown you won't have to worry about overinflating either. We also love other great features, from the deflation valve to the unique active cooling system to the protective sand filters that protect this sturdy electric pump. While a tad bigger than what we're used to, this is still a compact, easy to hold and store electric pump as well, and should find a spot in almost every popular paddle board kit on the market. Overall, we love the 2020 Outdoor Master Shark electric pump, and think it is among the best electrical pumps to come out this year for inflatable paddleboards!
Thank you so much for reading our 2020 Outdoor Master Shark electrical pump review. If you have any questions about the Outdoor Master Shark or just want to talk about electrical pumps and paddleboards in general, be sure to leave a comment below or send us an email! We love talking paddleboards, and also update our reviews based upon the feedback and experiences others have with the products that we review and study.
With that said, make sure to have a great time SUPing!
The following two tabs change content below.
SupBoardGuide
Heyo! At SupBoardGuide.com we are a team who love the water, the outdoors, and are more than grateful that our full-time job allows us to review stand up paddle boards. We paddle year round (it helps that we are just about 2 hours outside of Las Vegas), and we bring in a wide range of paddlers with the goal of providing our readers with the best, most in-depth, and accurate stand up paddle board reviews.
Latest posts by SupBoardGuide (see all)