A common question that we see on social media and one that is constantly in our comments is: 'What's the best SUP brand?'. And, of course, we get it. There are an endless amount of brands out there from Amazon to social media advertisements, independent online brands, and some that you'll find on the shelves of Cosco or Dicks Sporting Goods. With many using tons of industry jargon and marketing fodder, it can get really difficult to differentiate between one board and the next, and even more challenging to decide which brand and board is right for you.
We've personally tested every board that we've reviewed on this site, and have bombarded industry representatives and brand leaders with loads of questions to understand the nitty-gritty details of their construction processes, materials, and product designs. We're able to sift through all of the technical jargon that you see on websites and plastered across paddleboard boxes to tell you how a board is actually going to perform once you've got it on the water.
Using all of the information we've compiled over years of testing, we've put together this list of the Best SUP Brands on the market. But, before we walk through our list, let's quickly discuss what exactly makes a brand great, and understand the criteria involved in making this list.
What Makes a SUP Brand Good?
While each of the brands below serves its own purpose in the paddling community, they all have the following attributes in common:
Performance
This one kind of goes without saying, a brand can only be considered great if its board's performance is up to par. Without this key element, the rest of the criteria pretty much goes out the window. Included in the performance are a SUP's stability, speed, tracking, and maneuverability, and we test all of the elements with respect to the category (all-around, touring, race, etc.) that the board falls into. If the performance checks our boxes, then we can look into the rest of the factors in this section.
Construction
Construction can sometimes be overlooked but it is crucial, as this not only goes hand-in-hand with performance but also is directly related to durability. This is where some of the cheaper Amazon boards tend to fall flat for us, as the construction just isn't up to par with the rest of the industry. Some things that we like to consider are a brand's drop stitch pattern and material, as well as their PVC layering and application processes. We also like to pay close attention to their rails, how many PVC layers make up their construction, if there's carbon fiber involved, etc.
We go into more detail on construction in our individual product reviews, but for now, know that each brand on this list makes boards that are well constructed for performance and durability.
Paddler Audience
What we mean by paddler audience is the range of paddler skill sets, sizes, and disciplines that one brand can serve. Some brands only build race SUPs, and others cater to smaller paddlers, while some are very beginner/entry-level focused. We love when brands can serve all of these groups, but we also consider how well a brand is serving its own niche audience.
Customer Support
This one is huge for us. It's one thing to create a high-performance, well-built product that perfectly meets the needs of its audience. It's another thing entirely to support those customers when they have any questions, concerns, or complaints. We try to only recommend brands who have shown us that their customer service is top notch and that they're willing to provide support in every step of the buying journey. We understand that sometimes mistakes are made, and manufacturing errors happen, but we really pay attention to how brands respond to those mistakes and how they make things right with their customers.
Price vs. Quality
Price is ultimately the final piece of the puzzle. If a brand can nail all of the criteria above but is so outlandishly priced that it's inaccessible to the community, then we have a really hard time recommending them. Though we also recognize that the highest quality performance and technology comes at a price.
Now that we've laid out our criteria and have given you an idea about how these brands ended up on this list, let's dive into our list of the Best SUP Brands:
---
Best SUP Brands
1 – Red Paddle Co.
2 – iROCKER
3 – ISLE
4 – Thurso Surf
5 – Sea Gods
6 – Atoll
7 – BOTE
8 – Gili Sports
9 – Nixy Sports
10 – Honu
11 – Starboard
---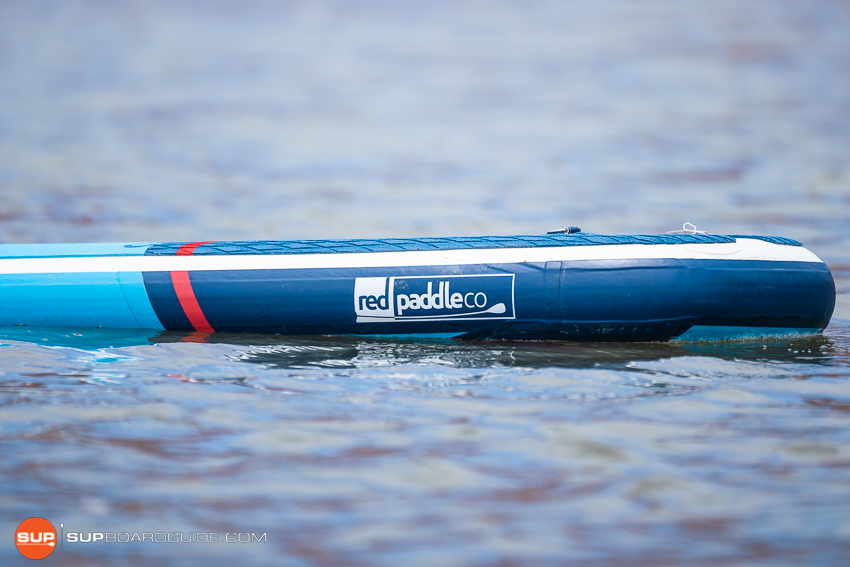 Established in 2008, Red Paddle Co. is the industry leader in technology and innovation. Their boards are performance-oriented, exceptionally constructed, and backed by fantastic customer service. They also have a huge selection of boards to fit a huge range of paddlers and niches from windsurfing to SUP racing.
One of the most impressive innovations Red has made over the years is the MSL fusion technology, which is an acronym for their coined construction method, Monocoque Structural Laminate. During this process, Red Paddle Co. eliminates the possibility of human error in bonding the PVC layer to the fabric, as well as the mess that comes with liquid PVC, by applying an adhesive to the fabric before a machine laminates the PVC to the surface. It's because of this process that cosmetic wrinkles are absent from Red Paddle Co. boards, and it's a major contributor to their overall lightweight builds that don't compromise on stiffness.
A few other innovations from Red include their RSS Battens, V-hull (seen on the 12'6 Voyager), FFC (Foward Flex Control) System, their Titan II Handpump, and their All-Terrain Backpack. They consistently push the industry forward and remain at the forefront of this industry due to their commitment to research and development.
---

If you're a regular reader of this site, it's going to come as no surprise that iROCKER holds a place on this list. They've consistently topped several of our 'best SUPs' lists, and the main reasons for that are that their SUPs perform well, are well made, and suit a very wide range of paddlers at an affordable price point.
Taking a quick look at iROCKER's products, it's clear that the majority of their boards fall into the all-around category. That's simply the style of board that works for most paddlers at all stages of their ability level. These SUPs are stable and forgiving on beginners, yet they're fun and maneuverable as a paddler advances, and they have a nice easy-going feel to them.
We also love iROCKER's recent launch of their 'Ultra' series, which caters to paddlers who need even more portability than a typical inflatable SUP has to offer, and we're impressed with their incorporation of a cross-woven drop stitch to make for lightweight boards that rival their Original series in terms of rigidity.
Lastly, we appreciate iROCKER's solution-driven customer service method. While their initial response times may not be 'same-day' or immediate, their resolution time is stunningly fast. iROCKER's founder is a firm believer in meeting his customers with solutions, even if that takes some extra time, rather than answering a call with no support to offer.
---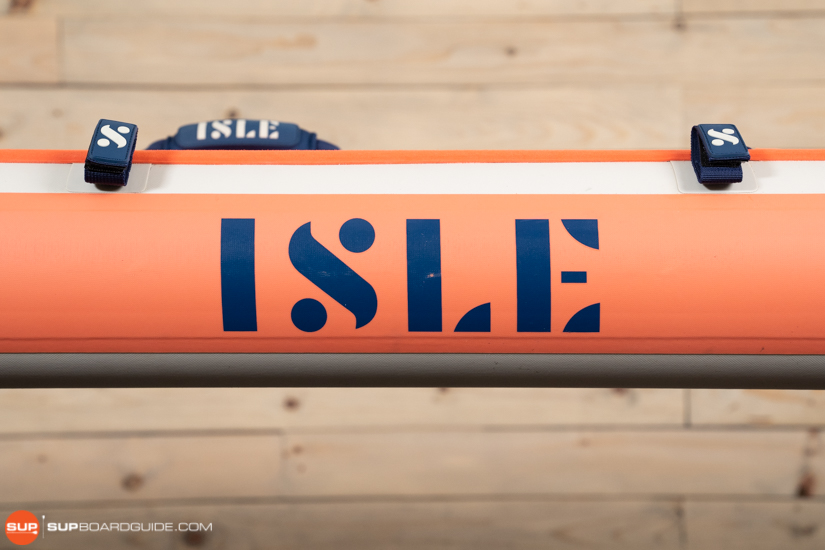 ISLE is another brand that aims to serve a wide range of paddlers for an affordable price. They have a collection of both hard SUPs and inflatables that dip into several paddling niches, including touring, paddle surfing, fishing, and the more general all-around category. And while they've been a long-standing player in the industry for years, we've recently seen them make strides at more innovation with their ISLE Switch SUP/Kayak Hybrid designed by new VP of Product, Jimmy Blakeney.
ISLE has kept up with the pack when it comes to construction advancements and has been quick to recognize industry changes and incorporate them into new models. Because of that, their SUPs have a reputation for reliable, lightweight construction. We also love that ISLE SUPs also have a reputation for being exceptionally stable, fully in line with their motto, 'Better in Balance.'
Bottom line, we'd be hard-pressed to find a paddler that wouldn't be able to find the right SUP in ISLE's extensive line-up, and we're really excited to see how this brand continues to develop in the future as they build up a great team.
---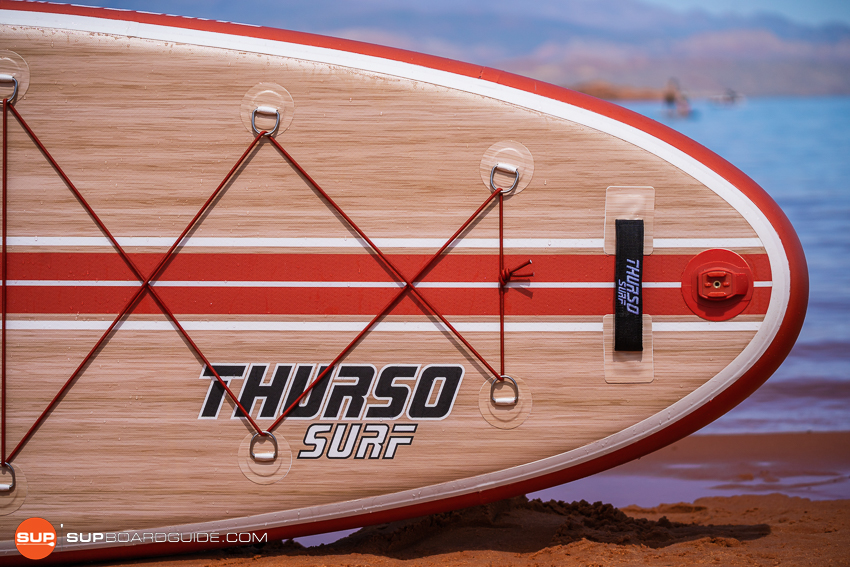 Thurso Surf stands out to us primarily for its robust, rigidity-focused construction. These SUPs are consistently the stiffest SUPs (as quantified by our bend tests), and they've held up incredibly well for us over the years, despite us not being entirely careful with them.
In addition to their construction, Thurso SUPs just have a great feel to them on the water. Their Water Walker series is the perfect shape for paddling in chop or waves, while also performing exceptionally well in flat water. We're also impressed with Thurso's recent shift towards more environmentally friendly packaging, as this season's boards now come packaged in paper rather than plastic.
And although Thurso's prices sit just above the mid-range price category, we think it's warranted given that they're complimented by a nice array of higher quality accessories like their carbon hybrid paddle, upgraded backpack, and an accessory pouch. We've also seen them continue to provide great support to their customer base, which makes us all the more confident in recommending Thurso SUPs to our readers.
---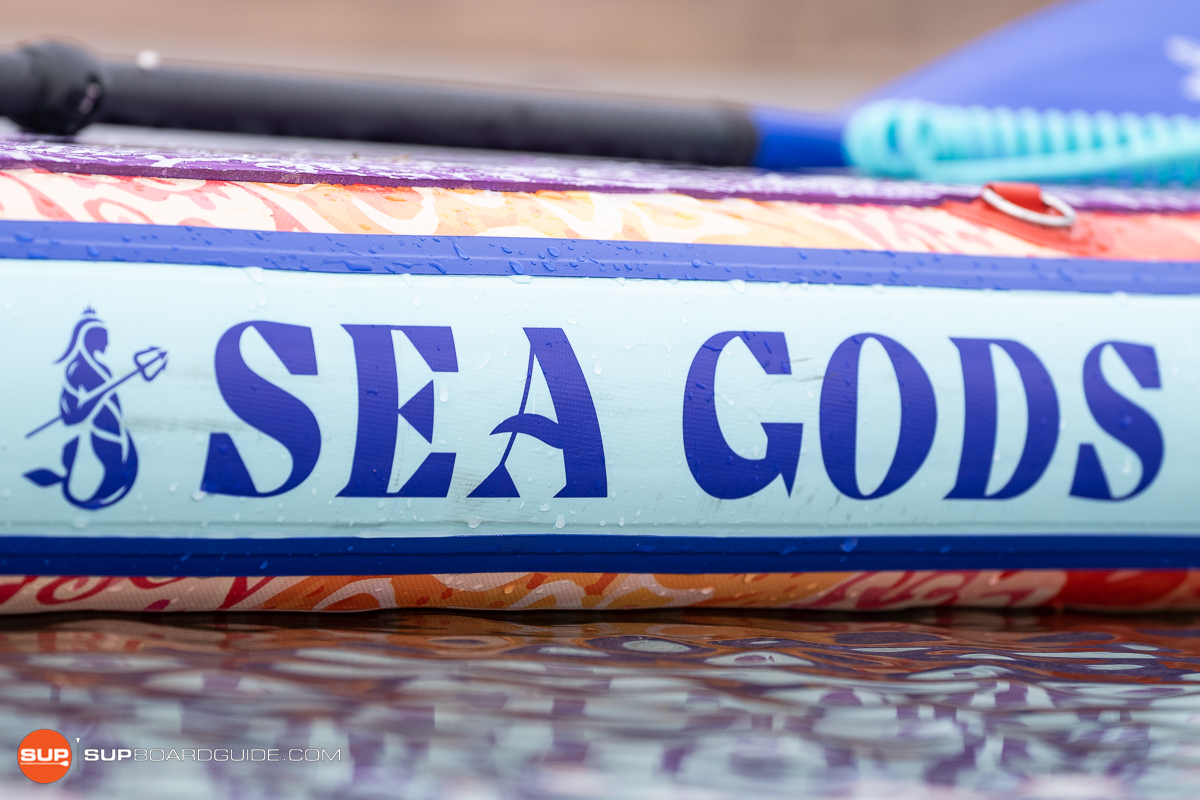 Obviously, the stand-out feature of Sea Gods' SUPs is their looks; these boards are gorgeous and never fail to turn heads at the lake. However, we really don't want to let that overshadow the other aspects of Sea Gods SUPs which is that these boards are exceptionally well made, and showcase fantastic performance on the water. We're also hugely impressed with the customer service that Mandy and Ryan Johnston (founders) and their team are able to provide, including their Lifetime warranty.
Turning back to the looks of these SUPs though, we love that Sea Gods' designs are sourced and credited back to original artists. They could have easily just gone with computer-generated colors and logos, but have instead created boards that double as artwork. It's part of the reason we think the higher price tag on a Sea Gods SUP is well warranted.
Another part of that is that they've done a great job producing SUPs that are both rigid and lightweight, and can appreciate them trying to push that even further with their creation of the Skylla, a SUP that is just 19.5 lbs but among the stiffest of their line-up, and the Ketos, their 14' race SUP with a built-in V-hull. Of course, excellent construction carries over into performance, and Sea Gods SUPs are consistently stable, lightweight, quick, and maneuverable.
One thing that is very clear to us about this brand is that it's a clear labor of love for Mandy and Ryan Johnston. Their love and support for the paddling community at large and their local community are obvious in their commitment to careful manufacturing and attention to detail in all aspects of their brand.
---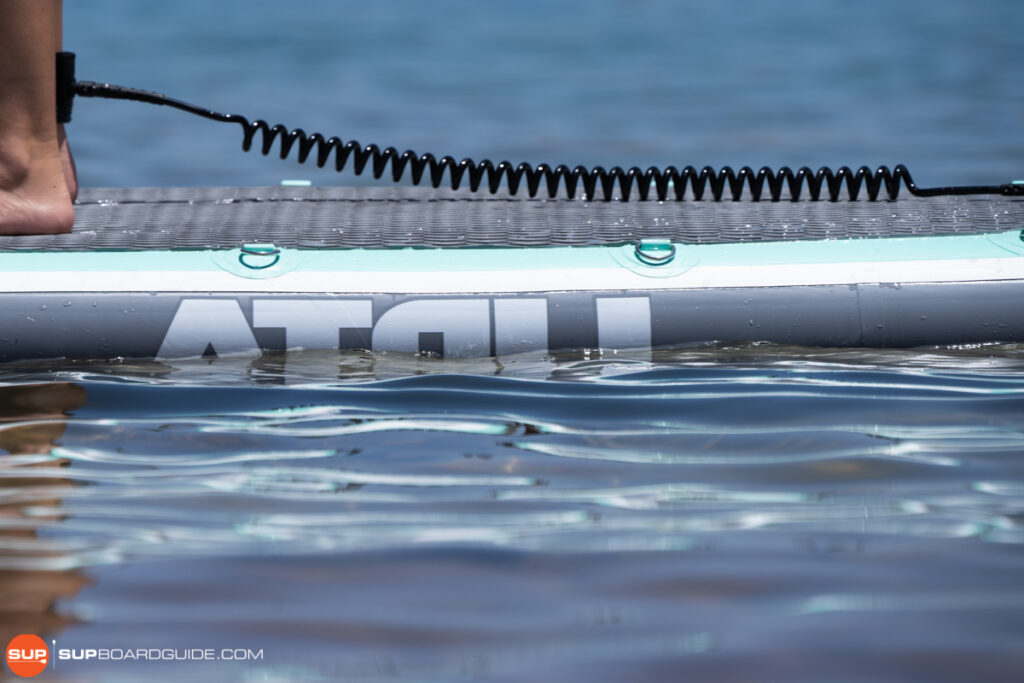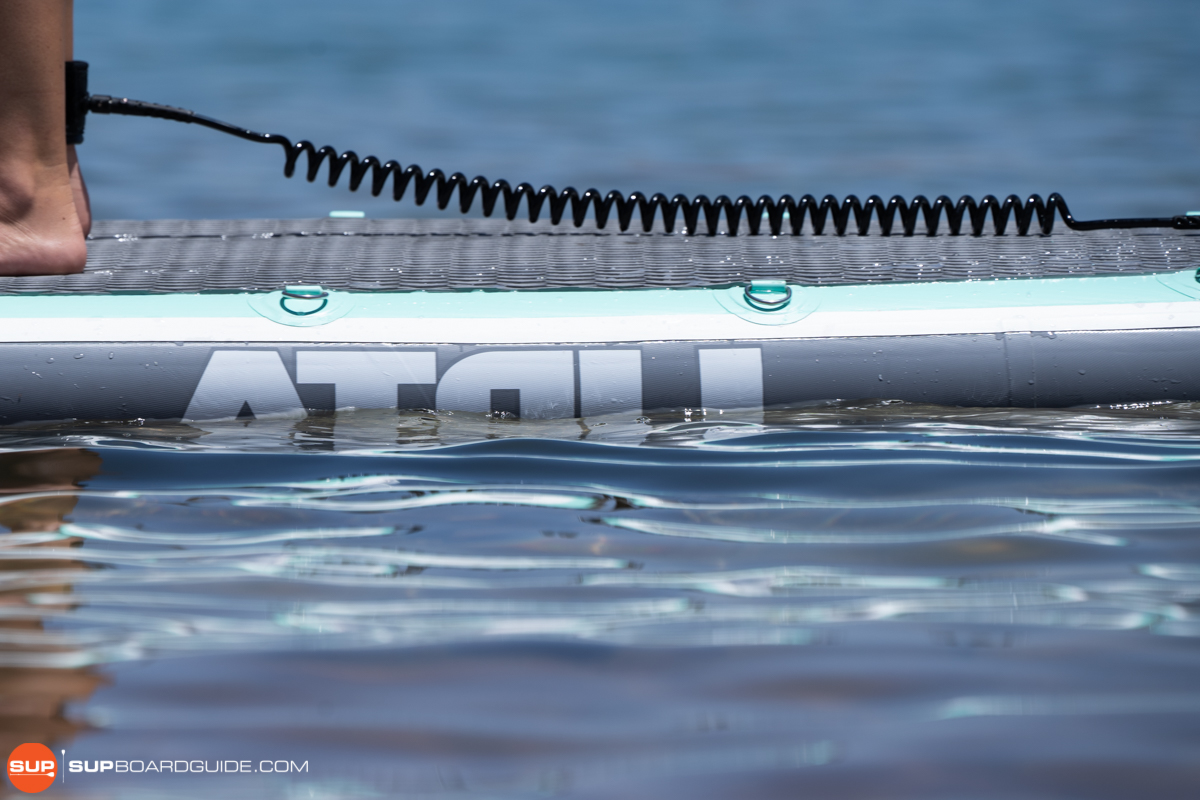 Atoll has done a great job at building a 'do-it-all' board that's a great option for paddlers who aren't sure if they want an all-around, a touring board, a fishing SUP, or just one that they can load with gear. And while the Atoll 11' used to be the only SUP in their arsenal, we were happy to see them launch their youth board this past season as well.
We also love the Atoll SUPs for being exceptionally light and travel-friendly; this SUP is among our top recommendations for paddlers who like to hike their board into more remote locations. It's extremely customizable as well, especially when it comes to cargo areas and gear attachments because Atoll has added a total of 8 extra D-rings along the rails of this board.
Overall, Atoll boards are a good affordable option for paddlers who want a little bit of everything out of their SUP – all-around stability, touring-board-like speed, lightweight maneuverability, and traveling ease. Though we'd be excited to see Atoll advance their design or delve into some more specific categories in the future.
---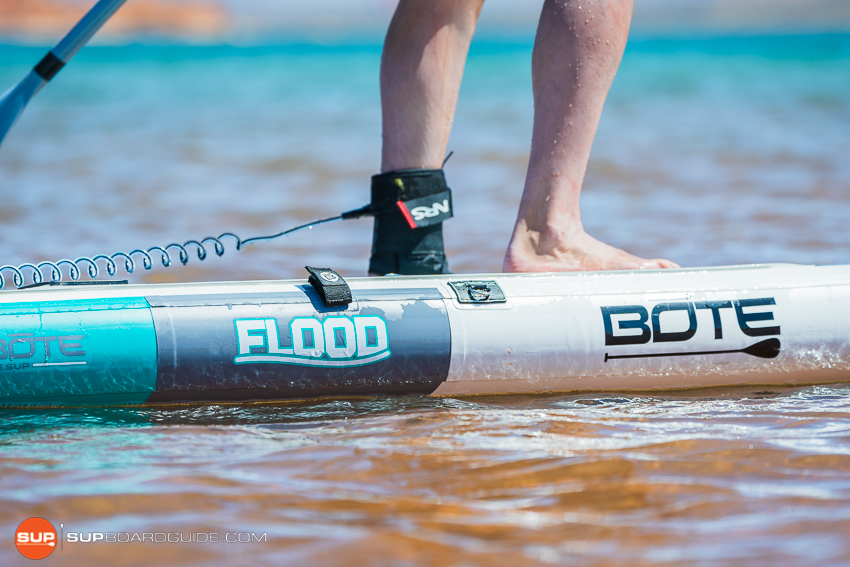 BOTE was founded in late 2008 when nearly the entirety of the stand-up paddleboard market was simply oversized surfboards that were sort of okay to stand on. BOTE's founders, Corey and Magda, aimed to create something that stood apart from that norm and wanted to build a SUP that was both simple and versatile, and that initial goal clearly shines through in even their most current products.
These boards are super stable, and consistently among our top recommendations for paddlers looking to haul along a load of gear, a full cooler, and fish off of their SUP. BOTE SUPs come decked out with fishing-focused and versatile features including scotty mounts, magnetic cupholders, and cooler tie-down points, and their flatter rocker makes them perfect for calm, flat waters. They've also delved into a lot of innovation in recent seasons with the release of their Rackham Aero with pedal drive assist and their BOTE Rover Microskiff
BOTE's build quality is also extremely robust; their boards are always some of the stiffest that we test and easily support higher weight capacities. Though this does make them a bit heavier than others on the market. Generally, though, we love the coastal feel of these boards and think it's clear that BOTE is a true lifestyle brand.
---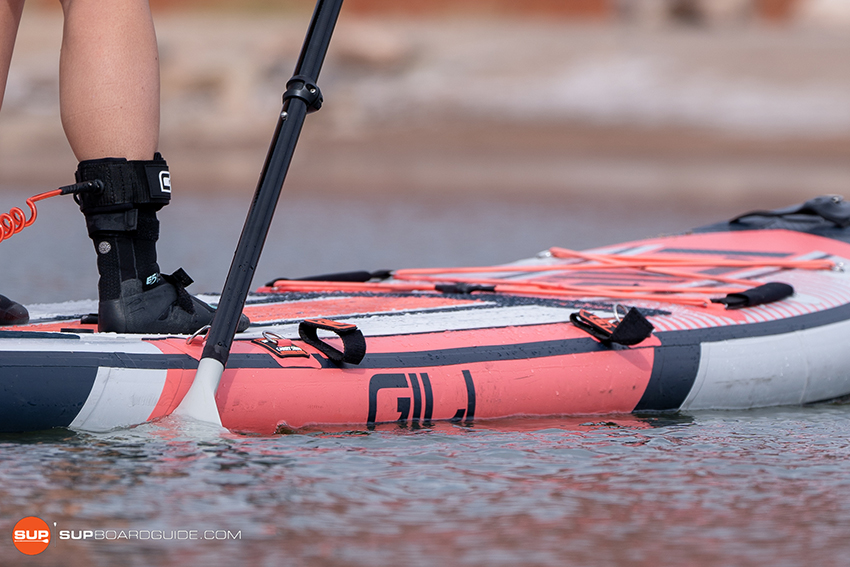 One thing that Gili stands out for is being able to recognize industry trends to understand what consumers are looking for, and incorporate that into their products. Though they do this at a price point that is affordable and accessible for a wide range of paddlers.
Gili has adopted some of our favorite construction processes over the years, such as carbon fiber rails and lighter-weight builds, and they've mimicked the shapes of some of the higher-performing boards in the industry. And, if a paddler is looking for a decent quality board at a reasonable price, Gili is a great place to look. Their board style range is fairly versatile as well, though it does lean more into the stable all-around category – their Gili Meno is one of our top recommended family SUPs.
We think Gili is capable of great things in this space, and while we love that they will reliably produce products that most paddlers are guaranteed to enjoy, we'd love to see them forge their own path in the future. We'd be interested to see Gili push the envelope in terms of construction and board designs.
---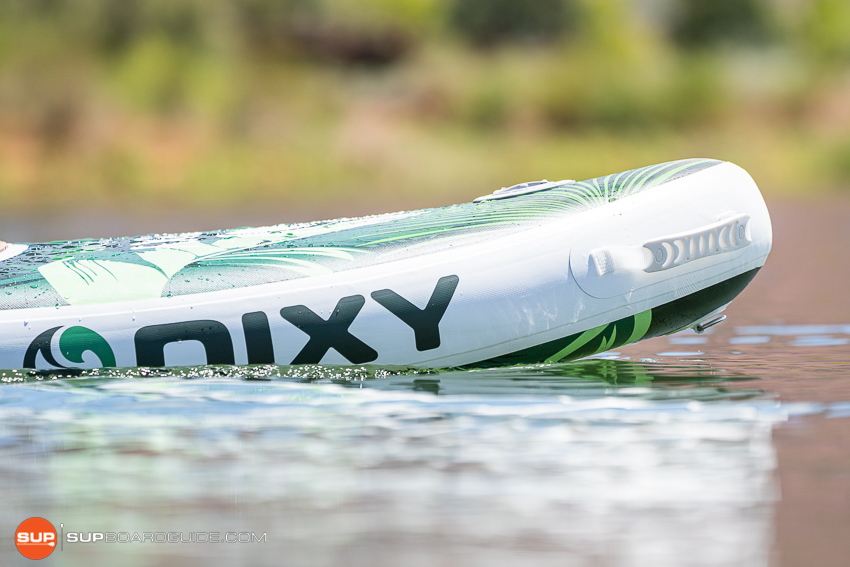 Founded in 2016 by Alexandra and Nicolas Szczedrin, Nixy is a relatively new brand, but they catapulted themselves to the front of the pack in terms of build quality. Nixy SUPs have always been right up there with Thurso's in terms of stiffness while still being impressive lightweight. And this quality carries over into their accessories, as Nixy's included kit is a longstanding team favorite.
Though the main thing to point out about the performance of Nixy's boards is that most of them are designed to be highly maneuverable, and because of that the boards are generally on the smaller side with the exception of their 11'6 x 32" Monterey. As a result, we've found their boards to be best suited to smaller paddlers, who can appreciate the nimble, sporty nature of these SUPs. They're always a weekend go-to for our smaller product testers, especially Alli who is 5'2 x 135 ish lbs. However, we also think Nixy has a lot of potential to be a favorite for fitness paddlers, as their revamped Manhattan Plus 12'6 is a great performance-focused touring SUP.
In short, it's clear that Nixy puts a lot of attention into the quality of its products. They're not looking to cut corners in terms of construction or accessories, and aim to create boards that they would want to paddle themselves.
---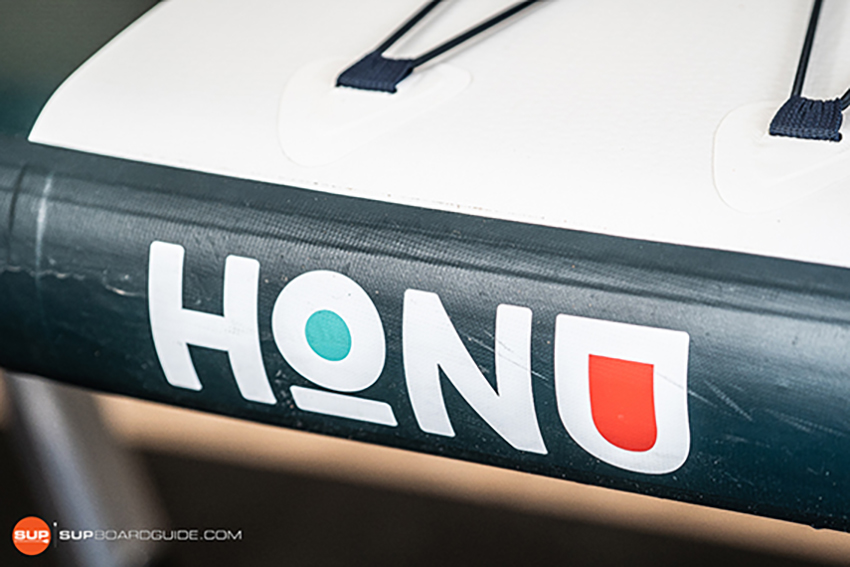 Honu has been a well-loved SUP brand in Australia for the past 2 decades but has just recently started gaining popularity in the United States. And with their new warehouse based in Salt Lake City, UT, we can only see that popularity increasing in the coming seasons. Proximity and local ties aside though, Honu SUP's performance is jawdroppingly good and actually left some members of our team speechless during testing.
Both of their all-around models, the Fairlight and the Byron, are only 4.7" thick compared to the usual 6" thickness on other inflatable SUPs. This helps to lower the paddlers' center of gravity and maximize stability in chop or wavy conditions. The 4.7" thickness, combined with Honu's impressively rigid construction, makes for an inflatable that closely mimics the performance of a hard SUP. And while the all-arounds impressed us with their quick and agile nature, Honu's touring board, the Sorrento, quickly became a team favorite and remains the stiffest inflatable touring SUP we've tested, despite weighing just 21.6 lbs.
And with Mark and Meghan Travers now heading this company, we have high hopes that Honu will continue to advance their construction and tweak their designs to create something more and more impressive every year. Along with their boards, we also love Honu's selection of carbon fiber paddles, and would always recommend bundling a Honu paddle with your board.
---
11. Starboard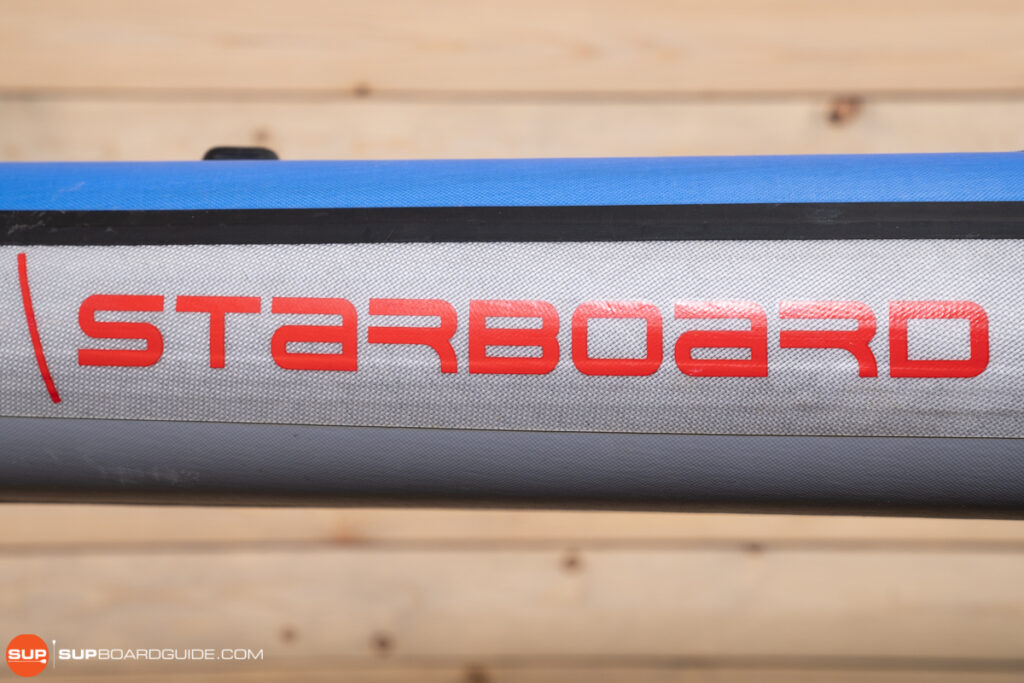 No list of Best SUP Brands would be complete without Starboard. Starboard's founding goes back to 1994 when it entered the scene as a windsurfing brand. Since then, they've branched out and dominated in the stand-up paddleboarding world, most notably in their race SUPs, which continue to win world championships. Though they also offer an array of options from touring boards to all-arounds, yoga SUPs, youth boards, foil boards, and, of course, windsurf. And throughout all of these products, the emphasis on 'innovation quality' remains the same.
Starboard is the only brand to incorporate their nose cone and aramid cable stiffening system, which allows you to fine-tune the stiffness of your inflatable SUP, and they were also among the first to utilize woven drop stitch technology, which is now widely used to build rigid, lightweight inflatable SUPs. They uphold a reputation for paving the way for new technologies and aim for a higher level of performance than most other brands.
We also love that Starboard is committed to balancing its environmental impact, and consistently makes positive contributions to the environment along with packing and shipping their SUPs in paper rather than plastic.
In short, Starboard ranks among the best of the best, and there are few out there that can rival this brand in terms of performance and quality.
---
Summary of the Best SUP Brands
Hopefully, this page has helped you narrow down your search for an inflatable or epoxy stand-up paddleboard.
As we stated at the beginning, we know that there are a ton of brands out there, and it's become increasingly hard to weed out the really good ones from the ones that are just really good at marketing.
Rest assured that if you invest in any of the brands listed above, you're sure to get a top-notch product that is exceptionally well made and backed by a reliable team of paddlers and industry professionals.
As always, we encourage you to reach out to us in the comments below with any questions you may have or if you feel we've missed one of your favorite brands.
In the meantime, stay safe and happy paddling!
The following two tabs change content below.
SupBoardGuide
Heyo! At SupBoardGuide.com we are a team who love the water, the outdoors, and are more than grateful that our full-time job allows us to review stand up paddle boards. We paddle year round (it helps that we are just about 2 hours outside of Las Vegas), and we bring in a wide range of paddlers with the goal of providing our readers with the best, most in-depth, and accurate stand up paddle board reviews.
Latest posts by SupBoardGuide (see all)