iRocker All-Around 10' Inflatable SUP
Pros
Paddles very well for lighter beginner and intermediate paddler boarders
Good weight capacity (370lbs)
Very lightweight, but still feels great in the water
A lot of features on the board (20 D-rings, four action mounts,etc.)
Triple layer composite PVC construction = very durable iSUP
Maneuverable, sporty board
Cons
Less color options then 11' All Around
We'd like to see the rear action mounts moved more to the side of the board
Much like its slightly larger sibling, the iRocker All Around 10' iSUP is another favorite of ours. It moves into 2023 relatively unchanged from previous models, but does have a few new color choices (though we must point out that those color options are half as many as the 11)'. But iRocker really seems to give you a lot in terms of features and quality at its price point. If you are looking for a nice quality all around SUP, then the iRocker All Around 10' is a great SUP for lighter riders packing less gear or those more concerned with maneuverability. iRocker recommends the 10' All Around for those under 5'9 and the 11' version for those taller than that, and while we agree that's a good starting point. It's not the only consideration to keep in mind when making your decision.
It's a great board for paddlers who:
Want a solid, well built iSUP great for lighter paddlers in varying water conditions
Want a more agile board for light surfing or rivers
Want an all around SUP that is still fairly fast option for touring
Want a SUP with tons of accessories (d-rings, bungees, etc.)
We recommend the iRocker All Around 10' is for the following water conditions/situations:
Flat water paddling (lakes, bays, marinas, etc.)
Recreational paddling
Ocean paddling
Surfing in small to medium surf (1-3 ft)
iRocker All Around 10' Review: Overview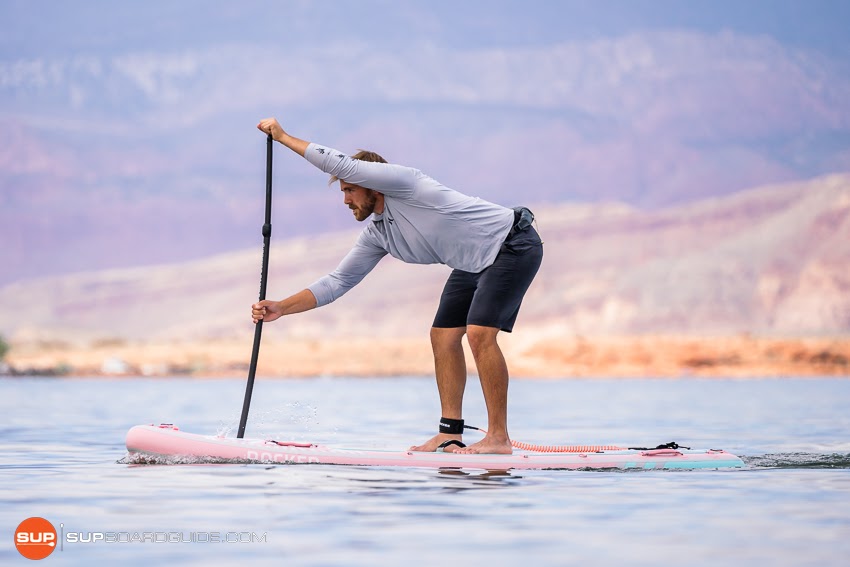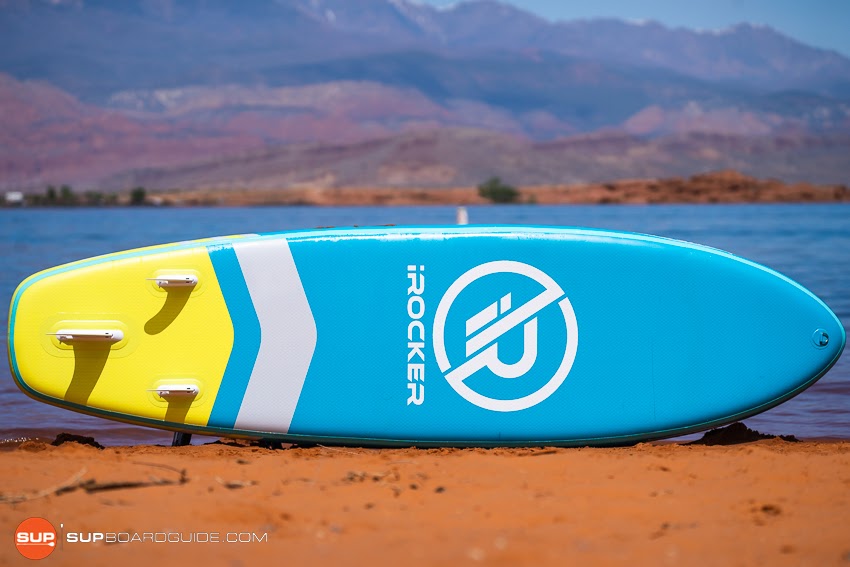 We think iRocker did the smart thing by keeping the board relatively unchanged from the previous year. It's a highly useful board that wasn't going to get affected by supply chain changes (ensuring that the public can readily get their hands on one) despite the Covid related delays. As we have said before, consistency is key when you are planning on making higher quality boards than the generic ones found on Amazon.
Again, iRocker did take the time to upgrade the backpack (when they see you rolling, your friends will be jealous), and the new standard paddle is a nice improvement. Would it have been nice to see as many color options as the 11'? Yes. But that makes inventory management that much harder.
Overall, we recommend purchasing the 10' All Around over the 11' version if you are under 150 lbs and under 5'7", or if you are just wanting a board that is more sporty than the 11' model. If you are taller, or think you might want the extra length for gear or taking kids paddling with you, then we would recommend looking at the 11'.
Note: We don't write spec reviews, and this is not one. iRocker sends us their boards every year, and we continually test the boards throughout the year. We hope you can tell that this is a real, in-depth review of the iRocker All Around 10'. If there is something we haven't covered yet, please leave a comment below.
iRocker All Around 10': Spec Sheet
| | |
| --- | --- |
| Main Category: | All-Around, Inflatable |
| Board Dimensions: | 10' x 32" x 6" |
| Listed Board Weight | 24 lbs |
| Listed Max Capacity | 370 lbs |
| Recommended PSI | 15-18 psi |
| Fins | Nylon, triple flip lock, removable |
| Paddle Type | Full carbon matte shaft and nylon blade |
| Materials | Triple layer composite PVC, high density drop stitch inner core |
| Price Range | Medium |
| Warranty | 2 years on the board, 1 year on the accessories |
Official SupBoardGuide.com Test Results:iRocker All Around 10' (2023)
With this review of the iRocker All Around 10, we are trying to test how the board performs vs what iRocker says. Overall, we were very impressed with the All Around 10.
In-House Measurements:
| | |
| --- | --- |
| Board Shape: | All Around / Inflatable |
| Tail Width: | 16" |
| Nose Width: | 7 ⅛" |
| Nose Rocker: | 68.5 degrees |
| Weight: | (coming soon) |
| Tested Weight Capacity: | (coming soon) |
Overall Score: [9.4/10]
The 'All-Around' category is typically the category with the most entrants. It is what most board manufactures endeavor to produce so that they can recommend that specific board for someone wanting functionality in most, if not all, areas of paddling.
The iRocker All Around 10' did well. Living in the shadow of its slightly longer and more supportive 11' sibling, the 10' still stands out for several reasons. First, it is the lightest iRocker model available. This bodes well for smaller riders wanting an easily transported board. Second, being the shorter All-Around gives the 10' a very significant boost in maneuverability. Light surfing is less of a stretch with this board as it feels very agile. Lightweight paddlers will also have an easier time getting around in choppy windy conditions.
Stability: 8.5/10

Speed: 8.2/10

Tracking: 8.5/10

Maneuverability: 9.0/10

Board Stiffness: 9.6/10

Weight Capacity: 8.8/10

Construction Quality: 9.6/10

Accessories: 9.5/10
*Also, please keep in mind – we don't really give out a 10 very often, if ever. We try to make these rating helpful for consumers to tell the small differences between models and brands. If you see SUP earn a 9 rating, that is a rating that is beyond our expectations, and anything 7 or higher is a very good score.
The overall rating of 9.4/10 for the iRocker All Around 10 puts this board solidly ahead in a crowded field. Those requiring its chief comparative benefits (lighter weight and maneuverability) would do well to pick this over the larger 11' even though that board is listed as our All Around favorite.
In-Depth Review of the iRocker All Around 10' Stand Up Paddle Board
Performance Review: Stability, Speed, Glide, Tracking, and Maneuverability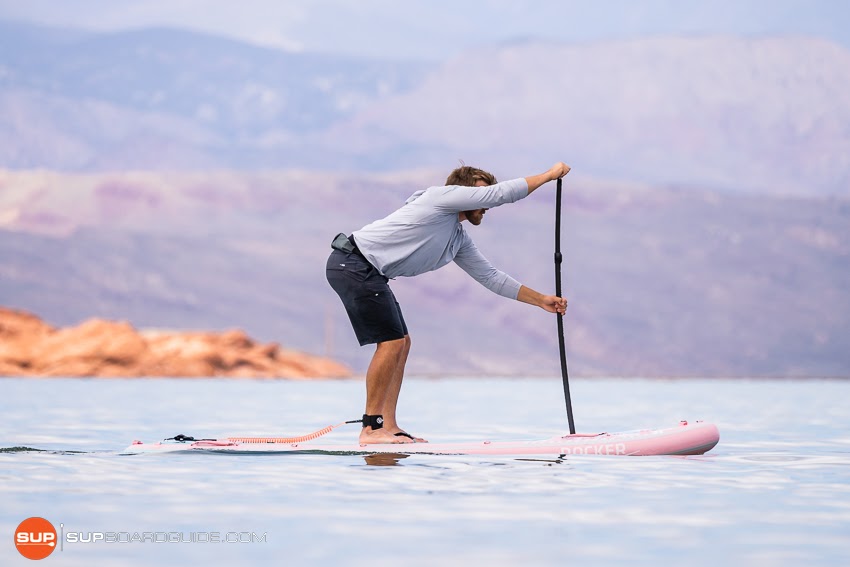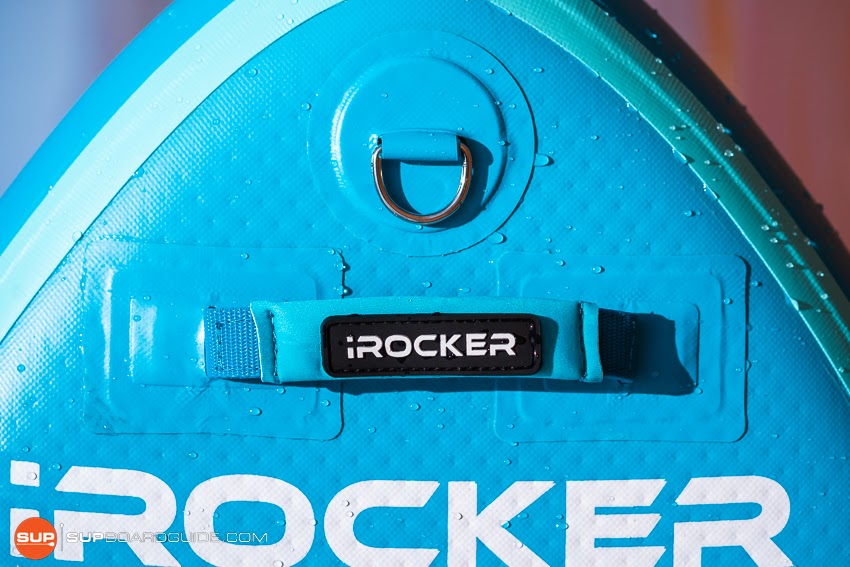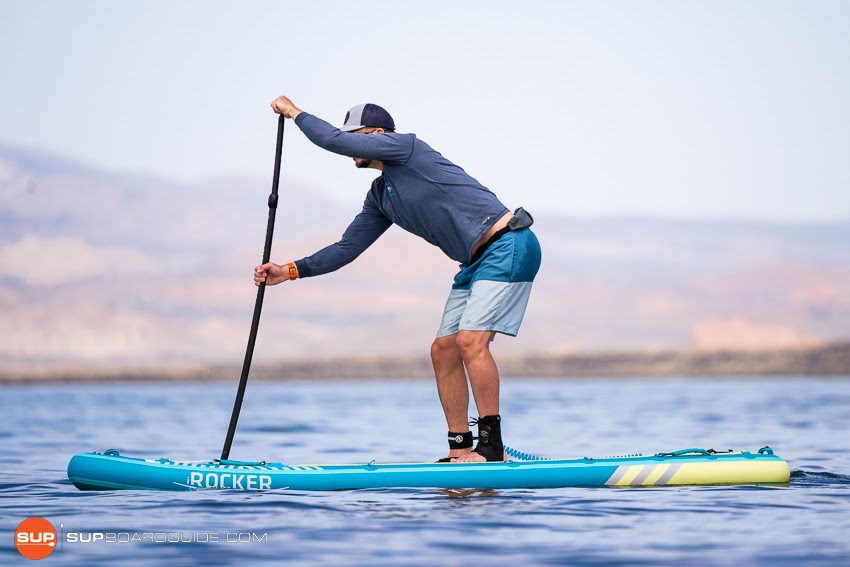 We found the iRocker All Around 10 to paddle really well, and does especially well as a smaller SUP that is still stable with a higher weight capacity. iRocker recommends the 10' All Around for paddlers who are 5'7" or below and the 11 foot version for those who are taller. While we agree that those below 5'7" will like the 10' All Around, we also do recommend this version for taller and more advanced paddlers looking for a more agile board. Weight doesn't necessarily have to factor into the decision as long as you are past the beginner stage as a paddle boarder. Our heavier riders enjoyed the stability as well as the agility.
Also, understand that if you need to put more gear or kids on or do longer tours you would be better served by the 11'.
Speed: 8.2/10
We need to mention that when we put this board behind the 11' version in terms of speed, it does not mean you are going to be left paddling by yourself should your friends be on "faster boards". The rate at which you travel has more to do with the person paddling than the board itself. That being said, this board will not be as fast as it's bigger sibling. Physics just is what it is. A longer board line gives you a more slippery waterline and therefore a slightly faster board.
From a Glide perspective, all the testers agreed that this board feels great underfoot. It does more than ok for an all around and at it's price point we are very impressed.
Basically, in terms of speed, the iRockers rank in the following order:
1. Sport
2. 11' All Around
3. 10' All Around
4. Cruiser
Tracking: 8.5/10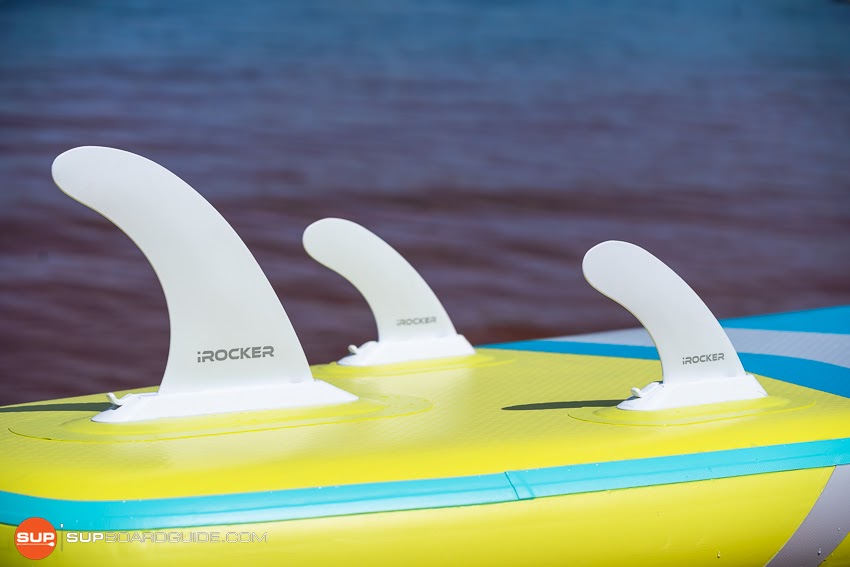 This board tracks very well. The 32" width is the average for the class. This translates into a fairly easy stroke pattern for most riders. The triple fin setup also adds into its tracking abilities. We will say that the tracking on the 11' was slightly better even though the boards share all other dimensions and features. The extra 1 ft in the water improves not only tracking but the overall speed and glide. To be clear, we are certainly not saying the 10' all around is bad at these things. It is actually very good, we are just making the comparison to it's longer sibling as most potential buyers will typically compare the two for their specific needs.
Maneuverability: 9/10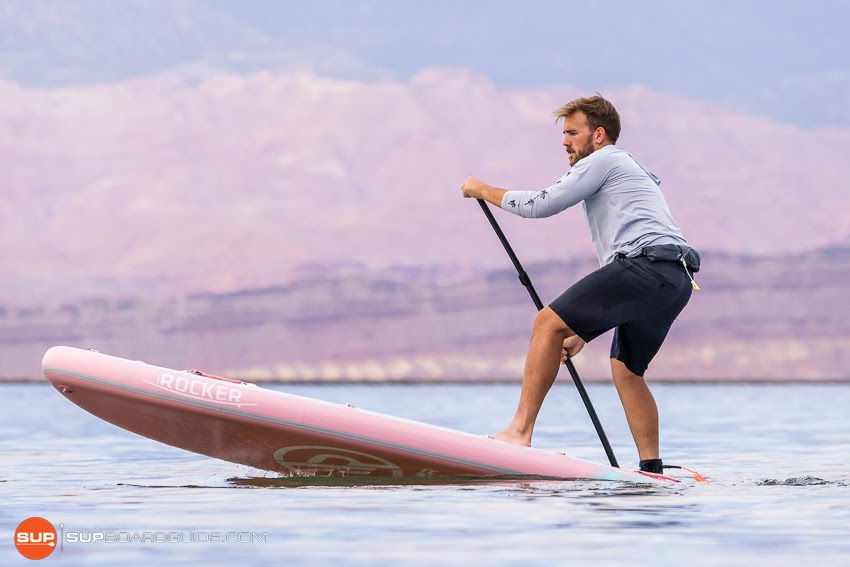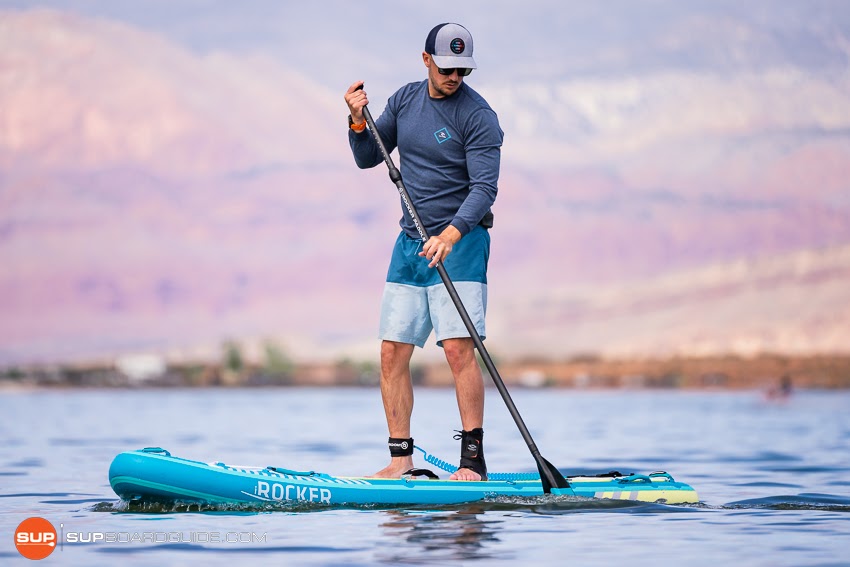 The iRocker All Around 10' is all about maneuverability. The lack of a little extra length really makes this board effective at direction changes, be they in the form of standard paddle turns, step back (buoy) turns, surfing, or some white water paddling. This board is just very agile even with heavier paddlers on board. If you see more white water and surf in your future than distance paddling this is the board you should gravitate towards.
Board Stiffness: 9.6/10
Stiffness Test:
1.0625" bend (board on top of two saw horses that are placed 7' apart. We then place 150 lbs of weight added right by handle in middle of the board)
We introduced this test this year as a way of mathematically comparing boards across a common denominator. Comparing this board to the BlackFin series, we see that the carbon rails do in fact help. Though, that help seems to be fairly marginal. There are alot of other factors that play into this test as well. Board construction, material quality, and overall dimensions play a significant role as well.
All that to say that the iRocker 10' All Around performed really well, and right in line with our expectations given the quality of materials used on this board. It's a very rigid inflatable SUP and that rigidity helps it perform well in all areas of the review.
Weight Capacity/Stability: 8.8/10
Listed Weight Capacity: 370 lbs
The board is listed as being able to carry up to 370 lbs. We will be doing a more thorough weight capacity test as the water warms up but for now we can say that this board has a very decent weight capacity. We would recommend this for lighter riders looking to paddle solo or with limited gear as well as heavier riders looking to occasionally mix it up in the surf lineup or stepping into the white water arena.
While not as voluminous or stable as the 11', it still does a great job at being stable due to its width and construction. Again we only recommend this board over the 11' if you don't plan to carry as much gear, or you want the added maneuverability.
Construction Quality: 9.8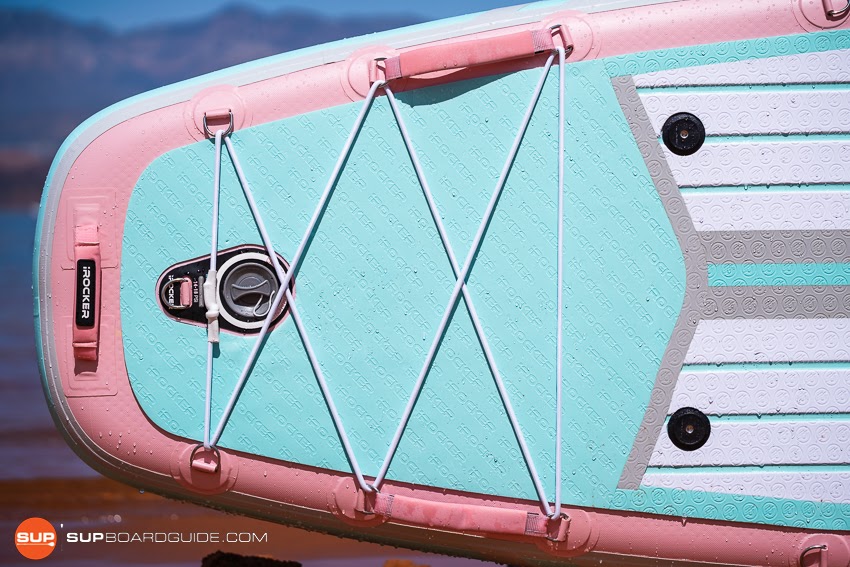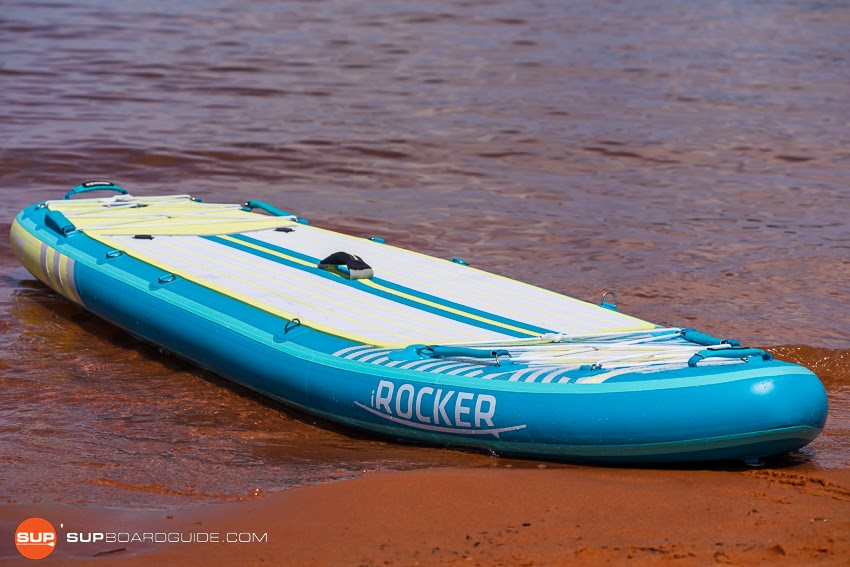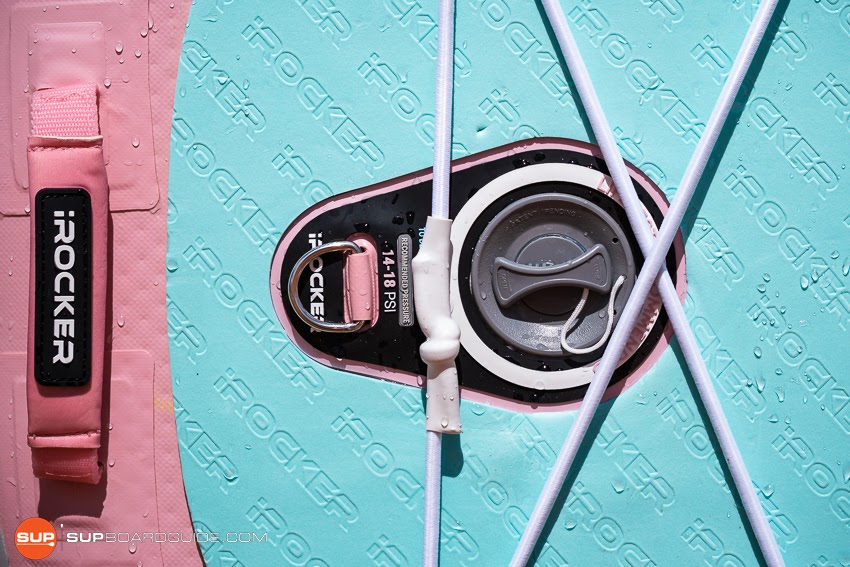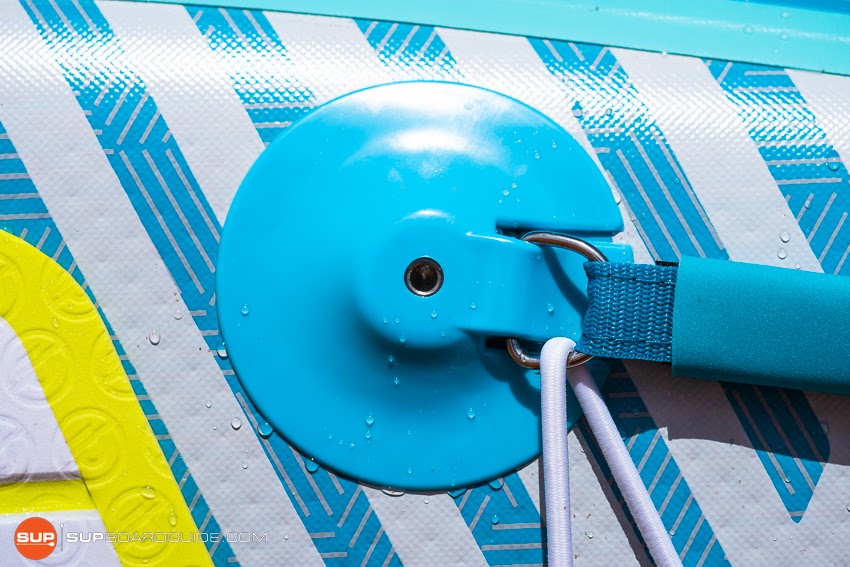 The iRocker 10' All Around shares the same construction as the rest of their offerings, a triple layer PVC centered around a drop-stitch core. This method goes a long way to give the board it's specific shape. A true 3 layers of PVC encase the core, making this board just feel well built.
The deckpad design is certainly nice with the ridged lines working to keep excess water off the top of your board. It also is one of the testers favorite in terms of comfort with one individual stating they felt comfortable for hours on this board, where they might otherwise suffer from feet soreness and fatigue. Our single suggestion is to move the rear action mounts and copy the same format the front ones have by being integrated into the handles. This would go to clean up the deck area visually, as well as removing an obstacle for your feet should you be moving yourself around the board.
The only other note on construction is simply the differentiation between these iRocker boards and the slightly more expensive Blackfin lineup. All of the Blackfins come with carbon fiber reinforced rails, which we feel adds to the durability of the rails if nothing else. More tests on that soon.
Accessories: 9.5/10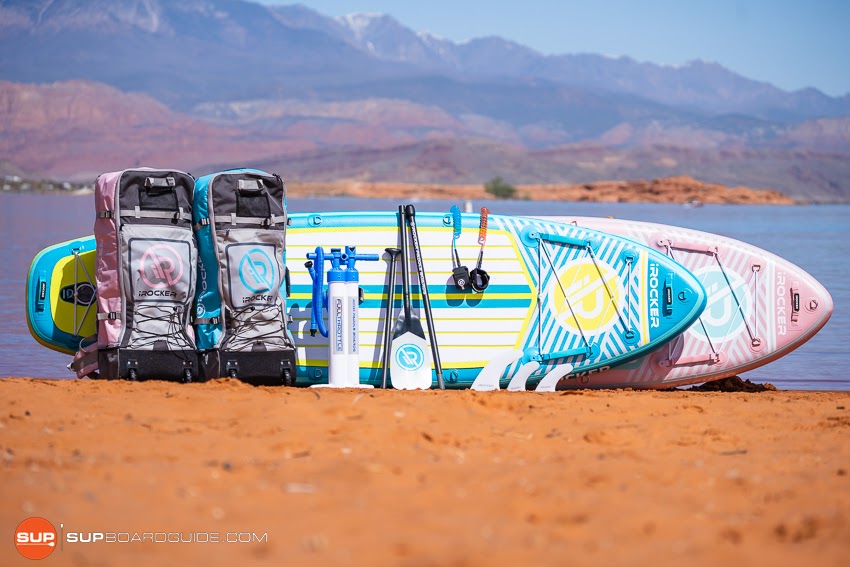 iRocker has a small army of accessories. The iRocker All Around 10', specifically, comes with the following out of the bag (i.e. you don't need to buy anything to get out on the water):
3 piece carbon fiber shaft with a durable nylon blade paddle
Triple action, dual chamber pump
10' swivel leash
Wheeled SUP backpack
SUP repair kit (patches, valve tool, etc)
2 front and 2 rear multi-use action mounts
20 d-ring attachments
The iRocker lineup does not include the various mounts for fishing attachments or their sandspear loop found on the Blackfins. If you plan on fishing more often than not we would definitely recommend stepping up to the Blackfin lineup. You can still fish from this board, you just won't be able to use all of iRockers fancy accessories.
Paddle: 8/10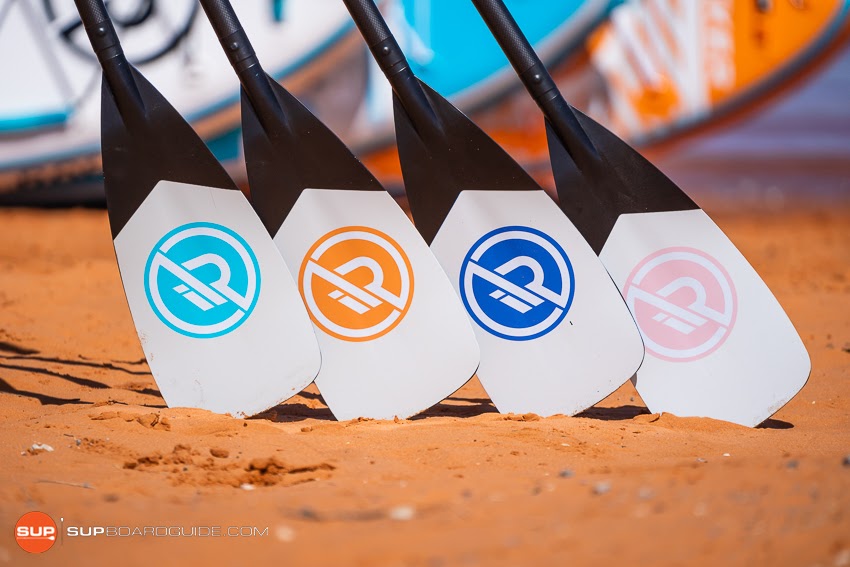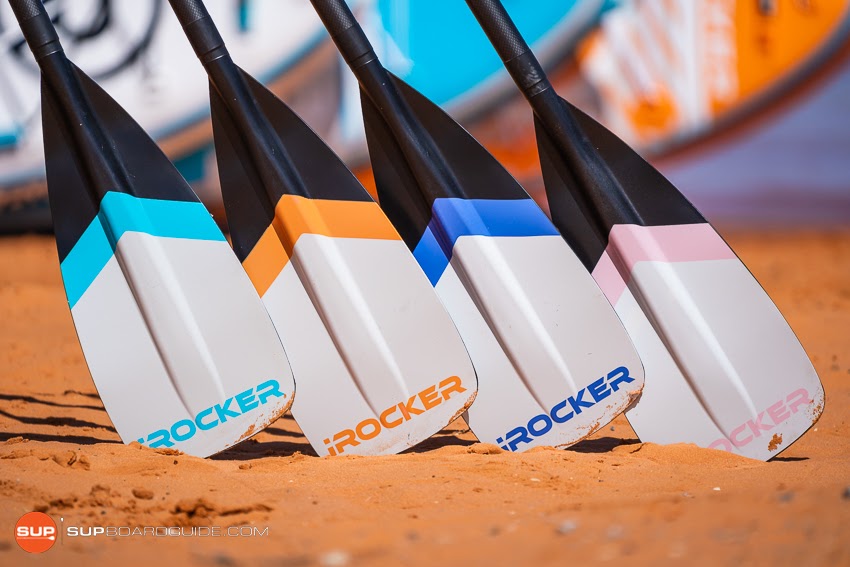 The included paddle was upgraded to a full carbon fiber matte piece. This makes it extremely light for a kit paddle in the mid range price point at 28.5 oz. We also like that they match the paddle graphics to the color of your board (style points count)! Just be aware that we noticed the colors scraping off fairly easily. So either expect a little discoloration or be very gentle with this one.
Still looking for improved paddle feel we would recommend that iRocker work on the locking mechanism. We would liketo see the elimination of any twist in the shaft while adjusting the length. Having this twist is typically a precursor to bad paddling form so lets make it easier on people just learning their stroke.
Pump: 9/10
iRocker includes a solid dual chamber, triple action pump for a kit piece. It does the job fairly well and while it's not the best out there (the Red Paddle Co Titan pump still holds that honor for making inflation a "breeze"), it ranks very high. Those knurled motorcycle handles feel nice when you're flailing away getting your board up to pressure. Speaking of which, we will still (always) recommend moving to the iRocker electric pump. Believe me, your arms will thank you afterwards. Check the iRocker site for occasional sales making the pump cheap or free with other purchases. Not being out of breath before you even hit the water is a great feeling and we know you're worth the extra money!
Backpack: 8.9/10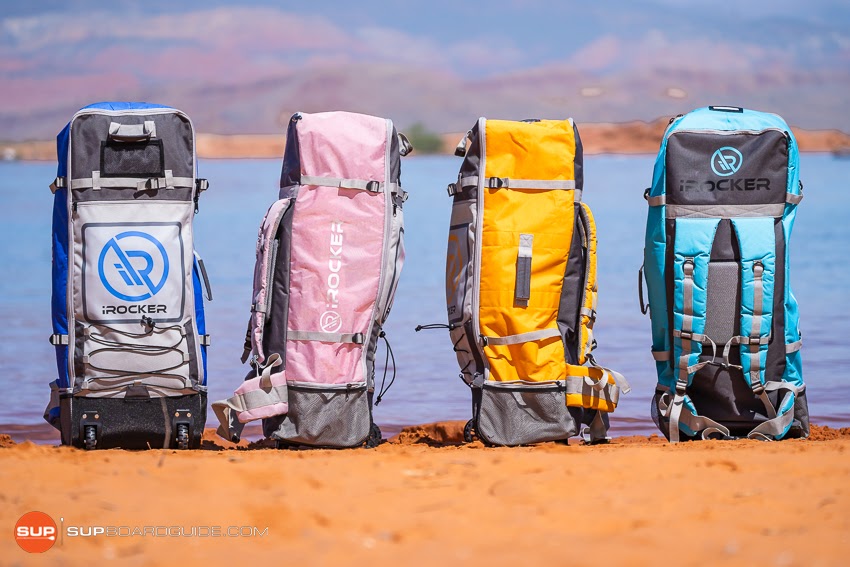 The iRocker packs got a nice upgrade for this season.They added wheels to the pack, which makes getting the bag from your car to the launch way easier. The iRocker kit (board, bag, and all stock accessories) weighs around 42 lbs. Not too bad, but we do like the addition of wheels.
The backpack has the same basic features as the Blackfin lineup. We only saw a difference in the bag material with the Blackfins being a slightly thicker, more sturdy feeling material and the larger front pocket. It's a small thing but it's little bits, like this, that add up that make the difference in price between the iRocker and Blackfin lines. Don't get me wrong, the iRocker back is plenty useful as well with
Rolling wheels, placed away from your back for comfortable convenient use
2 mesh side pouches
2 small zipper side pouches
Small front compartment
Top zipper compartment (perfect for their electric pump)
Side and top carry handles
Bungee front straps
Did we mention that it matches the board too
Optional Accessories
iRocker really does go overboard with the accessory list. The 10' All Around has 20 d-rings which are more than capable of holding your chosen activities gear and equipment. Additionally 2 front and 2 rear action mounts gives you the versatility to mount hard equipment directly to the board. Our favorites from the iRocker lineup include:
Their Electric Pump is currently our favorite available
River fin system, perfect for more shallow areas or heavily weeded spots
The kayak conversion kit is almost a necessity
The Kayak seat cushion just makes it all that more comfortable
SUP anchor for fixed floating in your favorite spot
Cell phone holder
Cup holder
Vibe waterproof speaker (tunes are also a necessity in our opinion)
Soft cooler deck bag
Hard cooler (great for sitting on or storing a nice cold beverage, snacks, and more)
Summary Review of the iRocker All Around 10' (2023)
We really like the iRocker All Around 10'. It's great for lighter paddlers with less gear and equipment. It also works well as a more agile platform and, and it is the most inexpensive and lightest of the iRocker lineup. Again this works well for those without the size, or budget, to throw around a larger board. I would put my 11 year old on this board without a second thought and it's low cost, it makes the idea of getting a separate "kids" board not quite as painful to your wallet. It still comes with all the great iRocker accessories in the bag, not to mention the bag itself, and it's very well made.
Happy paddling, and as always if we left out anything in this review of the iRocker All Around 10', please let us know in the comments below!
The following two tabs change content below.
Justin - Chief Paddler
Heyo! At SupBoardGuide.com we are a team who love the water, the outdoors, and are more than grateful that our full-time job allows us to review stand up paddle boards. We paddle year round (it helps that we are just about 2 hours outside of Las Vegas), and we bring in a wide range of paddlers with the goal of providing our readers with the best, most in-depth, and accurate stand up paddle board reviews.
Latest posts by Justin - Chief Paddler (see all)