Isle 12' Explorer Pro iSUP Review
Pros
One of, if not the, most versatile boards that will be terrific for many different situations. From long range adventures loaded with gear, to fitness paddling across the lake, or just cruising along with your family, the 12' Explorer Pro performs great!
Actually performs really well as a kayak and a SUP (which is not something we can say about every other SUP/Kayak conversion board). You can tell this was designed by a world-class kayaker who also SUPs
Great feel on the water - almost feels like a hard SUP, thanks to Industry-leading (and changing) infinity fiber stringers
You can add everything from coolers to fishing gear wherever you want on the board thanks to the Isle link molly loop system
Most rigid SUP we have tested to date (tied with other Isle Pro boards only). Nothing else has come close - and there are not complicated stiffening battens or cables to attach and worry about.
Makes me 1) want to paddle board more, and 2) very excited for the future of the inflatable SUP industry
Cons
This is a hard one - there isn't much that I think is a 'con' with this board. However, if I'm being picky, I would personally like a grooved or logo-stamped deck pad for increased traction (although a ton of people love Isle's softer, more comfortable deck pads).
Isle has disrupted the inflatable SUP with their new 'hard inflatable paddle boards', and the 12' Explorer might be the most versatile of the lineup.
It's not often in reviewing a board like the 12' Isle Explorer Pro that I can boil down the review to a single sentence and just say: Go Buy It!
But I just love this board that much. It has everything I would personally want in a touring/adventure inflatable SUP:
It's fast, stable, and performs great on the water
I can load it up with tons of gear and/or kids for adventures
It's a great board for cruising around
AND I can even use this as a legitimate kayak. Or, have one of my kids use the kayak seat while I paddle them around like I'm driving Miss Daisy.
AND it comes with some of the coolest tech I've seen in the inflatable SUP industry with their patent-pending Infinity Fiber stringer system that makes the Pro series SUPs from Isle the most rigid inflatables we have ever tested.
With all that being said, I think you can tell that I'm stoked to geek out on the tech and performance as we dive into our Isle 12' Explorer review.
Isle 12' Explorer Pro : Spec Sheet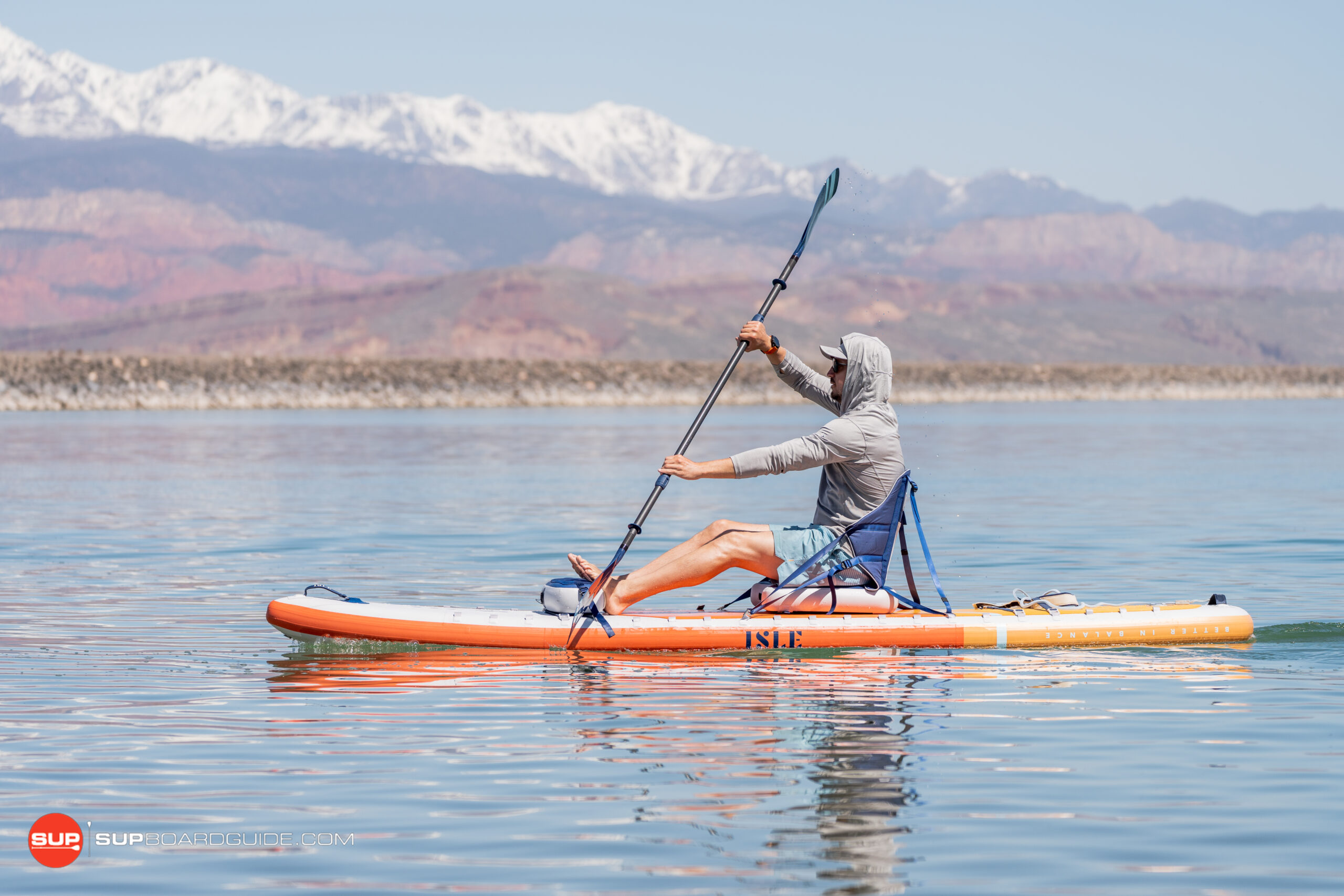 Main Category: Touring / Adventure
Board Dimensions: 12' x 31.5" x 6" (note: we measured it at 31.5" wide)
Listed Board Weight: 23
Listed Max Capacity: 330 lbs
Recommended PSI: 17
Fins: Split US fin box, 9" touring fin
Paddle: Not included in kit
Materials: Isle's Airtech™ Prolite (thick single layer PVC, welded Powerfuse™ inner rail, and 6 InfinityFiber™ stringers
Warranty: 4 years
Performance Review of the Isle 12' Explorer Pro Stand Up Paddle Board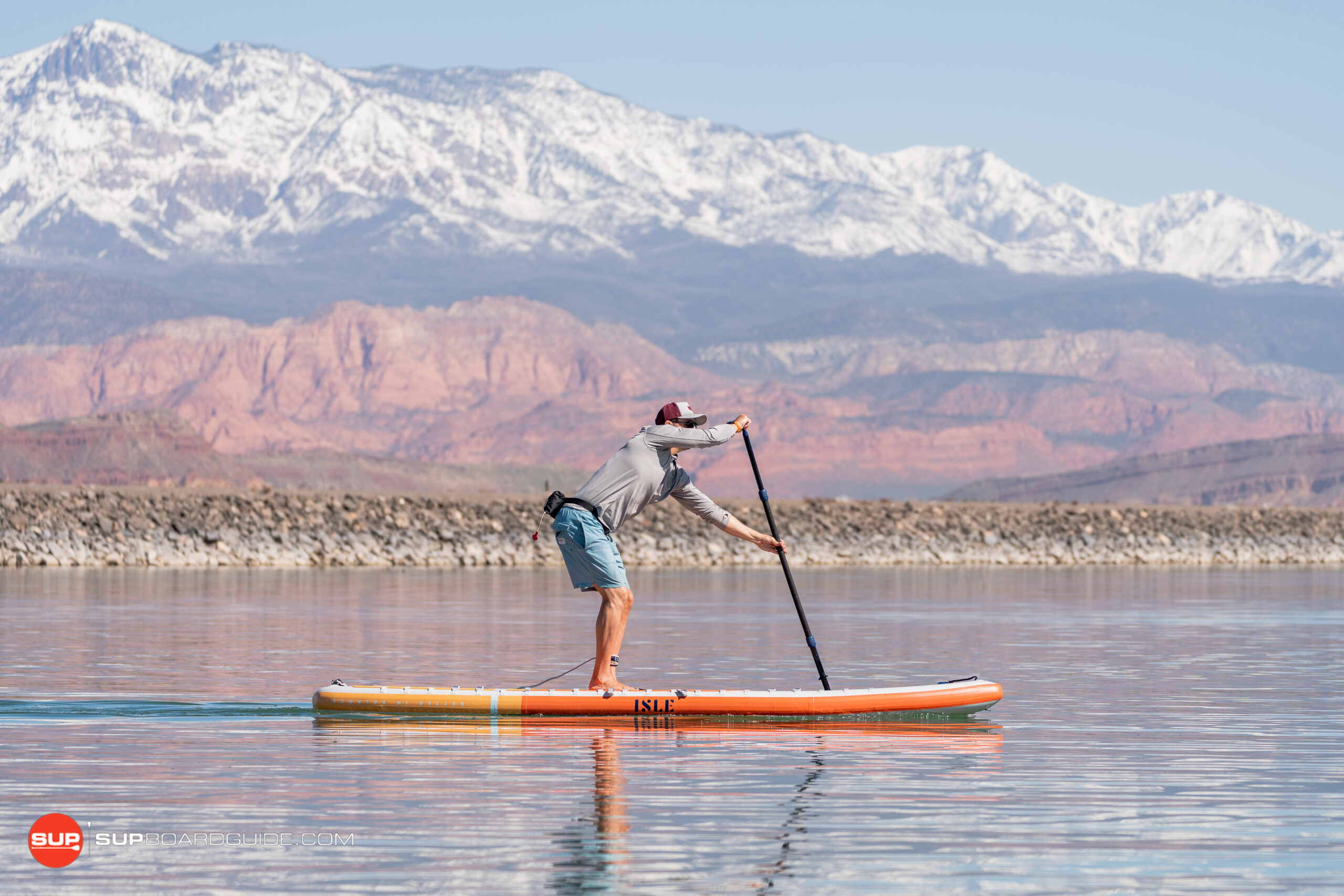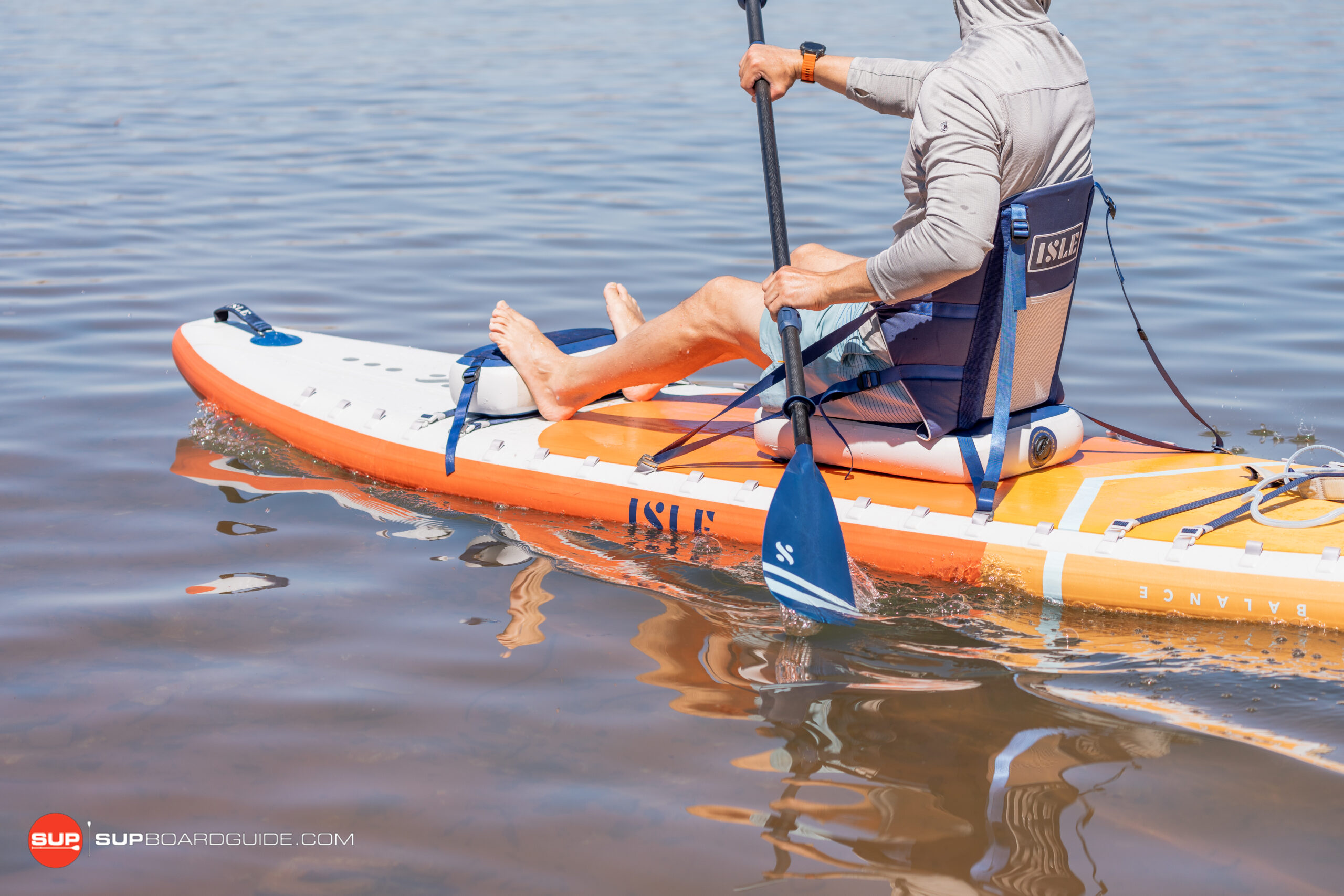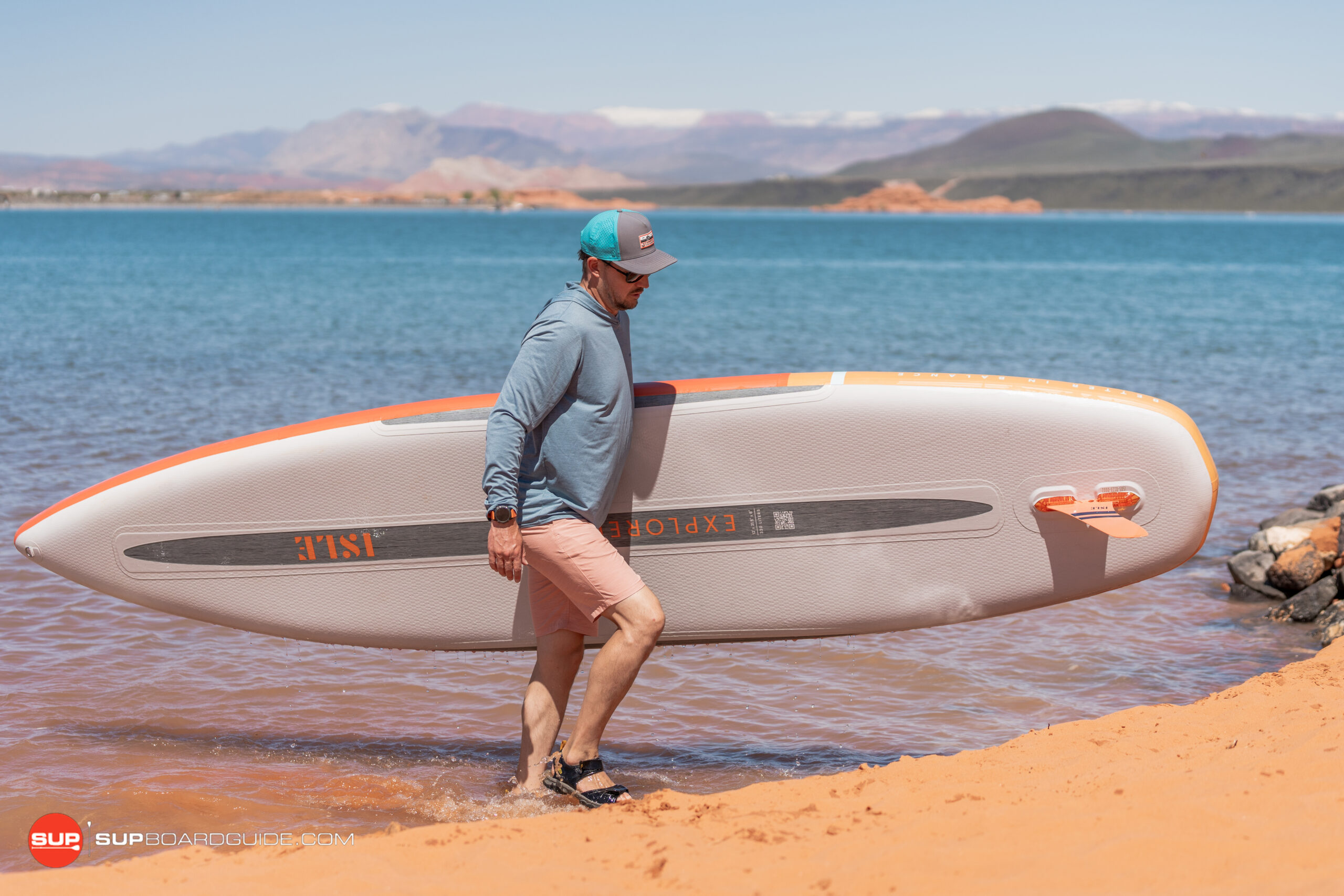 Overall Score: 9.8/10
Stability: 9.8/10
Speed: 9.2/10
Tracking: 9.3/10
Maneuverability: 8.5/10
Construction Quality: 9.8/10
Features/Accessories: 9.8/10
Stability Rating: 9.8/10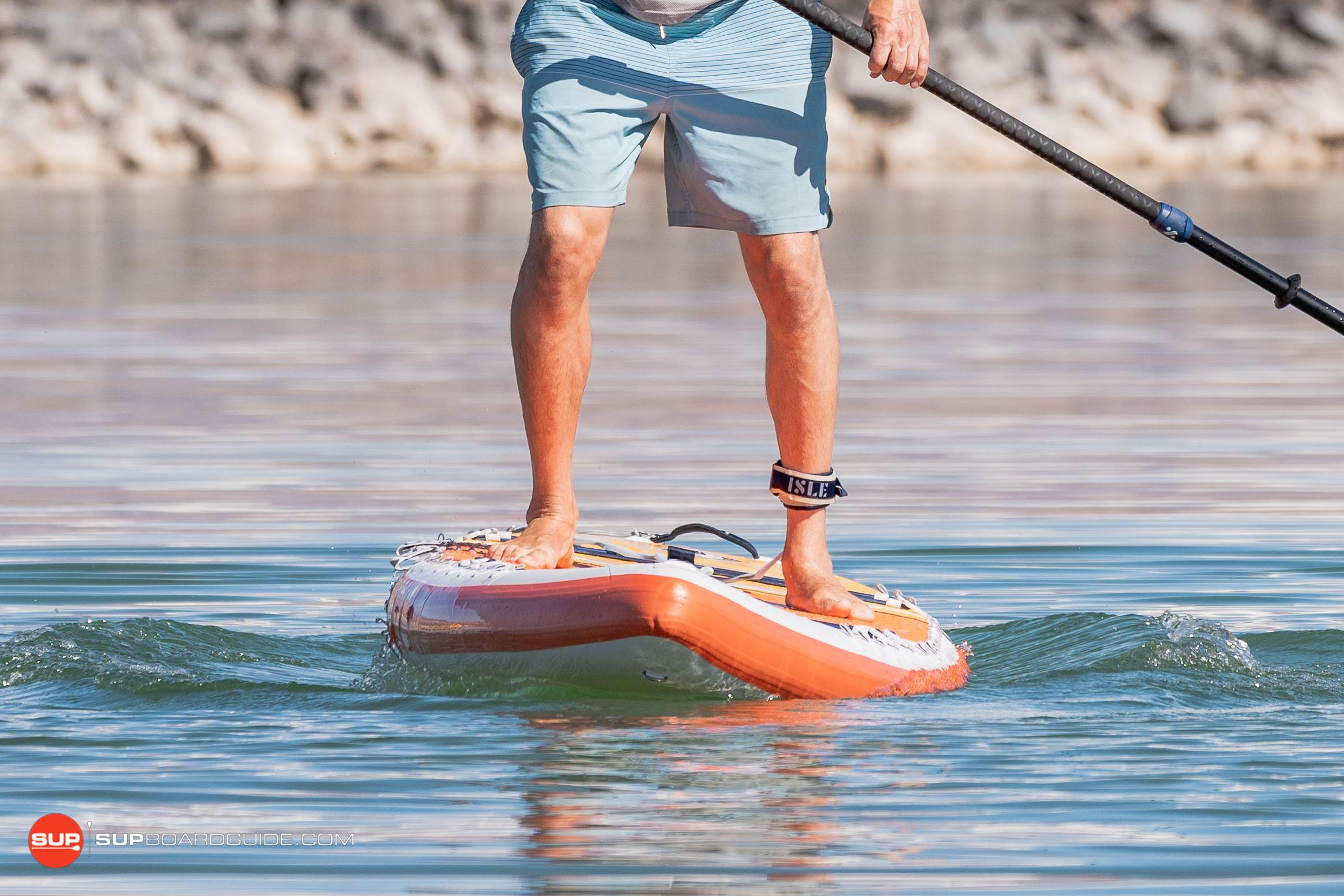 In our testing of the Isle Pro series SUPS, we found that all of them were highly stable. We'd even go further and say that they were more stable than we would expect from a similar-sized and weight iSUP.
If you are concerned about stability, especially since this is a touring/adventure SUP at heart, let me squash those concerns and say that the 12' Explorer Pro is possibly the most stable touring/adventure style SUP we've reviewed.
We chalk this up to the increased rigidity (see our bend test below) that makes this board almost as rigid as a hard board through the middle section, but you still get a little bit of flex in the nose and tail. This combination of stiffness through the core, but slight flex on the ends helps absorb waves and wake when paddling, but still keeps the core of the board firm so you aren't bouncing around and losing stability.
This increased stability is an interesting result of Isle's new InfinityFiber™ stringers. There are 6 different stringers – 4 that run alongside the rails, and two that run along the top and bottom. These stringers cover about ⅔ of the board, which leaves just a little bit of the front and back of the boards to flex and absorb that wake/wave.
When rocking the board side to side (see image above), we found very good stability, both as you initially rock the board, and when you really start to sink the rails in the water.
Bottom line: if you are a new paddler, or a larger paddler who wants a touring board but is worried about stability, then we'd recommend the 12' Explorer Pro without reservation.
Speed Rating: 9.2/10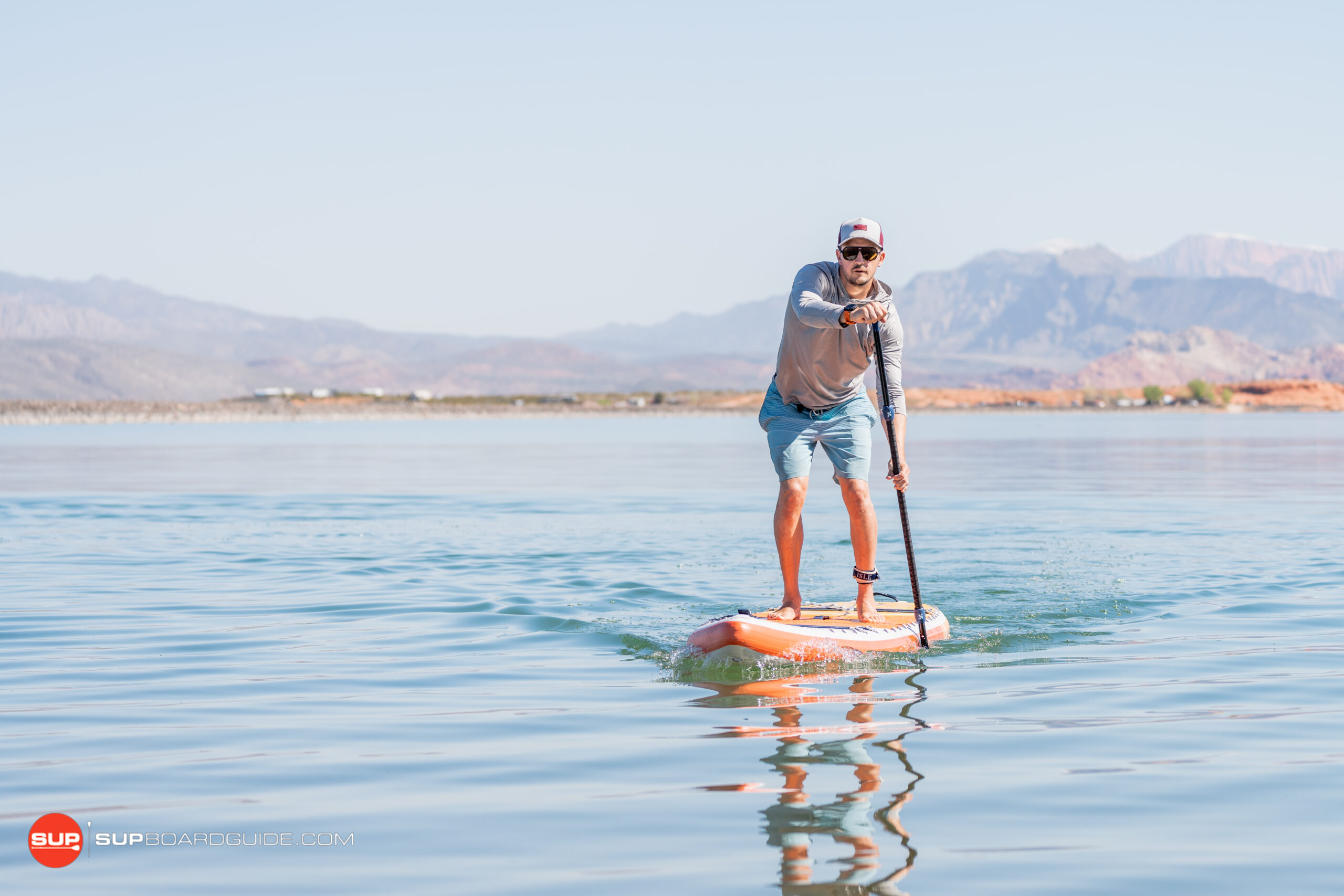 | | |
| --- | --- |
| Top Sprint Speed: | 5.6 MPH |
| Average Cruising Speed: | 3.9 MPH |
*Notes on our speed test: we test speed using a Speed Coach, which gives us very accurate readings on how fast we are paddling and our current stroke rates. For top speed, that is us paddling as hard as we can for 10-15 seconds and recording our average speed. For the casual test, we paddle at 40-45 strokes per minute for 30-60 seconds and record the average speed.
We went into our speed tests with very high hopes and expectations for the 12' Explorer Pro. Isle had talked this board up, and we had already bend-tested and verified how stiff the board was. So we expected (or at least were hoping for) very fast speeds even though the board is a little wider throughout than what we typically would see on a true touring SUP. We would classify this as an 'adventure touring' iSUP, mainly because with that extra width it can handle a lot of cargo for long adventures.
However, that extra width did not slow down the board much. We got 3.9 MPH and 5.6 MPH on our cruising and sprint tests. For a board that stable, and for being only 12' long, those results are very impressive.
From these results, we feel very comfortable saying that the 12' Explorer Pro makes an excellent touring board for those wanting to get out and paddle a few miles a couple of times a week, then turn around and need an adventure board for an overnight camping trip on the weekend.
As a kayak, we didn't officially test how fast we could go (sorry!). However, I can say that there isn't another SUP/Kayak combo board that performs as well as the Explorer Pro series. While the 14' model is faster than this 12' version, both are fantastic as recreational kayaks.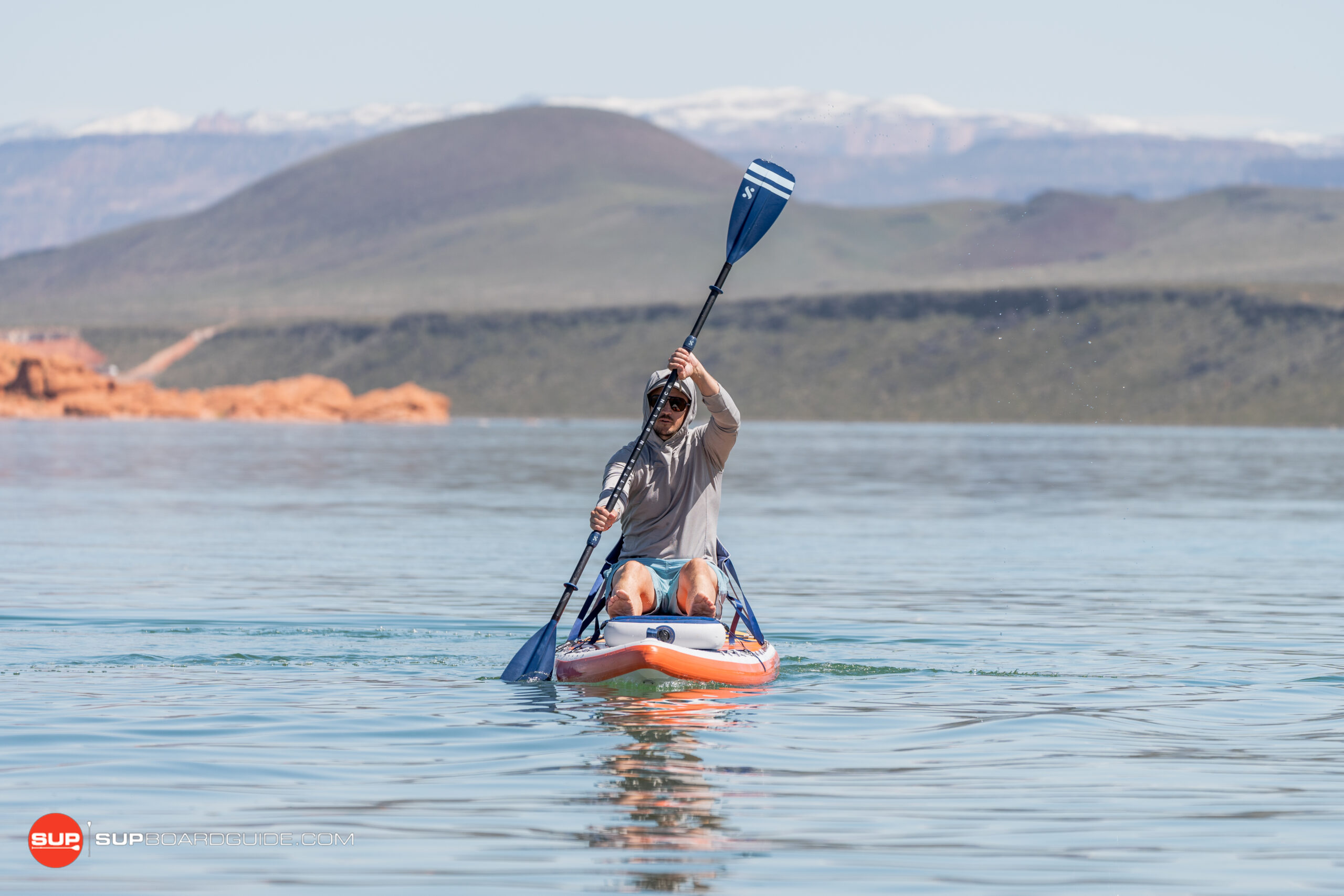 Tracking: 9.3/10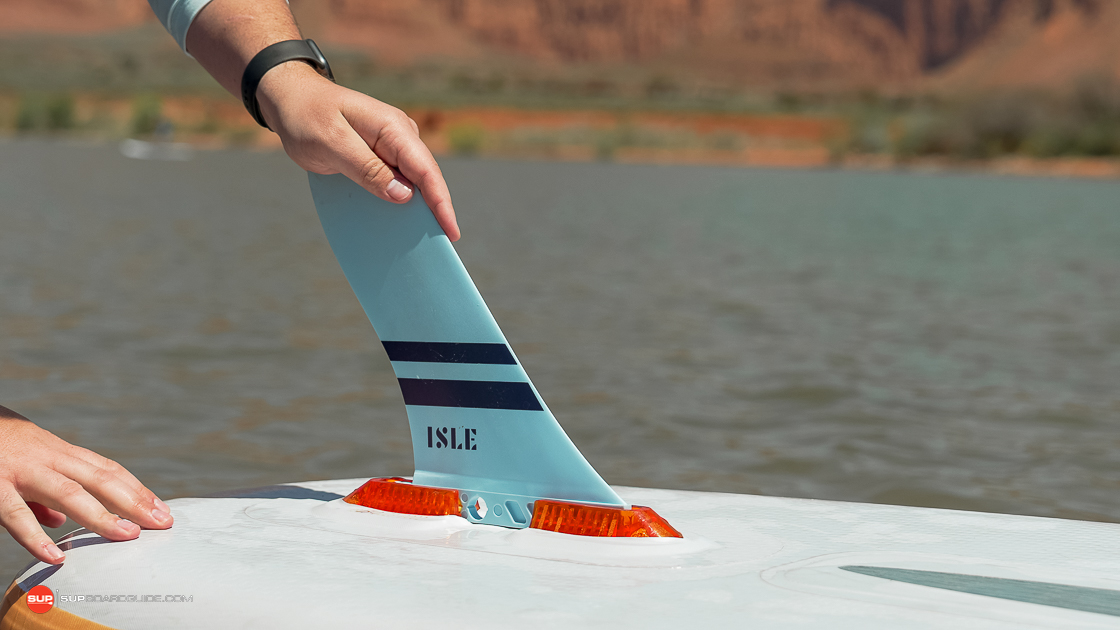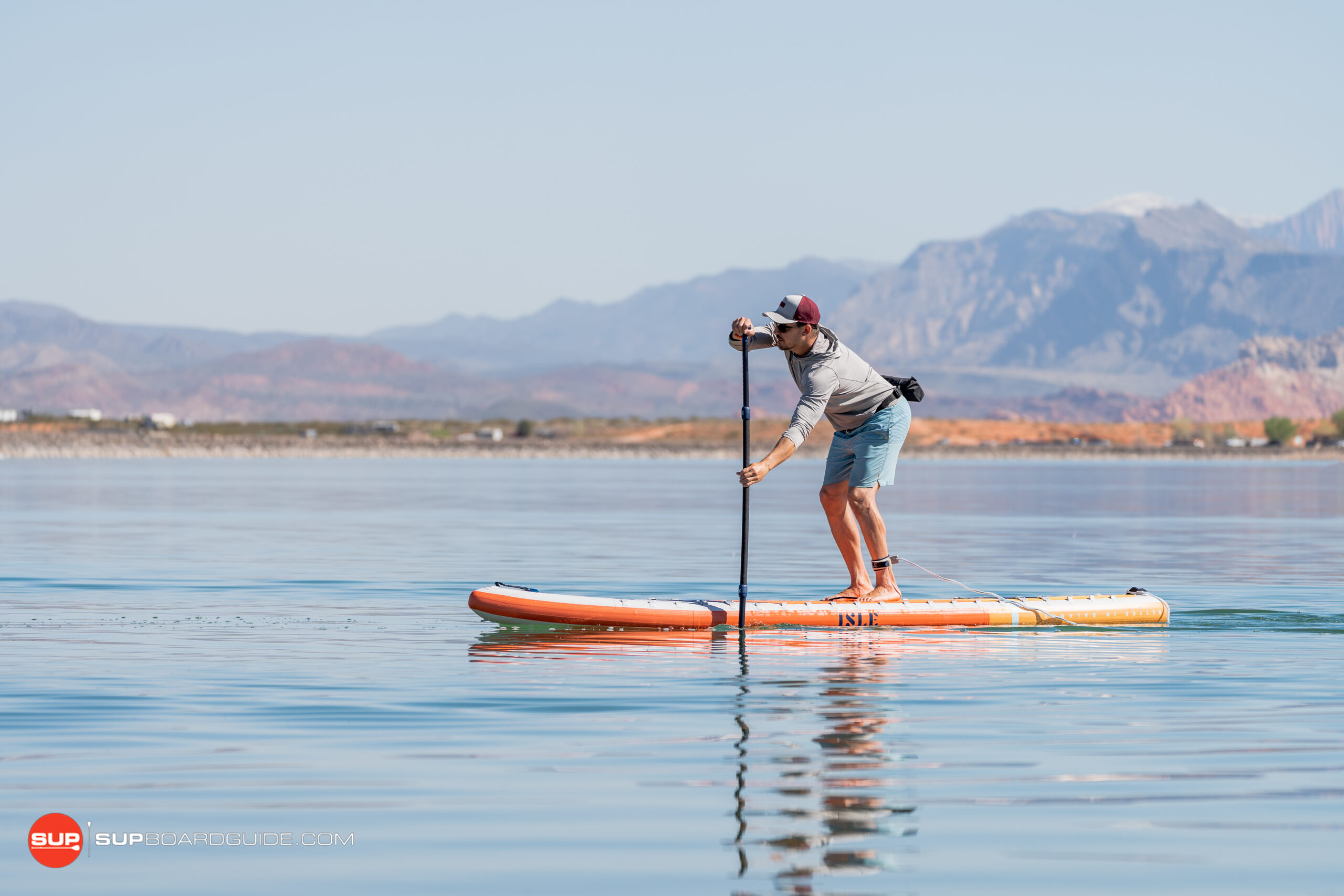 Tracking wise, we'd say the Explorer Pro did better than we would expect for a similarly shaped and weighted iSUP. Spec'd with a single 9" touring fin, we had no problem paddling in a straight line, and we think the Explorer did better than we have seen even when compared to longer touring boards.
We also really like how Isle uses a split US fin box, so if you would like to buy additional fins and really dial in your set up, you're able to do so.
Note: as always, keep in mind that tracking is going to be 90%+ based on your technique.
Maneuverability: 8.5/10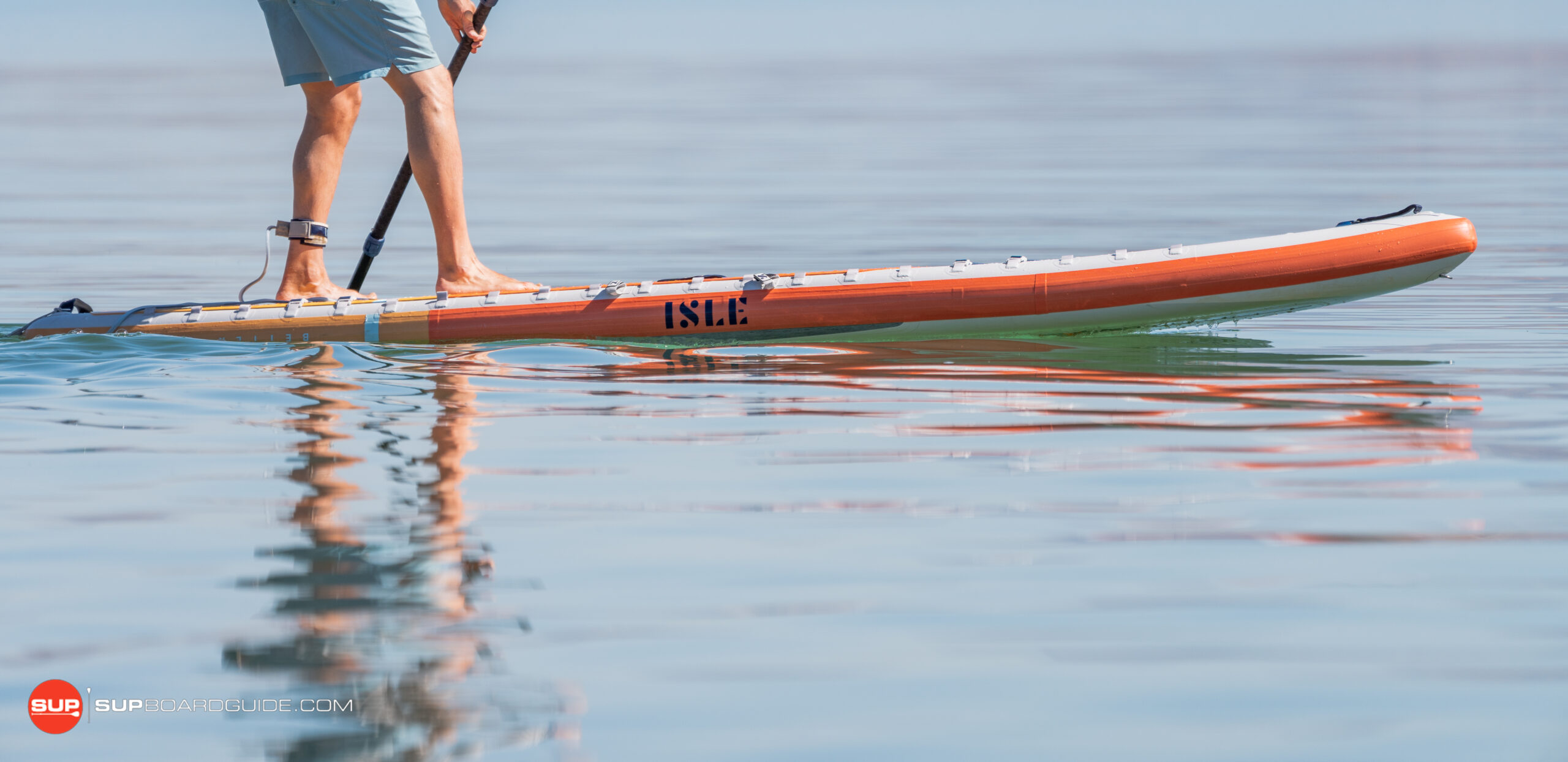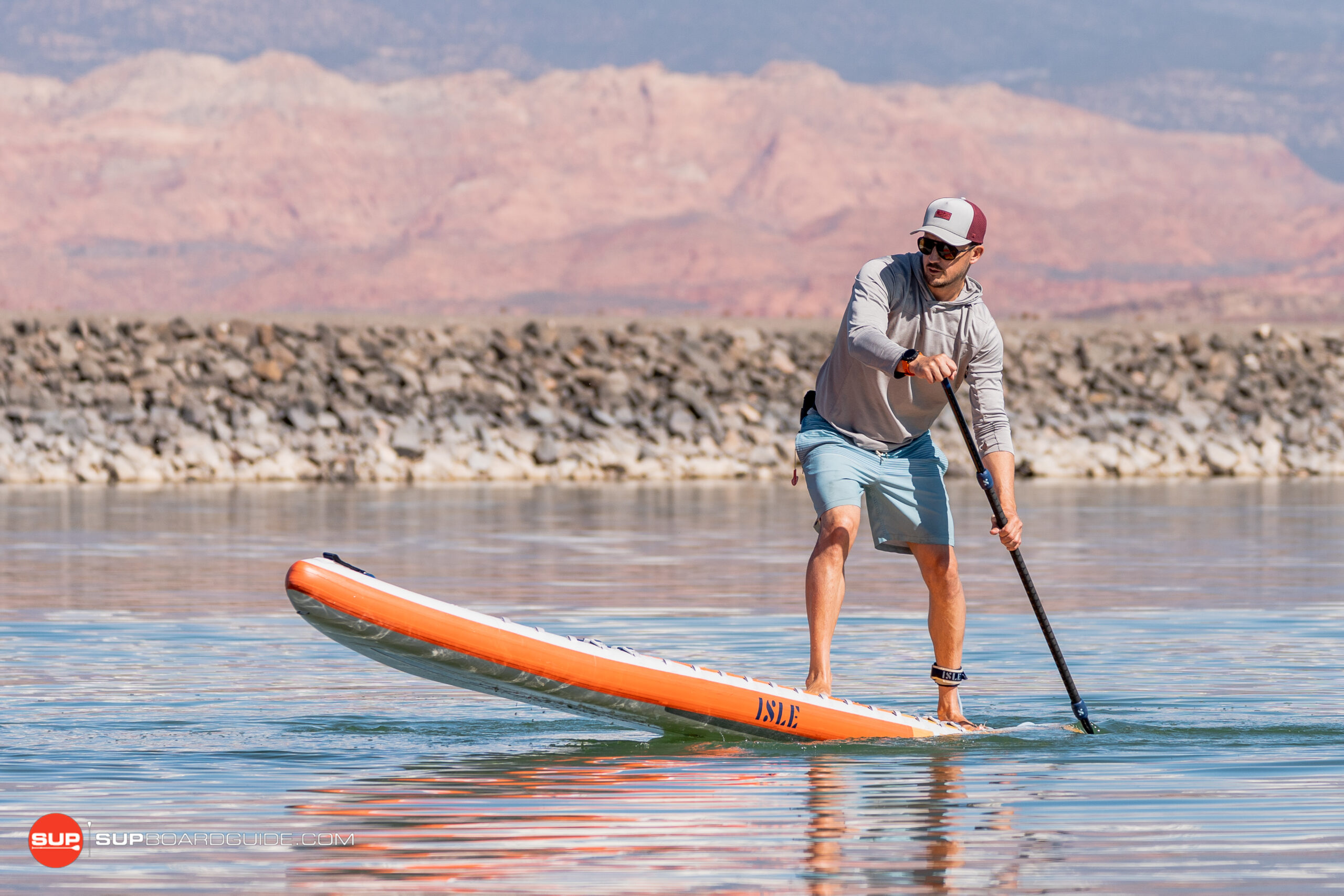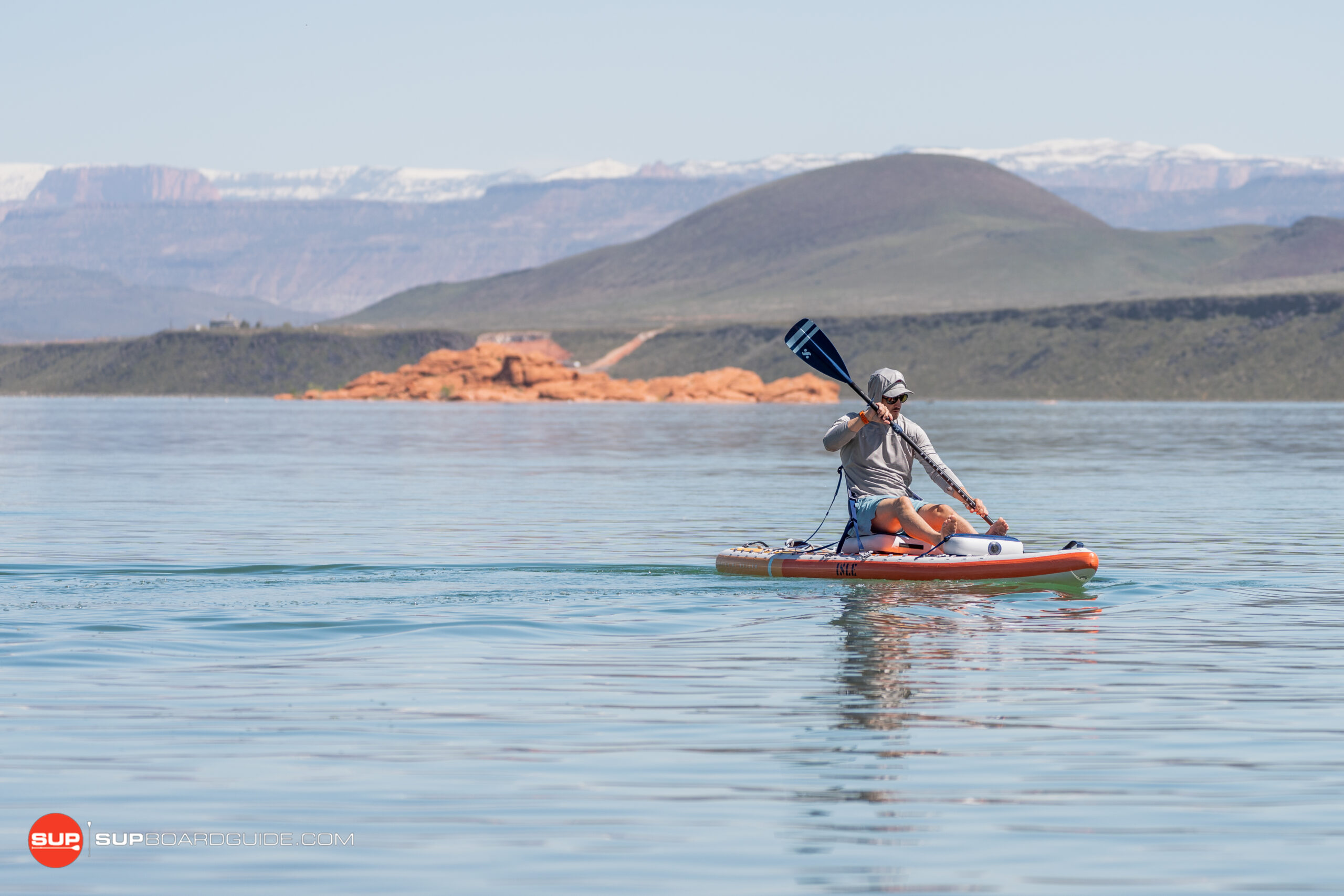 From a maneuverability standpoint, we found the Explorer Pro to perform very well. It took me 5 reverse sweep strokes to turn the board a full 360 degrees, and I felt very comfortable maneuvering around with forward sweep strokes as well. This is pretty much what we would expect from a 12' x 31.5" touring adventure SUP.
I would say that the Explorer Pro was easier than expected when it comes to step back turns. With a wider tail than normal, it was very easy to balance as I stepped over the rear fin box, sunk the tail, and spun around. This is always going to be your 'quickest' way to turn a SUP, and if you haven't mastered the step back turn yet, the 12' Isle Explorer Pro is a great one to learn on.
For more experienced paddlers, you'll probably agree that it would be nice for Isle to include a kick pad to make step back turns even easier, and to make it easier to really sink the tail and spin on a dime. Maybe we'll get that in the next version (fingers crossed).
Construction Quality: 9.8/10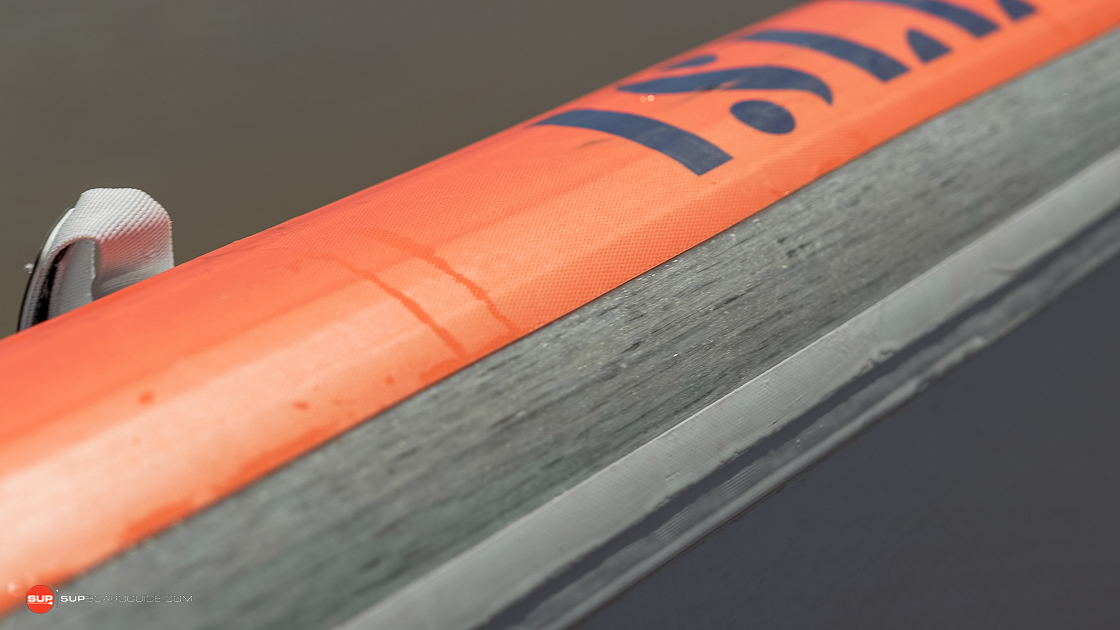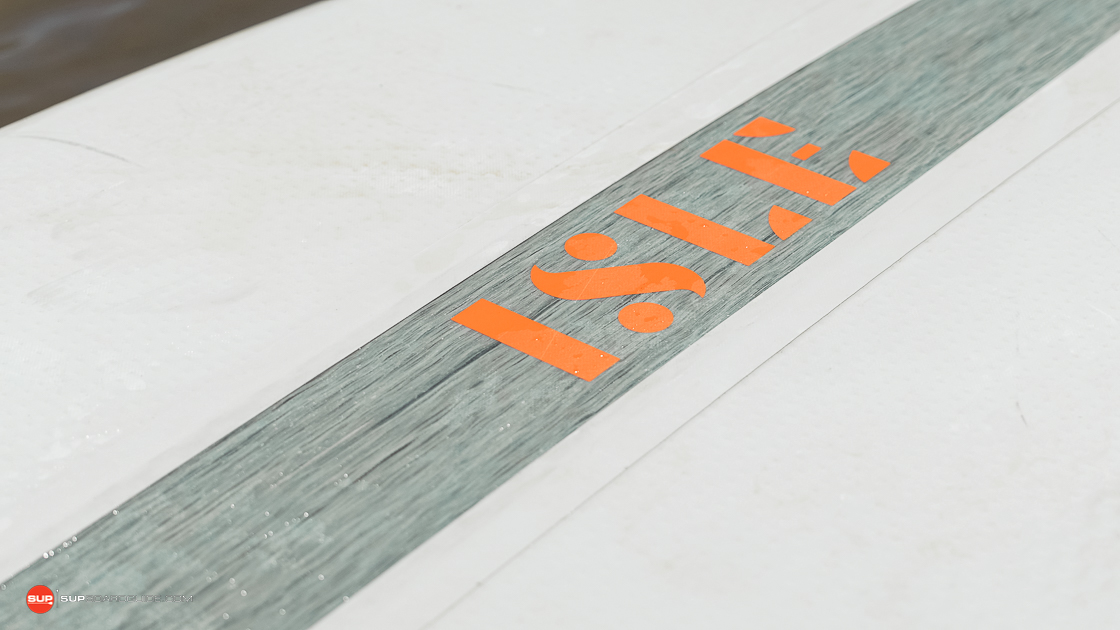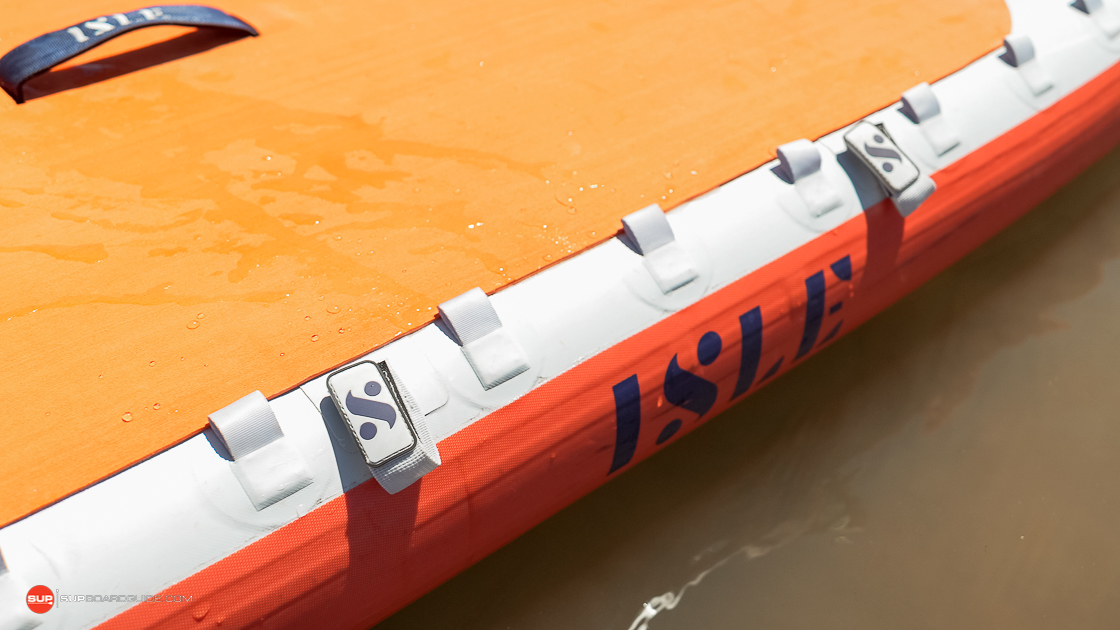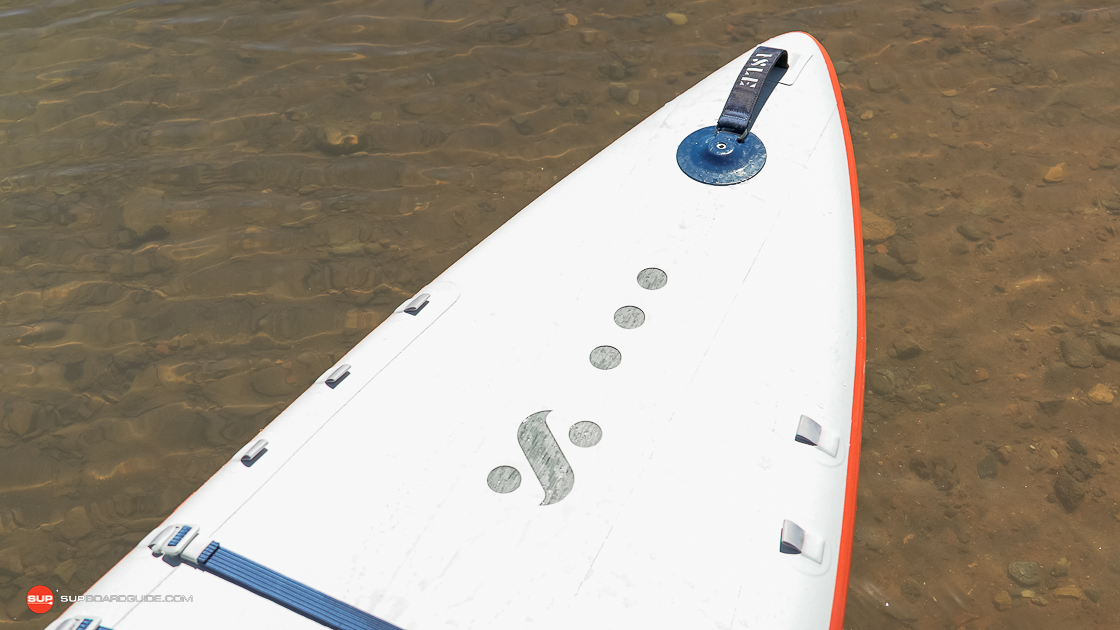 While this might sound like overexaggerated hyperbole, please trust me when I say it's not: The new construction in Isle' Pro series is going to change the industry and have many other brands working hard to replicate what Isle has been able to accomplish using their InifityFiber™ stringer system.
Yes, there is a lot more to the construction than just the stringers, but the stringers are what make these SUPs special – and also the most rigid inflatable SUPs we've ever tested (by a significant amount).
As you can see below, the 12' Explorer bent ONLY ½" in our bend test. That is unheard of and backs up Isle's marketing lingo of 'hard inflatables'. At first when we were introduced on the phone to this tech by Jimmy Blakeney (VP of Product for Isle), I thought: "Ok, another version of the carbon fiber rail that will add a little bit of rigidity, but not do that much".
I was fortunately very wrong in that assumption.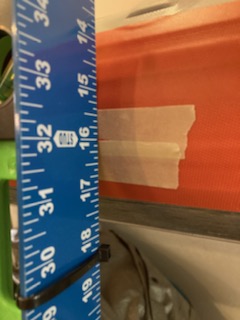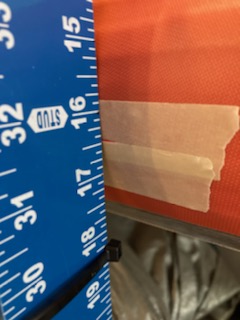 By adding the following 6 different InfinityFiber™ stringers, Isle was able to improve rigidity in our bend text by almost 100%. More importantly, this increased rigidity not only improves performance on the water, but makes the boards feel more like hard boards – which I would consider to be the holy grail of SUPs. This changes inflatable SUPs so much, that I actually find myself almost looking past this current version of the pro series and waiting on the next version to see what Isle can do, and what other brands are going to do in response.
Additional Construction Features:
It almost feels wrong to list the following construction features as 'other features'. On a normal SUP, these would stand out. That's just how game-changing the InfinityFiber™ stringers are.
However, I'll stop geeking out on our bend test and let's move on with our review of the 12' Explorer Pro.
The heart of the 12' Explorer Pro is Isle's Airtech™ Prolite construction, which consists of:
Cross (X) thread drop-stitch threads
Woven base material (which is what the cross threads attach to)
Thick, fused single layer PVC shell
Powerfuse™ (welded) inner rail
(6) InfinityFiber™ stringers

2 on each side, so 4 total side rails
1 on top in center of the board
1 on bottom in center of the board

Outer PVC rail (for looks and tying the board together)
The main highlight is that we have found that X pattern drop-stitch threads and woven base layer material lead to lightweight, but also stiffer inflatable SUPs.
In addition, we love how Isle has mechanically fused their inner rail. This gets rid of glue that doesn't last as long as a mechanical bond, and thus improves durability while also reducing weight.
And finally, the InfinityStringers create basically an outer exoskeleton that becomes incredibly rigid when inflated, but still rolls up easier than what we find with other carbon fiber rail systems. And don't even get me started on systems like Red Paddle Co's RSS Battens, and REALLY don't get me started on Starboard's aramid cable system.
Isle's system is not only simple, but it's the most effective rigidity-enhancing system in the industry to date. Well done!
Features/Accessory Review: 9.8/10
Features: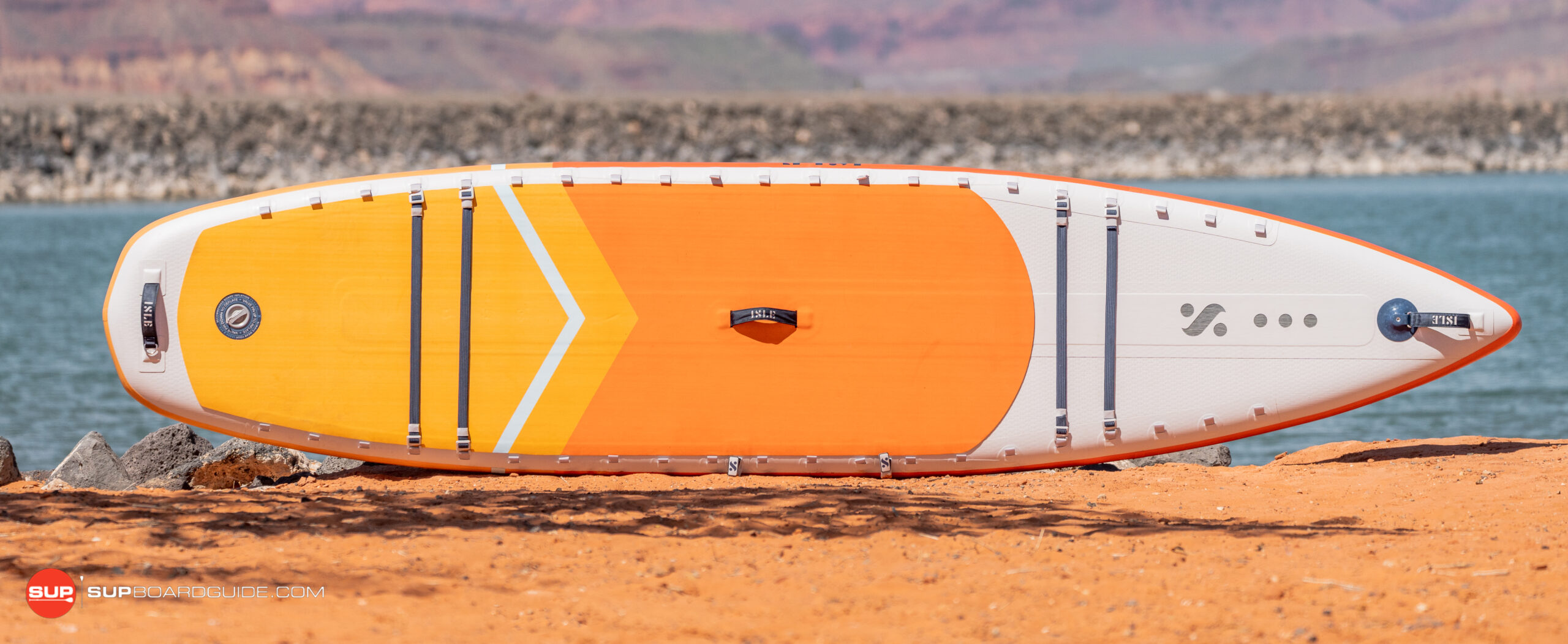 Looking at the 12' Explorer Pro you might think this is not a feature-rich board. However, nothing could be further from the truth. Personally, I think Isle has found a way to create a board that:
Has a clean, uncluttered deck pad
Enables you to load up the board with about anything you would ever want/need
You'll notice along the entire edge of the board you see a system of molly loops. This is Isle's link system that allows you to place the bungee cords wherever needed, add fishing accessories, and add their kayak seat and footrest.
The link system allows you to move around unencumbered on the deck pad, which is very comfortable. The only improvement I would suggest here is to add some groves or texture to the deckpad, but I think I'm in the minority of paddlers here as so many people love how soft and comfortable but still grippy this deck pad is.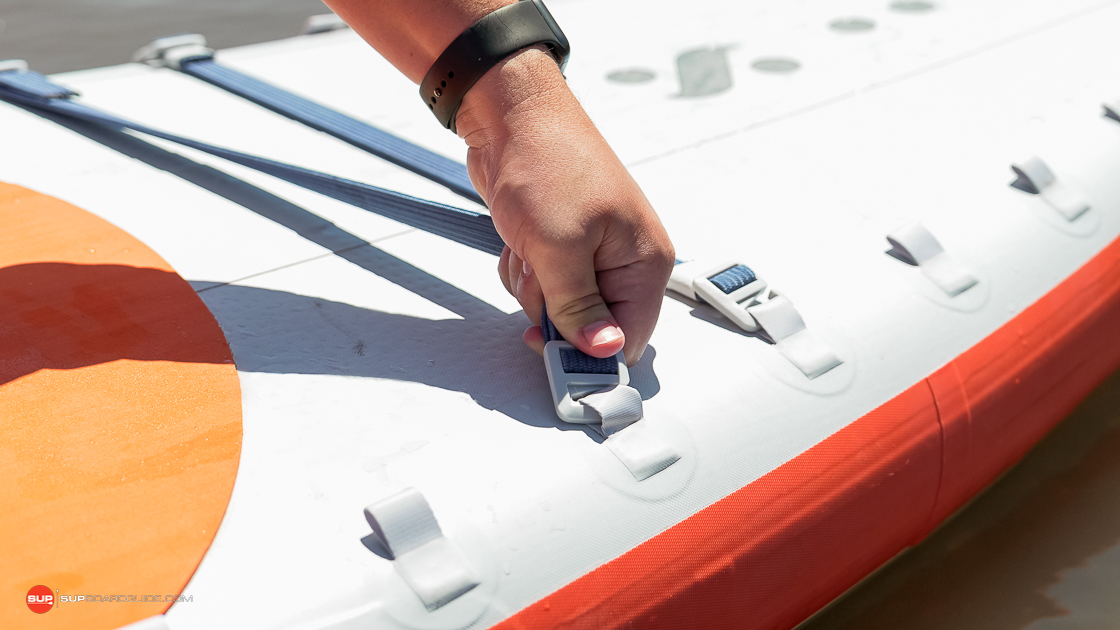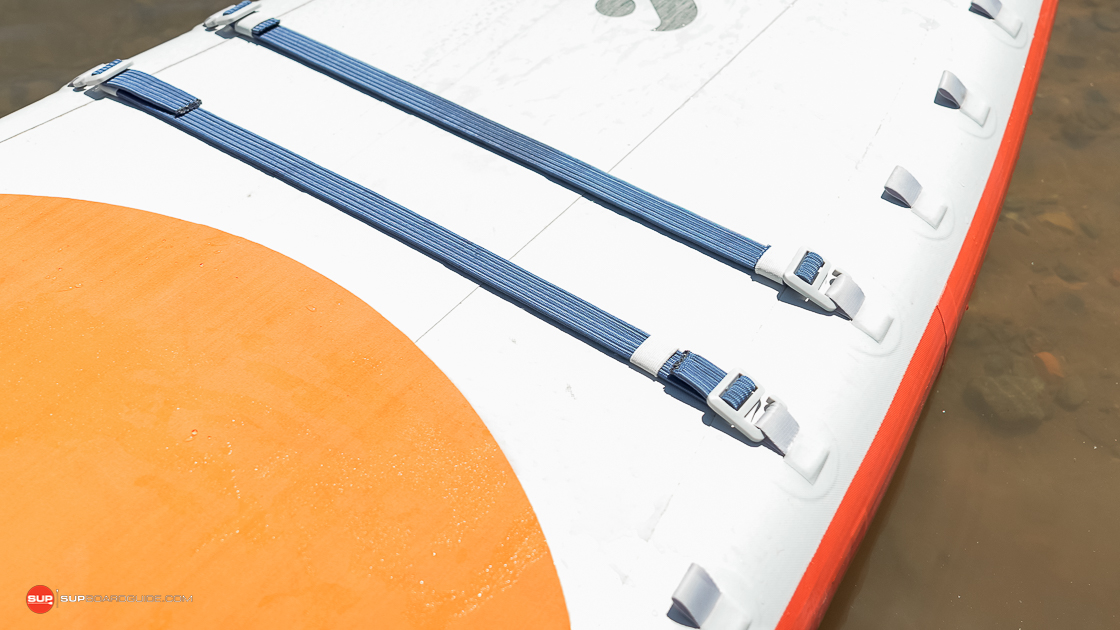 The other main feature we want to point out is the split fin box. Not only is the fin box a universal fin box, but being split makes it very easy to roll up the board.
Included Accessories: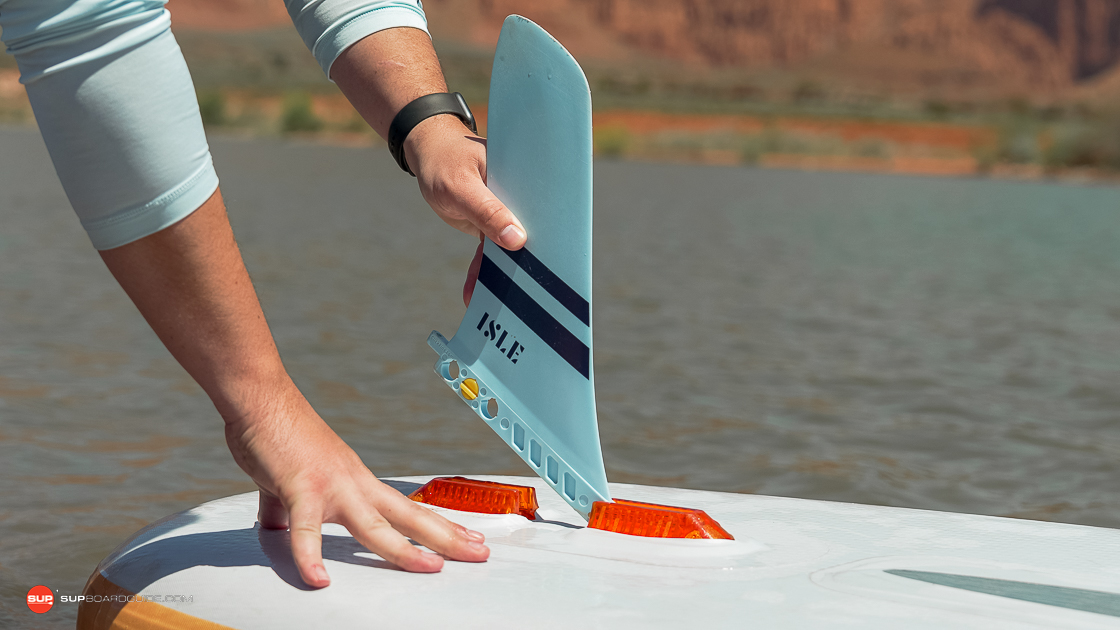 Isle keeps things pretty simple with the kit that comes with their Pro series boards. The kit comes with the following:
9" touring fin
Super light straight leash
High quality bag (with improved zippers and fabric)
Dry bag
Repair kit
Please notice that the kit on the 12' Explorer Pro DOES NOT include a paddle or pump. This was done intentionally in order to keep the price down for those paddlers who are buying a 2nd or 3rd board and who do not need an extra pump and/or already have a paddle they like to use.
For use as a kayak, you will also need to add the kayak seat and footrest to your cart.
Summary Review of the Isle 12' Explorer Pro – 2023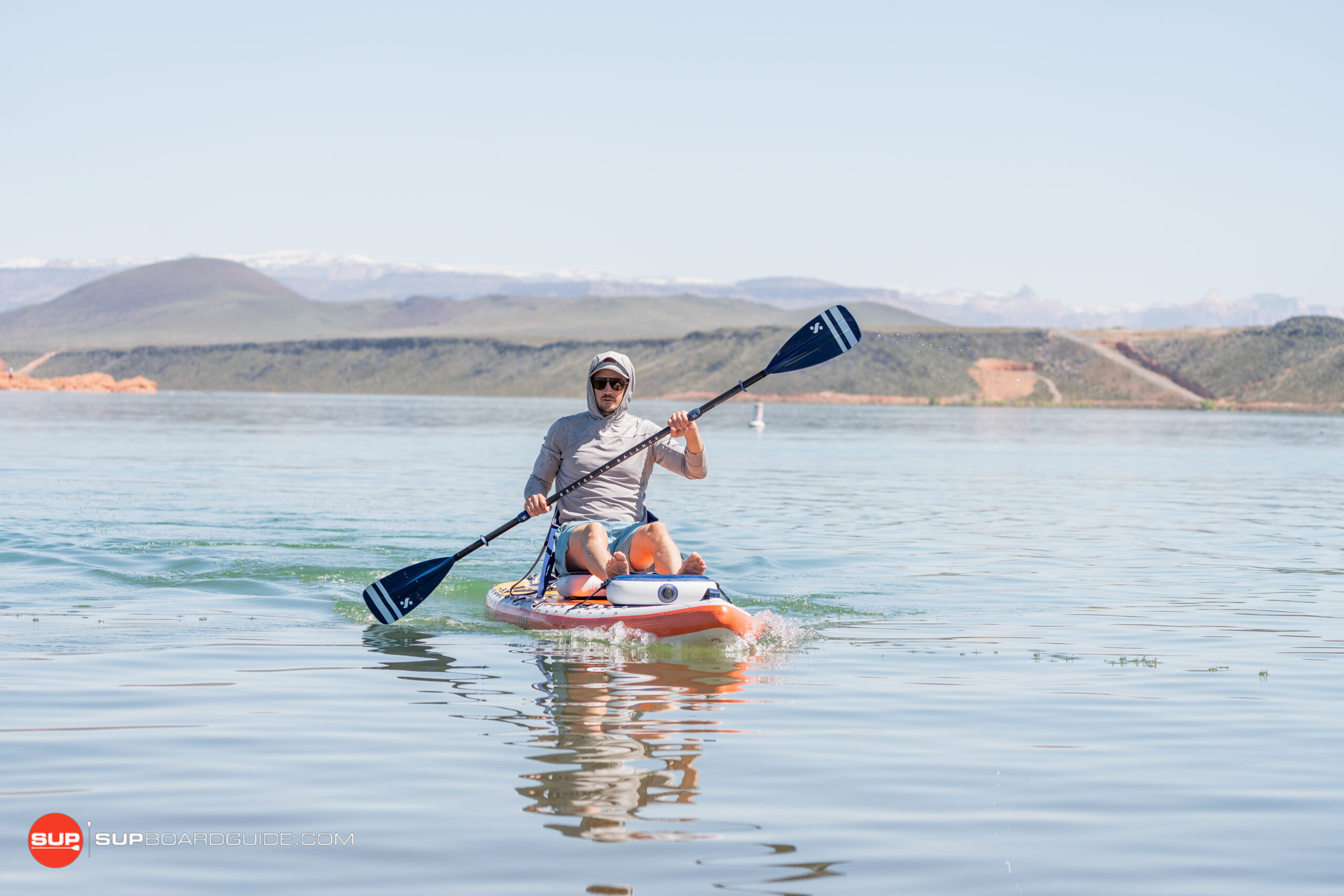 Do you want a SUP or Kayak? How about both!
That's exactly what you get with Isle's 12' Explorer Pro – a SUP/Kayak combo that performs extremely well as a touring/adventure SUP and as a recreational kayak. With this board, you'll be able to go on a 1-2 mile solo paddle across the lake or ocean, then turn around and convert to a kayak – and in each situation you have such a high weight capacity that you can load the board up with gear at the same time.
If you're someone looking for a super versatile adventure SUP/Kayak combo, then the Isle 12' Explorer Pro is one of the best options on the market today.
Happy paddling! We hope you enjoyed this review of the Isle 12' Explorer Pro SUP / Kayak. If you have any questions or comments please leave us a comment below!
The following two tabs change content below.
Justin - Chief Paddler
Heyo! At SupBoardGuide.com we are a team who love the water, the outdoors, and are more than grateful that our full-time job allows us to review stand up paddle boards. We paddle year round (it helps that we are just about 2 hours outside of Las Vegas), and we bring in a wide range of paddlers with the goal of providing our readers with the best, most in-depth, and accurate stand up paddle board reviews.
Latest posts by Justin - Chief Paddler (see all)